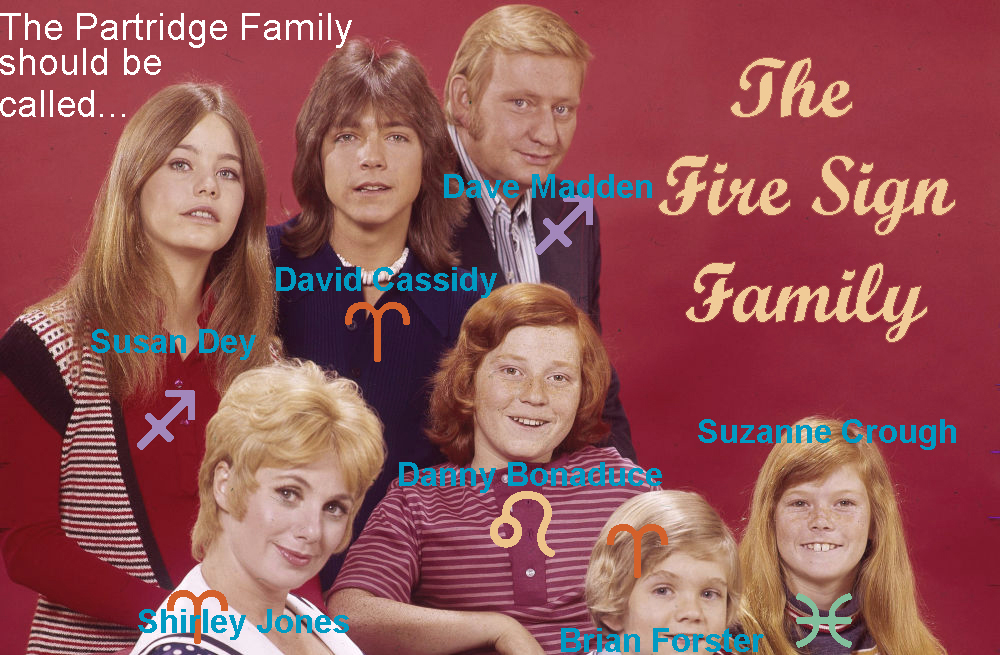 All of the Partridge Family members/cast, with the exception of Suzanne Crough(Pisces), are fire Sun signs. Former child drummer Jeremy Gelbwaks was a Sun in Gemini. Two Sun in Aries members lead the cast; David Cassidy and Shirley Jones, followed by two Sun in Sagittarius members: Susan Dey and Dave Madden. Danny Bonaduce is the lone Leo member. Brian Forster is a Sun in Aries as well. That's 6 out of 8 fire signs, and 5 out of 5 if you only count the main members.

This cannot be a coincidence. Did the producers have such a set up in mind? Were they familliar with astrology? Or did the universe bring them together. Whatever the reason, the set up worked to produce one of the most successful musical TV comedies in history. The acting was natural and wholesome and the music was great. Kudos to the fire signs for making it happen!

Here is a more detailed astrological rundown of each of the cast members. Most of the Ascendants were either absent or questionable so I left them out.
David Cassidy
Apr.12,1950
New York, NY, USA

---

Sun in Aries
Moon in Aquarius
Mercury in Taurus
Venus in Pisces
Mars in Virgo R
Jupiter in Aquarius
Saturn in Virgo R
Uranus in Cancer
Neptune in Libra R
Pluto in Leo R
Shirley Jones
Mar.31,1934
Charleroi, Penn.USA

---

Sun in Aries
Moon in Libra
Mercury in Pisces
Venus in Aquarius
Mars in Aries
Jupiter in Libra R
Saturn in Aquarius
Uranus in Aries
Neptune in Virgo R
Pluto in Cancer S
Danny Bonaduce
Aug.13,1959
Broomall Penn.,USA

---

Sun in Leo
Moon in Sagittarius
Mercury in Leo R
Venus in Virgo R
Mars in Virgo
Jupiter in Scorpio
Saturn in Capricorn R
Uranus in Leo
Neptune in Scorpio
Pluto in Virgo
Susan Dey
Dec.10,1952
Pekin, Ill., USA

---

Sun in Sagittarius
Moon in Virgo
Mercury in Sagittarius
Venus in Capricorn
Mars in Aquarius
Jupiter in Taurus R
Saturn in Libra
Uranus in Cancer R
Neptune in Libra
Pluto in Leo R
Dave Madden
Dec.17,1931
Sarnia, Ont., Canada

---

Sun in Sagittarius
Moon in Pisces/Aries
Mercury in Capricorn R
Venus in Capricorn
Mars in Capricorn
Jupiter in Leo R
Saturn in Capricorn
Uranus in Aries R
Neptune in Virgo S
Pluto in Cancer R
Suzanne Crough
Mar.6,1963
Fullerton, Calif.,USA

---

Sun in Pisces
Moon in Leo
Mercury in Aquarius
Venus in Aquarius
Mars in Leo R
Jupiter in Pisces
Saturn in Aquarius
Uranus in Virgo R
Neptune in Scorpio R
Pluto in Virgo R
Jeremy Gelbwaks
May 22,1961
Los Angeles, Calif.,USA

---

Sun in Gemini
Moon in Leo/Virgo
Mercury in Gemini
Venus in Aries
Mars in Leo
Jupiter in Aquarius
Saturn in Capricorn R
Uranus in Leo
Neptune in Scorpio R
Pluto in Virgo S
Brian Forster
Apr.14,1960
Los Angeles, Calif.,USA

---

Sun in Aries
Moon in Sco/Sag
Mercury in Pisces
Venus in Aries
Mars in Pisces
Jupiter in Capricorn
Saturn in Capricorn
Uranus in Leo R
Neptune in Scorpio R
Pluto in Virgo R