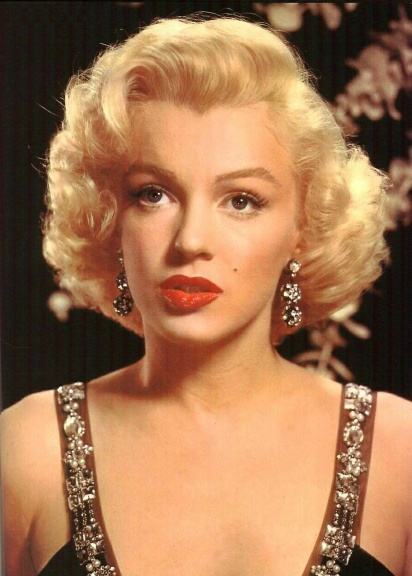 Marilyn Monroe
Born
Norma Jean Mortenson
June 1, 1926, 9:30AM PST
Los Angeles California
118W15 34N03

Sun in Gemini 10°27'
Moon in Aquarius 19°06'
Mercury in Gemini 06°48'
Venus in Aries 28°46'
Mars in Pisces 20°45'
Jupiter in Aquarius 26°50'
Saturn in Scorpio 21°27'R
Uranus in Pisces 29°00'
Neptune in Leo 22°13'
Pluto in Cancer 13°24'
---
Ascendant in Leo 13°04'
MidHeaven in Taurus 06°00'
---
Ultimate actress and sex symbol
starring in many classics such as
All About Eve(1950), Gentlemen
Prefer Blondes(1953), and Some
Like it Hot(1959). Died myster-
iously on August 4-5th, 1962.
Ascendant with Neptune in Leo makes Marilyn the sexy mysterious blonde that she is. Midheaven in Taurus and the ruler Venus in Aries describes her singing and acting career. Venus in Aries is an ardent and impatient lover and very challenging to the sexes. In the ninth house, Venus has a love of travel and often finds love or marriage abroad. Sun and Mercury in Gemini make Marilyn a natural flirt but also surprisingly clever or intelligent as well. In the 11th house, The Sun and Mercury get involved in humanitarian or group activities dedicated to truth and freedom. Moon and Jupiter in Aquarius make Marilyn the popular, ingenious, and ditzy celebrity that she is and in the 7th make her a public icon. She was very interested in astrology and all other subjects considered strange or unconventional. She was also quite funny, open, truthful, and ingenious. Mars and Uranus in Pisces is her soft, seductive, magnetic, and emotional side as well as her involvement with drugs and drinking. In the 8th house, Mars and Uranus freely and actively explore the dark or occult side of life. Saturn in Scorpio also becomes involved in dark or forbidden matters and is often part of some secret group or society. In the 4th house, Saturn makes for a difficult home life or early upbringing, characterized by loss, discipline, abuse, and depression. Her mom was mentally unstable, and she lived in several foster homes as a result -where she was often sexually raped or abused. Uranus in Pisces is very sensitive and intuitive and otherworldly, and Neptune in Leo makes her part of the "Hollywood" generation that glamorizes love, romance, fame, and power. Pluto in Cancer is her and her generation's intense emotional nature and devotion to home and family life. In the 12th house, it brings subconcious transformation and renewal.