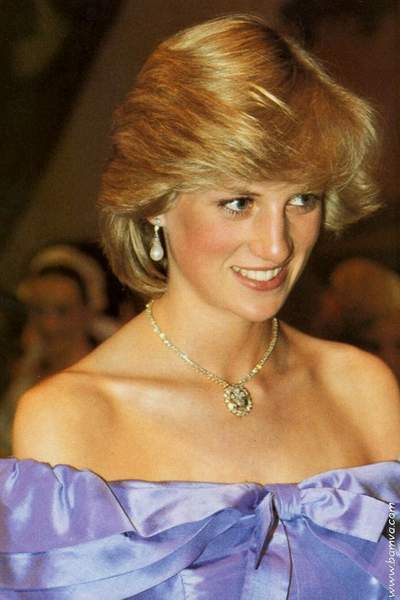 Princess Diana Spencer
of Wales(1961-1997)

Born
Diana Frances Spencer
July 1, 1961, 7:45 PM BST
Sandringham, England
0E30 52N50
Sun in Cancer 9°40'
Moon in Aquarius 25°02'
Mercury in Cancer 3°12'R
Venus in Taurus 24°24'
Mars in Virgo 1°39'
Jupiter in Aquarius 5°05'R
Saturn in Capricorn 27°50'R
Uranus in Leo 23°20'
Neptune in Scorpio 8°38'R
Pluto in Virgo 6°02'
---
Ascendant in Sagittarius 18°24'
MidHeaven in Libra 23°03'
---
popular princess of the UK.
Married and divorced to Prince
Charles(1981-97) with two sons,
Prince William and Prince Harry of
Wales. Diana was an unconventional
lady who was a challenge to the
ways of the Royal Family. Her auto
"accident" under the Pont de L'Alma
underpass in Paris, France, on
August 31st, 1997 occurred
under highly suspicious
circumstances.
Ascendant in Sagittarius gives Diana her basic good looks and charm. Midheaven in Libra is her princess and beauty status. Sun and Mercury in Cancer is her true inner nature which is private, sensitive, and nurturing. In the 8th house, Sun and Mercury brings light to dark or forbidden subjects(which Diana was privy to within the Royal Family). Moon and Jupiter in Aquarius is her huge popularity with the public and her truthful and humanitarian nature. In the 3nd house, Moon and Jupiter made Diana a media darling. Many books are written about her including her own autobiography. Venus is in its home sign of Taurus giving her excellent taste and all the wealth or material resources she needs. In the sixth house, there is a lot of funding for health programs and a pleasant working environment. Mars and Pluto are in Virgo making her an intensely hard worker and fine example of health and hygeine. In the 4th house, Mars and Pluto instigate fierce battles and subterfuge in the home or family environment. She was often at odds with the Royals and sufferred unbearable pressure as a result. Saturn is in its own sign of Capricorn giving her dignity, endurance, management capacity, and much responsibility. In the 2nd house, Saturn limits or restricts your finances and holdings or possessions, and Diana had to work extra hard for whatever she earned. Uranus in Leo is her more unconventional and flashy side, given to outbursts of pride and anger. In the 9th house, Uranus freely explores travel and different cultures and philosophies and becomes very special or unique here. and Neptune in Scorpio is her and her generation's deep, passionate, mystical side that likes to research and investigate. Neptune in her 12th house(dignified) needs lots of privacy and seclusion and rest to restore her delicate psyche, and can be very intuitive or psychic. Pluto in Virgo is a generation of deeply skilled or specialized workers with very select views on diet, health, and physical activity. In her 4th house, Pluto experiences heaven and hell in the domestic sphere leading to intense emotional transformations.