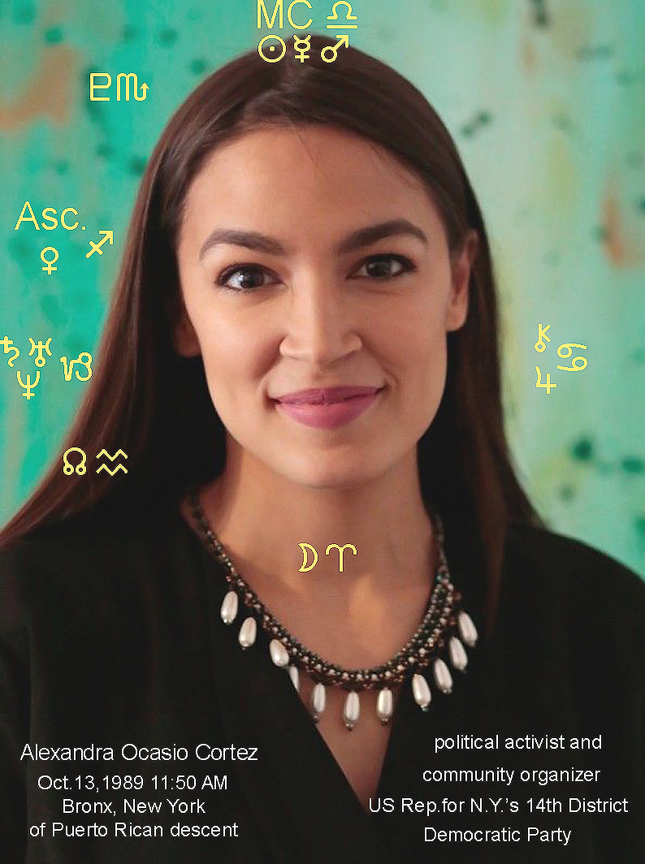 Volatile Alexandra Ocasio-Cortez has 8 of her planets plus the MC in cardinal signs making her extremely active, forceful, and driven to accomplish. She has in fact a grand cardinal cross with Libra and Capricorn dominating. Those two signs with Sag explains her Major in international relations and economics. She was also a waitress and bartender on and off to help pay the bills and care for her parents(Jupiter in Cancer). In high school she was tops in microbiology and nematode reproduction(Pluto in Scorpio) and had an asteroid(23238) named in her honor. He entry into politics began when she learned the ins and outs of having to sell her home and other survival issues. She quickly rose the ranks speaking openly on many issues from jobs, taxes, prison care, immigration, education, healthcare, and the environment. Moon in Aries no doubt landed her in hot water on these issues as this position is fiery, aggressive, impulsive, and impatient, but her Libra grouping kept this in check. Saturn, Uranus, and Neptune in Capricorn shows powerful and unique administrative skills and this coupled with her social skills(Libra) has in many ways made her unbeatable. Her Green New Deal to address climate change has come under fire as not being practical or well thought out, as are many of her other proposals, but she means well and wants to get things done. With Sun, Mercury and Mars on the MC in her 11th whole sign house, her goals are definitely within reach.
Overall, Alexandra Ocasio-Cortez, wants to bring harmony, equality, beauty, and justice(mostly good Libra placements) on an international scale(fair Sag placements), via politics and organizations(mostly good Capricorn placements), as well as meet the basic needs of all(Chiron and exalted Jupiter in Cancer), but she needs to slow down and not ram her way through so much(bad Aries placement). If successful, she can be instrumental in bringing about very profound, beneficial, and permanent changes in our society(Pluto in Scorpio), and achieve her humanitarian longings(North Node in Aquarius).

Numerologically, Alexandra Ocasio-Cortez adds up to 22, a master number concerned with mastering the material plane. She can rise to material and political greatness or fall to dismal earthly depths. Her birthday adds up to 5 or Mercury which is the speaker and communicator.