The Minor Planets in Astrology
How Valid Are They?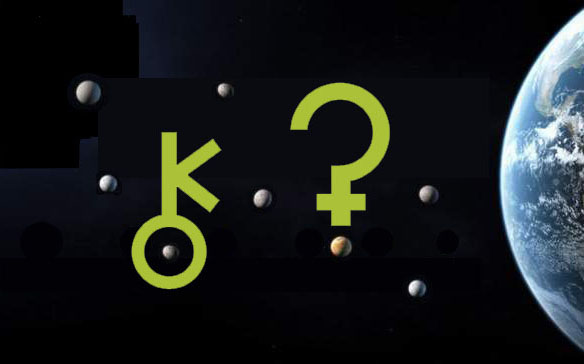 Minor planets or bodies are are anything smaller than major planets but larger than meteorites and most comets. They can be located anywhere in our system from the Sun to Neptune and beyond. Ceres, discovered in 1801, was the first minor planet discovered and named, and many others quickly followed. Today, thanks to more and more powerful telescopes and tracking devices, there are many thousands of such bodies named and catalogued by astronomers. Most of these are very small and irregular asteroids, and with a few exceptions, are generally ignored by astrologers, but the larger and more spherical ones are being closely studied and even incorporated into chart interpretation. .

There are many classes of minor planets, mostly based on their location. Vulcanoid asteroids, for example, are presumably located within the orbit of Mercury, close to the Sun, although none have yet been ascertained. Apoheles are asteroids within the orbit of the Earth. Then there are near-Earth asteroids, and well-known "crosser" asteroids for each of the inner planets, as well as some like Icarus and Phaeton which travel the entire inner-planet range. Most asteroids, however are located between the orbits of Mars and Jupiter, the largest being Ceres, Vesta, Pallas, Juno, and Hygiea. Ceres, the largest, is spherical and considered by many to be a major planet.

Some of the outer planets, especially Jupiter, have thousands of Trojan asteroids which lead or trail their orbits. Centaurs, such as Chiron and Pholus, which are a cross between asteroid and comet, orbit between Jupiter and Neptune. Beyond Neptune is the Kuiper asteroid belt, home of the TNO's(transneptunian objects), including plutinos(Pluto-like or Neptune-resonant) and the cubewanos(further out and non-Neptune resonant). Scattered-disk objects like Eris, 2000 CR105, and possibly Sedna, cross the Kuiper belt but then go far beyond it. They have very highly inclined or eccentric orbits and may actually be major planets. Finally, there are inner and outer Oort objects which are the furthest, and of which Sedna belongs to.

Important Minor Planets in Astrology

All cosmic bodies have astrological influence, from the asteroids and comets to the stars and galaxies. The real question is -Which are relevant to the individual or the chart in question? This is a relatively new and growing concern spurned by all the new discoveries being made. Unless you're immortal, the vast stellar cycles don't mean much, which is why most astrologers ignore them. Even in our own solar system, the cycles of the bodies beyond Saturn only become really significant if we are long-lived. Their influences, however, are very real, even if they are mostly on a subconcious or collective level. Times are-a-changing, though. We are now at a point in history where immortality is within easy reach and where our collective conciousness is readying us for these longer and more meaningful cycles. From Uranus(1781) to Ceres(1801) to Neptune(1846) to Pluto(1930) to Chiron(1977) to Charon(1978) to the Kuiper belt(1992) to the explosion of all those new trans-Neptunians now being discovered, and our newly-formed definition of "planet"(2006), the minor planets are taking on a new significance -for both astronomers and astrologers.

With so many of them, which should we consider, and just how powerful or influential are they in the horoscope? This is determined largely with time and observation on the part of astrologers. Minor planets, just like the minor gods, have a definite influence in the horoscope and in our lives, albeit less so than the major planets. They focus on details or specifics in the chart. In the cosmic scheme, they are the links or mediators between humanity and the Gods. The major planets or Gods, on the other hand, deal more with major or general themes and issues. They can be likened to kings or presidents, whereas the minor planets can be likened to their immediate subordinates. Another analogy is continents versus countries, states, and cities. This implies that there are also different levels of minor planets, which is so. While size is an important factor it is not always a clear indication of a planet's level. Russia and the Vatican, for example, are both countries and exercise great power, but they are vastly different in size. Pluto, for example, may be tiny in comparison with the other main planets, but it exercises power beyond its size and is recognized as a major planet by most astrologers.

A final analogy can be made with major and minor chakras or enegy centers in the body. There are twelve major chakras and perhaps 144 minor ones. The minor ones can be further subdivided by tens, hundreds, or one thousand to arrive at that magical number of 144,000, the number of elect souls who, according to the bible, are to supposedly rule over the "normal" masses of humanity.

Of all the minor bodies, Ceres, Pallas, Juno, Vesta and Chiron are the most popular among astrologers. Here is a brief description of these bodies.

Ceres is the largest of the inner asteroid bodies between Mars and Jupiter, measuring some 587? miles in diameter and is very planet-like in appearance. It was considered a full-fledged planet when discovered on Jan.1, 1801, before later being demoted to an asteroid, and almost became a major planet again in August 2006 -but the ruling was overturned. It has been elevated to "dwarf planet" status by astronomers and is no longer an asteroid. In mythology, Ceres is the godess of grain and the harvest and is associated with food and nurturing. The two astrological signs most frequently associated with it are Cancer and Virgo. Ceres takes just over 4.5 years to complete its orbit around the Sun, which is well within our life-cycle, and may play an important role in our daily functioning. For an ephemeris of Ceres see here.

Pallas, Juno, and Vesta were the next asteroids to be discovered after Ceres, and later the asteroid belt itself. These three bodies are smaller than Ceres and irregular in shape, although Vesta comes close to being spherical. Pallas(also known as Pallas-Athene) is the godess of wisdom and war, and Juno the godess of marriage and relationships(often linked to Libra), while Vesta has more to do with purity or duty(vestal virgins) and is often linked to Virgo. For a general ephemeris of these asteroids or minor planets see here.

Chiron is the first of the centaurs, discovered on November 1st of 1977, and coincided with the wholistic or New Age movement of the time. It is somewhere between an asteroid and a comet, and despite its small size(some 100-150 miles in diameter) it seems to have taken on important astrological significance, probably due to its strategic location between Saturn and Uranus at an average of 13.7 AU. It makes a complete orbit around the Sun in about 51 years -or the average lifespan(historically). Chiron has important healing or teaching properties and has been variously associated with the astrological signs of Virgo, Libra, Scorpio, and Sagittarius. It is often described as the bridge between the inner visible planets and the outer invisible ones, or between our mortality and immortality. For Chiron's position in your chart see here.

Here's where it gets real exciting. Ever since 1992, a whole new region of our planet system opened up to us -the so-called Kuiper belt, a trans-Neptunian region of space some 30 to 50 AU from the Sun, littered with small planet-like bodies, including our beloved Pluto. All of a sudden, Pluto was not the only one of its kind, and a whole new category, the "plutinos" had to be invented. Another group of similar bodies, the "cubewanos" occupy the latter half of the belt. Over 1000 Kuiper belt objects have been discovered thus far(2018).

As if this wasn't enough, there is now an almost totally unknown region of space beyond the Kuiper belt(the Oort region) stretching to 100,000 AU or about halway to the closest star. This is the edge of our Sun's influence, and what lies here is anyone's guess! We have only begun the exploration of our outer solar system and the deeper we go, the further back in time we travel, to our mysterious and primal origins. Sedna, the farthest known object thus far, represents part of this journey.

Here are some of the notable and preliminary discoveries of the trans-Neptunian zone...
Minor Planet
or Body

Classification
or Type

Year of
discovery

Distance
in AU(avg)

Diameter
in Miles

Orbital Period
in Years

Orcus

plutino

2004

39.3

600-1200

247.5

Pluto

dwarf planet

1930

39.5

1429

248.1

Ixion

plutino

2001

39.6

500-600

248.6

Varuna

cubewano

2000

42.9

500-600

283.2

2003 EL61

cubewano

2005

43.3

600x950x1250

285.4

Quaoar

cubewano

2002

43.6

600-800+

286

2005FY9

cubewano

2005

45.8

990-1245

309.9

Eris

dwarf planet

2005

67.7

1490

557

Sedna

undetermined

2003

486

750-1110+

12,050
Pluto is considered a major planet by most astrologers, its effects being well known. Eris and Sedna may also come to be included as such, although it's still a little early to tell. Quaoar is also an interesting candidate followed by Varuna and Ixion. 2005 FY9 and 2003 EL61 are quite sizable and interesting, but untill they get named, we won't have much of an astrological handle on them. Ephemeris positions for these bodies can be found here.
Other Minor Bodies
Minor Planet
or Body

Classification
or Type

Year of
discovery

Distance
in AU(avg)

Diameter
in Miles

Orbital Period
in Years

Thereus

centaur

2001

10.6

25-59

34.6

Echeclus

centaur

2000

10.8

16-47

35.4

Elatus

centaur

1999

11.8

15-36

40.4

Chariklo

centaur

1997

15.9

62-195

63.2

Bienor

centaur

2000

16.5

35-113

66.9

Absolus

centaur

1995

18

25-59

76.3

Crantor

centaur

2002

19.5

18-57

86.4

Pelion

centaur

1998

20

10-32

89.3

Pholus

centaur

1992

20.4

68-149

92.3

Nessus

centaur

1993

24.6

21-45

122.3

Hylonome

centaur

1995

25.2

40-93

126.5

Amycus

centaur

2002

25.3

37-103

127

Cyllarus

centaur

1998

26.1

17-52

133.2

Rhamadanthus

plutino

1999

39.2

54-171

245.8

2003 VS2

plutino

2003

39.3

172-534

246.1

2003 AZ84

plutino

2003

39.5

186-621

247.8

Huya

plutino

2000

39.7

298

250.4

2002 MS4

cubewano

2002

41.9

800+?

271.3

2004 GV9

cubewano

2004

42.2

200-600?

274.5

2002 UX25

cubewano

2002

42.5

520

277.3

2002 TX300

cubewano

2002

43.1

559

282.8

1992 QB1

cubewano

1992

43.7

270

289.2

Deucalion

cubewano

1999

44.4

57-179

295.4

Logos

cubewano

1997

45.4

50

305.8

Chaos

cubewano

1998

45.5

348

309.1

2002 AW197

cubewano

2002

47.5

493

327.2

2001 UR163

SDO

2001

51.4

171-534

368.5

2002 TC302

SDO

2002

55.0

186-621

408.1

2004 XR190

SDO

2004

57.4

150-460

430.7

1996 TL66

SDO

1996

82.7

93-311

752.8

1996 GQ21

SDO

1996

95

108-337

925.4
SDO=Scattered Disc Object

For a more complete list and imfo see here

back to table
back to home