Basics 2:
Aspects and Houses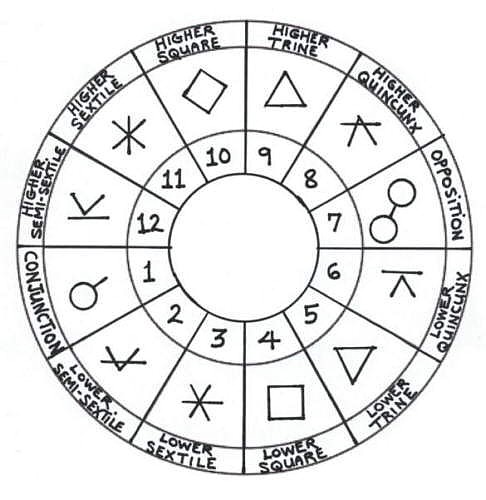 In my personal opinion, aspects and houses mean the same thing, so that Mars in the 5th House actually means that Mars is in lower trine relationship(by sign) to the Earth/Ascendant, but because we live or are focused on the Earth plane, such relationships become a big deal, and so the "Houses" are born. The explanation is that Earth becomes a "grounding" mechanism for the other heavenly bodies via the house system. In any case, special attention should be given to the aspects or relationships between the Earth/Ascendant and the planets.

Houses are numbered 1 to 12. House 1 is your Ascendant sign and the other signs follow. Planets in your first house are conjunct(in the same sign) as your Ascendant. Planets in the following house or sign are semi-sextile to your Ascendant and so on around the wheel. The Midheaven is the celestial sphere, which has as its source, the Earth's Inner Central Sun, and should be treated as a planet. It has nothing to do with the 10th house, other than the fact that it is frequently situated there.

Too much emphasis is given to degrees in Astrology, resulting in aspects that don't exist, including "out of sign" aspects which are purely mathematical but not astrological. There are seven basic aspects, five of which double up(just like the sign rulership scheme) and that's that. Forget about quintiles(72degrees) and semi-squares(45degrees) -they are not astrological. The only valid astrological aspects are based on sign relationships, and just as the double rulership scheme is singling out, so should the aspect scheme. In other words, there are actually 12 and not 7 aspects.

Aspects by degree only intensify what is already there by sign or element, so that all planets are always relating to one another to some degree, just as all parts of your body are always relating to one another to some degree(otherwise you would become dismembered!).

Here is a list of the aspects in their exactness and their associations with the other elements of astrology...


| | | | | |
| --- | --- | --- | --- | --- |
| aspect | degree | same nature as | same nature as | keyword |
| conjunction | 0/360 degrees | Mars/Aries | 1st house | emphasis |
| lower semi-sextile | 30 degrees | Venus/Taurus | 2nd house | gain |
| lower sextile | 60 degrees | Mercury/Gemini | 3rd house | opportunity |
| lower square | 90 degrees | Moon/Cancer | 4th house | tension |
| lower trine | 120 degrees | Sun/Leo | 5th house | flow |
| lower quincunx | 150 degrees | (Mercury),X/Virgo | 6th house | strain |
| opposition | 180 degrees | Earth/Libra | 7th house | compromise |
| higher quincunx | 210(150)degrees | Pluto/Scorpio | 8th house | strain |
| higher trine | 240(120)degrees | Jupiter/Sagittarius | 9th house | flow |
| higher square | 270(90)degrees | Saturn/Capricorn | 10th house | tension |
| higher sextile | 300(60)degrees | Uranus/Aquarius | 11th house | opportunity |
| higher semi-sextle | 330(30)degrees | Neptune/Pisces | 12th house | loss |
back to archives
back to main