Comet Nishimura ephemeris 1600-2500 AD
Comet Nishimura (C/2023 P1) named after its discoverer Hideo Nishimura was discovered on August 12, 2023 and will come closest to us in mid-September of 2023. It's last perihelion was in July of 1588 AD. It has an interesting orbit of some 434 years and a high inclination to the ecliptic of 132 degrees. At perihelion it comes just inside the orbit of Mercury.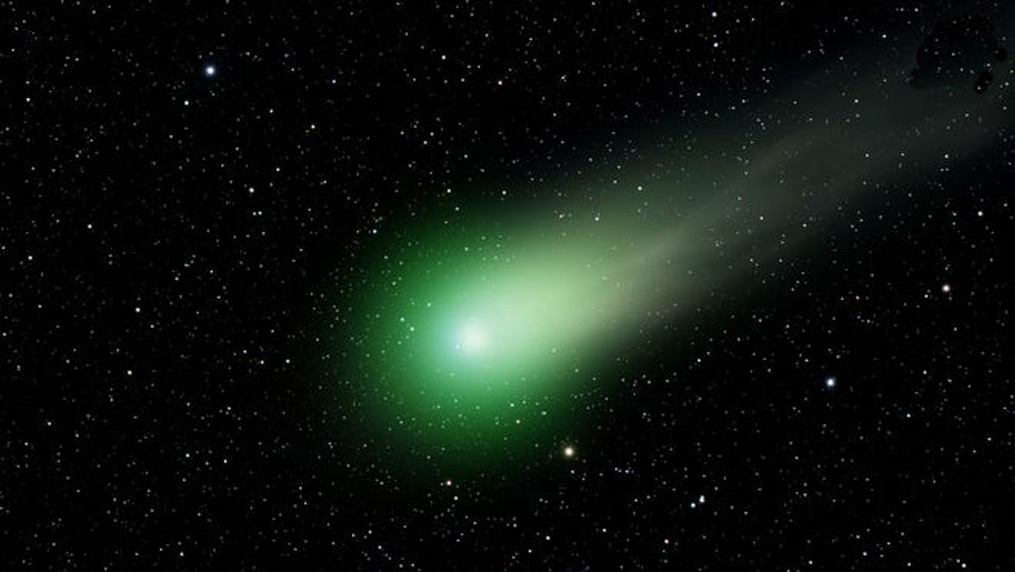 It looks a lot (greenish) like comet Ison back in 2013, but has a much shorter orbit, and like all comets portends that some significant event is about to occur on the world scene. It spends most of its time in tropical Leo or Cancer and travels retrograde through the signs except during close approaches. Most of us alive today have it in the sign of tropical Cancer.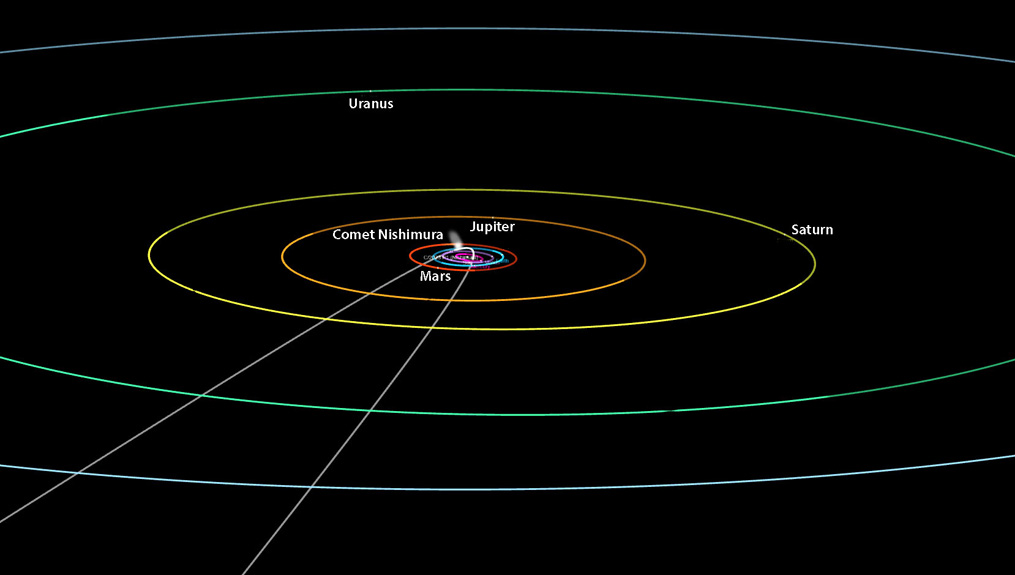 Below is a long-term ephemeris of the comet between 1600 and 2500 AD (derived from the Jet Propulsion Horizons website).
Nishimura(C/2023 P1) ephemeris Midnight UT
1600 Jan 01 = 09Leo45
1660's to 1680's Leo/Cancer
1700 Jan 01 = 29Can19
1800 Jan 01 = 28Can07
1900 Jan 01 = 27Can11
1910 Jan 01 = 27Can02
1920 Jan 01 = 26Can54
1930 Jan 01 = 26Can42
1940 Jan 01 = 26Can29
1950 Jan 01 = 26Can14
1960 Jan 01 = 25Can56
1970 Jan 01 = 25Can33
1980 Jan 01 = 25Can04
1990 Jan 01 = 24Can22
2000 Jan 01 = 23Can22
2010 Jan 01 = 21Can34
2020 Jan 01 = 15Can55
2022 Jan 01 = 10Can57


2023 Jan 01 = 02Can32
2023 Jan 07 = 30Gem00
2023 Feb 01 = 21Gem07
2023 Mar 01 = 14Gem25
2023 Apr 01 = 13Gem01
2023 May 01 = 15Gem45
2023 Jun 01 = 21Gem20
2023 Jul 01 = 28Gem51
2023 Jul 05 = 00Can00
2023 Aug 01 = 09Can50
2023 Aug 28 = 00Leo00
2023 Sep 01 = 06Leo47
2023 Sep 09 = 00Vir00
2023 Sep 15 = 22Vir49
2023 Sep 16 = 00Lib00
2023 Oct 01 = 18Lib59
2023 Nov 01 = 25Lib50
2023 Dec 01 = 29Lib48
2023 Dec 04 = 00Sco00
2023 Dec 26 = 30Lib00


2024 Jan 01 = 29Lib18
2024 Feb 01 = 16Lib30
2024 Feb 18 = 30Vir00
2024 Mar 01 = 16Vir50
2024 Mar 19 = 30Leo00
2024 Apr 01 = 22Leo27
2024 May 01 = 16Leo18
2024 Jun 01 = 17Leo57
2024 Jul 01 = 22Leo34
2024 Aug 01 = 28Leo26
2024 Aug 9/10 = 00Vir00
2024 Sep 01 = 04Vir26
2024 Oct 01 = 09Vir29
2024 Nov 01 = 13Vir10
2024 Dec 01 = 14Vir03


2025 Jan 01 = 10Vir51
2026 Jan 01 = 00Vir26
2026 Jan 04 = 30Leo00
2027 Jan 01 = 25Leo33
2028 Jan 01 = 22Leo34
2029 Jan 01 = 20Leo26
2030 Jan 01 = 18Leo54
2035 Jan 01 = 14Leo33
2040 Jan 01 = 12Leo25
2050 Jan 01 = 10Leo03


2100 Jan 01 = 06Leo18
2200 Jan 01 = 04Leo22
2300 Jan 01 = 03Leo15
2376 to 2410 = Leo/Can
2400 Jan 01 = 00Leo01
2500 Jan 01 = 12Leo21