Hygiea the Newest Smallest Dwarf Planet


Using better more powerful telescopes, astronomers now have a better image of Hygiea, the 4th largest asteroid after Ceres, Vesta, and Pallas, and many astronomers are now reclassifying it as dwarf planet because of its spherical shape. This makes it the 2nd dwarf planet after Ceres in the main asteroid belt between Mars and Jupiter. The original article came out in Nature Astronomy on Otober 28, 2019.

Hygiea photo Nov.2019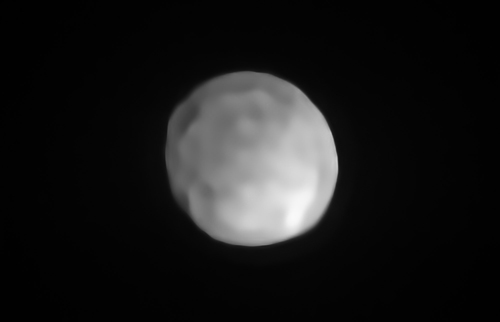 10 Hygeia was discovered on Apr.12, 1849 by Annibale de Gasparis in Naples, Italy. Hygiea is estimated to be some 270 miles or 434 kilometers across with a 13.8 hour rotation. It has a 5.57 year orbit and a 3.8 degree inclination to the ecliptic. It varies in magnitude between 9 and 12.
In Greek mythology, Hygieia was the goddess of good health, cleanliness and hygiene(whence her name came from). She was the daughter of the god of medicine, Asclepius, and Epione the godess of healing. Her four sisters represented the four facets of healing. They were Panacea (goddess of universal remedy), Iaso (goddess of recuperation), Aceso (goddess of healing process), and Aglaea or Aegle (goddess of beauty and splendor). She also had a brother, Telesphorus, by whom she was always accompanied. Hygieia was often depicted as a young woman feeding a large snake that was wrapped around her body or with a jar she carried from which she always drank. She was recognized as an independant goddess since 427 BC.
Astrologically, Hygiea has to do with health and hygiene and appears to be prominent(conjunct the angles, luminaries, nodes, or very highly aspected) in the charts of doctors, healers, and medical people in general. Some writers/astrologers have linked her with the sign of Virgo.
Below is a daily ephemeris of Hygiea in the tropical zodiac for the years 1850 to 2050
Hygiea ephemeris
1850 to 2050 AD


          Date      |   Hygiea    |
                    |             |
                    |     LONG    |
-----------------------------------
01 Jan 1850 Noon UT | 16 sa 42    |
02 Jan 1850 Noon UT | 17 sa  7    |
03 Jan 1850 Noon UT | 17 sa 31    |
04 Jan 1850 Noon UT | 17 sa 56    |
05 Jan 1850 Noon UT | 18 sa 20    |
06 Jan 1850 Noon UT | 18 sa 44    |
07 Jan 1850 Noon UT | 19 sa  9    |
08 Jan 1850 Noon UT | 19 sa 33    |
09 Jan 1850 Noon UT | 19 sa 57    |
10 Jan 1850 Noon UT | 20 sa 21    |
11 Jan 1850 Noon UT | 20 sa 45    |
12 Jan 1850 Noon UT | 21 sa  9    |
13 Jan 1850 Noon UT | 21 sa 33    |
14 Jan 1850 Noon UT | 21 sa 57    |
15 Jan 1850 Noon UT | 22 sa 21    |
16 Jan 1850 Noon UT | 22 sa 44    |
17 Jan 1850 Noon UT | 23 sa  8    |
18 Jan 1850 Noon UT | 23 sa 32    |
19 Jan 1850 Noon UT | 23 sa 55    |
20 Jan 1850 Noon UT | 24 sa 19    |
21 Jan 1850 Noon UT | 24 sa 42    |
22 Jan 1850 Noon UT | 25 sa  6    |
23 Jan 1850 Noon UT | 25 sa 29    |
24 Jan 1850 Noon UT | 25 sa 52    |
25 Jan 1850 Noon UT | 26 sa 15    |
26 Jan 1850 Noon UT | 26 sa 38    |
27 Jan 1850 Noon UT | 27 sa  1    |
28 Jan 1850 Noon UT | 27 sa 24    |
29 Jan 1850 Noon UT | 27 sa 47    |
30 Jan 1850 Noon UT | 28 sa 10    |
31 Jan 1850 Noon UT | 28 sa 33    |
01 Feb 1850 Noon UT | 28 sa 55    |
02 Feb 1850 Noon UT | 29 sa 18    |
03 Feb 1850 Noon UT | 29 sa 40    |
04 Feb 1850 Noon UT |  0 cp  3    |
05 Feb 1850 Noon UT |  0 cp 25    |
06 Feb 1850 Noon UT |  0 cp 47    |
07 Feb 1850 Noon UT |  1 cp  9    |
08 Feb 1850 Noon UT |  1 cp 31    |
09 Feb 1850 Noon UT |  1 cp 53    |
10 Feb 1850 Noon UT |  2 cp 15    |
11 Feb 1850 Noon UT |  2 cp 37    |
12 Feb 1850 Noon UT |  2 cp 59    |
13 Feb 1850 Noon UT |  3 cp 20    |
14 Feb 1850 Noon UT |  3 cp 42    |
15 Feb 1850 Noon UT |  4 cp  3    |
16 Feb 1850 Noon UT |  4 cp 24    |
17 Feb 1850 Noon UT |  4 cp 45    |
18 Feb 1850 Noon UT |  5 cp  6    |
19 Feb 1850 Noon UT |  5 cp 27    |
20 Feb 1850 Noon UT |  5 cp 48    |
21 Feb 1850 Noon UT |  6 cp  9    |
22 Feb 1850 Noon UT |  6 cp 29    |
23 Feb 1850 Noon UT |  6 cp 50    |
24 Feb 1850 Noon UT |  7 cp 10    |
25 Feb 1850 Noon UT |  7 cp 30    |
26 Feb 1850 Noon UT |  7 cp 50    |
27 Feb 1850 Noon UT |  8 cp 10    |
28 Feb 1850 Noon UT |  8 cp 30    |
01 Mar 1850 Noon UT |  8 cp 50    |
02 Mar 1850 Noon UT |  9 cp  9    |
03 Mar 1850 Noon UT |  9 cp 29    |
04 Mar 1850 Noon UT |  9 cp 48    |
05 Mar 1850 Noon UT | 10 cp  7    |
06 Mar 1850 Noon UT | 10 cp 26    |
07 Mar 1850 Noon UT | 10 cp 45    |
08 Mar 1850 Noon UT | 11 cp  4    |
09 Mar 1850 Noon UT | 11 cp 22    |
10 Mar 1850 Noon UT | 11 cp 41    |
11 Mar 1850 Noon UT | 11 cp 59    |
12 Mar 1850 Noon UT | 12 cp 17    |
13 Mar 1850 Noon UT | 12 cp 35    |
14 Mar 1850 Noon UT | 12 cp 53    |
15 Mar 1850 Noon UT | 13 cp 10    |
16 Mar 1850 Noon UT | 13 cp 28    |
17 Mar 1850 Noon UT | 13 cp 45    |
18 Mar 1850 Noon UT | 14 cp  2    |
19 Mar 1850 Noon UT | 14 cp 19    |
20 Mar 1850 Noon UT | 14 cp 36    |
21 Mar 1850 Noon UT | 14 cp 53    |
22 Mar 1850 Noon UT | 15 cp  9    |
23 Mar 1850 Noon UT | 15 cp 25    |
24 Mar 1850 Noon UT | 15 cp 41    |
25 Mar 1850 Noon UT | 15 cp 57    |
26 Mar 1850 Noon UT | 16 cp 13    |
27 Mar 1850 Noon UT | 16 cp 28    |
28 Mar 1850 Noon UT | 16 cp 44    |
29 Mar 1850 Noon UT | 16 cp 59    |
30 Mar 1850 Noon UT | 17 cp 13    |
31 Mar 1850 Noon UT | 17 cp 28    |
01 Apr 1850 Noon UT | 17 cp 43    |
02 Apr 1850 Noon UT | 17 cp 57    |
03 Apr 1850 Noon UT | 18 cp 11    |
04 Apr 1850 Noon UT | 18 cp 25    |
05 Apr 1850 Noon UT | 18 cp 38    |
06 Apr 1850 Noon UT | 18 cp 52    |
07 Apr 1850 Noon UT | 19 cp  5    |
08 Apr 1850 Noon UT | 19 cp 18    |
09 Apr 1850 Noon UT | 19 cp 30    |
10 Apr 1850 Noon UT | 19 cp 43    |
11 Apr 1850 Noon UT | 19 cp 55    |
12 Apr 1850 Noon UT | 20 cp  7    |
13 Apr 1850 Noon UT | 20 cp 19    |
14 Apr 1850 Noon UT | 20 cp 30    |
15 Apr 1850 Noon UT | 20 cp 41    |
16 Apr 1850 Noon UT | 20 cp 52    |
17 Apr 1850 Noon UT | 21 cp  3    |
18 Apr 1850 Noon UT | 21 cp 13    |
19 Apr 1850 Noon UT | 21 cp 23    |
20 Apr 1850 Noon UT | 21 cp 33    |
21 Apr 1850 Noon UT | 21 cp 43    |
22 Apr 1850 Noon UT | 21 cp 52    |
23 Apr 1850 Noon UT | 22 cp  1    |
24 Apr 1850 Noon UT | 22 cp 10    |
25 Apr 1850 Noon UT | 22 cp 18    |
26 Apr 1850 Noon UT | 22 cp 27    |
27 Apr 1850 Noon UT | 22 cp 35    |
28 Apr 1850 Noon UT | 22 cp 42    |
29 Apr 1850 Noon UT | 22 cp 49    |
30 Apr 1850 Noon UT | 22 cp 56    |
01 May 1850 Noon UT | 23 cp  3    |
02 May 1850 Noon UT | 23 cp 10    |
03 May 1850 Noon UT | 23 cp 16    |
04 May 1850 Noon UT | 23 cp 21    |
05 May 1850 Noon UT | 23 cp 27    |
06 May 1850 Noon UT | 23 cp 32    |
07 May 1850 Noon UT | 23 cp 37    |
08 May 1850 Noon UT | 23 cp 41    |
09 May 1850 Noon UT | 23 cp 45    |
10 May 1850 Noon UT | 23 cp 49    |
11 May 1850 Noon UT | 23 cp 53    |
12 May 1850 Noon UT | 23 cp 56    |
13 May 1850 Noon UT | 23 cp 59    |
14 May 1850 Noon UT | 24 cp  1    |
15 May 1850 Noon UT | 24 cp  3    |
16 May 1850 Noon UT | 24 cp  5    |
17 May 1850 Noon UT | 24 cp  6    |
18 May 1850 Noon UT | 24 cp  7    |
19 May 1850 Noon UT | 24 cp  8    |
20 May 1850 Noon UT | 24 cp  9    |
21 May 1850 Noon UT | 24 cp  9 Rx |
22 May 1850 Noon UT | 24 cp  8 Rx |
23 May 1850 Noon UT | 24 cp  8 Rx |
24 May 1850 Noon UT | 24 cp  7 Rx |
25 May 1850 Noon UT | 24 cp  5 Rx |
26 May 1850 Noon UT | 24 cp  4 Rx |
27 May 1850 Noon UT | 24 cp  2 Rx |
28 May 1850 Noon UT | 23 cp 59 Rx |
29 May 1850 Noon UT | 23 cp 57 Rx |
30 May 1850 Noon UT | 23 cp 53 Rx |
31 May 1850 Noon UT | 23 cp 50 Rx |
01 Jun 1850 Noon UT | 23 cp 46 Rx |
02 Jun 1850 Noon UT | 23 cp 42 Rx |
03 Jun 1850 Noon UT | 23 cp 38 Rx |
04 Jun 1850 Noon UT | 23 cp 33 Rx |
05 Jun 1850 Noon UT | 23 cp 28 Rx |
06 Jun 1850 Noon UT | 23 cp 23 Rx |
07 Jun 1850 Noon UT | 23 cp 17 Rx |
08 Jun 1850 Noon UT | 23 cp 11 Rx |
09 Jun 1850 Noon UT | 23 cp  4 Rx |
10 Jun 1850 Noon UT | 22 cp 58 Rx |
11 Jun 1850 Noon UT | 22 cp 51 Rx |
12 Jun 1850 Noon UT | 22 cp 43 Rx |
13 Jun 1850 Noon UT | 22 cp 36 Rx |
14 Jun 1850 Noon UT | 22 cp 28 Rx |
15 Jun 1850 Noon UT | 22 cp 20 Rx |
16 Jun 1850 Noon UT | 22 cp 11 Rx |
17 Jun 1850 Noon UT | 22 cp  3 Rx |
18 Jun 1850 Noon UT | 21 cp 54 Rx |
19 Jun 1850 Noon UT | 21 cp 45 Rx |
20 Jun 1850 Noon UT | 21 cp 35 Rx |
21 Jun 1850 Noon UT | 21 cp 26 Rx |
22 Jun 1850 Noon UT | 21 cp 16 Rx |
23 Jun 1850 Noon UT | 21 cp  6 Rx |
24 Jun 1850 Noon UT | 20 cp 55 Rx |
25 Jun 1850 Noon UT | 20 cp 45 Rx |
26 Jun 1850 Noon UT | 20 cp 34 Rx |
27 Jun 1850 Noon UT | 20 cp 24 Rx |
28 Jun 1850 Noon UT | 20 cp 13 Rx |
29 Jun 1850 Noon UT | 20 cp  2 Rx |
30 Jun 1850 Noon UT | 19 cp 50 Rx |
01 Jul 1850 Noon UT | 19 cp 39 Rx |
02 Jul 1850 Noon UT | 19 cp 28 Rx |
03 Jul 1850 Noon UT | 19 cp 16 Rx |
04 Jul 1850 Noon UT | 19 cp  5 Rx |
05 Jul 1850 Noon UT | 18 cp 53 Rx |
06 Jul 1850 Noon UT | 18 cp 41 Rx |
07 Jul 1850 Noon UT | 18 cp 29 Rx |
08 Jul 1850 Noon UT | 18 cp 18 Rx |
09 Jul 1850 Noon UT | 18 cp  6 Rx |
10 Jul 1850 Noon UT | 17 cp 54 Rx |
11 Jul 1850 Noon UT | 17 cp 42 Rx |
12 Jul 1850 Noon UT | 17 cp 30 Rx |
13 Jul 1850 Noon UT | 17 cp 18 Rx |
14 Jul 1850 Noon UT | 17 cp  7 Rx |
15 Jul 1850 Noon UT | 16 cp 55 Rx |
16 Jul 1850 Noon UT | 16 cp 44 Rx |
17 Jul 1850 Noon UT | 16 cp 32 Rx |
18 Jul 1850 Noon UT | 16 cp 21 Rx |
19 Jul 1850 Noon UT | 16 cp  9 Rx |
20 Jul 1850 Noon UT | 15 cp 58 Rx |
21 Jul 1850 Noon UT | 15 cp 47 Rx |
22 Jul 1850 Noon UT | 15 cp 36 Rx |
23 Jul 1850 Noon UT | 15 cp 26 Rx |
24 Jul 1850 Noon UT | 15 cp 15 Rx |
25 Jul 1850 Noon UT | 15 cp  5 Rx |
26 Jul 1850 Noon UT | 14 cp 55 Rx |
27 Jul 1850 Noon UT | 14 cp 45 Rx |
28 Jul 1850 Noon UT | 14 cp 35 Rx |
29 Jul 1850 Noon UT | 14 cp 25 Rx |
30 Jul 1850 Noon UT | 14 cp 16 Rx |
31 Jul 1850 Noon UT | 14 cp  7 Rx |
01 Aug 1850 Noon UT | 13 cp 58 Rx |
02 Aug 1850 Noon UT | 13 cp 50 Rx |
03 Aug 1850 Noon UT | 13 cp 41 Rx |
04 Aug 1850 Noon UT | 13 cp 33 Rx |
05 Aug 1850 Noon UT | 13 cp 25 Rx |
06 Aug 1850 Noon UT | 13 cp 18 Rx |
07 Aug 1850 Noon UT | 13 cp 11 Rx |
08 Aug 1850 Noon UT | 13 cp  4 Rx |
09 Aug 1850 Noon UT | 12 cp 57 Rx |
10 Aug 1850 Noon UT | 12 cp 51 Rx |
11 Aug 1850 Noon UT | 12 cp 45 Rx |
12 Aug 1850 Noon UT | 12 cp 39 Rx |
13 Aug 1850 Noon UT | 12 cp 34 Rx |
14 Aug 1850 Noon UT | 12 cp 29 Rx |
15 Aug 1850 Noon UT | 12 cp 24 Rx |
16 Aug 1850 Noon UT | 12 cp 19 Rx |
17 Aug 1850 Noon UT | 12 cp 15 Rx |
18 Aug 1850 Noon UT | 12 cp 12 Rx |
19 Aug 1850 Noon UT | 12 cp  8 Rx |
20 Aug 1850 Noon UT | 12 cp  5 Rx |
21 Aug 1850 Noon UT | 12 cp  2 Rx |
22 Aug 1850 Noon UT | 12 cp  0 Rx |
23 Aug 1850 Noon UT | 11 cp 58 Rx |
24 Aug 1850 Noon UT | 11 cp 56 Rx |
25 Aug 1850 Noon UT | 11 cp 55 Rx |
26 Aug 1850 Noon UT | 11 cp 54 Rx |
27 Aug 1850 Noon UT | 11 cp 53 Rx |
28 Aug 1850 Noon UT | 11 cp 52 Rx |
29 Aug 1850 Noon UT | 11 cp 52    |
30 Aug 1850 Noon UT | 11 cp 53    |
31 Aug 1850 Noon UT | 11 cp 53    |
01 Sep 1850 Noon UT | 11 cp 54    |
02 Sep 1850 Noon UT | 11 cp 55    |
03 Sep 1850 Noon UT | 11 cp 57    |
04 Sep 1850 Noon UT | 11 cp 59    |
05 Sep 1850 Noon UT | 12 cp  1    |
06 Sep 1850 Noon UT | 12 cp  4    |
07 Sep 1850 Noon UT | 12 cp  7    |
08 Sep 1850 Noon UT | 12 cp 10    |
09 Sep 1850 Noon UT | 12 cp 13    |
10 Sep 1850 Noon UT | 12 cp 17    |
11 Sep 1850 Noon UT | 12 cp 21    |
12 Sep 1850 Noon UT | 12 cp 26    |
13 Sep 1850 Noon UT | 12 cp 31    |
14 Sep 1850 Noon UT | 12 cp 36    |
15 Sep 1850 Noon UT | 12 cp 41    |
16 Sep 1850 Noon UT | 12 cp 47    |
17 Sep 1850 Noon UT | 12 cp 53    |
18 Sep 1850 Noon UT | 12 cp 59    |
19 Sep 1850 Noon UT | 13 cp  6    |
20 Sep 1850 Noon UT | 13 cp 13    |
21 Sep 1850 Noon UT | 13 cp 20    |
22 Sep 1850 Noon UT | 13 cp 27    |
23 Sep 1850 Noon UT | 13 cp 35    |
24 Sep 1850 Noon UT | 13 cp 43    |
25 Sep 1850 Noon UT | 13 cp 51    |
26 Sep 1850 Noon UT | 14 cp  0    |
27 Sep 1850 Noon UT | 14 cp  8    |
28 Sep 1850 Noon UT | 14 cp 17    |
29 Sep 1850 Noon UT | 14 cp 27    |
30 Sep 1850 Noon UT | 14 cp 36    |
01 Oct 1850 Noon UT | 14 cp 46    |
02 Oct 1850 Noon UT | 14 cp 56    |
03 Oct 1850 Noon UT | 15 cp  6    |
04 Oct 1850 Noon UT | 15 cp 17    |
05 Oct 1850 Noon UT | 15 cp 28    |
06 Oct 1850 Noon UT | 15 cp 39    |
07 Oct 1850 Noon UT | 15 cp 50    |
08 Oct 1850 Noon UT | 16 cp  1    |
09 Oct 1850 Noon UT | 16 cp 13    |
10 Oct 1850 Noon UT | 16 cp 25    |
11 Oct 1850 Noon UT | 16 cp 37    |
12 Oct 1850 Noon UT | 16 cp 49    |
13 Oct 1850 Noon UT | 17 cp  2    |
14 Oct 1850 Noon UT | 17 cp 15    |
15 Oct 1850 Noon UT | 17 cp 28    |
16 Oct 1850 Noon UT | 17 cp 41    |
17 Oct 1850 Noon UT | 17 cp 54    |
18 Oct 1850 Noon UT | 18 cp  8    |
19 Oct 1850 Noon UT | 18 cp 21    |
20 Oct 1850 Noon UT | 18 cp 35    |
21 Oct 1850 Noon UT | 18 cp 50    |
22 Oct 1850 Noon UT | 19 cp  4    |
23 Oct 1850 Noon UT | 19 cp 18    |
24 Oct 1850 Noon UT | 19 cp 33    |
25 Oct 1850 Noon UT | 19 cp 48    |
26 Oct 1850 Noon UT | 20 cp  3    |
27 Oct 1850 Noon UT | 20 cp 18    |
28 Oct 1850 Noon UT | 20 cp 33    |
29 Oct 1850 Noon UT | 20 cp 49    |
30 Oct 1850 Noon UT | 21 cp  4    |
31 Oct 1850 Noon UT | 21 cp 20    |
01 Nov 1850 Noon UT | 21 cp 36    |
02 Nov 1850 Noon UT | 21 cp 52    |
03 Nov 1850 Noon UT | 22 cp  9    |
04 Nov 1850 Noon UT | 22 cp 25    |
05 Nov 1850 Noon UT | 22 cp 42    |
06 Nov 1850 Noon UT | 22 cp 58    |
07 Nov 1850 Noon UT | 23 cp 15    |
08 Nov 1850 Noon UT | 23 cp 32    |
09 Nov 1850 Noon UT | 23 cp 50    |
10 Nov 1850 Noon UT | 24 cp  7    |
11 Nov 1850 Noon UT | 24 cp 24    |
12 Nov 1850 Noon UT | 24 cp 42    |
13 Nov 1850 Noon UT | 24 cp 59    |
14 Nov 1850 Noon UT | 25 cp 17    |
15 Nov 1850 Noon UT | 25 cp 35    |
16 Nov 1850 Noon UT | 25 cp 53    |
17 Nov 1850 Noon UT | 26 cp 11    |
18 Nov 1850 Noon UT | 26 cp 30    |
19 Nov 1850 Noon UT | 26 cp 48    |
20 Nov 1850 Noon UT | 27 cp  6    |
21 Nov 1850 Noon UT | 27 cp 25    |
22 Nov 1850 Noon UT | 27 cp 44    |
23 Nov 1850 Noon UT | 28 cp  3    |
24 Nov 1850 Noon UT | 28 cp 21    |
25 Nov 1850 Noon UT | 28 cp 40    |
26 Nov 1850 Noon UT | 29 cp  0    |
27 Nov 1850 Noon UT | 29 cp 19    |
28 Nov 1850 Noon UT | 29 cp 38    |
29 Nov 1850 Noon UT | 29 cp 58    |
30 Nov 1850 Noon UT |  0 aq 17    |
01 Dec 1850 Noon UT |  0 aq 37    |
02 Dec 1850 Noon UT |  0 aq 56    |
03 Dec 1850 Noon UT |  1 aq 16    |
04 Dec 1850 Noon UT |  1 aq 36    |
05 Dec 1850 Noon UT |  1 aq 56    |
06 Dec 1850 Noon UT |  2 aq 16    |
07 Dec 1850 Noon UT |  2 aq 36    |
08 Dec 1850 Noon UT |  2 aq 56    |
09 Dec 1850 Noon UT |  3 aq 16    |
10 Dec 1850 Noon UT |  3 aq 37    |
11 Dec 1850 Noon UT |  3 aq 57    |
12 Dec 1850 Noon UT |  4 aq 18    |
13 Dec 1850 Noon UT |  4 aq 38    |
14 Dec 1850 Noon UT |  4 aq 59    |
15 Dec 1850 Noon UT |  5 aq 19    |
16 Dec 1850 Noon UT |  5 aq 40    |
17 Dec 1850 Noon UT |  6 aq  1    |
18 Dec 1850 Noon UT |  6 aq 22    |
19 Dec 1850 Noon UT |  6 aq 43    |
20 Dec 1850 Noon UT |  7 aq  4    |
21 Dec 1850 Noon UT |  7 aq 25    |
22 Dec 1850 Noon UT |  7 aq 46    |
23 Dec 1850 Noon UT |  8 aq  7    |
24 Dec 1850 Noon UT |  8 aq 28    |
25 Dec 1850 Noon UT |  8 aq 50    |
26 Dec 1850 Noon UT |  9 aq 11    |
27 Dec 1850 Noon UT |  9 aq 32    |
28 Dec 1850 Noon UT |  9 aq 54    |
29 Dec 1850 Noon UT | 10 aq 15    |
30 Dec 1850 Noon UT | 10 aq 37    |
31 Dec 1850 Noon UT | 10 aq 58    |
01 Jan 1851 Noon UT | 11 aq 20    |
02 Jan 1851 Noon UT | 11 aq 41    |
03 Jan 1851 Noon UT | 12 aq  3    |
04 Jan 1851 Noon UT | 12 aq 25    |
05 Jan 1851 Noon UT | 12 aq 46    |
06 Jan 1851 Noon UT | 13 aq  8    |
07 Jan 1851 Noon UT | 13 aq 30    |
08 Jan 1851 Noon UT | 13 aq 52    |
09 Jan 1851 Noon UT | 14 aq 14    |
10 Jan 1851 Noon UT | 14 aq 36    |
11 Jan 1851 Noon UT | 14 aq 58    |
12 Jan 1851 Noon UT | 15 aq 20    |
13 Jan 1851 Noon UT | 15 aq 42    |
14 Jan 1851 Noon UT | 16 aq  4    |
15 Jan 1851 Noon UT | 16 aq 26    |
16 Jan 1851 Noon UT | 16 aq 48    |
17 Jan 1851 Noon UT | 17 aq 10    |
18 Jan 1851 Noon UT | 17 aq 32    |
19 Jan 1851 Noon UT | 17 aq 54    |
20 Jan 1851 Noon UT | 18 aq 16    |
21 Jan 1851 Noon UT | 18 aq 38    |
22 Jan 1851 Noon UT | 19 aq  1    |
23 Jan 1851 Noon UT | 19 aq 23    |
24 Jan 1851 Noon UT | 19 aq 45    |
25 Jan 1851 Noon UT | 20 aq  7    |
26 Jan 1851 Noon UT | 20 aq 29    |
27 Jan 1851 Noon UT | 20 aq 52    |
28 Jan 1851 Noon UT | 21 aq 14    |
29 Jan 1851 Noon UT | 21 aq 36    |
30 Jan 1851 Noon UT | 21 aq 58    |
31 Jan 1851 Noon UT | 22 aq 21    |
01 Feb 1851 Noon UT | 22 aq 43    |
02 Feb 1851 Noon UT | 23 aq  5    |
03 Feb 1851 Noon UT | 23 aq 28    |
04 Feb 1851 Noon UT | 23 aq 50    |
05 Feb 1851 Noon UT | 24 aq 12    |
06 Feb 1851 Noon UT | 24 aq 35    |
07 Feb 1851 Noon UT | 24 aq 57    |
08 Feb 1851 Noon UT | 25 aq 19    |
09 Feb 1851 Noon UT | 25 aq 42    |
10 Feb 1851 Noon UT | 26 aq  4    |
11 Feb 1851 Noon UT | 26 aq 26    |
12 Feb 1851 Noon UT | 26 aq 48    |
13 Feb 1851 Noon UT | 27 aq 11    |
14 Feb 1851 Noon UT | 27 aq 33    |
15 Feb 1851 Noon UT | 27 aq 55    |
16 Feb 1851 Noon UT | 28 aq 17    |
17 Feb 1851 Noon UT | 28 aq 40    |
18 Feb 1851 Noon UT | 29 aq  2    |
19 Feb 1851 Noon UT | 29 aq 24    |
20 Feb 1851 Noon UT | 29 aq 46    |
21 Feb 1851 Noon UT |  0 pi  9    |
22 Feb 1851 Noon UT |  0 pi 31    |
23 Feb 1851 Noon UT |  0 pi 53    |
24 Feb 1851 Noon UT |  1 pi 15    |
25 Feb 1851 Noon UT |  1 pi 37    |
26 Feb 1851 Noon UT |  1 pi 59    |
27 Feb 1851 Noon UT |  2 pi 21    |
28 Feb 1851 Noon UT |  2 pi 43    |
01 Mar 1851 Noon UT |  3 pi  5    |
02 Mar 1851 Noon UT |  3 pi 27    |
03 Mar 1851 Noon UT |  3 pi 49    |
04 Mar 1851 Noon UT |  4 pi 11    |
05 Mar 1851 Noon UT |  4 pi 33    |
06 Mar 1851 Noon UT |  4 pi 55    |
07 Mar 1851 Noon UT |  5 pi 17    |
08 Mar 1851 Noon UT |  5 pi 39    |
09 Mar 1851 Noon UT |  6 pi  1    |
10 Mar 1851 Noon UT |  6 pi 23    |
11 Mar 1851 Noon UT |  6 pi 44    |
12 Mar 1851 Noon UT |  7 pi  6    |
13 Mar 1851 Noon UT |  7 pi 28    |
14 Mar 1851 Noon UT |  7 pi 49    |
15 Mar 1851 Noon UT |  8 pi 11    |
16 Mar 1851 Noon UT |  8 pi 33    |
17 Mar 1851 Noon UT |  8 pi 54    |
18 Mar 1851 Noon UT |  9 pi 16    |
19 Mar 1851 Noon UT |  9 pi 37    |
20 Mar 1851 Noon UT |  9 pi 59    |
21 Mar 1851 Noon UT | 10 pi 20    |
22 Mar 1851 Noon UT | 10 pi 41    |
23 Mar 1851 Noon UT | 11 pi  3    |
24 Mar 1851 Noon UT | 11 pi 24    |
25 Mar 1851 Noon UT | 11 pi 45    |
26 Mar 1851 Noon UT | 12 pi  6    |
27 Mar 1851 Noon UT | 12 pi 27    |
28 Mar 1851 Noon UT | 12 pi 48    |
29 Mar 1851 Noon UT | 13 pi  9    |
30 Mar 1851 Noon UT | 13 pi 30    |
31 Mar 1851 Noon UT | 13 pi 51    |
01 Apr 1851 Noon UT | 14 pi 12    |
02 Apr 1851 Noon UT | 14 pi 33    |
03 Apr 1851 Noon UT | 14 pi 54    |
04 Apr 1851 Noon UT | 15 pi 14    |
05 Apr 1851 Noon UT | 15 pi 35    |
06 Apr 1851 Noon UT | 15 pi 55    |
07 Apr 1851 Noon UT | 16 pi 16    |
08 Apr 1851 Noon UT | 16 pi 36    |
09 Apr 1851 Noon UT | 16 pi 57    |
10 Apr 1851 Noon UT | 17 pi 17    |
11 Apr 1851 Noon UT | 17 pi 37    |
12 Apr 1851 Noon UT | 17 pi 57    |
13 Apr 1851 Noon UT | 18 pi 17    |
14 Apr 1851 Noon UT | 18 pi 37    |
15 Apr 1851 Noon UT | 18 pi 57    |
16 Apr 1851 Noon UT | 19 pi 17    |
17 Apr 1851 Noon UT | 19 pi 37    |
18 Apr 1851 Noon UT | 19 pi 57    |
19 Apr 1851 Noon UT | 20 pi 16    |
20 Apr 1851 Noon UT | 20 pi 36    |
21 Apr 1851 Noon UT | 20 pi 56    |
22 Apr 1851 Noon UT | 21 pi 15    |
23 Apr 1851 Noon UT | 21 pi 34    |
24 Apr 1851 Noon UT | 21 pi 54    |
25 Apr 1851 Noon UT | 22 pi 13    |
26 Apr 1851 Noon UT | 22 pi 32    |
27 Apr 1851 Noon UT | 22 pi 51    |
28 Apr 1851 Noon UT | 23 pi 10    |
29 Apr 1851 Noon UT | 23 pi 29    |
30 Apr 1851 Noon UT | 23 pi 47    |
01 May 1851 Noon UT | 24 pi  6    |
02 May 1851 Noon UT | 24 pi 25    |
03 May 1851 Noon UT | 24 pi 43    |
04 May 1851 Noon UT | 25 pi  2    |
05 May 1851 Noon UT | 25 pi 20    |
06 May 1851 Noon UT | 25 pi 38    |
07 May 1851 Noon UT | 25 pi 56    |
08 May 1851 Noon UT | 26 pi 14    |
09 May 1851 Noon UT | 26 pi 32    |
10 May 1851 Noon UT | 26 pi 50    |
11 May 1851 Noon UT | 27 pi  7    |
12 May 1851 Noon UT | 27 pi 25    |
13 May 1851 Noon UT | 27 pi 42    |
14 May 1851 Noon UT | 28 pi  0    |
15 May 1851 Noon UT | 28 pi 17    |
16 May 1851 Noon UT | 28 pi 34    |
17 May 1851 Noon UT | 28 pi 51    |
18 May 1851 Noon UT | 29 pi  8    |
19 May 1851 Noon UT | 29 pi 24    |
20 May 1851 Noon UT | 29 pi 41    |
21 May 1851 Noon UT | 29 pi 57    |
22 May 1851 Noon UT |  0 ar 14    |
23 May 1851 Noon UT |  0 ar 30    |
24 May 1851 Noon UT |  0 ar 46    |
25 May 1851 Noon UT |  1 ar  2    |
26 May 1851 Noon UT |  1 ar 18    |
27 May 1851 Noon UT |  1 ar 34    |
28 May 1851 Noon UT |  1 ar 49    |
29 May 1851 Noon UT |  2 ar  5    |
30 May 1851 Noon UT |  2 ar 20    |
31 May 1851 Noon UT |  2 ar 35    |
01 Jun 1851 Noon UT |  2 ar 50    |
02 Jun 1851 Noon UT |  3 ar  5    |
03 Jun 1851 Noon UT |  3 ar 20    |
04 Jun 1851 Noon UT |  3 ar 34    |
05 Jun 1851 Noon UT |  3 ar 48    |
06 Jun 1851 Noon UT |  4 ar  3    |
07 Jun 1851 Noon UT |  4 ar 17    |
08 Jun 1851 Noon UT |  4 ar 31    |
09 Jun 1851 Noon UT |  4 ar 44    |
10 Jun 1851 Noon UT |  4 ar 58    |
11 Jun 1851 Noon UT |  5 ar 11    |
12 Jun 1851 Noon UT |  5 ar 25    |
13 Jun 1851 Noon UT |  5 ar 38    |
14 Jun 1851 Noon UT |  5 ar 50    |
15 Jun 1851 Noon UT |  6 ar  3    |
16 Jun 1851 Noon UT |  6 ar 16    |
17 Jun 1851 Noon UT |  6 ar 28    |
18 Jun 1851 Noon UT |  6 ar 40    |
19 Jun 1851 Noon UT |  6 ar 52    |
20 Jun 1851 Noon UT |  7 ar  4    |
21 Jun 1851 Noon UT |  7 ar 15    |
22 Jun 1851 Noon UT |  7 ar 27    |
23 Jun 1851 Noon UT |  7 ar 38    |
24 Jun 1851 Noon UT |  7 ar 49    |
25 Jun 1851 Noon UT |  8 ar  0    |
26 Jun 1851 Noon UT |  8 ar 10    |
27 Jun 1851 Noon UT |  8 ar 21    |
28 Jun 1851 Noon UT |  8 ar 31    |
29 Jun 1851 Noon UT |  8 ar 41    |
30 Jun 1851 Noon UT |  8 ar 50    |
01 Jul 1851 Noon UT |  9 ar  0    |
02 Jul 1851 Noon UT |  9 ar  9    |
03 Jul 1851 Noon UT |  9 ar 18    |
04 Jul 1851 Noon UT |  9 ar 27    |
05 Jul 1851 Noon UT |  9 ar 35    |
06 Jul 1851 Noon UT |  9 ar 44    |
07 Jul 1851 Noon UT |  9 ar 52    |
08 Jul 1851 Noon UT |  9 ar 59    |
09 Jul 1851 Noon UT | 10 ar  7    |
10 Jul 1851 Noon UT | 10 ar 14    |
11 Jul 1851 Noon UT | 10 ar 21    |
12 Jul 1851 Noon UT | 10 ar 28    |
13 Jul 1851 Noon UT | 10 ar 35    |
14 Jul 1851 Noon UT | 10 ar 41    |
15 Jul 1851 Noon UT | 10 ar 47    |
16 Jul 1851 Noon UT | 10 ar 53    |
17 Jul 1851 Noon UT | 10 ar 58    |
18 Jul 1851 Noon UT | 11 ar  4    |
19 Jul 1851 Noon UT | 11 ar  9    |
20 Jul 1851 Noon UT | 11 ar 13    |
21 Jul 1851 Noon UT | 11 ar 18    |
22 Jul 1851 Noon UT | 11 ar 22    |
23 Jul 1851 Noon UT | 11 ar 26    |
24 Jul 1851 Noon UT | 11 ar 29    |
25 Jul 1851 Noon UT | 11 ar 33    |
26 Jul 1851 Noon UT | 11 ar 36    |
27 Jul 1851 Noon UT | 11 ar 38    |
28 Jul 1851 Noon UT | 11 ar 41    |
29 Jul 1851 Noon UT | 11 ar 43    |
30 Jul 1851 Noon UT | 11 ar 45    |
31 Jul 1851 Noon UT | 11 ar 46    |
01 Aug 1851 Noon UT | 11 ar 47    |
02 Aug 1851 Noon UT | 11 ar 48    |
03 Aug 1851 Noon UT | 11 ar 49    |
04 Aug 1851 Noon UT | 11 ar 49    |
05 Aug 1851 Noon UT | 11 ar 49 Rx |
06 Aug 1851 Noon UT | 11 ar 48 Rx |
07 Aug 1851 Noon UT | 11 ar 48 Rx |
08 Aug 1851 Noon UT | 11 ar 47 Rx |
09 Aug 1851 Noon UT | 11 ar 46 Rx |
10 Aug 1851 Noon UT | 11 ar 44 Rx |
11 Aug 1851 Noon UT | 11 ar 42 Rx |
12 Aug 1851 Noon UT | 11 ar 40 Rx |
13 Aug 1851 Noon UT | 11 ar 37 Rx |
14 Aug 1851 Noon UT | 11 ar 35 Rx |
15 Aug 1851 Noon UT | 11 ar 31 Rx |
16 Aug 1851 Noon UT | 11 ar 28 Rx |
17 Aug 1851 Noon UT | 11 ar 24 Rx |
18 Aug 1851 Noon UT | 11 ar 20 Rx |
19 Aug 1851 Noon UT | 11 ar 16 Rx |
20 Aug 1851 Noon UT | 11 ar 11 Rx |
21 Aug 1851 Noon UT | 11 ar  6 Rx |
22 Aug 1851 Noon UT | 11 ar  1 Rx |
23 Aug 1851 Noon UT | 10 ar 55 Rx |
24 Aug 1851 Noon UT | 10 ar 49 Rx |
25 Aug 1851 Noon UT | 10 ar 43 Rx |
26 Aug 1851 Noon UT | 10 ar 37 Rx |
27 Aug 1851 Noon UT | 10 ar 30 Rx |
28 Aug 1851 Noon UT | 10 ar 23 Rx |
29 Aug 1851 Noon UT | 10 ar 16 Rx |
30 Aug 1851 Noon UT | 10 ar  8 Rx |
31 Aug 1851 Noon UT | 10 ar  0 Rx |
01 Sep 1851 Noon UT |  9 ar 52 Rx |
02 Sep 1851 Noon UT |  9 ar 44 Rx |
03 Sep 1851 Noon UT |  9 ar 35 Rx |
04 Sep 1851 Noon UT |  9 ar 26 Rx |
05 Sep 1851 Noon UT |  9 ar 17 Rx |
06 Sep 1851 Noon UT |  9 ar  8 Rx |
07 Sep 1851 Noon UT |  8 ar 59 Rx |
08 Sep 1851 Noon UT |  8 ar 49 Rx |
09 Sep 1851 Noon UT |  8 ar 39 Rx |
10 Sep 1851 Noon UT |  8 ar 29 Rx |
11 Sep 1851 Noon UT |  8 ar 19 Rx |
12 Sep 1851 Noon UT |  8 ar  8 Rx |
13 Sep 1851 Noon UT |  7 ar 57 Rx |
14 Sep 1851 Noon UT |  7 ar 47 Rx |
15 Sep 1851 Noon UT |  7 ar 36 Rx |
16 Sep 1851 Noon UT |  7 ar 25 Rx |
17 Sep 1851 Noon UT |  7 ar 13 Rx |
18 Sep 1851 Noon UT |  7 ar  2 Rx |
19 Sep 1851 Noon UT |  6 ar 51 Rx |
20 Sep 1851 Noon UT |  6 ar 39 Rx |
21 Sep 1851 Noon UT |  6 ar 28 Rx |
22 Sep 1851 Noon UT |  6 ar 16 Rx |
23 Sep 1851 Noon UT |  6 ar  4 Rx |
24 Sep 1851 Noon UT |  5 ar 52 Rx |
25 Sep 1851 Noon UT |  5 ar 40 Rx |
26 Sep 1851 Noon UT |  5 ar 29 Rx |
27 Sep 1851 Noon UT |  5 ar 17 Rx |
28 Sep 1851 Noon UT |  5 ar  5 Rx |
29 Sep 1851 Noon UT |  4 ar 53 Rx |
30 Sep 1851 Noon UT |  4 ar 41 Rx |
01 Oct 1851 Noon UT |  4 ar 29 Rx |
02 Oct 1851 Noon UT |  4 ar 17 Rx |
03 Oct 1851 Noon UT |  4 ar  6 Rx |
04 Oct 1851 Noon UT |  3 ar 54 Rx |
05 Oct 1851 Noon UT |  3 ar 42 Rx |
06 Oct 1851 Noon UT |  3 ar 31 Rx |
07 Oct 1851 Noon UT |  3 ar 19 Rx |
08 Oct 1851 Noon UT |  3 ar  8 Rx |
09 Oct 1851 Noon UT |  2 ar 57 Rx |
10 Oct 1851 Noon UT |  2 ar 46 Rx |
11 Oct 1851 Noon UT |  2 ar 35 Rx |
12 Oct 1851 Noon UT |  2 ar 24 Rx |
13 Oct 1851 Noon UT |  2 ar 14 Rx |
14 Oct 1851 Noon UT |  2 ar  3 Rx |
15 Oct 1851 Noon UT |  1 ar 53 Rx |
16 Oct 1851 Noon UT |  1 ar 43 Rx |
17 Oct 1851 Noon UT |  1 ar 33 Rx |
18 Oct 1851 Noon UT |  1 ar 23 Rx |
19 Oct 1851 Noon UT |  1 ar 14 Rx |
20 Oct 1851 Noon UT |  1 ar  5 Rx |
21 Oct 1851 Noon UT |  0 ar 55 Rx |
22 Oct 1851 Noon UT |  0 ar 47 Rx |
23 Oct 1851 Noon UT |  0 ar 38 Rx |
24 Oct 1851 Noon UT |  0 ar 30 Rx |
25 Oct 1851 Noon UT |  0 ar 22 Rx |
26 Oct 1851 Noon UT |  0 ar 14 Rx |
27 Oct 1851 Noon UT |  0 ar  7 Rx |
28 Oct 1851 Noon UT | 29 pi 59 Rx |
29 Oct 1851 Noon UT | 29 pi 52 Rx |
30 Oct 1851 Noon UT | 29 pi 46 Rx |
31 Oct 1851 Noon UT | 29 pi 39 Rx |
01 Nov 1851 Noon UT | 29 pi 33 Rx |
02 Nov 1851 Noon UT | 29 pi 27 Rx |
03 Nov 1851 Noon UT | 29 pi 22 Rx |
04 Nov 1851 Noon UT | 29 pi 17 Rx |
05 Nov 1851 Noon UT | 29 pi 12 Rx |
06 Nov 1851 Noon UT | 29 pi  7 Rx |
07 Nov 1851 Noon UT | 29 pi  3 Rx |
08 Nov 1851 Noon UT | 28 pi 59 Rx |
09 Nov 1851 Noon UT | 28 pi 55 Rx |
10 Nov 1851 Noon UT | 28 pi 52 Rx |
11 Nov 1851 Noon UT | 28 pi 49 Rx |
12 Nov 1851 Noon UT | 28 pi 46 Rx |
13 Nov 1851 Noon UT | 28 pi 44 Rx |
14 Nov 1851 Noon UT | 28 pi 42 Rx |
15 Nov 1851 Noon UT | 28 pi 40 Rx |
16 Nov 1851 Noon UT | 28 pi 39 Rx |
17 Nov 1851 Noon UT | 28 pi 38 Rx |
18 Nov 1851 Noon UT | 28 pi 37 Rx |
19 Nov 1851 Noon UT | 28 pi 36 Rx |
20 Nov 1851 Noon UT | 28 pi 36 Rx |
21 Nov 1851 Noon UT | 28 pi 36    |
22 Nov 1851 Noon UT | 28 pi 37    |
23 Nov 1851 Noon UT | 28 pi 37    |
24 Nov 1851 Noon UT | 28 pi 39    |
25 Nov 1851 Noon UT | 28 pi 40    |
26 Nov 1851 Noon UT | 28 pi 42    |
27 Nov 1851 Noon UT | 28 pi 44    |
28 Nov 1851 Noon UT | 28 pi 46    |
29 Nov 1851 Noon UT | 28 pi 49    |
30 Nov 1851 Noon UT | 28 pi 51    |
01 Dec 1851 Noon UT | 28 pi 55    |
02 Dec 1851 Noon UT | 28 pi 58    |
03 Dec 1851 Noon UT | 29 pi  2    |
04 Dec 1851 Noon UT | 29 pi  6    |
05 Dec 1851 Noon UT | 29 pi 10    |
06 Dec 1851 Noon UT | 29 pi 15    |
07 Dec 1851 Noon UT | 29 pi 20    |
08 Dec 1851 Noon UT | 29 pi 25    |
09 Dec 1851 Noon UT | 29 pi 31    |
10 Dec 1851 Noon UT | 29 pi 36    |
11 Dec 1851 Noon UT | 29 pi 43    |
12 Dec 1851 Noon UT | 29 pi 49    |
13 Dec 1851 Noon UT | 29 pi 55    |
14 Dec 1851 Noon UT |  0 ar  2    |
15 Dec 1851 Noon UT |  0 ar  9    |
16 Dec 1851 Noon UT |  0 ar 17    |
17 Dec 1851 Noon UT |  0 ar 24    |
18 Dec 1851 Noon UT |  0 ar 32    |
19 Dec 1851 Noon UT |  0 ar 40    |
20 Dec 1851 Noon UT |  0 ar 48    |
21 Dec 1851 Noon UT |  0 ar 57    |
22 Dec 1851 Noon UT |  1 ar  6    |
23 Dec 1851 Noon UT |  1 ar 15    |
24 Dec 1851 Noon UT |  1 ar 24    |
25 Dec 1851 Noon UT |  1 ar 33    |
26 Dec 1851 Noon UT |  1 ar 43    |
27 Dec 1851 Noon UT |  1 ar 53    |
28 Dec 1851 Noon UT |  2 ar  3    |
29 Dec 1851 Noon UT |  2 ar 13    |
30 Dec 1851 Noon UT |  2 ar 24    |
31 Dec 1851 Noon UT |  2 ar 35    |
01 Jan 1852 Noon UT |  2 ar 46    |
02 Jan 1852 Noon UT |  2 ar 57    |
03 Jan 1852 Noon UT |  3 ar  8    |
04 Jan 1852 Noon UT |  3 ar 20    |
05 Jan 1852 Noon UT |  3 ar 32    |
06 Jan 1852 Noon UT |  3 ar 43    |
07 Jan 1852 Noon UT |  3 ar 56    |
08 Jan 1852 Noon UT |  4 ar  8    |
09 Jan 1852 Noon UT |  4 ar 20    |
10 Jan 1852 Noon UT |  4 ar 33    |
11 Jan 1852 Noon UT |  4 ar 46    |
12 Jan 1852 Noon UT |  4 ar 59    |
13 Jan 1852 Noon UT |  5 ar 12    |
14 Jan 1852 Noon UT |  5 ar 25    |
15 Jan 1852 Noon UT |  5 ar 39    |
16 Jan 1852 Noon UT |  5 ar 52    |
17 Jan 1852 Noon UT |  6 ar  6    |
18 Jan 1852 Noon UT |  6 ar 20    |
19 Jan 1852 Noon UT |  6 ar 34    |
20 Jan 1852 Noon UT |  6 ar 49    |
21 Jan 1852 Noon UT |  7 ar  3    |
22 Jan 1852 Noon UT |  7 ar 18    |
23 Jan 1852 Noon UT |  7 ar 32    |
24 Jan 1852 Noon UT |  7 ar 47    |
25 Jan 1852 Noon UT |  8 ar  2    |
26 Jan 1852 Noon UT |  8 ar 17    |
27 Jan 1852 Noon UT |  8 ar 32    |
28 Jan 1852 Noon UT |  8 ar 48    |
29 Jan 1852 Noon UT |  9 ar  3    |
30 Jan 1852 Noon UT |  9 ar 19    |
31 Jan 1852 Noon UT |  9 ar 35    |
01 Feb 1852 Noon UT |  9 ar 50    |
02 Feb 1852 Noon UT | 10 ar  6    |
03 Feb 1852 Noon UT | 10 ar 23    |
04 Feb 1852 Noon UT | 10 ar 39    |
05 Feb 1852 Noon UT | 10 ar 55    |
06 Feb 1852 Noon UT | 11 ar 11    |
07 Feb 1852 Noon UT | 11 ar 28    |
08 Feb 1852 Noon UT | 11 ar 45    |
09 Feb 1852 Noon UT | 12 ar  1    |
10 Feb 1852 Noon UT | 12 ar 18    |
11 Feb 1852 Noon UT | 12 ar 35    |
12 Feb 1852 Noon UT | 12 ar 52    |
13 Feb 1852 Noon UT | 13 ar  9    |
14 Feb 1852 Noon UT | 13 ar 26    |
15 Feb 1852 Noon UT | 13 ar 44    |
16 Feb 1852 Noon UT | 14 ar  1    |
17 Feb 1852 Noon UT | 14 ar 19    |
18 Feb 1852 Noon UT | 14 ar 36    |
19 Feb 1852 Noon UT | 14 ar 54    |
20 Feb 1852 Noon UT | 15 ar 11    |
21 Feb 1852 Noon UT | 15 ar 29    |
22 Feb 1852 Noon UT | 15 ar 47    |
23 Feb 1852 Noon UT | 16 ar  5    |
24 Feb 1852 Noon UT | 16 ar 23    |
25 Feb 1852 Noon UT | 16 ar 41    |
26 Feb 1852 Noon UT | 16 ar 59    |
27 Feb 1852 Noon UT | 17 ar 18    |
28 Feb 1852 Noon UT | 17 ar 36    |
29 Feb 1852 Noon UT | 17 ar 54    |
01 Mar 1852 Noon UT | 18 ar 13    |
02 Mar 1852 Noon UT | 18 ar 31    |
03 Mar 1852 Noon UT | 18 ar 50    |
04 Mar 1852 Noon UT | 19 ar  8    |
05 Mar 1852 Noon UT | 19 ar 27    |
06 Mar 1852 Noon UT | 19 ar 46    |
07 Mar 1852 Noon UT | 20 ar  5    |
08 Mar 1852 Noon UT | 20 ar 23    |
09 Mar 1852 Noon UT | 20 ar 42    |
10 Mar 1852 Noon UT | 21 ar  1    |
11 Mar 1852 Noon UT | 21 ar 20    |
12 Mar 1852 Noon UT | 21 ar 39    |
13 Mar 1852 Noon UT | 21 ar 58    |
14 Mar 1852 Noon UT | 22 ar 17    |
15 Mar 1852 Noon UT | 22 ar 37    |
16 Mar 1852 Noon UT | 22 ar 56    |
17 Mar 1852 Noon UT | 23 ar 15    |
18 Mar 1852 Noon UT | 23 ar 34    |
19 Mar 1852 Noon UT | 23 ar 54    |
20 Mar 1852 Noon UT | 24 ar 13    |
21 Mar 1852 Noon UT | 24 ar 32    |
22 Mar 1852 Noon UT | 24 ar 52    |
23 Mar 1852 Noon UT | 25 ar 11    |
24 Mar 1852 Noon UT | 25 ar 31    |
25 Mar 1852 Noon UT | 25 ar 50    |
26 Mar 1852 Noon UT | 26 ar 10    |
27 Mar 1852 Noon UT | 26 ar 30    |
28 Mar 1852 Noon UT | 26 ar 49    |
29 Mar 1852 Noon UT | 27 ar  9    |
30 Mar 1852 Noon UT | 27 ar 29    |
31 Mar 1852 Noon UT | 27 ar 48    |
01 Apr 1852 Noon UT | 28 ar  8    |
02 Apr 1852 Noon UT | 28 ar 28    |
03 Apr 1852 Noon UT | 28 ar 47    |
04 Apr 1852 Noon UT | 29 ar  7    |
05 Apr 1852 Noon UT | 29 ar 27    |
06 Apr 1852 Noon UT | 29 ar 47    |
07 Apr 1852 Noon UT |  0 ta  7    |
08 Apr 1852 Noon UT |  0 ta 26    |
09 Apr 1852 Noon UT |  0 ta 46    |
10 Apr 1852 Noon UT |  1 ta  6    |
11 Apr 1852 Noon UT |  1 ta 26    |
12 Apr 1852 Noon UT |  1 ta 46    |
13 Apr 1852 Noon UT |  2 ta  6    |
14 Apr 1852 Noon UT |  2 ta 26    |
15 Apr 1852 Noon UT |  2 ta 46    |
16 Apr 1852 Noon UT |  3 ta  6    |
17 Apr 1852 Noon UT |  3 ta 26    |
18 Apr 1852 Noon UT |  3 ta 45    |
19 Apr 1852 Noon UT |  4 ta  5    |
20 Apr 1852 Noon UT |  4 ta 25    |
21 Apr 1852 Noon UT |  4 ta 45    |
22 Apr 1852 Noon UT |  5 ta  5    |
23 Apr 1852 Noon UT |  5 ta 25    |
24 Apr 1852 Noon UT |  5 ta 45    |
25 Apr 1852 Noon UT |  6 ta  5    |
26 Apr 1852 Noon UT |  6 ta 25    |
27 Apr 1852 Noon UT |  6 ta 45    |
28 Apr 1852 Noon UT |  7 ta  5    |
29 Apr 1852 Noon UT |  7 ta 25    |
30 Apr 1852 Noon UT |  7 ta 45    |
01 May 1852 Noon UT |  8 ta  5    |
02 May 1852 Noon UT |  8 ta 25    |
03 May 1852 Noon UT |  8 ta 44    |
04 May 1852 Noon UT |  9 ta  4    |
05 May 1852 Noon UT |  9 ta 24    |
06 May 1852 Noon UT |  9 ta 44    |
07 May 1852 Noon UT | 10 ta  4    |
08 May 1852 Noon UT | 10 ta 24    |
09 May 1852 Noon UT | 10 ta 44    |
10 May 1852 Noon UT | 11 ta  3    |
11 May 1852 Noon UT | 11 ta 23    |
12 May 1852 Noon UT | 11 ta 43    |
13 May 1852 Noon UT | 12 ta  3    |
14 May 1852 Noon UT | 12 ta 22    |
15 May 1852 Noon UT | 12 ta 42    |
16 May 1852 Noon UT | 13 ta  2    |
17 May 1852 Noon UT | 13 ta 21    |
18 May 1852 Noon UT | 13 ta 41    |
19 May 1852 Noon UT | 14 ta  1    |
20 May 1852 Noon UT | 14 ta 20    |
21 May 1852 Noon UT | 14 ta 40    |
22 May 1852 Noon UT | 14 ta 59    |
23 May 1852 Noon UT | 15 ta 19    |
24 May 1852 Noon UT | 15 ta 38    |
25 May 1852 Noon UT | 15 ta 58    |
26 May 1852 Noon UT | 16 ta 17    |
27 May 1852 Noon UT | 16 ta 37    |
28 May 1852 Noon UT | 16 ta 56    |
29 May 1852 Noon UT | 17 ta 15    |
30 May 1852 Noon UT | 17 ta 34    |
31 May 1852 Noon UT | 17 ta 54    |
01 Jun 1852 Noon UT | 18 ta 13    |
02 Jun 1852 Noon UT | 18 ta 32    |
03 Jun 1852 Noon UT | 18 ta 51    |
04 Jun 1852 Noon UT | 19 ta 10    |
05 Jun 1852 Noon UT | 19 ta 29    |
06 Jun 1852 Noon UT | 19 ta 48    |
07 Jun 1852 Noon UT | 20 ta  7    |
08 Jun 1852 Noon UT | 20 ta 26    |
09 Jun 1852 Noon UT | 20 ta 45    |
10 Jun 1852 Noon UT | 21 ta  4    |
11 Jun 1852 Noon UT | 21 ta 22    |
12 Jun 1852 Noon UT | 21 ta 41    |
13 Jun 1852 Noon UT | 22 ta  0    |
14 Jun 1852 Noon UT | 22 ta 18    |
15 Jun 1852 Noon UT | 22 ta 37    |
16 Jun 1852 Noon UT | 22 ta 56    |
17 Jun 1852 Noon UT | 23 ta 14    |
18 Jun 1852 Noon UT | 23 ta 32    |
19 Jun 1852 Noon UT | 23 ta 51    |
20 Jun 1852 Noon UT | 24 ta  9    |
21 Jun 1852 Noon UT | 24 ta 27    |
22 Jun 1852 Noon UT | 24 ta 45    |
23 Jun 1852 Noon UT | 25 ta  3    |
24 Jun 1852 Noon UT | 25 ta 21    |
25 Jun 1852 Noon UT | 25 ta 39    |
26 Jun 1852 Noon UT | 25 ta 57    |
27 Jun 1852 Noon UT | 26 ta 15    |
28 Jun 1852 Noon UT | 26 ta 33    |
29 Jun 1852 Noon UT | 26 ta 51    |
30 Jun 1852 Noon UT | 27 ta  8    |
01 Jul 1852 Noon UT | 27 ta 26    |
02 Jul 1852 Noon UT | 27 ta 43    |
03 Jul 1852 Noon UT | 28 ta  1    |
04 Jul 1852 Noon UT | 28 ta 18    |
05 Jul 1852 Noon UT | 28 ta 35    |
06 Jul 1852 Noon UT | 28 ta 52    |
07 Jul 1852 Noon UT | 29 ta  9    |
08 Jul 1852 Noon UT | 29 ta 26    |
09 Jul 1852 Noon UT | 29 ta 43    |
10 Jul 1852 Noon UT |  0 ge  0    |
11 Jul 1852 Noon UT |  0 ge 17    |
12 Jul 1852 Noon UT |  0 ge 33    |
13 Jul 1852 Noon UT |  0 ge 50    |
14 Jul 1852 Noon UT |  1 ge  6    |
15 Jul 1852 Noon UT |  1 ge 23    |
16 Jul 1852 Noon UT |  1 ge 39    |
17 Jul 1852 Noon UT |  1 ge 55    |
18 Jul 1852 Noon UT |  2 ge 11    |
19 Jul 1852 Noon UT |  2 ge 27    |
20 Jul 1852 Noon UT |  2 ge 43    |
21 Jul 1852 Noon UT |  2 ge 59    |
22 Jul 1852 Noon UT |  3 ge 15    |
23 Jul 1852 Noon UT |  3 ge 30    |
24 Jul 1852 Noon UT |  3 ge 45    |
25 Jul 1852 Noon UT |  4 ge  1    |
26 Jul 1852 Noon UT |  4 ge 16    |
27 Jul 1852 Noon UT |  4 ge 31    |
28 Jul 1852 Noon UT |  4 ge 46    |
29 Jul 1852 Noon UT |  5 ge  1    |
30 Jul 1852 Noon UT |  5 ge 16    |
31 Jul 1852 Noon UT |  5 ge 30    |
01 Aug 1852 Noon UT |  5 ge 45    |
02 Aug 1852 Noon UT |  5 ge 59    |
03 Aug 1852 Noon UT |  6 ge 13    |
04 Aug 1852 Noon UT |  6 ge 27    |
05 Aug 1852 Noon UT |  6 ge 41    |
06 Aug 1852 Noon UT |  6 ge 55    |
07 Aug 1852 Noon UT |  7 ge  9    |
08 Aug 1852 Noon UT |  7 ge 22    |
09 Aug 1852 Noon UT |  7 ge 36    |
10 Aug 1852 Noon UT |  7 ge 49    |
11 Aug 1852 Noon UT |  8 ge  2    |
12 Aug 1852 Noon UT |  8 ge 15    |
13 Aug 1852 Noon UT |  8 ge 28    |
14 Aug 1852 Noon UT |  8 ge 40    |
15 Aug 1852 Noon UT |  8 ge 53    |
16 Aug 1852 Noon UT |  9 ge  5    |
17 Aug 1852 Noon UT |  9 ge 17    |
18 Aug 1852 Noon UT |  9 ge 29    |
19 Aug 1852 Noon UT |  9 ge 41    |
20 Aug 1852 Noon UT |  9 ge 53    |
21 Aug 1852 Noon UT | 10 ge  4    |
22 Aug 1852 Noon UT | 10 ge 15    |
23 Aug 1852 Noon UT | 10 ge 26    |
24 Aug 1852 Noon UT | 10 ge 37    |
25 Aug 1852 Noon UT | 10 ge 48    |
26 Aug 1852 Noon UT | 10 ge 58    |
27 Aug 1852 Noon UT | 11 ge  9    |
28 Aug 1852 Noon UT | 11 ge 19    |
29 Aug 1852 Noon UT | 11 ge 29    |
30 Aug 1852 Noon UT | 11 ge 39    |
31 Aug 1852 Noon UT | 11 ge 48    |
01 Sep 1852 Noon UT | 11 ge 57    |
02 Sep 1852 Noon UT | 12 ge  7    |
03 Sep 1852 Noon UT | 12 ge 15    |
04 Sep 1852 Noon UT | 12 ge 24    |
05 Sep 1852 Noon UT | 12 ge 33    |
06 Sep 1852 Noon UT | 12 ge 41    |
07 Sep 1852 Noon UT | 12 ge 49    |
08 Sep 1852 Noon UT | 12 ge 57    |
09 Sep 1852 Noon UT | 13 ge  4    |
10 Sep 1852 Noon UT | 13 ge 12    |
11 Sep 1852 Noon UT | 13 ge 19    |
12 Sep 1852 Noon UT | 13 ge 26    |
13 Sep 1852 Noon UT | 13 ge 32    |
14 Sep 1852 Noon UT | 13 ge 39    |
15 Sep 1852 Noon UT | 13 ge 45    |
16 Sep 1852 Noon UT | 13 ge 51    |
17 Sep 1852 Noon UT | 13 ge 56    |
18 Sep 1852 Noon UT | 14 ge  1    |
19 Sep 1852 Noon UT | 14 ge  7    |
20 Sep 1852 Noon UT | 14 ge 11    |
21 Sep 1852 Noon UT | 14 ge 16    |
22 Sep 1852 Noon UT | 14 ge 20    |
23 Sep 1852 Noon UT | 14 ge 24    |
24 Sep 1852 Noon UT | 14 ge 28    |
25 Sep 1852 Noon UT | 14 ge 31    |
26 Sep 1852 Noon UT | 14 ge 34    |
27 Sep 1852 Noon UT | 14 ge 37    |
28 Sep 1852 Noon UT | 14 ge 40    |
29 Sep 1852 Noon UT | 14 ge 42    |
30 Sep 1852 Noon UT | 14 ge 44    |
01 Oct 1852 Noon UT | 14 ge 46    |
02 Oct 1852 Noon UT | 14 ge 47    |
03 Oct 1852 Noon UT | 14 ge 49    |
04 Oct 1852 Noon UT | 14 ge 49    |
05 Oct 1852 Noon UT | 14 ge 50    |
06 Oct 1852 Noon UT | 14 ge 50    |
07 Oct 1852 Noon UT | 14 ge 50 Rx |
08 Oct 1852 Noon UT | 14 ge 50 Rx |
09 Oct 1852 Noon UT | 14 ge 49 Rx |
10 Oct 1852 Noon UT | 14 ge 48 Rx |
11 Oct 1852 Noon UT | 14 ge 47 Rx |
12 Oct 1852 Noon UT | 14 ge 45 Rx |
13 Oct 1852 Noon UT | 14 ge 43 Rx |
14 Oct 1852 Noon UT | 14 ge 41 Rx |
15 Oct 1852 Noon UT | 14 ge 38 Rx |
16 Oct 1852 Noon UT | 14 ge 35 Rx |
17 Oct 1852 Noon UT | 14 ge 32 Rx |
18 Oct 1852 Noon UT | 14 ge 29 Rx |
19 Oct 1852 Noon UT | 14 ge 25 Rx |
20 Oct 1852 Noon UT | 14 ge 21 Rx |
21 Oct 1852 Noon UT | 14 ge 16 Rx |
22 Oct 1852 Noon UT | 14 ge 12 Rx |
23 Oct 1852 Noon UT | 14 ge  7 Rx |
24 Oct 1852 Noon UT | 14 ge  1 Rx |
25 Oct 1852 Noon UT | 13 ge 56 Rx |
26 Oct 1852 Noon UT | 13 ge 50 Rx |
27 Oct 1852 Noon UT | 13 ge 44 Rx |
28 Oct 1852 Noon UT | 13 ge 37 Rx |
29 Oct 1852 Noon UT | 13 ge 30 Rx |
30 Oct 1852 Noon UT | 13 ge 23 Rx |
31 Oct 1852 Noon UT | 13 ge 16 Rx |
01 Nov 1852 Noon UT | 13 ge  8 Rx |
02 Nov 1852 Noon UT | 13 ge  1 Rx |
03 Nov 1852 Noon UT | 12 ge 52 Rx |
04 Nov 1852 Noon UT | 12 ge 44 Rx |
05 Nov 1852 Noon UT | 12 ge 35 Rx |
06 Nov 1852 Noon UT | 12 ge 26 Rx |
07 Nov 1852 Noon UT | 12 ge 17 Rx |
08 Nov 1852 Noon UT | 12 ge  8 Rx |
09 Nov 1852 Noon UT | 11 ge 58 Rx |
10 Nov 1852 Noon UT | 11 ge 49 Rx |
11 Nov 1852 Noon UT | 11 ge 38 Rx |
12 Nov 1852 Noon UT | 11 ge 28 Rx |
13 Nov 1852 Noon UT | 11 ge 18 Rx |
14 Nov 1852 Noon UT | 11 ge  7 Rx |
15 Nov 1852 Noon UT | 10 ge 56 Rx |
16 Nov 1852 Noon UT | 10 ge 46 Rx |
17 Nov 1852 Noon UT | 10 ge 34 Rx |
18 Nov 1852 Noon UT | 10 ge 23 Rx |
19 Nov 1852 Noon UT | 10 ge 12 Rx |
20 Nov 1852 Noon UT | 10 ge  0 Rx |
21 Nov 1852 Noon UT |  9 ge 49 Rx |
22 Nov 1852 Noon UT |  9 ge 37 Rx |
23 Nov 1852 Noon UT |  9 ge 25 Rx |
24 Nov 1852 Noon UT |  9 ge 13 Rx |
25 Nov 1852 Noon UT |  9 ge  1 Rx |
26 Nov 1852 Noon UT |  8 ge 50 Rx |
27 Nov 1852 Noon UT |  8 ge 37 Rx |
28 Nov 1852 Noon UT |  8 ge 25 Rx |
29 Nov 1852 Noon UT |  8 ge 13 Rx |
30 Nov 1852 Noon UT |  8 ge  1 Rx |
01 Dec 1852 Noon UT |  7 ge 49 Rx |
02 Dec 1852 Noon UT |  7 ge 37 Rx |
03 Dec 1852 Noon UT |  7 ge 25 Rx |
04 Dec 1852 Noon UT |  7 ge 13 Rx |
05 Dec 1852 Noon UT |  7 ge  1 Rx |
06 Dec 1852 Noon UT |  6 ge 49 Rx |
07 Dec 1852 Noon UT |  6 ge 37 Rx |
08 Dec 1852 Noon UT |  6 ge 26 Rx |
09 Dec 1852 Noon UT |  6 ge 14 Rx |
10 Dec 1852 Noon UT |  6 ge  2 Rx |
11 Dec 1852 Noon UT |  5 ge 51 Rx |
12 Dec 1852 Noon UT |  5 ge 40 Rx |
13 Dec 1852 Noon UT |  5 ge 29 Rx |
14 Dec 1852 Noon UT |  5 ge 18 Rx |
15 Dec 1852 Noon UT |  5 ge  7 Rx |
16 Dec 1852 Noon UT |  4 ge 56 Rx |
17 Dec 1852 Noon UT |  4 ge 46 Rx |
18 Dec 1852 Noon UT |  4 ge 35 Rx |
19 Dec 1852 Noon UT |  4 ge 25 Rx |
20 Dec 1852 Noon UT |  4 ge 15 Rx |
21 Dec 1852 Noon UT |  4 ge  6 Rx |
22 Dec 1852 Noon UT |  3 ge 56 Rx |
23 Dec 1852 Noon UT |  3 ge 47 Rx |
24 Dec 1852 Noon UT |  3 ge 38 Rx |
25 Dec 1852 Noon UT |  3 ge 29 Rx |
26 Dec 1852 Noon UT |  3 ge 21 Rx |
27 Dec 1852 Noon UT |  3 ge 13 Rx |
28 Dec 1852 Noon UT |  3 ge  5 Rx |
29 Dec 1852 Noon UT |  2 ge 57 Rx |
30 Dec 1852 Noon UT |  2 ge 50 Rx |
31 Dec 1852 Noon UT |  2 ge 42 Rx |
01 Jan 1853 Noon UT |  2 ge 36 Rx |
02 Jan 1853 Noon UT |  2 ge 29 Rx |
03 Jan 1853 Noon UT |  2 ge 23 Rx |
04 Jan 1853 Noon UT |  2 ge 17 Rx |
05 Jan 1853 Noon UT |  2 ge 11 Rx |
06 Jan 1853 Noon UT |  2 ge  6 Rx |
07 Jan 1853 Noon UT |  2 ge  1 Rx |
08 Jan 1853 Noon UT |  1 ge 56 Rx |
09 Jan 1853 Noon UT |  1 ge 52 Rx |
10 Jan 1853 Noon UT |  1 ge 47 Rx |
11 Jan 1853 Noon UT |  1 ge 44 Rx |
12 Jan 1853 Noon UT |  1 ge 40 Rx |
13 Jan 1853 Noon UT |  1 ge 37 Rx |
14 Jan 1853 Noon UT |  1 ge 34 Rx |
15 Jan 1853 Noon UT |  1 ge 32 Rx |
16 Jan 1853 Noon UT |  1 ge 30 Rx |
17 Jan 1853 Noon UT |  1 ge 28 Rx |
18 Jan 1853 Noon UT |  1 ge 26 Rx |
19 Jan 1853 Noon UT |  1 ge 25 Rx |
20 Jan 1853 Noon UT |  1 ge 24 Rx |
21 Jan 1853 Noon UT |  1 ge 24 Rx |
22 Jan 1853 Noon UT |  1 ge 23 Rx |
23 Jan 1853 Noon UT |  1 ge 23    |
24 Jan 1853 Noon UT |  1 ge 24    |
25 Jan 1853 Noon UT |  1 ge 24    |
26 Jan 1853 Noon UT |  1 ge 25    |
27 Jan 1853 Noon UT |  1 ge 27    |
28 Jan 1853 Noon UT |  1 ge 28    |
29 Jan 1853 Noon UT |  1 ge 30    |
30 Jan 1853 Noon UT |  1 ge 33    |
31 Jan 1853 Noon UT |  1 ge 35    |
01 Feb 1853 Noon UT |  1 ge 38    |
02 Feb 1853 Noon UT |  1 ge 41    |
03 Feb 1853 Noon UT |  1 ge 44    |
04 Feb 1853 Noon UT |  1 ge 48    |
05 Feb 1853 Noon UT |  1 ge 52    |
06 Feb 1853 Noon UT |  1 ge 56    |
07 Feb 1853 Noon UT |  2 ge  1    |
08 Feb 1853 Noon UT |  2 ge  6    |
09 Feb 1853 Noon UT |  2 ge 11    |
10 Feb 1853 Noon UT |  2 ge 17    |
11 Feb 1853 Noon UT |  2 ge 22    |
12 Feb 1853 Noon UT |  2 ge 28    |
13 Feb 1853 Noon UT |  2 ge 34    |
14 Feb 1853 Noon UT |  2 ge 41    |
15 Feb 1853 Noon UT |  2 ge 48    |
16 Feb 1853 Noon UT |  2 ge 55    |
17 Feb 1853 Noon UT |  3 ge  2    |
18 Feb 1853 Noon UT |  3 ge 10    |
19 Feb 1853 Noon UT |  3 ge 17    |
20 Feb 1853 Noon UT |  3 ge 25    |
21 Feb 1853 Noon UT |  3 ge 34    |
22 Feb 1853 Noon UT |  3 ge 42    |
23 Feb 1853 Noon UT |  3 ge 51    |
24 Feb 1853 Noon UT |  4 ge  0    |
25 Feb 1853 Noon UT |  4 ge  9    |
26 Feb 1853 Noon UT |  4 ge 18    |
27 Feb 1853 Noon UT |  4 ge 28    |
28 Feb 1853 Noon UT |  4 ge 38    |
01 Mar 1853 Noon UT |  4 ge 48    |
02 Mar 1853 Noon UT |  4 ge 58    |
03 Mar 1853 Noon UT |  5 ge  9    |
04 Mar 1853 Noon UT |  5 ge 19    |
05 Mar 1853 Noon UT |  5 ge 30    |
06 Mar 1853 Noon UT |  5 ge 41    |
07 Mar 1853 Noon UT |  5 ge 53    |
08 Mar 1853 Noon UT |  6 ge  4    |
09 Mar 1853 Noon UT |  6 ge 16    |
10 Mar 1853 Noon UT |  6 ge 28    |
11 Mar 1853 Noon UT |  6 ge 40    |
12 Mar 1853 Noon UT |  6 ge 52    |
13 Mar 1853 Noon UT |  7 ge  5    |
14 Mar 1853 Noon UT |  7 ge 17    |
15 Mar 1853 Noon UT |  7 ge 30    |
16 Mar 1853 Noon UT |  7 ge 43    |
17 Mar 1853 Noon UT |  7 ge 56    |
18 Mar 1853 Noon UT |  8 ge  9    |
19 Mar 1853 Noon UT |  8 ge 23    |
20 Mar 1853 Noon UT |  8 ge 36    |
21 Mar 1853 Noon UT |  8 ge 50    |
22 Mar 1853 Noon UT |  9 ge  4    |
23 Mar 1853 Noon UT |  9 ge 18    |
24 Mar 1853 Noon UT |  9 ge 32    |
25 Mar 1853 Noon UT |  9 ge 47    |
26 Mar 1853 Noon UT | 10 ge  1    |
27 Mar 1853 Noon UT | 10 ge 16    |
28 Mar 1853 Noon UT | 10 ge 31    |
29 Mar 1853 Noon UT | 10 ge 46    |
30 Mar 1853 Noon UT | 11 ge  1    |
31 Mar 1853 Noon UT | 11 ge 16    |
01 Apr 1853 Noon UT | 11 ge 31    |
02 Apr 1853 Noon UT | 11 ge 47    |
03 Apr 1853 Noon UT | 12 ge  2    |
04 Apr 1853 Noon UT | 12 ge 18    |
05 Apr 1853 Noon UT | 12 ge 34    |
06 Apr 1853 Noon UT | 12 ge 50    |
07 Apr 1853 Noon UT | 13 ge  6    |
08 Apr 1853 Noon UT | 13 ge 22    |
09 Apr 1853 Noon UT | 13 ge 38    |
10 Apr 1853 Noon UT | 13 ge 55    |
11 Apr 1853 Noon UT | 14 ge 11    |
12 Apr 1853 Noon UT | 14 ge 28    |
13 Apr 1853 Noon UT | 14 ge 44    |
14 Apr 1853 Noon UT | 15 ge  1    |
15 Apr 1853 Noon UT | 15 ge 18    |
16 Apr 1853 Noon UT | 15 ge 35    |
17 Apr 1853 Noon UT | 15 ge 52    |
18 Apr 1853 Noon UT | 16 ge 10    |
19 Apr 1853 Noon UT | 16 ge 27    |
20 Apr 1853 Noon UT | 16 ge 44    |
21 Apr 1853 Noon UT | 17 ge  2    |
22 Apr 1853 Noon UT | 17 ge 19    |
23 Apr 1853 Noon UT | 17 ge 37    |
24 Apr 1853 Noon UT | 17 ge 55    |
25 Apr 1853 Noon UT | 18 ge 13    |
26 Apr 1853 Noon UT | 18 ge 30    |
27 Apr 1853 Noon UT | 18 ge 48    |
28 Apr 1853 Noon UT | 19 ge  7    |
29 Apr 1853 Noon UT | 19 ge 25    |
30 Apr 1853 Noon UT | 19 ge 43    |
01 May 1853 Noon UT | 20 ge  1    |
02 May 1853 Noon UT | 20 ge 20    |
03 May 1853 Noon UT | 20 ge 38    |
04 May 1853 Noon UT | 20 ge 57    |
05 May 1853 Noon UT | 21 ge 15    |
06 May 1853 Noon UT | 21 ge 34    |
07 May 1853 Noon UT | 21 ge 53    |
08 May 1853 Noon UT | 22 ge 11    |
09 May 1853 Noon UT | 22 ge 30    |
10 May 1853 Noon UT | 22 ge 49    |
11 May 1853 Noon UT | 23 ge  8    |
12 May 1853 Noon UT | 23 ge 27    |
13 May 1853 Noon UT | 23 ge 46    |
14 May 1853 Noon UT | 24 ge  5    |
15 May 1853 Noon UT | 24 ge 25    |
16 May 1853 Noon UT | 24 ge 44    |
17 May 1853 Noon UT | 25 ge  3    |
18 May 1853 Noon UT | 25 ge 22    |
19 May 1853 Noon UT | 25 ge 42    |
20 May 1853 Noon UT | 26 ge  1    |
21 May 1853 Noon UT | 26 ge 21    |
22 May 1853 Noon UT | 26 ge 40    |
23 May 1853 Noon UT | 27 ge  0    |
24 May 1853 Noon UT | 27 ge 20    |
25 May 1853 Noon UT | 27 ge 39    |
26 May 1853 Noon UT | 27 ge 59    |
27 May 1853 Noon UT | 28 ge 19    |
28 May 1853 Noon UT | 28 ge 39    |
29 May 1853 Noon UT | 28 ge 58    |
30 May 1853 Noon UT | 29 ge 18    |
31 May 1853 Noon UT | 29 ge 38    |
01 Jun 1853 Noon UT | 29 ge 58    |
02 Jun 1853 Noon UT |  0 cn 18    |
03 Jun 1853 Noon UT |  0 cn 38    |
04 Jun 1853 Noon UT |  0 cn 58    |
05 Jun 1853 Noon UT |  1 cn 18    |
06 Jun 1853 Noon UT |  1 cn 39    |
07 Jun 1853 Noon UT |  1 cn 59    |
08 Jun 1853 Noon UT |  2 cn 19    |
09 Jun 1853 Noon UT |  2 cn 39    |
10 Jun 1853 Noon UT |  2 cn 59    |
11 Jun 1853 Noon UT |  3 cn 20    |
12 Jun 1853 Noon UT |  3 cn 40    |
13 Jun 1853 Noon UT |  4 cn  0    |
14 Jun 1853 Noon UT |  4 cn 21    |
15 Jun 1853 Noon UT |  4 cn 41    |
16 Jun 1853 Noon UT |  5 cn  2    |
17 Jun 1853 Noon UT |  5 cn 22    |
18 Jun 1853 Noon UT |  5 cn 42    |
19 Jun 1853 Noon UT |  6 cn  3    |
20 Jun 1853 Noon UT |  6 cn 23    |
21 Jun 1853 Noon UT |  6 cn 44    |
22 Jun 1853 Noon UT |  7 cn  4    |
23 Jun 1853 Noon UT |  7 cn 25    |
24 Jun 1853 Noon UT |  7 cn 45    |
25 Jun 1853 Noon UT |  8 cn  6    |
26 Jun 1853 Noon UT |  8 cn 27    |
27 Jun 1853 Noon UT |  8 cn 47    |
28 Jun 1853 Noon UT |  9 cn  8    |
29 Jun 1853 Noon UT |  9 cn 28    |
30 Jun 1853 Noon UT |  9 cn 49    |
01 Jul 1853 Noon UT | 10 cn 10    |
02 Jul 1853 Noon UT | 10 cn 30    |
03 Jul 1853 Noon UT | 10 cn 51    |
04 Jul 1853 Noon UT | 11 cn 11    |
05 Jul 1853 Noon UT | 11 cn 32    |
06 Jul 1853 Noon UT | 11 cn 53    |
07 Jul 1853 Noon UT | 12 cn 13    |
08 Jul 1853 Noon UT | 12 cn 34    |
09 Jul 1853 Noon UT | 12 cn 55    |
10 Jul 1853 Noon UT | 13 cn 16    |
11 Jul 1853 Noon UT | 13 cn 36    |
12 Jul 1853 Noon UT | 13 cn 57    |
13 Jul 1853 Noon UT | 14 cn 18    |
14 Jul 1853 Noon UT | 14 cn 38    |
15 Jul 1853 Noon UT | 14 cn 59    |
16 Jul 1853 Noon UT | 15 cn 20    |
17 Jul 1853 Noon UT | 15 cn 40    |
18 Jul 1853 Noon UT | 16 cn  1    |
19 Jul 1853 Noon UT | 16 cn 21    |
20 Jul 1853 Noon UT | 16 cn 42    |
21 Jul 1853 Noon UT | 17 cn  3    |
22 Jul 1853 Noon UT | 17 cn 23    |
23 Jul 1853 Noon UT | 17 cn 44    |
24 Jul 1853 Noon UT | 18 cn  5    |
25 Jul 1853 Noon UT | 18 cn 25    |
26 Jul 1853 Noon UT | 18 cn 46    |
27 Jul 1853 Noon UT | 19 cn  6    |
28 Jul 1853 Noon UT | 19 cn 27    |
29 Jul 1853 Noon UT | 19 cn 47    |
30 Jul 1853 Noon UT | 20 cn  8    |
31 Jul 1853 Noon UT | 20 cn 28    |
01 Aug 1853 Noon UT | 20 cn 49    |
02 Aug 1853 Noon UT | 21 cn  9    |
03 Aug 1853 Noon UT | 21 cn 30    |
04 Aug 1853 Noon UT | 21 cn 50    |
05 Aug 1853 Noon UT | 22 cn 11    |
06 Aug 1853 Noon UT | 22 cn 31    |
07 Aug 1853 Noon UT | 22 cn 51    |
08 Aug 1853 Noon UT | 23 cn 12    |
09 Aug 1853 Noon UT | 23 cn 32    |
10 Aug 1853 Noon UT | 23 cn 52    |
11 Aug 1853 Noon UT | 24 cn 13    |
12 Aug 1853 Noon UT | 24 cn 33    |
13 Aug 1853 Noon UT | 24 cn 53    |
14 Aug 1853 Noon UT | 25 cn 13    |
15 Aug 1853 Noon UT | 25 cn 33    |
16 Aug 1853 Noon UT | 25 cn 53    |
17 Aug 1853 Noon UT | 26 cn 13    |
18 Aug 1853 Noon UT | 26 cn 33    |
19 Aug 1853 Noon UT | 26 cn 53    |
20 Aug 1853 Noon UT | 27 cn 13    |
21 Aug 1853 Noon UT | 27 cn 33    |
22 Aug 1853 Noon UT | 27 cn 53    |
23 Aug 1853 Noon UT | 28 cn 13    |
24 Aug 1853 Noon UT | 28 cn 33    |
25 Aug 1853 Noon UT | 28 cn 53    |
26 Aug 1853 Noon UT | 29 cn 12    |
27 Aug 1853 Noon UT | 29 cn 32    |
28 Aug 1853 Noon UT | 29 cn 51    |
29 Aug 1853 Noon UT |  0 le 11    |
30 Aug 1853 Noon UT |  0 le 31    |
31 Aug 1853 Noon UT |  0 le 50    |
01 Sep 1853 Noon UT |  1 le  9    |
02 Sep 1853 Noon UT |  1 le 29    |
03 Sep 1853 Noon UT |  1 le 48    |
04 Sep 1853 Noon UT |  2 le  7    |
05 Sep 1853 Noon UT |  2 le 27    |
06 Sep 1853 Noon UT |  2 le 46    |
07 Sep 1853 Noon UT |  3 le  5    |
08 Sep 1853 Noon UT |  3 le 24    |
09 Sep 1853 Noon UT |  3 le 43    |
10 Sep 1853 Noon UT |  4 le  1    |
11 Sep 1853 Noon UT |  4 le 20    |
12 Sep 1853 Noon UT |  4 le 39    |
13 Sep 1853 Noon UT |  4 le 58    |
14 Sep 1853 Noon UT |  5 le 16    |
15 Sep 1853 Noon UT |  5 le 35    |
16 Sep 1853 Noon UT |  5 le 53    |
17 Sep 1853 Noon UT |  6 le 12    |
18 Sep 1853 Noon UT |  6 le 30    |
19 Sep 1853 Noon UT |  6 le 48    |
20 Sep 1853 Noon UT |  7 le  6    |
21 Sep 1853 Noon UT |  7 le 24    |
22 Sep 1853 Noon UT |  7 le 42    |
23 Sep 1853 Noon UT |  8 le  0    |
24 Sep 1853 Noon UT |  8 le 18    |
25 Sep 1853 Noon UT |  8 le 35    |
26 Sep 1853 Noon UT |  8 le 53    |
27 Sep 1853 Noon UT |  9 le 11    |
28 Sep 1853 Noon UT |  9 le 28    |
29 Sep 1853 Noon UT |  9 le 45    |
30 Sep 1853 Noon UT | 10 le  2    |
01 Oct 1853 Noon UT | 10 le 20    |
02 Oct 1853 Noon UT | 10 le 37    |
03 Oct 1853 Noon UT | 10 le 53    |
04 Oct 1853 Noon UT | 11 le 10    |
05 Oct 1853 Noon UT | 11 le 27    |
06 Oct 1853 Noon UT | 11 le 43    |
07 Oct 1853 Noon UT | 12 le  0    |
08 Oct 1853 Noon UT | 12 le 16    |
09 Oct 1853 Noon UT | 12 le 32    |
10 Oct 1853 Noon UT | 12 le 48    |
11 Oct 1853 Noon UT | 13 le  4    |
12 Oct 1853 Noon UT | 13 le 20    |
13 Oct 1853 Noon UT | 13 le 36    |
14 Oct 1853 Noon UT | 13 le 51    |
15 Oct 1853 Noon UT | 14 le  7    |
16 Oct 1853 Noon UT | 14 le 22    |
17 Oct 1853 Noon UT | 14 le 37    |
18 Oct 1853 Noon UT | 14 le 52    |
19 Oct 1853 Noon UT | 15 le  7    |
20 Oct 1853 Noon UT | 15 le 21    |
21 Oct 1853 Noon UT | 15 le 36    |
22 Oct 1853 Noon UT | 15 le 50    |
23 Oct 1853 Noon UT | 16 le  5    |
24 Oct 1853 Noon UT | 16 le 19    |
25 Oct 1853 Noon UT | 16 le 33    |
26 Oct 1853 Noon UT | 16 le 46    |
27 Oct 1853 Noon UT | 17 le  0    |
28 Oct 1853 Noon UT | 17 le 13    |
29 Oct 1853 Noon UT | 17 le 26    |
30 Oct 1853 Noon UT | 17 le 39    |
31 Oct 1853 Noon UT | 17 le 52    |
01 Nov 1853 Noon UT | 18 le  5    |
02 Nov 1853 Noon UT | 18 le 17    |
03 Nov 1853 Noon UT | 18 le 30    |
04 Nov 1853 Noon UT | 18 le 42    |
05 Nov 1853 Noon UT | 18 le 54    |
06 Nov 1853 Noon UT | 19 le  5    |
07 Nov 1853 Noon UT | 19 le 17    |
08 Nov 1853 Noon UT | 19 le 28    |
09 Nov 1853 Noon UT | 19 le 39    |
10 Nov 1853 Noon UT | 19 le 50    |
11 Nov 1853 Noon UT | 20 le  0    |
12 Nov 1853 Noon UT | 20 le 11    |
13 Nov 1853 Noon UT | 20 le 21    |
14 Nov 1853 Noon UT | 20 le 31    |
15 Nov 1853 Noon UT | 20 le 40    |
16 Nov 1853 Noon UT | 20 le 50    |
17 Nov 1853 Noon UT | 20 le 59    |
18 Nov 1853 Noon UT | 21 le  8    |
19 Nov 1853 Noon UT | 21 le 17    |
20 Nov 1853 Noon UT | 21 le 25    |
21 Nov 1853 Noon UT | 21 le 33    |
22 Nov 1853 Noon UT | 21 le 41    |
23 Nov 1853 Noon UT | 21 le 49    |
24 Nov 1853 Noon UT | 21 le 56    |
25 Nov 1853 Noon UT | 22 le  4    |
26 Nov 1853 Noon UT | 22 le 11    |
27 Nov 1853 Noon UT | 22 le 17    |
28 Nov 1853 Noon UT | 22 le 23    |
29 Nov 1853 Noon UT | 22 le 29    |
30 Nov 1853 Noon UT | 22 le 35    |
01 Dec 1853 Noon UT | 22 le 41    |
02 Dec 1853 Noon UT | 22 le 46    |
03 Dec 1853 Noon UT | 22 le 51    |
04 Dec 1853 Noon UT | 22 le 55    |
05 Dec 1853 Noon UT | 22 le 59    |
06 Dec 1853 Noon UT | 23 le  3    |
07 Dec 1853 Noon UT | 23 le  7    |
08 Dec 1853 Noon UT | 23 le 10    |
09 Dec 1853 Noon UT | 23 le 13    |
10 Dec 1853 Noon UT | 23 le 16    |
11 Dec 1853 Noon UT | 23 le 18    |
12 Dec 1853 Noon UT | 23 le 20    |
13 Dec 1853 Noon UT | 23 le 22    |
14 Dec 1853 Noon UT | 23 le 23    |
15 Dec 1853 Noon UT | 23 le 24    |
16 Dec 1853 Noon UT | 23 le 25    |
17 Dec 1853 Noon UT | 23 le 25    |
18 Dec 1853 Noon UT | 23 le 25 Rx |
19 Dec 1853 Noon UT | 23 le 25 Rx |
20 Dec 1853 Noon UT | 23 le 24 Rx |
21 Dec 1853 Noon UT | 23 le 23 Rx |
22 Dec 1853 Noon UT | 23 le 22 Rx |
23 Dec 1853 Noon UT | 23 le 20 Rx |
24 Dec 1853 Noon UT | 23 le 18 Rx |
25 Dec 1853 Noon UT | 23 le 16 Rx |
26 Dec 1853 Noon UT | 23 le 13 Rx |
27 Dec 1853 Noon UT | 23 le 10 Rx |
28 Dec 1853 Noon UT | 23 le  6 Rx |
29 Dec 1853 Noon UT | 23 le  3 Rx |
30 Dec 1853 Noon UT | 22 le 58 Rx |
31 Dec 1853 Noon UT | 22 le 54 Rx |
01 Jan 1854 Noon UT | 22 le 49 Rx |
02 Jan 1854 Noon UT | 22 le 44 Rx |
03 Jan 1854 Noon UT | 22 le 39 Rx |
04 Jan 1854 Noon UT | 22 le 33 Rx |
05 Jan 1854 Noon UT | 22 le 27 Rx |
06 Jan 1854 Noon UT | 22 le 20 Rx |
07 Jan 1854 Noon UT | 22 le 13 Rx |
08 Jan 1854 Noon UT | 22 le  6 Rx |
09 Jan 1854 Noon UT | 21 le 59 Rx |
10 Jan 1854 Noon UT | 21 le 51 Rx |
11 Jan 1854 Noon UT | 21 le 43 Rx |
12 Jan 1854 Noon UT | 21 le 35 Rx |
13 Jan 1854 Noon UT | 21 le 27 Rx |
14 Jan 1854 Noon UT | 21 le 18 Rx |
15 Jan 1854 Noon UT | 21 le  9 Rx |
16 Jan 1854 Noon UT | 20 le 59 Rx |
17 Jan 1854 Noon UT | 20 le 50 Rx |
18 Jan 1854 Noon UT | 20 le 40 Rx |
19 Jan 1854 Noon UT | 20 le 30 Rx |
20 Jan 1854 Noon UT | 20 le 19 Rx |
21 Jan 1854 Noon UT | 20 le  9 Rx |
22 Jan 1854 Noon UT | 19 le 58 Rx |
23 Jan 1854 Noon UT | 19 le 47 Rx |
24 Jan 1854 Noon UT | 19 le 36 Rx |
25 Jan 1854 Noon UT | 19 le 25 Rx |
26 Jan 1854 Noon UT | 19 le 13 Rx |
27 Jan 1854 Noon UT | 19 le  2 Rx |
28 Jan 1854 Noon UT | 18 le 50 Rx |
29 Jan 1854 Noon UT | 18 le 38 Rx |
30 Jan 1854 Noon UT | 18 le 26 Rx |
31 Jan 1854 Noon UT | 18 le 14 Rx |
01 Feb 1854 Noon UT | 18 le  2 Rx |
02 Feb 1854 Noon UT | 17 le 49 Rx |
03 Feb 1854 Noon UT | 17 le 37 Rx |
04 Feb 1854 Noon UT | 17 le 25 Rx |
05 Feb 1854 Noon UT | 17 le 12 Rx |
06 Feb 1854 Noon UT | 17 le  0 Rx |
07 Feb 1854 Noon UT | 16 le 47 Rx |
08 Feb 1854 Noon UT | 16 le 35 Rx |
09 Feb 1854 Noon UT | 16 le 23 Rx |
10 Feb 1854 Noon UT | 16 le 10 Rx |
11 Feb 1854 Noon UT | 15 le 58 Rx |
12 Feb 1854 Noon UT | 15 le 46 Rx |
13 Feb 1854 Noon UT | 15 le 33 Rx |
14 Feb 1854 Noon UT | 15 le 21 Rx |
15 Feb 1854 Noon UT | 15 le  9 Rx |
16 Feb 1854 Noon UT | 14 le 57 Rx |
17 Feb 1854 Noon UT | 14 le 45 Rx |
18 Feb 1854 Noon UT | 14 le 34 Rx |
19 Feb 1854 Noon UT | 14 le 22 Rx |
20 Feb 1854 Noon UT | 14 le 11 Rx |
21 Feb 1854 Noon UT | 14 le  0 Rx |
22 Feb 1854 Noon UT | 13 le 49 Rx |
23 Feb 1854 Noon UT | 13 le 38 Rx |
24 Feb 1854 Noon UT | 13 le 27 Rx |
25 Feb 1854 Noon UT | 13 le 17 Rx |
26 Feb 1854 Noon UT | 13 le  7 Rx |
27 Feb 1854 Noon UT | 12 le 57 Rx |
28 Feb 1854 Noon UT | 12 le 47 Rx |
01 Mar 1854 Noon UT | 12 le 38 Rx |
02 Mar 1854 Noon UT | 12 le 29 Rx |
03 Mar 1854 Noon UT | 12 le 20 Rx |
04 Mar 1854 Noon UT | 12 le 11 Rx |
05 Mar 1854 Noon UT | 12 le  3 Rx |
06 Mar 1854 Noon UT | 11 le 55 Rx |
07 Mar 1854 Noon UT | 11 le 47 Rx |
08 Mar 1854 Noon UT | 11 le 39 Rx |
09 Mar 1854 Noon UT | 11 le 32 Rx |
10 Mar 1854 Noon UT | 11 le 26 Rx |
11 Mar 1854 Noon UT | 11 le 19 Rx |
12 Mar 1854 Noon UT | 11 le 13 Rx |
13 Mar 1854 Noon UT | 11 le  7 Rx |
14 Mar 1854 Noon UT | 11 le  2 Rx |
15 Mar 1854 Noon UT | 10 le 56 Rx |
16 Mar 1854 Noon UT | 10 le 52 Rx |
17 Mar 1854 Noon UT | 10 le 47 Rx |
18 Mar 1854 Noon UT | 10 le 43 Rx |
19 Mar 1854 Noon UT | 10 le 39 Rx |
20 Mar 1854 Noon UT | 10 le 36 Rx |
21 Mar 1854 Noon UT | 10 le 32 Rx |
22 Mar 1854 Noon UT | 10 le 30 Rx |
23 Mar 1854 Noon UT | 10 le 27 Rx |
24 Mar 1854 Noon UT | 10 le 25 Rx |
25 Mar 1854 Noon UT | 10 le 23 Rx |
26 Mar 1854 Noon UT | 10 le 22 Rx |
27 Mar 1854 Noon UT | 10 le 21 Rx |
28 Mar 1854 Noon UT | 10 le 20 Rx |
29 Mar 1854 Noon UT | 10 le 20 Rx |
30 Mar 1854 Noon UT | 10 le 20    |
31 Mar 1854 Noon UT | 10 le 20    |
01 Apr 1854 Noon UT | 10 le 21    |
02 Apr 1854 Noon UT | 10 le 22    |
03 Apr 1854 Noon UT | 10 le 23    |
04 Apr 1854 Noon UT | 10 le 25    |
05 Apr 1854 Noon UT | 10 le 27    |
06 Apr 1854 Noon UT | 10 le 29    |
07 Apr 1854 Noon UT | 10 le 32    |
08 Apr 1854 Noon UT | 10 le 35    |
09 Apr 1854 Noon UT | 10 le 39    |
10 Apr 1854 Noon UT | 10 le 42    |
11 Apr 1854 Noon UT | 10 le 46    |
12 Apr 1854 Noon UT | 10 le 51    |
13 Apr 1854 Noon UT | 10 le 55    |
14 Apr 1854 Noon UT | 11 le  0    |
15 Apr 1854 Noon UT | 11 le  6    |
16 Apr 1854 Noon UT | 11 le 11    |
17 Apr 1854 Noon UT | 11 le 17    |
18 Apr 1854 Noon UT | 11 le 23    |
19 Apr 1854 Noon UT | 11 le 30    |
20 Apr 1854 Noon UT | 11 le 36    |
21 Apr 1854 Noon UT | 11 le 43    |
22 Apr 1854 Noon UT | 11 le 51    |
23 Apr 1854 Noon UT | 11 le 58    |
24 Apr 1854 Noon UT | 12 le  6    |
25 Apr 1854 Noon UT | 12 le 14    |
26 Apr 1854 Noon UT | 12 le 23    |
27 Apr 1854 Noon UT | 12 le 32    |
28 Apr 1854 Noon UT | 12 le 41    |
29 Apr 1854 Noon UT | 12 le 50    |
30 Apr 1854 Noon UT | 12 le 59    |
01 May 1854 Noon UT | 13 le  9    |
02 May 1854 Noon UT | 13 le 19    |
03 May 1854 Noon UT | 13 le 29    |
04 May 1854 Noon UT | 13 le 40    |
05 May 1854 Noon UT | 13 le 51    |
06 May 1854 Noon UT | 14 le  2    |
07 May 1854 Noon UT | 14 le 13    |
08 May 1854 Noon UT | 14 le 24    |
09 May 1854 Noon UT | 14 le 36    |
10 May 1854 Noon UT | 14 le 48    |
11 May 1854 Noon UT | 15 le  0    |
12 May 1854 Noon UT | 15 le 12    |
13 May 1854 Noon UT | 15 le 25    |
14 May 1854 Noon UT | 15 le 38    |
15 May 1854 Noon UT | 15 le 51    |
16 May 1854 Noon UT | 16 le  4    |
17 May 1854 Noon UT | 16 le 17    |
18 May 1854 Noon UT | 16 le 31    |
19 May 1854 Noon UT | 16 le 45    |
20 May 1854 Noon UT | 16 le 59    |
21 May 1854 Noon UT | 17 le 13    |
22 May 1854 Noon UT | 17 le 27    |
23 May 1854 Noon UT | 17 le 42    |
24 May 1854 Noon UT | 17 le 56    |
25 May 1854 Noon UT | 18 le 11    |
26 May 1854 Noon UT | 18 le 26    |
27 May 1854 Noon UT | 18 le 42    |
28 May 1854 Noon UT | 18 le 57    |
29 May 1854 Noon UT | 19 le 13    |
30 May 1854 Noon UT | 19 le 28    |
31 May 1854 Noon UT | 19 le 44    |
01 Jun 1854 Noon UT | 20 le  0    |
02 Jun 1854 Noon UT | 20 le 17    |
03 Jun 1854 Noon UT | 20 le 33    |
04 Jun 1854 Noon UT | 20 le 50    |
05 Jun 1854 Noon UT | 21 le  6    |
06 Jun 1854 Noon UT | 21 le 23    |
07 Jun 1854 Noon UT | 21 le 40    |
08 Jun 1854 Noon UT | 21 le 57    |
09 Jun 1854 Noon UT | 22 le 14    |
10 Jun 1854 Noon UT | 22 le 32    |
11 Jun 1854 Noon UT | 22 le 49    |
12 Jun 1854 Noon UT | 23 le  7    |
13 Jun 1854 Noon UT | 23 le 25    |
14 Jun 1854 Noon UT | 23 le 43    |
15 Jun 1854 Noon UT | 24 le  1    |
16 Jun 1854 Noon UT | 24 le 19    |
17 Jun 1854 Noon UT | 24 le 37    |
18 Jun 1854 Noon UT | 24 le 56    |
19 Jun 1854 Noon UT | 25 le 14    |
20 Jun 1854 Noon UT | 25 le 33    |
21 Jun 1854 Noon UT | 25 le 52    |
22 Jun 1854 Noon UT | 26 le 11    |
23 Jun 1854 Noon UT | 26 le 30    |
24 Jun 1854 Noon UT | 26 le 49    |
25 Jun 1854 Noon UT | 27 le  8    |
26 Jun 1854 Noon UT | 27 le 28    |
27 Jun 1854 Noon UT | 27 le 47    |
28 Jun 1854 Noon UT | 28 le  7    |
29 Jun 1854 Noon UT | 28 le 26    |
30 Jun 1854 Noon UT | 28 le 46    |
01 Jul 1854 Noon UT | 29 le  6    |
02 Jul 1854 Noon UT | 29 le 26    |
03 Jul 1854 Noon UT | 29 le 46    |
04 Jul 1854 Noon UT |  0 vi  6    |
05 Jul 1854 Noon UT |  0 vi 27    |
06 Jul 1854 Noon UT |  0 vi 47    |
07 Jul 1854 Noon UT |  1 vi  7    |
08 Jul 1854 Noon UT |  1 vi 28    |
09 Jul 1854 Noon UT |  1 vi 48    |
10 Jul 1854 Noon UT |  2 vi  9    |
11 Jul 1854 Noon UT |  2 vi 30    |
12 Jul 1854 Noon UT |  2 vi 51    |
13 Jul 1854 Noon UT |  3 vi 12    |
14 Jul 1854 Noon UT |  3 vi 33    |
15 Jul 1854 Noon UT |  3 vi 54    |
16 Jul 1854 Noon UT |  4 vi 15    |
17 Jul 1854 Noon UT |  4 vi 36    |
18 Jul 1854 Noon UT |  4 vi 58    |
19 Jul 1854 Noon UT |  5 vi 19    |
20 Jul 1854 Noon UT |  5 vi 41    |
21 Jul 1854 Noon UT |  6 vi  2    |
22 Jul 1854 Noon UT |  6 vi 24    |
23 Jul 1854 Noon UT |  6 vi 46    |
24 Jul 1854 Noon UT |  7 vi  7    |
25 Jul 1854 Noon UT |  7 vi 29    |
26 Jul 1854 Noon UT |  7 vi 51    |
27 Jul 1854 Noon UT |  8 vi 13    |
28 Jul 1854 Noon UT |  8 vi 35    |
29 Jul 1854 Noon UT |  8 vi 57    |
30 Jul 1854 Noon UT |  9 vi 20    |
31 Jul 1854 Noon UT |  9 vi 42    |
01 Aug 1854 Noon UT | 10 vi  4    |
02 Aug 1854 Noon UT | 10 vi 26    |
03 Aug 1854 Noon UT | 10 vi 49    |
04 Aug 1854 Noon UT | 11 vi 11    |
05 Aug 1854 Noon UT | 11 vi 34    |
06 Aug 1854 Noon UT | 11 vi 56    |
07 Aug 1854 Noon UT | 12 vi 19    |
08 Aug 1854 Noon UT | 12 vi 42    |
09 Aug 1854 Noon UT | 13 vi  4    |
10 Aug 1854 Noon UT | 13 vi 27    |
11 Aug 1854 Noon UT | 13 vi 50    |
12 Aug 1854 Noon UT | 14 vi 13    |
13 Aug 1854 Noon UT | 14 vi 36    |
14 Aug 1854 Noon UT | 14 vi 59    |
15 Aug 1854 Noon UT | 15 vi 22    |
16 Aug 1854 Noon UT | 15 vi 45    |
17 Aug 1854 Noon UT | 16 vi  8    |
18 Aug 1854 Noon UT | 16 vi 31    |
19 Aug 1854 Noon UT | 16 vi 54    |
20 Aug 1854 Noon UT | 17 vi 18    |
21 Aug 1854 Noon UT | 17 vi 41    |
22 Aug 1854 Noon UT | 18 vi  4    |
23 Aug 1854 Noon UT | 18 vi 28    |
24 Aug 1854 Noon UT | 18 vi 51    |
25 Aug 1854 Noon UT | 19 vi 15    |
26 Aug 1854 Noon UT | 19 vi 38    |
27 Aug 1854 Noon UT | 20 vi  2    |
28 Aug 1854 Noon UT | 20 vi 25    |
29 Aug 1854 Noon UT | 20 vi 49    |
30 Aug 1854 Noon UT | 21 vi 12    |
31 Aug 1854 Noon UT | 21 vi 36    |
01 Sep 1854 Noon UT | 22 vi  0    |
02 Sep 1854 Noon UT | 22 vi 24    |
03 Sep 1854 Noon UT | 22 vi 47    |
04 Sep 1854 Noon UT | 23 vi 11    |
05 Sep 1854 Noon UT | 23 vi 35    |
06 Sep 1854 Noon UT | 23 vi 59    |
07 Sep 1854 Noon UT | 24 vi 23    |
08 Sep 1854 Noon UT | 24 vi 46    |
09 Sep 1854 Noon UT | 25 vi 10    |
10 Sep 1854 Noon UT | 25 vi 34    |
11 Sep 1854 Noon UT | 25 vi 58    |
12 Sep 1854 Noon UT | 26 vi 22    |
13 Sep 1854 Noon UT | 26 vi 46    |
14 Sep 1854 Noon UT | 27 vi 10    |
15 Sep 1854 Noon UT | 27 vi 34    |
16 Sep 1854 Noon UT | 27 vi 58    |
17 Sep 1854 Noon UT | 28 vi 23    |
18 Sep 1854 Noon UT | 28 vi 47    |
19 Sep 1854 Noon UT | 29 vi 11    |
20 Sep 1854 Noon UT | 29 vi 35    |
21 Sep 1854 Noon UT | 29 vi 59    |
22 Sep 1854 Noon UT |  0 li 23    |
23 Sep 1854 Noon UT |  0 li 47    |
24 Sep 1854 Noon UT |  1 li 12    |
25 Sep 1854 Noon UT |  1 li 36    |
26 Sep 1854 Noon UT |  2 li  0    |
27 Sep 1854 Noon UT |  2 li 24    |
28 Sep 1854 Noon UT |  2 li 49    |
29 Sep 1854 Noon UT |  3 li 13    |
30 Sep 1854 Noon UT |  3 li 37    |
01 Oct 1854 Noon UT |  4 li  1    |
02 Oct 1854 Noon UT |  4 li 26    |
03 Oct 1854 Noon UT |  4 li 50    |
04 Oct 1854 Noon UT |  5 li 14    |
05 Oct 1854 Noon UT |  5 li 39    |
06 Oct 1854 Noon UT |  6 li  3    |
07 Oct 1854 Noon UT |  6 li 27    |
08 Oct 1854 Noon UT |  6 li 52    |
09 Oct 1854 Noon UT |  7 li 16    |
10 Oct 1854 Noon UT |  7 li 40    |
11 Oct 1854 Noon UT |  8 li  4    |
12 Oct 1854 Noon UT |  8 li 29    |
13 Oct 1854 Noon UT |  8 li 53    |
14 Oct 1854 Noon UT |  9 li 17    |
15 Oct 1854 Noon UT |  9 li 42    |
16 Oct 1854 Noon UT | 10 li  6    |
17 Oct 1854 Noon UT | 10 li 30    |
18 Oct 1854 Noon UT | 10 li 55    |
19 Oct 1854 Noon UT | 11 li 19    |
20 Oct 1854 Noon UT | 11 li 43    |
21 Oct 1854 Noon UT | 12 li  7    |
22 Oct 1854 Noon UT | 12 li 32    |
23 Oct 1854 Noon UT | 12 li 56    |
24 Oct 1854 Noon UT | 13 li 20    |
25 Oct 1854 Noon UT | 13 li 44    |
26 Oct 1854 Noon UT | 14 li  8    |
27 Oct 1854 Noon UT | 14 li 33    |
28 Oct 1854 Noon UT | 14 li 57    |
29 Oct 1854 Noon UT | 15 li 21    |
30 Oct 1854 Noon UT | 15 li 45    |
31 Oct 1854 Noon UT | 16 li  9    |
01 Nov 1854 Noon UT | 16 li 33    |
02 Nov 1854 Noon UT | 16 li 57    |
03 Nov 1854 Noon UT | 17 li 21    |
04 Nov 1854 Noon UT | 17 li 45    |
05 Nov 1854 Noon UT | 18 li  9    |
06 Nov 1854 Noon UT | 18 li 33    |
07 Nov 1854 Noon UT | 18 li 57    |
08 Nov 1854 Noon UT | 19 li 21    |
09 Nov 1854 Noon UT | 19 li 45    |
10 Nov 1854 Noon UT | 20 li  9    |
11 Nov 1854 Noon UT | 20 li 33    |
12 Nov 1854 Noon UT | 20 li 56    |
13 Nov 1854 Noon UT | 21 li 20    |
14 Nov 1854 Noon UT | 21 li 44    |
15 Nov 1854 Noon UT | 22 li  7    |
16 Nov 1854 Noon UT | 22 li 31    |
17 Nov 1854 Noon UT | 22 li 55    |
18 Nov 1854 Noon UT | 23 li 18    |
19 Nov 1854 Noon UT | 23 li 42    |
20 Nov 1854 Noon UT | 24 li  5    |
21 Nov 1854 Noon UT | 24 li 29    |
22 Nov 1854 Noon UT | 24 li 52    |
23 Nov 1854 Noon UT | 25 li 15    |
24 Nov 1854 Noon UT | 25 li 39    |
25 Nov 1854 Noon UT | 26 li  2    |
26 Nov 1854 Noon UT | 26 li 25    |
27 Nov 1854 Noon UT | 26 li 48    |
28 Nov 1854 Noon UT | 27 li 11    |
29 Nov 1854 Noon UT | 27 li 34    |
30 Nov 1854 Noon UT | 27 li 57    |
01 Dec 1854 Noon UT | 28 li 20    |
02 Dec 1854 Noon UT | 28 li 43    |
03 Dec 1854 Noon UT | 29 li  5    |
04 Dec 1854 Noon UT | 29 li 28    |
05 Dec 1854 Noon UT | 29 li 51    |
06 Dec 1854 Noon UT |  0 sc 13    |
07 Dec 1854 Noon UT |  0 sc 36    |
08 Dec 1854 Noon UT |  0 sc 58    |
09 Dec 1854 Noon UT |  1 sc 21    |
10 Dec 1854 Noon UT |  1 sc 43    |
11 Dec 1854 Noon UT |  2 sc  5    |
12 Dec 1854 Noon UT |  2 sc 27    |
13 Dec 1854 Noon UT |  2 sc 49    |
14 Dec 1854 Noon UT |  3 sc 11    |
15 Dec 1854 Noon UT |  3 sc 33    |
16 Dec 1854 Noon UT |  3 sc 55    |
17 Dec 1854 Noon UT |  4 sc 17    |
18 Dec 1854 Noon UT |  4 sc 38    |
19 Dec 1854 Noon UT |  5 sc  0    |
20 Dec 1854 Noon UT |  5 sc 21    |
21 Dec 1854 Noon UT |  5 sc 43    |
22 Dec 1854 Noon UT |  6 sc  4    |
23 Dec 1854 Noon UT |  6 sc 25    |
24 Dec 1854 Noon UT |  6 sc 46    |
25 Dec 1854 Noon UT |  7 sc  7    |
26 Dec 1854 Noon UT |  7 sc 28    |
27 Dec 1854 Noon UT |  7 sc 49    |
28 Dec 1854 Noon UT |  8 sc 10    |
29 Dec 1854 Noon UT |  8 sc 30    |
30 Dec 1854 Noon UT |  8 sc 51    |
31 Dec 1854 Noon UT |  9 sc 11    |
01 Jan 1855 Noon UT |  9 sc 31    |
02 Jan 1855 Noon UT |  9 sc 51    |
03 Jan 1855 Noon UT | 10 sc 11    |
04 Jan 1855 Noon UT | 10 sc 31    |
05 Jan 1855 Noon UT | 10 sc 51    |
06 Jan 1855 Noon UT | 11 sc 10    |
07 Jan 1855 Noon UT | 11 sc 30    |
08 Jan 1855 Noon UT | 11 sc 49    |
09 Jan 1855 Noon UT | 12 sc  8    |
10 Jan 1855 Noon UT | 12 sc 27    |
11 Jan 1855 Noon UT | 12 sc 46    |
12 Jan 1855 Noon UT | 13 sc  5    |
13 Jan 1855 Noon UT | 13 sc 24    |
14 Jan 1855 Noon UT | 13 sc 42    |
15 Jan 1855 Noon UT | 14 sc  0    |
16 Jan 1855 Noon UT | 14 sc 19    |
17 Jan 1855 Noon UT | 14 sc 37    |
18 Jan 1855 Noon UT | 14 sc 54    |
19 Jan 1855 Noon UT | 15 sc 12    |
20 Jan 1855 Noon UT | 15 sc 30    |
21 Jan 1855 Noon UT | 15 sc 47    |
22 Jan 1855 Noon UT | 16 sc  4    |
23 Jan 1855 Noon UT | 16 sc 21    |
24 Jan 1855 Noon UT | 16 sc 38    |
25 Jan 1855 Noon UT | 16 sc 55    |
26 Jan 1855 Noon UT | 17 sc 11    |
27 Jan 1855 Noon UT | 17 sc 27    |
28 Jan 1855 Noon UT | 17 sc 43    |
29 Jan 1855 Noon UT | 17 sc 59    |
30 Jan 1855 Noon UT | 18 sc 15    |
31 Jan 1855 Noon UT | 18 sc 30    |
01 Feb 1855 Noon UT | 18 sc 46    |
02 Feb 1855 Noon UT | 19 sc  1    |
03 Feb 1855 Noon UT | 19 sc 16    |
04 Feb 1855 Noon UT | 19 sc 30    |
05 Feb 1855 Noon UT | 19 sc 45    |
06 Feb 1855 Noon UT | 19 sc 59    |
07 Feb 1855 Noon UT | 20 sc 13    |
08 Feb 1855 Noon UT | 20 sc 27    |
09 Feb 1855 Noon UT | 20 sc 41    |
10 Feb 1855 Noon UT | 20 sc 54    |
11 Feb 1855 Noon UT | 21 sc  7    |
12 Feb 1855 Noon UT | 21 sc 20    |
13 Feb 1855 Noon UT | 21 sc 32    |
14 Feb 1855 Noon UT | 21 sc 45    |
15 Feb 1855 Noon UT | 21 sc 57    |
16 Feb 1855 Noon UT | 22 sc  9    |
17 Feb 1855 Noon UT | 22 sc 20    |
18 Feb 1855 Noon UT | 22 sc 32    |
19 Feb 1855 Noon UT | 22 sc 43    |
20 Feb 1855 Noon UT | 22 sc 53    |
21 Feb 1855 Noon UT | 23 sc  4    |
22 Feb 1855 Noon UT | 23 sc 14    |
23 Feb 1855 Noon UT | 23 sc 24    |
24 Feb 1855 Noon UT | 23 sc 34    |
25 Feb 1855 Noon UT | 23 sc 43    |
26 Feb 1855 Noon UT | 23 sc 52    |
27 Feb 1855 Noon UT | 24 sc  1    |
28 Feb 1855 Noon UT | 24 sc  9    |
01 Mar 1855 Noon UT | 24 sc 17    |
02 Mar 1855 Noon UT | 24 sc 25    |
03 Mar 1855 Noon UT | 24 sc 33    |
04 Mar 1855 Noon UT | 24 sc 40    |
05 Mar 1855 Noon UT | 24 sc 47    |
06 Mar 1855 Noon UT | 24 sc 54    |
07 Mar 1855 Noon UT | 25 sc  0    |
08 Mar 1855 Noon UT | 25 sc  6    |
09 Mar 1855 Noon UT | 25 sc 11    |
10 Mar 1855 Noon UT | 25 sc 17    |
11 Mar 1855 Noon UT | 25 sc 22    |
12 Mar 1855 Noon UT | 25 sc 26    |
13 Mar 1855 Noon UT | 25 sc 31    |
14 Mar 1855 Noon UT | 25 sc 34    |
15 Mar 1855 Noon UT | 25 sc 38    |
16 Mar 1855 Noon UT | 25 sc 41    |
17 Mar 1855 Noon UT | 25 sc 44    |
18 Mar 1855 Noon UT | 25 sc 46    |
19 Mar 1855 Noon UT | 25 sc 49    |
20 Mar 1855 Noon UT | 25 sc 50    |
21 Mar 1855 Noon UT | 25 sc 52    |
22 Mar 1855 Noon UT | 25 sc 53    |
23 Mar 1855 Noon UT | 25 sc 53    |
24 Mar 1855 Noon UT | 25 sc 54    |
25 Mar 1855 Noon UT | 25 sc 54 Rx |
26 Mar 1855 Noon UT | 25 sc 53 Rx |
27 Mar 1855 Noon UT | 25 sc 52 Rx |
28 Mar 1855 Noon UT | 25 sc 51 Rx |
29 Mar 1855 Noon UT | 25 sc 50 Rx |
30 Mar 1855 Noon UT | 25 sc 48 Rx |
31 Mar 1855 Noon UT | 25 sc 46 Rx |
01 Apr 1855 Noon UT | 25 sc 43 Rx |
02 Apr 1855 Noon UT | 25 sc 40 Rx |
03 Apr 1855 Noon UT | 25 sc 37 Rx |
04 Apr 1855 Noon UT | 25 sc 33 Rx |
05 Apr 1855 Noon UT | 25 sc 29 Rx |
06 Apr 1855 Noon UT | 25 sc 24 Rx |
07 Apr 1855 Noon UT | 25 sc 20 Rx |
08 Apr 1855 Noon UT | 25 sc 15 Rx |
09 Apr 1855 Noon UT | 25 sc  9 Rx |
10 Apr 1855 Noon UT | 25 sc  3 Rx |
11 Apr 1855 Noon UT | 24 sc 57 Rx |
12 Apr 1855 Noon UT | 24 sc 51 Rx |
13 Apr 1855 Noon UT | 24 sc 44 Rx |
14 Apr 1855 Noon UT | 24 sc 37 Rx |
15 Apr 1855 Noon UT | 24 sc 29 Rx |
16 Apr 1855 Noon UT | 24 sc 22 Rx |
17 Apr 1855 Noon UT | 24 sc 14 Rx |
18 Apr 1855 Noon UT | 24 sc  5 Rx |
19 Apr 1855 Noon UT | 23 sc 57 Rx |
20 Apr 1855 Noon UT | 23 sc 48 Rx |
21 Apr 1855 Noon UT | 23 sc 39 Rx |
22 Apr 1855 Noon UT | 23 sc 29 Rx |
23 Apr 1855 Noon UT | 23 sc 20 Rx |
24 Apr 1855 Noon UT | 23 sc 10 Rx |
25 Apr 1855 Noon UT | 23 sc  0 Rx |
26 Apr 1855 Noon UT | 22 sc 50 Rx |
27 Apr 1855 Noon UT | 22 sc 39 Rx |
28 Apr 1855 Noon UT | 22 sc 28 Rx |
29 Apr 1855 Noon UT | 22 sc 18 Rx |
30 Apr 1855 Noon UT | 22 sc  7 Rx |
01 May 1855 Noon UT | 21 sc 55 Rx |
02 May 1855 Noon UT | 21 sc 44 Rx |
03 May 1855 Noon UT | 21 sc 33 Rx |
04 May 1855 Noon UT | 21 sc 21 Rx |
05 May 1855 Noon UT | 21 sc 10 Rx |
06 May 1855 Noon UT | 20 sc 58 Rx |
07 May 1855 Noon UT | 20 sc 46 Rx |
08 May 1855 Noon UT | 20 sc 34 Rx |
09 May 1855 Noon UT | 20 sc 22 Rx |
10 May 1855 Noon UT | 20 sc 10 Rx |
11 May 1855 Noon UT | 19 sc 59 Rx |
12 May 1855 Noon UT | 19 sc 47 Rx |
13 May 1855 Noon UT | 19 sc 35 Rx |
14 May 1855 Noon UT | 19 sc 23 Rx |
15 May 1855 Noon UT | 19 sc 11 Rx |
16 May 1855 Noon UT | 18 sc 59 Rx |
17 May 1855 Noon UT | 18 sc 47 Rx |
18 May 1855 Noon UT | 18 sc 36 Rx |
19 May 1855 Noon UT | 18 sc 24 Rx |
20 May 1855 Noon UT | 18 sc 13 Rx |
21 May 1855 Noon UT | 18 sc  2 Rx |
22 May 1855 Noon UT | 17 sc 50 Rx |
23 May 1855 Noon UT | 17 sc 39 Rx |
24 May 1855 Noon UT | 17 sc 29 Rx |
25 May 1855 Noon UT | 17 sc 18 Rx |
26 May 1855 Noon UT | 17 sc  7 Rx |
27 May 1855 Noon UT | 16 sc 57 Rx |
28 May 1855 Noon UT | 16 sc 47 Rx |
29 May 1855 Noon UT | 16 sc 37 Rx |
30 May 1855 Noon UT | 16 sc 28 Rx |
31 May 1855 Noon UT | 16 sc 18 Rx |
01 Jun 1855 Noon UT | 16 sc  9 Rx |
02 Jun 1855 Noon UT | 16 sc  0 Rx |
03 Jun 1855 Noon UT | 15 sc 52 Rx |
04 Jun 1855 Noon UT | 15 sc 43 Rx |
05 Jun 1855 Noon UT | 15 sc 35 Rx |
06 Jun 1855 Noon UT | 15 sc 27 Rx |
07 Jun 1855 Noon UT | 15 sc 20 Rx |
08 Jun 1855 Noon UT | 15 sc 13 Rx |
09 Jun 1855 Noon UT | 15 sc  6 Rx |
10 Jun 1855 Noon UT | 14 sc 59 Rx |
11 Jun 1855 Noon UT | 14 sc 53 Rx |
12 Jun 1855 Noon UT | 14 sc 47 Rx |
13 Jun 1855 Noon UT | 14 sc 42 Rx |
14 Jun 1855 Noon UT | 14 sc 36 Rx |
15 Jun 1855 Noon UT | 14 sc 32 Rx |
16 Jun 1855 Noon UT | 14 sc 27 Rx |
17 Jun 1855 Noon UT | 14 sc 23 Rx |
18 Jun 1855 Noon UT | 14 sc 19 Rx |
19 Jun 1855 Noon UT | 14 sc 15 Rx |
20 Jun 1855 Noon UT | 14 sc 12 Rx |
21 Jun 1855 Noon UT | 14 sc  9 Rx |
22 Jun 1855 Noon UT | 14 sc  7 Rx |
23 Jun 1855 Noon UT | 14 sc  5 Rx |
24 Jun 1855 Noon UT | 14 sc  3 Rx |
25 Jun 1855 Noon UT | 14 sc  2 Rx |
26 Jun 1855 Noon UT | 14 sc  1 Rx |
27 Jun 1855 Noon UT | 14 sc  0 Rx |
28 Jun 1855 Noon UT | 14 sc  0 Rx |
29 Jun 1855 Noon UT | 14 sc  0    |
30 Jun 1855 Noon UT | 14 sc  0    |
01 Jul 1855 Noon UT | 14 sc  1    |
02 Jul 1855 Noon UT | 14 sc  2    |
03 Jul 1855 Noon UT | 14 sc  4    |
04 Jul 1855 Noon UT | 14 sc  6    |
05 Jul 1855 Noon UT | 14 sc  8    |
06 Jul 1855 Noon UT | 14 sc 10    |
07 Jul 1855 Noon UT | 14 sc 13    |
08 Jul 1855 Noon UT | 14 sc 16    |
09 Jul 1855 Noon UT | 14 sc 20    |
10 Jul 1855 Noon UT | 14 sc 24    |
11 Jul 1855 Noon UT | 14 sc 28    |
12 Jul 1855 Noon UT | 14 sc 32    |
13 Jul 1855 Noon UT | 14 sc 37    |
14 Jul 1855 Noon UT | 14 sc 42    |
15 Jul 1855 Noon UT | 14 sc 48    |
16 Jul 1855 Noon UT | 14 sc 53    |
17 Jul 1855 Noon UT | 15 sc  0    |
18 Jul 1855 Noon UT | 15 sc  6    |
19 Jul 1855 Noon UT | 15 sc 13    |
20 Jul 1855 Noon UT | 15 sc 20    |
21 Jul 1855 Noon UT | 15 sc 27    |
22 Jul 1855 Noon UT | 15 sc 35    |
23 Jul 1855 Noon UT | 15 sc 43    |
24 Jul 1855 Noon UT | 15 sc 51    |
25 Jul 1855 Noon UT | 16 sc  0    |
26 Jul 1855 Noon UT | 16 sc  8    |
27 Jul 1855 Noon UT | 16 sc 17    |
28 Jul 1855 Noon UT | 16 sc 27    |
29 Jul 1855 Noon UT | 16 sc 36    |
30 Jul 1855 Noon UT | 16 sc 46    |
31 Jul 1855 Noon UT | 16 sc 57    |
01 Aug 1855 Noon UT | 17 sc  7    |
02 Aug 1855 Noon UT | 17 sc 18    |
03 Aug 1855 Noon UT | 17 sc 29    |
04 Aug 1855 Noon UT | 17 sc 40    |
05 Aug 1855 Noon UT | 17 sc 51    |
06 Aug 1855 Noon UT | 18 sc  3    |
07 Aug 1855 Noon UT | 18 sc 15    |
08 Aug 1855 Noon UT | 18 sc 27    |
09 Aug 1855 Noon UT | 18 sc 39    |
10 Aug 1855 Noon UT | 18 sc 52    |
11 Aug 1855 Noon UT | 19 sc  5    |
12 Aug 1855 Noon UT | 19 sc 18    |
13 Aug 1855 Noon UT | 19 sc 31    |
14 Aug 1855 Noon UT | 19 sc 45    |
15 Aug 1855 Noon UT | 19 sc 59    |
16 Aug 1855 Noon UT | 20 sc 13    |
17 Aug 1855 Noon UT | 20 sc 27    |
18 Aug 1855 Noon UT | 20 sc 41    |
19 Aug 1855 Noon UT | 20 sc 56    |
20 Aug 1855 Noon UT | 21 sc 10    |
21 Aug 1855 Noon UT | 21 sc 25    |
22 Aug 1855 Noon UT | 21 sc 41    |
23 Aug 1855 Noon UT | 21 sc 56    |
24 Aug 1855 Noon UT | 22 sc 12    |
25 Aug 1855 Noon UT | 22 sc 27    |
26 Aug 1855 Noon UT | 22 sc 43    |
27 Aug 1855 Noon UT | 22 sc 59    |
28 Aug 1855 Noon UT | 23 sc 16    |
29 Aug 1855 Noon UT | 23 sc 32    |
30 Aug 1855 Noon UT | 23 sc 49    |
31 Aug 1855 Noon UT | 24 sc  5    |
01 Sep 1855 Noon UT | 24 sc 22    |
02 Sep 1855 Noon UT | 24 sc 39    |
03 Sep 1855 Noon UT | 24 sc 57    |
04 Sep 1855 Noon UT | 25 sc 14    |
05 Sep 1855 Noon UT | 25 sc 32    |
06 Sep 1855 Noon UT | 25 sc 49    |
07 Sep 1855 Noon UT | 26 sc  7    |
08 Sep 1855 Noon UT | 26 sc 25    |
09 Sep 1855 Noon UT | 26 sc 43    |
10 Sep 1855 Noon UT | 27 sc  2    |
11 Sep 1855 Noon UT | 27 sc 20    |
12 Sep 1855 Noon UT | 27 sc 39    |
13 Sep 1855 Noon UT | 27 sc 57    |
14 Sep 1855 Noon UT | 28 sc 16    |
15 Sep 1855 Noon UT | 28 sc 35    |
16 Sep 1855 Noon UT | 28 sc 54    |
17 Sep 1855 Noon UT | 29 sc 14    |
18 Sep 1855 Noon UT | 29 sc 33    |
19 Sep 1855 Noon UT | 29 sc 52    |
20 Sep 1855 Noon UT |  0 sa 12    |
21 Sep 1855 Noon UT |  0 sa 32    |
22 Sep 1855 Noon UT |  0 sa 52    |
23 Sep 1855 Noon UT |  1 sa 12    |
24 Sep 1855 Noon UT |  1 sa 32    |
25 Sep 1855 Noon UT |  1 sa 52    |
26 Sep 1855 Noon UT |  2 sa 12    |
27 Sep 1855 Noon UT |  2 sa 33    |
28 Sep 1855 Noon UT |  2 sa 53    |
29 Sep 1855 Noon UT |  3 sa 14    |
30 Sep 1855 Noon UT |  3 sa 34    |
01 Oct 1855 Noon UT |  3 sa 55    |
02 Oct 1855 Noon UT |  4 sa 16    |
03 Oct 1855 Noon UT |  4 sa 37    |
04 Oct 1855 Noon UT |  4 sa 58    |
05 Oct 1855 Noon UT |  5 sa 19    |
06 Oct 1855 Noon UT |  5 sa 41    |
07 Oct 1855 Noon UT |  6 sa  2    |
08 Oct 1855 Noon UT |  6 sa 24    |
09 Oct 1855 Noon UT |  6 sa 45    |
10 Oct 1855 Noon UT |  7 sa  7    |
11 Oct 1855 Noon UT |  7 sa 29    |
12 Oct 1855 Noon UT |  7 sa 50    |
13 Oct 1855 Noon UT |  8 sa 12    |
14 Oct 1855 Noon UT |  8 sa 34    |
15 Oct 1855 Noon UT |  8 sa 56    |
16 Oct 1855 Noon UT |  9 sa 18    |
17 Oct 1855 Noon UT |  9 sa 41    |
18 Oct 1855 Noon UT | 10 sa  3    |
19 Oct 1855 Noon UT | 10 sa 25    |
20 Oct 1855 Noon UT | 10 sa 48    |
21 Oct 1855 Noon UT | 11 sa 10    |
22 Oct 1855 Noon UT | 11 sa 33    |
23 Oct 1855 Noon UT | 11 sa 55    |
24 Oct 1855 Noon UT | 12 sa 18    |
25 Oct 1855 Noon UT | 12 sa 41    |
26 Oct 1855 Noon UT | 13 sa  4    |
27 Oct 1855 Noon UT | 13 sa 26    |
28 Oct 1855 Noon UT | 13 sa 49    |
29 Oct 1855 Noon UT | 14 sa 12    |
30 Oct 1855 Noon UT | 14 sa 35    |
31 Oct 1855 Noon UT | 14 sa 58    |
01 Nov 1855 Noon UT | 15 sa 22    |
02 Nov 1855 Noon UT | 15 sa 45    |
03 Nov 1855 Noon UT | 16 sa  8    |
04 Nov 1855 Noon UT | 16 sa 31    |
05 Nov 1855 Noon UT | 16 sa 55    |
06 Nov 1855 Noon UT | 17 sa 18    |
07 Nov 1855 Noon UT | 17 sa 42    |
08 Nov 1855 Noon UT | 18 sa  5    |
09 Nov 1855 Noon UT | 18 sa 29    |
10 Nov 1855 Noon UT | 18 sa 52    |
11 Nov 1855 Noon UT | 19 sa 16    |
12 Nov 1855 Noon UT | 19 sa 40    |
13 Nov 1855 Noon UT | 20 sa  3    |
14 Nov 1855 Noon UT | 20 sa 27    |
15 Nov 1855 Noon UT | 20 sa 51    |
16 Nov 1855 Noon UT | 21 sa 15    |
17 Nov 1855 Noon UT | 21 sa 39    |
18 Nov 1855 Noon UT | 22 sa  3    |
19 Nov 1855 Noon UT | 22 sa 26    |
20 Nov 1855 Noon UT | 22 sa 50    |
21 Nov 1855 Noon UT | 23 sa 14    |
22 Nov 1855 Noon UT | 23 sa 38    |
23 Nov 1855 Noon UT | 24 sa  3    |
24 Nov 1855 Noon UT | 24 sa 27    |
25 Nov 1855 Noon UT | 24 sa 51    |
26 Nov 1855 Noon UT | 25 sa 15    |
27 Nov 1855 Noon UT | 25 sa 39    |
28 Nov 1855 Noon UT | 26 sa  3    |
29 Nov 1855 Noon UT | 26 sa 27    |
30 Nov 1855 Noon UT | 26 sa 52    |
01 Dec 1855 Noon UT | 27 sa 16    |
02 Dec 1855 Noon UT | 27 sa 40    |
03 Dec 1855 Noon UT | 28 sa  5    |
04 Dec 1855 Noon UT | 28 sa 29    |
05 Dec 1855 Noon UT | 28 sa 53    |
06 Dec 1855 Noon UT | 29 sa 18    |
07 Dec 1855 Noon UT | 29 sa 42    |
08 Dec 1855 Noon UT |  0 cp  6    |
09 Dec 1855 Noon UT |  0 cp 31    |
10 Dec 1855 Noon UT |  0 cp 55    |
11 Dec 1855 Noon UT |  1 cp 20    |
12 Dec 1855 Noon UT |  1 cp 44    |
13 Dec 1855 Noon UT |  2 cp  9    |
14 Dec 1855 Noon UT |  2 cp 33    |
15 Dec 1855 Noon UT |  2 cp 58    |
16 Dec 1855 Noon UT |  3 cp 22    |
17 Dec 1855 Noon UT |  3 cp 46    |
18 Dec 1855 Noon UT |  4 cp 11    |
19 Dec 1855 Noon UT |  4 cp 35    |
20 Dec 1855 Noon UT |  5 cp  0    |
21 Dec 1855 Noon UT |  5 cp 24    |
22 Dec 1855 Noon UT |  5 cp 49    |
23 Dec 1855 Noon UT |  6 cp 13    |
24 Dec 1855 Noon UT |  6 cp 38    |
25 Dec 1855 Noon UT |  7 cp  2    |
26 Dec 1855 Noon UT |  7 cp 27    |
27 Dec 1855 Noon UT |  7 cp 51    |
28 Dec 1855 Noon UT |  8 cp 16    |
29 Dec 1855 Noon UT |  8 cp 40    |
30 Dec 1855 Noon UT |  9 cp  5    |
31 Dec 1855 Noon UT |  9 cp 29    |
01 Jan 1856 Noon UT |  9 cp 54    |
02 Jan 1856 Noon UT | 10 cp 18    |
03 Jan 1856 Noon UT | 10 cp 42    |
04 Jan 1856 Noon UT | 11 cp  7    |
05 Jan 1856 Noon UT | 11 cp 31    |
06 Jan 1856 Noon UT | 11 cp 56    |
07 Jan 1856 Noon UT | 12 cp 20    |
08 Jan 1856 Noon UT | 12 cp 44    |
09 Jan 1856 Noon UT | 13 cp  9    |
10 Jan 1856 Noon UT | 13 cp 33    |
11 Jan 1856 Noon UT | 13 cp 57    |
12 Jan 1856 Noon UT | 14 cp 22    |
13 Jan 1856 Noon UT | 14 cp 46    |
14 Jan 1856 Noon UT | 15 cp 10    |
15 Jan 1856 Noon UT | 15 cp 34    |
16 Jan 1856 Noon UT | 15 cp 58    |
17 Jan 1856 Noon UT | 16 cp 23    |
18 Jan 1856 Noon UT | 16 cp 47    |
19 Jan 1856 Noon UT | 17 cp 11    |
20 Jan 1856 Noon UT | 17 cp 35    |
21 Jan 1856 Noon UT | 17 cp 59    |
22 Jan 1856 Noon UT | 18 cp 23    |
23 Jan 1856 Noon UT | 18 cp 47    |
24 Jan 1856 Noon UT | 19 cp 11    |
25 Jan 1856 Noon UT | 19 cp 35    |
26 Jan 1856 Noon UT | 19 cp 59    |
27 Jan 1856 Noon UT | 20 cp 23    |
28 Jan 1856 Noon UT | 20 cp 46    |
29 Jan 1856 Noon UT | 21 cp 10    |
30 Jan 1856 Noon UT | 21 cp 34    |
31 Jan 1856 Noon UT | 21 cp 58    |
01 Feb 1856 Noon UT | 22 cp 21    |
02 Feb 1856 Noon UT | 22 cp 45    |
03 Feb 1856 Noon UT | 23 cp  9    |
04 Feb 1856 Noon UT | 23 cp 32    |
05 Feb 1856 Noon UT | 23 cp 56    |
06 Feb 1856 Noon UT | 24 cp 19    |
07 Feb 1856 Noon UT | 24 cp 42    |
08 Feb 1856 Noon UT | 25 cp  6    |
09 Feb 1856 Noon UT | 25 cp 29    |
10 Feb 1856 Noon UT | 25 cp 52    |
11 Feb 1856 Noon UT | 26 cp 16    |
12 Feb 1856 Noon UT | 26 cp 39    |
13 Feb 1856 Noon UT | 27 cp  2    |
14 Feb 1856 Noon UT | 27 cp 25    |
15 Feb 1856 Noon UT | 27 cp 48    |
16 Feb 1856 Noon UT | 28 cp 11    |
17 Feb 1856 Noon UT | 28 cp 34    |
18 Feb 1856 Noon UT | 28 cp 56    |
19 Feb 1856 Noon UT | 29 cp 19    |
20 Feb 1856 Noon UT | 29 cp 42    |
21 Feb 1856 Noon UT |  0 aq  4    |
22 Feb 1856 Noon UT |  0 aq 27    |
23 Feb 1856 Noon UT |  0 aq 49    |
24 Feb 1856 Noon UT |  1 aq 12    |
25 Feb 1856 Noon UT |  1 aq 34    |
26 Feb 1856 Noon UT |  1 aq 57    |
27 Feb 1856 Noon UT |  2 aq 19    |
28 Feb 1856 Noon UT |  2 aq 41    |
29 Feb 1856 Noon UT |  3 aq  3    |
01 Mar 1856 Noon UT |  3 aq 25    |
02 Mar 1856 Noon UT |  3 aq 47    |
03 Mar 1856 Noon UT |  4 aq  9    |
04 Mar 1856 Noon UT |  4 aq 31    |
05 Mar 1856 Noon UT |  4 aq 52    |
06 Mar 1856 Noon UT |  5 aq 14    |
07 Mar 1856 Noon UT |  5 aq 35    |
08 Mar 1856 Noon UT |  5 aq 57    |
09 Mar 1856 Noon UT |  6 aq 18    |
10 Mar 1856 Noon UT |  6 aq 40    |
11 Mar 1856 Noon UT |  7 aq  1    |
12 Mar 1856 Noon UT |  7 aq 22    |
13 Mar 1856 Noon UT |  7 aq 43    |
14 Mar 1856 Noon UT |  8 aq  4    |
15 Mar 1856 Noon UT |  8 aq 24    |
16 Mar 1856 Noon UT |  8 aq 45    |
17 Mar 1856 Noon UT |  9 aq  6    |
18 Mar 1856 Noon UT |  9 aq 26    |
19 Mar 1856 Noon UT |  9 aq 47    |
20 Mar 1856 Noon UT | 10 aq  7    |
21 Mar 1856 Noon UT | 10 aq 27    |
22 Mar 1856 Noon UT | 10 aq 47    |
23 Mar 1856 Noon UT | 11 aq  7    |
24 Mar 1856 Noon UT | 11 aq 27    |
25 Mar 1856 Noon UT | 11 aq 47    |
26 Mar 1856 Noon UT | 12 aq  7    |
27 Mar 1856 Noon UT | 12 aq 26    |
28 Mar 1856 Noon UT | 12 aq 46    |
29 Mar 1856 Noon UT | 13 aq  5    |
30 Mar 1856 Noon UT | 13 aq 24    |
31 Mar 1856 Noon UT | 13 aq 43    |
01 Apr 1856 Noon UT | 14 aq  2    |
02 Apr 1856 Noon UT | 14 aq 21    |
03 Apr 1856 Noon UT | 14 aq 40    |
04 Apr 1856 Noon UT | 14 aq 59    |
05 Apr 1856 Noon UT | 15 aq 17    |
06 Apr 1856 Noon UT | 15 aq 35    |
07 Apr 1856 Noon UT | 15 aq 54    |
08 Apr 1856 Noon UT | 16 aq 12    |
09 Apr 1856 Noon UT | 16 aq 30    |
10 Apr 1856 Noon UT | 16 aq 47    |
11 Apr 1856 Noon UT | 17 aq  5    |
12 Apr 1856 Noon UT | 17 aq 22    |
13 Apr 1856 Noon UT | 17 aq 40    |
14 Apr 1856 Noon UT | 17 aq 57    |
15 Apr 1856 Noon UT | 18 aq 14    |
16 Apr 1856 Noon UT | 18 aq 31    |
17 Apr 1856 Noon UT | 18 aq 48    |
18 Apr 1856 Noon UT | 19 aq  4    |
19 Apr 1856 Noon UT | 19 aq 21    |
20 Apr 1856 Noon UT | 19 aq 37    |
21 Apr 1856 Noon UT | 19 aq 53    |
22 Apr 1856 Noon UT | 20 aq  9    |
23 Apr 1856 Noon UT | 20 aq 25    |
24 Apr 1856 Noon UT | 20 aq 40    |
25 Apr 1856 Noon UT | 20 aq 56    |
26 Apr 1856 Noon UT | 21 aq 11    |
27 Apr 1856 Noon UT | 21 aq 26    |
28 Apr 1856 Noon UT | 21 aq 41    |
29 Apr 1856 Noon UT | 21 aq 56    |
30 Apr 1856 Noon UT | 22 aq 10    |
01 May 1856 Noon UT | 22 aq 24    |
02 May 1856 Noon UT | 22 aq 39    |
03 May 1856 Noon UT | 22 aq 52    |
04 May 1856 Noon UT | 23 aq  6    |
05 May 1856 Noon UT | 23 aq 20    |
06 May 1856 Noon UT | 23 aq 33    |
07 May 1856 Noon UT | 23 aq 46    |
08 May 1856 Noon UT | 23 aq 59    |
09 May 1856 Noon UT | 24 aq 12    |
10 May 1856 Noon UT | 24 aq 24    |
11 May 1856 Noon UT | 24 aq 37    |
12 May 1856 Noon UT | 24 aq 49    |
13 May 1856 Noon UT | 25 aq  0    |
14 May 1856 Noon UT | 25 aq 12    |
15 May 1856 Noon UT | 25 aq 23    |
16 May 1856 Noon UT | 25 aq 35    |
17 May 1856 Noon UT | 25 aq 45    |
18 May 1856 Noon UT | 25 aq 56    |
19 May 1856 Noon UT | 26 aq  7    |
20 May 1856 Noon UT | 26 aq 17    |
21 May 1856 Noon UT | 26 aq 27    |
22 May 1856 Noon UT | 26 aq 36    |
23 May 1856 Noon UT | 26 aq 46    |
24 May 1856 Noon UT | 26 aq 55    |
25 May 1856 Noon UT | 27 aq  4    |
26 May 1856 Noon UT | 27 aq 13    |
27 May 1856 Noon UT | 27 aq 21    |
28 May 1856 Noon UT | 27 aq 29    |
29 May 1856 Noon UT | 27 aq 37    |
30 May 1856 Noon UT | 27 aq 45    |
31 May 1856 Noon UT | 27 aq 52    |
01 Jun 1856 Noon UT | 27 aq 59    |
02 Jun 1856 Noon UT | 28 aq  6    |
03 Jun 1856 Noon UT | 28 aq 12    |
04 Jun 1856 Noon UT | 28 aq 18    |
05 Jun 1856 Noon UT | 28 aq 24    |
06 Jun 1856 Noon UT | 28 aq 30    |
07 Jun 1856 Noon UT | 28 aq 35    |
08 Jun 1856 Noon UT | 28 aq 40    |
09 Jun 1856 Noon UT | 28 aq 45    |
10 Jun 1856 Noon UT | 28 aq 49    |
11 Jun 1856 Noon UT | 28 aq 53    |
12 Jun 1856 Noon UT | 28 aq 57    |
13 Jun 1856 Noon UT | 29 aq  0    |
14 Jun 1856 Noon UT | 29 aq  3    |
15 Jun 1856 Noon UT | 29 aq  6    |
16 Jun 1856 Noon UT | 29 aq  9    |
17 Jun 1856 Noon UT | 29 aq 11    |
18 Jun 1856 Noon UT | 29 aq 13    |
19 Jun 1856 Noon UT | 29 aq 14    |
20 Jun 1856 Noon UT | 29 aq 16    |
21 Jun 1856 Noon UT | 29 aq 16    |
22 Jun 1856 Noon UT | 29 aq 17    |
23 Jun 1856 Noon UT | 29 aq 17    |
24 Jun 1856 Noon UT | 29 aq 17 Rx |
25 Jun 1856 Noon UT | 29 aq 17 Rx |
26 Jun 1856 Noon UT | 29 aq 16 Rx |
27 Jun 1856 Noon UT | 29 aq 15 Rx |
28 Jun 1856 Noon UT | 29 aq 13 Rx |
29 Jun 1856 Noon UT | 29 aq 12 Rx |
30 Jun 1856 Noon UT | 29 aq 10 Rx |
01 Jul 1856 Noon UT | 29 aq  7 Rx |
02 Jul 1856 Noon UT | 29 aq  4 Rx |
03 Jul 1856 Noon UT | 29 aq  1 Rx |
04 Jul 1856 Noon UT | 28 aq 58 Rx |
05 Jul 1856 Noon UT | 28 aq 54 Rx |
06 Jul 1856 Noon UT | 28 aq 50 Rx |
07 Jul 1856 Noon UT | 28 aq 46 Rx |
08 Jul 1856 Noon UT | 28 aq 41 Rx |
09 Jul 1856 Noon UT | 28 aq 36 Rx |
10 Jul 1856 Noon UT | 28 aq 31 Rx |
11 Jul 1856 Noon UT | 28 aq 25 Rx |
12 Jul 1856 Noon UT | 28 aq 19 Rx |
13 Jul 1856 Noon UT | 28 aq 13 Rx |
14 Jul 1856 Noon UT | 28 aq  6 Rx |
15 Jul 1856 Noon UT | 27 aq 59 Rx |
16 Jul 1856 Noon UT | 27 aq 52 Rx |
17 Jul 1856 Noon UT | 27 aq 45 Rx |
18 Jul 1856 Noon UT | 27 aq 37 Rx |
19 Jul 1856 Noon UT | 27 aq 29 Rx |
20 Jul 1856 Noon UT | 27 aq 21 Rx |
21 Jul 1856 Noon UT | 27 aq 12 Rx |
22 Jul 1856 Noon UT | 27 aq  4 Rx |
23 Jul 1856 Noon UT | 26 aq 55 Rx |
24 Jul 1856 Noon UT | 26 aq 46 Rx |
25 Jul 1856 Noon UT | 26 aq 36 Rx |
26 Jul 1856 Noon UT | 26 aq 26 Rx |
27 Jul 1856 Noon UT | 26 aq 17 Rx |
28 Jul 1856 Noon UT | 26 aq  7 Rx |
29 Jul 1856 Noon UT | 25 aq 56 Rx |
30 Jul 1856 Noon UT | 25 aq 46 Rx |
31 Jul 1856 Noon UT | 25 aq 35 Rx |
01 Aug 1856 Noon UT | 25 aq 24 Rx |
02 Aug 1856 Noon UT | 25 aq 13 Rx |
03 Aug 1856 Noon UT | 25 aq  2 Rx |
04 Aug 1856 Noon UT | 24 aq 51 Rx |
05 Aug 1856 Noon UT | 24 aq 40 Rx |
06 Aug 1856 Noon UT | 24 aq 28 Rx |
07 Aug 1856 Noon UT | 24 aq 17 Rx |
08 Aug 1856 Noon UT | 24 aq  5 Rx |
09 Aug 1856 Noon UT | 23 aq 53 Rx |
10 Aug 1856 Noon UT | 23 aq 42 Rx |
11 Aug 1856 Noon UT | 23 aq 30 Rx |
12 Aug 1856 Noon UT | 23 aq 18 Rx |
13 Aug 1856 Noon UT | 23 aq  6 Rx |
14 Aug 1856 Noon UT | 22 aq 54 Rx |
15 Aug 1856 Noon UT | 22 aq 43 Rx |
16 Aug 1856 Noon UT | 22 aq 31 Rx |
17 Aug 1856 Noon UT | 22 aq 19 Rx |
18 Aug 1856 Noon UT | 22 aq  7 Rx |
19 Aug 1856 Noon UT | 21 aq 55 Rx |
20 Aug 1856 Noon UT | 21 aq 44 Rx |
21 Aug 1856 Noon UT | 21 aq 32 Rx |
22 Aug 1856 Noon UT | 21 aq 21 Rx |
23 Aug 1856 Noon UT | 21 aq  9 Rx |
24 Aug 1856 Noon UT | 20 aq 58 Rx |
25 Aug 1856 Noon UT | 20 aq 47 Rx |
26 Aug 1856 Noon UT | 20 aq 36 Rx |
27 Aug 1856 Noon UT | 20 aq 25 Rx |
28 Aug 1856 Noon UT | 20 aq 14 Rx |
29 Aug 1856 Noon UT | 20 aq  3 Rx |
30 Aug 1856 Noon UT | 19 aq 53 Rx |
31 Aug 1856 Noon UT | 19 aq 43 Rx |
01 Sep 1856 Noon UT | 19 aq 33 Rx |
02 Sep 1856 Noon UT | 19 aq 23 Rx |
03 Sep 1856 Noon UT | 19 aq 13 Rx |
04 Sep 1856 Noon UT | 19 aq  4 Rx |
05 Sep 1856 Noon UT | 18 aq 55 Rx |
06 Sep 1856 Noon UT | 18 aq 46 Rx |
07 Sep 1856 Noon UT | 18 aq 37 Rx |
08 Sep 1856 Noon UT | 18 aq 28 Rx |
09 Sep 1856 Noon UT | 18 aq 20 Rx |
10 Sep 1856 Noon UT | 18 aq 12 Rx |
11 Sep 1856 Noon UT | 18 aq  5 Rx |
12 Sep 1856 Noon UT | 17 aq 57 Rx |
13 Sep 1856 Noon UT | 17 aq 50 Rx |
14 Sep 1856 Noon UT | 17 aq 43 Rx |
15 Sep 1856 Noon UT | 17 aq 37 Rx |
16 Sep 1856 Noon UT | 17 aq 31 Rx |
17 Sep 1856 Noon UT | 17 aq 25 Rx |
18 Sep 1856 Noon UT | 17 aq 19 Rx |
19 Sep 1856 Noon UT | 17 aq 14 Rx |
20 Sep 1856 Noon UT | 17 aq  9 Rx |
21 Sep 1856 Noon UT | 17 aq  4 Rx |
22 Sep 1856 Noon UT | 17 aq  0 Rx |
23 Sep 1856 Noon UT | 16 aq 56 Rx |
24 Sep 1856 Noon UT | 16 aq 52 Rx |
25 Sep 1856 Noon UT | 16 aq 49 Rx |
26 Sep 1856 Noon UT | 16 aq 45 Rx |
27 Sep 1856 Noon UT | 16 aq 43 Rx |
28 Sep 1856 Noon UT | 16 aq 40 Rx |
29 Sep 1856 Noon UT | 16 aq 38 Rx |
30 Sep 1856 Noon UT | 16 aq 36 Rx |
01 Oct 1856 Noon UT | 16 aq 35 Rx |
02 Oct 1856 Noon UT | 16 aq 34 Rx |
03 Oct 1856 Noon UT | 16 aq 33 Rx |
04 Oct 1856 Noon UT | 16 aq 33 Rx |
05 Oct 1856 Noon UT | 16 aq 32    |
06 Oct 1856 Noon UT | 16 aq 33    |
07 Oct 1856 Noon UT | 16 aq 33    |
08 Oct 1856 Noon UT | 16 aq 34    |
09 Oct 1856 Noon UT | 16 aq 35    |
10 Oct 1856 Noon UT | 16 aq 37    |
11 Oct 1856 Noon UT | 16 aq 38    |
12 Oct 1856 Noon UT | 16 aq 40    |
13 Oct 1856 Noon UT | 16 aq 43    |
14 Oct 1856 Noon UT | 16 aq 46    |
15 Oct 1856 Noon UT | 16 aq 49    |
16 Oct 1856 Noon UT | 16 aq 52    |
17 Oct 1856 Noon UT | 16 aq 56    |
18 Oct 1856 Noon UT | 17 aq  0    |
19 Oct 1856 Noon UT | 17 aq  4    |
20 Oct 1856 Noon UT | 17 aq  8    |
21 Oct 1856 Noon UT | 17 aq 13    |
22 Oct 1856 Noon UT | 17 aq 18    |
23 Oct 1856 Noon UT | 17 aq 24    |
24 Oct 1856 Noon UT | 17 aq 29    |
25 Oct 1856 Noon UT | 17 aq 35    |
26 Oct 1856 Noon UT | 17 aq 42    |
27 Oct 1856 Noon UT | 17 aq 48    |
28 Oct 1856 Noon UT | 17 aq 55    |
29 Oct 1856 Noon UT | 18 aq  2    |
30 Oct 1856 Noon UT | 18 aq 10    |
31 Oct 1856 Noon UT | 18 aq 17    |
01 Nov 1856 Noon UT | 18 aq 25    |
02 Nov 1856 Noon UT | 18 aq 33    |
03 Nov 1856 Noon UT | 18 aq 42    |
04 Nov 1856 Noon UT | 18 aq 50    |
05 Nov 1856 Noon UT | 18 aq 59    |
06 Nov 1856 Noon UT | 19 aq  8    |
07 Nov 1856 Noon UT | 19 aq 18    |
08 Nov 1856 Noon UT | 19 aq 27    |
09 Nov 1856 Noon UT | 19 aq 37    |
10 Nov 1856 Noon UT | 19 aq 47    |
11 Nov 1856 Noon UT | 19 aq 58    |
12 Nov 1856 Noon UT | 20 aq  8    |
13 Nov 1856 Noon UT | 20 aq 19    |
14 Nov 1856 Noon UT | 20 aq 30    |
15 Nov 1856 Noon UT | 20 aq 41    |
16 Nov 1856 Noon UT | 20 aq 53    |
17 Nov 1856 Noon UT | 21 aq  4    |
18 Nov 1856 Noon UT | 21 aq 16    |
19 Nov 1856 Noon UT | 21 aq 28    |
20 Nov 1856 Noon UT | 21 aq 40    |
21 Nov 1856 Noon UT | 21 aq 53    |
22 Nov 1856 Noon UT | 22 aq  5    |
23 Nov 1856 Noon UT | 22 aq 18    |
24 Nov 1856 Noon UT | 22 aq 31    |
25 Nov 1856 Noon UT | 22 aq 45    |
26 Nov 1856 Noon UT | 22 aq 58    |
27 Nov 1856 Noon UT | 23 aq 11    |
28 Nov 1856 Noon UT | 23 aq 25    |
29 Nov 1856 Noon UT | 23 aq 39    |
30 Nov 1856 Noon UT | 23 aq 53    |
01 Dec 1856 Noon UT | 24 aq  7    |
02 Dec 1856 Noon UT | 24 aq 22    |
03 Dec 1856 Noon UT | 24 aq 37    |
04 Dec 1856 Noon UT | 24 aq 51    |
05 Dec 1856 Noon UT | 25 aq  6    |
06 Dec 1856 Noon UT | 25 aq 21    |
07 Dec 1856 Noon UT | 25 aq 36    |
08 Dec 1856 Noon UT | 25 aq 52    |
09 Dec 1856 Noon UT | 26 aq  7    |
10 Dec 1856 Noon UT | 26 aq 23    |
11 Dec 1856 Noon UT | 26 aq 39    |
12 Dec 1856 Noon UT | 26 aq 55    |
13 Dec 1856 Noon UT | 27 aq 11    |
14 Dec 1856 Noon UT | 27 aq 27    |
15 Dec 1856 Noon UT | 27 aq 43    |
16 Dec 1856 Noon UT | 28 aq  0    |
17 Dec 1856 Noon UT | 28 aq 16    |
18 Dec 1856 Noon UT | 28 aq 33    |
19 Dec 1856 Noon UT | 28 aq 50    |
20 Dec 1856 Noon UT | 29 aq  7    |
21 Dec 1856 Noon UT | 29 aq 24    |
22 Dec 1856 Noon UT | 29 aq 41    |
23 Dec 1856 Noon UT | 29 aq 58    |
24 Dec 1856 Noon UT |  0 pi 16    |
25 Dec 1856 Noon UT |  0 pi 33    |
26 Dec 1856 Noon UT |  0 pi 51    |
27 Dec 1856 Noon UT |  1 pi  9    |
28 Dec 1856 Noon UT |  1 pi 26    |
29 Dec 1856 Noon UT |  1 pi 44    |
30 Dec 1856 Noon UT |  2 pi  2    |
31 Dec 1856 Noon UT |  2 pi 21    |
01 Jan 1857 Noon UT |  2 pi 39    |
02 Jan 1857 Noon UT |  2 pi 57    |
03 Jan 1857 Noon UT |  3 pi 15    |
04 Jan 1857 Noon UT |  3 pi 34    |
05 Jan 1857 Noon UT |  3 pi 53    |
06 Jan 1857 Noon UT |  4 pi 11    |
07 Jan 1857 Noon UT |  4 pi 30    |
08 Jan 1857 Noon UT |  4 pi 49    |
09 Jan 1857 Noon UT |  5 pi  8    |
10 Jan 1857 Noon UT |  5 pi 27    |
11 Jan 1857 Noon UT |  5 pi 46    |
12 Jan 1857 Noon UT |  6 pi  5    |
13 Jan 1857 Noon UT |  6 pi 24    |
14 Jan 1857 Noon UT |  6 pi 43    |
15 Jan 1857 Noon UT |  7 pi  3    |
16 Jan 1857 Noon UT |  7 pi 22    |
17 Jan 1857 Noon UT |  7 pi 42    |
18 Jan 1857 Noon UT |  8 pi  1    |
19 Jan 1857 Noon UT |  8 pi 21    |
20 Jan 1857 Noon UT |  8 pi 41    |
21 Jan 1857 Noon UT |  9 pi  0    |
22 Jan 1857 Noon UT |  9 pi 20    |
23 Jan 1857 Noon UT |  9 pi 40    |
24 Jan 1857 Noon UT | 10 pi  0    |
25 Jan 1857 Noon UT | 10 pi 20    |
26 Jan 1857 Noon UT | 10 pi 40    |
27 Jan 1857 Noon UT | 11 pi  0    |
28 Jan 1857 Noon UT | 11 pi 20    |
29 Jan 1857 Noon UT | 11 pi 40    |
30 Jan 1857 Noon UT | 12 pi  0    |
31 Jan 1857 Noon UT | 12 pi 21    |
01 Feb 1857 Noon UT | 12 pi 41    |
02 Feb 1857 Noon UT | 13 pi  1    |
03 Feb 1857 Noon UT | 13 pi 22    |
04 Feb 1857 Noon UT | 13 pi 42    |
05 Feb 1857 Noon UT | 14 pi  3    |
06 Feb 1857 Noon UT | 14 pi 23    |
07 Feb 1857 Noon UT | 14 pi 44    |
08 Feb 1857 Noon UT | 15 pi  4    |
09 Feb 1857 Noon UT | 15 pi 25    |
10 Feb 1857 Noon UT | 15 pi 45    |
11 Feb 1857 Noon UT | 16 pi  6    |
12 Feb 1857 Noon UT | 16 pi 27    |
13 Feb 1857 Noon UT | 16 pi 47    |
14 Feb 1857 Noon UT | 17 pi  8    |
15 Feb 1857 Noon UT | 17 pi 29    |
16 Feb 1857 Noon UT | 17 pi 50    |
17 Feb 1857 Noon UT | 18 pi 11    |
18 Feb 1857 Noon UT | 18 pi 31    |
19 Feb 1857 Noon UT | 18 pi 52    |
20 Feb 1857 Noon UT | 19 pi 13    |
21 Feb 1857 Noon UT | 19 pi 34    |
22 Feb 1857 Noon UT | 19 pi 55    |
23 Feb 1857 Noon UT | 20 pi 16    |
24 Feb 1857 Noon UT | 20 pi 37    |
25 Feb 1857 Noon UT | 20 pi 58    |
26 Feb 1857 Noon UT | 21 pi 19    |
27 Feb 1857 Noon UT | 21 pi 40    |
28 Feb 1857 Noon UT | 22 pi  1    |
01 Mar 1857 Noon UT | 22 pi 22    |
02 Mar 1857 Noon UT | 22 pi 43    |
03 Mar 1857 Noon UT | 23 pi  4    |
04 Mar 1857 Noon UT | 23 pi 25    |
05 Mar 1857 Noon UT | 23 pi 46    |
06 Mar 1857 Noon UT | 24 pi  7    |
07 Mar 1857 Noon UT | 24 pi 28    |
08 Mar 1857 Noon UT | 24 pi 49    |
09 Mar 1857 Noon UT | 25 pi 10    |
10 Mar 1857 Noon UT | 25 pi 31    |
11 Mar 1857 Noon UT | 25 pi 52    |
12 Mar 1857 Noon UT | 26 pi 13    |
13 Mar 1857 Noon UT | 26 pi 34    |
14 Mar 1857 Noon UT | 26 pi 55    |
15 Mar 1857 Noon UT | 27 pi 16    |
16 Mar 1857 Noon UT | 27 pi 37    |
17 Mar 1857 Noon UT | 27 pi 58    |
18 Mar 1857 Noon UT | 28 pi 19    |
19 Mar 1857 Noon UT | 28 pi 40    |
20 Mar 1857 Noon UT | 29 pi  1    |
21 Mar 1857 Noon UT | 29 pi 22    |
22 Mar 1857 Noon UT | 29 pi 43    |
23 Mar 1857 Noon UT |  0 ar  4    |
24 Mar 1857 Noon UT |  0 ar 25    |
25 Mar 1857 Noon UT |  0 ar 46    |
26 Mar 1857 Noon UT |  1 ar  7    |
27 Mar 1857 Noon UT |  1 ar 28    |
28 Mar 1857 Noon UT |  1 ar 49    |
29 Mar 1857 Noon UT |  2 ar 10    |
30 Mar 1857 Noon UT |  2 ar 31    |
31 Mar 1857 Noon UT |  2 ar 51    |
01 Apr 1857 Noon UT |  3 ar 12    |
02 Apr 1857 Noon UT |  3 ar 33    |
03 Apr 1857 Noon UT |  3 ar 54    |
04 Apr 1857 Noon UT |  4 ar 14    |
05 Apr 1857 Noon UT |  4 ar 35    |
06 Apr 1857 Noon UT |  4 ar 56    |
07 Apr 1857 Noon UT |  5 ar 16    |
08 Apr 1857 Noon UT |  5 ar 37    |
09 Apr 1857 Noon UT |  5 ar 58    |
10 Apr 1857 Noon UT |  6 ar 18    |
11 Apr 1857 Noon UT |  6 ar 39    |
12 Apr 1857 Noon UT |  6 ar 59    |
13 Apr 1857 Noon UT |  7 ar 20    |
14 Apr 1857 Noon UT |  7 ar 40    |
15 Apr 1857 Noon UT |  8 ar  0    |
16 Apr 1857 Noon UT |  8 ar 21    |
17 Apr 1857 Noon UT |  8 ar 41    |
18 Apr 1857 Noon UT |  9 ar  1    |
19 Apr 1857 Noon UT |  9 ar 22    |
20 Apr 1857 Noon UT |  9 ar 42    |
21 Apr 1857 Noon UT | 10 ar  2    |
22 Apr 1857 Noon UT | 10 ar 22    |
23 Apr 1857 Noon UT | 10 ar 42    |
24 Apr 1857 Noon UT | 11 ar  2    |
25 Apr 1857 Noon UT | 11 ar 22    |
26 Apr 1857 Noon UT | 11 ar 42    |
27 Apr 1857 Noon UT | 12 ar  2    |
28 Apr 1857 Noon UT | 12 ar 22    |
29 Apr 1857 Noon UT | 12 ar 41    |
30 Apr 1857 Noon UT | 13 ar  1    |
01 May 1857 Noon UT | 13 ar 21    |
02 May 1857 Noon UT | 13 ar 40    |
03 May 1857 Noon UT | 14 ar  0    |
04 May 1857 Noon UT | 14 ar 20    |
05 May 1857 Noon UT | 14 ar 39    |
06 May 1857 Noon UT | 14 ar 58    |
07 May 1857 Noon UT | 15 ar 18    |
08 May 1857 Noon UT | 15 ar 37    |
09 May 1857 Noon UT | 15 ar 56    |
10 May 1857 Noon UT | 16 ar 15    |
11 May 1857 Noon UT | 16 ar 34    |
12 May 1857 Noon UT | 16 ar 53    |
13 May 1857 Noon UT | 17 ar 12    |
14 May 1857 Noon UT | 17 ar 31    |
15 May 1857 Noon UT | 17 ar 50    |
16 May 1857 Noon UT | 18 ar  9    |
17 May 1857 Noon UT | 18 ar 28    |
18 May 1857 Noon UT | 18 ar 46    |
19 May 1857 Noon UT | 19 ar  5    |
20 May 1857 Noon UT | 19 ar 23    |
21 May 1857 Noon UT | 19 ar 42    |
22 May 1857 Noon UT | 20 ar  0    |
23 May 1857 Noon UT | 20 ar 18    |
24 May 1857 Noon UT | 20 ar 36    |
25 May 1857 Noon UT | 20 ar 54    |
26 May 1857 Noon UT | 21 ar 12    |
27 May 1857 Noon UT | 21 ar 30    |
28 May 1857 Noon UT | 21 ar 48    |
29 May 1857 Noon UT | 22 ar  6    |
30 May 1857 Noon UT | 22 ar 23    |
31 May 1857 Noon UT | 22 ar 41    |
01 Jun 1857 Noon UT | 22 ar 58    |
02 Jun 1857 Noon UT | 23 ar 16    |
03 Jun 1857 Noon UT | 23 ar 33    |
04 Jun 1857 Noon UT | 23 ar 50    |
05 Jun 1857 Noon UT | 24 ar  7    |
06 Jun 1857 Noon UT | 24 ar 24    |
07 Jun 1857 Noon UT | 24 ar 41    |
08 Jun 1857 Noon UT | 24 ar 58    |
09 Jun 1857 Noon UT | 25 ar 15    |
10 Jun 1857 Noon UT | 25 ar 31    |
11 Jun 1857 Noon UT | 25 ar 48    |
12 Jun 1857 Noon UT | 26 ar  4    |
13 Jun 1857 Noon UT | 26 ar 20    |
14 Jun 1857 Noon UT | 26 ar 36    |
15 Jun 1857 Noon UT | 26 ar 52    |
16 Jun 1857 Noon UT | 27 ar  8    |
17 Jun 1857 Noon UT | 27 ar 24    |
18 Jun 1857 Noon UT | 27 ar 40    |
19 Jun 1857 Noon UT | 27 ar 55    |
20 Jun 1857 Noon UT | 28 ar 11    |
21 Jun 1857 Noon UT | 28 ar 26    |
22 Jun 1857 Noon UT | 28 ar 41    |
23 Jun 1857 Noon UT | 28 ar 56    |
24 Jun 1857 Noon UT | 29 ar 11    |
25 Jun 1857 Noon UT | 29 ar 26    |
26 Jun 1857 Noon UT | 29 ar 40    |
27 Jun 1857 Noon UT | 29 ar 55    |
28 Jun 1857 Noon UT |  0 ta  9    |
29 Jun 1857 Noon UT |  0 ta 23    |
30 Jun 1857 Noon UT |  0 ta 37    |
01 Jul 1857 Noon UT |  0 ta 51    |
02 Jul 1857 Noon UT |  1 ta  5    |
03 Jul 1857 Noon UT |  1 ta 19    |
04 Jul 1857 Noon UT |  1 ta 32    |
05 Jul 1857 Noon UT |  1 ta 45    |
06 Jul 1857 Noon UT |  1 ta 59    |
07 Jul 1857 Noon UT |  2 ta 12    |
08 Jul 1857 Noon UT |  2 ta 24    |
09 Jul 1857 Noon UT |  2 ta 37    |
10 Jul 1857 Noon UT |  2 ta 49    |
11 Jul 1857 Noon UT |  3 ta  2    |
12 Jul 1857 Noon UT |  3 ta 14    |
13 Jul 1857 Noon UT |  3 ta 26    |
14 Jul 1857 Noon UT |  3 ta 38    |
15 Jul 1857 Noon UT |  3 ta 49    |
16 Jul 1857 Noon UT |  4 ta  1    |
17 Jul 1857 Noon UT |  4 ta 12    |
18 Jul 1857 Noon UT |  4 ta 23    |
19 Jul 1857 Noon UT |  4 ta 34    |
20 Jul 1857 Noon UT |  4 ta 45    |
21 Jul 1857 Noon UT |  4 ta 55    |
22 Jul 1857 Noon UT |  5 ta  5    |
23 Jul 1857 Noon UT |  5 ta 15    |
24 Jul 1857 Noon UT |  5 ta 25    |
25 Jul 1857 Noon UT |  5 ta 35    |
26 Jul 1857 Noon UT |  5 ta 44    |
27 Jul 1857 Noon UT |  5 ta 54    |
28 Jul 1857 Noon UT |  6 ta  3    |
29 Jul 1857 Noon UT |  6 ta 11    |
30 Jul 1857 Noon UT |  6 ta 20    |
31 Jul 1857 Noon UT |  6 ta 28    |
01 Aug 1857 Noon UT |  6 ta 37    |
02 Aug 1857 Noon UT |  6 ta 44    |
03 Aug 1857 Noon UT |  6 ta 52    |
04 Aug 1857 Noon UT |  6 ta 59    |
05 Aug 1857 Noon UT |  7 ta  7    |
06 Aug 1857 Noon UT |  7 ta 14    |
07 Aug 1857 Noon UT |  7 ta 20    |
08 Aug 1857 Noon UT |  7 ta 27    |
09 Aug 1857 Noon UT |  7 ta 33    |
10 Aug 1857 Noon UT |  7 ta 39    |
11 Aug 1857 Noon UT |  7 ta 45    |
12 Aug 1857 Noon UT |  7 ta 50    |
13 Aug 1857 Noon UT |  7 ta 55    |
14 Aug 1857 Noon UT |  8 ta  0    |
15 Aug 1857 Noon UT |  8 ta  5    |
16 Aug 1857 Noon UT |  8 ta  9    |
17 Aug 1857 Noon UT |  8 ta 13    |
18 Aug 1857 Noon UT |  8 ta 17    |
19 Aug 1857 Noon UT |  8 ta 21    |
20 Aug 1857 Noon UT |  8 ta 24    |
21 Aug 1857 Noon UT |  8 ta 27    |
22 Aug 1857 Noon UT |  8 ta 30    |
23 Aug 1857 Noon UT |  8 ta 32    |
24 Aug 1857 Noon UT |  8 ta 34    |
25 Aug 1857 Noon UT |  8 ta 36    |
26 Aug 1857 Noon UT |  8 ta 37    |
27 Aug 1857 Noon UT |  8 ta 39    |
28 Aug 1857 Noon UT |  8 ta 40    |
29 Aug 1857 Noon UT |  8 ta 40    |
30 Aug 1857 Noon UT |  8 ta 41    |
31 Aug 1857 Noon UT |  8 ta 41 Rx |
01 Sep 1857 Noon UT |  8 ta 40 Rx |
02 Sep 1857 Noon UT |  8 ta 40 Rx |
03 Sep 1857 Noon UT |  8 ta 39 Rx |
04 Sep 1857 Noon UT |  8 ta 38 Rx |
05 Sep 1857 Noon UT |  8 ta 36 Rx |
06 Sep 1857 Noon UT |  8 ta 34 Rx |
07 Sep 1857 Noon UT |  8 ta 32 Rx |
08 Sep 1857 Noon UT |  8 ta 30 Rx |
09 Sep 1857 Noon UT |  8 ta 27 Rx |
10 Sep 1857 Noon UT |  8 ta 24 Rx |
11 Sep 1857 Noon UT |  8 ta 21 Rx |
12 Sep 1857 Noon UT |  8 ta 17 Rx |
13 Sep 1857 Noon UT |  8 ta 13 Rx |
14 Sep 1857 Noon UT |  8 ta  9 Rx |
15 Sep 1857 Noon UT |  8 ta  5 Rx |
16 Sep 1857 Noon UT |  8 ta  0 Rx |
17 Sep 1857 Noon UT |  7 ta 55 Rx |
18 Sep 1857 Noon UT |  7 ta 49 Rx |
19 Sep 1857 Noon UT |  7 ta 43 Rx |
20 Sep 1857 Noon UT |  7 ta 37 Rx |
21 Sep 1857 Noon UT |  7 ta 31 Rx |
22 Sep 1857 Noon UT |  7 ta 25 Rx |
23 Sep 1857 Noon UT |  7 ta 18 Rx |
24 Sep 1857 Noon UT |  7 ta 11 Rx |
25 Sep 1857 Noon UT |  7 ta  3 Rx |
26 Sep 1857 Noon UT |  6 ta 55 Rx |
27 Sep 1857 Noon UT |  6 ta 48 Rx |
28 Sep 1857 Noon UT |  6 ta 39 Rx |
29 Sep 1857 Noon UT |  6 ta 31 Rx |
30 Sep 1857 Noon UT |  6 ta 22 Rx |
01 Oct 1857 Noon UT |  6 ta 13 Rx |
02 Oct 1857 Noon UT |  6 ta  4 Rx |
03 Oct 1857 Noon UT |  5 ta 55 Rx |
04 Oct 1857 Noon UT |  5 ta 45 Rx |
05 Oct 1857 Noon UT |  5 ta 36 Rx |
06 Oct 1857 Noon UT |  5 ta 26 Rx |
07 Oct 1857 Noon UT |  5 ta 15 Rx |
08 Oct 1857 Noon UT |  5 ta  5 Rx |
09 Oct 1857 Noon UT |  4 ta 55 Rx |
10 Oct 1857 Noon UT |  4 ta 44 Rx |
11 Oct 1857 Noon UT |  4 ta 33 Rx |
12 Oct 1857 Noon UT |  4 ta 22 Rx |
13 Oct 1857 Noon UT |  4 ta 11 Rx |
14 Oct 1857 Noon UT |  4 ta  0 Rx |
15 Oct 1857 Noon UT |  3 ta 48 Rx |
16 Oct 1857 Noon UT |  3 ta 37 Rx |
17 Oct 1857 Noon UT |  3 ta 25 Rx |
18 Oct 1857 Noon UT |  3 ta 14 Rx |
19 Oct 1857 Noon UT |  3 ta  2 Rx |
20 Oct 1857 Noon UT |  2 ta 50 Rx |
21 Oct 1857 Noon UT |  2 ta 38 Rx |
22 Oct 1857 Noon UT |  2 ta 26 Rx |
23 Oct 1857 Noon UT |  2 ta 14 Rx |
24 Oct 1857 Noon UT |  2 ta  3 Rx |
25 Oct 1857 Noon UT |  1 ta 51 Rx |
26 Oct 1857 Noon UT |  1 ta 39 Rx |
27 Oct 1857 Noon UT |  1 ta 27 Rx |
28 Oct 1857 Noon UT |  1 ta 15 Rx |
29 Oct 1857 Noon UT |  1 ta  3 Rx |
30 Oct 1857 Noon UT |  0 ta 51 Rx |
31 Oct 1857 Noon UT |  0 ta 40 Rx |
01 Nov 1857 Noon UT |  0 ta 28 Rx |
02 Nov 1857 Noon UT |  0 ta 17 Rx |
03 Nov 1857 Noon UT |  0 ta  5 Rx |
04 Nov 1857 Noon UT | 29 ar 54 Rx |
05 Nov 1857 Noon UT | 29 ar 43 Rx |
06 Nov 1857 Noon UT | 29 ar 32 Rx |
07 Nov 1857 Noon UT | 29 ar 21 Rx |
08 Nov 1857 Noon UT | 29 ar 10 Rx |
09 Nov 1857 Noon UT | 28 ar 59 Rx |
10 Nov 1857 Noon UT | 28 ar 49 Rx |
11 Nov 1857 Noon UT | 28 ar 38 Rx |
12 Nov 1857 Noon UT | 28 ar 28 Rx |
13 Nov 1857 Noon UT | 28 ar 18 Rx |
14 Nov 1857 Noon UT | 28 ar  9 Rx |
15 Nov 1857 Noon UT | 27 ar 59 Rx |
16 Nov 1857 Noon UT | 27 ar 50 Rx |
17 Nov 1857 Noon UT | 27 ar 41 Rx |
18 Nov 1857 Noon UT | 27 ar 32 Rx |
19 Nov 1857 Noon UT | 27 ar 24 Rx |
20 Nov 1857 Noon UT | 27 ar 15 Rx |
21 Nov 1857 Noon UT | 27 ar  7 Rx |
22 Nov 1857 Noon UT | 26 ar 59 Rx |
23 Nov 1857 Noon UT | 26 ar 52 Rx |
24 Nov 1857 Noon UT | 26 ar 45 Rx |
25 Nov 1857 Noon UT | 26 ar 38 Rx |
26 Nov 1857 Noon UT | 26 ar 31 Rx |
27 Nov 1857 Noon UT | 26 ar 25 Rx |
28 Nov 1857 Noon UT | 26 ar 19 Rx |
29 Nov 1857 Noon UT | 26 ar 13 Rx |
30 Nov 1857 Noon UT | 26 ar  7 Rx |
01 Dec 1857 Noon UT | 26 ar  2 Rx |
02 Dec 1857 Noon UT | 25 ar 57 Rx |
03 Dec 1857 Noon UT | 25 ar 53 Rx |
04 Dec 1857 Noon UT | 25 ar 48 Rx |
05 Dec 1857 Noon UT | 25 ar 44 Rx |
06 Dec 1857 Noon UT | 25 ar 41 Rx |
07 Dec 1857 Noon UT | 25 ar 37 Rx |
08 Dec 1857 Noon UT | 25 ar 34 Rx |
09 Dec 1857 Noon UT | 25 ar 31 Rx |
10 Dec 1857 Noon UT | 25 ar 29 Rx |
11 Dec 1857 Noon UT | 25 ar 27 Rx |
12 Dec 1857 Noon UT | 25 ar 25 Rx |
13 Dec 1857 Noon UT | 25 ar 23 Rx |
14 Dec 1857 Noon UT | 25 ar 22 Rx |
15 Dec 1857 Noon UT | 25 ar 21 Rx |
16 Dec 1857 Noon UT | 25 ar 21 Rx |
17 Dec 1857 Noon UT | 25 ar 21 Rx |
18 Dec 1857 Noon UT | 25 ar 21    |
19 Dec 1857 Noon UT | 25 ar 21    |
20 Dec 1857 Noon UT | 25 ar 22    |
21 Dec 1857 Noon UT | 25 ar 23    |
22 Dec 1857 Noon UT | 25 ar 24    |
23 Dec 1857 Noon UT | 25 ar 26    |
24 Dec 1857 Noon UT | 25 ar 28    |
25 Dec 1857 Noon UT | 25 ar 30    |
26 Dec 1857 Noon UT | 25 ar 33    |
27 Dec 1857 Noon UT | 25 ar 35    |
28 Dec 1857 Noon UT | 25 ar 39    |
29 Dec 1857 Noon UT | 25 ar 42    |
30 Dec 1857 Noon UT | 25 ar 46    |
31 Dec 1857 Noon UT | 25 ar 50    |
01 Jan 1858 Noon UT | 25 ar 54    |
02 Jan 1858 Noon UT | 25 ar 58    |
03 Jan 1858 Noon UT | 26 ar  3    |
04 Jan 1858 Noon UT | 26 ar  8    |
05 Jan 1858 Noon UT | 26 ar 14    |
06 Jan 1858 Noon UT | 26 ar 19    |
07 Jan 1858 Noon UT | 26 ar 25    |
08 Jan 1858 Noon UT | 26 ar 31    |
09 Jan 1858 Noon UT | 26 ar 38    |
10 Jan 1858 Noon UT | 26 ar 45    |
11 Jan 1858 Noon UT | 26 ar 52    |
12 Jan 1858 Noon UT | 26 ar 59    |
13 Jan 1858 Noon UT | 27 ar  6    |
14 Jan 1858 Noon UT | 27 ar 14    |
15 Jan 1858 Noon UT | 27 ar 22    |
16 Jan 1858 Noon UT | 27 ar 30    |
17 Jan 1858 Noon UT | 27 ar 38    |
18 Jan 1858 Noon UT | 27 ar 47    |
19 Jan 1858 Noon UT | 27 ar 56    |
20 Jan 1858 Noon UT | 28 ar  5    |
21 Jan 1858 Noon UT | 28 ar 14    |
22 Jan 1858 Noon UT | 28 ar 24    |
23 Jan 1858 Noon UT | 28 ar 34    |
24 Jan 1858 Noon UT | 28 ar 44    |
25 Jan 1858 Noon UT | 28 ar 54    |
26 Jan 1858 Noon UT | 29 ar  4    |
27 Jan 1858 Noon UT | 29 ar 15    |
28 Jan 1858 Noon UT | 29 ar 26    |
29 Jan 1858 Noon UT | 29 ar 37    |
30 Jan 1858 Noon UT | 29 ar 48    |
31 Jan 1858 Noon UT | 29 ar 59    |
01 Feb 1858 Noon UT |  0 ta 11    |
02 Feb 1858 Noon UT |  0 ta 22    |
03 Feb 1858 Noon UT |  0 ta 34    |
04 Feb 1858 Noon UT |  0 ta 46    |
05 Feb 1858 Noon UT |  0 ta 59    |
06 Feb 1858 Noon UT |  1 ta 11    |
07 Feb 1858 Noon UT |  1 ta 24    |
08 Feb 1858 Noon UT |  1 ta 37    |
09 Feb 1858 Noon UT |  1 ta 50    |
10 Feb 1858 Noon UT |  2 ta  3    |
11 Feb 1858 Noon UT |  2 ta 16    |
12 Feb 1858 Noon UT |  2 ta 29    |
13 Feb 1858 Noon UT |  2 ta 43    |
14 Feb 1858 Noon UT |  2 ta 57    |
15 Feb 1858 Noon UT |  3 ta 11    |
16 Feb 1858 Noon UT |  3 ta 25    |
17 Feb 1858 Noon UT |  3 ta 39    |
18 Feb 1858 Noon UT |  3 ta 53    |
19 Feb 1858 Noon UT |  4 ta  8    |
20 Feb 1858 Noon UT |  4 ta 22    |
21 Feb 1858 Noon UT |  4 ta 37    |
22 Feb 1858 Noon UT |  4 ta 52    |
23 Feb 1858 Noon UT |  5 ta  7    |
24 Feb 1858 Noon UT |  5 ta 22    |
25 Feb 1858 Noon UT |  5 ta 37    |
26 Feb 1858 Noon UT |  5 ta 53    |
27 Feb 1858 Noon UT |  6 ta  8    |
28 Feb 1858 Noon UT |  6 ta 24    |
01 Mar 1858 Noon UT |  6 ta 40    |
02 Mar 1858 Noon UT |  6 ta 55    |
03 Mar 1858 Noon UT |  7 ta 11    |
04 Mar 1858 Noon UT |  7 ta 27    |
05 Mar 1858 Noon UT |  7 ta 44    |
06 Mar 1858 Noon UT |  8 ta  0    |
07 Mar 1858 Noon UT |  8 ta 16    |
08 Mar 1858 Noon UT |  8 ta 33    |
09 Mar 1858 Noon UT |  8 ta 49    |
10 Mar 1858 Noon UT |  9 ta  6    |
11 Mar 1858 Noon UT |  9 ta 23    |
12 Mar 1858 Noon UT |  9 ta 40    |
13 Mar 1858 Noon UT |  9 ta 56    |
14 Mar 1858 Noon UT | 10 ta 14    |
15 Mar 1858 Noon UT | 10 ta 31    |
16 Mar 1858 Noon UT | 10 ta 48    |
17 Mar 1858 Noon UT | 11 ta  5    |
18 Mar 1858 Noon UT | 11 ta 23    |
19 Mar 1858 Noon UT | 11 ta 40    |
20 Mar 1858 Noon UT | 11 ta 58    |
21 Mar 1858 Noon UT | 12 ta 15    |
22 Mar 1858 Noon UT | 12 ta 33    |
23 Mar 1858 Noon UT | 12 ta 51    |
24 Mar 1858 Noon UT | 13 ta  8    |
25 Mar 1858 Noon UT | 13 ta 26    |
26 Mar 1858 Noon UT | 13 ta 44    |
27 Mar 1858 Noon UT | 14 ta  2    |
28 Mar 1858 Noon UT | 14 ta 21    |
29 Mar 1858 Noon UT | 14 ta 39    |
30 Mar 1858 Noon UT | 14 ta 57    |
31 Mar 1858 Noon UT | 15 ta 15    |
01 Apr 1858 Noon UT | 15 ta 34    |
02 Apr 1858 Noon UT | 15 ta 52    |
03 Apr 1858 Noon UT | 16 ta 10    |
04 Apr 1858 Noon UT | 16 ta 29    |
05 Apr 1858 Noon UT | 16 ta 48    |
06 Apr 1858 Noon UT | 17 ta  6    |
07 Apr 1858 Noon UT | 17 ta 25    |
08 Apr 1858 Noon UT | 17 ta 44    |
09 Apr 1858 Noon UT | 18 ta  2    |
10 Apr 1858 Noon UT | 18 ta 21    |
11 Apr 1858 Noon UT | 18 ta 40    |
12 Apr 1858 Noon UT | 18 ta 59    |
13 Apr 1858 Noon UT | 19 ta 18    |
14 Apr 1858 Noon UT | 19 ta 37    |
15 Apr 1858 Noon UT | 19 ta 56    |
16 Apr 1858 Noon UT | 20 ta 15    |
17 Apr 1858 Noon UT | 20 ta 34    |
18 Apr 1858 Noon UT | 20 ta 53    |
19 Apr 1858 Noon UT | 21 ta 13    |
20 Apr 1858 Noon UT | 21 ta 32    |
21 Apr 1858 Noon UT | 21 ta 51    |
22 Apr 1858 Noon UT | 22 ta 10    |
23 Apr 1858 Noon UT | 22 ta 30    |
24 Apr 1858 Noon UT | 22 ta 49    |
25 Apr 1858 Noon UT | 23 ta  8    |
26 Apr 1858 Noon UT | 23 ta 28    |
27 Apr 1858 Noon UT | 23 ta 47    |
28 Apr 1858 Noon UT | 24 ta  7    |
29 Apr 1858 Noon UT | 24 ta 26    |
30 Apr 1858 Noon UT | 24 ta 46    |
01 May 1858 Noon UT | 25 ta  5    |
02 May 1858 Noon UT | 25 ta 25    |
03 May 1858 Noon UT | 25 ta 44    |
04 May 1858 Noon UT | 26 ta  4    |
05 May 1858 Noon UT | 26 ta 24    |
06 May 1858 Noon UT | 26 ta 43    |
07 May 1858 Noon UT | 27 ta  3    |
08 May 1858 Noon UT | 27 ta 23    |
09 May 1858 Noon UT | 27 ta 42    |
10 May 1858 Noon UT | 28 ta  2    |
11 May 1858 Noon UT | 28 ta 22    |
12 May 1858 Noon UT | 28 ta 41    |
13 May 1858 Noon UT | 29 ta  1    |
14 May 1858 Noon UT | 29 ta 21    |
15 May 1858 Noon UT | 29 ta 41    |
16 May 1858 Noon UT |  0 ge  0    |
17 May 1858 Noon UT |  0 ge 20    |
18 May 1858 Noon UT |  0 ge 40    |
19 May 1858 Noon UT |  1 ge  0    |
20 May 1858 Noon UT |  1 ge 19    |
21 May 1858 Noon UT |  1 ge 39    |
22 May 1858 Noon UT |  1 ge 59    |
23 May 1858 Noon UT |  2 ge 19    |
24 May 1858 Noon UT |  2 ge 39    |
25 May 1858 Noon UT |  2 ge 58    |
26 May 1858 Noon UT |  3 ge 18    |
27 May 1858 Noon UT |  3 ge 38    |
28 May 1858 Noon UT |  3 ge 58    |
29 May 1858 Noon UT |  4 ge 17    |
30 May 1858 Noon UT |  4 ge 37    |
31 May 1858 Noon UT |  4 ge 57    |
01 Jun 1858 Noon UT |  5 ge 17    |
02 Jun 1858 Noon UT |  5 ge 36    |
03 Jun 1858 Noon UT |  5 ge 56    |
04 Jun 1858 Noon UT |  6 ge 16    |
05 Jun 1858 Noon UT |  6 ge 36    |
06 Jun 1858 Noon UT |  6 ge 55    |
07 Jun 1858 Noon UT |  7 ge 15    |
08 Jun 1858 Noon UT |  7 ge 35    |
09 Jun 1858 Noon UT |  7 ge 54    |
10 Jun 1858 Noon UT |  8 ge 14    |
11 Jun 1858 Noon UT |  8 ge 34    |
12 Jun 1858 Noon UT |  8 ge 53    |
13 Jun 1858 Noon UT |  9 ge 13    |
14 Jun 1858 Noon UT |  9 ge 32    |
15 Jun 1858 Noon UT |  9 ge 52    |
16 Jun 1858 Noon UT | 10 ge 12    |
17 Jun 1858 Noon UT | 10 ge 31    |
18 Jun 1858 Noon UT | 10 ge 51    |
19 Jun 1858 Noon UT | 11 ge 10    |
20 Jun 1858 Noon UT | 11 ge 29    |
21 Jun 1858 Noon UT | 11 ge 49    |
22 Jun 1858 Noon UT | 12 ge  8    |
23 Jun 1858 Noon UT | 12 ge 28    |
24 Jun 1858 Noon UT | 12 ge 47    |
25 Jun 1858 Noon UT | 13 ge  6    |
26 Jun 1858 Noon UT | 13 ge 26    |
27 Jun 1858 Noon UT | 13 ge 45    |
28 Jun 1858 Noon UT | 14 ge  4    |
29 Jun 1858 Noon UT | 14 ge 23    |
30 Jun 1858 Noon UT | 14 ge 42    |
01 Jul 1858 Noon UT | 15 ge  1    |
02 Jul 1858 Noon UT | 15 ge 20    |
03 Jul 1858 Noon UT | 15 ge 39    |
04 Jul 1858 Noon UT | 15 ge 58    |
05 Jul 1858 Noon UT | 16 ge 17    |
06 Jul 1858 Noon UT | 16 ge 36    |
07 Jul 1858 Noon UT | 16 ge 55    |
08 Jul 1858 Noon UT | 17 ge 14    |
09 Jul 1858 Noon UT | 17 ge 33    |
10 Jul 1858 Noon UT | 17 ge 52    |
11 Jul 1858 Noon UT | 18 ge 10    |
12 Jul 1858 Noon UT | 18 ge 29    |
13 Jul 1858 Noon UT | 18 ge 48    |
14 Jul 1858 Noon UT | 19 ge  6    |
15 Jul 1858 Noon UT | 19 ge 25    |
16 Jul 1858 Noon UT | 19 ge 43    |
17 Jul 1858 Noon UT | 20 ge  1    |
18 Jul 1858 Noon UT | 20 ge 20    |
19 Jul 1858 Noon UT | 20 ge 38    |
20 Jul 1858 Noon UT | 20 ge 56    |
21 Jul 1858 Noon UT | 21 ge 14    |
22 Jul 1858 Noon UT | 21 ge 32    |
23 Jul 1858 Noon UT | 21 ge 50    |
24 Jul 1858 Noon UT | 22 ge  8    |
25 Jul 1858 Noon UT | 22 ge 26    |
26 Jul 1858 Noon UT | 22 ge 44    |
27 Jul 1858 Noon UT | 23 ge  2    |
28 Jul 1858 Noon UT | 23 ge 20    |
29 Jul 1858 Noon UT | 23 ge 37    |
30 Jul 1858 Noon UT | 23 ge 55    |
31 Jul 1858 Noon UT | 24 ge 12    |
01 Aug 1858 Noon UT | 24 ge 30    |
02 Aug 1858 Noon UT | 24 ge 47    |
03 Aug 1858 Noon UT | 25 ge  4    |
04 Aug 1858 Noon UT | 25 ge 21    |
05 Aug 1858 Noon UT | 25 ge 39    |
06 Aug 1858 Noon UT | 25 ge 56    |
07 Aug 1858 Noon UT | 26 ge 13    |
08 Aug 1858 Noon UT | 26 ge 29    |
09 Aug 1858 Noon UT | 26 ge 46    |
10 Aug 1858 Noon UT | 27 ge  3    |
11 Aug 1858 Noon UT | 27 ge 19    |
12 Aug 1858 Noon UT | 27 ge 36    |
13 Aug 1858 Noon UT | 27 ge 52    |
14 Aug 1858 Noon UT | 28 ge  9    |
15 Aug 1858 Noon UT | 28 ge 25    |
16 Aug 1858 Noon UT | 28 ge 41    |
17 Aug 1858 Noon UT | 28 ge 57    |
18 Aug 1858 Noon UT | 29 ge 13    |
19 Aug 1858 Noon UT | 29 ge 29    |
20 Aug 1858 Noon UT | 29 ge 44    |
21 Aug 1858 Noon UT |  0 cn  0    |
22 Aug 1858 Noon UT |  0 cn 15    |
23 Aug 1858 Noon UT |  0 cn 31    |
24 Aug 1858 Noon UT |  0 cn 46    |
25 Aug 1858 Noon UT |  1 cn  1    |
26 Aug 1858 Noon UT |  1 cn 16    |
27 Aug 1858 Noon UT |  1 cn 31    |
28 Aug 1858 Noon UT |  1 cn 46    |
29 Aug 1858 Noon UT |  2 cn  0    |
30 Aug 1858 Noon UT |  2 cn 15    |
31 Aug 1858 Noon UT |  2 cn 29    |
01 Sep 1858 Noon UT |  2 cn 44    |
02 Sep 1858 Noon UT |  2 cn 58    |
03 Sep 1858 Noon UT |  3 cn 12    |
04 Sep 1858 Noon UT |  3 cn 25    |
05 Sep 1858 Noon UT |  3 cn 39    |
06 Sep 1858 Noon UT |  3 cn 53    |
07 Sep 1858 Noon UT |  4 cn  6    |
08 Sep 1858 Noon UT |  4 cn 19    |
09 Sep 1858 Noon UT |  4 cn 32    |
10 Sep 1858 Noon UT |  4 cn 45    |
11 Sep 1858 Noon UT |  4 cn 58    |
12 Sep 1858 Noon UT |  5 cn 11    |
13 Sep 1858 Noon UT |  5 cn 23    |
14 Sep 1858 Noon UT |  5 cn 35    |
15 Sep 1858 Noon UT |  5 cn 48    |
16 Sep 1858 Noon UT |  6 cn  0    |
17 Sep 1858 Noon UT |  6 cn 11    |
18 Sep 1858 Noon UT |  6 cn 23    |
19 Sep 1858 Noon UT |  6 cn 34    |
20 Sep 1858 Noon UT |  6 cn 46    |
21 Sep 1858 Noon UT |  6 cn 57    |
22 Sep 1858 Noon UT |  7 cn  7    |
23 Sep 1858 Noon UT |  7 cn 18    |
24 Sep 1858 Noon UT |  7 cn 29    |
25 Sep 1858 Noon UT |  7 cn 39    |
26 Sep 1858 Noon UT |  7 cn 49    |
27 Sep 1858 Noon UT |  7 cn 59    |
28 Sep 1858 Noon UT |  8 cn  8    |
29 Sep 1858 Noon UT |  8 cn 18    |
30 Sep 1858 Noon UT |  8 cn 27    |
01 Oct 1858 Noon UT |  8 cn 36    |
02 Oct 1858 Noon UT |  8 cn 45    |
03 Oct 1858 Noon UT |  8 cn 54    |
04 Oct 1858 Noon UT |  9 cn  2    |
05 Oct 1858 Noon UT |  9 cn 10    |
06 Oct 1858 Noon UT |  9 cn 18    |
07 Oct 1858 Noon UT |  9 cn 26    |
08 Oct 1858 Noon UT |  9 cn 33    |
09 Oct 1858 Noon UT |  9 cn 40    |
10 Oct 1858 Noon UT |  9 cn 47    |
11 Oct 1858 Noon UT |  9 cn 54    |
12 Oct 1858 Noon UT | 10 cn  0    |
13 Oct 1858 Noon UT | 10 cn  6    |
14 Oct 1858 Noon UT | 10 cn 12    |
15 Oct 1858 Noon UT | 10 cn 18    |
16 Oct 1858 Noon UT | 10 cn 23    |
17 Oct 1858 Noon UT | 10 cn 28    |
18 Oct 1858 Noon UT | 10 cn 33    |
19 Oct 1858 Noon UT | 10 cn 38    |
20 Oct 1858 Noon UT | 10 cn 42    |
21 Oct 1858 Noon UT | 10 cn 46    |
22 Oct 1858 Noon UT | 10 cn 50    |
23 Oct 1858 Noon UT | 10 cn 53    |
24 Oct 1858 Noon UT | 10 cn 56    |
25 Oct 1858 Noon UT | 10 cn 59    |
26 Oct 1858 Noon UT | 11 cn  2    |
27 Oct 1858 Noon UT | 11 cn  4    |
28 Oct 1858 Noon UT | 11 cn  6    |
29 Oct 1858 Noon UT | 11 cn  8    |
30 Oct 1858 Noon UT | 11 cn  9    |
31 Oct 1858 Noon UT | 11 cn 10    |
01 Nov 1858 Noon UT | 11 cn 11    |
02 Nov 1858 Noon UT | 11 cn 11    |
03 Nov 1858 Noon UT | 11 cn 11 Rx |
04 Nov 1858 Noon UT | 11 cn 11 Rx |
05 Nov 1858 Noon UT | 11 cn 10 Rx |
06 Nov 1858 Noon UT | 11 cn 10 Rx |
07 Nov 1858 Noon UT | 11 cn  8 Rx |
08 Nov 1858 Noon UT | 11 cn  7 Rx |
09 Nov 1858 Noon UT | 11 cn  5 Rx |
10 Nov 1858 Noon UT | 11 cn  3 Rx |
11 Nov 1858 Noon UT | 11 cn  1 Rx |
12 Nov 1858 Noon UT | 10 cn 58 Rx |
13 Nov 1858 Noon UT | 10 cn 55 Rx |
14 Nov 1858 Noon UT | 10 cn 51 Rx |
15 Nov 1858 Noon UT | 10 cn 48 Rx |
16 Nov 1858 Noon UT | 10 cn 44 Rx |
17 Nov 1858 Noon UT | 10 cn 39 Rx |
18 Nov 1858 Noon UT | 10 cn 35 Rx |
19 Nov 1858 Noon UT | 10 cn 30 Rx |
20 Nov 1858 Noon UT | 10 cn 25 Rx |
21 Nov 1858 Noon UT | 10 cn 19 Rx |
22 Nov 1858 Noon UT | 10 cn 13 Rx |
23 Nov 1858 Noon UT | 10 cn  7 Rx |
24 Nov 1858 Noon UT | 10 cn  1 Rx |
25 Nov 1858 Noon UT |  9 cn 54 Rx |
26 Nov 1858 Noon UT |  9 cn 47 Rx |
27 Nov 1858 Noon UT |  9 cn 39 Rx |
28 Nov 1858 Noon UT |  9 cn 32 Rx |
29 Nov 1858 Noon UT |  9 cn 24 Rx |
30 Nov 1858 Noon UT |  9 cn 16 Rx |
01 Dec 1858 Noon UT |  9 cn  7 Rx |
02 Dec 1858 Noon UT |  8 cn 59 Rx |
03 Dec 1858 Noon UT |  8 cn 50 Rx |
04 Dec 1858 Noon UT |  8 cn 40 Rx |
05 Dec 1858 Noon UT |  8 cn 31 Rx |
06 Dec 1858 Noon UT |  8 cn 21 Rx |
07 Dec 1858 Noon UT |  8 cn 11 Rx |
08 Dec 1858 Noon UT |  8 cn  1 Rx |
09 Dec 1858 Noon UT |  7 cn 51 Rx |
10 Dec 1858 Noon UT |  7 cn 40 Rx |
11 Dec 1858 Noon UT |  7 cn 30 Rx |
12 Dec 1858 Noon UT |  7 cn 19 Rx |
13 Dec 1858 Noon UT |  7 cn  8 Rx |
14 Dec 1858 Noon UT |  6 cn 57 Rx |
15 Dec 1858 Noon UT |  6 cn 45 Rx |
16 Dec 1858 Noon UT |  6 cn 34 Rx |
17 Dec 1858 Noon UT |  6 cn 22 Rx |
18 Dec 1858 Noon UT |  6 cn 11 Rx |
19 Dec 1858 Noon UT |  5 cn 59 Rx |
20 Dec 1858 Noon UT |  5 cn 47 Rx |
21 Dec 1858 Noon UT |  5 cn 35 Rx |
22 Dec 1858 Noon UT |  5 cn 23 Rx |
23 Dec 1858 Noon UT |  5 cn 11 Rx |
24 Dec 1858 Noon UT |  4 cn 59 Rx |
25 Dec 1858 Noon UT |  4 cn 46 Rx |
26 Dec 1858 Noon UT |  4 cn 34 Rx |
27 Dec 1858 Noon UT |  4 cn 22 Rx |
28 Dec 1858 Noon UT |  4 cn 10 Rx |
29 Dec 1858 Noon UT |  3 cn 58 Rx |
30 Dec 1858 Noon UT |  3 cn 45 Rx |
31 Dec 1858 Noon UT |  3 cn 33 Rx |
01 Jan 1859 Noon UT |  3 cn 21 Rx |
02 Jan 1859 Noon UT |  3 cn  9 Rx |
03 Jan 1859 Noon UT |  2 cn 57 Rx |
04 Jan 1859 Noon UT |  2 cn 45 Rx |
05 Jan 1859 Noon UT |  2 cn 34 Rx |
06 Jan 1859 Noon UT |  2 cn 22 Rx |
07 Jan 1859 Noon UT |  2 cn 11 Rx |
08 Jan 1859 Noon UT |  1 cn 59 Rx |
09 Jan 1859 Noon UT |  1 cn 48 Rx |
10 Jan 1859 Noon UT |  1 cn 37 Rx |
11 Jan 1859 Noon UT |  1 cn 26 Rx |
12 Jan 1859 Noon UT |  1 cn 15 Rx |
13 Jan 1859 Noon UT |  1 cn  5 Rx |
14 Jan 1859 Noon UT |  0 cn 55 Rx |
15 Jan 1859 Noon UT |  0 cn 44 Rx |
16 Jan 1859 Noon UT |  0 cn 35 Rx |
17 Jan 1859 Noon UT |  0 cn 25 Rx |
18 Jan 1859 Noon UT |  0 cn 15 Rx |
19 Jan 1859 Noon UT |  0 cn  6 Rx |
20 Jan 1859 Noon UT | 29 ge 57 Rx |
21 Jan 1859 Noon UT | 29 ge 49 Rx |
22 Jan 1859 Noon UT | 29 ge 40 Rx |
23 Jan 1859 Noon UT | 29 ge 32 Rx |
24 Jan 1859 Noon UT | 29 ge 24 Rx |
25 Jan 1859 Noon UT | 29 ge 16 Rx |
26 Jan 1859 Noon UT | 29 ge  9 Rx |
27 Jan 1859 Noon UT | 29 ge  2 Rx |
28 Jan 1859 Noon UT | 28 ge 55 Rx |
29 Jan 1859 Noon UT | 28 ge 49 Rx |
30 Jan 1859 Noon UT | 28 ge 43 Rx |
31 Jan 1859 Noon UT | 28 ge 37 Rx |
01 Feb 1859 Noon UT | 28 ge 31 Rx |
02 Feb 1859 Noon UT | 28 ge 26 Rx |
03 Feb 1859 Noon UT | 28 ge 21 Rx |
04 Feb 1859 Noon UT | 28 ge 17 Rx |
05 Feb 1859 Noon UT | 28 ge 12 Rx |
06 Feb 1859 Noon UT | 28 ge  8 Rx |
07 Feb 1859 Noon UT | 28 ge  5 Rx |
08 Feb 1859 Noon UT | 28 ge  2 Rx |
09 Feb 1859 Noon UT | 27 ge 59 Rx |
10 Feb 1859 Noon UT | 27 ge 56 Rx |
11 Feb 1859 Noon UT | 27 ge 54 Rx |
12 Feb 1859 Noon UT | 27 ge 52 Rx |
13 Feb 1859 Noon UT | 27 ge 50 Rx |
14 Feb 1859 Noon UT | 27 ge 49 Rx |
15 Feb 1859 Noon UT | 27 ge 48 Rx |
16 Feb 1859 Noon UT | 27 ge 47 Rx |
17 Feb 1859 Noon UT | 27 ge 47 Rx |
18 Feb 1859 Noon UT | 27 ge 47    |
19 Feb 1859 Noon UT | 27 ge 47    |
20 Feb 1859 Noon UT | 27 ge 48    |
21 Feb 1859 Noon UT | 27 ge 48    |
22 Feb 1859 Noon UT | 27 ge 50    |
23 Feb 1859 Noon UT | 27 ge 51    |
24 Feb 1859 Noon UT | 27 ge 53    |
25 Feb 1859 Noon UT | 27 ge 55    |
26 Feb 1859 Noon UT | 27 ge 58    |
27 Feb 1859 Noon UT | 28 ge  1    |
28 Feb 1859 Noon UT | 28 ge  4    |
01 Mar 1859 Noon UT | 28 ge  7    |
02 Mar 1859 Noon UT | 28 ge 11    |
03 Mar 1859 Noon UT | 28 ge 15    |
04 Mar 1859 Noon UT | 28 ge 19    |
05 Mar 1859 Noon UT | 28 ge 24    |
06 Mar 1859 Noon UT | 28 ge 29    |
07 Mar 1859 Noon UT | 28 ge 34    |
08 Mar 1859 Noon UT | 28 ge 39    |
09 Mar 1859 Noon UT | 28 ge 45    |
10 Mar 1859 Noon UT | 28 ge 51    |
11 Mar 1859 Noon UT | 28 ge 57    |
12 Mar 1859 Noon UT | 29 ge  4    |
13 Mar 1859 Noon UT | 29 ge 11    |
14 Mar 1859 Noon UT | 29 ge 18    |
15 Mar 1859 Noon UT | 29 ge 25    |
16 Mar 1859 Noon UT | 29 ge 33    |
17 Mar 1859 Noon UT | 29 ge 41    |
18 Mar 1859 Noon UT | 29 ge 49    |
19 Mar 1859 Noon UT | 29 ge 57    |
20 Mar 1859 Noon UT |  0 cn  6    |
21 Mar 1859 Noon UT |  0 cn 14    |
22 Mar 1859 Noon UT |  0 cn 23    |
23 Mar 1859 Noon UT |  0 cn 33    |
24 Mar 1859 Noon UT |  0 cn 42    |
25 Mar 1859 Noon UT |  0 cn 52    |
26 Mar 1859 Noon UT |  1 cn  2    |
27 Mar 1859 Noon UT |  1 cn 12    |
28 Mar 1859 Noon UT |  1 cn 23    |
29 Mar 1859 Noon UT |  1 cn 33    |
30 Mar 1859 Noon UT |  1 cn 44    |
31 Mar 1859 Noon UT |  1 cn 55    |
01 Apr 1859 Noon UT |  2 cn  6    |
02 Apr 1859 Noon UT |  2 cn 18    |
03 Apr 1859 Noon UT |  2 cn 29    |
04 Apr 1859 Noon UT |  2 cn 41    |
05 Apr 1859 Noon UT |  2 cn 53    |
06 Apr 1859 Noon UT |  3 cn  6    |
07 Apr 1859 Noon UT |  3 cn 18    |
08 Apr 1859 Noon UT |  3 cn 31    |
09 Apr 1859 Noon UT |  3 cn 43    |
10 Apr 1859 Noon UT |  3 cn 56    |
11 Apr 1859 Noon UT |  4 cn 10    |
12 Apr 1859 Noon UT |  4 cn 23    |
13 Apr 1859 Noon UT |  4 cn 36    |
14 Apr 1859 Noon UT |  4 cn 50    |
15 Apr 1859 Noon UT |  5 cn  4    |
16 Apr 1859 Noon UT |  5 cn 18    |
17 Apr 1859 Noon UT |  5 cn 32    |
18 Apr 1859 Noon UT |  5 cn 46    |
19 Apr 1859 Noon UT |  6 cn  1    |
20 Apr 1859 Noon UT |  6 cn 15    |
21 Apr 1859 Noon UT |  6 cn 30    |
22 Apr 1859 Noon UT |  6 cn 45    |
23 Apr 1859 Noon UT |  7 cn  0    |
24 Apr 1859 Noon UT |  7 cn 15    |
25 Apr 1859 Noon UT |  7 cn 30    |
26 Apr 1859 Noon UT |  7 cn 46    |
27 Apr 1859 Noon UT |  8 cn  1    |
28 Apr 1859 Noon UT |  8 cn 17    |
29 Apr 1859 Noon UT |  8 cn 33    |
30 Apr 1859 Noon UT |  8 cn 49    |
01 May 1859 Noon UT |  9 cn  5    |
02 May 1859 Noon UT |  9 cn 21    |
03 May 1859 Noon UT |  9 cn 38    |
04 May 1859 Noon UT |  9 cn 54    |
05 May 1859 Noon UT | 10 cn 11    |
06 May 1859 Noon UT | 10 cn 27    |
07 May 1859 Noon UT | 10 cn 44    |
08 May 1859 Noon UT | 11 cn  1    |
09 May 1859 Noon UT | 11 cn 18    |
10 May 1859 Noon UT | 11 cn 35    |
11 May 1859 Noon UT | 11 cn 53    |
12 May 1859 Noon UT | 12 cn 10    |
13 May 1859 Noon UT | 12 cn 28    |
14 May 1859 Noon UT | 12 cn 45    |
15 May 1859 Noon UT | 13 cn  3    |
16 May 1859 Noon UT | 13 cn 21    |
17 May 1859 Noon UT | 13 cn 38    |
18 May 1859 Noon UT | 13 cn 56    |
19 May 1859 Noon UT | 14 cn 14    |
20 May 1859 Noon UT | 14 cn 33    |
21 May 1859 Noon UT | 14 cn 51    |
22 May 1859 Noon UT | 15 cn  9    |
23 May 1859 Noon UT | 15 cn 28    |
24 May 1859 Noon UT | 15 cn 46    |
25 May 1859 Noon UT | 16 cn  5    |
26 May 1859 Noon UT | 16 cn 23    |
27 May 1859 Noon UT | 16 cn 42    |
28 May 1859 Noon UT | 17 cn  1    |
29 May 1859 Noon UT | 17 cn 20    |
30 May 1859 Noon UT | 17 cn 39    |
31 May 1859 Noon UT | 17 cn 58    |
01 Jun 1859 Noon UT | 18 cn 17    |
02 Jun 1859 Noon UT | 18 cn 36    |
03 Jun 1859 Noon UT | 18 cn 55    |
04 Jun 1859 Noon UT | 19 cn 15    |
05 Jun 1859 Noon UT | 19 cn 34    |
06 Jun 1859 Noon UT | 19 cn 53    |
07 Jun 1859 Noon UT | 20 cn 13    |
08 Jun 1859 Noon UT | 20 cn 33    |
09 Jun 1859 Noon UT | 20 cn 52    |
10 Jun 1859 Noon UT | 21 cn 12    |
11 Jun 1859 Noon UT | 21 cn 32    |
12 Jun 1859 Noon UT | 21 cn 52    |
13 Jun 1859 Noon UT | 22 cn 11    |
14 Jun 1859 Noon UT | 22 cn 31    |
15 Jun 1859 Noon UT | 22 cn 51    |
16 Jun 1859 Noon UT | 23 cn 11    |
17 Jun 1859 Noon UT | 23 cn 32    |
18 Jun 1859 Noon UT | 23 cn 52    |
19 Jun 1859 Noon UT | 24 cn 12    |
20 Jun 1859 Noon UT | 24 cn 32    |
21 Jun 1859 Noon UT | 24 cn 52    |
22 Jun 1859 Noon UT | 25 cn 13    |
23 Jun 1859 Noon UT | 25 cn 33    |
24 Jun 1859 Noon UT | 25 cn 54    |
25 Jun 1859 Noon UT | 26 cn 14    |
26 Jun 1859 Noon UT | 26 cn 35    |
27 Jun 1859 Noon UT | 26 cn 55    |
28 Jun 1859 Noon UT | 27 cn 16    |
29 Jun 1859 Noon UT | 27 cn 37    |
30 Jun 1859 Noon UT | 27 cn 57    |
01 Jul 1859 Noon UT | 28 cn 18    |
02 Jul 1859 Noon UT | 28 cn 39    |
03 Jul 1859 Noon UT | 29 cn  0    |
04 Jul 1859 Noon UT | 29 cn 21    |
05 Jul 1859 Noon UT | 29 cn 42    |
06 Jul 1859 Noon UT |  0 le  3    |
07 Jul 1859 Noon UT |  0 le 24    |
08 Jul 1859 Noon UT |  0 le 45    |
09 Jul 1859 Noon UT |  1 le  6    |
10 Jul 1859 Noon UT |  1 le 27    |
11 Jul 1859 Noon UT |  1 le 48    |
12 Jul 1859 Noon UT |  2 le  9    |
13 Jul 1859 Noon UT |  2 le 30    |
14 Jul 1859 Noon UT |  2 le 51    |
15 Jul 1859 Noon UT |  3 le 12    |
16 Jul 1859 Noon UT |  3 le 34    |
17 Jul 1859 Noon UT |  3 le 55    |
18 Jul 1859 Noon UT |  4 le 16    |
19 Jul 1859 Noon UT |  4 le 38    |
20 Jul 1859 Noon UT |  4 le 59    |
21 Jul 1859 Noon UT |  5 le 20    |
22 Jul 1859 Noon UT |  5 le 42    |
23 Jul 1859 Noon UT |  6 le  3    |
24 Jul 1859 Noon UT |  6 le 24    |
25 Jul 1859 Noon UT |  6 le 46    |
26 Jul 1859 Noon UT |  7 le  7    |
27 Jul 1859 Noon UT |  7 le 29    |
28 Jul 1859 Noon UT |  7 le 50    |
29 Jul 1859 Noon UT |  8 le 12    |
30 Jul 1859 Noon UT |  8 le 33    |
31 Jul 1859 Noon UT |  8 le 55    |
01 Aug 1859 Noon UT |  9 le 16    |
02 Aug 1859 Noon UT |  9 le 38    |
03 Aug 1859 Noon UT | 10 le  0    |
04 Aug 1859 Noon UT | 10 le 21    |
05 Aug 1859 Noon UT | 10 le 43    |
06 Aug 1859 Noon UT | 11 le  4    |
07 Aug 1859 Noon UT | 11 le 26    |
08 Aug 1859 Noon UT | 11 le 48    |
09 Aug 1859 Noon UT | 12 le  9    |
10 Aug 1859 Noon UT | 12 le 31    |
11 Aug 1859 Noon UT | 12 le 52    |
12 Aug 1859 Noon UT | 13 le 14    |
13 Aug 1859 Noon UT | 13 le 36    |
14 Aug 1859 Noon UT | 13 le 57    |
15 Aug 1859 Noon UT | 14 le 19    |
16 Aug 1859 Noon UT | 14 le 41    |
17 Aug 1859 Noon UT | 15 le  2    |
18 Aug 1859 Noon UT | 15 le 24    |
19 Aug 1859 Noon UT | 15 le 45    |
20 Aug 1859 Noon UT | 16 le  7    |
21 Aug 1859 Noon UT | 16 le 29    |
22 Aug 1859 Noon UT | 16 le 50    |
23 Aug 1859 Noon UT | 17 le 12    |
24 Aug 1859 Noon UT | 17 le 34    |
25 Aug 1859 Noon UT | 17 le 55    |
26 Aug 1859 Noon UT | 18 le 17    |
27 Aug 1859 Noon UT | 18 le 38    |
28 Aug 1859 Noon UT | 19 le  0    |
29 Aug 1859 Noon UT | 19 le 22    |
30 Aug 1859 Noon UT | 19 le 43    |
31 Aug 1859 Noon UT | 20 le  5    |
01 Sep 1859 Noon UT | 20 le 26    |
02 Sep 1859 Noon UT | 20 le 48    |
03 Sep 1859 Noon UT | 21 le  9    |
04 Sep 1859 Noon UT | 21 le 31    |
05 Sep 1859 Noon UT | 21 le 52    |
06 Sep 1859 Noon UT | 22 le 14    |
07 Sep 1859 Noon UT | 22 le 35    |
08 Sep 1859 Noon UT | 22 le 56    |
09 Sep 1859 Noon UT | 23 le 18    |
10 Sep 1859 Noon UT | 23 le 39    |
11 Sep 1859 Noon UT | 24 le  0    |
12 Sep 1859 Noon UT | 24 le 22    |
13 Sep 1859 Noon UT | 24 le 43    |
14 Sep 1859 Noon UT | 25 le  4    |
15 Sep 1859 Noon UT | 25 le 25    |
16 Sep 1859 Noon UT | 25 le 47    |
17 Sep 1859 Noon UT | 26 le  8    |
18 Sep 1859 Noon UT | 26 le 29    |
19 Sep 1859 Noon UT | 26 le 50    |
20 Sep 1859 Noon UT | 27 le 11    |
21 Sep 1859 Noon UT | 27 le 32    |
22 Sep 1859 Noon UT | 27 le 53    |
23 Sep 1859 Noon UT | 28 le 14    |
24 Sep 1859 Noon UT | 28 le 35    |
25 Sep 1859 Noon UT | 28 le 56    |
26 Sep 1859 Noon UT | 29 le 17    |
27 Sep 1859 Noon UT | 29 le 38    |
28 Sep 1859 Noon UT | 29 le 58    |
29 Sep 1859 Noon UT |  0 vi 19    |
30 Sep 1859 Noon UT |  0 vi 40    |
01 Oct 1859 Noon UT |  1 vi  0    |
02 Oct 1859 Noon UT |  1 vi 21    |
03 Oct 1859 Noon UT |  1 vi 41    |
04 Oct 1859 Noon UT |  2 vi  2    |
05 Oct 1859 Noon UT |  2 vi 22    |
06 Oct 1859 Noon UT |  2 vi 43    |
07 Oct 1859 Noon UT |  3 vi  3    |
08 Oct 1859 Noon UT |  3 vi 23    |
09 Oct 1859 Noon UT |  3 vi 43    |
10 Oct 1859 Noon UT |  4 vi  3    |
11 Oct 1859 Noon UT |  4 vi 24    |
12 Oct 1859 Noon UT |  4 vi 43    |
13 Oct 1859 Noon UT |  5 vi  3    |
14 Oct 1859 Noon UT |  5 vi 23    |
15 Oct 1859 Noon UT |  5 vi 43    |
16 Oct 1859 Noon UT |  6 vi  3    |
17 Oct 1859 Noon UT |  6 vi 22    |
18 Oct 1859 Noon UT |  6 vi 42    |
19 Oct 1859 Noon UT |  7 vi  2    |
20 Oct 1859 Noon UT |  7 vi 21    |
21 Oct 1859 Noon UT |  7 vi 40    |
22 Oct 1859 Noon UT |  8 vi  0    |
23 Oct 1859 Noon UT |  8 vi 19    |
24 Oct 1859 Noon UT |  8 vi 38    |
25 Oct 1859 Noon UT |  8 vi 57    |
26 Oct 1859 Noon UT |  9 vi 16    |
27 Oct 1859 Noon UT |  9 vi 35    |
28 Oct 1859 Noon UT |  9 vi 53    |
29 Oct 1859 Noon UT | 10 vi 12    |
30 Oct 1859 Noon UT | 10 vi 30    |
31 Oct 1859 Noon UT | 10 vi 49    |
01 Nov 1859 Noon UT | 11 vi  7    |
02 Nov 1859 Noon UT | 11 vi 26    |
03 Nov 1859 Noon UT | 11 vi 44    |
04 Nov 1859 Noon UT | 12 vi  2    |
05 Nov 1859 Noon UT | 12 vi 20    |
06 Nov 1859 Noon UT | 12 vi 37    |
07 Nov 1859 Noon UT | 12 vi 55    |
08 Nov 1859 Noon UT | 13 vi 13    |
09 Nov 1859 Noon UT | 13 vi 30    |
10 Nov 1859 Noon UT | 13 vi 47    |
11 Nov 1859 Noon UT | 14 vi  5    |
12 Nov 1859 Noon UT | 14 vi 22    |
13 Nov 1859 Noon UT | 14 vi 39    |
14 Nov 1859 Noon UT | 14 vi 55    |
15 Nov 1859 Noon UT | 15 vi 12    |
16 Nov 1859 Noon UT | 15 vi 29    |
17 Nov 1859 Noon UT | 15 vi 45    |
18 Nov 1859 Noon UT | 16 vi  1    |
19 Nov 1859 Noon UT | 16 vi 17    |
20 Nov 1859 Noon UT | 16 vi 33    |
21 Nov 1859 Noon UT | 16 vi 49    |
22 Nov 1859 Noon UT | 17 vi  5    |
23 Nov 1859 Noon UT | 17 vi 20    |
24 Nov 1859 Noon UT | 17 vi 36    |
25 Nov 1859 Noon UT | 17 vi 51    |
26 Nov 1859 Noon UT | 18 vi  6    |
27 Nov 1859 Noon UT | 18 vi 21    |
28 Nov 1859 Noon UT | 18 vi 36    |
29 Nov 1859 Noon UT | 18 vi 50    |
30 Nov 1859 Noon UT | 19 vi  4    |
01 Dec 1859 Noon UT | 19 vi 18    |
02 Dec 1859 Noon UT | 19 vi 32    |
03 Dec 1859 Noon UT | 19 vi 46    |
04 Dec 1859 Noon UT | 20 vi  0    |
05 Dec 1859 Noon UT | 20 vi 13    |
06 Dec 1859 Noon UT | 20 vi 26    |
07 Dec 1859 Noon UT | 20 vi 39    |
08 Dec 1859 Noon UT | 20 vi 52    |
09 Dec 1859 Noon UT | 21 vi  5    |
10 Dec 1859 Noon UT | 21 vi 17    |
11 Dec 1859 Noon UT | 21 vi 29    |
12 Dec 1859 Noon UT | 21 vi 41    |
13 Dec 1859 Noon UT | 21 vi 53    |
14 Dec 1859 Noon UT | 22 vi  4    |
15 Dec 1859 Noon UT | 22 vi 15    |
16 Dec 1859 Noon UT | 22 vi 26    |
17 Dec 1859 Noon UT | 22 vi 37    |
18 Dec 1859 Noon UT | 22 vi 48    |
19 Dec 1859 Noon UT | 22 vi 58    |
20 Dec 1859 Noon UT | 23 vi  8    |
21 Dec 1859 Noon UT | 23 vi 18    |
22 Dec 1859 Noon UT | 23 vi 27    |
23 Dec 1859 Noon UT | 23 vi 37    |
24 Dec 1859 Noon UT | 23 vi 46    |
25 Dec 1859 Noon UT | 23 vi 54    |
26 Dec 1859 Noon UT | 24 vi  3    |
27 Dec 1859 Noon UT | 24 vi 11    |
28 Dec 1859 Noon UT | 24 vi 19    |
29 Dec 1859 Noon UT | 24 vi 27    |
30 Dec 1859 Noon UT | 24 vi 34    |
31 Dec 1859 Noon UT | 24 vi 41    |
01 Jan 1860 Noon UT | 24 vi 48    |
02 Jan 1860 Noon UT | 24 vi 54    |
03 Jan 1860 Noon UT | 25 vi  0    |
04 Jan 1860 Noon UT | 25 vi  6    |
05 Jan 1860 Noon UT | 25 vi 12    |
06 Jan 1860 Noon UT | 25 vi 17    |
07 Jan 1860 Noon UT | 25 vi 22    |
08 Jan 1860 Noon UT | 25 vi 26    |
09 Jan 1860 Noon UT | 25 vi 31    |
10 Jan 1860 Noon UT | 25 vi 34    |
11 Jan 1860 Noon UT | 25 vi 38    |
12 Jan 1860 Noon UT | 25 vi 41    |
13 Jan 1860 Noon UT | 25 vi 44    |
14 Jan 1860 Noon UT | 25 vi 47    |
15 Jan 1860 Noon UT | 25 vi 49    |
16 Jan 1860 Noon UT | 25 vi 51    |
17 Jan 1860 Noon UT | 25 vi 53    |
18 Jan 1860 Noon UT | 25 vi 54    |
19 Jan 1860 Noon UT | 25 vi 55    |
20 Jan 1860 Noon UT | 25 vi 55    |
21 Jan 1860 Noon UT | 25 vi 56    |
22 Jan 1860 Noon UT | 25 vi 55 Rx |
23 Jan 1860 Noon UT | 25 vi 55 Rx |
24 Jan 1860 Noon UT | 25 vi 54 Rx |
25 Jan 1860 Noon UT | 25 vi 53 Rx |
26 Jan 1860 Noon UT | 25 vi 51 Rx |
27 Jan 1860 Noon UT | 25 vi 49 Rx |
28 Jan 1860 Noon UT | 25 vi 47 Rx |
29 Jan 1860 Noon UT | 25 vi 44 Rx |
30 Jan 1860 Noon UT | 25 vi 41 Rx |
31 Jan 1860 Noon UT | 25 vi 38 Rx |
01 Feb 1860 Noon UT | 25 vi 34 Rx |
02 Feb 1860 Noon UT | 25 vi 30 Rx |
03 Feb 1860 Noon UT | 25 vi 25 Rx |
04 Feb 1860 Noon UT | 25 vi 21 Rx |
05 Feb 1860 Noon UT | 25 vi 16 Rx |
06 Feb 1860 Noon UT | 25 vi 10 Rx |
07 Feb 1860 Noon UT | 25 vi  4 Rx |
08 Feb 1860 Noon UT | 24 vi 58 Rx |
09 Feb 1860 Noon UT | 24 vi 52 Rx |
10 Feb 1860 Noon UT | 24 vi 45 Rx |
11 Feb 1860 Noon UT | 24 vi 38 Rx |
12 Feb 1860 Noon UT | 24 vi 31 Rx |
13 Feb 1860 Noon UT | 24 vi 23 Rx |
14 Feb 1860 Noon UT | 24 vi 15 Rx |
15 Feb 1860 Noon UT | 24 vi  7 Rx |
16 Feb 1860 Noon UT | 23 vi 58 Rx |
17 Feb 1860 Noon UT | 23 vi 49 Rx |
18 Feb 1860 Noon UT | 23 vi 40 Rx |
19 Feb 1860 Noon UT | 23 vi 30 Rx |
20 Feb 1860 Noon UT | 23 vi 21 Rx |
21 Feb 1860 Noon UT | 23 vi 11 Rx |
22 Feb 1860 Noon UT | 23 vi  1 Rx |
23 Feb 1860 Noon UT | 22 vi 50 Rx |
24 Feb 1860 Noon UT | 22 vi 40 Rx |
25 Feb 1860 Noon UT | 22 vi 29 Rx |
26 Feb 1860 Noon UT | 22 vi 18 Rx |
27 Feb 1860 Noon UT | 22 vi  7 Rx |
28 Feb 1860 Noon UT | 21 vi 55 Rx |
29 Feb 1860 Noon UT | 21 vi 44 Rx |
01 Mar 1860 Noon UT | 21 vi 32 Rx |
02 Mar 1860 Noon UT | 21 vi 20 Rx |
03 Mar 1860 Noon UT | 21 vi  9 Rx |
04 Mar 1860 Noon UT | 20 vi 57 Rx |
05 Mar 1860 Noon UT | 20 vi 45 Rx |
06 Mar 1860 Noon UT | 20 vi 32 Rx |
07 Mar 1860 Noon UT | 20 vi 20 Rx |
08 Mar 1860 Noon UT | 20 vi  8 Rx |
09 Mar 1860 Noon UT | 19 vi 56 Rx |
10 Mar 1860 Noon UT | 19 vi 43 Rx |
11 Mar 1860 Noon UT | 19 vi 31 Rx |
12 Mar 1860 Noon UT | 19 vi 19 Rx |
13 Mar 1860 Noon UT | 19 vi  6 Rx |
14 Mar 1860 Noon UT | 18 vi 54 Rx |
15 Mar 1860 Noon UT | 18 vi 42 Rx |
16 Mar 1860 Noon UT | 18 vi 30 Rx |
17 Mar 1860 Noon UT | 18 vi 17 Rx |
18 Mar 1860 Noon UT | 18 vi  5 Rx |
19 Mar 1860 Noon UT | 17 vi 53 Rx |
20 Mar 1860 Noon UT | 17 vi 42 Rx |
21 Mar 1860 Noon UT | 17 vi 30 Rx |
22 Mar 1860 Noon UT | 17 vi 18 Rx |
23 Mar 1860 Noon UT | 17 vi  7 Rx |
24 Mar 1860 Noon UT | 16 vi 56 Rx |
25 Mar 1860 Noon UT | 16 vi 45 Rx |
26 Mar 1860 Noon UT | 16 vi 34 Rx |
27 Mar 1860 Noon UT | 16 vi 23 Rx |
28 Mar 1860 Noon UT | 16 vi 13 Rx |
29 Mar 1860 Noon UT | 16 vi  2 Rx |
30 Mar 1860 Noon UT | 15 vi 52 Rx |
31 Mar 1860 Noon UT | 15 vi 43 Rx |
01 Apr 1860 Noon UT | 15 vi 33 Rx |
02 Apr 1860 Noon UT | 15 vi 24 Rx |
03 Apr 1860 Noon UT | 15 vi 15 Rx |
04 Apr 1860 Noon UT | 15 vi  6 Rx |
05 Apr 1860 Noon UT | 14 vi 58 Rx |
06 Apr 1860 Noon UT | 14 vi 50 Rx |
07 Apr 1860 Noon UT | 14 vi 42 Rx |
08 Apr 1860 Noon UT | 14 vi 34 Rx |
09 Apr 1860 Noon UT | 14 vi 27 Rx |
10 Apr 1860 Noon UT | 14 vi 20 Rx |
11 Apr 1860 Noon UT | 14 vi 14 Rx |
12 Apr 1860 Noon UT | 14 vi  8 Rx |
13 Apr 1860 Noon UT | 14 vi  2 Rx |
14 Apr 1860 Noon UT | 13 vi 56 Rx |
15 Apr 1860 Noon UT | 13 vi 51 Rx |
16 Apr 1860 Noon UT | 13 vi 46 Rx |
17 Apr 1860 Noon UT | 13 vi 41 Rx |
18 Apr 1860 Noon UT | 13 vi 37 Rx |
19 Apr 1860 Noon UT | 13 vi 33 Rx |
20 Apr 1860 Noon UT | 13 vi 30 Rx |
21 Apr 1860 Noon UT | 13 vi 27 Rx |
22 Apr 1860 Noon UT | 13 vi 24 Rx |
23 Apr 1860 Noon UT | 13 vi 21 Rx |
24 Apr 1860 Noon UT | 13 vi 19 Rx |
25 Apr 1860 Noon UT | 13 vi 18 Rx |
26 Apr 1860 Noon UT | 13 vi 16 Rx |
27 Apr 1860 Noon UT | 13 vi 15 Rx |
28 Apr 1860 Noon UT | 13 vi 15 Rx |
29 Apr 1860 Noon UT | 13 vi 14 Rx |
30 Apr 1860 Noon UT | 13 vi 14    |
01 May 1860 Noon UT | 13 vi 15    |
02 May 1860 Noon UT | 13 vi 16    |
03 May 1860 Noon UT | 13 vi 17    |
04 May 1860 Noon UT | 13 vi 18    |
05 May 1860 Noon UT | 13 vi 20    |
06 May 1860 Noon UT | 13 vi 22    |
07 May 1860 Noon UT | 13 vi 25    |
08 May 1860 Noon UT | 13 vi 27    |
09 May 1860 Noon UT | 13 vi 31    |
10 May 1860 Noon UT | 13 vi 34    |
11 May 1860 Noon UT | 13 vi 38    |
12 May 1860 Noon UT | 13 vi 42    |
13 May 1860 Noon UT | 13 vi 47    |
14 May 1860 Noon UT | 13 vi 51    |
15 May 1860 Noon UT | 13 vi 56    |
16 May 1860 Noon UT | 14 vi  2    |
17 May 1860 Noon UT | 14 vi  8    |
18 May 1860 Noon UT | 14 vi 14    |
19 May 1860 Noon UT | 14 vi 20    |
20 May 1860 Noon UT | 14 vi 27    |
21 May 1860 Noon UT | 14 vi 34    |
22 May 1860 Noon UT | 14 vi 41    |
23 May 1860 Noon UT | 14 vi 49    |
24 May 1860 Noon UT | 14 vi 57    |
25 May 1860 Noon UT | 15 vi  5    |
26 May 1860 Noon UT | 15 vi 13    |
27 May 1860 Noon UT | 15 vi 22    |
28 May 1860 Noon UT | 15 vi 31    |
29 May 1860 Noon UT | 15 vi 40    |
30 May 1860 Noon UT | 15 vi 50    |
31 May 1860 Noon UT | 16 vi  0    |
01 Jun 1860 Noon UT | 16 vi 10    |
02 Jun 1860 Noon UT | 16 vi 20    |
03 Jun 1860 Noon UT | 16 vi 31    |
04 Jun 1860 Noon UT | 16 vi 41    |
05 Jun 1860 Noon UT | 16 vi 53    |
06 Jun 1860 Noon UT | 17 vi  4    |
07 Jun 1860 Noon UT | 17 vi 15    |
08 Jun 1860 Noon UT | 17 vi 27    |
09 Jun 1860 Noon UT | 17 vi 39    |
10 Jun 1860 Noon UT | 17 vi 52    |
11 Jun 1860 Noon UT | 18 vi  4    |
12 Jun 1860 Noon UT | 18 vi 17    |
13 Jun 1860 Noon UT | 18 vi 30    |
14 Jun 1860 Noon UT | 18 vi 43    |
15 Jun 1860 Noon UT | 18 vi 56    |
16 Jun 1860 Noon UT | 19 vi 10    |
17 Jun 1860 Noon UT | 19 vi 24    |
18 Jun 1860 Noon UT | 19 vi 38    |
19 Jun 1860 Noon UT | 19 vi 52    |
20 Jun 1860 Noon UT | 20 vi  6    |
21 Jun 1860 Noon UT | 20 vi 21    |
22 Jun 1860 Noon UT | 20 vi 36    |
23 Jun 1860 Noon UT | 20 vi 51    |
24 Jun 1860 Noon UT | 21 vi  6    |
25 Jun 1860 Noon UT | 21 vi 21    |
26 Jun 1860 Noon UT | 21 vi 37    |
27 Jun 1860 Noon UT | 21 vi 53    |
28 Jun 1860 Noon UT | 22 vi  9    |
29 Jun 1860 Noon UT | 22 vi 25    |
30 Jun 1860 Noon UT | 22 vi 41    |
01 Jul 1860 Noon UT | 22 vi 57    |
02 Jul 1860 Noon UT | 23 vi 14    |
03 Jul 1860 Noon UT | 23 vi 31    |
04 Jul 1860 Noon UT | 23 vi 48    |
05 Jul 1860 Noon UT | 24 vi  5    |
06 Jul 1860 Noon UT | 24 vi 22    |
07 Jul 1860 Noon UT | 24 vi 39    |
08 Jul 1860 Noon UT | 24 vi 57    |
09 Jul 1860 Noon UT | 25 vi 15    |
10 Jul 1860 Noon UT | 25 vi 32    |
11 Jul 1860 Noon UT | 25 vi 50    |
12 Jul 1860 Noon UT | 26 vi  9    |
13 Jul 1860 Noon UT | 26 vi 27    |
14 Jul 1860 Noon UT | 26 vi 45    |
15 Jul 1860 Noon UT | 27 vi  4    |
16 Jul 1860 Noon UT | 27 vi 22    |
17 Jul 1860 Noon UT | 27 vi 41    |
18 Jul 1860 Noon UT | 28 vi  0    |
19 Jul 1860 Noon UT | 28 vi 19    |
20 Jul 1860 Noon UT | 28 vi 38    |
21 Jul 1860 Noon UT | 28 vi 58    |
22 Jul 1860 Noon UT | 29 vi 17    |
23 Jul 1860 Noon UT | 29 vi 37    |
24 Jul 1860 Noon UT | 29 vi 56    |
25 Jul 1860 Noon UT |  0 li 16    |
26 Jul 1860 Noon UT |  0 li 36    |
27 Jul 1860 Noon UT |  0 li 56    |
28 Jul 1860 Noon UT |  1 li 16    |
29 Jul 1860 Noon UT |  1 li 37    |
30 Jul 1860 Noon UT |  1 li 57    |
31 Jul 1860 Noon UT |  2 li 17    |
01 Aug 1860 Noon UT |  2 li 38    |
02 Aug 1860 Noon UT |  2 li 59    |
03 Aug 1860 Noon UT |  3 li 19    |
04 Aug 1860 Noon UT |  3 li 40    |
05 Aug 1860 Noon UT |  4 li  1    |
06 Aug 1860 Noon UT |  4 li 22    |
07 Aug 1860 Noon UT |  4 li 43    |
08 Aug 1860 Noon UT |  5 li  5    |
09 Aug 1860 Noon UT |  5 li 26    |
10 Aug 1860 Noon UT |  5 li 47    |
11 Aug 1860 Noon UT |  6 li  9    |
12 Aug 1860 Noon UT |  6 li 30    |
13 Aug 1860 Noon UT |  6 li 52    |
14 Aug 1860 Noon UT |  7 li 14    |
15 Aug 1860 Noon UT |  7 li 36    |
16 Aug 1860 Noon UT |  7 li 58    |
17 Aug 1860 Noon UT |  8 li 20    |
18 Aug 1860 Noon UT |  8 li 42    |
19 Aug 1860 Noon UT |  9 li  4    |
20 Aug 1860 Noon UT |  9 li 26    |
21 Aug 1860 Noon UT |  9 li 49    |
22 Aug 1860 Noon UT | 10 li 11    |
23 Aug 1860 Noon UT | 10 li 33    |
24 Aug 1860 Noon UT | 10 li 56    |
25 Aug 1860 Noon UT | 11 li 19    |
26 Aug 1860 Noon UT | 11 li 41    |
27 Aug 1860 Noon UT | 12 li  4    |
28 Aug 1860 Noon UT | 12 li 27    |
29 Aug 1860 Noon UT | 12 li 50    |
30 Aug 1860 Noon UT | 13 li 13    |
31 Aug 1860 Noon UT | 13 li 36    |
01 Sep 1860 Noon UT | 13 li 59    |
02 Sep 1860 Noon UT | 14 li 22    |
03 Sep 1860 Noon UT | 14 li 45    |
04 Sep 1860 Noon UT | 15 li  8    |
05 Sep 1860 Noon UT | 15 li 32    |
06 Sep 1860 Noon UT | 15 li 55    |
07 Sep 1860 Noon UT | 16 li 19    |
08 Sep 1860 Noon UT | 16 li 42    |
09 Sep 1860 Noon UT | 17 li  6    |
10 Sep 1860 Noon UT | 17 li 29    |
11 Sep 1860 Noon UT | 17 li 53    |
12 Sep 1860 Noon UT | 18 li 17    |
13 Sep 1860 Noon UT | 18 li 40    |
14 Sep 1860 Noon UT | 19 li  4    |
15 Sep 1860 Noon UT | 19 li 28    |
16 Sep 1860 Noon UT | 19 li 52    |
17 Sep 1860 Noon UT | 20 li 16    |
18 Sep 1860 Noon UT | 20 li 40    |
19 Sep 1860 Noon UT | 21 li  4    |
20 Sep 1860 Noon UT | 21 li 28    |
21 Sep 1860 Noon UT | 21 li 52    |
22 Sep 1860 Noon UT | 22 li 16    |
23 Sep 1860 Noon UT | 22 li 41    |
24 Sep 1860 Noon UT | 23 li  5    |
25 Sep 1860 Noon UT | 23 li 29    |
26 Sep 1860 Noon UT | 23 li 53    |
27 Sep 1860 Noon UT | 24 li 18    |
28 Sep 1860 Noon UT | 24 li 42    |
29 Sep 1860 Noon UT | 25 li  7    |
30 Sep 1860 Noon UT | 25 li 31    |
01 Oct 1860 Noon UT | 25 li 56    |
02 Oct 1860 Noon UT | 26 li 20    |
03 Oct 1860 Noon UT | 26 li 45    |
04 Oct 1860 Noon UT | 27 li  9    |
05 Oct 1860 Noon UT | 27 li 34    |
06 Oct 1860 Noon UT | 27 li 59    |
07 Oct 1860 Noon UT | 28 li 23    |
08 Oct 1860 Noon UT | 28 li 48    |
09 Oct 1860 Noon UT | 29 li 13    |
10 Oct 1860 Noon UT | 29 li 37    |
11 Oct 1860 Noon UT |  0 sc  2    |
12 Oct 1860 Noon UT |  0 sc 27    |
13 Oct 1860 Noon UT |  0 sc 52    |
14 Oct 1860 Noon UT |  1 sc 17    |
15 Oct 1860 Noon UT |  1 sc 42    |
16 Oct 1860 Noon UT |  2 sc  7    |
17 Oct 1860 Noon UT |  2 sc 32    |
18 Oct 1860 Noon UT |  2 sc 57    |
19 Oct 1860 Noon UT |  3 sc 22    |
20 Oct 1860 Noon UT |  3 sc 46    |
21 Oct 1860 Noon UT |  4 sc 11    |
22 Oct 1860 Noon UT |  4 sc 37    |
23 Oct 1860 Noon UT |  5 sc  2    |
24 Oct 1860 Noon UT |  5 sc 27    |
25 Oct 1860 Noon UT |  5 sc 52    |
26 Oct 1860 Noon UT |  6 sc 17    |
27 Oct 1860 Noon UT |  6 sc 42    |
28 Oct 1860 Noon UT |  7 sc  7    |
29 Oct 1860 Noon UT |  7 sc 32    |
30 Oct 1860 Noon UT |  7 sc 57    |
31 Oct 1860 Noon UT |  8 sc 22    |
01 Nov 1860 Noon UT |  8 sc 47    |
02 Nov 1860 Noon UT |  9 sc 12    |
03 Nov 1860 Noon UT |  9 sc 38    |
04 Nov 1860 Noon UT | 10 sc  3    |
05 Nov 1860 Noon UT | 10 sc 28    |
06 Nov 1860 Noon UT | 10 sc 53    |
07 Nov 1860 Noon UT | 11 sc 18    |
08 Nov 1860 Noon UT | 11 sc 43    |
09 Nov 1860 Noon UT | 12 sc  8    |
10 Nov 1860 Noon UT | 12 sc 34    |
11 Nov 1860 Noon UT | 12 sc 59    |
12 Nov 1860 Noon UT | 13 sc 24    |
13 Nov 1860 Noon UT | 13 sc 49    |
14 Nov 1860 Noon UT | 14 sc 14    |
15 Nov 1860 Noon UT | 14 sc 39    |
16 Nov 1860 Noon UT | 15 sc  4    |
17 Nov 1860 Noon UT | 15 sc 30    |
18 Nov 1860 Noon UT | 15 sc 55    |
19 Nov 1860 Noon UT | 16 sc 20    |
20 Nov 1860 Noon UT | 16 sc 45    |
21 Nov 1860 Noon UT | 17 sc 10    |
22 Nov 1860 Noon UT | 17 sc 35    |
23 Nov 1860 Noon UT | 18 sc  0    |
24 Nov 1860 Noon UT | 18 sc 25    |
25 Nov 1860 Noon UT | 18 sc 50    |
26 Nov 1860 Noon UT | 19 sc 15    |
27 Nov 1860 Noon UT | 19 sc 40    |
28 Nov 1860 Noon UT | 20 sc  5    |
29 Nov 1860 Noon UT | 20 sc 30    |
30 Nov 1860 Noon UT | 20 sc 55    |
01 Dec 1860 Noon UT | 21 sc 20    |
02 Dec 1860 Noon UT | 21 sc 45    |
03 Dec 1860 Noon UT | 22 sc  9    |
04 Dec 1860 Noon UT | 22 sc 34    |
05 Dec 1860 Noon UT | 22 sc 59    |
06 Dec 1860 Noon UT | 23 sc 24    |
07 Dec 1860 Noon UT | 23 sc 48    |
08 Dec 1860 Noon UT | 24 sc 13    |
09 Dec 1860 Noon UT | 24 sc 38    |
10 Dec 1860 Noon UT | 25 sc  3    |
11 Dec 1860 Noon UT | 25 sc 27    |
12 Dec 1860 Noon UT | 25 sc 52    |
13 Dec 1860 Noon UT | 26 sc 16    |
14 Dec 1860 Noon UT | 26 sc 41    |
15 Dec 1860 Noon UT | 27 sc  5    |
16 Dec 1860 Noon UT | 27 sc 30    |
17 Dec 1860 Noon UT | 27 sc 54    |
18 Dec 1860 Noon UT | 28 sc 19    |
19 Dec 1860 Noon UT | 28 sc 43    |
20 Dec 1860 Noon UT | 29 sc  7    |
21 Dec 1860 Noon UT | 29 sc 31    |
22 Dec 1860 Noon UT | 29 sc 56    |
23 Dec 1860 Noon UT |  0 sa 20    |
24 Dec 1860 Noon UT |  0 sa 44    |
25 Dec 1860 Noon UT |  1 sa  8    |
26 Dec 1860 Noon UT |  1 sa 32    |
27 Dec 1860 Noon UT |  1 sa 56    |
28 Dec 1860 Noon UT |  2 sa 20    |
29 Dec 1860 Noon UT |  2 sa 43    |
30 Dec 1860 Noon UT |  3 sa  7    |
31 Dec 1860 Noon UT |  3 sa 31    |
01 Jan 1861 Noon UT |  3 sa 54    |
02 Jan 1861 Noon UT |  4 sa 18    |
03 Jan 1861 Noon UT |  4 sa 42    |
04 Jan 1861 Noon UT |  5 sa  5    |
05 Jan 1861 Noon UT |  5 sa 28    |
06 Jan 1861 Noon UT |  5 sa 52    |
07 Jan 1861 Noon UT |  6 sa 15    |
08 Jan 1861 Noon UT |  6 sa 38    |
09 Jan 1861 Noon UT |  7 sa  1    |
10 Jan 1861 Noon UT |  7 sa 25    |
11 Jan 1861 Noon UT |  7 sa 47    |
12 Jan 1861 Noon UT |  8 sa 10    |
13 Jan 1861 Noon UT |  8 sa 33    |
14 Jan 1861 Noon UT |  8 sa 56    |
15 Jan 1861 Noon UT |  9 sa 19    |
16 Jan 1861 Noon UT |  9 sa 41    |
17 Jan 1861 Noon UT | 10 sa  4    |
18 Jan 1861 Noon UT | 10 sa 26    |
19 Jan 1861 Noon UT | 10 sa 48    |
20 Jan 1861 Noon UT | 11 sa 11    |
21 Jan 1861 Noon UT | 11 sa 33    |
22 Jan 1861 Noon UT | 11 sa 55    |
23 Jan 1861 Noon UT | 12 sa 17    |
24 Jan 1861 Noon UT | 12 sa 39    |
25 Jan 1861 Noon UT | 13 sa  1    |
26 Jan 1861 Noon UT | 13 sa 22    |
27 Jan 1861 Noon UT | 13 sa 44    |
28 Jan 1861 Noon UT | 14 sa  5    |
29 Jan 1861 Noon UT | 14 sa 27    |
30 Jan 1861 Noon UT | 14 sa 48    |
31 Jan 1861 Noon UT | 15 sa  9    |
01 Feb 1861 Noon UT | 15 sa 30    |
02 Feb 1861 Noon UT | 15 sa 51    |
03 Feb 1861 Noon UT | 16 sa 12    |
04 Feb 1861 Noon UT | 16 sa 32    |
05 Feb 1861 Noon UT | 16 sa 53    |
06 Feb 1861 Noon UT | 17 sa 14    |
07 Feb 1861 Noon UT | 17 sa 34    |
08 Feb 1861 Noon UT | 17 sa 54    |
09 Feb 1861 Noon UT | 18 sa 14    |
10 Feb 1861 Noon UT | 18 sa 34    |
11 Feb 1861 Noon UT | 18 sa 54    |
12 Feb 1861 Noon UT | 19 sa 14    |
13 Feb 1861 Noon UT | 19 sa 33    |
14 Feb 1861 Noon UT | 19 sa 53    |
15 Feb 1861 Noon UT | 20 sa 12    |
16 Feb 1861 Noon UT | 20 sa 31    |
17 Feb 1861 Noon UT | 20 sa 50    |
18 Feb 1861 Noon UT | 21 sa  9    |
19 Feb 1861 Noon UT | 21 sa 27    |
20 Feb 1861 Noon UT | 21 sa 46    |
21 Feb 1861 Noon UT | 22 sa  4    |
22 Feb 1861 Noon UT | 22 sa 22    |
23 Feb 1861 Noon UT | 22 sa 41    |
24 Feb 1861 Noon UT | 22 sa 58    |
25 Feb 1861 Noon UT | 23 sa 16    |
26 Feb 1861 Noon UT | 23 sa 34    |
27 Feb 1861 Noon UT | 23 sa 51    |
28 Feb 1861 Noon UT | 24 sa  8    |
01 Mar 1861 Noon UT | 24 sa 25    |
02 Mar 1861 Noon UT | 24 sa 42    |
03 Mar 1861 Noon UT | 24 sa 59    |
04 Mar 1861 Noon UT | 25 sa 15    |
05 Mar 1861 Noon UT | 25 sa 32    |
06 Mar 1861 Noon UT | 25 sa 48    |
07 Mar 1861 Noon UT | 26 sa  4    |
08 Mar 1861 Noon UT | 26 sa 19    |
09 Mar 1861 Noon UT | 26 sa 35    |
10 Mar 1861 Noon UT | 26 sa 50    |
11 Mar 1861 Noon UT | 27 sa  5    |
12 Mar 1861 Noon UT | 27 sa 20    |
13 Mar 1861 Noon UT | 27 sa 35    |
14 Mar 1861 Noon UT | 27 sa 49    |
15 Mar 1861 Noon UT | 28 sa  3    |
16 Mar 1861 Noon UT | 28 sa 17    |
17 Mar 1861 Noon UT | 28 sa 31    |
18 Mar 1861 Noon UT | 28 sa 45    |
19 Mar 1861 Noon UT | 28 sa 58    |
20 Mar 1861 Noon UT | 29 sa 11    |
21 Mar 1861 Noon UT | 29 sa 24    |
22 Mar 1861 Noon UT | 29 sa 36    |
23 Mar 1861 Noon UT | 29 sa 49    |
24 Mar 1861 Noon UT |  0 cp  1    |
25 Mar 1861 Noon UT |  0 cp 13    |
26 Mar 1861 Noon UT |  0 cp 24    |
27 Mar 1861 Noon UT |  0 cp 36    |
28 Mar 1861 Noon UT |  0 cp 47    |
29 Mar 1861 Noon UT |  0 cp 57    |
30 Mar 1861 Noon UT |  1 cp  8    |
31 Mar 1861 Noon UT |  1 cp 18    |
01 Apr 1861 Noon UT |  1 cp 28    |
02 Apr 1861 Noon UT |  1 cp 38    |
03 Apr 1861 Noon UT |  1 cp 47    |
04 Apr 1861 Noon UT |  1 cp 56    |
05 Apr 1861 Noon UT |  2 cp  5    |
06 Apr 1861 Noon UT |  2 cp 14    |
07 Apr 1861 Noon UT |  2 cp 22    |
08 Apr 1861 Noon UT |  2 cp 30    |
09 Apr 1861 Noon UT |  2 cp 38    |
10 Apr 1861 Noon UT |  2 cp 45    |
11 Apr 1861 Noon UT |  2 cp 52    |
12 Apr 1861 Noon UT |  2 cp 58    |
13 Apr 1861 Noon UT |  3 cp  5    |
14 Apr 1861 Noon UT |  3 cp 11    |
15 Apr 1861 Noon UT |  3 cp 17    |
16 Apr 1861 Noon UT |  3 cp 22    |
17 Apr 1861 Noon UT |  3 cp 27    |
18 Apr 1861 Noon UT |  3 cp 32    |
19 Apr 1861 Noon UT |  3 cp 36    |
20 Apr 1861 Noon UT |  3 cp 40    |
21 Apr 1861 Noon UT |  3 cp 44    |
22 Apr 1861 Noon UT |  3 cp 47    |
23 Apr 1861 Noon UT |  3 cp 50    |
24 Apr 1861 Noon UT |  3 cp 53    |
25 Apr 1861 Noon UT |  3 cp 55    |
26 Apr 1861 Noon UT |  3 cp 57    |
27 Apr 1861 Noon UT |  3 cp 59    |
28 Apr 1861 Noon UT |  4 cp  0    |
29 Apr 1861 Noon UT |  4 cp  1    |
30 Apr 1861 Noon UT |  4 cp  1    |
01 May 1861 Noon UT |  4 cp  2    |
02 May 1861 Noon UT |  4 cp  2 Rx |
03 May 1861 Noon UT |  4 cp  1 Rx |
04 May 1861 Noon UT |  4 cp  0 Rx |
05 May 1861 Noon UT |  3 cp 59 Rx |
06 May 1861 Noon UT |  3 cp 57 Rx |
07 May 1861 Noon UT |  3 cp 55 Rx |
08 May 1861 Noon UT |  3 cp 53 Rx |
09 May 1861 Noon UT |  3 cp 50 Rx |
10 May 1861 Noon UT |  3 cp 47 Rx |
11 May 1861 Noon UT |  3 cp 44 Rx |
12 May 1861 Noon UT |  3 cp 40 Rx |
13 May 1861 Noon UT |  3 cp 36 Rx |
14 May 1861 Noon UT |  3 cp 32 Rx |
15 May 1861 Noon UT |  3 cp 27 Rx |
16 May 1861 Noon UT |  3 cp 22 Rx |
17 May 1861 Noon UT |  3 cp 16 Rx |
18 May 1861 Noon UT |  3 cp 10 Rx |
19 May 1861 Noon UT |  3 cp  4 Rx |
20 May 1861 Noon UT |  2 cp 58 Rx |
21 May 1861 Noon UT |  2 cp 51 Rx |
22 May 1861 Noon UT |  2 cp 44 Rx |
23 May 1861 Noon UT |  2 cp 37 Rx |
24 May 1861 Noon UT |  2 cp 29 Rx |
25 May 1861 Noon UT |  2 cp 21 Rx |
26 May 1861 Noon UT |  2 cp 13 Rx |
27 May 1861 Noon UT |  2 cp  5 Rx |
28 May 1861 Noon UT |  1 cp 56 Rx |
29 May 1861 Noon UT |  1 cp 47 Rx |
30 May 1861 Noon UT |  1 cp 38 Rx |
31 May 1861 Noon UT |  1 cp 28 Rx |
01 Jun 1861 Noon UT |  1 cp 19 Rx |
02 Jun 1861 Noon UT |  1 cp  9 Rx |
03 Jun 1861 Noon UT |  0 cp 59 Rx |
04 Jun 1861 Noon UT |  0 cp 48 Rx |
05 Jun 1861 Noon UT |  0 cp 38 Rx |
06 Jun 1861 Noon UT |  0 cp 27 Rx |
07 Jun 1861 Noon UT |  0 cp 16 Rx |
08 Jun 1861 Noon UT |  0 cp  5 Rx |
09 Jun 1861 Noon UT | 29 sa 54 Rx |
10 Jun 1861 Noon UT | 29 sa 43 Rx |
11 Jun 1861 Noon UT | 29 sa 31 Rx |
12 Jun 1861 Noon UT | 29 sa 20 Rx |
13 Jun 1861 Noon UT | 29 sa  8 Rx |
14 Jun 1861 Noon UT | 28 sa 57 Rx |
15 Jun 1861 Noon UT | 28 sa 45 Rx |
16 Jun 1861 Noon UT | 28 sa 33 Rx |
17 Jun 1861 Noon UT | 28 sa 21 Rx |
18 Jun 1861 Noon UT | 28 sa 10 Rx |
19 Jun 1861 Noon UT | 27 sa 58 Rx |
20 Jun 1861 Noon UT | 27 sa 46 Rx |
21 Jun 1861 Noon UT | 27 sa 34 Rx |
22 Jun 1861 Noon UT | 27 sa 23 Rx |
23 Jun 1861 Noon UT | 27 sa 11 Rx |
24 Jun 1861 Noon UT | 26 sa 59 Rx |
25 Jun 1861 Noon UT | 26 sa 48 Rx |
26 Jun 1861 Noon UT | 26 sa 36 Rx |
27 Jun 1861 Noon UT | 26 sa 25 Rx |
28 Jun 1861 Noon UT | 26 sa 14 Rx |
29 Jun 1861 Noon UT | 26 sa  3 Rx |
30 Jun 1861 Noon UT | 25 sa 52 Rx |
01 Jul 1861 Noon UT | 25 sa 41 Rx |
02 Jul 1861 Noon UT | 25 sa 30 Rx |
03 Jul 1861 Noon UT | 25 sa 20 Rx |
04 Jul 1861 Noon UT | 25 sa  9 Rx |
05 Jul 1861 Noon UT | 24 sa 59 Rx |
06 Jul 1861 Noon UT | 24 sa 49 Rx |
07 Jul 1861 Noon UT | 24 sa 40 Rx |
08 Jul 1861 Noon UT | 24 sa 30 Rx |
09 Jul 1861 Noon UT | 24 sa 21 Rx |
10 Jul 1861 Noon UT | 24 sa 12 Rx |
11 Jul 1861 Noon UT | 24 sa  3 Rx |
12 Jul 1861 Noon UT | 23 sa 55 Rx |
13 Jul 1861 Noon UT | 23 sa 46 Rx |
14 Jul 1861 Noon UT | 23 sa 38 Rx |
15 Jul 1861 Noon UT | 23 sa 31 Rx |
16 Jul 1861 Noon UT | 23 sa 23 Rx |
17 Jul 1861 Noon UT | 23 sa 16 Rx |
18 Jul 1861 Noon UT | 23 sa 10 Rx |
19 Jul 1861 Noon UT | 23 sa  3 Rx |
20 Jul 1861 Noon UT | 22 sa 57 Rx |
21 Jul 1861 Noon UT | 22 sa 51 Rx |
22 Jul 1861 Noon UT | 22 sa 46 Rx |
23 Jul 1861 Noon UT | 22 sa 41 Rx |
24 Jul 1861 Noon UT | 22 sa 36 Rx |
25 Jul 1861 Noon UT | 22 sa 31 Rx |
26 Jul 1861 Noon UT | 22 sa 27 Rx |
27 Jul 1861 Noon UT | 22 sa 23 Rx |
28 Jul 1861 Noon UT | 22 sa 20 Rx |
29 Jul 1861 Noon UT | 22 sa 17 Rx |
30 Jul 1861 Noon UT | 22 sa 14 Rx |
31 Jul 1861 Noon UT | 22 sa 11 Rx |
01 Aug 1861 Noon UT | 22 sa  9 Rx |
02 Aug 1861 Noon UT | 22 sa  7 Rx |
03 Aug 1861 Noon UT | 22 sa  6 Rx |
04 Aug 1861 Noon UT | 22 sa  5 Rx |
05 Aug 1861 Noon UT | 22 sa  4 Rx |
06 Aug 1861 Noon UT | 22 sa  4 Rx |
07 Aug 1861 Noon UT | 22 sa  4    |
08 Aug 1861 Noon UT | 22 sa  4    |
09 Aug 1861 Noon UT | 22 sa  5    |
10 Aug 1861 Noon UT | 22 sa  6    |
11 Aug 1861 Noon UT | 22 sa  7    |
12 Aug 1861 Noon UT | 22 sa  9    |
13 Aug 1861 Noon UT | 22 sa 11    |
14 Aug 1861 Noon UT | 22 sa 13    |
15 Aug 1861 Noon UT | 22 sa 16    |
16 Aug 1861 Noon UT | 22 sa 19    |
17 Aug 1861 Noon UT | 22 sa 22    |
18 Aug 1861 Noon UT | 22 sa 26    |
19 Aug 1861 Noon UT | 22 sa 30    |
20 Aug 1861 Noon UT | 22 sa 34    |
21 Aug 1861 Noon UT | 22 sa 39    |
22 Aug 1861 Noon UT | 22 sa 43    |
23 Aug 1861 Noon UT | 22 sa 49    |
24 Aug 1861 Noon UT | 22 sa 54    |
25 Aug 1861 Noon UT | 23 sa  0    |
26 Aug 1861 Noon UT | 23 sa  6    |
27 Aug 1861 Noon UT | 23 sa 13    |
28 Aug 1861 Noon UT | 23 sa 20    |
29 Aug 1861 Noon UT | 23 sa 27    |
30 Aug 1861 Noon UT | 23 sa 34    |
31 Aug 1861 Noon UT | 23 sa 42    |
01 Sep 1861 Noon UT | 23 sa 50    |
02 Sep 1861 Noon UT | 23 sa 58    |
03 Sep 1861 Noon UT | 24 sa  6    |
04 Sep 1861 Noon UT | 24 sa 15    |
05 Sep 1861 Noon UT | 24 sa 24    |
06 Sep 1861 Noon UT | 24 sa 33    |
07 Sep 1861 Noon UT | 24 sa 43    |
08 Sep 1861 Noon UT | 24 sa 53    |
09 Sep 1861 Noon UT | 25 sa  3    |
10 Sep 1861 Noon UT | 25 sa 13    |
11 Sep 1861 Noon UT | 25 sa 24    |
12 Sep 1861 Noon UT | 25 sa 35    |
13 Sep 1861 Noon UT | 25 sa 46    |
14 Sep 1861 Noon UT | 25 sa 57    |
15 Sep 1861 Noon UT | 26 sa  9    |
16 Sep 1861 Noon UT | 26 sa 21    |
17 Sep 1861 Noon UT | 26 sa 33    |
18 Sep 1861 Noon UT | 26 sa 45    |
19 Sep 1861 Noon UT | 26 sa 57    |
20 Sep 1861 Noon UT | 27 sa 10    |
21 Sep 1861 Noon UT | 27 sa 23    |
22 Sep 1861 Noon UT | 27 sa 36    |
23 Sep 1861 Noon UT | 27 sa 50    |
24 Sep 1861 Noon UT | 28 sa  3    |
25 Sep 1861 Noon UT | 28 sa 17    |
26 Sep 1861 Noon UT | 28 sa 31    |
27 Sep 1861 Noon UT | 28 sa 45    |
28 Sep 1861 Noon UT | 28 sa 59    |
29 Sep 1861 Noon UT | 29 sa 14    |
30 Sep 1861 Noon UT | 29 sa 29    |
01 Oct 1861 Noon UT | 29 sa 44    |
02 Oct 1861 Noon UT | 29 sa 59    |
03 Oct 1861 Noon UT |  0 cp 14    |
04 Oct 1861 Noon UT |  0 cp 29    |
05 Oct 1861 Noon UT |  0 cp 45    |
06 Oct 1861 Noon UT |  1 cp  1    |
07 Oct 1861 Noon UT |  1 cp 17    |
08 Oct 1861 Noon UT |  1 cp 33    |
09 Oct 1861 Noon UT |  1 cp 49    |
10 Oct 1861 Noon UT |  2 cp  6    |
11 Oct 1861 Noon UT |  2 cp 23    |
12 Oct 1861 Noon UT |  2 cp 39    |
13 Oct 1861 Noon UT |  2 cp 56    |
14 Oct 1861 Noon UT |  3 cp 13    |
15 Oct 1861 Noon UT |  3 cp 31    |
16 Oct 1861 Noon UT |  3 cp 48    |
17 Oct 1861 Noon UT |  4 cp  6    |
18 Oct 1861 Noon UT |  4 cp 23    |
19 Oct 1861 Noon UT |  4 cp 41    |
20 Oct 1861 Noon UT |  4 cp 59    |
21 Oct 1861 Noon UT |  5 cp 17    |
22 Oct 1861 Noon UT |  5 cp 35    |
23 Oct 1861 Noon UT |  5 cp 54    |
24 Oct 1861 Noon UT |  6 cp 12    |
25 Oct 1861 Noon UT |  6 cp 31    |
26 Oct 1861 Noon UT |  6 cp 50    |
27 Oct 1861 Noon UT |  7 cp  8    |
28 Oct 1861 Noon UT |  7 cp 27    |
29 Oct 1861 Noon UT |  7 cp 46    |
30 Oct 1861 Noon UT |  8 cp  6    |
31 Oct 1861 Noon UT |  8 cp 25    |
01 Nov 1861 Noon UT |  8 cp 44    |
02 Nov 1861 Noon UT |  9 cp  4    |
03 Nov 1861 Noon UT |  9 cp 24    |
04 Nov 1861 Noon UT |  9 cp 43    |
05 Nov 1861 Noon UT | 10 cp  3    |
06 Nov 1861 Noon UT | 10 cp 23    |
07 Nov 1861 Noon UT | 10 cp 43    |
08 Nov 1861 Noon UT | 11 cp  3    |
09 Nov 1861 Noon UT | 11 cp 24    |
10 Nov 1861 Noon UT | 11 cp 44    |
11 Nov 1861 Noon UT | 12 cp  4    |
12 Nov 1861 Noon UT | 12 cp 25    |
13 Nov 1861 Noon UT | 12 cp 46    |
14 Nov 1861 Noon UT | 13 cp  6    |
15 Nov 1861 Noon UT | 13 cp 27    |
16 Nov 1861 Noon UT | 13 cp 48    |
17 Nov 1861 Noon UT | 14 cp  9    |
18 Nov 1861 Noon UT | 14 cp 30    |
19 Nov 1861 Noon UT | 14 cp 51    |
20 Nov 1861 Noon UT | 15 cp 12    |
21 Nov 1861 Noon UT | 15 cp 33    |
22 Nov 1861 Noon UT | 15 cp 55    |
23 Nov 1861 Noon UT | 16 cp 16    |
24 Nov 1861 Noon UT | 16 cp 38    |
25 Nov 1861 Noon UT | 16 cp 59    |
26 Nov 1861 Noon UT | 17 cp 21    |
27 Nov 1861 Noon UT | 17 cp 42    |
28 Nov 1861 Noon UT | 18 cp  4    |
29 Nov 1861 Noon UT | 18 cp 26    |
30 Nov 1861 Noon UT | 18 cp 48    |
01 Dec 1861 Noon UT | 19 cp 10    |
02 Dec 1861 Noon UT | 19 cp 32    |
03 Dec 1861 Noon UT | 19 cp 54    |
04 Dec 1861 Noon UT | 20 cp 16    |
05 Dec 1861 Noon UT | 20 cp 38    |
06 Dec 1861 Noon UT | 21 cp  0    |
07 Dec 1861 Noon UT | 21 cp 23    |
08 Dec 1861 Noon UT | 21 cp 45    |
09 Dec 1861 Noon UT | 22 cp  7    |
10 Dec 1861 Noon UT | 22 cp 30    |
11 Dec 1861 Noon UT | 22 cp 52    |
12 Dec 1861 Noon UT | 23 cp 15    |
13 Dec 1861 Noon UT | 23 cp 37    |
14 Dec 1861 Noon UT | 24 cp  0    |
15 Dec 1861 Noon UT | 24 cp 22    |
16 Dec 1861 Noon UT | 24 cp 45    |
17 Dec 1861 Noon UT | 25 cp  8    |
18 Dec 1861 Noon UT | 25 cp 30    |
19 Dec 1861 Noon UT | 25 cp 53    |
20 Dec 1861 Noon UT | 26 cp 16    |
21 Dec 1861 Noon UT | 26 cp 39    |
22 Dec 1861 Noon UT | 27 cp  2    |
23 Dec 1861 Noon UT | 27 cp 25    |
24 Dec 1861 Noon UT | 27 cp 48    |
25 Dec 1861 Noon UT | 28 cp 11    |
26 Dec 1861 Noon UT | 28 cp 34    |
27 Dec 1861 Noon UT | 28 cp 57    |
28 Dec 1861 Noon UT | 29 cp 20    |
29 Dec 1861 Noon UT | 29 cp 43    |
30 Dec 1861 Noon UT |  0 aq  6    |
31 Dec 1861 Noon UT |  0 aq 29    |
01 Jan 1862 Noon UT |  0 aq 52    |
02 Jan 1862 Noon UT |  1 aq 15    |
03 Jan 1862 Noon UT |  1 aq 39    |
04 Jan 1862 Noon UT |  2 aq  2    |
05 Jan 1862 Noon UT |  2 aq 25    |
06 Jan 1862 Noon UT |  2 aq 48    |
07 Jan 1862 Noon UT |  3 aq 12    |
08 Jan 1862 Noon UT |  3 aq 35    |
09 Jan 1862 Noon UT |  3 aq 58    |
10 Jan 1862 Noon UT |  4 aq 21    |
11 Jan 1862 Noon UT |  4 aq 45    |
12 Jan 1862 Noon UT |  5 aq  8    |
13 Jan 1862 Noon UT |  5 aq 31    |
14 Jan 1862 Noon UT |  5 aq 55    |
15 Jan 1862 Noon UT |  6 aq 18    |
16 Jan 1862 Noon UT |  6 aq 41    |
17 Jan 1862 Noon UT |  7 aq  5    |
18 Jan 1862 Noon UT |  7 aq 28    |
19 Jan 1862 Noon UT |  7 aq 51    |
20 Jan 1862 Noon UT |  8 aq 15    |
21 Jan 1862 Noon UT |  8 aq 38    |
22 Jan 1862 Noon UT |  9 aq  1    |
23 Jan 1862 Noon UT |  9 aq 25    |
24 Jan 1862 Noon UT |  9 aq 48    |
25 Jan 1862 Noon UT | 10 aq 11    |
26 Jan 1862 Noon UT | 10 aq 35    |
27 Jan 1862 Noon UT | 10 aq 58    |
28 Jan 1862 Noon UT | 11 aq 21    |
29 Jan 1862 Noon UT | 11 aq 45    |
30 Jan 1862 Noon UT | 12 aq  8    |
31 Jan 1862 Noon UT | 12 aq 31    |
01 Feb 1862 Noon UT | 12 aq 55    |
02 Feb 1862 Noon UT | 13 aq 18    |
03 Feb 1862 Noon UT | 13 aq 41    |
04 Feb 1862 Noon UT | 14 aq  4    |
05 Feb 1862 Noon UT | 14 aq 28    |
06 Feb 1862 Noon UT | 14 aq 51    |
07 Feb 1862 Noon UT | 15 aq 14    |
08 Feb 1862 Noon UT | 15 aq 37    |
09 Feb 1862 Noon UT | 16 aq  0    |
10 Feb 1862 Noon UT | 16 aq 24    |
11 Feb 1862 Noon UT | 16 aq 47    |
12 Feb 1862 Noon UT | 17 aq 10    |
13 Feb 1862 Noon UT | 17 aq 33    |
14 Feb 1862 Noon UT | 17 aq 56    |
15 Feb 1862 Noon UT | 18 aq 19    |
16 Feb 1862 Noon UT | 18 aq 42    |
17 Feb 1862 Noon UT | 19 aq  5    |
18 Feb 1862 Noon UT | 19 aq 28    |
19 Feb 1862 Noon UT | 19 aq 51    |
20 Feb 1862 Noon UT | 20 aq 14    |
21 Feb 1862 Noon UT | 20 aq 37    |
22 Feb 1862 Noon UT | 20 aq 59    |
23 Feb 1862 Noon UT | 21 aq 22    |
24 Feb 1862 Noon UT | 21 aq 45    |
25 Feb 1862 Noon UT | 22 aq  8    |
26 Feb 1862 Noon UT | 22 aq 30    |
27 Feb 1862 Noon UT | 22 aq 53    |
28 Feb 1862 Noon UT | 23 aq 16    |
01 Mar 1862 Noon UT | 23 aq 38    |
02 Mar 1862 Noon UT | 24 aq  1    |
03 Mar 1862 Noon UT | 24 aq 23    |
04 Mar 1862 Noon UT | 24 aq 46    |
05 Mar 1862 Noon UT | 25 aq  8    |
06 Mar 1862 Noon UT | 25 aq 31    |
07 Mar 1862 Noon UT | 25 aq 53    |
08 Mar 1862 Noon UT | 26 aq 15    |
09 Mar 1862 Noon UT | 26 aq 38    |
10 Mar 1862 Noon UT | 27 aq  0    |
11 Mar 1862 Noon UT | 27 aq 22    |
12 Mar 1862 Noon UT | 27 aq 44    |
13 Mar 1862 Noon UT | 28 aq  6    |
14 Mar 1862 Noon UT | 28 aq 28    |
15 Mar 1862 Noon UT | 28 aq 50    |
16 Mar 1862 Noon UT | 29 aq 12    |
17 Mar 1862 Noon UT | 29 aq 34    |
18 Mar 1862 Noon UT | 29 aq 55    |
19 Mar 1862 Noon UT |  0 pi 17    |
20 Mar 1862 Noon UT |  0 pi 39    |
21 Mar 1862 Noon UT |  1 pi  0    |
22 Mar 1862 Noon UT |  1 pi 22    |
23 Mar 1862 Noon UT |  1 pi 43    |
24 Mar 1862 Noon UT |  2 pi  5    |
25 Mar 1862 Noon UT |  2 pi 26    |
26 Mar 1862 Noon UT |  2 pi 47    |
27 Mar 1862 Noon UT |  3 pi  9    |
28 Mar 1862 Noon UT |  3 pi 30    |
29 Mar 1862 Noon UT |  3 pi 51    |
30 Mar 1862 Noon UT |  4 pi 12    |
31 Mar 1862 Noon UT |  4 pi 33    |
01 Apr 1862 Noon UT |  4 pi 54    |
02 Apr 1862 Noon UT |  5 pi 15    |
03 Apr 1862 Noon UT |  5 pi 35    |
04 Apr 1862 Noon UT |  5 pi 56    |
05 Apr 1862 Noon UT |  6 pi 16    |
06 Apr 1862 Noon UT |  6 pi 37    |
07 Apr 1862 Noon UT |  6 pi 57    |
08 Apr 1862 Noon UT |  7 pi 18    |
09 Apr 1862 Noon UT |  7 pi 38    |
10 Apr 1862 Noon UT |  7 pi 58    |
11 Apr 1862 Noon UT |  8 pi 18    |
12 Apr 1862 Noon UT |  8 pi 38    |
13 Apr 1862 Noon UT |  8 pi 58    |
14 Apr 1862 Noon UT |  9 pi 18    |
15 Apr 1862 Noon UT |  9 pi 37    |
16 Apr 1862 Noon UT |  9 pi 57    |
17 Apr 1862 Noon UT | 10 pi 17    |
18 Apr 1862 Noon UT | 10 pi 36    |
19 Apr 1862 Noon UT | 10 pi 55    |
20 Apr 1862 Noon UT | 11 pi 15    |
21 Apr 1862 Noon UT | 11 pi 34    |
22 Apr 1862 Noon UT | 11 pi 53    |
23 Apr 1862 Noon UT | 12 pi 12    |
24 Apr 1862 Noon UT | 12 pi 30    |
25 Apr 1862 Noon UT | 12 pi 49    |
26 Apr 1862 Noon UT | 13 pi  8    |
27 Apr 1862 Noon UT | 13 pi 26    |
28 Apr 1862 Noon UT | 13 pi 45    |
29 Apr 1862 Noon UT | 14 pi  3    |
30 Apr 1862 Noon UT | 14 pi 21    |
01 May 1862 Noon UT | 14 pi 39    |
02 May 1862 Noon UT | 14 pi 57    |
03 May 1862 Noon UT | 15 pi 15    |
04 May 1862 Noon UT | 15 pi 32    |
05 May 1862 Noon UT | 15 pi 50    |
06 May 1862 Noon UT | 16 pi  7    |
07 May 1862 Noon UT | 16 pi 25    |
08 May 1862 Noon UT | 16 pi 42    |
09 May 1862 Noon UT | 16 pi 59    |
10 May 1862 Noon UT | 17 pi 16    |
11 May 1862 Noon UT | 17 pi 33    |
12 May 1862 Noon UT | 17 pi 49    |
13 May 1862 Noon UT | 18 pi  6    |
14 May 1862 Noon UT | 18 pi 22    |
15 May 1862 Noon UT | 18 pi 38    |
16 May 1862 Noon UT | 18 pi 54    |
17 May 1862 Noon UT | 19 pi 10    |
18 May 1862 Noon UT | 19 pi 26    |
19 May 1862 Noon UT | 19 pi 42    |
20 May 1862 Noon UT | 19 pi 57    |
21 May 1862 Noon UT | 20 pi 12    |
22 May 1862 Noon UT | 20 pi 28    |
23 May 1862 Noon UT | 20 pi 43    |
24 May 1862 Noon UT | 20 pi 57    |
25 May 1862 Noon UT | 21 pi 12    |
26 May 1862 Noon UT | 21 pi 27    |
27 May 1862 Noon UT | 21 pi 41    |
28 May 1862 Noon UT | 21 pi 55    |
29 May 1862 Noon UT | 22 pi  9    |
30 May 1862 Noon UT | 22 pi 23    |
31 May 1862 Noon UT | 22 pi 36    |
01 Jun 1862 Noon UT | 22 pi 50    |
02 Jun 1862 Noon UT | 23 pi  3    |
03 Jun 1862 Noon UT | 23 pi 16    |
04 Jun 1862 Noon UT | 23 pi 29    |
05 Jun 1862 Noon UT | 23 pi 42    |
06 Jun 1862 Noon UT | 23 pi 54    |
07 Jun 1862 Noon UT | 24 pi  6    |
08 Jun 1862 Noon UT | 24 pi 19    |
09 Jun 1862 Noon UT | 24 pi 30    |
10 Jun 1862 Noon UT | 24 pi 42    |
11 Jun 1862 Noon UT | 24 pi 54    |
12 Jun 1862 Noon UT | 25 pi  5    |
13 Jun 1862 Noon UT | 25 pi 16    |
14 Jun 1862 Noon UT | 25 pi 27    |
15 Jun 1862 Noon UT | 25 pi 37    |
16 Jun 1862 Noon UT | 25 pi 48    |
17 Jun 1862 Noon UT | 25 pi 58    |
18 Jun 1862 Noon UT | 26 pi  8    |
19 Jun 1862 Noon UT | 26 pi 17    |
20 Jun 1862 Noon UT | 26 pi 27    |
21 Jun 1862 Noon UT | 26 pi 36    |
22 Jun 1862 Noon UT | 26 pi 45    |
23 Jun 1862 Noon UT | 26 pi 54    |
24 Jun 1862 Noon UT | 27 pi  2    |
25 Jun 1862 Noon UT | 27 pi 10    |
26 Jun 1862 Noon UT | 27 pi 18    |
27 Jun 1862 Noon UT | 27 pi 26    |
28 Jun 1862 Noon UT | 27 pi 34    |
29 Jun 1862 Noon UT | 27 pi 41    |
30 Jun 1862 Noon UT | 27 pi 48    |
01 Jul 1862 Noon UT | 27 pi 54    |
02 Jul 1862 Noon UT | 28 pi  1    |
03 Jul 1862 Noon UT | 28 pi  7    |
04 Jul 1862 Noon UT | 28 pi 13    |
05 Jul 1862 Noon UT | 28 pi 18    |
06 Jul 1862 Noon UT | 28 pi 24    |
07 Jul 1862 Noon UT | 28 pi 29    |
08 Jul 1862 Noon UT | 28 pi 33    |
09 Jul 1862 Noon UT | 28 pi 38    |
10 Jul 1862 Noon UT | 28 pi 42    |
11 Jul 1862 Noon UT | 28 pi 46    |
12 Jul 1862 Noon UT | 28 pi 49    |
13 Jul 1862 Noon UT | 28 pi 52    |
14 Jul 1862 Noon UT | 28 pi 55    |
15 Jul 1862 Noon UT | 28 pi 58    |
16 Jul 1862 Noon UT | 29 pi  0    |
17 Jul 1862 Noon UT | 29 pi  2    |
18 Jul 1862 Noon UT | 29 pi  4    |
19 Jul 1862 Noon UT | 29 pi  5    |
20 Jul 1862 Noon UT | 29 pi  7    |
21 Jul 1862 Noon UT | 29 pi  7    |
22 Jul 1862 Noon UT | 29 pi  8    |
23 Jul 1862 Noon UT | 29 pi  8 Rx |
24 Jul 1862 Noon UT | 29 pi  8 Rx |
25 Jul 1862 Noon UT | 29 pi  7 Rx |
26 Jul 1862 Noon UT | 29 pi  6 Rx |
27 Jul 1862 Noon UT | 29 pi  5 Rx |
28 Jul 1862 Noon UT | 29 pi  4 Rx |
29 Jul 1862 Noon UT | 29 pi  2 Rx |
30 Jul 1862 Noon UT | 29 pi  0 Rx |
31 Jul 1862 Noon UT | 28 pi 58 Rx |
01 Aug 1862 Noon UT | 28 pi 55 Rx |
02 Aug 1862 Noon UT | 28 pi 52 Rx |
03 Aug 1862 Noon UT | 28 pi 48 Rx |
04 Aug 1862 Noon UT | 28 pi 45 Rx |
05 Aug 1862 Noon UT | 28 pi 41 Rx |
06 Aug 1862 Noon UT | 28 pi 36 Rx |
07 Aug 1862 Noon UT | 28 pi 32 Rx |
08 Aug 1862 Noon UT | 28 pi 27 Rx |
09 Aug 1862 Noon UT | 28 pi 21 Rx |
10 Aug 1862 Noon UT | 28 pi 16 Rx |
11 Aug 1862 Noon UT | 28 pi 10 Rx |
12 Aug 1862 Noon UT | 28 pi  4 Rx |
13 Aug 1862 Noon UT | 27 pi 58 Rx |
14 Aug 1862 Noon UT | 27 pi 51 Rx |
15 Aug 1862 Noon UT | 27 pi 44 Rx |
16 Aug 1862 Noon UT | 27 pi 36 Rx |
17 Aug 1862 Noon UT | 27 pi 29 Rx |
18 Aug 1862 Noon UT | 27 pi 21 Rx |
19 Aug 1862 Noon UT | 27 pi 13 Rx |
20 Aug 1862 Noon UT | 27 pi  5 Rx |
21 Aug 1862 Noon UT | 26 pi 56 Rx |
22 Aug 1862 Noon UT | 26 pi 47 Rx |
23 Aug 1862 Noon UT | 26 pi 38 Rx |
24 Aug 1862 Noon UT | 26 pi 29 Rx |
25 Aug 1862 Noon UT | 26 pi 19 Rx |
26 Aug 1862 Noon UT | 26 pi  9 Rx |
27 Aug 1862 Noon UT | 25 pi 59 Rx |
28 Aug 1862 Noon UT | 25 pi 49 Rx |
29 Aug 1862 Noon UT | 25 pi 39 Rx |
30 Aug 1862 Noon UT | 25 pi 28 Rx |
31 Aug 1862 Noon UT | 25 pi 18 Rx |
01 Sep 1862 Noon UT | 25 pi  7 Rx |
02 Sep 1862 Noon UT | 24 pi 56 Rx |
03 Sep 1862 Noon UT | 24 pi 45 Rx |
04 Sep 1862 Noon UT | 24 pi 34 Rx |
05 Sep 1862 Noon UT | 24 pi 22 Rx |
06 Sep 1862 Noon UT | 24 pi 11 Rx |
07 Sep 1862 Noon UT | 23 pi 59 Rx |
08 Sep 1862 Noon UT | 23 pi 47 Rx |
09 Sep 1862 Noon UT | 23 pi 36 Rx |
10 Sep 1862 Noon UT | 23 pi 24 Rx |
11 Sep 1862 Noon UT | 23 pi 12 Rx |
12 Sep 1862 Noon UT | 23 pi  0 Rx |
13 Sep 1862 Noon UT | 22 pi 48 Rx |
14 Sep 1862 Noon UT | 22 pi 36 Rx |
15 Sep 1862 Noon UT | 22 pi 25 Rx |
16 Sep 1862 Noon UT | 22 pi 13 Rx |
17 Sep 1862 Noon UT | 22 pi  1 Rx |
18 Sep 1862 Noon UT | 21 pi 49 Rx |
19 Sep 1862 Noon UT | 21 pi 37 Rx |
20 Sep 1862 Noon UT | 21 pi 25 Rx |
21 Sep 1862 Noon UT | 21 pi 14 Rx |
22 Sep 1862 Noon UT | 21 pi  2 Rx |
23 Sep 1862 Noon UT | 20 pi 51 Rx |
24 Sep 1862 Noon UT | 20 pi 39 Rx |
25 Sep 1862 Noon UT | 20 pi 28 Rx |
26 Sep 1862 Noon UT | 20 pi 17 Rx |
27 Sep 1862 Noon UT | 20 pi  6 Rx |
28 Sep 1862 Noon UT | 19 pi 55 Rx |
29 Sep 1862 Noon UT | 19 pi 44 Rx |
30 Sep 1862 Noon UT | 19 pi 34 Rx |
01 Oct 1862 Noon UT | 19 pi 23 Rx |
02 Oct 1862 Noon UT | 19 pi 13 Rx |
03 Oct 1862 Noon UT | 19 pi  3 Rx |
04 Oct 1862 Noon UT | 18 pi 53 Rx |
05 Oct 1862 Noon UT | 18 pi 44 Rx |
06 Oct 1862 Noon UT | 18 pi 35 Rx |
07 Oct 1862 Noon UT | 18 pi 25 Rx |
08 Oct 1862 Noon UT | 18 pi 17 Rx |
09 Oct 1862 Noon UT | 18 pi  8 Rx |
10 Oct 1862 Noon UT | 18 pi  0 Rx |
11 Oct 1862 Noon UT | 17 pi 51 Rx |
12 Oct 1862 Noon UT | 17 pi 44 Rx |
13 Oct 1862 Noon UT | 17 pi 36 Rx |
14 Oct 1862 Noon UT | 17 pi 29 Rx |
15 Oct 1862 Noon UT | 17 pi 22 Rx |
16 Oct 1862 Noon UT | 17 pi 15 Rx |
17 Oct 1862 Noon UT | 17 pi  9 Rx |
18 Oct 1862 Noon UT | 17 pi  2 Rx |
19 Oct 1862 Noon UT | 16 pi 56 Rx |
20 Oct 1862 Noon UT | 16 pi 51 Rx |
21 Oct 1862 Noon UT | 16 pi 46 Rx |
22 Oct 1862 Noon UT | 16 pi 41 Rx |
23 Oct 1862 Noon UT | 16 pi 36 Rx |
24 Oct 1862 Noon UT | 16 pi 32 Rx |
25 Oct 1862 Noon UT | 16 pi 28 Rx |
26 Oct 1862 Noon UT | 16 pi 24 Rx |
27 Oct 1862 Noon UT | 16 pi 21 Rx |
28 Oct 1862 Noon UT | 16 pi 18 Rx |
29 Oct 1862 Noon UT | 16 pi 15 Rx |
30 Oct 1862 Noon UT | 16 pi 13 Rx |
31 Oct 1862 Noon UT | 16 pi 10 Rx |
01 Nov 1862 Noon UT | 16 pi  9 Rx |
02 Nov 1862 Noon UT | 16 pi  7 Rx |
03 Nov 1862 Noon UT | 16 pi  6 Rx |
04 Nov 1862 Noon UT | 16 pi  5 Rx |
05 Nov 1862 Noon UT | 16 pi  5 Rx |
06 Nov 1862 Noon UT | 16 pi  5    |
07 Nov 1862 Noon UT | 16 pi  5    |
08 Nov 1862 Noon UT | 16 pi  5    |
09 Nov 1862 Noon UT | 16 pi  6    |
10 Nov 1862 Noon UT | 16 pi  7    |
11 Nov 1862 Noon UT | 16 pi  9    |
12 Nov 1862 Noon UT | 16 pi 11    |
13 Nov 1862 Noon UT | 16 pi 13    |
14 Nov 1862 Noon UT | 16 pi 15    |
15 Nov 1862 Noon UT | 16 pi 18    |
16 Nov 1862 Noon UT | 16 pi 21    |
17 Nov 1862 Noon UT | 16 pi 24    |
18 Nov 1862 Noon UT | 16 pi 27    |
19 Nov 1862 Noon UT | 16 pi 31    |
20 Nov 1862 Noon UT | 16 pi 35    |
21 Nov 1862 Noon UT | 16 pi 40    |
22 Nov 1862 Noon UT | 16 pi 45    |
23 Nov 1862 Noon UT | 16 pi 50    |
24 Nov 1862 Noon UT | 16 pi 55    |
25 Nov 1862 Noon UT | 17 pi  1    |
26 Nov 1862 Noon UT | 17 pi  7    |
27 Nov 1862 Noon UT | 17 pi 13    |
28 Nov 1862 Noon UT | 17 pi 19    |
29 Nov 1862 Noon UT | 17 pi 26    |
30 Nov 1862 Noon UT | 17 pi 33    |
01 Dec 1862 Noon UT | 17 pi 40    |
02 Dec 1862 Noon UT | 17 pi 47    |
03 Dec 1862 Noon UT | 17 pi 55    |
04 Dec 1862 Noon UT | 18 pi  3    |
05 Dec 1862 Noon UT | 18 pi 11    |
06 Dec 1862 Noon UT | 18 pi 20    |
07 Dec 1862 Noon UT | 18 pi 29    |
08 Dec 1862 Noon UT | 18 pi 38    |
09 Dec 1862 Noon UT | 18 pi 47    |
10 Dec 1862 Noon UT | 18 pi 56    |
11 Dec 1862 Noon UT | 19 pi  6    |
12 Dec 1862 Noon UT | 19 pi 16    |
13 Dec 1862 Noon UT | 19 pi 26    |
14 Dec 1862 Noon UT | 19 pi 36    |
15 Dec 1862 Noon UT | 19 pi 47    |
16 Dec 1862 Noon UT | 19 pi 57    |
17 Dec 1862 Noon UT | 20 pi  8    |
18 Dec 1862 Noon UT | 20 pi 19    |
19 Dec 1862 Noon UT | 20 pi 31    |
20 Dec 1862 Noon UT | 20 pi 42    |
21 Dec 1862 Noon UT | 20 pi 54    |
22 Dec 1862 Noon UT | 21 pi  6    |
23 Dec 1862 Noon UT | 21 pi 18    |
24 Dec 1862 Noon UT | 21 pi 31    |
25 Dec 1862 Noon UT | 21 pi 43    |
26 Dec 1862 Noon UT | 21 pi 56    |
27 Dec 1862 Noon UT | 22 pi  9    |
28 Dec 1862 Noon UT | 22 pi 22    |
29 Dec 1862 Noon UT | 22 pi 35    |
30 Dec 1862 Noon UT | 22 pi 49    |
31 Dec 1862 Noon UT | 23 pi  2    |
01 Jan 1863 Noon UT | 23 pi 16    |
02 Jan 1863 Noon UT | 23 pi 30    |
03 Jan 1863 Noon UT | 23 pi 44    |
04 Jan 1863 Noon UT | 23 pi 58    |
05 Jan 1863 Noon UT | 24 pi 12    |
06 Jan 1863 Noon UT | 24 pi 27    |
07 Jan 1863 Noon UT | 24 pi 42    |
08 Jan 1863 Noon UT | 24 pi 56    |
09 Jan 1863 Noon UT | 25 pi 11    |
10 Jan 1863 Noon UT | 25 pi 27    |
11 Jan 1863 Noon UT | 25 pi 42    |
12 Jan 1863 Noon UT | 25 pi 57    |
13 Jan 1863 Noon UT | 26 pi 13    |
14 Jan 1863 Noon UT | 26 pi 28    |
15 Jan 1863 Noon UT | 26 pi 44    |
16 Jan 1863 Noon UT | 27 pi  0    |
17 Jan 1863 Noon UT | 27 pi 16    |
18 Jan 1863 Noon UT | 27 pi 32    |
19 Jan 1863 Noon UT | 27 pi 48    |
20 Jan 1863 Noon UT | 28 pi  5    |
21 Jan 1863 Noon UT | 28 pi 21    |
22 Jan 1863 Noon UT | 28 pi 38    |
23 Jan 1863 Noon UT | 28 pi 55    |
24 Jan 1863 Noon UT | 29 pi 11    |
25 Jan 1863 Noon UT | 29 pi 28    |
26 Jan 1863 Noon UT | 29 pi 45    |
27 Jan 1863 Noon UT |  0 ar  3    |
28 Jan 1863 Noon UT |  0 ar 20    |
29 Jan 1863 Noon UT |  0 ar 37    |
30 Jan 1863 Noon UT |  0 ar 55    |
31 Jan 1863 Noon UT |  1 ar 12    |
01 Feb 1863 Noon UT |  1 ar 30    |
02 Feb 1863 Noon UT |  1 ar 47    |
03 Feb 1863 Noon UT |  2 ar  5    |
04 Feb 1863 Noon UT |  2 ar 23    |
05 Feb 1863 Noon UT |  2 ar 41    |
06 Feb 1863 Noon UT |  2 ar 59    |
07 Feb 1863 Noon UT |  3 ar 17    |
08 Feb 1863 Noon UT |  3 ar 35    |
09 Feb 1863 Noon UT |  3 ar 54    |
10 Feb 1863 Noon UT |  4 ar 12    |
11 Feb 1863 Noon UT |  4 ar 31    |
12 Feb 1863 Noon UT |  4 ar 49    |
13 Feb 1863 Noon UT |  5 ar  8    |
14 Feb 1863 Noon UT |  5 ar 26    |
15 Feb 1863 Noon UT |  5 ar 45    |
16 Feb 1863 Noon UT |  6 ar  4    |
17 Feb 1863 Noon UT |  6 ar 23    |
18 Feb 1863 Noon UT |  6 ar 41    |
19 Feb 1863 Noon UT |  7 ar  0    |
20 Feb 1863 Noon UT |  7 ar 19    |
21 Feb 1863 Noon UT |  7 ar 39    |
22 Feb 1863 Noon UT |  7 ar 58    |
23 Feb 1863 Noon UT |  8 ar 17    |
24 Feb 1863 Noon UT |  8 ar 36    |
25 Feb 1863 Noon UT |  8 ar 55    |
26 Feb 1863 Noon UT |  9 ar 15    |
27 Feb 1863 Noon UT |  9 ar 34    |
28 Feb 1863 Noon UT |  9 ar 54    |
01 Mar 1863 Noon UT | 10 ar 13    |
02 Mar 1863 Noon UT | 10 ar 33    |
03 Mar 1863 Noon UT | 10 ar 52    |
04 Mar 1863 Noon UT | 11 ar 12    |
05 Mar 1863 Noon UT | 11 ar 31    |
06 Mar 1863 Noon UT | 11 ar 51    |
07 Mar 1863 Noon UT | 12 ar 11    |
08 Mar 1863 Noon UT | 12 ar 30    |
09 Mar 1863 Noon UT | 12 ar 50    |
10 Mar 1863 Noon UT | 13 ar 10    |
11 Mar 1863 Noon UT | 13 ar 30    |
12 Mar 1863 Noon UT | 13 ar 50    |
13 Mar 1863 Noon UT | 14 ar 10    |
14 Mar 1863 Noon UT | 14 ar 30    |
15 Mar 1863 Noon UT | 14 ar 50    |
16 Mar 1863 Noon UT | 15 ar 10    |
17 Mar 1863 Noon UT | 15 ar 30    |
18 Mar 1863 Noon UT | 15 ar 50    |
19 Mar 1863 Noon UT | 16 ar 10    |
20 Mar 1863 Noon UT | 16 ar 30    |
21 Mar 1863 Noon UT | 16 ar 50    |
22 Mar 1863 Noon UT | 17 ar 10    |
23 Mar 1863 Noon UT | 17 ar 30    |
24 Mar 1863 Noon UT | 17 ar 50    |
25 Mar 1863 Noon UT | 18 ar 11    |
26 Mar 1863 Noon UT | 18 ar 31    |
27 Mar 1863 Noon UT | 18 ar 51    |
28 Mar 1863 Noon UT | 19 ar 11    |
29 Mar 1863 Noon UT | 19 ar 32    |
30 Mar 1863 Noon UT | 19 ar 52    |
31 Mar 1863 Noon UT | 20 ar 12    |
01 Apr 1863 Noon UT | 20 ar 32    |
02 Apr 1863 Noon UT | 20 ar 53    |
03 Apr 1863 Noon UT | 21 ar 13    |
04 Apr 1863 Noon UT | 21 ar 33    |
05 Apr 1863 Noon UT | 21 ar 53    |
06 Apr 1863 Noon UT | 22 ar 14    |
07 Apr 1863 Noon UT | 22 ar 34    |
08 Apr 1863 Noon UT | 22 ar 54    |
09 Apr 1863 Noon UT | 23 ar 15    |
10 Apr 1863 Noon UT | 23 ar 35    |
11 Apr 1863 Noon UT | 23 ar 55    |
12 Apr 1863 Noon UT | 24 ar 15    |
13 Apr 1863 Noon UT | 24 ar 36    |
14 Apr 1863 Noon UT | 24 ar 56    |
15 Apr 1863 Noon UT | 25 ar 16    |
16 Apr 1863 Noon UT | 25 ar 37    |
17 Apr 1863 Noon UT | 25 ar 57    |
18 Apr 1863 Noon UT | 26 ar 17    |
19 Apr 1863 Noon UT | 26 ar 37    |
20 Apr 1863 Noon UT | 26 ar 58    |
21 Apr 1863 Noon UT | 27 ar 18    |
22 Apr 1863 Noon UT | 27 ar 38    |
23 Apr 1863 Noon UT | 27 ar 58    |
24 Apr 1863 Noon UT | 28 ar 18    |
25 Apr 1863 Noon UT | 28 ar 39    |
26 Apr 1863 Noon UT | 28 ar 59    |
27 Apr 1863 Noon UT | 29 ar 19    |
28 Apr 1863 Noon UT | 29 ar 39    |
29 Apr 1863 Noon UT | 29 ar 59    |
30 Apr 1863 Noon UT |  0 ta 19    |
01 May 1863 Noon UT |  0 ta 39    |
02 May 1863 Noon UT |  0 ta 59    |
03 May 1863 Noon UT |  1 ta 19    |
04 May 1863 Noon UT |  1 ta 39    |
05 May 1863 Noon UT |  1 ta 59    |
06 May 1863 Noon UT |  2 ta 19    |
07 May 1863 Noon UT |  2 ta 39    |
08 May 1863 Noon UT |  2 ta 59    |
09 May 1863 Noon UT |  3 ta 19    |
10 May 1863 Noon UT |  3 ta 39    |
11 May 1863 Noon UT |  3 ta 58    |
12 May 1863 Noon UT |  4 ta 18    |
13 May 1863 Noon UT |  4 ta 38    |
14 May 1863 Noon UT |  4 ta 58    |
15 May 1863 Noon UT |  5 ta 17    |
16 May 1863 Noon UT |  5 ta 37    |
17 May 1863 Noon UT |  5 ta 57    |
18 May 1863 Noon UT |  6 ta 16    |
19 May 1863 Noon UT |  6 ta 36    |
20 May 1863 Noon UT |  6 ta 55    |
21 May 1863 Noon UT |  7 ta 15    |
22 May 1863 Noon UT |  7 ta 34    |
23 May 1863 Noon UT |  7 ta 53    |
24 May 1863 Noon UT |  8 ta 13    |
25 May 1863 Noon UT |  8 ta 32    |
26 May 1863 Noon UT |  8 ta 51    |
27 May 1863 Noon UT |  9 ta 10    |
28 May 1863 Noon UT |  9 ta 29    |
29 May 1863 Noon UT |  9 ta 48    |
30 May 1863 Noon UT | 10 ta  7    |
31 May 1863 Noon UT | 10 ta 26    |
01 Jun 1863 Noon UT | 10 ta 45    |
02 Jun 1863 Noon UT | 11 ta  4    |
03 Jun 1863 Noon UT | 11 ta 23    |
04 Jun 1863 Noon UT | 11 ta 42    |
05 Jun 1863 Noon UT | 12 ta  0    |
06 Jun 1863 Noon UT | 12 ta 19    |
07 Jun 1863 Noon UT | 12 ta 38    |
08 Jun 1863 Noon UT | 12 ta 56    |
09 Jun 1863 Noon UT | 13 ta 15    |
10 Jun 1863 Noon UT | 13 ta 33    |
11 Jun 1863 Noon UT | 13 ta 51    |
12 Jun 1863 Noon UT | 14 ta 10    |
13 Jun 1863 Noon UT | 14 ta 28    |
14 Jun 1863 Noon UT | 14 ta 46    |
15 Jun 1863 Noon UT | 15 ta  4    |
16 Jun 1863 Noon UT | 15 ta 22    |
17 Jun 1863 Noon UT | 15 ta 40    |
18 Jun 1863 Noon UT | 15 ta 58    |
19 Jun 1863 Noon UT | 16 ta 16    |
20 Jun 1863 Noon UT | 16 ta 33    |
21 Jun 1863 Noon UT | 16 ta 51    |
22 Jun 1863 Noon UT | 17 ta  9    |
23 Jun 1863 Noon UT | 17 ta 26    |
24 Jun 1863 Noon UT | 17 ta 43    |
25 Jun 1863 Noon UT | 18 ta  1    |
26 Jun 1863 Noon UT | 18 ta 18    |
27 Jun 1863 Noon UT | 18 ta 35    |
28 Jun 1863 Noon UT | 18 ta 52    |
29 Jun 1863 Noon UT | 19 ta  9    |
30 Jun 1863 Noon UT | 19 ta 26    |
01 Jul 1863 Noon UT | 19 ta 43    |
02 Jul 1863 Noon UT | 19 ta 59    |
03 Jul 1863 Noon UT | 20 ta 16    |
04 Jul 1863 Noon UT | 20 ta 33    |
05 Jul 1863 Noon UT | 20 ta 49    |
06 Jul 1863 Noon UT | 21 ta  5    |
07 Jul 1863 Noon UT | 21 ta 21    |
08 Jul 1863 Noon UT | 21 ta 38    |
09 Jul 1863 Noon UT | 21 ta 54    |
10 Jul 1863 Noon UT | 22 ta  9    |
11 Jul 1863 Noon UT | 22 ta 25    |
12 Jul 1863 Noon UT | 22 ta 41    |
13 Jul 1863 Noon UT | 22 ta 56    |
14 Jul 1863 Noon UT | 23 ta 12    |
15 Jul 1863 Noon UT | 23 ta 27    |
16 Jul 1863 Noon UT | 23 ta 42    |
17 Jul 1863 Noon UT | 23 ta 57    |
18 Jul 1863 Noon UT | 24 ta 12    |
19 Jul 1863 Noon UT | 24 ta 27    |
20 Jul 1863 Noon UT | 24 ta 42    |
21 Jul 1863 Noon UT | 24 ta 57    |
22 Jul 1863 Noon UT | 25 ta 11    |
23 Jul 1863 Noon UT | 25 ta 25    |
24 Jul 1863 Noon UT | 25 ta 39    |
25 Jul 1863 Noon UT | 25 ta 54    |
26 Jul 1863 Noon UT | 26 ta  7    |
27 Jul 1863 Noon UT | 26 ta 21    |
28 Jul 1863 Noon UT | 26 ta 35    |
29 Jul 1863 Noon UT | 26 ta 48    |
30 Jul 1863 Noon UT | 27 ta  2    |
31 Jul 1863 Noon UT | 27 ta 15    |
01 Aug 1863 Noon UT | 27 ta 28    |
02 Aug 1863 Noon UT | 27 ta 41    |
03 Aug 1863 Noon UT | 27 ta 53    |
04 Aug 1863 Noon UT | 28 ta  6    |
05 Aug 1863 Noon UT | 28 ta 18    |
06 Aug 1863 Noon UT | 28 ta 31    |
07 Aug 1863 Noon UT | 28 ta 43    |
08 Aug 1863 Noon UT | 28 ta 55    |
09 Aug 1863 Noon UT | 29 ta  6    |
10 Aug 1863 Noon UT | 29 ta 18    |
11 Aug 1863 Noon UT | 29 ta 29    |
12 Aug 1863 Noon UT | 29 ta 40    |
13 Aug 1863 Noon UT | 29 ta 51    |
14 Aug 1863 Noon UT |  0 ge  2    |
15 Aug 1863 Noon UT |  0 ge 13    |
16 Aug 1863 Noon UT |  0 ge 23    |
17 Aug 1863 Noon UT |  0 ge 33    |
18 Aug 1863 Noon UT |  0 ge 44    |
19 Aug 1863 Noon UT |  0 ge 53    |
20 Aug 1863 Noon UT |  1 ge  3    |
21 Aug 1863 Noon UT |  1 ge 12    |
22 Aug 1863 Noon UT |  1 ge 22    |
23 Aug 1863 Noon UT |  1 ge 31    |
24 Aug 1863 Noon UT |  1 ge 39    |
25 Aug 1863 Noon UT |  1 ge 48    |
26 Aug 1863 Noon UT |  1 ge 56    |
27 Aug 1863 Noon UT |  2 ge  4    |
28 Aug 1863 Noon UT |  2 ge 12    |
29 Aug 1863 Noon UT |  2 ge 20    |
30 Aug 1863 Noon UT |  2 ge 27    |
31 Aug 1863 Noon UT |  2 ge 35    |
01 Sep 1863 Noon UT |  2 ge 42    |
02 Sep 1863 Noon UT |  2 ge 48    |
03 Sep 1863 Noon UT |  2 ge 55    |
04 Sep 1863 Noon UT |  3 ge  1    |
05 Sep 1863 Noon UT |  3 ge  7    |
06 Sep 1863 Noon UT |  3 ge 13    |
07 Sep 1863 Noon UT |  3 ge 18    |
08 Sep 1863 Noon UT |  3 ge 23    |
09 Sep 1863 Noon UT |  3 ge 28    |
10 Sep 1863 Noon UT |  3 ge 33    |
11 Sep 1863 Noon UT |  3 ge 37    |
12 Sep 1863 Noon UT |  3 ge 42    |
13 Sep 1863 Noon UT |  3 ge 45    |
14 Sep 1863 Noon UT |  3 ge 49    |
15 Sep 1863 Noon UT |  3 ge 52    |
16 Sep 1863 Noon UT |  3 ge 55    |
17 Sep 1863 Noon UT |  3 ge 58    |
18 Sep 1863 Noon UT |  4 ge  1    |
19 Sep 1863 Noon UT |  4 ge  3    |
20 Sep 1863 Noon UT |  4 ge  5    |
21 Sep 1863 Noon UT |  4 ge  6    |
22 Sep 1863 Noon UT |  4 ge  7    |
23 Sep 1863 Noon UT |  4 ge  8    |
24 Sep 1863 Noon UT |  4 ge  9    |
25 Sep 1863 Noon UT |  4 ge 10    |
26 Sep 1863 Noon UT |  4 ge 10 Rx |
27 Sep 1863 Noon UT |  4 ge  9 Rx |
28 Sep 1863 Noon UT |  4 ge  9 Rx |
29 Sep 1863 Noon UT |  4 ge  8 Rx |
30 Sep 1863 Noon UT |  4 ge  7 Rx |
01 Oct 1863 Noon UT |  4 ge  6 Rx |
02 Oct 1863 Noon UT |  4 ge  4 Rx |
03 Oct 1863 Noon UT |  4 ge  2 Rx |
04 Oct 1863 Noon UT |  3 ge 59 Rx |
05 Oct 1863 Noon UT |  3 ge 57 Rx |
06 Oct 1863 Noon UT |  3 ge 54 Rx |
07 Oct 1863 Noon UT |  3 ge 51 Rx |
08 Oct 1863 Noon UT |  3 ge 47 Rx |
09 Oct 1863 Noon UT |  3 ge 43 Rx |
10 Oct 1863 Noon UT |  3 ge 39 Rx |
11 Oct 1863 Noon UT |  3 ge 34 Rx |
12 Oct 1863 Noon UT |  3 ge 30 Rx |
13 Oct 1863 Noon UT |  3 ge 24 Rx |
14 Oct 1863 Noon UT |  3 ge 19 Rx |
15 Oct 1863 Noon UT |  3 ge 13 Rx |
16 Oct 1863 Noon UT |  3 ge  7 Rx |
17 Oct 1863 Noon UT |  3 ge  1 Rx |
18 Oct 1863 Noon UT |  2 ge 54 Rx |
19 Oct 1863 Noon UT |  2 ge 48 Rx |
20 Oct 1863 Noon UT |  2 ge 40 Rx |
21 Oct 1863 Noon UT |  2 ge 33 Rx |
22 Oct 1863 Noon UT |  2 ge 25 Rx |
23 Oct 1863 Noon UT |  2 ge 17 Rx |
24 Oct 1863 Noon UT |  2 ge  9 Rx |
25 Oct 1863 Noon UT |  2 ge  1 Rx |
26 Oct 1863 Noon UT |  1 ge 52 Rx |
27 Oct 1863 Noon UT |  1 ge 43 Rx |
28 Oct 1863 Noon UT |  1 ge 34 Rx |
29 Oct 1863 Noon UT |  1 ge 25 Rx |
30 Oct 1863 Noon UT |  1 ge 15 Rx |
31 Oct 1863 Noon UT |  1 ge  5 Rx |
01 Nov 1863 Noon UT |  0 ge 55 Rx |
02 Nov 1863 Noon UT |  0 ge 45 Rx |
03 Nov 1863 Noon UT |  0 ge 35 Rx |
04 Nov 1863 Noon UT |  0 ge 24 Rx |
05 Nov 1863 Noon UT |  0 ge 13 Rx |
06 Nov 1863 Noon UT |  0 ge  2 Rx |
07 Nov 1863 Noon UT | 29 ta 51 Rx |
08 Nov 1863 Noon UT | 29 ta 40 Rx |
09 Nov 1863 Noon UT | 29 ta 29 Rx |
10 Nov 1863 Noon UT | 29 ta 17 Rx |
11 Nov 1863 Noon UT | 29 ta  6 Rx |
12 Nov 1863 Noon UT | 28 ta 54 Rx |
13 Nov 1863 Noon UT | 28 ta 42 Rx |
14 Nov 1863 Noon UT | 28 ta 31 Rx |
15 Nov 1863 Noon UT | 28 ta 19 Rx |
16 Nov 1863 Noon UT | 28 ta  7 Rx |
17 Nov 1863 Noon UT | 27 ta 55 Rx |
18 Nov 1863 Noon UT | 27 ta 43 Rx |
19 Nov 1863 Noon UT | 27 ta 31 Rx |
20 Nov 1863 Noon UT | 27 ta 19 Rx |
21 Nov 1863 Noon UT | 27 ta  7 Rx |
22 Nov 1863 Noon UT | 26 ta 55 Rx |
23 Nov 1863 Noon UT | 26 ta 43 Rx |
24 Nov 1863 Noon UT | 26 ta 31 Rx |
25 Nov 1863 Noon UT | 26 ta 19 Rx |
26 Nov 1863 Noon UT | 26 ta  7 Rx |
27 Nov 1863 Noon UT | 25 ta 55 Rx |
28 Nov 1863 Noon UT | 25 ta 44 Rx |
29 Nov 1863 Noon UT | 25 ta 32 Rx |
30 Nov 1863 Noon UT | 25 ta 21 Rx |
01 Dec 1863 Noon UT | 25 ta  9 Rx |
02 Dec 1863 Noon UT | 24 ta 58 Rx |
03 Dec 1863 Noon UT | 24 ta 47 Rx |
04 Dec 1863 Noon UT | 24 ta 36 Rx |
05 Dec 1863 Noon UT | 24 ta 25 Rx |
06 Dec 1863 Noon UT | 24 ta 15 Rx |
07 Dec 1863 Noon UT | 24 ta  4 Rx |
08 Dec 1863 Noon UT | 23 ta 54 Rx |
09 Dec 1863 Noon UT | 23 ta 44 Rx |
10 Dec 1863 Noon UT | 23 ta 34 Rx |
11 Dec 1863 Noon UT | 23 ta 25 Rx |
12 Dec 1863 Noon UT | 23 ta 15 Rx |
13 Dec 1863 Noon UT | 23 ta  6 Rx |
14 Dec 1863 Noon UT | 22 ta 57 Rx |
15 Dec 1863 Noon UT | 22 ta 49 Rx |
16 Dec 1863 Noon UT | 22 ta 40 Rx |
17 Dec 1863 Noon UT | 22 ta 32 Rx |
18 Dec 1863 Noon UT | 22 ta 24 Rx |
19 Dec 1863 Noon UT | 22 ta 17 Rx |
20 Dec 1863 Noon UT | 22 ta  9 Rx |
21 Dec 1863 Noon UT | 22 ta  2 Rx |
22 Dec 1863 Noon UT | 21 ta 55 Rx |
23 Dec 1863 Noon UT | 21 ta 49 Rx |
24 Dec 1863 Noon UT | 21 ta 43 Rx |
25 Dec 1863 Noon UT | 21 ta 37 Rx |
26 Dec 1863 Noon UT | 21 ta 31 Rx |
27 Dec 1863 Noon UT | 21 ta 26 Rx |
28 Dec 1863 Noon UT | 21 ta 21 Rx |
29 Dec 1863 Noon UT | 21 ta 16 Rx |
30 Dec 1863 Noon UT | 21 ta 12 Rx |
31 Dec 1863 Noon UT | 21 ta  8 Rx |
01 Jan 1864 Noon UT | 21 ta  4 Rx |
02 Jan 1864 Noon UT | 21 ta  1 Rx |
03 Jan 1864 Noon UT | 20 ta 57 Rx |
04 Jan 1864 Noon UT | 20 ta 55 Rx |
05 Jan 1864 Noon UT | 20 ta 52 Rx |
06 Jan 1864 Noon UT | 20 ta 50 Rx |
07 Jan 1864 Noon UT | 20 ta 48 Rx |
08 Jan 1864 Noon UT | 20 ta 46 Rx |
09 Jan 1864 Noon UT | 20 ta 45 Rx |
10 Jan 1864 Noon UT | 20 ta 44 Rx |
11 Jan 1864 Noon UT | 20 ta 44 Rx |
12 Jan 1864 Noon UT | 20 ta 43 Rx |
13 Jan 1864 Noon UT | 20 ta 44    |
14 Jan 1864 Noon UT | 20 ta 44    |
15 Jan 1864 Noon UT | 20 ta 45    |
16 Jan 1864 Noon UT | 20 ta 45    |
17 Jan 1864 Noon UT | 20 ta 47    |
18 Jan 1864 Noon UT | 20 ta 48    |
19 Jan 1864 Noon UT | 20 ta 50    |
20 Jan 1864 Noon UT | 20 ta 52    |
21 Jan 1864 Noon UT | 20 ta 55    |
22 Jan 1864 Noon UT | 20 ta 58    |
23 Jan 1864 Noon UT | 21 ta  1    |
24 Jan 1864 Noon UT | 21 ta  4    |
25 Jan 1864 Noon UT | 21 ta  8    |
26 Jan 1864 Noon UT | 21 ta 12    |
27 Jan 1864 Noon UT | 21 ta 16    |
28 Jan 1864 Noon UT | 21 ta 21    |
29 Jan 1864 Noon UT | 21 ta 25    |
30 Jan 1864 Noon UT | 21 ta 30    |
31 Jan 1864 Noon UT | 21 ta 36    |
01 Feb 1864 Noon UT | 21 ta 41    |
02 Feb 1864 Noon UT | 21 ta 47    |
03 Feb 1864 Noon UT | 21 ta 53    |
04 Feb 1864 Noon UT | 22 ta  0    |
05 Feb 1864 Noon UT | 22 ta  6    |
06 Feb 1864 Noon UT | 22 ta 13    |
07 Feb 1864 Noon UT | 22 ta 20    |
08 Feb 1864 Noon UT | 22 ta 28    |
09 Feb 1864 Noon UT | 22 ta 36    |
10 Feb 1864 Noon UT | 22 ta 43    |
11 Feb 1864 Noon UT | 22 ta 52    |
12 Feb 1864 Noon UT | 23 ta  0    |
13 Feb 1864 Noon UT | 23 ta  9    |
14 Feb 1864 Noon UT | 23 ta 17    |
15 Feb 1864 Noon UT | 23 ta 27    |
16 Feb 1864 Noon UT | 23 ta 36    |
17 Feb 1864 Noon UT | 23 ta 45    |
18 Feb 1864 Noon UT | 23 ta 55    |
19 Feb 1864 Noon UT | 24 ta  5    |
20 Feb 1864 Noon UT | 24 ta 15    |
21 Feb 1864 Noon UT | 24 ta 26    |
22 Feb 1864 Noon UT | 24 ta 36    |
23 Feb 1864 Noon UT | 24 ta 47    |
24 Feb 1864 Noon UT | 24 ta 58    |
25 Feb 1864 Noon UT | 25 ta  9    |
26 Feb 1864 Noon UT | 25 ta 20    |
27 Feb 1864 Noon UT | 25 ta 32    |
28 Feb 1864 Noon UT | 25 ta 44    |
29 Feb 1864 Noon UT | 25 ta 55    |
01 Mar 1864 Noon UT | 26 ta  8    |
02 Mar 1864 Noon UT | 26 ta 20    |
03 Mar 1864 Noon UT | 26 ta 32    |
04 Mar 1864 Noon UT | 26 ta 45    |
05 Mar 1864 Noon UT | 26 ta 58    |
06 Mar 1864 Noon UT | 27 ta 11    |
07 Mar 1864 Noon UT | 27 ta 24    |
08 Mar 1864 Noon UT | 27 ta 37    |
09 Mar 1864 Noon UT | 27 ta 50    |
10 Mar 1864 Noon UT | 28 ta  4    |
11 Mar 1864 Noon UT | 28 ta 18    |
12 Mar 1864 Noon UT | 28 ta 31    |
13 Mar 1864 Noon UT | 28 ta 46    |
14 Mar 1864 Noon UT | 29 ta  0    |
15 Mar 1864 Noon UT | 29 ta 14    |
16 Mar 1864 Noon UT | 29 ta 28    |
17 Mar 1864 Noon UT | 29 ta 43    |
18 Mar 1864 Noon UT | 29 ta 58    |
19 Mar 1864 Noon UT |  0 ge 13    |
20 Mar 1864 Noon UT |  0 ge 28    |
21 Mar 1864 Noon UT |  0 ge 43    |
22 Mar 1864 Noon UT |  0 ge 58    |
23 Mar 1864 Noon UT |  1 ge 13    |
24 Mar 1864 Noon UT |  1 ge 29    |
25 Mar 1864 Noon UT |  1 ge 44    |
26 Mar 1864 Noon UT |  2 ge  0    |
27 Mar 1864 Noon UT |  2 ge 16    |
28 Mar 1864 Noon UT |  2 ge 32    |
29 Mar 1864 Noon UT |  2 ge 48    |
30 Mar 1864 Noon UT |  3 ge  4    |
31 Mar 1864 Noon UT |  3 ge 20    |
01 Apr 1864 Noon UT |  3 ge 37    |
02 Apr 1864 Noon UT |  3 ge 53    |
03 Apr 1864 Noon UT |  4 ge 10    |
04 Apr 1864 Noon UT |  4 ge 26    |
05 Apr 1864 Noon UT |  4 ge 43    |
06 Apr 1864 Noon UT |  5 ge  0    |
07 Apr 1864 Noon UT |  5 ge 17    |
08 Apr 1864 Noon UT |  5 ge 34    |
09 Apr 1864 Noon UT |  5 ge 51    |
10 Apr 1864 Noon UT |  6 ge  8    |
11 Apr 1864 Noon UT |  6 ge 26    |
12 Apr 1864 Noon UT |  6 ge 43    |
13 Apr 1864 Noon UT |  7 ge  1    |
14 Apr 1864 Noon UT |  7 ge 18    |
15 Apr 1864 Noon UT |  7 ge 36    |
16 Apr 1864 Noon UT |  7 ge 54    |
17 Apr 1864 Noon UT |  8 ge 11    |
18 Apr 1864 Noon UT |  8 ge 29    |
19 Apr 1864 Noon UT |  8 ge 47    |
20 Apr 1864 Noon UT |  9 ge  5    |
21 Apr 1864 Noon UT |  9 ge 23    |
22 Apr 1864 Noon UT |  9 ge 41    |
23 Apr 1864 Noon UT | 10 ge  0    |
24 Apr 1864 Noon UT | 10 ge 18    |
25 Apr 1864 Noon UT | 10 ge 36    |
26 Apr 1864 Noon UT | 10 ge 55    |
27 Apr 1864 Noon UT | 11 ge 13    |
28 Apr 1864 Noon UT | 11 ge 32    |
29 Apr 1864 Noon UT | 11 ge 50    |
30 Apr 1864 Noon UT | 12 ge  9    |
01 May 1864 Noon UT | 12 ge 28    |
02 May 1864 Noon UT | 12 ge 46    |
03 May 1864 Noon UT | 13 ge  5    |
04 May 1864 Noon UT | 13 ge 24    |
05 May 1864 Noon UT | 13 ge 43    |
06 May 1864 Noon UT | 14 ge  2    |
07 May 1864 Noon UT | 14 ge 21    |
08 May 1864 Noon UT | 14 ge 40    |
09 May 1864 Noon UT | 14 ge 59    |
10 May 1864 Noon UT | 15 ge 18    |
11 May 1864 Noon UT | 15 ge 37    |
12 May 1864 Noon UT | 15 ge 57    |
13 May 1864 Noon UT | 16 ge 16    |
14 May 1864 Noon UT | 16 ge 35    |
15 May 1864 Noon UT | 16 ge 55    |
16 May 1864 Noon UT | 17 ge 14    |
17 May 1864 Noon UT | 17 ge 33    |
18 May 1864 Noon UT | 17 ge 53    |
19 May 1864 Noon UT | 18 ge 12    |
20 May 1864 Noon UT | 18 ge 32    |
21 May 1864 Noon UT | 18 ge 51    |
22 May 1864 Noon UT | 19 ge 11    |
23 May 1864 Noon UT | 19 ge 31    |
24 May 1864 Noon UT | 19 ge 50    |
25 May 1864 Noon UT | 20 ge 10    |
26 May 1864 Noon UT | 20 ge 30    |
27 May 1864 Noon UT | 20 ge 49    |
28 May 1864 Noon UT | 21 ge  9    |
29 May 1864 Noon UT | 21 ge 29    |
30 May 1864 Noon UT | 21 ge 49    |
31 May 1864 Noon UT | 22 ge  9    |
01 Jun 1864 Noon UT | 22 ge 28    |
02 Jun 1864 Noon UT | 22 ge 48    |
03 Jun 1864 Noon UT | 23 ge  8    |
04 Jun 1864 Noon UT | 23 ge 28    |
05 Jun 1864 Noon UT | 23 ge 48    |
06 Jun 1864 Noon UT | 24 ge  8    |
07 Jun 1864 Noon UT | 24 ge 28    |
08 Jun 1864 Noon UT | 24 ge 48    |
09 Jun 1864 Noon UT | 25 ge  8    |
10 Jun 1864 Noon UT | 25 ge 28    |
11 Jun 1864 Noon UT | 25 ge 48    |
12 Jun 1864 Noon UT | 26 ge  8    |
13 Jun 1864 Noon UT | 26 ge 28    |
14 Jun 1864 Noon UT | 26 ge 48    |
15 Jun 1864 Noon UT | 27 ge  8    |
16 Jun 1864 Noon UT | 27 ge 28    |
17 Jun 1864 Noon UT | 27 ge 48    |
18 Jun 1864 Noon UT | 28 ge  8    |
19 Jun 1864 Noon UT | 28 ge 28    |
20 Jun 1864 Noon UT | 28 ge 49    |
21 Jun 1864 Noon UT | 29 ge  9    |
22 Jun 1864 Noon UT | 29 ge 29    |
23 Jun 1864 Noon UT | 29 ge 49    |
24 Jun 1864 Noon UT |  0 cn  9    |
25 Jun 1864 Noon UT |  0 cn 29    |
26 Jun 1864 Noon UT |  0 cn 49    |
27 Jun 1864 Noon UT |  1 cn  9    |
28 Jun 1864 Noon UT |  1 cn 29    |
29 Jun 1864 Noon UT |  1 cn 49    |
30 Jun 1864 Noon UT |  2 cn 10    |
01 Jul 1864 Noon UT |  2 cn 30    |
02 Jul 1864 Noon UT |  2 cn 50    |
03 Jul 1864 Noon UT |  3 cn 10    |
04 Jul 1864 Noon UT |  3 cn 30    |
05 Jul 1864 Noon UT |  3 cn 50    |
06 Jul 1864 Noon UT |  4 cn 10    |
07 Jul 1864 Noon UT |  4 cn 30    |
08 Jul 1864 Noon UT |  4 cn 50    |
09 Jul 1864 Noon UT |  5 cn 10    |
10 Jul 1864 Noon UT |  5 cn 30    |
11 Jul 1864 Noon UT |  5 cn 50    |
12 Jul 1864 Noon UT |  6 cn 10    |
13 Jul 1864 Noon UT |  6 cn 30    |
14 Jul 1864 Noon UT |  6 cn 50    |
15 Jul 1864 Noon UT |  7 cn 10    |
16 Jul 1864 Noon UT |  7 cn 30    |
17 Jul 1864 Noon UT |  7 cn 49    |
18 Jul 1864 Noon UT |  8 cn  9    |
19 Jul 1864 Noon UT |  8 cn 29    |
20 Jul 1864 Noon UT |  8 cn 49    |
21 Jul 1864 Noon UT |  9 cn  9    |
22 Jul 1864 Noon UT |  9 cn 28    |
23 Jul 1864 Noon UT |  9 cn 48    |
24 Jul 1864 Noon UT | 10 cn  8    |
25 Jul 1864 Noon UT | 10 cn 28    |
26 Jul 1864 Noon UT | 10 cn 47    |
27 Jul 1864 Noon UT | 11 cn  7    |
28 Jul 1864 Noon UT | 11 cn 26    |
29 Jul 1864 Noon UT | 11 cn 46    |
30 Jul 1864 Noon UT | 12 cn  6    |
31 Jul 1864 Noon UT | 12 cn 25    |
01 Aug 1864 Noon UT | 12 cn 45    |
02 Aug 1864 Noon UT | 13 cn  4    |
03 Aug 1864 Noon UT | 13 cn 23    |
04 Aug 1864 Noon UT | 13 cn 43    |
05 Aug 1864 Noon UT | 14 cn  2    |
06 Aug 1864 Noon UT | 14 cn 21    |
07 Aug 1864 Noon UT | 14 cn 41    |
08 Aug 1864 Noon UT | 15 cn  0    |
09 Aug 1864 Noon UT | 15 cn 19    |
10 Aug 1864 Noon UT | 15 cn 38    |
11 Aug 1864 Noon UT | 15 cn 57    |
12 Aug 1864 Noon UT | 16 cn 16    |
13 Aug 1864 Noon UT | 16 cn 35    |
14 Aug 1864 Noon UT | 16 cn 54    |
15 Aug 1864 Noon UT | 17 cn 13    |
16 Aug 1864 Noon UT | 17 cn 31    |
17 Aug 1864 Noon UT | 17 cn 50    |
18 Aug 1864 Noon UT | 18 cn  9    |
19 Aug 1864 Noon UT | 18 cn 27    |
20 Aug 1864 Noon UT | 18 cn 46    |
21 Aug 1864 Noon UT | 19 cn  5    |
22 Aug 1864 Noon UT | 19 cn 23    |
23 Aug 1864 Noon UT | 19 cn 41    |
24 Aug 1864 Noon UT | 20 cn  0    |
25 Aug 1864 Noon UT | 20 cn 18    |
26 Aug 1864 Noon UT | 20 cn 36    |
27 Aug 1864 Noon UT | 20 cn 54    |
28 Aug 1864 Noon UT | 21 cn 12    |
29 Aug 1864 Noon UT | 21 cn 30    |
30 Aug 1864 Noon UT | 21 cn 48    |
31 Aug 1864 Noon UT | 22 cn  6    |
01 Sep 1864 Noon UT | 22 cn 24    |
02 Sep 1864 Noon UT | 22 cn 41    |
03 Sep 1864 Noon UT | 22 cn 59    |
04 Sep 1864 Noon UT | 23 cn 17    |
05 Sep 1864 Noon UT | 23 cn 34    |
06 Sep 1864 Noon UT | 23 cn 51    |
07 Sep 1864 Noon UT | 24 cn  9    |
08 Sep 1864 Noon UT | 24 cn 26    |
09 Sep 1864 Noon UT | 24 cn 43    |
10 Sep 1864 Noon UT | 25 cn  0    |
11 Sep 1864 Noon UT | 25 cn 17    |
12 Sep 1864 Noon UT | 25 cn 33    |
13 Sep 1864 Noon UT | 25 cn 50    |
14 Sep 1864 Noon UT | 26 cn  7    |
15 Sep 1864 Noon UT | 26 cn 23    |
16 Sep 1864 Noon UT | 26 cn 40    |
17 Sep 1864 Noon UT | 26 cn 56    |
18 Sep 1864 Noon UT | 27 cn 12    |
19 Sep 1864 Noon UT | 27 cn 28    |
20 Sep 1864 Noon UT | 27 cn 44    |
21 Sep 1864 Noon UT | 28 cn  0    |
22 Sep 1864 Noon UT | 28 cn 16    |
23 Sep 1864 Noon UT | 28 cn 31    |
24 Sep 1864 Noon UT | 28 cn 47    |
25 Sep 1864 Noon UT | 29 cn  2    |
26 Sep 1864 Noon UT | 29 cn 17    |
27 Sep 1864 Noon UT | 29 cn 33    |
28 Sep 1864 Noon UT | 29 cn 48    |
29 Sep 1864 Noon UT |  0 le  2    |
30 Sep 1864 Noon UT |  0 le 17    |
01 Oct 1864 Noon UT |  0 le 32    |
02 Oct 1864 Noon UT |  0 le 46    |
03 Oct 1864 Noon UT |  1 le  0    |
04 Oct 1864 Noon UT |  1 le 15    |
05 Oct 1864 Noon UT |  1 le 29    |
06 Oct 1864 Noon UT |  1 le 42    |
07 Oct 1864 Noon UT |  1 le 56    |
08 Oct 1864 Noon UT |  2 le 10    |
09 Oct 1864 Noon UT |  2 le 23    |
10 Oct 1864 Noon UT |  2 le 36    |
11 Oct 1864 Noon UT |  2 le 49    |
12 Oct 1864 Noon UT |  3 le  2    |
13 Oct 1864 Noon UT |  3 le 15    |
14 Oct 1864 Noon UT |  3 le 27    |
15 Oct 1864 Noon UT |  3 le 40    |
16 Oct 1864 Noon UT |  3 le 52    |
17 Oct 1864 Noon UT |  4 le  4    |
18 Oct 1864 Noon UT |  4 le 16    |
19 Oct 1864 Noon UT |  4 le 27    |
20 Oct 1864 Noon UT |  4 le 39    |
21 Oct 1864 Noon UT |  4 le 50    |
22 Oct 1864 Noon UT |  5 le  1    |
23 Oct 1864 Noon UT |  5 le 12    |
24 Oct 1864 Noon UT |  5 le 22    |
25 Oct 1864 Noon UT |  5 le 33    |
26 Oct 1864 Noon UT |  5 le 43    |
27 Oct 1864 Noon UT |  5 le 53    |
28 Oct 1864 Noon UT |  6 le  3    |
29 Oct 1864 Noon UT |  6 le 12    |
30 Oct 1864 Noon UT |  6 le 21    |
31 Oct 1864 Noon UT |  6 le 30    |
01 Nov 1864 Noon UT |  6 le 39    |
02 Nov 1864 Noon UT |  6 le 48    |
03 Nov 1864 Noon UT |  6 le 56    |
04 Nov 1864 Noon UT |  7 le  4    |
05 Nov 1864 Noon UT |  7 le 12    |
06 Nov 1864 Noon UT |  7 le 20    |
07 Nov 1864 Noon UT |  7 le 27    |
08 Nov 1864 Noon UT |  7 le 34    |
09 Nov 1864 Noon UT |  7 le 41    |
10 Nov 1864 Noon UT |  7 le 48    |
11 Nov 1864 Noon UT |  7 le 54    |
12 Nov 1864 Noon UT |  8 le  0    |
13 Nov 1864 Noon UT |  8 le  6    |
14 Nov 1864 Noon UT |  8 le 11    |
15 Nov 1864 Noon UT |  8 le 16    |
16 Nov 1864 Noon UT |  8 le 21    |
17 Nov 1864 Noon UT |  8 le 26    |
18 Nov 1864 Noon UT |  8 le 30    |
19 Nov 1864 Noon UT |  8 le 34    |
20 Nov 1864 Noon UT |  8 le 38    |
21 Nov 1864 Noon UT |  8 le 42    |
22 Nov 1864 Noon UT |  8 le 45    |
23 Nov 1864 Noon UT |  8 le 48    |
24 Nov 1864 Noon UT |  8 le 50    |
25 Nov 1864 Noon UT |  8 le 52    |
26 Nov 1864 Noon UT |  8 le 54    |
27 Nov 1864 Noon UT |  8 le 56    |
28 Nov 1864 Noon UT |  8 le 57    |
29 Nov 1864 Noon UT |  8 le 58    |
30 Nov 1864 Noon UT |  8 le 59    |
01 Dec 1864 Noon UT |  8 le 59    |
02 Dec 1864 Noon UT |  8 le 59 Rx |
03 Dec 1864 Noon UT |  8 le 59 Rx |
04 Dec 1864 Noon UT |  8 le 58 Rx |
05 Dec 1864 Noon UT |  8 le 57 Rx |
06 Dec 1864 Noon UT |  8 le 56 Rx |
07 Dec 1864 Noon UT |  8 le 54 Rx |
08 Dec 1864 Noon UT |  8 le 52 Rx |
09 Dec 1864 Noon UT |  8 le 49 Rx |
10 Dec 1864 Noon UT |  8 le 47 Rx |
11 Dec 1864 Noon UT |  8 le 44 Rx |
12 Dec 1864 Noon UT |  8 le 40 Rx |
13 Dec 1864 Noon UT |  8 le 37 Rx |
14 Dec 1864 Noon UT |  8 le 33 Rx |
15 Dec 1864 Noon UT |  8 le 28 Rx |
16 Dec 1864 Noon UT |  8 le 24 Rx |
17 Dec 1864 Noon UT |  8 le 19 Rx |
18 Dec 1864 Noon UT |  8 le 14 Rx |
19 Dec 1864 Noon UT |  8 le  8 Rx |
20 Dec 1864 Noon UT |  8 le  2 Rx |
21 Dec 1864 Noon UT |  7 le 56 Rx |
22 Dec 1864 Noon UT |  7 le 49 Rx |
23 Dec 1864 Noon UT |  7 le 42 Rx |
24 Dec 1864 Noon UT |  7 le 35 Rx |
25 Dec 1864 Noon UT |  7 le 28 Rx |
26 Dec 1864 Noon UT |  7 le 20 Rx |
27 Dec 1864 Noon UT |  7 le 12 Rx |
28 Dec 1864 Noon UT |  7 le  4 Rx |
29 Dec 1864 Noon UT |  6 le 55 Rx |
30 Dec 1864 Noon UT |  6 le 46 Rx |
31 Dec 1864 Noon UT |  6 le 37 Rx |
01 Jan 1865 Noon UT |  6 le 28 Rx |
02 Jan 1865 Noon UT |  6 le 18 Rx |
03 Jan 1865 Noon UT |  6 le  8 Rx |
04 Jan 1865 Noon UT |  5 le 58 Rx |
05 Jan 1865 Noon UT |  5 le 48 Rx |
06 Jan 1865 Noon UT |  5 le 37 Rx |
07 Jan 1865 Noon UT |  5 le 26 Rx |
08 Jan 1865 Noon UT |  5 le 16 Rx |
09 Jan 1865 Noon UT |  5 le  4 Rx |
10 Jan 1865 Noon UT |  4 le 53 Rx |
11 Jan 1865 Noon UT |  4 le 42 Rx |
12 Jan 1865 Noon UT |  4 le 30 Rx |
13 Jan 1865 Noon UT |  4 le 19 Rx |
14 Jan 1865 Noon UT |  4 le  7 Rx |
15 Jan 1865 Noon UT |  3 le 55 Rx |
16 Jan 1865 Noon UT |  3 le 43 Rx |
17 Jan 1865 Noon UT |  3 le 31 Rx |
18 Jan 1865 Noon UT |  3 le 19 Rx |
19 Jan 1865 Noon UT |  3 le  6 Rx |
20 Jan 1865 Noon UT |  2 le 54 Rx |
21 Jan 1865 Noon UT |  2 le 42 Rx |
22 Jan 1865 Noon UT |  2 le 29 Rx |
23 Jan 1865 Noon UT |  2 le 17 Rx |
24 Jan 1865 Noon UT |  2 le  5 Rx |
25 Jan 1865 Noon UT |  1 le 52 Rx |
26 Jan 1865 Noon UT |  1 le 40 Rx |
27 Jan 1865 Noon UT |  1 le 28 Rx |
28 Jan 1865 Noon UT |  1 le 15 Rx |
29 Jan 1865 Noon UT |  1 le  3 Rx |
30 Jan 1865 Noon UT |  0 le 51 Rx |
31 Jan 1865 Noon UT |  0 le 39 Rx |
01 Feb 1865 Noon UT |  0 le 27 Rx |
02 Feb 1865 Noon UT |  0 le 15 Rx |
03 Feb 1865 Noon UT |  0 le  4 Rx |
04 Feb 1865 Noon UT | 29 cn 52 Rx |
05 Feb 1865 Noon UT | 29 cn 41 Rx |
06 Feb 1865 Noon UT | 29 cn 30 Rx |
07 Feb 1865 Noon UT | 29 cn 19 Rx |
08 Feb 1865 Noon UT | 29 cn  8 Rx |
09 Feb 1865 Noon UT | 28 cn 57 Rx |
10 Feb 1865 Noon UT | 28 cn 47 Rx |
11 Feb 1865 Noon UT | 28 cn 37 Rx |
12 Feb 1865 Noon UT | 28 cn 27 Rx |
13 Feb 1865 Noon UT | 28 cn 17 Rx |
14 Feb 1865 Noon UT | 28 cn  7 Rx |
15 Feb 1865 Noon UT | 27 cn 58 Rx |
16 Feb 1865 Noon UT | 27 cn 49 Rx |
17 Feb 1865 Noon UT | 27 cn 40 Rx |
18 Feb 1865 Noon UT | 27 cn 32 Rx |
19 Feb 1865 Noon UT | 27 cn 24 Rx |
20 Feb 1865 Noon UT | 27 cn 16 Rx |
21 Feb 1865 Noon UT | 27 cn  8 Rx |
22 Feb 1865 Noon UT | 27 cn  1 Rx |
23 Feb 1865 Noon UT | 26 cn 54 Rx |
24 Feb 1865 Noon UT | 26 cn 47 Rx |
25 Feb 1865 Noon UT | 26 cn 41 Rx |
26 Feb 1865 Noon UT | 26 cn 35 Rx |
27 Feb 1865 Noon UT | 26 cn 29 Rx |
28 Feb 1865 Noon UT | 26 cn 23 Rx |
01 Mar 1865 Noon UT | 26 cn 18 Rx |
02 Mar 1865 Noon UT | 26 cn 13 Rx |
03 Mar 1865 Noon UT | 26 cn  9 Rx |
04 Mar 1865 Noon UT | 26 cn  5 Rx |
05 Mar 1865 Noon UT | 26 cn  1 Rx |
06 Mar 1865 Noon UT | 25 cn 58 Rx |
07 Mar 1865 Noon UT | 25 cn 54 Rx |
08 Mar 1865 Noon UT | 25 cn 52 Rx |
09 Mar 1865 Noon UT | 25 cn 49 Rx |
10 Mar 1865 Noon UT | 25 cn 47 Rx |
11 Mar 1865 Noon UT | 25 cn 45 Rx |
12 Mar 1865 Noon UT | 25 cn 44 Rx |
13 Mar 1865 Noon UT | 25 cn 43 Rx |
14 Mar 1865 Noon UT | 25 cn 42 Rx |
15 Mar 1865 Noon UT | 25 cn 42 Rx |
16 Mar 1865 Noon UT | 25 cn 42    |
17 Mar 1865 Noon UT | 25 cn 42    |
18 Mar 1865 Noon UT | 25 cn 42    |
19 Mar 1865 Noon UT | 25 cn 43    |
20 Mar 1865 Noon UT | 25 cn 44    |
21 Mar 1865 Noon UT | 25 cn 46    |
22 Mar 1865 Noon UT | 25 cn 48    |
23 Mar 1865 Noon UT | 25 cn 50    |
24 Mar 1865 Noon UT | 25 cn 53    |
25 Mar 1865 Noon UT | 25 cn 55    |
26 Mar 1865 Noon UT | 25 cn 59    |
27 Mar 1865 Noon UT | 26 cn  2    |
28 Mar 1865 Noon UT | 26 cn  6    |
29 Mar 1865 Noon UT | 26 cn 10    |
30 Mar 1865 Noon UT | 26 cn 14    |
31 Mar 1865 Noon UT | 26 cn 19    |
01 Apr 1865 Noon UT | 26 cn 24    |
02 Apr 1865 Noon UT | 26 cn 29    |
03 Apr 1865 Noon UT | 26 cn 35    |
04 Apr 1865 Noon UT | 26 cn 41    |
05 Apr 1865 Noon UT | 26 cn 47    |
06 Apr 1865 Noon UT | 26 cn 54    |
07 Apr 1865 Noon UT | 27 cn  0    |
08 Apr 1865 Noon UT | 27 cn  7    |
09 Apr 1865 Noon UT | 27 cn 15    |
10 Apr 1865 Noon UT | 27 cn 22    |
11 Apr 1865 Noon UT | 27 cn 30    |
12 Apr 1865 Noon UT | 27 cn 38    |
13 Apr 1865 Noon UT | 27 cn 46    |
14 Apr 1865 Noon UT | 27 cn 55    |
15 Apr 1865 Noon UT | 28 cn  4    |
16 Apr 1865 Noon UT | 28 cn 13    |
17 Apr 1865 Noon UT | 28 cn 22    |
18 Apr 1865 Noon UT | 28 cn 32    |
19 Apr 1865 Noon UT | 28 cn 42    |
20 Apr 1865 Noon UT | 28 cn 52    |
21 Apr 1865 Noon UT | 29 cn  2    |
22 Apr 1865 Noon UT | 29 cn 13    |
23 Apr 1865 Noon UT | 29 cn 23    |
24 Apr 1865 Noon UT | 29 cn 34    |
25 Apr 1865 Noon UT | 29 cn 46    |
26 Apr 1865 Noon UT | 29 cn 57    |
27 Apr 1865 Noon UT |  0 le  9    |
28 Apr 1865 Noon UT |  0 le 20    |
29 Apr 1865 Noon UT |  0 le 33    |
30 Apr 1865 Noon UT |  0 le 45    |
01 May 1865 Noon UT |  0 le 57    |
02 May 1865 Noon UT |  1 le 10    |
03 May 1865 Noon UT |  1 le 23    |
04 May 1865 Noon UT |  1 le 36    |
05 May 1865 Noon UT |  1 le 49    |
06 May 1865 Noon UT |  2 le  3    |
07 May 1865 Noon UT |  2 le 16    |
08 May 1865 Noon UT |  2 le 30    |
09 May 1865 Noon UT |  2 le 44    |
10 May 1865 Noon UT |  2 le 58    |
11 May 1865 Noon UT |  3 le 12    |
12 May 1865 Noon UT |  3 le 27    |
13 May 1865 Noon UT |  3 le 42    |
14 May 1865 Noon UT |  3 le 56    |
15 May 1865 Noon UT |  4 le 11    |
16 May 1865 Noon UT |  4 le 27    |
17 May 1865 Noon UT |  4 le 42    |
18 May 1865 Noon UT |  4 le 57    |
19 May 1865 Noon UT |  5 le 13    |
20 May 1865 Noon UT |  5 le 29    |
21 May 1865 Noon UT |  5 le 45    |
22 May 1865 Noon UT |  6 le  1    |
23 May 1865 Noon UT |  6 le 17    |
24 May 1865 Noon UT |  6 le 33    |
25 May 1865 Noon UT |  6 le 50    |
26 May 1865 Noon UT |  7 le  6    |
27 May 1865 Noon UT |  7 le 23    |
28 May 1865 Noon UT |  7 le 40    |
29 May 1865 Noon UT |  7 le 57    |
30 May 1865 Noon UT |  8 le 14    |
31 May 1865 Noon UT |  8 le 31    |
01 Jun 1865 Noon UT |  8 le 49    |
02 Jun 1865 Noon UT |  9 le  6    |
03 Jun 1865 Noon UT |  9 le 24    |
04 Jun 1865 Noon UT |  9 le 42    |
05 Jun 1865 Noon UT | 10 le  0    |
06 Jun 1865 Noon UT | 10 le 18    |
07 Jun 1865 Noon UT | 10 le 36    |
08 Jun 1865 Noon UT | 10 le 54    |
09 Jun 1865 Noon UT | 11 le 12    |
10 Jun 1865 Noon UT | 11 le 31    |
11 Jun 1865 Noon UT | 11 le 49    |
12 Jun 1865 Noon UT | 12 le  8    |
13 Jun 1865 Noon UT | 12 le 26    |
14 Jun 1865 Noon UT | 12 le 45    |
15 Jun 1865 Noon UT | 13 le  4    |
16 Jun 1865 Noon UT | 13 le 23    |
17 Jun 1865 Noon UT | 13 le 42    |
18 Jun 1865 Noon UT | 14 le  2    |
19 Jun 1865 Noon UT | 14 le 21    |
20 Jun 1865 Noon UT | 14 le 40    |
21 Jun 1865 Noon UT | 15 le  0    |
22 Jun 1865 Noon UT | 15 le 19    |
23 Jun 1865 Noon UT | 15 le 39    |
24 Jun 1865 Noon UT | 15 le 59    |
25 Jun 1865 Noon UT | 16 le 19    |
26 Jun 1865 Noon UT | 16 le 39    |
27 Jun 1865 Noon UT | 16 le 59    |
28 Jun 1865 Noon UT | 17 le 19    |
29 Jun 1865 Noon UT | 17 le 39    |
30 Jun 1865 Noon UT | 17 le 59    |
01 Jul 1865 Noon UT | 18 le 19    |
02 Jul 1865 Noon UT | 18 le 40    |
03 Jul 1865 Noon UT | 19 le  0    |
04 Jul 1865 Noon UT | 19 le 21    |
05 Jul 1865 Noon UT | 19 le 41    |
06 Jul 1865 Noon UT | 20 le  2    |
07 Jul 1865 Noon UT | 20 le 23    |
08 Jul 1865 Noon UT | 20 le 44    |
09 Jul 1865 Noon UT | 21 le  5    |
10 Jul 1865 Noon UT | 21 le 25    |
11 Jul 1865 Noon UT | 21 le 46    |
12 Jul 1865 Noon UT | 22 le  8    |
13 Jul 1865 Noon UT | 22 le 29    |
14 Jul 1865 Noon UT | 22 le 50    |
15 Jul 1865 Noon UT | 23 le 11    |
16 Jul 1865 Noon UT | 23 le 32    |
17 Jul 1865 Noon UT | 23 le 54    |
18 Jul 1865 Noon UT | 24 le 15    |
19 Jul 1865 Noon UT | 24 le 37    |
20 Jul 1865 Noon UT | 24 le 58    |
21 Jul 1865 Noon UT | 25 le 20    |
22 Jul 1865 Noon UT | 25 le 41    |
23 Jul 1865 Noon UT | 26 le  3    |
24 Jul 1865 Noon UT | 26 le 25    |
25 Jul 1865 Noon UT | 26 le 47    |
26 Jul 1865 Noon UT | 27 le  9    |
27 Jul 1865 Noon UT | 27 le 30    |
28 Jul 1865 Noon UT | 27 le 52    |
29 Jul 1865 Noon UT | 28 le 14    |
30 Jul 1865 Noon UT | 28 le 36    |
31 Jul 1865 Noon UT | 28 le 58    |
01 Aug 1865 Noon UT | 29 le 21    |
02 Aug 1865 Noon UT | 29 le 43    |
03 Aug 1865 Noon UT |  0 vi  5    |
04 Aug 1865 Noon UT |  0 vi 27    |
05 Aug 1865 Noon UT |  0 vi 49    |
06 Aug 1865 Noon UT |  1 vi 12    |
07 Aug 1865 Noon UT |  1 vi 34    |
08 Aug 1865 Noon UT |  1 vi 56    |
09 Aug 1865 Noon UT |  2 vi 19    |
10 Aug 1865 Noon UT |  2 vi 41    |
11 Aug 1865 Noon UT |  3 vi  4    |
12 Aug 1865 Noon UT |  3 vi 26    |
13 Aug 1865 Noon UT |  3 vi 49    |
14 Aug 1865 Noon UT |  4 vi 12    |
15 Aug 1865 Noon UT |  4 vi 34    |
16 Aug 1865 Noon UT |  4 vi 57    |
17 Aug 1865 Noon UT |  5 vi 19    |
18 Aug 1865 Noon UT |  5 vi 42    |
19 Aug 1865 Noon UT |  6 vi  5    |
20 Aug 1865 Noon UT |  6 vi 28    |
21 Aug 1865 Noon UT |  6 vi 51    |
22 Aug 1865 Noon UT |  7 vi 13    |
23 Aug 1865 Noon UT |  7 vi 36    |
24 Aug 1865 Noon UT |  7 vi 59    |
25 Aug 1865 Noon UT |  8 vi 22    |
26 Aug 1865 Noon UT |  8 vi 45    |
27 Aug 1865 Noon UT |  9 vi  8    |
28 Aug 1865 Noon UT |  9 vi 31    |
29 Aug 1865 Noon UT |  9 vi 54    |
30 Aug 1865 Noon UT | 10 vi 17    |
31 Aug 1865 Noon UT | 10 vi 40    |
01 Sep 1865 Noon UT | 11 vi  3    |
02 Sep 1865 Noon UT | 11 vi 26    |
03 Sep 1865 Noon UT | 11 vi 49    |
04 Sep 1865 Noon UT | 12 vi 12    |
05 Sep 1865 Noon UT | 12 vi 35    |
06 Sep 1865 Noon UT | 12 vi 58    |
07 Sep 1865 Noon UT | 13 vi 21    |
08 Sep 1865 Noon UT | 13 vi 44    |
09 Sep 1865 Noon UT | 14 vi  8    |
10 Sep 1865 Noon UT | 14 vi 31    |
11 Sep 1865 Noon UT | 14 vi 54    |
12 Sep 1865 Noon UT | 15 vi 17    |
13 Sep 1865 Noon UT | 15 vi 40    |
14 Sep 1865 Noon UT | 16 vi  3    |
15 Sep 1865 Noon UT | 16 vi 27    |
16 Sep 1865 Noon UT | 16 vi 50    |
17 Sep 1865 Noon UT | 17 vi 13    |
18 Sep 1865 Noon UT | 17 vi 36    |
19 Sep 1865 Noon UT | 17 vi 59    |
20 Sep 1865 Noon UT | 18 vi 23    |
21 Sep 1865 Noon UT | 18 vi 46    |
22 Sep 1865 Noon UT | 19 vi  9    |
23 Sep 1865 Noon UT | 19 vi 32    |
24 Sep 1865 Noon UT | 19 vi 56    |
25 Sep 1865 Noon UT | 20 vi 19    |
26 Sep 1865 Noon UT | 20 vi 42    |
27 Sep 1865 Noon UT | 21 vi  5    |
28 Sep 1865 Noon UT | 21 vi 28    |
29 Sep 1865 Noon UT | 21 vi 52    |
30 Sep 1865 Noon UT | 22 vi 15    |
01 Oct 1865 Noon UT | 22 vi 38    |
02 Oct 1865 Noon UT | 23 vi  1    |
03 Oct 1865 Noon UT | 23 vi 24    |
04 Oct 1865 Noon UT | 23 vi 47    |
05 Oct 1865 Noon UT | 24 vi 10    |
06 Oct 1865 Noon UT | 24 vi 34    |
07 Oct 1865 Noon UT | 24 vi 57    |
08 Oct 1865 Noon UT | 25 vi 20    |
09 Oct 1865 Noon UT | 25 vi 43    |
10 Oct 1865 Noon UT | 26 vi  6    |
11 Oct 1865 Noon UT | 26 vi 29    |
12 Oct 1865 Noon UT | 26 vi 52    |
13 Oct 1865 Noon UT | 27 vi 15    |
14 Oct 1865 Noon UT | 27 vi 38    |
15 Oct 1865 Noon UT | 28 vi  1    |
16 Oct 1865 Noon UT | 28 vi 24    |
17 Oct 1865 Noon UT | 28 vi 47    |
18 Oct 1865 Noon UT | 29 vi 10    |
19 Oct 1865 Noon UT | 29 vi 32    |
20 Oct 1865 Noon UT | 29 vi 55    |
21 Oct 1865 Noon UT |  0 li 18    |
22 Oct 1865 Noon UT |  0 li 41    |
23 Oct 1865 Noon UT |  1 li  4    |
24 Oct 1865 Noon UT |  1 li 26    |
25 Oct 1865 Noon UT |  1 li 49    |
26 Oct 1865 Noon UT |  2 li 12    |
27 Oct 1865 Noon UT |  2 li 34    |
28 Oct 1865 Noon UT |  2 li 57    |
29 Oct 1865 Noon UT |  3 li 19    |
30 Oct 1865 Noon UT |  3 li 42    |
31 Oct 1865 Noon UT |  4 li  4    |
01 Nov 1865 Noon UT |  4 li 27    |
02 Nov 1865 Noon UT |  4 li 49    |
03 Nov 1865 Noon UT |  5 li 11    |
04 Nov 1865 Noon UT |  5 li 34    |
05 Nov 1865 Noon UT |  5 li 56    |
06 Nov 1865 Noon UT |  6 li 18    |
07 Nov 1865 Noon UT |  6 li 40    |
08 Nov 1865 Noon UT |  7 li  2    |
09 Nov 1865 Noon UT |  7 li 24    |
10 Nov 1865 Noon UT |  7 li 46    |
11 Nov 1865 Noon UT |  8 li  8    |
12 Nov 1865 Noon UT |  8 li 30    |
13 Nov 1865 Noon UT |  8 li 52    |
14 Nov 1865 Noon UT |  9 li 13    |
15 Nov 1865 Noon UT |  9 li 35    |
16 Nov 1865 Noon UT |  9 li 57    |
17 Nov 1865 Noon UT | 10 li 18    |
18 Nov 1865 Noon UT | 10 li 40    |
19 Nov 1865 Noon UT | 11 li  1    |
20 Nov 1865 Noon UT | 11 li 22    |
21 Nov 1865 Noon UT | 11 li 44    |
22 Nov 1865 Noon UT | 12 li  5    |
23 Nov 1865 Noon UT | 12 li 26    |
24 Nov 1865 Noon UT | 12 li 47    |
25 Nov 1865 Noon UT | 13 li  8    |
26 Nov 1865 Noon UT | 13 li 29    |
27 Nov 1865 Noon UT | 13 li 49    |
28 Nov 1865 Noon UT | 14 li 10    |
29 Nov 1865 Noon UT | 14 li 31    |
30 Nov 1865 Noon UT | 14 li 51    |
01 Dec 1865 Noon UT | 15 li 12    |
02 Dec 1865 Noon UT | 15 li 32    |
03 Dec 1865 Noon UT | 15 li 52    |
04 Dec 1865 Noon UT | 16 li 12    |
05 Dec 1865 Noon UT | 16 li 32    |
06 Dec 1865 Noon UT | 16 li 52    |
07 Dec 1865 Noon UT | 17 li 12    |
08 Dec 1865 Noon UT | 17 li 32    |
09 Dec 1865 Noon UT | 17 li 51    |
10 Dec 1865 Noon UT | 18 li 11    |
11 Dec 1865 Noon UT | 18 li 30    |
12 Dec 1865 Noon UT | 18 li 50    |
13 Dec 1865 Noon UT | 19 li  9    |
14 Dec 1865 Noon UT | 19 li 28    |
15 Dec 1865 Noon UT | 19 li 47    |
16 Dec 1865 Noon UT | 20 li  5    |
17 Dec 1865 Noon UT | 20 li 24    |
18 Dec 1865 Noon UT | 20 li 43    |
19 Dec 1865 Noon UT | 21 li  1    |
20 Dec 1865 Noon UT | 21 li 19    |
21 Dec 1865 Noon UT | 21 li 37    |
22 Dec 1865 Noon UT | 21 li 55    |
23 Dec 1865 Noon UT | 22 li 13    |
24 Dec 1865 Noon UT | 22 li 31    |
25 Dec 1865 Noon UT | 22 li 49    |
26 Dec 1865 Noon UT | 23 li  6    |
27 Dec 1865 Noon UT | 23 li 23    |
28 Dec 1865 Noon UT | 23 li 40    |
29 Dec 1865 Noon UT | 23 li 57    |
30 Dec 1865 Noon UT | 24 li 14    |
31 Dec 1865 Noon UT | 24 li 31    |
01 Jan 1866 Noon UT | 24 li 47    |
02 Jan 1866 Noon UT | 25 li  3    |
03 Jan 1866 Noon UT | 25 li 19    |
04 Jan 1866 Noon UT | 25 li 35    |
05 Jan 1866 Noon UT | 25 li 51    |
06 Jan 1866 Noon UT | 26 li  6    |
07 Jan 1866 Noon UT | 26 li 22    |
08 Jan 1866 Noon UT | 26 li 37    |
09 Jan 1866 Noon UT | 26 li 52    |
10 Jan 1866 Noon UT | 27 li  7    |
11 Jan 1866 Noon UT | 27 li 21    |
12 Jan 1866 Noon UT | 27 li 36    |
13 Jan 1866 Noon UT | 27 li 50    |
14 Jan 1866 Noon UT | 28 li  4    |
15 Jan 1866 Noon UT | 28 li 18    |
16 Jan 1866 Noon UT | 28 li 31    |
17 Jan 1866 Noon UT | 28 li 44    |
18 Jan 1866 Noon UT | 28 li 57    |
19 Jan 1866 Noon UT | 29 li 10    |
20 Jan 1866 Noon UT | 29 li 23    |
21 Jan 1866 Noon UT | 29 li 35    |
22 Jan 1866 Noon UT | 29 li 47    |
23 Jan 1866 Noon UT | 29 li 59    |
24 Jan 1866 Noon UT |  0 sc 11    |
25 Jan 1866 Noon UT |  0 sc 22    |
26 Jan 1866 Noon UT |  0 sc 33    |
27 Jan 1866 Noon UT |  0 sc 44    |
28 Jan 1866 Noon UT |  0 sc 55    |
29 Jan 1866 Noon UT |  1 sc  5    |
30 Jan 1866 Noon UT |  1 sc 15    |
31 Jan 1866 Noon UT |  1 sc 25    |
01 Feb 1866 Noon UT |  1 sc 34    |
02 Feb 1866 Noon UT |  1 sc 44    |
03 Feb 1866 Noon UT |  1 sc 52    |
04 Feb 1866 Noon UT |  2 sc  1    |
05 Feb 1866 Noon UT |  2 sc  9    |
06 Feb 1866 Noon UT |  2 sc 18    |
07 Feb 1866 Noon UT |  2 sc 25    |
08 Feb 1866 Noon UT |  2 sc 33    |
09 Feb 1866 Noon UT |  2 sc 40    |
10 Feb 1866 Noon UT |  2 sc 47    |
11 Feb 1866 Noon UT |  2 sc 53    |
12 Feb 1866 Noon UT |  2 sc 59    |
13 Feb 1866 Noon UT |  3 sc  5    |
14 Feb 1866 Noon UT |  3 sc 11    |
15 Feb 1866 Noon UT |  3 sc 16    |
16 Feb 1866 Noon UT |  3 sc 21    |
17 Feb 1866 Noon UT |  3 sc 25    |
18 Feb 1866 Noon UT |  3 sc 30    |
19 Feb 1866 Noon UT |  3 sc 33    |
20 Feb 1866 Noon UT |  3 sc 37    |
21 Feb 1866 Noon UT |  3 sc 40    |
22 Feb 1866 Noon UT |  3 sc 43    |
23 Feb 1866 Noon UT |  3 sc 45    |
24 Feb 1866 Noon UT |  3 sc 47    |
25 Feb 1866 Noon UT |  3 sc 49    |
26 Feb 1866 Noon UT |  3 sc 51    |
27 Feb 1866 Noon UT |  3 sc 52    |
28 Feb 1866 Noon UT |  3 sc 52    |
01 Mar 1866 Noon UT |  3 sc 53    |
02 Mar 1866 Noon UT |  3 sc 52 Rx |
03 Mar 1866 Noon UT |  3 sc 52 Rx |
04 Mar 1866 Noon UT |  3 sc 51 Rx |
05 Mar 1866 Noon UT |  3 sc 50 Rx |
06 Mar 1866 Noon UT |  3 sc 49 Rx |
07 Mar 1866 Noon UT |  3 sc 47 Rx |
08 Mar 1866 Noon UT |  3 sc 44 Rx |
09 Mar 1866 Noon UT |  3 sc 42 Rx |
10 Mar 1866 Noon UT |  3 sc 39 Rx |
11 Mar 1866 Noon UT |  3 sc 36 Rx |
12 Mar 1866 Noon UT |  3 sc 32 Rx |
13 Mar 1866 Noon UT |  3 sc 28 Rx |
14 Mar 1866 Noon UT |  3 sc 23 Rx |
15 Mar 1866 Noon UT |  3 sc 19 Rx |
16 Mar 1866 Noon UT |  3 sc 13 Rx |
17 Mar 1866 Noon UT |  3 sc  8 Rx |
18 Mar 1866 Noon UT |  3 sc  2 Rx |
19 Mar 1866 Noon UT |  2 sc 56 Rx |
20 Mar 1866 Noon UT |  2 sc 50 Rx |
21 Mar 1866 Noon UT |  2 sc 43 Rx |
22 Mar 1866 Noon UT |  2 sc 36 Rx |
23 Mar 1866 Noon UT |  2 sc 28 Rx |
24 Mar 1866 Noon UT |  2 sc 20 Rx |
25 Mar 1866 Noon UT |  2 sc 12 Rx |
26 Mar 1866 Noon UT |  2 sc  4 Rx |
27 Mar 1866 Noon UT |  1 sc 56 Rx |
28 Mar 1866 Noon UT |  1 sc 47 Rx |
29 Mar 1866 Noon UT |  1 sc 38 Rx |
30 Mar 1866 Noon UT |  1 sc 28 Rx |
31 Mar 1866 Noon UT |  1 sc 18 Rx |
01 Apr 1866 Noon UT |  1 sc  9 Rx |
02 Apr 1866 Noon UT |  0 sc 58 Rx |
03 Apr 1866 Noon UT |  0 sc 48 Rx |
04 Apr 1866 Noon UT |  0 sc 38 Rx |
05 Apr 1866 Noon UT |  0 sc 27 Rx |
06 Apr 1866 Noon UT |  0 sc 16 Rx |
07 Apr 1866 Noon UT |  0 sc  5 Rx |
08 Apr 1866 Noon UT | 29 li 54 Rx |
09 Apr 1866 Noon UT | 29 li 42 Rx |
10 Apr 1866 Noon UT | 29 li 31 Rx |
11 Apr 1866 Noon UT | 29 li 19 Rx |
12 Apr 1866 Noon UT | 29 li  7 Rx |
13 Apr 1866 Noon UT | 28 li 56 Rx |
14 Apr 1866 Noon UT | 28 li 44 Rx |
15 Apr 1866 Noon UT | 28 li 32 Rx |
16 Apr 1866 Noon UT | 28 li 20 Rx |
17 Apr 1866 Noon UT | 28 li  7 Rx |
18 Apr 1866 Noon UT | 27 li 55 Rx |
19 Apr 1866 Noon UT | 27 li 43 Rx |
20 Apr 1866 Noon UT | 27 li 31 Rx |
21 Apr 1866 Noon UT | 27 li 19 Rx |
22 Apr 1866 Noon UT | 27 li  7 Rx |
23 Apr 1866 Noon UT | 26 li 55 Rx |
24 Apr 1866 Noon UT | 26 li 43 Rx |
25 Apr 1866 Noon UT | 26 li 31 Rx |
26 Apr 1866 Noon UT | 26 li 20 Rx |
27 Apr 1866 Noon UT | 26 li  8 Rx |
28 Apr 1866 Noon UT | 25 li 57 Rx |
29 Apr 1866 Noon UT | 25 li 45 Rx |
30 Apr 1866 Noon UT | 25 li 34 Rx |
01 May 1866 Noon UT | 25 li 23 Rx |
02 May 1866 Noon UT | 25 li 12 Rx |
03 May 1866 Noon UT | 25 li  1 Rx |
04 May 1866 Noon UT | 24 li 51 Rx |
05 May 1866 Noon UT | 24 li 41 Rx |
06 May 1866 Noon UT | 24 li 31 Rx |
07 May 1866 Noon UT | 24 li 21 Rx |
08 May 1866 Noon UT | 24 li 11 Rx |
09 May 1866 Noon UT | 24 li  2 Rx |
10 May 1866 Noon UT | 23 li 53 Rx |
11 May 1866 Noon UT | 23 li 44 Rx |
12 May 1866 Noon UT | 23 li 35 Rx |
13 May 1866 Noon UT | 23 li 27 Rx |
14 May 1866 Noon UT | 23 li 19 Rx |
15 May 1866 Noon UT | 23 li 11 Rx |
16 May 1866 Noon UT | 23 li  4 Rx |
17 May 1866 Noon UT | 22 li 56 Rx |
18 May 1866 Noon UT | 22 li 50 Rx |
19 May 1866 Noon UT | 22 li 43 Rx |
20 May 1866 Noon UT | 22 li 37 Rx |
21 May 1866 Noon UT | 22 li 31 Rx |
22 May 1866 Noon UT | 22 li 26 Rx |
23 May 1866 Noon UT | 22 li 21 Rx |
24 May 1866 Noon UT | 22 li 16 Rx |
25 May 1866 Noon UT | 22 li 11 Rx |
26 May 1866 Noon UT | 22 li  7 Rx |
27 May 1866 Noon UT | 22 li  4 Rx |
28 May 1866 Noon UT | 22 li  0 Rx |
29 May 1866 Noon UT | 21 li 57 Rx |
30 May 1866 Noon UT | 21 li 55 Rx |
31 May 1866 Noon UT | 21 li 52 Rx |
01 Jun 1866 Noon UT | 21 li 50 Rx |
02 Jun 1866 Noon UT | 21 li 49 Rx |
03 Jun 1866 Noon UT | 21 li 48 Rx |
04 Jun 1866 Noon UT | 21 li 47 Rx |
05 Jun 1866 Noon UT | 21 li 46 Rx |
06 Jun 1866 Noon UT | 21 li 46    |
07 Jun 1866 Noon UT | 21 li 46    |
08 Jun 1866 Noon UT | 21 li 47    |
09 Jun 1866 Noon UT | 21 li 48    |
10 Jun 1866 Noon UT | 21 li 49    |
11 Jun 1866 Noon UT | 21 li 51    |
12 Jun 1866 Noon UT | 21 li 53    |
13 Jun 1866 Noon UT | 21 li 55    |
14 Jun 1866 Noon UT | 21 li 58    |
15 Jun 1866 Noon UT | 22 li  1    |
16 Jun 1866 Noon UT | 22 li  4    |
17 Jun 1866 Noon UT | 22 li  8    |
18 Jun 1866 Noon UT | 22 li 12    |
19 Jun 1866 Noon UT | 22 li 16    |
20 Jun 1866 Noon UT | 22 li 21    |
21 Jun 1866 Noon UT | 22 li 26    |
22 Jun 1866 Noon UT | 22 li 31    |
23 Jun 1866 Noon UT | 22 li 37    |
24 Jun 1866 Noon UT | 22 li 43    |
25 Jun 1866 Noon UT | 22 li 49    |
26 Jun 1866 Noon UT | 22 li 56    |
27 Jun 1866 Noon UT | 23 li  3    |
28 Jun 1866 Noon UT | 23 li 10    |
29 Jun 1866 Noon UT | 23 li 18    |
30 Jun 1866 Noon UT | 23 li 25    |
01 Jul 1866 Noon UT | 23 li 34    |
02 Jul 1866 Noon UT | 23 li 42    |
03 Jul 1866 Noon UT | 23 li 51    |
04 Jul 1866 Noon UT | 24 li  0    |
05 Jul 1866 Noon UT | 24 li  9    |
06 Jul 1866 Noon UT | 24 li 19    |
07 Jul 1866 Noon UT | 24 li 28    |
08 Jul 1866 Noon UT | 24 li 38    |
09 Jul 1866 Noon UT | 24 li 49    |
10 Jul 1866 Noon UT | 24 li 59    |
11 Jul 1866 Noon UT | 25 li 10    |
12 Jul 1866 Noon UT | 25 li 22    |
13 Jul 1866 Noon UT | 25 li 33    |
14 Jul 1866 Noon UT | 25 li 45    |
15 Jul 1866 Noon UT | 25 li 56    |
16 Jul 1866 Noon UT | 26 li  9    |
17 Jul 1866 Noon UT | 26 li 21    |
18 Jul 1866 Noon UT | 26 li 34    |
19 Jul 1866 Noon UT | 26 li 47    |
20 Jul 1866 Noon UT | 27 li  0    |
21 Jul 1866 Noon UT | 27 li 13    |
22 Jul 1866 Noon UT | 27 li 26    |
23 Jul 1866 Noon UT | 27 li 40    |
24 Jul 1866 Noon UT | 27 li 54    |
25 Jul 1866 Noon UT | 28 li  8    |
26 Jul 1866 Noon UT | 28 li 23    |
27 Jul 1866 Noon UT | 28 li 37    |
28 Jul 1866 Noon UT | 28 li 52    |
29 Jul 1866 Noon UT | 29 li  7    |
30 Jul 1866 Noon UT | 29 li 22    |
31 Jul 1866 Noon UT | 29 li 38    |
01 Aug 1866 Noon UT | 29 li 53    |
02 Aug 1866 Noon UT |  0 sc  9    |
03 Aug 1866 Noon UT |  0 sc 25    |
04 Aug 1866 Noon UT |  0 sc 41    |
05 Aug 1866 Noon UT |  0 sc 57    |
06 Aug 1866 Noon UT |  1 sc 14    |
07 Aug 1866 Noon UT |  1 sc 31    |
08 Aug 1866 Noon UT |  1 sc 47    |
09 Aug 1866 Noon UT |  2 sc  4    |
10 Aug 1866 Noon UT |  2 sc 22    |
11 Aug 1866 Noon UT |  2 sc 39    |
12 Aug 1866 Noon UT |  2 sc 56    |
13 Aug 1866 Noon UT |  3 sc 14    |
14 Aug 1866 Noon UT |  3 sc 32    |
15 Aug 1866 Noon UT |  3 sc 50    |
16 Aug 1866 Noon UT |  4 sc  8    |
17 Aug 1866 Noon UT |  4 sc 26    |
18 Aug 1866 Noon UT |  4 sc 45    |
19 Aug 1866 Noon UT |  5 sc  3    |
20 Aug 1866 Noon UT |  5 sc 22    |
21 Aug 1866 Noon UT |  5 sc 41    |
22 Aug 1866 Noon UT |  6 sc  0    |
23 Aug 1866 Noon UT |  6 sc 19    |
24 Aug 1866 Noon UT |  6 sc 38    |
25 Aug 1866 Noon UT |  6 sc 57    |
26 Aug 1866 Noon UT |  7 sc 17    |
27 Aug 1866 Noon UT |  7 sc 36    |
28 Aug 1866 Noon UT |  7 sc 56    |
29 Aug 1866 Noon UT |  8 sc 16    |
30 Aug 1866 Noon UT |  8 sc 36    |
31 Aug 1866 Noon UT |  8 sc 56    |
01 Sep 1866 Noon UT |  9 sc 16    |
02 Sep 1866 Noon UT |  9 sc 37    |
03 Sep 1866 Noon UT |  9 sc 57    |
04 Sep 1866 Noon UT | 10 sc 18    |
05 Sep 1866 Noon UT | 10 sc 38    |
06 Sep 1866 Noon UT | 10 sc 59    |
07 Sep 1866 Noon UT | 11 sc 20    |
08 Sep 1866 Noon UT | 11 sc 41    |
09 Sep 1866 Noon UT | 12 sc  2    |
10 Sep 1866 Noon UT | 12 sc 23    |
11 Sep 1866 Noon UT | 12 sc 45    |
12 Sep 1866 Noon UT | 13 sc  6    |
13 Sep 1866 Noon UT | 13 sc 28    |
14 Sep 1866 Noon UT | 13 sc 49    |
15 Sep 1866 Noon UT | 14 sc 11    |
16 Sep 1866 Noon UT | 14 sc 33    |
17 Sep 1866 Noon UT | 14 sc 54    |
18 Sep 1866 Noon UT | 15 sc 16    |
19 Sep 1866 Noon UT | 15 sc 38    |
20 Sep 1866 Noon UT | 16 sc  1    |
21 Sep 1866 Noon UT | 16 sc 23    |
22 Sep 1866 Noon UT | 16 sc 45    |
23 Sep 1866 Noon UT | 17 sc  7    |
24 Sep 1866 Noon UT | 17 sc 30    |
25 Sep 1866 Noon UT | 17 sc 52    |
26 Sep 1866 Noon UT | 18 sc 15    |
27 Sep 1866 Noon UT | 18 sc 38    |
28 Sep 1866 Noon UT | 19 sc  0    |
29 Sep 1866 Noon UT | 19 sc 23    |
30 Sep 1866 Noon UT | 19 sc 46    |
01 Oct 1866 Noon UT | 20 sc  9    |
02 Oct 1866 Noon UT | 20 sc 32    |
03 Oct 1866 Noon UT | 20 sc 55    |
04 Oct 1866 Noon UT | 21 sc 18    |
05 Oct 1866 Noon UT | 21 sc 42    |
06 Oct 1866 Noon UT | 22 sc  5    |
07 Oct 1866 Noon UT | 22 sc 28    |
08 Oct 1866 Noon UT | 22 sc 52    |
09 Oct 1866 Noon UT | 23 sc 15    |
10 Oct 1866 Noon UT | 23 sc 39    |
11 Oct 1866 Noon UT | 24 sc  2    |
12 Oct 1866 Noon UT | 24 sc 26    |
13 Oct 1866 Noon UT | 24 sc 50    |
14 Oct 1866 Noon UT | 25 sc 13    |
15 Oct 1866 Noon UT | 25 sc 37    |
16 Oct 1866 Noon UT | 26 sc  1    |
17 Oct 1866 Noon UT | 26 sc 25    |
18 Oct 1866 Noon UT | 26 sc 49    |
19 Oct 1866 Noon UT | 27 sc 13    |
20 Oct 1866 Noon UT | 27 sc 37    |
21 Oct 1866 Noon UT | 28 sc  1    |
22 Oct 1866 Noon UT | 28 sc 25    |
23 Oct 1866 Noon UT | 28 sc 50    |
24 Oct 1866 Noon UT | 29 sc 14    |
25 Oct 1866 Noon UT | 29 sc 38    |
26 Oct 1866 Noon UT |  0 sa  2    |
27 Oct 1866 Noon UT |  0 sa 27    |
28 Oct 1866 Noon UT |  0 sa 51    |
29 Oct 1866 Noon UT |  1 sa 16    |
30 Oct 1866 Noon UT |  1 sa 40    |
31 Oct 1866 Noon UT |  2 sa  5    |
01 Nov 1866 Noon UT |  2 sa 29    |
02 Nov 1866 Noon UT |  2 sa 54    |
03 Nov 1866 Noon UT |  3 sa 18    |
04 Nov 1866 Noon UT |  3 sa 43    |
05 Nov 1866 Noon UT |  4 sa  8    |
06 Nov 1866 Noon UT |  4 sa 32    |
07 Nov 1866 Noon UT |  4 sa 57    |
08 Nov 1866 Noon UT |  5 sa 22    |
09 Nov 1866 Noon UT |  5 sa 47    |
10 Nov 1866 Noon UT |  6 sa 12    |
11 Nov 1866 Noon UT |  6 sa 37    |
12 Nov 1866 Noon UT |  7 sa  1    |
13 Nov 1866 Noon UT |  7 sa 26    |
14 Nov 1866 Noon UT |  7 sa 51    |
15 Nov 1866 Noon UT |  8 sa 16    |
16 Nov 1866 Noon UT |  8 sa 41    |
17 Nov 1866 Noon UT |  9 sa  6    |
18 Nov 1866 Noon UT |  9 sa 31    |
19 Nov 1866 Noon UT |  9 sa 56    |
20 Nov 1866 Noon UT | 10 sa 21    |
21 Nov 1866 Noon UT | 10 sa 46    |
22 Nov 1866 Noon UT | 11 sa 11    |
23 Nov 1866 Noon UT | 11 sa 36    |
24 Nov 1866 Noon UT | 12 sa  1    |
25 Nov 1866 Noon UT | 12 sa 27    |
26 Nov 1866 Noon UT | 12 sa 52    |
27 Nov 1866 Noon UT | 13 sa 17    |
28 Nov 1866 Noon UT | 13 sa 42    |
29 Nov 1866 Noon UT | 14 sa  7    |
30 Nov 1866 Noon UT | 14 sa 32    |
01 Dec 1866 Noon UT | 14 sa 57    |
02 Dec 1866 Noon UT | 15 sa 23    |
03 Dec 1866 Noon UT | 15 sa 48    |
04 Dec 1866 Noon UT | 16 sa 13    |
05 Dec 1866 Noon UT | 16 sa 38    |
06 Dec 1866 Noon UT | 17 sa  3    |
07 Dec 1866 Noon UT | 17 sa 28    |
08 Dec 1866 Noon UT | 17 sa 54    |
09 Dec 1866 Noon UT | 18 sa 19    |
10 Dec 1866 Noon UT | 18 sa 44    |
11 Dec 1866 Noon UT | 19 sa  9    |
12 Dec 1866 Noon UT | 19 sa 34    |
13 Dec 1866 Noon UT | 19 sa 59    |
14 Dec 1866 Noon UT | 20 sa 25    |
15 Dec 1866 Noon UT | 20 sa 50    |
16 Dec 1866 Noon UT | 21 sa 15    |
17 Dec 1866 Noon UT | 21 sa 40    |
18 Dec 1866 Noon UT | 22 sa  5    |
19 Dec 1866 Noon UT | 22 sa 30    |
20 Dec 1866 Noon UT | 22 sa 55    |
21 Dec 1866 Noon UT | 23 sa 20    |
22 Dec 1866 Noon UT | 23 sa 46    |
23 Dec 1866 Noon UT | 24 sa 11    |
24 Dec 1866 Noon UT | 24 sa 36    |
25 Dec 1866 Noon UT | 25 sa  1    |
26 Dec 1866 Noon UT | 25 sa 26    |
27 Dec 1866 Noon UT | 25 sa 51    |
28 Dec 1866 Noon UT | 26 sa 16    |
29 Dec 1866 Noon UT | 26 sa 41    |
30 Dec 1866 Noon UT | 27 sa  6    |
31 Dec 1866 Noon UT | 27 sa 30    |
01 Jan 1867 Noon UT | 27 sa 55    |
02 Jan 1867 Noon UT | 28 sa 20    |
03 Jan 1867 Noon UT | 28 sa 45    |
04 Jan 1867 Noon UT | 29 sa 10    |
05 Jan 1867 Noon UT | 29 sa 35    |
06 Jan 1867 Noon UT | 29 sa 59    |
07 Jan 1867 Noon UT |  0 cp 24    |
08 Jan 1867 Noon UT |  0 cp 49    |
09 Jan 1867 Noon UT |  1 cp 13    |
10 Jan 1867 Noon UT |  1 cp 38    |
11 Jan 1867 Noon UT |  2 cp  3    |
12 Jan 1867 Noon UT |  2 cp 27    |
13 Jan 1867 Noon UT |  2 cp 52    |
14 Jan 1867 Noon UT |  3 cp 16    |
15 Jan 1867 Noon UT |  3 cp 41    |
16 Jan 1867 Noon UT |  4 cp  5    |
17 Jan 1867 Noon UT |  4 cp 29    |
18 Jan 1867 Noon UT |  4 cp 54    |
19 Jan 1867 Noon UT |  5 cp 18    |
20 Jan 1867 Noon UT |  5 cp 42    |
21 Jan 1867 Noon UT |  6 cp  6    |
22 Jan 1867 Noon UT |  6 cp 31    |
23 Jan 1867 Noon UT |  6 cp 55    |
24 Jan 1867 Noon UT |  7 cp 19    |
25 Jan 1867 Noon UT |  7 cp 43    |
26 Jan 1867 Noon UT |  8 cp  7    |
27 Jan 1867 Noon UT |  8 cp 31    |
28 Jan 1867 Noon UT |  8 cp 54    |
29 Jan 1867 Noon UT |  9 cp 18    |
30 Jan 1867 Noon UT |  9 cp 42    |
31 Jan 1867 Noon UT | 10 cp  6    |
01 Feb 1867 Noon UT | 10 cp 29    |
02 Feb 1867 Noon UT | 10 cp 53    |
03 Feb 1867 Noon UT | 11 cp 16    |
04 Feb 1867 Noon UT | 11 cp 40    |
05 Feb 1867 Noon UT | 12 cp  3    |
06 Feb 1867 Noon UT | 12 cp 26    |
07 Feb 1867 Noon UT | 12 cp 50    |
08 Feb 1867 Noon UT | 13 cp 13    |
09 Feb 1867 Noon UT | 13 cp 36    |
10 Feb 1867 Noon UT | 13 cp 59    |
11 Feb 1867 Noon UT | 14 cp 22    |
12 Feb 1867 Noon UT | 14 cp 45    |
13 Feb 1867 Noon UT | 15 cp  8    |
14 Feb 1867 Noon UT | 15 cp 30    |
15 Feb 1867 Noon UT | 15 cp 53    |
16 Feb 1867 Noon UT | 16 cp 16    |
17 Feb 1867 Noon UT | 16 cp 38    |
18 Feb 1867 Noon UT | 17 cp  1    |
19 Feb 1867 Noon UT | 17 cp 23    |
20 Feb 1867 Noon UT | 17 cp 45    |
21 Feb 1867 Noon UT | 18 cp  7    |
22 Feb 1867 Noon UT | 18 cp 29    |
23 Feb 1867 Noon UT | 18 cp 52    |
24 Feb 1867 Noon UT | 19 cp 13    |
25 Feb 1867 Noon UT | 19 cp 35    |
26 Feb 1867 Noon UT | 19 cp 57    |
27 Feb 1867 Noon UT | 20 cp 19    |
28 Feb 1867 Noon UT | 20 cp 40    |
01 Mar 1867 Noon UT | 21 cp  2    |
02 Mar 1867 Noon UT | 21 cp 23    |
03 Mar 1867 Noon UT | 21 cp 44    |
04 Mar 1867 Noon UT | 22 cp  5    |
05 Mar 1867 Noon UT | 22 cp 26    |
06 Mar 1867 Noon UT | 22 cp 47    |
07 Mar 1867 Noon UT | 23 cp  8    |
08 Mar 1867 Noon UT | 23 cp 29    |
09 Mar 1867 Noon UT | 23 cp 50    |
10 Mar 1867 Noon UT | 24 cp 10    |
11 Mar 1867 Noon UT | 24 cp 30    |
12 Mar 1867 Noon UT | 24 cp 51    |
13 Mar 1867 Noon UT | 25 cp 11    |
14 Mar 1867 Noon UT | 25 cp 31    |
15 Mar 1867 Noon UT | 25 cp 51    |
16 Mar 1867 Noon UT | 26 cp 11    |
17 Mar 1867 Noon UT | 26 cp 30    |
18 Mar 1867 Noon UT | 26 cp 50    |
19 Mar 1867 Noon UT | 27 cp  9    |
20 Mar 1867 Noon UT | 27 cp 28    |
21 Mar 1867 Noon UT | 27 cp 48    |
22 Mar 1867 Noon UT | 28 cp  7    |
23 Mar 1867 Noon UT | 28 cp 25    |
24 Mar 1867 Noon UT | 28 cp 44    |
25 Mar 1867 Noon UT | 29 cp  3    |
26 Mar 1867 Noon UT | 29 cp 21    |
27 Mar 1867 Noon UT | 29 cp 39    |
28 Mar 1867 Noon UT | 29 cp 58    |
29 Mar 1867 Noon UT |  0 aq 16    |
30 Mar 1867 Noon UT |  0 aq 33    |
31 Mar 1867 Noon UT |  0 aq 51    |
01 Apr 1867 Noon UT |  1 aq  9    |
02 Apr 1867 Noon UT |  1 aq 26    |
03 Apr 1867 Noon UT |  1 aq 43    |
04 Apr 1867 Noon UT |  2 aq  0    |
05 Apr 1867 Noon UT |  2 aq 17    |
06 Apr 1867 Noon UT |  2 aq 34    |
07 Apr 1867 Noon UT |  2 aq 50    |
08 Apr 1867 Noon UT |  3 aq  7    |
09 Apr 1867 Noon UT |  3 aq 23    |
10 Apr 1867 Noon UT |  3 aq 39    |
11 Apr 1867 Noon UT |  3 aq 54    |
12 Apr 1867 Noon UT |  4 aq 10    |
13 Apr 1867 Noon UT |  4 aq 26    |
14 Apr 1867 Noon UT |  4 aq 41    |
15 Apr 1867 Noon UT |  4 aq 56    |
16 Apr 1867 Noon UT |  5 aq 11    |
17 Apr 1867 Noon UT |  5 aq 25    |
18 Apr 1867 Noon UT |  5 aq 40    |
19 Apr 1867 Noon UT |  5 aq 54    |
20 Apr 1867 Noon UT |  6 aq  8    |
21 Apr 1867 Noon UT |  6 aq 22    |
22 Apr 1867 Noon UT |  6 aq 35    |
23 Apr 1867 Noon UT |  6 aq 49    |
24 Apr 1867 Noon UT |  7 aq  2    |
25 Apr 1867 Noon UT |  7 aq 15    |
26 Apr 1867 Noon UT |  7 aq 28    |
27 Apr 1867 Noon UT |  7 aq 40    |
28 Apr 1867 Noon UT |  7 aq 52    |
29 Apr 1867 Noon UT |  8 aq  4    |
30 Apr 1867 Noon UT |  8 aq 16    |
01 May 1867 Noon UT |  8 aq 28    |
02 May 1867 Noon UT |  8 aq 39    |
03 May 1867 Noon UT |  8 aq 50    |
04 May 1867 Noon UT |  9 aq  1    |
05 May 1867 Noon UT |  9 aq 11    |
06 May 1867 Noon UT |  9 aq 22    |
07 May 1867 Noon UT |  9 aq 32    |
08 May 1867 Noon UT |  9 aq 41    |
09 May 1867 Noon UT |  9 aq 51    |
10 May 1867 Noon UT | 10 aq  0    |
11 May 1867 Noon UT | 10 aq  9    |
12 May 1867 Noon UT | 10 aq 18    |
13 May 1867 Noon UT | 10 aq 26    |
14 May 1867 Noon UT | 10 aq 34    |
15 May 1867 Noon UT | 10 aq 42    |
16 May 1867 Noon UT | 10 aq 49    |
17 May 1867 Noon UT | 10 aq 56    |
18 May 1867 Noon UT | 11 aq  3    |
19 May 1867 Noon UT | 11 aq 10    |
20 May 1867 Noon UT | 11 aq 16    |
21 May 1867 Noon UT | 11 aq 22    |
22 May 1867 Noon UT | 11 aq 28    |
23 May 1867 Noon UT | 11 aq 34    |
24 May 1867 Noon UT | 11 aq 39    |
25 May 1867 Noon UT | 11 aq 43    |
26 May 1867 Noon UT | 11 aq 48    |
27 May 1867 Noon UT | 11 aq 52    |
28 May 1867 Noon UT | 11 aq 56    |
29 May 1867 Noon UT | 11 aq 59    |
30 May 1867 Noon UT | 12 aq  2    |
31 May 1867 Noon UT | 12 aq  5    |
01 Jun 1867 Noon UT | 12 aq  8    |
02 Jun 1867 Noon UT | 12 aq 10    |
03 Jun 1867 Noon UT | 12 aq 12    |
04 Jun 1867 Noon UT | 12 aq 13    |
05 Jun 1867 Noon UT | 12 aq 14    |
06 Jun 1867 Noon UT | 12 aq 15    |
07 Jun 1867 Noon UT | 12 aq 16    |
08 Jun 1867 Noon UT | 12 aq 16 Rx |
09 Jun 1867 Noon UT | 12 aq 15 Rx |
10 Jun 1867 Noon UT | 12 aq 15 Rx |
11 Jun 1867 Noon UT | 12 aq 14 Rx |
12 Jun 1867 Noon UT | 12 aq 13 Rx |
13 Jun 1867 Noon UT | 12 aq 11 Rx |
14 Jun 1867 Noon UT | 12 aq  9 Rx |
15 Jun 1867 Noon UT | 12 aq  7 Rx |
16 Jun 1867 Noon UT | 12 aq  4 Rx |
17 Jun 1867 Noon UT | 12 aq  1 Rx |
18 Jun 1867 Noon UT | 11 aq 58 Rx |
19 Jun 1867 Noon UT | 11 aq 54 Rx |
20 Jun 1867 Noon UT | 11 aq 50 Rx |
21 Jun 1867 Noon UT | 11 aq 46 Rx |
22 Jun 1867 Noon UT | 11 aq 42 Rx |
23 Jun 1867 Noon UT | 11 aq 37 Rx |
24 Jun 1867 Noon UT | 11 aq 31 Rx |
25 Jun 1867 Noon UT | 11 aq 26 Rx |
26 Jun 1867 Noon UT | 11 aq 20 Rx |
27 Jun 1867 Noon UT | 11 aq 14 Rx |
28 Jun 1867 Noon UT | 11 aq  7 Rx |
29 Jun 1867 Noon UT | 11 aq  0 Rx |
30 Jun 1867 Noon UT | 10 aq 53 Rx |
01 Jul 1867 Noon UT | 10 aq 46 Rx |
02 Jul 1867 Noon UT | 10 aq 38 Rx |
03 Jul 1867 Noon UT | 10 aq 30 Rx |
04 Jul 1867 Noon UT | 10 aq 22 Rx |
05 Jul 1867 Noon UT | 10 aq 13 Rx |
06 Jul 1867 Noon UT | 10 aq  4 Rx |
07 Jul 1867 Noon UT |  9 aq 55 Rx |
08 Jul 1867 Noon UT |  9 aq 46 Rx |
09 Jul 1867 Noon UT |  9 aq 36 Rx |
10 Jul 1867 Noon UT |  9 aq 27 Rx |
11 Jul 1867 Noon UT |  9 aq 17 Rx |
12 Jul 1867 Noon UT |  9 aq  7 Rx |
13 Jul 1867 Noon UT |  8 aq 56 Rx |
14 Jul 1867 Noon UT |  8 aq 46 Rx |
15 Jul 1867 Noon UT |  8 aq 35 Rx |
16 Jul 1867 Noon UT |  8 aq 24 Rx |
17 Jul 1867 Noon UT |  8 aq 13 Rx |
18 Jul 1867 Noon UT |  8 aq  2 Rx |
19 Jul 1867 Noon UT |  7 aq 51 Rx |
20 Jul 1867 Noon UT |  7 aq 40 Rx |
21 Jul 1867 Noon UT |  7 aq 28 Rx |
22 Jul 1867 Noon UT |  7 aq 17 Rx |
23 Jul 1867 Noon UT |  7 aq  5 Rx |
24 Jul 1867 Noon UT |  6 aq 53 Rx |
25 Jul 1867 Noon UT |  6 aq 41 Rx |
26 Jul 1867 Noon UT |  6 aq 30 Rx |
27 Jul 1867 Noon UT |  6 aq 18 Rx |
28 Jul 1867 Noon UT |  6 aq  6 Rx |
29 Jul 1867 Noon UT |  5 aq 54 Rx |
30 Jul 1867 Noon UT |  5 aq 42 Rx |
31 Jul 1867 Noon UT |  5 aq 30 Rx |
01 Aug 1867 Noon UT |  5 aq 19 Rx |
02 Aug 1867 Noon UT |  5 aq  7 Rx |
03 Aug 1867 Noon UT |  4 aq 55 Rx |
04 Aug 1867 Noon UT |  4 aq 44 Rx |
05 Aug 1867 Noon UT |  4 aq 32 Rx |
06 Aug 1867 Noon UT |  4 aq 21 Rx |
07 Aug 1867 Noon UT |  4 aq 10 Rx |
08 Aug 1867 Noon UT |  3 aq 58 Rx |
09 Aug 1867 Noon UT |  3 aq 47 Rx |
10 Aug 1867 Noon UT |  3 aq 36 Rx |
11 Aug 1867 Noon UT |  3 aq 26 Rx |
12 Aug 1867 Noon UT |  3 aq 15 Rx |
13 Aug 1867 Noon UT |  3 aq  5 Rx |
14 Aug 1867 Noon UT |  2 aq 55 Rx |
15 Aug 1867 Noon UT |  2 aq 45 Rx |
16 Aug 1867 Noon UT |  2 aq 35 Rx |
17 Aug 1867 Noon UT |  2 aq 25 Rx |
18 Aug 1867 Noon UT |  2 aq 16 Rx |
19 Aug 1867 Noon UT |  2 aq  7 Rx |
20 Aug 1867 Noon UT |  1 aq 58 Rx |
21 Aug 1867 Noon UT |  1 aq 49 Rx |
22 Aug 1867 Noon UT |  1 aq 41 Rx |
23 Aug 1867 Noon UT |  1 aq 33 Rx |
24 Aug 1867 Noon UT |  1 aq 25 Rx |
25 Aug 1867 Noon UT |  1 aq 18 Rx |
26 Aug 1867 Noon UT |  1 aq 10 Rx |
27 Aug 1867 Noon UT |  1 aq  3 Rx |
28 Aug 1867 Noon UT |  0 aq 57 Rx |
29 Aug 1867 Noon UT |  0 aq 50 Rx |
30 Aug 1867 Noon UT |  0 aq 44 Rx |
31 Aug 1867 Noon UT |  0 aq 39 Rx |
01 Sep 1867 Noon UT |  0 aq 33 Rx |
02 Sep 1867 Noon UT |  0 aq 28 Rx |
03 Sep 1867 Noon UT |  0 aq 23 Rx |
04 Sep 1867 Noon UT |  0 aq 19 Rx |
05 Sep 1867 Noon UT |  0 aq 15 Rx |
06 Sep 1867 Noon UT |  0 aq 11 Rx |
07 Sep 1867 Noon UT |  0 aq  7 Rx |
08 Sep 1867 Noon UT |  0 aq  4 Rx |
09 Sep 1867 Noon UT |  0 aq  1 Rx |
10 Sep 1867 Noon UT | 29 cp 59 Rx |
11 Sep 1867 Noon UT | 29 cp 57 Rx |
12 Sep 1867 Noon UT | 29 cp 55 Rx |
13 Sep 1867 Noon UT | 29 cp 54 Rx |
14 Sep 1867 Noon UT | 29 cp 52 Rx |
15 Sep 1867 Noon UT | 29 cp 52 Rx |
16 Sep 1867 Noon UT | 29 cp 51 Rx |
17 Sep 1867 Noon UT | 29 cp 51    |
18 Sep 1867 Noon UT | 29 cp 51    |
19 Sep 1867 Noon UT | 29 cp 52    |
20 Sep 1867 Noon UT | 29 cp 53    |
21 Sep 1867 Noon UT | 29 cp 54    |
22 Sep 1867 Noon UT | 29 cp 55    |
23 Sep 1867 Noon UT | 29 cp 57    |
24 Sep 1867 Noon UT | 29 cp 59    |
25 Sep 1867 Noon UT |  0 aq  2    |
26 Sep 1867 Noon UT |  0 aq  5    |
27 Sep 1867 Noon UT |  0 aq  8    |
28 Sep 1867 Noon UT |  0 aq 11    |
29 Sep 1867 Noon UT |  0 aq 15    |
30 Sep 1867 Noon UT |  0 aq 19    |
01 Oct 1867 Noon UT |  0 aq 23    |
02 Oct 1867 Noon UT |  0 aq 28    |
03 Oct 1867 Noon UT |  0 aq 33    |
04 Oct 1867 Noon UT |  0 aq 38    |
05 Oct 1867 Noon UT |  0 aq 44    |
06 Oct 1867 Noon UT |  0 aq 50    |
07 Oct 1867 Noon UT |  0 aq 56    |
08 Oct 1867 Noon UT |  1 aq  2    |
09 Oct 1867 Noon UT |  1 aq  9    |
10 Oct 1867 Noon UT |  1 aq 16    |
11 Oct 1867 Noon UT |  1 aq 24    |
12 Oct 1867 Noon UT |  1 aq 31    |
13 Oct 1867 Noon UT |  1 aq 39    |
14 Oct 1867 Noon UT |  1 aq 47    |
15 Oct 1867 Noon UT |  1 aq 56    |
16 Oct 1867 Noon UT |  2 aq  4    |
17 Oct 1867 Noon UT |  2 aq 13    |
18 Oct 1867 Noon UT |  2 aq 22    |
19 Oct 1867 Noon UT |  2 aq 32    |
20 Oct 1867 Noon UT |  2 aq 41    |
21 Oct 1867 Noon UT |  2 aq 51    |
22 Oct 1867 Noon UT |  3 aq  1    |
23 Oct 1867 Noon UT |  3 aq 12    |
24 Oct 1867 Noon UT |  3 aq 22    |
25 Oct 1867 Noon UT |  3 aq 33    |
26 Oct 1867 Noon UT |  3 aq 44    |
27 Oct 1867 Noon UT |  3 aq 56    |
28 Oct 1867 Noon UT |  4 aq  7    |
29 Oct 1867 Noon UT |  4 aq 19    |
30 Oct 1867 Noon UT |  4 aq 31    |
31 Oct 1867 Noon UT |  4 aq 43    |
01 Nov 1867 Noon UT |  4 aq 56    |
02 Nov 1867 Noon UT |  5 aq  8    |
03 Nov 1867 Noon UT |  5 aq 21    |
04 Nov 1867 Noon UT |  5 aq 34    |
05 Nov 1867 Noon UT |  5 aq 47    |
06 Nov 1867 Noon UT |  6 aq  1    |
07 Nov 1867 Noon UT |  6 aq 14    |
08 Nov 1867 Noon UT |  6 aq 28    |
09 Nov 1867 Noon UT |  6 aq 42    |
10 Nov 1867 Noon UT |  6 aq 56    |
11 Nov 1867 Noon UT |  7 aq 10    |
12 Nov 1867 Noon UT |  7 aq 25    |
13 Nov 1867 Noon UT |  7 aq 40    |
14 Nov 1867 Noon UT |  7 aq 54    |
15 Nov 1867 Noon UT |  8 aq  9    |
16 Nov 1867 Noon UT |  8 aq 25    |
17 Nov 1867 Noon UT |  8 aq 40    |
18 Nov 1867 Noon UT |  8 aq 55    |
19 Nov 1867 Noon UT |  9 aq 11    |
20 Nov 1867 Noon UT |  9 aq 27    |
21 Nov 1867 Noon UT |  9 aq 43    |
22 Nov 1867 Noon UT |  9 aq 59    |
23 Nov 1867 Noon UT | 10 aq 15    |
24 Nov 1867 Noon UT | 10 aq 32    |
25 Nov 1867 Noon UT | 10 aq 48    |
26 Nov 1867 Noon UT | 11 aq  5    |
27 Nov 1867 Noon UT | 11 aq 22    |
28 Nov 1867 Noon UT | 11 aq 39    |
29 Nov 1867 Noon UT | 11 aq 56    |
30 Nov 1867 Noon UT | 12 aq 13    |
01 Dec 1867 Noon UT | 12 aq 30    |
02 Dec 1867 Noon UT | 12 aq 48    |
03 Dec 1867 Noon UT | 13 aq  5    |
04 Dec 1867 Noon UT | 13 aq 23    |
05 Dec 1867 Noon UT | 13 aq 41    |
06 Dec 1867 Noon UT | 13 aq 59    |
07 Dec 1867 Noon UT | 14 aq 17    |
08 Dec 1867 Noon UT | 14 aq 35    |
09 Dec 1867 Noon UT | 14 aq 54    |
10 Dec 1867 Noon UT | 15 aq 12    |
11 Dec 1867 Noon UT | 15 aq 30    |
12 Dec 1867 Noon UT | 15 aq 49    |
13 Dec 1867 Noon UT | 16 aq  8    |
14 Dec 1867 Noon UT | 16 aq 27    |
15 Dec 1867 Noon UT | 16 aq 45    |
16 Dec 1867 Noon UT | 17 aq  4    |
17 Dec 1867 Noon UT | 17 aq 23    |
18 Dec 1867 Noon UT | 17 aq 43    |
19 Dec 1867 Noon UT | 18 aq  2    |
20 Dec 1867 Noon UT | 18 aq 21    |
21 Dec 1867 Noon UT | 18 aq 41    |
22 Dec 1867 Noon UT | 19 aq  0    |
23 Dec 1867 Noon UT | 19 aq 20    |
24 Dec 1867 Noon UT | 19 aq 40    |
25 Dec 1867 Noon UT | 19 aq 59    |
26 Dec 1867 Noon UT | 20 aq 19    |
27 Dec 1867 Noon UT | 20 aq 39    |
28 Dec 1867 Noon UT | 20 aq 59    |
29 Dec 1867 Noon UT | 21 aq 19    |
30 Dec 1867 Noon UT | 21 aq 39    |
31 Dec 1867 Noon UT | 22 aq  0    |
01 Jan 1868 Noon UT | 22 aq 20    |
02 Jan 1868 Noon UT | 22 aq 40    |
03 Jan 1868 Noon UT | 23 aq  1    |
04 Jan 1868 Noon UT | 23 aq 21    |
05 Jan 1868 Noon UT | 23 aq 42    |
06 Jan 1868 Noon UT | 24 aq  2    |
07 Jan 1868 Noon UT | 24 aq 23    |
08 Jan 1868 Noon UT | 24 aq 43    |
09 Jan 1868 Noon UT | 25 aq  4    |
10 Jan 1868 Noon UT | 25 aq 25    |
11 Jan 1868 Noon UT | 25 aq 46    |
12 Jan 1868 Noon UT | 26 aq  7    |
13 Jan 1868 Noon UT | 26 aq 28    |
14 Jan 1868 Noon UT | 26 aq 49    |
15 Jan 1868 Noon UT | 27 aq 10    |
16 Jan 1868 Noon UT | 27 aq 31    |
17 Jan 1868 Noon UT | 27 aq 52    |
18 Jan 1868 Noon UT | 28 aq 13    |
19 Jan 1868 Noon UT | 28 aq 34    |
20 Jan 1868 Noon UT | 28 aq 56    |
21 Jan 1868 Noon UT | 29 aq 17    |
22 Jan 1868 Noon UT | 29 aq 38    |
23 Jan 1868 Noon UT |  0 pi  0    |
24 Jan 1868 Noon UT |  0 pi 21    |
25 Jan 1868 Noon UT |  0 pi 43    |
26 Jan 1868 Noon UT |  1 pi  4    |
27 Jan 1868 Noon UT |  1 pi 26    |
28 Jan 1868 Noon UT |  1 pi 47    |
29 Jan 1868 Noon UT |  2 pi  9    |
30 Jan 1868 Noon UT |  2 pi 30    |
31 Jan 1868 Noon UT |  2 pi 52    |
01 Feb 1868 Noon UT |  3 pi 13    |
02 Feb 1868 Noon UT |  3 pi 35    |
03 Feb 1868 Noon UT |  3 pi 57    |
04 Feb 1868 Noon UT |  4 pi 18    |
05 Feb 1868 Noon UT |  4 pi 40    |
06 Feb 1868 Noon UT |  5 pi  2    |
07 Feb 1868 Noon UT |  5 pi 24    |
08 Feb 1868 Noon UT |  5 pi 45    |
09 Feb 1868 Noon UT |  6 pi  7    |
10 Feb 1868 Noon UT |  6 pi 29    |
11 Feb 1868 Noon UT |  6 pi 51    |
12 Feb 1868 Noon UT |  7 pi 13    |
13 Feb 1868 Noon UT |  7 pi 34    |
14 Feb 1868 Noon UT |  7 pi 56    |
15 Feb 1868 Noon UT |  8 pi 18    |
16 Feb 1868 Noon UT |  8 pi 40    |
17 Feb 1868 Noon UT |  9 pi  2    |
18 Feb 1868 Noon UT |  9 pi 24    |
19 Feb 1868 Noon UT |  9 pi 46    |
20 Feb 1868 Noon UT | 10 pi  8    |
21 Feb 1868 Noon UT | 10 pi 29    |
22 Feb 1868 Noon UT | 10 pi 51    |
23 Feb 1868 Noon UT | 11 pi 13    |
24 Feb 1868 Noon UT | 11 pi 35    |
25 Feb 1868 Noon UT | 11 pi 57    |
26 Feb 1868 Noon UT | 12 pi 19    |
27 Feb 1868 Noon UT | 12 pi 41    |
28 Feb 1868 Noon UT | 13 pi  3    |
29 Feb 1868 Noon UT | 13 pi 24    |
01 Mar 1868 Noon UT | 13 pi 46    |
02 Mar 1868 Noon UT | 14 pi  8    |
03 Mar 1868 Noon UT | 14 pi 30    |
04 Mar 1868 Noon UT | 14 pi 52    |
05 Mar 1868 Noon UT | 15 pi 14    |
06 Mar 1868 Noon UT | 15 pi 35    |
07 Mar 1868 Noon UT | 15 pi 57    |
08 Mar 1868 Noon UT | 16 pi 19    |
09 Mar 1868 Noon UT | 16 pi 41    |
10 Mar 1868 Noon UT | 17 pi  2    |
11 Mar 1868 Noon UT | 17 pi 24    |
12 Mar 1868 Noon UT | 17 pi 46    |
13 Mar 1868 Noon UT | 18 pi  8    |
14 Mar 1868 Noon UT | 18 pi 29    |
15 Mar 1868 Noon UT | 18 pi 51    |
16 Mar 1868 Noon UT | 19 pi 13    |
17 Mar 1868 Noon UT | 19 pi 34    |
18 Mar 1868 Noon UT | 19 pi 56    |
19 Mar 1868 Noon UT | 20 pi 17    |
20 Mar 1868 Noon UT | 20 pi 39    |
21 Mar 1868 Noon UT | 21 pi  0    |
22 Mar 1868 Noon UT | 21 pi 22    |
23 Mar 1868 Noon UT | 21 pi 43    |
24 Mar 1868 Noon UT | 22 pi  5    |
25 Mar 1868 Noon UT | 22 pi 26    |
26 Mar 1868 Noon UT | 22 pi 47    |
27 Mar 1868 Noon UT | 23 pi  9    |
28 Mar 1868 Noon UT | 23 pi 30    |
29 Mar 1868 Noon UT | 23 pi 51    |
30 Mar 1868 Noon UT | 24 pi 12    |
31 Mar 1868 Noon UT | 24 pi 34    |
01 Apr 1868 Noon UT | 24 pi 55    |
02 Apr 1868 Noon UT | 25 pi 16    |
03 Apr 1868 Noon UT | 25 pi 37    |
04 Apr 1868 Noon UT | 25 pi 58    |
05 Apr 1868 Noon UT | 26 pi 19    |
06 Apr 1868 Noon UT | 26 pi 40    |
07 Apr 1868 Noon UT | 27 pi  1    |
08 Apr 1868 Noon UT | 27 pi 22    |
09 Apr 1868 Noon UT | 27 pi 42    |
10 Apr 1868 Noon UT | 28 pi  3    |
11 Apr 1868 Noon UT | 28 pi 24    |
12 Apr 1868 Noon UT | 28 pi 45    |
13 Apr 1868 Noon UT | 29 pi  5    |
14 Apr 1868 Noon UT | 29 pi 26    |
15 Apr 1868 Noon UT | 29 pi 46    |
16 Apr 1868 Noon UT |  0 ar  7    |
17 Apr 1868 Noon UT |  0 ar 27    |
18 Apr 1868 Noon UT |  0 ar 47    |
19 Apr 1868 Noon UT |  1 ar  8    |
20 Apr 1868 Noon UT |  1 ar 28    |
21 Apr 1868 Noon UT |  1 ar 48    |
22 Apr 1868 Noon UT |  2 ar  8    |
23 Apr 1868 Noon UT |  2 ar 28    |
24 Apr 1868 Noon UT |  2 ar 48    |
25 Apr 1868 Noon UT |  3 ar  8    |
26 Apr 1868 Noon UT |  3 ar 28    |
27 Apr 1868 Noon UT |  3 ar 48    |
28 Apr 1868 Noon UT |  4 ar  8    |
29 Apr 1868 Noon UT |  4 ar 27    |
30 Apr 1868 Noon UT |  4 ar 47    |
01 May 1868 Noon UT |  5 ar  6    |
02 May 1868 Noon UT |  5 ar 26    |
03 May 1868 Noon UT |  5 ar 45    |
04 May 1868 Noon UT |  6 ar  5    |
05 May 1868 Noon UT |  6 ar 24    |
06 May 1868 Noon UT |  6 ar 43    |
07 May 1868 Noon UT |  7 ar  2    |
08 May 1868 Noon UT |  7 ar 21    |
09 May 1868 Noon UT |  7 ar 40    |
10 May 1868 Noon UT |  7 ar 59    |
11 May 1868 Noon UT |  8 ar 18    |
12 May 1868 Noon UT |  8 ar 36    |
13 May 1868 Noon UT |  8 ar 55    |
14 May 1868 Noon UT |  9 ar 13    |
15 May 1868 Noon UT |  9 ar 32    |
16 May 1868 Noon UT |  9 ar 50    |
17 May 1868 Noon UT | 10 ar  8    |
18 May 1868 Noon UT | 10 ar 26    |
19 May 1868 Noon UT | 10 ar 44    |
20 May 1868 Noon UT | 11 ar  2    |
21 May 1868 Noon UT | 11 ar 20    |
22 May 1868 Noon UT | 11 ar 38    |
23 May 1868 Noon UT | 11 ar 56    |
24 May 1868 Noon UT | 12 ar 13    |
25 May 1868 Noon UT | 12 ar 31    |
26 May 1868 Noon UT | 12 ar 48    |
27 May 1868 Noon UT | 13 ar  5    |
28 May 1868 Noon UT | 13 ar 22    |
29 May 1868 Noon UT | 13 ar 39    |
30 May 1868 Noon UT | 13 ar 56    |
31 May 1868 Noon UT | 14 ar 13    |
01 Jun 1868 Noon UT | 14 ar 30    |
02 Jun 1868 Noon UT | 14 ar 46    |
03 Jun 1868 Noon UT | 15 ar  3    |
04 Jun 1868 Noon UT | 15 ar 19    |
05 Jun 1868 Noon UT | 15 ar 35    |
06 Jun 1868 Noon UT | 15 ar 51    |
07 Jun 1868 Noon UT | 16 ar  7    |
08 Jun 1868 Noon UT | 16 ar 23    |
09 Jun 1868 Noon UT | 16 ar 39    |
10 Jun 1868 Noon UT | 16 ar 54    |
11 Jun 1868 Noon UT | 17 ar 10    |
12 Jun 1868 Noon UT | 17 ar 25    |
13 Jun 1868 Noon UT | 17 ar 40    |
14 Jun 1868 Noon UT | 17 ar 55    |
15 Jun 1868 Noon UT | 18 ar 10    |
16 Jun 1868 Noon UT | 18 ar 25    |
17 Jun 1868 Noon UT | 18 ar 39    |
18 Jun 1868 Noon UT | 18 ar 54    |
19 Jun 1868 Noon UT | 19 ar  8    |
20 Jun 1868 Noon UT | 19 ar 22    |
21 Jun 1868 Noon UT | 19 ar 36    |
22 Jun 1868 Noon UT | 19 ar 50    |
23 Jun 1868 Noon UT | 20 ar  3    |
24 Jun 1868 Noon UT | 20 ar 17    |
25 Jun 1868 Noon UT | 20 ar 30    |
26 Jun 1868 Noon UT | 20 ar 43    |
27 Jun 1868 Noon UT | 20 ar 56    |
28 Jun 1868 Noon UT | 21 ar  9    |
29 Jun 1868 Noon UT | 21 ar 22    |
30 Jun 1868 Noon UT | 21 ar 34    |
01 Jul 1868 Noon UT | 21 ar 46    |
02 Jul 1868 Noon UT | 21 ar 58    |
03 Jul 1868 Noon UT | 22 ar 10    |
04 Jul 1868 Noon UT | 22 ar 22    |
05 Jul 1868 Noon UT | 22 ar 33    |
06 Jul 1868 Noon UT | 22 ar 45    |
07 Jul 1868 Noon UT | 22 ar 56    |
08 Jul 1868 Noon UT | 23 ar  7    |
09 Jul 1868 Noon UT | 23 ar 18    |
10 Jul 1868 Noon UT | 23 ar 28    |
11 Jul 1868 Noon UT | 23 ar 38    |
12 Jul 1868 Noon UT | 23 ar 49    |
13 Jul 1868 Noon UT | 23 ar 59    |
14 Jul 1868 Noon UT | 24 ar  8    |
15 Jul 1868 Noon UT | 24 ar 18    |
16 Jul 1868 Noon UT | 24 ar 27    |
17 Jul 1868 Noon UT | 24 ar 36    |
18 Jul 1868 Noon UT | 24 ar 45    |
19 Jul 1868 Noon UT | 24 ar 53    |
20 Jul 1868 Noon UT | 25 ar  2    |
21 Jul 1868 Noon UT | 25 ar 10    |
22 Jul 1868 Noon UT | 25 ar 18    |
23 Jul 1868 Noon UT | 25 ar 25    |
24 Jul 1868 Noon UT | 25 ar 33    |
25 Jul 1868 Noon UT | 25 ar 40    |
26 Jul 1868 Noon UT | 25 ar 47    |
27 Jul 1868 Noon UT | 25 ar 53    |
28 Jul 1868 Noon UT | 26 ar  0    |
29 Jul 1868 Noon UT | 26 ar  6    |
30 Jul 1868 Noon UT | 26 ar 11    |
31 Jul 1868 Noon UT | 26 ar 17    |
01 Aug 1868 Noon UT | 26 ar 22    |
02 Aug 1868 Noon UT | 26 ar 27    |
03 Aug 1868 Noon UT | 26 ar 32    |
04 Aug 1868 Noon UT | 26 ar 37    |
05 Aug 1868 Noon UT | 26 ar 41    |
06 Aug 1868 Noon UT | 26 ar 45    |
07 Aug 1868 Noon UT | 26 ar 49    |
08 Aug 1868 Noon UT | 26 ar 52    |
09 Aug 1868 Noon UT | 26 ar 55    |
10 Aug 1868 Noon UT | 26 ar 58    |
11 Aug 1868 Noon UT | 27 ar  0    |
12 Aug 1868 Noon UT | 27 ar  3    |
13 Aug 1868 Noon UT | 27 ar  5    |
14 Aug 1868 Noon UT | 27 ar  6    |
15 Aug 1868 Noon UT | 27 ar  7    |
16 Aug 1868 Noon UT | 27 ar  8    |
17 Aug 1868 Noon UT | 27 ar  9    |
18 Aug 1868 Noon UT | 27 ar 10    |
19 Aug 1868 Noon UT | 27 ar 10 Rx |
20 Aug 1868 Noon UT | 27 ar  9 Rx |
21 Aug 1868 Noon UT | 27 ar  9 Rx |
22 Aug 1868 Noon UT | 27 ar  8 Rx |
23 Aug 1868 Noon UT | 27 ar  7 Rx |
24 Aug 1868 Noon UT | 27 ar  6 Rx |
25 Aug 1868 Noon UT | 27 ar  4 Rx |
26 Aug 1868 Noon UT | 27 ar  2 Rx |
27 Aug 1868 Noon UT | 26 ar 59 Rx |
28 Aug 1868 Noon UT | 26 ar 57 Rx |
29 Aug 1868 Noon UT | 26 ar 54 Rx |
30 Aug 1868 Noon UT | 26 ar 50 Rx |
31 Aug 1868 Noon UT | 26 ar 47 Rx |
01 Sep 1868 Noon UT | 26 ar 43 Rx |
02 Sep 1868 Noon UT | 26 ar 39 Rx |
03 Sep 1868 Noon UT | 26 ar 34 Rx |
04 Sep 1868 Noon UT | 26 ar 29 Rx |
05 Sep 1868 Noon UT | 26 ar 24 Rx |
06 Sep 1868 Noon UT | 26 ar 19 Rx |
07 Sep 1868 Noon UT | 26 ar 13 Rx |
08 Sep 1868 Noon UT | 26 ar  7 Rx |
09 Sep 1868 Noon UT | 26 ar  1 Rx |
10 Sep 1868 Noon UT | 25 ar 54 Rx |
11 Sep 1868 Noon UT | 25 ar 47 Rx |
12 Sep 1868 Noon UT | 25 ar 40 Rx |
13 Sep 1868 Noon UT | 25 ar 33 Rx |
14 Sep 1868 Noon UT | 25 ar 25 Rx |
15 Sep 1868 Noon UT | 25 ar 17 Rx |
16 Sep 1868 Noon UT | 25 ar  9 Rx |
17 Sep 1868 Noon UT | 25 ar  0 Rx |
18 Sep 1868 Noon UT | 24 ar 52 Rx |
19 Sep 1868 Noon UT | 24 ar 43 Rx |
20 Sep 1868 Noon UT | 24 ar 34 Rx |
21 Sep 1868 Noon UT | 24 ar 24 Rx |
22 Sep 1868 Noon UT | 24 ar 15 Rx |
23 Sep 1868 Noon UT | 24 ar  5 Rx |
24 Sep 1868 Noon UT | 23 ar 55 Rx |
25 Sep 1868 Noon UT | 23 ar 45 Rx |
26 Sep 1868 Noon UT | 23 ar 34 Rx |
27 Sep 1868 Noon UT | 23 ar 24 Rx |
28 Sep 1868 Noon UT | 23 ar 13 Rx |
29 Sep 1868 Noon UT | 23 ar  2 Rx |
30 Sep 1868 Noon UT | 22 ar 51 Rx |
01 Oct 1868 Noon UT | 22 ar 40 Rx |
02 Oct 1868 Noon UT | 22 ar 29 Rx |
03 Oct 1868 Noon UT | 22 ar 17 Rx |
04 Oct 1868 Noon UT | 22 ar  6 Rx |
05 Oct 1868 Noon UT | 21 ar 54 Rx |
06 Oct 1868 Noon UT | 21 ar 43 Rx |
07 Oct 1868 Noon UT | 21 ar 31 Rx |
08 Oct 1868 Noon UT | 21 ar 19 Rx |
09 Oct 1868 Noon UT | 21 ar  7 Rx |
10 Oct 1868 Noon UT | 20 ar 55 Rx |
11 Oct 1868 Noon UT | 20 ar 43 Rx |
12 Oct 1868 Noon UT | 20 ar 32 Rx |
13 Oct 1868 Noon UT | 20 ar 20 Rx |
14 Oct 1868 Noon UT | 20 ar  8 Rx |
15 Oct 1868 Noon UT | 19 ar 56 Rx |
16 Oct 1868 Noon UT | 19 ar 44 Rx |
17 Oct 1868 Noon UT | 19 ar 32 Rx |
18 Oct 1868 Noon UT | 19 ar 20 Rx |
19 Oct 1868 Noon UT | 19 ar  9 Rx |
20 Oct 1868 Noon UT | 18 ar 57 Rx |
21 Oct 1868 Noon UT | 18 ar 45 Rx |
22 Oct 1868 Noon UT | 18 ar 34 Rx |
23 Oct 1868 Noon UT | 18 ar 23 Rx |
24 Oct 1868 Noon UT | 18 ar 12 Rx |
25 Oct 1868 Noon UT | 18 ar  0 Rx |
26 Oct 1868 Noon UT | 17 ar 50 Rx |
27 Oct 1868 Noon UT | 17 ar 39 Rx |
28 Oct 1868 Noon UT | 17 ar 28 Rx |
29 Oct 1868 Noon UT | 17 ar 18 Rx |
30 Oct 1868 Noon UT | 17 ar  8 Rx |
31 Oct 1868 Noon UT | 16 ar 58 Rx |
01 Nov 1868 Noon UT | 16 ar 48 Rx |
02 Nov 1868 Noon UT | 16 ar 38 Rx |
03 Nov 1868 Noon UT | 16 ar 29 Rx |
04 Nov 1868 Noon UT | 16 ar 19 Rx |
05 Nov 1868 Noon UT | 16 ar 10 Rx |
06 Nov 1868 Noon UT | 16 ar  2 Rx |
07 Nov 1868 Noon UT | 15 ar 53 Rx |
08 Nov 1868 Noon UT | 15 ar 45 Rx |
09 Nov 1868 Noon UT | 15 ar 37 Rx |
10 Nov 1868 Noon UT | 15 ar 29 Rx |
11 Nov 1868 Noon UT | 15 ar 22 Rx |
12 Nov 1868 Noon UT | 15 ar 15 Rx |
13 Nov 1868 Noon UT | 15 ar  8 Rx |
14 Nov 1868 Noon UT | 15 ar  1 Rx |
15 Nov 1868 Noon UT | 14 ar 55 Rx |
16 Nov 1868 Noon UT | 14 ar 49 Rx |
17 Nov 1868 Noon UT | 14 ar 43 Rx |
18 Nov 1868 Noon UT | 14 ar 37 Rx |
19 Nov 1868 Noon UT | 14 ar 32 Rx |
20 Nov 1868 Noon UT | 14 ar 27 Rx |
21 Nov 1868 Noon UT | 14 ar 23 Rx |
22 Nov 1868 Noon UT | 14 ar 19 Rx |
23 Nov 1868 Noon UT | 14 ar 15 Rx |
24 Nov 1868 Noon UT | 14 ar 11 Rx |
25 Nov 1868 Noon UT | 14 ar  8 Rx |
26 Nov 1868 Noon UT | 14 ar  5 Rx |
27 Nov 1868 Noon UT | 14 ar  2 Rx |
28 Nov 1868 Noon UT | 14 ar  0 Rx |
29 Nov 1868 Noon UT | 13 ar 58 Rx |
30 Nov 1868 Noon UT | 13 ar 56 Rx |
01 Dec 1868 Noon UT | 13 ar 55 Rx |
02 Dec 1868 Noon UT | 13 ar 54 Rx |
03 Dec 1868 Noon UT | 13 ar 53 Rx |
04 Dec 1868 Noon UT | 13 ar 53 Rx |
05 Dec 1868 Noon UT | 13 ar 53    |
06 Dec 1868 Noon UT | 13 ar 53    |
07 Dec 1868 Noon UT | 13 ar 53    |
08 Dec 1868 Noon UT | 13 ar 54    |
09 Dec 1868 Noon UT | 13 ar 55    |
10 Dec 1868 Noon UT | 13 ar 57    |
11 Dec 1868 Noon UT | 13 ar 58    |
12 Dec 1868 Noon UT | 14 ar  0    |
13 Dec 1868 Noon UT | 14 ar  3    |
14 Dec 1868 Noon UT | 14 ar  5    |
15 Dec 1868 Noon UT | 14 ar  8    |
16 Dec 1868 Noon UT | 14 ar 11    |
17 Dec 1868 Noon UT | 14 ar 15    |
18 Dec 1868 Noon UT | 14 ar 19    |
19 Dec 1868 Noon UT | 14 ar 23    |
20 Dec 1868 Noon UT | 14 ar 27    |
21 Dec 1868 Noon UT | 14 ar 32    |
22 Dec 1868 Noon UT | 14 ar 37    |
23 Dec 1868 Noon UT | 14 ar 42    |
24 Dec 1868 Noon UT | 14 ar 48    |
25 Dec 1868 Noon UT | 14 ar 53    |
26 Dec 1868 Noon UT | 14 ar 59    |
27 Dec 1868 Noon UT | 15 ar  6    |
28 Dec 1868 Noon UT | 15 ar 12    |
29 Dec 1868 Noon UT | 15 ar 19    |
30 Dec 1868 Noon UT | 15 ar 26    |
31 Dec 1868 Noon UT | 15 ar 33    |
01 Jan 1869 Noon UT | 15 ar 41    |
02 Jan 1869 Noon UT | 15 ar 49    |
03 Jan 1869 Noon UT | 15 ar 57    |
04 Jan 1869 Noon UT | 16 ar  5    |
05 Jan 1869 Noon UT | 16 ar 14    |
06 Jan 1869 Noon UT | 16 ar 22    |
07 Jan 1869 Noon UT | 16 ar 31    |
08 Jan 1869 Noon UT | 16 ar 41    |
09 Jan 1869 Noon UT | 16 ar 50    |
10 Jan 1869 Noon UT | 17 ar  0    |
11 Jan 1869 Noon UT | 17 ar  9    |
12 Jan 1869 Noon UT | 17 ar 20    |
13 Jan 1869 Noon UT | 17 ar 30    |
14 Jan 1869 Noon UT | 17 ar 40    |
15 Jan 1869 Noon UT | 17 ar 51    |
16 Jan 1869 Noon UT | 18 ar  2    |
17 Jan 1869 Noon UT | 18 ar 13    |
18 Jan 1869 Noon UT | 18 ar 24    |
19 Jan 1869 Noon UT | 18 ar 36    |
20 Jan 1869 Noon UT | 18 ar 47    |
21 Jan 1869 Noon UT | 18 ar 59    |
22 Jan 1869 Noon UT | 19 ar 11    |
23 Jan 1869 Noon UT | 19 ar 24    |
24 Jan 1869 Noon UT | 19 ar 36    |
25 Jan 1869 Noon UT | 19 ar 49    |
26 Jan 1869 Noon UT | 20 ar  1    |
27 Jan 1869 Noon UT | 20 ar 14    |
28 Jan 1869 Noon UT | 20 ar 27    |
29 Jan 1869 Noon UT | 20 ar 40    |
30 Jan 1869 Noon UT | 20 ar 54    |
31 Jan 1869 Noon UT | 21 ar  7    |
01 Feb 1869 Noon UT | 21 ar 21    |
02 Feb 1869 Noon UT | 21 ar 35    |
03 Feb 1869 Noon UT | 21 ar 49    |
04 Feb 1869 Noon UT | 22 ar  3    |
05 Feb 1869 Noon UT | 22 ar 17    |
06 Feb 1869 Noon UT | 22 ar 32    |
07 Feb 1869 Noon UT | 22 ar 46    |
08 Feb 1869 Noon UT | 23 ar  1    |
09 Feb 1869 Noon UT | 23 ar 16    |
10 Feb 1869 Noon UT | 23 ar 31    |
11 Feb 1869 Noon UT | 23 ar 46    |
12 Feb 1869 Noon UT | 24 ar  1    |
13 Feb 1869 Noon UT | 24 ar 17    |
14 Feb 1869 Noon UT | 24 ar 32    |
15 Feb 1869 Noon UT | 24 ar 48    |
16 Feb 1869 Noon UT | 25 ar  3    |
17 Feb 1869 Noon UT | 25 ar 19    |
18 Feb 1869 Noon UT | 25 ar 35    |
19 Feb 1869 Noon UT | 25 ar 51    |
20 Feb 1869 Noon UT | 26 ar  7    |
21 Feb 1869 Noon UT | 26 ar 24    |
22 Feb 1869 Noon UT | 26 ar 40    |
23 Feb 1869 Noon UT | 26 ar 56    |
24 Feb 1869 Noon UT | 27 ar 13    |
25 Feb 1869 Noon UT | 27 ar 30    |
26 Feb 1869 Noon UT | 27 ar 46    |
27 Feb 1869 Noon UT | 28 ar  3    |
28 Feb 1869 Noon UT | 28 ar 20    |
01 Mar 1869 Noon UT | 28 ar 37    |
02 Mar 1869 Noon UT | 28 ar 54    |
03 Mar 1869 Noon UT | 29 ar 11    |
04 Mar 1869 Noon UT | 29 ar 29    |
05 Mar 1869 Noon UT | 29 ar 46    |
06 Mar 1869 Noon UT |  0 ta  3    |
07 Mar 1869 Noon UT |  0 ta 21    |
08 Mar 1869 Noon UT |  0 ta 39    |
09 Mar 1869 Noon UT |  0 ta 56    |
10 Mar 1869 Noon UT |  1 ta 14    |
11 Mar 1869 Noon UT |  1 ta 32    |
12 Mar 1869 Noon UT |  1 ta 50    |
13 Mar 1869 Noon UT |  2 ta  8    |
14 Mar 1869 Noon UT |  2 ta 26    |
15 Mar 1869 Noon UT |  2 ta 44    |
16 Mar 1869 Noon UT |  3 ta  2    |
17 Mar 1869 Noon UT |  3 ta 20    |
18 Mar 1869 Noon UT |  3 ta 39    |
19 Mar 1869 Noon UT |  3 ta 57    |
20 Mar 1869 Noon UT |  4 ta 15    |
21 Mar 1869 Noon UT |  4 ta 34    |
22 Mar 1869 Noon UT |  4 ta 52    |
23 Mar 1869 Noon UT |  5 ta 11    |
24 Mar 1869 Noon UT |  5 ta 29    |
25 Mar 1869 Noon UT |  5 ta 48    |
26 Mar 1869 Noon UT |  6 ta  7    |
27 Mar 1869 Noon UT |  6 ta 26    |
28 Mar 1869 Noon UT |  6 ta 44    |
29 Mar 1869 Noon UT |  7 ta  3    |
30 Mar 1869 Noon UT |  7 ta 22    |
31 Mar 1869 Noon UT |  7 ta 41    |
01 Apr 1869 Noon UT |  8 ta  0    |
02 Apr 1869 Noon UT |  8 ta 19    |
03 Apr 1869 Noon UT |  8 ta 38    |
04 Apr 1869 Noon UT |  8 ta 57    |
05 Apr 1869 Noon UT |  9 ta 16    |
06 Apr 1869 Noon UT |  9 ta 36    |
07 Apr 1869 Noon UT |  9 ta 55    |
08 Apr 1869 Noon UT | 10 ta 14    |
09 Apr 1869 Noon UT | 10 ta 33    |
10 Apr 1869 Noon UT | 10 ta 53    |
11 Apr 1869 Noon UT | 11 ta 12    |
12 Apr 1869 Noon UT | 11 ta 31    |
13 Apr 1869 Noon UT | 11 ta 51    |
14 Apr 1869 Noon UT | 12 ta 10    |
15 Apr 1869 Noon UT | 12 ta 30    |
16 Apr 1869 Noon UT | 12 ta 49    |
17 Apr 1869 Noon UT | 13 ta  9    |
18 Apr 1869 Noon UT | 13 ta 28    |
19 Apr 1869 Noon UT | 13 ta 48    |
20 Apr 1869 Noon UT | 14 ta  7    |
21 Apr 1869 Noon UT | 14 ta 27    |
22 Apr 1869 Noon UT | 14 ta 46    |
23 Apr 1869 Noon UT | 15 ta  6    |
24 Apr 1869 Noon UT | 15 ta 25    |
25 Apr 1869 Noon UT | 15 ta 45    |
26 Apr 1869 Noon UT | 16 ta  5    |
27 Apr 1869 Noon UT | 16 ta 24    |
28 Apr 1869 Noon UT | 16 ta 44    |
29 Apr 1869 Noon UT | 17 ta  4    |
30 Apr 1869 Noon UT | 17 ta 23    |
01 May 1869 Noon UT | 17 ta 43    |
02 May 1869 Noon UT | 18 ta  3    |
03 May 1869 Noon UT | 18 ta 22    |
04 May 1869 Noon UT | 18 ta 42    |
05 May 1869 Noon UT | 19 ta  2    |
06 May 1869 Noon UT | 19 ta 22    |
07 May 1869 Noon UT | 19 ta 41    |
08 May 1869 Noon UT | 20 ta  1    |
09 May 1869 Noon UT | 20 ta 21    |
10 May 1869 Noon UT | 20 ta 40    |
11 May 1869 Noon UT | 21 ta  0    |
12 May 1869 Noon UT | 21 ta 20    |
13 May 1869 Noon UT | 21 ta 40    |
14 May 1869 Noon UT | 21 ta 59    |
15 May 1869 Noon UT | 22 ta 19    |
16 May 1869 Noon UT | 22 ta 39    |
17 May 1869 Noon UT | 22 ta 58    |
18 May 1869 Noon UT | 23 ta 18    |
19 May 1869 Noon UT | 23 ta 38    |
20 May 1869 Noon UT | 23 ta 57    |
21 May 1869 Noon UT | 24 ta 17    |
22 May 1869 Noon UT | 24 ta 37    |
23 May 1869 Noon UT | 24 ta 56    |
24 May 1869 Noon UT | 25 ta 16    |
25 May 1869 Noon UT | 25 ta 35    |
26 May 1869 Noon UT | 25 ta 55    |
27 May 1869 Noon UT | 26 ta 15    |
28 May 1869 Noon UT | 26 ta 34    |
29 May 1869 Noon UT | 26 ta 54    |
30 May 1869 Noon UT | 27 ta 13    |
31 May 1869 Noon UT | 27 ta 33    |
01 Jun 1869 Noon UT | 27 ta 52    |
02 Jun 1869 Noon UT | 28 ta 11    |
03 Jun 1869 Noon UT | 28 ta 31    |
04 Jun 1869 Noon UT | 28 ta 50    |
05 Jun 1869 Noon UT | 29 ta 10    |
06 Jun 1869 Noon UT | 29 ta 29    |
07 Jun 1869 Noon UT | 29 ta 48    |
08 Jun 1869 Noon UT |  0 ge  8    |
09 Jun 1869 Noon UT |  0 ge 27    |
10 Jun 1869 Noon UT |  0 ge 46    |
11 Jun 1869 Noon UT |  1 ge  5    |
12 Jun 1869 Noon UT |  1 ge 24    |
13 Jun 1869 Noon UT |  1 ge 44    |
14 Jun 1869 Noon UT |  2 ge  3    |
15 Jun 1869 Noon UT |  2 ge 22    |
16 Jun 1869 Noon UT |  2 ge 41    |
17 Jun 1869 Noon UT |  3 ge  0    |
18 Jun 1869 Noon UT |  3 ge 19    |
19 Jun 1869 Noon UT |  3 ge 38    |
20 Jun 1869 Noon UT |  3 ge 56    |
21 Jun 1869 Noon UT |  4 ge 15    |
22 Jun 1869 Noon UT |  4 ge 34    |
23 Jun 1869 Noon UT |  4 ge 53    |
24 Jun 1869 Noon UT |  5 ge 11    |
25 Jun 1869 Noon UT |  5 ge 30    |
26 Jun 1869 Noon UT |  5 ge 49    |
27 Jun 1869 Noon UT |  6 ge  7    |
28 Jun 1869 Noon UT |  6 ge 26    |
29 Jun 1869 Noon UT |  6 ge 44    |
30 Jun 1869 Noon UT |  7 ge  3    |
01 Jul 1869 Noon UT |  7 ge 21    |
02 Jul 1869 Noon UT |  7 ge 39    |
03 Jul 1869 Noon UT |  7 ge 57    |
04 Jul 1869 Noon UT |  8 ge 16    |
05 Jul 1869 Noon UT |  8 ge 34    |
06 Jul 1869 Noon UT |  8 ge 52    |
07 Jul 1869 Noon UT |  9 ge 10    |
08 Jul 1869 Noon UT |  9 ge 28    |
09 Jul 1869 Noon UT |  9 ge 46    |
10 Jul 1869 Noon UT | 10 ge  4    |
11 Jul 1869 Noon UT | 10 ge 21    |
12 Jul 1869 Noon UT | 10 ge 39    |
13 Jul 1869 Noon UT | 10 ge 57    |
14 Jul 1869 Noon UT | 11 ge 14    |
15 Jul 1869 Noon UT | 11 ge 32    |
16 Jul 1869 Noon UT | 11 ge 49    |
17 Jul 1869 Noon UT | 12 ge  6    |
18 Jul 1869 Noon UT | 12 ge 24    |
19 Jul 1869 Noon UT | 12 ge 41    |
20 Jul 1869 Noon UT | 12 ge 58    |
21 Jul 1869 Noon UT | 13 ge 15    |
22 Jul 1869 Noon UT | 13 ge 32    |
23 Jul 1869 Noon UT | 13 ge 49    |
24 Jul 1869 Noon UT | 14 ge  6    |
25 Jul 1869 Noon UT | 14 ge 22    |
26 Jul 1869 Noon UT | 14 ge 39    |
27 Jul 1869 Noon UT | 14 ge 55    |
28 Jul 1869 Noon UT | 15 ge 12    |
29 Jul 1869 Noon UT | 15 ge 28    |
30 Jul 1869 Noon UT | 15 ge 44    |
31 Jul 1869 Noon UT | 16 ge  1    |
01 Aug 1869 Noon UT | 16 ge 17    |
02 Aug 1869 Noon UT | 16 ge 33    |
03 Aug 1869 Noon UT | 16 ge 48    |
04 Aug 1869 Noon UT | 17 ge  4    |
05 Aug 1869 Noon UT | 17 ge 20    |
06 Aug 1869 Noon UT | 17 ge 35    |
07 Aug 1869 Noon UT | 17 ge 51    |
08 Aug 1869 Noon UT | 18 ge  6    |
09 Aug 1869 Noon UT | 18 ge 21    |
10 Aug 1869 Noon UT | 18 ge 36    |
11 Aug 1869 Noon UT | 18 ge 51    |
12 Aug 1869 Noon UT | 19 ge  6    |
13 Aug 1869 Noon UT | 19 ge 21    |
14 Aug 1869 Noon UT | 19 ge 36    |
15 Aug 1869 Noon UT | 19 ge 50    |
16 Aug 1869 Noon UT | 20 ge  4    |
17 Aug 1869 Noon UT | 20 ge 19    |
18 Aug 1869 Noon UT | 20 ge 33    |
19 Aug 1869 Noon UT | 20 ge 47    |
20 Aug 1869 Noon UT | 21 ge  1    |
21 Aug 1869 Noon UT | 21 ge 14    |
22 Aug 1869 Noon UT | 21 ge 28    |
23 Aug 1869 Noon UT | 21 ge 41    |
24 Aug 1869 Noon UT | 21 ge 54    |
25 Aug 1869 Noon UT | 22 ge  8    |
26 Aug 1869 Noon UT | 22 ge 21    |
27 Aug 1869 Noon UT | 22 ge 33    |
28 Aug 1869 Noon UT | 22 ge 46    |
29 Aug 1869 Noon UT | 22 ge 59    |
30 Aug 1869 Noon UT | 23 ge 11    |
31 Aug 1869 Noon UT | 23 ge 23    |
01 Sep 1869 Noon UT | 23 ge 35    |
02 Sep 1869 Noon UT | 23 ge 47    |
03 Sep 1869 Noon UT | 23 ge 59    |
04 Sep 1869 Noon UT | 24 ge 10    |
05 Sep 1869 Noon UT | 24 ge 22    |
06 Sep 1869 Noon UT | 24 ge 33    |
07 Sep 1869 Noon UT | 24 ge 44    |
08 Sep 1869 Noon UT | 24 ge 54    |
09 Sep 1869 Noon UT | 25 ge  5    |
10 Sep 1869 Noon UT | 25 ge 15    |
11 Sep 1869 Noon UT | 25 ge 26    |
12 Sep 1869 Noon UT | 25 ge 36    |
13 Sep 1869 Noon UT | 25 ge 45    |
14 Sep 1869 Noon UT | 25 ge 55    |
15 Sep 1869 Noon UT | 26 ge  4    |
16 Sep 1869 Noon UT | 26 ge 14    |
17 Sep 1869 Noon UT | 26 ge 23    |
18 Sep 1869 Noon UT | 26 ge 31    |
19 Sep 1869 Noon UT | 26 ge 40    |
20 Sep 1869 Noon UT | 26 ge 48    |
21 Sep 1869 Noon UT | 26 ge 56    |
22 Sep 1869 Noon UT | 27 ge  4    |
23 Sep 1869 Noon UT | 27 ge 12    |
24 Sep 1869 Noon UT | 27 ge 19    |
25 Sep 1869 Noon UT | 27 ge 26    |
26 Sep 1869 Noon UT | 27 ge 33    |
27 Sep 1869 Noon UT | 27 ge 40    |
28 Sep 1869 Noon UT | 27 ge 47    |
29 Sep 1869 Noon UT | 27 ge 53    |
30 Sep 1869 Noon UT | 27 ge 59    |
01 Oct 1869 Noon UT | 28 ge  4    |
02 Oct 1869 Noon UT | 28 ge 10    |
03 Oct 1869 Noon UT | 28 ge 15    |
04 Oct 1869 Noon UT | 28 ge 20    |
05 Oct 1869 Noon UT | 28 ge 25    |
06 Oct 1869 Noon UT | 28 ge 29    |
07 Oct 1869 Noon UT | 28 ge 33    |
08 Oct 1869 Noon UT | 28 ge 37    |
09 Oct 1869 Noon UT | 28 ge 40    |
10 Oct 1869 Noon UT | 28 ge 44    |
11 Oct 1869 Noon UT | 28 ge 47    |
12 Oct 1869 Noon UT | 28 ge 49    |
13 Oct 1869 Noon UT | 28 ge 52    |
14 Oct 1869 Noon UT | 28 ge 54    |
15 Oct 1869 Noon UT | 28 ge 56    |
16 Oct 1869 Noon UT | 28 ge 57    |
17 Oct 1869 Noon UT | 28 ge 58    |
18 Oct 1869 Noon UT | 28 ge 59    |
19 Oct 1869 Noon UT | 29 ge  0    |
20 Oct 1869 Noon UT | 29 ge  0    |
21 Oct 1869 Noon UT | 29 ge  0 Rx |
22 Oct 1869 Noon UT | 29 ge  0 Rx |
23 Oct 1869 Noon UT | 28 ge 59 Rx |
24 Oct 1869 Noon UT | 28 ge 58 Rx |
25 Oct 1869 Noon UT | 28 ge 57 Rx |
26 Oct 1869 Noon UT | 28 ge 56 Rx |
27 Oct 1869 Noon UT | 28 ge 54 Rx |
28 Oct 1869 Noon UT | 28 ge 52 Rx |
29 Oct 1869 Noon UT | 28 ge 49 Rx |
30 Oct 1869 Noon UT | 28 ge 46 Rx |
31 Oct 1869 Noon UT | 28 ge 43 Rx |
01 Nov 1869 Noon UT | 28 ge 40 Rx |
02 Nov 1869 Noon UT | 28 ge 36 Rx |
03 Nov 1869 Noon UT | 28 ge 32 Rx |
04 Nov 1869 Noon UT | 28 ge 28 Rx |
05 Nov 1869 Noon UT | 28 ge 23 Rx |
06 Nov 1869 Noon UT | 28 ge 18 Rx |
07 Nov 1869 Noon UT | 28 ge 13 Rx |
08 Nov 1869 Noon UT | 28 ge  7 Rx |
09 Nov 1869 Noon UT | 28 ge  1 Rx |
10 Nov 1869 Noon UT | 27 ge 55 Rx |
11 Nov 1869 Noon UT | 27 ge 49 Rx |
12 Nov 1869 Noon UT | 27 ge 42 Rx |
13 Nov 1869 Noon UT | 27 ge 35 Rx |
14 Nov 1869 Noon UT | 27 ge 28 Rx |
15 Nov 1869 Noon UT | 27 ge 20 Rx |
16 Nov 1869 Noon UT | 27 ge 12 Rx |
17 Nov 1869 Noon UT | 27 ge  4 Rx |
18 Nov 1869 Noon UT | 26 ge 56 Rx |
19 Nov 1869 Noon UT | 26 ge 47 Rx |
20 Nov 1869 Noon UT | 26 ge 38 Rx |
21 Nov 1869 Noon UT | 26 ge 29 Rx |
22 Nov 1869 Noon UT | 26 ge 20 Rx |
23 Nov 1869 Noon UT | 26 ge 10 Rx |
24 Nov 1869 Noon UT | 26 ge  1 Rx |
25 Nov 1869 Noon UT | 25 ge 51 Rx |
26 Nov 1869 Noon UT | 25 ge 40 Rx |
27 Nov 1869 Noon UT | 25 ge 30 Rx |
28 Nov 1869 Noon UT | 25 ge 19 Rx |
29 Nov 1869 Noon UT | 25 ge  9 Rx |
30 Nov 1869 Noon UT | 24 ge 58 Rx |
01 Dec 1869 Noon UT | 24 ge 47 Rx |
02 Dec 1869 Noon UT | 24 ge 35 Rx |
03 Dec 1869 Noon UT | 24 ge 24 Rx |
04 Dec 1869 Noon UT | 24 ge 13 Rx |
05 Dec 1869 Noon UT | 24 ge  1 Rx |
06 Dec 1869 Noon UT | 23 ge 49 Rx |
07 Dec 1869 Noon UT | 23 ge 37 Rx |
08 Dec 1869 Noon UT | 23 ge 25 Rx |
09 Dec 1869 Noon UT | 23 ge 13 Rx |
10 Dec 1869 Noon UT | 23 ge  1 Rx |
11 Dec 1869 Noon UT | 22 ge 49 Rx |
12 Dec 1869 Noon UT | 22 ge 37 Rx |
13 Dec 1869 Noon UT | 22 ge 25 Rx |
14 Dec 1869 Noon UT | 22 ge 13 Rx |
15 Dec 1869 Noon UT | 22 ge  1 Rx |
16 Dec 1869 Noon UT | 21 ge 49 Rx |
17 Dec 1869 Noon UT | 21 ge 37 Rx |
18 Dec 1869 Noon UT | 21 ge 25 Rx |
19 Dec 1869 Noon UT | 21 ge 13 Rx |
20 Dec 1869 Noon UT | 21 ge  1 Rx |
21 Dec 1869 Noon UT | 20 ge 49 Rx |
22 Dec 1869 Noon UT | 20 ge 37 Rx |
23 Dec 1869 Noon UT | 20 ge 25 Rx |
24 Dec 1869 Noon UT | 20 ge 14 Rx |
25 Dec 1869 Noon UT | 20 ge  2 Rx |
26 Dec 1869 Noon UT | 19 ge 51 Rx |
27 Dec 1869 Noon UT | 19 ge 40 Rx |
28 Dec 1869 Noon UT | 19 ge 29 Rx |
29 Dec 1869 Noon UT | 19 ge 18 Rx |
30 Dec 1869 Noon UT | 19 ge  7 Rx |
31 Dec 1869 Noon UT | 18 ge 56 Rx |
01 Jan 1870 Noon UT | 18 ge 46 Rx |
02 Jan 1870 Noon UT | 18 ge 36 Rx |
03 Jan 1870 Noon UT | 18 ge 26 Rx |
04 Jan 1870 Noon UT | 18 ge 16 Rx |
05 Jan 1870 Noon UT | 18 ge  6 Rx |
06 Jan 1870 Noon UT | 17 ge 57 Rx |
07 Jan 1870 Noon UT | 17 ge 48 Rx |
08 Jan 1870 Noon UT | 17 ge 39 Rx |
09 Jan 1870 Noon UT | 17 ge 31 Rx |
10 Jan 1870 Noon UT | 17 ge 22 Rx |
11 Jan 1870 Noon UT | 17 ge 14 Rx |
12 Jan 1870 Noon UT | 17 ge  6 Rx |
13 Jan 1870 Noon UT | 16 ge 59 Rx |
14 Jan 1870 Noon UT | 16 ge 52 Rx |
15 Jan 1870 Noon UT | 16 ge 45 Rx |
16 Jan 1870 Noon UT | 16 ge 38 Rx |
17 Jan 1870 Noon UT | 16 ge 32 Rx |
18 Jan 1870 Noon UT | 16 ge 26 Rx |
19 Jan 1870 Noon UT | 16 ge 20 Rx |
20 Jan 1870 Noon UT | 16 ge 15 Rx |
21 Jan 1870 Noon UT | 16 ge 10 Rx |
22 Jan 1870 Noon UT | 16 ge  5 Rx |
23 Jan 1870 Noon UT | 16 ge  0 Rx |
24 Jan 1870 Noon UT | 15 ge 56 Rx |
25 Jan 1870 Noon UT | 15 ge 52 Rx |
26 Jan 1870 Noon UT | 15 ge 48 Rx |
27 Jan 1870 Noon UT | 15 ge 45 Rx |
28 Jan 1870 Noon UT | 15 ge 42 Rx |
29 Jan 1870 Noon UT | 15 ge 40 Rx |
30 Jan 1870 Noon UT | 15 ge 37 Rx |
31 Jan 1870 Noon UT | 15 ge 35 Rx |
01 Feb 1870 Noon UT | 15 ge 34 Rx |
02 Feb 1870 Noon UT | 15 ge 32 Rx |
03 Feb 1870 Noon UT | 15 ge 31 Rx |
04 Feb 1870 Noon UT | 15 ge 31 Rx |
05 Feb 1870 Noon UT | 15 ge 30 Rx |
06 Feb 1870 Noon UT | 15 ge 30    |
07 Feb 1870 Noon UT | 15 ge 31    |
08 Feb 1870 Noon UT | 15 ge 31    |
09 Feb 1870 Noon UT | 15 ge 32    |
10 Feb 1870 Noon UT | 15 ge 33    |
11 Feb 1870 Noon UT | 15 ge 35    |
12 Feb 1870 Noon UT | 15 ge 37    |
13 Feb 1870 Noon UT | 15 ge 39    |
14 Feb 1870 Noon UT | 15 ge 41    |
15 Feb 1870 Noon UT | 15 ge 44    |
16 Feb 1870 Noon UT | 15 ge 47    |
17 Feb 1870 Noon UT | 15 ge 50    |
18 Feb 1870 Noon UT | 15 ge 54    |
19 Feb 1870 Noon UT | 15 ge 58    |
20 Feb 1870 Noon UT | 16 ge  2    |
21 Feb 1870 Noon UT | 16 ge  6    |
22 Feb 1870 Noon UT | 16 ge 11    |
23 Feb 1870 Noon UT | 16 ge 16    |
24 Feb 1870 Noon UT | 16 ge 22    |
25 Feb 1870 Noon UT | 16 ge 27    |
26 Feb 1870 Noon UT | 16 ge 33    |
27 Feb 1870 Noon UT | 16 ge 39    |
28 Feb 1870 Noon UT | 16 ge 46    |
01 Mar 1870 Noon UT | 16 ge 52    |
02 Mar 1870 Noon UT | 16 ge 59    |
03 Mar 1870 Noon UT | 17 ge  6    |
04 Mar 1870 Noon UT | 17 ge 14    |
05 Mar 1870 Noon UT | 17 ge 21    |
06 Mar 1870 Noon UT | 17 ge 29    |
07 Mar 1870 Noon UT | 17 ge 37    |
08 Mar 1870 Noon UT | 17 ge 46    |
09 Mar 1870 Noon UT | 17 ge 54    |
10 Mar 1870 Noon UT | 18 ge  3    |
11 Mar 1870 Noon UT | 18 ge 12    |
12 Mar 1870 Noon UT | 18 ge 22    |
13 Mar 1870 Noon UT | 18 ge 31    |
14 Mar 1870 Noon UT | 18 ge 41    |
15 Mar 1870 Noon UT | 18 ge 51    |
16 Mar 1870 Noon UT | 19 ge  1    |
17 Mar 1870 Noon UT | 19 ge 12    |
18 Mar 1870 Noon UT | 19 ge 22    |
19 Mar 1870 Noon UT | 19 ge 33    |
20 Mar 1870 Noon UT | 19 ge 44    |
21 Mar 1870 Noon UT | 19 ge 55    |
22 Mar 1870 Noon UT | 20 ge  7    |
23 Mar 1870 Noon UT | 20 ge 18    |
24 Mar 1870 Noon UT | 20 ge 30    |
25 Mar 1870 Noon UT | 20 ge 42    |
26 Mar 1870 Noon UT | 20 ge 54    |
27 Mar 1870 Noon UT | 21 ge  6    |
28 Mar 1870 Noon UT | 21 ge 19    |
29 Mar 1870 Noon UT | 21 ge 32    |
30 Mar 1870 Noon UT | 21 ge 44    |
31 Mar 1870 Noon UT | 21 ge 57    |
01 Apr 1870 Noon UT | 22 ge 11    |
02 Apr 1870 Noon UT | 22 ge 24    |
03 Apr 1870 Noon UT | 22 ge 37    |
04 Apr 1870 Noon UT | 22 ge 51    |
05 Apr 1870 Noon UT | 23 ge  5    |
06 Apr 1870 Noon UT | 23 ge 19    |
07 Apr 1870 Noon UT | 23 ge 33    |
08 Apr 1870 Noon UT | 23 ge 47    |
09 Apr 1870 Noon UT | 24 ge  2    |
10 Apr 1870 Noon UT | 24 ge 16    |
11 Apr 1870 Noon UT | 24 ge 31    |
12 Apr 1870 Noon UT | 24 ge 46    |
13 Apr 1870 Noon UT | 25 ge  1    |
14 Apr 1870 Noon UT | 25 ge 16    |
15 Apr 1870 Noon UT | 25 ge 31    |
16 Apr 1870 Noon UT | 25 ge 47    |
17 Apr 1870 Noon UT | 26 ge  2    |
18 Apr 1870 Noon UT | 26 ge 18    |
19 Apr 1870 Noon UT | 26 ge 33    |
20 Apr 1870 Noon UT | 26 ge 49    |
21 Apr 1870 Noon UT | 27 ge  5    |
22 Apr 1870 Noon UT | 27 ge 21    |
23 Apr 1870 Noon UT | 27 ge 38    |
24 Apr 1870 Noon UT | 27 ge 54    |
25 Apr 1870 Noon UT | 28 ge 10    |
26 Apr 1870 Noon UT | 28 ge 27    |
27 Apr 1870 Noon UT | 28 ge 44    |
28 Apr 1870 Noon UT | 29 ge  0    |
29 Apr 1870 Noon UT | 29 ge 17    |
30 Apr 1870 Noon UT | 29 ge 34    |
01 May 1870 Noon UT | 29 ge 51    |
02 May 1870 Noon UT |  0 cn  8    |
03 May 1870 Noon UT |  0 cn 26    |
04 May 1870 Noon UT |  0 cn 43    |
05 May 1870 Noon UT |  1 cn  0    |
06 May 1870 Noon UT |  1 cn 18    |
07 May 1870 Noon UT |  1 cn 36    |
08 May 1870 Noon UT |  1 cn 53    |
09 May 1870 Noon UT |  2 cn 11    |
10 May 1870 Noon UT |  2 cn 29    |
11 May 1870 Noon UT |  2 cn 47    |
12 May 1870 Noon UT |  3 cn  5    |
13 May 1870 Noon UT |  3 cn 23    |
14 May 1870 Noon UT |  3 cn 41    |
15 May 1870 Noon UT |  4 cn  0    |
16 May 1870 Noon UT |  4 cn 18    |
17 May 1870 Noon UT |  4 cn 36    |
18 May 1870 Noon UT |  4 cn 55    |
19 May 1870 Noon UT |  5 cn 13    |
20 May 1870 Noon UT |  5 cn 32    |
21 May 1870 Noon UT |  5 cn 51    |
22 May 1870 Noon UT |  6 cn 10    |
23 May 1870 Noon UT |  6 cn 28    |
24 May 1870 Noon UT |  6 cn 47    |
25 May 1870 Noon UT |  7 cn  6    |
26 May 1870 Noon UT |  7 cn 25    |
27 May 1870 Noon UT |  7 cn 44    |
28 May 1870 Noon UT |  8 cn  3    |
29 May 1870 Noon UT |  8 cn 23    |
30 May 1870 Noon UT |  8 cn 42    |
31 May 1870 Noon UT |  9 cn  1    |
01 Jun 1870 Noon UT |  9 cn 21    |
02 Jun 1870 Noon UT |  9 cn 40    |
03 Jun 1870 Noon UT | 10 cn  0    |
04 Jun 1870 Noon UT | 10 cn 19    |
05 Jun 1870 Noon UT | 10 cn 39    |
06 Jun 1870 Noon UT | 10 cn 58    |
07 Jun 1870 Noon UT | 11 cn 18    |
08 Jun 1870 Noon UT | 11 cn 38    |
09 Jun 1870 Noon UT | 11 cn 57    |
10 Jun 1870 Noon UT | 12 cn 17    |
11 Jun 1870 Noon UT | 12 cn 37    |
12 Jun 1870 Noon UT | 12 cn 57    |
13 Jun 1870 Noon UT | 13 cn 17    |
14 Jun 1870 Noon UT | 13 cn 37    |
15 Jun 1870 Noon UT | 13 cn 57    |
16 Jun 1870 Noon UT | 14 cn 17    |
17 Jun 1870 Noon UT | 14 cn 37    |
18 Jun 1870 Noon UT | 14 cn 57    |
19 Jun 1870 Noon UT | 15 cn 17    |
20 Jun 1870 Noon UT | 15 cn 37    |
21 Jun 1870 Noon UT | 15 cn 58    |
22 Jun 1870 Noon UT | 16 cn 18    |
23 Jun 1870 Noon UT | 16 cn 38    |
24 Jun 1870 Noon UT | 16 cn 59    |
25 Jun 1870 Noon UT | 17 cn 19    |
26 Jun 1870 Noon UT | 17 cn 39    |
27 Jun 1870 Noon UT | 18 cn  0    |
28 Jun 1870 Noon UT | 18 cn 20    |
29 Jun 1870 Noon UT | 18 cn 41    |
30 Jun 1870 Noon UT | 19 cn  1    |
01 Jul 1870 Noon UT | 19 cn 22    |
02 Jul 1870 Noon UT | 19 cn 42    |
03 Jul 1870 Noon UT | 20 cn  3    |
04 Jul 1870 Noon UT | 20 cn 23    |
05 Jul 1870 Noon UT | 20 cn 44    |
06 Jul 1870 Noon UT | 21 cn  5    |
07 Jul 1870 Noon UT | 21 cn 25    |
08 Jul 1870 Noon UT | 21 cn 46    |
09 Jul 1870 Noon UT | 22 cn  6    |
10 Jul 1870 Noon UT | 22 cn 27    |
11 Jul 1870 Noon UT | 22 cn 48    |
12 Jul 1870 Noon UT | 23 cn  9    |
13 Jul 1870 Noon UT | 23 cn 29    |
14 Jul 1870 Noon UT | 23 cn 50    |
15 Jul 1870 Noon UT | 24 cn 11    |
16 Jul 1870 Noon UT | 24 cn 32    |
17 Jul 1870 Noon UT | 24 cn 52    |
18 Jul 1870 Noon UT | 25 cn 13    |
19 Jul 1870 Noon UT | 25 cn 34    |
20 Jul 1870 Noon UT | 25 cn 55    |
21 Jul 1870 Noon UT | 26 cn 16    |
22 Jul 1870 Noon UT | 26 cn 36    |
23 Jul 1870 Noon UT | 26 cn 57    |
24 Jul 1870 Noon UT | 27 cn 18    |
25 Jul 1870 Noon UT | 27 cn 39    |
26 Jul 1870 Noon UT | 28 cn  0    |
27 Jul 1870 Noon UT | 28 cn 21    |
28 Jul 1870 Noon UT | 28 cn 41    |
29 Jul 1870 Noon UT | 29 cn  2    |
30 Jul 1870 Noon UT | 29 cn 23    |
31 Jul 1870 Noon UT | 29 cn 44    |
01 Aug 1870 Noon UT |  0 le  5    |
02 Aug 1870 Noon UT |  0 le 26    |
03 Aug 1870 Noon UT |  0 le 46    |
04 Aug 1870 Noon UT |  1 le  7    |
05 Aug 1870 Noon UT |  1 le 28    |
06 Aug 1870 Noon UT |  1 le 49    |
07 Aug 1870 Noon UT |  2 le 10    |
08 Aug 1870 Noon UT |  2 le 30    |
09 Aug 1870 Noon UT |  2 le 51    |
10 Aug 1870 Noon UT |  3 le 12    |
11 Aug 1870 Noon UT |  3 le 33    |
12 Aug 1870 Noon UT |  3 le 54    |
13 Aug 1870 Noon UT |  4 le 14    |
14 Aug 1870 Noon UT |  4 le 35    |
15 Aug 1870 Noon UT |  4 le 56    |
16 Aug 1870 Noon UT |  5 le 16    |
17 Aug 1870 Noon UT |  5 le 37    |
18 Aug 1870 Noon UT |  5 le 58    |
19 Aug 1870 Noon UT |  6 le 18    |
20 Aug 1870 Noon UT |  6 le 39    |
21 Aug 1870 Noon UT |  7 le  0    |
22 Aug 1870 Noon UT |  7 le 20    |
23 Aug 1870 Noon UT |  7 le 41    |
24 Aug 1870 Noon UT |  8 le  1    |
25 Aug 1870 Noon UT |  8 le 22    |
26 Aug 1870 Noon UT |  8 le 42    |
27 Aug 1870 Noon UT |  9 le  3    |
28 Aug 1870 Noon UT |  9 le 23    |
29 Aug 1870 Noon UT |  9 le 44    |
30 Aug 1870 Noon UT | 10 le  4    |
31 Aug 1870 Noon UT | 10 le 24    |
01 Sep 1870 Noon UT | 10 le 45    |
02 Sep 1870 Noon UT | 11 le  5    |
03 Sep 1870 Noon UT | 11 le 25    |
04 Sep 1870 Noon UT | 11 le 45    |
05 Sep 1870 Noon UT | 12 le  5    |
06 Sep 1870 Noon UT | 12 le 26    |
07 Sep 1870 Noon UT | 12 le 46    |
08 Sep 1870 Noon UT | 13 le  6    |
09 Sep 1870 Noon UT | 13 le 26    |
10 Sep 1870 Noon UT | 13 le 46    |
11 Sep 1870 Noon UT | 14 le  6    |
12 Sep 1870 Noon UT | 14 le 25    |
13 Sep 1870 Noon UT | 14 le 45    |
14 Sep 1870 Noon UT | 15 le  5    |
15 Sep 1870 Noon UT | 15 le 25    |
16 Sep 1870 Noon UT | 15 le 44    |
17 Sep 1870 Noon UT | 16 le  4    |
18 Sep 1870 Noon UT | 16 le 24    |
19 Sep 1870 Noon UT | 16 le 43    |
20 Sep 1870 Noon UT | 17 le  3    |
21 Sep 1870 Noon UT | 17 le 22    |
22 Sep 1870 Noon UT | 17 le 41    |
23 Sep 1870 Noon UT | 18 le  1    |
24 Sep 1870 Noon UT | 18 le 20    |
25 Sep 1870 Noon UT | 18 le 39    |
26 Sep 1870 Noon UT | 18 le 58    |
27 Sep 1870 Noon UT | 19 le 17    |
28 Sep 1870 Noon UT | 19 le 36    |
29 Sep 1870 Noon UT | 19 le 55    |
30 Sep 1870 Noon UT | 20 le 14    |
01 Oct 1870 Noon UT | 20 le 32    |
02 Oct 1870 Noon UT | 20 le 51    |
03 Oct 1870 Noon UT | 21 le 10    |
04 Oct 1870 Noon UT | 21 le 28    |
05 Oct 1870 Noon UT | 21 le 47    |
06 Oct 1870 Noon UT | 22 le  5    |
07 Oct 1870 Noon UT | 22 le 23    |
08 Oct 1870 Noon UT | 22 le 41    |
09 Oct 1870 Noon UT | 22 le 59    |
10 Oct 1870 Noon UT | 23 le 17    |
11 Oct 1870 Noon UT | 23 le 35    |
12 Oct 1870 Noon UT | 23 le 53    |
13 Oct 1870 Noon UT | 24 le 11    |
14 Oct 1870 Noon UT | 24 le 28    |
15 Oct 1870 Noon UT | 24 le 46    |
16 Oct 1870 Noon UT | 25 le  3    |
17 Oct 1870 Noon UT | 25 le 20    |
18 Oct 1870 Noon UT | 25 le 38    |
19 Oct 1870 Noon UT | 25 le 55    |
20 Oct 1870 Noon UT | 26 le 12    |
21 Oct 1870 Noon UT | 26 le 29    |
22 Oct 1870 Noon UT | 26 le 45    |
23 Oct 1870 Noon UT | 27 le  2    |
24 Oct 1870 Noon UT | 27 le 18    |
25 Oct 1870 Noon UT | 27 le 35    |
26 Oct 1870 Noon UT | 27 le 51    |
27 Oct 1870 Noon UT | 28 le  7    |
28 Oct 1870 Noon UT | 28 le 23    |
29 Oct 1870 Noon UT | 28 le 39    |
30 Oct 1870 Noon UT | 28 le 55    |
31 Oct 1870 Noon UT | 29 le 10    |
01 Nov 1870 Noon UT | 29 le 26    |
02 Nov 1870 Noon UT | 29 le 41    |
03 Nov 1870 Noon UT | 29 le 56    |
04 Nov 1870 Noon UT |  0 vi 11    |
05 Nov 1870 Noon UT |  0 vi 26    |
06 Nov 1870 Noon UT |  0 vi 41    |
07 Nov 1870 Noon UT |  0 vi 55    |
08 Nov 1870 Noon UT |  1 vi  9    |
09 Nov 1870 Noon UT |  1 vi 24    |
10 Nov 1870 Noon UT |  1 vi 38    |
11 Nov 1870 Noon UT |  1 vi 52    |
12 Nov 1870 Noon UT |  2 vi  5    |
13 Nov 1870 Noon UT |  2 vi 19    |
14 Nov 1870 Noon UT |  2 vi 32    |
15 Nov 1870 Noon UT |  2 vi 45    |
16 Nov 1870 Noon UT |  2 vi 58    |
17 Nov 1870 Noon UT |  3 vi 11    |
18 Nov 1870 Noon UT |  3 vi 24    |
19 Nov 1870 Noon UT |  3 vi 36    |
20 Nov 1870 Noon UT |  3 vi 48    |
21 Nov 1870 Noon UT |  4 vi  0    |
22 Nov 1870 Noon UT |  4 vi 12    |
23 Nov 1870 Noon UT |  4 vi 23    |
24 Nov 1870 Noon UT |  4 vi 35    |
25 Nov 1870 Noon UT |  4 vi 46    |
26 Nov 1870 Noon UT |  4 vi 57    |
27 Nov 1870 Noon UT |  5 vi  7    |
28 Nov 1870 Noon UT |  5 vi 18    |
29 Nov 1870 Noon UT |  5 vi 28    |
30 Nov 1870 Noon UT |  5 vi 38    |
01 Dec 1870 Noon UT |  5 vi 48    |
02 Dec 1870 Noon UT |  5 vi 57    |
03 Dec 1870 Noon UT |  6 vi  7    |
04 Dec 1870 Noon UT |  6 vi 16    |
05 Dec 1870 Noon UT |  6 vi 24    |
06 Dec 1870 Noon UT |  6 vi 33    |
07 Dec 1870 Noon UT |  6 vi 41    |
08 Dec 1870 Noon UT |  6 vi 49    |
09 Dec 1870 Noon UT |  6 vi 57    |
10 Dec 1870 Noon UT |  7 vi  4    |
11 Dec 1870 Noon UT |  7 vi 11    |
12 Dec 1870 Noon UT |  7 vi 18    |
13 Dec 1870 Noon UT |  7 vi 25    |
14 Dec 1870 Noon UT |  7 vi 31    |
15 Dec 1870 Noon UT |  7 vi 37    |
16 Dec 1870 Noon UT |  7 vi 43    |
17 Dec 1870 Noon UT |  7 vi 48    |
18 Dec 1870 Noon UT |  7 vi 53    |
19 Dec 1870 Noon UT |  7 vi 58    |
20 Dec 1870 Noon UT |  8 vi  3    |
21 Dec 1870 Noon UT |  8 vi  7    |
22 Dec 1870 Noon UT |  8 vi 11    |
23 Dec 1870 Noon UT |  8 vi 14    |
24 Dec 1870 Noon UT |  8 vi 17    |
25 Dec 1870 Noon UT |  8 vi 20    |
26 Dec 1870 Noon UT |  8 vi 23    |
27 Dec 1870 Noon UT |  8 vi 25    |
28 Dec 1870 Noon UT |  8 vi 27    |
29 Dec 1870 Noon UT |  8 vi 29    |
30 Dec 1870 Noon UT |  8 vi 30    |
31 Dec 1870 Noon UT |  8 vi 31    |
01 Jan 1871 Noon UT |  8 vi 31    |
02 Jan 1871 Noon UT |  8 vi 32    |
03 Jan 1871 Noon UT |  8 vi 31 Rx |
04 Jan 1871 Noon UT |  8 vi 31 Rx |
05 Jan 1871 Noon UT |  8 vi 30 Rx |
06 Jan 1871 Noon UT |  8 vi 29 Rx |
07 Jan 1871 Noon UT |  8 vi 28 Rx |
08 Jan 1871 Noon UT |  8 vi 26 Rx |
09 Jan 1871 Noon UT |  8 vi 24 Rx |
10 Jan 1871 Noon UT |  8 vi 21 Rx |
11 Jan 1871 Noon UT |  8 vi 18 Rx |
12 Jan 1871 Noon UT |  8 vi 15 Rx |
13 Jan 1871 Noon UT |  8 vi 11 Rx |
14 Jan 1871 Noon UT |  8 vi  7 Rx |
15 Jan 1871 Noon UT |  8 vi  3 Rx |
16 Jan 1871 Noon UT |  7 vi 59 Rx |
17 Jan 1871 Noon UT |  7 vi 54 Rx |
18 Jan 1871 Noon UT |  7 vi 48 Rx |
19 Jan 1871 Noon UT |  7 vi 43 Rx |
20 Jan 1871 Noon UT |  7 vi 37 Rx |
21 Jan 1871 Noon UT |  7 vi 30 Rx |
22 Jan 1871 Noon UT |  7 vi 24 Rx |
23 Jan 1871 Noon UT |  7 vi 17 Rx |
24 Jan 1871 Noon UT |  7 vi 10 Rx |
25 Jan 1871 Noon UT |  7 vi  2 Rx |
26 Jan 1871 Noon UT |  6 vi 54 Rx |
27 Jan 1871 Noon UT |  6 vi 46 Rx |
28 Jan 1871 Noon UT |  6 vi 38 Rx |
29 Jan 1871 Noon UT |  6 vi 29 Rx |
30 Jan 1871 Noon UT |  6 vi 20 Rx |
31 Jan 1871 Noon UT |  6 vi 11 Rx |
01 Feb 1871 Noon UT |  6 vi  1 Rx |
02 Feb 1871 Noon UT |  5 vi 52 Rx |
03 Feb 1871 Noon UT |  5 vi 42 Rx |
04 Feb 1871 Noon UT |  5 vi 31 Rx |
05 Feb 1871 Noon UT |  5 vi 21 Rx |
06 Feb 1871 Noon UT |  5 vi 10 Rx |
07 Feb 1871 Noon UT |  4 vi 59 Rx |
08 Feb 1871 Noon UT |  4 vi 48 Rx |
09 Feb 1871 Noon UT |  4 vi 37 Rx |
10 Feb 1871 Noon UT |  4 vi 26 Rx |
11 Feb 1871 Noon UT |  4 vi 14 Rx |
12 Feb 1871 Noon UT |  4 vi  2 Rx |
13 Feb 1871 Noon UT |  3 vi 51 Rx |
14 Feb 1871 Noon UT |  3 vi 39 Rx |
15 Feb 1871 Noon UT |  3 vi 27 Rx |
16 Feb 1871 Noon UT |  3 vi 14 Rx |
17 Feb 1871 Noon UT |  3 vi  2 Rx |
18 Feb 1871 Noon UT |  2 vi 50 Rx |
19 Feb 1871 Noon UT |  2 vi 37 Rx |
20 Feb 1871 Noon UT |  2 vi 25 Rx |
21 Feb 1871 Noon UT |  2 vi 13 Rx |
22 Feb 1871 Noon UT |  2 vi  0 Rx |
23 Feb 1871 Noon UT |  1 vi 48 Rx |
24 Feb 1871 Noon UT |  1 vi 35 Rx |
25 Feb 1871 Noon UT |  1 vi 23 Rx |
26 Feb 1871 Noon UT |  1 vi 10 Rx |
27 Feb 1871 Noon UT |  0 vi 58 Rx |
28 Feb 1871 Noon UT |  0 vi 46 Rx |
01 Mar 1871 Noon UT |  0 vi 34 Rx |
02 Mar 1871 Noon UT |  0 vi 22 Rx |
03 Mar 1871 Noon UT |  0 vi 10 Rx |
04 Mar 1871 Noon UT | 29 le 58 Rx |
05 Mar 1871 Noon UT | 29 le 46 Rx |
06 Mar 1871 Noon UT | 29 le 35 Rx |
07 Mar 1871 Noon UT | 29 le 23 Rx |
08 Mar 1871 Noon UT | 29 le 12 Rx |
09 Mar 1871 Noon UT | 29 le  1 Rx |
10 Mar 1871 Noon UT | 28 le 50 Rx |
11 Mar 1871 Noon UT | 28 le 40 Rx |
12 Mar 1871 Noon UT | 28 le 29 Rx |
13 Mar 1871 Noon UT | 28 le 19 Rx |
14 Mar 1871 Noon UT | 28 le  9 Rx |
15 Mar 1871 Noon UT | 27 le 59 Rx |
16 Mar 1871 Noon UT | 27 le 50 Rx |
17 Mar 1871 Noon UT | 27 le 41 Rx |
18 Mar 1871 Noon UT | 27 le 32 Rx |
19 Mar 1871 Noon UT | 27 le 23 Rx |
20 Mar 1871 Noon UT | 27 le 15 Rx |
21 Mar 1871 Noon UT | 27 le  6 Rx |
22 Mar 1871 Noon UT | 26 le 59 Rx |
23 Mar 1871 Noon UT | 26 le 51 Rx |
24 Mar 1871 Noon UT | 26 le 44 Rx |
25 Mar 1871 Noon UT | 26 le 37 Rx |
26 Mar 1871 Noon UT | 26 le 31 Rx |
27 Mar 1871 Noon UT | 26 le 24 Rx |
28 Mar 1871 Noon UT | 26 le 18 Rx |
29 Mar 1871 Noon UT | 26 le 13 Rx |
30 Mar 1871 Noon UT | 26 le  8 Rx |
31 Mar 1871 Noon UT | 26 le  3 Rx |
01 Apr 1871 Noon UT | 25 le 58 Rx |
02 Apr 1871 Noon UT | 25 le 54 Rx |
03 Apr 1871 Noon UT | 25 le 50 Rx |
04 Apr 1871 Noon UT | 25 le 47 Rx |
05 Apr 1871 Noon UT | 25 le 44 Rx |
06 Apr 1871 Noon UT | 25 le 41 Rx |
07 Apr 1871 Noon UT | 25 le 38 Rx |
08 Apr 1871 Noon UT | 25 le 36 Rx |
09 Apr 1871 Noon UT | 25 le 35 Rx |
10 Apr 1871 Noon UT | 25 le 33 Rx |
11 Apr 1871 Noon UT | 25 le 32 Rx |
12 Apr 1871 Noon UT | 25 le 31 Rx |
13 Apr 1871 Noon UT | 25 le 31 Rx |
14 Apr 1871 Noon UT | 25 le 31    |
15 Apr 1871 Noon UT | 25 le 31    |
16 Apr 1871 Noon UT | 25 le 32    |
17 Apr 1871 Noon UT | 25 le 33    |
18 Apr 1871 Noon UT | 25 le 35    |
19 Apr 1871 Noon UT | 25 le 36    |
20 Apr 1871 Noon UT | 25 le 38    |
21 Apr 1871 Noon UT | 25 le 41    |
22 Apr 1871 Noon UT | 25 le 44    |
23 Apr 1871 Noon UT | 25 le 47    |
24 Apr 1871 Noon UT | 25 le 50    |
25 Apr 1871 Noon UT | 25 le 54    |
26 Apr 1871 Noon UT | 25 le 58    |
27 Apr 1871 Noon UT | 26 le  2    |
28 Apr 1871 Noon UT | 26 le  7    |
29 Apr 1871 Noon UT | 26 le 12    |
30 Apr 1871 Noon UT | 26 le 17    |
01 May 1871 Noon UT | 26 le 23    |
02 May 1871 Noon UT | 26 le 29    |
03 May 1871 Noon UT | 26 le 35    |
04 May 1871 Noon UT | 26 le 42    |
05 May 1871 Noon UT | 26 le 49    |
06 May 1871 Noon UT | 26 le 56    |
07 May 1871 Noon UT | 27 le  3    |
08 May 1871 Noon UT | 27 le 11    |
09 May 1871 Noon UT | 27 le 19    |
10 May 1871 Noon UT | 27 le 27    |
11 May 1871 Noon UT | 27 le 36    |
12 May 1871 Noon UT | 27 le 45    |
13 May 1871 Noon UT | 27 le 54    |
14 May 1871 Noon UT | 28 le  3    |
15 May 1871 Noon UT | 28 le 13    |
16 May 1871 Noon UT | 28 le 22    |
17 May 1871 Noon UT | 28 le 33    |
18 May 1871 Noon UT | 28 le 43    |
19 May 1871 Noon UT | 28 le 54    |
20 May 1871 Noon UT | 29 le  4    |
21 May 1871 Noon UT | 29 le 16    |
22 May 1871 Noon UT | 29 le 27    |
23 May 1871 Noon UT | 29 le 39    |
24 May 1871 Noon UT | 29 le 50    |
25 May 1871 Noon UT |  0 vi  2    |
26 May 1871 Noon UT |  0 vi 15    |
27 May 1871 Noon UT |  0 vi 27    |
28 May 1871 Noon UT |  0 vi 40    |
29 May 1871 Noon UT |  0 vi 53    |
30 May 1871 Noon UT |  1 vi  6    |
31 May 1871 Noon UT |  1 vi 19    |
01 Jun 1871 Noon UT |  1 vi 33    |
02 Jun 1871 Noon UT |  1 vi 47    |
03 Jun 1871 Noon UT |  2 vi  1    |
04 Jun 1871 Noon UT |  2 vi 15    |
05 Jun 1871 Noon UT |  2 vi 29    |
06 Jun 1871 Noon UT |  2 vi 44    |
07 Jun 1871 Noon UT |  2 vi 58    |
08 Jun 1871 Noon UT |  3 vi 13    |
09 Jun 1871 Noon UT |  3 vi 28    |
10 Jun 1871 Noon UT |  3 vi 44    |
11 Jun 1871 Noon UT |  3 vi 59    |
12 Jun 1871 Noon UT |  4 vi 15    |
13 Jun 1871 Noon UT |  4 vi 31    |
14 Jun 1871 Noon UT |  4 vi 47    |
15 Jun 1871 Noon UT |  5 vi  3    |
16 Jun 1871 Noon UT |  5 vi 19    |
17 Jun 1871 Noon UT |  5 vi 36    |
18 Jun 1871 Noon UT |  5 vi 52    |
19 Jun 1871 Noon UT |  6 vi  9    |
20 Jun 1871 Noon UT |  6 vi 26    |
21 Jun 1871 Noon UT |  6 vi 43    |
22 Jun 1871 Noon UT |  7 vi  0    |
23 Jun 1871 Noon UT |  7 vi 18    |
24 Jun 1871 Noon UT |  7 vi 35    |
25 Jun 1871 Noon UT |  7 vi 53    |
26 Jun 1871 Noon UT |  8 vi 11    |
27 Jun 1871 Noon UT |  8 vi 29    |
28 Jun 1871 Noon UT |  8 vi 47    |
29 Jun 1871 Noon UT |  9 vi  5    |
30 Jun 1871 Noon UT |  9 vi 23    |
01 Jul 1871 Noon UT |  9 vi 42    |
02 Jul 1871 Noon UT | 10 vi  0    |
03 Jul 1871 Noon UT | 10 vi 19    |
04 Jul 1871 Noon UT | 10 vi 38    |
05 Jul 1871 Noon UT | 10 vi 57    |
06 Jul 1871 Noon UT | 11 vi 16    |
07 Jul 1871 Noon UT | 11 vi 35    |
08 Jul 1871 Noon UT | 11 vi 54    |
09 Jul 1871 Noon UT | 12 vi 14    |
10 Jul 1871 Noon UT | 12 vi 33    |
11 Jul 1871 Noon UT | 12 vi 53    |
12 Jul 1871 Noon UT | 13 vi 13    |
13 Jul 1871 Noon UT | 13 vi 33    |
14 Jul 1871 Noon UT | 13 vi 53    |
15 Jul 1871 Noon UT | 14 vi 13    |
16 Jul 1871 Noon UT | 14 vi 33    |
17 Jul 1871 Noon UT | 14 vi 53    |
18 Jul 1871 Noon UT | 15 vi 14    |
19 Jul 1871 Noon UT | 15 vi 34    |
20 Jul 1871 Noon UT | 15 vi 55    |
21 Jul 1871 Noon UT | 16 vi 16    |
22 Jul 1871 Noon UT | 16 vi 37    |
23 Jul 1871 Noon UT | 16 vi 57    |
24 Jul 1871 Noon UT | 17 vi 18    |
25 Jul 1871 Noon UT | 17 vi 39    |
26 Jul 1871 Noon UT | 18 vi  1    |
27 Jul 1871 Noon UT | 18 vi 22    |
28 Jul 1871 Noon UT | 18 vi 43    |
29 Jul 1871 Noon UT | 19 vi  5    |
30 Jul 1871 Noon UT | 19 vi 26    |
31 Jul 1871 Noon UT | 19 vi 48    |
01 Aug 1871 Noon UT | 20 vi  9    |
02 Aug 1871 Noon UT | 20 vi 31    |
03 Aug 1871 Noon UT | 20 vi 53    |
04 Aug 1871 Noon UT | 21 vi 15    |
05 Aug 1871 Noon UT | 21 vi 37    |
06 Aug 1871 Noon UT | 21 vi 59    |
07 Aug 1871 Noon UT | 22 vi 21    |
08 Aug 1871 Noon UT | 22 vi 43    |
09 Aug 1871 Noon UT | 23 vi  5    |
10 Aug 1871 Noon UT | 23 vi 28    |
11 Aug 1871 Noon UT | 23 vi 50    |
12 Aug 1871 Noon UT | 24 vi 12    |
13 Aug 1871 Noon UT | 24 vi 35    |
14 Aug 1871 Noon UT | 24 vi 58    |
15 Aug 1871 Noon UT | 25 vi 20    |
16 Aug 1871 Noon UT | 25 vi 43    |
17 Aug 1871 Noon UT | 26 vi  6    |
18 Aug 1871 Noon UT | 26 vi 29    |
19 Aug 1871 Noon UT | 26 vi 52    |
20 Aug 1871 Noon UT | 27 vi 15    |
21 Aug 1871 Noon UT | 27 vi 38    |
22 Aug 1871 Noon UT | 28 vi  1    |
23 Aug 1871 Noon UT | 28 vi 24    |
24 Aug 1871 Noon UT | 28 vi 47    |
25 Aug 1871 Noon UT | 29 vi 10    |
26 Aug 1871 Noon UT | 29 vi 33    |
27 Aug 1871 Noon UT | 29 vi 57    |
28 Aug 1871 Noon UT |  0 li 20    |
29 Aug 1871 Noon UT |  0 li 44    |
30 Aug 1871 Noon UT |  1 li  7    |
31 Aug 1871 Noon UT |  1 li 31    |
01 Sep 1871 Noon UT |  1 li 54    |
02 Sep 1871 Noon UT |  2 li 18    |
03 Sep 1871 Noon UT |  2 li 42    |
04 Sep 1871 Noon UT |  3 li  5    |
05 Sep 1871 Noon UT |  3 li 29    |
06 Sep 1871 Noon UT |  3 li 53    |
07 Sep 1871 Noon UT |  4 li 17    |
08 Sep 1871 Noon UT |  4 li 41    |
09 Sep 1871 Noon UT |  5 li  5    |
10 Sep 1871 Noon UT |  5 li 29    |
11 Sep 1871 Noon UT |  5 li 53    |
12 Sep 1871 Noon UT |  6 li 17    |
13 Sep 1871 Noon UT |  6 li 41    |
14 Sep 1871 Noon UT |  7 li  5    |
15 Sep 1871 Noon UT |  7 li 29    |
16 Sep 1871 Noon UT |  7 li 53    |
17 Sep 1871 Noon UT |  8 li 18    |
18 Sep 1871 Noon UT |  8 li 42    |
19 Sep 1871 Noon UT |  9 li  6    |
20 Sep 1871 Noon UT |  9 li 30    |
21 Sep 1871 Noon UT |  9 li 55    |
22 Sep 1871 Noon UT | 10 li 19    |
23 Sep 1871 Noon UT | 10 li 44    |
24 Sep 1871 Noon UT | 11 li  8    |
25 Sep 1871 Noon UT | 11 li 33    |
26 Sep 1871 Noon UT | 11 li 57    |
27 Sep 1871 Noon UT | 12 li 22    |
28 Sep 1871 Noon UT | 12 li 46    |
29 Sep 1871 Noon UT | 13 li 11    |
30 Sep 1871 Noon UT | 13 li 35    |
01 Oct 1871 Noon UT | 14 li  0    |
02 Oct 1871 Noon UT | 14 li 25    |
03 Oct 1871 Noon UT | 14 li 49    |
04 Oct 1871 Noon UT | 15 li 14    |
05 Oct 1871 Noon UT | 15 li 39    |
06 Oct 1871 Noon UT | 16 li  3    |
07 Oct 1871 Noon UT | 16 li 28    |
08 Oct 1871 Noon UT | 16 li 53    |
09 Oct 1871 Noon UT | 17 li 18    |
10 Oct 1871 Noon UT | 17 li 42    |
11 Oct 1871 Noon UT | 18 li  7    |
12 Oct 1871 Noon UT | 18 li 32    |
13 Oct 1871 Noon UT | 18 li 57    |
14 Oct 1871 Noon UT | 19 li 22    |
15 Oct 1871 Noon UT | 19 li 46    |
16 Oct 1871 Noon UT | 20 li 11    |
17 Oct 1871 Noon UT | 20 li 36    |
18 Oct 1871 Noon UT | 21 li  1    |
19 Oct 1871 Noon UT | 21 li 26    |
20 Oct 1871 Noon UT | 21 li 51    |
21 Oct 1871 Noon UT | 22 li 16    |
22 Oct 1871 Noon UT | 22 li 41    |
23 Oct 1871 Noon UT | 23 li  6    |
24 Oct 1871 Noon UT | 23 li 30    |
25 Oct 1871 Noon UT | 23 li 55    |
26 Oct 1871 Noon UT | 24 li 20    |
27 Oct 1871 Noon UT | 24 li 45    |
28 Oct 1871 Noon UT | 25 li 10    |
29 Oct 1871 Noon UT | 25 li 35    |
30 Oct 1871 Noon UT | 26 li  0    |
31 Oct 1871 Noon UT | 26 li 25    |
01 Nov 1871 Noon UT | 26 li 50    |
02 Nov 1871 Noon UT | 27 li 14    |
03 Nov 1871 Noon UT | 27 li 39    |
04 Nov 1871 Noon UT | 28 li  4    |
05 Nov 1871 Noon UT | 28 li 29    |
06 Nov 1871 Noon UT | 28 li 54    |
07 Nov 1871 Noon UT | 29 li 19    |
08 Nov 1871 Noon UT | 29 li 44    |
09 Nov 1871 Noon UT |  0 sc  8    |
10 Nov 1871 Noon UT |  0 sc 33    |
11 Nov 1871 Noon UT |  0 sc 58    |
12 Nov 1871 Noon UT |  1 sc 23    |
13 Nov 1871 Noon UT |  1 sc 47    |
14 Nov 1871 Noon UT |  2 sc 12    |
15 Nov 1871 Noon UT |  2 sc 37    |
16 Nov 1871 Noon UT |  3 sc  2    |
17 Nov 1871 Noon UT |  3 sc 26    |
18 Nov 1871 Noon UT |  3 sc 51    |
19 Nov 1871 Noon UT |  4 sc 16    |
20 Nov 1871 Noon UT |  4 sc 40    |
21 Nov 1871 Noon UT |  5 sc  5    |
22 Nov 1871 Noon UT |  5 sc 29    |
23 Nov 1871 Noon UT |  5 sc 54    |
24 Nov 1871 Noon UT |  6 sc 18    |
25 Nov 1871 Noon UT |  6 sc 43    |
26 Nov 1871 Noon UT |  7 sc  7    |
27 Nov 1871 Noon UT |  7 sc 32    |
28 Nov 1871 Noon UT |  7 sc 56    |
29 Nov 1871 Noon UT |  8 sc 20    |
30 Nov 1871 Noon UT |  8 sc 45    |
01 Dec 1871 Noon UT |  9 sc  9    |
02 Dec 1871 Noon UT |  9 sc 33    |
03 Dec 1871 Noon UT |  9 sc 57    |
04 Dec 1871 Noon UT | 10 sc 22    |
05 Dec 1871 Noon UT | 10 sc 46    |
06 Dec 1871 Noon UT | 11 sc 10    |
07 Dec 1871 Noon UT | 11 sc 34    |
08 Dec 1871 Noon UT | 11 sc 58    |
09 Dec 1871 Noon UT | 12 sc 22    |
10 Dec 1871 Noon UT | 12 sc 46    |
11 Dec 1871 Noon UT | 13 sc 10    |
12 Dec 1871 Noon UT | 13 sc 33    |
13 Dec 1871 Noon UT | 13 sc 57    |
14 Dec 1871 Noon UT | 14 sc 21    |
15 Dec 1871 Noon UT | 14 sc 44    |
16 Dec 1871 Noon UT | 15 sc  8    |
17 Dec 1871 Noon UT | 15 sc 32    |
18 Dec 1871 Noon UT | 15 sc 55    |
19 Dec 1871 Noon UT | 16 sc 18    |
20 Dec 1871 Noon UT | 16 sc 42    |
21 Dec 1871 Noon UT | 17 sc  5    |
22 Dec 1871 Noon UT | 17 sc 28    |
23 Dec 1871 Noon UT | 17 sc 51    |
24 Dec 1871 Noon UT | 18 sc 14    |
25 Dec 1871 Noon UT | 18 sc 37    |
26 Dec 1871 Noon UT | 19 sc  0    |
27 Dec 1871 Noon UT | 19 sc 23    |
28 Dec 1871 Noon UT | 19 sc 46    |
29 Dec 1871 Noon UT | 20 sc  9    |
30 Dec 1871 Noon UT | 20 sc 31    |
31 Dec 1871 Noon UT | 20 sc 54    |
01 Jan 1872 Noon UT | 21 sc 16    |
02 Jan 1872 Noon UT | 21 sc 39    |
03 Jan 1872 Noon UT | 22 sc  1    |
04 Jan 1872 Noon UT | 22 sc 23    |
05 Jan 1872 Noon UT | 22 sc 45    |
06 Jan 1872 Noon UT | 23 sc  7    |
07 Jan 1872 Noon UT | 23 sc 29    |
08 Jan 1872 Noon UT | 23 sc 51    |
09 Jan 1872 Noon UT | 24 sc 13    |
10 Jan 1872 Noon UT | 24 sc 35    |
11 Jan 1872 Noon UT | 24 sc 56    |
12 Jan 1872 Noon UT | 25 sc 18    |
13 Jan 1872 Noon UT | 25 sc 39    |
14 Jan 1872 Noon UT | 26 sc  0    |
15 Jan 1872 Noon UT | 26 sc 21    |
16 Jan 1872 Noon UT | 26 sc 42    |
17 Jan 1872 Noon UT | 27 sc  3    |
18 Jan 1872 Noon UT | 27 sc 24    |
19 Jan 1872 Noon UT | 27 sc 45    |
20 Jan 1872 Noon UT | 28 sc  5    |
21 Jan 1872 Noon UT | 28 sc 26    |
22 Jan 1872 Noon UT | 28 sc 46    |
23 Jan 1872 Noon UT | 29 sc  6    |
24 Jan 1872 Noon UT | 29 sc 26    |
25 Jan 1872 Noon UT | 29 sc 46    |
26 Jan 1872 Noon UT |  0 sa  6    |
27 Jan 1872 Noon UT |  0 sa 26    |
28 Jan 1872 Noon UT |  0 sa 45    |
29 Jan 1872 Noon UT |  1 sa  5    |
30 Jan 1872 Noon UT |  1 sa 24    |
31 Jan 1872 Noon UT |  1 sa 43    |
01 Feb 1872 Noon UT |  2 sa  2    |
02 Feb 1872 Noon UT |  2 sa 21    |
03 Feb 1872 Noon UT |  2 sa 39    |
04 Feb 1872 Noon UT |  2 sa 58    |
05 Feb 1872 Noon UT |  3 sa 16    |
06 Feb 1872 Noon UT |  3 sa 34    |
07 Feb 1872 Noon UT |  3 sa 52    |
08 Feb 1872 Noon UT |  4 sa 10    |
09 Feb 1872 Noon UT |  4 sa 28    |
10 Feb 1872 Noon UT |  4 sa 45    |
11 Feb 1872 Noon UT |  5 sa  3    |
12 Feb 1872 Noon UT |  5 sa 20    |
13 Feb 1872 Noon UT |  5 sa 37    |
14 Feb 1872 Noon UT |  5 sa 54    |
15 Feb 1872 Noon UT |  6 sa 10    |
16 Feb 1872 Noon UT |  6 sa 27    |
17 Feb 1872 Noon UT |  6 sa 43    |
18 Feb 1872 Noon UT |  6 sa 59    |
19 Feb 1872 Noon UT |  7 sa 15    |
20 Feb 1872 Noon UT |  7 sa 30    |
21 Feb 1872 Noon UT |  7 sa 46    |
22 Feb 1872 Noon UT |  8 sa  1    |
23 Feb 1872 Noon UT |  8 sa 16    |
24 Feb 1872 Noon UT |  8 sa 30    |
25 Feb 1872 Noon UT |  8 sa 45    |
26 Feb 1872 Noon UT |  8 sa 59    |
27 Feb 1872 Noon UT |  9 sa 13    |
28 Feb 1872 Noon UT |  9 sa 27    |
29 Feb 1872 Noon UT |  9 sa 41    |
01 Mar 1872 Noon UT |  9 sa 54    |
02 Mar 1872 Noon UT | 10 sa  7    |
03 Mar 1872 Noon UT | 10 sa 20    |
04 Mar 1872 Noon UT | 10 sa 33    |
05 Mar 1872 Noon UT | 10 sa 45    |
06 Mar 1872 Noon UT | 10 sa 58    |
07 Mar 1872 Noon UT | 11 sa  9    |
08 Mar 1872 Noon UT | 11 sa 21    |
09 Mar 1872 Noon UT | 11 sa 32    |
10 Mar 1872 Noon UT | 11 sa 43    |
11 Mar 1872 Noon UT | 11 sa 54    |
12 Mar 1872 Noon UT | 12 sa  5    |
13 Mar 1872 Noon UT | 12 sa 15    |
14 Mar 1872 Noon UT | 12 sa 25    |
15 Mar 1872 Noon UT | 12 sa 35    |
16 Mar 1872 Noon UT | 12 sa 44    |
17 Mar 1872 Noon UT | 12 sa 53    |
18 Mar 1872 Noon UT | 13 sa  2    |
19 Mar 1872 Noon UT | 13 sa 10    |
20 Mar 1872 Noon UT | 13 sa 18    |
21 Mar 1872 Noon UT | 13 sa 26    |
22 Mar 1872 Noon UT | 13 sa 34    |
23 Mar 1872 Noon UT | 13 sa 41    |
24 Mar 1872 Noon UT | 13 sa 48    |
25 Mar 1872 Noon UT | 13 sa 54    |
26 Mar 1872 Noon UT | 14 sa  1    |
27 Mar 1872 Noon UT | 14 sa  7    |
28 Mar 1872 Noon UT | 14 sa 12    |
29 Mar 1872 Noon UT | 14 sa 17    |
30 Mar 1872 Noon UT | 14 sa 22    |
31 Mar 1872 Noon UT | 14 sa 27    |
01 Apr 1872 Noon UT | 14 sa 31    |
02 Apr 1872 Noon UT | 14 sa 35    |
03 Apr 1872 Noon UT | 14 sa 38    |
04 Apr 1872 Noon UT | 14 sa 42    |
05 Apr 1872 Noon UT | 14 sa 44    |
06 Apr 1872 Noon UT | 14 sa 47    |
07 Apr 1872 Noon UT | 14 sa 49    |
08 Apr 1872 Noon UT | 14 sa 51    |
09 Apr 1872 Noon UT | 14 sa 52    |
10 Apr 1872 Noon UT | 14 sa 53    |
11 Apr 1872 Noon UT | 14 sa 53    |
12 Apr 1872 Noon UT | 14 sa 54    |
13 Apr 1872 Noon UT | 14 sa 54 Rx |
14 Apr 1872 Noon UT | 14 sa 53 Rx |
15 Apr 1872 Noon UT | 14 sa 52 Rx |
16 Apr 1872 Noon UT | 14 sa 51 Rx |
17 Apr 1872 Noon UT | 14 sa 49 Rx |
18 Apr 1872 Noon UT | 14 sa 47 Rx |
19 Apr 1872 Noon UT | 14 sa 45 Rx |
20 Apr 1872 Noon UT | 14 sa 42 Rx |
21 Apr 1872 Noon UT | 14 sa 39 Rx |
22 Apr 1872 Noon UT | 14 sa 36 Rx |
23 Apr 1872 Noon UT | 14 sa 32 Rx |
24 Apr 1872 Noon UT | 14 sa 28 Rx |
25 Apr 1872 Noon UT | 14 sa 24 Rx |
26 Apr 1872 Noon UT | 14 sa 19 Rx |
27 Apr 1872 Noon UT | 14 sa 14 Rx |
28 Apr 1872 Noon UT | 14 sa  8 Rx |
29 Apr 1872 Noon UT | 14 sa  2 Rx |
30 Apr 1872 Noon UT | 13 sa 56 Rx |
01 May 1872 Noon UT | 13 sa 50 Rx |
02 May 1872 Noon UT | 13 sa 43 Rx |
03 May 1872 Noon UT | 13 sa 36 Rx |
04 May 1872 Noon UT | 13 sa 28 Rx |
05 May 1872 Noon UT | 13 sa 21 Rx |
06 May 1872 Noon UT | 13 sa 13 Rx |
07 May 1872 Noon UT | 13 sa  4 Rx |
08 May 1872 Noon UT | 12 sa 56 Rx |
09 May 1872 Noon UT | 12 sa 47 Rx |
10 May 1872 Noon UT | 12 sa 38 Rx |
11 May 1872 Noon UT | 12 sa 28 Rx |
12 May 1872 Noon UT | 12 sa 19 Rx |
13 May 1872 Noon UT | 12 sa  9 Rx |
14 May 1872 Noon UT | 11 sa 59 Rx |
15 May 1872 Noon UT | 11 sa 48 Rx |
16 May 1872 Noon UT | 11 sa 38 Rx |
17 May 1872 Noon UT | 11 sa 27 Rx |
18 May 1872 Noon UT | 11 sa 16 Rx |
19 May 1872 Noon UT | 11 sa  5 Rx |
20 May 1872 Noon UT | 10 sa 54 Rx |
21 May 1872 Noon UT | 10 sa 43 Rx |
22 May 1872 Noon UT | 10 sa 32 Rx |
23 May 1872 Noon UT | 10 sa 20 Rx |
24 May 1872 Noon UT | 10 sa  9 Rx |
25 May 1872 Noon UT |  9 sa 57 Rx |
26 May 1872 Noon UT |  9 sa 45 Rx |
27 May 1872 Noon UT |  9 sa 33 Rx |
28 May 1872 Noon UT |  9 sa 22 Rx |
29 May 1872 Noon UT |  9 sa 10 Rx |
30 May 1872 Noon UT |  8 sa 58 Rx |
31 May 1872 Noon UT |  8 sa 46 Rx |
01 Jun 1872 Noon UT |  8 sa 34 Rx |
02 Jun 1872 Noon UT |  8 sa 22 Rx |
03 Jun 1872 Noon UT |  8 sa 11 Rx |
04 Jun 1872 Noon UT |  7 sa 59 Rx |
05 Jun 1872 Noon UT |  7 sa 47 Rx |
06 Jun 1872 Noon UT |  7 sa 36 Rx |
07 Jun 1872 Noon UT |  7 sa 24 Rx |
08 Jun 1872 Noon UT |  7 sa 13 Rx |
09 Jun 1872 Noon UT |  7 sa  2 Rx |
10 Jun 1872 Noon UT |  6 sa 51 Rx |
11 Jun 1872 Noon UT |  6 sa 40 Rx |
12 Jun 1872 Noon UT |  6 sa 29 Rx |
13 Jun 1872 Noon UT |  6 sa 19 Rx |
14 Jun 1872 Noon UT |  6 sa  8 Rx |
15 Jun 1872 Noon UT |  5 sa 58 Rx |
16 Jun 1872 Noon UT |  5 sa 48 Rx |
17 Jun 1872 Noon UT |  5 sa 39 Rx |
18 Jun 1872 Noon UT |  5 sa 29 Rx |
19 Jun 1872 Noon UT |  5 sa 20 Rx |
20 Jun 1872 Noon UT |  5 sa 11 Rx |
21 Jun 1872 Noon UT |  5 sa  2 Rx |
22 Jun 1872 Noon UT |  4 sa 54 Rx |
23 Jun 1872 Noon UT |  4 sa 46 Rx |
24 Jun 1872 Noon UT |  4 sa 38 Rx |
25 Jun 1872 Noon UT |  4 sa 30 Rx |
26 Jun 1872 Noon UT |  4 sa 23 Rx |
27 Jun 1872 Noon UT |  4 sa 16 Rx |
28 Jun 1872 Noon UT |  4 sa  9 Rx |
29 Jun 1872 Noon UT |  4 sa  3 Rx |
30 Jun 1872 Noon UT |  3 sa 57 Rx |
01 Jul 1872 Noon UT |  3 sa 51 Rx |
02 Jul 1872 Noon UT |  3 sa 46 Rx |
03 Jul 1872 Noon UT |  3 sa 41 Rx |
04 Jul 1872 Noon UT |  3 sa 36 Rx |
05 Jul 1872 Noon UT |  3 sa 32 Rx |
06 Jul 1872 Noon UT |  3 sa 28 Rx |
07 Jul 1872 Noon UT |  3 sa 24 Rx |
08 Jul 1872 Noon UT |  3 sa 21 Rx |
09 Jul 1872 Noon UT |  3 sa 18 Rx |
10 Jul 1872 Noon UT |  3 sa 15 Rx |
11 Jul 1872 Noon UT |  3 sa 13 Rx |
12 Jul 1872 Noon UT |  3 sa 11 Rx |
13 Jul 1872 Noon UT |  3 sa 10 Rx |
14 Jul 1872 Noon UT |  3 sa  8 Rx |
15 Jul 1872 Noon UT |  3 sa  8 Rx |
16 Jul 1872 Noon UT |  3 sa  7 Rx |
17 Jul 1872 Noon UT |  3 sa  7    |
18 Jul 1872 Noon UT |  3 sa  7    |
19 Jul 1872 Noon UT |  3 sa  8    |
20 Jul 1872 Noon UT |  3 sa  9    |
21 Jul 1872 Noon UT |  3 sa 10    |
22 Jul 1872 Noon UT |  3 sa 12    |
23 Jul 1872 Noon UT |  3 sa 14    |
24 Jul 1872 Noon UT |  3 sa 16    |
25 Jul 1872 Noon UT |  3 sa 19    |
26 Jul 1872 Noon UT |  3 sa 22    |
27 Jul 1872 Noon UT |  3 sa 25    |
28 Jul 1872 Noon UT |  3 sa 29    |
29 Jul 1872 Noon UT |  3 sa 33    |
30 Jul 1872 Noon UT |  3 sa 38    |
31 Jul 1872 Noon UT |  3 sa 42    |
01 Aug 1872 Noon UT |  3 sa 47    |
02 Aug 1872 Noon UT |  3 sa 53    |
03 Aug 1872 Noon UT |  3 sa 58    |
04 Aug 1872 Noon UT |  4 sa  4    |
05 Aug 1872 Noon UT |  4 sa 11    |
06 Aug 1872 Noon UT |  4 sa 17    |
07 Aug 1872 Noon UT |  4 sa 24    |
08 Aug 1872 Noon UT |  4 sa 32    |
09 Aug 1872 Noon UT |  4 sa 39    |
10 Aug 1872 Noon UT |  4 sa 47    |
11 Aug 1872 Noon UT |  4 sa 55    |
12 Aug 1872 Noon UT |  5 sa  3    |
13 Aug 1872 Noon UT |  5 sa 12    |
14 Aug 1872 Noon UT |  5 sa 21    |
15 Aug 1872 Noon UT |  5 sa 31    |
16 Aug 1872 Noon UT |  5 sa 40    |
17 Aug 1872 Noon UT |  5 sa 50    |
18 Aug 1872 Noon UT |  6 sa  0    |
19 Aug 1872 Noon UT |  6 sa 10    |
20 Aug 1872 Noon UT |  6 sa 21    |
21 Aug 1872 Noon UT |  6 sa 32    |
22 Aug 1872 Noon UT |  6 sa 43    |
23 Aug 1872 Noon UT |  6 sa 54    |
24 Aug 1872 Noon UT |  7 sa  6    |
25 Aug 1872 Noon UT |  7 sa 18    |
26 Aug 1872 Noon UT |  7 sa 30    |
27 Aug 1872 Noon UT |  7 sa 42    |
28 Aug 1872 Noon UT |  7 sa 55    |
29 Aug 1872 Noon UT |  8 sa  8    |
30 Aug 1872 Noon UT |  8 sa 21    |
31 Aug 1872 Noon UT |  8 sa 34    |
01 Sep 1872 Noon UT |  8 sa 48    |
02 Sep 1872 Noon UT |  9 sa  1    |
03 Sep 1872 Noon UT |  9 sa 15    |
04 Sep 1872 Noon UT |  9 sa 29    |
05 Sep 1872 Noon UT |  9 sa 44    |
06 Sep 1872 Noon UT |  9 sa 58    |
07 Sep 1872 Noon UT | 10 sa 13    |
08 Sep 1872 Noon UT | 10 sa 28    |
09 Sep 1872 Noon UT | 10 sa 43    |
10 Sep 1872 Noon UT | 10 sa 59    |
11 Sep 1872 Noon UT | 11 sa 14    |
12 Sep 1872 Noon UT | 11 sa 30    |
13 Sep 1872 Noon UT | 11 sa 46    |
14 Sep 1872 Noon UT | 12 sa  2    |
15 Sep 1872 Noon UT | 12 sa 18    |
16 Sep 1872 Noon UT | 12 sa 34    |
17 Sep 1872 Noon UT | 12 sa 51    |
18 Sep 1872 Noon UT | 13 sa  8    |
19 Sep 1872 Noon UT | 13 sa 25    |
20 Sep 1872 Noon UT | 13 sa 42    |
21 Sep 1872 Noon UT | 13 sa 59    |
22 Sep 1872 Noon UT | 14 sa 17    |
23 Sep 1872 Noon UT | 14 sa 34    |
24 Sep 1872 Noon UT | 14 sa 52    |
25 Sep 1872 Noon UT | 15 sa 10    |
26 Sep 1872 Noon UT | 15 sa 28    |
27 Sep 1872 Noon UT | 15 sa 46    |
28 Sep 1872 Noon UT | 16 sa  4    |
29 Sep 1872 Noon UT | 16 sa 23    |
30 Sep 1872 Noon UT | 16 sa 41    |
01 Oct 1872 Noon UT | 17 sa  0    |
02 Oct 1872 Noon UT | 17 sa 19    |
03 Oct 1872 Noon UT | 17 sa 38    |
04 Oct 1872 Noon UT | 17 sa 57    |
05 Oct 1872 Noon UT | 18 sa 16    |
06 Oct 1872 Noon UT | 18 sa 36    |
07 Oct 1872 Noon UT | 18 sa 55    |
08 Oct 1872 Noon UT | 19 sa 15    |
09 Oct 1872 Noon UT | 19 sa 35    |
10 Oct 1872 Noon UT | 19 sa 55    |
11 Oct 1872 Noon UT | 20 sa 15    |
12 Oct 1872 Noon UT | 20 sa 35    |
13 Oct 1872 Noon UT | 20 sa 55    |
14 Oct 1872 Noon UT | 21 sa 15    |
15 Oct 1872 Noon UT | 21 sa 36    |
16 Oct 1872 Noon UT | 21 sa 56    |
17 Oct 1872 Noon UT | 22 sa 17    |
18 Oct 1872 Noon UT | 22 sa 38    |
19 Oct 1872 Noon UT | 22 sa 58    |
20 Oct 1872 Noon UT | 23 sa 19    |
21 Oct 1872 Noon UT | 23 sa 40    |
22 Oct 1872 Noon UT | 24 sa  2    |
23 Oct 1872 Noon UT | 24 sa 23    |
24 Oct 1872 Noon UT | 24 sa 44    |
25 Oct 1872 Noon UT | 25 sa  5    |
26 Oct 1872 Noon UT | 25 sa 27    |
27 Oct 1872 Noon UT | 25 sa 49    |
28 Oct 1872 Noon UT | 26 sa 10    |
29 Oct 1872 Noon UT | 26 sa 32    |
30 Oct 1872 Noon UT | 26 sa 54    |
31 Oct 1872 Noon UT | 27 sa 16    |
01 Nov 1872 Noon UT | 27 sa 38    |
02 Nov 1872 Noon UT | 28 sa  0    |
03 Nov 1872 Noon UT | 28 sa 22    |
04 Nov 1872 Noon UT | 28 sa 44    |
05 Nov 1872 Noon UT | 29 sa  6    |
06 Nov 1872 Noon UT | 29 sa 29    |
07 Nov 1872 Noon UT | 29 sa 51    |
08 Nov 1872 Noon UT |  0 cp 14    |
09 Nov 1872 Noon UT |  0 cp 36    |
10 Nov 1872 Noon UT |  0 cp 59    |
11 Nov 1872 Noon UT |  1 cp 22    |
12 Nov 1872 Noon UT |  1 cp 44    |
13 Nov 1872 Noon UT |  2 cp  7    |
14 Nov 1872 Noon UT |  2 cp 30    |
15 Nov 1872 Noon UT |  2 cp 53    |
16 Nov 1872 Noon UT |  3 cp 16    |
17 Nov 1872 Noon UT |  3 cp 39    |
18 Nov 1872 Noon UT |  4 cp  2    |
19 Nov 1872 Noon UT |  4 cp 25    |
20 Nov 1872 Noon UT |  4 cp 48    |
21 Nov 1872 Noon UT |  5 cp 12    |
22 Nov 1872 Noon UT |  5 cp 35    |
23 Nov 1872 Noon UT |  5 cp 58    |
24 Nov 1872 Noon UT |  6 cp 22    |
25 Nov 1872 Noon UT |  6 cp 45    |
26 Nov 1872 Noon UT |  7 cp  9    |
27 Nov 1872 Noon UT |  7 cp 32    |
28 Nov 1872 Noon UT |  7 cp 56    |
29 Nov 1872 Noon UT |  8 cp 19    |
30 Nov 1872 Noon UT |  8 cp 43    |
01 Dec 1872 Noon UT |  9 cp  7    |
02 Dec 1872 Noon UT |  9 cp 30    |
03 Dec 1872 Noon UT |  9 cp 54    |
04 Dec 1872 Noon UT | 10 cp 18    |
05 Dec 1872 Noon UT | 10 cp 42    |
06 Dec 1872 Noon UT | 11 cp  6    |
07 Dec 1872 Noon UT | 11 cp 30    |
08 Dec 1872 Noon UT | 11 cp 53    |
09 Dec 1872 Noon UT | 12 cp 17    |
10 Dec 1872 Noon UT | 12 cp 41    |
11 Dec 1872 Noon UT | 13 cp  5    |
12 Dec 1872 Noon UT | 13 cp 29    |
13 Dec 1872 Noon UT | 13 cp 53    |
14 Dec 1872 Noon UT | 14 cp 18    |
15 Dec 1872 Noon UT | 14 cp 42    |
16 Dec 1872 Noon UT | 15 cp  6    |
17 Dec 1872 Noon UT | 15 cp 30    |
18 Dec 1872 Noon UT | 15 cp 54    |
19 Dec 1872 Noon UT | 16 cp 18    |
20 Dec 1872 Noon UT | 16 cp 42    |
21 Dec 1872 Noon UT | 17 cp  7    |
22 Dec 1872 Noon UT | 17 cp 31    |
23 Dec 1872 Noon UT | 17 cp 55    |
24 Dec 1872 Noon UT | 18 cp 19    |
25 Dec 1872 Noon UT | 18 cp 44    |
26 Dec 1872 Noon UT | 19 cp  8    |
27 Dec 1872 Noon UT | 19 cp 32    |
28 Dec 1872 Noon UT | 19 cp 57    |
29 Dec 1872 Noon UT | 20 cp 21    |
30 Dec 1872 Noon UT | 20 cp 45    |
31 Dec 1872 Noon UT | 21 cp 10    |
01 Jan 1873 Noon UT | 21 cp 34    |
02 Jan 1873 Noon UT | 21 cp 58    |
03 Jan 1873 Noon UT | 22 cp 23    |
04 Jan 1873 Noon UT | 22 cp 47    |
05 Jan 1873 Noon UT | 23 cp 11    |
06 Jan 1873 Noon UT | 23 cp 36    |
07 Jan 1873 Noon UT | 24 cp  0    |
08 Jan 1873 Noon UT | 24 cp 24    |
09 Jan 1873 Noon UT | 24 cp 49    |
10 Jan 1873 Noon UT | 25 cp 13    |
11 Jan 1873 Noon UT | 25 cp 37    |
12 Jan 1873 Noon UT | 26 cp  2    |
13 Jan 1873 Noon UT | 26 cp 26    |
14 Jan 1873 Noon UT | 26 cp 50    |
15 Jan 1873 Noon UT | 27 cp 14    |
16 Jan 1873 Noon UT | 27 cp 39    |
17 Jan 1873 Noon UT | 28 cp  3    |
18 Jan 1873 Noon UT | 28 cp 27    |
19 Jan 1873 Noon UT | 28 cp 52    |
20 Jan 1873 Noon UT | 29 cp 16    |
21 Jan 1873 Noon UT | 29 cp 40    |
22 Jan 1873 Noon UT |  0 aq  4    |
23 Jan 1873 Noon UT |  0 aq 28    |
24 Jan 1873 Noon UT |  0 aq 53    |
25 Jan 1873 Noon UT |  1 aq 17    |
26 Jan 1873 Noon UT |  1 aq 41    |
27 Jan 1873 Noon UT |  2 aq  5    |
28 Jan 1873 Noon UT |  2 aq 29    |
29 Jan 1873 Noon UT |  2 aq 53    |
30 Jan 1873 Noon UT |  3 aq 17    |
31 Jan 1873 Noon UT |  3 aq 41    |
01 Feb 1873 Noon UT |  4 aq  5    |
02 Feb 1873 Noon UT |  4 aq 29    |
03 Feb 1873 Noon UT |  4 aq 53    |
04 Feb 1873 Noon UT |  5 aq 17    |
05 Feb 1873 Noon UT |  5 aq 41    |
06 Feb 1873 Noon UT |  6 aq  5    |
07 Feb 1873 Noon UT |  6 aq 29    |
08 Feb 1873 Noon UT |  6 aq 53    |
09 Feb 1873 Noon UT |  7 aq 16    |
10 Feb 1873 Noon UT |  7 aq 40    |
11 Feb 1873 Noon UT |  8 aq  4    |
12 Feb 1873 Noon UT |  8 aq 27    |
13 Feb 1873 Noon UT |  8 aq 51    |
14 Feb 1873 Noon UT |  9 aq 15    |
15 Feb 1873 Noon UT |  9 aq 38    |
16 Feb 1873 Noon UT | 10 aq  2    |
17 Feb 1873 Noon UT | 10 aq 25    |
18 Feb 1873 Noon UT | 10 aq 49    |
19 Feb 1873 Noon UT | 11 aq 12    |
20 Feb 1873 Noon UT | 11 aq 35    |
21 Feb 1873 Noon UT | 11 aq 59    |
22 Feb 1873 Noon UT | 12 aq 22    |
23 Feb 1873 Noon UT | 12 aq 45    |
24 Feb 1873 Noon UT | 13 aq  8    |
25 Feb 1873 Noon UT | 13 aq 31    |
26 Feb 1873 Noon UT | 13 aq 54    |
27 Feb 1873 Noon UT | 14 aq 17    |
28 Feb 1873 Noon UT | 14 aq 40    |
01 Mar 1873 Noon UT | 15 aq  3    |
02 Mar 1873 Noon UT | 15 aq 26    |
03 Mar 1873 Noon UT | 15 aq 49    |
04 Mar 1873 Noon UT | 16 aq 11    |
05 Mar 1873 Noon UT | 16 aq 34    |
06 Mar 1873 Noon UT | 16 aq 57    |
07 Mar 1873 Noon UT | 17 aq 19    |
08 Mar 1873 Noon UT | 17 aq 42    |
09 Mar 1873 Noon UT | 18 aq  4    |
10 Mar 1873 Noon UT | 18 aq 27    |
11 Mar 1873 Noon UT | 18 aq 49    |
12 Mar 1873 Noon UT | 19 aq 11    |
13 Mar 1873 Noon UT | 19 aq 33    |
14 Mar 1873 Noon UT | 19 aq 55    |
15 Mar 1873 Noon UT | 20 aq 17    |
16 Mar 1873 Noon UT | 20 aq 39    |
17 Mar 1873 Noon UT | 21 aq  1    |
18 Mar 1873 Noon UT | 21 aq 23    |
19 Mar 1873 Noon UT | 21 aq 45    |
20 Mar 1873 Noon UT | 22 aq  6    |
21 Mar 1873 Noon UT | 22 aq 28    |
22 Mar 1873 Noon UT | 22 aq 49    |
23 Mar 1873 Noon UT | 23 aq 11    |
24 Mar 1873 Noon UT | 23 aq 32    |
25 Mar 1873 Noon UT | 23 aq 53    |
26 Mar 1873 Noon UT | 24 aq 15    |
27 Mar 1873 Noon UT | 24 aq 36    |
28 Mar 1873 Noon UT | 24 aq 57    |
29 Mar 1873 Noon UT | 25 aq 18    |
30 Mar 1873 Noon UT | 25 aq 38    |
31 Mar 1873 Noon UT | 25 aq 59    |
01 Apr 1873 Noon UT | 26 aq 20    |
02 Apr 1873 Noon UT | 26 aq 40    |
03 Apr 1873 Noon UT | 27 aq  1    |
04 Apr 1873 Noon UT | 27 aq 21    |
05 Apr 1873 Noon UT | 27 aq 41    |
06 Apr 1873 Noon UT | 28 aq  2    |
07 Apr 1873 Noon UT | 28 aq 22    |
08 Apr 1873 Noon UT | 28 aq 42    |
09 Apr 1873 Noon UT | 29 aq  1    |
10 Apr 1873 Noon UT | 29 aq 21    |
11 Apr 1873 Noon UT | 29 aq 41    |
12 Apr 1873 Noon UT |  0 pi  0    |
13 Apr 1873 Noon UT |  0 pi 20    |
14 Apr 1873 Noon UT |  0 pi 39    |
15 Apr 1873 Noon UT |  0 pi 58    |
16 Apr 1873 Noon UT |  1 pi 17    |
17 Apr 1873 Noon UT |  1 pi 36    |
18 Apr 1873 Noon UT |  1 pi 55    |
19 Apr 1873 Noon UT |  2 pi 14    |
20 Apr 1873 Noon UT |  2 pi 32    |
21 Apr 1873 Noon UT |  2 pi 51    |
22 Apr 1873 Noon UT |  3 pi  9    |
23 Apr 1873 Noon UT |  3 pi 27    |
24 Apr 1873 Noon UT |  3 pi 45    |
25 Apr 1873 Noon UT |  4 pi  3    |
26 Apr 1873 Noon UT |  4 pi 21    |
27 Apr 1873 Noon UT |  4 pi 39    |
28 Apr 1873 Noon UT |  4 pi 56    |
29 Apr 1873 Noon UT |  5 pi 14    |
30 Apr 1873 Noon UT |  5 pi 31    |
01 May 1873 Noon UT |  5 pi 48    |
02 May 1873 Noon UT |  6 pi  5    |
03 May 1873 Noon UT |  6 pi 22    |
04 May 1873 Noon UT |  6 pi 39    |
05 May 1873 Noon UT |  6 pi 55    |
06 May 1873 Noon UT |  7 pi 12    |
07 May 1873 Noon UT |  7 pi 28    |
08 May 1873 Noon UT |  7 pi 44    |
09 May 1873 Noon UT |  8 pi  0    |
10 May 1873 Noon UT |  8 pi 15    |
11 May 1873 Noon UT |  8 pi 31    |
12 May 1873 Noon UT |  8 pi 46    |
13 May 1873 Noon UT |  9 pi  2    |
14 May 1873 Noon UT |  9 pi 17    |
15 May 1873 Noon UT |  9 pi 31    |
16 May 1873 Noon UT |  9 pi 46    |
17 May 1873 Noon UT | 10 pi  1    |
18 May 1873 Noon UT | 10 pi 15    |
19 May 1873 Noon UT | 10 pi 29    |
20 May 1873 Noon UT | 10 pi 43    |
21 May 1873 Noon UT | 10 pi 57    |
22 May 1873 Noon UT | 11 pi 10    |
23 May 1873 Noon UT | 11 pi 24    |
24 May 1873 Noon UT | 11 pi 37    |
25 May 1873 Noon UT | 11 pi 50    |
26 May 1873 Noon UT | 12 pi  3    |
27 May 1873 Noon UT | 12 pi 15    |
28 May 1873 Noon UT | 12 pi 28    |
29 May 1873 Noon UT | 12 pi 40    |
30 May 1873 Noon UT | 12 pi 52    |
31 May 1873 Noon UT | 13 pi  3    |
01 Jun 1873 Noon UT | 13 pi 15    |
02 Jun 1873 Noon UT | 13 pi 26    |
03 Jun 1873 Noon UT | 13 pi 37    |
04 Jun 1873 Noon UT | 13 pi 48    |
05 Jun 1873 Noon UT | 13 pi 58    |
06 Jun 1873 Noon UT | 14 pi  9    |
07 Jun 1873 Noon UT | 14 pi 19    |
08 Jun 1873 Noon UT | 14 pi 28    |
09 Jun 1873 Noon UT | 14 pi 38    |
10 Jun 1873 Noon UT | 14 pi 47    |
11 Jun 1873 Noon UT | 14 pi 57    |
12 Jun 1873 Noon UT | 15 pi  5    |
13 Jun 1873 Noon UT | 15 pi 14    |
14 Jun 1873 Noon UT | 15 pi 22    |
15 Jun 1873 Noon UT | 15 pi 30    |
16 Jun 1873 Noon UT | 15 pi 38    |
17 Jun 1873 Noon UT | 15 pi 46    |
18 Jun 1873 Noon UT | 15 pi 53    |
19 Jun 1873 Noon UT | 16 pi  0    |
20 Jun 1873 Noon UT | 16 pi  6    |
21 Jun 1873 Noon UT | 16 pi 13    |
22 Jun 1873 Noon UT | 16 pi 19    |
23 Jun 1873 Noon UT | 16 pi 25    |
24 Jun 1873 Noon UT | 16 pi 30    |
25 Jun 1873 Noon UT | 16 pi 36    |
26 Jun 1873 Noon UT | 16 pi 41    |
27 Jun 1873 Noon UT | 16 pi 45    |
28 Jun 1873 Noon UT | 16 pi 50    |
29 Jun 1873 Noon UT | 16 pi 54    |
30 Jun 1873 Noon UT | 16 pi 57    |
01 Jul 1873 Noon UT | 17 pi  1    |
02 Jul 1873 Noon UT | 17 pi  4    |
03 Jul 1873 Noon UT | 17 pi  7    |
04 Jul 1873 Noon UT | 17 pi  9    |
05 Jul 1873 Noon UT | 17 pi 11    |
06 Jul 1873 Noon UT | 17 pi 13    |
07 Jul 1873 Noon UT | 17 pi 15    |
08 Jul 1873 Noon UT | 17 pi 16    |
09 Jul 1873 Noon UT | 17 pi 17    |
10 Jul 1873 Noon UT | 17 pi 17    |
11 Jul 1873 Noon UT | 17 pi 18    |
12 Jul 1873 Noon UT | 17 pi 18 Rx |
13 Jul 1873 Noon UT | 17 pi 17 Rx |
14 Jul 1873 Noon UT | 17 pi 16 Rx |
15 Jul 1873 Noon UT | 17 pi 15 Rx |
16 Jul 1873 Noon UT | 17 pi 14 Rx |
17 Jul 1873 Noon UT | 17 pi 12 Rx |
18 Jul 1873 Noon UT | 17 pi 10 Rx |
19 Jul 1873 Noon UT | 17 pi  8 Rx |
20 Jul 1873 Noon UT | 17 pi  5 Rx |
21 Jul 1873 Noon UT | 17 pi  2 Rx |
22 Jul 1873 Noon UT | 16 pi 59 Rx |
23 Jul 1873 Noon UT | 16 pi 55 Rx |
24 Jul 1873 Noon UT | 16 pi 51 Rx |
25 Jul 1873 Noon UT | 16 pi 47 Rx |
26 Jul 1873 Noon UT | 16 pi 42 Rx |
27 Jul 1873 Noon UT | 16 pi 37 Rx |
28 Jul 1873 Noon UT | 16 pi 32 Rx |
29 Jul 1873 Noon UT | 16 pi 26 Rx |
30 Jul 1873 Noon UT | 16 pi 20 Rx |
31 Jul 1873 Noon UT | 16 pi 14 Rx |
01 Aug 1873 Noon UT | 16 pi  7 Rx |
02 Aug 1873 Noon UT | 16 pi  1 Rx |
03 Aug 1873 Noon UT | 15 pi 53 Rx |
04 Aug 1873 Noon UT | 15 pi 46 Rx |
05 Aug 1873 Noon UT | 15 pi 38 Rx |
06 Aug 1873 Noon UT | 15 pi 31 Rx |
07 Aug 1873 Noon UT | 15 pi 22 Rx |
08 Aug 1873 Noon UT | 15 pi 14 Rx |
09 Aug 1873 Noon UT | 15 pi  5 Rx |
10 Aug 1873 Noon UT | 14 pi 56 Rx |
11 Aug 1873 Noon UT | 14 pi 47 Rx |
12 Aug 1873 Noon UT | 14 pi 38 Rx |
13 Aug 1873 Noon UT | 14 pi 28 Rx |
14 Aug 1873 Noon UT | 14 pi 18 Rx |
15 Aug 1873 Noon UT | 14 pi  8 Rx |
16 Aug 1873 Noon UT | 13 pi 58 Rx |
17 Aug 1873 Noon UT | 13 pi 47 Rx |
18 Aug 1873 Noon UT | 13 pi 37 Rx |
19 Aug 1873 Noon UT | 13 pi 26 Rx |
20 Aug 1873 Noon UT | 13 pi 15 Rx |
21 Aug 1873 Noon UT | 13 pi  4 Rx |
22 Aug 1873 Noon UT | 12 pi 53 Rx |
23 Aug 1873 Noon UT | 12 pi 41 Rx |
24 Aug 1873 Noon UT | 12 pi 30 Rx |
25 Aug 1873 Noon UT | 12 pi 18 Rx |
26 Aug 1873 Noon UT | 12 pi  7 Rx |
27 Aug 1873 Noon UT | 11 pi 55 Rx |
28 Aug 1873 Noon UT | 11 pi 43 Rx |
29 Aug 1873 Noon UT | 11 pi 31 Rx |
30 Aug 1873 Noon UT | 11 pi 19 Rx |
31 Aug 1873 Noon UT | 11 pi  7 Rx |
01 Sep 1873 Noon UT | 10 pi 55 Rx |
02 Sep 1873 Noon UT | 10 pi 44 Rx |
03 Sep 1873 Noon UT | 10 pi 32 Rx |
04 Sep 1873 Noon UT | 10 pi 20 Rx |
05 Sep 1873 Noon UT | 10 pi  8 Rx |
06 Sep 1873 Noon UT |  9 pi 56 Rx |
07 Sep 1873 Noon UT |  9 pi 44 Rx |
08 Sep 1873 Noon UT |  9 pi 32 Rx |
09 Sep 1873 Noon UT |  9 pi 21 Rx |
10 Sep 1873 Noon UT |  9 pi  9 Rx |
11 Sep 1873 Noon UT |  8 pi 58 Rx |
12 Sep 1873 Noon UT |  8 pi 46 Rx |
13 Sep 1873 Noon UT |  8 pi 35 Rx |
14 Sep 1873 Noon UT |  8 pi 24 Rx |
15 Sep 1873 Noon UT |  8 pi 13 Rx |
16 Sep 1873 Noon UT |  8 pi  2 Rx |
17 Sep 1873 Noon UT |  7 pi 52 Rx |
18 Sep 1873 Noon UT |  7 pi 41 Rx |
19 Sep 1873 Noon UT |  7 pi 31 Rx |
20 Sep 1873 Noon UT |  7 pi 21 Rx |
21 Sep 1873 Noon UT |  7 pi 11 Rx |
22 Sep 1873 Noon UT |  7 pi  2 Rx |
23 Sep 1873 Noon UT |  6 pi 52 Rx |
24 Sep 1873 Noon UT |  6 pi 43 Rx |
25 Sep 1873 Noon UT |  6 pi 34 Rx |
26 Sep 1873 Noon UT |  6 pi 25 Rx |
27 Sep 1873 Noon UT |  6 pi 17 Rx |
28 Sep 1873 Noon UT |  6 pi  9 Rx |
29 Sep 1873 Noon UT |  6 pi  1 Rx |
30 Sep 1873 Noon UT |  5 pi 53 Rx |
01 Oct 1873 Noon UT |  5 pi 46 Rx |
02 Oct 1873 Noon UT |  5 pi 39 Rx |
03 Oct 1873 Noon UT |  5 pi 32 Rx |
04 Oct 1873 Noon UT |  5 pi 26 Rx |
05 Oct 1873 Noon UT |  5 pi 19 Rx |
06 Oct 1873 Noon UT |  5 pi 14 Rx |
07 Oct 1873 Noon UT |  5 pi  8 Rx |
08 Oct 1873 Noon UT |  5 pi  3 Rx |
09 Oct 1873 Noon UT |  4 pi 58 Rx |
10 Oct 1873 Noon UT |  4 pi 53 Rx |
11 Oct 1873 Noon UT |  4 pi 49 Rx |
12 Oct 1873 Noon UT |  4 pi 45 Rx |
13 Oct 1873 Noon UT |  4 pi 41 Rx |
14 Oct 1873 Noon UT |  4 pi 38 Rx |
15 Oct 1873 Noon UT |  4 pi 35 Rx |
16 Oct 1873 Noon UT |  4 pi 32 Rx |
17 Oct 1873 Noon UT |  4 pi 30 Rx |
18 Oct 1873 Noon UT |  4 pi 28 Rx |
19 Oct 1873 Noon UT |  4 pi 26 Rx |
20 Oct 1873 Noon UT |  4 pi 24 Rx |
21 Oct 1873 Noon UT |  4 pi 23 Rx |
22 Oct 1873 Noon UT |  4 pi 23 Rx |
23 Oct 1873 Noon UT |  4 pi 22 Rx |
24 Oct 1873 Noon UT |  4 pi 22    |
25 Oct 1873 Noon UT |  4 pi 22    |
26 Oct 1873 Noon UT |  4 pi 23    |
27 Oct 1873 Noon UT |  4 pi 24    |
28 Oct 1873 Noon UT |  4 pi 25    |
29 Oct 1873 Noon UT |  4 pi 26    |
30 Oct 1873 Noon UT |  4 pi 28    |
31 Oct 1873 Noon UT |  4 pi 30    |
01 Nov 1873 Noon UT |  4 pi 33    |
02 Nov 1873 Noon UT |  4 pi 36    |
03 Nov 1873 Noon UT |  4 pi 39    |
04 Nov 1873 Noon UT |  4 pi 42    |
05 Nov 1873 Noon UT |  4 pi 46    |
06 Nov 1873 Noon UT |  4 pi 50    |
07 Nov 1873 Noon UT |  4 pi 54    |
08 Nov 1873 Noon UT |  4 pi 59    |
09 Nov 1873 Noon UT |  5 pi  3    |
10 Nov 1873 Noon UT |  5 pi  9    |
11 Nov 1873 Noon UT |  5 pi 14    |
12 Nov 1873 Noon UT |  5 pi 20    |
13 Nov 1873 Noon UT |  5 pi 26    |
14 Nov 1873 Noon UT |  5 pi 32    |
15 Nov 1873 Noon UT |  5 pi 39    |
16 Nov 1873 Noon UT |  5 pi 45    |
17 Nov 1873 Noon UT |  5 pi 52    |
18 Nov 1873 Noon UT |  6 pi  0    |
19 Nov 1873 Noon UT |  6 pi  7    |
20 Nov 1873 Noon UT |  6 pi 15    |
21 Nov 1873 Noon UT |  6 pi 24    |
22 Nov 1873 Noon UT |  6 pi 32    |
23 Nov 1873 Noon UT |  6 pi 41    |
24 Nov 1873 Noon UT |  6 pi 49    |
25 Nov 1873 Noon UT |  6 pi 59    |
26 Nov 1873 Noon UT |  7 pi  8    |
27 Nov 1873 Noon UT |  7 pi 18    |
28 Nov 1873 Noon UT |  7 pi 27    |
29 Nov 1873 Noon UT |  7 pi 37    |
30 Nov 1873 Noon UT |  7 pi 48    |
01 Dec 1873 Noon UT |  7 pi 58    |
02 Dec 1873 Noon UT |  8 pi  9    |
03 Dec 1873 Noon UT |  8 pi 20    |
04 Dec 1873 Noon UT |  8 pi 31    |
05 Dec 1873 Noon UT |  8 pi 43    |
06 Dec 1873 Noon UT |  8 pi 54    |
07 Dec 1873 Noon UT |  9 pi  6    |
08 Dec 1873 Noon UT |  9 pi 18    |
09 Dec 1873 Noon UT |  9 pi 30    |
10 Dec 1873 Noon UT |  9 pi 42    |
11 Dec 1873 Noon UT |  9 pi 55    |
12 Dec 1873 Noon UT | 10 pi  8    |
13 Dec 1873 Noon UT | 10 pi 21    |
14 Dec 1873 Noon UT | 10 pi 34    |
15 Dec 1873 Noon UT | 10 pi 47    |
16 Dec 1873 Noon UT | 11 pi  0    |
17 Dec 1873 Noon UT | 11 pi 14    |
18 Dec 1873 Noon UT | 11 pi 28    |
19 Dec 1873 Noon UT | 11 pi 42    |
20 Dec 1873 Noon UT | 11 pi 56    |
21 Dec 1873 Noon UT | 12 pi 10    |
22 Dec 1873 Noon UT | 12 pi 25    |
23 Dec 1873 Noon UT | 12 pi 39    |
24 Dec 1873 Noon UT | 12 pi 54    |
25 Dec 1873 Noon UT | 13 pi  9    |
26 Dec 1873 Noon UT | 13 pi 24    |
27 Dec 1873 Noon UT | 13 pi 39    |
28 Dec 1873 Noon UT | 13 pi 55    |
29 Dec 1873 Noon UT | 14 pi 10    |
30 Dec 1873 Noon UT | 14 pi 26    |
31 Dec 1873 Noon UT | 14 pi 42    |
01 Jan 1874 Noon UT | 14 pi 58    |
02 Jan 1874 Noon UT | 15 pi 14    |
03 Jan 1874 Noon UT | 15 pi 30    |
04 Jan 1874 Noon UT | 15 pi 46    |
05 Jan 1874 Noon UT | 16 pi  3    |
06 Jan 1874 Noon UT | 16 pi 19    |
07 Jan 1874 Noon UT | 16 pi 36    |
08 Jan 1874 Noon UT | 16 pi 53    |
09 Jan 1874 Noon UT | 17 pi  9    |
10 Jan 1874 Noon UT | 17 pi 26    |
11 Jan 1874 Noon UT | 17 pi 43    |
12 Jan 1874 Noon UT | 18 pi  1    |
13 Jan 1874 Noon UT | 18 pi 18    |
14 Jan 1874 Noon UT | 18 pi 35    |
15 Jan 1874 Noon UT | 18 pi 53    |
16 Jan 1874 Noon UT | 19 pi 11    |
17 Jan 1874 Noon UT | 19 pi 28    |
18 Jan 1874 Noon UT | 19 pi 46    |
19 Jan 1874 Noon UT | 20 pi  4    |
20 Jan 1874 Noon UT | 20 pi 22    |
21 Jan 1874 Noon UT | 20 pi 40    |
22 Jan 1874 Noon UT | 20 pi 58    |
23 Jan 1874 Noon UT | 21 pi 17    |
24 Jan 1874 Noon UT | 21 pi 35    |
25 Jan 1874 Noon UT | 21 pi 53    |
26 Jan 1874 Noon UT | 22 pi 12    |
27 Jan 1874 Noon UT | 22 pi 30    |
28 Jan 1874 Noon UT | 22 pi 49    |
29 Jan 1874 Noon UT | 23 pi  8    |
30 Jan 1874 Noon UT | 23 pi 27    |
31 Jan 1874 Noon UT | 23 pi 46    |
01 Feb 1874 Noon UT | 24 pi  4    |
02 Feb 1874 Noon UT | 24 pi 23    |
03 Feb 1874 Noon UT | 24 pi 43    |
04 Feb 1874 Noon UT | 25 pi  2    |
05 Feb 1874 Noon UT | 25 pi 21    |
06 Feb 1874 Noon UT | 25 pi 40    |
07 Feb 1874 Noon UT | 25 pi 59    |
08 Feb 1874 Noon UT | 26 pi 19    |
09 Feb 1874 Noon UT | 26 pi 38    |
10 Feb 1874 Noon UT | 26 pi 58    |
11 Feb 1874 Noon UT | 27 pi 17    |
12 Feb 1874 Noon UT | 27 pi 37    |
13 Feb 1874 Noon UT | 27 pi 57    |
14 Feb 1874 Noon UT | 28 pi 16    |
15 Feb 1874 Noon UT | 28 pi 36    |
16 Feb 1874 Noon UT | 28 pi 56    |
17 Feb 1874 Noon UT | 29 pi 16    |
18 Feb 1874 Noon UT | 29 pi 36    |
19 Feb 1874 Noon UT | 29 pi 55    |
20 Feb 1874 Noon UT |  0 ar 15    |
21 Feb 1874 Noon UT |  0 ar 35    |
22 Feb 1874 Noon UT |  0 ar 56    |
23 Feb 1874 Noon UT |  1 ar 16    |
24 Feb 1874 Noon UT |  1 ar 36    |
25 Feb 1874 Noon UT |  1 ar 56    |
26 Feb 1874 Noon UT |  2 ar 16    |
27 Feb 1874 Noon UT |  2 ar 36    |
28 Feb 1874 Noon UT |  2 ar 56    |
01 Mar 1874 Noon UT |  3 ar 17    |
02 Mar 1874 Noon UT |  3 ar 37    |
03 Mar 1874 Noon UT |  3 ar 57    |
04 Mar 1874 Noon UT |  4 ar 18    |
05 Mar 1874 Noon UT |  4 ar 38    |
06 Mar 1874 Noon UT |  4 ar 58    |
07 Mar 1874 Noon UT |  5 ar 19    |
08 Mar 1874 Noon UT |  5 ar 39    |
09 Mar 1874 Noon UT |  6 ar  0    |
10 Mar 1874 Noon UT |  6 ar 20    |
11 Mar 1874 Noon UT |  6 ar 41    |
12 Mar 1874 Noon UT |  7 ar  1    |
13 Mar 1874 Noon UT |  7 ar 22    |
14 Mar 1874 Noon UT |  7 ar 42    |
15 Mar 1874 Noon UT |  8 ar  3    |
16 Mar 1874 Noon UT |  8 ar 23    |
17 Mar 1874 Noon UT |  8 ar 44    |
18 Mar 1874 Noon UT |  9 ar  5    |
19 Mar 1874 Noon UT |  9 ar 25    |
20 Mar 1874 Noon UT |  9 ar 46    |
21 Mar 1874 Noon UT | 10 ar  6    |
22 Mar 1874 Noon UT | 10 ar 27    |
23 Mar 1874 Noon UT | 10 ar 48    |
24 Mar 1874 Noon UT | 11 ar  8    |
25 Mar 1874 Noon UT | 11 ar 29    |
26 Mar 1874 Noon UT | 11 ar 49    |
27 Mar 1874 Noon UT | 12 ar 10    |
28 Mar 1874 Noon UT | 12 ar 31    |
29 Mar 1874 Noon UT | 12 ar 51    |
30 Mar 1874 Noon UT | 13 ar 12    |
31 Mar 1874 Noon UT | 13 ar 32    |
01 Apr 1874 Noon UT | 13 ar 53    |
02 Apr 1874 Noon UT | 14 ar 14    |
03 Apr 1874 Noon UT | 14 ar 34    |
04 Apr 1874 Noon UT | 14 ar 55    |
05 Apr 1874 Noon UT | 15 ar 15    |
06 Apr 1874 Noon UT | 15 ar 36    |
07 Apr 1874 Noon UT | 15 ar 56    |
08 Apr 1874 Noon UT | 16 ar 17    |
09 Apr 1874 Noon UT | 16 ar 38    |
10 Apr 1874 Noon UT | 16 ar 58    |
11 Apr 1874 Noon UT | 17 ar 19    |
12 Apr 1874 Noon UT | 17 ar 39    |
13 Apr 1874 Noon UT | 18 ar  0    |
14 Apr 1874 Noon UT | 18 ar 20    |
15 Apr 1874 Noon UT | 18 ar 40    |
16 Apr 1874 Noon UT | 19 ar  1    |
17 Apr 1874 Noon UT | 19 ar 21    |
18 Apr 1874 Noon UT | 19 ar 42    |
19 Apr 1874 Noon UT | 20 ar  2    |
20 Apr 1874 Noon UT | 20 ar 22    |
21 Apr 1874 Noon UT | 20 ar 43    |
22 Apr 1874 Noon UT | 21 ar  3    |
23 Apr 1874 Noon UT | 21 ar 23    |
24 Apr 1874 Noon UT | 21 ar 43    |
25 Apr 1874 Noon UT | 22 ar  4    |
26 Apr 1874 Noon UT | 22 ar 24    |
27 Apr 1874 Noon UT | 22 ar 44    |
28 Apr 1874 Noon UT | 23 ar  4    |
29 Apr 1874 Noon UT | 23 ar 24    |
30 Apr 1874 Noon UT | 23 ar 44    |
01 May 1874 Noon UT | 24 ar  4    |
02 May 1874 Noon UT | 24 ar 24    |
03 May 1874 Noon UT | 24 ar 44    |
04 May 1874 Noon UT | 25 ar  4    |
05 May 1874 Noon UT | 25 ar 24    |
06 May 1874 Noon UT | 25 ar 43    |
07 May 1874 Noon UT | 26 ar  3    |
08 May 1874 Noon UT | 26 ar 23    |
09 May 1874 Noon UT | 26 ar 43    |
10 May 1874 Noon UT | 27 ar  2    |
11 May 1874 Noon UT | 27 ar 22    |
12 May 1874 Noon UT | 27 ar 42    |
13 May 1874 Noon UT | 28 ar  1    |
14 May 1874 Noon UT | 28 ar 21    |
15 May 1874 Noon UT | 28 ar 40    |
16 May 1874 Noon UT | 28 ar 59    |
17 May 1874 Noon UT | 29 ar 19    |
18 May 1874 Noon UT | 29 ar 38    |
19 May 1874 Noon UT | 29 ar 57    |
20 May 1874 Noon UT |  0 ta 16    |
21 May 1874 Noon UT |  0 ta 35    |
22 May 1874 Noon UT |  0 ta 54    |
23 May 1874 Noon UT |  1 ta 13    |
24 May 1874 Noon UT |  1 ta 32    |
25 May 1874 Noon UT |  1 ta 51    |
26 May 1874 Noon UT |  2 ta 10    |
27 May 1874 Noon UT |  2 ta 29    |
28 May 1874 Noon UT |  2 ta 48    |
29 May 1874 Noon UT |  3 ta  6    |
30 May 1874 Noon UT |  3 ta 25    |
31 May 1874 Noon UT |  3 ta 43    |
01 Jun 1874 Noon UT |  4 ta  2    |
02 Jun 1874 Noon UT |  4 ta 20    |
03 Jun 1874 Noon UT |  4 ta 38    |
04 Jun 1874 Noon UT |  4 ta 57    |
05 Jun 1874 Noon UT |  5 ta 15    |
06 Jun 1874 Noon UT |  5 ta 33    |
07 Jun 1874 Noon UT |  5 ta 51    |
08 Jun 1874 Noon UT |  6 ta  9    |
09 Jun 1874 Noon UT |  6 ta 27    |
10 Jun 1874 Noon UT |  6 ta 44    |
11 Jun 1874 Noon UT |  7 ta  2    |
12 Jun 1874 Noon UT |  7 ta 20    |
13 Jun 1874 Noon UT |  7 ta 37    |
14 Jun 1874 Noon UT |  7 ta 55    |
15 Jun 1874 Noon UT |  8 ta 12    |
16 Jun 1874 Noon UT |  8 ta 29    |
17 Jun 1874 Noon UT |  8 ta 46    |
18 Jun 1874 Noon UT |  9 ta  4    |
19 Jun 1874 Noon UT |  9 ta 21    |
20 Jun 1874 Noon UT |  9 ta 37    |
21 Jun 1874 Noon UT |  9 ta 54    |
22 Jun 1874 Noon UT | 10 ta 11    |
23 Jun 1874 Noon UT | 10 ta 27    |
24 Jun 1874 Noon UT | 10 ta 44    |
25 Jun 1874 Noon UT | 11 ta  0    |
26 Jun 1874 Noon UT | 11 ta 17    |
27 Jun 1874 Noon UT | 11 ta 33    |
28 Jun 1874 Noon UT | 11 ta 49    |
29 Jun 1874 Noon UT | 12 ta  5    |
30 Jun 1874 Noon UT | 12 ta 21    |
01 Jul 1874 Noon UT | 12 ta 37    |
02 Jul 1874 Noon UT | 12 ta 52    |
03 Jul 1874 Noon UT | 13 ta  8    |
04 Jul 1874 Noon UT | 13 ta 23    |
05 Jul 1874 Noon UT | 13 ta 38    |
06 Jul 1874 Noon UT | 13 ta 54    |
07 Jul 1874 Noon UT | 14 ta  9    |
08 Jul 1874 Noon UT | 14 ta 24    |
09 Jul 1874 Noon UT | 14 ta 38    |
10 Jul 1874 Noon UT | 14 ta 53    |
11 Jul 1874 Noon UT | 15 ta  8    |
12 Jul 1874 Noon UT | 15 ta 22    |
13 Jul 1874 Noon UT | 15 ta 36    |
14 Jul 1874 Noon UT | 15 ta 50    |
15 Jul 1874 Noon UT | 16 ta  4    |
16 Jul 1874 Noon UT | 16 ta 18    |
17 Jul 1874 Noon UT | 16 ta 32    |
18 Jul 1874 Noon UT | 16 ta 45    |
19 Jul 1874 Noon UT | 16 ta 59    |
20 Jul 1874 Noon UT | 17 ta 12    |
21 Jul 1874 Noon UT | 17 ta 25    |
22 Jul 1874 Noon UT | 17 ta 38    |
23 Jul 1874 Noon UT | 17 ta 51    |
24 Jul 1874 Noon UT | 18 ta  3    |
25 Jul 1874 Noon UT | 18 ta 16    |
26 Jul 1874 Noon UT | 18 ta 28    |
27 Jul 1874 Noon UT | 18 ta 40    |
28 Jul 1874 Noon UT | 18 ta 52    |
29 Jul 1874 Noon UT | 19 ta  4    |
30 Jul 1874 Noon UT | 19 ta 15    |
31 Jul 1874 Noon UT | 19 ta 27    |
01 Aug 1874 Noon UT | 19 ta 38    |
02 Aug 1874 Noon UT | 19 ta 49    |
03 Aug 1874 Noon UT | 20 ta  0    |
04 Aug 1874 Noon UT | 20 ta 11    |
05 Aug 1874 Noon UT | 20 ta 21    |
06 Aug 1874 Noon UT | 20 ta 31    |
07 Aug 1874 Noon UT | 20 ta 42    |
08 Aug 1874 Noon UT | 20 ta 51    |
09 Aug 1874 Noon UT | 21 ta  1    |
10 Aug 1874 Noon UT | 21 ta 11    |
11 Aug 1874 Noon UT | 21 ta 20    |
12 Aug 1874 Noon UT | 21 ta 29    |
13 Aug 1874 Noon UT | 21 ta 38    |
14 Aug 1874 Noon UT | 21 ta 46    |
15 Aug 1874 Noon UT | 21 ta 55    |
16 Aug 1874 Noon UT | 22 ta  3    |
17 Aug 1874 Noon UT | 22 ta 11    |
18 Aug 1874 Noon UT | 22 ta 19    |
19 Aug 1874 Noon UT | 22 ta 26    |
20 Aug 1874 Noon UT | 22 ta 33    |
21 Aug 1874 Noon UT | 22 ta 40    |
22 Aug 1874 Noon UT | 22 ta 47    |
23 Aug 1874 Noon UT | 22 ta 54    |
24 Aug 1874 Noon UT | 23 ta  0    |
25 Aug 1874 Noon UT | 23 ta  6    |
26 Aug 1874 Noon UT | 23 ta 12    |
27 Aug 1874 Noon UT | 23 ta 17    |
28 Aug 1874 Noon UT | 23 ta 22    |
29 Aug 1874 Noon UT | 23 ta 27    |
30 Aug 1874 Noon UT | 23 ta 32    |
31 Aug 1874 Noon UT | 23 ta 37    |
01 Sep 1874 Noon UT | 23 ta 41    |
02 Sep 1874 Noon UT | 23 ta 45    |
03 Sep 1874 Noon UT | 23 ta 48    |
04 Sep 1874 Noon UT | 23 ta 52    |
05 Sep 1874 Noon UT | 23 ta 55    |
06 Sep 1874 Noon UT | 23 ta 58    |
07 Sep 1874 Noon UT | 24 ta  0    |
08 Sep 1874 Noon UT | 24 ta  3    |
09 Sep 1874 Noon UT | 24 ta  4    |
10 Sep 1874 Noon UT | 24 ta  6    |
11 Sep 1874 Noon UT | 24 ta  7    |
12 Sep 1874 Noon UT | 24 ta  9    |
13 Sep 1874 Noon UT | 24 ta  9    |
14 Sep 1874 Noon UT | 24 ta 10    |
15 Sep 1874 Noon UT | 24 ta 10    |
16 Sep 1874 Noon UT | 24 ta 10 Rx |
17 Sep 1874 Noon UT | 24 ta  9 Rx |
18 Sep 1874 Noon UT | 24 ta  9 Rx |
19 Sep 1874 Noon UT | 24 ta  8 Rx |
20 Sep 1874 Noon UT | 24 ta  6 Rx |
21 Sep 1874 Noon UT | 24 ta  5 Rx |
22 Sep 1874 Noon UT | 24 ta  3 Rx |
23 Sep 1874 Noon UT | 24 ta  0 Rx |
24 Sep 1874 Noon UT | 23 ta 58 Rx |
25 Sep 1874 Noon UT | 23 ta 55 Rx |
26 Sep 1874 Noon UT | 23 ta 52 Rx |
27 Sep 1874 Noon UT | 23 ta 48 Rx |
28 Sep 1874 Noon UT | 23 ta 44 Rx |
29 Sep 1874 Noon UT | 23 ta 40 Rx |
30 Sep 1874 Noon UT | 23 ta 36 Rx |
01 Oct 1874 Noon UT | 23 ta 31 Rx |
02 Oct 1874 Noon UT | 23 ta 26 Rx |
03 Oct 1874 Noon UT | 23 ta 21 Rx |
04 Oct 1874 Noon UT | 23 ta 15 Rx |
05 Oct 1874 Noon UT | 23 ta  9 Rx |
06 Oct 1874 Noon UT | 23 ta  3 Rx |
07 Oct 1874 Noon UT | 22 ta 57 Rx |
08 Oct 1874 Noon UT | 22 ta 50 Rx |
09 Oct 1874 Noon UT | 22 ta 43 Rx |
10 Oct 1874 Noon UT | 22 ta 36 Rx |
11 Oct 1874 Noon UT | 22 ta 28 Rx |
12 Oct 1874 Noon UT | 22 ta 20 Rx |
13 Oct 1874 Noon UT | 22 ta 12 Rx |
14 Oct 1874 Noon UT | 22 ta  4 Rx |
15 Oct 1874 Noon UT | 21 ta 55 Rx |
16 Oct 1874 Noon UT | 21 ta 47 Rx |
17 Oct 1874 Noon UT | 21 ta 37 Rx |
18 Oct 1874 Noon UT | 21 ta 28 Rx |
19 Oct 1874 Noon UT | 21 ta 19 Rx |
20 Oct 1874 Noon UT | 21 ta  9 Rx |
21 Oct 1874 Noon UT | 20 ta 59 Rx |
22 Oct 1874 Noon UT | 20 ta 49 Rx |
23 Oct 1874 Noon UT | 20 ta 39 Rx |
24 Oct 1874 Noon UT | 20 ta 28 Rx |
25 Oct 1874 Noon UT | 20 ta 18 Rx |
26 Oct 1874 Noon UT | 20 ta  7 Rx |
27 Oct 1874 Noon UT | 19 ta 56 Rx |
28 Oct 1874 Noon UT | 19 ta 45 Rx |
29 Oct 1874 Noon UT | 19 ta 33 Rx |
30 Oct 1874 Noon UT | 19 ta 22 Rx |
31 Oct 1874 Noon UT | 19 ta 11 Rx |
01 Nov 1874 Noon UT | 18 ta 59 Rx |
02 Nov 1874 Noon UT | 18 ta 47 Rx |
03 Nov 1874 Noon UT | 18 ta 36 Rx |
04 Nov 1874 Noon UT | 18 ta 24 Rx |
05 Nov 1874 Noon UT | 18 ta 12 Rx |
06 Nov 1874 Noon UT | 18 ta  0 Rx |
07 Nov 1874 Noon UT | 17 ta 48 Rx |
08 Nov 1874 Noon UT | 17 ta 36 Rx |
09 Nov 1874 Noon UT | 17 ta 24 Rx |
10 Nov 1874 Noon UT | 17 ta 12 Rx |
11 Nov 1874 Noon UT | 17 ta  0 Rx |
12 Nov 1874 Noon UT | 16 ta 48 Rx |
13 Nov 1874 Noon UT | 16 ta 36 Rx |
14 Nov 1874 Noon UT | 16 ta 24 Rx |
15 Nov 1874 Noon UT | 16 ta 12 Rx |
16 Nov 1874 Noon UT | 16 ta  1 Rx |
17 Nov 1874 Noon UT | 15 ta 49 Rx |
18 Nov 1874 Noon UT | 15 ta 37 Rx |
19 Nov 1874 Noon UT | 15 ta 26 Rx |
20 Nov 1874 Noon UT | 15 ta 15 Rx |
21 Nov 1874 Noon UT | 15 ta  3 Rx |
22 Nov 1874 Noon UT | 14 ta 52 Rx |
23 Nov 1874 Noon UT | 14 ta 41 Rx |
24 Nov 1874 Noon UT | 14 ta 31 Rx |
25 Nov 1874 Noon UT | 14 ta 20 Rx |
26 Nov 1874 Noon UT | 14 ta  9 Rx |
27 Nov 1874 Noon UT | 13 ta 59 Rx |
28 Nov 1874 Noon UT | 13 ta 49 Rx |
29 Nov 1874 Noon UT | 13 ta 39 Rx |
30 Nov 1874 Noon UT | 13 ta 29 Rx |
01 Dec 1874 Noon UT | 13 ta 20 Rx |
02 Dec 1874 Noon UT | 13 ta 11 Rx |
03 Dec 1874 Noon UT | 13 ta  2 Rx |
04 Dec 1874 Noon UT | 12 ta 53 Rx |
05 Dec 1874 Noon UT | 12 ta 44 Rx |
06 Dec 1874 Noon UT | 12 ta 36 Rx |
07 Dec 1874 Noon UT | 12 ta 28 Rx |
08 Dec 1874 Noon UT | 12 ta 20 Rx |
09 Dec 1874 Noon UT | 12 ta 13 Rx |
10 Dec 1874 Noon UT | 12 ta  6 Rx |
11 Dec 1874 Noon UT | 11 ta 59 Rx |
12 Dec 1874 Noon UT | 11 ta 52 Rx |
13 Dec 1874 Noon UT | 11 ta 46 Rx |
14 Dec 1874 Noon UT | 11 ta 39 Rx |
15 Dec 1874 Noon UT | 11 ta 34 Rx |
16 Dec 1874 Noon UT | 11 ta 28 Rx |
17 Dec 1874 Noon UT | 11 ta 23 Rx |
18 Dec 1874 Noon UT | 11 ta 18 Rx |
19 Dec 1874 Noon UT | 11 ta 14 Rx |
20 Dec 1874 Noon UT | 11 ta  9 Rx |
21 Dec 1874 Noon UT | 11 ta  5 Rx |
22 Dec 1874 Noon UT | 11 ta  2 Rx |
23 Dec 1874 Noon UT | 10 ta 58 Rx |
24 Dec 1874 Noon UT | 10 ta 55 Rx |
25 Dec 1874 Noon UT | 10 ta 53 Rx |
26 Dec 1874 Noon UT | 10 ta 50 Rx |
27 Dec 1874 Noon UT | 10 ta 48 Rx |
28 Dec 1874 Noon UT | 10 ta 46 Rx |
29 Dec 1874 Noon UT | 10 ta 45 Rx |
30 Dec 1874 Noon UT | 10 ta 44 Rx |
31 Dec 1874 Noon UT | 10 ta 43 Rx |
01 Jan 1875 Noon UT | 10 ta 42 Rx |
02 Jan 1875 Noon UT | 10 ta 42 Rx |
03 Jan 1875 Noon UT | 10 ta 42    |
04 Jan 1875 Noon UT | 10 ta 43    |
05 Jan 1875 Noon UT | 10 ta 43    |
06 Jan 1875 Noon UT | 10 ta 44    |
07 Jan 1875 Noon UT | 10 ta 46    |
08 Jan 1875 Noon UT | 10 ta 47    |
09 Jan 1875 Noon UT | 10 ta 49    |
10 Jan 1875 Noon UT | 10 ta 51    |
11 Jan 1875 Noon UT | 10 ta 54    |
12 Jan 1875 Noon UT | 10 ta 57    |
13 Jan 1875 Noon UT | 11 ta  0    |
14 Jan 1875 Noon UT | 11 ta  3    |
15 Jan 1875 Noon UT | 11 ta  7    |
16 Jan 1875 Noon UT | 11 ta 11    |
17 Jan 1875 Noon UT | 11 ta 15    |
18 Jan 1875 Noon UT | 11 ta 20    |
19 Jan 1875 Noon UT | 11 ta 25    |
20 Jan 1875 Noon UT | 11 ta 30    |
21 Jan 1875 Noon UT | 11 ta 35    |
22 Jan 1875 Noon UT | 11 ta 41    |
23 Jan 1875 Noon UT | 11 ta 47    |
24 Jan 1875 Noon UT | 11 ta 53    |
25 Jan 1875 Noon UT | 11 ta 59    |
26 Jan 1875 Noon UT | 12 ta  6    |
27 Jan 1875 Noon UT | 12 ta 13    |
28 Jan 1875 Noon UT | 12 ta 20    |
29 Jan 1875 Noon UT | 12 ta 27    |
30 Jan 1875 Noon UT | 12 ta 35    |
31 Jan 1875 Noon UT | 12 ta 43    |
01 Feb 1875 Noon UT | 12 ta 51    |
02 Feb 1875 Noon UT | 12 ta 59    |
03 Feb 1875 Noon UT | 13 ta  8    |
04 Feb 1875 Noon UT | 13 ta 17    |
05 Feb 1875 Noon UT | 13 ta 26    |
06 Feb 1875 Noon UT | 13 ta 35    |
07 Feb 1875 Noon UT | 13 ta 45    |
08 Feb 1875 Noon UT | 13 ta 54    |
09 Feb 1875 Noon UT | 14 ta  4    |
10 Feb 1875 Noon UT | 14 ta 14    |
11 Feb 1875 Noon UT | 14 ta 25    |
12 Feb 1875 Noon UT | 14 ta 35    |
13 Feb 1875 Noon UT | 14 ta 46    |
14 Feb 1875 Noon UT | 14 ta 57    |
15 Feb 1875 Noon UT | 15 ta  8    |
16 Feb 1875 Noon UT | 15 ta 19    |
17 Feb 1875 Noon UT | 15 ta 31    |
18 Feb 1875 Noon UT | 15 ta 42    |
19 Feb 1875 Noon UT | 15 ta 54    |
20 Feb 1875 Noon UT | 16 ta  6    |
21 Feb 1875 Noon UT | 16 ta 18    |
22 Feb 1875 Noon UT | 16 ta 31    |
23 Feb 1875 Noon UT | 16 ta 43    |
24 Feb 1875 Noon UT | 16 ta 56    |
25 Feb 1875 Noon UT | 17 ta  9    |
26 Feb 1875 Noon UT | 17 ta 22    |
27 Feb 1875 Noon UT | 17 ta 35    |
28 Feb 1875 Noon UT | 17 ta 48    |
01 Mar 1875 Noon UT | 18 ta  2    |
02 Mar 1875 Noon UT | 18 ta 15    |
03 Mar 1875 Noon UT | 18 ta 29    |
04 Mar 1875 Noon UT | 18 ta 43    |
05 Mar 1875 Noon UT | 18 ta 57    |
06 Mar 1875 Noon UT | 19 ta 12    |
07 Mar 1875 Noon UT | 19 ta 26    |
08 Mar 1875 Noon UT | 19 ta 40    |
09 Mar 1875 Noon UT | 19 ta 55    |
10 Mar 1875 Noon UT | 20 ta 10    |
11 Mar 1875 Noon UT | 20 ta 25    |
12 Mar 1875 Noon UT | 20 ta 40    |
13 Mar 1875 Noon UT | 20 ta 55    |
14 Mar 1875 Noon UT | 21 ta 10    |
15 Mar 1875 Noon UT | 21 ta 25    |
16 Mar 1875 Noon UT | 21 ta 41    |
17 Mar 1875 Noon UT | 21 ta 56    |
18 Mar 1875 Noon UT | 22 ta 12    |
19 Mar 1875 Noon UT | 22 ta 28    |
20 Mar 1875 Noon UT | 22 ta 44    |
21 Mar 1875 Noon UT | 23 ta  0    |
22 Mar 1875 Noon UT | 23 ta 16    |
23 Mar 1875 Noon UT | 23 ta 32    |
24 Mar 1875 Noon UT | 23 ta 49    |
25 Mar 1875 Noon UT | 24 ta  5    |
26 Mar 1875 Noon UT | 24 ta 22    |
27 Mar 1875 Noon UT | 24 ta 38    |
28 Mar 1875 Noon UT | 24 ta 55    |
29 Mar 1875 Noon UT | 25 ta 12    |
30 Mar 1875 Noon UT | 25 ta 29    |
31 Mar 1875 Noon UT | 25 ta 46    |
01 Apr 1875 Noon UT | 26 ta  3    |
02 Apr 1875 Noon UT | 26 ta 20    |
03 Apr 1875 Noon UT | 26 ta 37    |
04 Apr 1875 Noon UT | 26 ta 54    |
05 Apr 1875 Noon UT | 27 ta 12    |
06 Apr 1875 Noon UT | 27 ta 29    |
07 Apr 1875 Noon UT | 27 ta 47    |
08 Apr 1875 Noon UT | 28 ta  4    |
09 Apr 1875 Noon UT | 28 ta 22    |
10 Apr 1875 Noon UT | 28 ta 40    |
11 Apr 1875 Noon UT | 28 ta 58    |
12 Apr 1875 Noon UT | 29 ta 16    |
13 Apr 1875 Noon UT | 29 ta 34    |
14 Apr 1875 Noon UT | 29 ta 52    |
15 Apr 1875 Noon UT |  0 ge 10    |
16 Apr 1875 Noon UT |  0 ge 28    |
17 Apr 1875 Noon UT |  0 ge 46    |
18 Apr 1875 Noon UT |  1 ge  4    |
19 Apr 1875 Noon UT |  1 ge 23    |
20 Apr 1875 Noon UT |  1 ge 41    |
21 Apr 1875 Noon UT |  1 ge 59    |
22 Apr 1875 Noon UT |  2 ge 18    |
23 Apr 1875 Noon UT |  2 ge 36    |
24 Apr 1875 Noon UT |  2 ge 55    |
25 Apr 1875 Noon UT |  3 ge 14    |
26 Apr 1875 Noon UT |  3 ge 32    |
27 Apr 1875 Noon UT |  3 ge 51    |
28 Apr 1875 Noon UT |  4 ge 10    |
29 Apr 1875 Noon UT |  4 ge 29    |
30 Apr 1875 Noon UT |  4 ge 48    |
01 May 1875 Noon UT |  5 ge  6    |
02 May 1875 Noon UT |  5 ge 25    |
03 May 1875 Noon UT |  5 ge 44    |
04 May 1875 Noon UT |  6 ge  3    |
05 May 1875 Noon UT |  6 ge 23    |
06 May 1875 Noon UT |  6 ge 42    |
07 May 1875 Noon UT |  7 ge  1    |
08 May 1875 Noon UT |  7 ge 20    |
09 May 1875 Noon UT |  7 ge 39    |
10 May 1875 Noon UT |  7 ge 58    |
11 May 1875 Noon UT |  8 ge 18    |
12 May 1875 Noon UT |  8 ge 37    |
13 May 1875 Noon UT |  8 ge 56    |
14 May 1875 Noon UT |  9 ge 16    |
15 May 1875 Noon UT |  9 ge 35    |
16 May 1875 Noon UT |  9 ge 54    |
17 May 1875 Noon UT | 10 ge 14    |
18 May 1875 Noon UT | 10 ge 33    |
19 May 1875 Noon UT | 10 ge 53    |
20 May 1875 Noon UT | 11 ge 12    |
21 May 1875 Noon UT | 11 ge 32    |
22 May 1875 Noon UT | 11 ge 51    |
23 May 1875 Noon UT | 12 ge 11    |
24 May 1875 Noon UT | 12 ge 30    |
25 May 1875 Noon UT | 12 ge 50    |
26 May 1875 Noon UT | 13 ge  9    |
27 May 1875 Noon UT | 13 ge 29    |
28 May 1875 Noon UT | 13 ge 49    |
29 May 1875 Noon UT | 14 ge  8    |
30 May 1875 Noon UT | 14 ge 28    |
31 May 1875 Noon UT | 14 ge 48    |
01 Jun 1875 Noon UT | 15 ge  7    |
02 Jun 1875 Noon UT | 15 ge 27    |
03 Jun 1875 Noon UT | 15 ge 47    |
04 Jun 1875 Noon UT | 16 ge  6    |
05 Jun 1875 Noon UT | 16 ge 26    |
06 Jun 1875 Noon UT | 16 ge 46    |
07 Jun 1875 Noon UT | 17 ge  5    |
08 Jun 1875 Noon UT | 17 ge 25    |
09 Jun 1875 Noon UT | 17 ge 45    |
10 Jun 1875 Noon UT | 18 ge  5    |
11 Jun 1875 Noon UT | 18 ge 24    |
12 Jun 1875 Noon UT | 18 ge 44    |
13 Jun 1875 Noon UT | 19 ge  4    |
14 Jun 1875 Noon UT | 19 ge 23    |
15 Jun 1875 Noon UT | 19 ge 43    |
16 Jun 1875 Noon UT | 20 ge  3    |
17 Jun 1875 Noon UT | 20 ge 23    |
18 Jun 1875 Noon UT | 20 ge 42    |
19 Jun 1875 Noon UT | 21 ge  2    |
20 Jun 1875 Noon UT | 21 ge 22    |
21 Jun 1875 Noon UT | 21 ge 41    |
22 Jun 1875 Noon UT | 22 ge  1    |
23 Jun 1875 Noon UT | 22 ge 21    |
24 Jun 1875 Noon UT | 22 ge 40    |
25 Jun 1875 Noon UT | 23 ge  0    |
26 Jun 1875 Noon UT | 23 ge 19    |
27 Jun 1875 Noon UT | 23 ge 39    |
28 Jun 1875 Noon UT | 23 ge 59    |
29 Jun 1875 Noon UT | 24 ge 18    |
30 Jun 1875 Noon UT | 24 ge 38    |
01 Jul 1875 Noon UT | 24 ge 57    |
02 Jul 1875 Noon UT | 25 ge 17    |
03 Jul 1875 Noon UT | 25 ge 36    |
04 Jul 1875 Noon UT | 25 ge 56    |
05 Jul 1875 Noon UT | 26 ge 15    |
06 Jul 1875 Noon UT | 26 ge 35    |
07 Jul 1875 Noon UT | 26 ge 54    |
08 Jul 1875 Noon UT | 27 ge 13    |
09 Jul 1875 Noon UT | 27 ge 33    |
10 Jul 1875 Noon UT | 27 ge 52    |
11 Jul 1875 Noon UT | 28 ge 11    |
12 Jul 1875 Noon UT | 28 ge 31    |
13 Jul 1875 Noon UT | 28 ge 50    |
14 Jul 1875 Noon UT | 29 ge  9    |
15 Jul 1875 Noon UT | 29 ge 28    |
16 Jul 1875 Noon UT | 29 ge 47    |
17 Jul 1875 Noon UT |  0 cn  7    |
18 Jul 1875 Noon UT |  0 cn 26    |
19 Jul 1875 Noon UT |  0 cn 45    |
20 Jul 1875 Noon UT |  1 cn  4    |
21 Jul 1875 Noon UT |  1 cn 23    |
22 Jul 1875 Noon UT |  1 cn 42    |
23 Jul 1875 Noon UT |  2 cn  1    |
24 Jul 1875 Noon UT |  2 cn 19    |
25 Jul 1875 Noon UT |  2 cn 38    |
26 Jul 1875 Noon UT |  2 cn 57    |
27 Jul 1875 Noon UT |  3 cn 16    |
28 Jul 1875 Noon UT |  3 cn 34    |
29 Jul 1875 Noon UT |  3 cn 53    |
30 Jul 1875 Noon UT |  4 cn 12    |
31 Jul 1875 Noon UT |  4 cn 30    |
01 Aug 1875 Noon UT |  4 cn 49    |
02 Aug 1875 Noon UT |  5 cn  7    |
03 Aug 1875 Noon UT |  5 cn 25    |
04 Aug 1875 Noon UT |  5 cn 44    |
05 Aug 1875 Noon UT |  6 cn  2    |
06 Aug 1875 Noon UT |  6 cn 20    |
07 Aug 1875 Noon UT |  6 cn 38    |
08 Aug 1875 Noon UT |  6 cn 56    |
09 Aug 1875 Noon UT |  7 cn 14    |
10 Aug 1875 Noon UT |  7 cn 32    |
11 Aug 1875 Noon UT |  7 cn 50    |
12 Aug 1875 Noon UT |  8 cn  8    |
13 Aug 1875 Noon UT |  8 cn 26    |
14 Aug 1875 Noon UT |  8 cn 44    |
15 Aug 1875 Noon UT |  9 cn  1    |
16 Aug 1875 Noon UT |  9 cn 19    |
17 Aug 1875 Noon UT |  9 cn 36    |
18 Aug 1875 Noon UT |  9 cn 54    |
19 Aug 1875 Noon UT | 10 cn 11    |
20 Aug 1875 Noon UT | 10 cn 28    |
21 Aug 1875 Noon UT | 10 cn 45    |
22 Aug 1875 Noon UT | 11 cn  3    |
23 Aug 1875 Noon UT | 11 cn 20    |
24 Aug 1875 Noon UT | 11 cn 36    |
25 Aug 1875 Noon UT | 11 cn 53    |
26 Aug 1875 Noon UT | 12 cn 10    |
27 Aug 1875 Noon UT | 12 cn 27    |
28 Aug 1875 Noon UT | 12 cn 43    |
29 Aug 1875 Noon UT | 13 cn  0    |
30 Aug 1875 Noon UT | 13 cn 16    |
31 Aug 1875 Noon UT | 13 cn 33    |
01 Sep 1875 Noon UT | 13 cn 49    |
02 Sep 1875 Noon UT | 14 cn  5    |
03 Sep 1875 Noon UT | 14 cn 21    |
04 Sep 1875 Noon UT | 14 cn 37    |
05 Sep 1875 Noon UT | 14 cn 52    |
06 Sep 1875 Noon UT | 15 cn  8    |
07 Sep 1875 Noon UT | 15 cn 24    |
08 Sep 1875 Noon UT | 15 cn 39    |
09 Sep 1875 Noon UT | 15 cn 54    |
10 Sep 1875 Noon UT | 16 cn 10    |
11 Sep 1875 Noon UT | 16 cn 25    |
12 Sep 1875 Noon UT | 16 cn 40    |
13 Sep 1875 Noon UT | 16 cn 55    |
14 Sep 1875 Noon UT | 17 cn  9    |
15 Sep 1875 Noon UT | 17 cn 24    |
16 Sep 1875 Noon UT | 17 cn 38    |
17 Sep 1875 Noon UT | 17 cn 53    |
18 Sep 1875 Noon UT | 18 cn  7    |
19 Sep 1875 Noon UT | 18 cn 21    |
20 Sep 1875 Noon UT | 18 cn 35    |
21 Sep 1875 Noon UT | 18 cn 49    |
22 Sep 1875 Noon UT | 19 cn  2    |
23 Sep 1875 Noon UT | 19 cn 16    |
24 Sep 1875 Noon UT | 19 cn 29    |
25 Sep 1875 Noon UT | 19 cn 42    |
26 Sep 1875 Noon UT | 19 cn 55    |
27 Sep 1875 Noon UT | 20 cn  8    |
28 Sep 1875 Noon UT | 20 cn 21    |
29 Sep 1875 Noon UT | 20 cn 33    |
30 Sep 1875 Noon UT | 20 cn 46    |
01 Oct 1875 Noon UT | 20 cn 58    |
02 Oct 1875 Noon UT | 21 cn 10    |
03 Oct 1875 Noon UT | 21 cn 22    |
04 Oct 1875 Noon UT | 21 cn 34    |
05 Oct 1875 Noon UT | 21 cn 45    |
06 Oct 1875 Noon UT | 21 cn 56    |
07 Oct 1875 Noon UT | 22 cn  7    |
08 Oct 1875 Noon UT | 22 cn 18    |
09 Oct 1875 Noon UT | 22 cn 29    |
10 Oct 1875 Noon UT | 22 cn 40    |
11 Oct 1875 Noon UT | 22 cn 50    |
12 Oct 1875 Noon UT | 23 cn  0    |
13 Oct 1875 Noon UT | 23 cn 10    |
14 Oct 1875 Noon UT | 23 cn 20    |
15 Oct 1875 Noon UT | 23 cn 29    |
16 Oct 1875 Noon UT | 23 cn 38    |
17 Oct 1875 Noon UT | 23 cn 48    |
18 Oct 1875 Noon UT | 23 cn 56    |
19 Oct 1875 Noon UT | 24 cn  5    |
20 Oct 1875 Noon UT | 24 cn 13    |
21 Oct 1875 Noon UT | 24 cn 22    |
22 Oct 1875 Noon UT | 24 cn 29    |
23 Oct 1875 Noon UT | 24 cn 37    |
24 Oct 1875 Noon UT | 24 cn 45    |
25 Oct 1875 Noon UT | 24 cn 52    |
26 Oct 1875 Noon UT | 24 cn 59    |
27 Oct 1875 Noon UT | 25 cn  5    |
28 Oct 1875 Noon UT | 25 cn 12    |
29 Oct 1875 Noon UT | 25 cn 18    |
30 Oct 1875 Noon UT | 25 cn 24    |
31 Oct 1875 Noon UT | 25 cn 29    |
01 Nov 1875 Noon UT | 25 cn 35    |
02 Nov 1875 Noon UT | 25 cn 40    |
03 Nov 1875 Noon UT | 25 cn 45    |
04 Nov 1875 Noon UT | 25 cn 49    |
05 Nov 1875 Noon UT | 25 cn 53    |
06 Nov 1875 Noon UT | 25 cn 57    |
07 Nov 1875 Noon UT | 26 cn  1    |
08 Nov 1875 Noon UT | 26 cn  4    |
09 Nov 1875 Noon UT | 26 cn  8    |
10 Nov 1875 Noon UT | 26 cn 10    |
11 Nov 1875 Noon UT | 26 cn 13    |
12 Nov 1875 Noon UT | 26 cn 15    |
13 Nov 1875 Noon UT | 26 cn 17    |
14 Nov 1875 Noon UT | 26 cn 18    |
15 Nov 1875 Noon UT | 26 cn 20    |
16 Nov 1875 Noon UT | 26 cn 21    |
17 Nov 1875 Noon UT | 26 cn 21    |
18 Nov 1875 Noon UT | 26 cn 22    |
19 Nov 1875 Noon UT | 26 cn 22 Rx |
20 Nov 1875 Noon UT | 26 cn 21 Rx |
21 Nov 1875 Noon UT | 26 cn 21 Rx |
22 Nov 1875 Noon UT | 26 cn 20 Rx |
23 Nov 1875 Noon UT | 26 cn 19 Rx |
24 Nov 1875 Noon UT | 26 cn 17 Rx |
25 Nov 1875 Noon UT | 26 cn 15 Rx |
26 Nov 1875 Noon UT | 26 cn 13 Rx |
27 Nov 1875 Noon UT | 26 cn 10 Rx |
28 Nov 1875 Noon UT | 26 cn  7 Rx |
29 Nov 1875 Noon UT | 26 cn  4 Rx |
30 Nov 1875 Noon UT | 26 cn  0 Rx |
01 Dec 1875 Noon UT | 25 cn 57 Rx |
02 Dec 1875 Noon UT | 25 cn 52 Rx |
03 Dec 1875 Noon UT | 25 cn 48 Rx |
04 Dec 1875 Noon UT | 25 cn 43 Rx |
05 Dec 1875 Noon UT | 25 cn 38 Rx |
06 Dec 1875 Noon UT | 25 cn 32 Rx |
07 Dec 1875 Noon UT | 25 cn 27 Rx |
08 Dec 1875 Noon UT | 25 cn 21 Rx |
09 Dec 1875 Noon UT | 25 cn 14 Rx |
10 Dec 1875 Noon UT | 25 cn  8 Rx |
11 Dec 1875 Noon UT | 25 cn  1 Rx |
12 Dec 1875 Noon UT | 24 cn 53 Rx |
13 Dec 1875 Noon UT | 24 cn 46 Rx |
14 Dec 1875 Noon UT | 24 cn 38 Rx |
15 Dec 1875 Noon UT | 24 cn 30 Rx |
16 Dec 1875 Noon UT | 24 cn 22 Rx |
17 Dec 1875 Noon UT | 24 cn 13 Rx |
18 Dec 1875 Noon UT | 24 cn  4 Rx |
19 Dec 1875 Noon UT | 23 cn 55 Rx |
20 Dec 1875 Noon UT | 23 cn 45 Rx |
21 Dec 1875 Noon UT | 23 cn 36 Rx |
22 Dec 1875 Noon UT | 23 cn 26 Rx |
23 Dec 1875 Noon UT | 23 cn 16 Rx |
24 Dec 1875 Noon UT | 23 cn  6 Rx |
25 Dec 1875 Noon UT | 22 cn 55 Rx |
26 Dec 1875 Noon UT | 22 cn 44 Rx |
27 Dec 1875 Noon UT | 22 cn 33 Rx |
28 Dec 1875 Noon UT | 22 cn 22 Rx |
29 Dec 1875 Noon UT | 22 cn 11 Rx |
30 Dec 1875 Noon UT | 22 cn  0 Rx |
31 Dec 1875 Noon UT | 21 cn 48 Rx |
01 Jan 1876 Noon UT | 21 cn 37 Rx |
02 Jan 1876 Noon UT | 21 cn 25 Rx |
03 Jan 1876 Noon UT | 21 cn 13 Rx |
04 Jan 1876 Noon UT | 21 cn  1 Rx |
05 Jan 1876 Noon UT | 20 cn 49 Rx |
06 Jan 1876 Noon UT | 20 cn 37 Rx |
07 Jan 1876 Noon UT | 20 cn 25 Rx |
08 Jan 1876 Noon UT | 20 cn 12 Rx |
09 Jan 1876 Noon UT | 20 cn  0 Rx |
10 Jan 1876 Noon UT | 19 cn 48 Rx |
11 Jan 1876 Noon UT | 19 cn 35 Rx |
12 Jan 1876 Noon UT | 19 cn 23 Rx |
13 Jan 1876 Noon UT | 19 cn 11 Rx |
14 Jan 1876 Noon UT | 18 cn 59 Rx |
15 Jan 1876 Noon UT | 18 cn 46 Rx |
16 Jan 1876 Noon UT | 18 cn 34 Rx |
17 Jan 1876 Noon UT | 18 cn 22 Rx |
18 Jan 1876 Noon UT | 18 cn 10 Rx |
19 Jan 1876 Noon UT | 17 cn 58 Rx |
20 Jan 1876 Noon UT | 17 cn 46 Rx |
21 Jan 1876 Noon UT | 17 cn 34 Rx |
22 Jan 1876 Noon UT | 17 cn 23 Rx |
23 Jan 1876 Noon UT | 17 cn 11 Rx |
24 Jan 1876 Noon UT | 17 cn  0 Rx |
25 Jan 1876 Noon UT | 16 cn 49 Rx |
26 Jan 1876 Noon UT | 16 cn 38 Rx |
27 Jan 1876 Noon UT | 16 cn 27 Rx |
28 Jan 1876 Noon UT | 16 cn 16 Rx |
29 Jan 1876 Noon UT | 16 cn  6 Rx |
30 Jan 1876 Noon UT | 15 cn 56 Rx |
31 Jan 1876 Noon UT | 15 cn 46 Rx |
01 Feb 1876 Noon UT | 15 cn 36 Rx |
02 Feb 1876 Noon UT | 15 cn 26 Rx |
03 Feb 1876 Noon UT | 15 cn 17 Rx |
04 Feb 1876 Noon UT | 15 cn  8 Rx |
05 Feb 1876 Noon UT | 14 cn 59 Rx |
06 Feb 1876 Noon UT | 14 cn 51 Rx |
07 Feb 1876 Noon UT | 14 cn 42 Rx |
08 Feb 1876 Noon UT | 14 cn 34 Rx |
09 Feb 1876 Noon UT | 14 cn 27 Rx |
10 Feb 1876 Noon UT | 14 cn 19 Rx |
11 Feb 1876 Noon UT | 14 cn 12 Rx |
12 Feb 1876 Noon UT | 14 cn  5 Rx |
13 Feb 1876 Noon UT | 13 cn 59 Rx |
14 Feb 1876 Noon UT | 13 cn 52 Rx |
15 Feb 1876 Noon UT | 13 cn 46 Rx |
16 Feb 1876 Noon UT | 13 cn 41 Rx |
17 Feb 1876 Noon UT | 13 cn 36 Rx |
18 Feb 1876 Noon UT | 13 cn 31 Rx |
19 Feb 1876 Noon UT | 13 cn 26 Rx |
20 Feb 1876 Noon UT | 13 cn 22 Rx |
21 Feb 1876 Noon UT | 13 cn 18 Rx |
22 Feb 1876 Noon UT | 13 cn 14 Rx |
23 Feb 1876 Noon UT | 13 cn 11 Rx |
24 Feb 1876 Noon UT | 13 cn  7 Rx |
25 Feb 1876 Noon UT | 13 cn  5 Rx |
26 Feb 1876 Noon UT | 13 cn  2 Rx |
27 Feb 1876 Noon UT | 13 cn  0 Rx |
28 Feb 1876 Noon UT | 12 cn 59 Rx |
29 Feb 1876 Noon UT | 12 cn 57 Rx |
01 Mar 1876 Noon UT | 12 cn 56 Rx |
02 Mar 1876 Noon UT | 12 cn 56 Rx |
03 Mar 1876 Noon UT | 12 cn 55 Rx |
04 Mar 1876 Noon UT | 12 cn 55    |
05 Mar 1876 Noon UT | 12 cn 56    |
06 Mar 1876 Noon UT | 12 cn 56    |
07 Mar 1876 Noon UT | 12 cn 57    |
08 Mar 1876 Noon UT | 12 cn 58    |
09 Mar 1876 Noon UT | 13 cn  0    |
10 Mar 1876 Noon UT | 13 cn  2    |
11 Mar 1876 Noon UT | 13 cn  4    |
12 Mar 1876 Noon UT | 13 cn  7    |
13 Mar 1876 Noon UT | 13 cn  9    |
14 Mar 1876 Noon UT | 13 cn 13    |
15 Mar 1876 Noon UT | 13 cn 16    |
16 Mar 1876 Noon UT | 13 cn 20    |
17 Mar 1876 Noon UT | 13 cn 24    |
18 Mar 1876 Noon UT | 13 cn 28    |
19 Mar 1876 Noon UT | 13 cn 33    |
20 Mar 1876 Noon UT | 13 cn 38    |
21 Mar 1876 Noon UT | 13 cn 43    |
22 Mar 1876 Noon UT | 13 cn 48    |
23 Mar 1876 Noon UT | 13 cn 54    |
24 Mar 1876 Noon UT | 14 cn  0    |
25 Mar 1876 Noon UT | 14 cn  7    |
26 Mar 1876 Noon UT | 14 cn 13    |
27 Mar 1876 Noon UT | 14 cn 20    |
28 Mar 1876 Noon UT | 14 cn 27    |
29 Mar 1876 Noon UT | 14 cn 35    |
30 Mar 1876 Noon UT | 14 cn 42    |
31 Mar 1876 Noon UT | 14 cn 50    |
01 Apr 1876 Noon UT | 14 cn 59    |
02 Apr 1876 Noon UT | 15 cn  7    |
03 Apr 1876 Noon UT | 15 cn 16    |
04 Apr 1876 Noon UT | 15 cn 25    |
05 Apr 1876 Noon UT | 15 cn 34    |
06 Apr 1876 Noon UT | 15 cn 43    |
07 Apr 1876 Noon UT | 15 cn 53    |
08 Apr 1876 Noon UT | 16 cn  3    |
09 Apr 1876 Noon UT | 16 cn 13    |
10 Apr 1876 Noon UT | 16 cn 23    |
11 Apr 1876 Noon UT | 16 cn 34    |
12 Apr 1876 Noon UT | 16 cn 45    |
13 Apr 1876 Noon UT | 16 cn 56    |
14 Apr 1876 Noon UT | 17 cn  7    |
15 Apr 1876 Noon UT | 17 cn 18    |
16 Apr 1876 Noon UT | 17 cn 30    |
17 Apr 1876 Noon UT | 17 cn 42    |
18 Apr 1876 Noon UT | 17 cn 54    |
19 Apr 1876 Noon UT | 18 cn  6    |
20 Apr 1876 Noon UT | 18 cn 18    |
21 Apr 1876 Noon UT | 18 cn 31    |
22 Apr 1876 Noon UT | 18 cn 43    |
23 Apr 1876 Noon UT | 18 cn 56    |
24 Apr 1876 Noon UT | 19 cn 10    |
25 Apr 1876 Noon UT | 19 cn 23    |
26 Apr 1876 Noon UT | 19 cn 36    |
27 Apr 1876 Noon UT | 19 cn 50    |
28 Apr 1876 Noon UT | 20 cn  4    |
29 Apr 1876 Noon UT | 20 cn 18    |
30 Apr 1876 Noon UT | 20 cn 32    |
01 May 1876 Noon UT | 20 cn 47    |
02 May 1876 Noon UT | 21 cn  1    |
03 May 1876 Noon UT | 21 cn 16    |
04 May 1876 Noon UT | 21 cn 31    |
05 May 1876 Noon UT | 21 cn 46    |
06 May 1876 Noon UT | 22 cn  1    |
07 May 1876 Noon UT | 22 cn 16    |
08 May 1876 Noon UT | 22 cn 31    |
09 May 1876 Noon UT | 22 cn 47    |
10 May 1876 Noon UT | 23 cn  3    |
11 May 1876 Noon UT | 23 cn 18    |
12 May 1876 Noon UT | 23 cn 34    |
13 May 1876 Noon UT | 23 cn 50    |
14 May 1876 Noon UT | 24 cn  7    |
15 May 1876 Noon UT | 24 cn 23    |
16 May 1876 Noon UT | 24 cn 40    |
17 May 1876 Noon UT | 24 cn 56    |
18 May 1876 Noon UT | 25 cn 13    |
19 May 1876 Noon UT | 25 cn 30    |
20 May 1876 Noon UT | 25 cn 47    |
21 May 1876 Noon UT | 26 cn  4    |
22 May 1876 Noon UT | 26 cn 21    |
23 May 1876 Noon UT | 26 cn 38    |
24 May 1876 Noon UT | 26 cn 56    |
25 May 1876 Noon UT | 27 cn 13    |
26 May 1876 Noon UT | 27 cn 31    |
27 May 1876 Noon UT | 27 cn 49    |
28 May 1876 Noon UT | 28 cn  7    |
29 May 1876 Noon UT | 28 cn 25    |
30 May 1876 Noon UT | 28 cn 43    |
31 May 1876 Noon UT | 29 cn  1    |
01 Jun 1876 Noon UT | 29 cn 19    |
02 Jun 1876 Noon UT | 29 cn 38    |
03 Jun 1876 Noon UT | 29 cn 56    |
04 Jun 1876 Noon UT |  0 le 15    |
05 Jun 1876 Noon UT |  0 le 33    |
06 Jun 1876 Noon UT |  0 le 52    |
07 Jun 1876 Noon UT |  1 le 11    |
08 Jun 1876 Noon UT |  1 le 30    |
09 Jun 1876 Noon UT |  1 le 49    |
10 Jun 1876 Noon UT |  2 le  8    |
11 Jun 1876 Noon UT |  2 le 27    |
12 Jun 1876 Noon UT |  2 le 47    |
13 Jun 1876 Noon UT |  3 le  6    |
14 Jun 1876 Noon UT |  3 le 25    |
15 Jun 1876 Noon UT |  3 le 45    |
16 Jun 1876 Noon UT |  4 le  4    |
17 Jun 1876 Noon UT |  4 le 24    |
18 Jun 1876 Noon UT |  4 le 44    |
19 Jun 1876 Noon UT |  5 le  4    |
20 Jun 1876 Noon UT |  5 le 23    |
21 Jun 1876 Noon UT |  5 le 43    |
22 Jun 1876 Noon UT |  6 le  3    |
23 Jun 1876 Noon UT |  6 le 23    |
24 Jun 1876 Noon UT |  6 le 44    |
25 Jun 1876 Noon UT |  7 le  4    |
26 Jun 1876 Noon UT |  7 le 24    |
27 Jun 1876 Noon UT |  7 le 44    |
28 Jun 1876 Noon UT |  8 le  5    |
29 Jun 1876 Noon UT |  8 le 25    |
30 Jun 1876 Noon UT |  8 le 46    |
01 Jul 1876 Noon UT |  9 le  6    |
02 Jul 1876 Noon UT |  9 le 27    |
03 Jul 1876 Noon UT |  9 le 48    |
04 Jul 1876 Noon UT | 10 le  8    |
05 Jul 1876 Noon UT | 10 le 29    |
06 Jul 1876 Noon UT | 10 le 50    |
07 Jul 1876 Noon UT | 11 le 11    |
08 Jul 1876 Noon UT | 11 le 32    |
09 Jul 1876 Noon UT | 11 le 53    |
10 Jul 1876 Noon UT | 12 le 14    |
11 Jul 1876 Noon UT | 12 le 35    |
12 Jul 1876 Noon UT | 12 le 56    |
13 Jul 1876 Noon UT | 13 le 17    |
14 Jul 1876 Noon UT | 13 le 39    |
15 Jul 1876 Noon UT | 14 le  0    |
16 Jul 1876 Noon UT | 14 le 21    |
17 Jul 1876 Noon UT | 14 le 43    |
18 Jul 1876 Noon UT | 15 le  4    |
19 Jul 1876 Noon UT | 15 le 25    |
20 Jul 1876 Noon UT | 15 le 47    |
21 Jul 1876 Noon UT | 16 le  8    |
22 Jul 1876 Noon UT | 16 le 30    |
23 Jul 1876 Noon UT | 16 le 52    |
24 Jul 1876 Noon UT | 17 le 13    |
25 Jul 1876 Noon UT | 17 le 35    |
26 Jul 1876 Noon UT | 17 le 57    |
27 Jul 1876 Noon UT | 18 le 18    |
28 Jul 1876 Noon UT | 18 le 40    |
29 Jul 1876 Noon UT | 19 le  2    |
30 Jul 1876 Noon UT | 19 le 24    |
31 Jul 1876 Noon UT | 19 le 46    |
01 Aug 1876 Noon UT | 20 le  8    |
02 Aug 1876 Noon UT | 20 le 29    |
03 Aug 1876 Noon UT | 20 le 51    |
04 Aug 1876 Noon UT | 21 le 13    |
05 Aug 1876 Noon UT | 21 le 35    |
06 Aug 1876 Noon UT | 21 le 57    |
07 Aug 1876 Noon UT | 22 le 20    |
08 Aug 1876 Noon UT | 22 le 42    |
09 Aug 1876 Noon UT | 23 le  4    |
10 Aug 1876 Noon UT | 23 le 26    |
11 Aug 1876 Noon UT | 23 le 48    |
12 Aug 1876 Noon UT | 24 le 10    |
13 Aug 1876 Noon UT | 24 le 32    |
14 Aug 1876 Noon UT | 24 le 55    |
15 Aug 1876 Noon UT | 25 le 17    |
16 Aug 1876 Noon UT | 25 le 39    |
17 Aug 1876 Noon UT | 26 le  1    |
18 Aug 1876 Noon UT | 26 le 24    |
19 Aug 1876 Noon UT | 26 le 46    |
20 Aug 1876 Noon UT | 27 le  8    |
21 Aug 1876 Noon UT | 27 le 30    |
22 Aug 1876 Noon UT | 27 le 53    |
23 Aug 1876 Noon UT | 28 le 15    |
24 Aug 1876 Noon UT | 28 le 38    |
25 Aug 1876 Noon UT | 29 le  0    |
26 Aug 1876 Noon UT | 29 le 22    |
27 Aug 1876 Noon UT | 29 le 45    |
28 Aug 1876 Noon UT |  0 vi  7    |
29 Aug 1876 Noon UT |  0 vi 29    |
30 Aug 1876 Noon UT |  0 vi 52    |
31 Aug 1876 Noon UT |  1 vi 14    |
01 Sep 1876 Noon UT |  1 vi 37    |
02 Sep 1876 Noon UT |  1 vi 59    |
03 Sep 1876 Noon UT |  2 vi 21    |
04 Sep 1876 Noon UT |  2 vi 44    |
05 Sep 1876 Noon UT |  3 vi  6    |
06 Sep 1876 Noon UT |  3 vi 29    |
07 Sep 1876 Noon UT |  3 vi 51    |
08 Sep 1876 Noon UT |  4 vi 14    |
09 Sep 1876 Noon UT |  4 vi 36    |
10 Sep 1876 Noon UT |  4 vi 58    |
11 Sep 1876 Noon UT |  5 vi 21    |
12 Sep 1876 Noon UT |  5 vi 43    |
13 Sep 1876 Noon UT |  6 vi  6    |
14 Sep 1876 Noon UT |  6 vi 28    |
15 Sep 1876 Noon UT |  6 vi 50    |
16 Sep 1876 Noon UT |  7 vi 13    |
17 Sep 1876 Noon UT |  7 vi 35    |
18 Sep 1876 Noon UT |  7 vi 57    |
19 Sep 1876 Noon UT |  8 vi 20    |
20 Sep 1876 Noon UT |  8 vi 42    |
21 Sep 1876 Noon UT |  9 vi  4    |
22 Sep 1876 Noon UT |  9 vi 27    |
23 Sep 1876 Noon UT |  9 vi 49    |
24 Sep 1876 Noon UT | 10 vi 11    |
25 Sep 1876 Noon UT | 10 vi 34    |
26 Sep 1876 Noon UT | 10 vi 56    |
27 Sep 1876 Noon UT | 11 vi 18    |
28 Sep 1876 Noon UT | 11 vi 40    |
29 Sep 1876 Noon UT | 12 vi  2    |
30 Sep 1876 Noon UT | 12 vi 24    |
01 Oct 1876 Noon UT | 12 vi 47    |
02 Oct 1876 Noon UT | 13 vi  9    |
03 Oct 1876 Noon UT | 13 vi 31    |
04 Oct 1876 Noon UT | 13 vi 53    |
05 Oct 1876 Noon UT | 14 vi 15    |
06 Oct 1876 Noon UT | 14 vi 37    |
07 Oct 1876 Noon UT | 14 vi 59    |
08 Oct 1876 Noon UT | 15 vi 21    |
09 Oct 1876 Noon UT | 15 vi 42    |
10 Oct 1876 Noon UT | 16 vi  4    |
11 Oct 1876 Noon UT | 16 vi 26    |
12 Oct 1876 Noon UT | 16 vi 48    |
13 Oct 1876 Noon UT | 17 vi 10    |
14 Oct 1876 Noon UT | 17 vi 31    |
15 Oct 1876 Noon UT | 17 vi 53    |
16 Oct 1876 Noon UT | 18 vi 15    |
17 Oct 1876 Noon UT | 18 vi 36    |
18 Oct 1876 Noon UT | 18 vi 58    |
19 Oct 1876 Noon UT | 19 vi 19    |
20 Oct 1876 Noon UT | 19 vi 41    |
21 Oct 1876 Noon UT | 20 vi  2    |
22 Oct 1876 Noon UT | 20 vi 23    |
23 Oct 1876 Noon UT | 20 vi 45    |
24 Oct 1876 Noon UT | 21 vi  6    |
25 Oct 1876 Noon UT | 21 vi 27    |
26 Oct 1876 Noon UT | 21 vi 48    |
27 Oct 1876 Noon UT | 22 vi  9    |
28 Oct 1876 Noon UT | 22 vi 30    |
29 Oct 1876 Noon UT | 22 vi 51    |
30 Oct 1876 Noon UT | 23 vi 12    |
31 Oct 1876 Noon UT | 23 vi 33    |
01 Nov 1876 Noon UT | 23 vi 54    |
02 Nov 1876 Noon UT | 24 vi 14    |
03 Nov 1876 Noon UT | 24 vi 35    |
04 Nov 1876 Noon UT | 24 vi 55    |
05 Nov 1876 Noon UT | 25 vi 16    |
06 Nov 1876 Noon UT | 25 vi 36    |
07 Nov 1876 Noon UT | 25 vi 57    |
08 Nov 1876 Noon UT | 26 vi 17    |
09 Nov 1876 Noon UT | 26 vi 37    |
10 Nov 1876 Noon UT | 26 vi 57    |
11 Nov 1876 Noon UT | 27 vi 17    |
12 Nov 1876 Noon UT | 27 vi 37    |
13 Nov 1876 Noon UT | 27 vi 57    |
14 Nov 1876 Noon UT | 28 vi 17    |
15 Nov 1876 Noon UT | 28 vi 36    |
16 Nov 1876 Noon UT | 28 vi 56    |
17 Nov 1876 Noon UT | 29 vi 15    |
18 Nov 1876 Noon UT | 29 vi 35    |
19 Nov 1876 Noon UT | 29 vi 54    |
20 Nov 1876 Noon UT |  0 li 13    |
21 Nov 1876 Noon UT |  0 li 32    |
22 Nov 1876 Noon UT |  0 li 51    |
23 Nov 1876 Noon UT |  1 li 10    |
24 Nov 1876 Noon UT |  1 li 28    |
25 Nov 1876 Noon UT |  1 li 47    |
26 Nov 1876 Noon UT |  2 li  6    |
27 Nov 1876 Noon UT |  2 li 24    |
28 Nov 1876 Noon UT |  2 li 42    |
29 Nov 1876 Noon UT |  3 li  0    |
30 Nov 1876 Noon UT |  3 li 18    |
01 Dec 1876 Noon UT |  3 li 36    |
02 Dec 1876 Noon UT |  3 li 54    |
03 Dec 1876 Noon UT |  4 li 12    |
04 Dec 1876 Noon UT |  4 li 29    |
05 Dec 1876 Noon UT |  4 li 46    |
06 Dec 1876 Noon UT |  5 li  4    |
07 Dec 1876 Noon UT |  5 li 21    |
08 Dec 1876 Noon UT |  5 li 37    |
09 Dec 1876 Noon UT |  5 li 54    |
10 Dec 1876 Noon UT |  6 li 11    |
11 Dec 1876 Noon UT |  6 li 27    |
12 Dec 1876 Noon UT |  6 li 44    |
13 Dec 1876 Noon UT |  7 li  0    |
14 Dec 1876 Noon UT |  7 li 16    |
15 Dec 1876 Noon UT |  7 li 31    |
16 Dec 1876 Noon UT |  7 li 47    |
17 Dec 1876 Noon UT |  8 li  3    |
18 Dec 1876 Noon UT |  8 li 18    |
19 Dec 1876 Noon UT |  8 li 33    |
20 Dec 1876 Noon UT |  8 li 48    |
21 Dec 1876 Noon UT |  9 li  3    |
22 Dec 1876 Noon UT |  9 li 17    |
23 Dec 1876 Noon UT |  9 li 31    |
24 Dec 1876 Noon UT |  9 li 46    |
25 Dec 1876 Noon UT |  9 li 59    |
26 Dec 1876 Noon UT | 10 li 13    |
27 Dec 1876 Noon UT | 10 li 27    |
28 Dec 1876 Noon UT | 10 li 40    |
29 Dec 1876 Noon UT | 10 li 53    |
30 Dec 1876 Noon UT | 11 li  6    |
31 Dec 1876 Noon UT | 11 li 19    |
01 Jan 1877 Noon UT | 11 li 31    |
02 Jan 1877 Noon UT | 11 li 43    |
03 Jan 1877 Noon UT | 11 li 55    |
04 Jan 1877 Noon UT | 12 li  7    |
05 Jan 1877 Noon UT | 12 li 19    |
06 Jan 1877 Noon UT | 12 li 30    |
07 Jan 1877 Noon UT | 12 li 41    |
08 Jan 1877 Noon UT | 12 li 52    |
09 Jan 1877 Noon UT | 13 li  2    |
10 Jan 1877 Noon UT | 13 li 12    |
11 Jan 1877 Noon UT | 13 li 22    |
12 Jan 1877 Noon UT | 13 li 32    |
13 Jan 1877 Noon UT | 13 li 41    |
14 Jan 1877 Noon UT | 13 li 51    |
15 Jan 1877 Noon UT | 13 li 59    |
16 Jan 1877 Noon UT | 14 li  8    |
17 Jan 1877 Noon UT | 14 li 16    |
18 Jan 1877 Noon UT | 14 li 24    |
19 Jan 1877 Noon UT | 14 li 32    |
20 Jan 1877 Noon UT | 14 li 39    |
21 Jan 1877 Noon UT | 14 li 46    |
22 Jan 1877 Noon UT | 14 li 53    |
23 Jan 1877 Noon UT | 15 li  0    |
24 Jan 1877 Noon UT | 15 li  6    |
25 Jan 1877 Noon UT | 15 li 12    |
26 Jan 1877 Noon UT | 15 li 17    |
27 Jan 1877 Noon UT | 15 li 23    |
28 Jan 1877 Noon UT | 15 li 27    |
29 Jan 1877 Noon UT | 15 li 32    |
30 Jan 1877 Noon UT | 15 li 36    |
31 Jan 1877 Noon UT | 15 li 40    |
01 Feb 1877 Noon UT | 15 li 44    |
02 Feb 1877 Noon UT | 15 li 47    |
03 Feb 1877 Noon UT | 15 li 50    |
04 Feb 1877 Noon UT | 15 li 52    |
05 Feb 1877 Noon UT | 15 li 54    |
06 Feb 1877 Noon UT | 15 li 56    |
07 Feb 1877 Noon UT | 15 li 58    |
08 Feb 1877 Noon UT | 15 li 59    |
09 Feb 1877 Noon UT | 16 li  0    |
10 Feb 1877 Noon UT | 16 li  0    |
11 Feb 1877 Noon UT | 16 li  0 Rx |
12 Feb 1877 Noon UT | 16 li  0 Rx |
13 Feb 1877 Noon UT | 15 li 59 Rx |
14 Feb 1877 Noon UT | 15 li 58 Rx |
15 Feb 1877 Noon UT | 15 li 56 Rx |
16 Feb 1877 Noon UT | 15 li 55 Rx |
17 Feb 1877 Noon UT | 15 li 52 Rx |
18 Feb 1877 Noon UT | 15 li 50 Rx |
19 Feb 1877 Noon UT | 15 li 47 Rx |
20 Feb 1877 Noon UT | 15 li 44 Rx |
21 Feb 1877 Noon UT | 15 li 40 Rx |
22 Feb 1877 Noon UT | 15 li 36 Rx |
23 Feb 1877 Noon UT | 15 li 32 Rx |
24 Feb 1877 Noon UT | 15 li 27 Rx |
25 Feb 1877 Noon UT | 15 li 22 Rx |
26 Feb 1877 Noon UT | 15 li 17 Rx |
27 Feb 1877 Noon UT | 15 li 11 Rx |
28 Feb 1877 Noon UT | 15 li  5 Rx |
01 Mar 1877 Noon UT | 14 li 59 Rx |
02 Mar 1877 Noon UT | 14 li 52 Rx |
03 Mar 1877 Noon UT | 14 li 45 Rx |
04 Mar 1877 Noon UT | 14 li 37 Rx |
05 Mar 1877 Noon UT | 14 li 30 Rx |
06 Mar 1877 Noon UT | 14 li 22 Rx |
07 Mar 1877 Noon UT | 14 li 14 Rx |
08 Mar 1877 Noon UT | 14 li  5 Rx |
09 Mar 1877 Noon UT | 13 li 56 Rx |
10 Mar 1877 Noon UT | 13 li 47 Rx |
11 Mar 1877 Noon UT | 13 li 38 Rx |
12 Mar 1877 Noon UT | 13 li 28 Rx |
13 Mar 1877 Noon UT | 13 li 18 Rx |
14 Mar 1877 Noon UT | 13 li  8 Rx |
15 Mar 1877 Noon UT | 12 li 57 Rx |
16 Mar 1877 Noon UT | 12 li 47 Rx |
17 Mar 1877 Noon UT | 12 li 36 Rx |
18 Mar 1877 Noon UT | 12 li 25 Rx |
19 Mar 1877 Noon UT | 12 li 14 Rx |
20 Mar 1877 Noon UT | 12 li  3 Rx |
21 Mar 1877 Noon UT | 11 li 51 Rx |
22 Mar 1877 Noon UT | 11 li 40 Rx |
23 Mar 1877 Noon UT | 11 li 28 Rx |
24 Mar 1877 Noon UT | 11 li 16 Rx |
25 Mar 1877 Noon UT | 11 li  4 Rx |
26 Mar 1877 Noon UT | 10 li 52 Rx |
27 Mar 1877 Noon UT | 10 li 40 Rx |
28 Mar 1877 Noon UT | 10 li 28 Rx |
29 Mar 1877 Noon UT | 10 li 16 Rx |
30 Mar 1877 Noon UT | 10 li  3 Rx |
31 Mar 1877 Noon UT |  9 li 51 Rx |
01 Apr 1877 Noon UT |  9 li 39 Rx |
02 Apr 1877 Noon UT |  9 li 27 Rx |
03 Apr 1877 Noon UT |  9 li 14 Rx |
04 Apr 1877 Noon UT |  9 li  2 Rx |
05 Apr 1877 Noon UT |  8 li 50 Rx |
06 Apr 1877 Noon UT |  8 li 38 Rx |
07 Apr 1877 Noon UT |  8 li 26 Rx |
08 Apr 1877 Noon UT |  8 li 14 Rx |
09 Apr 1877 Noon UT |  8 li  2 Rx |
10 Apr 1877 Noon UT |  7 li 51 Rx |
11 Apr 1877 Noon UT |  7 li 39 Rx |
12 Apr 1877 Noon UT |  7 li 28 Rx |
13 Apr 1877 Noon UT |  7 li 17 Rx |
14 Apr 1877 Noon UT |  7 li  5 Rx |
15 Apr 1877 Noon UT |  6 li 55 Rx |
16 Apr 1877 Noon UT |  6 li 44 Rx |
17 Apr 1877 Noon UT |  6 li 34 Rx |
18 Apr 1877 Noon UT |  6 li 23 Rx |
19 Apr 1877 Noon UT |  6 li 13 Rx |
20 Apr 1877 Noon UT |  6 li  4 Rx |
21 Apr 1877 Noon UT |  5 li 54 Rx |
22 Apr 1877 Noon UT |  5 li 45 Rx |
23 Apr 1877 Noon UT |  5 li 36 Rx |
24 Apr 1877 Noon UT |  5 li 27 Rx |
25 Apr 1877 Noon UT |  5 li 19 Rx |
26 Apr 1877 Noon UT |  5 li 11 Rx |
27 Apr 1877 Noon UT |  5 li  3 Rx |
28 Apr 1877 Noon UT |  4 li 56 Rx |
29 Apr 1877 Noon UT |  4 li 49 Rx |
30 Apr 1877 Noon UT |  4 li 42 Rx |
01 May 1877 Noon UT |  4 li 35 Rx |
02 May 1877 Noon UT |  4 li 29 Rx |
03 May 1877 Noon UT |  4 li 23 Rx |
04 May 1877 Noon UT |  4 li 18 Rx |
05 May 1877 Noon UT |  4 li 13 Rx |
06 May 1877 Noon UT |  4 li  8 Rx |
07 May 1877 Noon UT |  4 li  4 Rx |
08 May 1877 Noon UT |  3 li 59 Rx |
09 May 1877 Noon UT |  3 li 56 Rx |
10 May 1877 Noon UT |  3 li 52 Rx |
11 May 1877 Noon UT |  3 li 49 Rx |
12 May 1877 Noon UT |  3 li 47 Rx |
13 May 1877 Noon UT |  3 li 44 Rx |
14 May 1877 Noon UT |  3 li 42 Rx |
15 May 1877 Noon UT |  3 li 41 Rx |
16 May 1877 Noon UT |  3 li 40 Rx |
17 May 1877 Noon UT |  3 li 39 Rx |
18 May 1877 Noon UT |  3 li 38 Rx |
19 May 1877 Noon UT |  3 li 38    |
20 May 1877 Noon UT |  3 li 38    |
21 May 1877 Noon UT |  3 li 39    |
22 May 1877 Noon UT |  3 li 40    |
23 May 1877 Noon UT |  3 li 41    |
24 May 1877 Noon UT |  3 li 43    |
25 May 1877 Noon UT |  3 li 45    |
26 May 1877 Noon UT |  3 li 48    |
27 May 1877 Noon UT |  3 li 50    |
28 May 1877 Noon UT |  3 li 53    |
29 May 1877 Noon UT |  3 li 57    |
30 May 1877 Noon UT |  4 li  1    |
31 May 1877 Noon UT |  4 li  5    |
01 Jun 1877 Noon UT |  4 li  9    |
02 Jun 1877 Noon UT |  4 li 14    |
03 Jun 1877 Noon UT |  4 li 19    |
04 Jun 1877 Noon UT |  4 li 24    |
05 Jun 1877 Noon UT |  4 li 30    |
06 Jun 1877 Noon UT |  4 li 36    |
07 Jun 1877 Noon UT |  4 li 43    |
08 Jun 1877 Noon UT |  4 li 49    |
09 Jun 1877 Noon UT |  4 li 56    |
10 Jun 1877 Noon UT |  5 li  4    |
11 Jun 1877 Noon UT |  5 li 11    |
12 Jun 1877 Noon UT |  5 li 19    |
13 Jun 1877 Noon UT |  5 li 27    |
14 Jun 1877 Noon UT |  5 li 36    |
15 Jun 1877 Noon UT |  5 li 45    |
16 Jun 1877 Noon UT |  5 li 54    |
17 Jun 1877 Noon UT |  6 li  3    |
18 Jun 1877 Noon UT |  6 li 13    |
19 Jun 1877 Noon UT |  6 li 23    |
20 Jun 1877 Noon UT |  6 li 33    |
21 Jun 1877 Noon UT |  6 li 44    |
22 Jun 1877 Noon UT |  6 li 54    |
23 Jun 1877 Noon UT |  7 li  5    |
24 Jun 1877 Noon UT |  7 li 17    |
25 Jun 1877 Noon UT |  7 li 28    |
26 Jun 1877 Noon UT |  7 li 40    |
27 Jun 1877 Noon UT |  7 li 52    |
28 Jun 1877 Noon UT |  8 li  4    |
29 Jun 1877 Noon UT |  8 li 17    |
30 Jun 1877 Noon UT |  8 li 29    |
01 Jul 1877 Noon UT |  8 li 42    |
02 Jul 1877 Noon UT |  8 li 56    |
03 Jul 1877 Noon UT |  9 li  9    |
04 Jul 1877 Noon UT |  9 li 23    |
05 Jul 1877 Noon UT |  9 li 36    |
06 Jul 1877 Noon UT |  9 li 51    |
07 Jul 1877 Noon UT | 10 li  5    |
08 Jul 1877 Noon UT | 10 li 19    |
09 Jul 1877 Noon UT | 10 li 34    |
10 Jul 1877 Noon UT | 10 li 49    |
11 Jul 1877 Noon UT | 11 li  4    |
12 Jul 1877 Noon UT | 11 li 19    |
13 Jul 1877 Noon UT | 11 li 35    |
14 Jul 1877 Noon UT | 11 li 51    |
15 Jul 1877 Noon UT | 12 li  7    |
16 Jul 1877 Noon UT | 12 li 23    |
17 Jul 1877 Noon UT | 12 li 39    |
18 Jul 1877 Noon UT | 12 li 55    |
19 Jul 1877 Noon UT | 13 li 12    |
20 Jul 1877 Noon UT | 13 li 29    |
21 Jul 1877 Noon UT | 13 li 46    |
22 Jul 1877 Noon UT | 14 li  3    |
23 Jul 1877 Noon UT | 14 li 20    |
24 Jul 1877 Noon UT | 14 li 38    |
25 Jul 1877 Noon UT | 14 li 55    |
26 Jul 1877 Noon UT | 15 li 13    |
27 Jul 1877 Noon UT | 15 li 31    |
28 Jul 1877 Noon UT | 15 li 49    |
29 Jul 1877 Noon UT | 16 li  7    |
30 Jul 1877 Noon UT | 16 li 26    |
31 Jul 1877 Noon UT | 16 li 44    |
01 Aug 1877 Noon UT | 17 li  3    |
02 Aug 1877 Noon UT | 17 li 22    |
03 Aug 1877 Noon UT | 17 li 41    |
04 Aug 1877 Noon UT | 18 li  0    |
05 Aug 1877 Noon UT | 18 li 19    |
06 Aug 1877 Noon UT | 18 li 38    |
07 Aug 1877 Noon UT | 18 li 58    |
08 Aug 1877 Noon UT | 19 li 18    |
09 Aug 1877 Noon UT | 19 li 37    |
10 Aug 1877 Noon UT | 19 li 57    |
11 Aug 1877 Noon UT | 20 li 17    |
12 Aug 1877 Noon UT | 20 li 38    |
13 Aug 1877 Noon UT | 20 li 58    |
14 Aug 1877 Noon UT | 21 li 18    |
15 Aug 1877 Noon UT | 21 li 39    |
16 Aug 1877 Noon UT | 21 li 59    |
17 Aug 1877 Noon UT | 22 li 20    |
18 Aug 1877 Noon UT | 22 li 41    |
19 Aug 1877 Noon UT | 23 li  2    |
20 Aug 1877 Noon UT | 23 li 23    |
21 Aug 1877 Noon UT | 23 li 44    |
22 Aug 1877 Noon UT | 24 li  5    |
23 Aug 1877 Noon UT | 24 li 27    |
24 Aug 1877 Noon UT | 24 li 48    |
25 Aug 1877 Noon UT | 25 li 10    |
26 Aug 1877 Noon UT | 25 li 31    |
27 Aug 1877 Noon UT | 25 li 53    |
28 Aug 1877 Noon UT | 26 li 15    |
29 Aug 1877 Noon UT | 26 li 37    |
30 Aug 1877 Noon UT | 26 li 59    |
31 Aug 1877 Noon UT | 27 li 21    |
01 Sep 1877 Noon UT | 27 li 43    |
02 Sep 1877 Noon UT | 28 li  6    |
03 Sep 1877 Noon UT | 28 li 28    |
04 Sep 1877 Noon UT | 28 li 51    |
05 Sep 1877 Noon UT | 29 li 13    |
06 Sep 1877 Noon UT | 29 li 36    |
07 Sep 1877 Noon UT | 29 li 59    |
08 Sep 1877 Noon UT |  0 sc 21    |
09 Sep 1877 Noon UT |  0 sc 44    |
10 Sep 1877 Noon UT |  1 sc  7    |
11 Sep 1877 Noon UT |  1 sc 30    |
12 Sep 1877 Noon UT |  1 sc 53    |
13 Sep 1877 Noon UT |  2 sc 17    |
14 Sep 1877 Noon UT |  2 sc 40    |
15 Sep 1877 Noon UT |  3 sc  3    |
16 Sep 1877 Noon UT |  3 sc 27    |
17 Sep 1877 Noon UT |  3 sc 50    |
18 Sep 1877 Noon UT |  4 sc 14    |
19 Sep 1877 Noon UT |  4 sc 37    |
20 Sep 1877 Noon UT |  5 sc  1    |
21 Sep 1877 Noon UT |  5 sc 25    |
22 Sep 1877 Noon UT |  5 sc 48    |
23 Sep 1877 Noon UT |  6 sc 12    |
24 Sep 1877 Noon UT |  6 sc 36    |
25 Sep 1877 Noon UT |  7 sc  0    |
26 Sep 1877 Noon UT |  7 sc 24    |
27 Sep 1877 Noon UT |  7 sc 48    |
28 Sep 1877 Noon UT |  8 sc 12    |
29 Sep 1877 Noon UT |  8 sc 36    |
30 Sep 1877 Noon UT |  9 sc  1    |
01 Oct 1877 Noon UT |  9 sc 25    |
02 Oct 1877 Noon UT |  9 sc 49    |
03 Oct 1877 Noon UT | 10 sc 14    |
04 Oct 1877 Noon UT | 10 sc 38    |
05 Oct 1877 Noon UT | 11 sc  3    |
06 Oct 1877 Noon UT | 11 sc 27    |
07 Oct 1877 Noon UT | 11 sc 52    |
08 Oct 1877 Noon UT | 12 sc 16    |
09 Oct 1877 Noon UT | 12 sc 41    |
10 Oct 1877 Noon UT | 13 sc  6    |
11 Oct 1877 Noon UT | 13 sc 31    |
12 Oct 1877 Noon UT | 13 sc 55    |
13 Oct 1877 Noon UT | 14 sc 20    |
14 Oct 1877 Noon UT | 14 sc 45    |
15 Oct 1877 Noon UT | 15 sc 10    |
16 Oct 1877 Noon UT | 15 sc 35    |
17 Oct 1877 Noon UT | 16 sc  0    |
18 Oct 1877 Noon UT | 16 sc 25    |
19 Oct 1877 Noon UT | 16 sc 50    |
20 Oct 1877 Noon UT | 17 sc 15    |
21 Oct 1877 Noon UT | 17 sc 40    |
22 Oct 1877 Noon UT | 18 sc  6    |
23 Oct 1877 Noon UT | 18 sc 31    |
24 Oct 1877 Noon UT | 18 sc 56    |
25 Oct 1877 Noon UT | 19 sc 21    |
26 Oct 1877 Noon UT | 19 sc 47    |
27 Oct 1877 Noon UT | 20 sc 12    |
28 Oct 1877 Noon UT | 20 sc 37    |
29 Oct 1877 Noon UT | 21 sc  3    |
30 Oct 1877 Noon UT | 21 sc 28    |
31 Oct 1877 Noon UT | 21 sc 53    |
01 Nov 1877 Noon UT | 22 sc 19    |
02 Nov 1877 Noon UT | 22 sc 44    |
03 Nov 1877 Noon UT | 23 sc 10    |
04 Nov 1877 Noon UT | 23 sc 35    |
05 Nov 1877 Noon UT | 24 sc  1    |
06 Nov 1877 Noon UT | 24 sc 26    |
07 Nov 1877 Noon UT | 24 sc 52    |
08 Nov 1877 Noon UT | 25 sc 17    |
09 Nov 1877 Noon UT | 25 sc 43    |
10 Nov 1877 Noon UT | 26 sc  9    |
11 Nov 1877 Noon UT | 26 sc 34    |
12 Nov 1877 Noon UT | 27 sc  0    |
13 Nov 1877 Noon UT | 27 sc 25    |
14 Nov 1877 Noon UT | 27 sc 51    |
15 Nov 1877 Noon UT | 28 sc 17    |
16 Nov 1877 Noon UT | 28 sc 42    |
17 Nov 1877 Noon UT | 29 sc  8    |
18 Nov 1877 Noon UT | 29 sc 34    |
19 Nov 1877 Noon UT | 29 sc 59    |
20 Nov 1877 Noon UT |  0 sa 25    |
21 Nov 1877 Noon UT |  0 sa 51    |
22 Nov 1877 Noon UT |  1 sa 17    |
23 Nov 1877 Noon UT |  1 sa 42    |
24 Nov 1877 Noon UT |  2 sa  8    |
25 Nov 1877 Noon UT |  2 sa 34    |
26 Nov 1877 Noon UT |  2 sa 59    |
27 Nov 1877 Noon UT |  3 sa 25    |
28 Nov 1877 Noon UT |  3 sa 51    |
29 Nov 1877 Noon UT |  4 sa 16    |
30 Nov 1877 Noon UT |  4 sa 42    |
01 Dec 1877 Noon UT |  5 sa  8    |
02 Dec 1877 Noon UT |  5 sa 34    |
03 Dec 1877 Noon UT |  5 sa 59    |
04 Dec 1877 Noon UT |  6 sa 25    |
05 Dec 1877 Noon UT |  6 sa 51    |
06 Dec 1877 Noon UT |  7 sa 16    |
07 Dec 1877 Noon UT |  7 sa 42    |
08 Dec 1877 Noon UT |  8 sa  8    |
09 Dec 1877 Noon UT |  8 sa 33    |
10 Dec 1877 Noon UT |  8 sa 59    |
11 Dec 1877 Noon UT |  9 sa 24    |
12 Dec 1877 Noon UT |  9 sa 50    |
13 Dec 1877 Noon UT | 10 sa 15    |
14 Dec 1877 Noon UT | 10 sa 41    |
15 Dec 1877 Noon UT | 11 sa  7    |
16 Dec 1877 Noon UT | 11 sa 32    |
17 Dec 1877 Noon UT | 11 sa 58    |
18 Dec 1877 Noon UT | 12 sa 23    |
19 Dec 1877 Noon UT | 12 sa 48    |
20 Dec 1877 Noon UT | 13 sa 14    |
21 Dec 1877 Noon UT | 13 sa 39    |
22 Dec 1877 Noon UT | 14 sa  5    |
23 Dec 1877 Noon UT | 14 sa 30    |
24 Dec 1877 Noon UT | 14 sa 55    |
25 Dec 1877 Noon UT | 15 sa 21    |
26 Dec 1877 Noon UT | 15 sa 46    |
27 Dec 1877 Noon UT | 16 sa 11    |
28 Dec 1877 Noon UT | 16 sa 36    |
29 Dec 1877 Noon UT | 17 sa  1    |
30 Dec 1877 Noon UT | 17 sa 27    |
31 Dec 1877 Noon UT | 17 sa 52    |
01 Jan 1878 Noon UT | 18 sa 17    |
02 Jan 1878 Noon UT | 18 sa 42    |
03 Jan 1878 Noon UT | 19 sa  7    |
04 Jan 1878 Noon UT | 19 sa 32    |
05 Jan 1878 Noon UT | 19 sa 57    |
06 Jan 1878 Noon UT | 20 sa 22    |
07 Jan 1878 Noon UT | 20 sa 46    |
08 Jan 1878 Noon UT | 21 sa 11    |
09 Jan 1878 Noon UT | 21 sa 36    |
10 Jan 1878 Noon UT | 22 sa  1    |
11 Jan 1878 Noon UT | 22 sa 25    |
12 Jan 1878 Noon UT | 22 sa 50    |
13 Jan 1878 Noon UT | 23 sa 14    |
14 Jan 1878 Noon UT | 23 sa 39    |
15 Jan 1878 Noon UT | 24 sa  3    |
16 Jan 1878 Noon UT | 24 sa 28    |
17 Jan 1878 Noon UT | 24 sa 52    |
18 Jan 1878 Noon UT | 25 sa 16    |
19 Jan 1878 Noon UT | 25 sa 40    |
20 Jan 1878 Noon UT | 26 sa  5    |
21 Jan 1878 Noon UT | 26 sa 29    |
22 Jan 1878 Noon UT | 26 sa 53    |
23 Jan 1878 Noon UT | 27 sa 17    |
24 Jan 1878 Noon UT | 27 sa 41    |
25 Jan 1878 Noon UT | 28 sa  4    |
26 Jan 1878 Noon UT | 28 sa 28    |
27 Jan 1878 Noon UT | 28 sa 52    |
28 Jan 1878 Noon UT | 29 sa 16    |
29 Jan 1878 Noon UT | 29 sa 39    |
30 Jan 1878 Noon UT |  0 cp  3    |
31 Jan 1878 Noon UT |  0 cp 26    |
01 Feb 1878 Noon UT |  0 cp 50    |
02 Feb 1878 Noon UT |  1 cp 13    |
03 Feb 1878 Noon UT |  1 cp 36    |
04 Feb 1878 Noon UT |  1 cp 59    |
05 Feb 1878 Noon UT |  2 cp 22    |
06 Feb 1878 Noon UT |  2 cp 45    |
07 Feb 1878 Noon UT |  3 cp  8    |
08 Feb 1878 Noon UT |  3 cp 31    |
09 Feb 1878 Noon UT |  3 cp 53    |
10 Feb 1878 Noon UT |  4 cp 16    |
11 Feb 1878 Noon UT |  4 cp 39    |
12 Feb 1878 Noon UT |  5 cp  1    |
13 Feb 1878 Noon UT |  5 cp 23    |
14 Feb 1878 Noon UT |  5 cp 46    |
15 Feb 1878 Noon UT |  6 cp  8    |
16 Feb 1878 Noon UT |  6 cp 30    |
17 Feb 1878 Noon UT |  6 cp 52    |
18 Feb 1878 Noon UT |  7 cp 14    |
19 Feb 1878 Noon UT |  7 cp 35    |
20 Feb 1878 Noon UT |  7 cp 57    |
21 Feb 1878 Noon UT |  8 cp 18    |
22 Feb 1878 Noon UT |  8 cp 40    |
23 Feb 1878 Noon UT |  9 cp  1    |
24 Feb 1878 Noon UT |  9 cp 22    |
25 Feb 1878 Noon UT |  9 cp 44    |
26 Feb 1878 Noon UT | 10 cp  4    |
27 Feb 1878 Noon UT | 10 cp 25    |
28 Feb 1878 Noon UT | 10 cp 46    |
01 Mar 1878 Noon UT | 11 cp  7    |
02 Mar 1878 Noon UT | 11 cp 27    |
03 Mar 1878 Noon UT | 11 cp 48    |
04 Mar 1878 Noon UT | 12 cp  8    |
05 Mar 1878 Noon UT | 12 cp 28    |
06 Mar 1878 Noon UT | 12 cp 48    |
07 Mar 1878 Noon UT | 13 cp  8    |
08 Mar 1878 Noon UT | 13 cp 27    |
09 Mar 1878 Noon UT | 13 cp 47    |
10 Mar 1878 Noon UT | 14 cp  6    |
11 Mar 1878 Noon UT | 14 cp 26    |
12 Mar 1878 Noon UT | 14 cp 45    |
13 Mar 1878 Noon UT | 15 cp  4    |
14 Mar 1878 Noon UT | 15 cp 22    |
15 Mar 1878 Noon UT | 15 cp 41    |
16 Mar 1878 Noon UT | 16 cp  0    |
17 Mar 1878 Noon UT | 16 cp 18    |
18 Mar 1878 Noon UT | 16 cp 36    |
19 Mar 1878 Noon UT | 16 cp 54    |
20 Mar 1878 Noon UT | 17 cp 12    |
21 Mar 1878 Noon UT | 17 cp 30    |
22 Mar 1878 Noon UT | 17 cp 47    |
23 Mar 1878 Noon UT | 18 cp  5    |
24 Mar 1878 Noon UT | 18 cp 22    |
25 Mar 1878 Noon UT | 18 cp 39    |
26 Mar 1878 Noon UT | 18 cp 56    |
27 Mar 1878 Noon UT | 19 cp 12    |
28 Mar 1878 Noon UT | 19 cp 29    |
29 Mar 1878 Noon UT | 19 cp 45    |
30 Mar 1878 Noon UT | 20 cp  1    |
31 Mar 1878 Noon UT | 20 cp 17    |
01 Apr 1878 Noon UT | 20 cp 33    |
02 Apr 1878 Noon UT | 20 cp 48    |
03 Apr 1878 Noon UT | 21 cp  3    |
04 Apr 1878 Noon UT | 21 cp 18    |
05 Apr 1878 Noon UT | 21 cp 33    |
06 Apr 1878 Noon UT | 21 cp 48    |
07 Apr 1878 Noon UT | 22 cp  2    |
08 Apr 1878 Noon UT | 22 cp 16    |
09 Apr 1878 Noon UT | 22 cp 30    |
10 Apr 1878 Noon UT | 22 cp 44    |
11 Apr 1878 Noon UT | 22 cp 58    |
12 Apr 1878 Noon UT | 23 cp 11    |
13 Apr 1878 Noon UT | 23 cp 24    |
14 Apr 1878 Noon UT | 23 cp 37    |
15 Apr 1878 Noon UT | 23 cp 49    |
16 Apr 1878 Noon UT | 24 cp  2    |
17 Apr 1878 Noon UT | 24 cp 14    |
18 Apr 1878 Noon UT | 24 cp 26    |
19 Apr 1878 Noon UT | 24 cp 37    |
20 Apr 1878 Noon UT | 24 cp 49    |
21 Apr 1878 Noon UT | 25 cp  0    |
22 Apr 1878 Noon UT | 25 cp 10    |
23 Apr 1878 Noon UT | 25 cp 21    |
24 Apr 1878 Noon UT | 25 cp 31    |
25 Apr 1878 Noon UT | 25 cp 41    |
26 Apr 1878 Noon UT | 25 cp 51    |
27 Apr 1878 Noon UT | 26 cp  0    |
28 Apr 1878 Noon UT | 26 cp  9    |
29 Apr 1878 Noon UT | 26 cp 18    |
30 Apr 1878 Noon UT | 26 cp 27    |
01 May 1878 Noon UT | 26 cp 35    |
02 May 1878 Noon UT | 26 cp 43    |
03 May 1878 Noon UT | 26 cp 51    |
04 May 1878 Noon UT | 26 cp 58    |
05 May 1878 Noon UT | 27 cp  5    |
06 May 1878 Noon UT | 27 cp 12    |
07 May 1878 Noon UT | 27 cp 18    |
08 May 1878 Noon UT | 27 cp 24    |
09 May 1878 Noon UT | 27 cp 30    |
10 May 1878 Noon UT | 27 cp 35    |
11 May 1878 Noon UT | 27 cp 40    |
12 May 1878 Noon UT | 27 cp 45    |
13 May 1878 Noon UT | 27 cp 50    |
14 May 1878 Noon UT | 27 cp 54    |
15 May 1878 Noon UT | 27 cp 58    |
16 May 1878 Noon UT | 28 cp  1    |
17 May 1878 Noon UT | 28 cp  4    |
18 May 1878 Noon UT | 28 cp  7    |
19 May 1878 Noon UT | 28 cp  9    |
20 May 1878 Noon UT | 28 cp 11    |
21 May 1878 Noon UT | 28 cp 13    |
22 May 1878 Noon UT | 28 cp 15    |
23 May 1878 Noon UT | 28 cp 16    |
24 May 1878 Noon UT | 28 cp 16    |
25 May 1878 Noon UT | 28 cp 17    |
26 May 1878 Noon UT | 28 cp 17 Rx |
27 May 1878 Noon UT | 28 cp 16 Rx |
28 May 1878 Noon UT | 28 cp 15 Rx |
29 May 1878 Noon UT | 28 cp 14 Rx |
30 May 1878 Noon UT | 28 cp 13 Rx |
31 May 1878 Noon UT | 28 cp 11 Rx |
01 Jun 1878 Noon UT | 28 cp  9 Rx |
02 Jun 1878 Noon UT | 28 cp  6 Rx |
03 Jun 1878 Noon UT | 28 cp  3 Rx |
04 Jun 1878 Noon UT | 28 cp  0 Rx |
05 Jun 1878 Noon UT | 27 cp 57 Rx |
06 Jun 1878 Noon UT | 27 cp 53 Rx |
07 Jun 1878 Noon UT | 27 cp 48 Rx |
08 Jun 1878 Noon UT | 27 cp 44 Rx |
09 Jun 1878 Noon UT | 27 cp 39 Rx |
10 Jun 1878 Noon UT | 27 cp 34 Rx |
11 Jun 1878 Noon UT | 27 cp 28 Rx |
12 Jun 1878 Noon UT | 27 cp 22 Rx |
13 Jun 1878 Noon UT | 27 cp 16 Rx |
14 Jun 1878 Noon UT | 27 cp  9 Rx |
15 Jun 1878 Noon UT | 27 cp  3 Rx |
16 Jun 1878 Noon UT | 26 cp 55 Rx |
17 Jun 1878 Noon UT | 26 cp 48 Rx |
18 Jun 1878 Noon UT | 26 cp 40 Rx |
19 Jun 1878 Noon UT | 26 cp 32 Rx |
20 Jun 1878 Noon UT | 26 cp 24 Rx |
21 Jun 1878 Noon UT | 26 cp 15 Rx |
22 Jun 1878 Noon UT | 26 cp  6 Rx |
23 Jun 1878 Noon UT | 25 cp 57 Rx |
24 Jun 1878 Noon UT | 25 cp 48 Rx |
25 Jun 1878 Noon UT | 25 cp 38 Rx |
26 Jun 1878 Noon UT | 25 cp 29 Rx |
27 Jun 1878 Noon UT | 25 cp 19 Rx |
28 Jun 1878 Noon UT | 25 cp  8 Rx |
29 Jun 1878 Noon UT | 24 cp 58 Rx |
30 Jun 1878 Noon UT | 24 cp 47 Rx |
01 Jul 1878 Noon UT | 24 cp 37 Rx |
02 Jul 1878 Noon UT | 24 cp 26 Rx |
03 Jul 1878 Noon UT | 24 cp 15 Rx |
04 Jul 1878 Noon UT | 24 cp  3 Rx |
05 Jul 1878 Noon UT | 23 cp 52 Rx |
06 Jul 1878 Noon UT | 23 cp 41 Rx |
07 Jul 1878 Noon UT | 23 cp 29 Rx |
08 Jul 1878 Noon UT | 23 cp 17 Rx |
09 Jul 1878 Noon UT | 23 cp  6 Rx |
10 Jul 1878 Noon UT | 22 cp 54 Rx |
11 Jul 1878 Noon UT | 22 cp 42 Rx |
12 Jul 1878 Noon UT | 22 cp 30 Rx |
13 Jul 1878 Noon UT | 22 cp 19 Rx |
14 Jul 1878 Noon UT | 22 cp  7 Rx |
15 Jul 1878 Noon UT | 21 cp 55 Rx |
16 Jul 1878 Noon UT | 21 cp 43 Rx |
17 Jul 1878 Noon UT | 21 cp 31 Rx |
18 Jul 1878 Noon UT | 21 cp 20 Rx |
19 Jul 1878 Noon UT | 21 cp  8 Rx |
20 Jul 1878 Noon UT | 20 cp 56 Rx |
21 Jul 1878 Noon UT | 20 cp 45 Rx |
22 Jul 1878 Noon UT | 20 cp 33 Rx |
23 Jul 1878 Noon UT | 20 cp 22 Rx |
24 Jul 1878 Noon UT | 20 cp 11 Rx |
25 Jul 1878 Noon UT | 20 cp  0 Rx |
26 Jul 1878 Noon UT | 19 cp 49 Rx |
27 Jul 1878 Noon UT | 19 cp 38 Rx |
28 Jul 1878 Noon UT | 19 cp 28 Rx |
29 Jul 1878 Noon UT | 19 cp 17 Rx |
30 Jul 1878 Noon UT | 19 cp  7 Rx |
31 Jul 1878 Noon UT | 18 cp 57 Rx |
01 Aug 1878 Noon UT | 18 cp 47 Rx |
02 Aug 1878 Noon UT | 18 cp 38 Rx |
03 Aug 1878 Noon UT | 18 cp 28 Rx |
04 Aug 1878 Noon UT | 18 cp 19 Rx |
05 Aug 1878 Noon UT | 18 cp 11 Rx |
06 Aug 1878 Noon UT | 18 cp  2 Rx |
07 Aug 1878 Noon UT | 17 cp 54 Rx |
08 Aug 1878 Noon UT | 17 cp 46 Rx |
09 Aug 1878 Noon UT | 17 cp 38 Rx |
10 Aug 1878 Noon UT | 17 cp 31 Rx |
11 Aug 1878 Noon UT | 17 cp 23 Rx |
12 Aug 1878 Noon UT | 17 cp 17 Rx |
13 Aug 1878 Noon UT | 17 cp 10 Rx |
14 Aug 1878 Noon UT | 17 cp  4 Rx |
15 Aug 1878 Noon UT | 16 cp 58 Rx |
16 Aug 1878 Noon UT | 16 cp 52 Rx |
17 Aug 1878 Noon UT | 16 cp 47 Rx |
18 Aug 1878 Noon UT | 16 cp 42 Rx |
19 Aug 1878 Noon UT | 16 cp 37 Rx |
20 Aug 1878 Noon UT | 16 cp 33 Rx |
21 Aug 1878 Noon UT | 16 cp 29 Rx |
22 Aug 1878 Noon UT | 16 cp 25 Rx |
23 Aug 1878 Noon UT | 16 cp 22 Rx |
24 Aug 1878 Noon UT | 16 cp 19 Rx |
25 Aug 1878 Noon UT | 16 cp 17 Rx |
26 Aug 1878 Noon UT | 16 cp 14 Rx |
27 Aug 1878 Noon UT | 16 cp 12 Rx |
28 Aug 1878 Noon UT | 16 cp 11 Rx |
29 Aug 1878 Noon UT | 16 cp 10 Rx |
30 Aug 1878 Noon UT | 16 cp  9 Rx |
31 Aug 1878 Noon UT | 16 cp  8 Rx |
01 Sep 1878 Noon UT | 16 cp  8 Rx |
02 Sep 1878 Noon UT | 16 cp  8    |
03 Sep 1878 Noon UT | 16 cp  8    |
04 Sep 1878 Noon UT | 16 cp  9    |
05 Sep 1878 Noon UT | 16 cp 10    |
06 Sep 1878 Noon UT | 16 cp 12    |
07 Sep 1878 Noon UT | 16 cp 14    |
08 Sep 1878 Noon UT | 16 cp 16    |
09 Sep 1878 Noon UT | 16 cp 18    |
10 Sep 1878 Noon UT | 16 cp 21    |
11 Sep 1878 Noon UT | 16 cp 24    |
12 Sep 1878 Noon UT | 16 cp 28    |
13 Sep 1878 Noon UT | 16 cp 32    |
14 Sep 1878 Noon UT | 16 cp 36    |
15 Sep 1878 Noon UT | 16 cp 40    |
16 Sep 1878 Noon UT | 16 cp 45    |
17 Sep 1878 Noon UT | 16 cp 50    |
18 Sep 1878 Noon UT | 16 cp 55    |
19 Sep 1878 Noon UT | 17 cp  1    |
20 Sep 1878 Noon UT | 17 cp  7    |
21 Sep 1878 Noon UT | 17 cp 13    |
22 Sep 1878 Noon UT | 17 cp 20    |
23 Sep 1878 Noon UT | 17 cp 27    |
24 Sep 1878 Noon UT | 17 cp 34    |
25 Sep 1878 Noon UT | 17 cp 41    |
26 Sep 1878 Noon UT | 17 cp 49    |
27 Sep 1878 Noon UT | 17 cp 57    |
28 Sep 1878 Noon UT | 18 cp  5    |
29 Sep 1878 Noon UT | 18 cp 14    |
30 Sep 1878 Noon UT | 18 cp 23    |
01 Oct 1878 Noon UT | 18 cp 32    |
02 Oct 1878 Noon UT | 18 cp 41    |
03 Oct 1878 Noon UT | 18 cp 51    |
04 Oct 1878 Noon UT | 19 cp  0    |
05 Oct 1878 Noon UT | 19 cp 11    |
06 Oct 1878 Noon UT | 19 cp 21    |
07 Oct 1878 Noon UT | 19 cp 32    |
08 Oct 1878 Noon UT | 19 cp 42    |
09 Oct 1878 Noon UT | 19 cp 54    |
10 Oct 1878 Noon UT | 20 cp  5    |
11 Oct 1878 Noon UT | 20 cp 16    |
12 Oct 1878 Noon UT | 20 cp 28    |
13 Oct 1878 Noon UT | 20 cp 40    |
14 Oct 1878 Noon UT | 20 cp 52    |
15 Oct 1878 Noon UT | 21 cp  5    |
16 Oct 1878 Noon UT | 21 cp 17    |
17 Oct 1878 Noon UT | 21 cp 30    |
18 Oct 1878 Noon UT | 21 cp 43    |
19 Oct 1878 Noon UT | 21 cp 57    |
20 Oct 1878 Noon UT | 22 cp 10    |
21 Oct 1878 Noon UT | 22 cp 24    |
22 Oct 1878 Noon UT | 22 cp 38    |
23 Oct 1878 Noon UT | 22 cp 52    |
24 Oct 1878 Noon UT | 23 cp  6    |
25 Oct 1878 Noon UT | 23 cp 21    |
26 Oct 1878 Noon UT | 23 cp 35    |
27 Oct 1878 Noon UT | 23 cp 50    |
28 Oct 1878 Noon UT | 24 cp  5    |
29 Oct 1878 Noon UT | 24 cp 20    |
30 Oct 1878 Noon UT | 24 cp 36    |
31 Oct 1878 Noon UT | 24 cp 51    |
01 Nov 1878 Noon UT | 25 cp  7    |
02 Nov 1878 Noon UT | 25 cp 23    |
03 Nov 1878 Noon UT | 25 cp 39    |
04 Nov 1878 Noon UT | 25 cp 55    |
05 Nov 1878 Noon UT | 26 cp 11    |
06 Nov 1878 Noon UT | 26 cp 28    |
07 Nov 1878 Noon UT | 26 cp 44    |
08 Nov 1878 Noon UT | 27 cp  1    |
09 Nov 1878 Noon UT | 27 cp 18    |
10 Nov 1878 Noon UT | 27 cp 35    |
11 Nov 1878 Noon UT | 27 cp 52    |
12 Nov 1878 Noon UT | 28 cp 10    |
13 Nov 1878 Noon UT | 28 cp 27    |
14 Nov 1878 Noon UT | 28 cp 45    |
15 Nov 1878 Noon UT | 29 cp  2    |
16 Nov 1878 Noon UT | 29 cp 20    |
17 Nov 1878 Noon UT | 29 cp 38    |
18 Nov 1878 Noon UT | 29 cp 56    |
19 Nov 1878 Noon UT |  0 aq 15    |
20 Nov 1878 Noon UT |  0 aq 33    |
21 Nov 1878 Noon UT |  0 aq 52    |
22 Nov 1878 Noon UT |  1 aq 10    |
23 Nov 1878 Noon UT |  1 aq 29    |
24 Nov 1878 Noon UT |  1 aq 48    |
25 Nov 1878 Noon UT |  2 aq  7    |
26 Nov 1878 Noon UT |  2 aq 26    |
27 Nov 1878 Noon UT |  2 aq 45    |
28 Nov 1878 Noon UT |  3 aq  4    |
29 Nov 1878 Noon UT |  3 aq 23    |
30 Nov 1878 Noon UT |  3 aq 43    |
01 Dec 1878 Noon UT |  4 aq  2    |
02 Dec 1878 Noon UT |  4 aq 22    |
03 Dec 1878 Noon UT |  4 aq 42    |
04 Dec 1878 Noon UT |  5 aq  2    |
05 Dec 1878 Noon UT |  5 aq 22    |
06 Dec 1878 Noon UT |  5 aq 42    |
07 Dec 1878 Noon UT |  6 aq  2    |
08 Dec 1878 Noon UT |  6 aq 22    |
09 Dec 1878 Noon UT |  6 aq 42    |
10 Dec 1878 Noon UT |  7 aq  2    |
11 Dec 1878 Noon UT |  7 aq 23    |
12 Dec 1878 Noon UT |  7 aq 43    |
13 Dec 1878 Noon UT |  8 aq  4    |
14 Dec 1878 Noon UT |  8 aq 25    |
15 Dec 1878 Noon UT |  8 aq 45    |
16 Dec 1878 Noon UT |  9 aq  6    |
17 Dec 1878 Noon UT |  9 aq 27    |
18 Dec 1878 Noon UT |  9 aq 48    |
19 Dec 1878 Noon UT | 10 aq  9    |
20 Dec 1878 Noon UT | 10 aq 30    |
21 Dec 1878 Noon UT | 10 aq 51    |
22 Dec 1878 Noon UT | 11 aq 12    |
23 Dec 1878 Noon UT | 11 aq 33    |
24 Dec 1878 Noon UT | 11 aq 55    |
25 Dec 1878 Noon UT | 12 aq 16    |
26 Dec 1878 Noon UT | 12 aq 37    |
27 Dec 1878 Noon UT | 12 aq 59    |
28 Dec 1878 Noon UT | 13 aq 20    |
29 Dec 1878 Noon UT | 13 aq 42    |
30 Dec 1878 Noon UT | 14 aq  4    |
31 Dec 1878 Noon UT | 14 aq 25    |
01 Jan 1879 Noon UT | 14 aq 47    |
02 Jan 1879 Noon UT | 15 aq  9    |
03 Jan 1879 Noon UT | 15 aq 31    |
04 Jan 1879 Noon UT | 15 aq 52    |
05 Jan 1879 Noon UT | 16 aq 14    |
06 Jan 1879 Noon UT | 16 aq 36    |
07 Jan 1879 Noon UT | 16 aq 58    |
08 Jan 1879 Noon UT | 17 aq 20    |
09 Jan 1879 Noon UT | 17 aq 42    |
10 Jan 1879 Noon UT | 18 aq  4    |
11 Jan 1879 Noon UT | 18 aq 26    |
12 Jan 1879 Noon UT | 18 aq 48    |
13 Jan 1879 Noon UT | 19 aq 11    |
14 Jan 1879 Noon UT | 19 aq 33    |
15 Jan 1879 Noon UT | 19 aq 55    |
16 Jan 1879 Noon UT | 20 aq 17    |
17 Jan 1879 Noon UT | 20 aq 40    |
18 Jan 1879 Noon UT | 21 aq  2    |
19 Jan 1879 Noon UT | 21 aq 24    |
20 Jan 1879 Noon UT | 21 aq 47    |
21 Jan 1879 Noon UT | 22 aq  9    |
22 Jan 1879 Noon UT | 22 aq 31    |
23 Jan 1879 Noon UT | 22 aq 54    |
24 Jan 1879 Noon UT | 23 aq 16    |
25 Jan 1879 Noon UT | 23 aq 39    |
26 Jan 1879 Noon UT | 24 aq  1    |
27 Jan 1879 Noon UT | 24 aq 24    |
28 Jan 1879 Noon UT | 24 aq 46    |
29 Jan 1879 Noon UT | 25 aq  9    |
30 Jan 1879 Noon UT | 25 aq 31    |
31 Jan 1879 Noon UT | 25 aq 54    |
01 Feb 1879 Noon UT | 26 aq 16    |
02 Feb 1879 Noon UT | 26 aq 39    |
03 Feb 1879 Noon UT | 27 aq  1    |
04 Feb 1879 Noon UT | 27 aq 24    |
05 Feb 1879 Noon UT | 27 aq 46    |
06 Feb 1879 Noon UT | 28 aq  9    |
07 Feb 1879 Noon UT | 28 aq 31    |
08 Feb 1879 Noon UT | 28 aq 54    |
09 Feb 1879 Noon UT | 29 aq 17    |
10 Feb 1879 Noon UT | 29 aq 39    |
11 Feb 1879 Noon UT |  0 pi  2    |
12 Feb 1879 Noon UT |  0 pi 24    |
13 Feb 1879 Noon UT |  0 pi 47    |
14 Feb 1879 Noon UT |  1 pi  9    |
15 Feb 1879 Noon UT |  1 pi 32    |
16 Feb 1879 Noon UT |  1 pi 54    |
17 Feb 1879 Noon UT |  2 pi 17    |
18 Feb 1879 Noon UT |  2 pi 40    |
19 Feb 1879 Noon UT |  3 pi  2    |
20 Feb 1879 Noon UT |  3 pi 25    |
21 Feb 1879 Noon UT |  3 pi 47    |
22 Feb 1879 Noon UT |  4 pi 10    |
23 Feb 1879 Noon UT |  4 pi 32    |
24 Feb 1879 Noon UT |  4 pi 55    |
25 Feb 1879 Noon UT |  5 pi 17    |
26 Feb 1879 Noon UT |  5 pi 39    |
27 Feb 1879 Noon UT |  6 pi  2    |
28 Feb 1879 Noon UT |  6 pi 24    |
01 Mar 1879 Noon UT |  6 pi 47    |
02 Mar 1879 Noon UT |  7 pi  9    |
03 Mar 1879 Noon UT |  7 pi 31    |
04 Mar 1879 Noon UT |  7 pi 54    |
05 Mar 1879 Noon UT |  8 pi 16    |
06 Mar 1879 Noon UT |  8 pi 38    |
07 Mar 1879 Noon UT |  9 pi  0    |
08 Mar 1879 Noon UT |  9 pi 23    |
09 Mar 1879 Noon UT |  9 pi 45    |
10 Mar 1879 Noon UT | 10 pi  7    |
11 Mar 1879 Noon UT | 10 pi 29    |
12 Mar 1879 Noon UT | 10 pi 51    |
13 Mar 1879 Noon UT | 11 pi 13    |
14 Mar 1879 Noon UT | 11 pi 35    |
15 Mar 1879 Noon UT | 11 pi 57    |
16 Mar 1879 Noon UT | 12 pi 19    |
17 Mar 1879 Noon UT | 12 pi 41    |
18 Mar 1879 Noon UT | 13 pi  3    |
19 Mar 1879 Noon UT | 13 pi 25    |
20 Mar 1879 Noon UT | 13 pi 47    |
21 Mar 1879 Noon UT | 14 pi  9    |
22 Mar 1879 Noon UT | 14 pi 30    |
23 Mar 1879 Noon UT | 14 pi 52    |
24 Mar 1879 Noon UT | 15 pi 14    |
25 Mar 1879 Noon UT | 15 pi 35    |
26 Mar 1879 Noon UT | 15 pi 57    |
27 Mar 1879 Noon UT | 16 pi 19    |
28 Mar 1879 Noon UT | 16 pi 40    |
29 Mar 1879 Noon UT | 17 pi  1    |
30 Mar 1879 Noon UT | 17 pi 23    |
31 Mar 1879 Noon UT | 17 pi 44    |
01 Apr 1879 Noon UT | 18 pi  6    |
02 Apr 1879 Noon UT | 18 pi 27    |
03 Apr 1879 Noon UT | 18 pi 48    |
04 Apr 1879 Noon UT | 19 pi  9    |
05 Apr 1879 Noon UT | 19 pi 30    |
06 Apr 1879 Noon UT | 19 pi 51    |
07 Apr 1879 Noon UT | 20 pi 12    |
08 Apr 1879 Noon UT | 20 pi 33    |
09 Apr 1879 Noon UT | 20 pi 54    |
10 Apr 1879 Noon UT | 21 pi 15    |
11 Apr 1879 Noon UT | 21 pi 36    |
12 Apr 1879 Noon UT | 21 pi 56    |
13 Apr 1879 Noon UT | 22 pi 17    |
14 Apr 1879 Noon UT | 22 pi 37    |
15 Apr 1879 Noon UT | 22 pi 58    |
16 Apr 1879 Noon UT | 23 pi 18    |
17 Apr 1879 Noon UT | 23 pi 39    |
18 Apr 1879 Noon UT | 23 pi 59    |
19 Apr 1879 Noon UT | 24 pi 19    |
20 Apr 1879 Noon UT | 24 pi 39    |
21 Apr 1879 Noon UT | 24 pi 59    |
22 Apr 1879 Noon UT | 25 pi 20    |
23 Apr 1879 Noon UT | 25 pi 39    |
24 Apr 1879 Noon UT | 25 pi 59    |
25 Apr 1879 Noon UT | 26 pi 19    |
26 Apr 1879 Noon UT | 26 pi 39    |
27 Apr 1879 Noon UT | 26 pi 58    |
28 Apr 1879 Noon UT | 27 pi 18    |
29 Apr 1879 Noon UT | 27 pi 37    |
30 Apr 1879 Noon UT | 27 pi 57    |
01 May 1879 Noon UT | 28 pi 16    |
02 May 1879 Noon UT | 28 pi 35    |
03 May 1879 Noon UT | 28 pi 54    |
04 May 1879 Noon UT | 29 pi 13    |
05 May 1879 Noon UT | 29 pi 32    |
06 May 1879 Noon UT | 29 pi 51    |
07 May 1879 Noon UT |  0 ar 10    |
08 May 1879 Noon UT |  0 ar 29    |
09 May 1879 Noon UT |  0 ar 47    |
10 May 1879 Noon UT |  1 ar  6    |
11 May 1879 Noon UT |  1 ar 24    |
12 May 1879 Noon UT |  1 ar 42    |
13 May 1879 Noon UT |  2 ar  0    |
14 May 1879 Noon UT |  2 ar 19    |
15 May 1879 Noon UT |  2 ar 36    |
16 May 1879 Noon UT |  2 ar 54    |
17 May 1879 Noon UT |  3 ar 12    |
18 May 1879 Noon UT |  3 ar 30    |
19 May 1879 Noon UT |  3 ar 47    |
20 May 1879 Noon UT |  4 ar  5    |
21 May 1879 Noon UT |  4 ar 22    |
22 May 1879 Noon UT |  4 ar 39    |
23 May 1879 Noon UT |  4 ar 56    |
24 May 1879 Noon UT |  5 ar 13    |
25 May 1879 Noon UT |  5 ar 30    |
26 May 1879 Noon UT |  5 ar 47    |
27 May 1879 Noon UT |  6 ar  3    |
28 May 1879 Noon UT |  6 ar 20    |
29 May 1879 Noon UT |  6 ar 36    |
30 May 1879 Noon UT |  6 ar 52    |
31 May 1879 Noon UT |  7 ar  8    |
01 Jun 1879 Noon UT |  7 ar 24    |
02 Jun 1879 Noon UT |  7 ar 40    |
03 Jun 1879 Noon UT |  7 ar 55    |
04 Jun 1879 Noon UT |  8 ar 11    |
05 Jun 1879 Noon UT |  8 ar 26    |
06 Jun 1879 Noon UT |  8 ar 41    |
07 Jun 1879 Noon UT |  8 ar 57    |
08 Jun 1879 Noon UT |  9 ar 11    |
09 Jun 1879 Noon UT |  9 ar 26    |
10 Jun 1879 Noon UT |  9 ar 41    |
11 Jun 1879 Noon UT |  9 ar 55    |
12 Jun 1879 Noon UT | 10 ar  9    |
13 Jun 1879 Noon UT | 10 ar 24    |
14 Jun 1879 Noon UT | 10 ar 38    |
15 Jun 1879 Noon UT | 10 ar 51    |
16 Jun 1879 Noon UT | 11 ar  5    |
17 Jun 1879 Noon UT | 11 ar 18    |
18 Jun 1879 Noon UT | 11 ar 32    |
19 Jun 1879 Noon UT | 11 ar 45    |
20 Jun 1879 Noon UT | 11 ar 58    |
21 Jun 1879 Noon UT | 12 ar 11    |
22 Jun 1879 Noon UT | 12 ar 23    |
23 Jun 1879 Noon UT | 12 ar 35    |
24 Jun 1879 Noon UT | 12 ar 48    |
25 Jun 1879 Noon UT | 13 ar  0    |
26 Jun 1879 Noon UT | 13 ar 11    |
27 Jun 1879 Noon UT | 13 ar 23    |
28 Jun 1879 Noon UT | 13 ar 34    |
29 Jun 1879 Noon UT | 13 ar 46    |
30 Jun 1879 Noon UT | 13 ar 57    |
01 Jul 1879 Noon UT | 14 ar  7    |
02 Jul 1879 Noon UT | 14 ar 18    |
03 Jul 1879 Noon UT | 14 ar 28    |
04 Jul 1879 Noon UT | 14 ar 38    |
05 Jul 1879 Noon UT | 14 ar 48    |
06 Jul 1879 Noon UT | 14 ar 58    |
07 Jul 1879 Noon UT | 15 ar  8    |
08 Jul 1879 Noon UT | 15 ar 17    |
09 Jul 1879 Noon UT | 15 ar 26    |
10 Jul 1879 Noon UT | 15 ar 35    |
11 Jul 1879 Noon UT | 15 ar 43    |
12 Jul 1879 Noon UT | 15 ar 52    |
13 Jul 1879 Noon UT | 16 ar  0    |
14 Jul 1879 Noon UT | 16 ar  8    |
15 Jul 1879 Noon UT | 16 ar 15    |
16 Jul 1879 Noon UT | 16 ar 23    |
17 Jul 1879 Noon UT | 16 ar 30    |
18 Jul 1879 Noon UT | 16 ar 36    |
19 Jul 1879 Noon UT | 16 ar 43    |
20 Jul 1879 Noon UT | 16 ar 49    |
21 Jul 1879 Noon UT | 16 ar 55    |
22 Jul 1879 Noon UT | 17 ar  1    |
23 Jul 1879 Noon UT | 17 ar  7    |
24 Jul 1879 Noon UT | 17 ar 12    |
25 Jul 1879 Noon UT | 17 ar 17    |
26 Jul 1879 Noon UT | 17 ar 22    |
27 Jul 1879 Noon UT | 17 ar 26    |
28 Jul 1879 Noon UT | 17 ar 30    |
29 Jul 1879 Noon UT | 17 ar 34    |
30 Jul 1879 Noon UT | 17 ar 37    |
31 Jul 1879 Noon UT | 17 ar 41    |
01 Aug 1879 Noon UT | 17 ar 44    |
02 Aug 1879 Noon UT | 17 ar 46    |
03 Aug 1879 Noon UT | 17 ar 49    |
04 Aug 1879 Noon UT | 17 ar 51    |
05 Aug 1879 Noon UT | 17 ar 52    |
06 Aug 1879 Noon UT | 17 ar 54    |
07 Aug 1879 Noon UT | 17 ar 55    |
08 Aug 1879 Noon UT | 17 ar 56    |
09 Aug 1879 Noon UT | 17 ar 57    |
10 Aug 1879 Noon UT | 17 ar 57    |
11 Aug 1879 Noon UT | 17 ar 57 Rx |
12 Aug 1879 Noon UT | 17 ar 56 Rx |
13 Aug 1879 Noon UT | 17 ar 56 Rx |
14 Aug 1879 Noon UT | 17 ar 55 Rx |
15 Aug 1879 Noon UT | 17 ar 53 Rx |
16 Aug 1879 Noon UT | 17 ar 52 Rx |
17 Aug 1879 Noon UT | 17 ar 50 Rx |
18 Aug 1879 Noon UT | 17 ar 47 Rx |
19 Aug 1879 Noon UT | 17 ar 45 Rx |
20 Aug 1879 Noon UT | 17 ar 42 Rx |
21 Aug 1879 Noon UT | 17 ar 39 Rx |
22 Aug 1879 Noon UT | 17 ar 35 Rx |
23 Aug 1879 Noon UT | 17 ar 31 Rx |
24 Aug 1879 Noon UT | 17 ar 27 Rx |
25 Aug 1879 Noon UT | 17 ar 23 Rx |
26 Aug 1879 Noon UT | 17 ar 18 Rx |
27 Aug 1879 Noon UT | 17 ar 13 Rx |
28 Aug 1879 Noon UT | 17 ar  8 Rx |
29 Aug 1879 Noon UT | 17 ar  2 Rx |
30 Aug 1879 Noon UT | 16 ar 56 Rx |
31 Aug 1879 Noon UT | 16 ar 50 Rx |
01 Sep 1879 Noon UT | 16 ar 43 Rx |
02 Sep 1879 Noon UT | 16 ar 36 Rx |
03 Sep 1879 Noon UT | 16 ar 29 Rx |
04 Sep 1879 Noon UT | 16 ar 22 Rx |
05 Sep 1879 Noon UT | 16 ar 14 Rx |
06 Sep 1879 Noon UT | 16 ar  6 Rx |
07 Sep 1879 Noon UT | 15 ar 58 Rx |
08 Sep 1879 Noon UT | 15 ar 50 Rx |
09 Sep 1879 Noon UT | 15 ar 41 Rx |
10 Sep 1879 Noon UT | 15 ar 32 Rx |
11 Sep 1879 Noon UT | 15 ar 23 Rx |
12 Sep 1879 Noon UT | 15 ar 14 Rx |
13 Sep 1879 Noon UT | 15 ar  4 Rx |
14 Sep 1879 Noon UT | 14 ar 54 Rx |
15 Sep 1879 Noon UT | 14 ar 44 Rx |
16 Sep 1879 Noon UT | 14 ar 34 Rx |
17 Sep 1879 Noon UT | 14 ar 24 Rx |
18 Sep 1879 Noon UT | 14 ar 13 Rx |
19 Sep 1879 Noon UT | 14 ar  2 Rx |
20 Sep 1879 Noon UT | 13 ar 52 Rx |
21 Sep 1879 Noon UT | 13 ar 40 Rx |
22 Sep 1879 Noon UT | 13 ar 29 Rx |
23 Sep 1879 Noon UT | 13 ar 18 Rx |
24 Sep 1879 Noon UT | 13 ar  7 Rx |
25 Sep 1879 Noon UT | 12 ar 55 Rx |
26 Sep 1879 Noon UT | 12 ar 43 Rx |
27 Sep 1879 Noon UT | 12 ar 32 Rx |
28 Sep 1879 Noon UT | 12 ar 20 Rx |
29 Sep 1879 Noon UT | 12 ar  8 Rx |
30 Sep 1879 Noon UT | 11 ar 56 Rx |
01 Oct 1879 Noon UT | 11 ar 44 Rx |
02 Oct 1879 Noon UT | 11 ar 32 Rx |
03 Oct 1879 Noon UT | 11 ar 21 Rx |
04 Oct 1879 Noon UT | 11 ar  9 Rx |
05 Oct 1879 Noon UT | 10 ar 57 Rx |
06 Oct 1879 Noon UT | 10 ar 45 Rx |
07 Oct 1879 Noon UT | 10 ar 33 Rx |
08 Oct 1879 Noon UT | 10 ar 21 Rx |
09 Oct 1879 Noon UT | 10 ar  9 Rx |
10 Oct 1879 Noon UT |  9 ar 57 Rx |
11 Oct 1879 Noon UT |  9 ar 46 Rx |
12 Oct 1879 Noon UT |  9 ar 34 Rx |
13 Oct 1879 Noon UT |  9 ar 23 Rx |
14 Oct 1879 Noon UT |  9 ar 11 Rx |
15 Oct 1879 Noon UT |  9 ar  0 Rx |
16 Oct 1879 Noon UT |  8 ar 49 Rx |
17 Oct 1879 Noon UT |  8 ar 38 Rx |
18 Oct 1879 Noon UT |  8 ar 27 Rx |
19 Oct 1879 Noon UT |  8 ar 17 Rx |
20 Oct 1879 Noon UT |  8 ar  6 Rx |
21 Oct 1879 Noon UT |  7 ar 56 Rx |
22 Oct 1879 Noon UT |  7 ar 46 Rx |
23 Oct 1879 Noon UT |  7 ar 36 Rx |
24 Oct 1879 Noon UT |  7 ar 26 Rx |
25 Oct 1879 Noon UT |  7 ar 17 Rx |
26 Oct 1879 Noon UT |  7 ar  7 Rx |
27 Oct 1879 Noon UT |  6 ar 58 Rx |
28 Oct 1879 Noon UT |  6 ar 50 Rx |
29 Oct 1879 Noon UT |  6 ar 41 Rx |
30 Oct 1879 Noon UT |  6 ar 33 Rx |
31 Oct 1879 Noon UT |  6 ar 25 Rx |
01 Nov 1879 Noon UT |  6 ar 17 Rx |
02 Nov 1879 Noon UT |  6 ar  9 Rx |
03 Nov 1879 Noon UT |  6 ar  2 Rx |
04 Nov 1879 Noon UT |  5 ar 55 Rx |
05 Nov 1879 Noon UT |  5 ar 49 Rx |
06 Nov 1879 Noon UT |  5 ar 42 Rx |
07 Nov 1879 Noon UT |  5 ar 36 Rx |
08 Nov 1879 Noon UT |  5 ar 30 Rx |
09 Nov 1879 Noon UT |  5 ar 25 Rx |
10 Nov 1879 Noon UT |  5 ar 20 Rx |
11 Nov 1879 Noon UT |  5 ar 15 Rx |
12 Nov 1879 Noon UT |  5 ar 10 Rx |
13 Nov 1879 Noon UT |  5 ar  6 Rx |
14 Nov 1879 Noon UT |  5 ar  2 Rx |
15 Nov 1879 Noon UT |  4 ar 58 Rx |
16 Nov 1879 Noon UT |  4 ar 55 Rx |
17 Nov 1879 Noon UT |  4 ar 52 Rx |
18 Nov 1879 Noon UT |  4 ar 49 Rx |
19 Nov 1879 Noon UT |  4 ar 47 Rx |
20 Nov 1879 Noon UT |  4 ar 45 Rx |
21 Nov 1879 Noon UT |  4 ar 43 Rx |
22 Nov 1879 Noon UT |  4 ar 42 Rx |
23 Nov 1879 Noon UT |  4 ar 41 Rx |
24 Nov 1879 Noon UT |  4 ar 40 Rx |
25 Nov 1879 Noon UT |  4 ar 40 Rx |
26 Nov 1879 Noon UT |  4 ar 40    |
27 Nov 1879 Noon UT |  4 ar 40    |
28 Nov 1879 Noon UT |  4 ar 40    |
29 Nov 1879 Noon UT |  4 ar 41    |
30 Nov 1879 Noon UT |  4 ar 42    |
01 Dec 1879 Noon UT |  4 ar 44    |
02 Dec 1879 Noon UT |  4 ar 45    |
03 Dec 1879 Noon UT |  4 ar 47    |
04 Dec 1879 Noon UT |  4 ar 50    |
05 Dec 1879 Noon UT |  4 ar 52    |
06 Dec 1879 Noon UT |  4 ar 55    |
07 Dec 1879 Noon UT |  4 ar 58    |
08 Dec 1879 Noon UT |  5 ar  2    |
09 Dec 1879 Noon UT |  5 ar  6    |
10 Dec 1879 Noon UT |  5 ar 10    |
11 Dec 1879 Noon UT |  5 ar 14    |
12 Dec 1879 Noon UT |  5 ar 19    |
13 Dec 1879 Noon UT |  5 ar 24    |
14 Dec 1879 Noon UT |  5 ar 29    |
15 Dec 1879 Noon UT |  5 ar 35    |
16 Dec 1879 Noon UT |  5 ar 40    |
17 Dec 1879 Noon UT |  5 ar 46    |
18 Dec 1879 Noon UT |  5 ar 53    |
19 Dec 1879 Noon UT |  5 ar 59    |
20 Dec 1879 Noon UT |  6 ar  6    |
21 Dec 1879 Noon UT |  6 ar 13    |
22 Dec 1879 Noon UT |  6 ar 21    |
23 Dec 1879 Noon UT |  6 ar 28    |
24 Dec 1879 Noon UT |  6 ar 36    |
25 Dec 1879 Noon UT |  6 ar 44    |
26 Dec 1879 Noon UT |  6 ar 52    |
27 Dec 1879 Noon UT |  7 ar  1    |
28 Dec 1879 Noon UT |  7 ar 10    |
29 Dec 1879 Noon UT |  7 ar 19    |
30 Dec 1879 Noon UT |  7 ar 28    |
31 Dec 1879 Noon UT |  7 ar 37    |
01 Jan 1880 Noon UT |  7 ar 47    |
02 Jan 1880 Noon UT |  7 ar 57    |
03 Jan 1880 Noon UT |  8 ar  7    |
04 Jan 1880 Noon UT |  8 ar 18    |
05 Jan 1880 Noon UT |  8 ar 28    |
06 Jan 1880 Noon UT |  8 ar 39    |
07 Jan 1880 Noon UT |  8 ar 50    |
08 Jan 1880 Noon UT |  9 ar  1    |
09 Jan 1880 Noon UT |  9 ar 12    |
10 Jan 1880 Noon UT |  9 ar 24    |
11 Jan 1880 Noon UT |  9 ar 35    |
12 Jan 1880 Noon UT |  9 ar 47    |
13 Jan 1880 Noon UT |  9 ar 59    |
14 Jan 1880 Noon UT | 10 ar 12    |
15 Jan 1880 Noon UT | 10 ar 24    |
16 Jan 1880 Noon UT | 10 ar 37    |
17 Jan 1880 Noon UT | 10 ar 50    |
18 Jan 1880 Noon UT | 11 ar  3    |
19 Jan 1880 Noon UT | 11 ar 16    |
20 Jan 1880 Noon UT | 11 ar 29    |
21 Jan 1880 Noon UT | 11 ar 42    |
22 Jan 1880 Noon UT | 11 ar 56    |
23 Jan 1880 Noon UT | 12 ar 10    |
24 Jan 1880 Noon UT | 12 ar 24    |
25 Jan 1880 Noon UT | 12 ar 38    |
26 Jan 1880 Noon UT | 12 ar 52    |
27 Jan 1880 Noon UT | 13 ar  6    |
28 Jan 1880 Noon UT | 13 ar 21    |
29 Jan 1880 Noon UT | 13 ar 35    |
30 Jan 1880 Noon UT | 13 ar 50    |
31 Jan 1880 Noon UT | 14 ar  5    |
01 Feb 1880 Noon UT | 14 ar 20    |
02 Feb 1880 Noon UT | 14 ar 35    |
03 Feb 1880 Noon UT | 14 ar 51    |
04 Feb 1880 Noon UT | 15 ar  6    |
05 Feb 1880 Noon UT | 15 ar 21    |
06 Feb 1880 Noon UT | 15 ar 37    |
07 Feb 1880 Noon UT | 15 ar 53    |
08 Feb 1880 Noon UT | 16 ar  9    |
09 Feb 1880 Noon UT | 16 ar 25    |
10 Feb 1880 Noon UT | 16 ar 41    |
11 Feb 1880 Noon UT | 16 ar 57    |
12 Feb 1880 Noon UT | 17 ar 13    |
13 Feb 1880 Noon UT | 17 ar 30    |
14 Feb 1880 Noon UT | 17 ar 46    |
15 Feb 1880 Noon UT | 18 ar  3    |
16 Feb 1880 Noon UT | 18 ar 20    |
17 Feb 1880 Noon UT | 18 ar 37    |
18 Feb 1880 Noon UT | 18 ar 54    |
19 Feb 1880 Noon UT | 19 ar 11    |
20 Feb 1880 Noon UT | 19 ar 28    |
21 Feb 1880 Noon UT | 19 ar 45    |
22 Feb 1880 Noon UT | 20 ar  2    |
23 Feb 1880 Noon UT | 20 ar 20    |
24 Feb 1880 Noon UT | 20 ar 37    |
25 Feb 1880 Noon UT | 20 ar 54    |
26 Feb 1880 Noon UT | 21 ar 12    |
27 Feb 1880 Noon UT | 21 ar 30    |
28 Feb 1880 Noon UT | 21 ar 48    |
29 Feb 1880 Noon UT | 22 ar  5    |
01 Mar 1880 Noon UT | 22 ar 23    |
02 Mar 1880 Noon UT | 22 ar 41    |
03 Mar 1880 Noon UT | 22 ar 59    |
04 Mar 1880 Noon UT | 23 ar 17    |
05 Mar 1880 Noon UT | 23 ar 36    |
06 Mar 1880 Noon UT | 23 ar 54    |
07 Mar 1880 Noon UT | 24 ar 12    |
08 Mar 1880 Noon UT | 24 ar 30    |
09 Mar 1880 Noon UT | 24 ar 49    |
10 Mar 1880 Noon UT | 25 ar  7    |
11 Mar 1880 Noon UT | 25 ar 26    |
12 Mar 1880 Noon UT | 25 ar 44    |
13 Mar 1880 Noon UT | 26 ar  3    |
14 Mar 1880 Noon UT | 26 ar 22    |
15 Mar 1880 Noon UT | 26 ar 41    |
16 Mar 1880 Noon UT | 26 ar 59    |
17 Mar 1880 Noon UT | 27 ar 18    |
18 Mar 1880 Noon UT | 27 ar 37    |
19 Mar 1880 Noon UT | 27 ar 56    |
20 Mar 1880 Noon UT | 28 ar 15    |
21 Mar 1880 Noon UT | 28 ar 34    |
22 Mar 1880 Noon UT | 28 ar 53    |
23 Mar 1880 Noon UT | 29 ar 12    |
24 Mar 1880 Noon UT | 29 ar 31    |
25 Mar 1880 Noon UT | 29 ar 50    |
26 Mar 1880 Noon UT |  0 ta 10    |
27 Mar 1880 Noon UT |  0 ta 29    |
28 Mar 1880 Noon UT |  0 ta 48    |
29 Mar 1880 Noon UT |  1 ta  7    |
30 Mar 1880 Noon UT |  1 ta 27    |
31 Mar 1880 Noon UT |  1 ta 46    |
01 Apr 1880 Noon UT |  2 ta  6    |
02 Apr 1880 Noon UT |  2 ta 25    |
03 Apr 1880 Noon UT |  2 ta 44    |
04 Apr 1880 Noon UT |  3 ta  4    |
05 Apr 1880 Noon UT |  3 ta 23    |
06 Apr 1880 Noon UT |  3 ta 43    |
07 Apr 1880 Noon UT |  4 ta  2    |
08 Apr 1880 Noon UT |  4 ta 22    |
09 Apr 1880 Noon UT |  4 ta 42    |
10 Apr 1880 Noon UT |  5 ta  1    |
11 Apr 1880 Noon UT |  5 ta 21    |
12 Apr 1880 Noon UT |  5 ta 40    |
13 Apr 1880 Noon UT |  6 ta  0    |
14 Apr 1880 Noon UT |  6 ta 20    |
15 Apr 1880 Noon UT |  6 ta 39    |
16 Apr 1880 Noon UT |  6 ta 59    |
17 Apr 1880 Noon UT |  7 ta 19    |
18 Apr 1880 Noon UT |  7 ta 38    |
19 Apr 1880 Noon UT |  7 ta 58    |
20 Apr 1880 Noon UT |  8 ta 18    |
21 Apr 1880 Noon UT |  8 ta 38    |
22 Apr 1880 Noon UT |  8 ta 57    |
23 Apr 1880 Noon UT |  9 ta 17    |
24 Apr 1880 Noon UT |  9 ta 37    |
25 Apr 1880 Noon UT |  9 ta 57    |
26 Apr 1880 Noon UT | 10 ta 16    |
27 Apr 1880 Noon UT | 10 ta 36    |
28 Apr 1880 Noon UT | 10 ta 56    |
29 Apr 1880 Noon UT | 11 ta 16    |
30 Apr 1880 Noon UT | 11 ta 35    |
01 May 1880 Noon UT | 11 ta 55    |
02 May 1880 Noon UT | 12 ta 15    |
03 May 1880 Noon UT | 12 ta 34    |
04 May 1880 Noon UT | 12 ta 54    |
05 May 1880 Noon UT | 13 ta 14    |
06 May 1880 Noon UT | 13 ta 34    |
07 May 1880 Noon UT | 13 ta 53    |
08 May 1880 Noon UT | 14 ta 13    |
09 May 1880 Noon UT | 14 ta 33    |
10 May 1880 Noon UT | 14 ta 52    |
11 May 1880 Noon UT | 15 ta 12    |
12 May 1880 Noon UT | 15 ta 32    |
13 May 1880 Noon UT | 15 ta 51    |
14 May 1880 Noon UT | 16 ta 11    |
15 May 1880 Noon UT | 16 ta 31    |
16 May 1880 Noon UT | 16 ta 50    |
17 May 1880 Noon UT | 17 ta 10    |
18 May 1880 Noon UT | 17 ta 29    |
19 May 1880 Noon UT | 17 ta 49    |
20 May 1880 Noon UT | 18 ta  8    |
21 May 1880 Noon UT | 18 ta 28    |
22 May 1880 Noon UT | 18 ta 47    |
23 May 1880 Noon UT | 19 ta  7    |
24 May 1880 Noon UT | 19 ta 26    |
25 May 1880 Noon UT | 19 ta 45    |
26 May 1880 Noon UT | 20 ta  5    |
27 May 1880 Noon UT | 20 ta 24    |
28 May 1880 Noon UT | 20 ta 43    |
29 May 1880 Noon UT | 21 ta  3    |
30 May 1880 Noon UT | 21 ta 22    |
31 May 1880 Noon UT | 21 ta 41    |
01 Jun 1880 Noon UT | 22 ta  0    |
02 Jun 1880 Noon UT | 22 ta 19    |
03 Jun 1880 Noon UT | 22 ta 38    |
04 Jun 1880 Noon UT | 22 ta 57    |
05 Jun 1880 Noon UT | 23 ta 17    |
06 Jun 1880 Noon UT | 23 ta 36    |
07 Jun 1880 Noon UT | 23 ta 54    |
08 Jun 1880 Noon UT | 24 ta 13    |
09 Jun 1880 Noon UT | 24 ta 32    |
10 Jun 1880 Noon UT | 24 ta 51    |
11 Jun 1880 Noon UT | 25 ta 10    |
12 Jun 1880 Noon UT | 25 ta 29    |
13 Jun 1880 Noon UT | 25 ta 47    |
14 Jun 1880 Noon UT | 26 ta  6    |
15 Jun 1880 Noon UT | 26 ta 25    |
16 Jun 1880 Noon UT | 26 ta 43    |
17 Jun 1880 Noon UT | 27 ta  2    |
18 Jun 1880 Noon UT | 27 ta 20    |
19 Jun 1880 Noon UT | 27 ta 38    |
20 Jun 1880 Noon UT | 27 ta 57    |
21 Jun 1880 Noon UT | 28 ta 15    |
22 Jun 1880 Noon UT | 28 ta 33    |
23 Jun 1880 Noon UT | 28 ta 52    |
24 Jun 1880 Noon UT | 29 ta 10    |
25 Jun 1880 Noon UT | 29 ta 28    |
26 Jun 1880 Noon UT | 29 ta 46    |
27 Jun 1880 Noon UT |  0 ge  4    |
28 Jun 1880 Noon UT |  0 ge 22    |
29 Jun 1880 Noon UT |  0 ge 39    |
30 Jun 1880 Noon UT |  0 ge 57    |
01 Jul 1880 Noon UT |  1 ge 15    |
02 Jul 1880 Noon UT |  1 ge 32    |
03 Jul 1880 Noon UT |  1 ge 50    |
04 Jul 1880 Noon UT |  2 ge  7    |
05 Jul 1880 Noon UT |  2 ge 25    |
06 Jul 1880 Noon UT |  2 ge 42    |
07 Jul 1880 Noon UT |  2 ge 59    |
08 Jul 1880 Noon UT |  3 ge 17    |
09 Jul 1880 Noon UT |  3 ge 34    |
10 Jul 1880 Noon UT |  3 ge 51    |
11 Jul 1880 Noon UT |  4 ge  8    |
12 Jul 1880 Noon UT |  4 ge 25    |
13 Jul 1880 Noon UT |  4 ge 41    |
14 Jul 1880 Noon UT |  4 ge 58    |
15 Jul 1880 Noon UT |  5 ge 15    |
16 Jul 1880 Noon UT |  5 ge 31    |
17 Jul 1880 Noon UT |  5 ge 48    |
18 Jul 1880 Noon UT |  6 ge  4    |
19 Jul 1880 Noon UT |  6 ge 20    |
20 Jul 1880 Noon UT |  6 ge 36    |
21 Jul 1880 Noon UT |  6 ge 52    |
22 Jul 1880 Noon UT |  7 ge  8    |
23 Jul 1880 Noon UT |  7 ge 24    |
24 Jul 1880 Noon UT |  7 ge 40    |
25 Jul 1880 Noon UT |  7 ge 55    |
26 Jul 1880 Noon UT |  8 ge 11    |
27 Jul 1880 Noon UT |  8 ge 26    |
28 Jul 1880 Noon UT |  8 ge 42    |
29 Jul 1880 Noon UT |  8 ge 57    |
30 Jul 1880 Noon UT |  9 ge 12    |
31 Jul 1880 Noon UT |  9 ge 27    |
01 Aug 1880 Noon UT |  9 ge 42    |
02 Aug 1880 Noon UT |  9 ge 57    |
03 Aug 1880 Noon UT | 10 ge 11    |
04 Aug 1880 Noon UT | 10 ge 26    |
05 Aug 1880 Noon UT | 10 ge 40    |
06 Aug 1880 Noon UT | 10 ge 54    |
07 Aug 1880 Noon UT | 11 ge  9    |
08 Aug 1880 Noon UT | 11 ge 23    |
09 Aug 1880 Noon UT | 11 ge 36    |
10 Aug 1880 Noon UT | 11 ge 50    |
11 Aug 1880 Noon UT | 12 ge  4    |
12 Aug 1880 Noon UT | 12 ge 17    |
13 Aug 1880 Noon UT | 12 ge 30    |
14 Aug 1880 Noon UT | 12 ge 44    |
15 Aug 1880 Noon UT | 12 ge 57    |
16 Aug 1880 Noon UT | 13 ge  9    |
17 Aug 1880 Noon UT | 13 ge 22    |
18 Aug 1880 Noon UT | 13 ge 35    |
19 Aug 1880 Noon UT | 13 ge 47    |
20 Aug 1880 Noon UT | 13 ge 59    |
21 Aug 1880 Noon UT | 14 ge 11    |
22 Aug 1880 Noon UT | 14 ge 23    |
23 Aug 1880 Noon UT | 14 ge 35    |
24 Aug 1880 Noon UT | 14 ge 46    |
25 Aug 1880 Noon UT | 14 ge 58    |
26 Aug 1880 Noon UT | 15 ge  9    |
27 Aug 1880 Noon UT | 15 ge 20    |
28 Aug 1880 Noon UT | 15 ge 31    |
29 Aug 1880 Noon UT | 15 ge 42    |
30 Aug 1880 Noon UT | 15 ge 52    |
31 Aug 1880 Noon UT | 16 ge  2    |
01 Sep 1880 Noon UT | 16 ge 12    |
02 Sep 1880 Noon UT | 16 ge 22    |
03 Sep 1880 Noon UT | 16 ge 32    |
04 Sep 1880 Noon UT | 16 ge 42    |
05 Sep 1880 Noon UT | 16 ge 51    |
06 Sep 1880 Noon UT | 17 ge  0    |
07 Sep 1880 Noon UT | 17 ge  9    |
08 Sep 1880 Noon UT | 17 ge 17    |
09 Sep 1880 Noon UT | 17 ge 26    |
10 Sep 1880 Noon UT | 17 ge 34    |
11 Sep 1880 Noon UT | 17 ge 42    |
12 Sep 1880 Noon UT | 17 ge 50    |
13 Sep 1880 Noon UT | 17 ge 57    |
14 Sep 1880 Noon UT | 18 ge  5    |
15 Sep 1880 Noon UT | 18 ge 12    |
16 Sep 1880 Noon UT | 18 ge 19    |
17 Sep 1880 Noon UT | 18 ge 25    |
18 Sep 1880 Noon UT | 18 ge 32    |
19 Sep 1880 Noon UT | 18 ge 38    |
20 Sep 1880 Noon UT | 18 ge 44    |
21 Sep 1880 Noon UT | 18 ge 49    |
22 Sep 1880 Noon UT | 18 ge 55    |
23 Sep 1880 Noon UT | 19 ge  0    |
24 Sep 1880 Noon UT | 19 ge  4    |
25 Sep 1880 Noon UT | 19 ge  9    |
26 Sep 1880 Noon UT | 19 ge 13    |
27 Sep 1880 Noon UT | 19 ge 17    |
28 Sep 1880 Noon UT | 19 ge 21    |
29 Sep 1880 Noon UT | 19 ge 25    |
30 Sep 1880 Noon UT | 19 ge 28    |
01 Oct 1880 Noon UT | 19 ge 31    |
02 Oct 1880 Noon UT | 19 ge 33    |
03 Oct 1880 Noon UT | 19 ge 36    |
04 Oct 1880 Noon UT | 19 ge 38    |
05 Oct 1880 Noon UT | 19 ge 39    |
06 Oct 1880 Noon UT | 19 ge 41    |
07 Oct 1880 Noon UT | 19 ge 42    |
08 Oct 1880 Noon UT | 19 ge 43    |
09 Oct 1880 Noon UT | 19 ge 44    |
10 Oct 1880 Noon UT | 19 ge 44    |
11 Oct 1880 Noon UT | 19 ge 44 Rx |
12 Oct 1880 Noon UT | 19 ge 43 Rx |
13 Oct 1880 Noon UT | 19 ge 43 Rx |
14 Oct 1880 Noon UT | 19 ge 42 Rx |
15 Oct 1880 Noon UT | 19 ge 41 Rx |
16 Oct 1880 Noon UT | 19 ge 39 Rx |
17 Oct 1880 Noon UT | 19 ge 37 Rx |
18 Oct 1880 Noon UT | 19 ge 35 Rx |
19 Oct 1880 Noon UT | 19 ge 33 Rx |
20 Oct 1880 Noon UT | 19 ge 30 Rx |
21 Oct 1880 Noon UT | 19 ge 27 Rx |
22 Oct 1880 Noon UT | 19 ge 23 Rx |
23 Oct 1880 Noon UT | 19 ge 20 Rx |
24 Oct 1880 Noon UT | 19 ge 16 Rx |
25 Oct 1880 Noon UT | 19 ge 11 Rx |
26 Oct 1880 Noon UT | 19 ge  7 Rx |
27 Oct 1880 Noon UT | 19 ge  2 Rx |
28 Oct 1880 Noon UT | 18 ge 57 Rx |
29 Oct 1880 Noon UT | 18 ge 51 Rx |
30 Oct 1880 Noon UT | 18 ge 45 Rx |
31 Oct 1880 Noon UT | 18 ge 39 Rx |
01 Nov 1880 Noon UT | 18 ge 33 Rx |
02 Nov 1880 Noon UT | 18 ge 26 Rx |
03 Nov 1880 Noon UT | 18 ge 19 Rx |
04 Nov 1880 Noon UT | 18 ge 12 Rx |
05 Nov 1880 Noon UT | 18 ge  4 Rx |
06 Nov 1880 Noon UT | 17 ge 56 Rx |
07 Nov 1880 Noon UT | 17 ge 48 Rx |
08 Nov 1880 Noon UT | 17 ge 40 Rx |
09 Nov 1880 Noon UT | 17 ge 32 Rx |
10 Nov 1880 Noon UT | 17 ge 23 Rx |
11 Nov 1880 Noon UT | 17 ge 14 Rx |
12 Nov 1880 Noon UT | 17 ge  4 Rx |
13 Nov 1880 Noon UT | 16 ge 55 Rx |
14 Nov 1880 Noon UT | 16 ge 45 Rx |
15 Nov 1880 Noon UT | 16 ge 35 Rx |
16 Nov 1880 Noon UT | 16 ge 25 Rx |
17 Nov 1880 Noon UT | 16 ge 15 Rx |
18 Nov 1880 Noon UT | 16 ge  4 Rx |
19 Nov 1880 Noon UT | 15 ge 54 Rx |
20 Nov 1880 Noon UT | 15 ge 43 Rx |
21 Nov 1880 Noon UT | 15 ge 32 Rx |
22 Nov 1880 Noon UT | 15 ge 21 Rx |
23 Nov 1880 Noon UT | 15 ge  9 Rx |
24 Nov 1880 Noon UT | 14 ge 58 Rx |
25 Nov 1880 Noon UT | 14 ge 46 Rx |
26 Nov 1880 Noon UT | 14 ge 35 Rx |
27 Nov 1880 Noon UT | 14 ge 23 Rx |
28 Nov 1880 Noon UT | 14 ge 11 Rx |
29 Nov 1880 Noon UT | 13 ge 59 Rx |
30 Nov 1880 Noon UT | 13 ge 47 Rx |
01 Dec 1880 Noon UT | 13 ge 35 Rx |
02 Dec 1880 Noon UT | 13 ge 23 Rx |
03 Dec 1880 Noon UT | 13 ge 11 Rx |
04 Dec 1880 Noon UT | 12 ge 59 Rx |
05 Dec 1880 Noon UT | 12 ge 47 Rx |
06 Dec 1880 Noon UT | 12 ge 35 Rx |
07 Dec 1880 Noon UT | 12 ge 23 Rx |
08 Dec 1880 Noon UT | 12 ge 11 Rx |
09 Dec 1880 Noon UT | 11 ge 59 Rx |
10 Dec 1880 Noon UT | 11 ge 47 Rx |
11 Dec 1880 Noon UT | 11 ge 35 Rx |
12 Dec 1880 Noon UT | 11 ge 23 Rx |
13 Dec 1880 Noon UT | 11 ge 11 Rx |
14 Dec 1880 Noon UT | 11 ge  0 Rx |
15 Dec 1880 Noon UT | 10 ge 48 Rx |
16 Dec 1880 Noon UT | 10 ge 37 Rx |
17 Dec 1880 Noon UT | 10 ge 26 Rx |
18 Dec 1880 Noon UT | 10 ge 15 Rx |
19 Dec 1880 Noon UT | 10 ge  4 Rx |
20 Dec 1880 Noon UT |  9 ge 53 Rx |
21 Dec 1880 Noon UT |  9 ge 42 Rx |
22 Dec 1880 Noon UT |  9 ge 32 Rx |
23 Dec 1880 Noon UT |  9 ge 22 Rx |
24 Dec 1880 Noon UT |  9 ge 12 Rx |
25 Dec 1880 Noon UT |  9 ge  2 Rx |
26 Dec 1880 Noon UT |  8 ge 52 Rx |
27 Dec 1880 Noon UT |  8 ge 43 Rx |
28 Dec 1880 Noon UT |  8 ge 34 Rx |
29 Dec 1880 Noon UT |  8 ge 25 Rx |
30 Dec 1880 Noon UT |  8 ge 16 Rx |
31 Dec 1880 Noon UT |  8 ge  8 Rx |
01 Jan 1881 Noon UT |  7 ge 59 Rx |
02 Jan 1881 Noon UT |  7 ge 52 Rx |
03 Jan 1881 Noon UT |  7 ge 44 Rx |
04 Jan 1881 Noon UT |  7 ge 37 Rx |
05 Jan 1881 Noon UT |  7 ge 30 Rx |
06 Jan 1881 Noon UT |  7 ge 23 Rx |
07 Jan 1881 Noon UT |  7 ge 16 Rx |
08 Jan 1881 Noon UT |  7 ge 10 Rx |
09 Jan 1881 Noon UT |  7 ge  4 Rx |
10 Jan 1881 Noon UT |  6 ge 59 Rx |
11 Jan 1881 Noon UT |  6 ge 53 Rx |
12 Jan 1881 Noon UT |  6 ge 48 Rx |
13 Jan 1881 Noon UT |  6 ge 44 Rx |
14 Jan 1881 Noon UT |  6 ge 39 Rx |
15 Jan 1881 Noon UT |  6 ge 35 Rx |
16 Jan 1881 Noon UT |  6 ge 31 Rx |
17 Jan 1881 Noon UT |  6 ge 28 Rx |
18 Jan 1881 Noon UT |  6 ge 25 Rx |
19 Jan 1881 Noon UT |  6 ge 22 Rx |
20 Jan 1881 Noon UT |  6 ge 20 Rx |
21 Jan 1881 Noon UT |  6 ge 17 Rx |
22 Jan 1881 Noon UT |  6 ge 16 Rx |
23 Jan 1881 Noon UT |  6 ge 14 Rx |
24 Jan 1881 Noon UT |  6 ge 13 Rx |
25 Jan 1881 Noon UT |  6 ge 12 Rx |
26 Jan 1881 Noon UT |  6 ge 11 Rx |
27 Jan 1881 Noon UT |  6 ge 11 Rx |
28 Jan 1881 Noon UT |  6 ge 11    |
29 Jan 1881 Noon UT |  6 ge 12    |
30 Jan 1881 Noon UT |  6 ge 12    |
31 Jan 1881 Noon UT |  6 ge 13    |
01 Feb 1881 Noon UT |  6 ge 14    |
02 Feb 1881 Noon UT |  6 ge 16    |
03 Feb 1881 Noon UT |  6 ge 18    |
04 Feb 1881 Noon UT |  6 ge 20    |
05 Feb 1881 Noon UT |  6 ge 23    |
06 Feb 1881 Noon UT |  6 ge 25    |
07 Feb 1881 Noon UT |  6 ge 29    |
08 Feb 1881 Noon UT |  6 ge 32    |
09 Feb 1881 Noon UT |  6 ge 36    |
10 Feb 1881 Noon UT |  6 ge 40    |
11 Feb 1881 Noon UT |  6 ge 44    |
12 Feb 1881 Noon UT |  6 ge 48    |
13 Feb 1881 Noon UT |  6 ge 53    |
14 Feb 1881 Noon UT |  6 ge 58    |
15 Feb 1881 Noon UT |  7 ge  4    |
16 Feb 1881 Noon UT |  7 ge  9    |
17 Feb 1881 Noon UT |  7 ge 15    |
18 Feb 1881 Noon UT |  7 ge 21    |
19 Feb 1881 Noon UT |  7 ge 28    |
20 Feb 1881 Noon UT |  7 ge 34    |
21 Feb 1881 Noon UT |  7 ge 41    |
22 Feb 1881 Noon UT |  7 ge 48    |
23 Feb 1881 Noon UT |  7 ge 56    |
24 Feb 1881 Noon UT |  8 ge  4    |
25 Feb 1881 Noon UT |  8 ge 11    |
26 Feb 1881 Noon UT |  8 ge 20    |
27 Feb 1881 Noon UT |  8 ge 28    |
28 Feb 1881 Noon UT |  8 ge 37    |
01 Mar 1881 Noon UT |  8 ge 45    |
02 Mar 1881 Noon UT |  8 ge 54    |
03 Mar 1881 Noon UT |  9 ge  4    |
04 Mar 1881 Noon UT |  9 ge 13    |
05 Mar 1881 Noon UT |  9 ge 23    |
06 Mar 1881 Noon UT |  9 ge 33    |
07 Mar 1881 Noon UT |  9 ge 43    |
08 Mar 1881 Noon UT |  9 ge 53    |
09 Mar 1881 Noon UT | 10 ge  4    |
10 Mar 1881 Noon UT | 10 ge 15    |
11 Mar 1881 Noon UT | 10 ge 26    |
12 Mar 1881 Noon UT | 10 ge 37    |
13 Mar 1881 Noon UT | 10 ge 48    |
14 Mar 1881 Noon UT | 11 ge  0    |
15 Mar 1881 Noon UT | 11 ge 11    |
16 Mar 1881 Noon UT | 11 ge 23    |
17 Mar 1881 Noon UT | 11 ge 35    |
18 Mar 1881 Noon UT | 11 ge 48    |
19 Mar 1881 Noon UT | 12 ge  0    |
20 Mar 1881 Noon UT | 12 ge 13    |
21 Mar 1881 Noon UT | 12 ge 25    |
22 Mar 1881 Noon UT | 12 ge 38    |
23 Mar 1881 Noon UT | 12 ge 51    |
24 Mar 1881 Noon UT | 13 ge  5    |
25 Mar 1881 Noon UT | 13 ge 18    |
26 Mar 1881 Noon UT | 13 ge 32    |
27 Mar 1881 Noon UT | 13 ge 45    |
28 Mar 1881 Noon UT | 13 ge 59    |
29 Mar 1881 Noon UT | 14 ge 13    |
30 Mar 1881 Noon UT | 14 ge 28    |
31 Mar 1881 Noon UT | 14 ge 42    |
01 Apr 1881 Noon UT | 14 ge 56    |
02 Apr 1881 Noon UT | 15 ge 11    |
03 Apr 1881 Noon UT | 15 ge 26    |
04 Apr 1881 Noon UT | 15 ge 40    |
05 Apr 1881 Noon UT | 15 ge 55    |
06 Apr 1881 Noon UT | 16 ge 11    |
07 Apr 1881 Noon UT | 16 ge 26    |
08 Apr 1881 Noon UT | 16 ge 41    |
09 Apr 1881 Noon UT | 16 ge 57    |
10 Apr 1881 Noon UT | 17 ge 12    |
11 Apr 1881 Noon UT | 17 ge 28    |
12 Apr 1881 Noon UT | 17 ge 44    |
13 Apr 1881 Noon UT | 18 ge  0    |
14 Apr 1881 Noon UT | 18 ge 16    |
15 Apr 1881 Noon UT | 18 ge 32    |
16 Apr 1881 Noon UT | 18 ge 48    |
17 Apr 1881 Noon UT | 19 ge  5    |
18 Apr 1881 Noon UT | 19 ge 21    |
19 Apr 1881 Noon UT | 19 ge 38    |
20 Apr 1881 Noon UT | 19 ge 55    |
21 Apr 1881 Noon UT | 20 ge 11    |
22 Apr 1881 Noon UT | 20 ge 28    |
23 Apr 1881 Noon UT | 20 ge 45    |
24 Apr 1881 Noon UT | 21 ge  2    |
25 Apr 1881 Noon UT | 21 ge 19    |
26 Apr 1881 Noon UT | 21 ge 37    |
27 Apr 1881 Noon UT | 21 ge 54    |
28 Apr 1881 Noon UT | 22 ge 11    |
29 Apr 1881 Noon UT | 22 ge 29    |
30 Apr 1881 Noon UT | 22 ge 47    |
01 May 1881 Noon UT | 23 ge  4    |
02 May 1881 Noon UT | 23 ge 22    |
03 May 1881 Noon UT | 23 ge 40    |
04 May 1881 Noon UT | 23 ge 58    |
05 May 1881 Noon UT | 24 ge 16    |
06 May 1881 Noon UT | 24 ge 34    |
07 May 1881 Noon UT | 24 ge 52    |
08 May 1881 Noon UT | 25 ge 10    |
09 May 1881 Noon UT | 25 ge 29    |
10 May 1881 Noon UT | 25 ge 47    |
11 May 1881 Noon UT | 26 ge  5    |
12 May 1881 Noon UT | 26 ge 24    |
13 May 1881 Noon UT | 26 ge 42    |
14 May 1881 Noon UT | 27 ge  1    |
15 May 1881 Noon UT | 27 ge 20    |
16 May 1881 Noon UT | 27 ge 38    |
17 May 1881 Noon UT | 27 ge 57    |
18 May 1881 Noon UT | 28 ge 16    |
19 May 1881 Noon UT | 28 ge 35    |
20 May 1881 Noon UT | 28 ge 54    |
21 May 1881 Noon UT | 29 ge 13    |
22 May 1881 Noon UT | 29 ge 32    |
23 May 1881 Noon UT | 29 ge 51    |
24 May 1881 Noon UT |  0 cn 10    |
25 May 1881 Noon UT |  0 cn 29    |
26 May 1881 Noon UT |  0 cn 49    |
27 May 1881 Noon UT |  1 cn  8    |
28 May 1881 Noon UT |  1 cn 27    |
29 May 1881 Noon UT |  1 cn 47    |
30 May 1881 Noon UT |  2 cn  6    |
31 May 1881 Noon UT |  2 cn 26    |
01 Jun 1881 Noon UT |  2 cn 45    |
02 Jun 1881 Noon UT |  3 cn  5    |
03 Jun 1881 Noon UT |  3 cn 24    |
04 Jun 1881 Noon UT |  3 cn 44    |
05 Jun 1881 Noon UT |  4 cn  4    |
06 Jun 1881 Noon UT |  4 cn 23    |
07 Jun 1881 Noon UT |  4 cn 43    |
08 Jun 1881 Noon UT |  5 cn  3    |
09 Jun 1881 Noon UT |  5 cn 23    |
10 Jun 1881 Noon UT |  5 cn 42    |
11 Jun 1881 Noon UT |  6 cn  2    |
12 Jun 1881 Noon UT |  6 cn 22    |
13 Jun 1881 Noon UT |  6 cn 42    |
14 Jun 1881 Noon UT |  7 cn  2    |
15 Jun 1881 Noon UT |  7 cn 22    |
16 Jun 1881 Noon UT |  7 cn 42    |
17 Jun 1881 Noon UT |  8 cn  2    |
18 Jun 1881 Noon UT |  8 cn 22    |
19 Jun 1881 Noon UT |  8 cn 42    |
20 Jun 1881 Noon UT |  9 cn  2    |
21 Jun 1881 Noon UT |  9 cn 23    |
22 Jun 1881 Noon UT |  9 cn 43    |
23 Jun 1881 Noon UT | 10 cn  3    |
24 Jun 1881 Noon UT | 10 cn 23    |
25 Jun 1881 Noon UT | 10 cn 43    |
26 Jun 1881 Noon UT | 11 cn  4    |
27 Jun 1881 Noon UT | 11 cn 24    |
28 Jun 1881 Noon UT | 11 cn 44    |
29 Jun 1881 Noon UT | 12 cn  4    |
30 Jun 1881 Noon UT | 12 cn 25    |
01 Jul 1881 Noon UT | 12 cn 45    |
02 Jul 1881 Noon UT | 13 cn  5    |
03 Jul 1881 Noon UT | 13 cn 26    |
04 Jul 1881 Noon UT | 13 cn 46    |
05 Jul 1881 Noon UT | 14 cn  6    |
06 Jul 1881 Noon UT | 14 cn 27    |
07 Jul 1881 Noon UT | 14 cn 47    |
08 Jul 1881 Noon UT | 15 cn  7    |
09 Jul 1881 Noon UT | 15 cn 28    |
10 Jul 1881 Noon UT | 15 cn 48    |
11 Jul 1881 Noon UT | 16 cn  9    |
12 Jul 1881 Noon UT | 16 cn 29    |
13 Jul 1881 Noon UT | 16 cn 49    |
14 Jul 1881 Noon UT | 17 cn 10    |
15 Jul 1881 Noon UT | 17 cn 30    |
16 Jul 1881 Noon UT | 17 cn 51    |
17 Jul 1881 Noon UT | 18 cn 11    |
18 Jul 1881 Noon UT | 18 cn 31    |
19 Jul 1881 Noon UT | 18 cn 52    |
20 Jul 1881 Noon UT | 19 cn 12    |
21 Jul 1881 Noon UT | 19 cn 33    |
22 Jul 1881 Noon UT | 19 cn 53    |
23 Jul 1881 Noon UT | 20 cn 13    |
24 Jul 1881 Noon UT | 20 cn 34    |
25 Jul 1881 Noon UT | 20 cn 54    |
26 Jul 1881 Noon UT | 21 cn 14    |
27 Jul 1881 Noon UT | 21 cn 35    |
28 Jul 1881 Noon UT | 21 cn 55    |
29 Jul 1881 Noon UT | 22 cn 16    |
30 Jul 1881 Noon UT | 22 cn 36    |
31 Jul 1881 Noon UT | 22 cn 56    |
01 Aug 1881 Noon UT | 23 cn 16    |
02 Aug 1881 Noon UT | 23 cn 37    |
03 Aug 1881 Noon UT | 23 cn 57    |
04 Aug 1881 Noon UT | 24 cn 17    |
05 Aug 1881 Noon UT | 24 cn 37    |
06 Aug 1881 Noon UT | 24 cn 58    |
07 Aug 1881 Noon UT | 25 cn 18    |
08 Aug 1881 Noon UT | 25 cn 38    |
09 Aug 1881 Noon UT | 25 cn 58    |
10 Aug 1881 Noon UT | 26 cn 18    |
11 Aug 1881 Noon UT | 26 cn 38    |
12 Aug 1881 Noon UT | 26 cn 58    |
13 Aug 1881 Noon UT | 27 cn 18    |
14 Aug 1881 Noon UT | 27 cn 38    |
15 Aug 1881 Noon UT | 27 cn 58    |
16 Aug 1881 Noon UT | 28 cn 18    |
17 Aug 1881 Noon UT | 28 cn 38    |
18 Aug 1881 Noon UT | 28 cn 58    |
19 Aug 1881 Noon UT | 29 cn 18    |
20 Aug 1881 Noon UT | 29 cn 38    |
21 Aug 1881 Noon UT | 29 cn 58    |
22 Aug 1881 Noon UT |  0 le 17    |
23 Aug 1881 Noon UT |  0 le 37    |
24 Aug 1881 Noon UT |  0 le 57    |
25 Aug 1881 Noon UT |  1 le 16    |
26 Aug 1881 Noon UT |  1 le 36    |
27 Aug 1881 Noon UT |  1 le 56    |
28 Aug 1881 Noon UT |  2 le 15    |
29 Aug 1881 Noon UT |  2 le 35    |
30 Aug 1881 Noon UT |  2 le 54    |
31 Aug 1881 Noon UT |  3 le 13    |
01 Sep 1881 Noon UT |  3 le 33    |
02 Sep 1881 Noon UT |  3 le 52    |
03 Sep 1881 Noon UT |  4 le 11    |
04 Sep 1881 Noon UT |  4 le 30    |
05 Sep 1881 Noon UT |  4 le 49    |
06 Sep 1881 Noon UT |  5 le  9    |
07 Sep 1881 Noon UT |  5 le 28    |
08 Sep 1881 Noon UT |  5 le 46    |
09 Sep 1881 Noon UT |  6 le  5    |
10 Sep 1881 Noon UT |  6 le 24    |
11 Sep 1881 Noon UT |  6 le 43    |
12 Sep 1881 Noon UT |  7 le  2    |
13 Sep 1881 Noon UT |  7 le 20    |
14 Sep 1881 Noon UT |  7 le 39    |
15 Sep 1881 Noon UT |  7 le 57    |
16 Sep 1881 Noon UT |  8 le 16    |
17 Sep 1881 Noon UT |  8 le 34    |
18 Sep 1881 Noon UT |  8 le 53    |
19 Sep 1881 Noon UT |  9 le 11    |
20 Sep 1881 Noon UT |  9 le 29    |
21 Sep 1881 Noon UT |  9 le 47    |
22 Sep 1881 Noon UT | 10 le  5    |
23 Sep 1881 Noon UT | 10 le 23    |
24 Sep 1881 Noon UT | 10 le 41    |
25 Sep 1881 Noon UT | 10 le 58    |
26 Sep 1881 Noon UT | 11 le 16    |
27 Sep 1881 Noon UT | 11 le 34    |
28 Sep 1881 Noon UT | 11 le 51    |
29 Sep 1881 Noon UT | 12 le  9    |
30 Sep 1881 Noon UT | 12 le 26    |
01 Oct 1881 Noon UT | 12 le 43    |
02 Oct 1881 Noon UT | 13 le  0    |
03 Oct 1881 Noon UT | 13 le 17    |
04 Oct 1881 Noon UT | 13 le 34    |
05 Oct 1881 Noon UT | 13 le 51    |
06 Oct 1881 Noon UT | 14 le  7    |
07 Oct 1881 Noon UT | 14 le 24    |
08 Oct 1881 Noon UT | 14 le 40    |
09 Oct 1881 Noon UT | 14 le 57    |
10 Oct 1881 Noon UT | 15 le 13    |
11 Oct 1881 Noon UT | 15 le 29    |
12 Oct 1881 Noon UT | 15 le 45    |
13 Oct 1881 Noon UT | 16 le  1    |
14 Oct 1881 Noon UT | 16 le 17    |
15 Oct 1881 Noon UT | 16 le 32    |
16 Oct 1881 Noon UT | 16 le 48    |
17 Oct 1881 Noon UT | 17 le  3    |
18 Oct 1881 Noon UT | 17 le 18    |
19 Oct 1881 Noon UT | 17 le 33    |
20 Oct 1881 Noon UT | 17 le 48    |
21 Oct 1881 Noon UT | 18 le  3    |
22 Oct 1881 Noon UT | 18 le 18    |
23 Oct 1881 Noon UT | 18 le 32    |
24 Oct 1881 Noon UT | 18 le 46    |
25 Oct 1881 Noon UT | 19 le  1    |
26 Oct 1881 Noon UT | 19 le 15    |
27 Oct 1881 Noon UT | 19 le 28    |
28 Oct 1881 Noon UT | 19 le 42    |
29 Oct 1881 Noon UT | 19 le 56    |
30 Oct 1881 Noon UT | 20 le  9    |
31 Oct 1881 Noon UT | 20 le 22    |
01 Nov 1881 Noon UT | 20 le 35    |
02 Nov 1881 Noon UT | 20 le 48    |
03 Nov 1881 Noon UT | 21 le  0    |
04 Nov 1881 Noon UT | 21 le 13    |
05 Nov 1881 Noon UT | 21 le 25    |
06 Nov 1881 Noon UT | 21 le 37    |
07 Nov 1881 Noon UT | 21 le 49    |
08 Nov 1881 Noon UT | 22 le  1    |
09 Nov 1881 Noon UT | 22 le 12    |
10 Nov 1881 Noon UT | 22 le 24    |
11 Nov 1881 Noon UT | 22 le 35    |
12 Nov 1881 Noon UT | 22 le 45    |
13 Nov 1881 Noon UT | 22 le 56    |
14 Nov 1881 Noon UT | 23 le  6    |
15 Nov 1881 Noon UT | 23 le 17    |
16 Nov 1881 Noon UT | 23 le 27    |
17 Nov 1881 Noon UT | 23 le 36    |
18 Nov 1881 Noon UT | 23 le 46    |
19 Nov 1881 Noon UT | 23 le 55    |
20 Nov 1881 Noon UT | 24 le  4    |
21 Nov 1881 Noon UT | 24 le 13    |
22 Nov 1881 Noon UT | 24 le 21    |
23 Nov 1881 Noon UT | 24 le 30    |
24 Nov 1881 Noon UT | 24 le 38    |
25 Nov 1881 Noon UT | 24 le 45    |
26 Nov 1881 Noon UT | 24 le 53    |
27 Nov 1881 Noon UT | 25 le  0    |
28 Nov 1881 Noon UT | 25 le  7    |
29 Nov 1881 Noon UT | 25 le 14    |
30 Nov 1881 Noon UT | 25 le 20    |
01 Dec 1881 Noon UT | 25 le 26    |
02 Dec 1881 Noon UT | 25 le 32    |
03 Dec 1881 Noon UT | 25 le 38    |
04 Dec 1881 Noon UT | 25 le 43    |
05 Dec 1881 Noon UT | 25 le 48    |
06 Dec 1881 Noon UT | 25 le 52    |
07 Dec 1881 Noon UT | 25 le 57    |
08 Dec 1881 Noon UT | 26 le  1    |
09 Dec 1881 Noon UT | 26 le  5    |
10 Dec 1881 Noon UT | 26 le  8    |
11 Dec 1881 Noon UT | 26 le 11    |
12 Dec 1881 Noon UT | 26 le 14    |
13 Dec 1881 Noon UT | 26 le 16    |
14 Dec 1881 Noon UT | 26 le 19    |
15 Dec 1881 Noon UT | 26 le 20    |
16 Dec 1881 Noon UT | 26 le 22    |
17 Dec 1881 Noon UT | 26 le 23    |
18 Dec 1881 Noon UT | 26 le 24    |
19 Dec 1881 Noon UT | 26 le 25    |
20 Dec 1881 Noon UT | 26 le 25    |
21 Dec 1881 Noon UT | 26 le 25 Rx |
22 Dec 1881 Noon UT | 26 le 24 Rx |
23 Dec 1881 Noon UT | 26 le 23 Rx |
24 Dec 1881 Noon UT | 26 le 22 Rx |
25 Dec 1881 Noon UT | 26 le 20 Rx |
26 Dec 1881 Noon UT | 26 le 19 Rx |
27 Dec 1881 Noon UT | 26 le 16 Rx |
28 Dec 1881 Noon UT | 26 le 14 Rx |
29 Dec 1881 Noon UT | 26 le 11 Rx |
30 Dec 1881 Noon UT | 26 le  8 Rx |
31 Dec 1881 Noon UT | 26 le  4 Rx |
01 Jan 1882 Noon UT | 26 le  0 Rx |
02 Jan 1882 Noon UT | 25 le 56 Rx |
03 Jan 1882 Noon UT | 25 le 51 Rx |
04 Jan 1882 Noon UT | 25 le 46 Rx |
05 Jan 1882 Noon UT | 25 le 41 Rx |
06 Jan 1882 Noon UT | 25 le 36 Rx |
07 Jan 1882 Noon UT | 25 le 30 Rx |
08 Jan 1882 Noon UT | 25 le 23 Rx |
09 Jan 1882 Noon UT | 25 le 17 Rx |
10 Jan 1882 Noon UT | 25 le 10 Rx |
11 Jan 1882 Noon UT | 25 le  3 Rx |
12 Jan 1882 Noon UT | 24 le 55 Rx |
13 Jan 1882 Noon UT | 24 le 48 Rx |
14 Jan 1882 Noon UT | 24 le 40 Rx |
15 Jan 1882 Noon UT | 24 le 31 Rx |
16 Jan 1882 Noon UT | 24 le 22 Rx |
17 Jan 1882 Noon UT | 24 le 14 Rx |
18 Jan 1882 Noon UT | 24 le  4 Rx |
19 Jan 1882 Noon UT | 23 le 55 Rx |
20 Jan 1882 Noon UT | 23 le 45 Rx |
21 Jan 1882 Noon UT | 23 le 35 Rx |
22 Jan 1882 Noon UT | 23 le 25 Rx |
23 Jan 1882 Noon UT | 23 le 15 Rx |
24 Jan 1882 Noon UT | 23 le  4 Rx |
25 Jan 1882 Noon UT | 22 le 53 Rx |
26 Jan 1882 Noon UT | 22 le 42 Rx |
27 Jan 1882 Noon UT | 22 le 31 Rx |
28 Jan 1882 Noon UT | 22 le 20 Rx |
29 Jan 1882 Noon UT | 22 le  8 Rx |
30 Jan 1882 Noon UT | 21 le 56 Rx |
31 Jan 1882 Noon UT | 21 le 45 Rx |
01 Feb 1882 Noon UT | 21 le 33 Rx |
02 Feb 1882 Noon UT | 21 le 21 Rx |
03 Feb 1882 Noon UT | 21 le  8 Rx |
04 Feb 1882 Noon UT | 20 le 56 Rx |
05 Feb 1882 Noon UT | 20 le 44 Rx |
06 Feb 1882 Noon UT | 20 le 32 Rx |
07 Feb 1882 Noon UT | 20 le 19 Rx |
08 Feb 1882 Noon UT | 20 le  7 Rx |
09 Feb 1882 Noon UT | 19 le 54 Rx |
10 Feb 1882 Noon UT | 19 le 42 Rx |
11 Feb 1882 Noon UT | 19 le 29 Rx |
12 Feb 1882 Noon UT | 19 le 17 Rx |
13 Feb 1882 Noon UT | 19 le  4 Rx |
14 Feb 1882 Noon UT | 18 le 52 Rx |
15 Feb 1882 Noon UT | 18 le 40 Rx |
16 Feb 1882 Noon UT | 18 le 27 Rx |
17 Feb 1882 Noon UT | 18 le 15 Rx |
18 Feb 1882 Noon UT | 18 le  3 Rx |
19 Feb 1882 Noon UT | 17 le 51 Rx |
20 Feb 1882 Noon UT | 17 le 39 Rx |
21 Feb 1882 Noon UT | 17 le 28 Rx |
22 Feb 1882 Noon UT | 17 le 16 Rx |
23 Feb 1882 Noon UT | 17 le  5 Rx |
24 Feb 1882 Noon UT | 16 le 54 Rx |
25 Feb 1882 Noon UT | 16 le 43 Rx |
26 Feb 1882 Noon UT | 16 le 32 Rx |
27 Feb 1882 Noon UT | 16 le 21 Rx |
28 Feb 1882 Noon UT | 16 le 11 Rx |
01 Mar 1882 Noon UT | 16 le  1 Rx |
02 Mar 1882 Noon UT | 15 le 51 Rx |
03 Mar 1882 Noon UT | 15 le 41 Rx |
04 Mar 1882 Noon UT | 15 le 32 Rx |
05 Mar 1882 Noon UT | 15 le 22 Rx |
06 Mar 1882 Noon UT | 15 le 14 Rx |
07 Mar 1882 Noon UT | 15 le  5 Rx |
08 Mar 1882 Noon UT | 14 le 57 Rx |
09 Mar 1882 Noon UT | 14 le 49 Rx |
10 Mar 1882 Noon UT | 14 le 41 Rx |
11 Mar 1882 Noon UT | 14 le 33 Rx |
12 Mar 1882 Noon UT | 14 le 26 Rx |
13 Mar 1882 Noon UT | 14 le 19 Rx |
14 Mar 1882 Noon UT | 14 le 13 Rx |
15 Mar 1882 Noon UT | 14 le  7 Rx |
16 Mar 1882 Noon UT | 14 le  1 Rx |
17 Mar 1882 Noon UT | 13 le 55 Rx |
18 Mar 1882 Noon UT | 13 le 50 Rx |
19 Mar 1882 Noon UT | 13 le 45 Rx |
20 Mar 1882 Noon UT | 13 le 40 Rx |
21 Mar 1882 Noon UT | 13 le 36 Rx |
22 Mar 1882 Noon UT | 13 le 32 Rx |
23 Mar 1882 Noon UT | 13 le 29 Rx |
24 Mar 1882 Noon UT | 13 le 26 Rx |
25 Mar 1882 Noon UT | 13 le 23 Rx |
26 Mar 1882 Noon UT | 13 le 21 Rx |
27 Mar 1882 Noon UT | 13 le 18 Rx |
28 Mar 1882 Noon UT | 13 le 17 Rx |
29 Mar 1882 Noon UT | 13 le 15 Rx |
30 Mar 1882 Noon UT | 13 le 14 Rx |
31 Mar 1882 Noon UT | 13 le 14 Rx |
01 Apr 1882 Noon UT | 13 le 13 Rx |
02 Apr 1882 Noon UT | 13 le 13    |
03 Apr 1882 Noon UT | 13 le 13    |
04 Apr 1882 Noon UT | 13 le 14    |
05 Apr 1882 Noon UT | 13 le 15    |
06 Apr 1882 Noon UT | 13 le 16    |
07 Apr 1882 Noon UT | 13 le 18    |
08 Apr 1882 Noon UT | 13 le 20    |
09 Apr 1882 Noon UT | 13 le 23    |
10 Apr 1882 Noon UT | 13 le 25    |
11 Apr 1882 Noon UT | 13 le 28    |
12 Apr 1882 Noon UT | 13 le 32    |
13 Apr 1882 Noon UT | 13 le 35    |
14 Apr 1882 Noon UT | 13 le 39    |
15 Apr 1882 Noon UT | 13 le 43    |
16 Apr 1882 Noon UT | 13 le 48    |
17 Apr 1882 Noon UT | 13 le 53    |
18 Apr 1882 Noon UT | 13 le 58    |
19 Apr 1882 Noon UT | 14 le  4    |
20 Apr 1882 Noon UT | 14 le 10    |
21 Apr 1882 Noon UT | 14 le 16    |
22 Apr 1882 Noon UT | 14 le 22    |
23 Apr 1882 Noon UT | 14 le 29    |
24 Apr 1882 Noon UT | 14 le 36    |
25 Apr 1882 Noon UT | 14 le 43    |
26 Apr 1882 Noon UT | 14 le 51    |
27 Apr 1882 Noon UT | 14 le 59    |
28 Apr 1882 Noon UT | 15 le  7    |
29 Apr 1882 Noon UT | 15 le 15    |
30 Apr 1882 Noon UT | 15 le 24    |
01 May 1882 Noon UT | 15 le 33    |
02 May 1882 Noon UT | 15 le 42    |
03 May 1882 Noon UT | 15 le 52    |
04 May 1882 Noon UT | 16 le  1    |
05 May 1882 Noon UT | 16 le 11    |
06 May 1882 Noon UT | 16 le 22    |
07 May 1882 Noon UT | 16 le 32    |
08 May 1882 Noon UT | 16 le 43    |
09 May 1882 Noon UT | 16 le 54    |
10 May 1882 Noon UT | 17 le  5    |
11 May 1882 Noon UT | 17 le 16    |
12 May 1882 Noon UT | 17 le 28    |
13 May 1882 Noon UT | 17 le 40    |
14 May 1882 Noon UT | 17 le 52    |
15 May 1882 Noon UT | 18 le  4    |
16 May 1882 Noon UT | 18 le 17    |
17 May 1882 Noon UT | 18 le 30    |
18 May 1882 Noon UT | 18 le 42    |
19 May 1882 Noon UT | 18 le 56    |
20 May 1882 Noon UT | 19 le  9    |
21 May 1882 Noon UT | 19 le 23    |
22 May 1882 Noon UT | 19 le 36    |
23 May 1882 Noon UT | 19 le 50    |
24 May 1882 Noon UT | 20 le  4    |
25 May 1882 Noon UT | 20 le 19    |
26 May 1882 Noon UT | 20 le 33    |
27 May 1882 Noon UT | 20 le 48    |
28 May 1882 Noon UT | 21 le  3    |
29 May 1882 Noon UT | 21 le 18    |
30 May 1882 Noon UT | 21 le 33    |
31 May 1882 Noon UT | 21 le 49    |
01 Jun 1882 Noon UT | 22 le  4    |
02 Jun 1882 Noon UT | 22 le 20    |
03 Jun 1882 Noon UT | 22 le 36    |
04 Jun 1882 Noon UT | 22 le 52    |
05 Jun 1882 Noon UT | 23 le  8    |
06 Jun 1882 Noon UT | 23 le 25    |
07 Jun 1882 Noon UT | 23 le 41    |
08 Jun 1882 Noon UT | 23 le 58    |
09 Jun 1882 Noon UT | 24 le 15    |
10 Jun 1882 Noon UT | 24 le 32    |
11 Jun 1882 Noon UT | 24 le 49    |
12 Jun 1882 Noon UT | 25 le  6    |
13 Jun 1882 Noon UT | 25 le 23    |
14 Jun 1882 Noon UT | 25 le 41    |
15 Jun 1882 Noon UT | 25 le 59    |
16 Jun 1882 Noon UT | 26 le 16    |
17 Jun 1882 Noon UT | 26 le 34    |
18 Jun 1882 Noon UT | 26 le 53    |
19 Jun 1882 Noon UT | 27 le 11    |
20 Jun 1882 Noon UT | 27 le 29    |
21 Jun 1882 Noon UT | 27 le 48    |
22 Jun 1882 Noon UT | 28 le  6    |
23 Jun 1882 Noon UT | 28 le 25    |
24 Jun 1882 Noon UT | 28 le 44    |
25 Jun 1882 Noon UT | 29 le  3    |
26 Jun 1882 Noon UT | 29 le 22    |
27 Jun 1882 Noon UT | 29 le 41    |
28 Jun 1882 Noon UT |  0 vi  0    |
29 Jun 1882 Noon UT |  0 vi 20    |
30 Jun 1882 Noon UT |  0 vi 39    |
01 Jul 1882 Noon UT |  0 vi 59    |
02 Jul 1882 Noon UT |  1 vi 18    |
03 Jul 1882 Noon UT |  1 vi 38    |
04 Jul 1882 Noon UT |  1 vi 58    |
05 Jul 1882 Noon UT |  2 vi 18    |
06 Jul 1882 Noon UT |  2 vi 38    |
07 Jul 1882 Noon UT |  2 vi 58    |
08 Jul 1882 Noon UT |  3 vi 19    |
09 Jul 1882 Noon UT |  3 vi 39    |
10 Jul 1882 Noon UT |  4 vi  0    |
11 Jul 1882 Noon UT |  4 vi 20    |
12 Jul 1882 Noon UT |  4 vi 41    |
13 Jul 1882 Noon UT |  5 vi  2    |
14 Jul 1882 Noon UT |  5 vi 23    |
15 Jul 1882 Noon UT |  5 vi 44    |
16 Jul 1882 Noon UT |  6 vi  5    |
17 Jul 1882 Noon UT |  6 vi 26    |
18 Jul 1882 Noon UT |  6 vi 47    |
19 Jul 1882 Noon UT |  7 vi  8    |
20 Jul 1882 Noon UT |  7 vi 30    |
21 Jul 1882 Noon UT |  7 vi 51    |
22 Jul 1882 Noon UT |  8 vi 12    |
23 Jul 1882 Noon UT |  8 vi 34    |
24 Jul 1882 Noon UT |  8 vi 56    |
25 Jul 1882 Noon UT |  9 vi 17    |
26 Jul 1882 Noon UT |  9 vi 39    |
27 Jul 1882 Noon UT | 10 vi  1    |
28 Jul 1882 Noon UT | 10 vi 23    |
29 Jul 1882 Noon UT | 10 vi 45    |
30 Jul 1882 Noon UT | 11 vi  7    |
31 Jul 1882 Noon UT | 11 vi 29    |
01 Aug 1882 Noon UT | 11 vi 51    |
02 Aug 1882 Noon UT | 12 vi 14    |
03 Aug 1882 Noon UT | 12 vi 36    |
04 Aug 1882 Noon UT | 12 vi 58    |
05 Aug 1882 Noon UT | 13 vi 21    |
06 Aug 1882 Noon UT | 13 vi 43    |
07 Aug 1882 Noon UT | 14 vi  6    |
08 Aug 1882 Noon UT | 14 vi 29    |
09 Aug 1882 Noon UT | 14 vi 51    |
10 Aug 1882 Noon UT | 15 vi 14    |
11 Aug 1882 Noon UT | 15 vi 37    |
12 Aug 1882 Noon UT | 16 vi  0    |
13 Aug 1882 Noon UT | 16 vi 23    |
14 Aug 1882 Noon UT | 16 vi 46    |
15 Aug 1882 Noon UT | 17 vi  9    |
16 Aug 1882 Noon UT | 17 vi 32    |
17 Aug 1882 Noon UT | 17 vi 55    |
18 Aug 1882 Noon UT | 18 vi 18    |
19 Aug 1882 Noon UT | 18 vi 41    |
20 Aug 1882 Noon UT | 19 vi  4    |
21 Aug 1882 Noon UT | 19 vi 28    |
22 Aug 1882 Noon UT | 19 vi 51    |
23 Aug 1882 Noon UT | 20 vi 14    |
24 Aug 1882 Noon UT | 20 vi 38    |
25 Aug 1882 Noon UT | 21 vi  1    |
26 Aug 1882 Noon UT | 21 vi 25    |
27 Aug 1882 Noon UT | 21 vi 48    |
28 Aug 1882 Noon UT | 22 vi 12    |
29 Aug 1882 Noon UT | 22 vi 36    |
30 Aug 1882 Noon UT | 22 vi 59    |
31 Aug 1882 Noon UT | 23 vi 23    |
01 Sep 1882 Noon UT | 23 vi 47    |
02 Sep 1882 Noon UT | 24 vi 11    |
03 Sep 1882 Noon UT | 24 vi 34    |
04 Sep 1882 Noon UT | 24 vi 58    |
05 Sep 1882 Noon UT | 25 vi 22    |
06 Sep 1882 Noon UT | 25 vi 46    |
07 Sep 1882 Noon UT | 26 vi 10    |
08 Sep 1882 Noon UT | 26 vi 34    |
09 Sep 1882 Noon UT | 26 vi 58    |
10 Sep 1882 Noon UT | 27 vi 22    |
11 Sep 1882 Noon UT | 27 vi 46    |
12 Sep 1882 Noon UT | 28 vi 10    |
13 Sep 1882 Noon UT | 28 vi 35    |
14 Sep 1882 Noon UT | 28 vi 59    |
15 Sep 1882 Noon UT | 29 vi 23    |
16 Sep 1882 Noon UT | 29 vi 47    |
17 Sep 1882 Noon UT |  0 li 11    |
18 Sep 1882 Noon UT |  0 li 36    |
19 Sep 1882 Noon UT |  1 li  0    |
20 Sep 1882 Noon UT |  1 li 24    |
21 Sep 1882 Noon UT |  1 li 48    |
22 Sep 1882 Noon UT |  2 li 13    |
23 Sep 1882 Noon UT |  2 li 37    |
24 Sep 1882 Noon UT |  3 li  2    |
25 Sep 1882 Noon UT |  3 li 26    |
26 Sep 1882 Noon UT |  3 li 50    |
27 Sep 1882 Noon UT |  4 li 15    |
28 Sep 1882 Noon UT |  4 li 39    |
29 Sep 1882 Noon UT |  5 li  4    |
30 Sep 1882 Noon UT |  5 li 28    |
01 Oct 1882 Noon UT |  5 li 53    |
02 Oct 1882 Noon UT |  6 li 17    |
03 Oct 1882 Noon UT |  6 li 42    |
04 Oct 1882 Noon UT |  7 li  6    |
05 Oct 1882 Noon UT |  7 li 31    |
06 Oct 1882 Noon UT |  7 li 55    |
07 Oct 1882 Noon UT |  8 li 20    |
08 Oct 1882 Noon UT |  8 li 44    |
09 Oct 1882 Noon UT |  9 li  9    |
10 Oct 1882 Noon UT |  9 li 33    |
11 Oct 1882 Noon UT |  9 li 58    |
12 Oct 1882 Noon UT | 10 li 23    |
13 Oct 1882 Noon UT | 10 li 47    |
14 Oct 1882 Noon UT | 11 li 12    |
15 Oct 1882 Noon UT | 11 li 36    |
16 Oct 1882 Noon UT | 12 li  1    |
17 Oct 1882 Noon UT | 12 li 25    |
18 Oct 1882 Noon UT | 12 li 50    |
19 Oct 1882 Noon UT | 13 li 15    |
20 Oct 1882 Noon UT | 13 li 39    |
21 Oct 1882 Noon UT | 14 li  4    |
22 Oct 1882 Noon UT | 14 li 28    |
23 Oct 1882 Noon UT | 14 li 53    |
24 Oct 1882 Noon UT | 15 li 17    |
25 Oct 1882 Noon UT | 15 li 42    |
26 Oct 1882 Noon UT | 16 li  6    |
27 Oct 1882 Noon UT | 16 li 31    |
28 Oct 1882 Noon UT | 16 li 55    |
29 Oct 1882 Noon UT | 17 li 20    |
30 Oct 1882 Noon UT | 17 li 44    |
31 Oct 1882 Noon UT | 18 li  9    |
01 Nov 1882 Noon UT | 18 li 33    |
02 Nov 1882 Noon UT | 18 li 58    |
03 Nov 1882 Noon UT | 19 li 22    |
04 Nov 1882 Noon UT | 19 li 46    |
05 Nov 1882 Noon UT | 20 li 11    |
06 Nov 1882 Noon UT | 20 li 35    |
07 Nov 1882 Noon UT | 20 li 59    |
08 Nov 1882 Noon UT | 21 li 24    |
09 Nov 1882 Noon UT | 21 li 48    |
10 Nov 1882 Noon UT | 22 li 12    |
11 Nov 1882 Noon UT | 22 li 37    |
12 Nov 1882 Noon UT | 23 li  1    |
13 Nov 1882 Noon UT | 23 li 25    |
14 Nov 1882 Noon UT | 23 li 49    |
15 Nov 1882 Noon UT | 24 li 13    |
16 Nov 1882 Noon UT | 24 li 37    |
17 Nov 1882 Noon UT | 25 li  1    |
18 Nov 1882 Noon UT | 25 li 25    |
19 Nov 1882 Noon UT | 25 li 49    |
20 Nov 1882 Noon UT | 26 li 13    |
21 Nov 1882 Noon UT | 26 li 37    |
22 Nov 1882 Noon UT | 27 li  1    |
23 Nov 1882 Noon UT | 27 li 25    |
24 Nov 1882 Noon UT | 27 li 49    |
25 Nov 1882 Noon UT | 28 li 12    |
26 Nov 1882 Noon UT | 28 li 36    |
27 Nov 1882 Noon UT | 29 li  0    |
28 Nov 1882 Noon UT | 29 li 23    |
29 Nov 1882 Noon UT | 29 li 47    |
30 Nov 1882 Noon UT |  0 sc 10    |
01 Dec 1882 Noon UT |  0 sc 34    |
02 Dec 1882 Noon UT |  0 sc 57    |
03 Dec 1882 Noon UT |  1 sc 21    |
04 Dec 1882 Noon UT |  1 sc 44    |
05 Dec 1882 Noon UT |  2 sc  7    |
06 Dec 1882 Noon UT |  2 sc 30    |
07 Dec 1882 Noon UT |  2 sc 53    |
08 Dec 1882 Noon UT |  3 sc 16    |
09 Dec 1882 Noon UT |  3 sc 39    |
10 Dec 1882 Noon UT |  4 sc  2    |
11 Dec 1882 Noon UT |  4 sc 25    |
12 Dec 1882 Noon UT |  4 sc 48    |
13 Dec 1882 Noon UT |  5 sc 11    |
14 Dec 1882 Noon UT |  5 sc 33    |
15 Dec 1882 Noon UT |  5 sc 56    |
16 Dec 1882 Noon UT |  6 sc 18    |
17 Dec 1882 Noon UT |  6 sc 41    |
18 Dec 1882 Noon UT |  7 sc  3    |
19 Dec 1882 Noon UT |  7 sc 26    |
20 Dec 1882 Noon UT |  7 sc 48    |
21 Dec 1882 Noon UT |  8 sc 10    |
22 Dec 1882 Noon UT |  8 sc 32    |
23 Dec 1882 Noon UT |  8 sc 54    |
24 Dec 1882 Noon UT |  9 sc 16    |
25 Dec 1882 Noon UT |  9 sc 37    |
26 Dec 1882 Noon UT |  9 sc 59    |
27 Dec 1882 Noon UT | 10 sc 21    |
28 Dec 1882 Noon UT | 10 sc 42    |
29 Dec 1882 Noon UT | 11 sc  3    |
30 Dec 1882 Noon UT | 11 sc 25    |
31 Dec 1882 Noon UT | 11 sc 46    |
01 Jan 1883 Noon UT | 12 sc  7    |
02 Jan 1883 Noon UT | 12 sc 28    |
03 Jan 1883 Noon UT | 12 sc 49    |
04 Jan 1883 Noon UT | 13 sc  9    |
05 Jan 1883 Noon UT | 13 sc 30    |
06 Jan 1883 Noon UT | 13 sc 50    |
07 Jan 1883 Noon UT | 14 sc 11    |
08 Jan 1883 Noon UT | 14 sc 31    |
09 Jan 1883 Noon UT | 14 sc 51    |
10 Jan 1883 Noon UT | 15 sc 11    |
11 Jan 1883 Noon UT | 15 sc 31    |
12 Jan 1883 Noon UT | 15 sc 51    |
13 Jan 1883 Noon UT | 16 sc 10    |
14 Jan 1883 Noon UT | 16 sc 30    |
15 Jan 1883 Noon UT | 16 sc 49    |
16 Jan 1883 Noon UT | 17 sc  8    |
17 Jan 1883 Noon UT | 17 sc 28    |
18 Jan 1883 Noon UT | 17 sc 46    |
19 Jan 1883 Noon UT | 18 sc  5    |
20 Jan 1883 Noon UT | 18 sc 24    |
21 Jan 1883 Noon UT | 18 sc 42    |
22 Jan 1883 Noon UT | 19 sc  1    |
23 Jan 1883 Noon UT | 19 sc 19    |
24 Jan 1883 Noon UT | 19 sc 37    |
25 Jan 1883 Noon UT | 19 sc 54    |
26 Jan 1883 Noon UT | 20 sc 12    |
27 Jan 1883 Noon UT | 20 sc 30    |
28 Jan 1883 Noon UT | 20 sc 47    |
29 Jan 1883 Noon UT | 21 sc  4    |
30 Jan 1883 Noon UT | 21 sc 21    |
31 Jan 1883 Noon UT | 21 sc 38    |
01 Feb 1883 Noon UT | 21 sc 54    |
02 Feb 1883 Noon UT | 22 sc 11    |
03 Feb 1883 Noon UT | 22 sc 27    |
04 Feb 1883 Noon UT | 22 sc 43    |
05 Feb 1883 Noon UT | 22 sc 59    |
06 Feb 1883 Noon UT | 23 sc 14    |
07 Feb 1883 Noon UT | 23 sc 30    |
08 Feb 1883 Noon UT | 23 sc 45    |
09 Feb 1883 Noon UT | 24 sc  0    |
10 Feb 1883 Noon UT | 24 sc 14    |
11 Feb 1883 Noon UT | 24 sc 29    |
12 Feb 1883 Noon UT | 24 sc 43    |
13 Feb 1883 Noon UT | 24 sc 57    |
14 Feb 1883 Noon UT | 25 sc 11    |
15 Feb 1883 Noon UT | 25 sc 25    |
16 Feb 1883 Noon UT | 25 sc 38    |
17 Feb 1883 Noon UT | 25 sc 51    |
18 Feb 1883 Noon UT | 26 sc  4    |
19 Feb 1883 Noon UT | 26 sc 16    |
20 Feb 1883 Noon UT | 26 sc 29    |
21 Feb 1883 Noon UT | 26 sc 41    |
22 Feb 1883 Noon UT | 26 sc 53    |
23 Feb 1883 Noon UT | 27 sc  4    |
24 Feb 1883 Noon UT | 27 sc 16    |
25 Feb 1883 Noon UT | 27 sc 27    |
26 Feb 1883 Noon UT | 27 sc 37    |
27 Feb 1883 Noon UT | 27 sc 48    |
28 Feb 1883 Noon UT | 27 sc 58    |
01 Mar 1883 Noon UT | 28 sc  8    |
02 Mar 1883 Noon UT | 28 sc 18    |
03 Mar 1883 Noon UT | 28 sc 27    |
04 Mar 1883 Noon UT | 28 sc 36    |
05 Mar 1883 Noon UT | 28 sc 45    |
06 Mar 1883 Noon UT | 28 sc 53    |
07 Mar 1883 Noon UT | 29 sc  1    |
08 Mar 1883 Noon UT | 29 sc  9    |
09 Mar 1883 Noon UT | 29 sc 16    |
10 Mar 1883 Noon UT | 29 sc 23    |
11 Mar 1883 Noon UT | 29 sc 30    |
12 Mar 1883 Noon UT | 29 sc 37    |
13 Mar 1883 Noon UT | 29 sc 43    |
14 Mar 1883 Noon UT | 29 sc 49    |
15 Mar 1883 Noon UT | 29 sc 54    |
16 Mar 1883 Noon UT | 29 sc 59    |
17 Mar 1883 Noon UT |  0 sa  4    |
18 Mar 1883 Noon UT |  0 sa  8    |
19 Mar 1883 Noon UT |  0 sa 12    |
20 Mar 1883 Noon UT |  0 sa 16    |
21 Mar 1883 Noon UT |  0 sa 19    |
22 Mar 1883 Noon UT |  0 sa 22    |
23 Mar 1883 Noon UT |  0 sa 25    |
24 Mar 1883 Noon UT |  0 sa 27    |
25 Mar 1883 Noon UT |  0 sa 29    |
26 Mar 1883 Noon UT |  0 sa 31    |
27 Mar 1883 Noon UT |  0 sa 32    |
28 Mar 1883 Noon UT |  0 sa 33    |
29 Mar 1883 Noon UT |  0 sa 33    |
30 Mar 1883 Noon UT |  0 sa 33 Rx |
31 Mar 1883 Noon UT |  0 sa 33 Rx |
01 Apr 1883 Noon UT |  0 sa 32 Rx |
02 Apr 1883 Noon UT |  0 sa 31 Rx |
03 Apr 1883 Noon UT |  0 sa 30 Rx |
04 Apr 1883 Noon UT |  0 sa 28 Rx |
05 Apr 1883 Noon UT |  0 sa 26 Rx |
06 Apr 1883 Noon UT |  0 sa 23 Rx |
07 Apr 1883 Noon UT |  0 sa 20 Rx |
08 Apr 1883 Noon UT |  0 sa 17 Rx |
09 Apr 1883 Noon UT |  0 sa 13 Rx |
10 Apr 1883 Noon UT |  0 sa  9 Rx |
11 Apr 1883 Noon UT |  0 sa  5 Rx |
12 Apr 1883 Noon UT |  0 sa  0 Rx |
13 Apr 1883 Noon UT | 29 sc 55 Rx |
14 Apr 1883 Noon UT | 29 sc 50 Rx |
15 Apr 1883 Noon UT | 29 sc 44 Rx |
16 Apr 1883 Noon UT | 29 sc 38 Rx |
17 Apr 1883 Noon UT | 29 sc 32 Rx |
18 Apr 1883 Noon UT | 29 sc 25 Rx |
19 Apr 1883 Noon UT | 29 sc 18 Rx |
20 Apr 1883 Noon UT | 29 sc 10 Rx |
21 Apr 1883 Noon UT | 29 sc  3 Rx |
22 Apr 1883 Noon UT | 28 sc 55 Rx |
23 Apr 1883 Noon UT | 28 sc 46 Rx |
24 Apr 1883 Noon UT | 28 sc 38 Rx |
25 Apr 1883 Noon UT | 28 sc 29 Rx |
26 Apr 1883 Noon UT | 28 sc 20 Rx |
27 Apr 1883 Noon UT | 28 sc 10 Rx |
28 Apr 1883 Noon UT | 28 sc  1 Rx |
29 Apr 1883 Noon UT | 27 sc 51 Rx |
30 Apr 1883 Noon UT | 27 sc 41 Rx |
01 May 1883 Noon UT | 27 sc 31 Rx |
02 May 1883 Noon UT | 27 sc 20 Rx |
03 May 1883 Noon UT | 27 sc  9 Rx |
04 May 1883 Noon UT | 26 sc 59 Rx |
05 May 1883 Noon UT | 26 sc 48 Rx |
06 May 1883 Noon UT | 26 sc 36 Rx |
07 May 1883 Noon UT | 26 sc 25 Rx |
08 May 1883 Noon UT | 26 sc 14 Rx |
09 May 1883 Noon UT | 26 sc  2 Rx |
10 May 1883 Noon UT | 25 sc 50 Rx |
11 May 1883 Noon UT | 25 sc 39 Rx |
12 May 1883 Noon UT | 25 sc 27 Rx |
13 May 1883 Noon UT | 25 sc 15 Rx |
14 May 1883 Noon UT | 25 sc  3 Rx |
15 May 1883 Noon UT | 24 sc 51 Rx |
16 May 1883 Noon UT | 24 sc 39 Rx |
17 May 1883 Noon UT | 24 sc 27 Rx |
18 May 1883 Noon UT | 24 sc 15 Rx |
19 May 1883 Noon UT | 24 sc  4 Rx |
20 May 1883 Noon UT | 23 sc 52 Rx |
21 May 1883 Noon UT | 23 sc 40 Rx |
22 May 1883 Noon UT | 23 sc 28 Rx |
23 May 1883 Noon UT | 23 sc 17 Rx |
24 May 1883 Noon UT | 23 sc  5 Rx |
25 May 1883 Noon UT | 22 sc 54 Rx |
26 May 1883 Noon UT | 22 sc 43 Rx |
27 May 1883 Noon UT | 22 sc 32 Rx |
28 May 1883 Noon UT | 22 sc 21 Rx |
29 May 1883 Noon UT | 22 sc 10 Rx |
30 May 1883 Noon UT | 21 sc 59 Rx |
31 May 1883 Noon UT | 21 sc 49 Rx |
01 Jun 1883 Noon UT | 21 sc 39 Rx |
02 Jun 1883 Noon UT | 21 sc 29 Rx |
03 Jun 1883 Noon UT | 21 sc 19 Rx |
04 Jun 1883 Noon UT | 21 sc  9 Rx |
05 Jun 1883 Noon UT | 21 sc  0 Rx |
06 Jun 1883 Noon UT | 20 sc 51 Rx |
07 Jun 1883 Noon UT | 20 sc 42 Rx |
08 Jun 1883 Noon UT | 20 sc 34 Rx |
09 Jun 1883 Noon UT | 20 sc 26 Rx |
10 Jun 1883 Noon UT | 20 sc 18 Rx |
11 Jun 1883 Noon UT | 20 sc 10 Rx |
12 Jun 1883 Noon UT | 20 sc  3 Rx |
13 Jun 1883 Noon UT | 19 sc 56 Rx |
14 Jun 1883 Noon UT | 19 sc 49 Rx |
15 Jun 1883 Noon UT | 19 sc 43 Rx |
16 Jun 1883 Noon UT | 19 sc 37 Rx |
17 Jun 1883 Noon UT | 19 sc 31 Rx |
18 Jun 1883 Noon UT | 19 sc 26 Rx |
19 Jun 1883 Noon UT | 19 sc 21 Rx |
20 Jun 1883 Noon UT | 19 sc 17 Rx |
21 Jun 1883 Noon UT | 19 sc 12 Rx |
22 Jun 1883 Noon UT | 19 sc  8 Rx |
23 Jun 1883 Noon UT | 19 sc  5 Rx |
24 Jun 1883 Noon UT | 19 sc  2 Rx |
25 Jun 1883 Noon UT | 18 sc 59 Rx |
26 Jun 1883 Noon UT | 18 sc 56 Rx |
27 Jun 1883 Noon UT | 18 sc 54 Rx |
28 Jun 1883 Noon UT | 18 sc 52 Rx |
29 Jun 1883 Noon UT | 18 sc 51 Rx |
30 Jun 1883 Noon UT | 18 sc 50 Rx |
01 Jul 1883 Noon UT | 18 sc 49 Rx |
02 Jul 1883 Noon UT | 18 sc 49 Rx |
03 Jul 1883 Noon UT | 18 sc 49    |
04 Jul 1883 Noon UT | 18 sc 49    |
05 Jul 1883 Noon UT | 18 sc 50    |
06 Jul 1883 Noon UT | 18 sc 51    |
07 Jul 1883 Noon UT | 18 sc 53    |
08 Jul 1883 Noon UT | 18 sc 55    |
09 Jul 1883 Noon UT | 18 sc 57    |
10 Jul 1883 Noon UT | 18 sc 59    |
11 Jul 1883 Noon UT | 19 sc  2    |
12 Jul 1883 Noon UT | 19 sc  6    |
13 Jul 1883 Noon UT | 19 sc  9    |
14 Jul 1883 Noon UT | 19 sc 13    |
15 Jul 1883 Noon UT | 19 sc 17    |
16 Jul 1883 Noon UT | 19 sc 22    |
17 Jul 1883 Noon UT | 19 sc 27    |
18 Jul 1883 Noon UT | 19 sc 32    |
19 Jul 1883 Noon UT | 19 sc 38    |
20 Jul 1883 Noon UT | 19 sc 44    |
21 Jul 1883 Noon UT | 19 sc 50    |
22 Jul 1883 Noon UT | 19 sc 57    |
23 Jul 1883 Noon UT | 20 sc  4    |
24 Jul 1883 Noon UT | 20 sc 11    |
25 Jul 1883 Noon UT | 20 sc 18    |
26 Jul 1883 Noon UT | 20 sc 26    |
27 Jul 1883 Noon UT | 20 sc 34    |
28 Jul 1883 Noon UT | 20 sc 43    |
29 Jul 1883 Noon UT | 20 sc 51    |
30 Jul 1883 Noon UT | 21 sc  0    |
31 Jul 1883 Noon UT | 21 sc 10    |
01 Aug 1883 Noon UT | 21 sc 19    |
02 Aug 1883 Noon UT | 21 sc 29    |
03 Aug 1883 Noon UT | 21 sc 39    |
04 Aug 1883 Noon UT | 21 sc 49    |
05 Aug 1883 Noon UT | 22 sc  0    |
06 Aug 1883 Noon UT | 22 sc 11    |
07 Aug 1883 Noon UT | 22 sc 22    |
08 Aug 1883 Noon UT | 22 sc 34    |
09 Aug 1883 Noon UT | 22 sc 45    |
10 Aug 1883 Noon UT | 22 sc 57    |
11 Aug 1883 Noon UT | 23 sc 10    |
12 Aug 1883 Noon UT | 23 sc 22    |
13 Aug 1883 Noon UT | 23 sc 35    |
14 Aug 1883 Noon UT | 23 sc 48    |
15 Aug 1883 Noon UT | 24 sc  1    |
16 Aug 1883 Noon UT | 24 sc 14    |
17 Aug 1883 Noon UT | 24 sc 28    |
18 Aug 1883 Noon UT | 24 sc 42    |
19 Aug 1883 Noon UT | 24 sc 56    |
20 Aug 1883 Noon UT | 25 sc 10    |
21 Aug 1883 Noon UT | 25 sc 24    |
22 Aug 1883 Noon UT | 25 sc 39    |
23 Aug 1883 Noon UT | 25 sc 54    |
24 Aug 1883 Noon UT | 26 sc  9    |
25 Aug 1883 Noon UT | 26 sc 24    |
26 Aug 1883 Noon UT | 26 sc 40    |
27 Aug 1883 Noon UT | 26 sc 56    |
28 Aug 1883 Noon UT | 27 sc 11    |
29 Aug 1883 Noon UT | 27 sc 28    |
30 Aug 1883 Noon UT | 27 sc 44    |
31 Aug 1883 Noon UT | 28 sc  0    |
01 Sep 1883 Noon UT | 28 sc 17    |
02 Sep 1883 Noon UT | 28 sc 34    |
03 Sep 1883 Noon UT | 28 sc 51    |
04 Sep 1883 Noon UT | 29 sc  8    |
05 Sep 1883 Noon UT | 29 sc 25    |
06 Sep 1883 Noon UT | 29 sc 42    |
07 Sep 1883 Noon UT |  0 sa  0    |
08 Sep 1883 Noon UT |  0 sa 18    |
09 Sep 1883 Noon UT |  0 sa 36    |
10 Sep 1883 Noon UT |  0 sa 54    |
11 Sep 1883 Noon UT |  1 sa 12    |
12 Sep 1883 Noon UT |  1 sa 31    |
13 Sep 1883 Noon UT |  1 sa 49    |
14 Sep 1883 Noon UT |  2 sa  8    |
15 Sep 1883 Noon UT |  2 sa 27    |
16 Sep 1883 Noon UT |  2 sa 46    |
17 Sep 1883 Noon UT |  3 sa  5    |
18 Sep 1883 Noon UT |  3 sa 24    |
19 Sep 1883 Noon UT |  3 sa 43    |
20 Sep 1883 Noon UT |  4 sa  3    |
21 Sep 1883 Noon UT |  4 sa 23    |
22 Sep 1883 Noon UT |  4 sa 42    |
23 Sep 1883 Noon UT |  5 sa  2    |
24 Sep 1883 Noon UT |  5 sa 22    |
25 Sep 1883 Noon UT |  5 sa 42    |
26 Sep 1883 Noon UT |  6 sa  3    |
27 Sep 1883 Noon UT |  6 sa 23    |
28 Sep 1883 Noon UT |  6 sa 44    |
29 Sep 1883 Noon UT |  7 sa  4    |
30 Sep 1883 Noon UT |  7 sa 25    |
01 Oct 1883 Noon UT |  7 sa 46    |
02 Oct 1883 Noon UT |  8 sa  7    |
03 Oct 1883 Noon UT |  8 sa 28    |
04 Oct 1883 Noon UT |  8 sa 49    |
05 Oct 1883 Noon UT |  9 sa 10    |
06 Oct 1883 Noon UT |  9 sa 31    |
07 Oct 1883 Noon UT |  9 sa 53    |
08 Oct 1883 Noon UT | 10 sa 14    |
09 Oct 1883 Noon UT | 10 sa 36    |
10 Oct 1883 Noon UT | 10 sa 58    |
11 Oct 1883 Noon UT | 11 sa 20    |
12 Oct 1883 Noon UT | 11 sa 42    |
13 Oct 1883 Noon UT | 12 sa  4    |
14 Oct 1883 Noon UT | 12 sa 26    |
15 Oct 1883 Noon UT | 12 sa 48    |
16 Oct 1883 Noon UT | 13 sa 10    |
17 Oct 1883 Noon UT | 13 sa 32    |
18 Oct 1883 Noon UT | 13 sa 55    |
19 Oct 1883 Noon UT | 14 sa 17    |
20 Oct 1883 Noon UT | 14 sa 40    |
21 Oct 1883 Noon UT | 15 sa  2    |
22 Oct 1883 Noon UT | 15 sa 25    |
23 Oct 1883 Noon UT | 15 sa 48    |
24 Oct 1883 Noon UT | 16 sa 11    |
25 Oct 1883 Noon UT | 16 sa 34    |
26 Oct 1883 Noon UT | 16 sa 57    |
27 Oct 1883 Noon UT | 17 sa 20    |
28 Oct 1883 Noon UT | 17 sa 43    |
29 Oct 1883 Noon UT | 18 sa  6    |
30 Oct 1883 Noon UT | 18 sa 29    |
31 Oct 1883 Noon UT | 18 sa 53    |
01 Nov 1883 Noon UT | 19 sa 16    |
02 Nov 1883 Noon UT | 19 sa 40    |
03 Nov 1883 Noon UT | 20 sa  3    |
04 Nov 1883 Noon UT | 20 sa 27    |
05 Nov 1883 Noon UT | 20 sa 50    |
06 Nov 1883 Noon UT | 21 sa 14    |
07 Nov 1883 Noon UT | 21 sa 38    |
08 Nov 1883 Noon UT | 22 sa  1    |
09 Nov 1883 Noon UT | 22 sa 25    |
10 Nov 1883 Noon UT | 22 sa 49    |
11 Nov 1883 Noon UT | 23 sa 13    |
12 Nov 1883 Noon UT | 23 sa 37    |
13 Nov 1883 Noon UT | 24 sa  1    |
14 Nov 1883 Noon UT | 24 sa 25    |
15 Nov 1883 Noon UT | 24 sa 49    |
16 Nov 1883 Noon UT | 25 sa 13    |
17 Nov 1883 Noon UT | 25 sa 37    |
18 Nov 1883 Noon UT | 26 sa  2    |
19 Nov 1883 Noon UT | 26 sa 26    |
20 Nov 1883 Noon UT | 26 sa 50    |
21 Nov 1883 Noon UT | 27 sa 15    |
22 Nov 1883 Noon UT | 27 sa 39    |
23 Nov 1883 Noon UT | 28 sa  3    |
24 Nov 1883 Noon UT | 28 sa 28    |
25 Nov 1883 Noon UT | 28 sa 52    |
26 Nov 1883 Noon UT | 29 sa 17    |
27 Nov 1883 Noon UT | 29 sa 41    |
28 Nov 1883 Noon UT |  0 cp  6    |
29 Nov 1883 Noon UT |  0 cp 30    |
30 Nov 1883 Noon UT |  0 cp 55    |
01 Dec 1883 Noon UT |  1 cp 20    |
02 Dec 1883 Noon UT |  1 cp 44    |
03 Dec 1883 Noon UT |  2 cp  9    |
04 Dec 1883 Noon UT |  2 cp 34    |
05 Dec 1883 Noon UT |  2 cp 59    |
06 Dec 1883 Noon UT |  3 cp 23    |
07 Dec 1883 Noon UT |  3 cp 48    |
08 Dec 1883 Noon UT |  4 cp 13    |
09 Dec 1883 Noon UT |  4 cp 38    |
10 Dec 1883 Noon UT |  5 cp  3    |
11 Dec 1883 Noon UT |  5 cp 27    |
12 Dec 1883 Noon UT |  5 cp 52    |
13 Dec 1883 Noon UT |  6 cp 17    |
14 Dec 1883 Noon UT |  6 cp 42    |
15 Dec 1883 Noon UT |  7 cp  7    |
16 Dec 1883 Noon UT |  7 cp 32    |
17 Dec 1883 Noon UT |  7 cp 57    |
18 Dec 1883 Noon UT |  8 cp 22    |
19 Dec 1883 Noon UT |  8 cp 47    |
20 Dec 1883 Noon UT |  9 cp 12    |
21 Dec 1883 Noon UT |  9 cp 37    |
22 Dec 1883 Noon UT | 10 cp  1    |
23 Dec 1883 Noon UT | 10 cp 26    |
24 Dec 1883 Noon UT | 10 cp 51    |
25 Dec 1883 Noon UT | 11 cp 16    |
26 Dec 1883 Noon UT | 11 cp 41    |
27 Dec 1883 Noon UT | 12 cp  6    |
28 Dec 1883 Noon UT | 12 cp 31    |
29 Dec 1883 Noon UT | 12 cp 56    |
30 Dec 1883 Noon UT | 13 cp 21    |
31 Dec 1883 Noon UT | 13 cp 46    |
01 Jan 1884 Noon UT | 14 cp 11    |
02 Jan 1884 Noon UT | 14 cp 36    |
03 Jan 1884 Noon UT | 15 cp  1    |
04 Jan 1884 Noon UT | 15 cp 26    |
05 Jan 1884 Noon UT | 15 cp 51    |
06 Jan 1884 Noon UT | 16 cp 16    |
07 Jan 1884 Noon UT | 16 cp 41    |
08 Jan 1884 Noon UT | 17 cp  6    |
09 Jan 1884 Noon UT | 17 cp 30    |
10 Jan 1884 Noon UT | 17 cp 55    |
11 Jan 1884 Noon UT | 18 cp 20    |
12 Jan 1884 Noon UT | 18 cp 45    |
13 Jan 1884 Noon UT | 19 cp 10    |
14 Jan 1884 Noon UT | 19 cp 35    |
15 Jan 1884 Noon UT | 19 cp 59    |
16 Jan 1884 Noon UT | 20 cp 24    |
17 Jan 1884 Noon UT | 20 cp 49    |
18 Jan 1884 Noon UT | 21 cp 14    |
19 Jan 1884 Noon UT | 21 cp 38    |
20 Jan 1884 Noon UT | 22 cp  3    |
21 Jan 1884 Noon UT | 22 cp 28    |
22 Jan 1884 Noon UT | 22 cp 52    |
23 Jan 1884 Noon UT | 23 cp 17    |
24 Jan 1884 Noon UT | 23 cp 41    |
25 Jan 1884 Noon UT | 24 cp  6    |
26 Jan 1884 Noon UT | 24 cp 31    |
27 Jan 1884 Noon UT | 24 cp 55    |
28 Jan 1884 Noon UT | 25 cp 19    |
29 Jan 1884 Noon UT | 25 cp 44    |
30 Jan 1884 Noon UT | 26 cp  8    |
31 Jan 1884 Noon UT | 26 cp 33    |
01 Feb 1884 Noon UT | 26 cp 57    |
02 Feb 1884 Noon UT | 27 cp 21    |
03 Feb 1884 Noon UT | 27 cp 46    |
04 Feb 1884 Noon UT | 28 cp 10    |
05 Feb 1884 Noon UT | 28 cp 34    |
06 Feb 1884 Noon UT | 28 cp 58    |
07 Feb 1884 Noon UT | 29 cp 22    |
08 Feb 1884 Noon UT | 29 cp 46    |
09 Feb 1884 Noon UT |  0 aq 10    |
10 Feb 1884 Noon UT |  0 aq 34    |
11 Feb 1884 Noon UT |  0 aq 58    |
12 Feb 1884 Noon UT |  1 aq 22    |
13 Feb 1884 Noon UT |  1 aq 46    |
14 Feb 1884 Noon UT |  2 aq 10    |
15 Feb 1884 Noon UT |  2 aq 33    |
16 Feb 1884 Noon UT |  2 aq 57    |
17 Feb 1884 Noon UT |  3 aq 21    |
18 Feb 1884 Noon UT |  3 aq 44    |
19 Feb 1884 Noon UT |  4 aq  8    |
20 Feb 1884 Noon UT |  4 aq 31    |
21 Feb 1884 Noon UT |  4 aq 55    |
22 Feb 1884 Noon UT |  5 aq 18    |
23 Feb 1884 Noon UT |  5 aq 41    |
24 Feb 1884 Noon UT |  6 aq  4    |
25 Feb 1884 Noon UT |  6 aq 28    |
26 Feb 1884 Noon UT |  6 aq 51    |
27 Feb 1884 Noon UT |  7 aq 14    |
28 Feb 1884 Noon UT |  7 aq 37    |
29 Feb 1884 Noon UT |  8 aq  0    |
01 Mar 1884 Noon UT |  8 aq 23    |
02 Mar 1884 Noon UT |  8 aq 45    |
03 Mar 1884 Noon UT |  9 aq  8    |
04 Mar 1884 Noon UT |  9 aq 31    |
05 Mar 1884 Noon UT |  9 aq 53    |
06 Mar 1884 Noon UT | 10 aq 16    |
07 Mar 1884 Noon UT | 10 aq 38    |
08 Mar 1884 Noon UT | 11 aq  1    |
09 Mar 1884 Noon UT | 11 aq 23    |
10 Mar 1884 Noon UT | 11 aq 45    |
11 Mar 1884 Noon UT | 12 aq  7    |
12 Mar 1884 Noon UT | 12 aq 29    |
13 Mar 1884 Noon UT | 12 aq 51    |
14 Mar 1884 Noon UT | 13 aq 13    |
15 Mar 1884 Noon UT | 13 aq 35    |
16 Mar 1884 Noon UT | 13 aq 57    |
17 Mar 1884 Noon UT | 14 aq 18    |
18 Mar 1884 Noon UT | 14 aq 40    |
19 Mar 1884 Noon UT | 15 aq  1    |
20 Mar 1884 Noon UT | 15 aq 23    |
21 Mar 1884 Noon UT | 15 aq 44    |
22 Mar 1884 Noon UT | 16 aq  5    |
23 Mar 1884 Noon UT | 16 aq 26    |
24 Mar 1884 Noon UT | 16 aq 47    |
25 Mar 1884 Noon UT | 17 aq  8    |
26 Mar 1884 Noon UT | 17 aq 29    |
27 Mar 1884 Noon UT | 17 aq 49    |
28 Mar 1884 Noon UT | 18 aq 10    |
29 Mar 1884 Noon UT | 18 aq 30    |
30 Mar 1884 Noon UT | 18 aq 51    |
31 Mar 1884 Noon UT | 19 aq 11    |
01 Apr 1884 Noon UT | 19 aq 31    |
02 Apr 1884 Noon UT | 19 aq 51    |
03 Apr 1884 Noon UT | 20 aq 11    |
04 Apr 1884 Noon UT | 20 aq 31    |
05 Apr 1884 Noon UT | 20 aq 51    |
06 Apr 1884 Noon UT | 21 aq 10    |
07 Apr 1884 Noon UT | 21 aq 30    |
08 Apr 1884 Noon UT | 21 aq 49    |
09 Apr 1884 Noon UT | 22 aq  8    |
10 Apr 1884 Noon UT | 22 aq 27    |
11 Apr 1884 Noon UT | 22 aq 46    |
12 Apr 1884 Noon UT | 23 aq  5    |
13 Apr 1884 Noon UT | 23 aq 24    |
14 Apr 1884 Noon UT | 23 aq 42    |
15 Apr 1884 Noon UT | 24 aq  1    |
16 Apr 1884 Noon UT | 24 aq 19    |
17 Apr 1884 Noon UT | 24 aq 37    |
18 Apr 1884 Noon UT | 24 aq 55    |
19 Apr 1884 Noon UT | 25 aq 13    |
20 Apr 1884 Noon UT | 25 aq 31    |
21 Apr 1884 Noon UT | 25 aq 48    |
22 Apr 1884 Noon UT | 26 aq  6    |
23 Apr 1884 Noon UT | 26 aq 23    |
24 Apr 1884 Noon UT | 26 aq 40    |
25 Apr 1884 Noon UT | 26 aq 57    |
26 Apr 1884 Noon UT | 27 aq 14    |
27 Apr 1884 Noon UT | 27 aq 31    |
28 Apr 1884 Noon UT | 27 aq 47    |
29 Apr 1884 Noon UT | 28 aq  3    |
30 Apr 1884 Noon UT | 28 aq 19    |
01 May 1884 Noon UT | 28 aq 35    |
02 May 1884 Noon UT | 28 aq 51    |
03 May 1884 Noon UT | 29 aq  7    |
04 May 1884 Noon UT | 29 aq 22    |
05 May 1884 Noon UT | 29 aq 38    |
06 May 1884 Noon UT | 29 aq 53    |
07 May 1884 Noon UT |  0 pi  8    |
08 May 1884 Noon UT |  0 pi 22    |
09 May 1884 Noon UT |  0 pi 37    |
10 May 1884 Noon UT |  0 pi 51    |
11 May 1884 Noon UT |  1 pi  5    |
12 May 1884 Noon UT |  1 pi 19    |
13 May 1884 Noon UT |  1 pi 33    |
14 May 1884 Noon UT |  1 pi 46    |
15 May 1884 Noon UT |  2 pi  0    |
16 May 1884 Noon UT |  2 pi 13    |
17 May 1884 Noon UT |  2 pi 26    |
18 May 1884 Noon UT |  2 pi 39    |
19 May 1884 Noon UT |  2 pi 51    |
20 May 1884 Noon UT |  3 pi  3    |
21 May 1884 Noon UT |  3 pi 15    |
22 May 1884 Noon UT |  3 pi 27    |
23 May 1884 Noon UT |  3 pi 39    |
24 May 1884 Noon UT |  3 pi 50    |
25 May 1884 Noon UT |  4 pi  1    |
26 May 1884 Noon UT |  4 pi 12    |
27 May 1884 Noon UT |  4 pi 23    |
28 May 1884 Noon UT |  4 pi 33    |
29 May 1884 Noon UT |  4 pi 43    |
30 May 1884 Noon UT |  4 pi 53    |
31 May 1884 Noon UT |  5 pi  3    |
01 Jun 1884 Noon UT |  5 pi 12    |
02 Jun 1884 Noon UT |  5 pi 21    |
03 Jun 1884 Noon UT |  5 pi 30    |
04 Jun 1884 Noon UT |  5 pi 39    |
05 Jun 1884 Noon UT |  5 pi 47    |
06 Jun 1884 Noon UT |  5 pi 55    |
07 Jun 1884 Noon UT |  6 pi  3    |
08 Jun 1884 Noon UT |  6 pi 10    |
09 Jun 1884 Noon UT |  6 pi 17    |
10 Jun 1884 Noon UT |  6 pi 24    |
11 Jun 1884 Noon UT |  6 pi 31    |
12 Jun 1884 Noon UT |  6 pi 37    |
13 Jun 1884 Noon UT |  6 pi 43    |
14 Jun 1884 Noon UT |  6 pi 49    |
15 Jun 1884 Noon UT |  6 pi 55    |
16 Jun 1884 Noon UT |  7 pi  0    |
17 Jun 1884 Noon UT |  7 pi  5    |
18 Jun 1884 Noon UT |  7 pi  9    |
19 Jun 1884 Noon UT |  7 pi 13    |
20 Jun 1884 Noon UT |  7 pi 17    |
21 Jun 1884 Noon UT |  7 pi 21    |
22 Jun 1884 Noon UT |  7 pi 24    |
23 Jun 1884 Noon UT |  7 pi 27    |
24 Jun 1884 Noon UT |  7 pi 30    |
25 Jun 1884 Noon UT |  7 pi 32    |
26 Jun 1884 Noon UT |  7 pi 34    |
27 Jun 1884 Noon UT |  7 pi 36    |
28 Jun 1884 Noon UT |  7 pi 37    |
29 Jun 1884 Noon UT |  7 pi 38    |
30 Jun 1884 Noon UT |  7 pi 39    |
01 Jul 1884 Noon UT |  7 pi 39    |
02 Jul 1884 Noon UT |  7 pi 39 Rx |
03 Jul 1884 Noon UT |  7 pi 39 Rx |
04 Jul 1884 Noon UT |  7 pi 38 Rx |
05 Jul 1884 Noon UT |  7 pi 37 Rx |
06 Jul 1884 Noon UT |  7 pi 36 Rx |
07 Jul 1884 Noon UT |  7 pi 34 Rx |
08 Jul 1884 Noon UT |  7 pi 32 Rx |
09 Jul 1884 Noon UT |  7 pi 30 Rx |
10 Jul 1884 Noon UT |  7 pi 27 Rx |
11 Jul 1884 Noon UT |  7 pi 24 Rx |
12 Jul 1884 Noon UT |  7 pi 21 Rx |
13 Jul 1884 Noon UT |  7 pi 17 Rx |
14 Jul 1884 Noon UT |  7 pi 13 Rx |
15 Jul 1884 Noon UT |  7 pi  9 Rx |
16 Jul 1884 Noon UT |  7 pi  4 Rx |
17 Jul 1884 Noon UT |  6 pi 59 Rx |
18 Jul 1884 Noon UT |  6 pi 54 Rx |
19 Jul 1884 Noon UT |  6 pi 48 Rx |
20 Jul 1884 Noon UT |  6 pi 43 Rx |
21 Jul 1884 Noon UT |  6 pi 36 Rx |
22 Jul 1884 Noon UT |  6 pi 30 Rx |
23 Jul 1884 Noon UT |  6 pi 23 Rx |
24 Jul 1884 Noon UT |  6 pi 16 Rx |
25 Jul 1884 Noon UT |  6 pi  8 Rx |
26 Jul 1884 Noon UT |  6 pi  1 Rx |
27 Jul 1884 Noon UT |  5 pi 53 Rx |
28 Jul 1884 Noon UT |  5 pi 45 Rx |
29 Jul 1884 Noon UT |  5 pi 36 Rx |
30 Jul 1884 Noon UT |  5 pi 27 Rx |
31 Jul 1884 Noon UT |  5 pi 18 Rx |
01 Aug 1884 Noon UT |  5 pi  9 Rx |
02 Aug 1884 Noon UT |  5 pi  0 Rx |
03 Aug 1884 Noon UT |  4 pi 50 Rx |
04 Aug 1884 Noon UT |  4 pi 40 Rx |
05 Aug 1884 Noon UT |  4 pi 30 Rx |
06 Aug 1884 Noon UT |  4 pi 20 Rx |
07 Aug 1884 Noon UT |  4 pi  9 Rx |
08 Aug 1884 Noon UT |  3 pi 59 Rx |
09 Aug 1884 Noon UT |  3 pi 48 Rx |
10 Aug 1884 Noon UT |  3 pi 37 Rx |
11 Aug 1884 Noon UT |  3 pi 26 Rx |
12 Aug 1884 Noon UT |  3 pi 14 Rx |
13 Aug 1884 Noon UT |  3 pi  3 Rx |
14 Aug 1884 Noon UT |  2 pi 51 Rx |
15 Aug 1884 Noon UT |  2 pi 40 Rx |
16 Aug 1884 Noon UT |  2 pi 28 Rx |
17 Aug 1884 Noon UT |  2 pi 16 Rx |
18 Aug 1884 Noon UT |  2 pi  4 Rx |
19 Aug 1884 Noon UT |  1 pi 53 Rx |
20 Aug 1884 Noon UT |  1 pi 41 Rx |
21 Aug 1884 Noon UT |  1 pi 29 Rx |
22 Aug 1884 Noon UT |  1 pi 17 Rx |
23 Aug 1884 Noon UT |  1 pi  5 Rx |
24 Aug 1884 Noon UT |  0 pi 53 Rx |
25 Aug 1884 Noon UT |  0 pi 41 Rx |
26 Aug 1884 Noon UT |  0 pi 29 Rx |
27 Aug 1884 Noon UT |  0 pi 17 Rx |
28 Aug 1884 Noon UT |  0 pi  5 Rx |
29 Aug 1884 Noon UT | 29 aq 54 Rx |
30 Aug 1884 Noon UT | 29 aq 42 Rx |
31 Aug 1884 Noon UT | 29 aq 30 Rx |
01 Sep 1884 Noon UT | 29 aq 19 Rx |
02 Sep 1884 Noon UT | 29 aq  8 Rx |
03 Sep 1884 Noon UT | 28 aq 57 Rx |
04 Sep 1884 Noon UT | 28 aq 46 Rx |
05 Sep 1884 Noon UT | 28 aq 35 Rx |
06 Sep 1884 Noon UT | 28 aq 24 Rx |
07 Sep 1884 Noon UT | 28 aq 13 Rx |
08 Sep 1884 Noon UT | 28 aq  3 Rx |
09 Sep 1884 Noon UT | 27 aq 53 Rx |
10 Sep 1884 Noon UT | 27 aq 43 Rx |
11 Sep 1884 Noon UT | 27 aq 33 Rx |
12 Sep 1884 Noon UT | 27 aq 24 Rx |
13 Sep 1884 Noon UT | 27 aq 14 Rx |
14 Sep 1884 Noon UT | 27 aq  5 Rx |
15 Sep 1884 Noon UT | 26 aq 56 Rx |
16 Sep 1884 Noon UT | 26 aq 48 Rx |
17 Sep 1884 Noon UT | 26 aq 40 Rx |
18 Sep 1884 Noon UT | 26 aq 32 Rx |
19 Sep 1884 Noon UT | 26 aq 24 Rx |
20 Sep 1884 Noon UT | 26 aq 16 Rx |
21 Sep 1884 Noon UT | 26 aq  9 Rx |
22 Sep 1884 Noon UT | 26 aq  2 Rx |
23 Sep 1884 Noon UT | 25 aq 55 Rx |
24 Sep 1884 Noon UT | 25 aq 49 Rx |
25 Sep 1884 Noon UT | 25 aq 43 Rx |
26 Sep 1884 Noon UT | 25 aq 37 Rx |
27 Sep 1884 Noon UT | 25 aq 32 Rx |
28 Sep 1884 Noon UT | 25 aq 27 Rx |
29 Sep 1884 Noon UT | 25 aq 22 Rx |
30 Sep 1884 Noon UT | 25 aq 18 Rx |
01 Oct 1884 Noon UT | 25 aq 14 Rx |
02 Oct 1884 Noon UT | 25 aq 10 Rx |
03 Oct 1884 Noon UT | 25 aq  6 Rx |
04 Oct 1884 Noon UT | 25 aq  3 Rx |
05 Oct 1884 Noon UT | 25 aq  0 Rx |
06 Oct 1884 Noon UT | 24 aq 58 Rx |
07 Oct 1884 Noon UT | 24 aq 56 Rx |
08 Oct 1884 Noon UT | 24 aq 54 Rx |
09 Oct 1884 Noon UT | 24 aq 52 Rx |
10 Oct 1884 Noon UT | 24 aq 51 Rx |
11 Oct 1884 Noon UT | 24 aq 50 Rx |
12 Oct 1884 Noon UT | 24 aq 50 Rx |
13 Oct 1884 Noon UT | 24 aq 50 Rx |
14 Oct 1884 Noon UT | 24 aq 50    |
15 Oct 1884 Noon UT | 24 aq 50    |
16 Oct 1884 Noon UT | 24 aq 51    |
17 Oct 1884 Noon UT | 24 aq 52    |
18 Oct 1884 Noon UT | 24 aq 54    |
19 Oct 1884 Noon UT | 24 aq 55    |
20 Oct 1884 Noon UT | 24 aq 57    |
21 Oct 1884 Noon UT | 25 aq  0    |
22 Oct 1884 Noon UT | 25 aq  3    |
23 Oct 1884 Noon UT | 25 aq  6    |
24 Oct 1884 Noon UT | 25 aq  9    |
25 Oct 1884 Noon UT | 25 aq 13    |
26 Oct 1884 Noon UT | 25 aq 17    |
27 Oct 1884 Noon UT | 25 aq 21    |
28 Oct 1884 Noon UT | 25 aq 25    |
29 Oct 1884 Noon UT | 25 aq 30    |
30 Oct 1884 Noon UT | 25 aq 35    |
31 Oct 1884 Noon UT | 25 aq 41    |
01 Nov 1884 Noon UT | 25 aq 46    |
02 Nov 1884 Noon UT | 25 aq 52    |
03 Nov 1884 Noon UT | 25 aq 59    |
04 Nov 1884 Noon UT | 26 aq  5    |
05 Nov 1884 Noon UT | 26 aq 12    |
06 Nov 1884 Noon UT | 26 aq 19    |
07 Nov 1884 Noon UT | 26 aq 27    |
08 Nov 1884 Noon UT | 26 aq 34    |
09 Nov 1884 Noon UT | 26 aq 42    |
10 Nov 1884 Noon UT | 26 aq 50    |
11 Nov 1884 Noon UT | 26 aq 59    |
12 Nov 1884 Noon UT | 27 aq  7    |
13 Nov 1884 Noon UT | 27 aq 16    |
14 Nov 1884 Noon UT | 27 aq 25    |
15 Nov 1884 Noon UT | 27 aq 35    |
16 Nov 1884 Noon UT | 27 aq 44    |
17 Nov 1884 Noon UT | 27 aq 54    |
18 Nov 1884 Noon UT | 28 aq  4    |
19 Nov 1884 Noon UT | 28 aq 15    |
20 Nov 1884 Noon UT | 28 aq 25    |
21 Nov 1884 Noon UT | 28 aq 36    |
22 Nov 1884 Noon UT | 28 aq 47    |
23 Nov 1884 Noon UT | 28 aq 58    |
24 Nov 1884 Noon UT | 29 aq 10    |
25 Nov 1884 Noon UT | 29 aq 21    |
26 Nov 1884 Noon UT | 29 aq 33    |
27 Nov 1884 Noon UT | 29 aq 45    |
28 Nov 1884 Noon UT | 29 aq 58    |
29 Nov 1884 Noon UT |  0 pi 10    |
30 Nov 1884 Noon UT |  0 pi 23    |
01 Dec 1884 Noon UT |  0 pi 35    |
02 Dec 1884 Noon UT |  0 pi 49    |
03 Dec 1884 Noon UT |  1 pi  2    |
04 Dec 1884 Noon UT |  1 pi 15    |
05 Dec 1884 Noon UT |  1 pi 29    |
06 Dec 1884 Noon UT |  1 pi 42    |
07 Dec 1884 Noon UT |  1 pi 56    |
08 Dec 1884 Noon UT |  2 pi 10    |
09 Dec 1884 Noon UT |  2 pi 25    |
10 Dec 1884 Noon UT |  2 pi 39    |
11 Dec 1884 Noon UT |  2 pi 54    |
12 Dec 1884 Noon UT |  3 pi  8    |
13 Dec 1884 Noon UT |  3 pi 23    |
14 Dec 1884 Noon UT |  3 pi 38    |
15 Dec 1884 Noon UT |  3 pi 53    |
16 Dec 1884 Noon UT |  4 pi  9    |
17 Dec 1884 Noon UT |  4 pi 24    |
18 Dec 1884 Noon UT |  4 pi 40    |
19 Dec 1884 Noon UT |  4 pi 56    |
20 Dec 1884 Noon UT |  5 pi 12    |
21 Dec 1884 Noon UT |  5 pi 28    |
22 Dec 1884 Noon UT |  5 pi 44    |
23 Dec 1884 Noon UT |  6 pi  0    |
24 Dec 1884 Noon UT |  6 pi 17    |
25 Dec 1884 Noon UT |  6 pi 33    |
26 Dec 1884 Noon UT |  6 pi 50    |
27 Dec 1884 Noon UT |  7 pi  7    |
28 Dec 1884 Noon UT |  7 pi 24    |
29 Dec 1884 Noon UT |  7 pi 41    |
30 Dec 1884 Noon UT |  7 pi 58    |
31 Dec 1884 Noon UT |  8 pi 15    |
01 Jan 1885 Noon UT |  8 pi 32    |
02 Jan 1885 Noon UT |  8 pi 50    |
03 Jan 1885 Noon UT |  9 pi  7    |
04 Jan 1885 Noon UT |  9 pi 25    |
05 Jan 1885 Noon UT |  9 pi 43    |
06 Jan 1885 Noon UT | 10 pi  1    |
07 Jan 1885 Noon UT | 10 pi 19    |
08 Jan 1885 Noon UT | 10 pi 37    |
09 Jan 1885 Noon UT | 10 pi 55    |
10 Jan 1885 Noon UT | 11 pi 13    |
11 Jan 1885 Noon UT | 11 pi 32    |
12 Jan 1885 Noon UT | 11 pi 50    |
13 Jan 1885 Noon UT | 12 pi  9    |
14 Jan 1885 Noon UT | 12 pi 27    |
15 Jan 1885 Noon UT | 12 pi 46    |
16 Jan 1885 Noon UT | 13 pi  5    |
17 Jan 1885 Noon UT | 13 pi 24    |
18 Jan 1885 Noon UT | 13 pi 43    |
19 Jan 1885 Noon UT | 14 pi  2    |
20 Jan 1885 Noon UT | 14 pi 21    |
21 Jan 1885 Noon UT | 14 pi 40    |
22 Jan 1885 Noon UT | 14 pi 59    |
23 Jan 1885 Noon UT | 15 pi 18    |
24 Jan 1885 Noon UT | 15 pi 38    |
25 Jan 1885 Noon UT | 15 pi 57    |
26 Jan 1885 Noon UT | 16 pi 17    |
27 Jan 1885 Noon UT | 16 pi 36    |
28 Jan 1885 Noon UT | 16 pi 56    |
29 Jan 1885 Noon UT | 17 pi 15    |
30 Jan 1885 Noon UT | 17 pi 35    |
31 Jan 1885 Noon UT | 17 pi 55    |
01 Feb 1885 Noon UT | 18 pi 15    |
02 Feb 1885 Noon UT | 18 pi 35    |
03 Feb 1885 Noon UT | 18 pi 54    |
04 Feb 1885 Noon UT | 19 pi 14    |
05 Feb 1885 Noon UT | 19 pi 34    |
06 Feb 1885 Noon UT | 19 pi 54    |
07 Feb 1885 Noon UT | 20 pi 15    |
08 Feb 1885 Noon UT | 20 pi 35    |
09 Feb 1885 Noon UT | 20 pi 55    |
10 Feb 1885 Noon UT | 21 pi 15    |
11 Feb 1885 Noon UT | 21 pi 35    |
12 Feb 1885 Noon UT | 21 pi 56    |
13 Feb 1885 Noon UT | 22 pi 16    |
14 Feb 1885 Noon UT | 22 pi 37    |
15 Feb 1885 Noon UT | 22 pi 57    |
16 Feb 1885 Noon UT | 23 pi 17    |
17 Feb 1885 Noon UT | 23 pi 38    |
18 Feb 1885 Noon UT | 23 pi 58    |
19 Feb 1885 Noon UT | 24 pi 19    |
20 Feb 1885 Noon UT | 24 pi 40    |
21 Feb 1885 Noon UT | 25 pi  0    |
22 Feb 1885 Noon UT | 25 pi 21    |
23 Feb 1885 Noon UT | 25 pi 41    |
24 Feb 1885 Noon UT | 26 pi  2    |
25 Feb 1885 Noon UT | 26 pi 23    |
26 Feb 1885 Noon UT | 26 pi 43    |
27 Feb 1885 Noon UT | 27 pi  4    |
28 Feb 1885 Noon UT | 27 pi 25    |
01 Mar 1885 Noon UT | 27 pi 46    |
02 Mar 1885 Noon UT | 28 pi  6    |
03 Mar 1885 Noon UT | 28 pi 27    |
04 Mar 1885 Noon UT | 28 pi 48    |
05 Mar 1885 Noon UT | 29 pi  9    |
06 Mar 1885 Noon UT | 29 pi 30    |
07 Mar 1885 Noon UT | 29 pi 51    |
08 Mar 1885 Noon UT |  0 ar 11    |
09 Mar 1885 Noon UT |  0 ar 32    |
10 Mar 1885 Noon UT |  0 ar 53    |
11 Mar 1885 Noon UT |  1 ar 14    |
12 Mar 1885 Noon UT |  1 ar 35    |
13 Mar 1885 Noon UT |  1 ar 56    |
14 Mar 1885 Noon UT |  2 ar 17    |
15 Mar 1885 Noon UT |  2 ar 38    |
16 Mar 1885 Noon UT |  2 ar 58    |
17 Mar 1885 Noon UT |  3 ar 19    |
18 Mar 1885 Noon UT |  3 ar 40    |
19 Mar 1885 Noon UT |  4 ar  1    |
20 Mar 1885 Noon UT |  4 ar 22    |
21 Mar 1885 Noon UT |  4 ar 43    |
22 Mar 1885 Noon UT |  5 ar  4    |
23 Mar 1885 Noon UT |  5 ar 25    |
24 Mar 1885 Noon UT |  5 ar 45    |
25 Mar 1885 Noon UT |  6 ar  6    |
26 Mar 1885 Noon UT |  6 ar 27    |
27 Mar 1885 Noon UT |  6 ar 48    |
28 Mar 1885 Noon UT |  7 ar  9    |
29 Mar 1885 Noon UT |  7 ar 30    |
30 Mar 1885 Noon UT |  7 ar 50    |
31 Mar 1885 Noon UT |  8 ar 11    |
01 Apr 1885 Noon UT |  8 ar 32    |
02 Apr 1885 Noon UT |  8 ar 53    |
03 Apr 1885 Noon UT |  9 ar 13    |
04 Apr 1885 Noon UT |  9 ar 34    |
05 Apr 1885 Noon UT |  9 ar 55    |
06 Apr 1885 Noon UT | 10 ar 15    |
07 Apr 1885 Noon UT | 10 ar 36    |
08 Apr 1885 Noon UT | 10 ar 57    |
09 Apr 1885 Noon UT | 11 ar 17    |
10 Apr 1885 Noon UT | 11 ar 38    |
11 Apr 1885 Noon UT | 11 ar 58    |
12 Apr 1885 Noon UT | 12 ar 19    |
13 Apr 1885 Noon UT | 12 ar 39    |
14 Apr 1885 Noon UT | 13 ar  0    |
15 Apr 1885 Noon UT | 13 ar 20    |
16 Apr 1885 Noon UT | 13 ar 41    |
17 Apr 1885 Noon UT | 14 ar  1    |
18 Apr 1885 Noon UT | 14 ar 22    |
19 Apr 1885 Noon UT | 14 ar 42    |
20 Apr 1885 Noon UT | 15 ar  2    |
21 Apr 1885 Noon UT | 15 ar 22    |
22 Apr 1885 Noon UT | 15 ar 43    |
23 Apr 1885 Noon UT | 16 ar  3    |
24 Apr 1885 Noon UT | 16 ar 23    |
25 Apr 1885 Noon UT | 16 ar 43    |
26 Apr 1885 Noon UT | 17 ar  3    |
27 Apr 1885 Noon UT | 17 ar 23    |
28 Apr 1885 Noon UT | 17 ar 43    |
29 Apr 1885 Noon UT | 18 ar  3    |
30 Apr 1885 Noon UT | 18 ar 23    |
01 May 1885 Noon UT | 18 ar 43    |
02 May 1885 Noon UT | 19 ar  3    |
03 May 1885 Noon UT | 19 ar 22    |
04 May 1885 Noon UT | 19 ar 42    |
05 May 1885 Noon UT | 20 ar  2    |
06 May 1885 Noon UT | 20 ar 21    |
07 May 1885 Noon UT | 20 ar 41    |
08 May 1885 Noon UT | 21 ar  0    |
09 May 1885 Noon UT | 21 ar 20    |
10 May 1885 Noon UT | 21 ar 39    |
11 May 1885 Noon UT | 21 ar 59    |
12 May 1885 Noon UT | 22 ar 18    |
13 May 1885 Noon UT | 22 ar 37    |
14 May 1885 Noon UT | 22 ar 56    |
15 May 1885 Noon UT | 23 ar 15    |
16 May 1885 Noon UT | 23 ar 35    |
17 May 1885 Noon UT | 23 ar 54    |
18 May 1885 Noon UT | 24 ar 12    |
19 May 1885 Noon UT | 24 ar 31    |
20 May 1885 Noon UT | 24 ar 50    |
21 May 1885 Noon UT | 25 ar  9    |
22 May 1885 Noon UT | 25 ar 28    |
23 May 1885 Noon UT | 25 ar 46    |
24 May 1885 Noon UT | 26 ar  5    |
25 May 1885 Noon UT | 26 ar 23    |
26 May 1885 Noon UT | 26 ar 41    |
27 May 1885 Noon UT | 27 ar  0    |
28 May 1885 Noon UT | 27 ar 18    |
29 May 1885 Noon UT | 27 ar 36    |
30 May 1885 Noon UT | 27 ar 54    |
31 May 1885 Noon UT | 28 ar 12    |
01 Jun 1885 Noon UT | 28 ar 30    |
02 Jun 1885 Noon UT | 28 ar 48    |
03 Jun 1885 Noon UT | 29 ar  6    |
04 Jun 1885 Noon UT | 29 ar 23    |
05 Jun 1885 Noon UT | 29 ar 41    |
06 Jun 1885 Noon UT | 29 ar 59    |
07 Jun 1885 Noon UT |  0 ta 16    |
08 Jun 1885 Noon UT |  0 ta 33    |
09 Jun 1885 Noon UT |  0 ta 50    |
10 Jun 1885 Noon UT |  1 ta  8    |
11 Jun 1885 Noon UT |  1 ta 25    |
12 Jun 1885 Noon UT |  1 ta 42    |
13 Jun 1885 Noon UT |  1 ta 58    |
14 Jun 1885 Noon UT |  2 ta 15    |
15 Jun 1885 Noon UT |  2 ta 32    |
16 Jun 1885 Noon UT |  2 ta 48    |
17 Jun 1885 Noon UT |  3 ta  5    |
18 Jun 1885 Noon UT |  3 ta 21    |
19 Jun 1885 Noon UT |  3 ta 37    |
20 Jun 1885 Noon UT |  3 ta 53    |
21 Jun 1885 Noon UT |  4 ta  9    |
22 Jun 1885 Noon UT |  4 ta 25    |
23 Jun 1885 Noon UT |  4 ta 41    |
24 Jun 1885 Noon UT |  4 ta 57    |
25 Jun 1885 Noon UT |  5 ta 12    |
26 Jun 1885 Noon UT |  5 ta 27    |
27 Jun 1885 Noon UT |  5 ta 43    |
28 Jun 1885 Noon UT |  5 ta 58    |
29 Jun 1885 Noon UT |  6 ta 13    |
30 Jun 1885 Noon UT |  6 ta 28    |
01 Jul 1885 Noon UT |  6 ta 43    |
02 Jul 1885 Noon UT |  6 ta 57    |
03 Jul 1885 Noon UT |  7 ta 12    |
04 Jul 1885 Noon UT |  7 ta 26    |
05 Jul 1885 Noon UT |  7 ta 40    |
06 Jul 1885 Noon UT |  7 ta 54    |
07 Jul 1885 Noon UT |  8 ta  8    |
08 Jul 1885 Noon UT |  8 ta 22    |
09 Jul 1885 Noon UT |  8 ta 36    |
10 Jul 1885 Noon UT |  8 ta 49    |
11 Jul 1885 Noon UT |  9 ta  3    |
12 Jul 1885 Noon UT |  9 ta 16    |
13 Jul 1885 Noon UT |  9 ta 29    |
14 Jul 1885 Noon UT |  9 ta 42    |
15 Jul 1885 Noon UT |  9 ta 54    |
16 Jul 1885 Noon UT | 10 ta  7    |
17 Jul 1885 Noon UT | 10 ta 19    |
18 Jul 1885 Noon UT | 10 ta 32    |
19 Jul 1885 Noon UT | 10 ta 44    |
20 Jul 1885 Noon UT | 10 ta 55    |
21 Jul 1885 Noon UT | 11 ta  7    |
22 Jul 1885 Noon UT | 11 ta 19    |
23 Jul 1885 Noon UT | 11 ta 30    |
24 Jul 1885 Noon UT | 11 ta 41    |
25 Jul 1885 Noon UT | 11 ta 52    |
26 Jul 1885 Noon UT | 12 ta  3    |
27 Jul 1885 Noon UT | 12 ta 13    |
28 Jul 1885 Noon UT | 12 ta 24    |
29 Jul 1885 Noon UT | 12 ta 34    |
30 Jul 1885 Noon UT | 12 ta 44    |
31 Jul 1885 Noon UT | 12 ta 54    |
01 Aug 1885 Noon UT | 13 ta  3    |
02 Aug 1885 Noon UT | 13 ta 13    |
03 Aug 1885 Noon UT | 13 ta 22    |
04 Aug 1885 Noon UT | 13 ta 31    |
05 Aug 1885 Noon UT | 13 ta 39    |
06 Aug 1885 Noon UT | 13 ta 48    |
07 Aug 1885 Noon UT | 13 ta 56    |
08 Aug 1885 Noon UT | 14 ta  4    |
09 Aug 1885 Noon UT | 14 ta 12    |
10 Aug 1885 Noon UT | 14 ta 20    |
11 Aug 1885 Noon UT | 14 ta 27    |
12 Aug 1885 Noon UT | 14 ta 34    |
13 Aug 1885 Noon UT | 14 ta 41    |
14 Aug 1885 Noon UT | 14 ta 47    |
15 Aug 1885 Noon UT | 14 ta 54    |
16 Aug 1885 Noon UT | 15 ta  0    |
17 Aug 1885 Noon UT | 15 ta  6    |
18 Aug 1885 Noon UT | 15 ta 11    |
19 Aug 1885 Noon UT | 15 ta 17    |
20 Aug 1885 Noon UT | 15 ta 22    |
21 Aug 1885 Noon UT | 15 ta 27    |
22 Aug 1885 Noon UT | 15 ta 31    |
23 Aug 1885 Noon UT | 15 ta 35    |
24 Aug 1885 Noon UT | 15 ta 40    |
25 Aug 1885 Noon UT | 15 ta 43    |
26 Aug 1885 Noon UT | 15 ta 47    |
27 Aug 1885 Noon UT | 15 ta 50    |
28 Aug 1885 Noon UT | 15 ta 53    |
29 Aug 1885 Noon UT | 15 ta 55    |
30 Aug 1885 Noon UT | 15 ta 58    |
31 Aug 1885 Noon UT | 16 ta  0    |
01 Sep 1885 Noon UT | 16 ta  2    |
02 Sep 1885 Noon UT | 16 ta  3    |
03 Sep 1885 Noon UT | 16 ta  4    |
04 Sep 1885 Noon UT | 16 ta  5    |
05 Sep 1885 Noon UT | 16 ta  6    |
06 Sep 1885 Noon UT | 16 ta  6    |
07 Sep 1885 Noon UT | 16 ta  6 Rx |
08 Sep 1885 Noon UT | 16 ta  6 Rx |
09 Sep 1885 Noon UT | 16 ta  5 Rx |
10 Sep 1885 Noon UT | 16 ta  4 Rx |
11 Sep 1885 Noon UT | 16 ta  3 Rx |
12 Sep 1885 Noon UT | 16 ta  1 Rx |
13 Sep 1885 Noon UT | 15 ta 59 Rx |
14 Sep 1885 Noon UT | 15 ta 57 Rx |
15 Sep 1885 Noon UT | 15 ta 55 Rx |
16 Sep 1885 Noon UT | 15 ta 52 Rx |
17 Sep 1885 Noon UT | 15 ta 49 Rx |
18 Sep 1885 Noon UT | 15 ta 46 Rx |
19 Sep 1885 Noon UT | 15 ta 42 Rx |
20 Sep 1885 Noon UT | 15 ta 38 Rx |
21 Sep 1885 Noon UT | 15 ta 34 Rx |
22 Sep 1885 Noon UT | 15 ta 29 Rx |
23 Sep 1885 Noon UT | 15 ta 24 Rx |
24 Sep 1885 Noon UT | 15 ta 19 Rx |
25 Sep 1885 Noon UT | 15 ta 14 Rx |
26 Sep 1885 Noon UT | 15 ta  8 Rx |
27 Sep 1885 Noon UT | 15 ta  2 Rx |
28 Sep 1885 Noon UT | 14 ta 55 Rx |
29 Sep 1885 Noon UT | 14 ta 49 Rx |
30 Sep 1885 Noon UT | 14 ta 42 Rx |
01 Oct 1885 Noon UT | 14 ta 35 Rx |
02 Oct 1885 Noon UT | 14 ta 27 Rx |
03 Oct 1885 Noon UT | 14 ta 20 Rx |
04 Oct 1885 Noon UT | 14 ta 12 Rx |
05 Oct 1885 Noon UT | 14 ta  3 Rx |
06 Oct 1885 Noon UT | 13 ta 55 Rx |
07 Oct 1885 Noon UT | 13 ta 46 Rx |
08 Oct 1885 Noon UT | 13 ta 37 Rx |
09 Oct 1885 Noon UT | 13 ta 28 Rx |
10 Oct 1885 Noon UT | 13 ta 19 Rx |
11 Oct 1885 Noon UT | 13 ta  9 Rx |
12 Oct 1885 Noon UT | 12 ta 59 Rx |
13 Oct 1885 Noon UT | 12 ta 49 Rx |
14 Oct 1885 Noon UT | 12 ta 39 Rx |
15 Oct 1885 Noon UT | 12 ta 29 Rx |
16 Oct 1885 Noon UT | 12 ta 18 Rx |
17 Oct 1885 Noon UT | 12 ta  7 Rx |
18 Oct 1885 Noon UT | 11 ta 56 Rx |
19 Oct 1885 Noon UT | 11 ta 45 Rx |
20 Oct 1885 Noon UT | 11 ta 34 Rx |
21 Oct 1885 Noon UT | 11 ta 23 Rx |
22 Oct 1885 Noon UT | 11 ta 12 Rx |
23 Oct 1885 Noon UT | 11 ta  0 Rx |
24 Oct 1885 Noon UT | 10 ta 48 Rx |
25 Oct 1885 Noon UT | 10 ta 37 Rx |
26 Oct 1885 Noon UT | 10 ta 25 Rx |
27 Oct 1885 Noon UT | 10 ta 13 Rx |
28 Oct 1885 Noon UT | 10 ta  1 Rx |
29 Oct 1885 Noon UT |  9 ta 49 Rx |
30 Oct 1885 Noon UT |  9 ta 37 Rx |
31 Oct 1885 Noon UT |  9 ta 25 Rx |
01 Nov 1885 Noon UT |  9 ta 13 Rx |
02 Nov 1885 Noon UT |  9 ta  1 Rx |
03 Nov 1885 Noon UT |  8 ta 49 Rx |
04 Nov 1885 Noon UT |  8 ta 38 Rx |
05 Nov 1885 Noon UT |  8 ta 26 Rx |
06 Nov 1885 Noon UT |  8 ta 14 Rx |
07 Nov 1885 Noon UT |  8 ta  2 Rx |
08 Nov 1885 Noon UT |  7 ta 50 Rx |
09 Nov 1885 Noon UT |  7 ta 39 Rx |
10 Nov 1885 Noon UT |  7 ta 27 Rx |
11 Nov 1885 Noon UT |  7 ta 16 Rx |
12 Nov 1885 Noon UT |  7 ta  5 Rx |
13 Nov 1885 Noon UT |  6 ta 53 Rx |
14 Nov 1885 Noon UT |  6 ta 42 Rx |
15 Nov 1885 Noon UT |  6 ta 31 Rx |
16 Nov 1885 Noon UT |  6 ta 21 Rx |
17 Nov 1885 Noon UT |  6 ta 10 Rx |
18 Nov 1885 Noon UT |  6 ta  0 Rx |
19 Nov 1885 Noon UT |  5 ta 50 Rx |
20 Nov 1885 Noon UT |  5 ta 40 Rx |
21 Nov 1885 Noon UT |  5 ta 30 Rx |
22 Nov 1885 Noon UT |  5 ta 20 Rx |
23 Nov 1885 Noon UT |  5 ta 11 Rx |
24 Nov 1885 Noon UT |  5 ta  2 Rx |
25 Nov 1885 Noon UT |  4 ta 53 Rx |
26 Nov 1885 Noon UT |  4 ta 44 Rx |
27 Nov 1885 Noon UT |  4 ta 36 Rx |
28 Nov 1885 Noon UT |  4 ta 28 Rx |
29 Nov 1885 Noon UT |  4 ta 20 Rx |
30 Nov 1885 Noon UT |  4 ta 12 Rx |
01 Dec 1885 Noon UT |  4 ta  5 Rx |
02 Dec 1885 Noon UT |  3 ta 58 Rx |
03 Dec 1885 Noon UT |  3 ta 51 Rx |
04 Dec 1885 Noon UT |  3 ta 44 Rx |
05 Dec 1885 Noon UT |  3 ta 38 Rx |
06 Dec 1885 Noon UT |  3 ta 32 Rx |
07 Dec 1885 Noon UT |  3 ta 27 Rx |
08 Dec 1885 Noon UT |  3 ta 21 Rx |
09 Dec 1885 Noon UT |  3 ta 16 Rx |
10 Dec 1885 Noon UT |  3 ta 11 Rx |
11 Dec 1885 Noon UT |  3 ta  7 Rx |
12 Dec 1885 Noon UT |  3 ta  3 Rx |
13 Dec 1885 Noon UT |  2 ta 59 Rx |
14 Dec 1885 Noon UT |  2 ta 55 Rx |
15 Dec 1885 Noon UT |  2 ta 52 Rx |
16 Dec 1885 Noon UT |  2 ta 49 Rx |
17 Dec 1885 Noon UT |  2 ta 47 Rx |
18 Dec 1885 Noon UT |  2 ta 45 Rx |
19 Dec 1885 Noon UT |  2 ta 43 Rx |
20 Dec 1885 Noon UT |  2 ta 41 Rx |
21 Dec 1885 Noon UT |  2 ta 40 Rx |
22 Dec 1885 Noon UT |  2 ta 39 Rx |
23 Dec 1885 Noon UT |  2 ta 38 Rx |
24 Dec 1885 Noon UT |  2 ta 38 Rx |
25 Dec 1885 Noon UT |  2 ta 37    |
26 Dec 1885 Noon UT |  2 ta 38    |
27 Dec 1885 Noon UT |  2 ta 38    |
28 Dec 1885 Noon UT |  2 ta 39    |
29 Dec 1885 Noon UT |  2 ta 40    |
30 Dec 1885 Noon UT |  2 ta 42    |
31 Dec 1885 Noon UT |  2 ta 43    |
01 Jan 1886 Noon UT |  2 ta 45    |
02 Jan 1886 Noon UT |  2 ta 48    |
03 Jan 1886 Noon UT |  2 ta 50    |
04 Jan 1886 Noon UT |  2 ta 53    |
05 Jan 1886 Noon UT |  2 ta 57    |
06 Jan 1886 Noon UT |  3 ta  0    |
07 Jan 1886 Noon UT |  3 ta  4    |
08 Jan 1886 Noon UT |  3 ta  8    |
09 Jan 1886 Noon UT |  3 ta 12    |
10 Jan 1886 Noon UT |  3 ta 17    |
11 Jan 1886 Noon UT |  3 ta 22    |
12 Jan 1886 Noon UT |  3 ta 27    |
13 Jan 1886 Noon UT |  3 ta 33    |
14 Jan 1886 Noon UT |  3 ta 38    |
15 Jan 1886 Noon UT |  3 ta 44    |
16 Jan 1886 Noon UT |  3 ta 50    |
17 Jan 1886 Noon UT |  3 ta 57    |
18 Jan 1886 Noon UT |  4 ta  4    |
19 Jan 1886 Noon UT |  4 ta 11    |
20 Jan 1886 Noon UT |  4 ta 18    |
21 Jan 1886 Noon UT |  4 ta 25    |
22 Jan 1886 Noon UT |  4 ta 33    |
23 Jan 1886 Noon UT |  4 ta 41    |
24 Jan 1886 Noon UT |  4 ta 49    |
25 Jan 1886 Noon UT |  4 ta 58    |
26 Jan 1886 Noon UT |  5 ta  6    |
27 Jan 1886 Noon UT |  5 ta 15    |
28 Jan 1886 Noon UT |  5 ta 24    |
29 Jan 1886 Noon UT |  5 ta 34    |
30 Jan 1886 Noon UT |  5 ta 43    |
31 Jan 1886 Noon UT |  5 ta 53    |
01 Feb 1886 Noon UT |  6 ta  3    |
02 Feb 1886 Noon UT |  6 ta 13    |
03 Feb 1886 Noon UT |  6 ta 23    |
04 Feb 1886 Noon UT |  6 ta 34    |
05 Feb 1886 Noon UT |  6 ta 45    |
06 Feb 1886 Noon UT |  6 ta 56    |
07 Feb 1886 Noon UT |  7 ta  7    |
08 Feb 1886 Noon UT |  7 ta 18    |
09 Feb 1886 Noon UT |  7 ta 30    |
10 Feb 1886 Noon UT |  7 ta 41    |
11 Feb 1886 Noon UT |  7 ta 53    |
12 Feb 1886 Noon UT |  8 ta  5    |
13 Feb 1886 Noon UT |  8 ta 18    |
14 Feb 1886 Noon UT |  8 ta 30    |
15 Feb 1886 Noon UT |  8 ta 43    |
16 Feb 1886 Noon UT |  8 ta 55    |
17 Feb 1886 Noon UT |  9 ta  8    |
18 Feb 1886 Noon UT |  9 ta 21    |
19 Feb 1886 Noon UT |  9 ta 34    |
20 Feb 1886 Noon UT |  9 ta 48    |
21 Feb 1886 Noon UT | 10 ta  1    |
22 Feb 1886 Noon UT | 10 ta 15    |
23 Feb 1886 Noon UT | 10 ta 29    |
24 Feb 1886 Noon UT | 10 ta 43    |
25 Feb 1886 Noon UT | 10 ta 57    |
26 Feb 1886 Noon UT | 11 ta 11    |
27 Feb 1886 Noon UT | 11 ta 25    |
28 Feb 1886 Noon UT | 11 ta 40    |
01 Mar 1886 Noon UT | 11 ta 55    |
02 Mar 1886 Noon UT | 12 ta  9    |
03 Mar 1886 Noon UT | 12 ta 24    |
04 Mar 1886 Noon UT | 12 ta 39    |
05 Mar 1886 Noon UT | 12 ta 54    |
06 Mar 1886 Noon UT | 13 ta 10    |
07 Mar 1886 Noon UT | 13 ta 25    |
08 Mar 1886 Noon UT | 13 ta 40    |
09 Mar 1886 Noon UT | 13 ta 56    |
10 Mar 1886 Noon UT | 14 ta 12    |
11 Mar 1886 Noon UT | 14 ta 28    |
12 Mar 1886 Noon UT | 14 ta 43    |
13 Mar 1886 Noon UT | 14 ta 59    |
14 Mar 1886 Noon UT | 15 ta 16    |
15 Mar 1886 Noon UT | 15 ta 32    |
16 Mar 1886 Noon UT | 15 ta 48    |
17 Mar 1886 Noon UT | 16 ta  5    |
18 Mar 1886 Noon UT | 16 ta 21    |
19 Mar 1886 Noon UT | 16 ta 38    |
20 Mar 1886 Noon UT | 16 ta 54    |
21 Mar 1886 Noon UT | 17 ta 11    |
22 Mar 1886 Noon UT | 17 ta 28    |
23 Mar 1886 Noon UT | 17 ta 45    |
24 Mar 1886 Noon UT | 18 ta  2    |
25 Mar 1886 Noon UT | 18 ta 19    |
26 Mar 1886 Noon UT | 18 ta 36    |
27 Mar 1886 Noon UT | 18 ta 54    |
28 Mar 1886 Noon UT | 19 ta 11    |
29 Mar 1886 Noon UT | 19 ta 28    |
30 Mar 1886 Noon UT | 19 ta 46    |
31 Mar 1886 Noon UT | 20 ta  4    |
01 Apr 1886 Noon UT | 20 ta 21    |
02 Apr 1886 Noon UT | 20 ta 39    |
03 Apr 1886 Noon UT | 20 ta 57    |
04 Apr 1886 Noon UT | 21 ta 15    |
05 Apr 1886 Noon UT | 21 ta 32    |
06 Apr 1886 Noon UT | 21 ta 50    |
07 Apr 1886 Noon UT | 22 ta  8    |
08 Apr 1886 Noon UT | 22 ta 27    |
09 Apr 1886 Noon UT | 22 ta 45    |
10 Apr 1886 Noon UT | 23 ta  3    |
11 Apr 1886 Noon UT | 23 ta 21    |
12 Apr 1886 Noon UT | 23 ta 40    |
13 Apr 1886 Noon UT | 23 ta 58    |
14 Apr 1886 Noon UT | 24 ta 16    |
15 Apr 1886 Noon UT | 24 ta 35    |
16 Apr 1886 Noon UT | 24 ta 53    |
17 Apr 1886 Noon UT | 25 ta 12    |
18 Apr 1886 Noon UT | 25 ta 30    |
19 Apr 1886 Noon UT | 25 ta 49    |
20 Apr 1886 Noon UT | 26 ta  8    |
21 Apr 1886 Noon UT | 26 ta 27    |
22 Apr 1886 Noon UT | 26 ta 45    |
23 Apr 1886 Noon UT | 27 ta  4    |
24 Apr 1886 Noon UT | 27 ta 23    |
25 Apr 1886 Noon UT | 27 ta 42    |
26 Apr 1886 Noon UT | 28 ta  1    |
27 Apr 1886 Noon UT | 28 ta 20    |
28 Apr 1886 Noon UT | 28 ta 39    |
29 Apr 1886 Noon UT | 28 ta 58    |
30 Apr 1886 Noon UT | 29 ta 17    |
01 May 1886 Noon UT | 29 ta 36    |
02 May 1886 Noon UT | 29 ta 55    |
03 May 1886 Noon UT |  0 ge 14    |
04 May 1886 Noon UT |  0 ge 34    |
05 May 1886 Noon UT |  0 ge 53    |
06 May 1886 Noon UT |  1 ge 12    |
07 May 1886 Noon UT |  1 ge 31    |
08 May 1886 Noon UT |  1 ge 51    |
09 May 1886 Noon UT |  2 ge 10    |
10 May 1886 Noon UT |  2 ge 29    |
11 May 1886 Noon UT |  2 ge 49    |
12 May 1886 Noon UT |  3 ge  8    |
13 May 1886 Noon UT |  3 ge 27    |
14 May 1886 Noon UT |  3 ge 47    |
15 May 1886 Noon UT |  4 ge  6    |
16 May 1886 Noon UT |  4 ge 26    |
17 May 1886 Noon UT |  4 ge 45    |
18 May 1886 Noon UT |  5 ge  5    |
19 May 1886 Noon UT |  5 ge 24    |
20 May 1886 Noon UT |  5 ge 43    |
21 May 1886 Noon UT |  6 ge  3    |
22 May 1886 Noon UT |  6 ge 22    |
23 May 1886 Noon UT |  6 ge 42    |
24 May 1886 Noon UT |  7 ge  1    |
25 May 1886 Noon UT |  7 ge 21    |
26 May 1886 Noon UT |  7 ge 41    |
27 May 1886 Noon UT |  8 ge  0    |
28 May 1886 Noon UT |  8 ge 20    |
29 May 1886 Noon UT |  8 ge 39    |
30 May 1886 Noon UT |  8 ge 59    |
31 May 1886 Noon UT |  9 ge 18    |
01 Jun 1886 Noon UT |  9 ge 38    |
02 Jun 1886 Noon UT |  9 ge 57    |
03 Jun 1886 Noon UT | 10 ge 17    |
04 Jun 1886 Noon UT | 10 ge 36    |
05 Jun 1886 Noon UT | 10 ge 56    |
06 Jun 1886 Noon UT | 11 ge 15    |
07 Jun 1886 Noon UT | 11 ge 35    |
08 Jun 1886 Noon UT | 11 ge 55    |
09 Jun 1886 Noon UT | 12 ge 14    |
10 Jun 1886 Noon UT | 12 ge 34    |
11 Jun 1886 Noon UT | 12 ge 53    |
12 Jun 1886 Noon UT | 13 ge 12    |
13 Jun 1886 Noon UT | 13 ge 32    |
14 Jun 1886 Noon UT | 13 ge 51    |
15 Jun 1886 Noon UT | 14 ge 11    |
16 Jun 1886 Noon UT | 14 ge 30    |
17 Jun 1886 Noon UT | 14 ge 50    |
18 Jun 1886 Noon UT | 15 ge  9    |
19 Jun 1886 Noon UT | 15 ge 28    |
20 Jun 1886 Noon UT | 15 ge 48    |
21 Jun 1886 Noon UT | 16 ge  7    |
22 Jun 1886 Noon UT | 16 ge 26    |
23 Jun 1886 Noon UT | 16 ge 46    |
24 Jun 1886 Noon UT | 17 ge  5    |
25 Jun 1886 Noon UT | 17 ge 24    |
26 Jun 1886 Noon UT | 17 ge 44    |
27 Jun 1886 Noon UT | 18 ge  3    |
28 Jun 1886 Noon UT | 18 ge 22    |
29 Jun 1886 Noon UT | 18 ge 41    |
30 Jun 1886 Noon UT | 19 ge  0    |
01 Jul 1886 Noon UT | 19 ge 19    |
02 Jul 1886 Noon UT | 19 ge 38    |
03 Jul 1886 Noon UT | 19 ge 58    |
04 Jul 1886 Noon UT | 20 ge 17    |
05 Jul 1886 Noon UT | 20 ge 36    |
06 Jul 1886 Noon UT | 20 ge 54    |
07 Jul 1886 Noon UT | 21 ge 13    |
08 Jul 1886 Noon UT | 21 ge 32    |
09 Jul 1886 Noon UT | 21 ge 51    |
10 Jul 1886 Noon UT | 22 ge 10    |
11 Jul 1886 Noon UT | 22 ge 29    |
12 Jul 1886 Noon UT | 22 ge 47    |
13 Jul 1886 Noon UT | 23 ge  6    |
14 Jul 1886 Noon UT | 23 ge 25    |
15 Jul 1886 Noon UT | 23 ge 43    |
16 Jul 1886 Noon UT | 24 ge  2    |
17 Jul 1886 Noon UT | 24 ge 20    |
18 Jul 1886 Noon UT | 24 ge 39    |
19 Jul 1886 Noon UT | 24 ge 57    |
20 Jul 1886 Noon UT | 25 ge 16    |
21 Jul 1886 Noon UT | 25 ge 34    |
22 Jul 1886 Noon UT | 25 ge 52    |
23 Jul 1886 Noon UT | 26 ge 10    |
24 Jul 1886 Noon UT | 26 ge 29    |
25 Jul 1886 Noon UT | 26 ge 47    |
26 Jul 1886 Noon UT | 27 ge  5    |
27 Jul 1886 Noon UT | 27 ge 23    |
28 Jul 1886 Noon UT | 27 ge 41    |
29 Jul 1886 Noon UT | 27 ge 58    |
30 Jul 1886 Noon UT | 28 ge 16    |
31 Jul 1886 Noon UT | 28 ge 34    |
01 Aug 1886 Noon UT | 28 ge 52    |
02 Aug 1886 Noon UT | 29 ge  9    |
03 Aug 1886 Noon UT | 29 ge 27    |
04 Aug 1886 Noon UT | 29 ge 44    |
05 Aug 1886 Noon UT |  0 cn  2    |
06 Aug 1886 Noon UT |  0 cn 19    |
07 Aug 1886 Noon UT |  0 cn 36    |
08 Aug 1886 Noon UT |  0 cn 53    |
09 Aug 1886 Noon UT |  1 cn 11    |
10 Aug 1886 Noon UT |  1 cn 28    |
11 Aug 1886 Noon UT |  1 cn 45    |
12 Aug 1886 Noon UT |  2 cn  1    |
13 Aug 1886 Noon UT |  2 cn 18    |
14 Aug 1886 Noon UT |  2 cn 35    |
15 Aug 1886 Noon UT |  2 cn 52    |
16 Aug 1886 Noon UT |  3 cn  8    |
17 Aug 1886 Noon UT |  3 cn 24    |
18 Aug 1886 Noon UT |  3 cn 41    |
19 Aug 1886 Noon UT |  3 cn 57    |
20 Aug 1886 Noon UT |  4 cn 13    |
21 Aug 1886 Noon UT |  4 cn 29    |
22 Aug 1886 Noon UT |  4 cn 45    |
23 Aug 1886 Noon UT |  5 cn  1    |
24 Aug 1886 Noon UT |  5 cn 17    |
25 Aug 1886 Noon UT |  5 cn 33    |
26 Aug 1886 Noon UT |  5 cn 48    |
27 Aug 1886 Noon UT |  6 cn  4    |
28 Aug 1886 Noon UT |  6 cn 19    |
29 Aug 1886 Noon UT |  6 cn 34    |
30 Aug 1886 Noon UT |  6 cn 49    |
31 Aug 1886 Noon UT |  7 cn  4    |
01 Sep 1886 Noon UT |  7 cn 19    |
02 Sep 1886 Noon UT |  7 cn 34    |
03 Sep 1886 Noon UT |  7 cn 48    |
04 Sep 1886 Noon UT |  8 cn  3    |
05 Sep 1886 Noon UT |  8 cn 17    |
06 Sep 1886 Noon UT |  8 cn 31    |
07 Sep 1886 Noon UT |  8 cn 46    |
08 Sep 1886 Noon UT |  9 cn  0    |
09 Sep 1886 Noon UT |  9 cn 13    |
10 Sep 1886 Noon UT |  9 cn 27    |
11 Sep 1886 Noon UT |  9 cn 41    |
12 Sep 1886 Noon UT |  9 cn 54    |
13 Sep 1886 Noon UT | 10 cn  7    |
14 Sep 1886 Noon UT | 10 cn 20    |
15 Sep 1886 Noon UT | 10 cn 33    |
16 Sep 1886 Noon UT | 10 cn 46    |
17 Sep 1886 Noon UT | 10 cn 59    |
18 Sep 1886 Noon UT | 11 cn 11    |
19 Sep 1886 Noon UT | 11 cn 24    |
20 Sep 1886 Noon UT | 11 cn 36    |
21 Sep 1886 Noon UT | 11 cn 48    |
22 Sep 1886 Noon UT | 12 cn  0    |
23 Sep 1886 Noon UT | 12 cn 11    |
24 Sep 1886 Noon UT | 12 cn 23    |
25 Sep 1886 Noon UT | 12 cn 34    |
26 Sep 1886 Noon UT | 12 cn 45    |
27 Sep 1886 Noon UT | 12 cn 56    |
28 Sep 1886 Noon UT | 13 cn  7    |
29 Sep 1886 Noon UT | 13 cn 17    |
30 Sep 1886 Noon UT | 13 cn 28    |
01 Oct 1886 Noon UT | 13 cn 38    |
02 Oct 1886 Noon UT | 13 cn 48    |
03 Oct 1886 Noon UT | 13 cn 57    |
04 Oct 1886 Noon UT | 14 cn  7    |
05 Oct 1886 Noon UT | 14 cn 16    |
06 Oct 1886 Noon UT | 14 cn 25    |
07 Oct 1886 Noon UT | 14 cn 34    |
08 Oct 1886 Noon UT | 14 cn 43    |
09 Oct 1886 Noon UT | 14 cn 51    |
10 Oct 1886 Noon UT | 14 cn 59    |
11 Oct 1886 Noon UT | 15 cn  7    |
12 Oct 1886 Noon UT | 15 cn 15    |
13 Oct 1886 Noon UT | 15 cn 23    |
14 Oct 1886 Noon UT | 15 cn 30    |
15 Oct 1886 Noon UT | 15 cn 37    |
16 Oct 1886 Noon UT | 15 cn 44    |
17 Oct 1886 Noon UT | 15 cn 50    |
18 Oct 1886 Noon UT | 15 cn 57    |
19 Oct 1886 Noon UT | 16 cn  3    |
20 Oct 1886 Noon UT | 16 cn  8    |
21 Oct 1886 Noon UT | 16 cn 14    |
22 Oct 1886 Noon UT | 16 cn 19    |
23 Oct 1886 Noon UT | 16 cn 24    |
24 Oct 1886 Noon UT | 16 cn 29    |
25 Oct 1886 Noon UT | 16 cn 33    |
26 Oct 1886 Noon UT | 16 cn 37    |
27 Oct 1886 Noon UT | 16 cn 41    |
28 Oct 1886 Noon UT | 16 cn 45    |
29 Oct 1886 Noon UT | 16 cn 48    |
30 Oct 1886 Noon UT | 16 cn 51    |
31 Oct 1886 Noon UT | 16 cn 54    |
01 Nov 1886 Noon UT | 16 cn 56    |
02 Nov 1886 Noon UT | 16 cn 58    |
03 Nov 1886 Noon UT | 17 cn  0    |
04 Nov 1886 Noon UT | 17 cn  1    |
05 Nov 1886 Noon UT | 17 cn  3    |
06 Nov 1886 Noon UT | 17 cn  3    |
07 Nov 1886 Noon UT | 17 cn  4    |
08 Nov 1886 Noon UT | 17 cn  4    |
09 Nov 1886 Noon UT | 17 cn  4 Rx |
10 Nov 1886 Noon UT | 17 cn  4 Rx |
11 Nov 1886 Noon UT | 17 cn  3 Rx |
12 Nov 1886 Noon UT | 17 cn  2 Rx |
13 Nov 1886 Noon UT | 17 cn  1 Rx |
14 Nov 1886 Noon UT | 16 cn 59 Rx |
15 Nov 1886 Noon UT | 16 cn 57 Rx |
16 Nov 1886 Noon UT | 16 cn 55 Rx |
17 Nov 1886 Noon UT | 16 cn 53 Rx |
18 Nov 1886 Noon UT | 16 cn 50 Rx |
19 Nov 1886 Noon UT | 16 cn 47 Rx |
20 Nov 1886 Noon UT | 16 cn 43 Rx |
21 Nov 1886 Noon UT | 16 cn 39 Rx |
22 Nov 1886 Noon UT | 16 cn 35 Rx |
23 Nov 1886 Noon UT | 16 cn 31 Rx |
24 Nov 1886 Noon UT | 16 cn 26 Rx |
25 Nov 1886 Noon UT | 16 cn 21 Rx |
26 Nov 1886 Noon UT | 16 cn 15 Rx |
27 Nov 1886 Noon UT | 16 cn  9 Rx |
28 Nov 1886 Noon UT | 16 cn  3 Rx |
29 Nov 1886 Noon UT | 15 cn 57 Rx |
30 Nov 1886 Noon UT | 15 cn 50 Rx |
01 Dec 1886 Noon UT | 15 cn 44 Rx |
02 Dec 1886 Noon UT | 15 cn 36 Rx |
03 Dec 1886 Noon UT | 15 cn 29 Rx |
04 Dec 1886 Noon UT | 15 cn 21 Rx |
05 Dec 1886 Noon UT | 15 cn 13 Rx |
06 Dec 1886 Noon UT | 15 cn  5 Rx |
07 Dec 1886 Noon UT | 14 cn 56 Rx |
08 Dec 1886 Noon UT | 14 cn 47 Rx |
09 Dec 1886 Noon UT | 14 cn 38 Rx |
10 Dec 1886 Noon UT | 14 cn 29 Rx |
11 Dec 1886 Noon UT | 14 cn 19 Rx |
12 Dec 1886 Noon UT | 14 cn 10 Rx |
13 Dec 1886 Noon UT | 14 cn  0 Rx |
14 Dec 1886 Noon UT | 13 cn 49 Rx |
15 Dec 1886 Noon UT | 13 cn 39 Rx |
16 Dec 1886 Noon UT | 13 cn 28 Rx |
17 Dec 1886 Noon UT | 13 cn 18 Rx |
18 Dec 1886 Noon UT | 13 cn  7 Rx |
19 Dec 1886 Noon UT | 12 cn 55 Rx |
20 Dec 1886 Noon UT | 12 cn 44 Rx |
21 Dec 1886 Noon UT | 12 cn 33 Rx |
22 Dec 1886 Noon UT | 12 cn 21 Rx |
23 Dec 1886 Noon UT | 12 cn  9 Rx |
24 Dec 1886 Noon UT | 11 cn 58 Rx |
25 Dec 1886 Noon UT | 11 cn 46 Rx |
26 Dec 1886 Noon UT | 11 cn 34 Rx |
27 Dec 1886 Noon UT | 11 cn 22 Rx |
28 Dec 1886 Noon UT | 11 cn  9 Rx |
29 Dec 1886 Noon UT | 10 cn 57 Rx |
30 Dec 1886 Noon UT | 10 cn 45 Rx |
31 Dec 1886 Noon UT | 10 cn 33 Rx |
01 Jan 1887 Noon UT | 10 cn 20 Rx |
02 Jan 1887 Noon UT | 10 cn  8 Rx |
03 Jan 1887 Noon UT |  9 cn 56 Rx |
04 Jan 1887 Noon UT |  9 cn 44 Rx |
05 Jan 1887 Noon UT |  9 cn 31 Rx |
06 Jan 1887 Noon UT |  9 cn 19 Rx |
07 Jan 1887 Noon UT |  9 cn  7 Rx |
08 Jan 1887 Noon UT |  8 cn 55 Rx |
09 Jan 1887 Noon UT |  8 cn 43 Rx |
10 Jan 1887 Noon UT |  8 cn 31 Rx |
11 Jan 1887 Noon UT |  8 cn 20 Rx |
12 Jan 1887 Noon UT |  8 cn  8 Rx |
13 Jan 1887 Noon UT |  7 cn 57 Rx |
14 Jan 1887 Noon UT |  7 cn 45 Rx |
15 Jan 1887 Noon UT |  7 cn 34 Rx |
16 Jan 1887 Noon UT |  7 cn 23 Rx |
17 Jan 1887 Noon UT |  7 cn 12 Rx |
18 Jan 1887 Noon UT |  7 cn  1 Rx |
19 Jan 1887 Noon UT |  6 cn 51 Rx |
20 Jan 1887 Noon UT |  6 cn 40 Rx |
21 Jan 1887 Noon UT |  6 cn 30 Rx |
22 Jan 1887 Noon UT |  6 cn 20 Rx |
23 Jan 1887 Noon UT |  6 cn 11 Rx |
24 Jan 1887 Noon UT |  6 cn  1 Rx |
25 Jan 1887 Noon UT |  5 cn 52 Rx |
26 Jan 1887 Noon UT |  5 cn 43 Rx |
27 Jan 1887 Noon UT |  5 cn 34 Rx |
28 Jan 1887 Noon UT |  5 cn 26 Rx |
29 Jan 1887 Noon UT |  5 cn 18 Rx |
30 Jan 1887 Noon UT |  5 cn 10 Rx |
31 Jan 1887 Noon UT |  5 cn  2 Rx |
01 Feb 1887 Noon UT |  4 cn 55 Rx |
02 Feb 1887 Noon UT |  4 cn 48 Rx |
03 Feb 1887 Noon UT |  4 cn 41 Rx |
04 Feb 1887 Noon UT |  4 cn 35 Rx |
05 Feb 1887 Noon UT |  4 cn 29 Rx |
06 Feb 1887 Noon UT |  4 cn 23 Rx |
07 Feb 1887 Noon UT |  4 cn 18 Rx |
08 Feb 1887 Noon UT |  4 cn 12 Rx |
09 Feb 1887 Noon UT |  4 cn  8 Rx |
10 Feb 1887 Noon UT |  4 cn  3 Rx |
11 Feb 1887 Noon UT |  3 cn 59 Rx |
12 Feb 1887 Noon UT |  3 cn 55 Rx |
13 Feb 1887 Noon UT |  3 cn 51 Rx |
14 Feb 1887 Noon UT |  3 cn 48 Rx |
15 Feb 1887 Noon UT |  3 cn 45 Rx |
16 Feb 1887 Noon UT |  3 cn 43 Rx |
17 Feb 1887 Noon UT |  3 cn 40 Rx |
18 Feb 1887 Noon UT |  3 cn 38 Rx |
19 Feb 1887 Noon UT |  3 cn 37 Rx |
20 Feb 1887 Noon UT |  3 cn 35 Rx |
21 Feb 1887 Noon UT |  3 cn 34 Rx |
22 Feb 1887 Noon UT |  3 cn 34 Rx |
23 Feb 1887 Noon UT |  3 cn 34 Rx |
24 Feb 1887 Noon UT |  3 cn 34    |
25 Feb 1887 Noon UT |  3 cn 34    |
26 Feb 1887 Noon UT |  3 cn 35    |
27 Feb 1887 Noon UT |  3 cn 35    |
28 Feb 1887 Noon UT |  3 cn 37    |
01 Mar 1887 Noon UT |  3 cn 38    |
02 Mar 1887 Noon UT |  3 cn 40    |
03 Mar 1887 Noon UT |  3 cn 43    |
04 Mar 1887 Noon UT |  3 cn 45    |
05 Mar 1887 Noon UT |  3 cn 48    |
06 Mar 1887 Noon UT |  3 cn 51    |
07 Mar 1887 Noon UT |  3 cn 55    |
08 Mar 1887 Noon UT |  3 cn 58    |
09 Mar 1887 Noon UT |  4 cn  2    |
10 Mar 1887 Noon UT |  4 cn  7    |
11 Mar 1887 Noon UT |  4 cn 11    |
12 Mar 1887 Noon UT |  4 cn 16    |
13 Mar 1887 Noon UT |  4 cn 22    |
14 Mar 1887 Noon UT |  4 cn 27    |
15 Mar 1887 Noon UT |  4 cn 33    |
16 Mar 1887 Noon UT |  4 cn 39    |
17 Mar 1887 Noon UT |  4 cn 45    |
18 Mar 1887 Noon UT |  4 cn 52    |
19 Mar 1887 Noon UT |  4 cn 59    |
20 Mar 1887 Noon UT |  5 cn  6    |
21 Mar 1887 Noon UT |  5 cn 13    |
22 Mar 1887 Noon UT |  5 cn 21    |
23 Mar 1887 Noon UT |  5 cn 29    |
24 Mar 1887 Noon UT |  5 cn 37    |
25 Mar 1887 Noon UT |  5 cn 45    |
26 Mar 1887 Noon UT |  5 cn 54    |
27 Mar 1887 Noon UT |  6 cn  3    |
28 Mar 1887 Noon UT |  6 cn 12    |
29 Mar 1887 Noon UT |  6 cn 21    |
30 Mar 1887 Noon UT |  6 cn 31    |
31 Mar 1887 Noon UT |  6 cn 41    |
01 Apr 1887 Noon UT |  6 cn 51    |
02 Apr 1887 Noon UT |  7 cn  1    |
03 Apr 1887 Noon UT |  7 cn 11    |
04 Apr 1887 Noon UT |  7 cn 22    |
05 Apr 1887 Noon UT |  7 cn 33    |
06 Apr 1887 Noon UT |  7 cn 44    |
07 Apr 1887 Noon UT |  7 cn 55    |
08 Apr 1887 Noon UT |  8 cn  7    |
09 Apr 1887 Noon UT |  8 cn 18    |
10 Apr 1887 Noon UT |  8 cn 30    |
11 Apr 1887 Noon UT |  8 cn 42    |
12 Apr 1887 Noon UT |  8 cn 55    |
13 Apr 1887 Noon UT |  9 cn  7    |
14 Apr 1887 Noon UT |  9 cn 20    |
15 Apr 1887 Noon UT |  9 cn 33    |
16 Apr 1887 Noon UT |  9 cn 46    |
17 Apr 1887 Noon UT |  9 cn 59    |
18 Apr 1887 Noon UT | 10 cn 12    |
19 Apr 1887 Noon UT | 10 cn 26    |
20 Apr 1887 Noon UT | 10 cn 39    |
21 Apr 1887 Noon UT | 10 cn 53    |
22 Apr 1887 Noon UT | 11 cn  7    |
23 Apr 1887 Noon UT | 11 cn 21    |
24 Apr 1887 Noon UT | 11 cn 36    |
25 Apr 1887 Noon UT | 11 cn 50    |
26 Apr 1887 Noon UT | 12 cn  5    |
27 Apr 1887 Noon UT | 12 cn 20    |
28 Apr 1887 Noon UT | 12 cn 35    |
29 Apr 1887 Noon UT | 12 cn 50    |
30 Apr 1887 Noon UT | 13 cn  5    |
01 May 1887 Noon UT | 13 cn 21    |
02 May 1887 Noon UT | 13 cn 36    |
03 May 1887 Noon UT | 13 cn 52    |
04 May 1887 Noon UT | 14 cn  8    |
05 May 1887 Noon UT | 14 cn 23    |
06 May 1887 Noon UT | 14 cn 39    |
07 May 1887 Noon UT | 14 cn 56    |
08 May 1887 Noon UT | 15 cn 12    |
09 May 1887 Noon UT | 15 cn 28    |
10 May 1887 Noon UT | 15 cn 45    |
11 May 1887 Noon UT | 16 cn  2    |
12 May 1887 Noon UT | 16 cn 18    |
13 May 1887 Noon UT | 16 cn 35    |
14 May 1887 Noon UT | 16 cn 52    |
15 May 1887 Noon UT | 17 cn  9    |
16 May 1887 Noon UT | 17 cn 27    |
17 May 1887 Noon UT | 17 cn 44    |
18 May 1887 Noon UT | 18 cn  1    |
19 May 1887 Noon UT | 18 cn 19    |
20 May 1887 Noon UT | 18 cn 37    |
21 May 1887 Noon UT | 18 cn 54    |
22 May 1887 Noon UT | 19 cn 12    |
23 May 1887 Noon UT | 19 cn 30    |
24 May 1887 Noon UT | 19 cn 48    |
25 May 1887 Noon UT | 20 cn  6    |
26 May 1887 Noon UT | 20 cn 25    |
27 May 1887 Noon UT | 20 cn 43    |
28 May 1887 Noon UT | 21 cn  1    |
29 May 1887 Noon UT | 21 cn 20    |
30 May 1887 Noon UT | 21 cn 38    |
31 May 1887 Noon UT | 21 cn 57    |
01 Jun 1887 Noon UT | 22 cn 16    |
02 Jun 1887 Noon UT | 22 cn 35    |
03 Jun 1887 Noon UT | 22 cn 54    |
04 Jun 1887 Noon UT | 23 cn 13    |
05 Jun 1887 Noon UT | 23 cn 32    |
06 Jun 1887 Noon UT | 23 cn 51    |
07 Jun 1887 Noon UT | 24 cn 10    |
08 Jun 1887 Noon UT | 24 cn 29    |
09 Jun 1887 Noon UT | 24 cn 49    |
10 Jun 1887 Noon UT | 25 cn  8    |
11 Jun 1887 Noon UT | 25 cn 28    |
12 Jun 1887 Noon UT | 25 cn 47    |
13 Jun 1887 Noon UT | 26 cn  7    |
14 Jun 1887 Noon UT | 26 cn 27    |
15 Jun 1887 Noon UT | 26 cn 46    |
16 Jun 1887 Noon UT | 27 cn  6    |
17 Jun 1887 Noon UT | 27 cn 26    |
18 Jun 1887 Noon UT | 27 cn 46    |
19 Jun 1887 Noon UT | 28 cn  6    |
20 Jun 1887 Noon UT | 28 cn 26    |
21 Jun 1887 Noon UT | 28 cn 46    |
22 Jun 1887 Noon UT | 29 cn  7    |
23 Jun 1887 Noon UT | 29 cn 27    |
24 Jun 1887 Noon UT | 29 cn 47    |
25 Jun 1887 Noon UT |  0 le  8    |
26 Jun 1887 Noon UT |  0 le 28    |
27 Jun 1887 Noon UT |  0 le 48    |
28 Jun 1887 Noon UT |  1 le  9    |
29 Jun 1887 Noon UT |  1 le 30    |
30 Jun 1887 Noon UT |  1 le 50    |
01 Jul 1887 Noon UT |  2 le 11    |
02 Jul 1887 Noon UT |  2 le 32    |
03 Jul 1887 Noon UT |  2 le 52    |
04 Jul 1887 Noon UT |  3 le 13    |
05 Jul 1887 Noon UT |  3 le 34    |
06 Jul 1887 Noon UT |  3 le 55    |
07 Jul 1887 Noon UT |  4 le 16    |
08 Jul 1887 Noon UT |  4 le 37    |
09 Jul 1887 Noon UT |  4 le 58    |
10 Jul 1887 Noon UT |  5 le 19    |
11 Jul 1887 Noon UT |  5 le 40    |
12 Jul 1887 Noon UT |  6 le  1    |
13 Jul 1887 Noon UT |  6 le 22    |
14 Jul 1887 Noon UT |  6 le 43    |
15 Jul 1887 Noon UT |  7 le  5    |
16 Jul 1887 Noon UT |  7 le 26    |
17 Jul 1887 Noon UT |  7 le 47    |
18 Jul 1887 Noon UT |  8 le  9    |
19 Jul 1887 Noon UT |  8 le 30    |
20 Jul 1887 Noon UT |  8 le 51    |
21 Jul 1887 Noon UT |  9 le 13    |
22 Jul 1887 Noon UT |  9 le 34    |
23 Jul 1887 Noon UT |  9 le 56    |
24 Jul 1887 Noon UT | 10 le 17    |
25 Jul 1887 Noon UT | 10 le 39    |
26 Jul 1887 Noon UT | 11 le  0    |
27 Jul 1887 Noon UT | 11 le 22    |
28 Jul 1887 Noon UT | 11 le 43    |
29 Jul 1887 Noon UT | 12 le  5    |
30 Jul 1887 Noon UT | 12 le 27    |
31 Jul 1887 Noon UT | 12 le 48    |
01 Aug 1887 Noon UT | 13 le 10    |
02 Aug 1887 Noon UT | 13 le 32    |
03 Aug 1887 Noon UT | 13 le 54    |
04 Aug 1887 Noon UT | 14 le 15    |
05 Aug 1887 Noon UT | 14 le 37    |
06 Aug 1887 Noon UT | 14 le 59    |
07 Aug 1887 Noon UT | 15 le 21    |
08 Aug 1887 Noon UT | 15 le 42    |
09 Aug 1887 Noon UT | 16 le  4    |
10 Aug 1887 Noon UT | 16 le 26    |
11 Aug 1887 Noon UT | 16 le 48    |
12 Aug 1887 Noon UT | 17 le 10    |
13 Aug 1887 Noon UT | 17 le 32    |
14 Aug 1887 Noon UT | 17 le 54    |
15 Aug 1887 Noon UT | 18 le 15    |
16 Aug 1887 Noon UT | 18 le 37    |
17 Aug 1887 Noon UT | 18 le 59    |
18 Aug 1887 Noon UT | 19 le 21    |
19 Aug 1887 Noon UT | 19 le 43    |
20 Aug 1887 Noon UT | 20 le  5    |
21 Aug 1887 Noon UT | 20 le 27    |
22 Aug 1887 Noon UT | 20 le 49    |
23 Aug 1887 Noon UT | 21 le 11    |
24 Aug 1887 Noon UT | 21 le 33    |
25 Aug 1887 Noon UT | 21 le 55    |
26 Aug 1887 Noon UT | 22 le 17    |
27 Aug 1887 Noon UT | 22 le 39    |
28 Aug 1887 Noon UT | 23 le  1    |
29 Aug 1887 Noon UT | 23 le 22    |
30 Aug 1887 Noon UT | 23 le 44    |
31 Aug 1887 Noon UT | 24 le  6    |
01 Sep 1887 Noon UT | 24 le 28    |
02 Sep 1887 Noon UT | 24 le 50    |
03 Sep 1887 Noon UT | 25 le 12    |
04 Sep 1887 Noon UT | 25 le 34    |
05 Sep 1887 Noon UT | 25 le 56    |
06 Sep 1887 Noon UT | 26 le 18    |
07 Sep 1887 Noon UT | 26 le 39    |
08 Sep 1887 Noon UT | 27 le  1    |
09 Sep 1887 Noon UT | 27 le 23    |
10 Sep 1887 Noon UT | 27 le 45    |
11 Sep 1887 Noon UT | 28 le  7    |
12 Sep 1887 Noon UT | 28 le 29    |
13 Sep 1887 Noon UT | 28 le 50    |
14 Sep 1887 Noon UT | 29 le 12    |
15 Sep 1887 Noon UT | 29 le 34    |
16 Sep 1887 Noon UT | 29 le 56    |
17 Sep 1887 Noon UT |  0 vi 17    |
18 Sep 1887 Noon UT |  0 vi 39    |
19 Sep 1887 Noon UT |  1 vi  1    |
20 Sep 1887 Noon UT |  1 vi 22    |
21 Sep 1887 Noon UT |  1 vi 44    |
22 Sep 1887 Noon UT |  2 vi  5    |
23 Sep 1887 Noon UT |  2 vi 27    |
24 Sep 1887 Noon UT |  2 vi 49    |
25 Sep 1887 Noon UT |  3 vi 10    |
26 Sep 1887 Noon UT |  3 vi 32    |
27 Sep 1887 Noon UT |  3 vi 53    |
28 Sep 1887 Noon UT |  4 vi 14    |
29 Sep 1887 Noon UT |  4 vi 36    |
30 Sep 1887 Noon UT |  4 vi 57    |
01 Oct 1887 Noon UT |  5 vi 18    |
02 Oct 1887 Noon UT |  5 vi 40    |
03 Oct 1887 Noon UT |  6 vi  1    |
04 Oct 1887 Noon UT |  6 vi 22    |
05 Oct 1887 Noon UT |  6 vi 43    |
06 Oct 1887 Noon UT |  7 vi  4    |
07 Oct 1887 Noon UT |  7 vi 25    |
08 Oct 1887 Noon UT |  7 vi 46    |
09 Oct 1887 Noon UT |  8 vi  7    |
10 Oct 1887 Noon UT |  8 vi 28    |
11 Oct 1887 Noon UT |  8 vi 49    |
12 Oct 1887 Noon UT |  9 vi 10    |
13 Oct 1887 Noon UT |  9 vi 30    |
14 Oct 1887 Noon UT |  9 vi 51    |
15 Oct 1887 Noon UT | 10 vi 12    |
16 Oct 1887 Noon UT | 10 vi 32    |
17 Oct 1887 Noon UT | 10 vi 53    |
18 Oct 1887 Noon UT | 11 vi 13    |
19 Oct 1887 Noon UT | 11 vi 34    |
20 Oct 1887 Noon UT | 11 vi 54    |
21 Oct 1887 Noon UT | 12 vi 14    |
22 Oct 1887 Noon UT | 12 vi 35    |
23 Oct 1887 Noon UT | 12 vi 55    |
24 Oct 1887 Noon UT | 13 vi 15    |
25 Oct 1887 Noon UT | 13 vi 35    |
26 Oct 1887 Noon UT | 13 vi 55    |
27 Oct 1887 Noon UT | 14 vi 15    |
28 Oct 1887 Noon UT | 14 vi 34    |
29 Oct 1887 Noon UT | 14 vi 54    |
30 Oct 1887 Noon UT | 15 vi 14    |
31 Oct 1887 Noon UT | 15 vi 33    |
01 Nov 1887 Noon UT | 15 vi 53    |
02 Nov 1887 Noon UT | 16 vi 12    |
03 Nov 1887 Noon UT | 16 vi 31    |
04 Nov 1887 Noon UT | 16 vi 50    |
05 Nov 1887 Noon UT | 17 vi  9    |
06 Nov 1887 Noon UT | 17 vi 28    |
07 Nov 1887 Noon UT | 17 vi 47    |
08 Nov 1887 Noon UT | 18 vi  6    |
09 Nov 1887 Noon UT | 18 vi 25    |
10 Nov 1887 Noon UT | 18 vi 43    |
11 Nov 1887 Noon UT | 19 vi  2    |
12 Nov 1887 Noon UT | 19 vi 20    |
13 Nov 1887 Noon UT | 19 vi 38    |
14 Nov 1887 Noon UT | 19 vi 57    |
15 Nov 1887 Noon UT | 20 vi 15    |
16 Nov 1887 Noon UT | 20 vi 33    |
17 Nov 1887 Noon UT | 20 vi 50    |
18 Nov 1887 Noon UT | 21 vi  8    |
19 Nov 1887 Noon UT | 21 vi 26    |
20 Nov 1887 Noon UT | 21 vi 43    |
21 Nov 1887 Noon UT | 22 vi  0    |
22 Nov 1887 Noon UT | 22 vi 17    |
23 Nov 1887 Noon UT | 22 vi 34    |
24 Nov 1887 Noon UT | 22 vi 51    |
25 Nov 1887 Noon UT | 23 vi  8    |
26 Nov 1887 Noon UT | 23 vi 25    |
27 Nov 1887 Noon UT | 23 vi 41    |
28 Nov 1887 Noon UT | 23 vi 57    |
29 Nov 1887 Noon UT | 24 vi 14    |
30 Nov 1887 Noon UT | 24 vi 29    |
01 Dec 1887 Noon UT | 24 vi 45    |
02 Dec 1887 Noon UT | 25 vi  1    |
03 Dec 1887 Noon UT | 25 vi 17    |
04 Dec 1887 Noon UT | 25 vi 32    |
05 Dec 1887 Noon UT | 25 vi 47    |
06 Dec 1887 Noon UT | 26 vi  2    |
07 Dec 1887 Noon UT | 26 vi 17    |
08 Dec 1887 Noon UT | 26 vi 32    |
09 Dec 1887 Noon UT | 26 vi 46    |
10 Dec 1887 Noon UT | 27 vi  0    |
11 Dec 1887 Noon UT | 27 vi 14    |
12 Dec 1887 Noon UT | 27 vi 28    |
13 Dec 1887 Noon UT | 27 vi 42    |
14 Dec 1887 Noon UT | 27 vi 55    |
15 Dec 1887 Noon UT | 28 vi  9    |
16 Dec 1887 Noon UT | 28 vi 22    |
17 Dec 1887 Noon UT | 28 vi 35    |
18 Dec 1887 Noon UT | 28 vi 47    |
19 Dec 1887 Noon UT | 29 vi  0    |
20 Dec 1887 Noon UT | 29 vi 12    |
21 Dec 1887 Noon UT | 29 vi 24    |
22 Dec 1887 Noon UT | 29 vi 36    |
23 Dec 1887 Noon UT | 29 vi 47    |
24 Dec 1887 Noon UT | 29 vi 59    |
25 Dec 1887 Noon UT |  0 li 10    |
26 Dec 1887 Noon UT |  0 li 20    |
27 Dec 1887 Noon UT |  0 li 31    |
28 Dec 1887 Noon UT |  0 li 41    |
29 Dec 1887 Noon UT |  0 li 51    |
30 Dec 1887 Noon UT |  1 li  1    |
31 Dec 1887 Noon UT |  1 li 11    |
01 Jan 1888 Noon UT |  1 li 20    |
02 Jan 1888 Noon UT |  1 li 29    |
03 Jan 1888 Noon UT |  1 li 38    |
04 Jan 1888 Noon UT |  1 li 46    |
05 Jan 1888 Noon UT |  1 li 54    |
06 Jan 1888 Noon UT |  2 li  2    |
07 Jan 1888 Noon UT |  2 li 10    |
08 Jan 1888 Noon UT |  2 li 17    |
09 Jan 1888 Noon UT |  2 li 24    |
10 Jan 1888 Noon UT |  2 li 31    |
11 Jan 1888 Noon UT |  2 li 37    |
12 Jan 1888 Noon UT |  2 li 43    |
13 Jan 1888 Noon UT |  2 li 49    |
14 Jan 1888 Noon UT |  2 li 54    |
15 Jan 1888 Noon UT |  2 li 59    |
16 Jan 1888 Noon UT |  3 li  4    |
17 Jan 1888 Noon UT |  3 li  8    |
18 Jan 1888 Noon UT |  3 li 13    |
19 Jan 1888 Noon UT |  3 li 16    |
20 Jan 1888 Noon UT |  3 li 20    |
21 Jan 1888 Noon UT |  3 li 23    |
22 Jan 1888 Noon UT |  3 li 26    |
23 Jan 1888 Noon UT |  3 li 28    |
24 Jan 1888 Noon UT |  3 li 30    |
25 Jan 1888 Noon UT |  3 li 32    |
26 Jan 1888 Noon UT |  3 li 33    |
27 Jan 1888 Noon UT |  3 li 34    |
28 Jan 1888 Noon UT |  3 li 35    |
29 Jan 1888 Noon UT |  3 li 35    |
30 Jan 1888 Noon UT |  3 li 35 Rx |
31 Jan 1888 Noon UT |  3 li 35 Rx |
01 Feb 1888 Noon UT |  3 li 34 Rx |
02 Feb 1888 Noon UT |  3 li 33 Rx |
03 Feb 1888 Noon UT |  3 li 31 Rx |
04 Feb 1888 Noon UT |  3 li 29 Rx |
05 Feb 1888 Noon UT |  3 li 27 Rx |
06 Feb 1888 Noon UT |  3 li 25 Rx |
07 Feb 1888 Noon UT |  3 li 22 Rx |
08 Feb 1888 Noon UT |  3 li 18 Rx |
09 Feb 1888 Noon UT |  3 li 15 Rx |
10 Feb 1888 Noon UT |  3 li 11 Rx |
11 Feb 1888 Noon UT |  3 li  6 Rx |
12 Feb 1888 Noon UT |  3 li  2 Rx |
13 Feb 1888 Noon UT |  2 li 56 Rx |
14 Feb 1888 Noon UT |  2 li 51 Rx |
15 Feb 1888 Noon UT |  2 li 45 Rx |
16 Feb 1888 Noon UT |  2 li 39 Rx |
17 Feb 1888 Noon UT |  2 li 33 Rx |
18 Feb 1888 Noon UT |  2 li 26 Rx |
19 Feb 1888 Noon UT |  2 li 19 Rx |
20 Feb 1888 Noon UT |  2 li 11 Rx |
21 Feb 1888 Noon UT |  2 li  3 Rx |
22 Feb 1888 Noon UT |  1 li 55 Rx |
23 Feb 1888 Noon UT |  1 li 47 Rx |
24 Feb 1888 Noon UT |  1 li 38 Rx |
25 Feb 1888 Noon UT |  1 li 30 Rx |
26 Feb 1888 Noon UT |  1 li 20 Rx |
27 Feb 1888 Noon UT |  1 li 11 Rx |
28 Feb 1888 Noon UT |  1 li  1 Rx |
29 Feb 1888 Noon UT |  0 li 51 Rx |
01 Mar 1888 Noon UT |  0 li 41 Rx |
02 Mar 1888 Noon UT |  0 li 31 Rx |
03 Mar 1888 Noon UT |  0 li 20 Rx |
04 Mar 1888 Noon UT |  0 li  9 Rx |
05 Mar 1888 Noon UT | 29 vi 58 Rx |
06 Mar 1888 Noon UT | 29 vi 47 Rx |
07 Mar 1888 Noon UT | 29 vi 35 Rx |
08 Mar 1888 Noon UT | 29 vi 24 Rx |
09 Mar 1888 Noon UT | 29 vi 12 Rx |
10 Mar 1888 Noon UT | 29 vi  0 Rx |
11 Mar 1888 Noon UT | 28 vi 48 Rx |
12 Mar 1888 Noon UT | 28 vi 36 Rx |
13 Mar 1888 Noon UT | 28 vi 24 Rx |
14 Mar 1888 Noon UT | 28 vi 12 Rx |
15 Mar 1888 Noon UT | 28 vi  0 Rx |
16 Mar 1888 Noon UT | 27 vi 47 Rx |
17 Mar 1888 Noon UT | 27 vi 35 Rx |
18 Mar 1888 Noon UT | 27 vi 22 Rx |
19 Mar 1888 Noon UT | 27 vi 10 Rx |
20 Mar 1888 Noon UT | 26 vi 58 Rx |
21 Mar 1888 Noon UT | 26 vi 45 Rx |
22 Mar 1888 Noon UT | 26 vi 33 Rx |
23 Mar 1888 Noon UT | 26 vi 21 Rx |
24 Mar 1888 Noon UT | 26 vi  9 Rx |
25 Mar 1888 Noon UT | 25 vi 56 Rx |
26 Mar 1888 Noon UT | 25 vi 44 Rx |
27 Mar 1888 Noon UT | 25 vi 33 Rx |
28 Mar 1888 Noon UT | 25 vi 21 Rx |
29 Mar 1888 Noon UT | 25 vi  9 Rx |
30 Mar 1888 Noon UT | 24 vi 58 Rx |
31 Mar 1888 Noon UT | 24 vi 46 Rx |
01 Apr 1888 Noon UT | 24 vi 35 Rx |
02 Apr 1888 Noon UT | 24 vi 24 Rx |
03 Apr 1888 Noon UT | 24 vi 13 Rx |
04 Apr 1888 Noon UT | 24 vi  3 Rx |
05 Apr 1888 Noon UT | 23 vi 52 Rx |
06 Apr 1888 Noon UT | 23 vi 42 Rx |
07 Apr 1888 Noon UT | 23 vi 32 Rx |
08 Apr 1888 Noon UT | 23 vi 23 Rx |
09 Apr 1888 Noon UT | 23 vi 13 Rx |
10 Apr 1888 Noon UT | 23 vi  4 Rx |
11 Apr 1888 Noon UT | 22 vi 55 Rx |
12 Apr 1888 Noon UT | 22 vi 47 Rx |
13 Apr 1888 Noon UT | 22 vi 38 Rx |
14 Apr 1888 Noon UT | 22 vi 31 Rx |
15 Apr 1888 Noon UT | 22 vi 23 Rx |
16 Apr 1888 Noon UT | 22 vi 16 Rx |
17 Apr 1888 Noon UT | 22 vi  9 Rx |
18 Apr 1888 Noon UT | 22 vi  2 Rx |
19 Apr 1888 Noon UT | 21 vi 56 Rx |
20 Apr 1888 Noon UT | 21 vi 50 Rx |
21 Apr 1888 Noon UT | 21 vi 44 Rx |
22 Apr 1888 Noon UT | 21 vi 39 Rx |
23 Apr 1888 Noon UT | 21 vi 34 Rx |
24 Apr 1888 Noon UT | 21 vi 29 Rx |
25 Apr 1888 Noon UT | 21 vi 25 Rx |
26 Apr 1888 Noon UT | 21 vi 21 Rx |
27 Apr 1888 Noon UT | 21 vi 17 Rx |
28 Apr 1888 Noon UT | 21 vi 14 Rx |
29 Apr 1888 Noon UT | 21 vi 11 Rx |
30 Apr 1888 Noon UT | 21 vi  9 Rx |
01 May 1888 Noon UT | 21 vi  7 Rx |
02 May 1888 Noon UT | 21 vi  5 Rx |
03 May 1888 Noon UT | 21 vi  4 Rx |
04 May 1888 Noon UT | 21 vi  3 Rx |
05 May 1888 Noon UT | 21 vi  2 Rx |
06 May 1888 Noon UT | 21 vi  2 Rx |
07 May 1888 Noon UT | 21 vi  2    |
08 May 1888 Noon UT | 21 vi  2    |
09 May 1888 Noon UT | 21 vi  3    |
10 May 1888 Noon UT | 21 vi  4    |
11 May 1888 Noon UT | 21 vi  6    |
12 May 1888 Noon UT | 21 vi  7    |
13 May 1888 Noon UT | 21 vi 10    |
14 May 1888 Noon UT | 21 vi 12    |
15 May 1888 Noon UT | 21 vi 15    |
16 May 1888 Noon UT | 21 vi 19    |
17 May 1888 Noon UT | 21 vi 22    |
18 May 1888 Noon UT | 21 vi 26    |
19 May 1888 Noon UT | 21 vi 30    |
20 May 1888 Noon UT | 21 vi 35    |
21 May 1888 Noon UT | 21 vi 40    |
22 May 1888 Noon UT | 21 vi 45    |
23 May 1888 Noon UT | 21 vi 51    |
24 May 1888 Noon UT | 21 vi 57    |
25 May 1888 Noon UT | 22 vi  3    |
26 May 1888 Noon UT | 22 vi 10    |
27 May 1888 Noon UT | 22 vi 17    |
28 May 1888 Noon UT | 22 vi 24    |
29 May 1888 Noon UT | 22 vi 31    |
30 May 1888 Noon UT | 22 vi 39    |
31 May 1888 Noon UT | 22 vi 47    |
01 Jun 1888 Noon UT | 22 vi 56    |
02 Jun 1888 Noon UT | 23 vi  4    |
03 Jun 1888 Noon UT | 23 vi 13    |
04 Jun 1888 Noon UT | 23 vi 23    |
05 Jun 1888 Noon UT | 23 vi 32    |
06 Jun 1888 Noon UT | 23 vi 42    |
07 Jun 1888 Noon UT | 23 vi 52    |
08 Jun 1888 Noon UT | 24 vi  2    |
09 Jun 1888 Noon UT | 24 vi 13    |
10 Jun 1888 Noon UT | 24 vi 24    |
11 Jun 1888 Noon UT | 24 vi 35    |
12 Jun 1888 Noon UT | 24 vi 47    |
13 Jun 1888 Noon UT | 24 vi 58    |
14 Jun 1888 Noon UT | 25 vi 10    |
15 Jun 1888 Noon UT | 25 vi 22    |
16 Jun 1888 Noon UT | 25 vi 35    |
17 Jun 1888 Noon UT | 25 vi 47    |
18 Jun 1888 Noon UT | 26 vi  0    |
19 Jun 1888 Noon UT | 26 vi 13    |
20 Jun 1888 Noon UT | 26 vi 27    |
21 Jun 1888 Noon UT | 26 vi 40    |
22 Jun 1888 Noon UT | 26 vi 54    |
23 Jun 1888 Noon UT | 27 vi  8    |
24 Jun 1888 Noon UT | 27 vi 22    |
25 Jun 1888 Noon UT | 27 vi 37    |
26 Jun 1888 Noon UT | 27 vi 51    |
27 Jun 1888 Noon UT | 28 vi  6    |
28 Jun 1888 Noon UT | 28 vi 21    |
29 Jun 1888 Noon UT | 28 vi 36    |
30 Jun 1888 Noon UT | 28 vi 52    |
01 Jul 1888 Noon UT | 29 vi  7    |
02 Jul 1888 Noon UT | 29 vi 23    |
03 Jul 1888 Noon UT | 29 vi 39    |
04 Jul 1888 Noon UT | 29 vi 55    |
05 Jul 1888 Noon UT |  0 li 12    |
06 Jul 1888 Noon UT |  0 li 28    |
07 Jul 1888 Noon UT |  0 li 45    |
08 Jul 1888 Noon UT |  1 li  2    |
09 Jul 1888 Noon UT |  1 li 19    |
10 Jul 1888 Noon UT |  1 li 36    |
11 Jul 1888 Noon UT |  1 li 53    |
12 Jul 1888 Noon UT |  2 li 11    |
13 Jul 1888 Noon UT |  2 li 29    |
14 Jul 1888 Noon UT |  2 li 47    |
15 Jul 1888 Noon UT |  3 li  5    |
16 Jul 1888 Noon UT |  3 li 23    |
17 Jul 1888 Noon UT |  3 li 41    |
18 Jul 1888 Noon UT |  4 li  0    |
19 Jul 1888 Noon UT |  4 li 18    |
20 Jul 1888 Noon UT |  4 li 37    |
21 Jul 1888 Noon UT |  4 li 56    |
22 Jul 1888 Noon UT |  5 li 15    |
23 Jul 1888 Noon UT |  5 li 34    |
24 Jul 1888 Noon UT |  5 li 54    |
25 Jul 1888 Noon UT |  6 li 13    |
26 Jul 1888 Noon UT |  6 li 33    |
27 Jul 1888 Noon UT |  6 li 52    |
28 Jul 1888 Noon UT |  7 li 12    |
29 Jul 1888 Noon UT |  7 li 32    |
30 Jul 1888 Noon UT |  7 li 52    |
31 Jul 1888 Noon UT |  8 li 12    |
01 Aug 1888 Noon UT |  8 li 33    |
02 Aug 1888 Noon UT |  8 li 53    |
03 Aug 1888 Noon UT |  9 li 14    |
04 Aug 1888 Noon UT |  9 li 35    |
05 Aug 1888 Noon UT |  9 li 55    |
06 Aug 1888 Noon UT | 10 li 16    |
07 Aug 1888 Noon UT | 10 li 37    |
08 Aug 1888 Noon UT | 10 li 58    |
09 Aug 1888 Noon UT | 11 li 20    |
10 Aug 1888 Noon UT | 11 li 41    |
11 Aug 1888 Noon UT | 12 li  2    |
12 Aug 1888 Noon UT | 12 li 24    |
13 Aug 1888 Noon UT | 12 li 46    |
14 Aug 1888 Noon UT | 13 li  7    |
15 Aug 1888 Noon UT | 13 li 29    |
16 Aug 1888 Noon UT | 13 li 51    |
17 Aug 1888 Noon UT | 14 li 13    |
18 Aug 1888 Noon UT | 14 li 35    |
19 Aug 1888 Noon UT | 14 li 57    |
20 Aug 1888 Noon UT | 15 li 20    |
21 Aug 1888 Noon UT | 15 li 42    |
22 Aug 1888 Noon UT | 16 li  5    |
23 Aug 1888 Noon UT | 16 li 27    |
24 Aug 1888 Noon UT | 16 li 50    |
25 Aug 1888 Noon UT | 17 li 13    |
26 Aug 1888 Noon UT | 17 li 35    |
27 Aug 1888 Noon UT | 17 li 58    |
28 Aug 1888 Noon UT | 18 li 21    |
29 Aug 1888 Noon UT | 18 li 44    |
30 Aug 1888 Noon UT | 19 li  7    |
31 Aug 1888 Noon UT | 19 li 30    |
01 Sep 1888 Noon UT | 19 li 54    |
02 Sep 1888 Noon UT | 20 li 17    |
03 Sep 1888 Noon UT | 20 li 40    |
04 Sep 1888 Noon UT | 21 li  4    |
05 Sep 1888 Noon UT | 21 li 27    |
06 Sep 1888 Noon UT | 21 li 51    |
07 Sep 1888 Noon UT | 22 li 15    |
08 Sep 1888 Noon UT | 22 li 38    |
09 Sep 1888 Noon UT | 23 li  2    |
10 Sep 1888 Noon UT | 23 li 26    |
11 Sep 1888 Noon UT | 23 li 50    |
12 Sep 1888 Noon UT | 24 li 14    |
13 Sep 1888 Noon UT | 24 li 38    |
14 Sep 1888 Noon UT | 25 li  2    |
15 Sep 1888 Noon UT | 25 li 26    |
16 Sep 1888 Noon UT | 25 li 51    |
17 Sep 1888 Noon UT | 26 li 15    |
18 Sep 1888 Noon UT | 26 li 39    |
19 Sep 1888 Noon UT | 27 li  4    |
20 Sep 1888 Noon UT | 27 li 28    |
21 Sep 1888 Noon UT | 27 li 52    |
22 Sep 1888 Noon UT | 28 li 17    |
23 Sep 1888 Noon UT | 28 li 42    |
24 Sep 1888 Noon UT | 29 li  6    |
25 Sep 1888 Noon UT | 29 li 31    |
26 Sep 1888 Noon UT | 29 li 56    |
27 Sep 1888 Noon UT |  0 sc 20    |
28 Sep 1888 Noon UT |  0 sc 45    |
29 Sep 1888 Noon UT |  1 sc 10    |
30 Sep 1888 Noon UT |  1 sc 35    |
01 Oct 1888 Noon UT |  2 sc  0    |
02 Oct 1888 Noon UT |  2 sc 25    |
03 Oct 1888 Noon UT |  2 sc 50    |
04 Oct 1888 Noon UT |  3 sc 15    |
05 Oct 1888 Noon UT |  3 sc 40    |
06 Oct 1888 Noon UT |  4 sc  5    |
07 Oct 1888 Noon UT |  4 sc 30    |
08 Oct 1888 Noon UT |  4 sc 56    |
09 Oct 1888 Noon UT |  5 sc 21    |
10 Oct 1888 Noon UT |  5 sc 46    |
11 Oct 1888 Noon UT |  6 sc 11    |
12 Oct 1888 Noon UT |  6 sc 37    |
13 Oct 1888 Noon UT |  7 sc  2    |
14 Oct 1888 Noon UT |  7 sc 28    |
15 Oct 1888 Noon UT |  7 sc 53    |
16 Oct 1888 Noon UT |  8 sc 19    |
17 Oct 1888 Noon UT |  8 sc 44    |
18 Oct 1888 Noon UT |  9 sc 10    |
19 Oct 1888 Noon UT |  9 sc 35    |
20 Oct 1888 Noon UT | 10 sc  1    |
21 Oct 1888 Noon UT | 10 sc 26    |
22 Oct 1888 Noon UT | 10 sc 52    |
23 Oct 1888 Noon UT | 11 sc 17    |
24 Oct 1888 Noon UT | 11 sc 43    |
25 Oct 1888 Noon UT | 12 sc  9    |
26 Oct 1888 Noon UT | 12 sc 34    |
27 Oct 1888 Noon UT | 13 sc  0    |
28 Oct 1888 Noon UT | 13 sc 26    |
29 Oct 1888 Noon UT | 13 sc 52    |
30 Oct 1888 Noon UT | 14 sc 17    |
31 Oct 1888 Noon UT | 14 sc 43    |
01 Nov 1888 Noon UT | 15 sc  9    |
02 Nov 1888 Noon UT | 15 sc 35    |
03 Nov 1888 Noon UT | 16 sc  1    |
04 Nov 1888 Noon UT | 16 sc 27    |
05 Nov 1888 Noon UT | 16 sc 52    |
06 Nov 1888 Noon UT | 17 sc 18    |
07 Nov 1888 Noon UT | 17 sc 44    |
08 Nov 1888 Noon UT | 18 sc 10    |
09 Nov 1888 Noon UT | 18 sc 36    |
10 Nov 1888 Noon UT | 19 sc  2    |
11 Nov 1888 Noon UT | 19 sc 28    |
12 Nov 1888 Noon UT | 19 sc 54    |
13 Nov 1888 Noon UT | 20 sc 20    |
14 Nov 1888 Noon UT | 20 sc 45    |
15 Nov 1888 Noon UT | 21 sc 11    |
16 Nov 1888 Noon UT | 21 sc 37    |
17 Nov 1888 Noon UT | 22 sc  3    |
18 Nov 1888 Noon UT | 22 sc 29    |
19 Nov 1888 Noon UT | 22 sc 55    |
20 Nov 1888 Noon UT | 23 sc 21    |
21 Nov 1888 Noon UT | 23 sc 47    |
22 Nov 1888 Noon UT | 24 sc 13    |
23 Nov 1888 Noon UT | 24 sc 39    |
24 Nov 1888 Noon UT | 25 sc  4    |
25 Nov 1888 Noon UT | 25 sc 30    |
26 Nov 1888 Noon UT | 25 sc 56    |
27 Nov 1888 Noon UT | 26 sc 22    |
28 Nov 1888 Noon UT | 26 sc 48    |
29 Nov 1888 Noon UT | 27 sc 14    |
30 Nov 1888 Noon UT | 27 sc 40    |
01 Dec 1888 Noon UT | 28 sc  5    |
02 Dec 1888 Noon UT | 28 sc 31    |
03 Dec 1888 Noon UT | 28 sc 57    |
04 Dec 1888 Noon UT | 29 sc 23    |
05 Dec 1888 Noon UT | 29 sc 49    |
06 Dec 1888 Noon UT |  0 sa 14    |
07 Dec 1888 Noon UT |  0 sa 40    |
08 Dec 1888 Noon UT |  1 sa  6    |
09 Dec 1888 Noon UT |  1 sa 31    |
10 Dec 1888 Noon UT |  1 sa 57    |
11 Dec 1888 Noon UT |  2 sa 23    |
12 Dec 1888 Noon UT |  2 sa 48    |
13 Dec 1888 Noon UT |  3 sa 14    |
14 Dec 1888 Noon UT |  3 sa 40    |
15 Dec 1888 Noon UT |  4 sa  5    |
16 Dec 1888 Noon UT |  4 sa 31    |
17 Dec 1888 Noon UT |  4 sa 56    |
18 Dec 1888 Noon UT |  5 sa 21    |
19 Dec 1888 Noon UT |  5 sa 47    |
20 Dec 1888 Noon UT |  6 sa 12    |
21 Dec 1888 Noon UT |  6 sa 38    |
22 Dec 1888 Noon UT |  7 sa  3    |
23 Dec 1888 Noon UT |  7 sa 28    |
24 Dec 1888 Noon UT |  7 sa 53    |
25 Dec 1888 Noon UT |  8 sa 19    |
26 Dec 1888 Noon UT |  8 sa 44    |
27 Dec 1888 Noon UT |  9 sa  9    |
28 Dec 1888 Noon UT |  9 sa 34    |
29 Dec 1888 Noon UT |  9 sa 59    |
30 Dec 1888 Noon UT | 10 sa 24    |
31 Dec 1888 Noon UT | 10 sa 49    |
01 Jan 1889 Noon UT | 11 sa 14    |
02 Jan 1889 Noon UT | 11 sa 39    |
03 Jan 1889 Noon UT | 12 sa  4    |
04 Jan 1889 Noon UT | 12 sa 28    |
05 Jan 1889 Noon UT | 12 sa 53    |
06 Jan 1889 Noon UT | 13 sa 18    |
07 Jan 1889 Noon UT | 13 sa 42    |
08 Jan 1889 Noon UT | 14 sa  7    |
09 Jan 1889 Noon UT | 14 sa 31    |
10 Jan 1889 Noon UT | 14 sa 56    |
11 Jan 1889 Noon UT | 15 sa 20    |
12 Jan 1889 Noon UT | 15 sa 45    |
13 Jan 1889 Noon UT | 16 sa  9    |
14 Jan 1889 Noon UT | 16 sa 33    |
15 Jan 1889 Noon UT | 16 sa 57    |
16 Jan 1889 Noon UT | 17 sa 21    |
17 Jan 1889 Noon UT | 17 sa 45    |
18 Jan 1889 Noon UT | 18 sa  9    |
19 Jan 1889 Noon UT | 18 sa 33    |
20 Jan 1889 Noon UT | 18 sa 57    |
21 Jan 1889 Noon UT | 19 sa 20    |
22 Jan 1889 Noon UT | 19 sa 44    |
23 Jan 1889 Noon UT | 20 sa  8    |
24 Jan 1889 Noon UT | 20 sa 31    |
25 Jan 1889 Noon UT | 20 sa 55    |
26 Jan 1889 Noon UT | 21 sa 18    |
27 Jan 1889 Noon UT | 21 sa 41    |
28 Jan 1889 Noon UT | 22 sa  4    |
29 Jan 1889 Noon UT | 22 sa 27    |
30 Jan 1889 Noon UT | 22 sa 50    |
31 Jan 1889 Noon UT | 23 sa 13    |
01 Feb 1889 Noon UT | 23 sa 36    |
02 Feb 1889 Noon UT | 23 sa 59    |
03 Feb 1889 Noon UT | 24 sa 21    |
04 Feb 1889 Noon UT | 24 sa 44    |
05 Feb 1889 Noon UT | 25 sa  6    |
06 Feb 1889 Noon UT | 25 sa 29    |
07 Feb 1889 Noon UT | 25 sa 51    |
08 Feb 1889 Noon UT | 26 sa 13    |
09 Feb 1889 Noon UT | 26 sa 35    |
10 Feb 1889 Noon UT | 26 sa 57    |
11 Feb 1889 Noon UT | 27 sa 19    |
12 Feb 1889 Noon UT | 27 sa 41    |
13 Feb 1889 Noon UT | 28 sa  2    |
14 Feb 1889 Noon UT | 28 sa 24    |
15 Feb 1889 Noon UT | 28 sa 45    |
16 Feb 1889 Noon UT | 29 sa  6    |
17 Feb 1889 Noon UT | 29 sa 27    |
18 Feb 1889 Noon UT | 29 sa 48    |
19 Feb 1889 Noon UT |  0 cp  9    |
20 Feb 1889 Noon UT |  0 cp 30    |
21 Feb 1889 Noon UT |  0 cp 51    |
22 Feb 1889 Noon UT |  1 cp 11    |
23 Feb 1889 Noon UT |  1 cp 31    |
24 Feb 1889 Noon UT |  1 cp 52    |
25 Feb 1889 Noon UT |  2 cp 12    |
26 Feb 1889 Noon UT |  2 cp 32    |
27 Feb 1889 Noon UT |  2 cp 51    |
28 Feb 1889 Noon UT |  3 cp 11    |
01 Mar 1889 Noon UT |  3 cp 31    |
02 Mar 1889 Noon UT |  3 cp 50    |
03 Mar 1889 Noon UT |  4 cp  9    |
04 Mar 1889 Noon UT |  4 cp 28    |
05 Mar 1889 Noon UT |  4 cp 47    |
06 Mar 1889 Noon UT |  5 cp  6    |
07 Mar 1889 Noon UT |  5 cp 24    |
08 Mar 1889 Noon UT |  5 cp 43    |
09 Mar 1889 Noon UT |  6 cp  1    |
10 Mar 1889 Noon UT |  6 cp 19    |
11 Mar 1889 Noon UT |  6 cp 37    |
12 Mar 1889 Noon UT |  6 cp 55    |
13 Mar 1889 Noon UT |  7 cp 12    |
14 Mar 1889 Noon UT |  7 cp 30    |
15 Mar 1889 Noon UT |  7 cp 47    |
16 Mar 1889 Noon UT |  8 cp  4    |
17 Mar 1889 Noon UT |  8 cp 21    |
18 Mar 1889 Noon UT |  8 cp 37    |
19 Mar 1889 Noon UT |  8 cp 54    |
20 Mar 1889 Noon UT |  9 cp 10    |
21 Mar 1889 Noon UT |  9 cp 26    |
22 Mar 1889 Noon UT |  9 cp 42    |
23 Mar 1889 Noon UT |  9 cp 58    |
24 Mar 1889 Noon UT | 10 cp 13    |
25 Mar 1889 Noon UT | 10 cp 28    |
26 Mar 1889 Noon UT | 10 cp 43    |
27 Mar 1889 Noon UT | 10 cp 58    |
28 Mar 1889 Noon UT | 11 cp 13    |
29 Mar 1889 Noon UT | 11 cp 27    |
30 Mar 1889 Noon UT | 11 cp 41    |
31 Mar 1889 Noon UT | 11 cp 55    |
01 Apr 1889 Noon UT | 12 cp  9    |
02 Apr 1889 Noon UT | 12 cp 22    |
03 Apr 1889 Noon UT | 12 cp 35    |
04 Apr 1889 Noon UT | 12 cp 48    |
05 Apr 1889 Noon UT | 13 cp  1    |
06 Apr 1889 Noon UT | 13 cp 13    |
07 Apr 1889 Noon UT | 13 cp 25    |
08 Apr 1889 Noon UT | 13 cp 37    |
09 Apr 1889 Noon UT | 13 cp 49    |
10 Apr 1889 Noon UT | 14 cp  0    |
11 Apr 1889 Noon UT | 14 cp 11    |
12 Apr 1889 Noon UT | 14 cp 22    |
13 Apr 1889 Noon UT | 14 cp 32    |
14 Apr 1889 Noon UT | 14 cp 43    |
15 Apr 1889 Noon UT | 14 cp 53    |
16 Apr 1889 Noon UT | 15 cp  2    |
17 Apr 1889 Noon UT | 15 cp 12    |
18 Apr 1889 Noon UT | 15 cp 21    |
19 Apr 1889 Noon UT | 15 cp 30    |
20 Apr 1889 Noon UT | 15 cp 38    |
21 Apr 1889 Noon UT | 15 cp 46    |
22 Apr 1889 Noon UT | 15 cp 54    |
23 Apr 1889 Noon UT | 16 cp  2    |
24 Apr 1889 Noon UT | 16 cp  9    |
25 Apr 1889 Noon UT | 16 cp 16    |
26 Apr 1889 Noon UT | 16 cp 23    |
27 Apr 1889 Noon UT | 16 cp 29    |
28 Apr 1889 Noon UT | 16 cp 35    |
29 Apr 1889 Noon UT | 16 cp 41    |
30 Apr 1889 Noon UT | 16 cp 46    |
01 May 1889 Noon UT | 16 cp 51    |
02 May 1889 Noon UT | 16 cp 56    |
03 May 1889 Noon UT | 17 cp  0    |
04 May 1889 Noon UT | 17 cp  4    |
05 May 1889 Noon UT | 17 cp  8    |
06 May 1889 Noon UT | 17 cp 11    |
07 May 1889 Noon UT | 17 cp 14    |
08 May 1889 Noon UT | 17 cp 16    |
09 May 1889 Noon UT | 17 cp 19    |
10 May 1889 Noon UT | 17 cp 20    |
11 May 1889 Noon UT | 17 cp 22    |
12 May 1889 Noon UT | 17 cp 23    |
13 May 1889 Noon UT | 17 cp 24    |
14 May 1889 Noon UT | 17 cp 24    |
15 May 1889 Noon UT | 17 cp 24 Rx |
16 May 1889 Noon UT | 17 cp 24 Rx |
17 May 1889 Noon UT | 17 cp 23 Rx |
18 May 1889 Noon UT | 17 cp 22 Rx |
19 May 1889 Noon UT | 17 cp 21 Rx |
20 May 1889 Noon UT | 17 cp 19 Rx |
21 May 1889 Noon UT | 17 cp 17 Rx |
22 May 1889 Noon UT | 17 cp 15 Rx |
23 May 1889 Noon UT | 17 cp 12 Rx |
24 May 1889 Noon UT | 17 cp  9 Rx |
25 May 1889 Noon UT | 17 cp  5 Rx |
26 May 1889 Noon UT | 17 cp  1 Rx |
27 May 1889 Noon UT | 16 cp 57 Rx |
28 May 1889 Noon UT | 16 cp 52 Rx |
29 May 1889 Noon UT | 16 cp 47 Rx |
30 May 1889 Noon UT | 16 cp 42 Rx |
31 May 1889 Noon UT | 16 cp 36 Rx |
01 Jun 1889 Noon UT | 16 cp 30 Rx |
02 Jun 1889 Noon UT | 16 cp 24 Rx |
03 Jun 1889 Noon UT | 16 cp 18 Rx |
04 Jun 1889 Noon UT | 16 cp 11 Rx |
05 Jun 1889 Noon UT | 16 cp  3 Rx |
06 Jun 1889 Noon UT | 15 cp 56 Rx |
07 Jun 1889 Noon UT | 15 cp 48 Rx |
08 Jun 1889 Noon UT | 15 cp 40 Rx |
09 Jun 1889 Noon UT | 15 cp 32 Rx |
10 Jun 1889 Noon UT | 15 cp 23 Rx |
11 Jun 1889 Noon UT | 15 cp 14 Rx |
12 Jun 1889 Noon UT | 15 cp  5 Rx |
13 Jun 1889 Noon UT | 14 cp 56 Rx |
14 Jun 1889 Noon UT | 14 cp 46 Rx |
15 Jun 1889 Noon UT | 14 cp 36 Rx |
16 Jun 1889 Noon UT | 14 cp 26 Rx |
17 Jun 1889 Noon UT | 14 cp 16 Rx |
18 Jun 1889 Noon UT | 14 cp  5 Rx |
19 Jun 1889 Noon UT | 13 cp 55 Rx |
20 Jun 1889 Noon UT | 13 cp 44 Rx |
21 Jun 1889 Noon UT | 13 cp 33 Rx |
22 Jun 1889 Noon UT | 13 cp 22 Rx |
23 Jun 1889 Noon UT | 13 cp 10 Rx |
24 Jun 1889 Noon UT | 12 cp 59 Rx |
25 Jun 1889 Noon UT | 12 cp 48 Rx |
26 Jun 1889 Noon UT | 12 cp 36 Rx |
27 Jun 1889 Noon UT | 12 cp 24 Rx |
28 Jun 1889 Noon UT | 12 cp 13 Rx |
29 Jun 1889 Noon UT | 12 cp  1 Rx |
30 Jun 1889 Noon UT | 11 cp 49 Rx |
01 Jul 1889 Noon UT | 11 cp 37 Rx |
02 Jul 1889 Noon UT | 11 cp 25 Rx |
03 Jul 1889 Noon UT | 11 cp 13 Rx |
04 Jul 1889 Noon UT | 11 cp  2 Rx |
05 Jul 1889 Noon UT | 10 cp 50 Rx |
06 Jul 1889 Noon UT | 10 cp 38 Rx |
07 Jul 1889 Noon UT | 10 cp 26 Rx |
08 Jul 1889 Noon UT | 10 cp 15 Rx |
09 Jul 1889 Noon UT | 10 cp  3 Rx |
10 Jul 1889 Noon UT |  9 cp 52 Rx |
11 Jul 1889 Noon UT |  9 cp 40 Rx |
12 Jul 1889 Noon UT |  9 cp 29 Rx |
13 Jul 1889 Noon UT |  9 cp 18 Rx |
14 Jul 1889 Noon UT |  9 cp  7 Rx |
15 Jul 1889 Noon UT |  8 cp 56 Rx |
16 Jul 1889 Noon UT |  8 cp 46 Rx |
17 Jul 1889 Noon UT |  8 cp 35 Rx |
18 Jul 1889 Noon UT |  8 cp 25 Rx |
19 Jul 1889 Noon UT |  8 cp 15 Rx |
20 Jul 1889 Noon UT |  8 cp  5 Rx |
21 Jul 1889 Noon UT |  7 cp 56 Rx |
22 Jul 1889 Noon UT |  7 cp 46 Rx |
23 Jul 1889 Noon UT |  7 cp 37 Rx |
24 Jul 1889 Noon UT |  7 cp 28 Rx |
25 Jul 1889 Noon UT |  7 cp 20 Rx |
26 Jul 1889 Noon UT |  7 cp 11 Rx |
27 Jul 1889 Noon UT |  7 cp  3 Rx |
28 Jul 1889 Noon UT |  6 cp 55 Rx |
29 Jul 1889 Noon UT |  6 cp 48 Rx |
30 Jul 1889 Noon UT |  6 cp 41 Rx |
31 Jul 1889 Noon UT |  6 cp 34 Rx |
01 Aug 1889 Noon UT |  6 cp 27 Rx |
02 Aug 1889 Noon UT |  6 cp 21 Rx |
03 Aug 1889 Noon UT |  6 cp 15 Rx |
04 Aug 1889 Noon UT |  6 cp  9 Rx |
05 Aug 1889 Noon UT |  6 cp  4 Rx |
06 Aug 1889 Noon UT |  5 cp 59 Rx |
07 Aug 1889 Noon UT |  5 cp 54 Rx |
08 Aug 1889 Noon UT |  5 cp 50 Rx |
09 Aug 1889 Noon UT |  5 cp 46 Rx |
10 Aug 1889 Noon UT |  5 cp 43 Rx |
11 Aug 1889 Noon UT |  5 cp 39 Rx |
12 Aug 1889 Noon UT |  5 cp 36 Rx |
13 Aug 1889 Noon UT |  5 cp 34 Rx |
14 Aug 1889 Noon UT |  5 cp 32 Rx |
15 Aug 1889 Noon UT |  5 cp 30 Rx |
16 Aug 1889 Noon UT |  5 cp 28 Rx |
17 Aug 1889 Noon UT |  5 cp 27 Rx |
18 Aug 1889 Noon UT |  5 cp 26 Rx |
19 Aug 1889 Noon UT |  5 cp 26 Rx |
20 Aug 1889 Noon UT |  5 cp 25    |
21 Aug 1889 Noon UT |  5 cp 26    |
22 Aug 1889 Noon UT |  5 cp 26    |
23 Aug 1889 Noon UT |  5 cp 27    |
24 Aug 1889 Noon UT |  5 cp 28    |
25 Aug 1889 Noon UT |  5 cp 30    |
26 Aug 1889 Noon UT |  5 cp 32    |
27 Aug 1889 Noon UT |  5 cp 34    |
28 Aug 1889 Noon UT |  5 cp 36    |
29 Aug 1889 Noon UT |  5 cp 39    |
30 Aug 1889 Noon UT |  5 cp 43    |
31 Aug 1889 Noon UT |  5 cp 46    |
01 Sep 1889 Noon UT |  5 cp 50    |
02 Sep 1889 Noon UT |  5 cp 54    |
03 Sep 1889 Noon UT |  5 cp 59    |
04 Sep 1889 Noon UT |  6 cp  4    |
05 Sep 1889 Noon UT |  6 cp  9    |
06 Sep 1889 Noon UT |  6 cp 15    |
07 Sep 1889 Noon UT |  6 cp 20    |
08 Sep 1889 Noon UT |  6 cp 26    |
09 Sep 1889 Noon UT |  6 cp 33    |
10 Sep 1889 Noon UT |  6 cp 40    |
11 Sep 1889 Noon UT |  6 cp 47    |
12 Sep 1889 Noon UT |  6 cp 54    |
13 Sep 1889 Noon UT |  7 cp  2    |
14 Sep 1889 Noon UT |  7 cp  9    |
15 Sep 1889 Noon UT |  7 cp 18    |
16 Sep 1889 Noon UT |  7 cp 26    |
17 Sep 1889 Noon UT |  7 cp 35    |
18 Sep 1889 Noon UT |  7 cp 44    |
19 Sep 1889 Noon UT |  7 cp 53    |
20 Sep 1889 Noon UT |  8 cp  2    |
21 Sep 1889 Noon UT |  8 cp 12    |
22 Sep 1889 Noon UT |  8 cp 22    |
23 Sep 1889 Noon UT |  8 cp 33    |
24 Sep 1889 Noon UT |  8 cp 43    |
25 Sep 1889 Noon UT |  8 cp 54    |
26 Sep 1889 Noon UT |  9 cp  5    |
27 Sep 1889 Noon UT |  9 cp 16    |
28 Sep 1889 Noon UT |  9 cp 28    |
29 Sep 1889 Noon UT |  9 cp 40    |
30 Sep 1889 Noon UT |  9 cp 52    |
01 Oct 1889 Noon UT | 10 cp  4    |
02 Oct 1889 Noon UT | 10 cp 16    |
03 Oct 1889 Noon UT | 10 cp 29    |
04 Oct 1889 Noon UT | 10 cp 42    |
05 Oct 1889 Noon UT | 10 cp 55    |
06 Oct 1889 Noon UT | 11 cp  8    |
07 Oct 1889 Noon UT | 11 cp 22    |
08 Oct 1889 Noon UT | 11 cp 36    |
09 Oct 1889 Noon UT | 11 cp 49    |
10 Oct 1889 Noon UT | 12 cp  4    |
11 Oct 1889 Noon UT | 12 cp 18    |
12 Oct 1889 Noon UT | 12 cp 32    |
13 Oct 1889 Noon UT | 12 cp 47    |
14 Oct 1889 Noon UT | 13 cp  2    |
15 Oct 1889 Noon UT | 13 cp 17    |
16 Oct 1889 Noon UT | 13 cp 32    |
17 Oct 1889 Noon UT | 13 cp 48    |
18 Oct 1889 Noon UT | 14 cp  3    |
19 Oct 1889 Noon UT | 14 cp 19    |
20 Oct 1889 Noon UT | 14 cp 35    |
21 Oct 1889 Noon UT | 14 cp 51    |
22 Oct 1889 Noon UT | 15 cp  7    |
23 Oct 1889 Noon UT | 15 cp 24    |
24 Oct 1889 Noon UT | 15 cp 40    |
25 Oct 1889 Noon UT | 15 cp 57    |
26 Oct 1889 Noon UT | 16 cp 14    |
27 Oct 1889 Noon UT | 16 cp 31    |
28 Oct 1889 Noon UT | 16 cp 48    |
29 Oct 1889 Noon UT | 17 cp  6    |
30 Oct 1889 Noon UT | 17 cp 23    |
31 Oct 1889 Noon UT | 17 cp 41    |
01 Nov 1889 Noon UT | 17 cp 59    |
02 Nov 1889 Noon UT | 18 cp 17    |
03 Nov 1889 Noon UT | 18 cp 35    |
04 Nov 1889 Noon UT | 18 cp 53    |
05 Nov 1889 Noon UT | 19 cp 11    |
06 Nov 1889 Noon UT | 19 cp 29    |
07 Nov 1889 Noon UT | 19 cp 48    |
08 Nov 1889 Noon UT | 20 cp  7    |
09 Nov 1889 Noon UT | 20 cp 25    |
10 Nov 1889 Noon UT | 20 cp 44    |
11 Nov 1889 Noon UT | 21 cp  3    |
12 Nov 1889 Noon UT | 21 cp 22    |
13 Nov 1889 Noon UT | 21 cp 42    |
14 Nov 1889 Noon UT | 22 cp  1    |
15 Nov 1889 Noon UT | 22 cp 20    |
16 Nov 1889 Noon UT | 22 cp 40    |
17 Nov 1889 Noon UT | 23 cp  0    |
18 Nov 1889 Noon UT | 23 cp 19    |
19 Nov 1889 Noon UT | 23 cp 39    |
20 Nov 1889 Noon UT | 23 cp 59    |
21 Nov 1889 Noon UT | 24 cp 19    |
22 Nov 1889 Noon UT | 24 cp 39    |
23 Nov 1889 Noon UT | 25 cp  0    |
24 Nov 1889 Noon UT | 25 cp 20    |
25 Nov 1889 Noon UT | 25 cp 40    |
26 Nov 1889 Noon UT | 26 cp  1    |
27 Nov 1889 Noon UT | 26 cp 22    |
28 Nov 1889 Noon UT | 26 cp 42    |
29 Nov 1889 Noon UT | 27 cp  3    |
30 Nov 1889 Noon UT | 27 cp 24    |
01 Dec 1889 Noon UT | 27 cp 45    |
02 Dec 1889 Noon UT | 28 cp  6    |
03 Dec 1889 Noon UT | 28 cp 27    |
04 Dec 1889 Noon UT | 28 cp 48    |
05 Dec 1889 Noon UT | 29 cp  9    |
06 Dec 1889 Noon UT | 29 cp 30    |
07 Dec 1889 Noon UT | 29 cp 52    |
08 Dec 1889 Noon UT |  0 aq 13    |
09 Dec 1889 Noon UT |  0 aq 35    |
10 Dec 1889 Noon UT |  0 aq 56    |
11 Dec 1889 Noon UT |  1 aq 18    |
12 Dec 1889 Noon UT |  1 aq 39    |
13 Dec 1889 Noon UT |  2 aq  1    |
14 Dec 1889 Noon UT |  2 aq 23    |
15 Dec 1889 Noon UT |  2 aq 45    |
16 Dec 1889 Noon UT |  3 aq  6    |
17 Dec 1889 Noon UT |  3 aq 28    |
18 Dec 1889 Noon UT |  3 aq 50    |
19 Dec 1889 Noon UT |  4 aq 12    |
20 Dec 1889 Noon UT |  4 aq 35    |
21 Dec 1889 Noon UT |  4 aq 57    |
22 Dec 1889 Noon UT |  5 aq 19    |
23 Dec 1889 Noon UT |  5 aq 41    |
24 Dec 1889 Noon UT |  6 aq  3    |
25 Dec 1889 Noon UT |  6 aq 26    |
26 Dec 1889 Noon UT |  6 aq 48    |
27 Dec 1889 Noon UT |  7 aq 10    |
28 Dec 1889 Noon UT |  7 aq 33    |
29 Dec 1889 Noon UT |  7 aq 55    |
30 Dec 1889 Noon UT |  8 aq 18    |
31 Dec 1889 Noon UT |  8 aq 40    |
01 Jan 1890 Noon UT |  9 aq  3    |
02 Jan 1890 Noon UT |  9 aq 25    |
03 Jan 1890 Noon UT |  9 aq 48    |
04 Jan 1890 Noon UT | 10 aq 11    |
05 Jan 1890 Noon UT | 10 aq 33    |
06 Jan 1890 Noon UT | 10 aq 56    |
07 Jan 1890 Noon UT | 11 aq 19    |
08 Jan 1890 Noon UT | 11 aq 42    |
09 Jan 1890 Noon UT | 12 aq  4    |
10 Jan 1890 Noon UT | 12 aq 27    |
11 Jan 1890 Noon UT | 12 aq 50    |
12 Jan 1890 Noon UT | 13 aq 13    |
13 Jan 1890 Noon UT | 13 aq 36    |
14 Jan 1890 Noon UT | 13 aq 59    |
15 Jan 1890 Noon UT | 14 aq 22    |
16 Jan 1890 Noon UT | 14 aq 45    |
17 Jan 1890 Noon UT | 15 aq  7    |
18 Jan 1890 Noon UT | 15 aq 30    |
19 Jan 1890 Noon UT | 15 aq 53    |
20 Jan 1890 Noon UT | 16 aq 16    |
21 Jan 1890 Noon UT | 16 aq 39    |
22 Jan 1890 Noon UT | 17 aq  2    |
23 Jan 1890 Noon UT | 17 aq 25    |
24 Jan 1890 Noon UT | 17 aq 48    |
25 Jan 1890 Noon UT | 18 aq 11    |
26 Jan 1890 Noon UT | 18 aq 34    |
27 Jan 1890 Noon UT | 18 aq 57    |
28 Jan 1890 Noon UT | 19 aq 20    |
29 Jan 1890 Noon UT | 19 aq 44    |
30 Jan 1890 Noon UT | 20 aq  7    |
31 Jan 1890 Noon UT | 20 aq 30    |
01 Feb 1890 Noon UT | 20 aq 53    |
02 Feb 1890 Noon UT | 21 aq 16    |
03 Feb 1890 Noon UT | 21 aq 39    |
04 Feb 1890 Noon UT | 22 aq  2    |
05 Feb 1890 Noon UT | 22 aq 25    |
06 Feb 1890 Noon UT | 22 aq 48    |
07 Feb 1890 Noon UT | 23 aq 11    |
08 Feb 1890 Noon UT | 23 aq 34    |
09 Feb 1890 Noon UT | 23 aq 57    |
10 Feb 1890 Noon UT | 24 aq 20    |
11 Feb 1890 Noon UT | 24 aq 43    |
12 Feb 1890 Noon UT | 25 aq  6    |
13 Feb 1890 Noon UT | 25 aq 28    |
14 Feb 1890 Noon UT | 25 aq 51    |
15 Feb 1890 Noon UT | 26 aq 14    |
16 Feb 1890 Noon UT | 26 aq 37    |
17 Feb 1890 Noon UT | 27 aq  0    |
18 Feb 1890 Noon UT | 27 aq 23    |
19 Feb 1890 Noon UT | 27 aq 46    |
20 Feb 1890 Noon UT | 28 aq  9    |
21 Feb 1890 Noon UT | 28 aq 31    |
22 Feb 1890 Noon UT | 28 aq 54    |
23 Feb 1890 Noon UT | 29 aq 17    |
24 Feb 1890 Noon UT | 29 aq 40    |
25 Feb 1890 Noon UT |  0 pi  2    |
26 Feb 1890 Noon UT |  0 pi 25    |
27 Feb 1890 Noon UT |  0 pi 48    |
28 Feb 1890 Noon UT |  1 pi 10    |
01 Mar 1890 Noon UT |  1 pi 33    |
02 Mar 1890 Noon UT |  1 pi 56    |
03 Mar 1890 Noon UT |  2 pi 18    |
04 Mar 1890 Noon UT |  2 pi 41    |
05 Mar 1890 Noon UT |  3 pi  3    |
06 Mar 1890 Noon UT |  3 pi 26    |
07 Mar 1890 Noon UT |  3 pi 48    |
08 Mar 1890 Noon UT |  4 pi 10    |
09 Mar 1890 Noon UT |  4 pi 33    |
10 Mar 1890 Noon UT |  4 pi 55    |
11 Mar 1890 Noon UT |  5 pi 17    |
12 Mar 1890 Noon UT |  5 pi 39    |
13 Mar 1890 Noon UT |  6 pi  2    |
14 Mar 1890 Noon UT |  6 pi 24    |
15 Mar 1890 Noon UT |  6 pi 46    |
16 Mar 1890 Noon UT |  7 pi  8    |
17 Mar 1890 Noon UT |  7 pi 30    |
18 Mar 1890 Noon UT |  7 pi 52    |
19 Mar 1890 Noon UT |  8 pi 14    |
20 Mar 1890 Noon UT |  8 pi 36    |
21 Mar 1890 Noon UT |  8 pi 57    |
22 Mar 1890 Noon UT |  9 pi 19    |
23 Mar 1890 Noon UT |  9 pi 41    |
24 Mar 1890 Noon UT | 10 pi  3    |
25 Mar 1890 Noon UT | 10 pi 24    |
26 Mar 1890 Noon UT | 10 pi 46    |
27 Mar 1890 Noon UT | 11 pi  7    |
28 Mar 1890 Noon UT | 11 pi 29    |
29 Mar 1890 Noon UT | 11 pi 50    |
30 Mar 1890 Noon UT | 12 pi 12    |
31 Mar 1890 Noon UT | 12 pi 33    |
01 Apr 1890 Noon UT | 12 pi 54    |
02 Apr 1890 Noon UT | 13 pi 15    |
03 Apr 1890 Noon UT | 13 pi 36    |
04 Apr 1890 Noon UT | 13 pi 57    |
05 Apr 1890 Noon UT | 14 pi 18    |
06 Apr 1890 Noon UT | 14 pi 39    |
07 Apr 1890 Noon UT | 15 pi  0    |
08 Apr 1890 Noon UT | 15 pi 21    |
09 Apr 1890 Noon UT | 15 pi 41    |
10 Apr 1890 Noon UT | 16 pi  2    |
11 Apr 1890 Noon UT | 16 pi 23    |
12 Apr 1890 Noon UT | 16 pi 43    |
13 Apr 1890 Noon UT | 17 pi  4    |
14 Apr 1890 Noon UT | 17 pi 24    |
15 Apr 1890 Noon UT | 17 pi 44    |
16 Apr 1890 Noon UT | 18 pi  4    |
17 Apr 1890 Noon UT | 18 pi 25    |
18 Apr 1890 Noon UT | 18 pi 45    |
19 Apr 1890 Noon UT | 19 pi  4    |
20 Apr 1890 Noon UT | 19 pi 24    |
21 Apr 1890 Noon UT | 19 pi 44    |
22 Apr 1890 Noon UT | 20 pi  4    |
23 Apr 1890 Noon UT | 20 pi 23    |
24 Apr 1890 Noon UT | 20 pi 43    |
25 Apr 1890 Noon UT | 21 pi  2    |
26 Apr 1890 Noon UT | 21 pi 22    |
27 Apr 1890 Noon UT | 21 pi 41    |
28 Apr 1890 Noon UT | 22 pi  0    |
29 Apr 1890 Noon UT | 22 pi 19    |
30 Apr 1890 Noon UT | 22 pi 38    |
01 May 1890 Noon UT | 22 pi 57    |
02 May 1890 Noon UT | 23 pi 16    |
03 May 1890 Noon UT | 23 pi 34    |
04 May 1890 Noon UT | 23 pi 53    |
05 May 1890 Noon UT | 24 pi 11    |
06 May 1890 Noon UT | 24 pi 30    |
07 May 1890 Noon UT | 24 pi 48    |
08 May 1890 Noon UT | 25 pi  6    |
09 May 1890 Noon UT | 25 pi 24    |
10 May 1890 Noon UT | 25 pi 42    |
11 May 1890 Noon UT | 26 pi  0    |
12 May 1890 Noon UT | 26 pi 17    |
13 May 1890 Noon UT | 26 pi 35    |
14 May 1890 Noon UT | 26 pi 52    |
15 May 1890 Noon UT | 27 pi 10    |
16 May 1890 Noon UT | 27 pi 27    |
17 May 1890 Noon UT | 27 pi 44    |
18 May 1890 Noon UT | 28 pi  1    |
19 May 1890 Noon UT | 28 pi 18    |
20 May 1890 Noon UT | 28 pi 35    |
21 May 1890 Noon UT | 28 pi 51    |
22 May 1890 Noon UT | 29 pi  7    |
23 May 1890 Noon UT | 29 pi 24    |
24 May 1890 Noon UT | 29 pi 40    |
25 May 1890 Noon UT | 29 pi 56    |
26 May 1890 Noon UT |  0 ar 12    |
27 May 1890 Noon UT |  0 ar 27    |
28 May 1890 Noon UT |  0 ar 43    |
29 May 1890 Noon UT |  0 ar 58    |
30 May 1890 Noon UT |  1 ar 14    |
31 May 1890 Noon UT |  1 ar 29    |
01 Jun 1890 Noon UT |  1 ar 44    |
02 Jun 1890 Noon UT |  1 ar 59    |
03 Jun 1890 Noon UT |  2 ar 13    |
04 Jun 1890 Noon UT |  2 ar 28    |
05 Jun 1890 Noon UT |  2 ar 42    |
06 Jun 1890 Noon UT |  2 ar 56    |
07 Jun 1890 Noon UT |  3 ar 10    |
08 Jun 1890 Noon UT |  3 ar 24    |
09 Jun 1890 Noon UT |  3 ar 38    |
10 Jun 1890 Noon UT |  3 ar 51    |
11 Jun 1890 Noon UT |  4 ar  5    |
12 Jun 1890 Noon UT |  4 ar 18    |
13 Jun 1890 Noon UT |  4 ar 31    |
14 Jun 1890 Noon UT |  4 ar 43    |
15 Jun 1890 Noon UT |  4 ar 56    |
16 Jun 1890 Noon UT |  5 ar  8    |
17 Jun 1890 Noon UT |  5 ar 20    |
18 Jun 1890 Noon UT |  5 ar 32    |
19 Jun 1890 Noon UT |  5 ar 44    |
20 Jun 1890 Noon UT |  5 ar 56    |
21 Jun 1890 Noon UT |  6 ar  7    |
22 Jun 1890 Noon UT |  6 ar 18    |
23 Jun 1890 Noon UT |  6 ar 29    |
24 Jun 1890 Noon UT |  6 ar 40    |
25 Jun 1890 Noon UT |  6 ar 50    |
26 Jun 1890 Noon UT |  7 ar  1    |
27 Jun 1890 Noon UT |  7 ar 11    |
28 Jun 1890 Noon UT |  7 ar 21    |
29 Jun 1890 Noon UT |  7 ar 30    |
30 Jun 1890 Noon UT |  7 ar 40    |
01 Jul 1890 Noon UT |  7 ar 49    |
02 Jul 1890 Noon UT |  7 ar 58    |
03 Jul 1890 Noon UT |  8 ar  6    |
04 Jul 1890 Noon UT |  8 ar 15    |
05 Jul 1890 Noon UT |  8 ar 23    |
06 Jul 1890 Noon UT |  8 ar 31    |
07 Jul 1890 Noon UT |  8 ar 39    |
08 Jul 1890 Noon UT |  8 ar 46    |
09 Jul 1890 Noon UT |  8 ar 54    |
10 Jul 1890 Noon UT |  9 ar  0    |
11 Jul 1890 Noon UT |  9 ar  7    |
12 Jul 1890 Noon UT |  9 ar 14    |
13 Jul 1890 Noon UT |  9 ar 20    |
14 Jul 1890 Noon UT |  9 ar 26    |
15 Jul 1890 Noon UT |  9 ar 31    |
16 Jul 1890 Noon UT |  9 ar 37    |
17 Jul 1890 Noon UT |  9 ar 42    |
18 Jul 1890 Noon UT |  9 ar 46    |
19 Jul 1890 Noon UT |  9 ar 51    |
20 Jul 1890 Noon UT |  9 ar 55    |
21 Jul 1890 Noon UT |  9 ar 59    |
22 Jul 1890 Noon UT | 10 ar  3    |
23 Jul 1890 Noon UT | 10 ar  6    |
24 Jul 1890 Noon UT | 10 ar  9    |
25 Jul 1890 Noon UT | 10 ar 12    |
26 Jul 1890 Noon UT | 10 ar 14    |
27 Jul 1890 Noon UT | 10 ar 16    |
28 Jul 1890 Noon UT | 10 ar 18    |
29 Jul 1890 Noon UT | 10 ar 19    |
30 Jul 1890 Noon UT | 10 ar 21    |
31 Jul 1890 Noon UT | 10 ar 22    |
01 Aug 1890 Noon UT | 10 ar 22    |
02 Aug 1890 Noon UT | 10 ar 22    |
03 Aug 1890 Noon UT | 10 ar 22 Rx |
04 Aug 1890 Noon UT | 10 ar 22 Rx |
05 Aug 1890 Noon UT | 10 ar 21 Rx |
06 Aug 1890 Noon UT | 10 ar 20 Rx |
07 Aug 1890 Noon UT | 10 ar 19 Rx |
08 Aug 1890 Noon UT | 10 ar 18 Rx |
09 Aug 1890 Noon UT | 10 ar 16 Rx |
10 Aug 1890 Noon UT | 10 ar 13 Rx |
11 Aug 1890 Noon UT | 10 ar 11 Rx |
12 Aug 1890 Noon UT | 10 ar  8 Rx |
13 Aug 1890 Noon UT | 10 ar  5 Rx |
14 Aug 1890 Noon UT | 10 ar  1 Rx |
15 Aug 1890 Noon UT |  9 ar 57 Rx |
16 Aug 1890 Noon UT |  9 ar 53 Rx |
17 Aug 1890 Noon UT |  9 ar 49 Rx |
18 Aug 1890 Noon UT |  9 ar 44 Rx |
19 Aug 1890 Noon UT |  9 ar 39 Rx |
20 Aug 1890 Noon UT |  9 ar 34 Rx |
21 Aug 1890 Noon UT |  9 ar 28 Rx |
22 Aug 1890 Noon UT |  9 ar 22 Rx |
23 Aug 1890 Noon UT |  9 ar 16 Rx |
24 Aug 1890 Noon UT |  9 ar  9 Rx |
25 Aug 1890 Noon UT |  9 ar  2 Rx |
26 Aug 1890 Noon UT |  8 ar 55 Rx |
27 Aug 1890 Noon UT |  8 ar 48 Rx |
28 Aug 1890 Noon UT |  8 ar 40 Rx |
29 Aug 1890 Noon UT |  8 ar 32 Rx |
30 Aug 1890 Noon UT |  8 ar 24 Rx |
31 Aug 1890 Noon UT |  8 ar 16 Rx |
01 Sep 1890 Noon UT |  8 ar  7 Rx |
02 Sep 1890 Noon UT |  7 ar 58 Rx |
03 Sep 1890 Noon UT |  7 ar 49 Rx |
04 Sep 1890 Noon UT |  7 ar 39 Rx |
05 Sep 1890 Noon UT |  7 ar 30 Rx |
06 Sep 1890 Noon UT |  7 ar 20 Rx |
07 Sep 1890 Noon UT |  7 ar 10 Rx |
08 Sep 1890 Noon UT |  7 ar  0 Rx |
09 Sep 1890 Noon UT |  6 ar 49 Rx |
10 Sep 1890 Noon UT |  6 ar 39 Rx |
11 Sep 1890 Noon UT |  6 ar 28 Rx |
12 Sep 1890 Noon UT |  6 ar 17 Rx |
13 Sep 1890 Noon UT |  6 ar  6 Rx |
14 Sep 1890 Noon UT |  5 ar 55 Rx |
15 Sep 1890 Noon UT |  5 ar 44 Rx |
16 Sep 1890 Noon UT |  5 ar 32 Rx |
17 Sep 1890 Noon UT |  5 ar 21 Rx |
18 Sep 1890 Noon UT |  5 ar  9 Rx |
19 Sep 1890 Noon UT |  4 ar 57 Rx |
20 Sep 1890 Noon UT |  4 ar 45 Rx |
21 Sep 1890 Noon UT |  4 ar 34 Rx |
22 Sep 1890 Noon UT |  4 ar 22 Rx |
23 Sep 1890 Noon UT |  4 ar 10 Rx |
24 Sep 1890 Noon UT |  3 ar 58 Rx |
25 Sep 1890 Noon UT |  3 ar 46 Rx |
26 Sep 1890 Noon UT |  3 ar 34 Rx |
27 Sep 1890 Noon UT |  3 ar 22 Rx |
28 Sep 1890 Noon UT |  3 ar 10 Rx |
29 Sep 1890 Noon UT |  2 ar 58 Rx |
30 Sep 1890 Noon UT |  2 ar 46 Rx |
01 Oct 1890 Noon UT |  2 ar 34 Rx |
02 Oct 1890 Noon UT |  2 ar 23 Rx |
03 Oct 1890 Noon UT |  2 ar 11 Rx |
04 Oct 1890 Noon UT |  1 ar 59 Rx |
05 Oct 1890 Noon UT |  1 ar 48 Rx |
06 Oct 1890 Noon UT |  1 ar 37 Rx |
07 Oct 1890 Noon UT |  1 ar 25 Rx |
08 Oct 1890 Noon UT |  1 ar 14 Rx |
09 Oct 1890 Noon UT |  1 ar  3 Rx |
10 Oct 1890 Noon UT |  0 ar 53 Rx |
11 Oct 1890 Noon UT |  0 ar 42 Rx |
12 Oct 1890 Noon UT |  0 ar 31 Rx |
13 Oct 1890 Noon UT |  0 ar 21 Rx |
14 Oct 1890 Noon UT |  0 ar 11 Rx |
15 Oct 1890 Noon UT |  0 ar  1 Rx |
16 Oct 1890 Noon UT | 29 pi 51 Rx |
17 Oct 1890 Noon UT | 29 pi 42 Rx |
18 Oct 1890 Noon UT | 29 pi 33 Rx |
19 Oct 1890 Noon UT | 29 pi 24 Rx |
20 Oct 1890 Noon UT | 29 pi 15 Rx |
21 Oct 1890 Noon UT | 29 pi  7 Rx |
22 Oct 1890 Noon UT | 28 pi 58 Rx |
23 Oct 1890 Noon UT | 28 pi 50 Rx |
24 Oct 1890 Noon UT | 28 pi 43 Rx |
25 Oct 1890 Noon UT | 28 pi 35 Rx |
26 Oct 1890 Noon UT | 28 pi 28 Rx |
27 Oct 1890 Noon UT | 28 pi 21 Rx |
28 Oct 1890 Noon UT | 28 pi 14 Rx |
29 Oct 1890 Noon UT | 28 pi  8 Rx |
30 Oct 1890 Noon UT | 28 pi  2 Rx |
31 Oct 1890 Noon UT | 27 pi 56 Rx |
01 Nov 1890 Noon UT | 27 pi 51 Rx |
02 Nov 1890 Noon UT | 27 pi 46 Rx |
03 Nov 1890 Noon UT | 27 pi 41 Rx |
04 Nov 1890 Noon UT | 27 pi 37 Rx |
05 Nov 1890 Noon UT | 27 pi 32 Rx |
06 Nov 1890 Noon UT | 27 pi 28 Rx |
07 Nov 1890 Noon UT | 27 pi 25 Rx |
08 Nov 1890 Noon UT | 27 pi 22 Rx |
09 Nov 1890 Noon UT | 27 pi 19 Rx |
10 Nov 1890 Noon UT | 27 pi 16 Rx |
11 Nov 1890 Noon UT | 27 pi 14 Rx |
12 Nov 1890 Noon UT | 27 pi 12 Rx |
13 Nov 1890 Noon UT | 27 pi 10 Rx |
14 Nov 1890 Noon UT | 27 pi  9 Rx |
15 Nov 1890 Noon UT | 27 pi  8 Rx |
16 Nov 1890 Noon UT | 27 pi  7 Rx |
17 Nov 1890 Noon UT | 27 pi  7 Rx |
18 Nov 1890 Noon UT | 27 pi  7    |
19 Nov 1890 Noon UT | 27 pi  7    |
20 Nov 1890 Noon UT | 27 pi  8    |
21 Nov 1890 Noon UT | 27 pi  8    |
22 Nov 1890 Noon UT | 27 pi 10    |
23 Nov 1890 Noon UT | 27 pi 11    |
24 Nov 1890 Noon UT | 27 pi 13    |
25 Nov 1890 Noon UT | 27 pi 15    |
26 Nov 1890 Noon UT | 27 pi 17    |
27 Nov 1890 Noon UT | 27 pi 20    |
28 Nov 1890 Noon UT | 27 pi 23    |
29 Nov 1890 Noon UT | 27 pi 27    |
30 Nov 1890 Noon UT | 27 pi 30    |
01 Dec 1890 Noon UT | 27 pi 34    |
02 Dec 1890 Noon UT | 27 pi 38    |
03 Dec 1890 Noon UT | 27 pi 43    |
04 Dec 1890 Noon UT | 27 pi 47    |
05 Dec 1890 Noon UT | 27 pi 52    |
06 Dec 1890 Noon UT | 27 pi 58    |
07 Dec 1890 Noon UT | 28 pi  3    |
08 Dec 1890 Noon UT | 28 pi  9    |
09 Dec 1890 Noon UT | 28 pi 15    |
10 Dec 1890 Noon UT | 28 pi 22    |
11 Dec 1890 Noon UT | 28 pi 28    |
12 Dec 1890 Noon UT | 28 pi 35    |
13 Dec 1890 Noon UT | 28 pi 42    |
14 Dec 1890 Noon UT | 28 pi 50    |
15 Dec 1890 Noon UT | 28 pi 58    |
16 Dec 1890 Noon UT | 29 pi  6    |
17 Dec 1890 Noon UT | 29 pi 14    |
18 Dec 1890 Noon UT | 29 pi 22    |
19 Dec 1890 Noon UT | 29 pi 31    |
20 Dec 1890 Noon UT | 29 pi 40    |
21 Dec 1890 Noon UT | 29 pi 49    |
22 Dec 1890 Noon UT | 29 pi 58    |
23 Dec 1890 Noon UT |  0 ar  8    |
24 Dec 1890 Noon UT |  0 ar 17    |
25 Dec 1890 Noon UT |  0 ar 27    |
26 Dec 1890 Noon UT |  0 ar 38    |
27 Dec 1890 Noon UT |  0 ar 48    |
28 Dec 1890 Noon UT |  0 ar 59    |
29 Dec 1890 Noon UT |  1 ar 10    |
30 Dec 1890 Noon UT |  1 ar 21    |
31 Dec 1890 Noon UT |  1 ar 32    |
01 Jan 1891 Noon UT |  1 ar 43    |
02 Jan 1891 Noon UT |  1 ar 55    |
03 Jan 1891 Noon UT |  2 ar  7    |
04 Jan 1891 Noon UT |  2 ar 19    |
05 Jan 1891 Noon UT |  2 ar 31    |
06 Jan 1891 Noon UT |  2 ar 43    |
07 Jan 1891 Noon UT |  2 ar 56    |
08 Jan 1891 Noon UT |  3 ar  8    |
09 Jan 1891 Noon UT |  3 ar 21    |
10 Jan 1891 Noon UT |  3 ar 34    |
11 Jan 1891 Noon UT |  3 ar 48    |
12 Jan 1891 Noon UT |  4 ar  1    |
13 Jan 1891 Noon UT |  4 ar 15    |
14 Jan 1891 Noon UT |  4 ar 28    |
15 Jan 1891 Noon UT |  4 ar 42    |
16 Jan 1891 Noon UT |  4 ar 56    |
17 Jan 1891 Noon UT |  5 ar 10    |
18 Jan 1891 Noon UT |  5 ar 25    |
19 Jan 1891 Noon UT |  5 ar 39    |
20 Jan 1891 Noon UT |  5 ar 54    |
21 Jan 1891 Noon UT |  6 ar  8    |
22 Jan 1891 Noon UT |  6 ar 23    |
23 Jan 1891 Noon UT |  6 ar 38    |
24 Jan 1891 Noon UT |  6 ar 53    |
25 Jan 1891 Noon UT |  7 ar  9    |
26 Jan 1891 Noon UT |  7 ar 24    |
27 Jan 1891 Noon UT |  7 ar 40    |
28 Jan 1891 Noon UT |  7 ar 55    |
29 Jan 1891 Noon UT |  8 ar 11    |
30 Jan 1891 Noon UT |  8 ar 27    |
31 Jan 1891 Noon UT |  8 ar 43    |
01 Feb 1891 Noon UT |  8 ar 59    |
02 Feb 1891 Noon UT |  9 ar 15    |
03 Feb 1891 Noon UT |  9 ar 31    |
04 Feb 1891 Noon UT |  9 ar 48    |
05 Feb 1891 Noon UT | 10 ar  4    |
06 Feb 1891 Noon UT | 10 ar 21    |
07 Feb 1891 Noon UT | 10 ar 38    |
08 Feb 1891 Noon UT | 10 ar 55    |
09 Feb 1891 Noon UT | 11 ar 12    |
10 Feb 1891 Noon UT | 11 ar 29    |
11 Feb 1891 Noon UT | 11 ar 46    |
12 Feb 1891 Noon UT | 12 ar  3    |
13 Feb 1891 Noon UT | 12 ar 20    |
14 Feb 1891 Noon UT | 12 ar 38    |
15 Feb 1891 Noon UT | 12 ar 55    |
16 Feb 1891 Noon UT | 13 ar 13    |
17 Feb 1891 Noon UT | 13 ar 30    |
18 Feb 1891 Noon UT | 13 ar 48    |
19 Feb 1891 Noon UT | 14 ar  6    |
20 Feb 1891 Noon UT | 14 ar 24    |
21 Feb 1891 Noon UT | 14 ar 42    |
22 Feb 1891 Noon UT | 15 ar  0    |
23 Feb 1891 Noon UT | 15 ar 18    |
24 Feb 1891 Noon UT | 15 ar 36    |
25 Feb 1891 Noon UT | 15 ar 54    |
26 Feb 1891 Noon UT | 16 ar 12    |
27 Feb 1891 Noon UT | 16 ar 31    |
28 Feb 1891 Noon UT | 16 ar 49    |
01 Mar 1891 Noon UT | 17 ar  8    |
02 Mar 1891 Noon UT | 17 ar 26    |
03 Mar 1891 Noon UT | 17 ar 45    |
04 Mar 1891 Noon UT | 18 ar  3    |
05 Mar 1891 Noon UT | 18 ar 22    |
06 Mar 1891 Noon UT | 18 ar 41    |
07 Mar 1891 Noon UT | 19 ar  0    |
08 Mar 1891 Noon UT | 19 ar 18    |
09 Mar 1891 Noon UT | 19 ar 37    |
10 Mar 1891 Noon UT | 19 ar 56    |
11 Mar 1891 Noon UT | 20 ar 15    |
12 Mar 1891 Noon UT | 20 ar 34    |
13 Mar 1891 Noon UT | 20 ar 53    |
14 Mar 1891 Noon UT | 21 ar 12    |
15 Mar 1891 Noon UT | 21 ar 32    |
16 Mar 1891 Noon UT | 21 ar 51    |
17 Mar 1891 Noon UT | 22 ar 10    |
18 Mar 1891 Noon UT | 22 ar 29    |
19 Mar 1891 Noon UT | 22 ar 49    |
20 Mar 1891 Noon UT | 23 ar  8    |
21 Mar 1891 Noon UT | 23 ar 27    |
22 Mar 1891 Noon UT | 23 ar 47    |
23 Mar 1891 Noon UT | 24 ar  6    |
24 Mar 1891 Noon UT | 24 ar 26    |
25 Mar 1891 Noon UT | 24 ar 45    |
26 Mar 1891 Noon UT | 25 ar  5    |
27 Mar 1891 Noon UT | 25 ar 24    |
28 Mar 1891 Noon UT | 25 ar 44    |
29 Mar 1891 Noon UT | 26 ar  3    |
30 Mar 1891 Noon UT | 26 ar 23    |
31 Mar 1891 Noon UT | 26 ar 43    |
01 Apr 1891 Noon UT | 27 ar  2    |
02 Apr 1891 Noon UT | 27 ar 22    |
03 Apr 1891 Noon UT | 27 ar 42    |
04 Apr 1891 Noon UT | 28 ar  1    |
05 Apr 1891 Noon UT | 28 ar 21    |
06 Apr 1891 Noon UT | 28 ar 41    |
07 Apr 1891 Noon UT | 29 ar  1    |
08 Apr 1891 Noon UT | 29 ar 20    |
09 Apr 1891 Noon UT | 29 ar 40    |
10 Apr 1891 Noon UT |  0 ta  0    |
11 Apr 1891 Noon UT |  0 ta 20    |
12 Apr 1891 Noon UT |  0 ta 39    |
13 Apr 1891 Noon UT |  0 ta 59    |
14 Apr 1891 Noon UT |  1 ta 19    |
15 Apr 1891 Noon UT |  1 ta 39    |
16 Apr 1891 Noon UT |  1 ta 59    |
17 Apr 1891 Noon UT |  2 ta 19    |
18 Apr 1891 Noon UT |  2 ta 38    |
19 Apr 1891 Noon UT |  2 ta 58    |
20 Apr 1891 Noon UT |  3 ta 18    |
21 Apr 1891 Noon UT |  3 ta 38    |
22 Apr 1891 Noon UT |  3 ta 58    |
23 Apr 1891 Noon UT |  4 ta 17    |
24 Apr 1891 Noon UT |  4 ta 37    |
25 Apr 1891 Noon UT |  4 ta 57    |
26 Apr 1891 Noon UT |  5 ta 17    |
27 Apr 1891 Noon UT |  5 ta 37    |
28 Apr 1891 Noon UT |  5 ta 56    |
29 Apr 1891 Noon UT |  6 ta 16    |
30 Apr 1891 Noon UT |  6 ta 36    |
01 May 1891 Noon UT |  6 ta 56    |
02 May 1891 Noon UT |  7 ta 16    |
03 May 1891 Noon UT |  7 ta 35    |
04 May 1891 Noon UT |  7 ta 55    |
05 May 1891 Noon UT |  8 ta 15    |
06 May 1891 Noon UT |  8 ta 34    |
07 May 1891 Noon UT |  8 ta 54    |
08 May 1891 Noon UT |  9 ta 14    |
09 May 1891 Noon UT |  9 ta 33    |
10 May 1891 Noon UT |  9 ta 53    |
11 May 1891 Noon UT | 10 ta 13    |
12 May 1891 Noon UT | 10 ta 32    |
13 May 1891 Noon UT | 10 ta 52    |
14 May 1891 Noon UT | 11 ta 11    |
15 May 1891 Noon UT | 11 ta 31    |
16 May 1891 Noon UT | 11 ta 50    |
17 May 1891 Noon UT | 12 ta 10    |
18 May 1891 Noon UT | 12 ta 29    |
19 May 1891 Noon UT | 12 ta 49    |
20 May 1891 Noon UT | 13 ta  8    |
21 May 1891 Noon UT | 13 ta 27    |
22 May 1891 Noon UT | 13 ta 47    |
23 May 1891 Noon UT | 14 ta  6    |
24 May 1891 Noon UT | 14 ta 25    |
25 May 1891 Noon UT | 14 ta 44    |
26 May 1891 Noon UT | 15 ta  3    |
27 May 1891 Noon UT | 15 ta 23    |
28 May 1891 Noon UT | 15 ta 42    |
29 May 1891 Noon UT | 16 ta  1    |
30 May 1891 Noon UT | 16 ta 20    |
31 May 1891 Noon UT | 16 ta 39    |
01 Jun 1891 Noon UT | 16 ta 58    |
02 Jun 1891 Noon UT | 17 ta 17    |
03 Jun 1891 Noon UT | 17 ta 36    |
04 Jun 1891 Noon UT | 17 ta 54    |
05 Jun 1891 Noon UT | 18 ta 13    |
06 Jun 1891 Noon UT | 18 ta 32    |
07 Jun 1891 Noon UT | 18 ta 51    |
08 Jun 1891 Noon UT | 19 ta  9    |
09 Jun 1891 Noon UT | 19 ta 28    |
10 Jun 1891 Noon UT | 19 ta 46    |
11 Jun 1891 Noon UT | 20 ta  5    |
12 Jun 1891 Noon UT | 20 ta 23    |
13 Jun 1891 Noon UT | 20 ta 42    |
14 Jun 1891 Noon UT | 21 ta  0    |
15 Jun 1891 Noon UT | 21 ta 18    |
16 Jun 1891 Noon UT | 21 ta 36    |
17 Jun 1891 Noon UT | 21 ta 54    |
18 Jun 1891 Noon UT | 22 ta 13    |
19 Jun 1891 Noon UT | 22 ta 31    |
20 Jun 1891 Noon UT | 22 ta 48    |
21 Jun 1891 Noon UT | 23 ta  6    |
22 Jun 1891 Noon UT | 23 ta 24    |
23 Jun 1891 Noon UT | 23 ta 42    |
24 Jun 1891 Noon UT | 24 ta  0    |
25 Jun 1891 Noon UT | 24 ta 17    |
26 Jun 1891 Noon UT | 24 ta 35    |
27 Jun 1891 Noon UT | 24 ta 52    |
28 Jun 1891 Noon UT | 25 ta 10    |
29 Jun 1891 Noon UT | 25 ta 27    |
30 Jun 1891 Noon UT | 25 ta 44    |
01 Jul 1891 Noon UT | 26 ta  1    |
02 Jul 1891 Noon UT | 26 ta 19    |
03 Jul 1891 Noon UT | 26 ta 36    |
04 Jul 1891 Noon UT | 26 ta 53    |
05 Jul 1891 Noon UT | 27 ta  9    |
06 Jul 1891 Noon UT | 27 ta 26    |
07 Jul 1891 Noon UT | 27 ta 43    |
08 Jul 1891 Noon UT | 27 ta 59    |
09 Jul 1891 Noon UT | 28 ta 16    |
10 Jul 1891 Noon UT | 28 ta 32    |
11 Jul 1891 Noon UT | 28 ta 49    |
12 Jul 1891 Noon UT | 29 ta  5    |
13 Jul 1891 Noon UT | 29 ta 21    |
14 Jul 1891 Noon UT | 29 ta 37    |
15 Jul 1891 Noon UT | 29 ta 53    |
16 Jul 1891 Noon UT |  0 ge  9    |
17 Jul 1891 Noon UT |  0 ge 25    |
18 Jul 1891 Noon UT |  0 ge 40    |
19 Jul 1891 Noon UT |  0 ge 56    |
20 Jul 1891 Noon UT |  1 ge 11    |
21 Jul 1891 Noon UT |  1 ge 26    |
22 Jul 1891 Noon UT |  1 ge 42    |
23 Jul 1891 Noon UT |  1 ge 57    |
24 Jul 1891 Noon UT |  2 ge 12    |
25 Jul 1891 Noon UT |  2 ge 27    |
26 Jul 1891 Noon UT |  2 ge 41    |
27 Jul 1891 Noon UT |  2 ge 56    |
28 Jul 1891 Noon UT |  3 ge 10    |
29 Jul 1891 Noon UT |  3 ge 25    |
30 Jul 1891 Noon UT |  3 ge 39    |
31 Jul 1891 Noon UT |  3 ge 53    |
01 Aug 1891 Noon UT |  4 ge  7    |
02 Aug 1891 Noon UT |  4 ge 21    |
03 Aug 1891 Noon UT |  4 ge 35    |
04 Aug 1891 Noon UT |  4 ge 48    |
05 Aug 1891 Noon UT |  5 ge  2    |
06 Aug 1891 Noon UT |  5 ge 15    |
07 Aug 1891 Noon UT |  5 ge 28    |
08 Aug 1891 Noon UT |  5 ge 41    |
09 Aug 1891 Noon UT |  5 ge 54    |
10 Aug 1891 Noon UT |  6 ge  6    |
11 Aug 1891 Noon UT |  6 ge 19    |
12 Aug 1891 Noon UT |  6 ge 31    |
13 Aug 1891 Noon UT |  6 ge 43    |
14 Aug 1891 Noon UT |  6 ge 55    |
15 Aug 1891 Noon UT |  7 ge  7    |
16 Aug 1891 Noon UT |  7 ge 19    |
17 Aug 1891 Noon UT |  7 ge 31    |
18 Aug 1891 Noon UT |  7 ge 42    |
19 Aug 1891 Noon UT |  7 ge 53    |
20 Aug 1891 Noon UT |  8 ge  4    |
21 Aug 1891 Noon UT |  8 ge 15    |
22 Aug 1891 Noon UT |  8 ge 26    |
23 Aug 1891 Noon UT |  8 ge 36    |
24 Aug 1891 Noon UT |  8 ge 46    |
25 Aug 1891 Noon UT |  8 ge 56    |
26 Aug 1891 Noon UT |  9 ge  6    |
27 Aug 1891 Noon UT |  9 ge 16    |
28 Aug 1891 Noon UT |  9 ge 25    |
29 Aug 1891 Noon UT |  9 ge 35    |
30 Aug 1891 Noon UT |  9 ge 44    |
31 Aug 1891 Noon UT |  9 ge 53    |
01 Sep 1891 Noon UT | 10 ge  1    |
02 Sep 1891 Noon UT | 10 ge 10    |
03 Sep 1891 Noon UT | 10 ge 18    |
04 Sep 1891 Noon UT | 10 ge 26    |
05 Sep 1891 Noon UT | 10 ge 34    |
06 Sep 1891 Noon UT | 10 ge 41    |
07 Sep 1891 Noon UT | 10 ge 49    |
08 Sep 1891 Noon UT | 10 ge 56    |
09 Sep 1891 Noon UT | 11 ge  2    |
10 Sep 1891 Noon UT | 11 ge  9    |
11 Sep 1891 Noon UT | 11 ge 15    |
12 Sep 1891 Noon UT | 11 ge 21    |
13 Sep 1891 Noon UT | 11 ge 27    |
14 Sep 1891 Noon UT | 11 ge 33    |
15 Sep 1891 Noon UT | 11 ge 38    |
16 Sep 1891 Noon UT | 11 ge 43    |
17 Sep 1891 Noon UT | 11 ge 48    |
18 Sep 1891 Noon UT | 11 ge 53    |
19 Sep 1891 Noon UT | 11 ge 57    |
20 Sep 1891 Noon UT | 12 ge  1    |
21 Sep 1891 Noon UT | 12 ge  5    |
22 Sep 1891 Noon UT | 12 ge  8    |
23 Sep 1891 Noon UT | 12 ge 12    |
24 Sep 1891 Noon UT | 12 ge 15    |
25 Sep 1891 Noon UT | 12 ge 17    |
26 Sep 1891 Noon UT | 12 ge 20    |
27 Sep 1891 Noon UT | 12 ge 22    |
28 Sep 1891 Noon UT | 12 ge 24    |
29 Sep 1891 Noon UT | 12 ge 25    |
30 Sep 1891 Noon UT | 12 ge 26    |
01 Oct 1891 Noon UT | 12 ge 27    |
02 Oct 1891 Noon UT | 12 ge 28    |
03 Oct 1891 Noon UT | 12 ge 28    |
04 Oct 1891 Noon UT | 12 ge 28 Rx |
05 Oct 1891 Noon UT | 12 ge 28 Rx |
06 Oct 1891 Noon UT | 12 ge 27 Rx |
07 Oct 1891 Noon UT | 12 ge 26 Rx |
08 Oct 1891 Noon UT | 12 ge 25 Rx |
09 Oct 1891 Noon UT | 12 ge 24 Rx |
10 Oct 1891 Noon UT | 12 ge 22 Rx |
11 Oct 1891 Noon UT | 12 ge 20 Rx |
12 Oct 1891 Noon UT | 12 ge 17 Rx |
13 Oct 1891 Noon UT | 12 ge 15 Rx |
14 Oct 1891 Noon UT | 12 ge 12 Rx |
15 Oct 1891 Noon UT | 12 ge  8 Rx |
16 Oct 1891 Noon UT | 12 ge  5 Rx |
17 Oct 1891 Noon UT | 12 ge  1 Rx |
18 Oct 1891 Noon UT | 11 ge 56 Rx |
19 Oct 1891 Noon UT | 11 ge 52 Rx |
20 Oct 1891 Noon UT | 11 ge 47 Rx |
21 Oct 1891 Noon UT | 11 ge 42 Rx |
22 Oct 1891 Noon UT | 11 ge 36 Rx |
23 Oct 1891 Noon UT | 11 ge 31 Rx |
24 Oct 1891 Noon UT | 11 ge 25 Rx |
25 Oct 1891 Noon UT | 11 ge 18 Rx |
26 Oct 1891 Noon UT | 11 ge 12 Rx |
27 Oct 1891 Noon UT | 11 ge  5 Rx |
28 Oct 1891 Noon UT | 10 ge 58 Rx |
29 Oct 1891 Noon UT | 10 ge 50 Rx |
30 Oct 1891 Noon UT | 10 ge 43 Rx |
31 Oct 1891 Noon UT | 10 ge 35 Rx |
01 Nov 1891 Noon UT | 10 ge 27 Rx |
02 Nov 1891 Noon UT | 10 ge 18 Rx |
03 Nov 1891 Noon UT | 10 ge  9 Rx |
04 Nov 1891 Noon UT | 10 ge  0 Rx |
05 Nov 1891 Noon UT |  9 ge 51 Rx |
06 Nov 1891 Noon UT |  9 ge 42 Rx |
07 Nov 1891 Noon UT |  9 ge 32 Rx |
08 Nov 1891 Noon UT |  9 ge 22 Rx |
09 Nov 1891 Noon UT |  9 ge 12 Rx |
10 Nov 1891 Noon UT |  9 ge  2 Rx |
11 Nov 1891 Noon UT |  8 ge 52 Rx |
12 Nov 1891 Noon UT |  8 ge 41 Rx |
13 Nov 1891 Noon UT |  8 ge 30 Rx |
14 Nov 1891 Noon UT |  8 ge 19 Rx |
15 Nov 1891 Noon UT |  8 ge  8 Rx |
16 Nov 1891 Noon UT |  7 ge 57 Rx |
17 Nov 1891 Noon UT |  7 ge 46 Rx |
18 Nov 1891 Noon UT |  7 ge 34 Rx |
19 Nov 1891 Noon UT |  7 ge 23 Rx |
20 Nov 1891 Noon UT |  7 ge 11 Rx |
21 Nov 1891 Noon UT |  6 ge 59 Rx |
22 Nov 1891 Noon UT |  6 ge 47 Rx |
23 Nov 1891 Noon UT |  6 ge 35 Rx |
24 Nov 1891 Noon UT |  6 ge 23 Rx |
25 Nov 1891 Noon UT |  6 ge 11 Rx |
26 Nov 1891 Noon UT |  5 ge 59 Rx |
27 Nov 1891 Noon UT |  5 ge 47 Rx |
28 Nov 1891 Noon UT |  5 ge 35 Rx |
29 Nov 1891 Noon UT |  5 ge 23 Rx |
30 Nov 1891 Noon UT |  5 ge 11 Rx |
01 Dec 1891 Noon UT |  4 ge 59 Rx |
02 Dec 1891 Noon UT |  4 ge 47 Rx |
03 Dec 1891 Noon UT |  4 ge 35 Rx |
04 Dec 1891 Noon UT |  4 ge 23 Rx |
05 Dec 1891 Noon UT |  4 ge 12 Rx |
06 Dec 1891 Noon UT |  4 ge  0 Rx |
07 Dec 1891 Noon UT |  3 ge 48 Rx |
08 Dec 1891 Noon UT |  3 ge 37 Rx |
09 Dec 1891 Noon UT |  3 ge 25 Rx |
10 Dec 1891 Noon UT |  3 ge 14 Rx |
11 Dec 1891 Noon UT |  3 ge  3 Rx |
12 Dec 1891 Noon UT |  2 ge 52 Rx |
13 Dec 1891 Noon UT |  2 ge 41 Rx |
14 Dec 1891 Noon UT |  2 ge 31 Rx |
15 Dec 1891 Noon UT |  2 ge 20 Rx |
16 Dec 1891 Noon UT |  2 ge 10 Rx |
17 Dec 1891 Noon UT |  2 ge  0 Rx |
18 Dec 1891 Noon UT |  1 ge 50 Rx |
19 Dec 1891 Noon UT |  1 ge 40 Rx |
20 Dec 1891 Noon UT |  1 ge 31 Rx |
21 Dec 1891 Noon UT |  1 ge 21 Rx |
22 Dec 1891 Noon UT |  1 ge 12 Rx |
23 Dec 1891 Noon UT |  1 ge  4 Rx |
24 Dec 1891 Noon UT |  0 ge 55 Rx |
25 Dec 1891 Noon UT |  0 ge 47 Rx |
26 Dec 1891 Noon UT |  0 ge 39 Rx |
27 Dec 1891 Noon UT |  0 ge 31 Rx |
28 Dec 1891 Noon UT |  0 ge 24 Rx |
29 Dec 1891 Noon UT |  0 ge 16 Rx |
30 Dec 1891 Noon UT |  0 ge 10 Rx |
31 Dec 1891 Noon UT |  0 ge  3 Rx |
01 Jan 1892 Noon UT | 29 ta 57 Rx |
02 Jan 1892 Noon UT | 29 ta 51 Rx |
03 Jan 1892 Noon UT | 29 ta 45 Rx |
04 Jan 1892 Noon UT | 29 ta 39 Rx |
05 Jan 1892 Noon UT | 29 ta 34 Rx |
06 Jan 1892 Noon UT | 29 ta 29 Rx |
07 Jan 1892 Noon UT | 29 ta 25 Rx |
08 Jan 1892 Noon UT | 29 ta 21 Rx |
09 Jan 1892 Noon UT | 29 ta 17 Rx |
10 Jan 1892 Noon UT | 29 ta 13 Rx |
11 Jan 1892 Noon UT | 29 ta 10 Rx |
12 Jan 1892 Noon UT | 29 ta  7 Rx |
13 Jan 1892 Noon UT | 29 ta  4 Rx |
14 Jan 1892 Noon UT | 29 ta  2 Rx |
15 Jan 1892 Noon UT | 29 ta  0 Rx |
16 Jan 1892 Noon UT | 28 ta 58 Rx |
17 Jan 1892 Noon UT | 28 ta 57 Rx |
18 Jan 1892 Noon UT | 28 ta 56 Rx |
19 Jan 1892 Noon UT | 28 ta 55 Rx |
20 Jan 1892 Noon UT | 28 ta 55 Rx |
21 Jan 1892 Noon UT | 28 ta 55    |
22 Jan 1892 Noon UT | 28 ta 55    |
23 Jan 1892 Noon UT | 28 ta 55    |
24 Jan 1892 Noon UT | 28 ta 56    |
25 Jan 1892 Noon UT | 28 ta 57    |
26 Jan 1892 Noon UT | 28 ta 59    |
27 Jan 1892 Noon UT | 29 ta  0    |
28 Jan 1892 Noon UT | 29 ta  2    |
29 Jan 1892 Noon UT | 29 ta  5    |
30 Jan 1892 Noon UT | 29 ta  7    |
31 Jan 1892 Noon UT | 29 ta 10    |
01 Feb 1892 Noon UT | 29 ta 13    |
02 Feb 1892 Noon UT | 29 ta 17    |
03 Feb 1892 Noon UT | 29 ta 21    |
04 Feb 1892 Noon UT | 29 ta 25    |
05 Feb 1892 Noon UT | 29 ta 29    |
06 Feb 1892 Noon UT | 29 ta 34    |
07 Feb 1892 Noon UT | 29 ta 39    |
08 Feb 1892 Noon UT | 29 ta 44    |
09 Feb 1892 Noon UT | 29 ta 49    |
10 Feb 1892 Noon UT | 29 ta 55    |
11 Feb 1892 Noon UT |  0 ge  1    |
12 Feb 1892 Noon UT |  0 ge  7    |
13 Feb 1892 Noon UT |  0 ge 14    |
14 Feb 1892 Noon UT |  0 ge 21    |
15 Feb 1892 Noon UT |  0 ge 28    |
16 Feb 1892 Noon UT |  0 ge 35    |
17 Feb 1892 Noon UT |  0 ge 42    |
18 Feb 1892 Noon UT |  0 ge 50    |
19 Feb 1892 Noon UT |  0 ge 58    |
20 Feb 1892 Noon UT |  1 ge  6    |
21 Feb 1892 Noon UT |  1 ge 15    |
22 Feb 1892 Noon UT |  1 ge 23    |
23 Feb 1892 Noon UT |  1 ge 32    |
24 Feb 1892 Noon UT |  1 ge 41    |
25 Feb 1892 Noon UT |  1 ge 51    |
26 Feb 1892 Noon UT |  2 ge  0    |
27 Feb 1892 Noon UT |  2 ge 10    |
28 Feb 1892 Noon UT |  2 ge 20    |
29 Feb 1892 Noon UT |  2 ge 30    |
01 Mar 1892 Noon UT |  2 ge 40    |
02 Mar 1892 Noon UT |  2 ge 51    |
03 Mar 1892 Noon UT |  3 ge  2    |
04 Mar 1892 Noon UT |  3 ge 13    |
05 Mar 1892 Noon UT |  3 ge 24    |
06 Mar 1892 Noon UT |  3 ge 35    |
07 Mar 1892 Noon UT |  3 ge 47    |
08 Mar 1892 Noon UT |  3 ge 59    |
09 Mar 1892 Noon UT |  4 ge 11    |
10 Mar 1892 Noon UT |  4 ge 23    |
11 Mar 1892 Noon UT |  4 ge 35    |
12 Mar 1892 Noon UT |  4 ge 47    |
13 Mar 1892 Noon UT |  5 ge  0    |
14 Mar 1892 Noon UT |  5 ge 13    |
15 Mar 1892 Noon UT |  5 ge 26    |
16 Mar 1892 Noon UT |  5 ge 39    |
17 Mar 1892 Noon UT |  5 ge 52    |
18 Mar 1892 Noon UT |  6 ge  5    |
19 Mar 1892 Noon UT |  6 ge 19    |
20 Mar 1892 Noon UT |  6 ge 33    |
21 Mar 1892 Noon UT |  6 ge 47    |
22 Mar 1892 Noon UT |  7 ge  1    |
23 Mar 1892 Noon UT |  7 ge 15    |
24 Mar 1892 Noon UT |  7 ge 29    |
25 Mar 1892 Noon UT |  7 ge 44    |
26 Mar 1892 Noon UT |  7 ge 58    |
27 Mar 1892 Noon UT |  8 ge 13    |
28 Mar 1892 Noon UT |  8 ge 28    |
29 Mar 1892 Noon UT |  8 ge 43    |
30 Mar 1892 Noon UT |  8 ge 58    |
31 Mar 1892 Noon UT |  9 ge 13    |
01 Apr 1892 Noon UT |  9 ge 28    |
02 Apr 1892 Noon UT |  9 ge 44    |
03 Apr 1892 Noon UT |  9 ge 59    |
04 Apr 1892 Noon UT | 10 ge 15    |
05 Apr 1892 Noon UT | 10 ge 31    |
06 Apr 1892 Noon UT | 10 ge 47    |
07 Apr 1892 Noon UT | 11 ge  3    |
08 Apr 1892 Noon UT | 11 ge 19    |
09 Apr 1892 Noon UT | 11 ge 35    |
10 Apr 1892 Noon UT | 11 ge 51    |
11 Apr 1892 Noon UT | 12 ge  8    |
12 Apr 1892 Noon UT | 12 ge 24    |
13 Apr 1892 Noon UT | 12 ge 41    |
14 Apr 1892 Noon UT | 12 ge 58    |
15 Apr 1892 Noon UT | 13 ge 15    |
16 Apr 1892 Noon UT | 13 ge 31    |
17 Apr 1892 Noon UT | 13 ge 49    |
18 Apr 1892 Noon UT | 14 ge  6    |
19 Apr 1892 Noon UT | 14 ge 23    |
20 Apr 1892 Noon UT | 14 ge 40    |
21 Apr 1892 Noon UT | 14 ge 57    |
22 Apr 1892 Noon UT | 15 ge 15    |
23 Apr 1892 Noon UT | 15 ge 32    |
24 Apr 1892 Noon UT | 15 ge 50    |
25 Apr 1892 Noon UT | 16 ge  8    |
26 Apr 1892 Noon UT | 16 ge 25    |
27 Apr 1892 Noon UT | 16 ge 43    |
28 Apr 1892 Noon UT | 17 ge  1    |
29 Apr 1892 Noon UT | 17 ge 19    |
30 Apr 1892 Noon UT | 17 ge 37    |
01 May 1892 Noon UT | 17 ge 55    |
02 May 1892 Noon UT | 18 ge 13    |
03 May 1892 Noon UT | 18 ge 32    |
04 May 1892 Noon UT | 18 ge 50    |
05 May 1892 Noon UT | 19 ge  8    |
06 May 1892 Noon UT | 19 ge 27    |
07 May 1892 Noon UT | 19 ge 45    |
08 May 1892 Noon UT | 20 ge  4    |
09 May 1892 Noon UT | 20 ge 23    |
10 May 1892 Noon UT | 20 ge 41    |
11 May 1892 Noon UT | 21 ge  0    |
12 May 1892 Noon UT | 21 ge 19    |
13 May 1892 Noon UT | 21 ge 37    |
14 May 1892 Noon UT | 21 ge 56    |
15 May 1892 Noon UT | 22 ge 15    |
16 May 1892 Noon UT | 22 ge 34    |
17 May 1892 Noon UT | 22 ge 53    |
18 May 1892 Noon UT | 23 ge 12    |
19 May 1892 Noon UT | 23 ge 31    |
20 May 1892 Noon UT | 23 ge 51    |
21 May 1892 Noon UT | 24 ge 10    |
22 May 1892 Noon UT | 24 ge 29    |
23 May 1892 Noon UT | 24 ge 48    |
24 May 1892 Noon UT | 25 ge  8    |
25 May 1892 Noon UT | 25 ge 27    |
26 May 1892 Noon UT | 25 ge 47    |
27 May 1892 Noon UT | 26 ge  6    |
28 May 1892 Noon UT | 26 ge 25    |
29 May 1892 Noon UT | 26 ge 45    |
30 May 1892 Noon UT | 27 ge  5    |
31 May 1892 Noon UT | 27 ge 24    |
01 Jun 1892 Noon UT | 27 ge 44    |
02 Jun 1892 Noon UT | 28 ge  3    |
03 Jun 1892 Noon UT | 28 ge 23    |
04 Jun 1892 Noon UT | 28 ge 43    |
05 Jun 1892 Noon UT | 29 ge  3    |
06 Jun 1892 Noon UT | 29 ge 22    |
07 Jun 1892 Noon UT | 29 ge 42    |
08 Jun 1892 Noon UT |  0 cn  2    |
09 Jun 1892 Noon UT |  0 cn 22    |
10 Jun 1892 Noon UT |  0 cn 42    |
11 Jun 1892 Noon UT |  1 cn  1    |
12 Jun 1892 Noon UT |  1 cn 21    |
13 Jun 1892 Noon UT |  1 cn 41    |
14 Jun 1892 Noon UT |  2 cn  1    |
15 Jun 1892 Noon UT |  2 cn 21    |
16 Jun 1892 Noon UT |  2 cn 41    |
17 Jun 1892 Noon UT |  3 cn  1    |
18 Jun 1892 Noon UT |  3 cn 21    |
19 Jun 1892 Noon UT |  3 cn 41    |
20 Jun 1892 Noon UT |  4 cn  1    |
21 Jun 1892 Noon UT |  4 cn 21    |
22 Jun 1892 Noon UT |  4 cn 41    |
23 Jun 1892 Noon UT |  5 cn  1    |
24 Jun 1892 Noon UT |  5 cn 21    |
25 Jun 1892 Noon UT |  5 cn 42    |
26 Jun 1892 Noon UT |  6 cn  2    |
27 Jun 1892 Noon UT |  6 cn 22    |
28 Jun 1892 Noon UT |  6 cn 42    |
29 Jun 1892 Noon UT |  7 cn  2    |
30 Jun 1892 Noon UT |  7 cn 22    |
01 Jul 1892 Noon UT |  7 cn 42    |
02 Jul 1892 Noon UT |  8 cn  2    |
03 Jul 1892 Noon UT |  8 cn 23    |
04 Jul 1892 Noon UT |  8 cn 43    |
05 Jul 1892 Noon UT |  9 cn  3    |
06 Jul 1892 Noon UT |  9 cn 23    |
07 Jul 1892 Noon UT |  9 cn 43    |
08 Jul 1892 Noon UT | 10 cn  3    |
09 Jul 1892 Noon UT | 10 cn 23    |
10 Jul 1892 Noon UT | 10 cn 43    |
11 Jul 1892 Noon UT | 11 cn  4    |
12 Jul 1892 Noon UT | 11 cn 24    |
13 Jul 1892 Noon UT | 11 cn 44    |
14 Jul 1892 Noon UT | 12 cn  4    |
15 Jul 1892 Noon UT | 12 cn 24    |
16 Jul 1892 Noon UT | 12 cn 44    |
17 Jul 1892 Noon UT | 13 cn  4    |
18 Jul 1892 Noon UT | 13 cn 24    |
19 Jul 1892 Noon UT | 13 cn 44    |
20 Jul 1892 Noon UT | 14 cn  4    |
21 Jul 1892 Noon UT | 14 cn 24    |
22 Jul 1892 Noon UT | 14 cn 44    |
23 Jul 1892 Noon UT | 15 cn  4    |
24 Jul 1892 Noon UT | 15 cn 24    |
25 Jul 1892 Noon UT | 15 cn 44    |
26 Jul 1892 Noon UT | 16 cn  4    |
27 Jul 1892 Noon UT | 16 cn 24    |
28 Jul 1892 Noon UT | 16 cn 44    |
29 Jul 1892 Noon UT | 17 cn  4    |
30 Jul 1892 Noon UT | 17 cn 24    |
31 Jul 1892 Noon UT | 17 cn 44    |
01 Aug 1892 Noon UT | 18 cn  4    |
02 Aug 1892 Noon UT | 18 cn 23    |
03 Aug 1892 Noon UT | 18 cn 43    |
04 Aug 1892 Noon UT | 19 cn  3    |
05 Aug 1892 Noon UT | 19 cn 23    |
06 Aug 1892 Noon UT | 19 cn 42    |
07 Aug 1892 Noon UT | 20 cn  2    |
08 Aug 1892 Noon UT | 20 cn 22    |
09 Aug 1892 Noon UT | 20 cn 41    |
10 Aug 1892 Noon UT | 21 cn  1    |
11 Aug 1892 Noon UT | 21 cn 20    |
12 Aug 1892 Noon UT | 21 cn 40    |
13 Aug 1892 Noon UT | 21 cn 59    |
14 Aug 1892 Noon UT | 22 cn 19    |
15 Aug 1892 Noon UT | 22 cn 38    |
16 Aug 1892 Noon UT | 22 cn 57    |
17 Aug 1892 Noon UT | 23 cn 17    |
18 Aug 1892 Noon UT | 23 cn 36    |
19 Aug 1892 Noon UT | 23 cn 55    |
20 Aug 1892 Noon UT | 24 cn 14    |
21 Aug 1892 Noon UT | 24 cn 33    |
22 Aug 1892 Noon UT | 24 cn 52    |
23 Aug 1892 Noon UT | 25 cn 12    |
24 Aug 1892 Noon UT | 25 cn 30    |
25 Aug 1892 Noon UT | 25 cn 49    |
26 Aug 1892 Noon UT | 26 cn  8    |
27 Aug 1892 Noon UT | 26 cn 27    |
28 Aug 1892 Noon UT | 26 cn 46    |
29 Aug 1892 Noon UT | 27 cn  4    |
30 Aug 1892 Noon UT | 27 cn 23    |
31 Aug 1892 Noon UT | 27 cn 42    |
01 Sep 1892 Noon UT | 28 cn  0    |
02 Sep 1892 Noon UT | 28 cn 19    |
03 Sep 1892 Noon UT | 28 cn 37    |
04 Sep 1892 Noon UT | 28 cn 55    |
05 Sep 1892 Noon UT | 29 cn 14    |
06 Sep 1892 Noon UT | 29 cn 32    |
07 Sep 1892 Noon UT | 29 cn 50    |
08 Sep 1892 Noon UT |  0 le  8    |
09 Sep 1892 Noon UT |  0 le 26    |
10 Sep 1892 Noon UT |  0 le 44    |
11 Sep 1892 Noon UT |  1 le  2    |
12 Sep 1892 Noon UT |  1 le 19    |
13 Sep 1892 Noon UT |  1 le 37    |
14 Sep 1892 Noon UT |  1 le 55    |
15 Sep 1892 Noon UT |  2 le 12    |
16 Sep 1892 Noon UT |  2 le 29    |
17 Sep 1892 Noon UT |  2 le 47    |
18 Sep 1892 Noon UT |  3 le  4    |
19 Sep 1892 Noon UT |  3 le 21    |
20 Sep 1892 Noon UT |  3 le 38    |
21 Sep 1892 Noon UT |  3 le 55    |
22 Sep 1892 Noon UT |  4 le 12    |
23 Sep 1892 Noon UT |  4 le 29    |
24 Sep 1892 Noon UT |  4 le 45    |
25 Sep 1892 Noon UT |  5 le  2    |
26 Sep 1892 Noon UT |  5 le 18    |
27 Sep 1892 Noon UT |  5 le 35    |
28 Sep 1892 Noon UT |  5 le 51    |
29 Sep 1892 Noon UT |  6 le  7    |
30 Sep 1892 Noon UT |  6 le 23    |
01 Oct 1892 Noon UT |  6 le 39    |
02 Oct 1892 Noon UT |  6 le 55    |
03 Oct 1892 Noon UT |  7 le 10    |
04 Oct 1892 Noon UT |  7 le 26    |
05 Oct 1892 Noon UT |  7 le 41    |
06 Oct 1892 Noon UT |  7 le 56    |
07 Oct 1892 Noon UT |  8 le 11    |
08 Oct 1892 Noon UT |  8 le 26    |
09 Oct 1892 Noon UT |  8 le 41    |
10 Oct 1892 Noon UT |  8 le 56    |
11 Oct 1892 Noon UT |  9 le 11    |
12 Oct 1892 Noon UT |  9 le 25    |
13 Oct 1892 Noon UT |  9 le 39    |
14 Oct 1892 Noon UT |  9 le 53    |
15 Oct 1892 Noon UT | 10 le  7    |
16 Oct 1892 Noon UT | 10 le 21    |
17 Oct 1892 Noon UT | 10 le 35    |
18 Oct 1892 Noon UT | 10 le 48    |
19 Oct 1892 Noon UT | 11 le  2    |
20 Oct 1892 Noon UT | 11 le 15    |
21 Oct 1892 Noon UT | 11 le 28    |
22 Oct 1892 Noon UT | 11 le 41    |
23 Oct 1892 Noon UT | 11 le 53    |
24 Oct 1892 Noon UT | 12 le  6    |
25 Oct 1892 Noon UT | 12 le 18    |
26 Oct 1892 Noon UT | 12 le 30    |
27 Oct 1892 Noon UT | 12 le 42    |
28 Oct 1892 Noon UT | 12 le 54    |
29 Oct 1892 Noon UT | 13 le  5    |
30 Oct 1892 Noon UT | 13 le 17    |
31 Oct 1892 Noon UT | 13 le 28    |
01 Nov 1892 Noon UT | 13 le 39    |
02 Nov 1892 Noon UT | 13 le 50    |
03 Nov 1892 Noon UT | 14 le  0    |
04 Nov 1892 Noon UT | 14 le 10    |
05 Nov 1892 Noon UT | 14 le 20    |
06 Nov 1892 Noon UT | 14 le 30    |
07 Nov 1892 Noon UT | 14 le 40    |
08 Nov 1892 Noon UT | 14 le 49    |
09 Nov 1892 Noon UT | 14 le 58    |
10 Nov 1892 Noon UT | 15 le  7    |
11 Nov 1892 Noon UT | 15 le 16    |
12 Nov 1892 Noon UT | 15 le 25    |
13 Nov 1892 Noon UT | 15 le 33    |
14 Nov 1892 Noon UT | 15 le 41    |
15 Nov 1892 Noon UT | 15 le 48    |
16 Nov 1892 Noon UT | 15 le 56    |
17 Nov 1892 Noon UT | 16 le  3    |
18 Nov 1892 Noon UT | 16 le 10    |
19 Nov 1892 Noon UT | 16 le 16    |
20 Nov 1892 Noon UT | 16 le 23    |
21 Nov 1892 Noon UT | 16 le 29    |
22 Nov 1892 Noon UT | 16 le 35    |
23 Nov 1892 Noon UT | 16 le 40    |
24 Nov 1892 Noon UT | 16 le 45    |
25 Nov 1892 Noon UT | 16 le 50    |
26 Nov 1892 Noon UT | 16 le 55    |
27 Nov 1892 Noon UT | 16 le 59    |
28 Nov 1892 Noon UT | 17 le  3    |
29 Nov 1892 Noon UT | 17 le  7    |
30 Nov 1892 Noon UT | 17 le 11    |
01 Dec 1892 Noon UT | 17 le 14    |
02 Dec 1892 Noon UT | 17 le 17    |
03 Dec 1892 Noon UT | 17 le 19    |
04 Dec 1892 Noon UT | 17 le 21    |
05 Dec 1892 Noon UT | 17 le 23    |
06 Dec 1892 Noon UT | 17 le 25    |
07 Dec 1892 Noon UT | 17 le 26    |
08 Dec 1892 Noon UT | 17 le 27    |
09 Dec 1892 Noon UT | 17 le 28    |
10 Dec 1892 Noon UT | 17 le 28    |
11 Dec 1892 Noon UT | 17 le 28 Rx |
12 Dec 1892 Noon UT | 17 le 27 Rx |
13 Dec 1892 Noon UT | 17 le 27 Rx |
14 Dec 1892 Noon UT | 17 le 25 Rx |
15 Dec 1892 Noon UT | 17 le 24 Rx |
16 Dec 1892 Noon UT | 17 le 22 Rx |
17 Dec 1892 Noon UT | 17 le 20 Rx |
18 Dec 1892 Noon UT | 17 le 18 Rx |
19 Dec 1892 Noon UT | 17 le 15 Rx |
20 Dec 1892 Noon UT | 17 le 12 Rx |
21 Dec 1892 Noon UT | 17 le  8 Rx |
22 Dec 1892 Noon UT | 17 le  5 Rx |
23 Dec 1892 Noon UT | 17 le  0 Rx |
24 Dec 1892 Noon UT | 16 le 56 Rx |
25 Dec 1892 Noon UT | 16 le 51 Rx |
26 Dec 1892 Noon UT | 16 le 46 Rx |
27 Dec 1892 Noon UT | 16 le 41 Rx |
28 Dec 1892 Noon UT | 16 le 35 Rx |
29 Dec 1892 Noon UT | 16 le 29 Rx |
30 Dec 1892 Noon UT | 16 le 22 Rx |
31 Dec 1892 Noon UT | 16 le 16 Rx |
01 Jan 1893 Noon UT | 16 le  9 Rx |
02 Jan 1893 Noon UT | 16 le  1 Rx |
03 Jan 1893 Noon UT | 15 le 54 Rx |
04 Jan 1893 Noon UT | 15 le 46 Rx |
05 Jan 1893 Noon UT | 15 le 38 Rx |
06 Jan 1893 Noon UT | 15 le 29 Rx |
07 Jan 1893 Noon UT | 15 le 20 Rx |
08 Jan 1893 Noon UT | 15 le 11 Rx |
09 Jan 1893 Noon UT | 15 le  2 Rx |
10 Jan 1893 Noon UT | 14 le 52 Rx |
11 Jan 1893 Noon UT | 14 le 43 Rx |
12 Jan 1893 Noon UT | 14 le 33 Rx |
13 Jan 1893 Noon UT | 14 le 22 Rx |
14 Jan 1893 Noon UT | 14 le 12 Rx |
15 Jan 1893 Noon UT | 14 le  1 Rx |
16 Jan 1893 Noon UT | 13 le 50 Rx |
17 Jan 1893 Noon UT | 13 le 39 Rx |
18 Jan 1893 Noon UT | 13 le 28 Rx |
19 Jan 1893 Noon UT | 13 le 16 Rx |
20 Jan 1893 Noon UT | 13 le  5 Rx |
21 Jan 1893 Noon UT | 12 le 53 Rx |
22 Jan 1893 Noon UT | 12 le 41 Rx |
23 Jan 1893 Noon UT | 12 le 29 Rx |
24 Jan 1893 Noon UT | 12 le 17 Rx |
25 Jan 1893 Noon UT | 12 le  5 Rx |
26 Jan 1893 Noon UT | 11 le 53 Rx |
27 Jan 1893 Noon UT | 11 le 40 Rx |
28 Jan 1893 Noon UT | 11 le 28 Rx |
29 Jan 1893 Noon UT | 11 le 16 Rx |
30 Jan 1893 Noon UT | 11 le  3 Rx |
31 Jan 1893 Noon UT | 10 le 51 Rx |
01 Feb 1893 Noon UT | 10 le 38 Rx |
02 Feb 1893 Noon UT | 10 le 26 Rx |
03 Feb 1893 Noon UT | 10 le 13 Rx |
04 Feb 1893 Noon UT | 10 le  1 Rx |
05 Feb 1893 Noon UT |  9 le 49 Rx |
06 Feb 1893 Noon UT |  9 le 36 Rx |
07 Feb 1893 Noon UT |  9 le 24 Rx |
08 Feb 1893 Noon UT |  9 le 12 Rx |
09 Feb 1893 Noon UT |  9 le  0 Rx |
10 Feb 1893 Noon UT |  8 le 48 Rx |
11 Feb 1893 Noon UT |  8 le 36 Rx |
12 Feb 1893 Noon UT |  8 le 25 Rx |
13 Feb 1893 Noon UT |  8 le 13 Rx |
14 Feb 1893 Noon UT |  8 le  2 Rx |
15 Feb 1893 Noon UT |  7 le 51 Rx |
16 Feb 1893 Noon UT |  7 le 40 Rx |
17 Feb 1893 Noon UT |  7 le 29 Rx |
18 Feb 1893 Noon UT |  7 le 18 Rx |
19 Feb 1893 Noon UT |  7 le  8 Rx |
20 Feb 1893 Noon UT |  6 le 58 Rx |
21 Feb 1893 Noon UT |  6 le 48 Rx |
22 Feb 1893 Noon UT |  6 le 38 Rx |
23 Feb 1893 Noon UT |  6 le 29 Rx |
24 Feb 1893 Noon UT |  6 le 20 Rx |
25 Feb 1893 Noon UT |  6 le 11 Rx |
26 Feb 1893 Noon UT |  6 le  2 Rx |
27 Feb 1893 Noon UT |  5 le 54 Rx |
28 Feb 1893 Noon UT |  5 le 46 Rx |
01 Mar 1893 Noon UT |  5 le 38 Rx |
02 Mar 1893 Noon UT |  5 le 31 Rx |
03 Mar 1893 Noon UT |  5 le 23 Rx |
04 Mar 1893 Noon UT |  5 le 17 Rx |
05 Mar 1893 Noon UT |  5 le 10 Rx |
06 Mar 1893 Noon UT |  5 le  4 Rx |
07 Mar 1893 Noon UT |  4 le 58 Rx |
08 Mar 1893 Noon UT |  4 le 52 Rx |
09 Mar 1893 Noon UT |  4 le 47 Rx |
10 Mar 1893 Noon UT |  4 le 42 Rx |
11 Mar 1893 Noon UT |  4 le 38 Rx |
12 Mar 1893 Noon UT |  4 le 34 Rx |
13 Mar 1893 Noon UT |  4 le 30 Rx |
14 Mar 1893 Noon UT |  4 le 26 Rx |
15 Mar 1893 Noon UT |  4 le 23 Rx |
16 Mar 1893 Noon UT |  4 le 20 Rx |
17 Mar 1893 Noon UT |  4 le 18 Rx |
18 Mar 1893 Noon UT |  4 le 16 Rx |
19 Mar 1893 Noon UT |  4 le 14 Rx |
20 Mar 1893 Noon UT |  4 le 12 Rx |
21 Mar 1893 Noon UT |  4 le 11 Rx |
22 Mar 1893 Noon UT |  4 le 11 Rx |
23 Mar 1893 Noon UT |  4 le 10 Rx |
24 Mar 1893 Noon UT |  4 le 10    |
25 Mar 1893 Noon UT |  4 le 10    |
26 Mar 1893 Noon UT |  4 le 11    |
27 Mar 1893 Noon UT |  4 le 12    |
28 Mar 1893 Noon UT |  4 le 13    |
29 Mar 1893 Noon UT |  4 le 15    |
30 Mar 1893 Noon UT |  4 le 17    |
31 Mar 1893 Noon UT |  4 le 19    |
01 Apr 1893 Noon UT |  4 le 22    |
02 Apr 1893 Noon UT |  4 le 25    |
03 Apr 1893 Noon UT |  4 le 28    |
04 Apr 1893 Noon UT |  4 le 31    |
05 Apr 1893 Noon UT |  4 le 35    |
06 Apr 1893 Noon UT |  4 le 40    |
07 Apr 1893 Noon UT |  4 le 44    |
08 Apr 1893 Noon UT |  4 le 49    |
09 Apr 1893 Noon UT |  4 le 54    |
10 Apr 1893 Noon UT |  5 le  0    |
11 Apr 1893 Noon UT |  5 le  5    |
12 Apr 1893 Noon UT |  5 le 11    |
13 Apr 1893 Noon UT |  5 le 18    |
14 Apr 1893 Noon UT |  5 le 24    |
15 Apr 1893 Noon UT |  5 le 31    |
16 Apr 1893 Noon UT |  5 le 38    |
17 Apr 1893 Noon UT |  5 le 46    |
18 Apr 1893 Noon UT |  5 le 54    |
19 Apr 1893 Noon UT |  6 le  2    |
20 Apr 1893 Noon UT |  6 le 10    |
21 Apr 1893 Noon UT |  6 le 18    |
22 Apr 1893 Noon UT |  6 le 27    |
23 Apr 1893 Noon UT |  6 le 36    |
24 Apr 1893 Noon UT |  6 le 46    |
25 Apr 1893 Noon UT |  6 le 55    |
26 Apr 1893 Noon UT |  7 le  5    |
27 Apr 1893 Noon UT |  7 le 15    |
28 Apr 1893 Noon UT |  7 le 26    |
29 Apr 1893 Noon UT |  7 le 36    |
30 Apr 1893 Noon UT |  7 le 47    |
01 May 1893 Noon UT |  7 le 58    |
02 May 1893 Noon UT |  8 le  9    |
03 May 1893 Noon UT |  8 le 21    |
04 May 1893 Noon UT |  8 le 32    |
05 May 1893 Noon UT |  8 le 44    |
06 May 1893 Noon UT |  8 le 57    |
07 May 1893 Noon UT |  9 le  9    |
08 May 1893 Noon UT |  9 le 21    |
09 May 1893 Noon UT |  9 le 34    |
10 May 1893 Noon UT |  9 le 47    |
11 May 1893 Noon UT | 10 le  0    |
12 May 1893 Noon UT | 10 le 14    |
13 May 1893 Noon UT | 10 le 27    |
14 May 1893 Noon UT | 10 le 41    |
15 May 1893 Noon UT | 10 le 55    |
16 May 1893 Noon UT | 11 le  9    |
17 May 1893 Noon UT | 11 le 24    |
18 May 1893 Noon UT | 11 le 38    |
19 May 1893 Noon UT | 11 le 53    |
20 May 1893 Noon UT | 12 le  8    |
21 May 1893 Noon UT | 12 le 23    |
22 May 1893 Noon UT | 12 le 38    |
23 May 1893 Noon UT | 12 le 53    |
24 May 1893 Noon UT | 13 le  9    |
25 May 1893 Noon UT | 13 le 25    |
26 May 1893 Noon UT | 13 le 40    |
27 May 1893 Noon UT | 13 le 56    |
28 May 1893 Noon UT | 14 le 13    |
29 May 1893 Noon UT | 14 le 29    |
30 May 1893 Noon UT | 14 le 45    |
31 May 1893 Noon UT | 15 le  2    |
01 Jun 1893 Noon UT | 15 le 19    |
02 Jun 1893 Noon UT | 15 le 36    |
03 Jun 1893 Noon UT | 15 le 53    |
04 Jun 1893 Noon UT | 16 le 10    |
05 Jun 1893 Noon UT | 16 le 27    |
06 Jun 1893 Noon UT | 16 le 45    |
07 Jun 1893 Noon UT | 17 le  2    |
08 Jun 1893 Noon UT | 17 le 20    |
09 Jun 1893 Noon UT | 17 le 38    |
10 Jun 1893 Noon UT | 17 le 56    |
11 Jun 1893 Noon UT | 18 le 14    |
12 Jun 1893 Noon UT | 18 le 32    |
13 Jun 1893 Noon UT | 18 le 51    |
14 Jun 1893 Noon UT | 19 le  9    |
15 Jun 1893 Noon UT | 19 le 28    |
16 Jun 1893 Noon UT | 19 le 46    |
17 Jun 1893 Noon UT | 20 le  5    |
18 Jun 1893 Noon UT | 20 le 24    |
19 Jun 1893 Noon UT | 20 le 43    |
20 Jun 1893 Noon UT | 21 le  2    |
21 Jun 1893 Noon UT | 21 le 22    |
22 Jun 1893 Noon UT | 21 le 41    |
23 Jun 1893 Noon UT | 22 le  0    |
24 Jun 1893 Noon UT | 22 le 20    |
25 Jun 1893 Noon UT | 22 le 40    |
26 Jun 1893 Noon UT | 22 le 59    |
27 Jun 1893 Noon UT | 23 le 19    |
28 Jun 1893 Noon UT | 23 le 39    |
29 Jun 1893 Noon UT | 23 le 59    |
30 Jun 1893 Noon UT | 24 le 19    |
01 Jul 1893 Noon UT | 24 le 40    |
02 Jul 1893 Noon UT | 25 le  0    |
03 Jul 1893 Noon UT | 25 le 20    |
04 Jul 1893 Noon UT | 25 le 41    |
05 Jul 1893 Noon UT | 26 le  1    |
06 Jul 1893 Noon UT | 26 le 22    |
07 Jul 1893 Noon UT | 26 le 43    |
08 Jul 1893 Noon UT | 27 le  4    |
09 Jul 1893 Noon UT | 27 le 24    |
10 Jul 1893 Noon UT | 27 le 45    |
11 Jul 1893 Noon UT | 28 le  7    |
12 Jul 1893 Noon UT | 28 le 28    |
13 Jul 1893 Noon UT | 28 le 49    |
14 Jul 1893 Noon UT | 29 le 10    |
15 Jul 1893 Noon UT | 29 le 32    |
16 Jul 1893 Noon UT | 29 le 53    |
17 Jul 1893 Noon UT |  0 vi 15    |
18 Jul 1893 Noon UT |  0 vi 36    |
19 Jul 1893 Noon UT |  0 vi 58    |
20 Jul 1893 Noon UT |  1 vi 19    |
21 Jul 1893 Noon UT |  1 vi 41    |
22 Jul 1893 Noon UT |  2 vi  3    |
23 Jul 1893 Noon UT |  2 vi 25    |
24 Jul 1893 Noon UT |  2 vi 47    |
25 Jul 1893 Noon UT |  3 vi  9    |
26 Jul 1893 Noon UT |  3 vi 31    |
27 Jul 1893 Noon UT |  3 vi 53    |
28 Jul 1893 Noon UT |  4 vi 15    |
29 Jul 1893 Noon UT |  4 vi 38    |
30 Jul 1893 Noon UT |  5 vi  0    |
31 Jul 1893 Noon UT |  5 vi 22    |
01 Aug 1893 Noon UT |  5 vi 45    |
02 Aug 1893 Noon UT |  6 vi  7    |
03 Aug 1893 Noon UT |  6 vi 30    |
04 Aug 1893 Noon UT |  6 vi 52    |
05 Aug 1893 Noon UT |  7 vi 15    |
06 Aug 1893 Noon UT |  7 vi 38    |
07 Aug 1893 Noon UT |  8 vi  0    |
08 Aug 1893 Noon UT |  8 vi 23    |
09 Aug 1893 Noon UT |  8 vi 46    |
10 Aug 1893 Noon UT |  9 vi  9    |
11 Aug 1893 Noon UT |  9 vi 32    |
12 Aug 1893 Noon UT |  9 vi 55    |
13 Aug 1893 Noon UT | 10 vi 18    |
14 Aug 1893 Noon UT | 10 vi 41    |
15 Aug 1893 Noon UT | 11 vi  4    |
16 Aug 1893 Noon UT | 11 vi 27    |
17 Aug 1893 Noon UT | 11 vi 50    |
18 Aug 1893 Noon UT | 12 vi 14    |
19 Aug 1893 Noon UT | 12 vi 37    |
20 Aug 1893 Noon UT | 13 vi  0    |
21 Aug 1893 Noon UT | 13 vi 24    |
22 Aug 1893 Noon UT | 13 vi 47    |
23 Aug 1893 Noon UT | 14 vi 10    |
24 Aug 1893 Noon UT | 14 vi 34    |
25 Aug 1893 Noon UT | 14 vi 57    |
26 Aug 1893 Noon UT | 15 vi 21    |
27 Aug 1893 Noon UT | 15 vi 44    |
28 Aug 1893 Noon UT | 16 vi  8    |
29 Aug 1893 Noon UT | 16 vi 32    |
30 Aug 1893 Noon UT | 16 vi 55    |
31 Aug 1893 Noon UT | 17 vi 19    |
01 Sep 1893 Noon UT | 17 vi 43    |
02 Sep 1893 Noon UT | 18 vi  6    |
03 Sep 1893 Noon UT | 18 vi 30    |
04 Sep 1893 Noon UT | 18 vi 54    |
05 Sep 1893 Noon UT | 19 vi 18    |
06 Sep 1893 Noon UT | 19 vi 41    |
07 Sep 1893 Noon UT | 20 vi  5    |
08 Sep 1893 Noon UT | 20 vi 29    |
09 Sep 1893 Noon UT | 20 vi 53    |
10 Sep 1893 Noon UT | 21 vi 17    |
11 Sep 1893 Noon UT | 21 vi 41    |
12 Sep 1893 Noon UT | 22 vi  5    |
13 Sep 1893 Noon UT | 22 vi 29    |
14 Sep 1893 Noon UT | 22 vi 53    |
15 Sep 1893 Noon UT | 23 vi 17    |
16 Sep 1893 Noon UT | 23 vi 41    |
17 Sep 1893 Noon UT | 24 vi  5    |
18 Sep 1893 Noon UT | 24 vi 29    |
19 Sep 1893 Noon UT | 24 vi 53    |
20 Sep 1893 Noon UT | 25 vi 17    |
21 Sep 1893 Noon UT | 25 vi 41    |
22 Sep 1893 Noon UT | 26 vi  6    |
23 Sep 1893 Noon UT | 26 vi 30    |
24 Sep 1893 Noon UT | 26 vi 54    |
25 Sep 1893 Noon UT | 27 vi 18    |
26 Sep 1893 Noon UT | 27 vi 42    |
27 Sep 1893 Noon UT | 28 vi  6    |
28 Sep 1893 Noon UT | 28 vi 30    |
29 Sep 1893 Noon UT | 28 vi 55    |
30 Sep 1893 Noon UT | 29 vi 19    |
01 Oct 1893 Noon UT | 29 vi 43    |
02 Oct 1893 Noon UT |  0 li  7    |
03 Oct 1893 Noon UT |  0 li 31    |
04 Oct 1893 Noon UT |  0 li 56    |
05 Oct 1893 Noon UT |  1 li 20    |
06 Oct 1893 Noon UT |  1 li 44    |
07 Oct 1893 Noon UT |  2 li  8    |
08 Oct 1893 Noon UT |  2 li 32    |
09 Oct 1893 Noon UT |  2 li 57    |
10 Oct 1893 Noon UT |  3 li 21    |
11 Oct 1893 Noon UT |  3 li 45    |
12 Oct 1893 Noon UT |  4 li  9    |
13 Oct 1893 Noon UT |  4 li 33    |
14 Oct 1893 Noon UT |  4 li 57    |
15 Oct 1893 Noon UT |  5 li 22    |
16 Oct 1893 Noon UT |  5 li 46    |
17 Oct 1893 Noon UT |  6 li 10    |
18 Oct 1893 Noon UT |  6 li 34    |
19 Oct 1893 Noon UT |  6 li 58    |
20 Oct 1893 Noon UT |  7 li 22    |
21 Oct 1893 Noon UT |  7 li 46    |
22 Oct 1893 Noon UT |  8 li 10    |
23 Oct 1893 Noon UT |  8 li 34    |
24 Oct 1893 Noon UT |  8 li 58    |
25 Oct 1893 Noon UT |  9 li 22    |
26 Oct 1893 Noon UT |  9 li 46    |
27 Oct 1893 Noon UT | 10 li 10    |
28 Oct 1893 Noon UT | 10 li 34    |
29 Oct 1893 Noon UT | 10 li 58    |
30 Oct 1893 Noon UT | 11 li 22    |
31 Oct 1893 Noon UT | 11 li 46    |
01 Nov 1893 Noon UT | 12 li 10    |
02 Nov 1893 Noon UT | 12 li 34    |
03 Nov 1893 Noon UT | 12 li 58    |
04 Nov 1893 Noon UT | 13 li 21    |
05 Nov 1893 Noon UT | 13 li 45    |
06 Nov 1893 Noon UT | 14 li  9    |
07 Nov 1893 Noon UT | 14 li 33    |
08 Nov 1893 Noon UT | 14 li 56    |
09 Nov 1893 Noon UT | 15 li 20    |
10 Nov 1893 Noon UT | 15 li 44    |
11 Nov 1893 Noon UT | 16 li  7    |
12 Nov 1893 Noon UT | 16 li 31    |
13 Nov 1893 Noon UT | 16 li 54    |
14 Nov 1893 Noon UT | 17 li 17    |
15 Nov 1893 Noon UT | 17 li 41    |
16 Nov 1893 Noon UT | 18 li  4    |
17 Nov 1893 Noon UT | 18 li 27    |
18 Nov 1893 Noon UT | 18 li 51    |
19 Nov 1893 Noon UT | 19 li 14    |
20 Nov 1893 Noon UT | 19 li 37    |
21 Nov 1893 Noon UT | 20 li  0    |
22 Nov 1893 Noon UT | 20 li 23    |
23 Nov 1893 Noon UT | 20 li 46    |
24 Nov 1893 Noon UT | 21 li  9    |
25 Nov 1893 Noon UT | 21 li 32    |
26 Nov 1893 Noon UT | 21 li 55    |
27 Nov 1893 Noon UT | 22 li 18    |
28 Nov 1893 Noon UT | 22 li 40    |
29 Nov 1893 Noon UT | 23 li  3    |
30 Nov 1893 Noon UT | 23 li 26    |
01 Dec 1893 Noon UT | 23 li 48    |
02 Dec 1893 Noon UT | 24 li 10    |
03 Dec 1893 Noon UT | 24 li 33    |
04 Dec 1893 Noon UT | 24 li 55    |
05 Dec 1893 Noon UT | 25 li 17    |
06 Dec 1893 Noon UT | 25 li 40    |
07 Dec 1893 Noon UT | 26 li  2    |
08 Dec 1893 Noon UT | 26 li 24    |
09 Dec 1893 Noon UT | 26 li 46    |
10 Dec 1893 Noon UT | 27 li  7    |
11 Dec 1893 Noon UT | 27 li 29    |
12 Dec 1893 Noon UT | 27 li 51    |
13 Dec 1893 Noon UT | 28 li 12    |
14 Dec 1893 Noon UT | 28 li 34    |
15 Dec 1893 Noon UT | 28 li 55    |
16 Dec 1893 Noon UT | 29 li 17    |
17 Dec 1893 Noon UT | 29 li 38    |
18 Dec 1893 Noon UT | 29 li 59    |
19 Dec 1893 Noon UT |  0 sc 20    |
20 Dec 1893 Noon UT |  0 sc 41    |
21 Dec 1893 Noon UT |  1 sc  2    |
22 Dec 1893 Noon UT |  1 sc 22    |
23 Dec 1893 Noon UT |  1 sc 43    |
24 Dec 1893 Noon UT |  2 sc  3    |
25 Dec 1893 Noon UT |  2 sc 24    |
26 Dec 1893 Noon UT |  2 sc 44    |
27 Dec 1893 Noon UT |  3 sc  4    |
28 Dec 1893 Noon UT |  3 sc 24    |
29 Dec 1893 Noon UT |  3 sc 44    |
30 Dec 1893 Noon UT |  4 sc  4    |
31 Dec 1893 Noon UT |  4 sc 23    |
01 Jan 1894 Noon UT |  4 sc 43    |
02 Jan 1894 Noon UT |  5 sc  2    |
03 Jan 1894 Noon UT |  5 sc 21    |
04 Jan 1894 Noon UT |  5 sc 41    |
05 Jan 1894 Noon UT |  6 sc  0    |
06 Jan 1894 Noon UT |  6 sc 18    |
07 Jan 1894 Noon UT |  6 sc 37    |
08 Jan 1894 Noon UT |  6 sc 56    |
09 Jan 1894 Noon UT |  7 sc 14    |
10 Jan 1894 Noon UT |  7 sc 32    |
11 Jan 1894 Noon UT |  7 sc 50    |
12 Jan 1894 Noon UT |  8 sc  8    |
13 Jan 1894 Noon UT |  8 sc 26    |
14 Jan 1894 Noon UT |  8 sc 43    |
15 Jan 1894 Noon UT |  9 sc  1    |
16 Jan 1894 Noon UT |  9 sc 18    |
17 Jan 1894 Noon UT |  9 sc 35    |
18 Jan 1894 Noon UT |  9 sc 52    |
19 Jan 1894 Noon UT | 10 sc  9    |
20 Jan 1894 Noon UT | 10 sc 25    |
21 Jan 1894 Noon UT | 10 sc 42    |
22 Jan 1894 Noon UT | 10 sc 58    |
23 Jan 1894 Noon UT | 11 sc 14    |
24 Jan 1894 Noon UT | 11 sc 29    |
25 Jan 1894 Noon UT | 11 sc 45    |
26 Jan 1894 Noon UT | 12 sc  0    |
27 Jan 1894 Noon UT | 12 sc 15    |
28 Jan 1894 Noon UT | 12 sc 30    |
29 Jan 1894 Noon UT | 12 sc 45    |
30 Jan 1894 Noon UT | 13 sc  0    |
31 Jan 1894 Noon UT | 13 sc 14    |
01 Feb 1894 Noon UT | 13 sc 28    |
02 Feb 1894 Noon UT | 13 sc 42    |
03 Feb 1894 Noon UT | 13 sc 55    |
04 Feb 1894 Noon UT | 14 sc  9    |
05 Feb 1894 Noon UT | 14 sc 22    |
06 Feb 1894 Noon UT | 14 sc 35    |
07 Feb 1894 Noon UT | 14 sc 47    |
08 Feb 1894 Noon UT | 15 sc  0    |
09 Feb 1894 Noon UT | 15 sc 12    |
10 Feb 1894 Noon UT | 15 sc 24    |
11 Feb 1894 Noon UT | 15 sc 35    |
12 Feb 1894 Noon UT | 15 sc 46    |
13 Feb 1894 Noon UT | 15 sc 57    |
14 Feb 1894 Noon UT | 16 sc  8    |
15 Feb 1894 Noon UT | 16 sc 19    |
16 Feb 1894 Noon UT | 16 sc 29    |
17 Feb 1894 Noon UT | 16 sc 39    |
18 Feb 1894 Noon UT | 16 sc 48    |
19 Feb 1894 Noon UT | 16 sc 58    |
20 Feb 1894 Noon UT | 17 sc  7    |
21 Feb 1894 Noon UT | 17 sc 15    |
22 Feb 1894 Noon UT | 17 sc 24    |
23 Feb 1894 Noon UT | 17 sc 32    |
24 Feb 1894 Noon UT | 17 sc 40    |
25 Feb 1894 Noon UT | 17 sc 47    |
26 Feb 1894 Noon UT | 17 sc 54    |
27 Feb 1894 Noon UT | 18 sc  1    |
28 Feb 1894 Noon UT | 18 sc  8    |
01 Mar 1894 Noon UT | 18 sc 14    |
02 Mar 1894 Noon UT | 18 sc 20    |
03 Mar 1894 Noon UT | 18 sc 25    |
04 Mar 1894 Noon UT | 18 sc 30    |
05 Mar 1894 Noon UT | 18 sc 35    |
06 Mar 1894 Noon UT | 18 sc 40    |
07 Mar 1894 Noon UT | 18 sc 44    |
08 Mar 1894 Noon UT | 18 sc 48    |
09 Mar 1894 Noon UT | 18 sc 51    |
10 Mar 1894 Noon UT | 18 sc 54    |
11 Mar 1894 Noon UT | 18 sc 57    |
12 Mar 1894 Noon UT | 18 sc 59    |
13 Mar 1894 Noon UT | 19 sc  1    |
14 Mar 1894 Noon UT | 19 sc  2    |
15 Mar 1894 Noon UT | 19 sc  4    |
16 Mar 1894 Noon UT | 19 sc  4    |
17 Mar 1894 Noon UT | 19 sc  5    |
18 Mar 1894 Noon UT | 19 sc  5 Rx |
19 Mar 1894 Noon UT | 19 sc  5 Rx |
20 Mar 1894 Noon UT | 19 sc  4 Rx |
21 Mar 1894 Noon UT | 19 sc  3 Rx |
22 Mar 1894 Noon UT | 19 sc  2 Rx |
23 Mar 1894 Noon UT | 19 sc  0 Rx |
24 Mar 1894 Noon UT | 18 sc 58 Rx |
25 Mar 1894 Noon UT | 18 sc 55 Rx |
26 Mar 1894 Noon UT | 18 sc 52 Rx |
27 Mar 1894 Noon UT | 18 sc 49 Rx |
28 Mar 1894 Noon UT | 18 sc 45 Rx |
29 Mar 1894 Noon UT | 18 sc 41 Rx |
30 Mar 1894 Noon UT | 18 sc 37 Rx |
31 Mar 1894 Noon UT | 18 sc 32 Rx |
01 Apr 1894 Noon UT | 18 sc 27 Rx |
02 Apr 1894 Noon UT | 18 sc 22 Rx |
03 Apr 1894 Noon UT | 18 sc 16 Rx |
04 Apr 1894 Noon UT | 18 sc 10 Rx |
05 Apr 1894 Noon UT | 18 sc  4 Rx |
06 Apr 1894 Noon UT | 17 sc 57 Rx |
07 Apr 1894 Noon UT | 17 sc 50 Rx |
08 Apr 1894 Noon UT | 17 sc 42 Rx |
09 Apr 1894 Noon UT | 17 sc 34 Rx |
10 Apr 1894 Noon UT | 17 sc 26 Rx |
11 Apr 1894 Noon UT | 17 sc 18 Rx |
12 Apr 1894 Noon UT | 17 sc  9 Rx |
13 Apr 1894 Noon UT | 17 sc  1 Rx |
14 Apr 1894 Noon UT | 16 sc 51 Rx |
15 Apr 1894 Noon UT | 16 sc 42 Rx |
16 Apr 1894 Noon UT | 16 sc 32 Rx |
17 Apr 1894 Noon UT | 16 sc 22 Rx |
18 Apr 1894 Noon UT | 16 sc 12 Rx |
19 Apr 1894 Noon UT | 16 sc  2 Rx |
20 Apr 1894 Noon UT | 15 sc 51 Rx |
21 Apr 1894 Noon UT | 15 sc 41 Rx |
22 Apr 1894 Noon UT | 15 sc 30 Rx |
23 Apr 1894 Noon UT | 15 sc 19 Rx |
24 Apr 1894 Noon UT | 15 sc  7 Rx |
25 Apr 1894 Noon UT | 14 sc 56 Rx |
26 Apr 1894 Noon UT | 14 sc 45 Rx |
27 Apr 1894 Noon UT | 14 sc 33 Rx |
28 Apr 1894 Noon UT | 14 sc 21 Rx |
29 Apr 1894 Noon UT | 14 sc  9 Rx |
30 Apr 1894 Noon UT | 13 sc 58 Rx |
01 May 1894 Noon UT | 13 sc 46 Rx |
02 May 1894 Noon UT | 13 sc 34 Rx |
03 May 1894 Noon UT | 13 sc 22 Rx |
04 May 1894 Noon UT | 13 sc 10 Rx |
05 May 1894 Noon UT | 12 sc 58 Rx |
06 May 1894 Noon UT | 12 sc 46 Rx |
07 May 1894 Noon UT | 12 sc 34 Rx |
08 May 1894 Noon UT | 12 sc 22 Rx |
09 May 1894 Noon UT | 12 sc 10 Rx |
10 May 1894 Noon UT | 11 sc 58 Rx |
11 May 1894 Noon UT | 11 sc 46 Rx |
12 May 1894 Noon UT | 11 sc 35 Rx |
13 May 1894 Noon UT | 11 sc 23 Rx |
14 May 1894 Noon UT | 11 sc 12 Rx |
15 May 1894 Noon UT | 11 sc  1 Rx |
16 May 1894 Noon UT | 10 sc 50 Rx |
17 May 1894 Noon UT | 10 sc 39 Rx |
18 May 1894 Noon UT | 10 sc 28 Rx |
19 May 1894 Noon UT | 10 sc 18 Rx |
20 May 1894 Noon UT | 10 sc  8 Rx |
21 May 1894 Noon UT |  9 sc 58 Rx |
22 May 1894 Noon UT |  9 sc 48 Rx |
23 May 1894 Noon UT |  9 sc 38 Rx |
24 May 1894 Noon UT |  9 sc 29 Rx |
25 May 1894 Noon UT |  9 sc 20 Rx |
26 May 1894 Noon UT |  9 sc 11 Rx |
27 May 1894 Noon UT |  9 sc  3 Rx |
28 May 1894 Noon UT |  8 sc 55 Rx |
29 May 1894 Noon UT |  8 sc 47 Rx |
30 May 1894 Noon UT |  8 sc 39 Rx |
31 May 1894 Noon UT |  8 sc 32 Rx |
01 Jun 1894 Noon UT |  8 sc 25 Rx |
02 Jun 1894 Noon UT |  8 sc 18 Rx |
03 Jun 1894 Noon UT |  8 sc 12 Rx |
04 Jun 1894 Noon UT |  8 sc  6 Rx |
05 Jun 1894 Noon UT |  8 sc  0 Rx |
06 Jun 1894 Noon UT |  7 sc 55 Rx |
07 Jun 1894 Noon UT |  7 sc 50 Rx |
08 Jun 1894 Noon UT |  7 sc 45 Rx |
09 Jun 1894 Noon UT |  7 sc 41 Rx |
10 Jun 1894 Noon UT |  7 sc 37 Rx |
11 Jun 1894 Noon UT |  7 sc 33 Rx |
12 Jun 1894 Noon UT |  7 sc 30 Rx |
13 Jun 1894 Noon UT |  7 sc 27 Rx |
14 Jun 1894 Noon UT |  7 sc 25 Rx |
15 Jun 1894 Noon UT |  7 sc 23 Rx |
16 Jun 1894 Noon UT |  7 sc 21 Rx |
17 Jun 1894 Noon UT |  7 sc 20 Rx |
18 Jun 1894 Noon UT |  7 sc 19 Rx |
19 Jun 1894 Noon UT |  7 sc 18 Rx |
20 Jun 1894 Noon UT |  7 sc 18 Rx |
21 Jun 1894 Noon UT |  7 sc 18    |
22 Jun 1894 Noon UT |  7 sc 18    |
23 Jun 1894 Noon UT |  7 sc 19    |
24 Jun 1894 Noon UT |  7 sc 20    |
25 Jun 1894 Noon UT |  7 sc 22    |
26 Jun 1894 Noon UT |  7 sc 24    |
27 Jun 1894 Noon UT |  7 sc 26    |
28 Jun 1894 Noon UT |  7 sc 29    |
29 Jun 1894 Noon UT |  7 sc 32    |
30 Jun 1894 Noon UT |  7 sc 35    |
01 Jul 1894 Noon UT |  7 sc 39    |
02 Jul 1894 Noon UT |  7 sc 43    |
03 Jul 1894 Noon UT |  7 sc 47    |
04 Jul 1894 Noon UT |  7 sc 52    |
05 Jul 1894 Noon UT |  7 sc 57    |
06 Jul 1894 Noon UT |  8 sc  2    |
07 Jul 1894 Noon UT |  8 sc  8    |
08 Jul 1894 Noon UT |  8 sc 14    |
09 Jul 1894 Noon UT |  8 sc 20    |
10 Jul 1894 Noon UT |  8 sc 27    |
11 Jul 1894 Noon UT |  8 sc 34    |
12 Jul 1894 Noon UT |  8 sc 41    |
13 Jul 1894 Noon UT |  8 sc 49    |
14 Jul 1894 Noon UT |  8 sc 57    |
15 Jul 1894 Noon UT |  9 sc  5    |
16 Jul 1894 Noon UT |  9 sc 14    |
17 Jul 1894 Noon UT |  9 sc 23    |
18 Jul 1894 Noon UT |  9 sc 32    |
19 Jul 1894 Noon UT |  9 sc 41    |
20 Jul 1894 Noon UT |  9 sc 51    |
21 Jul 1894 Noon UT | 10 sc  1    |
22 Jul 1894 Noon UT | 10 sc 11    |
23 Jul 1894 Noon UT | 10 sc 21    |
24 Jul 1894 Noon UT | 10 sc 32    |
25 Jul 1894 Noon UT | 10 sc 43    |
26 Jul 1894 Noon UT | 10 sc 55    |
27 Jul 1894 Noon UT | 11 sc  6    |
28 Jul 1894 Noon UT | 11 sc 18    |
29 Jul 1894 Noon UT | 11 sc 30    |
30 Jul 1894 Noon UT | 11 sc 42    |
31 Jul 1894 Noon UT | 11 sc 55    |
01 Aug 1894 Noon UT | 12 sc  8    |
02 Aug 1894 Noon UT | 12 sc 21    |
03 Aug 1894 Noon UT | 12 sc 34    |
04 Aug 1894 Noon UT | 12 sc 48    |
05 Aug 1894 Noon UT | 13 sc  1    |
06 Aug 1894 Noon UT | 13 sc 15    |
07 Aug 1894 Noon UT | 13 sc 30    |
08 Aug 1894 Noon UT | 13 sc 44    |
09 Aug 1894 Noon UT | 13 sc 59    |
10 Aug 1894 Noon UT | 14 sc 14    |
11 Aug 1894 Noon UT | 14 sc 29    |
12 Aug 1894 Noon UT | 14 sc 44    |
13 Aug 1894 Noon UT | 14 sc 59    |
14 Aug 1894 Noon UT | 15 sc 15    |
15 Aug 1894 Noon UT | 15 sc 31    |
16 Aug 1894 Noon UT | 15 sc 47    |
17 Aug 1894 Noon UT | 16 sc  3    |
18 Aug 1894 Noon UT | 16 sc 19    |
19 Aug 1894 Noon UT | 16 sc 36    |
20 Aug 1894 Noon UT | 16 sc 53    |
21 Aug 1894 Noon UT | 17 sc 10    |
22 Aug 1894 Noon UT | 17 sc 27    |
23 Aug 1894 Noon UT | 17 sc 44    |
24 Aug 1894 Noon UT | 18 sc  2    |
25 Aug 1894 Noon UT | 18 sc 19    |
26 Aug 1894 Noon UT | 18 sc 37    |
27 Aug 1894 Noon UT | 18 sc 55    |
28 Aug 1894 Noon UT | 19 sc 13    |
29 Aug 1894 Noon UT | 19 sc 31    |
30 Aug 1894 Noon UT | 19 sc 50    |
31 Aug 1894 Noon UT | 20 sc  8    |
01 Sep 1894 Noon UT | 20 sc 27    |
02 Sep 1894 Noon UT | 20 sc 46    |
03 Sep 1894 Noon UT | 21 sc  5    |
04 Sep 1894 Noon UT | 21 sc 24    |
05 Sep 1894 Noon UT | 21 sc 43    |
06 Sep 1894 Noon UT | 22 sc  3    |
07 Sep 1894 Noon UT | 22 sc 22    |
08 Sep 1894 Noon UT | 22 sc 42    |
09 Sep 1894 Noon UT | 23 sc  2    |
10 Sep 1894 Noon UT | 23 sc 22    |
11 Sep 1894 Noon UT | 23 sc 42    |
12 Sep 1894 Noon UT | 24 sc  2    |
13 Sep 1894 Noon UT | 24 sc 22    |
14 Sep 1894 Noon UT | 24 sc 43    |
15 Sep 1894 Noon UT | 25 sc  3    |
16 Sep 1894 Noon UT | 25 sc 24    |
17 Sep 1894 Noon UT | 25 sc 45    |
18 Sep 1894 Noon UT | 26 sc  6    |
19 Sep 1894 Noon UT | 26 sc 27    |
20 Sep 1894 Noon UT | 26 sc 48    |
21 Sep 1894 Noon UT | 27 sc  9    |
22 Sep 1894 Noon UT | 27 sc 30    |
23 Sep 1894 Noon UT | 27 sc 52    |
24 Sep 1894 Noon UT | 28 sc 13    |
25 Sep 1894 Noon UT | 28 sc 35    |
26 Sep 1894 Noon UT | 28 sc 57    |
27 Sep 1894 Noon UT | 29 sc 19    |
28 Sep 1894 Noon UT | 29 sc 41    |
29 Sep 1894 Noon UT |  0 sa  3    |
30 Sep 1894 Noon UT |  0 sa 25    |
01 Oct 1894 Noon UT |  0 sa 47    |
02 Oct 1894 Noon UT |  1 sa  9    |
03 Oct 1894 Noon UT |  1 sa 32    |
04 Oct 1894 Noon UT |  1 sa 54    |
05 Oct 1894 Noon UT |  2 sa 17    |
06 Oct 1894 Noon UT |  2 sa 39    |
07 Oct 1894 Noon UT |  3 sa  2    |
08 Oct 1894 Noon UT |  3 sa 25    |
09 Oct 1894 Noon UT |  3 sa 48    |
10 Oct 1894 Noon UT |  4 sa 10    |
11 Oct 1894 Noon UT |  4 sa 33    |
12 Oct 1894 Noon UT |  4 sa 57    |
13 Oct 1894 Noon UT |  5 sa 20    |
14 Oct 1894 Noon UT |  5 sa 43    |
15 Oct 1894 Noon UT |  6 sa  6    |
16 Oct 1894 Noon UT |  6 sa 30    |
17 Oct 1894 Noon UT |  6 sa 53    |
18 Oct 1894 Noon UT |  7 sa 16    |
19 Oct 1894 Noon UT |  7 sa 40    |
20 Oct 1894 Noon UT |  8 sa  4    |
21 Oct 1894 Noon UT |  8 sa 27    |
22 Oct 1894 Noon UT |  8 sa 51    |
23 Oct 1894 Noon UT |  9 sa 15    |
24 Oct 1894 Noon UT |  9 sa 39    |
25 Oct 1894 Noon UT | 10 sa  3    |
26 Oct 1894 Noon UT | 10 sa 27    |
27 Oct 1894 Noon UT | 10 sa 51    |
28 Oct 1894 Noon UT | 11 sa 15    |
29 Oct 1894 Noon UT | 11 sa 39    |
30 Oct 1894 Noon UT | 12 sa  3    |
31 Oct 1894 Noon UT | 12 sa 27    |
01 Nov 1894 Noon UT | 12 sa 51    |
02 Nov 1894 Noon UT | 13 sa 16    |
03 Nov 1894 Noon UT | 13 sa 40    |
04 Nov 1894 Noon UT | 14 sa  5    |
05 Nov 1894 Noon UT | 14 sa 29    |
06 Nov 1894 Noon UT | 14 sa 53    |
07 Nov 1894 Noon UT | 15 sa 18    |
08 Nov 1894 Noon UT | 15 sa 43    |
09 Nov 1894 Noon UT | 16 sa  7    |
10 Nov 1894 Noon UT | 16 sa 32    |
11 Nov 1894 Noon UT | 16 sa 57    |
12 Nov 1894 Noon UT | 17 sa 21    |
13 Nov 1894 Noon UT | 17 sa 46    |
14 Nov 1894 Noon UT | 18 sa 11    |
15 Nov 1894 Noon UT | 18 sa 36    |
16 Nov 1894 Noon UT | 19 sa  0    |
17 Nov 1894 Noon UT | 19 sa 25    |
18 Nov 1894 Noon UT | 19 sa 50    |
19 Nov 1894 Noon UT | 20 sa 15    |
20 Nov 1894 Noon UT | 20 sa 40    |
21 Nov 1894 Noon UT | 21 sa  5    |
22 Nov 1894 Noon UT | 21 sa 30    |
23 Nov 1894 Noon UT | 21 sa 55    |
24 Nov 1894 Noon UT | 22 sa 20    |
25 Nov 1894 Noon UT | 22 sa 45    |
26 Nov 1894 Noon UT | 23 sa 10    |
27 Nov 1894 Noon UT | 23 sa 36    |
28 Nov 1894 Noon UT | 24 sa  1    |
29 Nov 1894 Noon UT | 24 sa 26    |
30 Nov 1894 Noon UT | 24 sa 51    |
01 Dec 1894 Noon UT | 25 sa 16    |
02 Dec 1894 Noon UT | 25 sa 42    |
03 Dec 1894 Noon UT | 26 sa  7    |
04 Dec 1894 Noon UT | 26 sa 32    |
05 Dec 1894 Noon UT | 26 sa 57    |
06 Dec 1894 Noon UT | 27 sa 23    |
07 Dec 1894 Noon UT | 27 sa 48    |
08 Dec 1894 Noon UT | 28 sa 13    |
09 Dec 1894 Noon UT | 28 sa 38    |
10 Dec 1894 Noon UT | 29 sa  4    |
11 Dec 1894 Noon UT | 29 sa 29    |
12 Dec 1894 Noon UT | 29 sa 54    |
13 Dec 1894 Noon UT |  0 cp 20    |
14 Dec 1894 Noon UT |  0 cp 45    |
15 Dec 1894 Noon UT |  1 cp 10    |
16 Dec 1894 Noon UT |  1 cp 36    |
17 Dec 1894 Noon UT |  2 cp  1    |
18 Dec 1894 Noon UT |  2 cp 26    |
19 Dec 1894 Noon UT |  2 cp 52    |
20 Dec 1894 Noon UT |  3 cp 17    |
21 Dec 1894 Noon UT |  3 cp 42    |
22 Dec 1894 Noon UT |  4 cp  8    |
23 Dec 1894 Noon UT |  4 cp 33    |
24 Dec 1894 Noon UT |  4 cp 58    |
25 Dec 1894 Noon UT |  5 cp 24    |
26 Dec 1894 Noon UT |  5 cp 49    |
27 Dec 1894 Noon UT |  6 cp 14    |
28 Dec 1894 Noon UT |  6 cp 40    |
29 Dec 1894 Noon UT |  7 cp  5    |
30 Dec 1894 Noon UT |  7 cp 30    |
31 Dec 1894 Noon UT |  7 cp 55    |
01 Jan 1895 Noon UT |  8 cp 21    |
02 Jan 1895 Noon UT |  8 cp 46    |
03 Jan 1895 Noon UT |  9 cp 11    |
04 Jan 1895 Noon UT |  9 cp 36    |
05 Jan 1895 Noon UT | 10 cp  2    |
06 Jan 1895 Noon UT | 10 cp 27    |
07 Jan 1895 Noon UT | 10 cp 52    |
08 Jan 1895 Noon UT | 11 cp 17    |
09 Jan 1895 Noon UT | 11 cp 42    |
10 Jan 1895 Noon UT | 12 cp  7    |
11 Jan 1895 Noon UT | 12 cp 32    |
12 Jan 1895 Noon UT | 12 cp 57    |
13 Jan 1895 Noon UT | 13 cp 22    |
14 Jan 1895 Noon UT | 13 cp 47    |
15 Jan 1895 Noon UT | 14 cp 12    |
16 Jan 1895 Noon UT | 14 cp 37    |
17 Jan 1895 Noon UT | 15 cp  2    |
18 Jan 1895 Noon UT | 15 cp 27    |
19 Jan 1895 Noon UT | 15 cp 52    |
20 Jan 1895 Noon UT | 16 cp 17    |
21 Jan 1895 Noon UT | 16 cp 41    |
22 Jan 1895 Noon UT | 17 cp  6    |
23 Jan 1895 Noon UT | 17 cp 31    |
24 Jan 1895 Noon UT | 17 cp 56    |
25 Jan 1895 Noon UT | 18 cp 20    |
26 Jan 1895 Noon UT | 18 cp 45    |
27 Jan 1895 Noon UT | 19 cp  9    |
28 Jan 1895 Noon UT | 19 cp 34    |
29 Jan 1895 Noon UT | 19 cp 58    |
30 Jan 1895 Noon UT | 20 cp 23    |
31 Jan 1895 Noon UT | 20 cp 47    |
01 Feb 1895 Noon UT | 21 cp 12    |
02 Feb 1895 Noon UT | 21 cp 36    |
03 Feb 1895 Noon UT | 22 cp  0    |
04 Feb 1895 Noon UT | 22 cp 24    |
05 Feb 1895 Noon UT | 22 cp 48    |
06 Feb 1895 Noon UT | 23 cp 13    |
07 Feb 1895 Noon UT | 23 cp 37    |
08 Feb 1895 Noon UT | 24 cp  1    |
09 Feb 1895 Noon UT | 24 cp 25    |
10 Feb 1895 Noon UT | 24 cp 49    |
11 Feb 1895 Noon UT | 25 cp 12    |
12 Feb 1895 Noon UT | 25 cp 36    |
13 Feb 1895 Noon UT | 26 cp  0    |
14 Feb 1895 Noon UT | 26 cp 24    |
15 Feb 1895 Noon UT | 26 cp 47    |
16 Feb 1895 Noon UT | 27 cp 11    |
17 Feb 1895 Noon UT | 27 cp 34    |
18 Feb 1895 Noon UT | 27 cp 58    |
19 Feb 1895 Noon UT | 28 cp 21    |
20 Feb 1895 Noon UT | 28 cp 44    |
21 Feb 1895 Noon UT | 29 cp  8    |
22 Feb 1895 Noon UT | 29 cp 31    |
23 Feb 1895 Noon UT | 29 cp 54    |
24 Feb 1895 Noon UT |  0 aq 17    |
25 Feb 1895 Noon UT |  0 aq 40    |
26 Feb 1895 Noon UT |  1 aq  3    |
27 Feb 1895 Noon UT |  1 aq 26    |
28 Feb 1895 Noon UT |  1 aq 49    |
01 Mar 1895 Noon UT |  2 aq 11    |
02 Mar 1895 Noon UT |  2 aq 34    |
03 Mar 1895 Noon UT |  2 aq 56    |
04 Mar 1895 Noon UT |  3 aq 19    |
05 Mar 1895 Noon UT |  3 aq 41    |
06 Mar 1895 Noon UT |  4 aq  3    |
07 Mar 1895 Noon UT |  4 aq 25    |
08 Mar 1895 Noon UT |  4 aq 48    |
09 Mar 1895 Noon UT |  5 aq 10    |
10 Mar 1895 Noon UT |  5 aq 31    |
11 Mar 1895 Noon UT |  5 aq 53    |
12 Mar 1895 Noon UT |  6 aq 15    |
13 Mar 1895 Noon UT |  6 aq 37    |
14 Mar 1895 Noon UT |  6 aq 58    |
15 Mar 1895 Noon UT |  7 aq 20    |
16 Mar 1895 Noon UT |  7 aq 41    |
17 Mar 1895 Noon UT |  8 aq  2    |
18 Mar 1895 Noon UT |  8 aq 23    |
19 Mar 1895 Noon UT |  8 aq 45    |
20 Mar 1895 Noon UT |  9 aq  5    |
21 Mar 1895 Noon UT |  9 aq 26    |
22 Mar 1895 Noon UT |  9 aq 47    |
23 Mar 1895 Noon UT | 10 aq  8    |
24 Mar 1895 Noon UT | 10 aq 28    |
25 Mar 1895 Noon UT | 10 aq 49    |
26 Mar 1895 Noon UT | 11 aq  9    |
27 Mar 1895 Noon UT | 11 aq 29    |
28 Mar 1895 Noon UT | 11 aq 49    |
29 Mar 1895 Noon UT | 12 aq  9    |
30 Mar 1895 Noon UT | 12 aq 29    |
31 Mar 1895 Noon UT | 12 aq 49    |
01 Apr 1895 Noon UT | 13 aq  8    |
02 Apr 1895 Noon UT | 13 aq 28    |
03 Apr 1895 Noon UT | 13 aq 47    |
04 Apr 1895 Noon UT | 14 aq  6    |
05 Apr 1895 Noon UT | 14 aq 25    |
06 Apr 1895 Noon UT | 14 aq 44    |
07 Apr 1895 Noon UT | 15 aq  3    |
08 Apr 1895 Noon UT | 15 aq 21    |
09 Apr 1895 Noon UT | 15 aq 40    |
10 Apr 1895 Noon UT | 15 aq 58    |
11 Apr 1895 Noon UT | 16 aq 16    |
12 Apr 1895 Noon UT | 16 aq 34    |
13 Apr 1895 Noon UT | 16 aq 52    |
14 Apr 1895 Noon UT | 17 aq 10    |
15 Apr 1895 Noon UT | 17 aq 28    |
16 Apr 1895 Noon UT | 17 aq 45    |
17 Apr 1895 Noon UT | 18 aq  3    |
18 Apr 1895 Noon UT | 18 aq 20    |
19 Apr 1895 Noon UT | 18 aq 37    |
20 Apr 1895 Noon UT | 18 aq 53    |
21 Apr 1895 Noon UT | 19 aq 10    |
22 Apr 1895 Noon UT | 19 aq 27    |
23 Apr 1895 Noon UT | 19 aq 43    |
24 Apr 1895 Noon UT | 19 aq 59    |
25 Apr 1895 Noon UT | 20 aq 15    |
26 Apr 1895 Noon UT | 20 aq 31    |
27 Apr 1895 Noon UT | 20 aq 46    |
28 Apr 1895 Noon UT | 21 aq  2    |
29 Apr 1895 Noon UT | 21 aq 17    |
30 Apr 1895 Noon UT | 21 aq 32    |
01 May 1895 Noon UT | 21 aq 47    |
02 May 1895 Noon UT | 22 aq  1    |
03 May 1895 Noon UT | 22 aq 16    |
04 May 1895 Noon UT | 22 aq 30    |
05 May 1895 Noon UT | 22 aq 44    |
06 May 1895 Noon UT | 22 aq 58    |
07 May 1895 Noon UT | 23 aq 11    |
08 May 1895 Noon UT | 23 aq 25    |
09 May 1895 Noon UT | 23 aq 38    |
10 May 1895 Noon UT | 23 aq 51    |
11 May 1895 Noon UT | 24 aq  4    |
12 May 1895 Noon UT | 24 aq 16    |
13 May 1895 Noon UT | 24 aq 29    |
14 May 1895 Noon UT | 24 aq 41    |
15 May 1895 Noon UT | 24 aq 53    |
16 May 1895 Noon UT | 25 aq  4    |
17 May 1895 Noon UT | 25 aq 16    |
18 May 1895 Noon UT | 25 aq 27    |
19 May 1895 Noon UT | 25 aq 38    |
20 May 1895 Noon UT | 25 aq 48    |
21 May 1895 Noon UT | 25 aq 59    |
22 May 1895 Noon UT | 26 aq  9    |
23 May 1895 Noon UT | 26 aq 18    |
24 May 1895 Noon UT | 26 aq 28    |
25 May 1895 Noon UT | 26 aq 37    |
26 May 1895 Noon UT | 26 aq 46    |
27 May 1895 Noon UT | 26 aq 55    |
28 May 1895 Noon UT | 27 aq  4    |
29 May 1895 Noon UT | 27 aq 12    |
30 May 1895 Noon UT | 27 aq 20    |
31 May 1895 Noon UT | 27 aq 28    |
01 Jun 1895 Noon UT | 27 aq 35    |
02 Jun 1895 Noon UT | 27 aq 42    |
03 Jun 1895 Noon UT | 27 aq 49    |
04 Jun 1895 Noon UT | 27 aq 55    |
05 Jun 1895 Noon UT | 28 aq  2    |
06 Jun 1895 Noon UT | 28 aq  8    |
07 Jun 1895 Noon UT | 28 aq 13    |
08 Jun 1895 Noon UT | 28 aq 19    |
09 Jun 1895 Noon UT | 28 aq 24    |
10 Jun 1895 Noon UT | 28 aq 28    |
11 Jun 1895 Noon UT | 28 aq 33    |
12 Jun 1895 Noon UT | 28 aq 37    |
13 Jun 1895 Noon UT | 28 aq 40    |
14 Jun 1895 Noon UT | 28 aq 44    |
15 Jun 1895 Noon UT | 28 aq 47    |
16 Jun 1895 Noon UT | 28 aq 50    |
17 Jun 1895 Noon UT | 28 aq 52    |
18 Jun 1895 Noon UT | 28 aq 54    |
19 Jun 1895 Noon UT | 28 aq 56    |
20 Jun 1895 Noon UT | 28 aq 58    |
21 Jun 1895 Noon UT | 28 aq 59    |
22 Jun 1895 Noon UT | 28 aq 59    |
23 Jun 1895 Noon UT | 29 aq  0    |
24 Jun 1895 Noon UT | 29 aq  0 Rx |
25 Jun 1895 Noon UT | 29 aq  0 Rx |
26 Jun 1895 Noon UT | 28 aq 59 Rx |
27 Jun 1895 Noon UT | 28 aq 58 Rx |
28 Jun 1895 Noon UT | 28 aq 57 Rx |
29 Jun 1895 Noon UT | 28 aq 55 Rx |
30 Jun 1895 Noon UT | 28 aq 53 Rx |
01 Jul 1895 Noon UT | 28 aq 51 Rx |
02 Jul 1895 Noon UT | 28 aq 48 Rx |
03 Jul 1895 Noon UT | 28 aq 46 Rx |
04 Jul 1895 Noon UT | 28 aq 42 Rx |
05 Jul 1895 Noon UT | 28 aq 39 Rx |
06 Jul 1895 Noon UT | 28 aq 35 Rx |
07 Jul 1895 Noon UT | 28 aq 30 Rx |
08 Jul 1895 Noon UT | 28 aq 26 Rx |
09 Jul 1895 Noon UT | 28 aq 21 Rx |
10 Jul 1895 Noon UT | 28 aq 16 Rx |
11 Jul 1895 Noon UT | 28 aq 10 Rx |
12 Jul 1895 Noon UT | 28 aq  4 Rx |
13 Jul 1895 Noon UT | 27 aq 58 Rx |
14 Jul 1895 Noon UT | 27 aq 51 Rx |
15 Jul 1895 Noon UT | 27 aq 45 Rx |
16 Jul 1895 Noon UT | 27 aq 38 Rx |
17 Jul 1895 Noon UT | 27 aq 30 Rx |
18 Jul 1895 Noon UT | 27 aq 22 Rx |
19 Jul 1895 Noon UT | 27 aq 15 Rx |
20 Jul 1895 Noon UT | 27 aq  6 Rx |
21 Jul 1895 Noon UT | 26 aq 58 Rx |
22 Jul 1895 Noon UT | 26 aq 49 Rx |
23 Jul 1895 Noon UT | 26 aq 40 Rx |
24 Jul 1895 Noon UT | 26 aq 31 Rx |
25 Jul 1895 Noon UT | 26 aq 21 Rx |
26 Jul 1895 Noon UT | 26 aq 12 Rx |
27 Jul 1895 Noon UT | 26 aq  2 Rx |
28 Jul 1895 Noon UT | 25 aq 51 Rx |
29 Jul 1895 Noon UT | 25 aq 41 Rx |
30 Jul 1895 Noon UT | 25 aq 31 Rx |
31 Jul 1895 Noon UT | 25 aq 20 Rx |
01 Aug 1895 Noon UT | 25 aq  9 Rx |
02 Aug 1895 Noon UT | 24 aq 58 Rx |
03 Aug 1895 Noon UT | 24 aq 47 Rx |
04 Aug 1895 Noon UT | 24 aq 36 Rx |
05 Aug 1895 Noon UT | 24 aq 24 Rx |
06 Aug 1895 Noon UT | 24 aq 13 Rx |
07 Aug 1895 Noon UT | 24 aq  1 Rx |
08 Aug 1895 Noon UT | 23 aq 49 Rx |
09 Aug 1895 Noon UT | 23 aq 38 Rx |
10 Aug 1895 Noon UT | 23 aq 26 Rx |
11 Aug 1895 Noon UT | 23 aq 14 Rx |
12 Aug 1895 Noon UT | 23 aq  2 Rx |
13 Aug 1895 Noon UT | 22 aq 50 Rx |
14 Aug 1895 Noon UT | 22 aq 38 Rx |
15 Aug 1895 Noon UT | 22 aq 26 Rx |
16 Aug 1895 Noon UT | 22 aq 14 Rx |
17 Aug 1895 Noon UT | 22 aq  2 Rx |
18 Aug 1895 Noon UT | 21 aq 50 Rx |
19 Aug 1895 Noon UT | 21 aq 39 Rx |
20 Aug 1895 Noon UT | 21 aq 27 Rx |
21 Aug 1895 Noon UT | 21 aq 15 Rx |
22 Aug 1895 Noon UT | 21 aq  3 Rx |
23 Aug 1895 Noon UT | 20 aq 52 Rx |
24 Aug 1895 Noon UT | 20 aq 41 Rx |
25 Aug 1895 Noon UT | 20 aq 29 Rx |
26 Aug 1895 Noon UT | 20 aq 18 Rx |
27 Aug 1895 Noon UT | 20 aq  7 Rx |
28 Aug 1895 Noon UT | 19 aq 56 Rx |
29 Aug 1895 Noon UT | 19 aq 46 Rx |
30 Aug 1895 Noon UT | 19 aq 35 Rx |
31 Aug 1895 Noon UT | 19 aq 25 Rx |
01 Sep 1895 Noon UT | 19 aq 15 Rx |
02 Sep 1895 Noon UT | 19 aq  5 Rx |
03 Sep 1895 Noon UT | 18 aq 55 Rx |
04 Sep 1895 Noon UT | 18 aq 46 Rx |
05 Sep 1895 Noon UT | 18 aq 37 Rx |
06 Sep 1895 Noon UT | 18 aq 28 Rx |
07 Sep 1895 Noon UT | 18 aq 19 Rx |
08 Sep 1895 Noon UT | 18 aq 11 Rx |
09 Sep 1895 Noon UT | 18 aq  3 Rx |
10 Sep 1895 Noon UT | 17 aq 55 Rx |
11 Sep 1895 Noon UT | 17 aq 47 Rx |
12 Sep 1895 Noon UT | 17 aq 40 Rx |
13 Sep 1895 Noon UT | 17 aq 33 Rx |
14 Sep 1895 Noon UT | 17 aq 26 Rx |
15 Sep 1895 Noon UT | 17 aq 19 Rx |
16 Sep 1895 Noon UT | 17 aq 13 Rx |
17 Sep 1895 Noon UT | 17 aq  7 Rx |
18 Sep 1895 Noon UT | 17 aq  2 Rx |
19 Sep 1895 Noon UT | 16 aq 57 Rx |
20 Sep 1895 Noon UT | 16 aq 52 Rx |
21 Sep 1895 Noon UT | 16 aq 47 Rx |
22 Sep 1895 Noon UT | 16 aq 43 Rx |
23 Sep 1895 Noon UT | 16 aq 39 Rx |
24 Sep 1895 Noon UT | 16 aq 35 Rx |
25 Sep 1895 Noon UT | 16 aq 32 Rx |
26 Sep 1895 Noon UT | 16 aq 29 Rx |
27 Sep 1895 Noon UT | 16 aq 26 Rx |
28 Sep 1895 Noon UT | 16 aq 24 Rx |
29 Sep 1895 Noon UT | 16 aq 22 Rx |
30 Sep 1895 Noon UT | 16 aq 20 Rx |
01 Oct 1895 Noon UT | 16 aq 19 Rx |
02 Oct 1895 Noon UT | 16 aq 18 Rx |
03 Oct 1895 Noon UT | 16 aq 18 Rx |
04 Oct 1895 Noon UT | 16 aq 17 Rx |
05 Oct 1895 Noon UT | 16 aq 17    |
06 Oct 1895 Noon UT | 16 aq 18    |
07 Oct 1895 Noon UT | 16 aq 18    |
08 Oct 1895 Noon UT | 16 aq 19    |
09 Oct 1895 Noon UT | 16 aq 21    |
10 Oct 1895 Noon UT | 16 aq 22    |
11 Oct 1895 Noon UT | 16 aq 24    |
12 Oct 1895 Noon UT | 16 aq 27    |
13 Oct 1895 Noon UT | 16 aq 29    |
14 Oct 1895 Noon UT | 16 aq 32    |
15 Oct 1895 Noon UT | 16 aq 35    |
16 Oct 1895 Noon UT | 16 aq 39    |
17 Oct 1895 Noon UT | 16 aq 43    |
18 Oct 1895 Noon UT | 16 aq 47    |
19 Oct 1895 Noon UT | 16 aq 51    |
20 Oct 1895 Noon UT | 16 aq 56    |
21 Oct 1895 Noon UT | 17 aq  1    |
22 Oct 1895 Noon UT | 17 aq  6    |
23 Oct 1895 Noon UT | 17 aq 12    |
24 Oct 1895 Noon UT | 17 aq 18    |
25 Oct 1895 Noon UT | 17 aq 24    |
26 Oct 1895 Noon UT | 17 aq 31    |
27 Oct 1895 Noon UT | 17 aq 38    |
28 Oct 1895 Noon UT | 17 aq 45    |
29 Oct 1895 Noon UT | 17 aq 52    |
30 Oct 1895 Noon UT | 18 aq  0    |
31 Oct 1895 Noon UT | 18 aq  7    |
01 Nov 1895 Noon UT | 18 aq 16    |
02 Nov 1895 Noon UT | 18 aq 24    |
03 Nov 1895 Noon UT | 18 aq 33    |
04 Nov 1895 Noon UT | 18 aq 41    |
05 Nov 1895 Noon UT | 18 aq 51    |
06 Nov 1895 Noon UT | 19 aq  0    |
07 Nov 1895 Noon UT | 19 aq 10    |
08 Nov 1895 Noon UT | 19 aq 19    |
09 Nov 1895 Noon UT | 19 aq 30    |
10 Nov 1895 Noon UT | 19 aq 40    |
11 Nov 1895 Noon UT | 19 aq 50    |
12 Nov 1895 Noon UT | 20 aq  1    |
13 Nov 1895 Noon UT | 20 aq 12    |
14 Nov 1895 Noon UT | 20 aq 23    |
15 Nov 1895 Noon UT | 20 aq 35    |
16 Nov 1895 Noon UT | 20 aq 47    |
17 Nov 1895 Noon UT | 20 aq 58    |
18 Nov 1895 Noon UT | 21 aq 11    |
19 Nov 1895 Noon UT | 21 aq 23    |
20 Nov 1895 Noon UT | 21 aq 35    |
21 Nov 1895 Noon UT | 21 aq 48    |
22 Nov 1895 Noon UT | 22 aq  1    |
23 Nov 1895 Noon UT | 22 aq 14    |
24 Nov 1895 Noon UT | 22 aq 27    |
25 Nov 1895 Noon UT | 22 aq 41    |
26 Nov 1895 Noon UT | 22 aq 54    |
27 Nov 1895 Noon UT | 23 aq  8    |
28 Nov 1895 Noon UT | 23 aq 22    |
29 Nov 1895 Noon UT | 23 aq 36    |
30 Nov 1895 Noon UT | 23 aq 50    |
01 Dec 1895 Noon UT | 24 aq  5    |
02 Dec 1895 Noon UT | 24 aq 20    |
03 Dec 1895 Noon UT | 24 aq 34    |
04 Dec 1895 Noon UT | 24 aq 49    |
05 Dec 1895 Noon UT | 25 aq  4    |
06 Dec 1895 Noon UT | 25 aq 20    |
07 Dec 1895 Noon UT | 25 aq 35    |
08 Dec 1895 Noon UT | 25 aq 51    |
09 Dec 1895 Noon UT | 26 aq  6    |
10 Dec 1895 Noon UT | 26 aq 22    |
11 Dec 1895 Noon UT | 26 aq 38    |
12 Dec 1895 Noon UT | 26 aq 54    |
13 Dec 1895 Noon UT | 27 aq 11    |
14 Dec 1895 Noon UT | 27 aq 27    |
15 Dec 1895 Noon UT | 27 aq 44    |
16 Dec 1895 Noon UT | 28 aq  0    |
17 Dec 1895 Noon UT | 28 aq 17    |
18 Dec 1895 Noon UT | 28 aq 34    |
19 Dec 1895 Noon UT | 28 aq 51    |
20 Dec 1895 Noon UT | 29 aq  8    |
21 Dec 1895 Noon UT | 29 aq 25    |
22 Dec 1895 Noon UT | 29 aq 43    |
23 Dec 1895 Noon UT |  0 pi  0    |
24 Dec 1895 Noon UT |  0 pi 18    |
25 Dec 1895 Noon UT |  0 pi 36    |
26 Dec 1895 Noon UT |  0 pi 54    |
27 Dec 1895 Noon UT |  1 pi 11    |
28 Dec 1895 Noon UT |  1 pi 29    |
29 Dec 1895 Noon UT |  1 pi 48    |
30 Dec 1895 Noon UT |  2 pi  6    |
31 Dec 1895 Noon UT |  2 pi 24    |
01 Jan 1896 Noon UT |  2 pi 43    |
02 Jan 1896 Noon UT |  3 pi  1    |
03 Jan 1896 Noon UT |  3 pi 20    |
04 Jan 1896 Noon UT |  3 pi 38    |
05 Jan 1896 Noon UT |  3 pi 57    |
06 Jan 1896 Noon UT |  4 pi 16    |
07 Jan 1896 Noon UT |  4 pi 35    |
08 Jan 1896 Noon UT |  4 pi 54    |
09 Jan 1896 Noon UT |  5 pi 13    |
10 Jan 1896 Noon UT |  5 pi 32    |
11 Jan 1896 Noon UT |  5 pi 51    |
12 Jan 1896 Noon UT |  6 pi 11    |
13 Jan 1896 Noon UT |  6 pi 30    |
14 Jan 1896 Noon UT |  6 pi 50    |
15 Jan 1896 Noon UT |  7 pi  9    |
16 Jan 1896 Noon UT |  7 pi 29    |
17 Jan 1896 Noon UT |  7 pi 48    |
18 Jan 1896 Noon UT |  8 pi  8    |
19 Jan 1896 Noon UT |  8 pi 28    |
20 Jan 1896 Noon UT |  8 pi 48    |
21 Jan 1896 Noon UT |  9 pi  8    |
22 Jan 1896 Noon UT |  9 pi 28    |
23 Jan 1896 Noon UT |  9 pi 48    |
24 Jan 1896 Noon UT | 10 pi  8    |
25 Jan 1896 Noon UT | 10 pi 28    |
26 Jan 1896 Noon UT | 10 pi 48    |
27 Jan 1896 Noon UT | 11 pi  8    |
28 Jan 1896 Noon UT | 11 pi 28    |
29 Jan 1896 Noon UT | 11 pi 49    |
30 Jan 1896 Noon UT | 12 pi  9    |
31 Jan 1896 Noon UT | 12 pi 30    |
01 Feb 1896 Noon UT | 12 pi 50    |
02 Feb 1896 Noon UT | 13 pi 10    |
03 Feb 1896 Noon UT | 13 pi 31    |
04 Feb 1896 Noon UT | 13 pi 52    |
05 Feb 1896 Noon UT | 14 pi 12    |
06 Feb 1896 Noon UT | 14 pi 33    |
07 Feb 1896 Noon UT | 14 pi 53    |
08 Feb 1896 Noon UT | 15 pi 14    |
09 Feb 1896 Noon UT | 15 pi 35    |
10 Feb 1896 Noon UT | 15 pi 56    |
11 Feb 1896 Noon UT | 16 pi 16    |
12 Feb 1896 Noon UT | 16 pi 37    |
13 Feb 1896 Noon UT | 16 pi 58    |
14 Feb 1896 Noon UT | 17 pi 19    |
15 Feb 1896 Noon UT | 17 pi 40    |
16 Feb 1896 Noon UT | 18 pi  1    |
17 Feb 1896 Noon UT | 18 pi 22    |
18 Feb 1896 Noon UT | 18 pi 43    |
19 Feb 1896 Noon UT | 19 pi  4    |
20 Feb 1896 Noon UT | 19 pi 25    |
21 Feb 1896 Noon UT | 19 pi 46    |
22 Feb 1896 Noon UT | 20 pi  7    |
23 Feb 1896 Noon UT | 20 pi 28    |
24 Feb 1896 Noon UT | 20 pi 49    |
25 Feb 1896 Noon UT | 21 pi 10    |
26 Feb 1896 Noon UT | 21 pi 31    |
27 Feb 1896 Noon UT | 21 pi 52    |
28 Feb 1896 Noon UT | 22 pi 13    |
29 Feb 1896 Noon UT | 22 pi 34    |
01 Mar 1896 Noon UT | 22 pi 56    |
02 Mar 1896 Noon UT | 23 pi 17    |
03 Mar 1896 Noon UT | 23 pi 38    |
04 Mar 1896 Noon UT | 23 pi 59    |
05 Mar 1896 Noon UT | 24 pi 20    |
06 Mar 1896 Noon UT | 24 pi 41    |
07 Mar 1896 Noon UT | 25 pi  2    |
08 Mar 1896 Noon UT | 25 pi 24    |
09 Mar 1896 Noon UT | 25 pi 45    |
10 Mar 1896 Noon UT | 26 pi  6    |
11 Mar 1896 Noon UT | 26 pi 27    |
12 Mar 1896 Noon UT | 26 pi 48    |
13 Mar 1896 Noon UT | 27 pi  9    |
14 Mar 1896 Noon UT | 27 pi 30    |
15 Mar 1896 Noon UT | 27 pi 52    |
16 Mar 1896 Noon UT | 28 pi 13    |
17 Mar 1896 Noon UT | 28 pi 34    |
18 Mar 1896 Noon UT | 28 pi 55    |
19 Mar 1896 Noon UT | 29 pi 16    |
20 Mar 1896 Noon UT | 29 pi 37    |
21 Mar 1896 Noon UT | 29 pi 58    |
22 Mar 1896 Noon UT |  0 ar 19    |
23 Mar 1896 Noon UT |  0 ar 40    |
24 Mar 1896 Noon UT |  1 ar  1    |
25 Mar 1896 Noon UT |  1 ar 22    |
26 Mar 1896 Noon UT |  1 ar 43    |
27 Mar 1896 Noon UT |  2 ar  4    |
28 Mar 1896 Noon UT |  2 ar 25    |
29 Mar 1896 Noon UT |  2 ar 46    |
30 Mar 1896 Noon UT |  3 ar  7    |
31 Mar 1896 Noon UT |  3 ar 28    |
01 Apr 1896 Noon UT |  3 ar 49    |
02 Apr 1896 Noon UT |  4 ar  9    |
03 Apr 1896 Noon UT |  4 ar 30    |
04 Apr 1896 Noon UT |  4 ar 51    |
05 Apr 1896 Noon UT |  5 ar 12    |
06 Apr 1896 Noon UT |  5 ar 32    |
07 Apr 1896 Noon UT |  5 ar 53    |
08 Apr 1896 Noon UT |  6 ar 14    |
09 Apr 1896 Noon UT |  6 ar 34    |
10 Apr 1896 Noon UT |  6 ar 55    |
11 Apr 1896 Noon UT |  7 ar 16    |
12 Apr 1896 Noon UT |  7 ar 36    |
13 Apr 1896 Noon UT |  7 ar 57    |
14 Apr 1896 Noon UT |  8 ar 17    |
15 Apr 1896 Noon UT |  8 ar 37    |
16 Apr 1896 Noon UT |  8 ar 58    |
17 Apr 1896 Noon UT |  9 ar 18    |
18 Apr 1896 Noon UT |  9 ar 38    |
19 Apr 1896 Noon UT |  9 ar 59    |
20 Apr 1896 Noon UT | 10 ar 19    |
21 Apr 1896 Noon UT | 10 ar 39    |
22 Apr 1896 Noon UT | 10 ar 59    |
23 Apr 1896 Noon UT | 11 ar 19    |
24 Apr 1896 Noon UT | 11 ar 39    |
25 Apr 1896 Noon UT | 11 ar 59    |
26 Apr 1896 Noon UT | 12 ar 19    |
27 Apr 1896 Noon UT | 12 ar 39    |
28 Apr 1896 Noon UT | 12 ar 59    |
29 Apr 1896 Noon UT | 13 ar 19    |
30 Apr 1896 Noon UT | 13 ar 38    |
01 May 1896 Noon UT | 13 ar 58    |
02 May 1896 Noon UT | 14 ar 18    |
03 May 1896 Noon UT | 14 ar 37    |
04 May 1896 Noon UT | 14 ar 57    |
05 May 1896 Noon UT | 15 ar 16    |
06 May 1896 Noon UT | 15 ar 35    |
07 May 1896 Noon UT | 15 ar 55    |
08 May 1896 Noon UT | 16 ar 14    |
09 May 1896 Noon UT | 16 ar 33    |
10 May 1896 Noon UT | 16 ar 52    |
11 May 1896 Noon UT | 17 ar 11    |
12 May 1896 Noon UT | 17 ar 30    |
13 May 1896 Noon UT | 17 ar 49    |
14 May 1896 Noon UT | 18 ar  8    |
15 May 1896 Noon UT | 18 ar 27    |
16 May 1896 Noon UT | 18 ar 46    |
17 May 1896 Noon UT | 19 ar  4    |
18 May 1896 Noon UT | 19 ar 23    |
19 May 1896 Noon UT | 19 ar 42    |
20 May 1896 Noon UT | 20 ar  0    |
21 May 1896 Noon UT | 20 ar 18    |
22 May 1896 Noon UT | 20 ar 37    |
23 May 1896 Noon UT | 20 ar 55    |
24 May 1896 Noon UT | 21 ar 13    |
25 May 1896 Noon UT | 21 ar 31    |
26 May 1896 Noon UT | 21 ar 49    |
27 May 1896 Noon UT | 22 ar  7    |
28 May 1896 Noon UT | 22 ar 24    |
29 May 1896 Noon UT | 22 ar 42    |
30 May 1896 Noon UT | 23 ar  0    |
31 May 1896 Noon UT | 23 ar 17    |
01 Jun 1896 Noon UT | 23 ar 35    |
02 Jun 1896 Noon UT | 23 ar 52    |
03 Jun 1896 Noon UT | 24 ar  9    |
04 Jun 1896 Noon UT | 24 ar 26    |
05 Jun 1896 Noon UT | 24 ar 43    |
06 Jun 1896 Noon UT | 25 ar  0    |
07 Jun 1896 Noon UT | 25 ar 17    |
08 Jun 1896 Noon UT | 25 ar 34    |
09 Jun 1896 Noon UT | 25 ar 50    |
10 Jun 1896 Noon UT | 26 ar  7    |
11 Jun 1896 Noon UT | 26 ar 23    |
12 Jun 1896 Noon UT | 26 ar 39    |
13 Jun 1896 Noon UT | 26 ar 56    |
14 Jun 1896 Noon UT | 27 ar 12    |
15 Jun 1896 Noon UT | 27 ar 27    |
16 Jun 1896 Noon UT | 27 ar 43    |
17 Jun 1896 Noon UT | 27 ar 59    |
18 Jun 1896 Noon UT | 28 ar 15    |
19 Jun 1896 Noon UT | 28 ar 30    |
20 Jun 1896 Noon UT | 28 ar 45    |
21 Jun 1896 Noon UT | 29 ar  0    |
22 Jun 1896 Noon UT | 29 ar 15    |
23 Jun 1896 Noon UT | 29 ar 30    |
24 Jun 1896 Noon UT | 29 ar 45    |
25 Jun 1896 Noon UT |  0 ta  0    |
26 Jun 1896 Noon UT |  0 ta 14    |
27 Jun 1896 Noon UT |  0 ta 29    |
28 Jun 1896 Noon UT |  0 ta 43    |
29 Jun 1896 Noon UT |  0 ta 57    |
30 Jun 1896 Noon UT |  1 ta 11    |
01 Jul 1896 Noon UT |  1 ta 25    |
02 Jul 1896 Noon UT |  1 ta 38    |
03 Jul 1896 Noon UT |  1 ta 52    |
04 Jul 1896 Noon UT |  2 ta  5    |
05 Jul 1896 Noon UT |  2 ta 18    |
06 Jul 1896 Noon UT |  2 ta 32    |
07 Jul 1896 Noon UT |  2 ta 44    |
08 Jul 1896 Noon UT |  2 ta 57    |
09 Jul 1896 Noon UT |  3 ta 10    |
10 Jul 1896 Noon UT |  3 ta 22    |
11 Jul 1896 Noon UT |  3 ta 34    |
12 Jul 1896 Noon UT |  3 ta 46    |
13 Jul 1896 Noon UT |  3 ta 58    |
14 Jul 1896 Noon UT |  4 ta 10    |
15 Jul 1896 Noon UT |  4 ta 21    |
16 Jul 1896 Noon UT |  4 ta 32    |
17 Jul 1896 Noon UT |  4 ta 43    |
18 Jul 1896 Noon UT |  4 ta 54    |
19 Jul 1896 Noon UT |  5 ta  5    |
20 Jul 1896 Noon UT |  5 ta 16    |
21 Jul 1896 Noon UT |  5 ta 26    |
22 Jul 1896 Noon UT |  5 ta 36    |
23 Jul 1896 Noon UT |  5 ta 46    |
24 Jul 1896 Noon UT |  5 ta 56    |
25 Jul 1896 Noon UT |  6 ta  5    |
26 Jul 1896 Noon UT |  6 ta 14    |
27 Jul 1896 Noon UT |  6 ta 24    |
28 Jul 1896 Noon UT |  6 ta 32    |
29 Jul 1896 Noon UT |  6 ta 41    |
30 Jul 1896 Noon UT |  6 ta 49    |
31 Jul 1896 Noon UT |  6 ta 58    |
01 Aug 1896 Noon UT |  7 ta  6    |
02 Aug 1896 Noon UT |  7 ta 13    |
03 Aug 1896 Noon UT |  7 ta 21    |
04 Aug 1896 Noon UT |  7 ta 28    |
05 Aug 1896 Noon UT |  7 ta 35    |
06 Aug 1896 Noon UT |  7 ta 42    |
07 Aug 1896 Noon UT |  7 ta 48    |
08 Aug 1896 Noon UT |  7 ta 55    |
09 Aug 1896 Noon UT |  8 ta  1    |
10 Aug 1896 Noon UT |  8 ta  6    |
11 Aug 1896 Noon UT |  8 ta 12    |
12 Aug 1896 Noon UT |  8 ta 17    |
13 Aug 1896 Noon UT |  8 ta 22    |
14 Aug 1896 Noon UT |  8 ta 27    |
15 Aug 1896 Noon UT |  8 ta 31    |
16 Aug 1896 Noon UT |  8 ta 35    |
17 Aug 1896 Noon UT |  8 ta 39    |
18 Aug 1896 Noon UT |  8 ta 43    |
19 Aug 1896 Noon UT |  8 ta 46    |
20 Aug 1896 Noon UT |  8 ta 49    |
21 Aug 1896 Noon UT |  8 ta 52    |
22 Aug 1896 Noon UT |  8 ta 55    |
23 Aug 1896 Noon UT |  8 ta 57    |
24 Aug 1896 Noon UT |  8 ta 59    |
25 Aug 1896 Noon UT |  9 ta  0    |
26 Aug 1896 Noon UT |  9 ta  2    |
27 Aug 1896 Noon UT |  9 ta  3    |
28 Aug 1896 Noon UT |  9 ta  4    |
29 Aug 1896 Noon UT |  9 ta  4    |
30 Aug 1896 Noon UT |  9 ta  4 Rx |
31 Aug 1896 Noon UT |  9 ta  4 Rx |
01 Sep 1896 Noon UT |  9 ta  4 Rx |
02 Sep 1896 Noon UT |  9 ta  3 Rx |
03 Sep 1896 Noon UT |  9 ta  2 Rx |
04 Sep 1896 Noon UT |  9 ta  0 Rx |
05 Sep 1896 Noon UT |  8 ta 59 Rx |
06 Sep 1896 Noon UT |  8 ta 57 Rx |
07 Sep 1896 Noon UT |  8 ta 54 Rx |
08 Sep 1896 Noon UT |  8 ta 52 Rx |
09 Sep 1896 Noon UT |  8 ta 49 Rx |
10 Sep 1896 Noon UT |  8 ta 46 Rx |
11 Sep 1896 Noon UT |  8 ta 42 Rx |
12 Sep 1896 Noon UT |  8 ta 38 Rx |
13 Sep 1896 Noon UT |  8 ta 34 Rx |
14 Sep 1896 Noon UT |  8 ta 30 Rx |
15 Sep 1896 Noon UT |  8 ta 25 Rx |
16 Sep 1896 Noon UT |  8 ta 20 Rx |
17 Sep 1896 Noon UT |  8 ta 15 Rx |
18 Sep 1896 Noon UT |  8 ta  9 Rx |
19 Sep 1896 Noon UT |  8 ta  3 Rx |
20 Sep 1896 Noon UT |  7 ta 57 Rx |
21 Sep 1896 Noon UT |  7 ta 51 Rx |
22 Sep 1896 Noon UT |  7 ta 44 Rx |
23 Sep 1896 Noon UT |  7 ta 37 Rx |
24 Sep 1896 Noon UT |  7 ta 29 Rx |
25 Sep 1896 Noon UT |  7 ta 22 Rx |
26 Sep 1896 Noon UT |  7 ta 14 Rx |
27 Sep 1896 Noon UT |  7 ta  6 Rx |
28 Sep 1896 Noon UT |  6 ta 58 Rx |
29 Sep 1896 Noon UT |  6 ta 49 Rx |
30 Sep 1896 Noon UT |  6 ta 40 Rx |
01 Oct 1896 Noon UT |  6 ta 31 Rx |
02 Oct 1896 Noon UT |  6 ta 22 Rx |
03 Oct 1896 Noon UT |  6 ta 13 Rx |
04 Oct 1896 Noon UT |  6 ta  3 Rx |
05 Oct 1896 Noon UT |  5 ta 53 Rx |
06 Oct 1896 Noon UT |  5 ta 43 Rx |
07 Oct 1896 Noon UT |  5 ta 32 Rx |
08 Oct 1896 Noon UT |  5 ta 22 Rx |
09 Oct 1896 Noon UT |  5 ta 11 Rx |
10 Oct 1896 Noon UT |  5 ta  1 Rx |
11 Oct 1896 Noon UT |  4 ta 50 Rx |
12 Oct 1896 Noon UT |  4 ta 38 Rx |
13 Oct 1896 Noon UT |  4 ta 27 Rx |
14 Oct 1896 Noon UT |  4 ta 16 Rx |
15 Oct 1896 Noon UT |  4 ta  4 Rx |
16 Oct 1896 Noon UT |  3 ta 53 Rx |
17 Oct 1896 Noon UT |  3 ta 41 Rx |
18 Oct 1896 Noon UT |  3 ta 30 Rx |
19 Oct 1896 Noon UT |  3 ta 18 Rx |
20 Oct 1896 Noon UT |  3 ta  6 Rx |
21 Oct 1896 Noon UT |  2 ta 54 Rx |
22 Oct 1896 Noon UT |  2 ta 42 Rx |
23 Oct 1896 Noon UT |  2 ta 30 Rx |
24 Oct 1896 Noon UT |  2 ta 18 Rx |
25 Oct 1896 Noon UT |  2 ta  6 Rx |
26 Oct 1896 Noon UT |  1 ta 54 Rx |
27 Oct 1896 Noon UT |  1 ta 42 Rx |
28 Oct 1896 Noon UT |  1 ta 31 Rx |
29 Oct 1896 Noon UT |  1 ta 19 Rx |
30 Oct 1896 Noon UT |  1 ta  7 Rx |
31 Oct 1896 Noon UT |  0 ta 55 Rx |
01 Nov 1896 Noon UT |  0 ta 44 Rx |
02 Nov 1896 Noon UT |  0 ta 32 Rx |
03 Nov 1896 Noon UT |  0 ta 21 Rx |
04 Nov 1896 Noon UT |  0 ta  9 Rx |
05 Nov 1896 Noon UT | 29 ar 58 Rx |
06 Nov 1896 Noon UT | 29 ar 47 Rx |
07 Nov 1896 Noon UT | 29 ar 36 Rx |
08 Nov 1896 Noon UT | 29 ar 25 Rx |
09 Nov 1896 Noon UT | 29 ar 15 Rx |
10 Nov 1896 Noon UT | 29 ar  4 Rx |
11 Nov 1896 Noon UT | 28 ar 54 Rx |
12 Nov 1896 Noon UT | 28 ar 44 Rx |
13 Nov 1896 Noon UT | 28 ar 34 Rx |
14 Nov 1896 Noon UT | 28 ar 24 Rx |
15 Nov 1896 Noon UT | 28 ar 15 Rx |
16 Nov 1896 Noon UT | 28 ar  6 Rx |
17 Nov 1896 Noon UT | 27 ar 56 Rx |
18 Nov 1896 Noon UT | 27 ar 48 Rx |
19 Nov 1896 Noon UT | 27 ar 39 Rx |
20 Nov 1896 Noon UT | 27 ar 31 Rx |
21 Nov 1896 Noon UT | 27 ar 23 Rx |
22 Nov 1896 Noon UT | 27 ar 15 Rx |
23 Nov 1896 Noon UT | 27 ar  8 Rx |
24 Nov 1896 Noon UT | 27 ar  0 Rx |
25 Nov 1896 Noon UT | 26 ar 53 Rx |
26 Nov 1896 Noon UT | 26 ar 47 Rx |
27 Nov 1896 Noon UT | 26 ar 40 Rx |
28 Nov 1896 Noon UT | 26 ar 34 Rx |
29 Nov 1896 Noon UT | 26 ar 29 Rx |
30 Nov 1896 Noon UT | 26 ar 23 Rx |
01 Dec 1896 Noon UT | 26 ar 18 Rx |
02 Dec 1896 Noon UT | 26 ar 13 Rx |
03 Dec 1896 Noon UT | 26 ar  8 Rx |
04 Dec 1896 Noon UT | 26 ar  4 Rx |
05 Dec 1896 Noon UT | 26 ar  0 Rx |
06 Dec 1896 Noon UT | 25 ar 56 Rx |
07 Dec 1896 Noon UT | 25 ar 53 Rx |
08 Dec 1896 Noon UT | 25 ar 50 Rx |
09 Dec 1896 Noon UT | 25 ar 47 Rx |
10 Dec 1896 Noon UT | 25 ar 45 Rx |
11 Dec 1896 Noon UT | 25 ar 43 Rx |
12 Dec 1896 Noon UT | 25 ar 41 Rx |
13 Dec 1896 Noon UT | 25 ar 39 Rx |
14 Dec 1896 Noon UT | 25 ar 38 Rx |
15 Dec 1896 Noon UT | 25 ar 37 Rx |
16 Dec 1896 Noon UT | 25 ar 37 Rx |
17 Dec 1896 Noon UT | 25 ar 36 Rx |
18 Dec 1896 Noon UT | 25 ar 37    |
19 Dec 1896 Noon UT | 25 ar 37    |
20 Dec 1896 Noon UT | 25 ar 38    |
21 Dec 1896 Noon UT | 25 ar 39    |
22 Dec 1896 Noon UT | 25 ar 40    |
23 Dec 1896 Noon UT | 25 ar 41    |
24 Dec 1896 Noon UT | 25 ar 43    |
25 Dec 1896 Noon UT | 25 ar 46    |
26 Dec 1896 Noon UT | 25 ar 48    |
27 Dec 1896 Noon UT | 25 ar 51    |
28 Dec 1896 Noon UT | 25 ar 54    |
29 Dec 1896 Noon UT | 25 ar 57    |
30 Dec 1896 Noon UT | 26 ar  1    |
31 Dec 1896 Noon UT | 26 ar  5    |
01 Jan 1897 Noon UT | 26 ar  9    |
02 Jan 1897 Noon UT | 26 ar 13    |
03 Jan 1897 Noon UT | 26 ar 18    |
04 Jan 1897 Noon UT | 26 ar 23    |
05 Jan 1897 Noon UT | 26 ar 29    |
06 Jan 1897 Noon UT | 26 ar 34    |
07 Jan 1897 Noon UT | 26 ar 40    |
08 Jan 1897 Noon UT | 26 ar 46    |
09 Jan 1897 Noon UT | 26 ar 52    |
10 Jan 1897 Noon UT | 26 ar 59    |
11 Jan 1897 Noon UT | 27 ar  6    |
12 Jan 1897 Noon UT | 27 ar 13    |
13 Jan 1897 Noon UT | 27 ar 20    |
14 Jan 1897 Noon UT | 27 ar 28    |
15 Jan 1897 Noon UT | 27 ar 36    |
16 Jan 1897 Noon UT | 27 ar 44    |
17 Jan 1897 Noon UT | 27 ar 52    |
18 Jan 1897 Noon UT | 28 ar  1    |
19 Jan 1897 Noon UT | 28 ar 10    |
20 Jan 1897 Noon UT | 28 ar 19    |
21 Jan 1897 Noon UT | 28 ar 28    |
22 Jan 1897 Noon UT | 28 ar 37    |
23 Jan 1897 Noon UT | 28 ar 47    |
24 Jan 1897 Noon UT | 28 ar 57    |
25 Jan 1897 Noon UT | 29 ar  7    |
26 Jan 1897 Noon UT | 29 ar 17    |
27 Jan 1897 Noon UT | 29 ar 27    |
28 Jan 1897 Noon UT | 29 ar 38    |
29 Jan 1897 Noon UT | 29 ar 49    |
30 Jan 1897 Noon UT |  0 ta  0    |
31 Jan 1897 Noon UT |  0 ta 11    |
01 Feb 1897 Noon UT |  0 ta 23    |
02 Feb 1897 Noon UT |  0 ta 34    |
03 Feb 1897 Noon UT |  0 ta 46    |
04 Feb 1897 Noon UT |  0 ta 58    |
05 Feb 1897 Noon UT |  1 ta 10    |
06 Feb 1897 Noon UT |  1 ta 22    |
07 Feb 1897 Noon UT |  1 ta 35    |
08 Feb 1897 Noon UT |  1 ta 48    |
09 Feb 1897 Noon UT |  2 ta  0    |
10 Feb 1897 Noon UT |  2 ta 13    |
11 Feb 1897 Noon UT |  2 ta 27    |
12 Feb 1897 Noon UT |  2 ta 40    |
13 Feb 1897 Noon UT |  2 ta 53    |
14 Feb 1897 Noon UT |  3 ta  7    |
15 Feb 1897 Noon UT |  3 ta 21    |
16 Feb 1897 Noon UT |  3 ta 34    |
17 Feb 1897 Noon UT |  3 ta 48    |
18 Feb 1897 Noon UT |  4 ta  3    |
19 Feb 1897 Noon UT |  4 ta 17    |
20 Feb 1897 Noon UT |  4 ta 31    |
21 Feb 1897 Noon UT |  4 ta 46    |
22 Feb 1897 Noon UT |  5 ta  1    |
23 Feb 1897 Noon UT |  5 ta 15    |
24 Feb 1897 Noon UT |  5 ta 30    |
25 Feb 1897 Noon UT |  5 ta 45    |
26 Feb 1897 Noon UT |  6 ta  1    |
27 Feb 1897 Noon UT |  6 ta 16    |
28 Feb 1897 Noon UT |  6 ta 31    |
01 Mar 1897 Noon UT |  6 ta 47    |
02 Mar 1897 Noon UT |  7 ta  3    |
03 Mar 1897 Noon UT |  7 ta 18    |
04 Mar 1897 Noon UT |  7 ta 34    |
05 Mar 1897 Noon UT |  7 ta 50    |
06 Mar 1897 Noon UT |  8 ta  6    |
07 Mar 1897 Noon UT |  8 ta 22    |
08 Mar 1897 Noon UT |  8 ta 39    |
09 Mar 1897 Noon UT |  8 ta 55    |
10 Mar 1897 Noon UT |  9 ta 12    |
11 Mar 1897 Noon UT |  9 ta 28    |
12 Mar 1897 Noon UT |  9 ta 45    |
13 Mar 1897 Noon UT | 10 ta  2    |
14 Mar 1897 Noon UT | 10 ta 18    |
15 Mar 1897 Noon UT | 10 ta 35    |
16 Mar 1897 Noon UT | 10 ta 52    |
17 Mar 1897 Noon UT | 11 ta  9    |
18 Mar 1897 Noon UT | 11 ta 27    |
19 Mar 1897 Noon UT | 11 ta 44    |
20 Mar 1897 Noon UT | 12 ta  1    |
21 Mar 1897 Noon UT | 12 ta 19    |
22 Mar 1897 Noon UT | 12 ta 36    |
23 Mar 1897 Noon UT | 12 ta 54    |
24 Mar 1897 Noon UT | 13 ta 11    |
25 Mar 1897 Noon UT | 13 ta 29    |
26 Mar 1897 Noon UT | 13 ta 47    |
27 Mar 1897 Noon UT | 14 ta  4    |
28 Mar 1897 Noon UT | 14 ta 22    |
29 Mar 1897 Noon UT | 14 ta 40    |
30 Mar 1897 Noon UT | 14 ta 58    |
31 Mar 1897 Noon UT | 15 ta 16    |
01 Apr 1897 Noon UT | 15 ta 34    |
02 Apr 1897 Noon UT | 15 ta 53    |
03 Apr 1897 Noon UT | 16 ta 11    |
04 Apr 1897 Noon UT | 16 ta 29    |
05 Apr 1897 Noon UT | 16 ta 47    |
06 Apr 1897 Noon UT | 17 ta  6    |
07 Apr 1897 Noon UT | 17 ta 24    |
08 Apr 1897 Noon UT | 17 ta 43    |
09 Apr 1897 Noon UT | 18 ta  1    |
10 Apr 1897 Noon UT | 18 ta 20    |
11 Apr 1897 Noon UT | 18 ta 39    |
12 Apr 1897 Noon UT | 18 ta 57    |
13 Apr 1897 Noon UT | 19 ta 16    |
14 Apr 1897 Noon UT | 19 ta 35    |
15 Apr 1897 Noon UT | 19 ta 54    |
16 Apr 1897 Noon UT | 20 ta 12    |
17 Apr 1897 Noon UT | 20 ta 31    |
18 Apr 1897 Noon UT | 20 ta 50    |
19 Apr 1897 Noon UT | 21 ta  9    |
20 Apr 1897 Noon UT | 21 ta 28    |
21 Apr 1897 Noon UT | 21 ta 47    |
22 Apr 1897 Noon UT | 22 ta  6    |
23 Apr 1897 Noon UT | 22 ta 25    |
24 Apr 1897 Noon UT | 22 ta 44    |
25 Apr 1897 Noon UT | 23 ta  3    |
26 Apr 1897 Noon UT | 23 ta 23    |
27 Apr 1897 Noon UT | 23 ta 42    |
28 Apr 1897 Noon UT | 24 ta  1    |
29 Apr 1897 Noon UT | 24 ta 20    |
30 Apr 1897 Noon UT | 24 ta 39    |
01 May 1897 Noon UT | 24 ta 59    |
02 May 1897 Noon UT | 25 ta 18    |
03 May 1897 Noon UT | 25 ta 37    |
04 May 1897 Noon UT | 25 ta 57    |
05 May 1897 Noon UT | 26 ta 16    |
06 May 1897 Noon UT | 26 ta 35    |
07 May 1897 Noon UT | 26 ta 55    |
08 May 1897 Noon UT | 27 ta 14    |
09 May 1897 Noon UT | 27 ta 34    |
10 May 1897 Noon UT | 27 ta 53    |
11 May 1897 Noon UT | 28 ta 12    |
12 May 1897 Noon UT | 28 ta 32    |
13 May 1897 Noon UT | 28 ta 51    |
14 May 1897 Noon UT | 29 ta 11    |
15 May 1897 Noon UT | 29 ta 30    |
16 May 1897 Noon UT | 29 ta 50    |
17 May 1897 Noon UT |  0 ge  9    |
18 May 1897 Noon UT |  0 ge 29    |
19 May 1897 Noon UT |  0 ge 48    |
20 May 1897 Noon UT |  1 ge  8    |
21 May 1897 Noon UT |  1 ge 27    |
22 May 1897 Noon UT |  1 ge 46    |
23 May 1897 Noon UT |  2 ge  6    |
24 May 1897 Noon UT |  2 ge 25    |
25 May 1897 Noon UT |  2 ge 45    |
26 May 1897 Noon UT |  3 ge  4    |
27 May 1897 Noon UT |  3 ge 24    |
28 May 1897 Noon UT |  3 ge 43    |
29 May 1897 Noon UT |  4 ge  3    |
30 May 1897 Noon UT |  4 ge 22    |
31 May 1897 Noon UT |  4 ge 42    |
01 Jun 1897 Noon UT |  5 ge  1    |
02 Jun 1897 Noon UT |  5 ge 21    |
03 Jun 1897 Noon UT |  5 ge 40    |
04 Jun 1897 Noon UT |  6 ge  0    |
05 Jun 1897 Noon UT |  6 ge 19    |
06 Jun 1897 Noon UT |  6 ge 38    |
07 Jun 1897 Noon UT |  6 ge 58    |
08 Jun 1897 Noon UT |  7 ge 17    |
09 Jun 1897 Noon UT |  7 ge 36    |
10 Jun 1897 Noon UT |  7 ge 56    |
11 Jun 1897 Noon UT |  8 ge 15    |
12 Jun 1897 Noon UT |  8 ge 34    |
13 Jun 1897 Noon UT |  8 ge 54    |
14 Jun 1897 Noon UT |  9 ge 13    |
15 Jun 1897 Noon UT |  9 ge 32    |
16 Jun 1897 Noon UT |  9 ge 51    |
17 Jun 1897 Noon UT | 10 ge 10    |
18 Jun 1897 Noon UT | 10 ge 30    |
19 Jun 1897 Noon UT | 10 ge 49    |
20 Jun 1897 Noon UT | 11 ge  8    |
21 Jun 1897 Noon UT | 11 ge 27    |
22 Jun 1897 Noon UT | 11 ge 46    |
23 Jun 1897 Noon UT | 12 ge  5    |
24 Jun 1897 Noon UT | 12 ge 24    |
25 Jun 1897 Noon UT | 12 ge 43    |
26 Jun 1897 Noon UT | 13 ge  2    |
27 Jun 1897 Noon UT | 13 ge 21    |
28 Jun 1897 Noon UT | 13 ge 40    |
29 Jun 1897 Noon UT | 13 ge 58    |
30 Jun 1897 Noon UT | 14 ge 17    |
01 Jul 1897 Noon UT | 14 ge 36    |
02 Jul 1897 Noon UT | 14 ge 55    |
03 Jul 1897 Noon UT | 15 ge 13    |
04 Jul 1897 Noon UT | 15 ge 32    |
05 Jul 1897 Noon UT | 15 ge 51    |
06 Jul 1897 Noon UT | 16 ge  9    |
07 Jul 1897 Noon UT | 16 ge 28    |
08 Jul 1897 Noon UT | 16 ge 46    |
09 Jul 1897 Noon UT | 17 ge  4    |
10 Jul 1897 Noon UT | 17 ge 23    |
11 Jul 1897 Noon UT | 17 ge 41    |
12 Jul 1897 Noon UT | 17 ge 59    |
13 Jul 1897 Noon UT | 18 ge 18    |
14 Jul 1897 Noon UT | 18 ge 36    |
15 Jul 1897 Noon UT | 18 ge 54    |
16 Jul 1897 Noon UT | 19 ge 12    |
17 Jul 1897 Noon UT | 19 ge 30    |
18 Jul 1897 Noon UT | 19 ge 48    |
19 Jul 1897 Noon UT | 20 ge  6    |
20 Jul 1897 Noon UT | 20 ge 23    |
21 Jul 1897 Noon UT | 20 ge 41    |
22 Jul 1897 Noon UT | 20 ge 59    |
23 Jul 1897 Noon UT | 21 ge 17    |
24 Jul 1897 Noon UT | 21 ge 34    |
25 Jul 1897 Noon UT | 21 ge 52    |
26 Jul 1897 Noon UT | 22 ge  9    |
27 Jul 1897 Noon UT | 22 ge 26    |
28 Jul 1897 Noon UT | 22 ge 44    |
29 Jul 1897 Noon UT | 23 ge  1    |
30 Jul 1897 Noon UT | 23 ge 18    |
31 Jul 1897 Noon UT | 23 ge 35    |
01 Aug 1897 Noon UT | 23 ge 52    |
02 Aug 1897 Noon UT | 24 ge  9    |
03 Aug 1897 Noon UT | 24 ge 26    |
04 Aug 1897 Noon UT | 24 ge 42    |
05 Aug 1897 Noon UT | 24 ge 59    |
06 Aug 1897 Noon UT | 25 ge 16    |
07 Aug 1897 Noon UT | 25 ge 32    |
08 Aug 1897 Noon UT | 25 ge 49    |
09 Aug 1897 Noon UT | 26 ge  5    |
10 Aug 1897 Noon UT | 26 ge 21    |
11 Aug 1897 Noon UT | 26 ge 37    |
12 Aug 1897 Noon UT | 26 ge 53    |
13 Aug 1897 Noon UT | 27 ge  9    |
14 Aug 1897 Noon UT | 27 ge 25    |
15 Aug 1897 Noon UT | 27 ge 41    |
16 Aug 1897 Noon UT | 27 ge 56    |
17 Aug 1897 Noon UT | 28 ge 12    |
18 Aug 1897 Noon UT | 28 ge 27    |
19 Aug 1897 Noon UT | 28 ge 43    |
20 Aug 1897 Noon UT | 28 ge 58    |
21 Aug 1897 Noon UT | 29 ge 13    |
22 Aug 1897 Noon UT | 29 ge 28    |
23 Aug 1897 Noon UT | 29 ge 43    |
24 Aug 1897 Noon UT | 29 ge 57    |
25 Aug 1897 Noon UT |  0 cn 12    |
26 Aug 1897 Noon UT |  0 cn 26    |
27 Aug 1897 Noon UT |  0 cn 41    |
28 Aug 1897 Noon UT |  0 cn 55    |
29 Aug 1897 Noon UT |  1 cn  9    |
30 Aug 1897 Noon UT |  1 cn 23    |
31 Aug 1897 Noon UT |  1 cn 37    |
01 Sep 1897 Noon UT |  1 cn 51    |
02 Sep 1897 Noon UT |  2 cn  4    |
03 Sep 1897 Noon UT |  2 cn 18    |
04 Sep 1897 Noon UT |  2 cn 31    |
05 Sep 1897 Noon UT |  2 cn 44    |
06 Sep 1897 Noon UT |  2 cn 57    |
07 Sep 1897 Noon UT |  3 cn 10    |
08 Sep 1897 Noon UT |  3 cn 22    |
09 Sep 1897 Noon UT |  3 cn 35    |
10 Sep 1897 Noon UT |  3 cn 47    |
11 Sep 1897 Noon UT |  3 cn 59    |
12 Sep 1897 Noon UT |  4 cn 11    |
13 Sep 1897 Noon UT |  4 cn 23    |
14 Sep 1897 Noon UT |  4 cn 35    |
15 Sep 1897 Noon UT |  4 cn 46    |
16 Sep 1897 Noon UT |  4 cn 58    |
17 Sep 1897 Noon UT |  5 cn  9    |
18 Sep 1897 Noon UT |  5 cn 20    |
19 Sep 1897 Noon UT |  5 cn 31    |
20 Sep 1897 Noon UT |  5 cn 41    |
21 Sep 1897 Noon UT |  5 cn 52    |
22 Sep 1897 Noon UT |  6 cn  2    |
23 Sep 1897 Noon UT |  6 cn 12    |
24 Sep 1897 Noon UT |  6 cn 22    |
25 Sep 1897 Noon UT |  6 cn 31    |
26 Sep 1897 Noon UT |  6 cn 41    |
27 Sep 1897 Noon UT |  6 cn 50    |
28 Sep 1897 Noon UT |  6 cn 59    |
29 Sep 1897 Noon UT |  7 cn  8    |
30 Sep 1897 Noon UT |  7 cn 16    |
01 Oct 1897 Noon UT |  7 cn 24    |
02 Oct 1897 Noon UT |  7 cn 33    |
03 Oct 1897 Noon UT |  7 cn 40    |
04 Oct 1897 Noon UT |  7 cn 48    |
05 Oct 1897 Noon UT |  7 cn 55    |
06 Oct 1897 Noon UT |  8 cn  3    |
07 Oct 1897 Noon UT |  8 cn  9    |
08 Oct 1897 Noon UT |  8 cn 16    |
09 Oct 1897 Noon UT |  8 cn 23    |
10 Oct 1897 Noon UT |  8 cn 29    |
11 Oct 1897 Noon UT |  8 cn 35    |
12 Oct 1897 Noon UT |  8 cn 40    |
13 Oct 1897 Noon UT |  8 cn 46    |
14 Oct 1897 Noon UT |  8 cn 51    |
15 Oct 1897 Noon UT |  8 cn 56    |
16 Oct 1897 Noon UT |  9 cn  0    |
17 Oct 1897 Noon UT |  9 cn  5    |
18 Oct 1897 Noon UT |  9 cn  9    |
19 Oct 1897 Noon UT |  9 cn 12    |
20 Oct 1897 Noon UT |  9 cn 16    |
21 Oct 1897 Noon UT |  9 cn 19    |
22 Oct 1897 Noon UT |  9 cn 22    |
23 Oct 1897 Noon UT |  9 cn 25    |
24 Oct 1897 Noon UT |  9 cn 27    |
25 Oct 1897 Noon UT |  9 cn 29    |
26 Oct 1897 Noon UT |  9 cn 31    |
27 Oct 1897 Noon UT |  9 cn 32    |
28 Oct 1897 Noon UT |  9 cn 33    |
29 Oct 1897 Noon UT |  9 cn 34    |
30 Oct 1897 Noon UT |  9 cn 35    |
31 Oct 1897 Noon UT |  9 cn 35    |
01 Nov 1897 Noon UT |  9 cn 35 Rx |
02 Nov 1897 Noon UT |  9 cn 34 Rx |
03 Nov 1897 Noon UT |  9 cn 34 Rx |
04 Nov 1897 Noon UT |  9 cn 33 Rx |
05 Nov 1897 Noon UT |  9 cn 31 Rx |
06 Nov 1897 Noon UT |  9 cn 30 Rx |
07 Nov 1897 Noon UT |  9 cn 28 Rx |
08 Nov 1897 Noon UT |  9 cn 25 Rx |
09 Nov 1897 Noon UT |  9 cn 23 Rx |
10 Nov 1897 Noon UT |  9 cn 20 Rx |
11 Nov 1897 Noon UT |  9 cn 17 Rx |
12 Nov 1897 Noon UT |  9 cn 13 Rx |
13 Nov 1897 Noon UT |  9 cn  9 Rx |
14 Nov 1897 Noon UT |  9 cn  5 Rx |
15 Nov 1897 Noon UT |  9 cn  1 Rx |
16 Nov 1897 Noon UT |  8 cn 56 Rx |
17 Nov 1897 Noon UT |  8 cn 51 Rx |
18 Nov 1897 Noon UT |  8 cn 45 Rx |
19 Nov 1897 Noon UT |  8 cn 40 Rx |
20 Nov 1897 Noon UT |  8 cn 34 Rx |
21 Nov 1897 Noon UT |  8 cn 27 Rx |
22 Nov 1897 Noon UT |  8 cn 21 Rx |
23 Nov 1897 Noon UT |  8 cn 14 Rx |
24 Nov 1897 Noon UT |  8 cn  7 Rx |
25 Nov 1897 Noon UT |  7 cn 59 Rx |
26 Nov 1897 Noon UT |  7 cn 51 Rx |
27 Nov 1897 Noon UT |  7 cn 43 Rx |
28 Nov 1897 Noon UT |  7 cn 35 Rx |
29 Nov 1897 Noon UT |  7 cn 27 Rx |
30 Nov 1897 Noon UT |  7 cn 18 Rx |
01 Dec 1897 Noon UT |  7 cn  9 Rx |
02 Dec 1897 Noon UT |  6 cn 59 Rx |
03 Dec 1897 Noon UT |  6 cn 50 Rx |
04 Dec 1897 Noon UT |  6 cn 40 Rx |
05 Dec 1897 Noon UT |  6 cn 30 Rx |
06 Dec 1897 Noon UT |  6 cn 20 Rx |
07 Dec 1897 Noon UT |  6 cn 10 Rx |
08 Dec 1897 Noon UT |  5 cn 59 Rx |
09 Dec 1897 Noon UT |  5 cn 48 Rx |
10 Dec 1897 Noon UT |  5 cn 37 Rx |
11 Dec 1897 Noon UT |  5 cn 26 Rx |
12 Dec 1897 Noon UT |  5 cn 15 Rx |
13 Dec 1897 Noon UT |  5 cn  4 Rx |
14 Dec 1897 Noon UT |  4 cn 52 Rx |
15 Dec 1897 Noon UT |  4 cn 41 Rx |
16 Dec 1897 Noon UT |  4 cn 29 Rx |
17 Dec 1897 Noon UT |  4 cn 17 Rx |
18 Dec 1897 Noon UT |  4 cn  5 Rx |
19 Dec 1897 Noon UT |  3 cn 53 Rx |
20 Dec 1897 Noon UT |  3 cn 41 Rx |
21 Dec 1897 Noon UT |  3 cn 29 Rx |
22 Dec 1897 Noon UT |  3 cn 17 Rx |
23 Dec 1897 Noon UT |  3 cn  4 Rx |
24 Dec 1897 Noon UT |  2 cn 52 Rx |
25 Dec 1897 Noon UT |  2 cn 40 Rx |
26 Dec 1897 Noon UT |  2 cn 28 Rx |
27 Dec 1897 Noon UT |  2 cn 15 Rx |
28 Dec 1897 Noon UT |  2 cn  3 Rx |
29 Dec 1897 Noon UT |  1 cn 51 Rx |
30 Dec 1897 Noon UT |  1 cn 39 Rx |
31 Dec 1897 Noon UT |  1 cn 27 Rx |
01 Jan 1898 Noon UT |  1 cn 15 Rx |
02 Jan 1898 Noon UT |  1 cn  3 Rx |
03 Jan 1898 Noon UT |  0 cn 51 Rx |
04 Jan 1898 Noon UT |  0 cn 40 Rx |
05 Jan 1898 Noon UT |  0 cn 28 Rx |
06 Jan 1898 Noon UT |  0 cn 17 Rx |
07 Jan 1898 Noon UT |  0 cn  6 Rx |
08 Jan 1898 Noon UT | 29 ge 55 Rx |
09 Jan 1898 Noon UT | 29 ge 44 Rx |
10 Jan 1898 Noon UT | 29 ge 33 Rx |
11 Jan 1898 Noon UT | 29 ge 23 Rx |
12 Jan 1898 Noon UT | 29 ge 12 Rx |
13 Jan 1898 Noon UT | 29 ge  2 Rx |
14 Jan 1898 Noon UT | 28 ge 52 Rx |
15 Jan 1898 Noon UT | 28 ge 42 Rx |
16 Jan 1898 Noon UT | 28 ge 33 Rx |
17 Jan 1898 Noon UT | 28 ge 24 Rx |
18 Jan 1898 Noon UT | 28 ge 15 Rx |
19 Jan 1898 Noon UT | 28 ge  6 Rx |
20 Jan 1898 Noon UT | 27 ge 57 Rx |
21 Jan 1898 Noon UT | 27 ge 49 Rx |
22 Jan 1898 Noon UT | 27 ge 41 Rx |
23 Jan 1898 Noon UT | 27 ge 34 Rx |
24 Jan 1898 Noon UT | 27 ge 26 Rx |
25 Jan 1898 Noon UT | 27 ge 19 Rx |
26 Jan 1898 Noon UT | 27 ge 12 Rx |
27 Jan 1898 Noon UT | 27 ge  6 Rx |
28 Jan 1898 Noon UT | 27 ge  0 Rx |
29 Jan 1898 Noon UT | 26 ge 54 Rx |
30 Jan 1898 Noon UT | 26 ge 48 Rx |
31 Jan 1898 Noon UT | 26 ge 43 Rx |
01 Feb 1898 Noon UT | 26 ge 38 Rx |
02 Feb 1898 Noon UT | 26 ge 33 Rx |
03 Feb 1898 Noon UT | 26 ge 29 Rx |
04 Feb 1898 Noon UT | 26 ge 25 Rx |
05 Feb 1898 Noon UT | 26 ge 21 Rx |
06 Feb 1898 Noon UT | 26 ge 18 Rx |
07 Feb 1898 Noon UT | 26 ge 15 Rx |
08 Feb 1898 Noon UT | 26 ge 12 Rx |
09 Feb 1898 Noon UT | 26 ge 10 Rx |
10 Feb 1898 Noon UT | 26 ge  8 Rx |
11 Feb 1898 Noon UT | 26 ge  6 Rx |
12 Feb 1898 Noon UT | 26 ge  5 Rx |
13 Feb 1898 Noon UT | 26 ge  4 Rx |
14 Feb 1898 Noon UT | 26 ge  3 Rx |
15 Feb 1898 Noon UT | 26 ge  2 Rx |
16 Feb 1898 Noon UT | 26 ge  2    |
17 Feb 1898 Noon UT | 26 ge  2    |
18 Feb 1898 Noon UT | 26 ge  3    |
19 Feb 1898 Noon UT | 26 ge  4    |
20 Feb 1898 Noon UT | 26 ge  5    |
21 Feb 1898 Noon UT | 26 ge  6    |
22 Feb 1898 Noon UT | 26 ge  8    |
23 Feb 1898 Noon UT | 26 ge 10    |
24 Feb 1898 Noon UT | 26 ge 13    |
25 Feb 1898 Noon UT | 26 ge 15    |
26 Feb 1898 Noon UT | 26 ge 18    |
27 Feb 1898 Noon UT | 26 ge 22    |
28 Feb 1898 Noon UT | 26 ge 25    |
01 Mar 1898 Noon UT | 26 ge 29    |
02 Mar 1898 Noon UT | 26 ge 33    |
03 Mar 1898 Noon UT | 26 ge 38    |
04 Mar 1898 Noon UT | 26 ge 43    |
05 Mar 1898 Noon UT | 26 ge 48    |
06 Mar 1898 Noon UT | 26 ge 53    |
07 Mar 1898 Noon UT | 26 ge 59    |
08 Mar 1898 Noon UT | 27 ge  5    |
09 Mar 1898 Noon UT | 27 ge 11    |
10 Mar 1898 Noon UT | 27 ge 17    |
11 Mar 1898 Noon UT | 27 ge 24    |
12 Mar 1898 Noon UT | 27 ge 31    |
13 Mar 1898 Noon UT | 27 ge 38    |
14 Mar 1898 Noon UT | 27 ge 45    |
15 Mar 1898 Noon UT | 27 ge 53    |
16 Mar 1898 Noon UT | 28 ge  1    |
17 Mar 1898 Noon UT | 28 ge  9    |
18 Mar 1898 Noon UT | 28 ge 18    |
19 Mar 1898 Noon UT | 28 ge 27    |
20 Mar 1898 Noon UT | 28 ge 35    |
21 Mar 1898 Noon UT | 28 ge 45    |
22 Mar 1898 Noon UT | 28 ge 54    |
23 Mar 1898 Noon UT | 29 ge  4    |
24 Mar 1898 Noon UT | 29 ge 13    |
25 Mar 1898 Noon UT | 29 ge 24    |
26 Mar 1898 Noon UT | 29 ge 34    |
27 Mar 1898 Noon UT | 29 ge 44    |
28 Mar 1898 Noon UT | 29 ge 55    |
29 Mar 1898 Noon UT |  0 cn  6    |
30 Mar 1898 Noon UT |  0 cn 17    |
31 Mar 1898 Noon UT |  0 cn 28    |
01 Apr 1898 Noon UT |  0 cn 40    |
02 Apr 1898 Noon UT |  0 cn 52    |
03 Apr 1898 Noon UT |  1 cn  4    |
04 Apr 1898 Noon UT |  1 cn 16    |
05 Apr 1898 Noon UT |  1 cn 28    |
06 Apr 1898 Noon UT |  1 cn 41    |
07 Apr 1898 Noon UT |  1 cn 53    |
08 Apr 1898 Noon UT |  2 cn  6    |
09 Apr 1898 Noon UT |  2 cn 19    |
10 Apr 1898 Noon UT |  2 cn 32    |
11 Apr 1898 Noon UT |  2 cn 46    |
12 Apr 1898 Noon UT |  2 cn 59    |
13 Apr 1898 Noon UT |  3 cn 13    |
14 Apr 1898 Noon UT |  3 cn 27    |
15 Apr 1898 Noon UT |  3 cn 41    |
16 Apr 1898 Noon UT |  3 cn 55    |
17 Apr 1898 Noon UT |  4 cn  9    |
18 Apr 1898 Noon UT |  4 cn 23    |
19 Apr 1898 Noon UT |  4 cn 38    |
20 Apr 1898 Noon UT |  4 cn 53    |
21 Apr 1898 Noon UT |  5 cn  8    |
22 Apr 1898 Noon UT |  5 cn 23    |
23 Apr 1898 Noon UT |  5 cn 38    |
24 Apr 1898 Noon UT |  5 cn 53    |
25 Apr 1898 Noon UT |  6 cn  9    |
26 Apr 1898 Noon UT |  6 cn 24    |
27 Apr 1898 Noon UT |  6 cn 40    |
28 Apr 1898 Noon UT |  6 cn 56    |
29 Apr 1898 Noon UT |  7 cn 12    |
30 Apr 1898 Noon UT |  7 cn 28    |
01 May 1898 Noon UT |  7 cn 44    |
02 May 1898 Noon UT |  8 cn  1    |
03 May 1898 Noon UT |  8 cn 17    |
04 May 1898 Noon UT |  8 cn 34    |
05 May 1898 Noon UT |  8 cn 51    |
06 May 1898 Noon UT |  9 cn  7    |
07 May 1898 Noon UT |  9 cn 24    |
08 May 1898 Noon UT |  9 cn 41    |
09 May 1898 Noon UT |  9 cn 58    |
10 May 1898 Noon UT | 10 cn 16    |
11 May 1898 Noon UT | 10 cn 33    |
12 May 1898 Noon UT | 10 cn 50    |
13 May 1898 Noon UT | 11 cn  8    |
14 May 1898 Noon UT | 11 cn 26    |
15 May 1898 Noon UT | 11 cn 43    |
16 May 1898 Noon UT | 12 cn  1    |
17 May 1898 Noon UT | 12 cn 19    |
18 May 1898 Noon UT | 12 cn 37    |
19 May 1898 Noon UT | 12 cn 55    |
20 May 1898 Noon UT | 13 cn 13    |
21 May 1898 Noon UT | 13 cn 32    |
22 May 1898 Noon UT | 13 cn 50    |
23 May 1898 Noon UT | 14 cn  9    |
24 May 1898 Noon UT | 14 cn 27    |
25 May 1898 Noon UT | 14 cn 46    |
26 May 1898 Noon UT | 15 cn  4    |
27 May 1898 Noon UT | 15 cn 23    |
28 May 1898 Noon UT | 15 cn 42    |
29 May 1898 Noon UT | 16 cn  1    |
30 May 1898 Noon UT | 16 cn 20    |
31 May 1898 Noon UT | 16 cn 39    |
01 Jun 1898 Noon UT | 16 cn 58    |
02 Jun 1898 Noon UT | 17 cn 17    |
03 Jun 1898 Noon UT | 17 cn 37    |
04 Jun 1898 Noon UT | 17 cn 56    |
05 Jun 1898 Noon UT | 18 cn 16    |
06 Jun 1898 Noon UT | 18 cn 35    |
07 Jun 1898 Noon UT | 18 cn 55    |
08 Jun 1898 Noon UT | 19 cn 14    |
09 Jun 1898 Noon UT | 19 cn 34    |
10 Jun 1898 Noon UT | 19 cn 54    |
11 Jun 1898 Noon UT | 20 cn 13    |
12 Jun 1898 Noon UT | 20 cn 33    |
13 Jun 1898 Noon UT | 20 cn 53    |
14 Jun 1898 Noon UT | 21 cn 13    |
15 Jun 1898 Noon UT | 21 cn 33    |
16 Jun 1898 Noon UT | 21 cn 53    |
17 Jun 1898 Noon UT | 22 cn 13    |
18 Jun 1898 Noon UT | 22 cn 33    |
19 Jun 1898 Noon UT | 22 cn 54    |
20 Jun 1898 Noon UT | 23 cn 14    |
21 Jun 1898 Noon UT | 23 cn 34    |
22 Jun 1898 Noon UT | 23 cn 55    |
23 Jun 1898 Noon UT | 24 cn 15    |
24 Jun 1898 Noon UT | 24 cn 35    |
25 Jun 1898 Noon UT | 24 cn 56    |
26 Jun 1898 Noon UT | 25 cn 16    |
27 Jun 1898 Noon UT | 25 cn 37    |
28 Jun 1898 Noon UT | 25 cn 58    |
29 Jun 1898 Noon UT | 26 cn 18    |
30 Jun 1898 Noon UT | 26 cn 39    |
01 Jul 1898 Noon UT | 27 cn  0    |
02 Jul 1898 Noon UT | 27 cn 21    |
03 Jul 1898 Noon UT | 27 cn 41    |
04 Jul 1898 Noon UT | 28 cn  2    |
05 Jul 1898 Noon UT | 28 cn 23    |
06 Jul 1898 Noon UT | 28 cn 44    |
07 Jul 1898 Noon UT | 29 cn  5    |
08 Jul 1898 Noon UT | 29 cn 26    |
09 Jul 1898 Noon UT | 29 cn 47    |
10 Jul 1898 Noon UT |  0 le  8    |
11 Jul 1898 Noon UT |  0 le 29    |
12 Jul 1898 Noon UT |  0 le 50    |
13 Jul 1898 Noon UT |  1 le 11    |
14 Jul 1898 Noon UT |  1 le 32    |
15 Jul 1898 Noon UT |  1 le 54    |
16 Jul 1898 Noon UT |  2 le 15    |
17 Jul 1898 Noon UT |  2 le 36    |
18 Jul 1898 Noon UT |  2 le 57    |
19 Jul 1898 Noon UT |  3 le 19    |
20 Jul 1898 Noon UT |  3 le 40    |
21 Jul 1898 Noon UT |  4 le  1    |
22 Jul 1898 Noon UT |  4 le 23    |
23 Jul 1898 Noon UT |  4 le 44    |
24 Jul 1898 Noon UT |  5 le  5    |
25 Jul 1898 Noon UT |  5 le 27    |
26 Jul 1898 Noon UT |  5 le 48    |
27 Jul 1898 Noon UT |  6 le 10    |
28 Jul 1898 Noon UT |  6 le 31    |
29 Jul 1898 Noon UT |  6 le 52    |
30 Jul 1898 Noon UT |  7 le 14    |
31 Jul 1898 Noon UT |  7 le 35    |
01 Aug 1898 Noon UT |  7 le 57    |
02 Aug 1898 Noon UT |  8 le 18    |
03 Aug 1898 Noon UT |  8 le 40    |
04 Aug 1898 Noon UT |  9 le  1    |
05 Aug 1898 Noon UT |  9 le 23    |
06 Aug 1898 Noon UT |  9 le 44    |
07 Aug 1898 Noon UT | 10 le  6    |
08 Aug 1898 Noon UT | 10 le 28    |
09 Aug 1898 Noon UT | 10 le 49    |
10 Aug 1898 Noon UT | 11 le 11    |
11 Aug 1898 Noon UT | 11 le 32    |
12 Aug 1898 Noon UT | 11 le 54    |
13 Aug 1898 Noon UT | 12 le 15    |
14 Aug 1898 Noon UT | 12 le 37    |
15 Aug 1898 Noon UT | 12 le 59    |
16 Aug 1898 Noon UT | 13 le 20    |
17 Aug 1898 Noon UT | 13 le 42    |
18 Aug 1898 Noon UT | 14 le  3    |
19 Aug 1898 Noon UT | 14 le 25    |
20 Aug 1898 Noon UT | 14 le 46    |
21 Aug 1898 Noon UT | 15 le  8    |
22 Aug 1898 Noon UT | 15 le 30    |
23 Aug 1898 Noon UT | 15 le 51    |
24 Aug 1898 Noon UT | 16 le 13    |
25 Aug 1898 Noon UT | 16 le 34    |
26 Aug 1898 Noon UT | 16 le 56    |
27 Aug 1898 Noon UT | 17 le 17    |
28 Aug 1898 Noon UT | 17 le 39    |
29 Aug 1898 Noon UT | 18 le  0    |
30 Aug 1898 Noon UT | 18 le 22    |
31 Aug 1898 Noon UT | 18 le 43    |
01 Sep 1898 Noon UT | 19 le  5    |
02 Sep 1898 Noon UT | 19 le 26    |
03 Sep 1898 Noon UT | 19 le 47    |
04 Sep 1898 Noon UT | 20 le  9    |
05 Sep 1898 Noon UT | 20 le 30    |
06 Sep 1898 Noon UT | 20 le 52    |
07 Sep 1898 Noon UT | 21 le 13    |
08 Sep 1898 Noon UT | 21 le 34    |
09 Sep 1898 Noon UT | 21 le 56    |
10 Sep 1898 Noon UT | 22 le 17    |
11 Sep 1898 Noon UT | 22 le 38    |
12 Sep 1898 Noon UT | 22 le 59    |
13 Sep 1898 Noon UT | 23 le 20    |
14 Sep 1898 Noon UT | 23 le 42    |
15 Sep 1898 Noon UT | 24 le  3    |
16 Sep 1898 Noon UT | 24 le 24    |
17 Sep 1898 Noon UT | 24 le 45    |
18 Sep 1898 Noon UT | 25 le  6    |
19 Sep 1898 Noon UT | 25 le 27    |
20 Sep 1898 Noon UT | 25 le 48    |
21 Sep 1898 Noon UT | 26 le  9    |
22 Sep 1898 Noon UT | 26 le 30    |
23 Sep 1898 Noon UT | 26 le 51    |
24 Sep 1898 Noon UT | 27 le 11    |
25 Sep 1898 Noon UT | 27 le 32    |
26 Sep 1898 Noon UT | 27 le 53    |
27 Sep 1898 Noon UT | 28 le 14    |
28 Sep 1898 Noon UT | 28 le 34    |
29 Sep 1898 Noon UT | 28 le 55    |
30 Sep 1898 Noon UT | 29 le 15    |
01 Oct 1898 Noon UT | 29 le 36    |
02 Oct 1898 Noon UT | 29 le 56    |
03 Oct 1898 Noon UT |  0 vi 17    |
04 Oct 1898 Noon UT |  0 vi 37    |
05 Oct 1898 Noon UT |  0 vi 57    |
06 Oct 1898 Noon UT |  1 vi 17    |
07 Oct 1898 Noon UT |  1 vi 38    |
08 Oct 1898 Noon UT |  1 vi 58    |
09 Oct 1898 Noon UT |  2 vi 18    |
10 Oct 1898 Noon UT |  2 vi 38    |
11 Oct 1898 Noon UT |  2 vi 58    |
12 Oct 1898 Noon UT |  3 vi 18    |
13 Oct 1898 Noon UT |  3 vi 37    |
14 Oct 1898 Noon UT |  3 vi 57    |
15 Oct 1898 Noon UT |  4 vi 17    |
16 Oct 1898 Noon UT |  4 vi 36    |
17 Oct 1898 Noon UT |  4 vi 56    |
18 Oct 1898 Noon UT |  5 vi 15    |
19 Oct 1898 Noon UT |  5 vi 34    |
20 Oct 1898 Noon UT |  5 vi 54    |
21 Oct 1898 Noon UT |  6 vi 13    |
22 Oct 1898 Noon UT |  6 vi 32    |
23 Oct 1898 Noon UT |  6 vi 51    |
24 Oct 1898 Noon UT |  7 vi 10    |
25 Oct 1898 Noon UT |  7 vi 29    |
26 Oct 1898 Noon UT |  7 vi 47    |
27 Oct 1898 Noon UT |  8 vi  6    |
28 Oct 1898 Noon UT |  8 vi 25    |
29 Oct 1898 Noon UT |  8 vi 43    |
30 Oct 1898 Noon UT |  9 vi  1    |
31 Oct 1898 Noon UT |  9 vi 20    |
01 Nov 1898 Noon UT |  9 vi 38    |
02 Nov 1898 Noon UT |  9 vi 56    |
03 Nov 1898 Noon UT | 10 vi 14    |
04 Nov 1898 Noon UT | 10 vi 31    |
05 Nov 1898 Noon UT | 10 vi 49    |
06 Nov 1898 Noon UT | 11 vi  7    |
07 Nov 1898 Noon UT | 11 vi 24    |
08 Nov 1898 Noon UT | 11 vi 42    |
09 Nov 1898 Noon UT | 11 vi 59    |
10 Nov 1898 Noon UT | 12 vi 16    |
11 Nov 1898 Noon UT | 12 vi 33    |
12 Nov 1898 Noon UT | 12 vi 50    |
13 Nov 1898 Noon UT | 13 vi  6    |
14 Nov 1898 Noon UT | 13 vi 23    |
15 Nov 1898 Noon UT | 13 vi 39    |
16 Nov 1898 Noon UT | 13 vi 56    |
17 Nov 1898 Noon UT | 14 vi 12    |
18 Nov 1898 Noon UT | 14 vi 28    |
19 Nov 1898 Noon UT | 14 vi 44    |
20 Nov 1898 Noon UT | 14 vi 59    |
21 Nov 1898 Noon UT | 15 vi 15    |
22 Nov 1898 Noon UT | 15 vi 30    |
23 Nov 1898 Noon UT | 15 vi 45    |
24 Nov 1898 Noon UT | 16 vi  0    |
25 Nov 1898 Noon UT | 16 vi 15    |
26 Nov 1898 Noon UT | 16 vi 30    |
27 Nov 1898 Noon UT | 16 vi 44    |
28 Nov 1898 Noon UT | 16 vi 59    |
29 Nov 1898 Noon UT | 17 vi 13    |
30 Nov 1898 Noon UT | 17 vi 27    |
01 Dec 1898 Noon UT | 17 vi 41    |
02 Dec 1898 Noon UT | 17 vi 54    |
03 Dec 1898 Noon UT | 18 vi  8    |
04 Dec 1898 Noon UT | 18 vi 21    |
05 Dec 1898 Noon UT | 18 vi 34    |
06 Dec 1898 Noon UT | 18 vi 47    |
07 Dec 1898 Noon UT | 18 vi 59    |
08 Dec 1898 Noon UT | 19 vi 11    |
09 Dec 1898 Noon UT | 19 vi 24    |
10 Dec 1898 Noon UT | 19 vi 36    |
11 Dec 1898 Noon UT | 19 vi 47    |
12 Dec 1898 Noon UT | 19 vi 59    |
13 Dec 1898 Noon UT | 20 vi 10    |
14 Dec 1898 Noon UT | 20 vi 21    |
15 Dec 1898 Noon UT | 20 vi 32    |
16 Dec 1898 Noon UT | 20 vi 42    |
17 Dec 1898 Noon UT | 20 vi 53    |
18 Dec 1898 Noon UT | 21 vi  3    |
19 Dec 1898 Noon UT | 21 vi 12    |
20 Dec 1898 Noon UT | 21 vi 22    |
21 Dec 1898 Noon UT | 21 vi 31    |
22 Dec 1898 Noon UT | 21 vi 40    |
23 Dec 1898 Noon UT | 21 vi 49    |
24 Dec 1898 Noon UT | 21 vi 57    |
25 Dec 1898 Noon UT | 22 vi  5    |
26 Dec 1898 Noon UT | 22 vi 13    |
27 Dec 1898 Noon UT | 22 vi 21    |
28 Dec 1898 Noon UT | 22 vi 28    |
29 Dec 1898 Noon UT | 22 vi 35    |
30 Dec 1898 Noon UT | 22 vi 42    |
31 Dec 1898 Noon UT | 22 vi 48    |
01 Jan 1899 Noon UT | 22 vi 55    |
02 Jan 1899 Noon UT | 23 vi  0    |
03 Jan 1899 Noon UT | 23 vi  6    |
04 Jan 1899 Noon UT | 23 vi 11    |
05 Jan 1899 Noon UT | 23 vi 16    |
06 Jan 1899 Noon UT | 23 vi 20    |
07 Jan 1899 Noon UT | 23 vi 25    |
08 Jan 1899 Noon UT | 23 vi 29    |
09 Jan 1899 Noon UT | 23 vi 32    |
10 Jan 1899 Noon UT | 23 vi 35    |
11 Jan 1899 Noon UT | 23 vi 38    |
12 Jan 1899 Noon UT | 23 vi 41    |
13 Jan 1899 Noon UT | 23 vi 43    |
14 Jan 1899 Noon UT | 23 vi 45    |
15 Jan 1899 Noon UT | 23 vi 46    |
16 Jan 1899 Noon UT | 23 vi 47    |
17 Jan 1899 Noon UT | 23 vi 48    |
18 Jan 1899 Noon UT | 23 vi 49    |
19 Jan 1899 Noon UT | 23 vi 49 Rx |
20 Jan 1899 Noon UT | 23 vi 48 Rx |
21 Jan 1899 Noon UT | 23 vi 48 Rx |
22 Jan 1899 Noon UT | 23 vi 47 Rx |
23 Jan 1899 Noon UT | 23 vi 46 Rx |
24 Jan 1899 Noon UT | 23 vi 44 Rx |
25 Jan 1899 Noon UT | 23 vi 42 Rx |
26 Jan 1899 Noon UT | 23 vi 39 Rx |
27 Jan 1899 Noon UT | 23 vi 37 Rx |
28 Jan 1899 Noon UT | 23 vi 33 Rx |
29 Jan 1899 Noon UT | 23 vi 30 Rx |
30 Jan 1899 Noon UT | 23 vi 26 Rx |
31 Jan 1899 Noon UT | 23 vi 22 Rx |
01 Feb 1899 Noon UT | 23 vi 17 Rx |
02 Feb 1899 Noon UT | 23 vi 12 Rx |
03 Feb 1899 Noon UT | 23 vi  7 Rx |
04 Feb 1899 Noon UT | 23 vi  2 Rx |
05 Feb 1899 Noon UT | 22 vi 56 Rx |
06 Feb 1899 Noon UT | 22 vi 49 Rx |
07 Feb 1899 Noon UT | 22 vi 43 Rx |
08 Feb 1899 Noon UT | 22 vi 36 Rx |
09 Feb 1899 Noon UT | 22 vi 29 Rx |
10 Feb 1899 Noon UT | 22 vi 21 Rx |
11 Feb 1899 Noon UT | 22 vi 13 Rx |
12 Feb 1899 Noon UT | 22 vi  5 Rx |
13 Feb 1899 Noon UT | 21 vi 56 Rx |
14 Feb 1899 Noon UT | 21 vi 48 Rx |
15 Feb 1899 Noon UT | 21 vi 39 Rx |
16 Feb 1899 Noon UT | 21 vi 29 Rx |
17 Feb 1899 Noon UT | 21 vi 20 Rx |
18 Feb 1899 Noon UT | 21 vi 10 Rx |
19 Feb 1899 Noon UT | 21 vi  0 Rx |
20 Feb 1899 Noon UT | 20 vi 49 Rx |
21 Feb 1899 Noon UT | 20 vi 39 Rx |
22 Feb 1899 Noon UT | 20 vi 28 Rx |
23 Feb 1899 Noon UT | 20 vi 17 Rx |
24 Feb 1899 Noon UT | 20 vi  6 Rx |
25 Feb 1899 Noon UT | 19 vi 55 Rx |
26 Feb 1899 Noon UT | 19 vi 43 Rx |
27 Feb 1899 Noon UT | 19 vi 31 Rx |
28 Feb 1899 Noon UT | 19 vi 20 Rx |
01 Mar 1899 Noon UT | 19 vi  8 Rx |
02 Mar 1899 Noon UT | 18 vi 56 Rx |
03 Mar 1899 Noon UT | 18 vi 44 Rx |
04 Mar 1899 Noon UT | 18 vi 31 Rx |
05 Mar 1899 Noon UT | 18 vi 19 Rx |
06 Mar 1899 Noon UT | 18 vi  7 Rx |
07 Mar 1899 Noon UT | 17 vi 54 Rx |
08 Mar 1899 Noon UT | 17 vi 42 Rx |
09 Mar 1899 Noon UT | 17 vi 29 Rx |
10 Mar 1899 Noon UT | 17 vi 17 Rx |
11 Mar 1899 Noon UT | 17 vi  4 Rx |
12 Mar 1899 Noon UT | 16 vi 52 Rx |
13 Mar 1899 Noon UT | 16 vi 40 Rx |
14 Mar 1899 Noon UT | 16 vi 27 Rx |
15 Mar 1899 Noon UT | 16 vi 15 Rx |
16 Mar 1899 Noon UT | 16 vi  3 Rx |
17 Mar 1899 Noon UT | 15 vi 51 Rx |
18 Mar 1899 Noon UT | 15 vi 39 Rx |
19 Mar 1899 Noon UT | 15 vi 27 Rx |
20 Mar 1899 Noon UT | 15 vi 15 Rx |
21 Mar 1899 Noon UT | 15 vi  4 Rx |
22 Mar 1899 Noon UT | 14 vi 52 Rx |
23 Mar 1899 Noon UT | 14 vi 41 Rx |
24 Mar 1899 Noon UT | 14 vi 30 Rx |
25 Mar 1899 Noon UT | 14 vi 19 Rx |
26 Mar 1899 Noon UT | 14 vi  9 Rx |
27 Mar 1899 Noon UT | 13 vi 58 Rx |
28 Mar 1899 Noon UT | 13 vi 48 Rx |
29 Mar 1899 Noon UT | 13 vi 38 Rx |
30 Mar 1899 Noon UT | 13 vi 28 Rx |
31 Mar 1899 Noon UT | 13 vi 19 Rx |
01 Apr 1899 Noon UT | 13 vi 10 Rx |
02 Apr 1899 Noon UT | 13 vi  1 Rx |
03 Apr 1899 Noon UT | 12 vi 52 Rx |
04 Apr 1899 Noon UT | 12 vi 44 Rx |
05 Apr 1899 Noon UT | 12 vi 36 Rx |
06 Apr 1899 Noon UT | 12 vi 28 Rx |
07 Apr 1899 Noon UT | 12 vi 21 Rx |
08 Apr 1899 Noon UT | 12 vi 14 Rx |
09 Apr 1899 Noon UT | 12 vi  7 Rx |
10 Apr 1899 Noon UT | 12 vi  1 Rx |
11 Apr 1899 Noon UT | 11 vi 55 Rx |
12 Apr 1899 Noon UT | 11 vi 49 Rx |
13 Apr 1899 Noon UT | 11 vi 44 Rx |
14 Apr 1899 Noon UT | 11 vi 39 Rx |
15 Apr 1899 Noon UT | 11 vi 34 Rx |
16 Apr 1899 Noon UT | 11 vi 30 Rx |
17 Apr 1899 Noon UT | 11 vi 26 Rx |
18 Apr 1899 Noon UT | 11 vi 22 Rx |
19 Apr 1899 Noon UT | 11 vi 19 Rx |
20 Apr 1899 Noon UT | 11 vi 16 Rx |
21 Apr 1899 Noon UT | 11 vi 13 Rx |
22 Apr 1899 Noon UT | 11 vi 11 Rx |
23 Apr 1899 Noon UT | 11 vi 10 Rx |
24 Apr 1899 Noon UT | 11 vi  8 Rx |
25 Apr 1899 Noon UT | 11 vi  7 Rx |
26 Apr 1899 Noon UT | 11 vi  6 Rx |
27 Apr 1899 Noon UT | 11 vi  6 Rx |
28 Apr 1899 Noon UT | 11 vi  6    |
29 Apr 1899 Noon UT | 11 vi  6    |
30 Apr 1899 Noon UT | 11 vi  7    |
01 May 1899 Noon UT | 11 vi  8    |
02 May 1899 Noon UT | 11 vi 10    |
03 May 1899 Noon UT | 11 vi 12    |
04 May 1899 Noon UT | 11 vi 14    |
05 May 1899 Noon UT | 11 vi 16    |
06 May 1899 Noon UT | 11 vi 19    |
07 May 1899 Noon UT | 11 vi 22    |
08 May 1899 Noon UT | 11 vi 26    |
09 May 1899 Noon UT | 11 vi 30    |
10 May 1899 Noon UT | 11 vi 34    |
11 May 1899 Noon UT | 11 vi 39    |
12 May 1899 Noon UT | 11 vi 43    |
13 May 1899 Noon UT | 11 vi 49    |
14 May 1899 Noon UT | 11 vi 54    |
15 May 1899 Noon UT | 12 vi  0    |
16 May 1899 Noon UT | 12 vi  6    |
17 May 1899 Noon UT | 12 vi 13    |
18 May 1899 Noon UT | 12 vi 20    |
19 May 1899 Noon UT | 12 vi 27    |
20 May 1899 Noon UT | 12 vi 34    |
21 May 1899 Noon UT | 12 vi 42    |
22 May 1899 Noon UT | 12 vi 50    |
23 May 1899 Noon UT | 12 vi 58    |
24 May 1899 Noon UT | 13 vi  7    |
25 May 1899 Noon UT | 13 vi 16    |
26 May 1899 Noon UT | 13 vi 25    |
27 May 1899 Noon UT | 13 vi 35    |
28 May 1899 Noon UT | 13 vi 44    |
29 May 1899 Noon UT | 13 vi 54    |
30 May 1899 Noon UT | 14 vi  5    |
31 May 1899 Noon UT | 14 vi 15    |
01 Jun 1899 Noon UT | 14 vi 26    |
02 Jun 1899 Noon UT | 14 vi 37    |
03 Jun 1899 Noon UT | 14 vi 48    |
04 Jun 1899 Noon UT | 15 vi  0    |
05 Jun 1899 Noon UT | 15 vi 12    |
06 Jun 1899 Noon UT | 15 vi 24    |
07 Jun 1899 Noon UT | 15 vi 36    |
08 Jun 1899 Noon UT | 15 vi 49    |
09 Jun 1899 Noon UT | 16 vi  1    |
10 Jun 1899 Noon UT | 16 vi 14    |
11 Jun 1899 Noon UT | 16 vi 28    |
12 Jun 1899 Noon UT | 16 vi 41    |
13 Jun 1899 Noon UT | 16 vi 55    |
14 Jun 1899 Noon UT | 17 vi  9    |
15 Jun 1899 Noon UT | 17 vi 23    |
16 Jun 1899 Noon UT | 17 vi 37    |
17 Jun 1899 Noon UT | 17 vi 52    |
18 Jun 1899 Noon UT | 18 vi  6    |
19 Jun 1899 Noon UT | 18 vi 21    |
20 Jun 1899 Noon UT | 18 vi 36    |
21 Jun 1899 Noon UT | 18 vi 52    |
22 Jun 1899 Noon UT | 19 vi  7    |
23 Jun 1899 Noon UT | 19 vi 23    |
24 Jun 1899 Noon UT | 19 vi 39    |
25 Jun 1899 Noon UT | 19 vi 55    |
26 Jun 1899 Noon UT | 20 vi 11    |
27 Jun 1899 Noon UT | 20 vi 27    |
28 Jun 1899 Noon UT | 20 vi 44    |
29 Jun 1899 Noon UT | 21 vi  1    |
30 Jun 1899 Noon UT | 21 vi 18    |
01 Jul 1899 Noon UT | 21 vi 35    |
02 Jul 1899 Noon UT | 21 vi 52    |
03 Jul 1899 Noon UT | 22 vi 10    |
04 Jul 1899 Noon UT | 22 vi 27    |
05 Jul 1899 Noon UT | 22 vi 45    |
06 Jul 1899 Noon UT | 23 vi  3    |
07 Jul 1899 Noon UT | 23 vi 21    |
08 Jul 1899 Noon UT | 23 vi 39    |
09 Jul 1899 Noon UT | 23 vi 58    |
10 Jul 1899 Noon UT | 24 vi 16    |
11 Jul 1899 Noon UT | 24 vi 35    |
12 Jul 1899 Noon UT | 24 vi 54    |
13 Jul 1899 Noon UT | 25 vi 12    |
14 Jul 1899 Noon UT | 25 vi 32    |
15 Jul 1899 Noon UT | 25 vi 51    |
16 Jul 1899 Noon UT | 26 vi 10    |
17 Jul 1899 Noon UT | 26 vi 30    |
18 Jul 1899 Noon UT | 26 vi 49    |
19 Jul 1899 Noon UT | 27 vi  9    |
20 Jul 1899 Noon UT | 27 vi 29    |
21 Jul 1899 Noon UT | 27 vi 49    |
22 Jul 1899 Noon UT | 28 vi  9    |
23 Jul 1899 Noon UT | 28 vi 29    |
24 Jul 1899 Noon UT | 28 vi 49    |
25 Jul 1899 Noon UT | 29 vi 10    |
26 Jul 1899 Noon UT | 29 vi 30    |
27 Jul 1899 Noon UT | 29 vi 51    |
28 Jul 1899 Noon UT |  0 li 12    |
29 Jul 1899 Noon UT |  0 li 33    |
30 Jul 1899 Noon UT |  0 li 54    |
31 Jul 1899 Noon UT |  1 li 15    |
01 Aug 1899 Noon UT |  1 li 36    |
02 Aug 1899 Noon UT |  1 li 57    |
03 Aug 1899 Noon UT |  2 li 19    |
04 Aug 1899 Noon UT |  2 li 40    |
05 Aug 1899 Noon UT |  3 li  2    |
06 Aug 1899 Noon UT |  3 li 24    |
07 Aug 1899 Noon UT |  3 li 45    |
08 Aug 1899 Noon UT |  4 li  7    |
09 Aug 1899 Noon UT |  4 li 29    |
10 Aug 1899 Noon UT |  4 li 51    |
11 Aug 1899 Noon UT |  5 li 14    |
12 Aug 1899 Noon UT |  5 li 36    |
13 Aug 1899 Noon UT |  5 li 58    |
14 Aug 1899 Noon UT |  6 li 21    |
15 Aug 1899 Noon UT |  6 li 43    |
16 Aug 1899 Noon UT |  7 li  6    |
17 Aug 1899 Noon UT |  7 li 28    |
18 Aug 1899 Noon UT |  7 li 51    |
19 Aug 1899 Noon UT |  8 li 14    |
20 Aug 1899 Noon UT |  8 li 37    |
21 Aug 1899 Noon UT |  9 li  0    |
22 Aug 1899 Noon UT |  9 li 23    |
23 Aug 1899 Noon UT |  9 li 46    |
24 Aug 1899 Noon UT | 10 li  9    |
25 Aug 1899 Noon UT | 10 li 32    |
26 Aug 1899 Noon UT | 10 li 56    |
27 Aug 1899 Noon UT | 11 li 19    |
28 Aug 1899 Noon UT | 11 li 43    |
29 Aug 1899 Noon UT | 12 li  6    |
30 Aug 1899 Noon UT | 12 li 30    |
31 Aug 1899 Noon UT | 12 li 54    |
01 Sep 1899 Noon UT | 13 li 17    |
02 Sep 1899 Noon UT | 13 li 41    |
03 Sep 1899 Noon UT | 14 li  5    |
04 Sep 1899 Noon UT | 14 li 29    |
05 Sep 1899 Noon UT | 14 li 53    |
06 Sep 1899 Noon UT | 15 li 17    |
07 Sep 1899 Noon UT | 15 li 41    |
08 Sep 1899 Noon UT | 16 li  5    |
09 Sep 1899 Noon UT | 16 li 29    |
10 Sep 1899 Noon UT | 16 li 54    |
11 Sep 1899 Noon UT | 17 li 18    |
12 Sep 1899 Noon UT | 17 li 42    |
13 Sep 1899 Noon UT | 18 li  7    |
14 Sep 1899 Noon UT | 18 li 31    |
15 Sep 1899 Noon UT | 18 li 56    |
16 Sep 1899 Noon UT | 19 li 20    |
17 Sep 1899 Noon UT | 19 li 45    |
18 Sep 1899 Noon UT | 20 li 10    |
19 Sep 1899 Noon UT | 20 li 34    |
20 Sep 1899 Noon UT | 20 li 59    |
21 Sep 1899 Noon UT | 21 li 24    |
22 Sep 1899 Noon UT | 21 li 49    |
23 Sep 1899 Noon UT | 22 li 14    |
24 Sep 1899 Noon UT | 22 li 38    |
25 Sep 1899 Noon UT | 23 li  3    |
26 Sep 1899 Noon UT | 23 li 28    |
27 Sep 1899 Noon UT | 23 li 53    |
28 Sep 1899 Noon UT | 24 li 19    |
29 Sep 1899 Noon UT | 24 li 44    |
30 Sep 1899 Noon UT | 25 li  9    |
01 Oct 1899 Noon UT | 25 li 34    |
02 Oct 1899 Noon UT | 25 li 59    |
03 Oct 1899 Noon UT | 26 li 24    |
04 Oct 1899 Noon UT | 26 li 50    |
05 Oct 1899 Noon UT | 27 li 15    |
06 Oct 1899 Noon UT | 27 li 40    |
07 Oct 1899 Noon UT | 28 li  6    |
08 Oct 1899 Noon UT | 28 li 31    |
09 Oct 1899 Noon UT | 28 li 57    |
10 Oct 1899 Noon UT | 29 li 22    |
11 Oct 1899 Noon UT | 29 li 48    |
12 Oct 1899 Noon UT |  0 sc 13    |
13 Oct 1899 Noon UT |  0 sc 39    |
14 Oct 1899 Noon UT |  1 sc  4    |
15 Oct 1899 Noon UT |  1 sc 30    |
16 Oct 1899 Noon UT |  1 sc 55    |
17 Oct 1899 Noon UT |  2 sc 21    |
18 Oct 1899 Noon UT |  2 sc 47    |
19 Oct 1899 Noon UT |  3 sc 12    |
20 Oct 1899 Noon UT |  3 sc 38    |
21 Oct 1899 Noon UT |  4 sc  4    |
22 Oct 1899 Noon UT |  4 sc 29    |
23 Oct 1899 Noon UT |  4 sc 55    |
24 Oct 1899 Noon UT |  5 sc 21    |
25 Oct 1899 Noon UT |  5 sc 47    |
26 Oct 1899 Noon UT |  6 sc 12    |
27 Oct 1899 Noon UT |  6 sc 38    |
28 Oct 1899 Noon UT |  7 sc  4    |
29 Oct 1899 Noon UT |  7 sc 30    |
30 Oct 1899 Noon UT |  7 sc 56    |
31 Oct 1899 Noon UT |  8 sc 21    |
01 Nov 1899 Noon UT |  8 sc 47    |
02 Nov 1899 Noon UT |  9 sc 13    |
03 Nov 1899 Noon UT |  9 sc 39    |
04 Nov 1899 Noon UT | 10 sc  5    |
05 Nov 1899 Noon UT | 10 sc 31    |
06 Nov 1899 Noon UT | 10 sc 57    |
07 Nov 1899 Noon UT | 11 sc 22    |
08 Nov 1899 Noon UT | 11 sc 48    |
09 Nov 1899 Noon UT | 12 sc 14    |
10 Nov 1899 Noon UT | 12 sc 40    |
11 Nov 1899 Noon UT | 13 sc  6    |
12 Nov 1899 Noon UT | 13 sc 32    |
13 Nov 1899 Noon UT | 13 sc 58    |
14 Nov 1899 Noon UT | 14 sc 24    |
15 Nov 1899 Noon UT | 14 sc 49    |
16 Nov 1899 Noon UT | 15 sc 15    |
17 Nov 1899 Noon UT | 15 sc 41    |
18 Nov 1899 Noon UT | 16 sc  7    |
19 Nov 1899 Noon UT | 16 sc 33    |
20 Nov 1899 Noon UT | 16 sc 59    |
21 Nov 1899 Noon UT | 17 sc 25    |
22 Nov 1899 Noon UT | 17 sc 50    |
23 Nov 1899 Noon UT | 18 sc 16    |
24 Nov 1899 Noon UT | 18 sc 42    |
25 Nov 1899 Noon UT | 19 sc  8    |
26 Nov 1899 Noon UT | 19 sc 33    |
27 Nov 1899 Noon UT | 19 sc 59    |
28 Nov 1899 Noon UT | 20 sc 25    |
29 Nov 1899 Noon UT | 20 sc 51    |
30 Nov 1899 Noon UT | 21 sc 16    |
01 Dec 1899 Noon UT | 21 sc 42    |
02 Dec 1899 Noon UT | 22 sc  8    |
03 Dec 1899 Noon UT | 22 sc 33    |
04 Dec 1899 Noon UT | 22 sc 59    |
05 Dec 1899 Noon UT | 23 sc 25    |
06 Dec 1899 Noon UT | 23 sc 50    |
07 Dec 1899 Noon UT | 24 sc 16    |
08 Dec 1899 Noon UT | 24 sc 41    |
09 Dec 1899 Noon UT | 25 sc  7    |
10 Dec 1899 Noon UT | 25 sc 32    |
11 Dec 1899 Noon UT | 25 sc 58    |
12 Dec 1899 Noon UT | 26 sc 23    |
13 Dec 1899 Noon UT | 26 sc 48    |
14 Dec 1899 Noon UT | 27 sc 14    |
15 Dec 1899 Noon UT | 27 sc 39    |
16 Dec 1899 Noon UT | 28 sc  4    |
17 Dec 1899 Noon UT | 28 sc 29    |
18 Dec 1899 Noon UT | 28 sc 55    |
19 Dec 1899 Noon UT | 29 sc 20    |
20 Dec 1899 Noon UT | 29 sc 45    |
21 Dec 1899 Noon UT |  0 sa 10    |
22 Dec 1899 Noon UT |  0 sa 35    |
23 Dec 1899 Noon UT |  1 sa  0    |
24 Dec 1899 Noon UT |  1 sa 25    |
25 Dec 1899 Noon UT |  1 sa 50    |
26 Dec 1899 Noon UT |  2 sa 15    |
27 Dec 1899 Noon UT |  2 sa 39    |
28 Dec 1899 Noon UT |  3 sa  4    |
29 Dec 1899 Noon UT |  3 sa 29    |
30 Dec 1899 Noon UT |  3 sa 53    |
31 Dec 1899 Noon UT |  4 sa 18    |
01 Jan 1900 Noon UT |  4 sa 43    |
02 Jan 1900 Noon UT |  5 sa  7    |
03 Jan 1900 Noon UT |  5 sa 31    |
04 Jan 1900 Noon UT |  5 sa 56    |
05 Jan 1900 Noon UT |  6 sa 20    |
06 Jan 1900 Noon UT |  6 sa 44    |
07 Jan 1900 Noon UT |  7 sa  8    |
08 Jan 1900 Noon UT |  7 sa 33    |
09 Jan 1900 Noon UT |  7 sa 57    |
10 Jan 1900 Noon UT |  8 sa 21    |
11 Jan 1900 Noon UT |  8 sa 44    |
12 Jan 1900 Noon UT |  9 sa  8    |
13 Jan 1900 Noon UT |  9 sa 32    |
14 Jan 1900 Noon UT |  9 sa 56    |
15 Jan 1900 Noon UT | 10 sa 19    |
16 Jan 1900 Noon UT | 10 sa 43    |
17 Jan 1900 Noon UT | 11 sa  6    |
18 Jan 1900 Noon UT | 11 sa 30    |
19 Jan 1900 Noon UT | 11 sa 53    |
20 Jan 1900 Noon UT | 12 sa 16    |
21 Jan 1900 Noon UT | 12 sa 39    |
22 Jan 1900 Noon UT | 13 sa  2    |
23 Jan 1900 Noon UT | 13 sa 25    |
24 Jan 1900 Noon UT | 13 sa 48    |
25 Jan 1900 Noon UT | 14 sa 11    |
26 Jan 1900 Noon UT | 14 sa 33    |
27 Jan 1900 Noon UT | 14 sa 56    |
28 Jan 1900 Noon UT | 15 sa 18    |
29 Jan 1900 Noon UT | 15 sa 41    |
30 Jan 1900 Noon UT | 16 sa  3    |
31 Jan 1900 Noon UT | 16 sa 25    |
01 Feb 1900 Noon UT | 16 sa 47    |
02 Feb 1900 Noon UT | 17 sa  9    |
03 Feb 1900 Noon UT | 17 sa 31    |
04 Feb 1900 Noon UT | 17 sa 53    |
05 Feb 1900 Noon UT | 18 sa 14    |
06 Feb 1900 Noon UT | 18 sa 36    |
07 Feb 1900 Noon UT | 18 sa 57    |
08 Feb 1900 Noon UT | 19 sa 19    |
09 Feb 1900 Noon UT | 19 sa 40    |
10 Feb 1900 Noon UT | 20 sa  1    |
11 Feb 1900 Noon UT | 20 sa 22    |
12 Feb 1900 Noon UT | 20 sa 42    |
13 Feb 1900 Noon UT | 21 sa  3    |
14 Feb 1900 Noon UT | 21 sa 24    |
15 Feb 1900 Noon UT | 21 sa 44    |
16 Feb 1900 Noon UT | 22 sa  4    |
17 Feb 1900 Noon UT | 22 sa 24    |
18 Feb 1900 Noon UT | 22 sa 44    |
19 Feb 1900 Noon UT | 23 sa  4    |
20 Feb 1900 Noon UT | 23 sa 24    |
21 Feb 1900 Noon UT | 23 sa 43    |
22 Feb 1900 Noon UT | 24 sa  3    |
23 Feb 1900 Noon UT | 24 sa 22    |
24 Feb 1900 Noon UT | 24 sa 41    |
25 Feb 1900 Noon UT | 25 sa  0    |
26 Feb 1900 Noon UT | 25 sa 18    |
27 Feb 1900 Noon UT | 25 sa 37    |
28 Feb 1900 Noon UT | 25 sa 55    |
01 Mar 1900 Noon UT | 26 sa 14    |
02 Mar 1900 Noon UT | 26 sa 32    |
03 Mar 1900 Noon UT | 26 sa 50    |
04 Mar 1900 Noon UT | 27 sa  7    |
05 Mar 1900 Noon UT | 27 sa 25    |
06 Mar 1900 Noon UT | 27 sa 42    |
07 Mar 1900 Noon UT | 27 sa 59    |
08 Mar 1900 Noon UT | 28 sa 16    |
09 Mar 1900 Noon UT | 28 sa 33    |
10 Mar 1900 Noon UT | 28 sa 50    |
11 Mar 1900 Noon UT | 29 sa  6    |
12 Mar 1900 Noon UT | 29 sa 22    |
13 Mar 1900 Noon UT | 29 sa 38    |
14 Mar 1900 Noon UT | 29 sa 54    |
15 Mar 1900 Noon UT |  0 cp 10    |
16 Mar 1900 Noon UT |  0 cp 25    |
17 Mar 1900 Noon UT |  0 cp 40    |
18 Mar 1900 Noon UT |  0 cp 55    |
19 Mar 1900 Noon UT |  1 cp 10    |
20 Mar 1900 Noon UT |  1 cp 24    |
21 Mar 1900 Noon UT |  1 cp 38    |
22 Mar 1900 Noon UT |  1 cp 52    |
23 Mar 1900 Noon UT |  2 cp  6    |
24 Mar 1900 Noon UT |  2 cp 20    |
25 Mar 1900 Noon UT |  2 cp 33    |
26 Mar 1900 Noon UT |  2 cp 46    |
27 Mar 1900 Noon UT |  2 cp 59    |
28 Mar 1900 Noon UT |  3 cp 11    |
29 Mar 1900 Noon UT |  3 cp 24    |
30 Mar 1900 Noon UT |  3 cp 36    |
31 Mar 1900 Noon UT |  3 cp 47    |
01 Apr 1900 Noon UT |  3 cp 59    |
02 Apr 1900 Noon UT |  4 cp 10    |
03 Apr 1900 Noon UT |  4 cp 21    |
04 Apr 1900 Noon UT |  4 cp 31    |
05 Apr 1900 Noon UT |  4 cp 42    |
06 Apr 1900 Noon UT |  4 cp 52    |
07 Apr 1900 Noon UT |  5 cp  2    |
08 Apr 1900 Noon UT |  5 cp 11    |
09 Apr 1900 Noon UT |  5 cp 20    |
10 Apr 1900 Noon UT |  5 cp 29    |
11 Apr 1900 Noon UT |  5 cp 38    |
12 Apr 1900 Noon UT |  5 cp 46    |
13 Apr 1900 Noon UT |  5 cp 54    |
14 Apr 1900 Noon UT |  6 cp  1    |
15 Apr 1900 Noon UT |  6 cp  9    |
16 Apr 1900 Noon UT |  6 cp 16    |
17 Apr 1900 Noon UT |  6 cp 22    |
18 Apr 1900 Noon UT |  6 cp 29    |
19 Apr 1900 Noon UT |  6 cp 35    |
20 Apr 1900 Noon UT |  6 cp 41    |
21 Apr 1900 Noon UT |  6 cp 46    |
22 Apr 1900 Noon UT |  6 cp 51    |
23 Apr 1900 Noon UT |  6 cp 56    |
24 Apr 1900 Noon UT |  7 cp  0    |
25 Apr 1900 Noon UT |  7 cp  4    |
26 Apr 1900 Noon UT |  7 cp  7    |
27 Apr 1900 Noon UT |  7 cp 11    |
28 Apr 1900 Noon UT |  7 cp 14    |
29 Apr 1900 Noon UT |  7 cp 16    |
30 Apr 1900 Noon UT |  7 cp 18    |
01 May 1900 Noon UT |  7 cp 20    |
02 May 1900 Noon UT |  7 cp 22    |
03 May 1900 Noon UT |  7 cp 23    |
04 May 1900 Noon UT |  7 cp 23    |
05 May 1900 Noon UT |  7 cp 24    |
06 May 1900 Noon UT |  7 cp 24 Rx |
07 May 1900 Noon UT |  7 cp 23 Rx |
08 May 1900 Noon UT |  7 cp 23 Rx |
09 May 1900 Noon UT |  7 cp 22 Rx |
10 May 1900 Noon UT |  7 cp 20 Rx |
11 May 1900 Noon UT |  7 cp 18 Rx |
12 May 1900 Noon UT |  7 cp 16 Rx |
13 May 1900 Noon UT |  7 cp 14 Rx |
14 May 1900 Noon UT |  7 cp 11 Rx |
15 May 1900 Noon UT |  7 cp  7 Rx |
16 May 1900 Noon UT |  7 cp  4 Rx |
17 May 1900 Noon UT |  7 cp  0 Rx |
18 May 1900 Noon UT |  6 cp 55 Rx |
19 May 1900 Noon UT |  6 cp 51 Rx |
20 May 1900 Noon UT |  6 cp 46 Rx |
21 May 1900 Noon UT |  6 cp 40 Rx |
22 May 1900 Noon UT |  6 cp 35 Rx |
23 May 1900 Noon UT |  6 cp 29 Rx |
24 May 1900 Noon UT |  6 cp 22 Rx |
25 May 1900 Noon UT |  6 cp 15 Rx |
26 May 1900 Noon UT |  6 cp  8 Rx |
27 May 1900 Noon UT |  6 cp  1 Rx |
28 May 1900 Noon UT |  5 cp 53 Rx |
29 May 1900 Noon UT |  5 cp 46 Rx |
30 May 1900 Noon UT |  5 cp 37 Rx |
31 May 1900 Noon UT |  5 cp 29 Rx |
01 Jun 1900 Noon UT |  5 cp 20 Rx |
02 Jun 1900 Noon UT |  5 cp 11 Rx |
03 Jun 1900 Noon UT |  5 cp  2 Rx |
04 Jun 1900 Noon UT |  4 cp 52 Rx |
05 Jun 1900 Noon UT |  4 cp 42 Rx |
06 Jun 1900 Noon UT |  4 cp 33 Rx |
07 Jun 1900 Noon UT |  4 cp 22 Rx |
08 Jun 1900 Noon UT |  4 cp 12 Rx |
09 Jun 1900 Noon UT |  4 cp  1 Rx |
10 Jun 1900 Noon UT |  3 cp 51 Rx |
11 Jun 1900 Noon UT |  3 cp 40 Rx |
12 Jun 1900 Noon UT |  3 cp 29 Rx |
13 Jun 1900 Noon UT |  3 cp 18 Rx |
14 Jun 1900 Noon UT |  3 cp  6 Rx |
15 Jun 1900 Noon UT |  2 cp 55 Rx |
16 Jun 1900 Noon UT |  2 cp 43 Rx |
17 Jun 1900 Noon UT |  2 cp 32 Rx |
18 Jun 1900 Noon UT |  2 cp 20 Rx |
19 Jun 1900 Noon UT |  2 cp  8 Rx |
20 Jun 1900 Noon UT |  1 cp 56 Rx |
21 Jun 1900 Noon UT |  1 cp 45 Rx |
22 Jun 1900 Noon UT |  1 cp 33 Rx |
23 Jun 1900 Noon UT |  1 cp 21 Rx |
24 Jun 1900 Noon UT |  1 cp  9 Rx |
25 Jun 1900 Noon UT |  0 cp 57 Rx |
26 Jun 1900 Noon UT |  0 cp 45 Rx |
27 Jun 1900 Noon UT |  0 cp 34 Rx |
28 Jun 1900 Noon UT |  0 cp 22 Rx |
29 Jun 1900 Noon UT |  0 cp 10 Rx |
30 Jun 1900 Noon UT | 29 sa 59 Rx |
01 Jul 1900 Noon UT | 29 sa 48 Rx |
02 Jul 1900 Noon UT | 29 sa 36 Rx |
03 Jul 1900 Noon UT | 29 sa 25 Rx |
04 Jul 1900 Noon UT | 29 sa 14 Rx |
05 Jul 1900 Noon UT | 29 sa  3 Rx |
06 Jul 1900 Noon UT | 28 sa 53 Rx |
07 Jul 1900 Noon UT | 28 sa 42 Rx |
08 Jul 1900 Noon UT | 28 sa 32 Rx |
09 Jul 1900 Noon UT | 28 sa 22 Rx |
10 Jul 1900 Noon UT | 28 sa 12 Rx |
11 Jul 1900 Noon UT | 28 sa  2 Rx |
12 Jul 1900 Noon UT | 27 sa 53 Rx |
13 Jul 1900 Noon UT | 27 sa 44 Rx |
14 Jul 1900 Noon UT | 27 sa 35 Rx |
15 Jul 1900 Noon UT | 27 sa 26 Rx |
16 Jul 1900 Noon UT | 27 sa 18 Rx |
17 Jul 1900 Noon UT | 27 sa 10 Rx |
18 Jul 1900 Noon UT | 27 sa  2 Rx |
19 Jul 1900 Noon UT | 26 sa 54 Rx |
20 Jul 1900 Noon UT | 26 sa 47 Rx |
21 Jul 1900 Noon UT | 26 sa 40 Rx |
22 Jul 1900 Noon UT | 26 sa 34 Rx |
23 Jul 1900 Noon UT | 26 sa 27 Rx |
24 Jul 1900 Noon UT | 26 sa 21 Rx |
25 Jul 1900 Noon UT | 26 sa 16 Rx |
26 Jul 1900 Noon UT | 26 sa 10 Rx |
27 Jul 1900 Noon UT | 26 sa  5 Rx |
28 Jul 1900 Noon UT | 26 sa  1 Rx |
29 Jul 1900 Noon UT | 25 sa 56 Rx |
30 Jul 1900 Noon UT | 25 sa 52 Rx |
31 Jul 1900 Noon UT | 25 sa 49 Rx |
01 Aug 1900 Noon UT | 25 sa 45 Rx |
02 Aug 1900 Noon UT | 25 sa 42 Rx |
03 Aug 1900 Noon UT | 25 sa 40 Rx |
04 Aug 1900 Noon UT | 25 sa 37 Rx |
05 Aug 1900 Noon UT | 25 sa 36 Rx |
06 Aug 1900 Noon UT | 25 sa 34 Rx |
07 Aug 1900 Noon UT | 25 sa 33 Rx |
08 Aug 1900 Noon UT | 25 sa 32 Rx |
09 Aug 1900 Noon UT | 25 sa 32 Rx |
10 Aug 1900 Noon UT | 25 sa 31    |
11 Aug 1900 Noon UT | 25 sa 32    |
12 Aug 1900 Noon UT | 25 sa 32    |
13 Aug 1900 Noon UT | 25 sa 33    |
14 Aug 1900 Noon UT | 25 sa 34    |
15 Aug 1900 Noon UT | 25 sa 36    |
16 Aug 1900 Noon UT | 25 sa 38    |
17 Aug 1900 Noon UT | 25 sa 40    |
18 Aug 1900 Noon UT | 25 sa 43    |
19 Aug 1900 Noon UT | 25 sa 46    |
20 Aug 1900 Noon UT | 25 sa 49    |
21 Aug 1900 Noon UT | 25 sa 53    |
22 Aug 1900 Noon UT | 25 sa 57    |
23 Aug 1900 Noon UT | 26 sa  1    |
24 Aug 1900 Noon UT | 26 sa  6    |
25 Aug 1900 Noon UT | 26 sa 11    |
26 Aug 1900 Noon UT | 26 sa 16    |
27 Aug 1900 Noon UT | 26 sa 21    |
28 Aug 1900 Noon UT | 26 sa 27    |
29 Aug 1900 Noon UT | 26 sa 33    |
30 Aug 1900 Noon UT | 26 sa 40    |
31 Aug 1900 Noon UT | 26 sa 47    |
01 Sep 1900 Noon UT | 26 sa 54    |
02 Sep 1900 Noon UT | 27 sa  1    |
03 Sep 1900 Noon UT | 27 sa  9    |
04 Sep 1900 Noon UT | 27 sa 17    |
05 Sep 1900 Noon UT | 27 sa 25    |
06 Sep 1900 Noon UT | 27 sa 34    |
07 Sep 1900 Noon UT | 27 sa 43    |
08 Sep 1900 Noon UT | 27 sa 52    |
09 Sep 1900 Noon UT | 28 sa  1    |
10 Sep 1900 Noon UT | 28 sa 11    |
11 Sep 1900 Noon UT | 28 sa 21    |
12 Sep 1900 Noon UT | 28 sa 31    |
13 Sep 1900 Noon UT | 28 sa 41    |
14 Sep 1900 Noon UT | 28 sa 52    |
15 Sep 1900 Noon UT | 29 sa  3    |
16 Sep 1900 Noon UT | 29 sa 14    |
17 Sep 1900 Noon UT | 29 sa 25    |
18 Sep 1900 Noon UT | 29 sa 37    |
19 Sep 1900 Noon UT | 29 sa 49    |
20 Sep 1900 Noon UT |  0 cp  1    |
21 Sep 1900 Noon UT |  0 cp 13    |
22 Sep 1900 Noon UT |  0 cp 26    |
23 Sep 1900 Noon UT |  0 cp 39    |
24 Sep 1900 Noon UT |  0 cp 52    |
25 Sep 1900 Noon UT |  1 cp  5    |
26 Sep 1900 Noon UT |  1 cp 18    |
27 Sep 1900 Noon UT |  1 cp 32    |
28 Sep 1900 Noon UT |  1 cp 46    |
29 Sep 1900 Noon UT |  2 cp  0    |
30 Sep 1900 Noon UT |  2 cp 14    |
01 Oct 1900 Noon UT |  2 cp 29    |
02 Oct 1900 Noon UT |  2 cp 44    |
03 Oct 1900 Noon UT |  2 cp 58    |
04 Oct 1900 Noon UT |  3 cp 13    |
05 Oct 1900 Noon UT |  3 cp 29    |
06 Oct 1900 Noon UT |  3 cp 44    |
07 Oct 1900 Noon UT |  4 cp  0    |
08 Oct 1900 Noon UT |  4 cp 15    |
09 Oct 1900 Noon UT |  4 cp 31    |
10 Oct 1900 Noon UT |  4 cp 48    |
11 Oct 1900 Noon UT |  5 cp  4    |
12 Oct 1900 Noon UT |  5 cp 20    |
13 Oct 1900 Noon UT |  5 cp 37    |
14 Oct 1900 Noon UT |  5 cp 54    |
15 Oct 1900 Noon UT |  6 cp 11    |
16 Oct 1900 Noon UT |  6 cp 28    |
17 Oct 1900 Noon UT |  6 cp 45    |
18 Oct 1900 Noon UT |  7 cp  2    |
19 Oct 1900 Noon UT |  7 cp 20    |
20 Oct 1900 Noon UT |  7 cp 37    |
21 Oct 1900 Noon UT |  7 cp 55    |
22 Oct 1900 Noon UT |  8 cp 13    |
23 Oct 1900 Noon UT |  8 cp 31    |
24 Oct 1900 Noon UT |  8 cp 49    |
25 Oct 1900 Noon UT |  9 cp  8    |
26 Oct 1900 Noon UT |  9 cp 26    |
27 Oct 1900 Noon UT |  9 cp 45    |
28 Oct 1900 Noon UT | 10 cp  4    |
29 Oct 1900 Noon UT | 10 cp 23    |
30 Oct 1900 Noon UT | 10 cp 42    |
31 Oct 1900 Noon UT | 11 cp  1    |
01 Nov 1900 Noon UT | 11 cp 20    |
02 Nov 1900 Noon UT | 11 cp 39    |
03 Nov 1900 Noon UT | 11 cp 59    |
04 Nov 1900 Noon UT | 12 cp 18    |
05 Nov 1900 Noon UT | 12 cp 38    |
06 Nov 1900 Noon UT | 12 cp 58    |
07 Nov 1900 Noon UT | 13 cp 18    |
08 Nov 1900 Noon UT | 13 cp 38    |
09 Nov 1900 Noon UT | 13 cp 58    |
10 Nov 1900 Noon UT | 14 cp 18    |
11 Nov 1900 Noon UT | 14 cp 38    |
12 Nov 1900 Noon UT | 14 cp 58    |
13 Nov 1900 Noon UT | 15 cp 19    |
14 Nov 1900 Noon UT | 15 cp 39    |
15 Nov 1900 Noon UT | 16 cp  0    |
16 Nov 1900 Noon UT | 16 cp 21    |
17 Nov 1900 Noon UT | 16 cp 42    |
18 Nov 1900 Noon UT | 17 cp  2    |
19 Nov 1900 Noon UT | 17 cp 23    |
20 Nov 1900 Noon UT | 17 cp 45    |
21 Nov 1900 Noon UT | 18 cp  6    |
22 Nov 1900 Noon UT | 18 cp 27    |
23 Nov 1900 Noon UT | 18 cp 48    |
24 Nov 1900 Noon UT | 19 cp 10    |
25 Nov 1900 Noon UT | 19 cp 31    |
26 Nov 1900 Noon UT | 19 cp 53    |
27 Nov 1900 Noon UT | 20 cp 14    |
28 Nov 1900 Noon UT | 20 cp 36    |
29 Nov 1900 Noon UT | 20 cp 58    |
30 Nov 1900 Noon UT | 21 cp 19    |
01 Dec 1900 Noon UT | 21 cp 41    |
02 Dec 1900 Noon UT | 22 cp  3    |
03 Dec 1900 Noon UT | 22 cp 25    |
04 Dec 1900 Noon UT | 22 cp 47    |
05 Dec 1900 Noon UT | 23 cp  9    |
06 Dec 1900 Noon UT | 23 cp 31    |
07 Dec 1900 Noon UT | 23 cp 54    |
08 Dec 1900 Noon UT | 24 cp 16    |
09 Dec 1900 Noon UT | 24 cp 38    |
10 Dec 1900 Noon UT | 25 cp  0    |
11 Dec 1900 Noon UT | 25 cp 23    |
12 Dec 1900 Noon UT | 25 cp 45    |
13 Dec 1900 Noon UT | 26 cp  8    |
14 Dec 1900 Noon UT | 26 cp 30    |
15 Dec 1900 Noon UT | 26 cp 53    |
16 Dec 1900 Noon UT | 27 cp 16    |
17 Dec 1900 Noon UT | 27 cp 38    |
18 Dec 1900 Noon UT | 28 cp  1    |
19 Dec 1900 Noon UT | 28 cp 24    |
20 Dec 1900 Noon UT | 28 cp 47    |
21 Dec 1900 Noon UT | 29 cp  9    |
22 Dec 1900 Noon UT | 29 cp 32    |
23 Dec 1900 Noon UT | 29 cp 55    |
24 Dec 1900 Noon UT |  0 aq 18    |
25 Dec 1900 Noon UT |  0 aq 41    |
26 Dec 1900 Noon UT |  1 aq  4    |
27 Dec 1900 Noon UT |  1 aq 27    |
28 Dec 1900 Noon UT |  1 aq 50    |
29 Dec 1900 Noon UT |  2 aq 13    |
30 Dec 1900 Noon UT |  2 aq 36    |
31 Dec 1900 Noon UT |  3 aq  0    |
01 Jan 1901 Noon UT |  3 aq 23    |
02 Jan 1901 Noon UT |  3 aq 46    |
03 Jan 1901 Noon UT |  4 aq  9    |
04 Jan 1901 Noon UT |  4 aq 32    |
05 Jan 1901 Noon UT |  4 aq 56    |
06 Jan 1901 Noon UT |  5 aq 19    |
07 Jan 1901 Noon UT |  5 aq 42    |
08 Jan 1901 Noon UT |  6 aq  5    |
09 Jan 1901 Noon UT |  6 aq 29    |
10 Jan 1901 Noon UT |  6 aq 52    |
11 Jan 1901 Noon UT |  7 aq 15    |
12 Jan 1901 Noon UT |  7 aq 39    |
13 Jan 1901 Noon UT |  8 aq  2    |
14 Jan 1901 Noon UT |  8 aq 25    |
15 Jan 1901 Noon UT |  8 aq 49    |
16 Jan 1901 Noon UT |  9 aq 12    |
17 Jan 1901 Noon UT |  9 aq 36    |
18 Jan 1901 Noon UT |  9 aq 59    |
19 Jan 1901 Noon UT | 10 aq 22    |
20 Jan 1901 Noon UT | 10 aq 46    |
21 Jan 1901 Noon UT | 11 aq  9    |
22 Jan 1901 Noon UT | 11 aq 33    |
23 Jan 1901 Noon UT | 11 aq 56    |
24 Jan 1901 Noon UT | 12 aq 19    |
25 Jan 1901 Noon UT | 12 aq 43    |
26 Jan 1901 Noon UT | 13 aq  6    |
27 Jan 1901 Noon UT | 13 aq 30    |
28 Jan 1901 Noon UT | 13 aq 53    |
29 Jan 1901 Noon UT | 14 aq 16    |
30 Jan 1901 Noon UT | 14 aq 40    |
31 Jan 1901 Noon UT | 15 aq  3    |
01 Feb 1901 Noon UT | 15 aq 27    |
02 Feb 1901 Noon UT | 15 aq 50    |
03 Feb 1901 Noon UT | 16 aq 13    |
04 Feb 1901 Noon UT | 16 aq 37    |
05 Feb 1901 Noon UT | 17 aq  0    |
06 Feb 1901 Noon UT | 17 aq 23    |
07 Feb 1901 Noon UT | 17 aq 46    |
08 Feb 1901 Noon UT | 18 aq 10    |
09 Feb 1901 Noon UT | 18 aq 33    |
10 Feb 1901 Noon UT | 18 aq 56    |
11 Feb 1901 Noon UT | 19 aq 19    |
12 Feb 1901 Noon UT | 19 aq 43    |
13 Feb 1901 Noon UT | 20 aq  6    |
14 Feb 1901 Noon UT | 20 aq 29    |
15 Feb 1901 Noon UT | 20 aq 52    |
16 Feb 1901 Noon UT | 21 aq 15    |
17 Feb 1901 Noon UT | 21 aq 38    |
18 Feb 1901 Noon UT | 22 aq  1    |
19 Feb 1901 Noon UT | 22 aq 24    |
20 Feb 1901 Noon UT | 22 aq 47    |
21 Feb 1901 Noon UT | 23 aq 10    |
22 Feb 1901 Noon UT | 23 aq 33    |
23 Feb 1901 Noon UT | 23 aq 56    |
24 Feb 1901 Noon UT | 24 aq 19    |
25 Feb 1901 Noon UT | 24 aq 42    |
26 Feb 1901 Noon UT | 25 aq  5    |
27 Feb 1901 Noon UT | 25 aq 28    |
28 Feb 1901 Noon UT | 25 aq 50    |
01 Mar 1901 Noon UT | 26 aq 13    |
02 Mar 1901 Noon UT | 26 aq 36    |
03 Mar 1901 Noon UT | 26 aq 58    |
04 Mar 1901 Noon UT | 27 aq 21    |
05 Mar 1901 Noon UT | 27 aq 44    |
06 Mar 1901 Noon UT | 28 aq  6    |
07 Mar 1901 Noon UT | 28 aq 29    |
08 Mar 1901 Noon UT | 28 aq 51    |
09 Mar 1901 Noon UT | 29 aq 13    |
10 Mar 1901 Noon UT | 29 aq 36    |
11 Mar 1901 Noon UT | 29 aq 58    |
12 Mar 1901 Noon UT |  0 pi 20    |
13 Mar 1901 Noon UT |  0 pi 43    |
14 Mar 1901 Noon UT |  1 pi  5    |
15 Mar 1901 Noon UT |  1 pi 27    |
16 Mar 1901 Noon UT |  1 pi 49    |
17 Mar 1901 Noon UT |  2 pi 11    |
18 Mar 1901 Noon UT |  2 pi 33    |
19 Mar 1901 Noon UT |  2 pi 55    |
20 Mar 1901 Noon UT |  3 pi 17    |
21 Mar 1901 Noon UT |  3 pi 38    |
22 Mar 1901 Noon UT |  4 pi  0    |
23 Mar 1901 Noon UT |  4 pi 22    |
24 Mar 1901 Noon UT |  4 pi 43    |
25 Mar 1901 Noon UT |  5 pi  5    |
26 Mar 1901 Noon UT |  5 pi 27    |
27 Mar 1901 Noon UT |  5 pi 48    |
28 Mar 1901 Noon UT |  6 pi  9    |
29 Mar 1901 Noon UT |  6 pi 31    |
30 Mar 1901 Noon UT |  6 pi 52    |
31 Mar 1901 Noon UT |  7 pi 13    |
01 Apr 1901 Noon UT |  7 pi 34    |
02 Apr 1901 Noon UT |  7 pi 55    |
03 Apr 1901 Noon UT |  8 pi 16    |
04 Apr 1901 Noon UT |  8 pi 37    |
05 Apr 1901 Noon UT |  8 pi 58    |
06 Apr 1901 Noon UT |  9 pi 18    |
07 Apr 1901 Noon UT |  9 pi 39    |
08 Apr 1901 Noon UT | 10 pi  0    |
09 Apr 1901 Noon UT | 10 pi 20    |
10 Apr 1901 Noon UT | 10 pi 41    |
11 Apr 1901 Noon UT | 11 pi  1    |
12 Apr 1901 Noon UT | 11 pi 21    |
13 Apr 1901 Noon UT | 11 pi 41    |
14 Apr 1901 Noon UT | 12 pi  1    |
15 Apr 1901 Noon UT | 12 pi 21    |
16 Apr 1901 Noon UT | 12 pi 41    |
17 Apr 1901 Noon UT | 13 pi  1    |
18 Apr 1901 Noon UT | 13 pi 21    |
19 Apr 1901 Noon UT | 13 pi 41    |
20 Apr 1901 Noon UT | 14 pi  0    |
21 Apr 1901 Noon UT | 14 pi 20    |
22 Apr 1901 Noon UT | 14 pi 39    |
23 Apr 1901 Noon UT | 14 pi 58    |
24 Apr 1901 Noon UT | 15 pi 17    |
25 Apr 1901 Noon UT | 15 pi 36    |
26 Apr 1901 Noon UT | 15 pi 55    |
27 Apr 1901 Noon UT | 16 pi 14    |
28 Apr 1901 Noon UT | 16 pi 33    |
29 Apr 1901 Noon UT | 16 pi 51    |
30 Apr 1901 Noon UT | 17 pi 10    |
01 May 1901 Noon UT | 17 pi 28    |
02 May 1901 Noon UT | 17 pi 47    |
03 May 1901 Noon UT | 18 pi  5    |
04 May 1901 Noon UT | 18 pi 23    |
05 May 1901 Noon UT | 18 pi 41    |
06 May 1901 Noon UT | 18 pi 59    |
07 May 1901 Noon UT | 19 pi 16    |
08 May 1901 Noon UT | 19 pi 34    |
09 May 1901 Noon UT | 19 pi 52    |
10 May 1901 Noon UT | 20 pi  9    |
11 May 1901 Noon UT | 20 pi 26    |
12 May 1901 Noon UT | 20 pi 43    |
13 May 1901 Noon UT | 21 pi  0    |
14 May 1901 Noon UT | 21 pi 17    |
15 May 1901 Noon UT | 21 pi 34    |
16 May 1901 Noon UT | 21 pi 50    |
17 May 1901 Noon UT | 22 pi  7    |
18 May 1901 Noon UT | 22 pi 23    |
19 May 1901 Noon UT | 22 pi 39    |
20 May 1901 Noon UT | 22 pi 55    |
21 May 1901 Noon UT | 23 pi 11    |
22 May 1901 Noon UT | 23 pi 26    |
23 May 1901 Noon UT | 23 pi 42    |
24 May 1901 Noon UT | 23 pi 57    |
25 May 1901 Noon UT | 24 pi 13    |
26 May 1901 Noon UT | 24 pi 28    |
27 May 1901 Noon UT | 24 pi 43    |
28 May 1901 Noon UT | 24 pi 57    |
29 May 1901 Noon UT | 25 pi 12    |
30 May 1901 Noon UT | 25 pi 26    |
31 May 1901 Noon UT | 25 pi 40    |
01 Jun 1901 Noon UT | 25 pi 55    |
02 Jun 1901 Noon UT | 26 pi  8    |
03 Jun 1901 Noon UT | 26 pi 22    |
04 Jun 1901 Noon UT | 26 pi 36    |
05 Jun 1901 Noon UT | 26 pi 49    |
06 Jun 1901 Noon UT | 27 pi  2    |
07 Jun 1901 Noon UT | 27 pi 15    |
08 Jun 1901 Noon UT | 27 pi 28    |
09 Jun 1901 Noon UT | 27 pi 41    |
10 Jun 1901 Noon UT | 27 pi 53    |
11 Jun 1901 Noon UT | 28 pi  5    |
12 Jun 1901 Noon UT | 28 pi 17    |
13 Jun 1901 Noon UT | 28 pi 29    |
14 Jun 1901 Noon UT | 28 pi 41    |
15 Jun 1901 Noon UT | 28 pi 52    |
16 Jun 1901 Noon UT | 29 pi  3    |
17 Jun 1901 Noon UT | 29 pi 14    |
18 Jun 1901 Noon UT | 29 pi 25    |
19 Jun 1901 Noon UT | 29 pi 35    |
20 Jun 1901 Noon UT | 29 pi 46    |
21 Jun 1901 Noon UT | 29 pi 56    |
22 Jun 1901 Noon UT |  0 ar  5    |
23 Jun 1901 Noon UT |  0 ar 15    |
24 Jun 1901 Noon UT |  0 ar 24    |
25 Jun 1901 Noon UT |  0 ar 34    |
26 Jun 1901 Noon UT |  0 ar 42    |
27 Jun 1901 Noon UT |  0 ar 51    |
28 Jun 1901 Noon UT |  0 ar 59    |
29 Jun 1901 Noon UT |  1 ar  8    |
30 Jun 1901 Noon UT |  1 ar 15    |
01 Jul 1901 Noon UT |  1 ar 23    |
02 Jul 1901 Noon UT |  1 ar 31    |
03 Jul 1901 Noon UT |  1 ar 38    |
04 Jul 1901 Noon UT |  1 ar 44    |
05 Jul 1901 Noon UT |  1 ar 51    |
06 Jul 1901 Noon UT |  1 ar 57    |
07 Jul 1901 Noon UT |  2 ar  3    |
08 Jul 1901 Noon UT |  2 ar  9    |
09 Jul 1901 Noon UT |  2 ar 15    |
10 Jul 1901 Noon UT |  2 ar 20    |
11 Jul 1901 Noon UT |  2 ar 25    |
12 Jul 1901 Noon UT |  2 ar 30    |
13 Jul 1901 Noon UT |  2 ar 34    |
14 Jul 1901 Noon UT |  2 ar 38    |
15 Jul 1901 Noon UT |  2 ar 42    |
16 Jul 1901 Noon UT |  2 ar 45    |
17 Jul 1901 Noon UT |  2 ar 48    |
18 Jul 1901 Noon UT |  2 ar 51    |
19 Jul 1901 Noon UT |  2 ar 54    |
20 Jul 1901 Noon UT |  2 ar 56    |
21 Jul 1901 Noon UT |  2 ar 58    |
22 Jul 1901 Noon UT |  3 ar  0    |
23 Jul 1901 Noon UT |  3 ar  1    |
24 Jul 1901 Noon UT |  3 ar  2    |
25 Jul 1901 Noon UT |  3 ar  3    |
26 Jul 1901 Noon UT |  3 ar  3    |
27 Jul 1901 Noon UT |  3 ar  3 Rx |
28 Jul 1901 Noon UT |  3 ar  3 Rx |
29 Jul 1901 Noon UT |  3 ar  3 Rx |
30 Jul 1901 Noon UT |  3 ar  2 Rx |
31 Jul 1901 Noon UT |  3 ar  1 Rx |
01 Aug 1901 Noon UT |  2 ar 59 Rx |
02 Aug 1901 Noon UT |  2 ar 57 Rx |
03 Aug 1901 Noon UT |  2 ar 55 Rx |
04 Aug 1901 Noon UT |  2 ar 53 Rx |
05 Aug 1901 Noon UT |  2 ar 50 Rx |
06 Aug 1901 Noon UT |  2 ar 47 Rx |
07 Aug 1901 Noon UT |  2 ar 44 Rx |
08 Aug 1901 Noon UT |  2 ar 40 Rx |
09 Aug 1901 Noon UT |  2 ar 36 Rx |
10 Aug 1901 Noon UT |  2 ar 31 Rx |
11 Aug 1901 Noon UT |  2 ar 27 Rx |
12 Aug 1901 Noon UT |  2 ar 22 Rx |
13 Aug 1901 Noon UT |  2 ar 17 Rx |
14 Aug 1901 Noon UT |  2 ar 11 Rx |
15 Aug 1901 Noon UT |  2 ar  5 Rx |
16 Aug 1901 Noon UT |  1 ar 59 Rx |
17 Aug 1901 Noon UT |  1 ar 52 Rx |
18 Aug 1901 Noon UT |  1 ar 46 Rx |
19 Aug 1901 Noon UT |  1 ar 39 Rx |
20 Aug 1901 Noon UT |  1 ar 31 Rx |
21 Aug 1901 Noon UT |  1 ar 24 Rx |
22 Aug 1901 Noon UT |  1 ar 16 Rx |
23 Aug 1901 Noon UT |  1 ar  8 Rx |
24 Aug 1901 Noon UT |  0 ar 59 Rx |
25 Aug 1901 Noon UT |  0 ar 51 Rx |
26 Aug 1901 Noon UT |  0 ar 42 Rx |
27 Aug 1901 Noon UT |  0 ar 33 Rx |
28 Aug 1901 Noon UT |  0 ar 23 Rx |
29 Aug 1901 Noon UT |  0 ar 14 Rx |
30 Aug 1901 Noon UT |  0 ar  4 Rx |
31 Aug 1901 Noon UT | 29 pi 54 Rx |
01 Sep 1901 Noon UT | 29 pi 44 Rx |
02 Sep 1901 Noon UT | 29 pi 34 Rx |
03 Sep 1901 Noon UT | 29 pi 23 Rx |
04 Sep 1901 Noon UT | 29 pi 12 Rx |
05 Sep 1901 Noon UT | 29 pi  2 Rx |
06 Sep 1901 Noon UT | 28 pi 50 Rx |
07 Sep 1901 Noon UT | 28 pi 39 Rx |
08 Sep 1901 Noon UT | 28 pi 28 Rx |
09 Sep 1901 Noon UT | 28 pi 17 Rx |
10 Sep 1901 Noon UT | 28 pi  5 Rx |
11 Sep 1901 Noon UT | 27 pi 53 Rx |
12 Sep 1901 Noon UT | 27 pi 42 Rx |
13 Sep 1901 Noon UT | 27 pi 30 Rx |
14 Sep 1901 Noon UT | 27 pi 18 Rx |
15 Sep 1901 Noon UT | 27 pi  6 Rx |
16 Sep 1901 Noon UT | 26 pi 54 Rx |
17 Sep 1901 Noon UT | 26 pi 42 Rx |
18 Sep 1901 Noon UT | 26 pi 30 Rx |
19 Sep 1901 Noon UT | 26 pi 18 Rx |
20 Sep 1901 Noon UT | 26 pi  6 Rx |
21 Sep 1901 Noon UT | 25 pi 55 Rx |
22 Sep 1901 Noon UT | 25 pi 43 Rx |
23 Sep 1901 Noon UT | 25 pi 31 Rx |
24 Sep 1901 Noon UT | 25 pi 19 Rx |
25 Sep 1901 Noon UT | 25 pi  7 Rx |
26 Sep 1901 Noon UT | 24 pi 56 Rx |
27 Sep 1901 Noon UT | 24 pi 44 Rx |
28 Sep 1901 Noon UT | 24 pi 33 Rx |
29 Sep 1901 Noon UT | 24 pi 21 Rx |
30 Sep 1901 Noon UT | 24 pi 10 Rx |
01 Oct 1901 Noon UT | 23 pi 59 Rx |
02 Oct 1901 Noon UT | 23 pi 48 Rx |
03 Oct 1901 Noon UT | 23 pi 37 Rx |
04 Oct 1901 Noon UT | 23 pi 26 Rx |
05 Oct 1901 Noon UT | 23 pi 16 Rx |
06 Oct 1901 Noon UT | 23 pi  6 Rx |
07 Oct 1901 Noon UT | 22 pi 56 Rx |
08 Oct 1901 Noon UT | 22 pi 46 Rx |
09 Oct 1901 Noon UT | 22 pi 36 Rx |
10 Oct 1901 Noon UT | 22 pi 26 Rx |
11 Oct 1901 Noon UT | 22 pi 17 Rx |
12 Oct 1901 Noon UT | 22 pi  8 Rx |
13 Oct 1901 Noon UT | 21 pi 59 Rx |
14 Oct 1901 Noon UT | 21 pi 51 Rx |
15 Oct 1901 Noon UT | 21 pi 43 Rx |
16 Oct 1901 Noon UT | 21 pi 35 Rx |
17 Oct 1901 Noon UT | 21 pi 27 Rx |
18 Oct 1901 Noon UT | 21 pi 19 Rx |
19 Oct 1901 Noon UT | 21 pi 12 Rx |
20 Oct 1901 Noon UT | 21 pi  5 Rx |
21 Oct 1901 Noon UT | 20 pi 59 Rx |
22 Oct 1901 Noon UT | 20 pi 52 Rx |
23 Oct 1901 Noon UT | 20 pi 46 Rx |
24 Oct 1901 Noon UT | 20 pi 41 Rx |
25 Oct 1901 Noon UT | 20 pi 35 Rx |
26 Oct 1901 Noon UT | 20 pi 30 Rx |
27 Oct 1901 Noon UT | 20 pi 25 Rx |
28 Oct 1901 Noon UT | 20 pi 21 Rx |
29 Oct 1901 Noon UT | 20 pi 17 Rx |
30 Oct 1901 Noon UT | 20 pi 13 Rx |
31 Oct 1901 Noon UT | 20 pi  9 Rx |
01 Nov 1901 Noon UT | 20 pi  6 Rx |
02 Nov 1901 Noon UT | 20 pi  3 Rx |
03 Nov 1901 Noon UT | 20 pi  0 Rx |
04 Nov 1901 Noon UT | 19 pi 58 Rx |
05 Nov 1901 Noon UT | 19 pi 56 Rx |
06 Nov 1901 Noon UT | 19 pi 54 Rx |
07 Nov 1901 Noon UT | 19 pi 53 Rx |
08 Nov 1901 Noon UT | 19 pi 52 Rx |
09 Nov 1901 Noon UT | 19 pi 51 Rx |
10 Nov 1901 Noon UT | 19 pi 51 Rx |
11 Nov 1901 Noon UT | 19 pi 51    |
12 Nov 1901 Noon UT | 19 pi 51    |
13 Nov 1901 Noon UT | 19 pi 52    |
14 Nov 1901 Noon UT | 19 pi 53    |
15 Nov 1901 Noon UT | 19 pi 54    |
16 Nov 1901 Noon UT | 19 pi 55    |
17 Nov 1901 Noon UT | 19 pi 57    |
18 Nov 1901 Noon UT | 19 pi 59    |
19 Nov 1901 Noon UT | 20 pi  2    |
20 Nov 1901 Noon UT | 20 pi  4    |
21 Nov 1901 Noon UT | 20 pi  7    |
22 Nov 1901 Noon UT | 20 pi 11    |
23 Nov 1901 Noon UT | 20 pi 14    |
24 Nov 1901 Noon UT | 20 pi 18    |
25 Nov 1901 Noon UT | 20 pi 23    |
26 Nov 1901 Noon UT | 20 pi 27    |
27 Nov 1901 Noon UT | 20 pi 32    |
28 Nov 1901 Noon UT | 20 pi 37    |
29 Nov 1901 Noon UT | 20 pi 42    |
30 Nov 1901 Noon UT | 20 pi 48    |
01 Dec 1901 Noon UT | 20 pi 54    |
02 Dec 1901 Noon UT | 21 pi  0    |
03 Dec 1901 Noon UT | 21 pi  6    |
04 Dec 1901 Noon UT | 21 pi 13    |
05 Dec 1901 Noon UT | 21 pi 20    |
06 Dec 1901 Noon UT | 21 pi 27    |
07 Dec 1901 Noon UT | 21 pi 35    |
08 Dec 1901 Noon UT | 21 pi 42    |
09 Dec 1901 Noon UT | 21 pi 50    |
10 Dec 1901 Noon UT | 21 pi 58    |
11 Dec 1901 Noon UT | 22 pi  7    |
12 Dec 1901 Noon UT | 22 pi 16    |
13 Dec 1901 Noon UT | 22 pi 25    |
14 Dec 1901 Noon UT | 22 pi 34    |
15 Dec 1901 Noon UT | 22 pi 43    |
16 Dec 1901 Noon UT | 22 pi 53    |
17 Dec 1901 Noon UT | 23 pi  3    |
18 Dec 1901 Noon UT | 23 pi 13    |
19 Dec 1901 Noon UT | 23 pi 23    |
20 Dec 1901 Noon UT | 23 pi 33    |
21 Dec 1901 Noon UT | 23 pi 44    |
22 Dec 1901 Noon UT | 23 pi 55    |
23 Dec 1901 Noon UT | 24 pi  6    |
24 Dec 1901 Noon UT | 24 pi 17    |
25 Dec 1901 Noon UT | 24 pi 29    |
26 Dec 1901 Noon UT | 24 pi 41    |
27 Dec 1901 Noon UT | 24 pi 52    |
28 Dec 1901 Noon UT | 25 pi  4    |
29 Dec 1901 Noon UT | 25 pi 17    |
30 Dec 1901 Noon UT | 25 pi 29    |
31 Dec 1901 Noon UT | 25 pi 42    |
01 Jan 1902 Noon UT | 25 pi 54    |
02 Jan 1902 Noon UT | 26 pi  7    |
03 Jan 1902 Noon UT | 26 pi 21    |
04 Jan 1902 Noon UT | 26 pi 34    |
05 Jan 1902 Noon UT | 26 pi 47    |
06 Jan 1902 Noon UT | 27 pi  1    |
07 Jan 1902 Noon UT | 27 pi 15    |
08 Jan 1902 Noon UT | 27 pi 29    |
09 Jan 1902 Noon UT | 27 pi 43    |
10 Jan 1902 Noon UT | 27 pi 57    |
11 Jan 1902 Noon UT | 28 pi 11    |
12 Jan 1902 Noon UT | 28 pi 26    |
13 Jan 1902 Noon UT | 28 pi 41    |
14 Jan 1902 Noon UT | 28 pi 55    |
15 Jan 1902 Noon UT | 29 pi 10    |
16 Jan 1902 Noon UT | 29 pi 25    |
17 Jan 1902 Noon UT | 29 pi 41    |
18 Jan 1902 Noon UT | 29 pi 56    |
19 Jan 1902 Noon UT |  0 ar 12    |
20 Jan 1902 Noon UT |  0 ar 27    |
21 Jan 1902 Noon UT |  0 ar 43    |
22 Jan 1902 Noon UT |  0 ar 59    |
23 Jan 1902 Noon UT |  1 ar 15    |
24 Jan 1902 Noon UT |  1 ar 31    |
25 Jan 1902 Noon UT |  1 ar 47    |
26 Jan 1902 Noon UT |  2 ar  3    |
27 Jan 1902 Noon UT |  2 ar 20    |
28 Jan 1902 Noon UT |  2 ar 36    |
29 Jan 1902 Noon UT |  2 ar 53    |
30 Jan 1902 Noon UT |  3 ar 10    |
31 Jan 1902 Noon UT |  3 ar 26    |
01 Feb 1902 Noon UT |  3 ar 43    |
02 Feb 1902 Noon UT |  4 ar  0    |
03 Feb 1902 Noon UT |  4 ar 18    |
04 Feb 1902 Noon UT |  4 ar 35    |
05 Feb 1902 Noon UT |  4 ar 52    |
06 Feb 1902 Noon UT |  5 ar 10    |
07 Feb 1902 Noon UT |  5 ar 27    |
08 Feb 1902 Noon UT |  5 ar 45    |
09 Feb 1902 Noon UT |  6 ar  2    |
10 Feb 1902 Noon UT |  6 ar 20    |
11 Feb 1902 Noon UT |  6 ar 38    |
12 Feb 1902 Noon UT |  6 ar 56    |
13 Feb 1902 Noon UT |  7 ar 14    |
14 Feb 1902 Noon UT |  7 ar 32    |
15 Feb 1902 Noon UT |  7 ar 50    |
16 Feb 1902 Noon UT |  8 ar  8    |
17 Feb 1902 Noon UT |  8 ar 26    |
18 Feb 1902 Noon UT |  8 ar 45    |
19 Feb 1902 Noon UT |  9 ar  3    |
20 Feb 1902 Noon UT |  9 ar 22    |
21 Feb 1902 Noon UT |  9 ar 40    |
22 Feb 1902 Noon UT |  9 ar 59    |
23 Feb 1902 Noon UT | 10 ar 17    |
24 Feb 1902 Noon UT | 10 ar 36    |
25 Feb 1902 Noon UT | 10 ar 55    |
26 Feb 1902 Noon UT | 11 ar 14    |
27 Feb 1902 Noon UT | 11 ar 32    |
28 Feb 1902 Noon UT | 11 ar 51    |
01 Mar 1902 Noon UT | 12 ar 10    |
02 Mar 1902 Noon UT | 12 ar 29    |
03 Mar 1902 Noon UT | 12 ar 48    |
04 Mar 1902 Noon UT | 13 ar  7    |
05 Mar 1902 Noon UT | 13 ar 27    |
06 Mar 1902 Noon UT | 13 ar 46    |
07 Mar 1902 Noon UT | 14 ar  5    |
08 Mar 1902 Noon UT | 14 ar 24    |
09 Mar 1902 Noon UT | 14 ar 44    |
10 Mar 1902 Noon UT | 15 ar  3    |
11 Mar 1902 Noon UT | 15 ar 22    |
12 Mar 1902 Noon UT | 15 ar 42    |
13 Mar 1902 Noon UT | 16 ar  1    |
14 Mar 1902 Noon UT | 16 ar 21    |
15 Mar 1902 Noon UT | 16 ar 40    |
16 Mar 1902 Noon UT | 17 ar  0    |
17 Mar 1902 Noon UT | 17 ar 20    |
18 Mar 1902 Noon UT | 17 ar 39    |
19 Mar 1902 Noon UT | 17 ar 59    |
20 Mar 1902 Noon UT | 18 ar 18    |
21 Mar 1902 Noon UT | 18 ar 38    |
22 Mar 1902 Noon UT | 18 ar 58    |
23 Mar 1902 Noon UT | 19 ar 18    |
24 Mar 1902 Noon UT | 19 ar 37    |
25 Mar 1902 Noon UT | 19 ar 57    |
26 Mar 1902 Noon UT | 20 ar 17    |
27 Mar 1902 Noon UT | 20 ar 37    |
28 Mar 1902 Noon UT | 20 ar 57    |
29 Mar 1902 Noon UT | 21 ar 16    |
30 Mar 1902 Noon UT | 21 ar 36    |
31 Mar 1902 Noon UT | 21 ar 56    |
01 Apr 1902 Noon UT | 22 ar 16    |
02 Apr 1902 Noon UT | 22 ar 36    |
03 Apr 1902 Noon UT | 22 ar 56    |
04 Apr 1902 Noon UT | 23 ar 16    |
05 Apr 1902 Noon UT | 23 ar 36    |
06 Apr 1902 Noon UT | 23 ar 56    |
07 Apr 1902 Noon UT | 24 ar 16    |
08 Apr 1902 Noon UT | 24 ar 36    |
09 Apr 1902 Noon UT | 24 ar 55    |
10 Apr 1902 Noon UT | 25 ar 15    |
11 Apr 1902 Noon UT | 25 ar 35    |
12 Apr 1902 Noon UT | 25 ar 55    |
13 Apr 1902 Noon UT | 26 ar 15    |
14 Apr 1902 Noon UT | 26 ar 35    |
15 Apr 1902 Noon UT | 26 ar 55    |
16 Apr 1902 Noon UT | 27 ar 15    |
17 Apr 1902 Noon UT | 27 ar 35    |
18 Apr 1902 Noon UT | 27 ar 55    |
19 Apr 1902 Noon UT | 28 ar 15    |
20 Apr 1902 Noon UT | 28 ar 35    |
21 Apr 1902 Noon UT | 28 ar 55    |
22 Apr 1902 Noon UT | 29 ar 15    |
23 Apr 1902 Noon UT | 29 ar 35    |
24 Apr 1902 Noon UT | 29 ar 54    |
25 Apr 1902 Noon UT |  0 ta 14    |
26 Apr 1902 Noon UT |  0 ta 34    |
27 Apr 1902 Noon UT |  0 ta 54    |
28 Apr 1902 Noon UT |  1 ta 14    |
29 Apr 1902 Noon UT |  1 ta 34    |
30 Apr 1902 Noon UT |  1 ta 53    |
01 May 1902 Noon UT |  2 ta 13    |
02 May 1902 Noon UT |  2 ta 33    |
03 May 1902 Noon UT |  2 ta 53    |
04 May 1902 Noon UT |  3 ta 12    |
05 May 1902 Noon UT |  3 ta 32    |
06 May 1902 Noon UT |  3 ta 52    |
07 May 1902 Noon UT |  4 ta 11    |
08 May 1902 Noon UT |  4 ta 31    |
09 May 1902 Noon UT |  4 ta 51    |
10 May 1902 Noon UT |  5 ta 10    |
11 May 1902 Noon UT |  5 ta 30    |
12 May 1902 Noon UT |  5 ta 49    |
13 May 1902 Noon UT |  6 ta  9    |
14 May 1902 Noon UT |  6 ta 28    |
15 May 1902 Noon UT |  6 ta 48    |
16 May 1902 Noon UT |  7 ta  7    |
17 May 1902 Noon UT |  7 ta 26    |
18 May 1902 Noon UT |  7 ta 46    |
19 May 1902 Noon UT |  8 ta  5    |
20 May 1902 Noon UT |  8 ta 24    |
21 May 1902 Noon UT |  8 ta 43    |
22 May 1902 Noon UT |  9 ta  3    |
23 May 1902 Noon UT |  9 ta 22    |
24 May 1902 Noon UT |  9 ta 41    |
25 May 1902 Noon UT | 10 ta  0    |
26 May 1902 Noon UT | 10 ta 19    |
27 May 1902 Noon UT | 10 ta 38    |
28 May 1902 Noon UT | 10 ta 57    |
29 May 1902 Noon UT | 11 ta 16    |
30 May 1902 Noon UT | 11 ta 34    |
31 May 1902 Noon UT | 11 ta 53    |
01 Jun 1902 Noon UT | 12 ta 12    |
02 Jun 1902 Noon UT | 12 ta 31    |
03 Jun 1902 Noon UT | 12 ta 49    |
04 Jun 1902 Noon UT | 13 ta  8    |
05 Jun 1902 Noon UT | 13 ta 26    |
06 Jun 1902 Noon UT | 13 ta 45    |
07 Jun 1902 Noon UT | 14 ta  3    |
08 Jun 1902 Noon UT | 14 ta 22    |
09 Jun 1902 Noon UT | 14 ta 40    |
10 Jun 1902 Noon UT | 14 ta 58    |
11 Jun 1902 Noon UT | 15 ta 16    |
12 Jun 1902 Noon UT | 15 ta 34    |
13 Jun 1902 Noon UT | 15 ta 53    |
14 Jun 1902 Noon UT | 16 ta 11    |
15 Jun 1902 Noon UT | 16 ta 28    |
16 Jun 1902 Noon UT | 16 ta 46    |
17 Jun 1902 Noon UT | 17 ta  4    |
18 Jun 1902 Noon UT | 17 ta 22    |
19 Jun 1902 Noon UT | 17 ta 39    |
20 Jun 1902 Noon UT | 17 ta 57    |
21 Jun 1902 Noon UT | 18 ta 14    |
22 Jun 1902 Noon UT | 18 ta 32    |
23 Jun 1902 Noon UT | 18 ta 49    |
24 Jun 1902 Noon UT | 19 ta  7    |
25 Jun 1902 Noon UT | 19 ta 24    |
26 Jun 1902 Noon UT | 19 ta 41    |
27 Jun 1902 Noon UT | 19 ta 58    |
28 Jun 1902 Noon UT | 20 ta 15    |
29 Jun 1902 Noon UT | 20 ta 32    |
30 Jun 1902 Noon UT | 20 ta 48    |
01 Jul 1902 Noon UT | 21 ta  5    |
02 Jul 1902 Noon UT | 21 ta 22    |
03 Jul 1902 Noon UT | 21 ta 38    |
04 Jul 1902 Noon UT | 21 ta 55    |
05 Jul 1902 Noon UT | 22 ta 11    |
06 Jul 1902 Noon UT | 22 ta 27    |
07 Jul 1902 Noon UT | 22 ta 43    |
08 Jul 1902 Noon UT | 22 ta 59    |
09 Jul 1902 Noon UT | 23 ta 15    |
10 Jul 1902 Noon UT | 23 ta 31    |
11 Jul 1902 Noon UT | 23 ta 47    |
12 Jul 1902 Noon UT | 24 ta  3    |
13 Jul 1902 Noon UT | 24 ta 18    |
14 Jul 1902 Noon UT | 24 ta 33    |
15 Jul 1902 Noon UT | 24 ta 49    |
16 Jul 1902 Noon UT | 25 ta  4    |
17 Jul 1902 Noon UT | 25 ta 19    |
18 Jul 1902 Noon UT | 25 ta 34    |
19 Jul 1902 Noon UT | 25 ta 49    |
20 Jul 1902 Noon UT | 26 ta  3    |
21 Jul 1902 Noon UT | 26 ta 18    |
22 Jul 1902 Noon UT | 26 ta 32    |
23 Jul 1902 Noon UT | 26 ta 47    |
24 Jul 1902 Noon UT | 27 ta  1    |
25 Jul 1902 Noon UT | 27 ta 15    |
26 Jul 1902 Noon UT | 27 ta 29    |
27 Jul 1902 Noon UT | 27 ta 43    |
28 Jul 1902 Noon UT | 27 ta 56    |
29 Jul 1902 Noon UT | 28 ta 10    |
30 Jul 1902 Noon UT | 28 ta 23    |
31 Jul 1902 Noon UT | 28 ta 37    |
01 Aug 1902 Noon UT | 28 ta 50    |
02 Aug 1902 Noon UT | 29 ta  3    |
03 Aug 1902 Noon UT | 29 ta 15    |
04 Aug 1902 Noon UT | 29 ta 28    |
05 Aug 1902 Noon UT | 29 ta 41    |
06 Aug 1902 Noon UT | 29 ta 53    |
07 Aug 1902 Noon UT |  0 ge  5    |
08 Aug 1902 Noon UT |  0 ge 17    |
09 Aug 1902 Noon UT |  0 ge 29    |
10 Aug 1902 Noon UT |  0 ge 40    |
11 Aug 1902 Noon UT |  0 ge 52    |
12 Aug 1902 Noon UT |  1 ge  3    |
13 Aug 1902 Noon UT |  1 ge 14    |
14 Aug 1902 Noon UT |  1 ge 25    |
15 Aug 1902 Noon UT |  1 ge 36    |
16 Aug 1902 Noon UT |  1 ge 47    |
17 Aug 1902 Noon UT |  1 ge 57    |
18 Aug 1902 Noon UT |  2 ge  7    |
19 Aug 1902 Noon UT |  2 ge 17    |
20 Aug 1902 Noon UT |  2 ge 27    |
21 Aug 1902 Noon UT |  2 ge 37    |
22 Aug 1902 Noon UT |  2 ge 46    |
23 Aug 1902 Noon UT |  2 ge 55    |
24 Aug 1902 Noon UT |  3 ge  4    |
25 Aug 1902 Noon UT |  3 ge 13    |
26 Aug 1902 Noon UT |  3 ge 22    |
27 Aug 1902 Noon UT |  3 ge 30    |
28 Aug 1902 Noon UT |  3 ge 38    |
29 Aug 1902 Noon UT |  3 ge 46    |
30 Aug 1902 Noon UT |  3 ge 54    |
31 Aug 1902 Noon UT |  4 ge  1    |
01 Sep 1902 Noon UT |  4 ge  9    |
02 Sep 1902 Noon UT |  4 ge 16    |
03 Sep 1902 Noon UT |  4 ge 22    |
04 Sep 1902 Noon UT |  4 ge 29    |
05 Sep 1902 Noon UT |  4 ge 35    |
06 Sep 1902 Noon UT |  4 ge 41    |
07 Sep 1902 Noon UT |  4 ge 47    |
08 Sep 1902 Noon UT |  4 ge 53    |
09 Sep 1902 Noon UT |  4 ge 58    |
10 Sep 1902 Noon UT |  5 ge  3    |
11 Sep 1902 Noon UT |  5 ge  8    |
12 Sep 1902 Noon UT |  5 ge 12    |
13 Sep 1902 Noon UT |  5 ge 16    |
14 Sep 1902 Noon UT |  5 ge 20    |
15 Sep 1902 Noon UT |  5 ge 24    |
16 Sep 1902 Noon UT |  5 ge 28    |
17 Sep 1902 Noon UT |  5 ge 31    |
18 Sep 1902 Noon UT |  5 ge 34    |
19 Sep 1902 Noon UT |  5 ge 36    |
20 Sep 1902 Noon UT |  5 ge 38    |
21 Sep 1902 Noon UT |  5 ge 40    |
22 Sep 1902 Noon UT |  5 ge 42    |
23 Sep 1902 Noon UT |  5 ge 44    |
24 Sep 1902 Noon UT |  5 ge 45    |
25 Sep 1902 Noon UT |  5 ge 46    |
26 Sep 1902 Noon UT |  5 ge 46    |
27 Sep 1902 Noon UT |  5 ge 47    |
28 Sep 1902 Noon UT |  5 ge 47 Rx |
29 Sep 1902 Noon UT |  5 ge 46 Rx |
30 Sep 1902 Noon UT |  5 ge 46 Rx |
01 Oct 1902 Noon UT |  5 ge 45 Rx |
02 Oct 1902 Noon UT |  5 ge 43 Rx |
03 Oct 1902 Noon UT |  5 ge 42 Rx |
04 Oct 1902 Noon UT |  5 ge 40 Rx |
05 Oct 1902 Noon UT |  5 ge 38 Rx |
06 Oct 1902 Noon UT |  5 ge 35 Rx |
07 Oct 1902 Noon UT |  5 ge 33 Rx |
08 Oct 1902 Noon UT |  5 ge 29 Rx |
09 Oct 1902 Noon UT |  5 ge 26 Rx |
10 Oct 1902 Noon UT |  5 ge 22 Rx |
11 Oct 1902 Noon UT |  5 ge 18 Rx |
12 Oct 1902 Noon UT |  5 ge 14 Rx |
13 Oct 1902 Noon UT |  5 ge 10 Rx |
14 Oct 1902 Noon UT |  5 ge  5 Rx |
15 Oct 1902 Noon UT |  4 ge 59 Rx |
16 Oct 1902 Noon UT |  4 ge 54 Rx |
17 Oct 1902 Noon UT |  4 ge 48 Rx |
18 Oct 1902 Noon UT |  4 ge 42 Rx |
19 Oct 1902 Noon UT |  4 ge 36 Rx |
20 Oct 1902 Noon UT |  4 ge 29 Rx |
21 Oct 1902 Noon UT |  4 ge 22 Rx |
22 Oct 1902 Noon UT |  4 ge 15 Rx |
23 Oct 1902 Noon UT |  4 ge  8 Rx |
24 Oct 1902 Noon UT |  4 ge  0 Rx |
25 Oct 1902 Noon UT |  3 ge 52 Rx |
26 Oct 1902 Noon UT |  3 ge 44 Rx |
27 Oct 1902 Noon UT |  3 ge 35 Rx |
28 Oct 1902 Noon UT |  3 ge 27 Rx |
29 Oct 1902 Noon UT |  3 ge 18 Rx |
30 Oct 1902 Noon UT |  3 ge  9 Rx |
31 Oct 1902 Noon UT |  2 ge 59 Rx |
01 Nov 1902 Noon UT |  2 ge 49 Rx |
02 Nov 1902 Noon UT |  2 ge 40 Rx |
03 Nov 1902 Noon UT |  2 ge 30 Rx |
04 Nov 1902 Noon UT |  2 ge 19 Rx |
05 Nov 1902 Noon UT |  2 ge  9 Rx |
06 Nov 1902 Noon UT |  1 ge 58 Rx |
07 Nov 1902 Noon UT |  1 ge 48 Rx |
08 Nov 1902 Noon UT |  1 ge 37 Rx |
09 Nov 1902 Noon UT |  1 ge 26 Rx |
10 Nov 1902 Noon UT |  1 ge 14 Rx |
11 Nov 1902 Noon UT |  1 ge  3 Rx |
12 Nov 1902 Noon UT |  0 ge 52 Rx |
13 Nov 1902 Noon UT |  0 ge 40 Rx |
14 Nov 1902 Noon UT |  0 ge 28 Rx |
15 Nov 1902 Noon UT |  0 ge 17 Rx |
16 Nov 1902 Noon UT |  0 ge  5 Rx |
17 Nov 1902 Noon UT | 29 ta 53 Rx |
18 Nov 1902 Noon UT | 29 ta 41 Rx |
19 Nov 1902 Noon UT | 29 ta 29 Rx |
20 Nov 1902 Noon UT | 29 ta 17 Rx |
21 Nov 1902 Noon UT | 29 ta  5 Rx |
22 Nov 1902 Noon UT | 28 ta 53 Rx |
23 Nov 1902 Noon UT | 28 ta 41 Rx |
24 Nov 1902 Noon UT | 28 ta 29 Rx |
25 Nov 1902 Noon UT | 28 ta 17 Rx |
26 Nov 1902 Noon UT | 28 ta  5 Rx |
27 Nov 1902 Noon UT | 27 ta 53 Rx |
28 Nov 1902 Noon UT | 27 ta 41 Rx |
29 Nov 1902 Noon UT | 27 ta 30 Rx |
30 Nov 1902 Noon UT | 27 ta 18 Rx |
01 Dec 1902 Noon UT | 27 ta  6 Rx |
02 Dec 1902 Noon UT | 26 ta 55 Rx |
03 Dec 1902 Noon UT | 26 ta 43 Rx |
04 Dec 1902 Noon UT | 26 ta 32 Rx |
05 Dec 1902 Noon UT | 26 ta 21 Rx |
06 Dec 1902 Noon UT | 26 ta 10 Rx |
07 Dec 1902 Noon UT | 25 ta 59 Rx |
08 Dec 1902 Noon UT | 25 ta 49 Rx |
09 Dec 1902 Noon UT | 25 ta 38 Rx |
10 Dec 1902 Noon UT | 25 ta 28 Rx |
11 Dec 1902 Noon UT | 25 ta 18 Rx |
12 Dec 1902 Noon UT | 25 ta  8 Rx |
13 Dec 1902 Noon UT | 24 ta 59 Rx |
14 Dec 1902 Noon UT | 24 ta 49 Rx |
15 Dec 1902 Noon UT | 24 ta 40 Rx |
16 Dec 1902 Noon UT | 24 ta 31 Rx |
17 Dec 1902 Noon UT | 24 ta 22 Rx |
18 Dec 1902 Noon UT | 24 ta 14 Rx |
19 Dec 1902 Noon UT | 24 ta  6 Rx |
20 Dec 1902 Noon UT | 23 ta 58 Rx |
21 Dec 1902 Noon UT | 23 ta 50 Rx |
22 Dec 1902 Noon UT | 23 ta 42 Rx |
23 Dec 1902 Noon UT | 23 ta 35 Rx |
24 Dec 1902 Noon UT | 23 ta 28 Rx |
25 Dec 1902 Noon UT | 23 ta 22 Rx |
26 Dec 1902 Noon UT | 23 ta 16 Rx |
27 Dec 1902 Noon UT | 23 ta 10 Rx |
28 Dec 1902 Noon UT | 23 ta  4 Rx |
29 Dec 1902 Noon UT | 22 ta 58 Rx |
30 Dec 1902 Noon UT | 22 ta 53 Rx |
31 Dec 1902 Noon UT | 22 ta 48 Rx |
01 Jan 1903 Noon UT | 22 ta 44 Rx |
02 Jan 1903 Noon UT | 22 ta 40 Rx |
03 Jan 1903 Noon UT | 22 ta 36 Rx |
04 Jan 1903 Noon UT | 22 ta 32 Rx |
05 Jan 1903 Noon UT | 22 ta 29 Rx |
06 Jan 1903 Noon UT | 22 ta 26 Rx |
07 Jan 1903 Noon UT | 22 ta 23 Rx |
08 Jan 1903 Noon UT | 22 ta 21 Rx |
09 Jan 1903 Noon UT | 22 ta 19 Rx |
10 Jan 1903 Noon UT | 22 ta 17 Rx |
11 Jan 1903 Noon UT | 22 ta 16 Rx |
12 Jan 1903 Noon UT | 22 ta 15 Rx |
13 Jan 1903 Noon UT | 22 ta 14 Rx |
14 Jan 1903 Noon UT | 22 ta 14 Rx |
15 Jan 1903 Noon UT | 22 ta 14    |
16 Jan 1903 Noon UT | 22 ta 14    |
17 Jan 1903 Noon UT | 22 ta 14    |
18 Jan 1903 Noon UT | 22 ta 15    |
19 Jan 1903 Noon UT | 22 ta 16    |
20 Jan 1903 Noon UT | 22 ta 18    |
21 Jan 1903 Noon UT | 22 ta 19    |
22 Jan 1903 Noon UT | 22 ta 21    |
23 Jan 1903 Noon UT | 22 ta 24    |
24 Jan 1903 Noon UT | 22 ta 26    |
25 Jan 1903 Noon UT | 22 ta 29    |
26 Jan 1903 Noon UT | 22 ta 32    |
27 Jan 1903 Noon UT | 22 ta 36    |
28 Jan 1903 Noon UT | 22 ta 40    |
29 Jan 1903 Noon UT | 22 ta 44    |
30 Jan 1903 Noon UT | 22 ta 48    |
31 Jan 1903 Noon UT | 22 ta 53    |
01 Feb 1903 Noon UT | 22 ta 57    |
02 Feb 1903 Noon UT | 23 ta  3    |
03 Feb 1903 Noon UT | 23 ta  8    |
04 Feb 1903 Noon UT | 23 ta 14    |
05 Feb 1903 Noon UT | 23 ta 20    |
06 Feb 1903 Noon UT | 23 ta 26    |
07 Feb 1903 Noon UT | 23 ta 32    |
08 Feb 1903 Noon UT | 23 ta 39    |
09 Feb 1903 Noon UT | 23 ta 46    |
10 Feb 1903 Noon UT | 23 ta 53    |
11 Feb 1903 Noon UT | 24 ta  1    |
12 Feb 1903 Noon UT | 24 ta  8    |
13 Feb 1903 Noon UT | 24 ta 16    |
14 Feb 1903 Noon UT | 24 ta 25    |
15 Feb 1903 Noon UT | 24 ta 33    |
16 Feb 1903 Noon UT | 24 ta 42    |
17 Feb 1903 Noon UT | 24 ta 50    |
18 Feb 1903 Noon UT | 25 ta  0    |
19 Feb 1903 Noon UT | 25 ta  9    |
20 Feb 1903 Noon UT | 25 ta 18    |
21 Feb 1903 Noon UT | 25 ta 28    |
22 Feb 1903 Noon UT | 25 ta 38    |
23 Feb 1903 Noon UT | 25 ta 48    |
24 Feb 1903 Noon UT | 25 ta 59    |
25 Feb 1903 Noon UT | 26 ta  9    |
26 Feb 1903 Noon UT | 26 ta 20    |
27 Feb 1903 Noon UT | 26 ta 31    |
28 Feb 1903 Noon UT | 26 ta 42    |
01 Mar 1903 Noon UT | 26 ta 53    |
02 Mar 1903 Noon UT | 27 ta  5    |
03 Mar 1903 Noon UT | 27 ta 17    |
04 Mar 1903 Noon UT | 27 ta 28    |
05 Mar 1903 Noon UT | 27 ta 40    |
06 Mar 1903 Noon UT | 27 ta 53    |
07 Mar 1903 Noon UT | 28 ta  5    |
08 Mar 1903 Noon UT | 28 ta 18    |
09 Mar 1903 Noon UT | 28 ta 30    |
10 Mar 1903 Noon UT | 28 ta 43    |
11 Mar 1903 Noon UT | 28 ta 56    |
12 Mar 1903 Noon UT | 29 ta 10    |
13 Mar 1903 Noon UT | 29 ta 23    |
14 Mar 1903 Noon UT | 29 ta 36    |
15 Mar 1903 Noon UT | 29 ta 50    |
16 Mar 1903 Noon UT |  0 ge  4    |
17 Mar 1903 Noon UT |  0 ge 18    |
18 Mar 1903 Noon UT |  0 ge 32    |
19 Mar 1903 Noon UT |  0 ge 46    |
20 Mar 1903 Noon UT |  1 ge  1    |
21 Mar 1903 Noon UT |  1 ge 15    |
22 Mar 1903 Noon UT |  1 ge 30    |
23 Mar 1903 Noon UT |  1 ge 45    |
24 Mar 1903 Noon UT |  1 ge 59    |
25 Mar 1903 Noon UT |  2 ge 15    |
26 Mar 1903 Noon UT |  2 ge 30    |
27 Mar 1903 Noon UT |  2 ge 45    |
28 Mar 1903 Noon UT |  3 ge  0    |
29 Mar 1903 Noon UT |  3 ge 16    |
30 Mar 1903 Noon UT |  3 ge 32    |
31 Mar 1903 Noon UT |  3 ge 47    |
01 Apr 1903 Noon UT |  4 ge  3    |
02 Apr 1903 Noon UT |  4 ge 19    |
03 Apr 1903 Noon UT |  4 ge 35    |
04 Apr 1903 Noon UT |  4 ge 51    |
05 Apr 1903 Noon UT |  5 ge  8    |
06 Apr 1903 Noon UT |  5 ge 24    |
07 Apr 1903 Noon UT |  5 ge 41    |
08 Apr 1903 Noon UT |  5 ge 57    |
09 Apr 1903 Noon UT |  6 ge 14    |
10 Apr 1903 Noon UT |  6 ge 31    |
11 Apr 1903 Noon UT |  6 ge 47    |
12 Apr 1903 Noon UT |  7 ge  4    |
13 Apr 1903 Noon UT |  7 ge 21    |
14 Apr 1903 Noon UT |  7 ge 38    |
15 Apr 1903 Noon UT |  7 ge 56    |
16 Apr 1903 Noon UT |  8 ge 13    |
17 Apr 1903 Noon UT |  8 ge 30    |
18 Apr 1903 Noon UT |  8 ge 48    |
19 Apr 1903 Noon UT |  9 ge  5    |
20 Apr 1903 Noon UT |  9 ge 23    |
21 Apr 1903 Noon UT |  9 ge 41    |
22 Apr 1903 Noon UT |  9 ge 58    |
23 Apr 1903 Noon UT | 10 ge 16    |
24 Apr 1903 Noon UT | 10 ge 34    |
25 Apr 1903 Noon UT | 10 ge 52    |
26 Apr 1903 Noon UT | 11 ge 10    |
27 Apr 1903 Noon UT | 11 ge 28    |
28 Apr 1903 Noon UT | 11 ge 46    |
29 Apr 1903 Noon UT | 12 ge  5    |
30 Apr 1903 Noon UT | 12 ge 23    |
01 May 1903 Noon UT | 12 ge 41    |
02 May 1903 Noon UT | 13 ge  0    |
03 May 1903 Noon UT | 13 ge 18    |
04 May 1903 Noon UT | 13 ge 37    |
05 May 1903 Noon UT | 13 ge 55    |
06 May 1903 Noon UT | 14 ge 14    |
07 May 1903 Noon UT | 14 ge 33    |
08 May 1903 Noon UT | 14 ge 51    |
09 May 1903 Noon UT | 15 ge 10    |
10 May 1903 Noon UT | 15 ge 29    |
11 May 1903 Noon UT | 15 ge 48    |
12 May 1903 Noon UT | 16 ge  7    |
13 May 1903 Noon UT | 16 ge 26    |
14 May 1903 Noon UT | 16 ge 45    |
15 May 1903 Noon UT | 17 ge  4    |
16 May 1903 Noon UT | 17 ge 23    |
17 May 1903 Noon UT | 17 ge 42    |
18 May 1903 Noon UT | 18 ge  1    |
19 May 1903 Noon UT | 18 ge 20    |
20 May 1903 Noon UT | 18 ge 40    |
21 May 1903 Noon UT | 18 ge 59    |
22 May 1903 Noon UT | 19 ge 18    |
23 May 1903 Noon UT | 19 ge 38    |
24 May 1903 Noon UT | 19 ge 57    |
25 May 1903 Noon UT | 20 ge 16    |
26 May 1903 Noon UT | 20 ge 36    |
27 May 1903 Noon UT | 20 ge 55    |
28 May 1903 Noon UT | 21 ge 15    |
29 May 1903 Noon UT | 21 ge 34    |
30 May 1903 Noon UT | 21 ge 54    |
31 May 1903 Noon UT | 22 ge 14    |
01 Jun 1903 Noon UT | 22 ge 33    |
02 Jun 1903 Noon UT | 22 ge 53    |
03 Jun 1903 Noon UT | 23 ge 13    |
04 Jun 1903 Noon UT | 23 ge 32    |
05 Jun 1903 Noon UT | 23 ge 52    |
06 Jun 1903 Noon UT | 24 ge 12    |
07 Jun 1903 Noon UT | 24 ge 32    |
08 Jun 1903 Noon UT | 24 ge 51    |
09 Jun 1903 Noon UT | 25 ge 11    |
10 Jun 1903 Noon UT | 25 ge 31    |
11 Jun 1903 Noon UT | 25 ge 51    |
12 Jun 1903 Noon UT | 26 ge 11    |
13 Jun 1903 Noon UT | 26 ge 30    |
14 Jun 1903 Noon UT | 26 ge 50    |
15 Jun 1903 Noon UT | 27 ge 10    |
16 Jun 1903 Noon UT | 27 ge 30    |
17 Jun 1903 Noon UT | 27 ge 50    |
18 Jun 1903 Noon UT | 28 ge 10    |
19 Jun 1903 Noon UT | 28 ge 30    |
20 Jun 1903 Noon UT | 28 ge 50    |
21 Jun 1903 Noon UT | 29 ge 10    |
22 Jun 1903 Noon UT | 29 ge 30    |
23 Jun 1903 Noon UT | 29 ge 50    |
24 Jun 1903 Noon UT |  0 cn 10    |
25 Jun 1903 Noon UT |  0 cn 29    |
26 Jun 1903 Noon UT |  0 cn 49    |
27 Jun 1903 Noon UT |  1 cn  9    |
28 Jun 1903 Noon UT |  1 cn 29    |
29 Jun 1903 Noon UT |  1 cn 49    |
30 Jun 1903 Noon UT |  2 cn  9    |
01 Jul 1903 Noon UT |  2 cn 29    |
02 Jul 1903 Noon UT |  2 cn 49    |
03 Jul 1903 Noon UT |  3 cn  9    |
04 Jul 1903 Noon UT |  3 cn 29    |
05 Jul 1903 Noon UT |  3 cn 49    |
06 Jul 1903 Noon UT |  4 cn  9    |
07 Jul 1903 Noon UT |  4 cn 29    |
08 Jul 1903 Noon UT |  4 cn 49    |
09 Jul 1903 Noon UT |  5 cn  9    |
10 Jul 1903 Noon UT |  5 cn 29    |
11 Jul 1903 Noon UT |  5 cn 48    |
12 Jul 1903 Noon UT |  6 cn  8    |
13 Jul 1903 Noon UT |  6 cn 28    |
14 Jul 1903 Noon UT |  6 cn 48    |
15 Jul 1903 Noon UT |  7 cn  8    |
16 Jul 1903 Noon UT |  7 cn 28    |
17 Jul 1903 Noon UT |  7 cn 47    |
18 Jul 1903 Noon UT |  8 cn  7    |
19 Jul 1903 Noon UT |  8 cn 27    |
20 Jul 1903 Noon UT |  8 cn 47    |
21 Jul 1903 Noon UT |  9 cn  6    |
22 Jul 1903 Noon UT |  9 cn 26    |
23 Jul 1903 Noon UT |  9 cn 46    |
24 Jul 1903 Noon UT | 10 cn  6    |
25 Jul 1903 Noon UT | 10 cn 25    |
26 Jul 1903 Noon UT | 10 cn 45    |
27 Jul 1903 Noon UT | 11 cn  4    |
28 Jul 1903 Noon UT | 11 cn 24    |
29 Jul 1903 Noon UT | 11 cn 43    |
30 Jul 1903 Noon UT | 12 cn  3    |
31 Jul 1903 Noon UT | 12 cn 22    |
01 Aug 1903 Noon UT | 12 cn 42    |
02 Aug 1903 Noon UT | 13 cn  1    |
03 Aug 1903 Noon UT | 13 cn 21    |
04 Aug 1903 Noon UT | 13 cn 40    |
05 Aug 1903 Noon UT | 13 cn 59    |
06 Aug 1903 Noon UT | 14 cn 18    |
07 Aug 1903 Noon UT | 14 cn 38    |
08 Aug 1903 Noon UT | 14 cn 57    |
09 Aug 1903 Noon UT | 15 cn 16    |
10 Aug 1903 Noon UT | 15 cn 35    |
11 Aug 1903 Noon UT | 15 cn 54    |
12 Aug 1903 Noon UT | 16 cn 13    |
13 Aug 1903 Noon UT | 16 cn 32    |
14 Aug 1903 Noon UT | 16 cn 51    |
15 Aug 1903 Noon UT | 17 cn 10    |
16 Aug 1903 Noon UT | 17 cn 29    |
17 Aug 1903 Noon UT | 17 cn 47    |
18 Aug 1903 Noon UT | 18 cn  6    |
19 Aug 1903 Noon UT | 18 cn 25    |
20 Aug 1903 Noon UT | 18 cn 44    |
21 Aug 1903 Noon UT | 19 cn  2    |
22 Aug 1903 Noon UT | 19 cn 21    |
23 Aug 1903 Noon UT | 19 cn 39    |
24 Aug 1903 Noon UT | 19 cn 57    |
25 Aug 1903 Noon UT | 20 cn 16    |
26 Aug 1903 Noon UT | 20 cn 34    |
27 Aug 1903 Noon UT | 20 cn 52    |
28 Aug 1903 Noon UT | 21 cn 10    |
29 Aug 1903 Noon UT | 21 cn 28    |
30 Aug 1903 Noon UT | 21 cn 46    |
31 Aug 1903 Noon UT | 22 cn  4    |
01 Sep 1903 Noon UT | 22 cn 22    |
02 Sep 1903 Noon UT | 22 cn 40    |
03 Sep 1903 Noon UT | 22 cn 58    |
04 Sep 1903 Noon UT | 23 cn 15    |
05 Sep 1903 Noon UT | 23 cn 33    |
06 Sep 1903 Noon UT | 23 cn 50    |
07 Sep 1903 Noon UT | 24 cn  8    |
08 Sep 1903 Noon UT | 24 cn 25    |
09 Sep 1903 Noon UT | 24 cn 42    |
10 Sep 1903 Noon UT | 24 cn 59    |
11 Sep 1903 Noon UT | 25 cn 16    |
12 Sep 1903 Noon UT | 25 cn 33    |
13 Sep 1903 Noon UT | 25 cn 50    |
14 Sep 1903 Noon UT | 26 cn  7    |
15 Sep 1903 Noon UT | 26 cn 24    |
16 Sep 1903 Noon UT | 26 cn 40    |
17 Sep 1903 Noon UT | 26 cn 57    |
18 Sep 1903 Noon UT | 27 cn 13    |
19 Sep 1903 Noon UT | 27 cn 29    |
20 Sep 1903 Noon UT | 27 cn 45    |
21 Sep 1903 Noon UT | 28 cn  2    |
22 Sep 1903 Noon UT | 28 cn 17    |
23 Sep 1903 Noon UT | 28 cn 33    |
24 Sep 1903 Noon UT | 28 cn 49    |
25 Sep 1903 Noon UT | 29 cn  5    |
26 Sep 1903 Noon UT | 29 cn 20    |
27 Sep 1903 Noon UT | 29 cn 35    |
28 Sep 1903 Noon UT | 29 cn 51    |
29 Sep 1903 Noon UT |  0 le  6    |
30 Sep 1903 Noon UT |  0 le 21    |
01 Oct 1903 Noon UT |  0 le 36    |
02 Oct 1903 Noon UT |  0 le 50    |
03 Oct 1903 Noon UT |  1 le  5    |
04 Oct 1903 Noon UT |  1 le 19    |
05 Oct 1903 Noon UT |  1 le 33    |
06 Oct 1903 Noon UT |  1 le 48    |
07 Oct 1903 Noon UT |  2 le  2    |
08 Oct 1903 Noon UT |  2 le 15    |
09 Oct 1903 Noon UT |  2 le 29    |
10 Oct 1903 Noon UT |  2 le 43    |
11 Oct 1903 Noon UT |  2 le 56    |
12 Oct 1903 Noon UT |  3 le  9    |
13 Oct 1903 Noon UT |  3 le 22    |
14 Oct 1903 Noon UT |  3 le 35    |
15 Oct 1903 Noon UT |  3 le 48    |
16 Oct 1903 Noon UT |  4 le  1    |
17 Oct 1903 Noon UT |  4 le 13    |
18 Oct 1903 Noon UT |  4 le 25    |
19 Oct 1903 Noon UT |  4 le 37    |
20 Oct 1903 Noon UT |  4 le 49    |
21 Oct 1903 Noon UT |  5 le  1    |
22 Oct 1903 Noon UT |  5 le 12    |
23 Oct 1903 Noon UT |  5 le 23    |
24 Oct 1903 Noon UT |  5 le 34    |
25 Oct 1903 Noon UT |  5 le 45    |
26 Oct 1903 Noon UT |  5 le 56    |
27 Oct 1903 Noon UT |  6 le  6    |
28 Oct 1903 Noon UT |  6 le 16    |
29 Oct 1903 Noon UT |  6 le 26    |
30 Oct 1903 Noon UT |  6 le 36    |
31 Oct 1903 Noon UT |  6 le 46    |
01 Nov 1903 Noon UT |  6 le 55    |
02 Nov 1903 Noon UT |  7 le  4    |
03 Nov 1903 Noon UT |  7 le 13    |
04 Nov 1903 Noon UT |  7 le 22    |
05 Nov 1903 Noon UT |  7 le 30    |
06 Nov 1903 Noon UT |  7 le 38    |
07 Nov 1903 Noon UT |  7 le 46    |
08 Nov 1903 Noon UT |  7 le 54    |
09 Nov 1903 Noon UT |  8 le  1    |
10 Nov 1903 Noon UT |  8 le  8    |
11 Nov 1903 Noon UT |  8 le 15    |
12 Nov 1903 Noon UT |  8 le 22    |
13 Nov 1903 Noon UT |  8 le 28    |
14 Nov 1903 Noon UT |  8 le 34    |
15 Nov 1903 Noon UT |  8 le 40    |
16 Nov 1903 Noon UT |  8 le 46    |
17 Nov 1903 Noon UT |  8 le 51    |
18 Nov 1903 Noon UT |  8 le 56    |
19 Nov 1903 Noon UT |  9 le  1    |
20 Nov 1903 Noon UT |  9 le  5    |
21 Nov 1903 Noon UT |  9 le  9    |
22 Nov 1903 Noon UT |  9 le 13    |
23 Nov 1903 Noon UT |  9 le 17    |
24 Nov 1903 Noon UT |  9 le 20    |
25 Nov 1903 Noon UT |  9 le 23    |
26 Nov 1903 Noon UT |  9 le 25    |
27 Nov 1903 Noon UT |  9 le 27    |
28 Nov 1903 Noon UT |  9 le 29    |
29 Nov 1903 Noon UT |  9 le 31    |
30 Nov 1903 Noon UT |  9 le 32    |
01 Dec 1903 Noon UT |  9 le 33    |
02 Dec 1903 Noon UT |  9 le 34    |
03 Dec 1903 Noon UT |  9 le 34    |
04 Dec 1903 Noon UT |  9 le 34 Rx |
05 Dec 1903 Noon UT |  9 le 34 Rx |
06 Dec 1903 Noon UT |  9 le 34 Rx |
07 Dec 1903 Noon UT |  9 le 33 Rx |
08 Dec 1903 Noon UT |  9 le 31 Rx |
09 Dec 1903 Noon UT |  9 le 30 Rx |
10 Dec 1903 Noon UT |  9 le 28 Rx |
11 Dec 1903 Noon UT |  9 le 26 Rx |
12 Dec 1903 Noon UT |  9 le 23 Rx |
13 Dec 1903 Noon UT |  9 le 20 Rx |
14 Dec 1903 Noon UT |  9 le 17 Rx |
15 Dec 1903 Noon UT |  9 le 13 Rx |
16 Dec 1903 Noon UT |  9 le  9 Rx |
17 Dec 1903 Noon UT |  9 le  5 Rx |
18 Dec 1903 Noon UT |  9 le  0 Rx |
19 Dec 1903 Noon UT |  8 le 55 Rx |
20 Dec 1903 Noon UT |  8 le 50 Rx |
21 Dec 1903 Noon UT |  8 le 44 Rx |
22 Dec 1903 Noon UT |  8 le 38 Rx |
23 Dec 1903 Noon UT |  8 le 32 Rx |
24 Dec 1903 Noon UT |  8 le 26 Rx |
25 Dec 1903 Noon UT |  8 le 19 Rx |
26 Dec 1903 Noon UT |  8 le 12 Rx |
27 Dec 1903 Noon UT |  8 le  4 Rx |
28 Dec 1903 Noon UT |  7 le 56 Rx |
29 Dec 1903 Noon UT |  7 le 48 Rx |
30 Dec 1903 Noon UT |  7 le 40 Rx |
31 Dec 1903 Noon UT |  7 le 32 Rx |
01 Jan 1904 Noon UT |  7 le 23 Rx |
02 Jan 1904 Noon UT |  7 le 14 Rx |
03 Jan 1904 Noon UT |  7 le  4 Rx |
04 Jan 1904 Noon UT |  6 le 55 Rx |
05 Jan 1904 Noon UT |  6 le 45 Rx |
06 Jan 1904 Noon UT |  6 le 35 Rx |
07 Jan 1904 Noon UT |  6 le 24 Rx |
08 Jan 1904 Noon UT |  6 le 14 Rx |
09 Jan 1904 Noon UT |  6 le  3 Rx |
10 Jan 1904 Noon UT |  5 le 52 Rx |
11 Jan 1904 Noon UT |  5 le 41 Rx |
12 Jan 1904 Noon UT |  5 le 30 Rx |
13 Jan 1904 Noon UT |  5 le 18 Rx |
14 Jan 1904 Noon UT |  5 le  7 Rx |
15 Jan 1904 Noon UT |  4 le 55 Rx |
16 Jan 1904 Noon UT |  4 le 43 Rx |
17 Jan 1904 Noon UT |  4 le 31 Rx |
18 Jan 1904 Noon UT |  4 le 19 Rx |
19 Jan 1904 Noon UT |  4 le  7 Rx |
20 Jan 1904 Noon UT |  3 le 55 Rx |
21 Jan 1904 Noon UT |  3 le 42 Rx |
22 Jan 1904 Noon UT |  3 le 30 Rx |
23 Jan 1904 Noon UT |  3 le 17 Rx |
24 Jan 1904 Noon UT |  3 le  5 Rx |
25 Jan 1904 Noon UT |  2 le 53 Rx |
26 Jan 1904 Noon UT |  2 le 40 Rx |
27 Jan 1904 Noon UT |  2 le 28 Rx |
28 Jan 1904 Noon UT |  2 le 15 Rx |
29 Jan 1904 Noon UT |  2 le  3 Rx |
30 Jan 1904 Noon UT |  1 le 51 Rx |
31 Jan 1904 Noon UT |  1 le 38 Rx |
01 Feb 1904 Noon UT |  1 le 26 Rx |
02 Feb 1904 Noon UT |  1 le 14 Rx |
03 Feb 1904 Noon UT |  1 le  2 Rx |
04 Feb 1904 Noon UT |  0 le 50 Rx |
05 Feb 1904 Noon UT |  0 le 38 Rx |
06 Feb 1904 Noon UT |  0 le 27 Rx |
07 Feb 1904 Noon UT |  0 le 15 Rx |
08 Feb 1904 Noon UT |  0 le  4 Rx |
09 Feb 1904 Noon UT | 29 cn 53 Rx |
10 Feb 1904 Noon UT | 29 cn 42 Rx |
11 Feb 1904 Noon UT | 29 cn 31 Rx |
12 Feb 1904 Noon UT | 29 cn 21 Rx |
13 Feb 1904 Noon UT | 29 cn 10 Rx |
14 Feb 1904 Noon UT | 29 cn  0 Rx |
15 Feb 1904 Noon UT | 28 cn 50 Rx |
16 Feb 1904 Noon UT | 28 cn 41 Rx |
17 Feb 1904 Noon UT | 28 cn 31 Rx |
18 Feb 1904 Noon UT | 28 cn 22 Rx |
19 Feb 1904 Noon UT | 28 cn 13 Rx |
20 Feb 1904 Noon UT | 28 cn  5 Rx |
21 Feb 1904 Noon UT | 27 cn 57 Rx |
22 Feb 1904 Noon UT | 27 cn 49 Rx |
23 Feb 1904 Noon UT | 27 cn 41 Rx |
24 Feb 1904 Noon UT | 27 cn 33 Rx |
25 Feb 1904 Noon UT | 27 cn 26 Rx |
26 Feb 1904 Noon UT | 27 cn 20 Rx |
27 Feb 1904 Noon UT | 27 cn 13 Rx |
28 Feb 1904 Noon UT | 27 cn  7 Rx |
29 Feb 1904 Noon UT | 27 cn  1 Rx |
01 Mar 1904 Noon UT | 26 cn 56 Rx |
02 Mar 1904 Noon UT | 26 cn 50 Rx |
03 Mar 1904 Noon UT | 26 cn 46 Rx |
04 Mar 1904 Noon UT | 26 cn 41 Rx |
05 Mar 1904 Noon UT | 26 cn 37 Rx |
06 Mar 1904 Noon UT | 26 cn 33 Rx |
07 Mar 1904 Noon UT | 26 cn 29 Rx |
08 Mar 1904 Noon UT | 26 cn 26 Rx |
09 Mar 1904 Noon UT | 26 cn 23 Rx |
10 Mar 1904 Noon UT | 26 cn 21 Rx |
11 Mar 1904 Noon UT | 26 cn 19 Rx |
12 Mar 1904 Noon UT | 26 cn 17 Rx |
13 Mar 1904 Noon UT | 26 cn 15 Rx |
14 Mar 1904 Noon UT | 26 cn 14 Rx |
15 Mar 1904 Noon UT | 26 cn 13 Rx |
16 Mar 1904 Noon UT | 26 cn 13 Rx |
17 Mar 1904 Noon UT | 26 cn 13    |
18 Mar 1904 Noon UT | 26 cn 13    |
19 Mar 1904 Noon UT | 26 cn 14    |
20 Mar 1904 Noon UT | 26 cn 15    |
21 Mar 1904 Noon UT | 26 cn 16    |
22 Mar 1904 Noon UT | 26 cn 17    |
23 Mar 1904 Noon UT | 26 cn 19    |
24 Mar 1904 Noon UT | 26 cn 21    |
25 Mar 1904 Noon UT | 26 cn 24    |
26 Mar 1904 Noon UT | 26 cn 27    |
27 Mar 1904 Noon UT | 26 cn 30    |
28 Mar 1904 Noon UT | 26 cn 34    |
29 Mar 1904 Noon UT | 26 cn 37    |
30 Mar 1904 Noon UT | 26 cn 42    |
31 Mar 1904 Noon UT | 26 cn 46    |
01 Apr 1904 Noon UT | 26 cn 51    |
02 Apr 1904 Noon UT | 26 cn 56    |
03 Apr 1904 Noon UT | 27 cn  1    |
04 Apr 1904 Noon UT | 27 cn  7    |
05 Apr 1904 Noon UT | 27 cn 13    |
06 Apr 1904 Noon UT | 27 cn 19    |
07 Apr 1904 Noon UT | 27 cn 25    |
08 Apr 1904 Noon UT | 27 cn 32    |
09 Apr 1904 Noon UT | 27 cn 39    |
10 Apr 1904 Noon UT | 27 cn 47    |
11 Apr 1904 Noon UT | 27 cn 54    |
12 Apr 1904 Noon UT | 28 cn  2    |
13 Apr 1904 Noon UT | 28 cn 10    |
14 Apr 1904 Noon UT | 28 cn 19    |
15 Apr 1904 Noon UT | 28 cn 28    |
16 Apr 1904 Noon UT | 28 cn 36    |
17 Apr 1904 Noon UT | 28 cn 46    |
18 Apr 1904 Noon UT | 28 cn 55    |
19 Apr 1904 Noon UT | 29 cn  5    |
20 Apr 1904 Noon UT | 29 cn 15    |
21 Apr 1904 Noon UT | 29 cn 25    |
22 Apr 1904 Noon UT | 29 cn 35    |
23 Apr 1904 Noon UT | 29 cn 46    |
24 Apr 1904 Noon UT | 29 cn 57    |
25 Apr 1904 Noon UT |  0 le  8    |
26 Apr 1904 Noon UT |  0 le 19    |
27 Apr 1904 Noon UT |  0 le 31    |
28 Apr 1904 Noon UT |  0 le 43    |
29 Apr 1904 Noon UT |  0 le 55    |
30 Apr 1904 Noon UT |  1 le  7    |
01 May 1904 Noon UT |  1 le 19    |
02 May 1904 Noon UT |  1 le 32    |
03 May 1904 Noon UT |  1 le 45    |
04 May 1904 Noon UT |  1 le 58    |
05 May 1904 Noon UT |  2 le 11    |
06 May 1904 Noon UT |  2 le 24    |
07 May 1904 Noon UT |  2 le 38    |
08 May 1904 Noon UT |  2 le 52    |
09 May 1904 Noon UT |  3 le  6    |
10 May 1904 Noon UT |  3 le 20    |
11 May 1904 Noon UT |  3 le 34    |
12 May 1904 Noon UT |  3 le 49    |
13 May 1904 Noon UT |  4 le  3    |
14 May 1904 Noon UT |  4 le 18    |
15 May 1904 Noon UT |  4 le 33    |
16 May 1904 Noon UT |  4 le 48    |
17 May 1904 Noon UT |  5 le  4    |
18 May 1904 Noon UT |  5 le 19    |
19 May 1904 Noon UT |  5 le 35    |
20 May 1904 Noon UT |  5 le 51    |
21 May 1904 Noon UT |  6 le  7    |
22 May 1904 Noon UT |  6 le 23    |
23 May 1904 Noon UT |  6 le 39    |
24 May 1904 Noon UT |  6 le 56    |
25 May 1904 Noon UT |  7 le 12    |
26 May 1904 Noon UT |  7 le 29    |
27 May 1904 Noon UT |  7 le 46    |
28 May 1904 Noon UT |  8 le  3    |
29 May 1904 Noon UT |  8 le 20    |
30 May 1904 Noon UT |  8 le 37    |
31 May 1904 Noon UT |  8 le 54    |
01 Jun 1904 Noon UT |  9 le 12    |
02 Jun 1904 Noon UT |  9 le 29    |
03 Jun 1904 Noon UT |  9 le 47    |
04 Jun 1904 Noon UT | 10 le  5    |
05 Jun 1904 Noon UT | 10 le 23    |
06 Jun 1904 Noon UT | 10 le 41    |
07 Jun 1904 Noon UT | 10 le 59    |
08 Jun 1904 Noon UT | 11 le 18    |
09 Jun 1904 Noon UT | 11 le 36    |
10 Jun 1904 Noon UT | 11 le 55    |
11 Jun 1904 Noon UT | 12 le 13    |
12 Jun 1904 Noon UT | 12 le 32    |
13 Jun 1904 Noon UT | 12 le 51    |
14 Jun 1904 Noon UT | 13 le 10    |
15 Jun 1904 Noon UT | 13 le 29    |
16 Jun 1904 Noon UT | 13 le 48    |
17 Jun 1904 Noon UT | 14 le  8    |
18 Jun 1904 Noon UT | 14 le 27    |
19 Jun 1904 Noon UT | 14 le 47    |
20 Jun 1904 Noon UT | 15 le  6    |
21 Jun 1904 Noon UT | 15 le 26    |
22 Jun 1904 Noon UT | 15 le 46    |
23 Jun 1904 Noon UT | 16 le  5    |
24 Jun 1904 Noon UT | 16 le 25    |
25 Jun 1904 Noon UT | 16 le 45    |
26 Jun 1904 Noon UT | 17 le  6    |
27 Jun 1904 Noon UT | 17 le 26    |
28 Jun 1904 Noon UT | 17 le 46    |
29 Jun 1904 Noon UT | 18 le  6    |
30 Jun 1904 Noon UT | 18 le 27    |
01 Jul 1904 Noon UT | 18 le 47    |
02 Jul 1904 Noon UT | 19 le  8    |
03 Jul 1904 Noon UT | 19 le 29    |
04 Jul 1904 Noon UT | 19 le 50    |
05 Jul 1904 Noon UT | 20 le 10    |
06 Jul 1904 Noon UT | 20 le 31    |
07 Jul 1904 Noon UT | 20 le 52    |
08 Jul 1904 Noon UT | 21 le 13    |
09 Jul 1904 Noon UT | 21 le 34    |
10 Jul 1904 Noon UT | 21 le 56    |
11 Jul 1904 Noon UT | 22 le 17    |
12 Jul 1904 Noon UT | 22 le 38    |
13 Jul 1904 Noon UT | 23 le  0    |
14 Jul 1904 Noon UT | 23 le 21    |
15 Jul 1904 Noon UT | 23 le 43    |
16 Jul 1904 Noon UT | 24 le  4    |
17 Jul 1904 Noon UT | 24 le 26    |
18 Jul 1904 Noon UT | 24 le 48    |
19 Jul 1904 Noon UT | 25 le  9    |
20 Jul 1904 Noon UT | 25 le 31    |
21 Jul 1904 Noon UT | 25 le 53    |
22 Jul 1904 Noon UT | 26 le 15    |
23 Jul 1904 Noon UT | 26 le 37    |
24 Jul 1904 Noon UT | 26 le 59    |
25 Jul 1904 Noon UT | 27 le 21    |
26 Jul 1904 Noon UT | 27 le 43    |
27 Jul 1904 Noon UT | 28 le  6    |
28 Jul 1904 Noon UT | 28 le 28    |
29 Jul 1904 Noon UT | 28 le 50    |
30 Jul 1904 Noon UT | 29 le 13    |
31 Jul 1904 Noon UT | 29 le 35    |
01 Aug 1904 Noon UT | 29 le 57    |
02 Aug 1904 Noon UT |  0 vi 20    |
03 Aug 1904 Noon UT |  0 vi 42    |
04 Aug 1904 Noon UT |  1 vi  5    |
05 Aug 1904 Noon UT |  1 vi 28    |
06 Aug 1904 Noon UT |  1 vi 50    |
07 Aug 1904 Noon UT |  2 vi 13    |
08 Aug 1904 Noon UT |  2 vi 36    |
09 Aug 1904 Noon UT |  2 vi 59    |
10 Aug 1904 Noon UT |  3 vi 21    |
11 Aug 1904 Noon UT |  3 vi 44    |
12 Aug 1904 Noon UT |  4 vi  7    |
13 Aug 1904 Noon UT |  4 vi 30    |
14 Aug 1904 Noon UT |  4 vi 53    |
15 Aug 1904 Noon UT |  5 vi 16    |
16 Aug 1904 Noon UT |  5 vi 39    |
17 Aug 1904 Noon UT |  6 vi  2    |
18 Aug 1904 Noon UT |  6 vi 25    |
19 Aug 1904 Noon UT |  6 vi 49    |
20 Aug 1904 Noon UT |  7 vi 12    |
21 Aug 1904 Noon UT |  7 vi 35    |
22 Aug 1904 Noon UT |  7 vi 58    |
23 Aug 1904 Noon UT |  8 vi 21    |
24 Aug 1904 Noon UT |  8 vi 45    |
25 Aug 1904 Noon UT |  9 vi  8    |
26 Aug 1904 Noon UT |  9 vi 31    |
27 Aug 1904 Noon UT |  9 vi 55    |
28 Aug 1904 Noon UT | 10 vi 18    |
29 Aug 1904 Noon UT | 10 vi 42    |
30 Aug 1904 Noon UT | 11 vi  5    |
31 Aug 1904 Noon UT | 11 vi 28    |
01 Sep 1904 Noon UT | 11 vi 52    |
02 Sep 1904 Noon UT | 12 vi 15    |
03 Sep 1904 Noon UT | 12 vi 39    |
04 Sep 1904 Noon UT | 13 vi  3    |
05 Sep 1904 Noon UT | 13 vi 26    |
06 Sep 1904 Noon UT | 13 vi 50    |
07 Sep 1904 Noon UT | 14 vi 13    |
08 Sep 1904 Noon UT | 14 vi 37    |
09 Sep 1904 Noon UT | 15 vi  1    |
10 Sep 1904 Noon UT | 15 vi 24    |
11 Sep 1904 Noon UT | 15 vi 48    |
12 Sep 1904 Noon UT | 16 vi 12    |
13 Sep 1904 Noon UT | 16 vi 35    |
14 Sep 1904 Noon UT | 16 vi 59    |
15 Sep 1904 Noon UT | 17 vi 23    |
16 Sep 1904 Noon UT | 17 vi 46    |
17 Sep 1904 Noon UT | 18 vi 10    |
18 Sep 1904 Noon UT | 18 vi 34    |
19 Sep 1904 Noon UT | 18 vi 58    |
20 Sep 1904 Noon UT | 19 vi 21    |
21 Sep 1904 Noon UT | 19 vi 45    |
22 Sep 1904 Noon UT | 20 vi  9    |
23 Sep 1904 Noon UT | 20 vi 33    |
24 Sep 1904 Noon UT | 20 vi 56    |
25 Sep 1904 Noon UT | 21 vi 20    |
26 Sep 1904 Noon UT | 21 vi 44    |
27 Sep 1904 Noon UT | 22 vi  8    |
28 Sep 1904 Noon UT | 22 vi 31    |
29 Sep 1904 Noon UT | 22 vi 55    |
30 Sep 1904 Noon UT | 23 vi 19    |
01 Oct 1904 Noon UT | 23 vi 43    |
02 Oct 1904 Noon UT | 24 vi  6    |
03 Oct 1904 Noon UT | 24 vi 30    |
04 Oct 1904 Noon UT | 24 vi 54    |
05 Oct 1904 Noon UT | 25 vi 18    |
06 Oct 1904 Noon UT | 25 vi 41    |
07 Oct 1904 Noon UT | 26 vi  5    |
08 Oct 1904 Noon UT | 26 vi 29    |
09 Oct 1904 Noon UT | 26 vi 53    |
10 Oct 1904 Noon UT | 27 vi 16    |
11 Oct 1904 Noon UT | 27 vi 40    |
12 Oct 1904 Noon UT | 28 vi  4    |
13 Oct 1904 Noon UT | 28 vi 27    |
14 Oct 1904 Noon UT | 28 vi 51    |
15 Oct 1904 Noon UT | 29 vi 14    |
16 Oct 1904 Noon UT | 29 vi 38    |
17 Oct 1904 Noon UT |  0 li  2    |
18 Oct 1904 Noon UT |  0 li 25    |
19 Oct 1904 Noon UT |  0 li 49    |
20 Oct 1904 Noon UT |  1 li 12    |
21 Oct 1904 Noon UT |  1 li 36    |
22 Oct 1904 Noon UT |  1 li 59    |
23 Oct 1904 Noon UT |  2 li 23    |
24 Oct 1904 Noon UT |  2 li 46    |
25 Oct 1904 Noon UT |  3 li  9    |
26 Oct 1904 Noon UT |  3 li 33    |
27 Oct 1904 Noon UT |  3 li 56    |
28 Oct 1904 Noon UT |  4 li 19    |
29 Oct 1904 Noon UT |  4 li 43    |
30 Oct 1904 Noon UT |  5 li  6    |
31 Oct 1904 Noon UT |  5 li 29    |
01 Nov 1904 Noon UT |  5 li 52    |
02 Nov 1904 Noon UT |  6 li 15    |
03 Nov 1904 Noon UT |  6 li 39    |
04 Nov 1904 Noon UT |  7 li  2    |
05 Nov 1904 Noon UT |  7 li 25    |
06 Nov 1904 Noon UT |  7 li 48    |
07 Nov 1904 Noon UT |  8 li 11    |
08 Nov 1904 Noon UT |  8 li 33    |
09 Nov 1904 Noon UT |  8 li 56    |
10 Nov 1904 Noon UT |  9 li 19    |
11 Nov 1904 Noon UT |  9 li 42    |
12 Nov 1904 Noon UT | 10 li  5    |
13 Nov 1904 Noon UT | 10 li 27    |
14 Nov 1904 Noon UT | 10 li 50    |
15 Nov 1904 Noon UT | 11 li 12    |
16 Nov 1904 Noon UT | 11 li 35    |
17 Nov 1904 Noon UT | 11 li 57    |
18 Nov 1904 Noon UT | 12 li 20    |
19 Nov 1904 Noon UT | 12 li 42    |
20 Nov 1904 Noon UT | 13 li  4    |
21 Nov 1904 Noon UT | 13 li 26    |
22 Nov 1904 Noon UT | 13 li 48    |
23 Nov 1904 Noon UT | 14 li 10    |
24 Nov 1904 Noon UT | 14 li 32    |
25 Nov 1904 Noon UT | 14 li 54    |
26 Nov 1904 Noon UT | 15 li 16    |
27 Nov 1904 Noon UT | 15 li 38    |
28 Nov 1904 Noon UT | 15 li 59    |
29 Nov 1904 Noon UT | 16 li 21    |
30 Nov 1904 Noon UT | 16 li 43    |
01 Dec 1904 Noon UT | 17 li  4    |
02 Dec 1904 Noon UT | 17 li 25    |
03 Dec 1904 Noon UT | 17 li 47    |
04 Dec 1904 Noon UT | 18 li  8    |
05 Dec 1904 Noon UT | 18 li 29    |
06 Dec 1904 Noon UT | 18 li 50    |
07 Dec 1904 Noon UT | 19 li 11    |
08 Dec 1904 Noon UT | 19 li 32    |
09 Dec 1904 Noon UT | 19 li 52    |
10 Dec 1904 Noon UT | 20 li 13    |
11 Dec 1904 Noon UT | 20 li 34    |
12 Dec 1904 Noon UT | 20 li 54    |
13 Dec 1904 Noon UT | 21 li 14    |
14 Dec 1904 Noon UT | 21 li 34    |
15 Dec 1904 Noon UT | 21 li 55    |
16 Dec 1904 Noon UT | 22 li 14    |
17 Dec 1904 Noon UT | 22 li 34    |
18 Dec 1904 Noon UT | 22 li 54    |
19 Dec 1904 Noon UT | 23 li 14    |
20 Dec 1904 Noon UT | 23 li 33    |
21 Dec 1904 Noon UT | 23 li 53    |
22 Dec 1904 Noon UT | 24 li 12    |
23 Dec 1904 Noon UT | 24 li 31    |
24 Dec 1904 Noon UT | 24 li 50    |
25 Dec 1904 Noon UT | 25 li  9    |
26 Dec 1904 Noon UT | 25 li 27    |
27 Dec 1904 Noon UT | 25 li 46    |
28 Dec 1904 Noon UT | 26 li  4    |
29 Dec 1904 Noon UT | 26 li 23    |
30 Dec 1904 Noon UT | 26 li 41    |
31 Dec 1904 Noon UT | 26 li 59    |
01 Jan 1905 Noon UT | 27 li 17    |
02 Jan 1905 Noon UT | 27 li 34    |
03 Jan 1905 Noon UT | 27 li 52    |
04 Jan 1905 Noon UT | 28 li  9    |
05 Jan 1905 Noon UT | 28 li 26    |
06 Jan 1905 Noon UT | 28 li 43    |
07 Jan 1905 Noon UT | 29 li  0    |
08 Jan 1905 Noon UT | 29 li 17    |
09 Jan 1905 Noon UT | 29 li 33    |
10 Jan 1905 Noon UT | 29 li 50    |
11 Jan 1905 Noon UT |  0 sc  6    |
12 Jan 1905 Noon UT |  0 sc 22    |
13 Jan 1905 Noon UT |  0 sc 37    |
14 Jan 1905 Noon UT |  0 sc 53    |
15 Jan 1905 Noon UT |  1 sc  8    |
16 Jan 1905 Noon UT |  1 sc 23    |
17 Jan 1905 Noon UT |  1 sc 38    |
18 Jan 1905 Noon UT |  1 sc 53    |
19 Jan 1905 Noon UT |  2 sc  8    |
20 Jan 1905 Noon UT |  2 sc 22    |
21 Jan 1905 Noon UT |  2 sc 36    |
22 Jan 1905 Noon UT |  2 sc 50    |
23 Jan 1905 Noon UT |  3 sc  3    |
24 Jan 1905 Noon UT |  3 sc 17    |
25 Jan 1905 Noon UT |  3 sc 30    |
26 Jan 1905 Noon UT |  3 sc 43    |
27 Jan 1905 Noon UT |  3 sc 55    |
28 Jan 1905 Noon UT |  4 sc  8    |
29 Jan 1905 Noon UT |  4 sc 20    |
30 Jan 1905 Noon UT |  4 sc 32    |
31 Jan 1905 Noon UT |  4 sc 44    |
01 Feb 1905 Noon UT |  4 sc 55    |
02 Feb 1905 Noon UT |  5 sc  6    |
03 Feb 1905 Noon UT |  5 sc 17    |
04 Feb 1905 Noon UT |  5 sc 28    |
05 Feb 1905 Noon UT |  5 sc 38    |
06 Feb 1905 Noon UT |  5 sc 48    |
07 Feb 1905 Noon UT |  5 sc 58    |
08 Feb 1905 Noon UT |  6 sc  7    |
09 Feb 1905 Noon UT |  6 sc 16    |
10 Feb 1905 Noon UT |  6 sc 25    |
11 Feb 1905 Noon UT |  6 sc 34    |
12 Feb 1905 Noon UT |  6 sc 42    |
13 Feb 1905 Noon UT |  6 sc 50    |
14 Feb 1905 Noon UT |  6 sc 57    |
15 Feb 1905 Noon UT |  7 sc  5    |
16 Feb 1905 Noon UT |  7 sc 12    |
17 Feb 1905 Noon UT |  7 sc 18    |
18 Feb 1905 Noon UT |  7 sc 25    |
19 Feb 1905 Noon UT |  7 sc 31    |
20 Feb 1905 Noon UT |  7 sc 36    |
21 Feb 1905 Noon UT |  7 sc 42    |
22 Feb 1905 Noon UT |  7 sc 47    |
23 Feb 1905 Noon UT |  7 sc 51    |
24 Feb 1905 Noon UT |  7 sc 56    |
25 Feb 1905 Noon UT |  8 sc  0    |
26 Feb 1905 Noon UT |  8 sc  3    |
27 Feb 1905 Noon UT |  8 sc  7    |
28 Feb 1905 Noon UT |  8 sc  9    |
01 Mar 1905 Noon UT |  8 sc 12    |
02 Mar 1905 Noon UT |  8 sc 14    |
03 Mar 1905 Noon UT |  8 sc 16    |
04 Mar 1905 Noon UT |  8 sc 17    |
05 Mar 1905 Noon UT |  8 sc 18    |
06 Mar 1905 Noon UT |  8 sc 19    |
07 Mar 1905 Noon UT |  8 sc 19    |
08 Mar 1905 Noon UT |  8 sc 19 Rx |
09 Mar 1905 Noon UT |  8 sc 19 Rx |
10 Mar 1905 Noon UT |  8 sc 18 Rx |
11 Mar 1905 Noon UT |  8 sc 17 Rx |
12 Mar 1905 Noon UT |  8 sc 15 Rx |
13 Mar 1905 Noon UT |  8 sc 13 Rx |
14 Mar 1905 Noon UT |  8 sc 11 Rx |
15 Mar 1905 Noon UT |  8 sc  8 Rx |
16 Mar 1905 Noon UT |  8 sc  5 Rx |
17 Mar 1905 Noon UT |  8 sc  2 Rx |
18 Mar 1905 Noon UT |  7 sc 58 Rx |
19 Mar 1905 Noon UT |  7 sc 54 Rx |
20 Mar 1905 Noon UT |  7 sc 49 Rx |
21 Mar 1905 Noon UT |  7 sc 44 Rx |
22 Mar 1905 Noon UT |  7 sc 39 Rx |
23 Mar 1905 Noon UT |  7 sc 34 Rx |
24 Mar 1905 Noon UT |  7 sc 28 Rx |
25 Mar 1905 Noon UT |  7 sc 21 Rx |
26 Mar 1905 Noon UT |  7 sc 15 Rx |
27 Mar 1905 Noon UT |  7 sc  8 Rx |
28 Mar 1905 Noon UT |  7 sc  1 Rx |
29 Mar 1905 Noon UT |  6 sc 53 Rx |
30 Mar 1905 Noon UT |  6 sc 45 Rx |
31 Mar 1905 Noon UT |  6 sc 37 Rx |
01 Apr 1905 Noon UT |  6 sc 28 Rx |
02 Apr 1905 Noon UT |  6 sc 20 Rx |
03 Apr 1905 Noon UT |  6 sc 11 Rx |
04 Apr 1905 Noon UT |  6 sc  1 Rx |
05 Apr 1905 Noon UT |  5 sc 52 Rx |
06 Apr 1905 Noon UT |  5 sc 42 Rx |
07 Apr 1905 Noon UT |  5 sc 32 Rx |
08 Apr 1905 Noon UT |  5 sc 22 Rx |
09 Apr 1905 Noon UT |  5 sc 11 Rx |
10 Apr 1905 Noon UT |  5 sc  0 Rx |
11 Apr 1905 Noon UT |  4 sc 50 Rx |
12 Apr 1905 Noon UT |  4 sc 38 Rx |
13 Apr 1905 Noon UT |  4 sc 27 Rx |
14 Apr 1905 Noon UT |  4 sc 16 Rx |
15 Apr 1905 Noon UT |  4 sc  4 Rx |
16 Apr 1905 Noon UT |  3 sc 53 Rx |
17 Apr 1905 Noon UT |  3 sc 41 Rx |
18 Apr 1905 Noon UT |  3 sc 29 Rx |
19 Apr 1905 Noon UT |  3 sc 17 Rx |
20 Apr 1905 Noon UT |  3 sc  5 Rx |
21 Apr 1905 Noon UT |  2 sc 53 Rx |
22 Apr 1905 Noon UT |  2 sc 41 Rx |
23 Apr 1905 Noon UT |  2 sc 29 Rx |
24 Apr 1905 Noon UT |  2 sc 17 Rx |
25 Apr 1905 Noon UT |  2 sc  5 Rx |
26 Apr 1905 Noon UT |  1 sc 53 Rx |
27 Apr 1905 Noon UT |  1 sc 41 Rx |
28 Apr 1905 Noon UT |  1 sc 29 Rx |
29 Apr 1905 Noon UT |  1 sc 17 Rx |
30 Apr 1905 Noon UT |  1 sc  5 Rx |
01 May 1905 Noon UT |  0 sc 54 Rx |
02 May 1905 Noon UT |  0 sc 42 Rx |
03 May 1905 Noon UT |  0 sc 30 Rx |
04 May 1905 Noon UT |  0 sc 19 Rx |
05 May 1905 Noon UT |  0 sc  8 Rx |
06 May 1905 Noon UT | 29 li 57 Rx |
07 May 1905 Noon UT | 29 li 46 Rx |
08 May 1905 Noon UT | 29 li 35 Rx |
09 May 1905 Noon UT | 29 li 25 Rx |
10 May 1905 Noon UT | 29 li 14 Rx |
11 May 1905 Noon UT | 29 li  4 Rx |
12 May 1905 Noon UT | 28 li 55 Rx |
13 May 1905 Noon UT | 28 li 45 Rx |
14 May 1905 Noon UT | 28 li 36 Rx |
15 May 1905 Noon UT | 28 li 27 Rx |
16 May 1905 Noon UT | 28 li 18 Rx |
17 May 1905 Noon UT | 28 li  9 Rx |
18 May 1905 Noon UT | 28 li  1 Rx |
19 May 1905 Noon UT | 27 li 53 Rx |
20 May 1905 Noon UT | 27 li 46 Rx |
21 May 1905 Noon UT | 27 li 38 Rx |
22 May 1905 Noon UT | 27 li 32 Rx |
23 May 1905 Noon UT | 27 li 25 Rx |
24 May 1905 Noon UT | 27 li 19 Rx |
25 May 1905 Noon UT | 27 li 13 Rx |
26 May 1905 Noon UT | 27 li  7 Rx |
27 May 1905 Noon UT | 27 li  2 Rx |
28 May 1905 Noon UT | 26 li 57 Rx |
29 May 1905 Noon UT | 26 li 52 Rx |
30 May 1905 Noon UT | 26 li 48 Rx |
31 May 1905 Noon UT | 26 li 44 Rx |
01 Jun 1905 Noon UT | 26 li 40 Rx |
02 Jun 1905 Noon UT | 26 li 37 Rx |
03 Jun 1905 Noon UT | 26 li 35 Rx |
04 Jun 1905 Noon UT | 26 li 32 Rx |
05 Jun 1905 Noon UT | 26 li 30 Rx |
06 Jun 1905 Noon UT | 26 li 28 Rx |
07 Jun 1905 Noon UT | 26 li 27 Rx |
08 Jun 1905 Noon UT | 26 li 26 Rx |
09 Jun 1905 Noon UT | 26 li 26 Rx |
10 Jun 1905 Noon UT | 26 li 25 Rx |
11 Jun 1905 Noon UT | 26 li 26    |
12 Jun 1905 Noon UT | 26 li 26    |
13 Jun 1905 Noon UT | 26 li 27    |
14 Jun 1905 Noon UT | 26 li 28    |
15 Jun 1905 Noon UT | 26 li 30    |
16 Jun 1905 Noon UT | 26 li 32    |
17 Jun 1905 Noon UT | 26 li 34    |
18 Jun 1905 Noon UT | 26 li 37    |
19 Jun 1905 Noon UT | 26 li 40    |
20 Jun 1905 Noon UT | 26 li 43    |
21 Jun 1905 Noon UT | 26 li 47    |
22 Jun 1905 Noon UT | 26 li 51    |
23 Jun 1905 Noon UT | 26 li 56    |
24 Jun 1905 Noon UT | 27 li  1    |
25 Jun 1905 Noon UT | 27 li  6    |
26 Jun 1905 Noon UT | 27 li 11    |
27 Jun 1905 Noon UT | 27 li 17    |
28 Jun 1905 Noon UT | 27 li 23    |
29 Jun 1905 Noon UT | 27 li 29    |
30 Jun 1905 Noon UT | 27 li 36    |
01 Jul 1905 Noon UT | 27 li 43    |
02 Jul 1905 Noon UT | 27 li 51    |
03 Jul 1905 Noon UT | 27 li 58    |
04 Jul 1905 Noon UT | 28 li  6    |
05 Jul 1905 Noon UT | 28 li 15    |
06 Jul 1905 Noon UT | 28 li 23    |
07 Jul 1905 Noon UT | 28 li 32    |
08 Jul 1905 Noon UT | 28 li 41    |
09 Jul 1905 Noon UT | 28 li 51    |
10 Jul 1905 Noon UT | 29 li  1    |
11 Jul 1905 Noon UT | 29 li 11    |
12 Jul 1905 Noon UT | 29 li 21    |
13 Jul 1905 Noon UT | 29 li 32    |
14 Jul 1905 Noon UT | 29 li 43    |
15 Jul 1905 Noon UT | 29 li 54    |
16 Jul 1905 Noon UT |  0 sc  5    |
17 Jul 1905 Noon UT |  0 sc 17    |
18 Jul 1905 Noon UT |  0 sc 29    |
19 Jul 1905 Noon UT |  0 sc 41    |
20 Jul 1905 Noon UT |  0 sc 53    |
21 Jul 1905 Noon UT |  1 sc  6    |
22 Jul 1905 Noon UT |  1 sc 19    |
23 Jul 1905 Noon UT |  1 sc 32    |
24 Jul 1905 Noon UT |  1 sc 45    |
25 Jul 1905 Noon UT |  1 sc 59    |
26 Jul 1905 Noon UT |  2 sc 13    |
27 Jul 1905 Noon UT |  2 sc 27    |
28 Jul 1905 Noon UT |  2 sc 41    |
29 Jul 1905 Noon UT |  2 sc 56    |
30 Jul 1905 Noon UT |  3 sc 10    |
31 Jul 1905 Noon UT |  3 sc 25    |
01 Aug 1905 Noon UT |  3 sc 40    |
02 Aug 1905 Noon UT |  3 sc 56    |
03 Aug 1905 Noon UT |  4 sc 11    |
04 Aug 1905 Noon UT |  4 sc 27    |
05 Aug 1905 Noon UT |  4 sc 43    |
06 Aug 1905 Noon UT |  4 sc 59    |
07 Aug 1905 Noon UT |  5 sc 15    |
08 Aug 1905 Noon UT |  5 sc 32    |
09 Aug 1905 Noon UT |  5 sc 48    |
10 Aug 1905 Noon UT |  6 sc  5    |
11 Aug 1905 Noon UT |  6 sc 22    |
12 Aug 1905 Noon UT |  6 sc 39    |
13 Aug 1905 Noon UT |  6 sc 57    |
14 Aug 1905 Noon UT |  7 sc 14    |
15 Aug 1905 Noon UT |  7 sc 32    |
16 Aug 1905 Noon UT |  7 sc 50    |
17 Aug 1905 Noon UT |  8 sc  8    |
18 Aug 1905 Noon UT |  8 sc 26    |
19 Aug 1905 Noon UT |  8 sc 45    |
20 Aug 1905 Noon UT |  9 sc  3    |
21 Aug 1905 Noon UT |  9 sc 22    |
22 Aug 1905 Noon UT |  9 sc 40    |
23 Aug 1905 Noon UT |  9 sc 59    |
24 Aug 1905 Noon UT | 10 sc 18    |
25 Aug 1905 Noon UT | 10 sc 38    |
26 Aug 1905 Noon UT | 10 sc 57    |
27 Aug 1905 Noon UT | 11 sc 17    |
28 Aug 1905 Noon UT | 11 sc 36    |
29 Aug 1905 Noon UT | 11 sc 56    |
30 Aug 1905 Noon UT | 12 sc 16    |
31 Aug 1905 Noon UT | 12 sc 36    |
01 Sep 1905 Noon UT | 12 sc 56    |
02 Sep 1905 Noon UT | 13 sc 16    |
03 Sep 1905 Noon UT | 13 sc 37    |
04 Sep 1905 Noon UT | 13 sc 57    |
05 Sep 1905 Noon UT | 14 sc 18    |
06 Sep 1905 Noon UT | 14 sc 39    |
07 Sep 1905 Noon UT | 15 sc  0    |
08 Sep 1905 Noon UT | 15 sc 21    |
09 Sep 1905 Noon UT | 15 sc 42    |
10 Sep 1905 Noon UT | 16 sc  3    |
11 Sep 1905 Noon UT | 16 sc 24    |
12 Sep 1905 Noon UT | 16 sc 46    |
13 Sep 1905 Noon UT | 17 sc  7    |
14 Sep 1905 Noon UT | 17 sc 29    |
15 Sep 1905 Noon UT | 17 sc 51    |
16 Sep 1905 Noon UT | 18 sc 12    |
17 Sep 1905 Noon UT | 18 sc 34    |
18 Sep 1905 Noon UT | 18 sc 56    |
19 Sep 1905 Noon UT | 19 sc 18    |
20 Sep 1905 Noon UT | 19 sc 41    |
21 Sep 1905 Noon UT | 20 sc  3    |
22 Sep 1905 Noon UT | 20 sc 25    |
23 Sep 1905 Noon UT | 20 sc 48    |
24 Sep 1905 Noon UT | 21 sc 10    |
25 Sep 1905 Noon UT | 21 sc 33    |
26 Sep 1905 Noon UT | 21 sc 56    |
27 Sep 1905 Noon UT | 22 sc 18    |
28 Sep 1905 Noon UT | 22 sc 41    |
29 Sep 1905 Noon UT | 23 sc  4    |
30 Sep 1905 Noon UT | 23 sc 27    |
01 Oct 1905 Noon UT | 23 sc 50    |
02 Oct 1905 Noon UT | 24 sc 14    |
03 Oct 1905 Noon UT | 24 sc 37    |
04 Oct 1905 Noon UT | 25 sc  0    |
05 Oct 1905 Noon UT | 25 sc 24    |
06 Oct 1905 Noon UT | 25 sc 47    |
07 Oct 1905 Noon UT | 26 sc 11    |
08 Oct 1905 Noon UT | 26 sc 34    |
09 Oct 1905 Noon UT | 26 sc 58    |
10 Oct 1905 Noon UT | 27 sc 22    |
11 Oct 1905 Noon UT | 27 sc 45    |
12 Oct 1905 Noon UT | 28 sc  9    |
13 Oct 1905 Noon UT | 28 sc 33    |
14 Oct 1905 Noon UT | 28 sc 57    |
15 Oct 1905 Noon UT | 29 sc 21    |
16 Oct 1905 Noon UT | 29 sc 45    |
17 Oct 1905 Noon UT |  0 sa  9    |
18 Oct 1905 Noon UT |  0 sa 34    |
19 Oct 1905 Noon UT |  0 sa 58    |
20 Oct 1905 Noon UT |  1 sa 22    |
21 Oct 1905 Noon UT |  1 sa 47    |
22 Oct 1905 Noon UT |  2 sa 11    |
23 Oct 1905 Noon UT |  2 sa 35    |
24 Oct 1905 Noon UT |  3 sa  0    |
25 Oct 1905 Noon UT |  3 sa 24    |
26 Oct 1905 Noon UT |  3 sa 49    |
27 Oct 1905 Noon UT |  4 sa 14    |
28 Oct 1905 Noon UT |  4 sa 38    |
29 Oct 1905 Noon UT |  5 sa  3    |
30 Oct 1905 Noon UT |  5 sa 28    |
31 Oct 1905 Noon UT |  5 sa 53    |
01 Nov 1905 Noon UT |  6 sa 18    |
02 Nov 1905 Noon UT |  6 sa 42    |
03 Nov 1905 Noon UT |  7 sa  7    |
04 Nov 1905 Noon UT |  7 sa 32    |
05 Nov 1905 Noon UT |  7 sa 57    |
06 Nov 1905 Noon UT |  8 sa 22    |
07 Nov 1905 Noon UT |  8 sa 47    |
08 Nov 1905 Noon UT |  9 sa 12    |
09 Nov 1905 Noon UT |  9 sa 37    |
10 Nov 1905 Noon UT | 10 sa  3    |
11 Nov 1905 Noon UT | 10 sa 28    |
12 Nov 1905 Noon UT | 10 sa 53    |
13 Nov 1905 Noon UT | 11 sa 18    |
14 Nov 1905 Noon UT | 11 sa 43    |
15 Nov 1905 Noon UT | 12 sa  9    |
16 Nov 1905 Noon UT | 12 sa 34    |
17 Nov 1905 Noon UT | 12 sa 59    |
18 Nov 1905 Noon UT | 13 sa 25    |
19 Nov 1905 Noon UT | 13 sa 50    |
20 Nov 1905 Noon UT | 14 sa 15    |
21 Nov 1905 Noon UT | 14 sa 41    |
22 Nov 1905 Noon UT | 15 sa  6    |
23 Nov 1905 Noon UT | 15 sa 32    |
24 Nov 1905 Noon UT | 15 sa 57    |
25 Nov 1905 Noon UT | 16 sa 23    |
26 Nov 1905 Noon UT | 16 sa 48    |
27 Nov 1905 Noon UT | 17 sa 14    |
28 Nov 1905 Noon UT | 17 sa 39    |
29 Nov 1905 Noon UT | 18 sa  5    |
30 Nov 1905 Noon UT | 18 sa 30    |
01 Dec 1905 Noon UT | 18 sa 56    |
02 Dec 1905 Noon UT | 19 sa 21    |
03 Dec 1905 Noon UT | 19 sa 47    |
04 Dec 1905 Noon UT | 20 sa 12    |
05 Dec 1905 Noon UT | 20 sa 38    |
06 Dec 1905 Noon UT | 21 sa  4    |
07 Dec 1905 Noon UT | 21 sa 29    |
08 Dec 1905 Noon UT | 21 sa 55    |
09 Dec 1905 Noon UT | 22 sa 20    |
10 Dec 1905 Noon UT | 22 sa 46    |
11 Dec 1905 Noon UT | 23 sa 11    |
12 Dec 1905 Noon UT | 23 sa 37    |
13 Dec 1905 Noon UT | 24 sa  3    |
14 Dec 1905 Noon UT | 24 sa 28    |
15 Dec 1905 Noon UT | 24 sa 54    |
16 Dec 1905 Noon UT | 25 sa 19    |
17 Dec 1905 Noon UT | 25 sa 45    |
18 Dec 1905 Noon UT | 26 sa 10    |
19 Dec 1905 Noon UT | 26 sa 36    |
20 Dec 1905 Noon UT | 27 sa  2    |
21 Dec 1905 Noon UT | 27 sa 27    |
22 Dec 1905 Noon UT | 27 sa 53    |
23 Dec 1905 Noon UT | 28 sa 18    |
24 Dec 1905 Noon UT | 28 sa 44    |
25 Dec 1905 Noon UT | 29 sa  9    |
26 Dec 1905 Noon UT | 29 sa 35    |
27 Dec 1905 Noon UT |  0 cp  0    |
28 Dec 1905 Noon UT |  0 cp 26    |
29 Dec 1905 Noon UT |  0 cp 51    |
30 Dec 1905 Noon UT |  1 cp 16    |
31 Dec 1905 Noon UT |  1 cp 42    |
01 Jan 1906 Noon UT |  2 cp  7    |
02 Jan 1906 Noon UT |  2 cp 33    |
03 Jan 1906 Noon UT |  2 cp 58    |
04 Jan 1906 Noon UT |  3 cp 23    |
05 Jan 1906 Noon UT |  3 cp 48    |
06 Jan 1906 Noon UT |  4 cp 14    |
07 Jan 1906 Noon UT |  4 cp 39    |
08 Jan 1906 Noon UT |  5 cp  4    |
09 Jan 1906 Noon UT |  5 cp 29    |
10 Jan 1906 Noon UT |  5 cp 54    |
11 Jan 1906 Noon UT |  6 cp 20    |
12 Jan 1906 Noon UT |  6 cp 45    |
13 Jan 1906 Noon UT |  7 cp 10    |
14 Jan 1906 Noon UT |  7 cp 35    |
15 Jan 1906 Noon UT |  8 cp  0    |
16 Jan 1906 Noon UT |  8 cp 25    |
17 Jan 1906 Noon UT |  8 cp 50    |
18 Jan 1906 Noon UT |  9 cp 14    |
19 Jan 1906 Noon UT |  9 cp 39    |
20 Jan 1906 Noon UT | 10 cp  4    |
21 Jan 1906 Noon UT | 10 cp 29    |
22 Jan 1906 Noon UT | 10 cp 54    |
23 Jan 1906 Noon UT | 11 cp 18    |
24 Jan 1906 Noon UT | 11 cp 43    |
25 Jan 1906 Noon UT | 12 cp  8    |
26 Jan 1906 Noon UT | 12 cp 32    |
27 Jan 1906 Noon UT | 12 cp 57    |
28 Jan 1906 Noon UT | 13 cp 21    |
29 Jan 1906 Noon UT | 13 cp 46    |
30 Jan 1906 Noon UT | 14 cp 10    |
31 Jan 1906 Noon UT | 14 cp 34    |
01 Feb 1906 Noon UT | 14 cp 58    |
02 Feb 1906 Noon UT | 15 cp 23    |
03 Feb 1906 Noon UT | 15 cp 47    |
04 Feb 1906 Noon UT | 16 cp 11    |
05 Feb 1906 Noon UT | 16 cp 35    |
06 Feb 1906 Noon UT | 16 cp 59    |
07 Feb 1906 Noon UT | 17 cp 23    |
08 Feb 1906 Noon UT | 17 cp 47    |
09 Feb 1906 Noon UT | 18 cp 11    |
10 Feb 1906 Noon UT | 18 cp 34    |
11 Feb 1906 Noon UT | 18 cp 58    |
12 Feb 1906 Noon UT | 19 cp 22    |
13 Feb 1906 Noon UT | 19 cp 45    |
14 Feb 1906 Noon UT | 20 cp  9    |
15 Feb 1906 Noon UT | 20 cp 32    |
16 Feb 1906 Noon UT | 20 cp 55    |
17 Feb 1906 Noon UT | 21 cp 19    |
18 Feb 1906 Noon UT | 21 cp 42    |
19 Feb 1906 Noon UT | 22 cp  5    |
20 Feb 1906 Noon UT | 22 cp 28    |
21 Feb 1906 Noon UT | 22 cp 51    |
22 Feb 1906 Noon UT | 23 cp 14    |
23 Feb 1906 Noon UT | 23 cp 37    |
24 Feb 1906 Noon UT | 23 cp 59    |
25 Feb 1906 Noon UT | 24 cp 22    |
26 Feb 1906 Noon UT | 24 cp 45    |
27 Feb 1906 Noon UT | 25 cp  7    |
28 Feb 1906 Noon UT | 25 cp 29    |
01 Mar 1906 Noon UT | 25 cp 52    |
02 Mar 1906 Noon UT | 26 cp 14    |
03 Mar 1906 Noon UT | 26 cp 36    |
04 Mar 1906 Noon UT | 26 cp 58    |
05 Mar 1906 Noon UT | 27 cp 20    |
06 Mar 1906 Noon UT | 27 cp 42    |
07 Mar 1906 Noon UT | 28 cp  4    |
08 Mar 1906 Noon UT | 28 cp 25    |
09 Mar 1906 Noon UT | 28 cp 47    |
10 Mar 1906 Noon UT | 29 cp  8    |
11 Mar 1906 Noon UT | 29 cp 30    |
12 Mar 1906 Noon UT | 29 cp 51    |
13 Mar 1906 Noon UT |  0 aq 12    |
14 Mar 1906 Noon UT |  0 aq 33    |
15 Mar 1906 Noon UT |  0 aq 54    |
16 Mar 1906 Noon UT |  1 aq 15    |
17 Mar 1906 Noon UT |  1 aq 35    |
18 Mar 1906 Noon UT |  1 aq 56    |
19 Mar 1906 Noon UT |  2 aq 16    |
20 Mar 1906 Noon UT |  2 aq 37    |
21 Mar 1906 Noon UT |  2 aq 57    |
22 Mar 1906 Noon UT |  3 aq 17    |
23 Mar 1906 Noon UT |  3 aq 37    |
24 Mar 1906 Noon UT |  3 aq 57    |
25 Mar 1906 Noon UT |  4 aq 17    |
26 Mar 1906 Noon UT |  4 aq 36    |
27 Mar 1906 Noon UT |  4 aq 56    |
28 Mar 1906 Noon UT |  5 aq 15    |
29 Mar 1906 Noon UT |  5 aq 34    |
30 Mar 1906 Noon UT |  5 aq 53    |
31 Mar 1906 Noon UT |  6 aq 12    |
01 Apr 1906 Noon UT |  6 aq 31    |
02 Apr 1906 Noon UT |  6 aq 50    |
03 Apr 1906 Noon UT |  7 aq  8    |
04 Apr 1906 Noon UT |  7 aq 26    |
05 Apr 1906 Noon UT |  7 aq 45    |
06 Apr 1906 Noon UT |  8 aq  3    |
07 Apr 1906 Noon UT |  8 aq 20    |
08 Apr 1906 Noon UT |  8 aq 38    |
09 Apr 1906 Noon UT |  8 aq 56    |
10 Apr 1906 Noon UT |  9 aq 13    |
11 Apr 1906 Noon UT |  9 aq 30    |
12 Apr 1906 Noon UT |  9 aq 47    |
13 Apr 1906 Noon UT | 10 aq  4    |
14 Apr 1906 Noon UT | 10 aq 21    |
15 Apr 1906 Noon UT | 10 aq 38    |
16 Apr 1906 Noon UT | 10 aq 54    |
17 Apr 1906 Noon UT | 11 aq 10    |
18 Apr 1906 Noon UT | 11 aq 26    |
19 Apr 1906 Noon UT | 11 aq 42    |
20 Apr 1906 Noon UT | 11 aq 58    |
21 Apr 1906 Noon UT | 12 aq 13    |
22 Apr 1906 Noon UT | 12 aq 28    |
23 Apr 1906 Noon UT | 12 aq 43    |
24 Apr 1906 Noon UT | 12 aq 58    |
25 Apr 1906 Noon UT | 13 aq 13    |
26 Apr 1906 Noon UT | 13 aq 27    |
27 Apr 1906 Noon UT | 13 aq 42    |
28 Apr 1906 Noon UT | 13 aq 56    |
29 Apr 1906 Noon UT | 14 aq  9    |
30 Apr 1906 Noon UT | 14 aq 23    |
01 May 1906 Noon UT | 14 aq 36    |
02 May 1906 Noon UT | 14 aq 49    |
03 May 1906 Noon UT | 15 aq  2    |
04 May 1906 Noon UT | 15 aq 15    |
05 May 1906 Noon UT | 15 aq 28    |
06 May 1906 Noon UT | 15 aq 40    |
07 May 1906 Noon UT | 15 aq 52    |
08 May 1906 Noon UT | 16 aq  4    |
09 May 1906 Noon UT | 16 aq 15    |
10 May 1906 Noon UT | 16 aq 26    |
11 May 1906 Noon UT | 16 aq 37    |
12 May 1906 Noon UT | 16 aq 48    |
13 May 1906 Noon UT | 16 aq 59    |
14 May 1906 Noon UT | 17 aq  9    |
15 May 1906 Noon UT | 17 aq 19    |
16 May 1906 Noon UT | 17 aq 29    |
17 May 1906 Noon UT | 17 aq 38    |
18 May 1906 Noon UT | 17 aq 48    |
19 May 1906 Noon UT | 17 aq 56    |
20 May 1906 Noon UT | 18 aq  5    |
21 May 1906 Noon UT | 18 aq 13    |
22 May 1906 Noon UT | 18 aq 22    |
23 May 1906 Noon UT | 18 aq 29    |
24 May 1906 Noon UT | 18 aq 37    |
25 May 1906 Noon UT | 18 aq 44    |
26 May 1906 Noon UT | 18 aq 51    |
27 May 1906 Noon UT | 18 aq 58    |
28 May 1906 Noon UT | 19 aq  4    |
29 May 1906 Noon UT | 19 aq 10    |
30 May 1906 Noon UT | 19 aq 16    |
31 May 1906 Noon UT | 19 aq 21    |
01 Jun 1906 Noon UT | 19 aq 26    |
02 Jun 1906 Noon UT | 19 aq 31    |
03 Jun 1906 Noon UT | 19 aq 35    |
04 Jun 1906 Noon UT | 19 aq 39    |
05 Jun 1906 Noon UT | 19 aq 43    |
06 Jun 1906 Noon UT | 19 aq 47    |
07 Jun 1906 Noon UT | 19 aq 50    |
08 Jun 1906 Noon UT | 19 aq 52    |
09 Jun 1906 Noon UT | 19 aq 55    |
10 Jun 1906 Noon UT | 19 aq 57    |
11 Jun 1906 Noon UT | 19 aq 59    |
12 Jun 1906 Noon UT | 20 aq  0    |
13 Jun 1906 Noon UT | 20 aq  2    |
14 Jun 1906 Noon UT | 20 aq  2    |
15 Jun 1906 Noon UT | 20 aq  3    |
16 Jun 1906 Noon UT | 20 aq  3 Rx |
17 Jun 1906 Noon UT | 20 aq  3 Rx |
18 Jun 1906 Noon UT | 20 aq  2 Rx |
19 Jun 1906 Noon UT | 20 aq  1 Rx |
20 Jun 1906 Noon UT | 20 aq  0 Rx |
21 Jun 1906 Noon UT | 19 aq 58 Rx |
22 Jun 1906 Noon UT | 19 aq 56 Rx |
23 Jun 1906 Noon UT | 19 aq 54 Rx |
24 Jun 1906 Noon UT | 19 aq 51 Rx |
25 Jun 1906 Noon UT | 19 aq 48 Rx |
26 Jun 1906 Noon UT | 19 aq 45 Rx |
27 Jun 1906 Noon UT | 19 aq 41 Rx |
28 Jun 1906 Noon UT | 19 aq 37 Rx |
29 Jun 1906 Noon UT | 19 aq 33 Rx |
30 Jun 1906 Noon UT | 19 aq 28 Rx |
01 Jul 1906 Noon UT | 19 aq 23 Rx |
02 Jul 1906 Noon UT | 19 aq 18 Rx |
03 Jul 1906 Noon UT | 19 aq 12 Rx |
04 Jul 1906 Noon UT | 19 aq  6 Rx |
05 Jul 1906 Noon UT | 19 aq  0 Rx |
06 Jul 1906 Noon UT | 18 aq 53 Rx |
07 Jul 1906 Noon UT | 18 aq 47 Rx |
08 Jul 1906 Noon UT | 18 aq 39 Rx |
09 Jul 1906 Noon UT | 18 aq 32 Rx |
10 Jul 1906 Noon UT | 18 aq 24 Rx |
11 Jul 1906 Noon UT | 18 aq 16 Rx |
12 Jul 1906 Noon UT | 18 aq  8 Rx |
13 Jul 1906 Noon UT | 17 aq 59 Rx |
14 Jul 1906 Noon UT | 17 aq 50 Rx |
15 Jul 1906 Noon UT | 17 aq 41 Rx |
16 Jul 1906 Noon UT | 17 aq 32 Rx |
17 Jul 1906 Noon UT | 17 aq 23 Rx |
18 Jul 1906 Noon UT | 17 aq 13 Rx |
19 Jul 1906 Noon UT | 17 aq  3 Rx |
20 Jul 1906 Noon UT | 16 aq 53 Rx |
21 Jul 1906 Noon UT | 16 aq 42 Rx |
22 Jul 1906 Noon UT | 16 aq 32 Rx |
23 Jul 1906 Noon UT | 16 aq 21 Rx |
24 Jul 1906 Noon UT | 16 aq 10 Rx |
25 Jul 1906 Noon UT | 15 aq 59 Rx |
26 Jul 1906 Noon UT | 15 aq 48 Rx |
27 Jul 1906 Noon UT | 15 aq 36 Rx |
28 Jul 1906 Noon UT | 15 aq 25 Rx |
29 Jul 1906 Noon UT | 15 aq 13 Rx |
30 Jul 1906 Noon UT | 15 aq  2 Rx |
31 Jul 1906 Noon UT | 14 aq 50 Rx |
01 Aug 1906 Noon UT | 14 aq 38 Rx |
02 Aug 1906 Noon UT | 14 aq 26 Rx |
03 Aug 1906 Noon UT | 14 aq 14 Rx |
04 Aug 1906 Noon UT | 14 aq  2 Rx |
05 Aug 1906 Noon UT | 13 aq 51 Rx |
06 Aug 1906 Noon UT | 13 aq 39 Rx |
07 Aug 1906 Noon UT | 13 aq 27 Rx |
08 Aug 1906 Noon UT | 13 aq 15 Rx |
09 Aug 1906 Noon UT | 13 aq  3 Rx |
10 Aug 1906 Noon UT | 12 aq 51 Rx |
11 Aug 1906 Noon UT | 12 aq 39 Rx |
12 Aug 1906 Noon UT | 12 aq 28 Rx |
13 Aug 1906 Noon UT | 12 aq 16 Rx |
14 Aug 1906 Noon UT | 12 aq  4 Rx |
15 Aug 1906 Noon UT | 11 aq 53 Rx |
16 Aug 1906 Noon UT | 11 aq 42 Rx |
17 Aug 1906 Noon UT | 11 aq 31 Rx |
18 Aug 1906 Noon UT | 11 aq 20 Rx |
19 Aug 1906 Noon UT | 11 aq  9 Rx |
20 Aug 1906 Noon UT | 10 aq 58 Rx |
21 Aug 1906 Noon UT | 10 aq 47 Rx |
22 Aug 1906 Noon UT | 10 aq 37 Rx |
23 Aug 1906 Noon UT | 10 aq 27 Rx |
24 Aug 1906 Noon UT | 10 aq 17 Rx |
25 Aug 1906 Noon UT | 10 aq  7 Rx |
26 Aug 1906 Noon UT |  9 aq 58 Rx |
27 Aug 1906 Noon UT |  9 aq 49 Rx |
28 Aug 1906 Noon UT |  9 aq 40 Rx |
29 Aug 1906 Noon UT |  9 aq 31 Rx |
30 Aug 1906 Noon UT |  9 aq 22 Rx |
31 Aug 1906 Noon UT |  9 aq 14 Rx |
01 Sep 1906 Noon UT |  9 aq  6 Rx |
02 Sep 1906 Noon UT |  8 aq 59 Rx |
03 Sep 1906 Noon UT |  8 aq 51 Rx |
04 Sep 1906 Noon UT |  8 aq 44 Rx |
05 Sep 1906 Noon UT |  8 aq 37 Rx |
06 Sep 1906 Noon UT |  8 aq 31 Rx |
07 Sep 1906 Noon UT |  8 aq 24 Rx |
08 Sep 1906 Noon UT |  8 aq 19 Rx |
09 Sep 1906 Noon UT |  8 aq 13 Rx |
10 Sep 1906 Noon UT |  8 aq  8 Rx |
11 Sep 1906 Noon UT |  8 aq  3 Rx |
12 Sep 1906 Noon UT |  7 aq 58 Rx |
13 Sep 1906 Noon UT |  7 aq 54 Rx |
14 Sep 1906 Noon UT |  7 aq 50 Rx |
15 Sep 1906 Noon UT |  7 aq 46 Rx |
16 Sep 1906 Noon UT |  7 aq 43 Rx |
17 Sep 1906 Noon UT |  7 aq 40 Rx |
18 Sep 1906 Noon UT |  7 aq 37 Rx |
19 Sep 1906 Noon UT |  7 aq 35 Rx |
20 Sep 1906 Noon UT |  7 aq 33 Rx |
21 Sep 1906 Noon UT |  7 aq 31 Rx |
22 Sep 1906 Noon UT |  7 aq 30 Rx |
23 Sep 1906 Noon UT |  7 aq 29 Rx |
24 Sep 1906 Noon UT |  7 aq 28 Rx |
25 Sep 1906 Noon UT |  7 aq 28 Rx |
26 Sep 1906 Noon UT |  7 aq 28    |
27 Sep 1906 Noon UT |  7 aq 28    |
28 Sep 1906 Noon UT |  7 aq 29    |
29 Sep 1906 Noon UT |  7 aq 30    |
30 Sep 1906 Noon UT |  7 aq 31    |
01 Oct 1906 Noon UT |  7 aq 33    |
02 Oct 1906 Noon UT |  7 aq 35    |
03 Oct 1906 Noon UT |  7 aq 37    |
04 Oct 1906 Noon UT |  7 aq 39    |
05 Oct 1906 Noon UT |  7 aq 42    |
06 Oct 1906 Noon UT |  7 aq 46    |
07 Oct 1906 Noon UT |  7 aq 49    |
08 Oct 1906 Noon UT |  7 aq 53    |
09 Oct 1906 Noon UT |  7 aq 57    |
10 Oct 1906 Noon UT |  8 aq  2    |
11 Oct 1906 Noon UT |  8 aq  6    |
12 Oct 1906 Noon UT |  8 aq 12    |
13 Oct 1906 Noon UT |  8 aq 17    |
14 Oct 1906 Noon UT |  8 aq 23    |
15 Oct 1906 Noon UT |  8 aq 29    |
16 Oct 1906 Noon UT |  8 aq 35    |
17 Oct 1906 Noon UT |  8 aq 41    |
18 Oct 1906 Noon UT |  8 aq 48    |
19 Oct 1906 Noon UT |  8 aq 55    |
20 Oct 1906 Noon UT |  9 aq  3    |
21 Oct 1906 Noon UT |  9 aq 10    |
22 Oct 1906 Noon UT |  9 aq 18    |
23 Oct 1906 Noon UT |  9 aq 26    |
24 Oct 1906 Noon UT |  9 aq 35    |
25 Oct 1906 Noon UT |  9 aq 43    |
26 Oct 1906 Noon UT |  9 aq 52    |
27 Oct 1906 Noon UT | 10 aq  2    |
28 Oct 1906 Noon UT | 10 aq 11    |
29 Oct 1906 Noon UT | 10 aq 21    |
30 Oct 1906 Noon UT | 10 aq 31    |
31 Oct 1906 Noon UT | 10 aq 41    |
01 Nov 1906 Noon UT | 10 aq 51    |
02 Nov 1906 Noon UT | 11 aq  2    |
03 Nov 1906 Noon UT | 11 aq 13    |
04 Nov 1906 Noon UT | 11 aq 24    |
05 Nov 1906 Noon UT | 11 aq 35    |
06 Nov 1906 Noon UT | 11 aq 47    |
07 Nov 1906 Noon UT | 11 aq 58    |
08 Nov 1906 Noon UT | 12 aq 10    |
09 Nov 1906 Noon UT | 12 aq 23    |
10 Nov 1906 Noon UT | 12 aq 35    |
11 Nov 1906 Noon UT | 12 aq 47    |
12 Nov 1906 Noon UT | 13 aq  0    |
13 Nov 1906 Noon UT | 13 aq 13    |
14 Nov 1906 Noon UT | 13 aq 26    |
15 Nov 1906 Noon UT | 13 aq 40    |
16 Nov 1906 Noon UT | 13 aq 53    |
17 Nov 1906 Noon UT | 14 aq  7    |
18 Nov 1906 Noon UT | 14 aq 21    |
19 Nov 1906 Noon UT | 14 aq 35    |
20 Nov 1906 Noon UT | 14 aq 49    |
21 Nov 1906 Noon UT | 15 aq  4    |
22 Nov 1906 Noon UT | 15 aq 18    |
23 Nov 1906 Noon UT | 15 aq 33    |
24 Nov 1906 Noon UT | 15 aq 48    |
25 Nov 1906 Noon UT | 16 aq  3    |
26 Nov 1906 Noon UT | 16 aq 18    |
27 Nov 1906 Noon UT | 16 aq 34    |
28 Nov 1906 Noon UT | 16 aq 49    |
29 Nov 1906 Noon UT | 17 aq  5    |
30 Nov 1906 Noon UT | 17 aq 21    |
01 Dec 1906 Noon UT | 17 aq 37    |
02 Dec 1906 Noon UT | 17 aq 53    |
03 Dec 1906 Noon UT | 18 aq  9    |
04 Dec 1906 Noon UT | 18 aq 26    |
05 Dec 1906 Noon UT | 18 aq 42    |
06 Dec 1906 Noon UT | 18 aq 59    |
07 Dec 1906 Noon UT | 19 aq 16    |
08 Dec 1906 Noon UT | 19 aq 33    |
09 Dec 1906 Noon UT | 19 aq 50    |
10 Dec 1906 Noon UT | 20 aq  7    |
11 Dec 1906 Noon UT | 20 aq 24    |
12 Dec 1906 Noon UT | 20 aq 42    |
13 Dec 1906 Noon UT | 20 aq 59    |
14 Dec 1906 Noon UT | 21 aq 17    |
15 Dec 1906 Noon UT | 21 aq 35    |
16 Dec 1906 Noon UT | 21 aq 53    |
17 Dec 1906 Noon UT | 22 aq 11    |
18 Dec 1906 Noon UT | 22 aq 29    |
19 Dec 1906 Noon UT | 22 aq 47    |
20 Dec 1906 Noon UT | 23 aq  5    |
21 Dec 1906 Noon UT | 23 aq 24    |
22 Dec 1906 Noon UT | 23 aq 42    |
23 Dec 1906 Noon UT | 24 aq  1    |
24 Dec 1906 Noon UT | 24 aq 19    |
25 Dec 1906 Noon UT | 24 aq 38    |
26 Dec 1906 Noon UT | 24 aq 57    |
27 Dec 1906 Noon UT | 25 aq 16    |
28 Dec 1906 Noon UT | 25 aq 35    |
29 Dec 1906 Noon UT | 25 aq 54    |
30 Dec 1906 Noon UT | 26 aq 14    |
31 Dec 1906 Noon UT | 26 aq 33    |
01 Jan 1907 Noon UT | 26 aq 52    |
02 Jan 1907 Noon UT | 27 aq 12    |
03 Jan 1907 Noon UT | 27 aq 31    |
04 Jan 1907 Noon UT | 27 aq 51    |
05 Jan 1907 Noon UT | 28 aq 10    |
06 Jan 1907 Noon UT | 28 aq 30    |
07 Jan 1907 Noon UT | 28 aq 50    |
08 Jan 1907 Noon UT | 29 aq 10    |
09 Jan 1907 Noon UT | 29 aq 30    |
10 Jan 1907 Noon UT | 29 aq 50    |
11 Jan 1907 Noon UT |  0 pi 10    |
12 Jan 1907 Noon UT |  0 pi 30    |
13 Jan 1907 Noon UT |  0 pi 50    |
14 Jan 1907 Noon UT |  1 pi 10    |
15 Jan 1907 Noon UT |  1 pi 31    |
16 Jan 1907 Noon UT |  1 pi 51    |
17 Jan 1907 Noon UT |  2 pi 12    |
18 Jan 1907 Noon UT |  2 pi 32    |
19 Jan 1907 Noon UT |  2 pi 52    |
20 Jan 1907 Noon UT |  3 pi 13    |
21 Jan 1907 Noon UT |  3 pi 34    |
22 Jan 1907 Noon UT |  3 pi 54    |
23 Jan 1907 Noon UT |  4 pi 15    |
24 Jan 1907 Noon UT |  4 pi 36    |
25 Jan 1907 Noon UT |  4 pi 57    |
26 Jan 1907 Noon UT |  5 pi 17    |
27 Jan 1907 Noon UT |  5 pi 38    |
28 Jan 1907 Noon UT |  5 pi 59    |
29 Jan 1907 Noon UT |  6 pi 20    |
30 Jan 1907 Noon UT |  6 pi 41    |
31 Jan 1907 Noon UT |  7 pi  2    |
01 Feb 1907 Noon UT |  7 pi 23    |
02 Feb 1907 Noon UT |  7 pi 44    |
03 Feb 1907 Noon UT |  8 pi  5    |
04 Feb 1907 Noon UT |  8 pi 26    |
05 Feb 1907 Noon UT |  8 pi 47    |
06 Feb 1907 Noon UT |  9 pi  9    |
07 Feb 1907 Noon UT |  9 pi 30    |
08 Feb 1907 Noon UT |  9 pi 51    |
09 Feb 1907 Noon UT | 10 pi 12    |
10 Feb 1907 Noon UT | 10 pi 34    |
11 Feb 1907 Noon UT | 10 pi 55    |
12 Feb 1907 Noon UT | 11 pi 16    |
13 Feb 1907 Noon UT | 11 pi 37    |
14 Feb 1907 Noon UT | 11 pi 59    |
15 Feb 1907 Noon UT | 12 pi 20    |
16 Feb 1907 Noon UT | 12 pi 42    |
17 Feb 1907 Noon UT | 13 pi  3    |
18 Feb 1907 Noon UT | 13 pi 24    |
19 Feb 1907 Noon UT | 13 pi 46    |
20 Feb 1907 Noon UT | 14 pi  7    |
21 Feb 1907 Noon UT | 14 pi 29    |
22 Feb 1907 Noon UT | 14 pi 50    |
23 Feb 1907 Noon UT | 15 pi 11    |
24 Feb 1907 Noon UT | 15 pi 33    |
25 Feb 1907 Noon UT | 15 pi 54    |
26 Feb 1907 Noon UT | 16 pi 16    |
27 Feb 1907 Noon UT | 16 pi 37    |
28 Feb 1907 Noon UT | 16 pi 59    |
01 Mar 1907 Noon UT | 17 pi 20    |
02 Mar 1907 Noon UT | 17 pi 42    |
03 Mar 1907 Noon UT | 18 pi  3    |
04 Mar 1907 Noon UT | 18 pi 24    |
05 Mar 1907 Noon UT | 18 pi 46    |
06 Mar 1907 Noon UT | 19 pi  7    |
07 Mar 1907 Noon UT | 19 pi 29    |
08 Mar 1907 Noon UT | 19 pi 50    |
09 Mar 1907 Noon UT | 20 pi 12    |
10 Mar 1907 Noon UT | 20 pi 33    |
11 Mar 1907 Noon UT | 20 pi 54    |
12 Mar 1907 Noon UT | 21 pi 16    |
13 Mar 1907 Noon UT | 21 pi 37    |
14 Mar 1907 Noon UT | 21 pi 59    |
15 Mar 1907 Noon UT | 22 pi 20    |
16 Mar 1907 Noon UT | 22 pi 41    |
17 Mar 1907 Noon UT | 23 pi  3    |
18 Mar 1907 Noon UT | 23 pi 24    |
19 Mar 1907 Noon UT | 23 pi 45    |
20 Mar 1907 Noon UT | 24 pi  6    |
21 Mar 1907 Noon UT | 24 pi 28    |
22 Mar 1907 Noon UT | 24 pi 49    |
23 Mar 1907 Noon UT | 25 pi 10    |
24 Mar 1907 Noon UT | 25 pi 31    |
25 Mar 1907 Noon UT | 25 pi 53    |
26 Mar 1907 Noon UT | 26 pi 14    |
27 Mar 1907 Noon UT | 26 pi 35    |
28 Mar 1907 Noon UT | 26 pi 56    |
29 Mar 1907 Noon UT | 27 pi 17    |
30 Mar 1907 Noon UT | 27 pi 38    |
31 Mar 1907 Noon UT | 27 pi 59    |
01 Apr 1907 Noon UT | 28 pi 20    |
02 Apr 1907 Noon UT | 28 pi 41    |
03 Apr 1907 Noon UT | 29 pi  2    |
04 Apr 1907 Noon UT | 29 pi 23    |
05 Apr 1907 Noon UT | 29 pi 43    |
06 Apr 1907 Noon UT |  0 ar  4    |
07 Apr 1907 Noon UT |  0 ar 25    |
08 Apr 1907 Noon UT |  0 ar 46    |
09 Apr 1907 Noon UT |  1 ar  6    |
10 Apr 1907 Noon UT |  1 ar 27    |
11 Apr 1907 Noon UT |  1 ar 48    |
12 Apr 1907 Noon UT |  2 ar  8    |
13 Apr 1907 Noon UT |  2 ar 29    |
14 Apr 1907 Noon UT |  2 ar 49    |
15 Apr 1907 Noon UT |  3 ar 10    |
16 Apr 1907 Noon UT |  3 ar 30    |
17 Apr 1907 Noon UT |  3 ar 50    |
18 Apr 1907 Noon UT |  4 ar 11    |
19 Apr 1907 Noon UT |  4 ar 31    |
20 Apr 1907 Noon UT |  4 ar 51    |
21 Apr 1907 Noon UT |  5 ar 11    |
22 Apr 1907 Noon UT |  5 ar 31    |
23 Apr 1907 Noon UT |  5 ar 51    |
24 Apr 1907 Noon UT |  6 ar 11    |
25 Apr 1907 Noon UT |  6 ar 31    |
26 Apr 1907 Noon UT |  6 ar 51    |
27 Apr 1907 Noon UT |  7 ar 11    |
28 Apr 1907 Noon UT |  7 ar 31    |
29 Apr 1907 Noon UT |  7 ar 50    |
30 Apr 1907 Noon UT |  8 ar 10    |
01 May 1907 Noon UT |  8 ar 30    |
02 May 1907 Noon UT |  8 ar 49    |
03 May 1907 Noon UT |  9 ar  9    |
04 May 1907 Noon UT |  9 ar 28    |
05 May 1907 Noon UT |  9 ar 47    |
06 May 1907 Noon UT | 10 ar  7    |
07 May 1907 Noon UT | 10 ar 26    |
08 May 1907 Noon UT | 10 ar 45    |
09 May 1907 Noon UT | 11 ar  4    |
10 May 1907 Noon UT | 11 ar 23    |
11 May 1907 Noon UT | 11 ar 42    |
12 May 1907 Noon UT | 12 ar  1    |
13 May 1907 Noon UT | 12 ar 19    |
14 May 1907 Noon UT | 12 ar 38    |
15 May 1907 Noon UT | 12 ar 57    |
16 May 1907 Noon UT | 13 ar 15    |
17 May 1907 Noon UT | 13 ar 33    |
18 May 1907 Noon UT | 13 ar 52    |
19 May 1907 Noon UT | 14 ar 10    |
20 May 1907 Noon UT | 14 ar 28    |
21 May 1907 Noon UT | 14 ar 46    |
22 May 1907 Noon UT | 15 ar  4    |
23 May 1907 Noon UT | 15 ar 22    |
24 May 1907 Noon UT | 15 ar 40    |
25 May 1907 Noon UT | 15 ar 58    |
26 May 1907 Noon UT | 16 ar 15    |
27 May 1907 Noon UT | 16 ar 33    |
28 May 1907 Noon UT | 16 ar 50    |
29 May 1907 Noon UT | 17 ar  8    |
30 May 1907 Noon UT | 17 ar 25    |
31 May 1907 Noon UT | 17 ar 42    |
01 Jun 1907 Noon UT | 17 ar 59    |
02 Jun 1907 Noon UT | 18 ar 16    |
03 Jun 1907 Noon UT | 18 ar 33    |
04 Jun 1907 Noon UT | 18 ar 50    |
05 Jun 1907 Noon UT | 19 ar  6    |
06 Jun 1907 Noon UT | 19 ar 23    |
07 Jun 1907 Noon UT | 19 ar 39    |
08 Jun 1907 Noon UT | 19 ar 55    |
09 Jun 1907 Noon UT | 20 ar 11    |
10 Jun 1907 Noon UT | 20 ar 27    |
11 Jun 1907 Noon UT | 20 ar 43    |
12 Jun 1907 Noon UT | 20 ar 59    |
13 Jun 1907 Noon UT | 21 ar 15    |
14 Jun 1907 Noon UT | 21 ar 30    |
15 Jun 1907 Noon UT | 21 ar 46    |
16 Jun 1907 Noon UT | 22 ar  1    |
17 Jun 1907 Noon UT | 22 ar 16    |
18 Jun 1907 Noon UT | 22 ar 31    |
19 Jun 1907 Noon UT | 22 ar 46    |
20 Jun 1907 Noon UT | 23 ar  1    |
21 Jun 1907 Noon UT | 23 ar 15    |
22 Jun 1907 Noon UT | 23 ar 30    |
23 Jun 1907 Noon UT | 23 ar 44    |
24 Jun 1907 Noon UT | 23 ar 58    |
25 Jun 1907 Noon UT | 24 ar 12    |
26 Jun 1907 Noon UT | 24 ar 26    |
27 Jun 1907 Noon UT | 24 ar 40    |
28 Jun 1907 Noon UT | 24 ar 53    |
29 Jun 1907 Noon UT | 25 ar  7    |
30 Jun 1907 Noon UT | 25 ar 20    |
01 Jul 1907 Noon UT | 25 ar 33    |
02 Jul 1907 Noon UT | 25 ar 46    |
03 Jul 1907 Noon UT | 25 ar 59    |
04 Jul 1907 Noon UT | 26 ar 11    |
05 Jul 1907 Noon UT | 26 ar 24    |
06 Jul 1907 Noon UT | 26 ar 36    |
07 Jul 1907 Noon UT | 26 ar 48    |
08 Jul 1907 Noon UT | 27 ar  0    |
09 Jul 1907 Noon UT | 27 ar 11    |
10 Jul 1907 Noon UT | 27 ar 23    |
11 Jul 1907 Noon UT | 27 ar 34    |
12 Jul 1907 Noon UT | 27 ar 45    |
13 Jul 1907 Noon UT | 27 ar 56    |
14 Jul 1907 Noon UT | 28 ar  7    |
15 Jul 1907 Noon UT | 28 ar 17    |
16 Jul 1907 Noon UT | 28 ar 28    |
17 Jul 1907 Noon UT | 28 ar 38    |
18 Jul 1907 Noon UT | 28 ar 48    |
19 Jul 1907 Noon UT | 28 ar 58    |
20 Jul 1907 Noon UT | 29 ar  7    |
21 Jul 1907 Noon UT | 29 ar 16    |
22 Jul 1907 Noon UT | 29 ar 25    |
23 Jul 1907 Noon UT | 29 ar 34    |
24 Jul 1907 Noon UT | 29 ar 43    |
25 Jul 1907 Noon UT | 29 ar 51    |
26 Jul 1907 Noon UT | 29 ar 59    |
27 Jul 1907 Noon UT |  0 ta  7    |
28 Jul 1907 Noon UT |  0 ta 15    |
29 Jul 1907 Noon UT |  0 ta 22    |
30 Jul 1907 Noon UT |  0 ta 30    |
31 Jul 1907 Noon UT |  0 ta 37    |
01 Aug 1907 Noon UT |  0 ta 43    |
02 Aug 1907 Noon UT |  0 ta 50    |
03 Aug 1907 Noon UT |  0 ta 56    |
04 Aug 1907 Noon UT |  1 ta  2    |
05 Aug 1907 Noon UT |  1 ta  8    |
06 Aug 1907 Noon UT |  1 ta 13    |
07 Aug 1907 Noon UT |  1 ta 18    |
08 Aug 1907 Noon UT |  1 ta 23    |
09 Aug 1907 Noon UT |  1 ta 28    |
10 Aug 1907 Noon UT |  1 ta 32    |
11 Aug 1907 Noon UT |  1 ta 36    |
12 Aug 1907 Noon UT |  1 ta 40    |
13 Aug 1907 Noon UT |  1 ta 44    |
14 Aug 1907 Noon UT |  1 ta 47    |
15 Aug 1907 Noon UT |  1 ta 50    |
16 Aug 1907 Noon UT |  1 ta 53    |
17 Aug 1907 Noon UT |  1 ta 55    |
18 Aug 1907 Noon UT |  1 ta 57    |
19 Aug 1907 Noon UT |  1 ta 59    |
20 Aug 1907 Noon UT |  2 ta  1    |
21 Aug 1907 Noon UT |  2 ta  2    |
22 Aug 1907 Noon UT |  2 ta  3    |
23 Aug 1907 Noon UT |  2 ta  3    |
24 Aug 1907 Noon UT |  2 ta  4    |
25 Aug 1907 Noon UT |  2 ta  4 Rx |
26 Aug 1907 Noon UT |  2 ta  4 Rx |
27 Aug 1907 Noon UT |  2 ta  3 Rx |
28 Aug 1907 Noon UT |  2 ta  2 Rx |
29 Aug 1907 Noon UT |  2 ta  1 Rx |
30 Aug 1907 Noon UT |  2 ta  0 Rx |
31 Aug 1907 Noon UT |  1 ta 58 Rx |
01 Sep 1907 Noon UT |  1 ta 56 Rx |
02 Sep 1907 Noon UT |  1 ta 53 Rx |
03 Sep 1907 Noon UT |  1 ta 51 Rx |
04 Sep 1907 Noon UT |  1 ta 48 Rx |
05 Sep 1907 Noon UT |  1 ta 44 Rx |
06 Sep 1907 Noon UT |  1 ta 41 Rx |
07 Sep 1907 Noon UT |  1 ta 37 Rx |
08 Sep 1907 Noon UT |  1 ta 32 Rx |
09 Sep 1907 Noon UT |  1 ta 28 Rx |
10 Sep 1907 Noon UT |  1 ta 23 Rx |
11 Sep 1907 Noon UT |  1 ta 18 Rx |
12 Sep 1907 Noon UT |  1 ta 12 Rx |
13 Sep 1907 Noon UT |  1 ta  7 Rx |
14 Sep 1907 Noon UT |  1 ta  1 Rx |
15 Sep 1907 Noon UT |  0 ta 54 Rx |
16 Sep 1907 Noon UT |  0 ta 48 Rx |
17 Sep 1907 Noon UT |  0 ta 41 Rx |
18 Sep 1907 Noon UT |  0 ta 34 Rx |
19 Sep 1907 Noon UT |  0 ta 26 Rx |
20 Sep 1907 Noon UT |  0 ta 19 Rx |
21 Sep 1907 Noon UT |  0 ta 11 Rx |
22 Sep 1907 Noon UT |  0 ta  3 Rx |
23 Sep 1907 Noon UT | 29 ar 54 Rx |
24 Sep 1907 Noon UT | 29 ar 46 Rx |
25 Sep 1907 Noon UT | 29 ar 37 Rx |
26 Sep 1907 Noon UT | 29 ar 28 Rx |
27 Sep 1907 Noon UT | 29 ar 18 Rx |
28 Sep 1907 Noon UT | 29 ar  9 Rx |
29 Sep 1907 Noon UT | 28 ar 59 Rx |
30 Sep 1907 Noon UT | 28 ar 49 Rx |
01 Oct 1907 Noon UT | 28 ar 39 Rx |
02 Oct 1907 Noon UT | 28 ar 28 Rx |
03 Oct 1907 Noon UT | 28 ar 18 Rx |
04 Oct 1907 Noon UT | 28 ar  7 Rx |
05 Oct 1907 Noon UT | 27 ar 56 Rx |
06 Oct 1907 Noon UT | 27 ar 45 Rx |
07 Oct 1907 Noon UT | 27 ar 34 Rx |
08 Oct 1907 Noon UT | 27 ar 23 Rx |
09 Oct 1907 Noon UT | 27 ar 12 Rx |
10 Oct 1907 Noon UT | 27 ar  0 Rx |
11 Oct 1907 Noon UT | 26 ar 48 Rx |
12 Oct 1907 Noon UT | 26 ar 37 Rx |
13 Oct 1907 Noon UT | 26 ar 25 Rx |
14 Oct 1907 Noon UT | 26 ar 13 Rx |
15 Oct 1907 Noon UT | 26 ar  1 Rx |
16 Oct 1907 Noon UT | 25 ar 49 Rx |
17 Oct 1907 Noon UT | 25 ar 38 Rx |
18 Oct 1907 Noon UT | 25 ar 26 Rx |
19 Oct 1907 Noon UT | 25 ar 14 Rx |
20 Oct 1907 Noon UT | 25 ar  2 Rx |
21 Oct 1907 Noon UT | 24 ar 50 Rx |
22 Oct 1907 Noon UT | 24 ar 38 Rx |
23 Oct 1907 Noon UT | 24 ar 26 Rx |
24 Oct 1907 Noon UT | 24 ar 14 Rx |
25 Oct 1907 Noon UT | 24 ar  3 Rx |
26 Oct 1907 Noon UT | 23 ar 51 Rx |
27 Oct 1907 Noon UT | 23 ar 39 Rx |
28 Oct 1907 Noon UT | 23 ar 28 Rx |
29 Oct 1907 Noon UT | 23 ar 16 Rx |
30 Oct 1907 Noon UT | 23 ar  5 Rx |
31 Oct 1907 Noon UT | 22 ar 54 Rx |
01 Nov 1907 Noon UT | 22 ar 43 Rx |
02 Nov 1907 Noon UT | 22 ar 32 Rx |
03 Nov 1907 Noon UT | 22 ar 21 Rx |
04 Nov 1907 Noon UT | 22 ar 11 Rx |
05 Nov 1907 Noon UT | 22 ar  1 Rx |
06 Nov 1907 Noon UT | 21 ar 50 Rx |
07 Nov 1907 Noon UT | 21 ar 40 Rx |
08 Nov 1907 Noon UT | 21 ar 31 Rx |
09 Nov 1907 Noon UT | 21 ar 21 Rx |
10 Nov 1907 Noon UT | 21 ar 12 Rx |
11 Nov 1907 Noon UT | 21 ar  3 Rx |
12 Nov 1907 Noon UT | 20 ar 54 Rx |
13 Nov 1907 Noon UT | 20 ar 45 Rx |
14 Nov 1907 Noon UT | 20 ar 37 Rx |
15 Nov 1907 Noon UT | 20 ar 28 Rx |
16 Nov 1907 Noon UT | 20 ar 21 Rx |
17 Nov 1907 Noon UT | 20 ar 13 Rx |
18 Nov 1907 Noon UT | 20 ar  6 Rx |
19 Nov 1907 Noon UT | 19 ar 58 Rx |
20 Nov 1907 Noon UT | 19 ar 52 Rx |
21 Nov 1907 Noon UT | 19 ar 45 Rx |
22 Nov 1907 Noon UT | 19 ar 39 Rx |
23 Nov 1907 Noon UT | 19 ar 33 Rx |
24 Nov 1907 Noon UT | 19 ar 27 Rx |
25 Nov 1907 Noon UT | 19 ar 22 Rx |
26 Nov 1907 Noon UT | 19 ar 17 Rx |
27 Nov 1907 Noon UT | 19 ar 12 Rx |
28 Nov 1907 Noon UT | 19 ar  8 Rx |
29 Nov 1907 Noon UT | 19 ar  4 Rx |
30 Nov 1907 Noon UT | 19 ar  0 Rx |
01 Dec 1907 Noon UT | 18 ar 56 Rx |
02 Dec 1907 Noon UT | 18 ar 53 Rx |
03 Dec 1907 Noon UT | 18 ar 50 Rx |
04 Dec 1907 Noon UT | 18 ar 47 Rx |
05 Dec 1907 Noon UT | 18 ar 45 Rx |
06 Dec 1907 Noon UT | 18 ar 43 Rx |
07 Dec 1907 Noon UT | 18 ar 42 Rx |
08 Dec 1907 Noon UT | 18 ar 40 Rx |
09 Dec 1907 Noon UT | 18 ar 39 Rx |
10 Dec 1907 Noon UT | 18 ar 38 Rx |
11 Dec 1907 Noon UT | 18 ar 38 Rx |
12 Dec 1907 Noon UT | 18 ar 38    |
13 Dec 1907 Noon UT | 18 ar 38    |
14 Dec 1907 Noon UT | 18 ar 39    |
15 Dec 1907 Noon UT | 18 ar 40    |
16 Dec 1907 Noon UT | 18 ar 41    |
17 Dec 1907 Noon UT | 18 ar 42    |
18 Dec 1907 Noon UT | 18 ar 44    |
19 Dec 1907 Noon UT | 18 ar 46    |
20 Dec 1907 Noon UT | 18 ar 48    |
21 Dec 1907 Noon UT | 18 ar 51    |
22 Dec 1907 Noon UT | 18 ar 54    |
23 Dec 1907 Noon UT | 18 ar 57    |
24 Dec 1907 Noon UT | 19 ar  1    |
25 Dec 1907 Noon UT | 19 ar  4    |
26 Dec 1907 Noon UT | 19 ar  9    |
27 Dec 1907 Noon UT | 19 ar 13    |
28 Dec 1907 Noon UT | 19 ar 18    |
29 Dec 1907 Noon UT | 19 ar 22    |
30 Dec 1907 Noon UT | 19 ar 28    |
31 Dec 1907 Noon UT | 19 ar 33    |
01 Jan 1908 Noon UT | 19 ar 39    |
02 Jan 1908 Noon UT | 19 ar 45    |
03 Jan 1908 Noon UT | 19 ar 51    |
04 Jan 1908 Noon UT | 19 ar 58    |
05 Jan 1908 Noon UT | 20 ar  4    |
06 Jan 1908 Noon UT | 20 ar 11    |
07 Jan 1908 Noon UT | 20 ar 19    |
08 Jan 1908 Noon UT | 20 ar 26    |
09 Jan 1908 Noon UT | 20 ar 34    |
10 Jan 1908 Noon UT | 20 ar 42    |
11 Jan 1908 Noon UT | 20 ar 50    |
12 Jan 1908 Noon UT | 20 ar 58    |
13 Jan 1908 Noon UT | 21 ar  7    |
14 Jan 1908 Noon UT | 21 ar 16    |
15 Jan 1908 Noon UT | 21 ar 25    |
16 Jan 1908 Noon UT | 21 ar 35    |
17 Jan 1908 Noon UT | 21 ar 44    |
18 Jan 1908 Noon UT | 21 ar 54    |
19 Jan 1908 Noon UT | 22 ar  4    |
20 Jan 1908 Noon UT | 22 ar 14    |
21 Jan 1908 Noon UT | 22 ar 24    |
22 Jan 1908 Noon UT | 22 ar 35    |
23 Jan 1908 Noon UT | 22 ar 46    |
24 Jan 1908 Noon UT | 22 ar 57    |
25 Jan 1908 Noon UT | 23 ar  8    |
26 Jan 1908 Noon UT | 23 ar 19    |
27 Jan 1908 Noon UT | 23 ar 31    |
28 Jan 1908 Noon UT | 23 ar 43    |
29 Jan 1908 Noon UT | 23 ar 55    |
30 Jan 1908 Noon UT | 24 ar  7    |
31 Jan 1908 Noon UT | 24 ar 19    |
01 Feb 1908 Noon UT | 24 ar 31    |
02 Feb 1908 Noon UT | 24 ar 44    |
03 Feb 1908 Noon UT | 24 ar 57    |
04 Feb 1908 Noon UT | 25 ar 10    |
05 Feb 1908 Noon UT | 25 ar 23    |
06 Feb 1908 Noon UT | 25 ar 36    |
07 Feb 1908 Noon UT | 25 ar 49    |
08 Feb 1908 Noon UT | 26 ar  3    |
09 Feb 1908 Noon UT | 26 ar 17    |
10 Feb 1908 Noon UT | 26 ar 31    |
11 Feb 1908 Noon UT | 26 ar 45    |
12 Feb 1908 Noon UT | 26 ar 59    |
13 Feb 1908 Noon UT | 27 ar 13    |
14 Feb 1908 Noon UT | 27 ar 27    |
15 Feb 1908 Noon UT | 27 ar 42    |
16 Feb 1908 Noon UT | 27 ar 57    |
17 Feb 1908 Noon UT | 28 ar 11    |
18 Feb 1908 Noon UT | 28 ar 26    |
19 Feb 1908 Noon UT | 28 ar 41    |
20 Feb 1908 Noon UT | 28 ar 57    |
21 Feb 1908 Noon UT | 29 ar 12    |
22 Feb 1908 Noon UT | 29 ar 27    |
23 Feb 1908 Noon UT | 29 ar 43    |
24 Feb 1908 Noon UT | 29 ar 59    |
25 Feb 1908 Noon UT |  0 ta 14    |
26 Feb 1908 Noon UT |  0 ta 30    |
27 Feb 1908 Noon UT |  0 ta 46    |
28 Feb 1908 Noon UT |  1 ta  2    |
29 Feb 1908 Noon UT |  1 ta 18    |
01 Mar 1908 Noon UT |  1 ta 35    |
02 Mar 1908 Noon UT |  1 ta 51    |
03 Mar 1908 Noon UT |  2 ta  8    |
04 Mar 1908 Noon UT |  2 ta 24    |
05 Mar 1908 Noon UT |  2 ta 41    |
06 Mar 1908 Noon UT |  2 ta 58    |
07 Mar 1908 Noon UT |  3 ta 14    |
08 Mar 1908 Noon UT |  3 ta 31    |
09 Mar 1908 Noon UT |  3 ta 48    |
10 Mar 1908 Noon UT |  4 ta  5    |
11 Mar 1908 Noon UT |  4 ta 23    |
12 Mar 1908 Noon UT |  4 ta 40    |
13 Mar 1908 Noon UT |  4 ta 57    |
14 Mar 1908 Noon UT |  5 ta 15    |
15 Mar 1908 Noon UT |  5 ta 32    |
16 Mar 1908 Noon UT |  5 ta 50    |
17 Mar 1908 Noon UT |  6 ta  7    |
18 Mar 1908 Noon UT |  6 ta 25    |
19 Mar 1908 Noon UT |  6 ta 43    |
20 Mar 1908 Noon UT |  7 ta  1    |
21 Mar 1908 Noon UT |  7 ta 19    |
22 Mar 1908 Noon UT |  7 ta 36    |
23 Mar 1908 Noon UT |  7 ta 55    |
24 Mar 1908 Noon UT |  8 ta 13    |
25 Mar 1908 Noon UT |  8 ta 31    |
26 Mar 1908 Noon UT |  8 ta 49    |
27 Mar 1908 Noon UT |  9 ta  7    |
28 Mar 1908 Noon UT |  9 ta 26    |
29 Mar 1908 Noon UT |  9 ta 44    |
30 Mar 1908 Noon UT | 10 ta  2    |
31 Mar 1908 Noon UT | 10 ta 21    |
01 Apr 1908 Noon UT | 10 ta 39    |
02 Apr 1908 Noon UT | 10 ta 58    |
03 Apr 1908 Noon UT | 11 ta 17    |
04 Apr 1908 Noon UT | 11 ta 35    |
05 Apr 1908 Noon UT | 11 ta 54    |
06 Apr 1908 Noon UT | 12 ta 13    |
07 Apr 1908 Noon UT | 12 ta 31    |
08 Apr 1908 Noon UT | 12 ta 50    |
09 Apr 1908 Noon UT | 13 ta  9    |
10 Apr 1908 Noon UT | 13 ta 28    |
11 Apr 1908 Noon UT | 13 ta 47    |
12 Apr 1908 Noon UT | 14 ta  6    |
13 Apr 1908 Noon UT | 14 ta 25    |
14 Apr 1908 Noon UT | 14 ta 44    |
15 Apr 1908 Noon UT | 15 ta  3    |
16 Apr 1908 Noon UT | 15 ta 22    |
17 Apr 1908 Noon UT | 15 ta 41    |
18 Apr 1908 Noon UT | 16 ta  0    |
19 Apr 1908 Noon UT | 16 ta 20    |
20 Apr 1908 Noon UT | 16 ta 39    |
21 Apr 1908 Noon UT | 16 ta 58    |
22 Apr 1908 Noon UT | 17 ta 17    |
23 Apr 1908 Noon UT | 17 ta 36    |
24 Apr 1908 Noon UT | 17 ta 56    |
25 Apr 1908 Noon UT | 18 ta 15    |
26 Apr 1908 Noon UT | 18 ta 34    |
27 Apr 1908 Noon UT | 18 ta 54    |
28 Apr 1908 Noon UT | 19 ta 13    |
29 Apr 1908 Noon UT | 19 ta 33    |
30 Apr 1908 Noon UT | 19 ta 52    |
01 May 1908 Noon UT | 20 ta 11    |
02 May 1908 Noon UT | 20 ta 31    |
03 May 1908 Noon UT | 20 ta 50    |
04 May 1908 Noon UT | 21 ta 10    |
05 May 1908 Noon UT | 21 ta 29    |
06 May 1908 Noon UT | 21 ta 49    |
07 May 1908 Noon UT | 22 ta  8    |
08 May 1908 Noon UT | 22 ta 28    |
09 May 1908 Noon UT | 22 ta 47    |
10 May 1908 Noon UT | 23 ta  7    |
11 May 1908 Noon UT | 23 ta 26    |
12 May 1908 Noon UT | 23 ta 46    |
13 May 1908 Noon UT | 24 ta  5    |
14 May 1908 Noon UT | 24 ta 25    |
15 May 1908 Noon UT | 24 ta 44    |
16 May 1908 Noon UT | 25 ta  4    |
17 May 1908 Noon UT | 25 ta 23    |
18 May 1908 Noon UT | 25 ta 43    |
19 May 1908 Noon UT | 26 ta  2    |
20 May 1908 Noon UT | 26 ta 22    |
21 May 1908 Noon UT | 26 ta 41    |
22 May 1908 Noon UT | 27 ta  1    |
23 May 1908 Noon UT | 27 ta 20    |
24 May 1908 Noon UT | 27 ta 40    |
25 May 1908 Noon UT | 27 ta 59    |
26 May 1908 Noon UT | 28 ta 18    |
27 May 1908 Noon UT | 28 ta 38    |
28 May 1908 Noon UT | 28 ta 57    |
29 May 1908 Noon UT | 29 ta 17    |
30 May 1908 Noon UT | 29 ta 36    |
31 May 1908 Noon UT | 29 ta 56    |
01 Jun 1908 Noon UT |  0 ge 15    |
02 Jun 1908 Noon UT |  0 ge 34    |
03 Jun 1908 Noon UT |  0 ge 54    |
04 Jun 1908 Noon UT |  1 ge 13    |
05 Jun 1908 Noon UT |  1 ge 32    |
06 Jun 1908 Noon UT |  1 ge 51    |
07 Jun 1908 Noon UT |  2 ge 11    |
08 Jun 1908 Noon UT |  2 ge 30    |
09 Jun 1908 Noon UT |  2 ge 49    |
10 Jun 1908 Noon UT |  3 ge  8    |
11 Jun 1908 Noon UT |  3 ge 27    |
12 Jun 1908 Noon UT |  3 ge 47    |
13 Jun 1908 Noon UT |  4 ge  6    |
14 Jun 1908 Noon UT |  4 ge 25    |
15 Jun 1908 Noon UT |  4 ge 44    |
16 Jun 1908 Noon UT |  5 ge  3    |
17 Jun 1908 Noon UT |  5 ge 22    |
18 Jun 1908 Noon UT |  5 ge 41    |
19 Jun 1908 Noon UT |  6 ge  0    |
20 Jun 1908 Noon UT |  6 ge 19    |
21 Jun 1908 Noon UT |  6 ge 37    |
22 Jun 1908 Noon UT |  6 ge 56    |
23 Jun 1908 Noon UT |  7 ge 15    |
24 Jun 1908 Noon UT |  7 ge 34    |
25 Jun 1908 Noon UT |  7 ge 52    |
26 Jun 1908 Noon UT |  8 ge 11    |
27 Jun 1908 Noon UT |  8 ge 30    |
28 Jun 1908 Noon UT |  8 ge 48    |
29 Jun 1908 Noon UT |  9 ge  7    |
30 Jun 1908 Noon UT |  9 ge 25    |
01 Jul 1908 Noon UT |  9 ge 44    |
02 Jul 1908 Noon UT | 10 ge  2    |
03 Jul 1908 Noon UT | 10 ge 20    |
04 Jul 1908 Noon UT | 10 ge 39    |
05 Jul 1908 Noon UT | 10 ge 57    |
06 Jul 1908 Noon UT | 11 ge 15    |
07 Jul 1908 Noon UT | 11 ge 33    |
08 Jul 1908 Noon UT | 11 ge 51    |
09 Jul 1908 Noon UT | 12 ge  9    |
10 Jul 1908 Noon UT | 12 ge 27    |
11 Jul 1908 Noon UT | 12 ge 45    |
12 Jul 1908 Noon UT | 13 ge  3    |
13 Jul 1908 Noon UT | 13 ge 21    |
14 Jul 1908 Noon UT | 13 ge 39    |
15 Jul 1908 Noon UT | 13 ge 56    |
16 Jul 1908 Noon UT | 14 ge 14    |
17 Jul 1908 Noon UT | 14 ge 31    |
18 Jul 1908 Noon UT | 14 ge 49    |
19 Jul 1908 Noon UT | 15 ge  6    |
20 Jul 1908 Noon UT | 15 ge 24    |
21 Jul 1908 Noon UT | 15 ge 41    |
22 Jul 1908 Noon UT | 15 ge 58    |
23 Jul 1908 Noon UT | 16 ge 15    |
24 Jul 1908 Noon UT | 16 ge 32    |
25 Jul 1908 Noon UT | 16 ge 49    |
26 Jul 1908 Noon UT | 17 ge  6    |
27 Jul 1908 Noon UT | 17 ge 23    |
28 Jul 1908 Noon UT | 17 ge 40    |
29 Jul 1908 Noon UT | 17 ge 56    |
30 Jul 1908 Noon UT | 18 ge 13    |
31 Jul 1908 Noon UT | 18 ge 29    |
01 Aug 1908 Noon UT | 18 ge 46    |
02 Aug 1908 Noon UT | 19 ge  2    |
03 Aug 1908 Noon UT | 19 ge 18    |
04 Aug 1908 Noon UT | 19 ge 34    |
05 Aug 1908 Noon UT | 19 ge 50    |
06 Aug 1908 Noon UT | 20 ge  6    |
07 Aug 1908 Noon UT | 20 ge 22    |
08 Aug 1908 Noon UT | 20 ge 37    |
09 Aug 1908 Noon UT | 20 ge 53    |
10 Aug 1908 Noon UT | 21 ge  9    |
11 Aug 1908 Noon UT | 21 ge 24    |
12 Aug 1908 Noon UT | 21 ge 39    |
13 Aug 1908 Noon UT | 21 ge 54    |
14 Aug 1908 Noon UT | 22 ge  9    |
15 Aug 1908 Noon UT | 22 ge 24    |
16 Aug 1908 Noon UT | 22 ge 39    |
17 Aug 1908 Noon UT | 22 ge 54    |
18 Aug 1908 Noon UT | 23 ge  8    |
19 Aug 1908 Noon UT | 23 ge 23    |
20 Aug 1908 Noon UT | 23 ge 37    |
21 Aug 1908 Noon UT | 23 ge 51    |
22 Aug 1908 Noon UT | 24 ge  6    |
23 Aug 1908 Noon UT | 24 ge 20    |
24 Aug 1908 Noon UT | 24 ge 33    |
25 Aug 1908 Noon UT | 24 ge 47    |
26 Aug 1908 Noon UT | 25 ge  1    |
27 Aug 1908 Noon UT | 25 ge 14    |
28 Aug 1908 Noon UT | 25 ge 27    |
29 Aug 1908 Noon UT | 25 ge 40    |
30 Aug 1908 Noon UT | 25 ge 53    |
31 Aug 1908 Noon UT | 26 ge  6    |
01 Sep 1908 Noon UT | 26 ge 19    |
02 Sep 1908 Noon UT | 26 ge 31    |
03 Sep 1908 Noon UT | 26 ge 44    |
04 Sep 1908 Noon UT | 26 ge 56    |
05 Sep 1908 Noon UT | 27 ge  8    |
06 Sep 1908 Noon UT | 27 ge 20    |
07 Sep 1908 Noon UT | 27 ge 31    |
08 Sep 1908 Noon UT | 27 ge 43    |
09 Sep 1908 Noon UT | 27 ge 54    |
10 Sep 1908 Noon UT | 28 ge  5    |
11 Sep 1908 Noon UT | 28 ge 16    |
12 Sep 1908 Noon UT | 28 ge 27    |
13 Sep 1908 Noon UT | 28 ge 38    |
14 Sep 1908 Noon UT | 28 ge 48    |
15 Sep 1908 Noon UT | 28 ge 58    |
16 Sep 1908 Noon UT | 29 ge  8    |
17 Sep 1908 Noon UT | 29 ge 18    |
18 Sep 1908 Noon UT | 29 ge 28    |
19 Sep 1908 Noon UT | 29 ge 37    |
20 Sep 1908 Noon UT | 29 ge 46    |
21 Sep 1908 Noon UT | 29 ge 55    |
22 Sep 1908 Noon UT |  0 cn  4    |
23 Sep 1908 Noon UT |  0 cn 13    |
24 Sep 1908 Noon UT |  0 cn 21    |
25 Sep 1908 Noon UT |  0 cn 29    |
26 Sep 1908 Noon UT |  0 cn 37    |
27 Sep 1908 Noon UT |  0 cn 45    |
28 Sep 1908 Noon UT |  0 cn 52    |
29 Sep 1908 Noon UT |  0 cn 59    |
30 Sep 1908 Noon UT |  1 cn  6    |
01 Oct 1908 Noon UT |  1 cn 13    |
02 Oct 1908 Noon UT |  1 cn 19    |
03 Oct 1908 Noon UT |  1 cn 26    |
04 Oct 1908 Noon UT |  1 cn 32    |
05 Oct 1908 Noon UT |  1 cn 37    |
06 Oct 1908 Noon UT |  1 cn 43    |
07 Oct 1908 Noon UT |  1 cn 48    |
08 Oct 1908 Noon UT |  1 cn 53    |
09 Oct 1908 Noon UT |  1 cn 58    |
10 Oct 1908 Noon UT |  2 cn  2    |
11 Oct 1908 Noon UT |  2 cn  6    |
12 Oct 1908 Noon UT |  2 cn 10    |
13 Oct 1908 Noon UT |  2 cn 14    |
14 Oct 1908 Noon UT |  2 cn 17    |
15 Oct 1908 Noon UT |  2 cn 20    |
16 Oct 1908 Noon UT |  2 cn 23    |
17 Oct 1908 Noon UT |  2 cn 25    |
18 Oct 1908 Noon UT |  2 cn 27    |
19 Oct 1908 Noon UT |  2 cn 29    |
20 Oct 1908 Noon UT |  2 cn 31    |
21 Oct 1908 Noon UT |  2 cn 32    |
22 Oct 1908 Noon UT |  2 cn 33    |
23 Oct 1908 Noon UT |  2 cn 33    |
24 Oct 1908 Noon UT |  2 cn 34    |
25 Oct 1908 Noon UT |  2 cn 34 Rx |
26 Oct 1908 Noon UT |  2 cn 34 Rx |
27 Oct 1908 Noon UT |  2 cn 33 Rx |
28 Oct 1908 Noon UT |  2 cn 32 Rx |
29 Oct 1908 Noon UT |  2 cn 31 Rx |
30 Oct 1908 Noon UT |  2 cn 29 Rx |
31 Oct 1908 Noon UT |  2 cn 28 Rx |
01 Nov 1908 Noon UT |  2 cn 25 Rx |
02 Nov 1908 Noon UT |  2 cn 23 Rx |
03 Nov 1908 Noon UT |  2 cn 20 Rx |
04 Nov 1908 Noon UT |  2 cn 17 Rx |
05 Nov 1908 Noon UT |  2 cn 14 Rx |
06 Nov 1908 Noon UT |  2 cn 10 Rx |
07 Nov 1908 Noon UT |  2 cn  6 Rx |
08 Nov 1908 Noon UT |  2 cn  2 Rx |
09 Nov 1908 Noon UT |  1 cn 57 Rx |
10 Nov 1908 Noon UT |  1 cn 52 Rx |
11 Nov 1908 Noon UT |  1 cn 47 Rx |
12 Nov 1908 Noon UT |  1 cn 41 Rx |
13 Nov 1908 Noon UT |  1 cn 36 Rx |
14 Nov 1908 Noon UT |  1 cn 29 Rx |
15 Nov 1908 Noon UT |  1 cn 23 Rx |
16 Nov 1908 Noon UT |  1 cn 16 Rx |
17 Nov 1908 Noon UT |  1 cn  9 Rx |
18 Nov 1908 Noon UT |  1 cn  2 Rx |
19 Nov 1908 Noon UT |  0 cn 54 Rx |
20 Nov 1908 Noon UT |  0 cn 47 Rx |
21 Nov 1908 Noon UT |  0 cn 38 Rx |
22 Nov 1908 Noon UT |  0 cn 30 Rx |
23 Nov 1908 Noon UT |  0 cn 21 Rx |
24 Nov 1908 Noon UT |  0 cn 13 Rx |
25 Nov 1908 Noon UT |  0 cn  3 Rx |
26 Nov 1908 Noon UT | 29 ge 54 Rx |
27 Nov 1908 Noon UT | 29 ge 44 Rx |
28 Nov 1908 Noon UT | 29 ge 35 Rx |
29 Nov 1908 Noon UT | 29 ge 25 Rx |
30 Nov 1908 Noon UT | 29 ge 14 Rx |
01 Dec 1908 Noon UT | 29 ge  4 Rx |
02 Dec 1908 Noon UT | 28 ge 53 Rx |
03 Dec 1908 Noon UT | 28 ge 43 Rx |
04 Dec 1908 Noon UT | 28 ge 32 Rx |
05 Dec 1908 Noon UT | 28 ge 21 Rx |
06 Dec 1908 Noon UT | 28 ge  9 Rx |
07 Dec 1908 Noon UT | 27 ge 58 Rx |
08 Dec 1908 Noon UT | 27 ge 46 Rx |
09 Dec 1908 Noon UT | 27 ge 35 Rx |
10 Dec 1908 Noon UT | 27 ge 23 Rx |
11 Dec 1908 Noon UT | 27 ge 11 Rx |
12 Dec 1908 Noon UT | 26 ge 59 Rx |
13 Dec 1908 Noon UT | 26 ge 47 Rx |
14 Dec 1908 Noon UT | 26 ge 35 Rx |
15 Dec 1908 Noon UT | 26 ge 23 Rx |
16 Dec 1908 Noon UT | 26 ge 11 Rx |
17 Dec 1908 Noon UT | 25 ge 59 Rx |
18 Dec 1908 Noon UT | 25 ge 46 Rx |
19 Dec 1908 Noon UT | 25 ge 34 Rx |
20 Dec 1908 Noon UT | 25 ge 22 Rx |
21 Dec 1908 Noon UT | 25 ge 10 Rx |
22 Dec 1908 Noon UT | 24 ge 58 Rx |
23 Dec 1908 Noon UT | 24 ge 46 Rx |
24 Dec 1908 Noon UT | 24 ge 34 Rx |
25 Dec 1908 Noon UT | 24 ge 22 Rx |
26 Dec 1908 Noon UT | 24 ge 10 Rx |
27 Dec 1908 Noon UT | 23 ge 58 Rx |
28 Dec 1908 Noon UT | 23 ge 46 Rx |
29 Dec 1908 Noon UT | 23 ge 35 Rx |
30 Dec 1908 Noon UT | 23 ge 23 Rx |
31 Dec 1908 Noon UT | 23 ge 12 Rx |
01 Jan 1909 Noon UT | 23 ge  1 Rx |
02 Jan 1909 Noon UT | 22 ge 50 Rx |
03 Jan 1909 Noon UT | 22 ge 39 Rx |
04 Jan 1909 Noon UT | 22 ge 28 Rx |
05 Jan 1909 Noon UT | 22 ge 18 Rx |
06 Jan 1909 Noon UT | 22 ge  8 Rx |
07 Jan 1909 Noon UT | 21 ge 58 Rx |
08 Jan 1909 Noon UT | 21 ge 48 Rx |
09 Jan 1909 Noon UT | 21 ge 38 Rx |
10 Jan 1909 Noon UT | 21 ge 29 Rx |
11 Jan 1909 Noon UT | 21 ge 20 Rx |
12 Jan 1909 Noon UT | 21 ge 11 Rx |
13 Jan 1909 Noon UT | 21 ge  2 Rx |
14 Jan 1909 Noon UT | 20 ge 54 Rx |
15 Jan 1909 Noon UT | 20 ge 46 Rx |
16 Jan 1909 Noon UT | 20 ge 38 Rx |
17 Jan 1909 Noon UT | 20 ge 30 Rx |
18 Jan 1909 Noon UT | 20 ge 23 Rx |
19 Jan 1909 Noon UT | 20 ge 16 Rx |
20 Jan 1909 Noon UT | 20 ge  9 Rx |
21 Jan 1909 Noon UT | 20 ge  3 Rx |
22 Jan 1909 Noon UT | 19 ge 57 Rx |
23 Jan 1909 Noon UT | 19 ge 51 Rx |
24 Jan 1909 Noon UT | 19 ge 45 Rx |
25 Jan 1909 Noon UT | 19 ge 40 Rx |
26 Jan 1909 Noon UT | 19 ge 35 Rx |
27 Jan 1909 Noon UT | 19 ge 31 Rx |
28 Jan 1909 Noon UT | 19 ge 27 Rx |
29 Jan 1909 Noon UT | 19 ge 23 Rx |
30 Jan 1909 Noon UT | 19 ge 19 Rx |
31 Jan 1909 Noon UT | 19 ge 16 Rx |
01 Feb 1909 Noon UT | 19 ge 13 Rx |
02 Feb 1909 Noon UT | 19 ge 10 Rx |
03 Feb 1909 Noon UT | 19 ge  8 Rx |
04 Feb 1909 Noon UT | 19 ge  6 Rx |
05 Feb 1909 Noon UT | 19 ge  4 Rx |
06 Feb 1909 Noon UT | 19 ge  3 Rx |
07 Feb 1909 Noon UT | 19 ge  2 Rx |
08 Feb 1909 Noon UT | 19 ge  1 Rx |
09 Feb 1909 Noon UT | 19 ge  1 Rx |
10 Feb 1909 Noon UT | 19 ge  1    |
11 Feb 1909 Noon UT | 19 ge  1    |
12 Feb 1909 Noon UT | 19 ge  2    |
13 Feb 1909 Noon UT | 19 ge  2    |
14 Feb 1909 Noon UT | 19 ge  4    |
15 Feb 1909 Noon UT | 19 ge  5    |
16 Feb 1909 Noon UT | 19 ge  7    |
17 Feb 1909 Noon UT | 19 ge  9    |
18 Feb 1909 Noon UT | 19 ge 12    |
19 Feb 1909 Noon UT | 19 ge 14    |
20 Feb 1909 Noon UT | 19 ge 17    |
21 Feb 1909 Noon UT | 19 ge 21    |
22 Feb 1909 Noon UT | 19 ge 24    |
23 Feb 1909 Noon UT | 19 ge 28    |
24 Feb 1909 Noon UT | 19 ge 32    |
25 Feb 1909 Noon UT | 19 ge 37    |
26 Feb 1909 Noon UT | 19 ge 42    |
27 Feb 1909 Noon UT | 19 ge 47    |
28 Feb 1909 Noon UT | 19 ge 52    |
01 Mar 1909 Noon UT | 19 ge 58    |
02 Mar 1909 Noon UT | 20 ge  4    |
03 Mar 1909 Noon UT | 20 ge 10    |
04 Mar 1909 Noon UT | 20 ge 16    |
05 Mar 1909 Noon UT | 20 ge 23    |
06 Mar 1909 Noon UT | 20 ge 30    |
07 Mar 1909 Noon UT | 20 ge 37    |
08 Mar 1909 Noon UT | 20 ge 45    |
09 Mar 1909 Noon UT | 20 ge 52    |
10 Mar 1909 Noon UT | 21 ge  0    |
11 Mar 1909 Noon UT | 21 ge  9    |
12 Mar 1909 Noon UT | 21 ge 17    |
13 Mar 1909 Noon UT | 21 ge 26    |
14 Mar 1909 Noon UT | 21 ge 35    |
15 Mar 1909 Noon UT | 21 ge 44    |
16 Mar 1909 Noon UT | 21 ge 53    |
17 Mar 1909 Noon UT | 22 ge  3    |
18 Mar 1909 Noon UT | 22 ge 13    |
19 Mar 1909 Noon UT | 22 ge 23    |
20 Mar 1909 Noon UT | 22 ge 33    |
21 Mar 1909 Noon UT | 22 ge 43    |
22 Mar 1909 Noon UT | 22 ge 54    |
23 Mar 1909 Noon UT | 23 ge  5    |
24 Mar 1909 Noon UT | 23 ge 16    |
25 Mar 1909 Noon UT | 23 ge 27    |
26 Mar 1909 Noon UT | 23 ge 39    |
27 Mar 1909 Noon UT | 23 ge 50    |
28 Mar 1909 Noon UT | 24 ge  2    |
29 Mar 1909 Noon UT | 24 ge 14    |
30 Mar 1909 Noon UT | 24 ge 27    |
31 Mar 1909 Noon UT | 24 ge 39    |
01 Apr 1909 Noon UT | 24 ge 52    |
02 Apr 1909 Noon UT | 25 ge  4    |
03 Apr 1909 Noon UT | 25 ge 17    |
04 Apr 1909 Noon UT | 25 ge 31    |
05 Apr 1909 Noon UT | 25 ge 44    |
06 Apr 1909 Noon UT | 25 ge 57    |
07 Apr 1909 Noon UT | 26 ge 11    |
08 Apr 1909 Noon UT | 26 ge 25    |
09 Apr 1909 Noon UT | 26 ge 39    |
10 Apr 1909 Noon UT | 26 ge 53    |
11 Apr 1909 Noon UT | 27 ge  7    |
12 Apr 1909 Noon UT | 27 ge 21    |
13 Apr 1909 Noon UT | 27 ge 36    |
14 Apr 1909 Noon UT | 27 ge 51    |
15 Apr 1909 Noon UT | 28 ge  5    |
16 Apr 1909 Noon UT | 28 ge 20    |
17 Apr 1909 Noon UT | 28 ge 35    |
18 Apr 1909 Noon UT | 28 ge 51    |
19 Apr 1909 Noon UT | 29 ge  6    |
20 Apr 1909 Noon UT | 29 ge 22    |
21 Apr 1909 Noon UT | 29 ge 37    |
22 Apr 1909 Noon UT | 29 ge 53    |
23 Apr 1909 Noon UT |  0 cn  9    |
24 Apr 1909 Noon UT |  0 cn 25    |
25 Apr 1909 Noon UT |  0 cn 41    |
26 Apr 1909 Noon UT |  0 cn 57    |
27 Apr 1909 Noon UT |  1 cn 14    |
28 Apr 1909 Noon UT |  1 cn 30    |
29 Apr 1909 Noon UT |  1 cn 47    |
30 Apr 1909 Noon UT |  2 cn  4    |
01 May 1909 Noon UT |  2 cn 20    |
02 May 1909 Noon UT |  2 cn 37    |
03 May 1909 Noon UT |  2 cn 54    |
04 May 1909 Noon UT |  3 cn 11    |
05 May 1909 Noon UT |  3 cn 29    |
06 May 1909 Noon UT |  3 cn 46    |
07 May 1909 Noon UT |  4 cn  3    |
08 May 1909 Noon UT |  4 cn 21    |
09 May 1909 Noon UT |  4 cn 39    |
10 May 1909 Noon UT |  4 cn 56    |
11 May 1909 Noon UT |  5 cn 14    |
12 May 1909 Noon UT |  5 cn 32    |
13 May 1909 Noon UT |  5 cn 50    |
14 May 1909 Noon UT |  6 cn  8    |
15 May 1909 Noon UT |  6 cn 26    |
16 May 1909 Noon UT |  6 cn 44    |
17 May 1909 Noon UT |  7 cn  3    |
18 May 1909 Noon UT |  7 cn 21    |
19 May 1909 Noon UT |  7 cn 40    |
20 May 1909 Noon UT |  7 cn 58    |
21 May 1909 Noon UT |  8 cn 17    |
22 May 1909 Noon UT |  8 cn 36    |
23 May 1909 Noon UT |  8 cn 54    |
24 May 1909 Noon UT |  9 cn 13    |
25 May 1909 Noon UT |  9 cn 32    |
26 May 1909 Noon UT |  9 cn 51    |
27 May 1909 Noon UT | 10 cn 10    |
28 May 1909 Noon UT | 10 cn 29    |
29 May 1909 Noon UT | 10 cn 49    |
30 May 1909 Noon UT | 11 cn  8    |
31 May 1909 Noon UT | 11 cn 27    |
01 Jun 1909 Noon UT | 11 cn 46    |
02 Jun 1909 Noon UT | 12 cn  6    |
03 Jun 1909 Noon UT | 12 cn 25    |
04 Jun 1909 Noon UT | 12 cn 45    |
05 Jun 1909 Noon UT | 13 cn  5    |
06 Jun 1909 Noon UT | 13 cn 24    |
07 Jun 1909 Noon UT | 13 cn 44    |
08 Jun 1909 Noon UT | 14 cn  4    |
09 Jun 1909 Noon UT | 14 cn 24    |
10 Jun 1909 Noon UT | 14 cn 43    |
11 Jun 1909 Noon UT | 15 cn  3    |
12 Jun 1909 Noon UT | 15 cn 23    |
13 Jun 1909 Noon UT | 15 cn 43    |
14 Jun 1909 Noon UT | 16 cn  3    |
15 Jun 1909 Noon UT | 16 cn 24    |
16 Jun 1909 Noon UT | 16 cn 44    |
17 Jun 1909 Noon UT | 17 cn  4    |
18 Jun 1909 Noon UT | 17 cn 24    |
19 Jun 1909 Noon UT | 17 cn 44    |
20 Jun 1909 Noon UT | 18 cn  5    |
21 Jun 1909 Noon UT | 18 cn 25    |
22 Jun 1909 Noon UT | 18 cn 46    |
23 Jun 1909 Noon UT | 19 cn  6    |
24 Jun 1909 Noon UT | 19 cn 27    |
25 Jun 1909 Noon UT | 19 cn 47    |
26 Jun 1909 Noon UT | 20 cn  8    |
27 Jun 1909 Noon UT | 20 cn 28    |
28 Jun 1909 Noon UT | 20 cn 49    |
29 Jun 1909 Noon UT | 21 cn  9    |
30 Jun 1909 Noon UT | 21 cn 30    |
01 Jul 1909 Noon UT | 21 cn 51    |
02 Jul 1909 Noon UT | 22 cn 12    |
03 Jul 1909 Noon UT | 22 cn 32    |
04 Jul 1909 Noon UT | 22 cn 53    |
05 Jul 1909 Noon UT | 23 cn 14    |
06 Jul 1909 Noon UT | 23 cn 35    |
07 Jul 1909 Noon UT | 23 cn 56    |
08 Jul 1909 Noon UT | 24 cn 17    |
09 Jul 1909 Noon UT | 24 cn 38    |
10 Jul 1909 Noon UT | 24 cn 59    |
11 Jul 1909 Noon UT | 25 cn 19    |
12 Jul 1909 Noon UT | 25 cn 40    |
13 Jul 1909 Noon UT | 26 cn  2    |
14 Jul 1909 Noon UT | 26 cn 23    |
15 Jul 1909 Noon UT | 26 cn 44    |
16 Jul 1909 Noon UT | 27 cn  5    |
17 Jul 1909 Noon UT | 27 cn 26    |
18 Jul 1909 Noon UT | 27 cn 47    |
19 Jul 1909 Noon UT | 28 cn  8    |
20 Jul 1909 Noon UT | 28 cn 29    |
21 Jul 1909 Noon UT | 28 cn 50    |
22 Jul 1909 Noon UT | 29 cn 11    |
23 Jul 1909 Noon UT | 29 cn 33    |
24 Jul 1909 Noon UT | 29 cn 54    |
25 Jul 1909 Noon UT |  0 le 15    |
26 Jul 1909 Noon UT |  0 le 36    |
27 Jul 1909 Noon UT |  0 le 57    |
28 Jul 1909 Noon UT |  1 le 19    |
29 Jul 1909 Noon UT |  1 le 40    |
30 Jul 1909 Noon UT |  2 le  1    |
31 Jul 1909 Noon UT |  2 le 22    |
01 Aug 1909 Noon UT |  2 le 44    |
02 Aug 1909 Noon UT |  3 le  5    |
03 Aug 1909 Noon UT |  3 le 26    |
04 Aug 1909 Noon UT |  3 le 47    |
05 Aug 1909 Noon UT |  4 le  9    |
06 Aug 1909 Noon UT |  4 le 30    |
07 Aug 1909 Noon UT |  4 le 51    |
08 Aug 1909 Noon UT |  5 le 12    |
09 Aug 1909 Noon UT |  5 le 34    |
10 Aug 1909 Noon UT |  5 le 55    |
11 Aug 1909 Noon UT |  6 le 16    |
12 Aug 1909 Noon UT |  6 le 37    |
13 Aug 1909 Noon UT |  6 le 59    |
14 Aug 1909 Noon UT |  7 le 20    |
15 Aug 1909 Noon UT |  7 le 41    |
16 Aug 1909 Noon UT |  8 le  2    |
17 Aug 1909 Noon UT |  8 le 23    |
18 Aug 1909 Noon UT |  8 le 45    |
19 Aug 1909 Noon UT |  9 le  6    |
20 Aug 1909 Noon UT |  9 le 27    |
21 Aug 1909 Noon UT |  9 le 48    |
22 Aug 1909 Noon UT | 10 le  9    |
23 Aug 1909 Noon UT | 10 le 30    |
24 Aug 1909 Noon UT | 10 le 51    |
25 Aug 1909 Noon UT | 11 le 13    |
26 Aug 1909 Noon UT | 11 le 34    |
27 Aug 1909 Noon UT | 11 le 55    |
28 Aug 1909 Noon UT | 12 le 16    |
29 Aug 1909 Noon UT | 12 le 37    |
30 Aug 1909 Noon UT | 12 le 58    |
31 Aug 1909 Noon UT | 13 le 19    |
01 Sep 1909 Noon UT | 13 le 40    |
02 Sep 1909 Noon UT | 14 le  1    |
03 Sep 1909 Noon UT | 14 le 21    |
04 Sep 1909 Noon UT | 14 le 42    |
05 Sep 1909 Noon UT | 15 le  3    |
06 Sep 1909 Noon UT | 15 le 24    |
07 Sep 1909 Noon UT | 15 le 45    |
08 Sep 1909 Noon UT | 16 le  5    |
09 Sep 1909 Noon UT | 16 le 26    |
10 Sep 1909 Noon UT | 16 le 47    |
11 Sep 1909 Noon UT | 17 le  8    |
12 Sep 1909 Noon UT | 17 le 28    |
13 Sep 1909 Noon UT | 17 le 49    |
14 Sep 1909 Noon UT | 18 le  9    |
15 Sep 1909 Noon UT | 18 le 30    |
16 Sep 1909 Noon UT | 18 le 50    |
17 Sep 1909 Noon UT | 19 le 11    |
18 Sep 1909 Noon UT | 19 le 31    |
19 Sep 1909 Noon UT | 19 le 51    |
20 Sep 1909 Noon UT | 20 le 12    |
21 Sep 1909 Noon UT | 20 le 32    |
22 Sep 1909 Noon UT | 20 le 52    |
23 Sep 1909 Noon UT | 21 le 12    |
24 Sep 1909 Noon UT | 21 le 32    |
25 Sep 1909 Noon UT | 21 le 52    |
26 Sep 1909 Noon UT | 22 le 12    |
27 Sep 1909 Noon UT | 22 le 32    |
28 Sep 1909 Noon UT | 22 le 52    |
29 Sep 1909 Noon UT | 23 le 12    |
30 Sep 1909 Noon UT | 23 le 31    |
01 Oct 1909 Noon UT | 23 le 51    |
02 Oct 1909 Noon UT | 24 le 11    |
03 Oct 1909 Noon UT | 24 le 30    |
04 Oct 1909 Noon UT | 24 le 50    |
05 Oct 1909 Noon UT | 25 le  9    |
06 Oct 1909 Noon UT | 25 le 29    |
07 Oct 1909 Noon UT | 25 le 48    |
08 Oct 1909 Noon UT | 26 le  7    |
09 Oct 1909 Noon UT | 26 le 26    |
10 Oct 1909 Noon UT | 26 le 45    |
11 Oct 1909 Noon UT | 27 le  4    |
12 Oct 1909 Noon UT | 27 le 23    |
13 Oct 1909 Noon UT | 27 le 42    |
14 Oct 1909 Noon UT | 28 le  1    |
15 Oct 1909 Noon UT | 28 le 19    |
16 Oct 1909 Noon UT | 28 le 38    |
17 Oct 1909 Noon UT | 28 le 56    |
18 Oct 1909 Noon UT | 29 le 15    |
19 Oct 1909 Noon UT | 29 le 33    |
20 Oct 1909 Noon UT | 29 le 51    |
21 Oct 1909 Noon UT |  0 vi  9    |
22 Oct 1909 Noon UT |  0 vi 27    |
23 Oct 1909 Noon UT |  0 vi 45    |
24 Oct 1909 Noon UT |  1 vi  3    |
25 Oct 1909 Noon UT |  1 vi 20    |
26 Oct 1909 Noon UT |  1 vi 38    |
27 Oct 1909 Noon UT |  1 vi 55    |
28 Oct 1909 Noon UT |  2 vi 12    |
29 Oct 1909 Noon UT |  2 vi 30    |
30 Oct 1909 Noon UT |  2 vi 47    |
31 Oct 1909 Noon UT |  3 vi  4    |
01 Nov 1909 Noon UT |  3 vi 21    |
02 Nov 1909 Noon UT |  3 vi 37    |
03 Nov 1909 Noon UT |  3 vi 54    |
04 Nov 1909 Noon UT |  4 vi 10    |
05 Nov 1909 Noon UT |  4 vi 27    |
06 Nov 1909 Noon UT |  4 vi 43    |
07 Nov 1909 Noon UT |  4 vi 59    |
08 Nov 1909 Noon UT |  5 vi 15    |
09 Nov 1909 Noon UT |  5 vi 31    |
10 Nov 1909 Noon UT |  5 vi 46    |
11 Nov 1909 Noon UT |  6 vi  2    |
12 Nov 1909 Noon UT |  6 vi 17    |
13 Nov 1909 Noon UT |  6 vi 32    |
14 Nov 1909 Noon UT |  6 vi 47    |
15 Nov 1909 Noon UT |  7 vi  2    |
16 Nov 1909 Noon UT |  7 vi 16    |
17 Nov 1909 Noon UT |  7 vi 31    |
18 Nov 1909 Noon UT |  7 vi 45    |
19 Nov 1909 Noon UT |  7 vi 59    |
20 Nov 1909 Noon UT |  8 vi 13    |
21 Nov 1909 Noon UT |  8 vi 27    |
22 Nov 1909 Noon UT |  8 vi 41    |
23 Nov 1909 Noon UT |  8 vi 54    |
24 Nov 1909 Noon UT |  9 vi  7    |
25 Nov 1909 Noon UT |  9 vi 20    |
26 Nov 1909 Noon UT |  9 vi 33    |
27 Nov 1909 Noon UT |  9 vi 46    |
28 Nov 1909 Noon UT |  9 vi 58    |
29 Nov 1909 Noon UT | 10 vi 10    |
30 Nov 1909 Noon UT | 10 vi 22    |
01 Dec 1909 Noon UT | 10 vi 34    |
02 Dec 1909 Noon UT | 10 vi 46    |
03 Dec 1909 Noon UT | 10 vi 57    |
04 Dec 1909 Noon UT | 11 vi  8    |
05 Dec 1909 Noon UT | 11 vi 19    |
06 Dec 1909 Noon UT | 11 vi 30    |
07 Dec 1909 Noon UT | 11 vi 40    |
08 Dec 1909 Noon UT | 11 vi 50    |
09 Dec 1909 Noon UT | 12 vi  0    |
10 Dec 1909 Noon UT | 12 vi 10    |
11 Dec 1909 Noon UT | 12 vi 19    |
12 Dec 1909 Noon UT | 12 vi 28    |
13 Dec 1909 Noon UT | 12 vi 37    |
14 Dec 1909 Noon UT | 12 vi 46    |
15 Dec 1909 Noon UT | 12 vi 54    |
16 Dec 1909 Noon UT | 13 vi  2    |
17 Dec 1909 Noon UT | 13 vi 10    |
18 Dec 1909 Noon UT | 13 vi 18    |
19 Dec 1909 Noon UT | 13 vi 25    |
20 Dec 1909 Noon UT | 13 vi 32    |
21 Dec 1909 Noon UT | 13 vi 38    |
22 Dec 1909 Noon UT | 13 vi 45    |
23 Dec 1909 Noon UT | 13 vi 51    |
24 Dec 1909 Noon UT | 13 vi 57    |
25 Dec 1909 Noon UT | 14 vi  2    |
26 Dec 1909 Noon UT | 14 vi  7    |
27 Dec 1909 Noon UT | 14 vi 12    |
28 Dec 1909 Noon UT | 14 vi 17    |
29 Dec 1909 Noon UT | 14 vi 21    |
30 Dec 1909 Noon UT | 14 vi 25    |
31 Dec 1909 Noon UT | 14 vi 28    |
01 Jan 1910 Noon UT | 14 vi 31    |
02 Jan 1910 Noon UT | 14 vi 34    |
03 Jan 1910 Noon UT | 14 vi 37    |
04 Jan 1910 Noon UT | 14 vi 39    |
05 Jan 1910 Noon UT | 14 vi 41    |
06 Jan 1910 Noon UT | 14 vi 42    |
07 Jan 1910 Noon UT | 14 vi 44    |
08 Jan 1910 Noon UT | 14 vi 44    |
09 Jan 1910 Noon UT | 14 vi 45    |
10 Jan 1910 Noon UT | 14 vi 45 Rx |
11 Jan 1910 Noon UT | 14 vi 45 Rx |
12 Jan 1910 Noon UT | 14 vi 44 Rx |
13 Jan 1910 Noon UT | 14 vi 43 Rx |
14 Jan 1910 Noon UT | 14 vi 42 Rx |
15 Jan 1910 Noon UT | 14 vi 40 Rx |
16 Jan 1910 Noon UT | 14 vi 38 Rx |
17 Jan 1910 Noon UT | 14 vi 36 Rx |
18 Jan 1910 Noon UT | 14 vi 33 Rx |
19 Jan 1910 Noon UT | 14 vi 30 Rx |
20 Jan 1910 Noon UT | 14 vi 27 Rx |
21 Jan 1910 Noon UT | 14 vi 23 Rx |
22 Jan 1910 Noon UT | 14 vi 19 Rx |
23 Jan 1910 Noon UT | 14 vi 14 Rx |
24 Jan 1910 Noon UT | 14 vi 10 Rx |
25 Jan 1910 Noon UT | 14 vi  4 Rx |
26 Jan 1910 Noon UT | 13 vi 59 Rx |
27 Jan 1910 Noon UT | 13 vi 53 Rx |
28 Jan 1910 Noon UT | 13 vi 47 Rx |
29 Jan 1910 Noon UT | 13 vi 40 Rx |
30 Jan 1910 Noon UT | 13 vi 33 Rx |
31 Jan 1910 Noon UT | 13 vi 26 Rx |
01 Feb 1910 Noon UT | 13 vi 19 Rx |
02 Feb 1910 Noon UT | 13 vi 11 Rx |
03 Feb 1910 Noon UT | 13 vi  3 Rx |
04 Feb 1910 Noon UT | 12 vi 55 Rx |
05 Feb 1910 Noon UT | 12 vi 46 Rx |
06 Feb 1910 Noon UT | 12 vi 37 Rx |
07 Feb 1910 Noon UT | 12 vi 28 Rx |
08 Feb 1910 Noon UT | 12 vi 18 Rx |
09 Feb 1910 Noon UT | 12 vi  8 Rx |
10 Feb 1910 Noon UT | 11 vi 58 Rx |
11 Feb 1910 Noon UT | 11 vi 48 Rx |
12 Feb 1910 Noon UT | 11 vi 38 Rx |
13 Feb 1910 Noon UT | 11 vi 27 Rx |
14 Feb 1910 Noon UT | 11 vi 16 Rx |
15 Feb 1910 Noon UT | 11 vi  5 Rx |
16 Feb 1910 Noon UT | 10 vi 54 Rx |
17 Feb 1910 Noon UT | 10 vi 42 Rx |
18 Feb 1910 Noon UT | 10 vi 31 Rx |
19 Feb 1910 Noon UT | 10 vi 19 Rx |
20 Feb 1910 Noon UT | 10 vi  7 Rx |
21 Feb 1910 Noon UT |  9 vi 55 Rx |
22 Feb 1910 Noon UT |  9 vi 43 Rx |
23 Feb 1910 Noon UT |  9 vi 31 Rx |
24 Feb 1910 Noon UT |  9 vi 18 Rx |
25 Feb 1910 Noon UT |  9 vi  6 Rx |
26 Feb 1910 Noon UT |  8 vi 53 Rx |
27 Feb 1910 Noon UT |  8 vi 41 Rx |
28 Feb 1910 Noon UT |  8 vi 29 Rx |
01 Mar 1910 Noon UT |  8 vi 16 Rx |
02 Mar 1910 Noon UT |  8 vi  4 Rx |
03 Mar 1910 Noon UT |  7 vi 51 Rx |
04 Mar 1910 Noon UT |  7 vi 39 Rx |
05 Mar 1910 Noon UT |  7 vi 26 Rx |
06 Mar 1910 Noon UT |  7 vi 14 Rx |
07 Mar 1910 Noon UT |  7 vi  2 Rx |
08 Mar 1910 Noon UT |  6 vi 49 Rx |
09 Mar 1910 Noon UT |  6 vi 37 Rx |
10 Mar 1910 Noon UT |  6 vi 25 Rx |
11 Mar 1910 Noon UT |  6 vi 13 Rx |
12 Mar 1910 Noon UT |  6 vi  2 Rx |
13 Mar 1910 Noon UT |  5 vi 50 Rx |
14 Mar 1910 Noon UT |  5 vi 39 Rx |
15 Mar 1910 Noon UT |  5 vi 28 Rx |
16 Mar 1910 Noon UT |  5 vi 17 Rx |
17 Mar 1910 Noon UT |  5 vi  6 Rx |
18 Mar 1910 Noon UT |  4 vi 55 Rx |
19 Mar 1910 Noon UT |  4 vi 45 Rx |
20 Mar 1910 Noon UT |  4 vi 35 Rx |
21 Mar 1910 Noon UT |  4 vi 25 Rx |
22 Mar 1910 Noon UT |  4 vi 15 Rx |
23 Mar 1910 Noon UT |  4 vi  6 Rx |
24 Mar 1910 Noon UT |  3 vi 57 Rx |
25 Mar 1910 Noon UT |  3 vi 48 Rx |
26 Mar 1910 Noon UT |  3 vi 39 Rx |
27 Mar 1910 Noon UT |  3 vi 31 Rx |
28 Mar 1910 Noon UT |  3 vi 23 Rx |
29 Mar 1910 Noon UT |  3 vi 16 Rx |
30 Mar 1910 Noon UT |  3 vi  8 Rx |
31 Mar 1910 Noon UT |  3 vi  1 Rx |
01 Apr 1910 Noon UT |  2 vi 55 Rx |
02 Apr 1910 Noon UT |  2 vi 48 Rx |
03 Apr 1910 Noon UT |  2 vi 42 Rx |
04 Apr 1910 Noon UT |  2 vi 37 Rx |
05 Apr 1910 Noon UT |  2 vi 31 Rx |
06 Apr 1910 Noon UT |  2 vi 26 Rx |
07 Apr 1910 Noon UT |  2 vi 22 Rx |
08 Apr 1910 Noon UT |  2 vi 17 Rx |
09 Apr 1910 Noon UT |  2 vi 14 Rx |
10 Apr 1910 Noon UT |  2 vi 10 Rx |
11 Apr 1910 Noon UT |  2 vi  7 Rx |
12 Apr 1910 Noon UT |  2 vi  4 Rx |
13 Apr 1910 Noon UT |  2 vi  1 Rx |
14 Apr 1910 Noon UT |  1 vi 59 Rx |
15 Apr 1910 Noon UT |  1 vi 58 Rx |
16 Apr 1910 Noon UT |  1 vi 56 Rx |
17 Apr 1910 Noon UT |  1 vi 55 Rx |
18 Apr 1910 Noon UT |  1 vi 54 Rx |
19 Apr 1910 Noon UT |  1 vi 54 Rx |
20 Apr 1910 Noon UT |  1 vi 54    |
21 Apr 1910 Noon UT |  1 vi 55    |
22 Apr 1910 Noon UT |  1 vi 55    |
23 Apr 1910 Noon UT |  1 vi 57    |
24 Apr 1910 Noon UT |  1 vi 58    |
25 Apr 1910 Noon UT |  2 vi  0    |
26 Apr 1910 Noon UT |  2 vi  2    |
27 Apr 1910 Noon UT |  2 vi  5    |
28 Apr 1910 Noon UT |  2 vi  7    |
29 Apr 1910 Noon UT |  2 vi 11    |
30 Apr 1910 Noon UT |  2 vi 14    |
01 May 1910 Noon UT |  2 vi 18    |
02 May 1910 Noon UT |  2 vi 22    |
03 May 1910 Noon UT |  2 vi 27    |
04 May 1910 Noon UT |  2 vi 32    |
05 May 1910 Noon UT |  2 vi 37    |
06 May 1910 Noon UT |  2 vi 42    |
07 May 1910 Noon UT |  2 vi 48    |
08 May 1910 Noon UT |  2 vi 54    |
09 May 1910 Noon UT |  3 vi  1    |
10 May 1910 Noon UT |  3 vi  7    |
11 May 1910 Noon UT |  3 vi 15    |
12 May 1910 Noon UT |  3 vi 22    |
13 May 1910 Noon UT |  3 vi 30    |
14 May 1910 Noon UT |  3 vi 38    |
15 May 1910 Noon UT |  3 vi 46    |
16 May 1910 Noon UT |  3 vi 54    |
17 May 1910 Noon UT |  4 vi  3    |
18 May 1910 Noon UT |  4 vi 12    |
19 May 1910 Noon UT |  4 vi 22    |
20 May 1910 Noon UT |  4 vi 31    |
21 May 1910 Noon UT |  4 vi 41    |
22 May 1910 Noon UT |  4 vi 52    |
23 May 1910 Noon UT |  5 vi  2    |
24 May 1910 Noon UT |  5 vi 13    |
25 May 1910 Noon UT |  5 vi 24    |
26 May 1910 Noon UT |  5 vi 35    |
27 May 1910 Noon UT |  5 vi 46    |
28 May 1910 Noon UT |  5 vi 58    |
29 May 1910 Noon UT |  6 vi 10    |
30 May 1910 Noon UT |  6 vi 22    |
31 May 1910 Noon UT |  6 vi 35    |
01 Jun 1910 Noon UT |  6 vi 47    |
02 Jun 1910 Noon UT |  7 vi  0    |
03 Jun 1910 Noon UT |  7 vi 13    |
04 Jun 1910 Noon UT |  7 vi 27    |
05 Jun 1910 Noon UT |  7 vi 40    |
06 Jun 1910 Noon UT |  7 vi 54    |
07 Jun 1910 Noon UT |  8 vi  8    |
08 Jun 1910 Noon UT |  8 vi 22    |
09 Jun 1910 Noon UT |  8 vi 37    |
10 Jun 1910 Noon UT |  8 vi 51    |
11 Jun 1910 Noon UT |  9 vi  6    |
12 Jun 1910 Noon UT |  9 vi 21    |
13 Jun 1910 Noon UT |  9 vi 36    |
14 Jun 1910 Noon UT |  9 vi 52    |
15 Jun 1910 Noon UT | 10 vi  7    |
16 Jun 1910 Noon UT | 10 vi 23    |
17 Jun 1910 Noon UT | 10 vi 39    |
18 Jun 1910 Noon UT | 10 vi 55    |
19 Jun 1910 Noon UT | 11 vi 11    |
20 Jun 1910 Noon UT | 11 vi 28    |
21 Jun 1910 Noon UT | 11 vi 44    |
22 Jun 1910 Noon UT | 12 vi  1    |
23 Jun 1910 Noon UT | 12 vi 18    |
24 Jun 1910 Noon UT | 12 vi 35    |
25 Jun 1910 Noon UT | 12 vi 52    |
26 Jun 1910 Noon UT | 13 vi 10    |
27 Jun 1910 Noon UT | 13 vi 27    |
28 Jun 1910 Noon UT | 13 vi 45    |
29 Jun 1910 Noon UT | 14 vi  3    |
30 Jun 1910 Noon UT | 14 vi 21    |
01 Jul 1910 Noon UT | 14 vi 39    |
02 Jul 1910 Noon UT | 14 vi 58    |
03 Jul 1910 Noon UT | 15 vi 16    |
04 Jul 1910 Noon UT | 15 vi 35    |
05 Jul 1910 Noon UT | 15 vi 53    |
06 Jul 1910 Noon UT | 16 vi 12    |
07 Jul 1910 Noon UT | 16 vi 31    |
08 Jul 1910 Noon UT | 16 vi 51    |
09 Jul 1910 Noon UT | 17 vi 10    |
10 Jul 1910 Noon UT | 17 vi 29    |
11 Jul 1910 Noon UT | 17 vi 49    |
12 Jul 1910 Noon UT | 18 vi  8    |
13 Jul 1910 Noon UT | 18 vi 28    |
14 Jul 1910 Noon UT | 18 vi 48    |
15 Jul 1910 Noon UT | 19 vi  8    |
16 Jul 1910 Noon UT | 19 vi 28    |
17 Jul 1910 Noon UT | 19 vi 49    |
18 Jul 1910 Noon UT | 20 vi  9    |
19 Jul 1910 Noon UT | 20 vi 29    |
20 Jul 1910 Noon UT | 20 vi 50    |
21 Jul 1910 Noon UT | 21 vi 11    |
22 Jul 1910 Noon UT | 21 vi 31    |
23 Jul 1910 Noon UT | 21 vi 52    |
24 Jul 1910 Noon UT | 22 vi 13    |
25 Jul 1910 Noon UT | 22 vi 34    |
26 Jul 1910 Noon UT | 22 vi 56    |
27 Jul 1910 Noon UT | 23 vi 17    |
28 Jul 1910 Noon UT | 23 vi 38    |
29 Jul 1910 Noon UT | 24 vi  0    |
30 Jul 1910 Noon UT | 24 vi 21    |
31 Jul 1910 Noon UT | 24 vi 43    |
01 Aug 1910 Noon UT | 25 vi  5    |
02 Aug 1910 Noon UT | 25 vi 27    |
03 Aug 1910 Noon UT | 25 vi 49    |
04 Aug 1910 Noon UT | 26 vi 11    |
05 Aug 1910 Noon UT | 26 vi 33    |
06 Aug 1910 Noon UT | 26 vi 55    |
07 Aug 1910 Noon UT | 27 vi 17    |
08 Aug 1910 Noon UT | 27 vi 40    |
09 Aug 1910 Noon UT | 28 vi  2    |
10 Aug 1910 Noon UT | 28 vi 25    |
11 Aug 1910 Noon UT | 28 vi 47    |
12 Aug 1910 Noon UT | 29 vi 10    |
13 Aug 1910 Noon UT | 29 vi 33    |
14 Aug 1910 Noon UT | 29 vi 56    |
15 Aug 1910 Noon UT |  0 li 18    |
16 Aug 1910 Noon UT |  0 li 41    |
17 Aug 1910 Noon UT |  1 li  4    |
18 Aug 1910 Noon UT |  1 li 28    |
19 Aug 1910 Noon UT |  1 li 51    |
20 Aug 1910 Noon UT |  2 li 14    |
21 Aug 1910 Noon UT |  2 li 37    |
22 Aug 1910 Noon UT |  3 li  1    |
23 Aug 1910 Noon UT |  3 li 24    |
24 Aug 1910 Noon UT |  3 li 48    |
25 Aug 1910 Noon UT |  4 li 11    |
26 Aug 1910 Noon UT |  4 li 35    |
27 Aug 1910 Noon UT |  4 li 58    |
28 Aug 1910 Noon UT |  5 li 22    |
29 Aug 1910 Noon UT |  5 li 46    |
30 Aug 1910 Noon UT |  6 li 10    |
31 Aug 1910 Noon UT |  6 li 34    |
01 Sep 1910 Noon UT |  6 li 58    |
02 Sep 1910 Noon UT |  7 li 22    |
03 Sep 1910 Noon UT |  7 li 46    |
04 Sep 1910 Noon UT |  8 li 10    |
05 Sep 1910 Noon UT |  8 li 34    |
06 Sep 1910 Noon UT |  8 li 58    |
07 Sep 1910 Noon UT |  9 li 23    |
08 Sep 1910 Noon UT |  9 li 47    |
09 Sep 1910 Noon UT | 10 li 11    |
10 Sep 1910 Noon UT | 10 li 36    |
11 Sep 1910 Noon UT | 11 li  0    |
12 Sep 1910 Noon UT | 11 li 25    |
13 Sep 1910 Noon UT | 11 li 49    |
14 Sep 1910 Noon UT | 12 li 14    |
15 Sep 1910 Noon UT | 12 li 39    |
16 Sep 1910 Noon UT | 13 li  3    |
17 Sep 1910 Noon UT | 13 li 28    |
18 Sep 1910 Noon UT | 13 li 53    |
19 Sep 1910 Noon UT | 14 li 17    |
20 Sep 1910 Noon UT | 14 li 42    |
21 Sep 1910 Noon UT | 15 li  7    |
22 Sep 1910 Noon UT | 15 li 32    |
23 Sep 1910 Noon UT | 15 li 57    |
24 Sep 1910 Noon UT | 16 li 22    |
25 Sep 1910 Noon UT | 16 li 47    |
26 Sep 1910 Noon UT | 17 li 12    |
27 Sep 1910 Noon UT | 17 li 37    |
28 Sep 1910 Noon UT | 18 li  2    |
29 Sep 1910 Noon UT | 18 li 27    |
30 Sep 1910 Noon UT | 18 li 52    |
01 Oct 1910 Noon UT | 19 li 18    |
02 Oct 1910 Noon UT | 19 li 43    |
03 Oct 1910 Noon UT | 20 li  8    |
04 Oct 1910 Noon UT | 20 li 33    |
05 Oct 1910 Noon UT | 20 li 59    |
06 Oct 1910 Noon UT | 21 li 24    |
07 Oct 1910 Noon UT | 21 li 49    |
08 Oct 1910 Noon UT | 22 li 15    |
09 Oct 1910 Noon UT | 22 li 40    |
10 Oct 1910 Noon UT | 23 li  5    |
11 Oct 1910 Noon UT | 23 li 31    |
12 Oct 1910 Noon UT | 23 li 56    |
13 Oct 1910 Noon UT | 24 li 22    |
14 Oct 1910 Noon UT | 24 li 47    |
15 Oct 1910 Noon UT | 25 li 13    |
16 Oct 1910 Noon UT | 25 li 38    |
17 Oct 1910 Noon UT | 26 li  4    |
18 Oct 1910 Noon UT | 26 li 29    |
19 Oct 1910 Noon UT | 26 li 55    |
20 Oct 1910 Noon UT | 27 li 20    |
21 Oct 1910 Noon UT | 27 li 46    |
22 Oct 1910 Noon UT | 28 li 12    |
23 Oct 1910 Noon UT | 28 li 37    |
24 Oct 1910 Noon UT | 29 li  3    |
25 Oct 1910 Noon UT | 29 li 28    |
26 Oct 1910 Noon UT | 29 li 54    |
27 Oct 1910 Noon UT |  0 sc 20    |
28 Oct 1910 Noon UT |  0 sc 45    |
29 Oct 1910 Noon UT |  1 sc 11    |
30 Oct 1910 Noon UT |  1 sc 37    |
31 Oct 1910 Noon UT |  2 sc  2    |
01 Nov 1910 Noon UT |  2 sc 28    |
02 Nov 1910 Noon UT |  2 sc 54    |
03 Nov 1910 Noon UT |  3 sc 19    |
04 Nov 1910 Noon UT |  3 sc 45    |
05 Nov 1910 Noon UT |  4 sc 11    |
06 Nov 1910 Noon UT |  4 sc 36    |
07 Nov 1910 Noon UT |  5 sc  2    |
08 Nov 1910 Noon UT |  5 sc 28    |
09 Nov 1910 Noon UT |  5 sc 53    |
10 Nov 1910 Noon UT |  6 sc 19    |
11 Nov 1910 Noon UT |  6 sc 44    |
12 Nov 1910 Noon UT |  7 sc 10    |
13 Nov 1910 Noon UT |  7 sc 36    |
14 Nov 1910 Noon UT |  8 sc  1    |
15 Nov 1910 Noon UT |  8 sc 27    |
16 Nov 1910 Noon UT |  8 sc 52    |
17 Nov 1910 Noon UT |  9 sc 18    |
18 Nov 1910 Noon UT |  9 sc 44    |
19 Nov 1910 Noon UT | 10 sc  9    |
20 Nov 1910 Noon UT | 10 sc 35    |
21 Nov 1910 Noon UT | 11 sc  0    |
22 Nov 1910 Noon UT | 11 sc 26    |
23 Nov 1910 Noon UT | 11 sc 51    |
24 Nov 1910 Noon UT | 12 sc 16    |
25 Nov 1910 Noon UT | 12 sc 42    |
26 Nov 1910 Noon UT | 13 sc  7    |
27 Nov 1910 Noon UT | 13 sc 33    |
28 Nov 1910 Noon UT | 13 sc 58    |
29 Nov 1910 Noon UT | 14 sc 23    |
30 Nov 1910 Noon UT | 14 sc 49    |
01 Dec 1910 Noon UT | 15 sc 14    |
02 Dec 1910 Noon UT | 15 sc 39    |
03 Dec 1910 Noon UT | 16 sc  5    |
04 Dec 1910 Noon UT | 16 sc 30    |
05 Dec 1910 Noon UT | 16 sc 55    |
06 Dec 1910 Noon UT | 17 sc 20    |
07 Dec 1910 Noon UT | 17 sc 45    |
08 Dec 1910 Noon UT | 18 sc 10    |
09 Dec 1910 Noon UT | 18 sc 35    |
10 Dec 1910 Noon UT | 19 sc  0    |
11 Dec 1910 Noon UT | 19 sc 25    |
12 Dec 1910 Noon UT | 19 sc 50    |
13 Dec 1910 Noon UT | 20 sc 15    |
14 Dec 1910 Noon UT | 20 sc 40    |
15 Dec 1910 Noon UT | 21 sc  5    |
16 Dec 1910 Noon UT | 21 sc 29    |
17 Dec 1910 Noon UT | 21 sc 54    |
18 Dec 1910 Noon UT | 22 sc 19    |
19 Dec 1910 Noon UT | 22 sc 43    |
20 Dec 1910 Noon UT | 23 sc  8    |
21 Dec 1910 Noon UT | 23 sc 32    |
22 Dec 1910 Noon UT | 23 sc 57    |
23 Dec 1910 Noon UT | 24 sc 21    |
24 Dec 1910 Noon UT | 24 sc 45    |
25 Dec 1910 Noon UT | 25 sc 10    |
26 Dec 1910 Noon UT | 25 sc 34    |
27 Dec 1910 Noon UT | 25 sc 58    |
28 Dec 1910 Noon UT | 26 sc 22    |
29 Dec 1910 Noon UT | 26 sc 46    |
30 Dec 1910 Noon UT | 27 sc 10    |
31 Dec 1910 Noon UT | 27 sc 34    |
01 Jan 1911 Noon UT | 27 sc 58    |
02 Jan 1911 Noon UT | 28 sc 22    |
03 Jan 1911 Noon UT | 28 sc 46    |
04 Jan 1911 Noon UT | 29 sc  9    |
05 Jan 1911 Noon UT | 29 sc 33    |
06 Jan 1911 Noon UT | 29 sc 56    |
07 Jan 1911 Noon UT |  0 sa 20    |
08 Jan 1911 Noon UT |  0 sa 43    |
09 Jan 1911 Noon UT |  1 sa  6    |
10 Jan 1911 Noon UT |  1 sa 29    |
11 Jan 1911 Noon UT |  1 sa 53    |
12 Jan 1911 Noon UT |  2 sa 16    |
13 Jan 1911 Noon UT |  2 sa 38    |
14 Jan 1911 Noon UT |  3 sa  1    |
15 Jan 1911 Noon UT |  3 sa 24    |
16 Jan 1911 Noon UT |  3 sa 47    |
17 Jan 1911 Noon UT |  4 sa  9    |
18 Jan 1911 Noon UT |  4 sa 32    |
19 Jan 1911 Noon UT |  4 sa 54    |
20 Jan 1911 Noon UT |  5 sa 16    |
21 Jan 1911 Noon UT |  5 sa 39    |
22 Jan 1911 Noon UT |  6 sa  1    |
23 Jan 1911 Noon UT |  6 sa 23    |
24 Jan 1911 Noon UT |  6 sa 44    |
25 Jan 1911 Noon UT |  7 sa  6    |
26 Jan 1911 Noon UT |  7 sa 28    |
27 Jan 1911 Noon UT |  7 sa 49    |
28 Jan 1911 Noon UT |  8 sa 11    |
29 Jan 1911 Noon UT |  8 sa 32    |
30 Jan 1911 Noon UT |  8 sa 53    |
31 Jan 1911 Noon UT |  9 sa 14    |
01 Feb 1911 Noon UT |  9 sa 35    |
02 Feb 1911 Noon UT |  9 sa 56    |
03 Feb 1911 Noon UT | 10 sa 17    |
04 Feb 1911 Noon UT | 10 sa 37    |
05 Feb 1911 Noon UT | 10 sa 58    |
06 Feb 1911 Noon UT | 11 sa 18    |
07 Feb 1911 Noon UT | 11 sa 38    |
08 Feb 1911 Noon UT | 11 sa 58    |
09 Feb 1911 Noon UT | 12 sa 18    |
10 Feb 1911 Noon UT | 12 sa 38    |
11 Feb 1911 Noon UT | 12 sa 57    |
12 Feb 1911 Noon UT | 13 sa 17    |
13 Feb 1911 Noon UT | 13 sa 36    |
14 Feb 1911 Noon UT | 13 sa 55    |
15 Feb 1911 Noon UT | 14 sa 14    |
16 Feb 1911 Noon UT | 14 sa 33    |
17 Feb 1911 Noon UT | 14 sa 52    |
18 Feb 1911 Noon UT | 15 sa 10    |
19 Feb 1911 Noon UT | 15 sa 28    |
20 Feb 1911 Noon UT | 15 sa 46    |
21 Feb 1911 Noon UT | 16 sa  4    |
22 Feb 1911 Noon UT | 16 sa 22    |
23 Feb 1911 Noon UT | 16 sa 40    |
24 Feb 1911 Noon UT | 16 sa 57    |
25 Feb 1911 Noon UT | 17 sa 15    |
26 Feb 1911 Noon UT | 17 sa 32    |
27 Feb 1911 Noon UT | 17 sa 48    |
28 Feb 1911 Noon UT | 18 sa  5    |
01 Mar 1911 Noon UT | 18 sa 22    |
02 Mar 1911 Noon UT | 18 sa 38    |
03 Mar 1911 Noon UT | 18 sa 54    |
04 Mar 1911 Noon UT | 19 sa 10    |
05 Mar 1911 Noon UT | 19 sa 25    |
06 Mar 1911 Noon UT | 19 sa 41    |
07 Mar 1911 Noon UT | 19 sa 56    |
08 Mar 1911 Noon UT | 20 sa 11    |
09 Mar 1911 Noon UT | 20 sa 26    |
10 Mar 1911 Noon UT | 20 sa 40    |
11 Mar 1911 Noon UT | 20 sa 55    |
12 Mar 1911 Noon UT | 21 sa  9    |
13 Mar 1911 Noon UT | 21 sa 23    |
14 Mar 1911 Noon UT | 21 sa 36    |
15 Mar 1911 Noon UT | 21 sa 50    |
16 Mar 1911 Noon UT | 22 sa  3    |
17 Mar 1911 Noon UT | 22 sa 16    |
18 Mar 1911 Noon UT | 22 sa 28    |
19 Mar 1911 Noon UT | 22 sa 40    |
20 Mar 1911 Noon UT | 22 sa 53    |
21 Mar 1911 Noon UT | 23 sa  4    |
22 Mar 1911 Noon UT | 23 sa 16    |
23 Mar 1911 Noon UT | 23 sa 27    |
24 Mar 1911 Noon UT | 23 sa 38    |
25 Mar 1911 Noon UT | 23 sa 49    |
26 Mar 1911 Noon UT | 23 sa 59    |
27 Mar 1911 Noon UT | 24 sa 10    |
28 Mar 1911 Noon UT | 24 sa 19    |
29 Mar 1911 Noon UT | 24 sa 29    |
30 Mar 1911 Noon UT | 24 sa 38    |
31 Mar 1911 Noon UT | 24 sa 47    |
01 Apr 1911 Noon UT | 24 sa 56    |
02 Apr 1911 Noon UT | 25 sa  4    |
03 Apr 1911 Noon UT | 25 sa 12    |
04 Apr 1911 Noon UT | 25 sa 20    |
05 Apr 1911 Noon UT | 25 sa 27    |
06 Apr 1911 Noon UT | 25 sa 34    |
07 Apr 1911 Noon UT | 25 sa 41    |
08 Apr 1911 Noon UT | 25 sa 47    |
09 Apr 1911 Noon UT | 25 sa 54    |
10 Apr 1911 Noon UT | 25 sa 59    |
11 Apr 1911 Noon UT | 26 sa  5    |
12 Apr 1911 Noon UT | 26 sa 10    |
13 Apr 1911 Noon UT | 26 sa 14    |
14 Apr 1911 Noon UT | 26 sa 19    |
15 Apr 1911 Noon UT | 26 sa 23    |
16 Apr 1911 Noon UT | 26 sa 27    |
17 Apr 1911 Noon UT | 26 sa 30    |
18 Apr 1911 Noon UT | 26 sa 33    |
19 Apr 1911 Noon UT | 26 sa 35    |
20 Apr 1911 Noon UT | 26 sa 38    |
21 Apr 1911 Noon UT | 26 sa 39    |
22 Apr 1911 Noon UT | 26 sa 41    |
23 Apr 1911 Noon UT | 26 sa 42    |
24 Apr 1911 Noon UT | 26 sa 43    |
25 Apr 1911 Noon UT | 26 sa 43    |
26 Apr 1911 Noon UT | 26 sa 43 Rx |
27 Apr 1911 Noon UT | 26 sa 43 Rx |
28 Apr 1911 Noon UT | 26 sa 42 Rx |
29 Apr 1911 Noon UT | 26 sa 41 Rx |
30 Apr 1911 Noon UT | 26 sa 40 Rx |
01 May 1911 Noon UT | 26 sa 38 Rx |
02 May 1911 Noon UT | 26 sa 36 Rx |
03 May 1911 Noon UT | 26 sa 33 Rx |
04 May 1911 Noon UT | 26 sa 30 Rx |
05 May 1911 Noon UT | 26 sa 27 Rx |
06 May 1911 Noon UT | 26 sa 23 Rx |
07 May 1911 Noon UT | 26 sa 19 Rx |
08 May 1911 Noon UT | 26 sa 15 Rx |
09 May 1911 Noon UT | 26 sa 10 Rx |
10 May 1911 Noon UT | 26 sa  5 Rx |
11 May 1911 Noon UT | 26 sa  0 Rx |
12 May 1911 Noon UT | 25 sa 54 Rx |
13 May 1911 Noon UT | 25 sa 48 Rx |
14 May 1911 Noon UT | 25 sa 41 Rx |
15 May 1911 Noon UT | 25 sa 35 Rx |
16 May 1911 Noon UT | 25 sa 28 Rx |
17 May 1911 Noon UT | 25 sa 20 Rx |
18 May 1911 Noon UT | 25 sa 13 Rx |
19 May 1911 Noon UT | 25 sa  5 Rx |
20 May 1911 Noon UT | 24 sa 57 Rx |
21 May 1911 Noon UT | 24 sa 48 Rx |
22 May 1911 Noon UT | 24 sa 39 Rx |
23 May 1911 Noon UT | 24 sa 30 Rx |
24 May 1911 Noon UT | 24 sa 21 Rx |
25 May 1911 Noon UT | 24 sa 11 Rx |
26 May 1911 Noon UT | 24 sa  2 Rx |
27 May 1911 Noon UT | 23 sa 52 Rx |
28 May 1911 Noon UT | 23 sa 41 Rx |
29 May 1911 Noon UT | 23 sa 31 Rx |
30 May 1911 Noon UT | 23 sa 20 Rx |
31 May 1911 Noon UT | 23 sa 10 Rx |
01 Jun 1911 Noon UT | 22 sa 59 Rx |
02 Jun 1911 Noon UT | 22 sa 47 Rx |
03 Jun 1911 Noon UT | 22 sa 36 Rx |
04 Jun 1911 Noon UT | 22 sa 25 Rx |
05 Jun 1911 Noon UT | 22 sa 13 Rx |
06 Jun 1911 Noon UT | 22 sa  2 Rx |
07 Jun 1911 Noon UT | 21 sa 50 Rx |
08 Jun 1911 Noon UT | 21 sa 38 Rx |
09 Jun 1911 Noon UT | 21 sa 27 Rx |
10 Jun 1911 Noon UT | 21 sa 15 Rx |
11 Jun 1911 Noon UT | 21 sa  3 Rx |
12 Jun 1911 Noon UT | 20 sa 51 Rx |
13 Jun 1911 Noon UT | 20 sa 39 Rx |
14 Jun 1911 Noon UT | 20 sa 28 Rx |
15 Jun 1911 Noon UT | 20 sa 16 Rx |
16 Jun 1911 Noon UT | 20 sa  4 Rx |
17 Jun 1911 Noon UT | 19 sa 52 Rx |
18 Jun 1911 Noon UT | 19 sa 41 Rx |
19 Jun 1911 Noon UT | 19 sa 29 Rx |
20 Jun 1911 Noon UT | 19 sa 18 Rx |
21 Jun 1911 Noon UT | 19 sa  6 Rx |
22 Jun 1911 Noon UT | 18 sa 55 Rx |
23 Jun 1911 Noon UT | 18 sa 44 Rx |
24 Jun 1911 Noon UT | 18 sa 33 Rx |
25 Jun 1911 Noon UT | 18 sa 22 Rx |
26 Jun 1911 Noon UT | 18 sa 12 Rx |
27 Jun 1911 Noon UT | 18 sa  1 Rx |
28 Jun 1911 Noon UT | 17 sa 51 Rx |
29 Jun 1911 Noon UT | 17 sa 41 Rx |
30 Jun 1911 Noon UT | 17 sa 31 Rx |
01 Jul 1911 Noon UT | 17 sa 22 Rx |
02 Jul 1911 Noon UT | 17 sa 12 Rx |
03 Jul 1911 Noon UT | 17 sa  3 Rx |
04 Jul 1911 Noon UT | 16 sa 54 Rx |
05 Jul 1911 Noon UT | 16 sa 46 Rx |
06 Jul 1911 Noon UT | 16 sa 38 Rx |
07 Jul 1911 Noon UT | 16 sa 30 Rx |
08 Jul 1911 Noon UT | 16 sa 22 Rx |
09 Jul 1911 Noon UT | 16 sa 15 Rx |
10 Jul 1911 Noon UT | 16 sa  7 Rx |
11 Jul 1911 Noon UT | 16 sa  1 Rx |
12 Jul 1911 Noon UT | 15 sa 54 Rx |
13 Jul 1911 Noon UT | 15 sa 48 Rx |
14 Jul 1911 Noon UT | 15 sa 42 Rx |
15 Jul 1911 Noon UT | 15 sa 37 Rx |
16 Jul 1911 Noon UT | 15 sa 31 Rx |
17 Jul 1911 Noon UT | 15 sa 27 Rx |
18 Jul 1911 Noon UT | 15 sa 22 Rx |
19 Jul 1911 Noon UT | 15 sa 18 Rx |
20 Jul 1911 Noon UT | 15 sa 14 Rx |
21 Jul 1911 Noon UT | 15 sa 11 Rx |
22 Jul 1911 Noon UT | 15 sa  8 Rx |
23 Jul 1911 Noon UT | 15 sa  5 Rx |
24 Jul 1911 Noon UT | 15 sa  2 Rx |
25 Jul 1911 Noon UT | 15 sa  0 Rx |
26 Jul 1911 Noon UT | 14 sa 59 Rx |
27 Jul 1911 Noon UT | 14 sa 57 Rx |
28 Jul 1911 Noon UT | 14 sa 56 Rx |
29 Jul 1911 Noon UT | 14 sa 56 Rx |
30 Jul 1911 Noon UT | 14 sa 55 Rx |
31 Jul 1911 Noon UT | 14 sa 55    |
01 Aug 1911 Noon UT | 14 sa 56    |
02 Aug 1911 Noon UT | 14 sa 57    |
03 Aug 1911 Noon UT | 14 sa 58    |
04 Aug 1911 Noon UT | 14 sa 59    |
05 Aug 1911 Noon UT | 15 sa  1    |
06 Aug 1911 Noon UT | 15 sa  3    |
07 Aug 1911 Noon UT | 15 sa  6    |
08 Aug 1911 Noon UT | 15 sa  9    |
09 Aug 1911 Noon UT | 15 sa 12    |
10 Aug 1911 Noon UT | 15 sa 15    |
11 Aug 1911 Noon UT | 15 sa 19    |
12 Aug 1911 Noon UT | 15 sa 23    |
13 Aug 1911 Noon UT | 15 sa 28    |
14 Aug 1911 Noon UT | 15 sa 33    |
15 Aug 1911 Noon UT | 15 sa 38    |
16 Aug 1911 Noon UT | 15 sa 43    |
17 Aug 1911 Noon UT | 15 sa 49    |
18 Aug 1911 Noon UT | 15 sa 55    |
19 Aug 1911 Noon UT | 16 sa  2    |
20 Aug 1911 Noon UT | 16 sa  8    |
21 Aug 1911 Noon UT | 16 sa 15    |
22 Aug 1911 Noon UT | 16 sa 23    |
23 Aug 1911 Noon UT | 16 sa 30    |
24 Aug 1911 Noon UT | 16 sa 38    |
25 Aug 1911 Noon UT | 16 sa 46    |
26 Aug 1911 Noon UT | 16 sa 55    |
27 Aug 1911 Noon UT | 17 sa  4    |
28 Aug 1911 Noon UT | 17 sa 13    |
29 Aug 1911 Noon UT | 17 sa 22    |
30 Aug 1911 Noon UT | 17 sa 32    |
31 Aug 1911 Noon UT | 17 sa 42    |
01 Sep 1911 Noon UT | 17 sa 52    |
02 Sep 1911 Noon UT | 18 sa  2    |
03 Sep 1911 Noon UT | 18 sa 13    |
04 Sep 1911 Noon UT | 18 sa 24    |
05 Sep 1911 Noon UT | 18 sa 35    |
06 Sep 1911 Noon UT | 18 sa 46    |
07 Sep 1911 Noon UT | 18 sa 58    |
08 Sep 1911 Noon UT | 19 sa 10    |
09 Sep 1911 Noon UT | 19 sa 22    |
10 Sep 1911 Noon UT | 19 sa 34    |
11 Sep 1911 Noon UT | 19 sa 47    |
12 Sep 1911 Noon UT | 20 sa  0    |
13 Sep 1911 Noon UT | 20 sa 13    |
14 Sep 1911 Noon UT | 20 sa 26    |
15 Sep 1911 Noon UT | 20 sa 39    |
16 Sep 1911 Noon UT | 20 sa 53    |
17 Sep 1911 Noon UT | 21 sa  7    |
18 Sep 1911 Noon UT | 21 sa 21    |
19 Sep 1911 Noon UT | 21 sa 35    |
20 Sep 1911 Noon UT | 21 sa 50    |
21 Sep 1911 Noon UT | 22 sa  5    |
22 Sep 1911 Noon UT | 22 sa 20    |
23 Sep 1911 Noon UT | 22 sa 35    |
24 Sep 1911 Noon UT | 22 sa 50    |
25 Sep 1911 Noon UT | 23 sa  5    |
26 Sep 1911 Noon UT | 23 sa 21    |
27 Sep 1911 Noon UT | 23 sa 37    |
28 Sep 1911 Noon UT | 23 sa 53    |
29 Sep 1911 Noon UT | 24 sa  9    |
30 Sep 1911 Noon UT | 24 sa 25    |
01 Oct 1911 Noon UT | 24 sa 42    |
02 Oct 1911 Noon UT | 24 sa 59    |
03 Oct 1911 Noon UT | 25 sa 16    |
04 Oct 1911 Noon UT | 25 sa 33    |
05 Oct 1911 Noon UT | 25 sa 50    |
06 Oct 1911 Noon UT | 26 sa  7    |
07 Oct 1911 Noon UT | 26 sa 24    |
08 Oct 1911 Noon UT | 26 sa 42    |
09 Oct 1911 Noon UT | 27 sa  0    |
10 Oct 1911 Noon UT | 27 sa 18    |
11 Oct 1911 Noon UT | 27 sa 36    |
12 Oct 1911 Noon UT | 27 sa 54    |
13 Oct 1911 Noon UT | 28 sa 12    |
14 Oct 1911 Noon UT | 28 sa 31    |
15 Oct 1911 Noon UT | 28 sa 49    |
16 Oct 1911 Noon UT | 29 sa  8    |
17 Oct 1911 Noon UT | 29 sa 27    |
18 Oct 1911 Noon UT | 29 sa 46    |
19 Oct 1911 Noon UT |  0 cp  5    |
20 Oct 1911 Noon UT |  0 cp 24    |
21 Oct 1911 Noon UT |  0 cp 43    |
22 Oct 1911 Noon UT |  1 cp  3    |
23 Oct 1911 Noon UT |  1 cp 23    |
24 Oct 1911 Noon UT |  1 cp 42    |
25 Oct 1911 Noon UT |  2 cp  2    |
26 Oct 1911 Noon UT |  2 cp 22    |
27 Oct 1911 Noon UT |  2 cp 42    |
28 Oct 1911 Noon UT |  3 cp  2    |
29 Oct 1911 Noon UT |  3 cp 22    |
30 Oct 1911 Noon UT |  3 cp 43    |
31 Oct 1911 Noon UT |  4 cp  3    |
01 Nov 1911 Noon UT |  4 cp 24    |
02 Nov 1911 Noon UT |  4 cp 44    |
03 Nov 1911 Noon UT |  5 cp  5    |
04 Nov 1911 Noon UT |  5 cp 26    |
05 Nov 1911 Noon UT |  5 cp 47    |
06 Nov 1911 Noon UT |  6 cp  8    |
07 Nov 1911 Noon UT |  6 cp 29    |
08 Nov 1911 Noon UT |  6 cp 50    |
09 Nov 1911 Noon UT |  7 cp 11    |
10 Nov 1911 Noon UT |  7 cp 32    |
11 Nov 1911 Noon UT |  7 cp 54    |
12 Nov 1911 Noon UT |  8 cp 15    |
13 Nov 1911 Noon UT |  8 cp 37    |
14 Nov 1911 Noon UT |  8 cp 58    |
15 Nov 1911 Noon UT |  9 cp 20    |
16 Nov 1911 Noon UT |  9 cp 42    |
17 Nov 1911 Noon UT | 10 cp  4    |
18 Nov 1911 Noon UT | 10 cp 26    |
19 Nov 1911 Noon UT | 10 cp 48    |
20 Nov 1911 Noon UT | 11 cp 10    |
21 Nov 1911 Noon UT | 11 cp 32    |
22 Nov 1911 Noon UT | 11 cp 54    |
23 Nov 1911 Noon UT | 12 cp 16    |
24 Nov 1911 Noon UT | 12 cp 39    |
25 Nov 1911 Noon UT | 13 cp  1    |
26 Nov 1911 Noon UT | 13 cp 23    |
27 Nov 1911 Noon UT | 13 cp 46    |
28 Nov 1911 Noon UT | 14 cp  8    |
29 Nov 1911 Noon UT | 14 cp 31    |
30 Nov 1911 Noon UT | 14 cp 54    |
01 Dec 1911 Noon UT | 15 cp 16    |
02 Dec 1911 Noon UT | 15 cp 39    |
03 Dec 1911 Noon UT | 16 cp  2    |
04 Dec 1911 Noon UT | 16 cp 25    |
05 Dec 1911 Noon UT | 16 cp 48    |
06 Dec 1911 Noon UT | 17 cp 11    |
07 Dec 1911 Noon UT | 17 cp 34    |
08 Dec 1911 Noon UT | 17 cp 57    |
09 Dec 1911 Noon UT | 18 cp 20    |
10 Dec 1911 Noon UT | 18 cp 43    |
11 Dec 1911 Noon UT | 19 cp  6    |
12 Dec 1911 Noon UT | 19 cp 29    |
13 Dec 1911 Noon UT | 19 cp 52    |
14 Dec 1911 Noon UT | 20 cp 15    |
15 Dec 1911 Noon UT | 20 cp 39    |
16 Dec 1911 Noon UT | 21 cp  2    |
17 Dec 1911 Noon UT | 21 cp 25    |
18 Dec 1911 Noon UT | 21 cp 49    |
19 Dec 1911 Noon UT | 22 cp 12    |
20 Dec 1911 Noon UT | 22 cp 36    |
21 Dec 1911 Noon UT | 22 cp 59    |
22 Dec 1911 Noon UT | 23 cp 22    |
23 Dec 1911 Noon UT | 23 cp 46    |
24 Dec 1911 Noon UT | 24 cp 10    |
25 Dec 1911 Noon UT | 24 cp 33    |
26 Dec 1911 Noon UT | 24 cp 57    |
27 Dec 1911 Noon UT | 25 cp 20    |
28 Dec 1911 Noon UT | 25 cp 44    |
29 Dec 1911 Noon UT | 26 cp  7    |
30 Dec 1911 Noon UT | 26 cp 31    |
31 Dec 1911 Noon UT | 26 cp 55    |
01 Jan 1912 Noon UT | 27 cp 18    |
02 Jan 1912 Noon UT | 27 cp 42    |
03 Jan 1912 Noon UT | 28 cp  6    |
04 Jan 1912 Noon UT | 28 cp 30    |
05 Jan 1912 Noon UT | 28 cp 53    |
06 Jan 1912 Noon UT | 29 cp 17    |
07 Jan 1912 Noon UT | 29 cp 41    |
08 Jan 1912 Noon UT |  0 aq  5    |
09 Jan 1912 Noon UT |  0 aq 28    |
10 Jan 1912 Noon UT |  0 aq 52    |
11 Jan 1912 Noon UT |  1 aq 16    |
12 Jan 1912 Noon UT |  1 aq 40    |
13 Jan 1912 Noon UT |  2 aq  3    |
14 Jan 1912 Noon UT |  2 aq 27    |
15 Jan 1912 Noon UT |  2 aq 51    |
16 Jan 1912 Noon UT |  3 aq 15    |
17 Jan 1912 Noon UT |  3 aq 38    |
18 Jan 1912 Noon UT |  4 aq  2    |
19 Jan 1912 Noon UT |  4 aq 26    |
20 Jan 1912 Noon UT |  4 aq 50    |
21 Jan 1912 Noon UT |  5 aq 14    |
22 Jan 1912 Noon UT |  5 aq 37    |
23 Jan 1912 Noon UT |  6 aq  1    |
24 Jan 1912 Noon UT |  6 aq 25    |
25 Jan 1912 Noon UT |  6 aq 48    |
26 Jan 1912 Noon UT |  7 aq 12    |
27 Jan 1912 Noon UT |  7 aq 36    |
28 Jan 1912 Noon UT |  8 aq  0    |
29 Jan 1912 Noon UT |  8 aq 23    |
30 Jan 1912 Noon UT |  8 aq 47    |
31 Jan 1912 Noon UT |  9 aq 11    |
01 Feb 1912 Noon UT |  9 aq 34    |
02 Feb 1912 Noon UT |  9 aq 58    |
03 Feb 1912 Noon UT | 10 aq 21    |
04 Feb 1912 Noon UT | 10 aq 45    |
05 Feb 1912 Noon UT | 11 aq  8    |
06 Feb 1912 Noon UT | 11 aq 32    |
07 Feb 1912 Noon UT | 11 aq 55    |
08 Feb 1912 Noon UT | 12 aq 19    |
09 Feb 1912 Noon UT | 12 aq 42    |
10 Feb 1912 Noon UT | 13 aq  6    |
11 Feb 1912 Noon UT | 13 aq 29    |
12 Feb 1912 Noon UT | 13 aq 53    |
13 Feb 1912 Noon UT | 14 aq 16    |
14 Feb 1912 Noon UT | 14 aq 39    |
15 Feb 1912 Noon UT | 15 aq  3    |
16 Feb 1912 Noon UT | 15 aq 26    |
17 Feb 1912 Noon UT | 15 aq 49    |
18 Feb 1912 Noon UT | 16 aq 12    |
19 Feb 1912 Noon UT | 16 aq 36    |
20 Feb 1912 Noon UT | 16 aq 59    |
21 Feb 1912 Noon UT | 17 aq 22    |
22 Feb 1912 Noon UT | 17 aq 45    |
23 Feb 1912 Noon UT | 18 aq  8    |
24 Feb 1912 Noon UT | 18 aq 31    |
25 Feb 1912 Noon UT | 18 aq 54    |
26 Feb 1912 Noon UT | 19 aq 17    |
27 Feb 1912 Noon UT | 19 aq 40    |
28 Feb 1912 Noon UT | 20 aq  2    |
29 Feb 1912 Noon UT | 20 aq 25    |
01 Mar 1912 Noon UT | 20 aq 48    |
02 Mar 1912 Noon UT | 21 aq 11    |
03 Mar 1912 Noon UT | 21 aq 33    |
04 Mar 1912 Noon UT | 21 aq 56    |
05 Mar 1912 Noon UT | 22 aq 18    |
06 Mar 1912 Noon UT | 22 aq 41    |
07 Mar 1912 Noon UT | 23 aq  3    |
08 Mar 1912 Noon UT | 23 aq 26    |
09 Mar 1912 Noon UT | 23 aq 48    |
10 Mar 1912 Noon UT | 24 aq 10    |
11 Mar 1912 Noon UT | 24 aq 32    |
12 Mar 1912 Noon UT | 24 aq 55    |
13 Mar 1912 Noon UT | 25 aq 17    |
14 Mar 1912 Noon UT | 25 aq 39    |
15 Mar 1912 Noon UT | 26 aq  1    |
16 Mar 1912 Noon UT | 26 aq 23    |
17 Mar 1912 Noon UT | 26 aq 44    |
18 Mar 1912 Noon UT | 27 aq  6    |
19 Mar 1912 Noon UT | 27 aq 28    |
20 Mar 1912 Noon UT | 27 aq 50    |
21 Mar 1912 Noon UT | 28 aq 11    |
22 Mar 1912 Noon UT | 28 aq 33    |
23 Mar 1912 Noon UT | 28 aq 54    |
24 Mar 1912 Noon UT | 29 aq 16    |
25 Mar 1912 Noon UT | 29 aq 37    |
26 Mar 1912 Noon UT | 29 aq 58    |
27 Mar 1912 Noon UT |  0 pi 19    |
28 Mar 1912 Noon UT |  0 pi 40    |
29 Mar 1912 Noon UT |  1 pi  1    |
30 Mar 1912 Noon UT |  1 pi 22    |
31 Mar 1912 Noon UT |  1 pi 43    |
01 Apr 1912 Noon UT |  2 pi  4    |
02 Apr 1912 Noon UT |  2 pi 25    |
03 Apr 1912 Noon UT |  2 pi 45    |
04 Apr 1912 Noon UT |  3 pi  6    |
05 Apr 1912 Noon UT |  3 pi 26    |
06 Apr 1912 Noon UT |  3 pi 47    |
07 Apr 1912 Noon UT |  4 pi  7    |
08 Apr 1912 Noon UT |  4 pi 27    |
09 Apr 1912 Noon UT |  4 pi 47    |
10 Apr 1912 Noon UT |  5 pi  7    |
11 Apr 1912 Noon UT |  5 pi 27    |
12 Apr 1912 Noon UT |  5 pi 47    |
13 Apr 1912 Noon UT |  6 pi  7    |
14 Apr 1912 Noon UT |  6 pi 26    |
15 Apr 1912 Noon UT |  6 pi 46    |
16 Apr 1912 Noon UT |  7 pi  5    |
17 Apr 1912 Noon UT |  7 pi 25    |
18 Apr 1912 Noon UT |  7 pi 44    |
19 Apr 1912 Noon UT |  8 pi  3    |
20 Apr 1912 Noon UT |  8 pi 22    |
21 Apr 1912 Noon UT |  8 pi 41    |
22 Apr 1912 Noon UT |  9 pi  0    |
23 Apr 1912 Noon UT |  9 pi 18    |
24 Apr 1912 Noon UT |  9 pi 37    |
25 Apr 1912 Noon UT |  9 pi 55    |
26 Apr 1912 Noon UT | 10 pi 13    |
27 Apr 1912 Noon UT | 10 pi 32    |
28 Apr 1912 Noon UT | 10 pi 50    |
29 Apr 1912 Noon UT | 11 pi  8    |
30 Apr 1912 Noon UT | 11 pi 25    |
01 May 1912 Noon UT | 11 pi 43    |
02 May 1912 Noon UT | 12 pi  1    |
03 May 1912 Noon UT | 12 pi 18    |
04 May 1912 Noon UT | 12 pi 35    |
05 May 1912 Noon UT | 12 pi 53    |
06 May 1912 Noon UT | 13 pi 10    |
07 May 1912 Noon UT | 13 pi 27    |
08 May 1912 Noon UT | 13 pi 43    |
09 May 1912 Noon UT | 14 pi  0    |
10 May 1912 Noon UT | 14 pi 16    |
11 May 1912 Noon UT | 14 pi 33    |
12 May 1912 Noon UT | 14 pi 49    |
13 May 1912 Noon UT | 15 pi  5    |
14 May 1912 Noon UT | 15 pi 21    |
15 May 1912 Noon UT | 15 pi 37    |
16 May 1912 Noon UT | 15 pi 52    |
17 May 1912 Noon UT | 16 pi  8    |
18 May 1912 Noon UT | 16 pi 23    |
19 May 1912 Noon UT | 16 pi 38    |
20 May 1912 Noon UT | 16 pi 53    |
21 May 1912 Noon UT | 17 pi  7    |
22 May 1912 Noon UT | 17 pi 22    |
23 May 1912 Noon UT | 17 pi 36    |
24 May 1912 Noon UT | 17 pi 51    |
25 May 1912 Noon UT | 18 pi  5    |
26 May 1912 Noon UT | 18 pi 19    |
27 May 1912 Noon UT | 18 pi 32    |
28 May 1912 Noon UT | 18 pi 46    |
29 May 1912 Noon UT | 18 pi 59    |
30 May 1912 Noon UT | 19 pi 12    |
31 May 1912 Noon UT | 19 pi 25    |
01 Jun 1912 Noon UT | 19 pi 38    |
02 Jun 1912 Noon UT | 19 pi 50    |
03 Jun 1912 Noon UT | 20 pi  3    |
04 Jun 1912 Noon UT | 20 pi 15    |
05 Jun 1912 Noon UT | 20 pi 27    |
06 Jun 1912 Noon UT | 20 pi 38    |
07 Jun 1912 Noon UT | 20 pi 50    |
08 Jun 1912 Noon UT | 21 pi  1    |
09 Jun 1912 Noon UT | 21 pi 12    |
10 Jun 1912 Noon UT | 21 pi 23    |
11 Jun 1912 Noon UT | 21 pi 34    |
12 Jun 1912 Noon UT | 21 pi 44    |
13 Jun 1912 Noon UT | 21 pi 54    |
14 Jun 1912 Noon UT | 22 pi  4    |
15 Jun 1912 Noon UT | 22 pi 14    |
16 Jun 1912 Noon UT | 22 pi 23    |
17 Jun 1912 Noon UT | 22 pi 32    |
18 Jun 1912 Noon UT | 22 pi 41    |
19 Jun 1912 Noon UT | 22 pi 50    |
20 Jun 1912 Noon UT | 22 pi 59    |
21 Jun 1912 Noon UT | 23 pi  7    |
22 Jun 1912 Noon UT | 23 pi 15    |
23 Jun 1912 Noon UT | 23 pi 22    |
24 Jun 1912 Noon UT | 23 pi 30    |
25 Jun 1912 Noon UT | 23 pi 37    |
26 Jun 1912 Noon UT | 23 pi 44    |
27 Jun 1912 Noon UT | 23 pi 50    |
28 Jun 1912 Noon UT | 23 pi 57    |
29 Jun 1912 Noon UT | 24 pi  3    |
30 Jun 1912 Noon UT | 24 pi  9    |
01 Jul 1912 Noon UT | 24 pi 14    |
02 Jul 1912 Noon UT | 24 pi 19    |
03 Jul 1912 Noon UT | 24 pi 24    |
04 Jul 1912 Noon UT | 24 pi 29    |
05 Jul 1912 Noon UT | 24 pi 33    |
06 Jul 1912 Noon UT | 24 pi 37    |
07 Jul 1912 Noon UT | 24 pi 41    |
08 Jul 1912 Noon UT | 24 pi 45    |
09 Jul 1912 Noon UT | 24 pi 48    |
10 Jul 1912 Noon UT | 24 pi 51    |
11 Jul 1912 Noon UT | 24 pi 53    |
12 Jul 1912 Noon UT | 24 pi 56    |
13 Jul 1912 Noon UT | 24 pi 58    |
14 Jul 1912 Noon UT | 24 pi 59    |
15 Jul 1912 Noon UT | 25 pi  0    |
16 Jul 1912 Noon UT | 25 pi  1    |
17 Jul 1912 Noon UT | 25 pi  2    |
18 Jul 1912 Noon UT | 25 pi  2    |
19 Jul 1912 Noon UT | 25 pi  3 Rx |
20 Jul 1912 Noon UT | 25 pi  2 Rx |
21 Jul 1912 Noon UT | 25 pi  2 Rx |
22 Jul 1912 Noon UT | 25 pi  1 Rx |
23 Jul 1912 Noon UT | 24 pi 59 Rx |
24 Jul 1912 Noon UT | 24 pi 58 Rx |
25 Jul 1912 Noon UT | 24 pi 56 Rx |
26 Jul 1912 Noon UT | 24 pi 54 Rx |
27 Jul 1912 Noon UT | 24 pi 51 Rx |
28 Jul 1912 Noon UT | 24 pi 48 Rx |
29 Jul 1912 Noon UT | 24 pi 45 Rx |
30 Jul 1912 Noon UT | 24 pi 42 Rx |
31 Jul 1912 Noon UT | 24 pi 38 Rx |
01 Aug 1912 Noon UT | 24 pi 34 Rx |
02 Aug 1912 Noon UT | 24 pi 29 Rx |
03 Aug 1912 Noon UT | 24 pi 25 Rx |
04 Aug 1912 Noon UT | 24 pi 20 Rx |
05 Aug 1912 Noon UT | 24 pi 14 Rx |
06 Aug 1912 Noon UT | 24 pi  9 Rx |
07 Aug 1912 Noon UT | 24 pi  3 Rx |
08 Aug 1912 Noon UT | 23 pi 56 Rx |
09 Aug 1912 Noon UT | 23 pi 50 Rx |
10 Aug 1912 Noon UT | 23 pi 43 Rx |
11 Aug 1912 Noon UT | 23 pi 36 Rx |
12 Aug 1912 Noon UT | 23 pi 28 Rx |
13 Aug 1912 Noon UT | 23 pi 21 Rx |
14 Aug 1912 Noon UT | 23 pi 13 Rx |
15 Aug 1912 Noon UT | 23 pi  5 Rx |
16 Aug 1912 Noon UT | 22 pi 56 Rx |
17 Aug 1912 Noon UT | 22 pi 47 Rx |
18 Aug 1912 Noon UT | 22 pi 38 Rx |
19 Aug 1912 Noon UT | 22 pi 29 Rx |
20 Aug 1912 Noon UT | 22 pi 20 Rx |
21 Aug 1912 Noon UT | 22 pi 10 Rx |
22 Aug 1912 Noon UT | 22 pi  0 Rx |
23 Aug 1912 Noon UT | 21 pi 50 Rx |
24 Aug 1912 Noon UT | 21 pi 40 Rx |
25 Aug 1912 Noon UT | 21 pi 29 Rx |
26 Aug 1912 Noon UT | 21 pi 19 Rx |
27 Aug 1912 Noon UT | 21 pi  8 Rx |
28 Aug 1912 Noon UT | 20 pi 57 Rx |
29 Aug 1912 Noon UT | 20 pi 46 Rx |
30 Aug 1912 Noon UT | 20 pi 35 Rx |
31 Aug 1912 Noon UT | 20 pi 24 Rx |
01 Sep 1912 Noon UT | 20 pi 12 Rx |
02 Sep 1912 Noon UT | 20 pi  1 Rx |
03 Sep 1912 Noon UT | 19 pi 49 Rx |
04 Sep 1912 Noon UT | 19 pi 37 Rx |
05 Sep 1912 Noon UT | 19 pi 25 Rx |
06 Sep 1912 Noon UT | 19 pi 14 Rx |
07 Sep 1912 Noon UT | 19 pi  2 Rx |
08 Sep 1912 Noon UT | 18 pi 50 Rx |
09 Sep 1912 Noon UT | 18 pi 38 Rx |
10 Sep 1912 Noon UT | 18 pi 26 Rx |
11 Sep 1912 Noon UT | 18 pi 14 Rx |
12 Sep 1912 Noon UT | 18 pi  2 Rx |
13 Sep 1912 Noon UT | 17 pi 50 Rx |
14 Sep 1912 Noon UT | 17 pi 38 Rx |
15 Sep 1912 Noon UT | 17 pi 26 Rx |
16 Sep 1912 Noon UT | 17 pi 15 Rx |
17 Sep 1912 Noon UT | 17 pi  3 Rx |
18 Sep 1912 Noon UT | 16 pi 51 Rx |
19 Sep 1912 Noon UT | 16 pi 40 Rx |
20 Sep 1912 Noon UT | 16 pi 28 Rx |
21 Sep 1912 Noon UT | 16 pi 17 Rx |
22 Sep 1912 Noon UT | 16 pi  6 Rx |
23 Sep 1912 Noon UT | 15 pi 55 Rx |
24 Sep 1912 Noon UT | 15 pi 44 Rx |
25 Sep 1912 Noon UT | 15 pi 33 Rx |
26 Sep 1912 Noon UT | 15 pi 23 Rx |
27 Sep 1912 Noon UT | 15 pi 13 Rx |
28 Sep 1912 Noon UT | 15 pi  2 Rx |
29 Sep 1912 Noon UT | 14 pi 52 Rx |
30 Sep 1912 Noon UT | 14 pi 43 Rx |
01 Oct 1912 Noon UT | 14 pi 33 Rx |
02 Oct 1912 Noon UT | 14 pi 24 Rx |
03 Oct 1912 Noon UT | 14 pi 15 Rx |
04 Oct 1912 Noon UT | 14 pi  6 Rx |
05 Oct 1912 Noon UT | 13 pi 57 Rx |
06 Oct 1912 Noon UT | 13 pi 49 Rx |
07 Oct 1912 Noon UT | 13 pi 41 Rx |
08 Oct 1912 Noon UT | 13 pi 33 Rx |
09 Oct 1912 Noon UT | 13 pi 25 Rx |
10 Oct 1912 Noon UT | 13 pi 18 Rx |
11 Oct 1912 Noon UT | 13 pi 11 Rx |
12 Oct 1912 Noon UT | 13 pi  4 Rx |
13 Oct 1912 Noon UT | 12 pi 58 Rx |
14 Oct 1912 Noon UT | 12 pi 52 Rx |
15 Oct 1912 Noon UT | 12 pi 46 Rx |
16 Oct 1912 Noon UT | 12 pi 41 Rx |
17 Oct 1912 Noon UT | 12 pi 35 Rx |
18 Oct 1912 Noon UT | 12 pi 31 Rx |
19 Oct 1912 Noon UT | 12 pi 26 Rx |
20 Oct 1912 Noon UT | 12 pi 22 Rx |
21 Oct 1912 Noon UT | 12 pi 18 Rx |
22 Oct 1912 Noon UT | 12 pi 14 Rx |
23 Oct 1912 Noon UT | 12 pi 11 Rx |
24 Oct 1912 Noon UT | 12 pi  8 Rx |
25 Oct 1912 Noon UT | 12 pi  5 Rx |
26 Oct 1912 Noon UT | 12 pi  3 Rx |
27 Oct 1912 Noon UT | 12 pi  1 Rx |
28 Oct 1912 Noon UT | 11 pi 59 Rx |
29 Oct 1912 Noon UT | 11 pi 58 Rx |
30 Oct 1912 Noon UT | 11 pi 56 Rx |
31 Oct 1912 Noon UT | 11 pi 56 Rx |
01 Nov 1912 Noon UT | 11 pi 55 Rx |
02 Nov 1912 Noon UT | 11 pi 55    |
03 Nov 1912 Noon UT | 11 pi 55    |
04 Nov 1912 Noon UT | 11 pi 56    |
05 Nov 1912 Noon UT | 11 pi 57    |
06 Nov 1912 Noon UT | 11 pi 58    |
07 Nov 1912 Noon UT | 11 pi 59    |
08 Nov 1912 Noon UT | 12 pi  1    |
09 Nov 1912 Noon UT | 12 pi  3    |
10 Nov 1912 Noon UT | 12 pi  5    |
11 Nov 1912 Noon UT | 12 pi  8    |
12 Nov 1912 Noon UT | 12 pi 11    |
13 Nov 1912 Noon UT | 12 pi 14    |
14 Nov 1912 Noon UT | 12 pi 18    |
15 Nov 1912 Noon UT | 12 pi 22    |
16 Nov 1912 Noon UT | 12 pi 26    |
17 Nov 1912 Noon UT | 12 pi 30    |
18 Nov 1912 Noon UT | 12 pi 35    |
19 Nov 1912 Noon UT | 12 pi 40    |
20 Nov 1912 Noon UT | 12 pi 46    |
21 Nov 1912 Noon UT | 12 pi 51    |
22 Nov 1912 Noon UT | 12 pi 57    |
23 Nov 1912 Noon UT | 13 pi  3    |
24 Nov 1912 Noon UT | 13 pi 10    |
25 Nov 1912 Noon UT | 13 pi 16    |
26 Nov 1912 Noon UT | 13 pi 23    |
27 Nov 1912 Noon UT | 13 pi 30    |
28 Nov 1912 Noon UT | 13 pi 38    |
29 Nov 1912 Noon UT | 13 pi 46    |
30 Nov 1912 Noon UT | 13 pi 54    |
01 Dec 1912 Noon UT | 14 pi  2    |
02 Dec 1912 Noon UT | 14 pi 10    |
03 Dec 1912 Noon UT | 14 pi 19    |
04 Dec 1912 Noon UT | 14 pi 28    |
05 Dec 1912 Noon UT | 14 pi 37    |
06 Dec 1912 Noon UT | 14 pi 46    |
07 Dec 1912 Noon UT | 14 pi 56    |
08 Dec 1912 Noon UT | 15 pi  6    |
09 Dec 1912 Noon UT | 15 pi 16    |
10 Dec 1912 Noon UT | 15 pi 26    |
11 Dec 1912 Noon UT | 15 pi 37    |
12 Dec 1912 Noon UT | 15 pi 47    |
13 Dec 1912 Noon UT | 15 pi 58    |
14 Dec 1912 Noon UT | 16 pi 10    |
15 Dec 1912 Noon UT | 16 pi 21    |
16 Dec 1912 Noon UT | 16 pi 32    |
17 Dec 1912 Noon UT | 16 pi 44    |
18 Dec 1912 Noon UT | 16 pi 56    |
19 Dec 1912 Noon UT | 17 pi  8    |
20 Dec 1912 Noon UT | 17 pi 20    |
21 Dec 1912 Noon UT | 17 pi 33    |
22 Dec 1912 Noon UT | 17 pi 46    |
23 Dec 1912 Noon UT | 17 pi 58    |
24 Dec 1912 Noon UT | 18 pi 11    |
25 Dec 1912 Noon UT | 18 pi 25    |
26 Dec 1912 Noon UT | 18 pi 38    |
27 Dec 1912 Noon UT | 18 pi 52    |
28 Dec 1912 Noon UT | 19 pi  5    |
29 Dec 1912 Noon UT | 19 pi 19    |
30 Dec 1912 Noon UT | 19 pi 33    |
31 Dec 1912 Noon UT | 19 pi 47    |
01 Jan 1913 Noon UT | 20 pi  2    |
02 Jan 1913 Noon UT | 20 pi 16    |
03 Jan 1913 Noon UT | 20 pi 31    |
04 Jan 1913 Noon UT | 20 pi 45    |
05 Jan 1913 Noon UT | 21 pi  0    |
06 Jan 1913 Noon UT | 21 pi 15    |
07 Jan 1913 Noon UT | 21 pi 31    |
08 Jan 1913 Noon UT | 21 pi 46    |
09 Jan 1913 Noon UT | 22 pi  1    |
10 Jan 1913 Noon UT | 22 pi 17    |
11 Jan 1913 Noon UT | 22 pi 33    |
12 Jan 1913 Noon UT | 22 pi 48    |
13 Jan 1913 Noon UT | 23 pi  4    |
14 Jan 1913 Noon UT | 23 pi 20    |
15 Jan 1913 Noon UT | 23 pi 37    |
16 Jan 1913 Noon UT | 23 pi 53    |
17 Jan 1913 Noon UT | 24 pi  9    |
18 Jan 1913 Noon UT | 24 pi 26    |
19 Jan 1913 Noon UT | 24 pi 43    |
20 Jan 1913 Noon UT | 24 pi 59    |
21 Jan 1913 Noon UT | 25 pi 16    |
22 Jan 1913 Noon UT | 25 pi 33    |
23 Jan 1913 Noon UT | 25 pi 50    |
24 Jan 1913 Noon UT | 26 pi  7    |
25 Jan 1913 Noon UT | 26 pi 25    |
26 Jan 1913 Noon UT | 26 pi 42    |
27 Jan 1913 Noon UT | 26 pi 59    |
28 Jan 1913 Noon UT | 27 pi 17    |
29 Jan 1913 Noon UT | 27 pi 35    |
30 Jan 1913 Noon UT | 27 pi 52    |
31 Jan 1913 Noon UT | 28 pi 10    |
01 Feb 1913 Noon UT | 28 pi 28    |
02 Feb 1913 Noon UT | 28 pi 46    |
03 Feb 1913 Noon UT | 29 pi  4    |
04 Feb 1913 Noon UT | 29 pi 22    |
05 Feb 1913 Noon UT | 29 pi 40    |
06 Feb 1913 Noon UT | 29 pi 58    |
07 Feb 1913 Noon UT |  0 ar 17    |
08 Feb 1913 Noon UT |  0 ar 35    |
09 Feb 1913 Noon UT |  0 ar 54    |
10 Feb 1913 Noon UT |  1 ar 12    |
11 Feb 1913 Noon UT |  1 ar 31    |
12 Feb 1913 Noon UT |  1 ar 50    |
13 Feb 1913 Noon UT |  2 ar  8    |
14 Feb 1913 Noon UT |  2 ar 27    |
15 Feb 1913 Noon UT |  2 ar 46    |
16 Feb 1913 Noon UT |  3 ar  5    |
17 Feb 1913 Noon UT |  3 ar 24    |
18 Feb 1913 Noon UT |  3 ar 43    |
19 Feb 1913 Noon UT |  4 ar  2    |
20 Feb 1913 Noon UT |  4 ar 21    |
21 Feb 1913 Noon UT |  4 ar 40    |
22 Feb 1913 Noon UT |  4 ar 59    |
23 Feb 1913 Noon UT |  5 ar 19    |
24 Feb 1913 Noon UT |  5 ar 38    |
25 Feb 1913 Noon UT |  5 ar 57    |
26 Feb 1913 Noon UT |  6 ar 17    |
27 Feb 1913 Noon UT |  6 ar 36    |
28 Feb 1913 Noon UT |  6 ar 56    |
01 Mar 1913 Noon UT |  7 ar 15    |
02 Mar 1913 Noon UT |  7 ar 35    |
03 Mar 1913 Noon UT |  7 ar 54    |
04 Mar 1913 Noon UT |  8 ar 14    |
05 Mar 1913 Noon UT |  8 ar 34    |
06 Mar 1913 Noon UT |  8 ar 53    |
07 Mar 1913 Noon UT |  9 ar 13    |
08 Mar 1913 Noon UT |  9 ar 33    |
09 Mar 1913 Noon UT |  9 ar 53    |
10 Mar 1913 Noon UT | 10 ar 13    |
11 Mar 1913 Noon UT | 10 ar 32    |
12 Mar 1913 Noon UT | 10 ar 52    |
13 Mar 1913 Noon UT | 11 ar 12    |
14 Mar 1913 Noon UT | 11 ar 32    |
15 Mar 1913 Noon UT | 11 ar 52    |
16 Mar 1913 Noon UT | 12 ar 12    |
17 Mar 1913 Noon UT | 12 ar 32    |
18 Mar 1913 Noon UT | 12 ar 52    |
19 Mar 1913 Noon UT | 13 ar 12    |
20 Mar 1913 Noon UT | 13 ar 32    |
21 Mar 1913 Noon UT | 13 ar 52    |
22 Mar 1913 Noon UT | 14 ar 12    |
23 Mar 1913 Noon UT | 14 ar 32    |
24 Mar 1913 Noon UT | 14 ar 52    |
25 Mar 1913 Noon UT | 15 ar 12    |
26 Mar 1913 Noon UT | 15 ar 33    |
27 Mar 1913 Noon UT | 15 ar 53    |
28 Mar 1913 Noon UT | 16 ar 13    |
29 Mar 1913 Noon UT | 16 ar 33    |
30 Mar 1913 Noon UT | 16 ar 53    |
31 Mar 1913 Noon UT | 17 ar 13    |
01 Apr 1913 Noon UT | 17 ar 33    |
02 Apr 1913 Noon UT | 17 ar 54    |
03 Apr 1913 Noon UT | 18 ar 14    |
04 Apr 1913 Noon UT | 18 ar 34    |
05 Apr 1913 Noon UT | 18 ar 54    |
06 Apr 1913 Noon UT | 19 ar 14    |
07 Apr 1913 Noon UT | 19 ar 34    |
08 Apr 1913 Noon UT | 19 ar 54    |
09 Apr 1913 Noon UT | 20 ar 14    |
10 Apr 1913 Noon UT | 20 ar 35    |
11 Apr 1913 Noon UT | 20 ar 55    |
12 Apr 1913 Noon UT | 21 ar 15    |
13 Apr 1913 Noon UT | 21 ar 35    |
14 Apr 1913 Noon UT | 21 ar 55    |
15 Apr 1913 Noon UT | 22 ar 15    |
16 Apr 1913 Noon UT | 22 ar 35    |
17 Apr 1913 Noon UT | 22 ar 55    |
18 Apr 1913 Noon UT | 23 ar 15    |
19 Apr 1913 Noon UT | 23 ar 35    |
20 Apr 1913 Noon UT | 23 ar 55    |
21 Apr 1913 Noon UT | 24 ar 15    |
22 Apr 1913 Noon UT | 24 ar 35    |
23 Apr 1913 Noon UT | 24 ar 55    |
24 Apr 1913 Noon UT | 25 ar 15    |
25 Apr 1913 Noon UT | 25 ar 35    |
26 Apr 1913 Noon UT | 25 ar 55    |
27 Apr 1913 Noon UT | 26 ar 15    |
28 Apr 1913 Noon UT | 26 ar 35    |
29 Apr 1913 Noon UT | 26 ar 54    |
30 Apr 1913 Noon UT | 27 ar 14    |
01 May 1913 Noon UT | 27 ar 34    |
02 May 1913 Noon UT | 27 ar 54    |
03 May 1913 Noon UT | 28 ar 13    |
04 May 1913 Noon UT | 28 ar 33    |
05 May 1913 Noon UT | 28 ar 53    |
06 May 1913 Noon UT | 29 ar 12    |
07 May 1913 Noon UT | 29 ar 32    |
08 May 1913 Noon UT | 29 ar 52    |
09 May 1913 Noon UT |  0 ta 11    |
10 May 1913 Noon UT |  0 ta 31    |
11 May 1913 Noon UT |  0 ta 50    |
12 May 1913 Noon UT |  1 ta 10    |
13 May 1913 Noon UT |  1 ta 29    |
14 May 1913 Noon UT |  1 ta 48    |
15 May 1913 Noon UT |  2 ta  8    |
16 May 1913 Noon UT |  2 ta 27    |
17 May 1913 Noon UT |  2 ta 46    |
18 May 1913 Noon UT |  3 ta  5    |
19 May 1913 Noon UT |  3 ta 24    |
20 May 1913 Noon UT |  3 ta 43    |
21 May 1913 Noon UT |  4 ta  2    |
22 May 1913 Noon UT |  4 ta 21    |
23 May 1913 Noon UT |  4 ta 40    |
24 May 1913 Noon UT |  4 ta 59    |
25 May 1913 Noon UT |  5 ta 18    |
26 May 1913 Noon UT |  5 ta 37    |
27 May 1913 Noon UT |  5 ta 55    |
28 May 1913 Noon UT |  6 ta 14    |
29 May 1913 Noon UT |  6 ta 33    |
30 May 1913 Noon UT |  6 ta 51    |
31 May 1913 Noon UT |  7 ta 10    |
01 Jun 1913 Noon UT |  7 ta 28    |
02 Jun 1913 Noon UT |  7 ta 47    |
03 Jun 1913 Noon UT |  8 ta  5    |
04 Jun 1913 Noon UT |  8 ta 23    |
05 Jun 1913 Noon UT |  8 ta 42    |
06 Jun 1913 Noon UT |  9 ta  0    |
07 Jun 1913 Noon UT |  9 ta 18    |
08 Jun 1913 Noon UT |  9 ta 36    |
09 Jun 1913 Noon UT |  9 ta 54    |
10 Jun 1913 Noon UT | 10 ta 12    |
11 Jun 1913 Noon UT | 10 ta 29    |
12 Jun 1913 Noon UT | 10 ta 47    |
13 Jun 1913 Noon UT | 11 ta  5    |
14 Jun 1913 Noon UT | 11 ta 22    |
15 Jun 1913 Noon UT | 11 ta 40    |
16 Jun 1913 Noon UT | 11 ta 57    |
17 Jun 1913 Noon UT | 12 ta 14    |
18 Jun 1913 Noon UT | 12 ta 32    |
19 Jun 1913 Noon UT | 12 ta 49    |
20 Jun 1913 Noon UT | 13 ta  6    |
21 Jun 1913 Noon UT | 13 ta 23    |
22 Jun 1913 Noon UT | 13 ta 40    |
23 Jun 1913 Noon UT | 13 ta 57    |
24 Jun 1913 Noon UT | 14 ta 13    |
25 Jun 1913 Noon UT | 14 ta 30    |
26 Jun 1913 Noon UT | 14 ta 47    |
27 Jun 1913 Noon UT | 15 ta  3    |
28 Jun 1913 Noon UT | 15 ta 19    |
29 Jun 1913 Noon UT | 15 ta 36    |
30 Jun 1913 Noon UT | 15 ta 52    |
01 Jul 1913 Noon UT | 16 ta  8    |
02 Jul 1913 Noon UT | 16 ta 24    |
03 Jul 1913 Noon UT | 16 ta 40    |
04 Jul 1913 Noon UT | 16 ta 55    |
05 Jul 1913 Noon UT | 17 ta 11    |
06 Jul 1913 Noon UT | 17 ta 27    |
07 Jul 1913 Noon UT | 17 ta 42    |
08 Jul 1913 Noon UT | 17 ta 57    |
09 Jul 1913 Noon UT | 18 ta 13    |
10 Jul 1913 Noon UT | 18 ta 28    |
11 Jul 1913 Noon UT | 18 ta 43    |
12 Jul 1913 Noon UT | 18 ta 57    |
13 Jul 1913 Noon UT | 19 ta 12    |
14 Jul 1913 Noon UT | 19 ta 27    |
15 Jul 1913 Noon UT | 19 ta 41    |
16 Jul 1913 Noon UT | 19 ta 55    |
17 Jul 1913 Noon UT | 20 ta 10    |
18 Jul 1913 Noon UT | 20 ta 24    |
19 Jul 1913 Noon UT | 20 ta 38    |
20 Jul 1913 Noon UT | 20 ta 51    |
21 Jul 1913 Noon UT | 21 ta  5    |
22 Jul 1913 Noon UT | 21 ta 19    |
23 Jul 1913 Noon UT | 21 ta 32    |
24 Jul 1913 Noon UT | 21 ta 45    |
25 Jul 1913 Noon UT | 21 ta 58    |
26 Jul 1913 Noon UT | 22 ta 11    |
27 Jul 1913 Noon UT | 22 ta 24    |
28 Jul 1913 Noon UT | 22 ta 36    |
29 Jul 1913 Noon UT | 22 ta 49    |
30 Jul 1913 Noon UT | 23 ta  1    |
31 Jul 1913 Noon UT | 23 ta 13    |
01 Aug 1913 Noon UT | 23 ta 25    |
02 Aug 1913 Noon UT | 23 ta 37    |
03 Aug 1913 Noon UT | 23 ta 49    |
04 Aug 1913 Noon UT | 24 ta  0    |
05 Aug 1913 Noon UT | 24 ta 11    |
06 Aug 1913 Noon UT | 24 ta 23    |
07 Aug 1913 Noon UT | 24 ta 33    |
08 Aug 1913 Noon UT | 24 ta 44    |
09 Aug 1913 Noon UT | 24 ta 55    |
10 Aug 1913 Noon UT | 25 ta  5    |
11 Aug 1913 Noon UT | 25 ta 15    |
12 Aug 1913 Noon UT | 25 ta 25    |
13 Aug 1913 Noon UT | 25 ta 35    |
14 Aug 1913 Noon UT | 25 ta 44    |
15 Aug 1913 Noon UT | 25 ta 54    |
16 Aug 1913 Noon UT | 26 ta  3    |
17 Aug 1913 Noon UT | 26 ta 12    |
18 Aug 1913 Noon UT | 26 ta 21    |
19 Aug 1913 Noon UT | 26 ta 29    |
20 Aug 1913 Noon UT | 26 ta 37    |
21 Aug 1913 Noon UT | 26 ta 45    |
22 Aug 1913 Noon UT | 26 ta 53    |
23 Aug 1913 Noon UT | 27 ta  1    |
24 Aug 1913 Noon UT | 27 ta  8    |
25 Aug 1913 Noon UT | 27 ta 16    |
26 Aug 1913 Noon UT | 27 ta 22    |
27 Aug 1913 Noon UT | 27 ta 29    |
28 Aug 1913 Noon UT | 27 ta 36    |
29 Aug 1913 Noon UT | 27 ta 42    |
30 Aug 1913 Noon UT | 27 ta 48    |
31 Aug 1913 Noon UT | 27 ta 54    |
01 Sep 1913 Noon UT | 27 ta 59    |
02 Sep 1913 Noon UT | 28 ta  4    |
03 Sep 1913 Noon UT | 28 ta  9    |
04 Sep 1913 Noon UT | 28 ta 14    |
05 Sep 1913 Noon UT | 28 ta 18    |
06 Sep 1913 Noon UT | 28 ta 22    |
07 Sep 1913 Noon UT | 28 ta 26    |
08 Sep 1913 Noon UT | 28 ta 30    |
09 Sep 1913 Noon UT | 28 ta 33    |
10 Sep 1913 Noon UT | 28 ta 36    |
11 Sep 1913 Noon UT | 28 ta 39    |
12 Sep 1913 Noon UT | 28 ta 41    |
13 Sep 1913 Noon UT | 28 ta 44    |
14 Sep 1913 Noon UT | 28 ta 46    |
15 Sep 1913 Noon UT | 28 ta 47    |
16 Sep 1913 Noon UT | 28 ta 48    |
17 Sep 1913 Noon UT | 28 ta 50    |
18 Sep 1913 Noon UT | 28 ta 50    |
19 Sep 1913 Noon UT | 28 ta 51    |
20 Sep 1913 Noon UT | 28 ta 51    |
21 Sep 1913 Noon UT | 28 ta 51 Rx |
22 Sep 1913 Noon UT | 28 ta 50 Rx |
23 Sep 1913 Noon UT | 28 ta 50 Rx |
24 Sep 1913 Noon UT | 28 ta 49 Rx |
25 Sep 1913 Noon UT | 28 ta 47 Rx |
26 Sep 1913 Noon UT | 28 ta 46 Rx |
27 Sep 1913 Noon UT | 28 ta 44 Rx |
28 Sep 1913 Noon UT | 28 ta 41 Rx |
29 Sep 1913 Noon UT | 28 ta 39 Rx |
30 Sep 1913 Noon UT | 28 ta 36 Rx |
01 Oct 1913 Noon UT | 28 ta 33 Rx |
02 Oct 1913 Noon UT | 28 ta 29 Rx |
03 Oct 1913 Noon UT | 28 ta 26 Rx |
04 Oct 1913 Noon UT | 28 ta 21 Rx |
05 Oct 1913 Noon UT | 28 ta 17 Rx |
06 Oct 1913 Noon UT | 28 ta 12 Rx |
07 Oct 1913 Noon UT | 28 ta  7 Rx |
08 Oct 1913 Noon UT | 28 ta  2 Rx |
09 Oct 1913 Noon UT | 27 ta 57 Rx |
10 Oct 1913 Noon UT | 27 ta 51 Rx |
11 Oct 1913 Noon UT | 27 ta 45 Rx |
12 Oct 1913 Noon UT | 27 ta 38 Rx |
13 Oct 1913 Noon UT | 27 ta 32 Rx |
14 Oct 1913 Noon UT | 27 ta 25 Rx |
15 Oct 1913 Noon UT | 27 ta 17 Rx |
16 Oct 1913 Noon UT | 27 ta 10 Rx |
17 Oct 1913 Noon UT | 27 ta  2 Rx |
18 Oct 1913 Noon UT | 26 ta 54 Rx |
19 Oct 1913 Noon UT | 26 ta 46 Rx |
20 Oct 1913 Noon UT | 26 ta 37 Rx |
21 Oct 1913 Noon UT | 26 ta 28 Rx |
22 Oct 1913 Noon UT | 26 ta 19 Rx |
23 Oct 1913 Noon UT | 26 ta 10 Rx |
24 Oct 1913 Noon UT | 26 ta  1 Rx |
25 Oct 1913 Noon UT | 25 ta 51 Rx |
26 Oct 1913 Noon UT | 25 ta 41 Rx |
27 Oct 1913 Noon UT | 25 ta 31 Rx |
28 Oct 1913 Noon UT | 25 ta 21 Rx |
29 Oct 1913 Noon UT | 25 ta 10 Rx |
30 Oct 1913 Noon UT | 25 ta  0 Rx |
31 Oct 1913 Noon UT | 24 ta 49 Rx |
01 Nov 1913 Noon UT | 24 ta 38 Rx |
02 Nov 1913 Noon UT | 24 ta 27 Rx |
03 Nov 1913 Noon UT | 24 ta 16 Rx |
04 Nov 1913 Noon UT | 24 ta  4 Rx |
05 Nov 1913 Noon UT | 23 ta 53 Rx |
06 Nov 1913 Noon UT | 23 ta 41 Rx |
07 Nov 1913 Noon UT | 23 ta 30 Rx |
08 Nov 1913 Noon UT | 23 ta 18 Rx |
09 Nov 1913 Noon UT | 23 ta  6 Rx |
10 Nov 1913 Noon UT | 22 ta 54 Rx |
11 Nov 1913 Noon UT | 22 ta 42 Rx |
12 Nov 1913 Noon UT | 22 ta 30 Rx |
13 Nov 1913 Noon UT | 22 ta 18 Rx |
14 Nov 1913 Noon UT | 22 ta  6 Rx |
15 Nov 1913 Noon UT | 21 ta 54 Rx |
16 Nov 1913 Noon UT | 21 ta 42 Rx |
17 Nov 1913 Noon UT | 21 ta 31 Rx |
18 Nov 1913 Noon UT | 21 ta 19 Rx |
19 Nov 1913 Noon UT | 21 ta  7 Rx |
20 Nov 1913 Noon UT | 20 ta 55 Rx |
21 Nov 1913 Noon UT | 20 ta 43 Rx |
22 Nov 1913 Noon UT | 20 ta 31 Rx |
23 Nov 1913 Noon UT | 20 ta 20 Rx |
24 Nov 1913 Noon UT | 20 ta  8 Rx |
25 Nov 1913 Noon UT | 19 ta 57 Rx |
26 Nov 1913 Noon UT | 19 ta 46 Rx |
27 Nov 1913 Noon UT | 19 ta 34 Rx |
28 Nov 1913 Noon UT | 19 ta 23 Rx |
29 Nov 1913 Noon UT | 19 ta 12 Rx |
30 Nov 1913 Noon UT | 19 ta  2 Rx |
01 Dec 1913 Noon UT | 18 ta 51 Rx |
02 Dec 1913 Noon UT | 18 ta 41 Rx |
03 Dec 1913 Noon UT | 18 ta 31 Rx |
04 Dec 1913 Noon UT | 18 ta 21 Rx |
05 Dec 1913 Noon UT | 18 ta 11 Rx |
06 Dec 1913 Noon UT | 18 ta  1 Rx |
07 Dec 1913 Noon UT | 17 ta 52 Rx |
08 Dec 1913 Noon UT | 17 ta 43 Rx |
09 Dec 1913 Noon UT | 17 ta 34 Rx |
10 Dec 1913 Noon UT | 17 ta 25 Rx |
11 Dec 1913 Noon UT | 17 ta 17 Rx |
12 Dec 1913 Noon UT | 17 ta  9 Rx |
13 Dec 1913 Noon UT | 17 ta  1 Rx |
14 Dec 1913 Noon UT | 16 ta 53 Rx |
15 Dec 1913 Noon UT | 16 ta 46 Rx |
16 Dec 1913 Noon UT | 16 ta 39 Rx |
17 Dec 1913 Noon UT | 16 ta 32 Rx |
18 Dec 1913 Noon UT | 16 ta 26 Rx |
19 Dec 1913 Noon UT | 16 ta 20 Rx |
20 Dec 1913 Noon UT | 16 ta 14 Rx |
21 Dec 1913 Noon UT | 16 ta  8 Rx |
22 Dec 1913 Noon UT | 16 ta  3 Rx |
23 Dec 1913 Noon UT | 15 ta 58 Rx |
24 Dec 1913 Noon UT | 15 ta 53 Rx |
25 Dec 1913 Noon UT | 15 ta 49 Rx |
26 Dec 1913 Noon UT | 15 ta 45 Rx |
27 Dec 1913 Noon UT | 15 ta 41 Rx |
28 Dec 1913 Noon UT | 15 ta 37 Rx |
29 Dec 1913 Noon UT | 15 ta 34 Rx |
30 Dec 1913 Noon UT | 15 ta 31 Rx |
31 Dec 1913 Noon UT | 15 ta 29 Rx |
01 Jan 1914 Noon UT | 15 ta 26 Rx |
02 Jan 1914 Noon UT | 15 ta 25 Rx |
03 Jan 1914 Noon UT | 15 ta 23 Rx |
04 Jan 1914 Noon UT | 15 ta 22 Rx |
05 Jan 1914 Noon UT | 15 ta 21 Rx |
06 Jan 1914 Noon UT | 15 ta 20 Rx |
07 Jan 1914 Noon UT | 15 ta 20 Rx |
08 Jan 1914 Noon UT | 15 ta 20    |
09 Jan 1914 Noon UT | 15 ta 20    |
10 Jan 1914 Noon UT | 15 ta 21    |
11 Jan 1914 Noon UT | 15 ta 21    |
12 Jan 1914 Noon UT | 15 ta 23    |
13 Jan 1914 Noon UT | 15 ta 24    |
14 Jan 1914 Noon UT | 15 ta 26    |
15 Jan 1914 Noon UT | 15 ta 28    |
16 Jan 1914 Noon UT | 15 ta 30    |
17 Jan 1914 Noon UT | 15 ta 33    |
18 Jan 1914 Noon UT | 15 ta 36    |
19 Jan 1914 Noon UT | 15 ta 39    |
20 Jan 1914 Noon UT | 15 ta 43    |
21 Jan 1914 Noon UT | 15 ta 47    |
22 Jan 1914 Noon UT | 15 ta 51    |
23 Jan 1914 Noon UT | 15 ta 55    |
24 Jan 1914 Noon UT | 16 ta  0    |
25 Jan 1914 Noon UT | 16 ta  5    |
26 Jan 1914 Noon UT | 16 ta 10    |
27 Jan 1914 Noon UT | 16 ta 16    |
28 Jan 1914 Noon UT | 16 ta 21    |
29 Jan 1914 Noon UT | 16 ta 27    |
30 Jan 1914 Noon UT | 16 ta 34    |
31 Jan 1914 Noon UT | 16 ta 40    |
01 Feb 1914 Noon UT | 16 ta 47    |
02 Feb 1914 Noon UT | 16 ta 54    |
03 Feb 1914 Noon UT | 17 ta  1    |
04 Feb 1914 Noon UT | 17 ta  9    |
05 Feb 1914 Noon UT | 17 ta 17    |
06 Feb 1914 Noon UT | 17 ta 25    |
07 Feb 1914 Noon UT | 17 ta 33    |
08 Feb 1914 Noon UT | 17 ta 41    |
09 Feb 1914 Noon UT | 17 ta 50    |
10 Feb 1914 Noon UT | 17 ta 59    |
11 Feb 1914 Noon UT | 18 ta  8    |
12 Feb 1914 Noon UT | 18 ta 18    |
13 Feb 1914 Noon UT | 18 ta 27    |
14 Feb 1914 Noon UT | 18 ta 37    |
15 Feb 1914 Noon UT | 18 ta 47    |
16 Feb 1914 Noon UT | 18 ta 57    |
17 Feb 1914 Noon UT | 19 ta  7    |
18 Feb 1914 Noon UT | 19 ta 18    |
19 Feb 1914 Noon UT | 19 ta 29    |
20 Feb 1914 Noon UT | 19 ta 40    |
21 Feb 1914 Noon UT | 19 ta 51    |
22 Feb 1914 Noon UT | 20 ta  2    |
23 Feb 1914 Noon UT | 20 ta 14    |
24 Feb 1914 Noon UT | 20 ta 26    |
25 Feb 1914 Noon UT | 20 ta 38    |
26 Feb 1914 Noon UT | 20 ta 50    |
27 Feb 1914 Noon UT | 21 ta  2    |
28 Feb 1914 Noon UT | 21 ta 14    |
01 Mar 1914 Noon UT | 21 ta 27    |
02 Mar 1914 Noon UT | 21 ta 40    |
03 Mar 1914 Noon UT | 21 ta 53    |
04 Mar 1914 Noon UT | 22 ta  6    |
05 Mar 1914 Noon UT | 22 ta 19    |
06 Mar 1914 Noon UT | 22 ta 33    |
07 Mar 1914 Noon UT | 22 ta 46    |
08 Mar 1914 Noon UT | 23 ta  0    |
09 Mar 1914 Noon UT | 23 ta 14    |
10 Mar 1914 Noon UT | 23 ta 28    |
11 Mar 1914 Noon UT | 23 ta 42    |
12 Mar 1914 Noon UT | 23 ta 56    |
13 Mar 1914 Noon UT | 24 ta 10    |
14 Mar 1914 Noon UT | 24 ta 25    |
15 Mar 1914 Noon UT | 24 ta 40    |
16 Mar 1914 Noon UT | 24 ta 54    |
17 Mar 1914 Noon UT | 25 ta  9    |
18 Mar 1914 Noon UT | 25 ta 24    |
19 Mar 1914 Noon UT | 25 ta 40    |
20 Mar 1914 Noon UT | 25 ta 55    |
21 Mar 1914 Noon UT | 26 ta 10    |
22 Mar 1914 Noon UT | 26 ta 26    |
23 Mar 1914 Noon UT | 26 ta 41    |
24 Mar 1914 Noon UT | 26 ta 57    |
25 Mar 1914 Noon UT | 27 ta 13    |
26 Mar 1914 Noon UT | 27 ta 29    |
27 Mar 1914 Noon UT | 27 ta 45    |
28 Mar 1914 Noon UT | 28 ta  1    |
29 Mar 1914 Noon UT | 28 ta 18    |
30 Mar 1914 Noon UT | 28 ta 34    |
31 Mar 1914 Noon UT | 28 ta 51    |
01 Apr 1914 Noon UT | 29 ta  7    |
02 Apr 1914 Noon UT | 29 ta 24    |
03 Apr 1914 Noon UT | 29 ta 41    |
04 Apr 1914 Noon UT | 29 ta 57    |
05 Apr 1914 Noon UT |  0 ge 14    |
06 Apr 1914 Noon UT |  0 ge 31    |
07 Apr 1914 Noon UT |  0 ge 49    |
08 Apr 1914 Noon UT |  1 ge  6    |
09 Apr 1914 Noon UT |  1 ge 23    |
10 Apr 1914 Noon UT |  1 ge 40    |
11 Apr 1914 Noon UT |  1 ge 58    |
12 Apr 1914 Noon UT |  2 ge 15    |
13 Apr 1914 Noon UT |  2 ge 33    |
14 Apr 1914 Noon UT |  2 ge 51    |
15 Apr 1914 Noon UT |  3 ge  8    |
16 Apr 1914 Noon UT |  3 ge 26    |
17 Apr 1914 Noon UT |  3 ge 44    |
18 Apr 1914 Noon UT |  4 ge  2    |
19 Apr 1914 Noon UT |  4 ge 20    |
20 Apr 1914 Noon UT |  4 ge 38    |
21 Apr 1914 Noon UT |  4 ge 56    |
22 Apr 1914 Noon UT |  5 ge 14    |
23 Apr 1914 Noon UT |  5 ge 33    |
24 Apr 1914 Noon UT |  5 ge 51    |
25 Apr 1914 Noon UT |  6 ge  9    |
26 Apr 1914 Noon UT |  6 ge 28    |
27 Apr 1914 Noon UT |  6 ge 46    |
28 Apr 1914 Noon UT |  7 ge  5    |
29 Apr 1914 Noon UT |  7 ge 23    |
30 Apr 1914 Noon UT |  7 ge 42    |
01 May 1914 Noon UT |  8 ge  1    |
02 May 1914 Noon UT |  8 ge 20    |
03 May 1914 Noon UT |  8 ge 38    |
04 May 1914 Noon UT |  8 ge 57    |
05 May 1914 Noon UT |  9 ge 16    |
06 May 1914 Noon UT |  9 ge 35    |
07 May 1914 Noon UT |  9 ge 54    |
08 May 1914 Noon UT | 10 ge 13    |
09 May 1914 Noon UT | 10 ge 32    |
10 May 1914 Noon UT | 10 ge 51    |
11 May 1914 Noon UT | 11 ge 10    |
12 May 1914 Noon UT | 11 ge 29    |
13 May 1914 Noon UT | 11 ge 49    |
14 May 1914 Noon UT | 12 ge  8    |
15 May 1914 Noon UT | 12 ge 27    |
16 May 1914 Noon UT | 12 ge 46    |
17 May 1914 Noon UT | 13 ge  6    |
18 May 1914 Noon UT | 13 ge 25    |
19 May 1914 Noon UT | 13 ge 44    |
20 May 1914 Noon UT | 14 ge  4    |
21 May 1914 Noon UT | 14 ge 23    |
22 May 1914 Noon UT | 14 ge 43    |
23 May 1914 Noon UT | 15 ge  2    |
24 May 1914 Noon UT | 15 ge 22    |
25 May 1914 Noon UT | 15 ge 41    |
26 May 1914 Noon UT | 16 ge  1    |
27 May 1914 Noon UT | 16 ge 21    |
28 May 1914 Noon UT | 16 ge 40    |
29 May 1914 Noon UT | 17 ge  0    |
30 May 1914 Noon UT | 17 ge 20    |
31 May 1914 Noon UT | 17 ge 39    |
01 Jun 1914 Noon UT | 17 ge 59    |
02 Jun 1914 Noon UT | 18 ge 19    |
03 Jun 1914 Noon UT | 18 ge 38    |
04 Jun 1914 Noon UT | 18 ge 58    |
05 Jun 1914 Noon UT | 19 ge 18    |
06 Jun 1914 Noon UT | 19 ge 38    |
07 Jun 1914 Noon UT | 19 ge 57    |
08 Jun 1914 Noon UT | 20 ge 17    |
09 Jun 1914 Noon UT | 20 ge 37    |
10 Jun 1914 Noon UT | 20 ge 57    |
11 Jun 1914 Noon UT | 21 ge 16    |
12 Jun 1914 Noon UT | 21 ge 36    |
13 Jun 1914 Noon UT | 21 ge 56    |
14 Jun 1914 Noon UT | 22 ge 16    |
15 Jun 1914 Noon UT | 22 ge 36    |
16 Jun 1914 Noon UT | 22 ge 55    |
17 Jun 1914 Noon UT | 23 ge 15    |
18 Jun 1914 Noon UT | 23 ge 35    |
19 Jun 1914 Noon UT | 23 ge 55    |
20 Jun 1914 Noon UT | 24 ge 15    |
21 Jun 1914 Noon UT | 24 ge 35    |
22 Jun 1914 Noon UT | 24 ge 54    |
23 Jun 1914 Noon UT | 25 ge 14    |
24 Jun 1914 Noon UT | 25 ge 34    |
25 Jun 1914 Noon UT | 25 ge 54    |
26 Jun 1914 Noon UT | 26 ge 14    |
27 Jun 1914 Noon UT | 26 ge 34    |
28 Jun 1914 Noon UT | 26 ge 53    |
29 Jun 1914 Noon UT | 27 ge 13    |
30 Jun 1914 Noon UT | 27 ge 33    |
01 Jul 1914 Noon UT | 27 ge 53    |
02 Jul 1914 Noon UT | 28 ge 12    |
03 Jul 1914 Noon UT | 28 ge 32    |
04 Jul 1914 Noon UT | 28 ge 52    |
05 Jul 1914 Noon UT | 29 ge 12    |
06 Jul 1914 Noon UT | 29 ge 31    |
07 Jul 1914 Noon UT | 29 ge 51    |
08 Jul 1914 Noon UT |  0 cn 11    |
09 Jul 1914 Noon UT |  0 cn 30    |
10 Jul 1914 Noon UT |  0 cn 50    |
11 Jul 1914 Noon UT |  1 cn  9    |
12 Jul 1914 Noon UT |  1 cn 29    |
13 Jul 1914 Noon UT |  1 cn 49    |
14 Jul 1914 Noon UT |  2 cn  8    |
15 Jul 1914 Noon UT |  2 cn 28    |
16 Jul 1914 Noon UT |  2 cn 47    |
17 Jul 1914 Noon UT |  3 cn  7    |
18 Jul 1914 Noon UT |  3 cn 26    |
19 Jul 1914 Noon UT |  3 cn 45    |
20 Jul 1914 Noon UT |  4 cn  5    |
21 Jul 1914 Noon UT |  4 cn 24    |
22 Jul 1914 Noon UT |  4 cn 43    |
23 Jul 1914 Noon UT |  5 cn  3    |
24 Jul 1914 Noon UT |  5 cn 22    |
25 Jul 1914 Noon UT |  5 cn 41    |
26 Jul 1914 Noon UT |  6 cn  0    |
27 Jul 1914 Noon UT |  6 cn 20    |
28 Jul 1914 Noon UT |  6 cn 39    |
29 Jul 1914 Noon UT |  6 cn 58    |
30 Jul 1914 Noon UT |  7 cn 17    |
31 Jul 1914 Noon UT |  7 cn 36    |
01 Aug 1914 Noon UT |  7 cn 55    |
02 Aug 1914 Noon UT |  8 cn 14    |
03 Aug 1914 Noon UT |  8 cn 33    |
04 Aug 1914 Noon UT |  8 cn 51    |
05 Aug 1914 Noon UT |  9 cn 10    |
06 Aug 1914 Noon UT |  9 cn 29    |
07 Aug 1914 Noon UT |  9 cn 47    |
08 Aug 1914 Noon UT | 10 cn  6    |
09 Aug 1914 Noon UT | 10 cn 25    |
10 Aug 1914 Noon UT | 10 cn 43    |
11 Aug 1914 Noon UT | 11 cn  2    |
12 Aug 1914 Noon UT | 11 cn 20    |
13 Aug 1914 Noon UT | 11 cn 38    |
14 Aug 1914 Noon UT | 11 cn 57    |
15 Aug 1914 Noon UT | 12 cn 15    |
16 Aug 1914 Noon UT | 12 cn 33    |
17 Aug 1914 Noon UT | 12 cn 51    |
18 Aug 1914 Noon UT | 13 cn  9    |
19 Aug 1914 Noon UT | 13 cn 27    |
20 Aug 1914 Noon UT | 13 cn 45    |
21 Aug 1914 Noon UT | 14 cn  3    |
22 Aug 1914 Noon UT | 14 cn 21    |
23 Aug 1914 Noon UT | 14 cn 39    |
24 Aug 1914 Noon UT | 14 cn 56    |
25 Aug 1914 Noon UT | 15 cn 14    |
26 Aug 1914 Noon UT | 15 cn 31    |
27 Aug 1914 Noon UT | 15 cn 49    |
28 Aug 1914 Noon UT | 16 cn  6    |
29 Aug 1914 Noon UT | 16 cn 23    |
30 Aug 1914 Noon UT | 16 cn 40    |
31 Aug 1914 Noon UT | 16 cn 57    |
01 Sep 1914 Noon UT | 17 cn 14    |
02 Sep 1914 Noon UT | 17 cn 31    |
03 Sep 1914 Noon UT | 17 cn 48    |
04 Sep 1914 Noon UT | 18 cn  5    |
05 Sep 1914 Noon UT | 18 cn 22    |
06 Sep 1914 Noon UT | 18 cn 38    |
07 Sep 1914 Noon UT | 18 cn 54    |
08 Sep 1914 Noon UT | 19 cn 11    |
09 Sep 1914 Noon UT | 19 cn 27    |
10 Sep 1914 Noon UT | 19 cn 43    |
11 Sep 1914 Noon UT | 19 cn 59    |
12 Sep 1914 Noon UT | 20 cn 15    |
13 Sep 1914 Noon UT | 20 cn 31    |
14 Sep 1914 Noon UT | 20 cn 47    |
15 Sep 1914 Noon UT | 21 cn  2    |
16 Sep 1914 Noon UT | 21 cn 18    |
17 Sep 1914 Noon UT | 21 cn 33    |
18 Sep 1914 Noon UT | 21 cn 48    |
19 Sep 1914 Noon UT | 22 cn  3    |
20 Sep 1914 Noon UT | 22 cn 18    |
21 Sep 1914 Noon UT | 22 cn 33    |
22 Sep 1914 Noon UT | 22 cn 48    |
23 Sep 1914 Noon UT | 23 cn  3    |
24 Sep 1914 Noon UT | 23 cn 17    |
25 Sep 1914 Noon UT | 23 cn 31    |
26 Sep 1914 Noon UT | 23 cn 46    |
27 Sep 1914 Noon UT | 24 cn  0    |
28 Sep 1914 Noon UT | 24 cn 13    |
29 Sep 1914 Noon UT | 24 cn 27    |
30 Sep 1914 Noon UT | 24 cn 41    |
01 Oct 1914 Noon UT | 24 cn 54    |
02 Oct 1914 Noon UT | 25 cn  8    |
03 Oct 1914 Noon UT | 25 cn 21    |
04 Oct 1914 Noon UT | 25 cn 34    |
05 Oct 1914 Noon UT | 25 cn 46    |
06 Oct 1914 Noon UT | 25 cn 59    |
07 Oct 1914 Noon UT | 26 cn 12    |
08 Oct 1914 Noon UT | 26 cn 24    |
09 Oct 1914 Noon UT | 26 cn 36    |
10 Oct 1914 Noon UT | 26 cn 48    |
11 Oct 1914 Noon UT | 27 cn  0    |
12 Oct 1914 Noon UT | 27 cn 11    |
13 Oct 1914 Noon UT | 27 cn 23    |
14 Oct 1914 Noon UT | 27 cn 34    |
15 Oct 1914 Noon UT | 27 cn 45    |
16 Oct 1914 Noon UT | 27 cn 56    |
17 Oct 1914 Noon UT | 28 cn  6    |
18 Oct 1914 Noon UT | 28 cn 17    |
19 Oct 1914 Noon UT | 28 cn 27    |
20 Oct 1914 Noon UT | 28 cn 37    |
21 Oct 1914 Noon UT | 28 cn 47    |
22 Oct 1914 Noon UT | 28 cn 56    |
23 Oct 1914 Noon UT | 29 cn  5    |
24 Oct 1914 Noon UT | 29 cn 15    |
25 Oct 1914 Noon UT | 29 cn 23    |
26 Oct 1914 Noon UT | 29 cn 32    |
27 Oct 1914 Noon UT | 29 cn 40    |
28 Oct 1914 Noon UT | 29 cn 49    |
29 Oct 1914 Noon UT | 29 cn 56    |
30 Oct 1914 Noon UT |  0 le  4    |
31 Oct 1914 Noon UT |  0 le 12    |
01 Nov 1914 Noon UT |  0 le 19    |
02 Nov 1914 Noon UT |  0 le 26    |
03 Nov 1914 Noon UT |  0 le 32    |
04 Nov 1914 Noon UT |  0 le 39    |
05 Nov 1914 Noon UT |  0 le 45    |
06 Nov 1914 Noon UT |  0 le 51    |
07 Nov 1914 Noon UT |  0 le 56    |
08 Nov 1914 Noon UT |  1 le  2    |
09 Nov 1914 Noon UT |  1 le  7    |
10 Nov 1914 Noon UT |  1 le 12    |
11 Nov 1914 Noon UT |  1 le 16    |
12 Nov 1914 Noon UT |  1 le 20    |
13 Nov 1914 Noon UT |  1 le 24    |
14 Nov 1914 Noon UT |  1 le 28    |
15 Nov 1914 Noon UT |  1 le 31    |
16 Nov 1914 Noon UT |  1 le 34    |
17 Nov 1914 Noon UT |  1 le 37    |
18 Nov 1914 Noon UT |  1 le 39    |
19 Nov 1914 Noon UT |  1 le 41    |
20 Nov 1914 Noon UT |  1 le 43    |
21 Nov 1914 Noon UT |  1 le 44    |
22 Nov 1914 Noon UT |  1 le 46    |
23 Nov 1914 Noon UT |  1 le 46    |
24 Nov 1914 Noon UT |  1 le 47    |
25 Nov 1914 Noon UT |  1 le 47    |
26 Nov 1914 Noon UT |  1 le 47 Rx |
27 Nov 1914 Noon UT |  1 le 46 Rx |
28 Nov 1914 Noon UT |  1 le 46 Rx |
29 Nov 1914 Noon UT |  1 le 44 Rx |
30 Nov 1914 Noon UT |  1 le 43 Rx |
01 Dec 1914 Noon UT |  1 le 41 Rx |
02 Dec 1914 Noon UT |  1 le 39 Rx |
03 Dec 1914 Noon UT |  1 le 37 Rx |
04 Dec 1914 Noon UT |  1 le 34 Rx |
05 Dec 1914 Noon UT |  1 le 31 Rx |
06 Dec 1914 Noon UT |  1 le 27 Rx |
07 Dec 1914 Noon UT |  1 le 24 Rx |
08 Dec 1914 Noon UT |  1 le 20 Rx |
09 Dec 1914 Noon UT |  1 le 15 Rx |
10 Dec 1914 Noon UT |  1 le 11 Rx |
11 Dec 1914 Noon UT |  1 le  5 Rx |
12 Dec 1914 Noon UT |  1 le  0 Rx |
13 Dec 1914 Noon UT |  0 le 54 Rx |
14 Dec 1914 Noon UT |  0 le 48 Rx |
15 Dec 1914 Noon UT |  0 le 42 Rx |
16 Dec 1914 Noon UT |  0 le 35 Rx |
17 Dec 1914 Noon UT |  0 le 29 Rx |
18 Dec 1914 Noon UT |  0 le 21 Rx |
19 Dec 1914 Noon UT |  0 le 14 Rx |
20 Dec 1914 Noon UT |  0 le  6 Rx |
21 Dec 1914 Noon UT | 29 cn 58 Rx |
22 Dec 1914 Noon UT | 29 cn 49 Rx |
23 Dec 1914 Noon UT | 29 cn 41 Rx |
24 Dec 1914 Noon UT | 29 cn 32 Rx |
25 Dec 1914 Noon UT | 29 cn 23 Rx |
26 Dec 1914 Noon UT | 29 cn 13 Rx |
27 Dec 1914 Noon UT | 29 cn  4 Rx |
28 Dec 1914 Noon UT | 28 cn 54 Rx |
29 Dec 1914 Noon UT | 28 cn 44 Rx |
30 Dec 1914 Noon UT | 28 cn 33 Rx |
31 Dec 1914 Noon UT | 28 cn 23 Rx |
01 Jan 1915 Noon UT | 28 cn 12 Rx |
02 Jan 1915 Noon UT | 28 cn  1 Rx |
03 Jan 1915 Noon UT | 27 cn 50 Rx |
04 Jan 1915 Noon UT | 27 cn 39 Rx |
05 Jan 1915 Noon UT | 27 cn 27 Rx |
06 Jan 1915 Noon UT | 27 cn 16 Rx |
07 Jan 1915 Noon UT | 27 cn  4 Rx |
08 Jan 1915 Noon UT | 26 cn 52 Rx |
09 Jan 1915 Noon UT | 26 cn 40 Rx |
10 Jan 1915 Noon UT | 26 cn 28 Rx |
11 Jan 1915 Noon UT | 26 cn 16 Rx |
12 Jan 1915 Noon UT | 26 cn  4 Rx |
13 Jan 1915 Noon UT | 25 cn 51 Rx |
14 Jan 1915 Noon UT | 25 cn 39 Rx |
15 Jan 1915 Noon UT | 25 cn 27 Rx |
16 Jan 1915 Noon UT | 25 cn 14 Rx |
17 Jan 1915 Noon UT | 25 cn  2 Rx |
18 Jan 1915 Noon UT | 24 cn 49 Rx |
19 Jan 1915 Noon UT | 24 cn 37 Rx |
20 Jan 1915 Noon UT | 24 cn 25 Rx |
21 Jan 1915 Noon UT | 24 cn 12 Rx |
22 Jan 1915 Noon UT | 24 cn  0 Rx |
23 Jan 1915 Noon UT | 23 cn 48 Rx |
24 Jan 1915 Noon UT | 23 cn 36 Rx |
25 Jan 1915 Noon UT | 23 cn 24 Rx |
26 Jan 1915 Noon UT | 23 cn 12 Rx |
27 Jan 1915 Noon UT | 23 cn  0 Rx |
28 Jan 1915 Noon UT | 22 cn 48 Rx |
29 Jan 1915 Noon UT | 22 cn 37 Rx |
30 Jan 1915 Noon UT | 22 cn 25 Rx |
31 Jan 1915 Noon UT | 22 cn 14 Rx |
01 Feb 1915 Noon UT | 22 cn  3 Rx |
02 Feb 1915 Noon UT | 21 cn 52 Rx |
03 Feb 1915 Noon UT | 21 cn 41 Rx |
04 Feb 1915 Noon UT | 21 cn 31 Rx |
05 Feb 1915 Noon UT | 21 cn 21 Rx |
06 Feb 1915 Noon UT | 21 cn 11 Rx |
07 Feb 1915 Noon UT | 21 cn  1 Rx |
08 Feb 1915 Noon UT | 20 cn 51 Rx |
09 Feb 1915 Noon UT | 20 cn 42 Rx |
10 Feb 1915 Noon UT | 20 cn 33 Rx |
11 Feb 1915 Noon UT | 20 cn 24 Rx |
12 Feb 1915 Noon UT | 20 cn 15 Rx |
13 Feb 1915 Noon UT | 20 cn  7 Rx |
14 Feb 1915 Noon UT | 19 cn 59 Rx |
15 Feb 1915 Noon UT | 19 cn 51 Rx |
16 Feb 1915 Noon UT | 19 cn 44 Rx |
17 Feb 1915 Noon UT | 19 cn 37 Rx |
18 Feb 1915 Noon UT | 19 cn 30 Rx |
19 Feb 1915 Noon UT | 19 cn 24 Rx |
20 Feb 1915 Noon UT | 19 cn 17 Rx |
21 Feb 1915 Noon UT | 19 cn 12 Rx |
22 Feb 1915 Noon UT | 19 cn  6 Rx |
23 Feb 1915 Noon UT | 19 cn  1 Rx |
24 Feb 1915 Noon UT | 18 cn 56 Rx |
25 Feb 1915 Noon UT | 18 cn 51 Rx |
26 Feb 1915 Noon UT | 18 cn 47 Rx |
27 Feb 1915 Noon UT | 18 cn 43 Rx |
28 Feb 1915 Noon UT | 18 cn 40 Rx |
01 Mar 1915 Noon UT | 18 cn 37 Rx |
02 Mar 1915 Noon UT | 18 cn 34 Rx |
03 Mar 1915 Noon UT | 18 cn 31 Rx |
04 Mar 1915 Noon UT | 18 cn 29 Rx |
05 Mar 1915 Noon UT | 18 cn 27 Rx |
06 Mar 1915 Noon UT | 18 cn 26 Rx |
07 Mar 1915 Noon UT | 18 cn 24 Rx |
08 Mar 1915 Noon UT | 18 cn 24 Rx |
09 Mar 1915 Noon UT | 18 cn 23 Rx |
10 Mar 1915 Noon UT | 18 cn 23 Rx |
11 Mar 1915 Noon UT | 18 cn 23    |
12 Mar 1915 Noon UT | 18 cn 23    |
13 Mar 1915 Noon UT | 18 cn 24    |
14 Mar 1915 Noon UT | 18 cn 25    |
15 Mar 1915 Noon UT | 18 cn 27    |
16 Mar 1915 Noon UT | 18 cn 29    |
17 Mar 1915 Noon UT | 18 cn 31    |
18 Mar 1915 Noon UT | 18 cn 33    |
19 Mar 1915 Noon UT | 18 cn 36    |
20 Mar 1915 Noon UT | 18 cn 39    |
21 Mar 1915 Noon UT | 18 cn 43    |
22 Mar 1915 Noon UT | 18 cn 46    |
23 Mar 1915 Noon UT | 18 cn 50    |
24 Mar 1915 Noon UT | 18 cn 55    |
25 Mar 1915 Noon UT | 18 cn 59    |
26 Mar 1915 Noon UT | 19 cn  4    |
27 Mar 1915 Noon UT | 19 cn  9    |
28 Mar 1915 Noon UT | 19 cn 15    |
29 Mar 1915 Noon UT | 19 cn 21    |
30 Mar 1915 Noon UT | 19 cn 27    |
31 Mar 1915 Noon UT | 19 cn 33    |
01 Apr 1915 Noon UT | 19 cn 40    |
02 Apr 1915 Noon UT | 19 cn 47    |
03 Apr 1915 Noon UT | 19 cn 54    |
04 Apr 1915 Noon UT | 20 cn  2    |
05 Apr 1915 Noon UT | 20 cn  9    |
06 Apr 1915 Noon UT | 20 cn 17    |
07 Apr 1915 Noon UT | 20 cn 26    |
08 Apr 1915 Noon UT | 20 cn 34    |
09 Apr 1915 Noon UT | 20 cn 43    |
10 Apr 1915 Noon UT | 20 cn 52    |
11 Apr 1915 Noon UT | 21 cn  1    |
12 Apr 1915 Noon UT | 21 cn 11    |
13 Apr 1915 Noon UT | 21 cn 21    |
14 Apr 1915 Noon UT | 21 cn 31    |
15 Apr 1915 Noon UT | 21 cn 41    |
16 Apr 1915 Noon UT | 21 cn 51    |
17 Apr 1915 Noon UT | 22 cn  2    |
18 Apr 1915 Noon UT | 22 cn 13    |
19 Apr 1915 Noon UT | 22 cn 24    |
20 Apr 1915 Noon UT | 22 cn 36    |
21 Apr 1915 Noon UT | 22 cn 47    |
22 Apr 1915 Noon UT | 22 cn 59    |
23 Apr 1915 Noon UT | 23 cn 11    |
24 Apr 1915 Noon UT | 23 cn 23    |
25 Apr 1915 Noon UT | 23 cn 36    |
26 Apr 1915 Noon UT | 23 cn 48    |
27 Apr 1915 Noon UT | 24 cn  1    |
28 Apr 1915 Noon UT | 24 cn 14    |
29 Apr 1915 Noon UT | 24 cn 27    |
30 Apr 1915 Noon UT | 24 cn 41    |
01 May 1915 Noon UT | 24 cn 54    |
02 May 1915 Noon UT | 25 cn  8    |
03 May 1915 Noon UT | 25 cn 22    |
04 May 1915 Noon UT | 25 cn 36    |
05 May 1915 Noon UT | 25 cn 50    |
06 May 1915 Noon UT | 26 cn  5    |
07 May 1915 Noon UT | 26 cn 19    |
08 May 1915 Noon UT | 26 cn 34    |
09 May 1915 Noon UT | 26 cn 49    |
10 May 1915 Noon UT | 27 cn  4    |
11 May 1915 Noon UT | 27 cn 20    |
12 May 1915 Noon UT | 27 cn 35    |
13 May 1915 Noon UT | 27 cn 51    |
14 May 1915 Noon UT | 28 cn  6    |
15 May 1915 Noon UT | 28 cn 22    |
16 May 1915 Noon UT | 28 cn 38    |
17 May 1915 Noon UT | 28 cn 54    |
18 May 1915 Noon UT | 29 cn 11    |
19 May 1915 Noon UT | 29 cn 27    |
20 May 1915 Noon UT | 29 cn 44    |
21 May 1915 Noon UT |  0 le  1    |
22 May 1915 Noon UT |  0 le 17    |
23 May 1915 Noon UT |  0 le 34    |
24 May 1915 Noon UT |  0 le 52    |
25 May 1915 Noon UT |  1 le  9    |
26 May 1915 Noon UT |  1 le 26    |
27 May 1915 Noon UT |  1 le 44    |
28 May 1915 Noon UT |  2 le  1    |
29 May 1915 Noon UT |  2 le 19    |
30 May 1915 Noon UT |  2 le 37    |
31 May 1915 Noon UT |  2 le 55    |
01 Jun 1915 Noon UT |  3 le 13    |
02 Jun 1915 Noon UT |  3 le 31    |
03 Jun 1915 Noon UT |  3 le 49    |
04 Jun 1915 Noon UT |  4 le  8    |
05 Jun 1915 Noon UT |  4 le 26    |
06 Jun 1915 Noon UT |  4 le 45    |
07 Jun 1915 Noon UT |  5 le  4    |
08 Jun 1915 Noon UT |  5 le 22    |
09 Jun 1915 Noon UT |  5 le 41    |
10 Jun 1915 Noon UT |  6 le  0    |
11 Jun 1915 Noon UT |  6 le 20    |
12 Jun 1915 Noon UT |  6 le 39    |
13 Jun 1915 Noon UT |  6 le 58    |
14 Jun 1915 Noon UT |  7 le 17    |
15 Jun 1915 Noon UT |  7 le 37    |
16 Jun 1915 Noon UT |  7 le 56    |
17 Jun 1915 Noon UT |  8 le 16    |
18 Jun 1915 Noon UT |  8 le 36    |
19 Jun 1915 Noon UT |  8 le 56    |
20 Jun 1915 Noon UT |  9 le 16    |
21 Jun 1915 Noon UT |  9 le 36    |
22 Jun 1915 Noon UT |  9 le 56    |
23 Jun 1915 Noon UT | 10 le 16    |
24 Jun 1915 Noon UT | 10 le 36    |
25 Jun 1915 Noon UT | 10 le 56    |
26 Jun 1915 Noon UT | 11 le 17    |
27 Jun 1915 Noon UT | 11 le 37    |
28 Jun 1915 Noon UT | 11 le 58    |
29 Jun 1915 Noon UT | 12 le 18    |
30 Jun 1915 Noon UT | 12 le 39    |
01 Jul 1915 Noon UT | 13 le  0    |
02 Jul 1915 Noon UT | 13 le 21    |
03 Jul 1915 Noon UT | 13 le 41    |
04 Jul 1915 Noon UT | 14 le  2    |
05 Jul 1915 Noon UT | 14 le 23    |
06 Jul 1915 Noon UT | 14 le 44    |
07 Jul 1915 Noon UT | 15 le  6    |
08 Jul 1915 Noon UT | 15 le 27    |
09 Jul 1915 Noon UT | 15 le 48    |
10 Jul 1915 Noon UT | 16 le  9    |
11 Jul 1915 Noon UT | 16 le 31    |
12 Jul 1915 Noon UT | 16 le 52    |
13 Jul 1915 Noon UT | 17 le 14    |
14 Jul 1915 Noon UT | 17 le 35    |
15 Jul 1915 Noon UT | 17 le 57    |
16 Jul 1915 Noon UT | 18 le 18    |
17 Jul 1915 Noon UT | 18 le 40    |
18 Jul 1915 Noon UT | 19 le  2    |
19 Jul 1915 Noon UT | 19 le 24    |
20 Jul 1915 Noon UT | 19 le 45    |
21 Jul 1915 Noon UT | 20 le  7    |
22 Jul 1915 Noon UT | 20 le 29    |
23 Jul 1915 Noon UT | 20 le 51    |
24 Jul 1915 Noon UT | 21 le 13    |
25 Jul 1915 Noon UT | 21 le 35    |
26 Jul 1915 Noon UT | 21 le 58    |
27 Jul 1915 Noon UT | 22 le 20    |
28 Jul 1915 Noon UT | 22 le 42    |
29 Jul 1915 Noon UT | 23 le  4    |
30 Jul 1915 Noon UT | 23 le 26    |
31 Jul 1915 Noon UT | 23 le 49    |
01 Aug 1915 Noon UT | 24 le 11    |
02 Aug 1915 Noon UT | 24 le 33    |
03 Aug 1915 Noon UT | 24 le 56    |
04 Aug 1915 Noon UT | 25 le 18    |
05 Aug 1915 Noon UT | 25 le 41    |
06 Aug 1915 Noon UT | 26 le  3    |
07 Aug 1915 Noon UT | 26 le 26    |
08 Aug 1915 Noon UT | 26 le 49    |
09 Aug 1915 Noon UT | 27 le 11    |
10 Aug 1915 Noon UT | 27 le 34    |
11 Aug 1915 Noon UT | 27 le 57    |
12 Aug 1915 Noon UT | 28 le 19    |
13 Aug 1915 Noon UT | 28 le 42    |
14 Aug 1915 Noon UT | 29 le  5    |
15 Aug 1915 Noon UT | 29 le 28    |
16 Aug 1915 Noon UT | 29 le 51    |
17 Aug 1915 Noon UT |  0 vi 14    |
18 Aug 1915 Noon UT |  0 vi 36    |
19 Aug 1915 Noon UT |  0 vi 59    |
20 Aug 1915 Noon UT |  1 vi 22    |
21 Aug 1915 Noon UT |  1 vi 45    |
22 Aug 1915 Noon UT |  2 vi  8    |
23 Aug 1915 Noon UT |  2 vi 31    |
24 Aug 1915 Noon UT |  2 vi 54    |
25 Aug 1915 Noon UT |  3 vi 17    |
26 Aug 1915 Noon UT |  3 vi 40    |
27 Aug 1915 Noon UT |  4 vi  3    |
28 Aug 1915 Noon UT |  4 vi 27    |
29 Aug 1915 Noon UT |  4 vi 50    |
30 Aug 1915 Noon UT |  5 vi 13    |
31 Aug 1915 Noon UT |  5 vi 36    |
01 Sep 1915 Noon UT |  5 vi 59    |
02 Sep 1915 Noon UT |  6 vi 22    |
03 Sep 1915 Noon UT |  6 vi 45    |
04 Sep 1915 Noon UT |  7 vi  9    |
05 Sep 1915 Noon UT |  7 vi 32    |
06 Sep 1915 Noon UT |  7 vi 55    |
07 Sep 1915 Noon UT |  8 vi 18    |
08 Sep 1915 Noon UT |  8 vi 42    |
09 Sep 1915 Noon UT |  9 vi  5    |
10 Sep 1915 Noon UT |  9 vi 28    |
11 Sep 1915 Noon UT |  9 vi 51    |
12 Sep 1915 Noon UT | 10 vi 15    |
13 Sep 1915 Noon UT | 10 vi 38    |
14 Sep 1915 Noon UT | 11 vi  1    |
15 Sep 1915 Noon UT | 11 vi 24    |
16 Sep 1915 Noon UT | 11 vi 48    |
17 Sep 1915 Noon UT | 12 vi 11    |
18 Sep 1915 Noon UT | 12 vi 34    |
19 Sep 1915 Noon UT | 12 vi 58    |
20 Sep 1915 Noon UT | 13 vi 21    |
21 Sep 1915 Noon UT | 13 vi 44    |
22 Sep 1915 Noon UT | 14 vi  7    |
23 Sep 1915 Noon UT | 14 vi 31    |
24 Sep 1915 Noon UT | 14 vi 54    |
25 Sep 1915 Noon UT | 15 vi 17    |
26 Sep 1915 Noon UT | 15 vi 40    |
27 Sep 1915 Noon UT | 16 vi  4    |
28 Sep 1915 Noon UT | 16 vi 27    |
29 Sep 1915 Noon UT | 16 vi 50    |
30 Sep 1915 Noon UT | 17 vi 13    |
01 Oct 1915 Noon UT | 17 vi 36    |
02 Oct 1915 Noon UT | 18 vi  0    |
03 Oct 1915 Noon UT | 18 vi 23    |
04 Oct 1915 Noon UT | 18 vi 46    |
05 Oct 1915 Noon UT | 19 vi  9    |
06 Oct 1915 Noon UT | 19 vi 32    |
07 Oct 1915 Noon UT | 19 vi 55    |
08 Oct 1915 Noon UT | 20 vi 18    |
09 Oct 1915 Noon UT | 20 vi 41    |
10 Oct 1915 Noon UT | 21 vi  4    |
11 Oct 1915 Noon UT | 21 vi 27    |
12 Oct 1915 Noon UT | 21 vi 50    |
13 Oct 1915 Noon UT | 22 vi 13    |
14 Oct 1915 Noon UT | 22 vi 36    |
15 Oct 1915 Noon UT | 22 vi 59    |
16 Oct 1915 Noon UT | 23 vi 22    |
17 Oct 1915 Noon UT | 23 vi 45    |
18 Oct 1915 Noon UT | 24 vi  8    |
19 Oct 1915 Noon UT | 24 vi 31    |
20 Oct 1915 Noon UT | 24 vi 53    |
21 Oct 1915 Noon UT | 25 vi 16    |
22 Oct 1915 Noon UT | 25 vi 39    |
23 Oct 1915 Noon UT | 26 vi  1    |
24 Oct 1915 Noon UT | 26 vi 24    |
25 Oct 1915 Noon UT | 26 vi 47    |
26 Oct 1915 Noon UT | 27 vi  9    |
27 Oct 1915 Noon UT | 27 vi 32    |
28 Oct 1915 Noon UT | 27 vi 54    |
29 Oct 1915 Noon UT | 28 vi 17    |
30 Oct 1915 Noon UT | 28 vi 39    |
31 Oct 1915 Noon UT | 29 vi  1    |
01 Nov 1915 Noon UT | 29 vi 24    |
02 Nov 1915 Noon UT | 29 vi 46    |
03 Nov 1915 Noon UT |  0 li  8    |
04 Nov 1915 Noon UT |  0 li 30    |
05 Nov 1915 Noon UT |  0 li 52    |
06 Nov 1915 Noon UT |  1 li 14    |
07 Nov 1915 Noon UT |  1 li 36    |
08 Nov 1915 Noon UT |  1 li 58    |
09 Nov 1915 Noon UT |  2 li 20    |
10 Nov 1915 Noon UT |  2 li 42    |
11 Nov 1915 Noon UT |  3 li  4    |
12 Nov 1915 Noon UT |  3 li 25    |
13 Nov 1915 Noon UT |  3 li 47    |
14 Nov 1915 Noon UT |  4 li  8    |
15 Nov 1915 Noon UT |  4 li 30    |
16 Nov 1915 Noon UT |  4 li 51    |
17 Nov 1915 Noon UT |  5 li 12    |
18 Nov 1915 Noon UT |  5 li 34    |
19 Nov 1915 Noon UT |  5 li 55    |
20 Nov 1915 Noon UT |  6 li 16    |
21 Nov 1915 Noon UT |  6 li 37    |
22 Nov 1915 Noon UT |  6 li 58    |
23 Nov 1915 Noon UT |  7 li 19    |
24 Nov 1915 Noon UT |  7 li 39    |
25 Nov 1915 Noon UT |  8 li  0    |
26 Nov 1915 Noon UT |  8 li 21    |
27 Nov 1915 Noon UT |  8 li 41    |
28 Nov 1915 Noon UT |  9 li  2    |
29 Nov 1915 Noon UT |  9 li 22    |
30 Nov 1915 Noon UT |  9 li 42    |
01 Dec 1915 Noon UT | 10 li  2    |
02 Dec 1915 Noon UT | 10 li 22    |
03 Dec 1915 Noon UT | 10 li 42    |
04 Dec 1915 Noon UT | 11 li  2    |
05 Dec 1915 Noon UT | 11 li 21    |
06 Dec 1915 Noon UT | 11 li 41    |
07 Dec 1915 Noon UT | 12 li  0    |
08 Dec 1915 Noon UT | 12 li 20    |
09 Dec 1915 Noon UT | 12 li 39    |
10 Dec 1915 Noon UT | 12 li 58    |
11 Dec 1915 Noon UT | 13 li 17    |
12 Dec 1915 Noon UT | 13 li 36    |
13 Dec 1915 Noon UT | 13 li 55    |
14 Dec 1915 Noon UT | 14 li 13    |
15 Dec 1915 Noon UT | 14 li 32    |
16 Dec 1915 Noon UT | 14 li 50    |
17 Dec 1915 Noon UT | 15 li  8    |
18 Dec 1915 Noon UT | 15 li 26    |
19 Dec 1915 Noon UT | 15 li 44    |
20 Dec 1915 Noon UT | 16 li  2    |
21 Dec 1915 Noon UT | 16 li 19    |
22 Dec 1915 Noon UT | 16 li 37    |
23 Dec 1915 Noon UT | 16 li 54    |
24 Dec 1915 Noon UT | 17 li 11    |
25 Dec 1915 Noon UT | 17 li 28    |
26 Dec 1915 Noon UT | 17 li 45    |
27 Dec 1915 Noon UT | 18 li  1    |
28 Dec 1915 Noon UT | 18 li 18    |
29 Dec 1915 Noon UT | 18 li 34    |
30 Dec 1915 Noon UT | 18 li 50    |
31 Dec 1915 Noon UT | 19 li  6    |
01 Jan 1916 Noon UT | 19 li 22    |
02 Jan 1916 Noon UT | 19 li 38    |
03 Jan 1916 Noon UT | 19 li 53    |
04 Jan 1916 Noon UT | 20 li  8    |
05 Jan 1916 Noon UT | 20 li 23    |
06 Jan 1916 Noon UT | 20 li 38    |
07 Jan 1916 Noon UT | 20 li 52    |
08 Jan 1916 Noon UT | 21 li  7    |
09 Jan 1916 Noon UT | 21 li 21    |
10 Jan 1916 Noon UT | 21 li 35    |
11 Jan 1916 Noon UT | 21 li 48    |
12 Jan 1916 Noon UT | 22 li  2    |
13 Jan 1916 Noon UT | 22 li 15    |
14 Jan 1916 Noon UT | 22 li 28    |
15 Jan 1916 Noon UT | 22 li 41    |
16 Jan 1916 Noon UT | 22 li 53    |
17 Jan 1916 Noon UT | 23 li  6    |
18 Jan 1916 Noon UT | 23 li 18    |
19 Jan 1916 Noon UT | 23 li 30    |
20 Jan 1916 Noon UT | 23 li 41    |
21 Jan 1916 Noon UT | 23 li 52    |
22 Jan 1916 Noon UT | 24 li  3    |
23 Jan 1916 Noon UT | 24 li 14    |
24 Jan 1916 Noon UT | 24 li 25    |
25 Jan 1916 Noon UT | 24 li 35    |
26 Jan 1916 Noon UT | 24 li 45    |
27 Jan 1916 Noon UT | 24 li 55    |
28 Jan 1916 Noon UT | 25 li  4    |
29 Jan 1916 Noon UT | 25 li 13    |
30 Jan 1916 Noon UT | 25 li 22    |
31 Jan 1916 Noon UT | 25 li 30    |
01 Feb 1916 Noon UT | 25 li 39    |
02 Feb 1916 Noon UT | 25 li 46    |
03 Feb 1916 Noon UT | 25 li 54    |
04 Feb 1916 Noon UT | 26 li  1    |
05 Feb 1916 Noon UT | 26 li  8    |
06 Feb 1916 Noon UT | 26 li 15    |
07 Feb 1916 Noon UT | 26 li 21    |
08 Feb 1916 Noon UT | 26 li 27    |
09 Feb 1916 Noon UT | 26 li 33    |
10 Feb 1916 Noon UT | 26 li 38    |
11 Feb 1916 Noon UT | 26 li 43    |
12 Feb 1916 Noon UT | 26 li 48    |
13 Feb 1916 Noon UT | 26 li 52    |
14 Feb 1916 Noon UT | 26 li 56    |
15 Feb 1916 Noon UT | 26 li 59    |
16 Feb 1916 Noon UT | 27 li  3    |
17 Feb 1916 Noon UT | 27 li  6    |
18 Feb 1916 Noon UT | 27 li  8    |
19 Feb 1916 Noon UT | 27 li 10    |
20 Feb 1916 Noon UT | 27 li 12    |
21 Feb 1916 Noon UT | 27 li 13    |
22 Feb 1916 Noon UT | 27 li 15    |
23 Feb 1916 Noon UT | 27 li 15    |
24 Feb 1916 Noon UT | 27 li 16    |
25 Feb 1916 Noon UT | 27 li 16 Rx |
26 Feb 1916 Noon UT | 27 li 15 Rx |
27 Feb 1916 Noon UT | 27 li 14 Rx |
28 Feb 1916 Noon UT | 27 li 13 Rx |
29 Feb 1916 Noon UT | 27 li 12 Rx |
01 Mar 1916 Noon UT | 27 li 10 Rx |
02 Mar 1916 Noon UT | 27 li  8 Rx |
03 Mar 1916 Noon UT | 27 li  5 Rx |
04 Mar 1916 Noon UT | 27 li  2 Rx |
05 Mar 1916 Noon UT | 26 li 58 Rx |
06 Mar 1916 Noon UT | 26 li 55 Rx |
07 Mar 1916 Noon UT | 26 li 51 Rx |
08 Mar 1916 Noon UT | 26 li 46 Rx |
09 Mar 1916 Noon UT | 26 li 41 Rx |
10 Mar 1916 Noon UT | 26 li 36 Rx |
11 Mar 1916 Noon UT | 26 li 31 Rx |
12 Mar 1916 Noon UT | 26 li 25 Rx |
13 Mar 1916 Noon UT | 26 li 18 Rx |
14 Mar 1916 Noon UT | 26 li 12 Rx |
15 Mar 1916 Noon UT | 26 li  5 Rx |
16 Mar 1916 Noon UT | 25 li 58 Rx |
17 Mar 1916 Noon UT | 25 li 50 Rx |
18 Mar 1916 Noon UT | 25 li 42 Rx |
19 Mar 1916 Noon UT | 25 li 34 Rx |
20 Mar 1916 Noon UT | 25 li 26 Rx |
21 Mar 1916 Noon UT | 25 li 17 Rx |
22 Mar 1916 Noon UT | 25 li  8 Rx |
23 Mar 1916 Noon UT | 24 li 59 Rx |
24 Mar 1916 Noon UT | 24 li 49 Rx |
25 Mar 1916 Noon UT | 24 li 39 Rx |
26 Mar 1916 Noon UT | 24 li 29 Rx |
27 Mar 1916 Noon UT | 24 li 19 Rx |
28 Mar 1916 Noon UT | 24 li  9 Rx |
29 Mar 1916 Noon UT | 23 li 58 Rx |
30 Mar 1916 Noon UT | 23 li 47 Rx |
31 Mar 1916 Noon UT | 23 li 36 Rx |
01 Apr 1916 Noon UT | 23 li 25 Rx |
02 Apr 1916 Noon UT | 23 li 13 Rx |
03 Apr 1916 Noon UT | 23 li  2 Rx |
04 Apr 1916 Noon UT | 22 li 50 Rx |
05 Apr 1916 Noon UT | 22 li 38 Rx |
06 Apr 1916 Noon UT | 22 li 26 Rx |
07 Apr 1916 Noon UT | 22 li 14 Rx |
08 Apr 1916 Noon UT | 22 li  2 Rx |
09 Apr 1916 Noon UT | 21 li 50 Rx |
10 Apr 1916 Noon UT | 21 li 38 Rx |
11 Apr 1916 Noon UT | 21 li 26 Rx |
12 Apr 1916 Noon UT | 21 li 14 Rx |
13 Apr 1916 Noon UT | 21 li  2 Rx |
14 Apr 1916 Noon UT | 20 li 49 Rx |
15 Apr 1916 Noon UT | 20 li 37 Rx |
16 Apr 1916 Noon UT | 20 li 25 Rx |
17 Apr 1916 Noon UT | 20 li 13 Rx |
18 Apr 1916 Noon UT | 20 li  1 Rx |
19 Apr 1916 Noon UT | 19 li 49 Rx |
20 Apr 1916 Noon UT | 19 li 38 Rx |
21 Apr 1916 Noon UT | 19 li 26 Rx |
22 Apr 1916 Noon UT | 19 li 15 Rx |
23 Apr 1916 Noon UT | 19 li  3 Rx |
24 Apr 1916 Noon UT | 18 li 52 Rx |
25 Apr 1916 Noon UT | 18 li 41 Rx |
26 Apr 1916 Noon UT | 18 li 30 Rx |
27 Apr 1916 Noon UT | 18 li 19 Rx |
28 Apr 1916 Noon UT | 18 li  9 Rx |
29 Apr 1916 Noon UT | 17 li 59 Rx |
30 Apr 1916 Noon UT | 17 li 49 Rx |
01 May 1916 Noon UT | 17 li 39 Rx |
02 May 1916 Noon UT | 17 li 29 Rx |
03 May 1916 Noon UT | 17 li 20 Rx |
04 May 1916 Noon UT | 17 li 11 Rx |
05 May 1916 Noon UT | 17 li  2 Rx |
06 May 1916 Noon UT | 16 li 54 Rx |
07 May 1916 Noon UT | 16 li 46 Rx |
08 May 1916 Noon UT | 16 li 38 Rx |
09 May 1916 Noon UT | 16 li 30 Rx |
10 May 1916 Noon UT | 16 li 23 Rx |
11 May 1916 Noon UT | 16 li 16 Rx |
12 May 1916 Noon UT | 16 li 10 Rx |
13 May 1916 Noon UT | 16 li  3 Rx |
14 May 1916 Noon UT | 15 li 58 Rx |
15 May 1916 Noon UT | 15 li 52 Rx |
16 May 1916 Noon UT | 15 li 47 Rx |
17 May 1916 Noon UT | 15 li 42 Rx |
18 May 1916 Noon UT | 15 li 38 Rx |
19 May 1916 Noon UT | 15 li 33 Rx |
20 May 1916 Noon UT | 15 li 30 Rx |
21 May 1916 Noon UT | 15 li 26 Rx |
22 May 1916 Noon UT | 15 li 23 Rx |
23 May 1916 Noon UT | 15 li 21 Rx |
24 May 1916 Noon UT | 15 li 18 Rx |
25 May 1916 Noon UT | 15 li 16 Rx |
26 May 1916 Noon UT | 15 li 15 Rx |
27 May 1916 Noon UT | 15 li 14 Rx |
28 May 1916 Noon UT | 15 li 13 Rx |
29 May 1916 Noon UT | 15 li 12 Rx |
30 May 1916 Noon UT | 15 li 12    |
31 May 1916 Noon UT | 15 li 12    |
01 Jun 1916 Noon UT | 15 li 13    |
02 Jun 1916 Noon UT | 15 li 14    |
03 Jun 1916 Noon UT | 15 li 15    |
04 Jun 1916 Noon UT | 15 li 17    |
05 Jun 1916 Noon UT | 15 li 19    |
06 Jun 1916 Noon UT | 15 li 22    |
07 Jun 1916 Noon UT | 15 li 24    |
08 Jun 1916 Noon UT | 15 li 28    |
09 Jun 1916 Noon UT | 15 li 31    |
10 Jun 1916 Noon UT | 15 li 35    |
11 Jun 1916 Noon UT | 15 li 39    |
12 Jun 1916 Noon UT | 15 li 44    |
13 Jun 1916 Noon UT | 15 li 49    |
14 Jun 1916 Noon UT | 15 li 54    |
15 Jun 1916 Noon UT | 15 li 59    |
16 Jun 1916 Noon UT | 16 li  5    |
17 Jun 1916 Noon UT | 16 li 12    |
18 Jun 1916 Noon UT | 16 li 18    |
19 Jun 1916 Noon UT | 16 li 25    |
20 Jun 1916 Noon UT | 16 li 32    |
21 Jun 1916 Noon UT | 16 li 39    |
22 Jun 1916 Noon UT | 16 li 47    |
23 Jun 1916 Noon UT | 16 li 55    |
24 Jun 1916 Noon UT | 17 li  4    |
25 Jun 1916 Noon UT | 17 li 12    |
26 Jun 1916 Noon UT | 17 li 21    |
27 Jun 1916 Noon UT | 17 li 31    |
28 Jun 1916 Noon UT | 17 li 40    |
29 Jun 1916 Noon UT | 17 li 50    |
30 Jun 1916 Noon UT | 18 li  0    |
01 Jul 1916 Noon UT | 18 li 11    |
02 Jul 1916 Noon UT | 18 li 21    |
03 Jul 1916 Noon UT | 18 li 32    |
04 Jul 1916 Noon UT | 18 li 43    |
05 Jul 1916 Noon UT | 18 li 55    |
06 Jul 1916 Noon UT | 19 li  7    |
07 Jul 1916 Noon UT | 19 li 19    |
08 Jul 1916 Noon UT | 19 li 31    |
09 Jul 1916 Noon UT | 19 li 43    |
10 Jul 1916 Noon UT | 19 li 56    |
11 Jul 1916 Noon UT | 20 li  9    |
12 Jul 1916 Noon UT | 20 li 22    |
13 Jul 1916 Noon UT | 20 li 36    |
14 Jul 1916 Noon UT | 20 li 49    |
15 Jul 1916 Noon UT | 21 li  3    |
16 Jul 1916 Noon UT | 21 li 17    |
17 Jul 1916 Noon UT | 21 li 31    |
18 Jul 1916 Noon UT | 21 li 46    |
19 Jul 1916 Noon UT | 22 li  1    |
20 Jul 1916 Noon UT | 22 li 16    |
21 Jul 1916 Noon UT | 22 li 31    |
22 Jul 1916 Noon UT | 22 li 46    |
23 Jul 1916 Noon UT | 23 li  2    |
24 Jul 1916 Noon UT | 23 li 17    |
25 Jul 1916 Noon UT | 23 li 33    |
26 Jul 1916 Noon UT | 23 li 50    |
27 Jul 1916 Noon UT | 24 li  6    |
28 Jul 1916 Noon UT | 24 li 22    |
29 Jul 1916 Noon UT | 24 li 39    |
30 Jul 1916 Noon UT | 24 li 56    |
31 Jul 1916 Noon UT | 25 li 13    |
01 Aug 1916 Noon UT | 25 li 30    |
02 Aug 1916 Noon UT | 25 li 48    |
03 Aug 1916 Noon UT | 26 li  5    |
04 Aug 1916 Noon UT | 26 li 23    |
05 Aug 1916 Noon UT | 26 li 41    |
06 Aug 1916 Noon UT | 26 li 59    |
07 Aug 1916 Noon UT | 27 li 17    |
08 Aug 1916 Noon UT | 27 li 35    |
09 Aug 1916 Noon UT | 27 li 54    |
10 Aug 1916 Noon UT | 28 li 13    |
11 Aug 1916 Noon UT | 28 li 31    |
12 Aug 1916 Noon UT | 28 li 50    |
13 Aug 1916 Noon UT | 29 li 10    |
14 Aug 1916 Noon UT | 29 li 29    |
15 Aug 1916 Noon UT | 29 li 48    |
16 Aug 1916 Noon UT |  0 sc  8    |
17 Aug 1916 Noon UT |  0 sc 27    |
18 Aug 1916 Noon UT |  0 sc 47    |
19 Aug 1916 Noon UT |  1 sc  7    |
20 Aug 1916 Noon UT |  1 sc 27    |
21 Aug 1916 Noon UT |  1 sc 47    |
22 Aug 1916 Noon UT |  2 sc  7    |
23 Aug 1916 Noon UT |  2 sc 28    |
24 Aug 1916 Noon UT |  2 sc 48    |
25 Aug 1916 Noon UT |  3 sc  9    |
26 Aug 1916 Noon UT |  3 sc 30    |
27 Aug 1916 Noon UT |  3 sc 51    |
28 Aug 1916 Noon UT |  4 sc 12    |
29 Aug 1916 Noon UT |  4 sc 33    |
30 Aug 1916 Noon UT |  4 sc 54    |
31 Aug 1916 Noon UT |  5 sc 15    |
01 Sep 1916 Noon UT |  5 sc 37    |
02 Sep 1916 Noon UT |  5 sc 58    |
03 Sep 1916 Noon UT |  6 sc 20    |
04 Sep 1916 Noon UT |  6 sc 42    |
05 Sep 1916 Noon UT |  7 sc  4    |
06 Sep 1916 Noon UT |  7 sc 25    |
07 Sep 1916 Noon UT |  7 sc 48    |
08 Sep 1916 Noon UT |  8 sc 10    |
09 Sep 1916 Noon UT |  8 sc 32    |
10 Sep 1916 Noon UT |  8 sc 54    |
11 Sep 1916 Noon UT |  9 sc 17    |
12 Sep 1916 Noon UT |  9 sc 39    |
13 Sep 1916 Noon UT | 10 sc  2    |
14 Sep 1916 Noon UT | 10 sc 24    |
15 Sep 1916 Noon UT | 10 sc 47    |
16 Sep 1916 Noon UT | 11 sc 10    |
17 Sep 1916 Noon UT | 11 sc 33    |
18 Sep 1916 Noon UT | 11 sc 56    |
19 Sep 1916 Noon UT | 12 sc 19    |
20 Sep 1916 Noon UT | 12 sc 42    |
21 Sep 1916 Noon UT | 13 sc  5    |
22 Sep 1916 Noon UT | 13 sc 28    |
23 Sep 1916 Noon UT | 13 sc 52    |
24 Sep 1916 Noon UT | 14 sc 15    |
25 Sep 1916 Noon UT | 14 sc 39    |
26 Sep 1916 Noon UT | 15 sc  2    |
27 Sep 1916 Noon UT | 15 sc 26    |
28 Sep 1916 Noon UT | 15 sc 49    |
29 Sep 1916 Noon UT | 16 sc 13    |
30 Sep 1916 Noon UT | 16 sc 37    |
01 Oct 1916 Noon UT | 17 sc  1    |
02 Oct 1916 Noon UT | 17 sc 25    |
03 Oct 1916 Noon UT | 17 sc 49    |
04 Oct 1916 Noon UT | 18 sc 13    |
05 Oct 1916 Noon UT | 18 sc 37    |
06 Oct 1916 Noon UT | 19 sc  1    |
07 Oct 1916 Noon UT | 19 sc 25    |
08 Oct 1916 Noon UT | 19 sc 50    |
09 Oct 1916 Noon UT | 20 sc 14    |
10 Oct 1916 Noon UT | 20 sc 38    |
11 Oct 1916 Noon UT | 21 sc  3    |
12 Oct 1916 Noon UT | 21 sc 27    |
13 Oct 1916 Noon UT | 21 sc 52    |
14 Oct 1916 Noon UT | 22 sc 16    |
15 Oct 1916 Noon UT | 22 sc 41    |
16 Oct 1916 Noon UT | 23 sc  6    |
17 Oct 1916 Noon UT | 23 sc 30    |
18 Oct 1916 Noon UT | 23 sc 55    |
19 Oct 1916 Noon UT | 24 sc 20    |
20 Oct 1916 Noon UT | 24 sc 45    |
21 Oct 1916 Noon UT | 25 sc 10    |
22 Oct 1916 Noon UT | 25 sc 35    |
23 Oct 1916 Noon UT | 26 sc  0    |
24 Oct 1916 Noon UT | 26 sc 25    |
25 Oct 1916 Noon UT | 26 sc 50    |
26 Oct 1916 Noon UT | 27 sc 15    |
27 Oct 1916 Noon UT | 27 sc 40    |
28 Oct 1916 Noon UT | 28 sc  5    |
29 Oct 1916 Noon UT | 28 sc 30    |
30 Oct 1916 Noon UT | 28 sc 56    |
31 Oct 1916 Noon UT | 29 sc 21    |
01 Nov 1916 Noon UT | 29 sc 46    |
02 Nov 1916 Noon UT |  0 sa 11    |
03 Nov 1916 Noon UT |  0 sa 37    |
04 Nov 1916 Noon UT |  1 sa  2    |
05 Nov 1916 Noon UT |  1 sa 27    |
06 Nov 1916 Noon UT |  1 sa 53    |
07 Nov 1916 Noon UT |  2 sa 18    |
08 Nov 1916 Noon UT |  2 sa 44    |
09 Nov 1916 Noon UT |  3 sa  9    |
10 Nov 1916 Noon UT |  3 sa 35    |
11 Nov 1916 Noon UT |  4 sa  0    |
12 Nov 1916 Noon UT |  4 sa 26    |
13 Nov 1916 Noon UT |  4 sa 51    |
14 Nov 1916 Noon UT |  5 sa 17    |
15 Nov 1916 Noon UT |  5 sa 42    |
16 Nov 1916 Noon UT |  6 sa  8    |
17 Nov 1916 Noon UT |  6 sa 34    |
18 Nov 1916 Noon UT |  6 sa 59    |
19 Nov 1916 Noon UT |  7 sa 25    |
20 Nov 1916 Noon UT |  7 sa 51    |
21 Nov 1916 Noon UT |  8 sa 16    |
22 Nov 1916 Noon UT |  8 sa 42    |
23 Nov 1916 Noon UT |  9 sa  8    |
24 Nov 1916 Noon UT |  9 sa 33    |
25 Nov 1916 Noon UT |  9 sa 59    |
26 Nov 1916 Noon UT | 10 sa 25    |
27 Nov 1916 Noon UT | 10 sa 50    |
28 Nov 1916 Noon UT | 11 sa 16    |
29 Nov 1916 Noon UT | 11 sa 42    |
30 Nov 1916 Noon UT | 12 sa  8    |
01 Dec 1916 Noon UT | 12 sa 33    |
02 Dec 1916 Noon UT | 12 sa 59    |
03 Dec 1916 Noon UT | 13 sa 25    |
04 Dec 1916 Noon UT | 13 sa 51    |
05 Dec 1916 Noon UT | 14 sa 16    |
06 Dec 1916 Noon UT | 14 sa 42    |
07 Dec 1916 Noon UT | 15 sa  8    |
08 Dec 1916 Noon UT | 15 sa 33    |
09 Dec 1916 Noon UT | 15 sa 59    |
10 Dec 1916 Noon UT | 16 sa 25    |
11 Dec 1916 Noon UT | 16 sa 51    |
12 Dec 1916 Noon UT | 17 sa 16    |
13 Dec 1916 Noon UT | 17 sa 42    |
14 Dec 1916 Noon UT | 18 sa  8    |
15 Dec 1916 Noon UT | 18 sa 33    |
16 Dec 1916 Noon UT | 18 sa 59    |
17 Dec 1916 Noon UT | 19 sa 25    |
18 Dec 1916 Noon UT | 19 sa 50    |
19 Dec 1916 Noon UT | 20 sa 16    |
20 Dec 1916 Noon UT | 20 sa 41    |
21 Dec 1916 Noon UT | 21 sa  7    |
22 Dec 1916 Noon UT | 21 sa 32    |
23 Dec 1916 Noon UT | 21 sa 58    |
24 Dec 1916 Noon UT | 22 sa 24    |
25 Dec 1916 Noon UT | 22 sa 49    |
26 Dec 1916 Noon UT | 23 sa 15    |
27 Dec 1916 Noon UT | 23 sa 40    |
28 Dec 1916 Noon UT | 24 sa  5    |
29 Dec 1916 Noon UT | 24 sa 31    |
30 Dec 1916 Noon UT | 24 sa 56    |
31 Dec 1916 Noon UT | 25 sa 22    |
01 Jan 1917 Noon UT | 25 sa 47    |
02 Jan 1917 Noon UT | 26 sa 12    |
03 Jan 1917 Noon UT | 26 sa 37    |
04 Jan 1917 Noon UT | 27 sa  3    |
05 Jan 1917 Noon UT | 27 sa 28    |
06 Jan 1917 Noon UT | 27 sa 53    |
07 Jan 1917 Noon UT | 28 sa 18    |
08 Jan 1917 Noon UT | 28 sa 43    |
09 Jan 1917 Noon UT | 29 sa  8    |
10 Jan 1917 Noon UT | 29 sa 33    |
11 Jan 1917 Noon UT | 29 sa 58    |
12 Jan 1917 Noon UT |  0 cp 23    |
13 Jan 1917 Noon UT |  0 cp 48    |
14 Jan 1917 Noon UT |  1 cp 13    |
15 Jan 1917 Noon UT |  1 cp 38    |
16 Jan 1917 Noon UT |  2 cp  3    |
17 Jan 1917 Noon UT |  2 cp 27    |
18 Jan 1917 Noon UT |  2 cp 52    |
19 Jan 1917 Noon UT |  3 cp 17    |
20 Jan 1917 Noon UT |  3 cp 41    |
21 Jan 1917 Noon UT |  4 cp  6    |
22 Jan 1917 Noon UT |  4 cp 30    |
23 Jan 1917 Noon UT |  4 cp 55    |
24 Jan 1917 Noon UT |  5 cp 19    |
25 Jan 1917 Noon UT |  5 cp 44    |
26 Jan 1917 Noon UT |  6 cp  8    |
27 Jan 1917 Noon UT |  6 cp 32    |
28 Jan 1917 Noon UT |  6 cp 56    |
29 Jan 1917 Noon UT |  7 cp 20    |
30 Jan 1917 Noon UT |  7 cp 44    |
31 Jan 1917 Noon UT |  8 cp  8    |
01 Feb 1917 Noon UT |  8 cp 32    |
02 Feb 1917 Noon UT |  8 cp 56    |
03 Feb 1917 Noon UT |  9 cp 20    |
04 Feb 1917 Noon UT |  9 cp 44    |
05 Feb 1917 Noon UT | 10 cp  7    |
06 Feb 1917 Noon UT | 10 cp 31    |
07 Feb 1917 Noon UT | 10 cp 54    |
08 Feb 1917 Noon UT | 11 cp 18    |
09 Feb 1917 Noon UT | 11 cp 41    |
10 Feb 1917 Noon UT | 12 cp  4    |
11 Feb 1917 Noon UT | 12 cp 28    |
12 Feb 1917 Noon UT | 12 cp 51    |
13 Feb 1917 Noon UT | 13 cp 14    |
14 Feb 1917 Noon UT | 13 cp 37    |
15 Feb 1917 Noon UT | 14 cp  0    |
16 Feb 1917 Noon UT | 14 cp 23    |
17 Feb 1917 Noon UT | 14 cp 45    |
18 Feb 1917 Noon UT | 15 cp  8    |
19 Feb 1917 Noon UT | 15 cp 31    |
20 Feb 1917 Noon UT | 15 cp 53    |
21 Feb 1917 Noon UT | 16 cp 16    |
22 Feb 1917 Noon UT | 16 cp 38    |
23 Feb 1917 Noon UT | 17 cp  0    |
24 Feb 1917 Noon UT | 17 cp 22    |
25 Feb 1917 Noon UT | 17 cp 44    |
26 Feb 1917 Noon UT | 18 cp  6    |
27 Feb 1917 Noon UT | 18 cp 28    |
28 Feb 1917 Noon UT | 18 cp 50    |
01 Mar 1917 Noon UT | 19 cp 11    |
02 Mar 1917 Noon UT | 19 cp 33    |
03 Mar 1917 Noon UT | 19 cp 54    |
04 Mar 1917 Noon UT | 20 cp 15    |
05 Mar 1917 Noon UT | 20 cp 37    |
06 Mar 1917 Noon UT | 20 cp 58    |
07 Mar 1917 Noon UT | 21 cp 19    |
08 Mar 1917 Noon UT | 21 cp 39    |
09 Mar 1917 Noon UT | 22 cp  0    |
10 Mar 1917 Noon UT | 22 cp 21    |
11 Mar 1917 Noon UT | 22 cp 41    |
12 Mar 1917 Noon UT | 23 cp  2    |
13 Mar 1917 Noon UT | 23 cp 22    |
14 Mar 1917 Noon UT | 23 cp 42    |
15 Mar 1917 Noon UT | 24 cp  2    |
16 Mar 1917 Noon UT | 24 cp 22    |
17 Mar 1917 Noon UT | 24 cp 41    |
18 Mar 1917 Noon UT | 25 cp  1    |
19 Mar 1917 Noon UT | 25 cp 20    |
20 Mar 1917 Noon UT | 25 cp 40    |
21 Mar 1917 Noon UT | 25 cp 59    |
22 Mar 1917 Noon UT | 26 cp 18    |
23 Mar 1917 Noon UT | 26 cp 37    |
24 Mar 1917 Noon UT | 26 cp 56    |
25 Mar 1917 Noon UT | 27 cp 14    |
26 Mar 1917 Noon UT | 27 cp 33    |
27 Mar 1917 Noon UT | 27 cp 51    |
28 Mar 1917 Noon UT | 28 cp  9    |
29 Mar 1917 Noon UT | 28 cp 27    |
30 Mar 1917 Noon UT | 28 cp 45    |
31 Mar 1917 Noon UT | 29 cp  2    |
01 Apr 1917 Noon UT | 29 cp 20    |
02 Apr 1917 Noon UT | 29 cp 37    |
03 Apr 1917 Noon UT | 29 cp 54    |
04 Apr 1917 Noon UT |  0 aq 11    |
05 Apr 1917 Noon UT |  0 aq 28    |
06 Apr 1917 Noon UT |  0 aq 44    |
07 Apr 1917 Noon UT |  1 aq  1    |
08 Apr 1917 Noon UT |  1 aq 17    |
09 Apr 1917 Noon UT |  1 aq 33    |
10 Apr 1917 Noon UT |  1 aq 49    |
11 Apr 1917 Noon UT |  2 aq  5    |
12 Apr 1917 Noon UT |  2 aq 20    |
13 Apr 1917 Noon UT |  2 aq 35    |
14 Apr 1917 Noon UT |  2 aq 50    |
15 Apr 1917 Noon UT |  3 aq  5    |
16 Apr 1917 Noon UT |  3 aq 20    |
17 Apr 1917 Noon UT |  3 aq 34    |
18 Apr 1917 Noon UT |  3 aq 49    |
19 Apr 1917 Noon UT |  4 aq  3    |
20 Apr 1917 Noon UT |  4 aq 17    |
21 Apr 1917 Noon UT |  4 aq 30    |
22 Apr 1917 Noon UT |  4 aq 43    |
23 Apr 1917 Noon UT |  4 aq 57    |
24 Apr 1917 Noon UT |  5 aq  9    |
25 Apr 1917 Noon UT |  5 aq 22    |
26 Apr 1917 Noon UT |  5 aq 35    |
27 Apr 1917 Noon UT |  5 aq 47    |
28 Apr 1917 Noon UT |  5 aq 59    |
29 Apr 1917 Noon UT |  6 aq 10    |
30 Apr 1917 Noon UT |  6 aq 22    |
01 May 1917 Noon UT |  6 aq 33    |
02 May 1917 Noon UT |  6 aq 44    |
03 May 1917 Noon UT |  6 aq 54    |
04 May 1917 Noon UT |  7 aq  5    |
05 May 1917 Noon UT |  7 aq 15    |
06 May 1917 Noon UT |  7 aq 25    |
07 May 1917 Noon UT |  7 aq 34    |
08 May 1917 Noon UT |  7 aq 44    |
09 May 1917 Noon UT |  7 aq 53    |
10 May 1917 Noon UT |  8 aq  2    |
11 May 1917 Noon UT |  8 aq 10    |
12 May 1917 Noon UT |  8 aq 18    |
13 May 1917 Noon UT |  8 aq 26    |
14 May 1917 Noon UT |  8 aq 34    |
15 May 1917 Noon UT |  8 aq 41    |
16 May 1917 Noon UT |  8 aq 48    |
17 May 1917 Noon UT |  8 aq 55    |
18 May 1917 Noon UT |  9 aq  1    |
19 May 1917 Noon UT |  9 aq  7    |
20 May 1917 Noon UT |  9 aq 13    |
21 May 1917 Noon UT |  9 aq 18    |
22 May 1917 Noon UT |  9 aq 24    |
23 May 1917 Noon UT |  9 aq 28    |
24 May 1917 Noon UT |  9 aq 33    |
25 May 1917 Noon UT |  9 aq 37    |
26 May 1917 Noon UT |  9 aq 41    |
27 May 1917 Noon UT |  9 aq 44    |
28 May 1917 Noon UT |  9 aq 47    |
29 May 1917 Noon UT |  9 aq 50    |
30 May 1917 Noon UT |  9 aq 53    |
31 May 1917 Noon UT |  9 aq 55    |
01 Jun 1917 Noon UT |  9 aq 57    |
02 Jun 1917 Noon UT |  9 aq 58    |
03 Jun 1917 Noon UT |  9 aq 59    |
04 Jun 1917 Noon UT | 10 aq  0    |
05 Jun 1917 Noon UT | 10 aq  0    |
06 Jun 1917 Noon UT | 10 aq  1 Rx |
07 Jun 1917 Noon UT | 10 aq  0 Rx |
08 Jun 1917 Noon UT | 10 aq  0 Rx |
09 Jun 1917 Noon UT |  9 aq 59 Rx |
10 Jun 1917 Noon UT |  9 aq 57 Rx |
11 Jun 1917 Noon UT |  9 aq 56 Rx |
12 Jun 1917 Noon UT |  9 aq 54 Rx |
13 Jun 1917 Noon UT |  9 aq 51 Rx |
14 Jun 1917 Noon UT |  9 aq 49 Rx |
15 Jun 1917 Noon UT |  9 aq 46 Rx |
16 Jun 1917 Noon UT |  9 aq 42 Rx |
17 Jun 1917 Noon UT |  9 aq 39 Rx |
18 Jun 1917 Noon UT |  9 aq 34 Rx |
19 Jun 1917 Noon UT |  9 aq 30 Rx |
20 Jun 1917 Noon UT |  9 aq 25 Rx |
21 Jun 1917 Noon UT |  9 aq 20 Rx |
22 Jun 1917 Noon UT |  9 aq 15 Rx |
23 Jun 1917 Noon UT |  9 aq  9 Rx |
24 Jun 1917 Noon UT |  9 aq  3 Rx |
25 Jun 1917 Noon UT |  8 aq 57 Rx |
26 Jun 1917 Noon UT |  8 aq 50 Rx |
27 Jun 1917 Noon UT |  8 aq 43 Rx |
28 Jun 1917 Noon UT |  8 aq 36 Rx |
29 Jun 1917 Noon UT |  8 aq 28 Rx |
30 Jun 1917 Noon UT |  8 aq 20 Rx |
01 Jul 1917 Noon UT |  8 aq 12 Rx |
02 Jul 1917 Noon UT |  8 aq  4 Rx |
03 Jul 1917 Noon UT |  7 aq 55 Rx |
04 Jul 1917 Noon UT |  7 aq 46 Rx |
05 Jul 1917 Noon UT |  7 aq 37 Rx |
06 Jul 1917 Noon UT |  7 aq 28 Rx |
07 Jul 1917 Noon UT |  7 aq 18 Rx |
08 Jul 1917 Noon UT |  7 aq  8 Rx |
09 Jul 1917 Noon UT |  6 aq 58 Rx |
10 Jul 1917 Noon UT |  6 aq 48 Rx |
11 Jul 1917 Noon UT |  6 aq 37 Rx |
12 Jul 1917 Noon UT |  6 aq 27 Rx |
13 Jul 1917 Noon UT |  6 aq 16 Rx |
14 Jul 1917 Noon UT |  6 aq  5 Rx |
15 Jul 1917 Noon UT |  5 aq 54 Rx |
16 Jul 1917 Noon UT |  5 aq 43 Rx |
17 Jul 1917 Noon UT |  5 aq 31 Rx |
18 Jul 1917 Noon UT |  5 aq 20 Rx |
19 Jul 1917 Noon UT |  5 aq  8 Rx |
20 Jul 1917 Noon UT |  4 aq 57 Rx |
21 Jul 1917 Noon UT |  4 aq 45 Rx |
22 Jul 1917 Noon UT |  4 aq 33 Rx |
23 Jul 1917 Noon UT |  4 aq 21 Rx |
24 Jul 1917 Noon UT |  4 aq  9 Rx |
25 Jul 1917 Noon UT |  3 aq 57 Rx |
26 Jul 1917 Noon UT |  3 aq 45 Rx |
27 Jul 1917 Noon UT |  3 aq 33 Rx |
28 Jul 1917 Noon UT |  3 aq 22 Rx |
29 Jul 1917 Noon UT |  3 aq 10 Rx |
30 Jul 1917 Noon UT |  2 aq 58 Rx |
31 Jul 1917 Noon UT |  2 aq 46 Rx |
01 Aug 1917 Noon UT |  2 aq 34 Rx |
02 Aug 1917 Noon UT |  2 aq 23 Rx |
03 Aug 1917 Noon UT |  2 aq 11 Rx |
04 Aug 1917 Noon UT |  2 aq  0 Rx |
05 Aug 1917 Noon UT |  1 aq 49 Rx |
06 Aug 1917 Noon UT |  1 aq 38 Rx |
07 Aug 1917 Noon UT |  1 aq 27 Rx |
08 Aug 1917 Noon UT |  1 aq 16 Rx |
09 Aug 1917 Noon UT |  1 aq  5 Rx |
10 Aug 1917 Noon UT |  0 aq 54 Rx |
11 Aug 1917 Noon UT |  0 aq 44 Rx |
12 Aug 1917 Noon UT |  0 aq 34 Rx |
13 Aug 1917 Noon UT |  0 aq 24 Rx |
14 Aug 1917 Noon UT |  0 aq 14 Rx |
15 Aug 1917 Noon UT |  0 aq  5 Rx |
16 Aug 1917 Noon UT | 29 cp 55 Rx |
17 Aug 1917 Noon UT | 29 cp 46 Rx |
18 Aug 1917 Noon UT | 29 cp 38 Rx |
19 Aug 1917 Noon UT | 29 cp 29 Rx |
20 Aug 1917 Noon UT | 29 cp 21 Rx |
21 Aug 1917 Noon UT | 29 cp 13 Rx |
22 Aug 1917 Noon UT | 29 cp  5 Rx |
23 Aug 1917 Noon UT | 28 cp 58 Rx |
24 Aug 1917 Noon UT | 28 cp 51 Rx |
25 Aug 1917 Noon UT | 28 cp 44 Rx |
26 Aug 1917 Noon UT | 28 cp 37 Rx |
27 Aug 1917 Noon UT | 28 cp 31 Rx |
28 Aug 1917 Noon UT | 28 cp 25 Rx |
29 Aug 1917 Noon UT | 28 cp 19 Rx |
30 Aug 1917 Noon UT | 28 cp 14 Rx |
31 Aug 1917 Noon UT | 28 cp  9 Rx |
01 Sep 1917 Noon UT | 28 cp  5 Rx |
02 Sep 1917 Noon UT | 28 cp  0 Rx |
03 Sep 1917 Noon UT | 27 cp 56 Rx |
04 Sep 1917 Noon UT | 27 cp 53 Rx |
05 Sep 1917 Noon UT | 27 cp 49 Rx |
06 Sep 1917 Noon UT | 27 cp 46 Rx |
07 Sep 1917 Noon UT | 27 cp 44 Rx |
08 Sep 1917 Noon UT | 27 cp 41 Rx |
09 Sep 1917 Noon UT | 27 cp 39 Rx |
10 Sep 1917 Noon UT | 27 cp 38 Rx |
11 Sep 1917 Noon UT | 27 cp 36 Rx |
12 Sep 1917 Noon UT | 27 cp 35 Rx |
13 Sep 1917 Noon UT | 27 cp 35 Rx |
14 Sep 1917 Noon UT | 27 cp 34 Rx |
15 Sep 1917 Noon UT | 27 cp 34    |
16 Sep 1917 Noon UT | 27 cp 35    |
17 Sep 1917 Noon UT | 27 cp 36    |
18 Sep 1917 Noon UT | 27 cp 37    |
19 Sep 1917 Noon UT | 27 cp 38    |
20 Sep 1917 Noon UT | 27 cp 40    |
21 Sep 1917 Noon UT | 27 cp 42    |
22 Sep 1917 Noon UT | 27 cp 44    |
23 Sep 1917 Noon UT | 27 cp 47    |
24 Sep 1917 Noon UT | 27 cp 50    |
25 Sep 1917 Noon UT | 27 cp 53    |
26 Sep 1917 Noon UT | 27 cp 57    |
27 Sep 1917 Noon UT | 28 cp  1    |
28 Sep 1917 Noon UT | 28 cp  5    |
29 Sep 1917 Noon UT | 28 cp  9    |
30 Sep 1917 Noon UT | 28 cp 14    |
01 Oct 1917 Noon UT | 28 cp 19    |
02 Oct 1917 Noon UT | 28 cp 25    |
03 Oct 1917 Noon UT | 28 cp 31    |
04 Oct 1917 Noon UT | 28 cp 37    |
05 Oct 1917 Noon UT | 28 cp 43    |
06 Oct 1917 Noon UT | 28 cp 50    |
07 Oct 1917 Noon UT | 28 cp 57    |
08 Oct 1917 Noon UT | 29 cp  4    |
09 Oct 1917 Noon UT | 29 cp 11    |
10 Oct 1917 Noon UT | 29 cp 19    |
11 Oct 1917 Noon UT | 29 cp 27    |
12 Oct 1917 Noon UT | 29 cp 35    |
13 Oct 1917 Noon UT | 29 cp 44    |
14 Oct 1917 Noon UT | 29 cp 53    |
15 Oct 1917 Noon UT |  0 aq  2    |
16 Oct 1917 Noon UT |  0 aq 11    |
17 Oct 1917 Noon UT |  0 aq 21    |
18 Oct 1917 Noon UT |  0 aq 30    |
19 Oct 1917 Noon UT |  0 aq 40    |
20 Oct 1917 Noon UT |  0 aq 51    |
21 Oct 1917 Noon UT |  1 aq  1    |
22 Oct 1917 Noon UT |  1 aq 12    |
23 Oct 1917 Noon UT |  1 aq 23    |
24 Oct 1917 Noon UT |  1 aq 34    |
25 Oct 1917 Noon UT |  1 aq 46    |
26 Oct 1917 Noon UT |  1 aq 57    |
27 Oct 1917 Noon UT |  2 aq  9    |
28 Oct 1917 Noon UT |  2 aq 21    |
29 Oct 1917 Noon UT |  2 aq 34    |
30 Oct 1917 Noon UT |  2 aq 46    |
31 Oct 1917 Noon UT |  2 aq 59    |
01 Nov 1917 Noon UT |  3 aq 12    |
02 Nov 1917 Noon UT |  3 aq 25    |
03 Nov 1917 Noon UT |  3 aq 38    |
04 Nov 1917 Noon UT |  3 aq 52    |
05 Nov 1917 Noon UT |  4 aq  6    |
06 Nov 1917 Noon UT |  4 aq 19    |
07 Nov 1917 Noon UT |  4 aq 34    |
08 Nov 1917 Noon UT |  4 aq 48    |
09 Nov 1917 Noon UT |  5 aq  2    |
10 Nov 1917 Noon UT |  5 aq 17    |
11 Nov 1917 Noon UT |  5 aq 32    |
12 Nov 1917 Noon UT |  5 aq 47    |
13 Nov 1917 Noon UT |  6 aq  2    |
14 Nov 1917 Noon UT |  6 aq 17    |
15 Nov 1917 Noon UT |  6 aq 32    |
16 Nov 1917 Noon UT |  6 aq 48    |
17 Nov 1917 Noon UT |  7 aq  4    |
18 Nov 1917 Noon UT |  7 aq 20    |
19 Nov 1917 Noon UT |  7 aq 36    |
20 Nov 1917 Noon UT |  7 aq 52    |
21 Nov 1917 Noon UT |  8 aq  8    |
22 Nov 1917 Noon UT |  8 aq 25    |
23 Nov 1917 Noon UT |  8 aq 41    |
24 Nov 1917 Noon UT |  8 aq 58    |
25 Nov 1917 Noon UT |  9 aq 15    |
26 Nov 1917 Noon UT |  9 aq 32    |
27 Nov 1917 Noon UT |  9 aq 49    |
28 Nov 1917 Noon UT | 10 aq  6    |
29 Nov 1917 Noon UT | 10 aq 24    |
30 Nov 1917 Noon UT | 10 aq 41    |
01 Dec 1917 Noon UT | 10 aq 59    |
02 Dec 1917 Noon UT | 11 aq 17    |
03 Dec 1917 Noon UT | 11 aq 35    |
04 Dec 1917 Noon UT | 11 aq 53    |
05 Dec 1917 Noon UT | 12 aq 11    |
06 Dec 1917 Noon UT | 12 aq 29    |
07 Dec 1917 Noon UT | 12 aq 47    |
08 Dec 1917 Noon UT | 13 aq  6    |
09 Dec 1917 Noon UT | 13 aq 24    |
10 Dec 1917 Noon UT | 13 aq 43    |
11 Dec 1917 Noon UT | 14 aq  2    |
12 Dec 1917 Noon UT | 14 aq 21    |
13 Dec 1917 Noon UT | 14 aq 40    |
14 Dec 1917 Noon UT | 14 aq 59    |
15 Dec 1917 Noon UT | 15 aq 18    |
16 Dec 1917 Noon UT | 15 aq 37    |
17 Dec 1917 Noon UT | 15 aq 56    |
18 Dec 1917 Noon UT | 16 aq 16    |
19 Dec 1917 Noon UT | 16 aq 35    |
20 Dec 1917 Noon UT | 16 aq 55    |
21 Dec 1917 Noon UT | 17 aq 14    |
22 Dec 1917 Noon UT | 17 aq 34    |
23 Dec 1917 Noon UT | 17 aq 54    |
24 Dec 1917 Noon UT | 18 aq 14    |
25 Dec 1917 Noon UT | 18 aq 34    |
26 Dec 1917 Noon UT | 18 aq 54    |
27 Dec 1917 Noon UT | 19 aq 14    |
28 Dec 1917 Noon UT | 19 aq 34    |
29 Dec 1917 Noon UT | 19 aq 54    |
30 Dec 1917 Noon UT | 20 aq 14    |
31 Dec 1917 Noon UT | 20 aq 35    |
01 Jan 1918 Noon UT | 20 aq 55    |
02 Jan 1918 Noon UT | 21 aq 16    |
03 Jan 1918 Noon UT | 21 aq 36    |
04 Jan 1918 Noon UT | 21 aq 57    |
05 Jan 1918 Noon UT | 22 aq 17    |
06 Jan 1918 Noon UT | 22 aq 38    |
07 Jan 1918 Noon UT | 22 aq 59    |
08 Jan 1918 Noon UT | 23 aq 20    |
09 Jan 1918 Noon UT | 23 aq 40    |
10 Jan 1918 Noon UT | 24 aq  1    |
11 Jan 1918 Noon UT | 24 aq 22    |
12 Jan 1918 Noon UT | 24 aq 43    |
13 Jan 1918 Noon UT | 25 aq  4    |
14 Jan 1918 Noon UT | 25 aq 25    |
15 Jan 1918 Noon UT | 25 aq 47    |
16 Jan 1918 Noon UT | 26 aq  8    |
17 Jan 1918 Noon UT | 26 aq 29    |
18 Jan 1918 Noon UT | 26 aq 50    |
19 Jan 1918 Noon UT | 27 aq 12    |
20 Jan 1918 Noon UT | 27 aq 33    |
21 Jan 1918 Noon UT | 27 aq 54    |
22 Jan 1918 Noon UT | 28 aq 16    |
23 Jan 1918 Noon UT | 28 aq 37    |
24 Jan 1918 Noon UT | 28 aq 59    |
25 Jan 1918 Noon UT | 29 aq 20    |
26 Jan 1918 Noon UT | 29 aq 42    |
27 Jan 1918 Noon UT |  0 pi  3    |
28 Jan 1918 Noon UT |  0 pi 25    |
29 Jan 1918 Noon UT |  0 pi 46    |
30 Jan 1918 Noon UT |  1 pi  8    |
31 Jan 1918 Noon UT |  1 pi 29    |
01 Feb 1918 Noon UT |  1 pi 51    |
02 Feb 1918 Noon UT |  2 pi 13    |
03 Feb 1918 Noon UT |  2 pi 34    |
04 Feb 1918 Noon UT |  2 pi 56    |
05 Feb 1918 Noon UT |  3 pi 18    |
06 Feb 1918 Noon UT |  3 pi 40    |
07 Feb 1918 Noon UT |  4 pi  1    |
08 Feb 1918 Noon UT |  4 pi 23    |
09 Feb 1918 Noon UT |  4 pi 45    |
10 Feb 1918 Noon UT |  5 pi  7    |
11 Feb 1918 Noon UT |  5 pi 29    |
12 Feb 1918 Noon UT |  5 pi 50    |
13 Feb 1918 Noon UT |  6 pi 12    |
14 Feb 1918 Noon UT |  6 pi 34    |
15 Feb 1918 Noon UT |  6 pi 56    |
16 Feb 1918 Noon UT |  7 pi 18    |
17 Feb 1918 Noon UT |  7 pi 39    |
18 Feb 1918 Noon UT |  8 pi  1    |
19 Feb 1918 Noon UT |  8 pi 23    |
20 Feb 1918 Noon UT |  8 pi 45    |
21 Feb 1918 Noon UT |  9 pi  7    |
22 Feb 1918 Noon UT |  9 pi 29    |
23 Feb 1918 Noon UT |  9 pi 50    |
24 Feb 1918 Noon UT | 10 pi 12    |
25 Feb 1918 Noon UT | 10 pi 34    |
26 Feb 1918 Noon UT | 10 pi 56    |
27 Feb 1918 Noon UT | 11 pi 18    |
28 Feb 1918 Noon UT | 11 pi 39    |
01 Mar 1918 Noon UT | 12 pi  1    |
02 Mar 1918 Noon UT | 12 pi 23    |
03 Mar 1918 Noon UT | 12 pi 45    |
04 Mar 1918 Noon UT | 13 pi  7    |
05 Mar 1918 Noon UT | 13 pi 28    |
06 Mar 1918 Noon UT | 13 pi 50    |
07 Mar 1918 Noon UT | 14 pi 12    |
08 Mar 1918 Noon UT | 14 pi 33    |
09 Mar 1918 Noon UT | 14 pi 55    |
10 Mar 1918 Noon UT | 15 pi 17    |
11 Mar 1918 Noon UT | 15 pi 38    |
12 Mar 1918 Noon UT | 16 pi  0    |
13 Mar 1918 Noon UT | 16 pi 22    |
14 Mar 1918 Noon UT | 16 pi 43    |
15 Mar 1918 Noon UT | 17 pi  5    |
16 Mar 1918 Noon UT | 17 pi 26    |
17 Mar 1918 Noon UT | 17 pi 48    |
18 Mar 1918 Noon UT | 18 pi  9    |
19 Mar 1918 Noon UT | 18 pi 31    |
20 Mar 1918 Noon UT | 18 pi 52    |
21 Mar 1918 Noon UT | 19 pi 14    |
22 Mar 1918 Noon UT | 19 pi 35    |
23 Mar 1918 Noon UT | 19 pi 56    |
24 Mar 1918 Noon UT | 20 pi 18    |
25 Mar 1918 Noon UT | 20 pi 39    |
26 Mar 1918 Noon UT | 21 pi  0    |
27 Mar 1918 Noon UT | 21 pi 21    |
28 Mar 1918 Noon UT | 21 pi 42    |
29 Mar 1918 Noon UT | 22 pi  4    |
30 Mar 1918 Noon UT | 22 pi 25    |
31 Mar 1918 Noon UT | 22 pi 46    |
01 Apr 1918 Noon UT | 23 pi  7    |
02 Apr 1918 Noon UT | 23 pi 28    |
03 Apr 1918 Noon UT | 23 pi 49    |
04 Apr 1918 Noon UT | 24 pi  9    |
05 Apr 1918 Noon UT | 24 pi 30    |
06 Apr 1918 Noon UT | 24 pi 51    |
07 Apr 1918 Noon UT | 25 pi 12    |
08 Apr 1918 Noon UT | 25 pi 33    |
09 Apr 1918 Noon UT | 25 pi 53    |
10 Apr 1918 Noon UT | 26 pi 14    |
11 Apr 1918 Noon UT | 26 pi 34    |
12 Apr 1918 Noon UT | 26 pi 55    |
13 Apr 1918 Noon UT | 27 pi 15    |
14 Apr 1918 Noon UT | 27 pi 36    |
15 Apr 1918 Noon UT | 27 pi 56    |
16 Apr 1918 Noon UT | 28 pi 16    |
17 Apr 1918 Noon UT | 28 pi 37    |
18 Apr 1918 Noon UT | 28 pi 57    |
19 Apr 1918 Noon UT | 29 pi 17    |
20 Apr 1918 Noon UT | 29 pi 37    |
21 Apr 1918 Noon UT | 29 pi 57    |
22 Apr 1918 Noon UT |  0 ar 17    |
23 Apr 1918 Noon UT |  0 ar 37    |
24 Apr 1918 Noon UT |  0 ar 57    |
25 Apr 1918 Noon UT |  1 ar 16    |
26 Apr 1918 Noon UT |  1 ar 36    |
27 Apr 1918 Noon UT |  1 ar 56    |
28 Apr 1918 Noon UT |  2 ar 15    |
29 Apr 1918 Noon UT |  2 ar 35    |
30 Apr 1918 Noon UT |  2 ar 54    |
01 May 1918 Noon UT |  3 ar 13    |
02 May 1918 Noon UT |  3 ar 33    |
03 May 1918 Noon UT |  3 ar 52    |
04 May 1918 Noon UT |  4 ar 11    |
05 May 1918 Noon UT |  4 ar 30    |
06 May 1918 Noon UT |  4 ar 49    |
07 May 1918 Noon UT |  5 ar  8    |
08 May 1918 Noon UT |  5 ar 26    |
09 May 1918 Noon UT |  5 ar 45    |
10 May 1918 Noon UT |  6 ar  4    |
11 May 1918 Noon UT |  6 ar 22    |
12 May 1918 Noon UT |  6 ar 41    |
13 May 1918 Noon UT |  6 ar 59    |
14 May 1918 Noon UT |  7 ar 17    |
15 May 1918 Noon UT |  7 ar 35    |
16 May 1918 Noon UT |  7 ar 54    |
17 May 1918 Noon UT |  8 ar 12    |
18 May 1918 Noon UT |  8 ar 29    |
19 May 1918 Noon UT |  8 ar 47    |
20 May 1918 Noon UT |  9 ar  5    |
21 May 1918 Noon UT |  9 ar 22    |
22 May 1918 Noon UT |  9 ar 40    |
23 May 1918 Noon UT |  9 ar 57    |
24 May 1918 Noon UT | 10 ar 15    |
25 May 1918 Noon UT | 10 ar 32    |
26 May 1918 Noon UT | 10 ar 49    |
27 May 1918 Noon UT | 11 ar  6    |
28 May 1918 Noon UT | 11 ar 22    |
29 May 1918 Noon UT | 11 ar 39    |
30 May 1918 Noon UT | 11 ar 56    |
31 May 1918 Noon UT | 12 ar 12    |
01 Jun 1918 Noon UT | 12 ar 29    |
02 Jun 1918 Noon UT | 12 ar 45    |
03 Jun 1918 Noon UT | 13 ar  1    |
04 Jun 1918 Noon UT | 13 ar 17    |
05 Jun 1918 Noon UT | 13 ar 33    |
06 Jun 1918 Noon UT | 13 ar 49    |
07 Jun 1918 Noon UT | 14 ar  4    |
08 Jun 1918 Noon UT | 14 ar 20    |
09 Jun 1918 Noon UT | 14 ar 35    |
10 Jun 1918 Noon UT | 14 ar 50    |
11 Jun 1918 Noon UT | 15 ar  5    |
12 Jun 1918 Noon UT | 15 ar 20    |
13 Jun 1918 Noon UT | 15 ar 35    |
14 Jun 1918 Noon UT | 15 ar 50    |
15 Jun 1918 Noon UT | 16 ar  4    |
16 Jun 1918 Noon UT | 16 ar 19    |
17 Jun 1918 Noon UT | 16 ar 33    |
18 Jun 1918 Noon UT | 16 ar 47    |
19 Jun 1918 Noon UT | 17 ar  1    |
20 Jun 1918 Noon UT | 17 ar 14    |
21 Jun 1918 Noon UT | 17 ar 28    |
22 Jun 1918 Noon UT | 17 ar 41    |
23 Jun 1918 Noon UT | 17 ar 55    |
24 Jun 1918 Noon UT | 18 ar  8    |
25 Jun 1918 Noon UT | 18 ar 21    |
26 Jun 1918 Noon UT | 18 ar 33    |
27 Jun 1918 Noon UT | 18 ar 46    |
28 Jun 1918 Noon UT | 18 ar 58    |
29 Jun 1918 Noon UT | 19 ar 11    |
30 Jun 1918 Noon UT | 19 ar 23    |
01 Jul 1918 Noon UT | 19 ar 34    |
02 Jul 1918 Noon UT | 19 ar 46    |
03 Jul 1918 Noon UT | 19 ar 58    |
04 Jul 1918 Noon UT | 20 ar  9    |
05 Jul 1918 Noon UT | 20 ar 20    |
06 Jul 1918 Noon UT | 20 ar 31    |
07 Jul 1918 Noon UT | 20 ar 42    |
08 Jul 1918 Noon UT | 20 ar 52    |
09 Jul 1918 Noon UT | 21 ar  2    |
10 Jul 1918 Noon UT | 21 ar 12    |
11 Jul 1918 Noon UT | 21 ar 22    |
12 Jul 1918 Noon UT | 21 ar 32    |
13 Jul 1918 Noon UT | 21 ar 41    |
14 Jul 1918 Noon UT | 21 ar 50    |
15 Jul 1918 Noon UT | 21 ar 59    |
16 Jul 1918 Noon UT | 22 ar  8    |
17 Jul 1918 Noon UT | 22 ar 17    |
18 Jul 1918 Noon UT | 22 ar 25    |
19 Jul 1918 Noon UT | 22 ar 33    |
20 Jul 1918 Noon UT | 22 ar 41    |
21 Jul 1918 Noon UT | 22 ar 48    |
22 Jul 1918 Noon UT | 22 ar 56    |
23 Jul 1918 Noon UT | 23 ar  3    |
24 Jul 1918 Noon UT | 23 ar 10    |
25 Jul 1918 Noon UT | 23 ar 16    |
26 Jul 1918 Noon UT | 23 ar 23    |
27 Jul 1918 Noon UT | 23 ar 29    |
28 Jul 1918 Noon UT | 23 ar 35    |
29 Jul 1918 Noon UT | 23 ar 40    |
30 Jul 1918 Noon UT | 23 ar 45    |
31 Jul 1918 Noon UT | 23 ar 50    |
01 Aug 1918 Noon UT | 23 ar 55    |
02 Aug 1918 Noon UT | 24 ar  0    |
03 Aug 1918 Noon UT | 24 ar  4    |
04 Aug 1918 Noon UT | 24 ar  8    |
05 Aug 1918 Noon UT | 24 ar 11    |
06 Aug 1918 Noon UT | 24 ar 15    |
07 Aug 1918 Noon UT | 24 ar 18    |
08 Aug 1918 Noon UT | 24 ar 21    |
09 Aug 1918 Noon UT | 24 ar 23    |
10 Aug 1918 Noon UT | 24 ar 25    |
11 Aug 1918 Noon UT | 24 ar 27    |
12 Aug 1918 Noon UT | 24 ar 29    |
13 Aug 1918 Noon UT | 24 ar 30    |
14 Aug 1918 Noon UT | 24 ar 31    |
15 Aug 1918 Noon UT | 24 ar 32    |
16 Aug 1918 Noon UT | 24 ar 32    |
17 Aug 1918 Noon UT | 24 ar 32 Rx |
18 Aug 1918 Noon UT | 24 ar 32 Rx |
19 Aug 1918 Noon UT | 24 ar 32 Rx |
20 Aug 1918 Noon UT | 24 ar 31 Rx |
21 Aug 1918 Noon UT | 24 ar 30 Rx |
22 Aug 1918 Noon UT | 24 ar 28 Rx |
23 Aug 1918 Noon UT | 24 ar 27 Rx |
24 Aug 1918 Noon UT | 24 ar 25 Rx |
25 Aug 1918 Noon UT | 24 ar 22 Rx |
26 Aug 1918 Noon UT | 24 ar 20 Rx |
27 Aug 1918 Noon UT | 24 ar 17 Rx |
28 Aug 1918 Noon UT | 24 ar 13 Rx |
29 Aug 1918 Noon UT | 24 ar 10 Rx |
30 Aug 1918 Noon UT | 24 ar  6 Rx |
31 Aug 1918 Noon UT | 24 ar  2 Rx |
01 Sep 1918 Noon UT | 23 ar 57 Rx |
02 Sep 1918 Noon UT | 23 ar 53 Rx |
03 Sep 1918 Noon UT | 23 ar 47 Rx |
04 Sep 1918 Noon UT | 23 ar 42 Rx |
05 Sep 1918 Noon UT | 23 ar 36 Rx |
06 Sep 1918 Noon UT | 23 ar 30 Rx |
07 Sep 1918 Noon UT | 23 ar 24 Rx |
08 Sep 1918 Noon UT | 23 ar 18 Rx |
09 Sep 1918 Noon UT | 23 ar 11 Rx |
10 Sep 1918 Noon UT | 23 ar  4 Rx |
11 Sep 1918 Noon UT | 22 ar 56 Rx |
12 Sep 1918 Noon UT | 22 ar 49 Rx |
13 Sep 1918 Noon UT | 22 ar 41 Rx |
14 Sep 1918 Noon UT | 22 ar 33 Rx |
15 Sep 1918 Noon UT | 22 ar 24 Rx |
16 Sep 1918 Noon UT | 22 ar 16 Rx |
17 Sep 1918 Noon UT | 22 ar  7 Rx |
18 Sep 1918 Noon UT | 21 ar 58 Rx |
19 Sep 1918 Noon UT | 21 ar 48 Rx |
20 Sep 1918 Noon UT | 21 ar 39 Rx |
21 Sep 1918 Noon UT | 21 ar 29 Rx |
22 Sep 1918 Noon UT | 21 ar 19 Rx |
23 Sep 1918 Noon UT | 21 ar  9 Rx |
24 Sep 1918 Noon UT | 20 ar 58 Rx |
25 Sep 1918 Noon UT | 20 ar 48 Rx |
26 Sep 1918 Noon UT | 20 ar 37 Rx |
27 Sep 1918 Noon UT | 20 ar 26 Rx |
28 Sep 1918 Noon UT | 20 ar 15 Rx |
29 Sep 1918 Noon UT | 20 ar  4 Rx |
30 Sep 1918 Noon UT | 19 ar 53 Rx |
01 Oct 1918 Noon UT | 19 ar 42 Rx |
02 Oct 1918 Noon UT | 19 ar 30 Rx |
03 Oct 1918 Noon UT | 19 ar 19 Rx |
04 Oct 1918 Noon UT | 19 ar  7 Rx |
05 Oct 1918 Noon UT | 18 ar 55 Rx |
06 Oct 1918 Noon UT | 18 ar 43 Rx |
07 Oct 1918 Noon UT | 18 ar 32 Rx |
08 Oct 1918 Noon UT | 18 ar 20 Rx |
09 Oct 1918 Noon UT | 18 ar  8 Rx |
10 Oct 1918 Noon UT | 17 ar 56 Rx |
11 Oct 1918 Noon UT | 17 ar 44 Rx |
12 Oct 1918 Noon UT | 17 ar 32 Rx |
13 Oct 1918 Noon UT | 17 ar 20 Rx |
14 Oct 1918 Noon UT | 17 ar  8 Rx |
15 Oct 1918 Noon UT | 16 ar 56 Rx |
16 Oct 1918 Noon UT | 16 ar 45 Rx |
17 Oct 1918 Noon UT | 16 ar 33 Rx |
18 Oct 1918 Noon UT | 16 ar 21 Rx |
19 Oct 1918 Noon UT | 16 ar 10 Rx |
20 Oct 1918 Noon UT | 15 ar 58 Rx |
21 Oct 1918 Noon UT | 15 ar 47 Rx |
22 Oct 1918 Noon UT | 15 ar 36 Rx |
23 Oct 1918 Noon UT | 15 ar 24 Rx |
24 Oct 1918 Noon UT | 15 ar 13 Rx |
25 Oct 1918 Noon UT | 15 ar  3 Rx |
26 Oct 1918 Noon UT | 14 ar 52 Rx |
27 Oct 1918 Noon UT | 14 ar 41 Rx |
28 Oct 1918 Noon UT | 14 ar 31 Rx |
29 Oct 1918 Noon UT | 14 ar 21 Rx |
30 Oct 1918 Noon UT | 14 ar 11 Rx |
31 Oct 1918 Noon UT | 14 ar  1 Rx |
01 Nov 1918 Noon UT | 13 ar 52 Rx |
02 Nov 1918 Noon UT | 13 ar 42 Rx |
03 Nov 1918 Noon UT | 13 ar 33 Rx |
04 Nov 1918 Noon UT | 13 ar 24 Rx |
05 Nov 1918 Noon UT | 13 ar 16 Rx |
06 Nov 1918 Noon UT | 13 ar  7 Rx |
07 Nov 1918 Noon UT | 12 ar 59 Rx |
08 Nov 1918 Noon UT | 12 ar 51 Rx |
09 Nov 1918 Noon UT | 12 ar 44 Rx |
10 Nov 1918 Noon UT | 12 ar 36 Rx |
11 Nov 1918 Noon UT | 12 ar 29 Rx |
12 Nov 1918 Noon UT | 12 ar 22 Rx |
13 Nov 1918 Noon UT | 12 ar 16 Rx |
14 Nov 1918 Noon UT | 12 ar 10 Rx |
15 Nov 1918 Noon UT | 12 ar  4 Rx |
16 Nov 1918 Noon UT | 11 ar 58 Rx |
17 Nov 1918 Noon UT | 11 ar 53 Rx |
18 Nov 1918 Noon UT | 11 ar 48 Rx |
19 Nov 1918 Noon UT | 11 ar 43 Rx |
20 Nov 1918 Noon UT | 11 ar 39 Rx |
21 Nov 1918 Noon UT | 11 ar 35 Rx |
22 Nov 1918 Noon UT | 11 ar 31 Rx |
23 Nov 1918 Noon UT | 11 ar 27 Rx |
24 Nov 1918 Noon UT | 11 ar 24 Rx |
25 Nov 1918 Noon UT | 11 ar 21 Rx |
26 Nov 1918 Noon UT | 11 ar 19 Rx |
27 Nov 1918 Noon UT | 11 ar 17 Rx |
28 Nov 1918 Noon UT | 11 ar 15 Rx |
29 Nov 1918 Noon UT | 11 ar 13 Rx |
30 Nov 1918 Noon UT | 11 ar 12 Rx |
01 Dec 1918 Noon UT | 11 ar 11 Rx |
02 Dec 1918 Noon UT | 11 ar 10 Rx |
03 Dec 1918 Noon UT | 11 ar 10 Rx |
04 Dec 1918 Noon UT | 11 ar 10    |
05 Dec 1918 Noon UT | 11 ar 10    |
06 Dec 1918 Noon UT | 11 ar 11    |
07 Dec 1918 Noon UT | 11 ar 11    |
08 Dec 1918 Noon UT | 11 ar 13    |
09 Dec 1918 Noon UT | 11 ar 14    |
10 Dec 1918 Noon UT | 11 ar 16    |
11 Dec 1918 Noon UT | 11 ar 18    |
12 Dec 1918 Noon UT | 11 ar 20    |
13 Dec 1918 Noon UT | 11 ar 23    |
14 Dec 1918 Noon UT | 11 ar 26    |
15 Dec 1918 Noon UT | 11 ar 30    |
16 Dec 1918 Noon UT | 11 ar 33    |
17 Dec 1918 Noon UT | 11 ar 37    |
18 Dec 1918 Noon UT | 11 ar 41    |
19 Dec 1918 Noon UT | 11 ar 46    |
20 Dec 1918 Noon UT | 11 ar 50    |
21 Dec 1918 Noon UT | 11 ar 55    |
22 Dec 1918 Noon UT | 12 ar  0    |
23 Dec 1918 Noon UT | 12 ar  6    |
24 Dec 1918 Noon UT | 12 ar 12    |
25 Dec 1918 Noon UT | 12 ar 18    |
26 Dec 1918 Noon UT | 12 ar 24    |
27 Dec 1918 Noon UT | 12 ar 31    |
28 Dec 1918 Noon UT | 12 ar 38    |
29 Dec 1918 Noon UT | 12 ar 45    |
30 Dec 1918 Noon UT | 12 ar 52    |
31 Dec 1918 Noon UT | 13 ar  0    |
01 Jan 1919 Noon UT | 13 ar  7    |
02 Jan 1919 Noon UT | 13 ar 15    |
03 Jan 1919 Noon UT | 13 ar 24    |
04 Jan 1919 Noon UT | 13 ar 32    |
05 Jan 1919 Noon UT | 13 ar 41    |
06 Jan 1919 Noon UT | 13 ar 50    |
07 Jan 1919 Noon UT | 13 ar 59    |
08 Jan 1919 Noon UT | 14 ar  9    |
09 Jan 1919 Noon UT | 14 ar 18    |
10 Jan 1919 Noon UT | 14 ar 28    |
11 Jan 1919 Noon UT | 14 ar 38    |
12 Jan 1919 Noon UT | 14 ar 49    |
13 Jan 1919 Noon UT | 14 ar 59    |
14 Jan 1919 Noon UT | 15 ar 10    |
15 Jan 1919 Noon UT | 15 ar 21    |
16 Jan 1919 Noon UT | 15 ar 32    |
17 Jan 1919 Noon UT | 15 ar 43    |
18 Jan 1919 Noon UT | 15 ar 54    |
19 Jan 1919 Noon UT | 16 ar  6    |
20 Jan 1919 Noon UT | 16 ar 18    |
21 Jan 1919 Noon UT | 16 ar 30    |
22 Jan 1919 Noon UT | 16 ar 42    |
23 Jan 1919 Noon UT | 16 ar 54    |
24 Jan 1919 Noon UT | 17 ar  7    |
25 Jan 1919 Noon UT | 17 ar 20    |
26 Jan 1919 Noon UT | 17 ar 33    |
27 Jan 1919 Noon UT | 17 ar 46    |
28 Jan 1919 Noon UT | 17 ar 59    |
29 Jan 1919 Noon UT | 18 ar 12    |
30 Jan 1919 Noon UT | 18 ar 26    |
31 Jan 1919 Noon UT | 18 ar 39    |
01 Feb 1919 Noon UT | 18 ar 53    |
02 Feb 1919 Noon UT | 19 ar  7    |
03 Feb 1919 Noon UT | 19 ar 21    |
04 Feb 1919 Noon UT | 19 ar 35    |
05 Feb 1919 Noon UT | 19 ar 50    |
06 Feb 1919 Noon UT | 20 ar  4    |
07 Feb 1919 Noon UT | 20 ar 19    |
08 Feb 1919 Noon UT | 20 ar 34    |
09 Feb 1919 Noon UT | 20 ar 49    |
10 Feb 1919 Noon UT | 21 ar  4    |
11 Feb 1919 Noon UT | 21 ar 19    |
12 Feb 1919 Noon UT | 21 ar 34    |
13 Feb 1919 Noon UT | 21 ar 50    |
14 Feb 1919 Noon UT | 22 ar  5    |
15 Feb 1919 Noon UT | 22 ar 21    |
16 Feb 1919 Noon UT | 22 ar 37    |
17 Feb 1919 Noon UT | 22 ar 52    |
18 Feb 1919 Noon UT | 23 ar  8    |
19 Feb 1919 Noon UT | 23 ar 25    |
20 Feb 1919 Noon UT | 23 ar 41    |
21 Feb 1919 Noon UT | 23 ar 57    |
22 Feb 1919 Noon UT | 24 ar 13    |
23 Feb 1919 Noon UT | 24 ar 30    |
24 Feb 1919 Noon UT | 24 ar 46    |
25 Feb 1919 Noon UT | 25 ar  3    |
26 Feb 1919 Noon UT | 25 ar 20    |
27 Feb 1919 Noon UT | 25 ar 37    |
28 Feb 1919 Noon UT | 25 ar 54    |
01 Mar 1919 Noon UT | 26 ar 11    |
02 Mar 1919 Noon UT | 26 ar 28    |
03 Mar 1919 Noon UT | 26 ar 45    |
04 Mar 1919 Noon UT | 27 ar  2    |
05 Mar 1919 Noon UT | 27 ar 20    |
06 Mar 1919 Noon UT | 27 ar 37    |
07 Mar 1919 Noon UT | 27 ar 55    |
08 Mar 1919 Noon UT | 28 ar 12    |
09 Mar 1919 Noon UT | 28 ar 30    |
10 Mar 1919 Noon UT | 28 ar 48    |
11 Mar 1919 Noon UT | 29 ar  6    |
12 Mar 1919 Noon UT | 29 ar 24    |
13 Mar 1919 Noon UT | 29 ar 42    |
14 Mar 1919 Noon UT |  0 ta  0    |
15 Mar 1919 Noon UT |  0 ta 18    |
16 Mar 1919 Noon UT |  0 ta 36    |
17 Mar 1919 Noon UT |  0 ta 54    |
18 Mar 1919 Noon UT |  1 ta 12    |
19 Mar 1919 Noon UT |  1 ta 31    |
20 Mar 1919 Noon UT |  1 ta 49    |
21 Mar 1919 Noon UT |  2 ta  7    |
22 Mar 1919 Noon UT |  2 ta 26    |
23 Mar 1919 Noon UT |  2 ta 44    |
24 Mar 1919 Noon UT |  3 ta  3    |
25 Mar 1919 Noon UT |  3 ta 22    |
26 Mar 1919 Noon UT |  3 ta 40    |
27 Mar 1919 Noon UT |  3 ta 59    |
28 Mar 1919 Noon UT |  4 ta 18    |
29 Mar 1919 Noon UT |  4 ta 37    |
30 Mar 1919 Noon UT |  4 ta 55    |
31 Mar 1919 Noon UT |  5 ta 14    |
01 Apr 1919 Noon UT |  5 ta 33    |
02 Apr 1919 Noon UT |  5 ta 52    |
03 Apr 1919 Noon UT |  6 ta 11    |
04 Apr 1919 Noon UT |  6 ta 30    |
05 Apr 1919 Noon UT |  6 ta 49    |
06 Apr 1919 Noon UT |  7 ta  9    |
07 Apr 1919 Noon UT |  7 ta 28    |
08 Apr 1919 Noon UT |  7 ta 47    |
09 Apr 1919 Noon UT |  8 ta  6    |
10 Apr 1919 Noon UT |  8 ta 25    |
11 Apr 1919 Noon UT |  8 ta 45    |
12 Apr 1919 Noon UT |  9 ta  4    |
13 Apr 1919 Noon UT |  9 ta 23    |
14 Apr 1919 Noon UT |  9 ta 43    |
15 Apr 1919 Noon UT | 10 ta  2    |
16 Apr 1919 Noon UT | 10 ta 21    |
17 Apr 1919 Noon UT | 10 ta 41    |
18 Apr 1919 Noon UT | 11 ta  0    |
19 Apr 1919 Noon UT | 11 ta 20    |
20 Apr 1919 Noon UT | 11 ta 39    |
21 Apr 1919 Noon UT | 11 ta 58    |
22 Apr 1919 Noon UT | 12 ta 18    |
23 Apr 1919 Noon UT | 12 ta 37    |
24 Apr 1919 Noon UT | 12 ta 57    |
25 Apr 1919 Noon UT | 13 ta 16    |
26 Apr 1919 Noon UT | 13 ta 36    |
27 Apr 1919 Noon UT | 13 ta 56    |
28 Apr 1919 Noon UT | 14 ta 15    |
29 Apr 1919 Noon UT | 14 ta 35    |
30 Apr 1919 Noon UT | 14 ta 54    |
01 May 1919 Noon UT | 15 ta 14    |
02 May 1919 Noon UT | 15 ta 33    |
03 May 1919 Noon UT | 15 ta 53    |
04 May 1919 Noon UT | 16 ta 13    |
05 May 1919 Noon UT | 16 ta 32    |
06 May 1919 Noon UT | 16 ta 52    |
07 May 1919 Noon UT | 17 ta 11    |
08 May 1919 Noon UT | 17 ta 31    |
09 May 1919 Noon UT | 17 ta 51    |
10 May 1919 Noon UT | 18 ta 10    |
11 May 1919 Noon UT | 18 ta 30    |
12 May 1919 Noon UT | 18 ta 49    |
13 May 1919 Noon UT | 19 ta  9    |
14 May 1919 Noon UT | 19 ta 28    |
15 May 1919 Noon UT | 19 ta 48    |
16 May 1919 Noon UT | 20 ta  8    |
17 May 1919 Noon UT | 20 ta 27    |
18 May 1919 Noon UT | 20 ta 47    |
19 May 1919 Noon UT | 21 ta  6    |
20 May 1919 Noon UT | 21 ta 26    |
21 May 1919 Noon UT | 21 ta 45    |
22 May 1919 Noon UT | 22 ta  5    |
23 May 1919 Noon UT | 22 ta 24    |
24 May 1919 Noon UT | 22 ta 44    |
25 May 1919 Noon UT | 23 ta  3    |
26 May 1919 Noon UT | 23 ta 22    |
27 May 1919 Noon UT | 23 ta 42    |
28 May 1919 Noon UT | 24 ta  1    |
29 May 1919 Noon UT | 24 ta 21    |
30 May 1919 Noon UT | 24 ta 40    |
31 May 1919 Noon UT | 24 ta 59    |
01 Jun 1919 Noon UT | 25 ta 19    |
02 Jun 1919 Noon UT | 25 ta 38    |
03 Jun 1919 Noon UT | 25 ta 57    |
04 Jun 1919 Noon UT | 26 ta 16    |
05 Jun 1919 Noon UT | 26 ta 36    |
06 Jun 1919 Noon UT | 26 ta 55    |
07 Jun 1919 Noon UT | 27 ta 14    |
08 Jun 1919 Noon UT | 27 ta 33    |
09 Jun 1919 Noon UT | 27 ta 52    |
10 Jun 1919 Noon UT | 28 ta 11    |
11 Jun 1919 Noon UT | 28 ta 30    |
12 Jun 1919 Noon UT | 28 ta 49    |
13 Jun 1919 Noon UT | 29 ta  8    |
14 Jun 1919 Noon UT | 29 ta 27    |
15 Jun 1919 Noon UT | 29 ta 46    |
16 Jun 1919 Noon UT |  0 ge  4    |
17 Jun 1919 Noon UT |  0 ge 23    |
18 Jun 1919 Noon UT |  0 ge 42    |
19 Jun 1919 Noon UT |  1 ge  1    |
20 Jun 1919 Noon UT |  1 ge 19    |
21 Jun 1919 Noon UT |  1 ge 38    |
22 Jun 1919 Noon UT |  1 ge 57    |
23 Jun 1919 Noon UT |  2 ge 15    |
24 Jun 1919 Noon UT |  2 ge 34    |
25 Jun 1919 Noon UT |  2 ge 52    |
26 Jun 1919 Noon UT |  3 ge 10    |
27 Jun 1919 Noon UT |  3 ge 29    |
28 Jun 1919 Noon UT |  3 ge 47    |
29 Jun 1919 Noon UT |  4 ge  5    |
30 Jun 1919 Noon UT |  4 ge 23    |
01 Jul 1919 Noon UT |  4 ge 42    |
02 Jul 1919 Noon UT |  5 ge  0    |
03 Jul 1919 Noon UT |  5 ge 18    |
04 Jul 1919 Noon UT |  5 ge 36    |
05 Jul 1919 Noon UT |  5 ge 53    |
06 Jul 1919 Noon UT |  6 ge 11    |
07 Jul 1919 Noon UT |  6 ge 29    |
08 Jul 1919 Noon UT |  6 ge 47    |
09 Jul 1919 Noon UT |  7 ge  4    |
10 Jul 1919 Noon UT |  7 ge 22    |
11 Jul 1919 Noon UT |  7 ge 39    |
12 Jul 1919 Noon UT |  7 ge 57    |
13 Jul 1919 Noon UT |  8 ge 14    |
14 Jul 1919 Noon UT |  8 ge 31    |
15 Jul 1919 Noon UT |  8 ge 49    |
16 Jul 1919 Noon UT |  9 ge  6    |
17 Jul 1919 Noon UT |  9 ge 23    |
18 Jul 1919 Noon UT |  9 ge 40    |
19 Jul 1919 Noon UT |  9 ge 57    |
20 Jul 1919 Noon UT | 10 ge 13    |
21 Jul 1919 Noon UT | 10 ge 30    |
22 Jul 1919 Noon UT | 10 ge 47    |
23 Jul 1919 Noon UT | 11 ge  3    |
24 Jul 1919 Noon UT | 11 ge 20    |
25 Jul 1919 Noon UT | 11 ge 36    |
26 Jul 1919 Noon UT | 11 ge 53    |
27 Jul 1919 Noon UT | 12 ge  9    |
28 Jul 1919 Noon UT | 12 ge 25    |
29 Jul 1919 Noon UT | 12 ge 41    |
30 Jul 1919 Noon UT | 12 ge 57    |
31 Jul 1919 Noon UT | 13 ge 13    |
01 Aug 1919 Noon UT | 13 ge 28    |
02 Aug 1919 Noon UT | 13 ge 44    |
03 Aug 1919 Noon UT | 13 ge 59    |
04 Aug 1919 Noon UT | 14 ge 15    |
05 Aug 1919 Noon UT | 14 ge 30    |
06 Aug 1919 Noon UT | 14 ge 45    |
07 Aug 1919 Noon UT | 15 ge  0    |
08 Aug 1919 Noon UT | 15 ge 15    |
09 Aug 1919 Noon UT | 15 ge 30    |
10 Aug 1919 Noon UT | 15 ge 45    |
11 Aug 1919 Noon UT | 15 ge 59    |
12 Aug 1919 Noon UT | 16 ge 14    |
13 Aug 1919 Noon UT | 16 ge 28    |
14 Aug 1919 Noon UT | 16 ge 42    |
15 Aug 1919 Noon UT | 16 ge 56    |
16 Aug 1919 Noon UT | 17 ge 10    |
17 Aug 1919 Noon UT | 17 ge 24    |
18 Aug 1919 Noon UT | 17 ge 38    |
19 Aug 1919 Noon UT | 17 ge 51    |
20 Aug 1919 Noon UT | 18 ge  5    |
21 Aug 1919 Noon UT | 18 ge 18    |
22 Aug 1919 Noon UT | 18 ge 31    |
23 Aug 1919 Noon UT | 18 ge 44    |
24 Aug 1919 Noon UT | 18 ge 57    |
25 Aug 1919 Noon UT | 19 ge 10    |
26 Aug 1919 Noon UT | 19 ge 22    |
27 Aug 1919 Noon UT | 19 ge 35    |
28 Aug 1919 Noon UT | 19 ge 47    |
29 Aug 1919 Noon UT | 19 ge 59    |
30 Aug 1919 Noon UT | 20 ge 11    |
31 Aug 1919 Noon UT | 20 ge 22    |
01 Sep 1919 Noon UT | 20 ge 34    |
02 Sep 1919 Noon UT | 20 ge 45    |
03 Sep 1919 Noon UT | 20 ge 56    |
04 Sep 1919 Noon UT | 21 ge  7    |
05 Sep 1919 Noon UT | 21 ge 18    |
06 Sep 1919 Noon UT | 21 ge 29    |
07 Sep 1919 Noon UT | 21 ge 39    |
08 Sep 1919 Noon UT | 21 ge 49    |
09 Sep 1919 Noon UT | 21 ge 59    |
10 Sep 1919 Noon UT | 22 ge  9    |
11 Sep 1919 Noon UT | 22 ge 19    |
12 Sep 1919 Noon UT | 22 ge 28    |
13 Sep 1919 Noon UT | 22 ge 38    |
14 Sep 1919 Noon UT | 22 ge 47    |
15 Sep 1919 Noon UT | 22 ge 56    |
16 Sep 1919 Noon UT | 23 ge  4    |
17 Sep 1919 Noon UT | 23 ge 13    |
18 Sep 1919 Noon UT | 23 ge 21    |
19 Sep 1919 Noon UT | 23 ge 29    |
20 Sep 1919 Noon UT | 23 ge 36    |
21 Sep 1919 Noon UT | 23 ge 44    |
22 Sep 1919 Noon UT | 23 ge 51    |
23 Sep 1919 Noon UT | 23 ge 58    |
24 Sep 1919 Noon UT | 24 ge  5    |
25 Sep 1919 Noon UT | 24 ge 11    |
26 Sep 1919 Noon UT | 24 ge 18    |
27 Sep 1919 Noon UT | 24 ge 24    |
28 Sep 1919 Noon UT | 24 ge 30    |
29 Sep 1919 Noon UT | 24 ge 35    |
30 Sep 1919 Noon UT | 24 ge 40    |
01 Oct 1919 Noon UT | 24 ge 45    |
02 Oct 1919 Noon UT | 24 ge 50    |
03 Oct 1919 Noon UT | 24 ge 55    |
04 Oct 1919 Noon UT | 24 ge 59    |
05 Oct 1919 Noon UT | 25 ge  3    |
06 Oct 1919 Noon UT | 25 ge  6    |
07 Oct 1919 Noon UT | 25 ge 10    |
08 Oct 1919 Noon UT | 25 ge 13    |
09 Oct 1919 Noon UT | 25 ge 16    |
10 Oct 1919 Noon UT | 25 ge 18    |
11 Oct 1919 Noon UT | 25 ge 20    |
12 Oct 1919 Noon UT | 25 ge 22    |
13 Oct 1919 Noon UT | 25 ge 24    |
14 Oct 1919 Noon UT | 25 ge 25    |
15 Oct 1919 Noon UT | 25 ge 26    |
16 Oct 1919 Noon UT | 25 ge 27    |
17 Oct 1919 Noon UT | 25 ge 28    |
18 Oct 1919 Noon UT | 25 ge 28    |
19 Oct 1919 Noon UT | 25 ge 28 Rx |
20 Oct 1919 Noon UT | 25 ge 27 Rx |
21 Oct 1919 Noon UT | 25 ge 26 Rx |
22 Oct 1919 Noon UT | 25 ge 25 Rx |
23 Oct 1919 Noon UT | 25 ge 24 Rx |
24 Oct 1919 Noon UT | 25 ge 22 Rx |
25 Oct 1919 Noon UT | 25 ge 20 Rx |
26 Oct 1919 Noon UT | 25 ge 18 Rx |
27 Oct 1919 Noon UT | 25 ge 15 Rx |
28 Oct 1919 Noon UT | 25 ge 12 Rx |
29 Oct 1919 Noon UT | 25 ge  9 Rx |
30 Oct 1919 Noon UT | 25 ge  5 Rx |
31 Oct 1919 Noon UT | 25 ge  2 Rx |
01 Nov 1919 Noon UT | 24 ge 57 Rx |
02 Nov 1919 Noon UT | 24 ge 53 Rx |
03 Nov 1919 Noon UT | 24 ge 48 Rx |
04 Nov 1919 Noon UT | 24 ge 43 Rx |
05 Nov 1919 Noon UT | 24 ge 38 Rx |
06 Nov 1919 Noon UT | 24 ge 32 Rx |
07 Nov 1919 Noon UT | 24 ge 26 Rx |
08 Nov 1919 Noon UT | 24 ge 20 Rx |
09 Nov 1919 Noon UT | 24 ge 13 Rx |
10 Nov 1919 Noon UT | 24 ge  6 Rx |
11 Nov 1919 Noon UT | 23 ge 59 Rx |
12 Nov 1919 Noon UT | 23 ge 52 Rx |
13 Nov 1919 Noon UT | 23 ge 44 Rx |
14 Nov 1919 Noon UT | 23 ge 36 Rx |
15 Nov 1919 Noon UT | 23 ge 28 Rx |
16 Nov 1919 Noon UT | 23 ge 19 Rx |
17 Nov 1919 Noon UT | 23 ge 11 Rx |
18 Nov 1919 Noon UT | 23 ge  2 Rx |
19 Nov 1919 Noon UT | 22 ge 52 Rx |
20 Nov 1919 Noon UT | 22 ge 43 Rx |
21 Nov 1919 Noon UT | 22 ge 33 Rx |
22 Nov 1919 Noon UT | 22 ge 23 Rx |
23 Nov 1919 Noon UT | 22 ge 13 Rx |
24 Nov 1919 Noon UT | 22 ge  3 Rx |
25 Nov 1919 Noon UT | 21 ge 53 Rx |
26 Nov 1919 Noon UT | 21 ge 42 Rx |
27 Nov 1919 Noon UT | 21 ge 31 Rx |
28 Nov 1919 Noon UT | 21 ge 20 Rx |
29 Nov 1919 Noon UT | 21 ge  9 Rx |
30 Nov 1919 Noon UT | 20 ge 58 Rx |
01 Dec 1919 Noon UT | 20 ge 46 Rx |
02 Dec 1919 Noon UT | 20 ge 35 Rx |
03 Dec 1919 Noon UT | 20 ge 23 Rx |
04 Dec 1919 Noon UT | 20 ge 11 Rx |
05 Dec 1919 Noon UT | 19 ge 59 Rx |
06 Dec 1919 Noon UT | 19 ge 47 Rx |
07 Dec 1919 Noon UT | 19 ge 35 Rx |
08 Dec 1919 Noon UT | 19 ge 23 Rx |
09 Dec 1919 Noon UT | 19 ge 11 Rx |
10 Dec 1919 Noon UT | 18 ge 59 Rx |
11 Dec 1919 Noon UT | 18 ge 47 Rx |
12 Dec 1919 Noon UT | 18 ge 35 Rx |
13 Dec 1919 Noon UT | 18 ge 23 Rx |
14 Dec 1919 Noon UT | 18 ge 11 Rx |
15 Dec 1919 Noon UT | 17 ge 58 Rx |
16 Dec 1919 Noon UT | 17 ge 46 Rx |
17 Dec 1919 Noon UT | 17 ge 34 Rx |
18 Dec 1919 Noon UT | 17 ge 22 Rx |
19 Dec 1919 Noon UT | 17 ge 11 Rx |
20 Dec 1919 Noon UT | 16 ge 59 Rx |
21 Dec 1919 Noon UT | 16 ge 47 Rx |
22 Dec 1919 Noon UT | 16 ge 35 Rx |
23 Dec 1919 Noon UT | 16 ge 24 Rx |
24 Dec 1919 Noon UT | 16 ge 13 Rx |
25 Dec 1919 Noon UT | 16 ge  1 Rx |
26 Dec 1919 Noon UT | 15 ge 50 Rx |
27 Dec 1919 Noon UT | 15 ge 40 Rx |
28 Dec 1919 Noon UT | 15 ge 29 Rx |
29 Dec 1919 Noon UT | 15 ge 18 Rx |
30 Dec 1919 Noon UT | 15 ge  8 Rx |
31 Dec 1919 Noon UT | 14 ge 58 Rx |
01 Jan 1920 Noon UT | 14 ge 48 Rx |
02 Jan 1920 Noon UT | 14 ge 38 Rx |
03 Jan 1920 Noon UT | 14 ge 29 Rx |
04 Jan 1920 Noon UT | 14 ge 20 Rx |
05 Jan 1920 Noon UT | 14 ge 11 Rx |
06 Jan 1920 Noon UT | 14 ge  2 Rx |
07 Jan 1920 Noon UT | 13 ge 53 Rx |
08 Jan 1920 Noon UT | 13 ge 45 Rx |
09 Jan 1920 Noon UT | 13 ge 37 Rx |
10 Jan 1920 Noon UT | 13 ge 29 Rx |
11 Jan 1920 Noon UT | 13 ge 22 Rx |
12 Jan 1920 Noon UT | 13 ge 15 Rx |
13 Jan 1920 Noon UT | 13 ge  8 Rx |
14 Jan 1920 Noon UT | 13 ge  1 Rx |
15 Jan 1920 Noon UT | 12 ge 55 Rx |
16 Jan 1920 Noon UT | 12 ge 49 Rx |
17 Jan 1920 Noon UT | 12 ge 43 Rx |
18 Jan 1920 Noon UT | 12 ge 38 Rx |
19 Jan 1920 Noon UT | 12 ge 33 Rx |
20 Jan 1920 Noon UT | 12 ge 28 Rx |
21 Jan 1920 Noon UT | 12 ge 24 Rx |
22 Jan 1920 Noon UT | 12 ge 20 Rx |
23 Jan 1920 Noon UT | 12 ge 16 Rx |
24 Jan 1920 Noon UT | 12 ge 12 Rx |
25 Jan 1920 Noon UT | 12 ge  9 Rx |
26 Jan 1920 Noon UT | 12 ge  6 Rx |
27 Jan 1920 Noon UT | 12 ge  4 Rx |
28 Jan 1920 Noon UT | 12 ge  2 Rx |
29 Jan 1920 Noon UT | 12 ge  0 Rx |
30 Jan 1920 Noon UT | 11 ge 58 Rx |
31 Jan 1920 Noon UT | 11 ge 57 Rx |
01 Feb 1920 Noon UT | 11 ge 56 Rx |
02 Feb 1920 Noon UT | 11 ge 56 Rx |
03 Feb 1920 Noon UT | 11 ge 55 Rx |
04 Feb 1920 Noon UT | 11 ge 55    |
05 Feb 1920 Noon UT | 11 ge 56    |
06 Feb 1920 Noon UT | 11 ge 56    |
07 Feb 1920 Noon UT | 11 ge 57    |
08 Feb 1920 Noon UT | 11 ge 59    |
09 Feb 1920 Noon UT | 12 ge  0    |
10 Feb 1920 Noon UT | 12 ge  2    |
11 Feb 1920 Noon UT | 12 ge  4    |
12 Feb 1920 Noon UT | 12 ge  7    |
13 Feb 1920 Noon UT | 12 ge 10    |
14 Feb 1920 Noon UT | 12 ge 13    |
15 Feb 1920 Noon UT | 12 ge 16    |
16 Feb 1920 Noon UT | 12 ge 20    |
17 Feb 1920 Noon UT | 12 ge 24    |
18 Feb 1920 Noon UT | 12 ge 28    |
19 Feb 1920 Noon UT | 12 ge 33    |
20 Feb 1920 Noon UT | 12 ge 38    |
21 Feb 1920 Noon UT | 12 ge 43    |
22 Feb 1920 Noon UT | 12 ge 48    |
23 Feb 1920 Noon UT | 12 ge 54    |
24 Feb 1920 Noon UT | 13 ge  0    |
25 Feb 1920 Noon UT | 13 ge  6    |
26 Feb 1920 Noon UT | 13 ge 13    |
27 Feb 1920 Noon UT | 13 ge 19    |
28 Feb 1920 Noon UT | 13 ge 26    |
29 Feb 1920 Noon UT | 13 ge 34    |
01 Mar 1920 Noon UT | 13 ge 41    |
02 Mar 1920 Noon UT | 13 ge 49    |
03 Mar 1920 Noon UT | 13 ge 57    |
04 Mar 1920 Noon UT | 14 ge  5    |
05 Mar 1920 Noon UT | 14 ge 14    |
06 Mar 1920 Noon UT | 14 ge 22    |
07 Mar 1920 Noon UT | 14 ge 31    |
08 Mar 1920 Noon UT | 14 ge 41    |
09 Mar 1920 Noon UT | 14 ge 50    |
10 Mar 1920 Noon UT | 15 ge  0    |
11 Mar 1920 Noon UT | 15 ge  9    |
12 Mar 1920 Noon UT | 15 ge 20    |
13 Mar 1920 Noon UT | 15 ge 30    |
14 Mar 1920 Noon UT | 15 ge 40    |
15 Mar 1920 Noon UT | 15 ge 51    |
16 Mar 1920 Noon UT | 16 ge  2    |
17 Mar 1920 Noon UT | 16 ge 13    |
18 Mar 1920 Noon UT | 16 ge 24    |
19 Mar 1920 Noon UT | 16 ge 36    |
20 Mar 1920 Noon UT | 16 ge 47    |
21 Mar 1920 Noon UT | 16 ge 59    |
22 Mar 1920 Noon UT | 17 ge 11    |
23 Mar 1920 Noon UT | 17 ge 24    |
24 Mar 1920 Noon UT | 17 ge 36    |
25 Mar 1920 Noon UT | 17 ge 49    |
26 Mar 1920 Noon UT | 18 ge  1    |
27 Mar 1920 Noon UT | 18 ge 14    |
28 Mar 1920 Noon UT | 18 ge 28    |
29 Mar 1920 Noon UT | 18 ge 41    |
30 Mar 1920 Noon UT | 18 ge 54    |
31 Mar 1920 Noon UT | 19 ge  8    |
01 Apr 1920 Noon UT | 19 ge 22    |
02 Apr 1920 Noon UT | 19 ge 36    |
03 Apr 1920 Noon UT | 19 ge 50    |
04 Apr 1920 Noon UT | 20 ge  4    |
05 Apr 1920 Noon UT | 20 ge 18    |
06 Apr 1920 Noon UT | 20 ge 33    |
07 Apr 1920 Noon UT | 20 ge 47    |
08 Apr 1920 Noon UT | 21 ge  2    |
09 Apr 1920 Noon UT | 21 ge 17    |
10 Apr 1920 Noon UT | 21 ge 32    |
11 Apr 1920 Noon UT | 21 ge 47    |
12 Apr 1920 Noon UT | 22 ge  3    |
13 Apr 1920 Noon UT | 22 ge 18    |
14 Apr 1920 Noon UT | 22 ge 34    |
15 Apr 1920 Noon UT | 22 ge 49    |
16 Apr 1920 Noon UT | 23 ge  5    |
17 Apr 1920 Noon UT | 23 ge 21    |
18 Apr 1920 Noon UT | 23 ge 37    |
19 Apr 1920 Noon UT | 23 ge 53    |
20 Apr 1920 Noon UT | 24 ge 10    |
21 Apr 1920 Noon UT | 24 ge 26    |
22 Apr 1920 Noon UT | 24 ge 43    |
23 Apr 1920 Noon UT | 24 ge 59    |
24 Apr 1920 Noon UT | 25 ge 16    |
25 Apr 1920 Noon UT | 25 ge 33    |
26 Apr 1920 Noon UT | 25 ge 50    |
27 Apr 1920 Noon UT | 26 ge  7    |
28 Apr 1920 Noon UT | 26 ge 24    |
29 Apr 1920 Noon UT | 26 ge 41    |
30 Apr 1920 Noon UT | 26 ge 59    |
01 May 1920 Noon UT | 27 ge 16    |
02 May 1920 Noon UT | 27 ge 34    |
03 May 1920 Noon UT | 27 ge 51    |
04 May 1920 Noon UT | 28 ge  9    |
05 May 1920 Noon UT | 28 ge 27    |
06 May 1920 Noon UT | 28 ge 45    |
07 May 1920 Noon UT | 29 ge  3    |
08 May 1920 Noon UT | 29 ge 21    |
09 May 1920 Noon UT | 29 ge 39    |
10 May 1920 Noon UT | 29 ge 57    |
11 May 1920 Noon UT |  0 cn 15    |
12 May 1920 Noon UT |  0 cn 34    |
13 May 1920 Noon UT |  0 cn 52    |
14 May 1920 Noon UT |  1 cn 11    |
15 May 1920 Noon UT |  1 cn 29    |
16 May 1920 Noon UT |  1 cn 48    |
17 May 1920 Noon UT |  2 cn  7    |
18 May 1920 Noon UT |  2 cn 25    |
19 May 1920 Noon UT |  2 cn 44    |
20 May 1920 Noon UT |  3 cn  3    |
21 May 1920 Noon UT |  3 cn 22    |
22 May 1920 Noon UT |  3 cn 41    |
23 May 1920 Noon UT |  4 cn  0    |
24 May 1920 Noon UT |  4 cn 20    |
25 May 1920 Noon UT |  4 cn 39    |
26 May 1920 Noon UT |  4 cn 58    |
27 May 1920 Noon UT |  5 cn 18    |
28 May 1920 Noon UT |  5 cn 37    |
29 May 1920 Noon UT |  5 cn 56    |
30 May 1920 Noon UT |  6 cn 16    |
31 May 1920 Noon UT |  6 cn 35    |
01 Jun 1920 Noon UT |  6 cn 55    |
02 Jun 1920 Noon UT |  7 cn 15    |
03 Jun 1920 Noon UT |  7 cn 34    |
04 Jun 1920 Noon UT |  7 cn 54    |
05 Jun 1920 Noon UT |  8 cn 14    |
06 Jun 1920 Noon UT |  8 cn 34    |
07 Jun 1920 Noon UT |  8 cn 54    |
08 Jun 1920 Noon UT |  9 cn 14    |
09 Jun 1920 Noon UT |  9 cn 34    |
10 Jun 1920 Noon UT |  9 cn 54    |
11 Jun 1920 Noon UT | 10 cn 14    |
12 Jun 1920 Noon UT | 10 cn 34    |
13 Jun 1920 Noon UT | 10 cn 54    |
14 Jun 1920 Noon UT | 11 cn 14    |
15 Jun 1920 Noon UT | 11 cn 34    |
16 Jun 1920 Noon UT | 11 cn 55    |
17 Jun 1920 Noon UT | 12 cn 15    |
18 Jun 1920 Noon UT | 12 cn 35    |
19 Jun 1920 Noon UT | 12 cn 56    |
20 Jun 1920 Noon UT | 13 cn 16    |
21 Jun 1920 Noon UT | 13 cn 36    |
22 Jun 1920 Noon UT | 13 cn 57    |
23 Jun 1920 Noon UT | 14 cn 17    |
24 Jun 1920 Noon UT | 14 cn 38    |
25 Jun 1920 Noon UT | 14 cn 58    |
26 Jun 1920 Noon UT | 15 cn 19    |
27 Jun 1920 Noon UT | 15 cn 39    |
28 Jun 1920 Noon UT | 16 cn  0    |
29 Jun 1920 Noon UT | 16 cn 21    |
30 Jun 1920 Noon UT | 16 cn 41    |
01 Jul 1920 Noon UT | 17 cn  2    |
02 Jul 1920 Noon UT | 17 cn 23    |
03 Jul 1920 Noon UT | 17 cn 43    |
04 Jul 1920 Noon UT | 18 cn  4    |
05 Jul 1920 Noon UT | 18 cn 25    |
06 Jul 1920 Noon UT | 18 cn 46    |
07 Jul 1920 Noon UT | 19 cn  6    |
08 Jul 1920 Noon UT | 19 cn 27    |
09 Jul 1920 Noon UT | 19 cn 48    |
10 Jul 1920 Noon UT | 20 cn  9    |
11 Jul 1920 Noon UT | 20 cn 30    |
12 Jul 1920 Noon UT | 20 cn 51    |
13 Jul 1920 Noon UT | 21 cn 11    |
14 Jul 1920 Noon UT | 21 cn 32    |
15 Jul 1920 Noon UT | 21 cn 53    |
16 Jul 1920 Noon UT | 22 cn 14    |
17 Jul 1920 Noon UT | 22 cn 35    |
18 Jul 1920 Noon UT | 22 cn 56    |
19 Jul 1920 Noon UT | 23 cn 17    |
20 Jul 1920 Noon UT | 23 cn 38    |
21 Jul 1920 Noon UT | 23 cn 59    |
22 Jul 1920 Noon UT | 24 cn 20    |
23 Jul 1920 Noon UT | 24 cn 41    |
24 Jul 1920 Noon UT | 25 cn  2    |
25 Jul 1920 Noon UT | 25 cn 22    |
26 Jul 1920 Noon UT | 25 cn 43    |
27 Jul 1920 Noon UT | 26 cn  4    |
28 Jul 1920 Noon UT | 26 cn 25    |
29 Jul 1920 Noon UT | 26 cn 46    |
30 Jul 1920 Noon UT | 27 cn  7    |
31 Jul 1920 Noon UT | 27 cn 28    |
01 Aug 1920 Noon UT | 27 cn 49    |
02 Aug 1920 Noon UT | 28 cn 10    |
03 Aug 1920 Noon UT | 28 cn 31    |
04 Aug 1920 Noon UT | 28 cn 52    |
05 Aug 1920 Noon UT | 29 cn 13    |
06 Aug 1920 Noon UT | 29 cn 34    |
07 Aug 1920 Noon UT | 29 cn 54    |
08 Aug 1920 Noon UT |  0 le 15    |
09 Aug 1920 Noon UT |  0 le 36    |
10 Aug 1920 Noon UT |  0 le 57    |
11 Aug 1920 Noon UT |  1 le 18    |
12 Aug 1920 Noon UT |  1 le 39    |
13 Aug 1920 Noon UT |  1 le 59    |
14 Aug 1920 Noon UT |  2 le 20    |
15 Aug 1920 Noon UT |  2 le 41    |
16 Aug 1920 Noon UT |  3 le  2    |
17 Aug 1920 Noon UT |  3 le 23    |
18 Aug 1920 Noon UT |  3 le 43    |
19 Aug 1920 Noon UT |  4 le  4    |
20 Aug 1920 Noon UT |  4 le 25    |
21 Aug 1920 Noon UT |  4 le 45    |
22 Aug 1920 Noon UT |  5 le  6    |
23 Aug 1920 Noon UT |  5 le 26    |
24 Aug 1920 Noon UT |  5 le 47    |
25 Aug 1920 Noon UT |  6 le  8    |
26 Aug 1920 Noon UT |  6 le 28    |
27 Aug 1920 Noon UT |  6 le 49    |
28 Aug 1920 Noon UT |  7 le  9    |
29 Aug 1920 Noon UT |  7 le 29    |
30 Aug 1920 Noon UT |  7 le 50    |
31 Aug 1920 Noon UT |  8 le 10    |
01 Sep 1920 Noon UT |  8 le 30    |
02 Sep 1920 Noon UT |  8 le 51    |
03 Sep 1920 Noon UT |  9 le 11    |
04 Sep 1920 Noon UT |  9 le 31    |
05 Sep 1920 Noon UT |  9 le 51    |
06 Sep 1920 Noon UT | 10 le 11    |
07 Sep 1920 Noon UT | 10 le 32    |
08 Sep 1920 Noon UT | 10 le 52    |
09 Sep 1920 Noon UT | 11 le 12    |
10 Sep 1920 Noon UT | 11 le 32    |
11 Sep 1920 Noon UT | 11 le 52    |
12 Sep 1920 Noon UT | 12 le 11    |
13 Sep 1920 Noon UT | 12 le 31    |
14 Sep 1920 Noon UT | 12 le 51    |
15 Sep 1920 Noon UT | 13 le 11    |
16 Sep 1920 Noon UT | 13 le 30    |
17 Sep 1920 Noon UT | 13 le 50    |
18 Sep 1920 Noon UT | 14 le  9    |
19 Sep 1920 Noon UT | 14 le 29    |
20 Sep 1920 Noon UT | 14 le 48    |
21 Sep 1920 Noon UT | 15 le  8    |
22 Sep 1920 Noon UT | 15 le 27    |
23 Sep 1920 Noon UT | 15 le 46    |
24 Sep 1920 Noon UT | 16 le  5    |
25 Sep 1920 Noon UT | 16 le 24    |
26 Sep 1920 Noon UT | 16 le 43    |
27 Sep 1920 Noon UT | 17 le  2    |
28 Sep 1920 Noon UT | 17 le 21    |
29 Sep 1920 Noon UT | 17 le 40    |
30 Sep 1920 Noon UT | 17 le 59    |
01 Oct 1920 Noon UT | 18 le 17    |
02 Oct 1920 Noon UT | 18 le 36    |
03 Oct 1920 Noon UT | 18 le 54    |
04 Oct 1920 Noon UT | 19 le 13    |
05 Oct 1920 Noon UT | 19 le 31    |
06 Oct 1920 Noon UT | 19 le 49    |
07 Oct 1920 Noon UT | 20 le  8    |
08 Oct 1920 Noon UT | 20 le 26    |
09 Oct 1920 Noon UT | 20 le 44    |
10 Oct 1920 Noon UT | 21 le  1    |
11 Oct 1920 Noon UT | 21 le 19    |
12 Oct 1920 Noon UT | 21 le 37    |
13 Oct 1920 Noon UT | 21 le 54    |
14 Oct 1920 Noon UT | 22 le 12    |
15 Oct 1920 Noon UT | 22 le 29    |
16 Oct 1920 Noon UT | 22 le 46    |
17 Oct 1920 Noon UT | 23 le  4    |
18 Oct 1920 Noon UT | 23 le 21    |
19 Oct 1920 Noon UT | 23 le 38    |
20 Oct 1920 Noon UT | 23 le 54    |
21 Oct 1920 Noon UT | 24 le 11    |
22 Oct 1920 Noon UT | 24 le 27    |
23 Oct 1920 Noon UT | 24 le 44    |
24 Oct 1920 Noon UT | 25 le  0    |
25 Oct 1920 Noon UT | 25 le 16    |
26 Oct 1920 Noon UT | 25 le 32    |
27 Oct 1920 Noon UT | 25 le 48    |
28 Oct 1920 Noon UT | 26 le  4    |
29 Oct 1920 Noon UT | 26 le 20    |
30 Oct 1920 Noon UT | 26 le 35    |
31 Oct 1920 Noon UT | 26 le 50    |
01 Nov 1920 Noon UT | 27 le  6    |
02 Nov 1920 Noon UT | 27 le 21    |
03 Nov 1920 Noon UT | 27 le 36    |
04 Nov 1920 Noon UT | 27 le 50    |
05 Nov 1920 Noon UT | 28 le  5    |
06 Nov 1920 Noon UT | 28 le 19    |
07 Nov 1920 Noon UT | 28 le 34    |
08 Nov 1920 Noon UT | 28 le 48    |
09 Nov 1920 Noon UT | 29 le  2    |
10 Nov 1920 Noon UT | 29 le 15    |
11 Nov 1920 Noon UT | 29 le 29    |
12 Nov 1920 Noon UT | 29 le 42    |
13 Nov 1920 Noon UT | 29 le 55    |
14 Nov 1920 Noon UT |  0 vi  8    |
15 Nov 1920 Noon UT |  0 vi 21    |
16 Nov 1920 Noon UT |  0 vi 34    |
17 Nov 1920 Noon UT |  0 vi 46    |
18 Nov 1920 Noon UT |  0 vi 58    |
19 Nov 1920 Noon UT |  1 vi 10    |
20 Nov 1920 Noon UT |  1 vi 22    |
21 Nov 1920 Noon UT |  1 vi 34    |
22 Nov 1920 Noon UT |  1 vi 45    |
23 Nov 1920 Noon UT |  1 vi 56    |
24 Nov 1920 Noon UT |  2 vi  7    |
25 Nov 1920 Noon UT |  2 vi 18    |
26 Nov 1920 Noon UT |  2 vi 28    |
27 Nov 1920 Noon UT |  2 vi 38    |
28 Nov 1920 Noon UT |  2 vi 48    |
29 Nov 1920 Noon UT |  2 vi 58    |
30 Nov 1920 Noon UT |  3 vi  8    |
01 Dec 1920 Noon UT |  3 vi 17    |
02 Dec 1920 Noon UT |  3 vi 26    |
03 Dec 1920 Noon UT |  3 vi 35    |
04 Dec 1920 Noon UT |  3 vi 43    |
05 Dec 1920 Noon UT |  3 vi 51    |
06 Dec 1920 Noon UT |  3 vi 59    |
07 Dec 1920 Noon UT |  4 vi  7    |
08 Dec 1920 Noon UT |  4 vi 14    |
09 Dec 1920 Noon UT |  4 vi 21    |
10 Dec 1920 Noon UT |  4 vi 28    |
11 Dec 1920 Noon UT |  4 vi 35    |
12 Dec 1920 Noon UT |  4 vi 41    |
13 Dec 1920 Noon UT |  4 vi 47    |
14 Dec 1920 Noon UT |  4 vi 53    |
15 Dec 1920 Noon UT |  4 vi 58    |
16 Dec 1920 Noon UT |  5 vi  3    |
17 Dec 1920 Noon UT |  5 vi  8    |
18 Dec 1920 Noon UT |  5 vi 12    |
19 Dec 1920 Noon UT |  5 vi 16    |
20 Dec 1920 Noon UT |  5 vi 20    |
21 Dec 1920 Noon UT |  5 vi 23    |
22 Dec 1920 Noon UT |  5 vi 27    |
23 Dec 1920 Noon UT |  5 vi 29    |
24 Dec 1920 Noon UT |  5 vi 32    |
25 Dec 1920 Noon UT |  5 vi 34    |
26 Dec 1920 Noon UT |  5 vi 36    |
27 Dec 1920 Noon UT |  5 vi 37    |
28 Dec 1920 Noon UT |  5 vi 39    |
29 Dec 1920 Noon UT |  5 vi 39    |
30 Dec 1920 Noon UT |  5 vi 40    |
31 Dec 1920 Noon UT |  5 vi 40 Rx |
01 Jan 1921 Noon UT |  5 vi 40 Rx |
02 Jan 1921 Noon UT |  5 vi 39 Rx |
03 Jan 1921 Noon UT |  5 vi 38 Rx |
04 Jan 1921 Noon UT |  5 vi 37 Rx |
05 Jan 1921 Noon UT |  5 vi 35 Rx |
06 Jan 1921 Noon UT |  5 vi 33 Rx |
07 Jan 1921 Noon UT |  5 vi 31 Rx |
08 Jan 1921 Noon UT |  5 vi 28 Rx |
09 Jan 1921 Noon UT |  5 vi 25 Rx |
10 Jan 1921 Noon UT |  5 vi 22 Rx |
11 Jan 1921 Noon UT |  5 vi 18 Rx |
12 Jan 1921 Noon UT |  5 vi 14 Rx |
13 Jan 1921 Noon UT |  5 vi 10 Rx |
14 Jan 1921 Noon UT |  5 vi  5 Rx |
15 Jan 1921 Noon UT |  5 vi  0 Rx |
16 Jan 1921 Noon UT |  4 vi 54 Rx |
17 Jan 1921 Noon UT |  4 vi 48 Rx |
18 Jan 1921 Noon UT |  4 vi 42 Rx |
19 Jan 1921 Noon UT |  4 vi 36 Rx |
20 Jan 1921 Noon UT |  4 vi 29 Rx |
21 Jan 1921 Noon UT |  4 vi 22 Rx |
22 Jan 1921 Noon UT |  4 vi 15 Rx |
23 Jan 1921 Noon UT |  4 vi  7 Rx |
24 Jan 1921 Noon UT |  3 vi 59 Rx |
25 Jan 1921 Noon UT |  3 vi 51 Rx |
26 Jan 1921 Noon UT |  3 vi 42 Rx |
27 Jan 1921 Noon UT |  3 vi 33 Rx |
28 Jan 1921 Noon UT |  3 vi 24 Rx |
29 Jan 1921 Noon UT |  3 vi 15 Rx |
30 Jan 1921 Noon UT |  3 vi  5 Rx |
31 Jan 1921 Noon UT |  2 vi 55 Rx |
01 Feb 1921 Noon UT |  2 vi 45 Rx |
02 Feb 1921 Noon UT |  2 vi 34 Rx |
03 Feb 1921 Noon UT |  2 vi 24 Rx |
04 Feb 1921 Noon UT |  2 vi 13 Rx |
05 Feb 1921 Noon UT |  2 vi  2 Rx |
06 Feb 1921 Noon UT |  1 vi 51 Rx |
07 Feb 1921 Noon UT |  1 vi 39 Rx |
08 Feb 1921 Noon UT |  1 vi 28 Rx |
09 Feb 1921 Noon UT |  1 vi 16 Rx |
10 Feb 1921 Noon UT |  1 vi  4 Rx |
11 Feb 1921 Noon UT |  0 vi 52 Rx |
12 Feb 1921 Noon UT |  0 vi 40 Rx |
13 Feb 1921 Noon UT |  0 vi 28 Rx |
14 Feb 1921 Noon UT |  0 vi 16 Rx |
15 Feb 1921 Noon UT |  0 vi  3 Rx |
16 Feb 1921 Noon UT | 29 le 51 Rx |
17 Feb 1921 Noon UT | 29 le 38 Rx |
18 Feb 1921 Noon UT | 29 le 26 Rx |
19 Feb 1921 Noon UT | 29 le 13 Rx |
20 Feb 1921 Noon UT | 29 le  1 Rx |
21 Feb 1921 Noon UT | 28 le 48 Rx |
22 Feb 1921 Noon UT | 28 le 36 Rx |
23 Feb 1921 Noon UT | 28 le 24 Rx |
24 Feb 1921 Noon UT | 28 le 11 Rx |
25 Feb 1921 Noon UT | 27 le 59 Rx |
26 Feb 1921 Noon UT | 27 le 47 Rx |
27 Feb 1921 Noon UT | 27 le 35 Rx |
28 Feb 1921 Noon UT | 27 le 23 Rx |
01 Mar 1921 Noon UT | 27 le 11 Rx |
02 Mar 1921 Noon UT | 26 le 59 Rx |
03 Mar 1921 Noon UT | 26 le 47 Rx |
04 Mar 1921 Noon UT | 26 le 36 Rx |
05 Mar 1921 Noon UT | 26 le 24 Rx |
06 Mar 1921 Noon UT | 26 le 13 Rx |
07 Mar 1921 Noon UT | 26 le  2 Rx |
08 Mar 1921 Noon UT | 25 le 52 Rx |
09 Mar 1921 Noon UT | 25 le 41 Rx |
10 Mar 1921 Noon UT | 25 le 31 Rx |
11 Mar 1921 Noon UT | 25 le 21 Rx |
12 Mar 1921 Noon UT | 25 le 11 Rx |
13 Mar 1921 Noon UT | 25 le  1 Rx |
14 Mar 1921 Noon UT | 24 le 52 Rx |
15 Mar 1921 Noon UT | 24 le 43 Rx |
16 Mar 1921 Noon UT | 24 le 34 Rx |
17 Mar 1921 Noon UT | 24 le 26 Rx |
18 Mar 1921 Noon UT | 24 le 18 Rx |
19 Mar 1921 Noon UT | 24 le 10 Rx |
20 Mar 1921 Noon UT | 24 le  2 Rx |
21 Mar 1921 Noon UT | 23 le 55 Rx |
22 Mar 1921 Noon UT | 23 le 48 Rx |
23 Mar 1921 Noon UT | 23 le 41 Rx |
24 Mar 1921 Noon UT | 23 le 35 Rx |
25 Mar 1921 Noon UT | 23 le 29 Rx |
26 Mar 1921 Noon UT | 23 le 24 Rx |
27 Mar 1921 Noon UT | 23 le 18 Rx |
28 Mar 1921 Noon UT | 23 le 13 Rx |
29 Mar 1921 Noon UT | 23 le  9 Rx |
30 Mar 1921 Noon UT | 23 le  5 Rx |
31 Mar 1921 Noon UT | 23 le  1 Rx |
01 Apr 1921 Noon UT | 22 le 57 Rx |
02 Apr 1921 Noon UT | 22 le 54 Rx |
03 Apr 1921 Noon UT | 22 le 51 Rx |
04 Apr 1921 Noon UT | 22 le 49 Rx |
05 Apr 1921 Noon UT | 22 le 47 Rx |
06 Apr 1921 Noon UT | 22 le 45 Rx |
07 Apr 1921 Noon UT | 22 le 44 Rx |
08 Apr 1921 Noon UT | 22 le 43 Rx |
09 Apr 1921 Noon UT | 22 le 42 Rx |
10 Apr 1921 Noon UT | 22 le 42 Rx |
11 Apr 1921 Noon UT | 22 le 42    |
12 Apr 1921 Noon UT | 22 le 42    |
13 Apr 1921 Noon UT | 22 le 43    |
14 Apr 1921 Noon UT | 22 le 44    |
15 Apr 1921 Noon UT | 22 le 45    |
16 Apr 1921 Noon UT | 22 le 47    |
17 Apr 1921 Noon UT | 22 le 49    |
18 Apr 1921 Noon UT | 22 le 52    |
19 Apr 1921 Noon UT | 22 le 55    |
20 Apr 1921 Noon UT | 22 le 58    |
21 Apr 1921 Noon UT | 23 le  1    |
22 Apr 1921 Noon UT | 23 le  5    |
23 Apr 1921 Noon UT | 23 le  9    |
24 Apr 1921 Noon UT | 23 le 14    |
25 Apr 1921 Noon UT | 23 le 19    |
26 Apr 1921 Noon UT | 23 le 24    |
27 Apr 1921 Noon UT | 23 le 29    |
28 Apr 1921 Noon UT | 23 le 35    |
29 Apr 1921 Noon UT | 23 le 41    |
30 Apr 1921 Noon UT | 23 le 47    |
01 May 1921 Noon UT | 23 le 54    |
02 May 1921 Noon UT | 24 le  1    |
03 May 1921 Noon UT | 24 le  8    |
04 May 1921 Noon UT | 24 le 16    |
05 May 1921 Noon UT | 24 le 24    |
06 May 1921 Noon UT | 24 le 32    |
07 May 1921 Noon UT | 24 le 40    |
08 May 1921 Noon UT | 24 le 49    |
09 May 1921 Noon UT | 24 le 58    |
10 May 1921 Noon UT | 25 le  7    |
11 May 1921 Noon UT | 25 le 17    |
12 May 1921 Noon UT | 25 le 26    |
13 May 1921 Noon UT | 25 le 36    |
14 May 1921 Noon UT | 25 le 47    |
15 May 1921 Noon UT | 25 le 57    |
16 May 1921 Noon UT | 26 le  8    |
17 May 1921 Noon UT | 26 le 19    |
18 May 1921 Noon UT | 26 le 31    |
19 May 1921 Noon UT | 26 le 42    |
20 May 1921 Noon UT | 26 le 54    |
21 May 1921 Noon UT | 27 le  6    |
22 May 1921 Noon UT | 27 le 18    |
23 May 1921 Noon UT | 27 le 31    |
24 May 1921 Noon UT | 27 le 43    |
25 May 1921 Noon UT | 27 le 56    |
26 May 1921 Noon UT | 28 le  9    |
27 May 1921 Noon UT | 28 le 23    |
28 May 1921 Noon UT | 28 le 36    |
29 May 1921 Noon UT | 28 le 50    |
30 May 1921 Noon UT | 29 le  4    |
31 May 1921 Noon UT | 29 le 18    |
01 Jun 1921 Noon UT | 29 le 33    |
02 Jun 1921 Noon UT | 29 le 47    |
03 Jun 1921 Noon UT |  0 vi  2    |
04 Jun 1921 Noon UT |  0 vi 17    |
05 Jun 1921 Noon UT |  0 vi 32    |
06 Jun 1921 Noon UT |  0 vi 47    |
07 Jun 1921 Noon UT |  1 vi  3    |
08 Jun 1921 Noon UT |  1 vi 19    |
09 Jun 1921 Noon UT |  1 vi 34    |
10 Jun 1921 Noon UT |  1 vi 50    |
11 Jun 1921 Noon UT |  2 vi  7    |
12 Jun 1921 Noon UT |  2 vi 23    |
13 Jun 1921 Noon UT |  2 vi 40    |
14 Jun 1921 Noon UT |  2 vi 56    |
15 Jun 1921 Noon UT |  3 vi 13    |
16 Jun 1921 Noon UT |  3 vi 30    |
17 Jun 1921 Noon UT |  3 vi 47    |
18 Jun 1921 Noon UT |  4 vi  5    |
19 Jun 1921 Noon UT |  4 vi 22    |
20 Jun 1921 Noon UT |  4 vi 40    |
21 Jun 1921 Noon UT |  4 vi 58    |
22 Jun 1921 Noon UT |  5 vi 15    |
23 Jun 1921 Noon UT |  5 vi 34    |
24 Jun 1921 Noon UT |  5 vi 52    |
25 Jun 1921 Noon UT |  6 vi 10    |
26 Jun 1921 Noon UT |  6 vi 29    |
27 Jun 1921 Noon UT |  6 vi 47    |
28 Jun 1921 Noon UT |  7 vi  6    |
29 Jun 1921 Noon UT |  7 vi 25    |
30 Jun 1921 Noon UT |  7 vi 44    |
01 Jul 1921 Noon UT |  8 vi  3    |
02 Jul 1921 Noon UT |  8 vi 22    |
03 Jul 1921 Noon UT |  8 vi 41    |
04 Jul 1921 Noon UT |  9 vi  1    |
05 Jul 1921 Noon UT |  9 vi 21    |
06 Jul 1921 Noon UT |  9 vi 40    |
07 Jul 1921 Noon UT | 10 vi  0    |
08 Jul 1921 Noon UT | 10 vi 20    |
09 Jul 1921 Noon UT | 10 vi 40    |
10 Jul 1921 Noon UT | 11 vi  0    |
11 Jul 1921 Noon UT | 11 vi 20    |
12 Jul 1921 Noon UT | 11 vi 41    |
13 Jul 1921 Noon UT | 12 vi  1    |
14 Jul 1921 Noon UT | 12 vi 22    |
15 Jul 1921 Noon UT | 12 vi 43    |
16 Jul 1921 Noon UT | 13 vi  3    |
17 Jul 1921 Noon UT | 13 vi 24    |
18 Jul 1921 Noon UT | 13 vi 45    |
19 Jul 1921 Noon UT | 14 vi  6    |
20 Jul 1921 Noon UT | 14 vi 27    |
21 Jul 1921 Noon UT | 14 vi 49    |
22 Jul 1921 Noon UT | 15 vi 10    |
23 Jul 1921 Noon UT | 15 vi 31    |
24 Jul 1921 Noon UT | 15 vi 53    |
25 Jul 1921 Noon UT | 16 vi 15    |
26 Jul 1921 Noon UT | 16 vi 36    |
27 Jul 1921 Noon UT | 16 vi 58    |
28 Jul 1921 Noon UT | 17 vi 20    |
29 Jul 1921 Noon UT | 17 vi 42    |
30 Jul 1921 Noon UT | 18 vi  4    |
31 Jul 1921 Noon UT | 18 vi 26    |
01 Aug 1921 Noon UT | 18 vi 48    |
02 Aug 1921 Noon UT | 19 vi 10    |
03 Aug 1921 Noon UT | 19 vi 33    |
04 Aug 1921 Noon UT | 19 vi 55    |
05 Aug 1921 Noon UT | 20 vi 17    |
06 Aug 1921 Noon UT | 20 vi 40    |
07 Aug 1921 Noon UT | 21 vi  3    |
08 Aug 1921 Noon UT | 21 vi 25    |
09 Aug 1921 Noon UT | 21 vi 48    |
10 Aug 1921 Noon UT | 22 vi 11    |
11 Aug 1921 Noon UT | 22 vi 34    |
12 Aug 1921 Noon UT | 22 vi 57    |
13 Aug 1921 Noon UT | 23 vi 20    |
14 Aug 1921 Noon UT | 23 vi 43    |
15 Aug 1921 Noon UT | 24 vi  6    |
16 Aug 1921 Noon UT | 24 vi 29    |
17 Aug 1921 Noon UT | 24 vi 52    |
18 Aug 1921 Noon UT | 25 vi 16    |
19 Aug 1921 Noon UT | 25 vi 39    |
20 Aug 1921 Noon UT | 26 vi  2    |
21 Aug 1921 Noon UT | 26 vi 26    |
22 Aug 1921 Noon UT | 26 vi 49    |
23 Aug 1921 Noon UT | 27 vi 13    |
24 Aug 1921 Noon UT | 27 vi 37    |
25 Aug 1921 Noon UT | 28 vi  0    |
26 Aug 1921 Noon UT | 28 vi 24    |
27 Aug 1921 Noon UT | 28 vi 48    |
28 Aug 1921 Noon UT | 29 vi 12    |
29 Aug 1921 Noon UT | 29 vi 36    |
30 Aug 1921 Noon UT | 29 vi 59    |
31 Aug 1921 Noon UT |  0 li 23    |
01 Sep 1921 Noon UT |  0 li 47    |
02 Sep 1921 Noon UT |  1 li 12    |
03 Sep 1921 Noon UT |  1 li 36    |
04 Sep 1921 Noon UT |  2 li  0    |
05 Sep 1921 Noon UT |  2 li 24    |
06 Sep 1921 Noon UT |  2 li 48    |
07 Sep 1921 Noon UT |  3 li 13    |
08 Sep 1921 Noon UT |  3 li 37    |
09 Sep 1921 Noon UT |  4 li  1    |
10 Sep 1921 Noon UT |  4 li 26    |
11 Sep 1921 Noon UT |  4 li 50    |
12 Sep 1921 Noon UT |  5 li 14    |
13 Sep 1921 Noon UT |  5 li 39    |
14 Sep 1921 Noon UT |  6 li  4    |
15 Sep 1921 Noon UT |  6 li 28    |
16 Sep 1921 Noon UT |  6 li 53    |
17 Sep 1921 Noon UT |  7 li 17    |
18 Sep 1921 Noon UT |  7 li 42    |
19 Sep 1921 Noon UT |  8 li  7    |
20 Sep 1921 Noon UT |  8 li 31    |
21 Sep 1921 Noon UT |  8 li 56    |
22 Sep 1921 Noon UT |  9 li 21    |
23 Sep 1921 Noon UT |  9 li 46    |
24 Sep 1921 Noon UT | 10 li 10    |
25 Sep 1921 Noon UT | 10 li 35    |
26 Sep 1921 Noon UT | 11 li  0    |
27 Sep 1921 Noon UT | 11 li 25    |
28 Sep 1921 Noon UT | 11 li 50    |
29 Sep 1921 Noon UT | 12 li 15    |
30 Sep 1921 Noon UT | 12 li 40    |
01 Oct 1921 Noon UT | 13 li  5    |
02 Oct 1921 Noon UT | 13 li 30    |
03 Oct 1921 Noon UT | 13 li 55    |
04 Oct 1921 Noon UT | 14 li 20    |
05 Oct 1921 Noon UT | 14 li 45    |
06 Oct 1921 Noon UT | 15 li 10    |
07 Oct 1921 Noon UT | 15 li 35    |
08 Oct 1921 Noon UT | 16 li  0    |
09 Oct 1921 Noon UT | 16 li 26    |
10 Oct 1921 Noon UT | 16 li 51    |
11 Oct 1921 Noon UT | 17 li 16    |
12 Oct 1921 Noon UT | 17 li 41    |
13 Oct 1921 Noon UT | 18 li  6    |
14 Oct 1921 Noon UT | 18 li 31    |
15 Oct 1921 Noon UT | 18 li 56    |
16 Oct 1921 Noon UT | 19 li 22    |
17 Oct 1921 Noon UT | 19 li 47    |
18 Oct 1921 Noon UT | 20 li 12    |
19 Oct 1921 Noon UT | 20 li 37    |
20 Oct 1921 Noon UT | 21 li  2    |
21 Oct 1921 Noon UT | 21 li 28    |
22 Oct 1921 Noon UT | 21 li 53    |
23 Oct 1921 Noon UT | 22 li 18    |
24 Oct 1921 Noon UT | 22 li 43    |
25 Oct 1921 Noon UT | 23 li  9    |
26 Oct 1921 Noon UT | 23 li 34    |
27 Oct 1921 Noon UT | 23 li 59    |
28 Oct 1921 Noon UT | 24 li 24    |
29 Oct 1921 Noon UT | 24 li 50    |
30 Oct 1921 Noon UT | 25 li 15    |
31 Oct 1921 Noon UT | 25 li 40    |
01 Nov 1921 Noon UT | 26 li  5    |
02 Nov 1921 Noon UT | 26 li 30    |
03 Nov 1921 Noon UT | 26 li 56    |
04 Nov 1921 Noon UT | 27 li 21    |
05 Nov 1921 Noon UT | 27 li 46    |
06 Nov 1921 Noon UT | 28 li 11    |
07 Nov 1921 Noon UT | 28 li 36    |
08 Nov 1921 Noon UT | 29 li  1    |
09 Nov 1921 Noon UT | 29 li 27    |
10 Nov 1921 Noon UT | 29 li 52    |
11 Nov 1921 Noon UT |  0 sc 17    |
12 Nov 1921 Noon UT |  0 sc 42    |
13 Nov 1921 Noon UT |  1 sc  7    |
14 Nov 1921 Noon UT |  1 sc 32    |
15 Nov 1921 Noon UT |  1 sc 57    |
16 Nov 1921 Noon UT |  2 sc 22    |
17 Nov 1921 Noon UT |  2 sc 47    |
18 Nov 1921 Noon UT |  3 sc 12    |
19 Nov 1921 Noon UT |  3 sc 37    |
20 Nov 1921 Noon UT |  4 sc  2    |
21 Nov 1921 Noon UT |  4 sc 27    |
22 Nov 1921 Noon UT |  4 sc 51    |
23 Nov 1921 Noon UT |  5 sc 16    |
24 Nov 1921 Noon UT |  5 sc 41    |
25 Nov 1921 Noon UT |  6 sc  6    |
26 Nov 1921 Noon UT |  6 sc 31    |
27 Nov 1921 Noon UT |  6 sc 55    |
28 Nov 1921 Noon UT |  7 sc 20    |
29 Nov 1921 Noon UT |  7 sc 45    |
30 Nov 1921 Noon UT |  8 sc  9    |
01 Dec 1921 Noon UT |  8 sc 34    |
02 Dec 1921 Noon UT |  8 sc 58    |
03 Dec 1921 Noon UT |  9 sc 23    |
04 Dec 1921 Noon UT |  9 sc 47    |
05 Dec 1921 Noon UT | 10 sc 11    |
06 Dec 1921 Noon UT | 10 sc 36    |
07 Dec 1921 Noon UT | 11 sc  0    |
08 Dec 1921 Noon UT | 11 sc 24    |
09 Dec 1921 Noon UT | 11 sc 49    |
10 Dec 1921 Noon UT | 12 sc 13    |
11 Dec 1921 Noon UT | 12 sc 37    |
12 Dec 1921 Noon UT | 13 sc  1    |
13 Dec 1921 Noon UT | 13 sc 25    |
14 Dec 1921 Noon UT | 13 sc 49    |
15 Dec 1921 Noon UT | 14 sc 13    |
16 Dec 1921 Noon UT | 14 sc 37    |
17 Dec 1921 Noon UT | 15 sc  0    |
18 Dec 1921 Noon UT | 15 sc 24    |
19 Dec 1921 Noon UT | 15 sc 48    |
20 Dec 1921 Noon UT | 16 sc 11    |
21 Dec 1921 Noon UT | 16 sc 35    |
22 Dec 1921 Noon UT | 16 sc 58    |
23 Dec 1921 Noon UT | 17 sc 22    |
24 Dec 1921 Noon UT | 17 sc 45    |
25 Dec 1921 Noon UT | 18 sc  8    |
26 Dec 1921 Noon UT | 18 sc 31    |
27 Dec 1921 Noon UT | 18 sc 54    |
28 Dec 1921 Noon UT | 19 sc 18    |
29 Dec 1921 Noon UT | 19 sc 40    |
30 Dec 1921 Noon UT | 20 sc  3    |
31 Dec 1921 Noon UT | 20 sc 26    |
01 Jan 1922 Noon UT | 20 sc 49    |
02 Jan 1922 Noon UT | 21 sc 11    |
03 Jan 1922 Noon UT | 21 sc 34    |
04 Jan 1922 Noon UT | 21 sc 56    |
05 Jan 1922 Noon UT | 22 sc 19    |
06 Jan 1922 Noon UT | 22 sc 41    |
07 Jan 1922 Noon UT | 23 sc  3    |
08 Jan 1922 Noon UT | 23 sc 25    |
09 Jan 1922 Noon UT | 23 sc 47    |
10 Jan 1922 Noon UT | 24 sc  9    |
11 Jan 1922 Noon UT | 24 sc 31    |
12 Jan 1922 Noon UT | 24 sc 52    |
13 Jan 1922 Noon UT | 25 sc 14    |
14 Jan 1922 Noon UT | 25 sc 35    |
15 Jan 1922 Noon UT | 25 sc 57    |
16 Jan 1922 Noon UT | 26 sc 18    |
17 Jan 1922 Noon UT | 26 sc 39    |
18 Jan 1922 Noon UT | 27 sc  0    |
19 Jan 1922 Noon UT | 27 sc 21    |
20 Jan 1922 Noon UT | 27 sc 42    |
21 Jan 1922 Noon UT | 28 sc  2    |
22 Jan 1922 Noon UT | 28 sc 23    |
23 Jan 1922 Noon UT | 28 sc 43    |
24 Jan 1922 Noon UT | 29 sc  4    |
25 Jan 1922 Noon UT | 29 sc 24    |
26 Jan 1922 Noon UT | 29 sc 44    |
27 Jan 1922 Noon UT |  0 sa  3    |
28 Jan 1922 Noon UT |  0 sa 23    |
29 Jan 1922 Noon UT |  0 sa 43    |
30 Jan 1922 Noon UT |  1 sa  2    |
31 Jan 1922 Noon UT |  1 sa 21    |
01 Feb 1922 Noon UT |  1 sa 41    |
02 Feb 1922 Noon UT |  1 sa 59    |
03 Feb 1922 Noon UT |  2 sa 18    |
04 Feb 1922 Noon UT |  2 sa 37    |
05 Feb 1922 Noon UT |  2 sa 55    |
06 Feb 1922 Noon UT |  3 sa 14    |
07 Feb 1922 Noon UT |  3 sa 32    |
08 Feb 1922 Noon UT |  3 sa 50    |
09 Feb 1922 Noon UT |  4 sa  8    |
10 Feb 1922 Noon UT |  4 sa 25    |
11 Feb 1922 Noon UT |  4 sa 43    |
12 Feb 1922 Noon UT |  5 sa  0    |
13 Feb 1922 Noon UT |  5 sa 17    |
14 Feb 1922 Noon UT |  5 sa 34    |
15 Feb 1922 Noon UT |  5 sa 51    |
16 Feb 1922 Noon UT |  6 sa  7    |
17 Feb 1922 Noon UT |  6 sa 24    |
18 Feb 1922 Noon UT |  6 sa 40    |
19 Feb 1922 Noon UT |  6 sa 56    |
20 Feb 1922 Noon UT |  7 sa 11    |
21 Feb 1922 Noon UT |  7 sa 27    |
22 Feb 1922 Noon UT |  7 sa 42    |
23 Feb 1922 Noon UT |  7 sa 57    |
24 Feb 1922 Noon UT |  8 sa 12    |
25 Feb 1922 Noon UT |  8 sa 27    |
26 Feb 1922 Noon UT |  8 sa 41    |
27 Feb 1922 Noon UT |  8 sa 55    |
28 Feb 1922 Noon UT |  9 sa  9    |
01 Mar 1922 Noon UT |  9 sa 23    |
02 Mar 1922 Noon UT |  9 sa 36    |
03 Mar 1922 Noon UT |  9 sa 50    |
04 Mar 1922 Noon UT | 10 sa  3    |
05 Mar 1922 Noon UT | 10 sa 15    |
06 Mar 1922 Noon UT | 10 sa 28    |
07 Mar 1922 Noon UT | 10 sa 40    |
08 Mar 1922 Noon UT | 10 sa 52    |
09 Mar 1922 Noon UT | 11 sa  4    |
10 Mar 1922 Noon UT | 11 sa 15    |
11 Mar 1922 Noon UT | 11 sa 26    |
12 Mar 1922 Noon UT | 11 sa 37    |
13 Mar 1922 Noon UT | 11 sa 48    |
14 Mar 1922 Noon UT | 11 sa 58    |
15 Mar 1922 Noon UT | 12 sa  8    |
16 Mar 1922 Noon UT | 12 sa 18    |
17 Mar 1922 Noon UT | 12 sa 27    |
18 Mar 1922 Noon UT | 12 sa 36    |
19 Mar 1922 Noon UT | 12 sa 45    |
20 Mar 1922 Noon UT | 12 sa 53    |
21 Mar 1922 Noon UT | 13 sa  2    |
22 Mar 1922 Noon UT | 13 sa  9    |
23 Mar 1922 Noon UT | 13 sa 17    |
24 Mar 1922 Noon UT | 13 sa 24    |
25 Mar 1922 Noon UT | 13 sa 31    |
26 Mar 1922 Noon UT | 13 sa 38    |
27 Mar 1922 Noon UT | 13 sa 44    |
28 Mar 1922 Noon UT | 13 sa 50    |
29 Mar 1922 Noon UT | 13 sa 55    |
30 Mar 1922 Noon UT | 14 sa  1    |
31 Mar 1922 Noon UT | 14 sa  5    |
01 Apr 1922 Noon UT | 14 sa 10    |
02 Apr 1922 Noon UT | 14 sa 14    |
03 Apr 1922 Noon UT | 14 sa 18    |
04 Apr 1922 Noon UT | 14 sa 21    |
05 Apr 1922 Noon UT | 14 sa 24    |
06 Apr 1922 Noon UT | 14 sa 27    |
07 Apr 1922 Noon UT | 14 sa 30    |
08 Apr 1922 Noon UT | 14 sa 32    |
09 Apr 1922 Noon UT | 14 sa 33    |
10 Apr 1922 Noon UT | 14 sa 35    |
11 Apr 1922 Noon UT | 14 sa 36    |
12 Apr 1922 Noon UT | 14 sa 36    |
13 Apr 1922 Noon UT | 14 sa 36    |
14 Apr 1922 Noon UT | 14 sa 36 Rx |
15 Apr 1922 Noon UT | 14 sa 36 Rx |
16 Apr 1922 Noon UT | 14 sa 35 Rx |
17 Apr 1922 Noon UT | 14 sa 33 Rx |
18 Apr 1922 Noon UT | 14 sa 32 Rx |
19 Apr 1922 Noon UT | 14 sa 30 Rx |
20 Apr 1922 Noon UT | 14 sa 27 Rx |
21 Apr 1922 Noon UT | 14 sa 25 Rx |
22 Apr 1922 Noon UT | 14 sa 21 Rx |
23 Apr 1922 Noon UT | 14 sa 18 Rx |
24 Apr 1922 Noon UT | 14 sa 14 Rx |
25 Apr 1922 Noon UT | 14 sa 10 Rx |
26 Apr 1922 Noon UT | 14 sa  5 Rx |
27 Apr 1922 Noon UT | 14 sa  0 Rx |
28 Apr 1922 Noon UT | 13 sa 55 Rx |
29 Apr 1922 Noon UT | 13 sa 49 Rx |
30 Apr 1922 Noon UT | 13 sa 43 Rx |
01 May 1922 Noon UT | 13 sa 37 Rx |
02 May 1922 Noon UT | 13 sa 31 Rx |
03 May 1922 Noon UT | 13 sa 24 Rx |
04 May 1922 Noon UT | 13 sa 16 Rx |
05 May 1922 Noon UT | 13 sa  9 Rx |
06 May 1922 Noon UT | 13 sa  1 Rx |
07 May 1922 Noon UT | 12 sa 53 Rx |
08 May 1922 Noon UT | 12 sa 44 Rx |
09 May 1922 Noon UT | 12 sa 36 Rx |
10 May 1922 Noon UT | 12 sa 27 Rx |
11 May 1922 Noon UT | 12 sa 17 Rx |
12 May 1922 Noon UT | 12 sa  8 Rx |
13 May 1922 Noon UT | 11 sa 58 Rx |
14 May 1922 Noon UT | 11 sa 48 Rx |
15 May 1922 Noon UT | 11 sa 38 Rx |
16 May 1922 Noon UT | 11 sa 28 Rx |
17 May 1922 Noon UT | 11 sa 17 Rx |
18 May 1922 Noon UT | 11 sa  7 Rx |
19 May 1922 Noon UT | 10 sa 56 Rx |
20 May 1922 Noon UT | 10 sa 45 Rx |
21 May 1922 Noon UT | 10 sa 33 Rx |
22 May 1922 Noon UT | 10 sa 22 Rx |
23 May 1922 Noon UT | 10 sa 11 Rx |
24 May 1922 Noon UT |  9 sa 59 Rx |
25 May 1922 Noon UT |  9 sa 47 Rx |
26 May 1922 Noon UT |  9 sa 36 Rx |
27 May 1922 Noon UT |  9 sa 24 Rx |
28 May 1922 Noon UT |  9 sa 12 Rx |
29 May 1922 Noon UT |  9 sa  0 Rx |
30 May 1922 Noon UT |  8 sa 48 Rx |
31 May 1922 Noon UT |  8 sa 37 Rx |
01 Jun 1922 Noon UT |  8 sa 25 Rx |
02 Jun 1922 Noon UT |  8 sa 13 Rx |
03 Jun 1922 Noon UT |  8 sa  1 Rx |
04 Jun 1922 Noon UT |  7 sa 49 Rx |
05 Jun 1922 Noon UT |  7 sa 38 Rx |
06 Jun 1922 Noon UT |  7 sa 26 Rx |
07 Jun 1922 Noon UT |  7 sa 15 Rx |
08 Jun 1922 Noon UT |  7 sa  3 Rx |
09 Jun 1922 Noon UT |  6 sa 52 Rx |
10 Jun 1922 Noon UT |  6 sa 41 Rx |
11 Jun 1922 Noon UT |  6 sa 30 Rx |
12 Jun 1922 Noon UT |  6 sa 19 Rx |
13 Jun 1922 Noon UT |  6 sa  8 Rx |
14 Jun 1922 Noon UT |  5 sa 58 Rx |
15 Jun 1922 Noon UT |  5 sa 48 Rx |
16 Jun 1922 Noon UT |  5 sa 37 Rx |
17 Jun 1922 Noon UT |  5 sa 28 Rx |
18 Jun 1922 Noon UT |  5 sa 18 Rx |
19 Jun 1922 Noon UT |  5 sa  9 Rx |
20 Jun 1922 Noon UT |  4 sa 59 Rx |
21 Jun 1922 Noon UT |  4 sa 51 Rx |
22 Jun 1922 Noon UT |  4 sa 42 Rx |
23 Jun 1922 Noon UT |  4 sa 34 Rx |
24 Jun 1922 Noon UT |  4 sa 25 Rx |
25 Jun 1922 Noon UT |  4 sa 18 Rx |
26 Jun 1922 Noon UT |  4 sa 10 Rx |
27 Jun 1922 Noon UT |  4 sa  3 Rx |
28 Jun 1922 Noon UT |  3 sa 56 Rx |
29 Jun 1922 Noon UT |  3 sa 50 Rx |
30 Jun 1922 Noon UT |  3 sa 43 Rx |
01 Jul 1922 Noon UT |  3 sa 37 Rx |
02 Jul 1922 Noon UT |  3 sa 32 Rx |
03 Jul 1922 Noon UT |  3 sa 27 Rx |
04 Jul 1922 Noon UT |  3 sa 22 Rx |
05 Jul 1922 Noon UT |  3 sa 17 Rx |
06 Jul 1922 Noon UT |  3 sa 13 Rx |
07 Jul 1922 Noon UT |  3 sa  9 Rx |
08 Jul 1922 Noon UT |  3 sa  6 Rx |
09 Jul 1922 Noon UT |  3 sa  2 Rx |
10 Jul 1922 Noon UT |  3 sa  0 Rx |
11 Jul 1922 Noon UT |  2 sa 57 Rx |
12 Jul 1922 Noon UT |  2 sa 55 Rx |
13 Jul 1922 Noon UT |  2 sa 53 Rx |
14 Jul 1922 Noon UT |  2 sa 52 Rx |
15 Jul 1922 Noon UT |  2 sa 51 Rx |
16 Jul 1922 Noon UT |  2 sa 50 Rx |
17 Jul 1922 Noon UT |  2 sa 50 Rx |
18 Jul 1922 Noon UT |  2 sa 50    |
19 Jul 1922 Noon UT |  2 sa 50    |
20 Jul 1922 Noon UT |  2 sa 51    |
21 Jul 1922 Noon UT |  2 sa 52    |
22 Jul 1922 Noon UT |  2 sa 54    |
23 Jul 1922 Noon UT |  2 sa 55    |
24 Jul 1922 Noon UT |  2 sa 57    |
25 Jul 1922 Noon UT |  3 sa  0    |
26 Jul 1922 Noon UT |  3 sa  3    |
27 Jul 1922 Noon UT |  3 sa  6    |
28 Jul 1922 Noon UT |  3 sa  9    |
29 Jul 1922 Noon UT |  3 sa 13    |
30 Jul 1922 Noon UT |  3 sa 17    |
31 Jul 1922 Noon UT |  3 sa 22    |
01 Aug 1922 Noon UT |  3 sa 27    |
02 Aug 1922 Noon UT |  3 sa 32    |
03 Aug 1922 Noon UT |  3 sa 38    |
04 Aug 1922 Noon UT |  3 sa 43    |
05 Aug 1922 Noon UT |  3 sa 49    |
06 Aug 1922 Noon UT |  3 sa 56    |
07 Aug 1922 Noon UT |  4 sa  3    |
08 Aug 1922 Noon UT |  4 sa 10    |
09 Aug 1922 Noon UT |  4 sa 17    |
10 Aug 1922 Noon UT |  4 sa 25    |
11 Aug 1922 Noon UT |  4 sa 33    |
12 Aug 1922 Noon UT |  4 sa 41    |
13 Aug 1922 Noon UT |  4 sa 49    |
14 Aug 1922 Noon UT |  4 sa 58    |
15 Aug 1922 Noon UT |  5 sa  7    |
16 Aug 1922 Noon UT |  5 sa 17    |
17 Aug 1922 Noon UT |  5 sa 26    |
18 Aug 1922 Noon UT |  5 sa 36    |
19 Aug 1922 Noon UT |  5 sa 46    |
20 Aug 1922 Noon UT |  5 sa 57    |
21 Aug 1922 Noon UT |  6 sa  8    |
22 Aug 1922 Noon UT |  6 sa 18    |
23 Aug 1922 Noon UT |  6 sa 30    |
24 Aug 1922 Noon UT |  6 sa 41    |
25 Aug 1922 Noon UT |  6 sa 53    |
26 Aug 1922 Noon UT |  7 sa  5    |
27 Aug 1922 Noon UT |  7 sa 17    |
28 Aug 1922 Noon UT |  7 sa 29    |
29 Aug 1922 Noon UT |  7 sa 42    |
30 Aug 1922 Noon UT |  7 sa 55    |
31 Aug 1922 Noon UT |  8 sa  8    |
01 Sep 1922 Noon UT |  8 sa 21    |
02 Sep 1922 Noon UT |  8 sa 35    |
03 Sep 1922 Noon UT |  8 sa 49    |
04 Sep 1922 Noon UT |  9 sa  3    |
05 Sep 1922 Noon UT |  9 sa 17    |
06 Sep 1922 Noon UT |  9 sa 31    |
07 Sep 1922 Noon UT |  9 sa 46    |
08 Sep 1922 Noon UT | 10 sa  1    |
09 Sep 1922 Noon UT | 10 sa 16    |
10 Sep 1922 Noon UT | 10 sa 31    |
11 Sep 1922 Noon UT | 10 sa 46    |
12 Sep 1922 Noon UT | 11 sa  2    |
13 Sep 1922 Noon UT | 11 sa 17    |
14 Sep 1922 Noon UT | 11 sa 33    |
15 Sep 1922 Noon UT | 11 sa 49    |
16 Sep 1922 Noon UT | 12 sa  6    |
17 Sep 1922 Noon UT | 12 sa 22    |
18 Sep 1922 Noon UT | 12 sa 39    |
19 Sep 1922 Noon UT | 12 sa 56    |
20 Sep 1922 Noon UT | 13 sa 13    |
21 Sep 1922 Noon UT | 13 sa 30    |
22 Sep 1922 Noon UT | 13 sa 47    |
23 Sep 1922 Noon UT | 14 sa  4    |
24 Sep 1922 Noon UT | 14 sa 22    |
25 Sep 1922 Noon UT | 14 sa 40    |
26 Sep 1922 Noon UT | 14 sa 58    |
27 Sep 1922 Noon UT | 15 sa 16    |
28 Sep 1922 Noon UT | 15 sa 34    |
29 Sep 1922 Noon UT | 15 sa 52    |
30 Sep 1922 Noon UT | 16 sa 11    |
01 Oct 1922 Noon UT | 16 sa 29    |
02 Oct 1922 Noon UT | 16 sa 48    |
03 Oct 1922 Noon UT | 17 sa  7    |
04 Oct 1922 Noon UT | 17 sa 26    |
05 Oct 1922 Noon UT | 17 sa 45    |
06 Oct 1922 Noon UT | 18 sa  4    |
07 Oct 1922 Noon UT | 18 sa 23    |
08 Oct 1922 Noon UT | 18 sa 43    |
09 Oct 1922 Noon UT | 19 sa  2    |
10 Oct 1922 Noon UT | 19 sa 22    |
11 Oct 1922 Noon UT | 19 sa 42    |
12 Oct 1922 Noon UT | 20 sa  2    |
13 Oct 1922 Noon UT | 20 sa 22    |
14 Oct 1922 Noon UT | 20 sa 42    |
15 Oct 1922 Noon UT | 21 sa  2    |
16 Oct 1922 Noon UT | 21 sa 23    |
17 Oct 1922 Noon UT | 21 sa 43    |
18 Oct 1922 Noon UT | 22 sa  4    |
19 Oct 1922 Noon UT | 22 sa 24    |
20 Oct 1922 Noon UT | 22 sa 45    |
21 Oct 1922 Noon UT | 23 sa  6    |
22 Oct 1922 Noon UT | 23 sa 27    |
23 Oct 1922 Noon UT | 23 sa 48    |
24 Oct 1922 Noon UT | 24 sa  9    |
25 Oct 1922 Noon UT | 24 sa 31    |
26 Oct 1922 Noon UT | 24 sa 52    |
27 Oct 1922 Noon UT | 25 sa 13    |
28 Oct 1922 Noon UT | 25 sa 35    |
29 Oct 1922 Noon UT | 25 sa 56    |
30 Oct 1922 Noon UT | 26 sa 18    |
31 Oct 1922 Noon UT | 26 sa 40    |
01 Nov 1922 Noon UT | 27 sa  2    |
02 Nov 1922 Noon UT | 27 sa 24    |
03 Nov 1922 Noon UT | 27 sa 46    |
04 Nov 1922 Noon UT | 28 sa  8    |
05 Nov 1922 Noon UT | 28 sa 30    |
06 Nov 1922 Noon UT | 28 sa 52    |
07 Nov 1922 Noon UT | 29 sa 14    |
08 Nov 1922 Noon UT | 29 sa 37    |
09 Nov 1922 Noon UT | 29 sa 59    |
10 Nov 1922 Noon UT |  0 cp 21    |
11 Nov 1922 Noon UT |  0 cp 44    |
12 Nov 1922 Noon UT |  1 cp  6    |
13 Nov 1922 Noon UT |  1 cp 29    |
14 Nov 1922 Noon UT |  1 cp 52    |
15 Nov 1922 Noon UT |  2 cp 15    |
16 Nov 1922 Noon UT |  2 cp 37    |
17 Nov 1922 Noon UT |  3 cp  0    |
18 Nov 1922 Noon UT |  3 cp 23    |
19 Nov 1922 Noon UT |  3 cp 46    |
20 Nov 1922 Noon UT |  4 cp  9    |
21 Nov 1922 Noon UT |  4 cp 32    |
22 Nov 1922 Noon UT |  4 cp 55    |
23 Nov 1922 Noon UT |  5 cp 19    |
24 Nov 1922 Noon UT |  5 cp 42    |
25 Nov 1922 Noon UT |  6 cp  5    |
26 Nov 1922 Noon UT |  6 cp 28    |
27 Nov 1922 Noon UT |  6 cp 52    |
28 Nov 1922 Noon UT |  7 cp 15    |
29 Nov 1922 Noon UT |  7 cp 39    |
30 Nov 1922 Noon UT |  8 cp  2    |
01 Dec 1922 Noon UT |  8 cp 26    |
02 Dec 1922 Noon UT |  8 cp 49    |
03 Dec 1922 Noon UT |  9 cp 13    |
04 Dec 1922 Noon UT |  9 cp 36    |
05 Dec 1922 Noon UT | 10 cp  0    |
06 Dec 1922 Noon UT | 10 cp 24    |
07 Dec 1922 Noon UT | 10 cp 47    |
08 Dec 1922 Noon UT | 11 cp 11    |
09 Dec 1922 Noon UT | 11 cp 35    |
10 Dec 1922 Noon UT | 11 cp 59    |
11 Dec 1922 Noon UT | 12 cp 23    |
12 Dec 1922 Noon UT | 12 cp 46    |
13 Dec 1922 Noon UT | 13 cp 10    |
14 Dec 1922 Noon UT | 13 cp 34    |
15 Dec 1922 Noon UT | 13 cp 58    |
16 Dec 1922 Noon UT | 14 cp 22    |
17 Dec 1922 Noon UT | 14 cp 46    |
18 Dec 1922 Noon UT | 15 cp 10    |
19 Dec 1922 Noon UT | 15 cp 34    |
20 Dec 1922 Noon UT | 15 cp 58    |
21 Dec 1922 Noon UT | 16 cp 22    |
22 Dec 1922 Noon UT | 16 cp 46    |
23 Dec 1922 Noon UT | 17 cp 10    |
24 Dec 1922 Noon UT | 17 cp 34    |
25 Dec 1922 Noon UT | 17 cp 59    |
26 Dec 1922 Noon UT | 18 cp 23    |
27 Dec 1922 Noon UT | 18 cp 47    |
28 Dec 1922 Noon UT | 19 cp 11    |
29 Dec 1922 Noon UT | 19 cp 35    |
30 Dec 1922 Noon UT | 19 cp 59    |
31 Dec 1922 Noon UT | 20 cp 23    |
01 Jan 1923 Noon UT | 20 cp 47    |
02 Jan 1923 Noon UT | 21 cp 12    |
03 Jan 1923 Noon UT | 21 cp 36    |
04 Jan 1923 Noon UT | 22 cp  0    |
05 Jan 1923 Noon UT | 22 cp 24    |
06 Jan 1923 Noon UT | 22 cp 48    |
07 Jan 1923 Noon UT | 23 cp 12    |
08 Jan 1923 Noon UT | 23 cp 36    |
09 Jan 1923 Noon UT | 24 cp  1    |
10 Jan 1923 Noon UT | 24 cp 25    |
11 Jan 1923 Noon UT | 24 cp 49    |
12 Jan 1923 Noon UT | 25 cp 13    |
13 Jan 1923 Noon UT | 25 cp 37    |
14 Jan 1923 Noon UT | 26 cp  1    |
15 Jan 1923 Noon UT | 26 cp 25    |
16 Jan 1923 Noon UT | 26 cp 50    |
17 Jan 1923 Noon UT | 27 cp 14    |
18 Jan 1923 Noon UT | 27 cp 38    |
19 Jan 1923 Noon UT | 28 cp  2    |
20 Jan 1923 Noon UT | 28 cp 26    |
21 Jan 1923 Noon UT | 28 cp 50    |
22 Jan 1923 Noon UT | 29 cp 14    |
23 Jan 1923 Noon UT | 29 cp 38    |
24 Jan 1923 Noon UT |  0 aq  2    |
25 Jan 1923 Noon UT |  0 aq 26    |
26 Jan 1923 Noon UT |  0 aq 50    |
27 Jan 1923 Noon UT |  1 aq 14    |
28 Jan 1923 Noon UT |  1 aq 38    |
29 Jan 1923 Noon UT |  2 aq  2    |
30 Jan 1923 Noon UT |  2 aq 25    |
31 Jan 1923 Noon UT |  2 aq 49    |
01 Feb 1923 Noon UT |  3 aq 13    |
02 Feb 1923 Noon UT |  3 aq 37    |
03 Feb 1923 Noon UT |  4 aq  1    |
04 Feb 1923 Noon UT |  4 aq 24    |
05 Feb 1923 Noon UT |  4 aq 48    |
06 Feb 1923 Noon UT |  5 aq 12    |
07 Feb 1923 Noon UT |  5 aq 35    |
08 Feb 1923 Noon UT |  5 aq 59    |
09 Feb 1923 Noon UT |  6 aq 22    |
10 Feb 1923 Noon UT |  6 aq 46    |
11 Feb 1923 Noon UT |  7 aq  9    |
12 Feb 1923 Noon UT |  7 aq 33    |
13 Feb 1923 Noon UT |  7 aq 56    |
14 Feb 1923 Noon UT |  8 aq 20    |
15 Feb 1923 Noon UT |  8 aq 43    |
16 Feb 1923 Noon UT |  9 aq  6    |
17 Feb 1923 Noon UT |  9 aq 30    |
18 Feb 1923 Noon UT |  9 aq 53    |
19 Feb 1923 Noon UT | 10 aq 16    |
20 Feb 1923 Noon UT | 10 aq 39    |
21 Feb 1923 Noon UT | 11 aq  2    |
22 Feb 1923 Noon UT | 11 aq 25    |
23 Feb 1923 Noon UT | 11 aq 48    |
24 Feb 1923 Noon UT | 12 aq 11    |
25 Feb 1923 Noon UT | 12 aq 34    |
26 Feb 1923 Noon UT | 12 aq 57    |
27 Feb 1923 Noon UT | 13 aq 20    |
28 Feb 1923 Noon UT | 13 aq 42    |
01 Mar 1923 Noon UT | 14 aq  5    |
02 Mar 1923 Noon UT | 14 aq 28    |
03 Mar 1923 Noon UT | 14 aq 50    |
04 Mar 1923 Noon UT | 15 aq 13    |
05 Mar 1923 Noon UT | 15 aq 35    |
06 Mar 1923 Noon UT | 15 aq 58    |
07 Mar 1923 Noon UT | 16 aq 20    |
08 Mar 1923 Noon UT | 16 aq 42    |
09 Mar 1923 Noon UT | 17 aq  4    |
10 Mar 1923 Noon UT | 17 aq 27    |
11 Mar 1923 Noon UT | 17 aq 49    |
12 Mar 1923 Noon UT | 18 aq 11    |
13 Mar 1923 Noon UT | 18 aq 33    |
14 Mar 1923 Noon UT | 18 aq 54    |
15 Mar 1923 Noon UT | 19 aq 16    |
16 Mar 1923 Noon UT | 19 aq 38    |
17 Mar 1923 Noon UT | 20 aq  0    |
18 Mar 1923 Noon UT | 20 aq 21    |
19 Mar 1923 Noon UT | 20 aq 43    |
20 Mar 1923 Noon UT | 21 aq  4    |
21 Mar 1923 Noon UT | 21 aq 25    |
22 Mar 1923 Noon UT | 21 aq 47    |
23 Mar 1923 Noon UT | 22 aq  8    |
24 Mar 1923 Noon UT | 22 aq 29    |
25 Mar 1923 Noon UT | 22 aq 50    |
26 Mar 1923 Noon UT | 23 aq 11    |
27 Mar 1923 Noon UT | 23 aq 32    |
28 Mar 1923 Noon UT | 23 aq 53    |
29 Mar 1923 Noon UT | 24 aq 13    |
30 Mar 1923 Noon UT | 24 aq 34    |
31 Mar 1923 Noon UT | 24 aq 54    |
01 Apr 1923 Noon UT | 25 aq 15    |
02 Apr 1923 Noon UT | 25 aq 35    |
03 Apr 1923 Noon UT | 25 aq 55    |
04 Apr 1923 Noon UT | 26 aq 15    |
05 Apr 1923 Noon UT | 26 aq 35    |
06 Apr 1923 Noon UT | 26 aq 55    |
07 Apr 1923 Noon UT | 27 aq 15    |
08 Apr 1923 Noon UT | 27 aq 35    |
09 Apr 1923 Noon UT | 27 aq 54    |
10 Apr 1923 Noon UT | 28 aq 14    |
11 Apr 1923 Noon UT | 28 aq 33    |
12 Apr 1923 Noon UT | 28 aq 53    |
13 Apr 1923 Noon UT | 29 aq 12    |
14 Apr 1923 Noon UT | 29 aq 31    |
15 Apr 1923 Noon UT | 29 aq 50    |
16 Apr 1923 Noon UT |  0 pi  8    |
17 Apr 1923 Noon UT |  0 pi 27    |
18 Apr 1923 Noon UT |  0 pi 46    |
19 Apr 1923 Noon UT |  1 pi  4    |
20 Apr 1923 Noon UT |  1 pi 23    |
21 Apr 1923 Noon UT |  1 pi 41    |
22 Apr 1923 Noon UT |  1 pi 59    |
23 Apr 1923 Noon UT |  2 pi 17    |
24 Apr 1923 Noon UT |  2 pi 35    |
25 Apr 1923 Noon UT |  2 pi 52    |
26 Apr 1923 Noon UT |  3 pi 10    |
27 Apr 1923 Noon UT |  3 pi 27    |
28 Apr 1923 Noon UT |  3 pi 44    |
29 Apr 1923 Noon UT |  4 pi  2    |
30 Apr 1923 Noon UT |  4 pi 19    |
01 May 1923 Noon UT |  4 pi 35    |
02 May 1923 Noon UT |  4 pi 52    |
03 May 1923 Noon UT |  5 pi  9    |
04 May 1923 Noon UT |  5 pi 25    |
05 May 1923 Noon UT |  5 pi 41    |
06 May 1923 Noon UT |  5 pi 57    |
07 May 1923 Noon UT |  6 pi 13    |
08 May 1923 Noon UT |  6 pi 29    |
09 May 1923 Noon UT |  6 pi 45    |
10 May 1923 Noon UT |  7 pi  0    |
11 May 1923 Noon UT |  7 pi 15    |
12 May 1923 Noon UT |  7 pi 30    |
13 May 1923 Noon UT |  7 pi 45    |
14 May 1923 Noon UT |  8 pi  0    |
15 May 1923 Noon UT |  8 pi 15    |
16 May 1923 Noon UT |  8 pi 29    |
17 May 1923 Noon UT |  8 pi 43    |
18 May 1923 Noon UT |  8 pi 57    |
19 May 1923 Noon UT |  9 pi 11    |
20 May 1923 Noon UT |  9 pi 25    |
21 May 1923 Noon UT |  9 pi 38    |
22 May 1923 Noon UT |  9 pi 51    |
23 May 1923 Noon UT | 10 pi  4    |
24 May 1923 Noon UT | 10 pi 17    |
25 May 1923 Noon UT | 10 pi 30    |
26 May 1923 Noon UT | 10 pi 42    |
27 May 1923 Noon UT | 10 pi 55    |
28 May 1923 Noon UT | 11 pi  7    |
29 May 1923 Noon UT | 11 pi 18    |
30 May 1923 Noon UT | 11 pi 30    |
31 May 1923 Noon UT | 11 pi 41    |
01 Jun 1923 Noon UT | 11 pi 53    |
02 Jun 1923 Noon UT | 12 pi  4    |
03 Jun 1923 Noon UT | 12 pi 14    |
04 Jun 1923 Noon UT | 12 pi 25    |
05 Jun 1923 Noon UT | 12 pi 35    |
06 Jun 1923 Noon UT | 12 pi 45    |
07 Jun 1923 Noon UT | 12 pi 55    |
08 Jun 1923 Noon UT | 13 pi  4    |
09 Jun 1923 Noon UT | 13 pi 13    |
10 Jun 1923 Noon UT | 13 pi 22    |
11 Jun 1923 Noon UT | 13 pi 31    |
12 Jun 1923 Noon UT | 13 pi 40    |
13 Jun 1923 Noon UT | 13 pi 48    |
14 Jun 1923 Noon UT | 13 pi 56    |
15 Jun 1923 Noon UT | 14 pi  4    |
16 Jun 1923 Noon UT | 14 pi 11    |
17 Jun 1923 Noon UT | 14 pi 18    |
18 Jun 1923 Noon UT | 14 pi 25    |
19 Jun 1923 Noon UT | 14 pi 32    |
20 Jun 1923 Noon UT | 14 pi 38    |
21 Jun 1923 Noon UT | 14 pi 44    |
22 Jun 1923 Noon UT | 14 pi 50    |
23 Jun 1923 Noon UT | 14 pi 55    |
24 Jun 1923 Noon UT | 15 pi  1    |
25 Jun 1923 Noon UT | 15 pi  5    |
26 Jun 1923 Noon UT | 15 pi 10    |
27 Jun 1923 Noon UT | 15 pi 14    |
28 Jun 1923 Noon UT | 15 pi 18    |
29 Jun 1923 Noon UT | 15 pi 22    |
30 Jun 1923 Noon UT | 15 pi 26    |
01 Jul 1923 Noon UT | 15 pi 29    |
02 Jul 1923 Noon UT | 15 pi 31    |
03 Jul 1923 Noon UT | 15 pi 34    |
04 Jul 1923 Noon UT | 15 pi 36    |
05 Jul 1923 Noon UT | 15 pi 38    |
06 Jul 1923 Noon UT | 15 pi 39    |
07 Jul 1923 Noon UT | 15 pi 41    |
08 Jul 1923 Noon UT | 15 pi 42    |
09 Jul 1923 Noon UT | 15 pi 42    |
10 Jul 1923 Noon UT | 15 pi 42    |
11 Jul 1923 Noon UT | 15 pi 42 Rx |
12 Jul 1923 Noon UT | 15 pi 42 Rx |
13 Jul 1923 Noon UT | 15 pi 41 Rx |
14 Jul 1923 Noon UT | 15 pi 40 Rx |
15 Jul 1923 Noon UT | 15 pi 39 Rx |
16 Jul 1923 Noon UT | 15 pi 37 Rx |
17 Jul 1923 Noon UT | 15 pi 35 Rx |
18 Jul 1923 Noon UT | 15 pi 33 Rx |
19 Jul 1923 Noon UT | 15 pi 30 Rx |
20 Jul 1923 Noon UT | 15 pi 27 Rx |
21 Jul 1923 Noon UT | 15 pi 24 Rx |
22 Jul 1923 Noon UT | 15 pi 20 Rx |
23 Jul 1923 Noon UT | 15 pi 16 Rx |
24 Jul 1923 Noon UT | 15 pi 12 Rx |
25 Jul 1923 Noon UT | 15 pi  7 Rx |
26 Jul 1923 Noon UT | 15 pi  2 Rx |
27 Jul 1923 Noon UT | 14 pi 57 Rx |
28 Jul 1923 Noon UT | 14 pi 51 Rx |
29 Jul 1923 Noon UT | 14 pi 46 Rx |
30 Jul 1923 Noon UT | 14 pi 39 Rx |
31 Jul 1923 Noon UT | 14 pi 33 Rx |
01 Aug 1923 Noon UT | 14 pi 26 Rx |
02 Aug 1923 Noon UT | 14 pi 19 Rx |
03 Aug 1923 Noon UT | 14 pi 12 Rx |
04 Aug 1923 Noon UT | 14 pi  4 Rx |
05 Aug 1923 Noon UT | 13 pi 57 Rx |
06 Aug 1923 Noon UT | 13 pi 48 Rx |
07 Aug 1923 Noon UT | 13 pi 40 Rx |
08 Aug 1923 Noon UT | 13 pi 31 Rx |
09 Aug 1923 Noon UT | 13 pi 23 Rx |
10 Aug 1923 Noon UT | 13 pi 13 Rx |
11 Aug 1923 Noon UT | 13 pi  4 Rx |
12 Aug 1923 Noon UT | 12 pi 55 Rx |
13 Aug 1923 Noon UT | 12 pi 45 Rx |
14 Aug 1923 Noon UT | 12 pi 35 Rx |
15 Aug 1923 Noon UT | 12 pi 25 Rx |
16 Aug 1923 Noon UT | 12 pi 14 Rx |
17 Aug 1923 Noon UT | 12 pi  4 Rx |
18 Aug 1923 Noon UT | 11 pi 53 Rx |
19 Aug 1923 Noon UT | 11 pi 42 Rx |
20 Aug 1923 Noon UT | 11 pi 31 Rx |
21 Aug 1923 Noon UT | 11 pi 20 Rx |
22 Aug 1923 Noon UT | 11 pi  8 Rx |
23 Aug 1923 Noon UT | 10 pi 57 Rx |
24 Aug 1923 Noon UT | 10 pi 46 Rx |
25 Aug 1923 Noon UT | 10 pi 34 Rx |
26 Aug 1923 Noon UT | 10 pi 22 Rx |
27 Aug 1923 Noon UT | 10 pi 11 Rx |
28 Aug 1923 Noon UT |  9 pi 59 Rx |
29 Aug 1923 Noon UT |  9 pi 47 Rx |
30 Aug 1923 Noon UT |  9 pi 35 Rx |
31 Aug 1923 Noon UT |  9 pi 23 Rx |
01 Sep 1923 Noon UT |  9 pi 11 Rx |
02 Sep 1923 Noon UT |  8 pi 59 Rx |
03 Sep 1923 Noon UT |  8 pi 47 Rx |
04 Sep 1923 Noon UT |  8 pi 35 Rx |
05 Sep 1923 Noon UT |  8 pi 24 Rx |
06 Sep 1923 Noon UT |  8 pi 12 Rx |
07 Sep 1923 Noon UT |  8 pi  0 Rx |
08 Sep 1923 Noon UT |  7 pi 48 Rx |
09 Sep 1923 Noon UT |  7 pi 37 Rx |
10 Sep 1923 Noon UT |  7 pi 25 Rx |
11 Sep 1923 Noon UT |  7 pi 14 Rx |
12 Sep 1923 Noon UT |  7 pi  3 Rx |
13 Sep 1923 Noon UT |  6 pi 51 Rx |
14 Sep 1923 Noon UT |  6 pi 40 Rx |
15 Sep 1923 Noon UT |  6 pi 30 Rx |
16 Sep 1923 Noon UT |  6 pi 19 Rx |
17 Sep 1923 Noon UT |  6 pi  8 Rx |
18 Sep 1923 Noon UT |  5 pi 58 Rx |
19 Sep 1923 Noon UT |  5 pi 48 Rx |
20 Sep 1923 Noon UT |  5 pi 38 Rx |
21 Sep 1923 Noon UT |  5 pi 28 Rx |
22 Sep 1923 Noon UT |  5 pi 19 Rx |
23 Sep 1923 Noon UT |  5 pi  9 Rx |
24 Sep 1923 Noon UT |  5 pi  0 Rx |
25 Sep 1923 Noon UT |  4 pi 52 Rx |
26 Sep 1923 Noon UT |  4 pi 43 Rx |
27 Sep 1923 Noon UT |  4 pi 35 Rx |
28 Sep 1923 Noon UT |  4 pi 27 Rx |
29 Sep 1923 Noon UT |  4 pi 19 Rx |
30 Sep 1923 Noon UT |  4 pi 11 Rx |
01 Oct 1923 Noon UT |  4 pi  4 Rx |
02 Oct 1923 Noon UT |  3 pi 57 Rx |
03 Oct 1923 Noon UT |  3 pi 51 Rx |
04 Oct 1923 Noon UT |  3 pi 44 Rx |
05 Oct 1923 Noon UT |  3 pi 38 Rx |
06 Oct 1923 Noon UT |  3 pi 32 Rx |
07 Oct 1923 Noon UT |  3 pi 27 Rx |
08 Oct 1923 Noon UT |  3 pi 22 Rx |
09 Oct 1923 Noon UT |  3 pi 17 Rx |
10 Oct 1923 Noon UT |  3 pi 12 Rx |
11 Oct 1923 Noon UT |  3 pi  8 Rx |
12 Oct 1923 Noon UT |  3 pi  4 Rx |
13 Oct 1923 Noon UT |  3 pi  1 Rx |
14 Oct 1923 Noon UT |  2 pi 57 Rx |
15 Oct 1923 Noon UT |  2 pi 54 Rx |
16 Oct 1923 Noon UT |  2 pi 52 Rx |
17 Oct 1923 Noon UT |  2 pi 49 Rx |
18 Oct 1923 Noon UT |  2 pi 47 Rx |
19 Oct 1923 Noon UT |  2 pi 46 Rx |
20 Oct 1923 Noon UT |  2 pi 45 Rx |
21 Oct 1923 Noon UT |  2 pi 44 Rx |
22 Oct 1923 Noon UT |  2 pi 43 Rx |
23 Oct 1923 Noon UT |  2 pi 42 Rx |
24 Oct 1923 Noon UT |  2 pi 42    |
25 Oct 1923 Noon UT |  2 pi 43    |
26 Oct 1923 Noon UT |  2 pi 43    |
27 Oct 1923 Noon UT |  2 pi 44    |
28 Oct 1923 Noon UT |  2 pi 46    |
29 Oct 1923 Noon UT |  2 pi 47    |
30 Oct 1923 Noon UT |  2 pi 49    |
31 Oct 1923 Noon UT |  2 pi 51    |
01 Nov 1923 Noon UT |  2 pi 54    |
02 Nov 1923 Noon UT |  2 pi 56    |
03 Nov 1923 Noon UT |  2 pi 59    |
04 Nov 1923 Noon UT |  3 pi  3    |
05 Nov 1923 Noon UT |  3 pi  7    |
06 Nov 1923 Noon UT |  3 pi 10    |
07 Nov 1923 Noon UT |  3 pi 15    |
08 Nov 1923 Noon UT |  3 pi 19    |
09 Nov 1923 Noon UT |  3 pi 24    |
10 Nov 1923 Noon UT |  3 pi 29    |
11 Nov 1923 Noon UT |  3 pi 35    |
12 Nov 1923 Noon UT |  3 pi 41    |
13 Nov 1923 Noon UT |  3 pi 47    |
14 Nov 1923 Noon UT |  3 pi 53    |
15 Nov 1923 Noon UT |  3 pi 59    |
16 Nov 1923 Noon UT |  4 pi  6    |
17 Nov 1923 Noon UT |  4 pi 13    |
18 Nov 1923 Noon UT |  4 pi 21    |
19 Nov 1923 Noon UT |  4 pi 28    |
20 Nov 1923 Noon UT |  4 pi 36    |
21 Nov 1923 Noon UT |  4 pi 44    |
22 Nov 1923 Noon UT |  4 pi 53    |
23 Nov 1923 Noon UT |  5 pi  1    |
24 Nov 1923 Noon UT |  5 pi 10    |
25 Nov 1923 Noon UT |  5 pi 19    |
26 Nov 1923 Noon UT |  5 pi 28    |
27 Nov 1923 Noon UT |  5 pi 38    |
28 Nov 1923 Noon UT |  5 pi 48    |
29 Nov 1923 Noon UT |  5 pi 58    |
30 Nov 1923 Noon UT |  6 pi  8    |
01 Dec 1923 Noon UT |  6 pi 18    |
02 Dec 1923 Noon UT |  6 pi 29    |
03 Dec 1923 Noon UT |  6 pi 40    |
04 Dec 1923 Noon UT |  6 pi 51    |
05 Dec 1923 Noon UT |  7 pi  2    |
06 Dec 1923 Noon UT |  7 pi 14    |
07 Dec 1923 Noon UT |  7 pi 25    |
08 Dec 1923 Noon UT |  7 pi 37    |
09 Dec 1923 Noon UT |  7 pi 49    |
10 Dec 1923 Noon UT |  8 pi  2    |
11 Dec 1923 Noon UT |  8 pi 14    |
12 Dec 1923 Noon UT |  8 pi 27    |
13 Dec 1923 Noon UT |  8 pi 40    |
14 Dec 1923 Noon UT |  8 pi 53    |
15 Dec 1923 Noon UT |  9 pi  6    |
16 Dec 1923 Noon UT |  9 pi 19    |
17 Dec 1923 Noon UT |  9 pi 33    |
18 Dec 1923 Noon UT |  9 pi 47    |
19 Dec 1923 Noon UT | 10 pi  0    |
20 Dec 1923 Noon UT | 10 pi 14    |
21 Dec 1923 Noon UT | 10 pi 29    |
22 Dec 1923 Noon UT | 10 pi 43    |
23 Dec 1923 Noon UT | 10 pi 58    |
24 Dec 1923 Noon UT | 11 pi 12    |
25 Dec 1923 Noon UT | 11 pi 27    |
26 Dec 1923 Noon UT | 11 pi 42    |
27 Dec 1923 Noon UT | 11 pi 57    |
28 Dec 1923 Noon UT | 12 pi 12    |
29 Dec 1923 Noon UT | 12 pi 28    |
30 Dec 1923 Noon UT | 12 pi 43    |
31 Dec 1923 Noon UT | 12 pi 59    |
01 Jan 1924 Noon UT | 13 pi 15    |
02 Jan 1924 Noon UT | 13 pi 31    |
03 Jan 1924 Noon UT | 13 pi 47    |
04 Jan 1924 Noon UT | 14 pi  3    |
05 Jan 1924 Noon UT | 14 pi 19    |
06 Jan 1924 Noon UT | 14 pi 35    |
07 Jan 1924 Noon UT | 14 pi 52    |
08 Jan 1924 Noon UT | 15 pi  9    |
09 Jan 1924 Noon UT | 15 pi 25    |
10 Jan 1924 Noon UT | 15 pi 42    |
11 Jan 1924 Noon UT | 15 pi 59    |
12 Jan 1924 Noon UT | 16 pi 16    |
13 Jan 1924 Noon UT | 16 pi 34    |
14 Jan 1924 Noon UT | 16 pi 51    |
15 Jan 1924 Noon UT | 17 pi  8    |
16 Jan 1924 Noon UT | 17 pi 26    |
17 Jan 1924 Noon UT | 17 pi 43    |
18 Jan 1924 Noon UT | 18 pi  1    |
19 Jan 1924 Noon UT | 18 pi 19    |
20 Jan 1924 Noon UT | 18 pi 37    |
21 Jan 1924 Noon UT | 18 pi 55    |
22 Jan 1924 Noon UT | 19 pi 13    |
23 Jan 1924 Noon UT | 19 pi 31    |
24 Jan 1924 Noon UT | 19 pi 49    |
25 Jan 1924 Noon UT | 20 pi  7    |
26 Jan 1924 Noon UT | 20 pi 25    |
27 Jan 1924 Noon UT | 20 pi 44    |
28 Jan 1924 Noon UT | 21 pi  2    |
29 Jan 1924 Noon UT | 21 pi 21    |
30 Jan 1924 Noon UT | 21 pi 40    |
31 Jan 1924 Noon UT | 21 pi 58    |
01 Feb 1924 Noon UT | 22 pi 17    |
02 Feb 1924 Noon UT | 22 pi 36    |
03 Feb 1924 Noon UT | 22 pi 55    |
04 Feb 1924 Noon UT | 23 pi 14    |
05 Feb 1924 Noon UT | 23 pi 33    |
06 Feb 1924 Noon UT | 23 pi 52    |
07 Feb 1924 Noon UT | 24 pi 11    |
08 Feb 1924 Noon UT | 24 pi 31    |
09 Feb 1924 Noon UT | 24 pi 50    |
10 Feb 1924 Noon UT | 25 pi  9    |
11 Feb 1924 Noon UT | 25 pi 29    |
12 Feb 1924 Noon UT | 25 pi 48    |
13 Feb 1924 Noon UT | 26 pi  8    |
14 Feb 1924 Noon UT | 26 pi 27    |
15 Feb 1924 Noon UT | 26 pi 47    |
16 Feb 1924 Noon UT | 27 pi  6    |
17 Feb 1924 Noon UT | 27 pi 26    |
18 Feb 1924 Noon UT | 27 pi 46    |
19 Feb 1924 Noon UT | 28 pi  5    |
20 Feb 1924 Noon UT | 28 pi 25    |
21 Feb 1924 Noon UT | 28 pi 45    |
22 Feb 1924 Noon UT | 29 pi  5    |
23 Feb 1924 Noon UT | 29 pi 25    |
24 Feb 1924 Noon UT | 29 pi 45    |
25 Feb 1924 Noon UT |  0 ar  5    |
26 Feb 1924 Noon UT |  0 ar 25    |
27 Feb 1924 Noon UT |  0 ar 45    |
28 Feb 1924 Noon UT |  1 ar  5    |
29 Feb 1924 Noon UT |  1 ar 25    |
01 Mar 1924 Noon UT |  1 ar 45    |
02 Mar 1924 Noon UT |  2 ar  5    |
03 Mar 1924 Noon UT |  2 ar 26    |
04 Mar 1924 Noon UT |  2 ar 46    |
05 Mar 1924 Noon UT |  3 ar  6    |
06 Mar 1924 Noon UT |  3 ar 26    |
07 Mar 1924 Noon UT |  3 ar 47    |
08 Mar 1924 Noon UT |  4 ar  7    |
09 Mar 1924 Noon UT |  4 ar 27    |
10 Mar 1924 Noon UT |  4 ar 47    |
11 Mar 1924 Noon UT |  5 ar  8    |
12 Mar 1924 Noon UT |  5 ar 28    |
13 Mar 1924 Noon UT |  5 ar 49    |
14 Mar 1924 Noon UT |  6 ar  9    |
15 Mar 1924 Noon UT |  6 ar 29    |
16 Mar 1924 Noon UT |  6 ar 50    |
17 Mar 1924 Noon UT |  7 ar 10    |
18 Mar 1924 Noon UT |  7 ar 30    |
19 Mar 1924 Noon UT |  7 ar 51    |
20 Mar 1924 Noon UT |  8 ar 11    |
21 Mar 1924 Noon UT |  8 ar 32    |
22 Mar 1924 Noon UT |  8 ar 52    |
23 Mar 1924 Noon UT |  9 ar 13    |
24 Mar 1924 Noon UT |  9 ar 33    |
25 Mar 1924 Noon UT |  9 ar 53    |
26 Mar 1924 Noon UT | 10 ar 14    |
27 Mar 1924 Noon UT | 10 ar 34    |
28 Mar 1924 Noon UT | 10 ar 55    |
29 Mar 1924 Noon UT | 11 ar 15    |
30 Mar 1924 Noon UT | 11 ar 36    |
31 Mar 1924 Noon UT | 11 ar 56    |
01 Apr 1924 Noon UT | 12 ar 17    |
02 Apr 1924 Noon UT | 12 ar 37    |
03 Apr 1924 Noon UT | 12 ar 57    |
04 Apr 1924 Noon UT | 13 ar 18    |
05 Apr 1924 Noon UT | 13 ar 38    |
06 Apr 1924 Noon UT | 13 ar 58    |
07 Apr 1924 Noon UT | 14 ar 19    |
08 Apr 1924 Noon UT | 14 ar 39    |
09 Apr 1924 Noon UT | 14 ar 59    |
10 Apr 1924 Noon UT | 15 ar 20    |
11 Apr 1924 Noon UT | 15 ar 40    |
12 Apr 1924 Noon UT | 16 ar  0    |
13 Apr 1924 Noon UT | 16 ar 21    |
14 Apr 1924 Noon UT | 16 ar 41    |
15 Apr 1924 Noon UT | 17 ar  1    |
16 Apr 1924 Noon UT | 17 ar 21    |
17 Apr 1924 Noon UT | 17 ar 41    |
18 Apr 1924 Noon UT | 18 ar  2    |
19 Apr 1924 Noon UT | 18 ar 22    |
20 Apr 1924 Noon UT | 18 ar 42    |
21 Apr 1924 Noon UT | 19 ar  2    |
22 Apr 1924 Noon UT | 19 ar 22    |
23 Apr 1924 Noon UT | 19 ar 42    |
24 Apr 1924 Noon UT | 20 ar  2    |
25 Apr 1924 Noon UT | 20 ar 22    |
26 Apr 1924 Noon UT | 20 ar 42    |
27 Apr 1924 Noon UT | 21 ar  2    |
28 Apr 1924 Noon UT | 21 ar 22    |
29 Apr 1924 Noon UT | 21 ar 41    |
30 Apr 1924 Noon UT | 22 ar  1    |
01 May 1924 Noon UT | 22 ar 21    |
02 May 1924 Noon UT | 22 ar 41    |
03 May 1924 Noon UT | 23 ar  0    |
04 May 1924 Noon UT | 23 ar 20    |
05 May 1924 Noon UT | 23 ar 40    |
06 May 1924 Noon UT | 23 ar 59    |
07 May 1924 Noon UT | 24 ar 19    |
08 May 1924 Noon UT | 24 ar 38    |
09 May 1924 Noon UT | 24 ar 58    |
10 May 1924 Noon UT | 25 ar 17    |
11 May 1924 Noon UT | 25 ar 36    |
12 May 1924 Noon UT | 25 ar 56    |
13 May 1924 Noon UT | 26 ar 15    |
14 May 1924 Noon UT | 26 ar 34    |
15 May 1924 Noon UT | 26 ar 53    |
16 May 1924 Noon UT | 27 ar 12    |
17 May 1924 Noon UT | 27 ar 31    |
18 May 1924 Noon UT | 27 ar 50    |
19 May 1924 Noon UT | 28 ar  9    |
20 May 1924 Noon UT | 28 ar 28    |
21 May 1924 Noon UT | 28 ar 47    |
22 May 1924 Noon UT | 29 ar  6    |
23 May 1924 Noon UT | 29 ar 24    |
24 May 1924 Noon UT | 29 ar 43    |
25 May 1924 Noon UT |  0 ta  2    |
26 May 1924 Noon UT |  0 ta 20    |
27 May 1924 Noon UT |  0 ta 39    |
28 May 1924 Noon UT |  0 ta 57    |
29 May 1924 Noon UT |  1 ta 15    |
30 May 1924 Noon UT |  1 ta 34    |
31 May 1924 Noon UT |  1 ta 52    |
01 Jun 1924 Noon UT |  2 ta 10    |
02 Jun 1924 Noon UT |  2 ta 28    |
03 Jun 1924 Noon UT |  2 ta 46    |
04 Jun 1924 Noon UT |  3 ta  4    |
05 Jun 1924 Noon UT |  3 ta 22    |
06 Jun 1924 Noon UT |  3 ta 39    |
07 Jun 1924 Noon UT |  3 ta 57    |
08 Jun 1924 Noon UT |  4 ta 15    |
09 Jun 1924 Noon UT |  4 ta 32    |
10 Jun 1924 Noon UT |  4 ta 49    |
11 Jun 1924 Noon UT |  5 ta  7    |
12 Jun 1924 Noon UT |  5 ta 24    |
13 Jun 1924 Noon UT |  5 ta 41    |
14 Jun 1924 Noon UT |  5 ta 58    |
15 Jun 1924 Noon UT |  6 ta 15    |
16 Jun 1924 Noon UT |  6 ta 32    |
17 Jun 1924 Noon UT |  6 ta 49    |
18 Jun 1924 Noon UT |  7 ta  6    |
19 Jun 1924 Noon UT |  7 ta 22    |
20 Jun 1924 Noon UT |  7 ta 39    |
21 Jun 1924 Noon UT |  7 ta 55    |
22 Jun 1924 Noon UT |  8 ta 11    |
23 Jun 1924 Noon UT |  8 ta 28    |
24 Jun 1924 Noon UT |  8 ta 44    |
25 Jun 1924 Noon UT |  9 ta  0    |
26 Jun 1924 Noon UT |  9 ta 15    |
27 Jun 1924 Noon UT |  9 ta 31    |
28 Jun 1924 Noon UT |  9 ta 47    |
29 Jun 1924 Noon UT | 10 ta  2    |
30 Jun 1924 Noon UT | 10 ta 18    |
01 Jul 1924 Noon UT | 10 ta 33    |
02 Jul 1924 Noon UT | 10 ta 48    |
03 Jul 1924 Noon UT | 11 ta  3    |
04 Jul 1924 Noon UT | 11 ta 18    |
05 Jul 1924 Noon UT | 11 ta 33    |
06 Jul 1924 Noon UT | 11 ta 48    |
07 Jul 1924 Noon UT | 12 ta  3    |
08 Jul 1924 Noon UT | 12 ta 17    |
09 Jul 1924 Noon UT | 12 ta 31    |
10 Jul 1924 Noon UT | 12 ta 45    |
11 Jul 1924 Noon UT | 12 ta 59    |
12 Jul 1924 Noon UT | 13 ta 13    |
13 Jul 1924 Noon UT | 13 ta 27    |
14 Jul 1924 Noon UT | 13 ta 41    |
15 Jul 1924 Noon UT | 13 ta 54    |
16 Jul 1924 Noon UT | 14 ta  7    |
17 Jul 1924 Noon UT | 14 ta 21    |
18 Jul 1924 Noon UT | 14 ta 34    |
19 Jul 1924 Noon UT | 14 ta 46    |
20 Jul 1924 Noon UT | 14 ta 59    |
21 Jul 1924 Noon UT | 15 ta 12    |
22 Jul 1924 Noon UT | 15 ta 24    |
23 Jul 1924 Noon UT | 15 ta 36    |
24 Jul 1924 Noon UT | 15 ta 48    |
25 Jul 1924 Noon UT | 16 ta  0    |
26 Jul 1924 Noon UT | 16 ta 12    |
27 Jul 1924 Noon UT | 16 ta 23    |
28 Jul 1924 Noon UT | 16 ta 35    |
29 Jul 1924 Noon UT | 16 ta 46    |
30 Jul 1924 Noon UT | 16 ta 57    |
31 Jul 1924 Noon UT | 17 ta  8    |
01 Aug 1924 Noon UT | 17 ta 18    |
02 Aug 1924 Noon UT | 17 ta 29    |
03 Aug 1924 Noon UT | 17 ta 39    |
04 Aug 1924 Noon UT | 17 ta 49    |
05 Aug 1924 Noon UT | 17 ta 59    |
06 Aug 1924 Noon UT | 18 ta  8    |
07 Aug 1924 Noon UT | 18 ta 18    |
08 Aug 1924 Noon UT | 18 ta 27    |
09 Aug 1924 Noon UT | 18 ta 36    |
10 Aug 1924 Noon UT | 18 ta 45    |
11 Aug 1924 Noon UT | 18 ta 53    |
12 Aug 1924 Noon UT | 19 ta  2    |
13 Aug 1924 Noon UT | 19 ta 10    |
14 Aug 1924 Noon UT | 19 ta 18    |
15 Aug 1924 Noon UT | 19 ta 25    |
16 Aug 1924 Noon UT | 19 ta 33    |
17 Aug 1924 Noon UT | 19 ta 40    |
18 Aug 1924 Noon UT | 19 ta 47    |
19 Aug 1924 Noon UT | 19 ta 54    |
20 Aug 1924 Noon UT | 20 ta  0    |
21 Aug 1924 Noon UT | 20 ta  7    |
22 Aug 1924 Noon UT | 20 ta 13    |
23 Aug 1924 Noon UT | 20 ta 18    |
24 Aug 1924 Noon UT | 20 ta 24    |
25 Aug 1924 Noon UT | 20 ta 29    |
26 Aug 1924 Noon UT | 20 ta 34    |
27 Aug 1924 Noon UT | 20 ta 39    |
28 Aug 1924 Noon UT | 20 ta 43    |
29 Aug 1924 Noon UT | 20 ta 47    |
30 Aug 1924 Noon UT | 20 ta 51    |
31 Aug 1924 Noon UT | 20 ta 55    |
01 Sep 1924 Noon UT | 20 ta 58    |
02 Sep 1924 Noon UT | 21 ta  1    |
03 Sep 1924 Noon UT | 21 ta  4    |
04 Sep 1924 Noon UT | 21 ta  7    |
05 Sep 1924 Noon UT | 21 ta  9    |
06 Sep 1924 Noon UT | 21 ta 11    |
07 Sep 1924 Noon UT | 21 ta 13    |
08 Sep 1924 Noon UT | 21 ta 14    |
09 Sep 1924 Noon UT | 21 ta 15    |
10 Sep 1924 Noon UT | 21 ta 16    |
11 Sep 1924 Noon UT | 21 ta 16    |
12 Sep 1924 Noon UT | 21 ta 17    |
13 Sep 1924 Noon UT | 21 ta 16 Rx |
14 Sep 1924 Noon UT | 21 ta 16 Rx |
15 Sep 1924 Noon UT | 21 ta 15 Rx |
16 Sep 1924 Noon UT | 21 ta 14 Rx |
17 Sep 1924 Noon UT | 21 ta 13 Rx |
18 Sep 1924 Noon UT | 21 ta 11 Rx |
19 Sep 1924 Noon UT | 21 ta 10 Rx |
20 Sep 1924 Noon UT | 21 ta  7 Rx |
21 Sep 1924 Noon UT | 21 ta  5 Rx |
22 Sep 1924 Noon UT | 21 ta  2 Rx |
23 Sep 1924 Noon UT | 20 ta 59 Rx |
24 Sep 1924 Noon UT | 20 ta 55 Rx |
25 Sep 1924 Noon UT | 20 ta 52 Rx |
26 Sep 1924 Noon UT | 20 ta 48 Rx |
27 Sep 1924 Noon UT | 20 ta 43 Rx |
28 Sep 1924 Noon UT | 20 ta 39 Rx |
29 Sep 1924 Noon UT | 20 ta 34 Rx |
30 Sep 1924 Noon UT | 20 ta 28 Rx |
01 Oct 1924 Noon UT | 20 ta 23 Rx |
02 Oct 1924 Noon UT | 20 ta 17 Rx |
03 Oct 1924 Noon UT | 20 ta 11 Rx |
04 Oct 1924 Noon UT | 20 ta  4 Rx |
05 Oct 1924 Noon UT | 19 ta 58 Rx |
06 Oct 1924 Noon UT | 19 ta 51 Rx |
07 Oct 1924 Noon UT | 19 ta 44 Rx |
08 Oct 1924 Noon UT | 19 ta 36 Rx |
09 Oct 1924 Noon UT | 19 ta 28 Rx |
10 Oct 1924 Noon UT | 19 ta 20 Rx |
11 Oct 1924 Noon UT | 19 ta 12 Rx |
12 Oct 1924 Noon UT | 19 ta  4 Rx |
13 Oct 1924 Noon UT | 18 ta 55 Rx |
14 Oct 1924 Noon UT | 18 ta 46 Rx |
15 Oct 1924 Noon UT | 18 ta 37 Rx |
16 Oct 1924 Noon UT | 18 ta 27 Rx |
17 Oct 1924 Noon UT | 18 ta 18 Rx |
18 Oct 1924 Noon UT | 18 ta  8 Rx |
19 Oct 1924 Noon UT | 17 ta 58 Rx |
20 Oct 1924 Noon UT | 17 ta 48 Rx |
21 Oct 1924 Noon UT | 17 ta 37 Rx |
22 Oct 1924 Noon UT | 17 ta 27 Rx |
23 Oct 1924 Noon UT | 17 ta 16 Rx |
24 Oct 1924 Noon UT | 17 ta  5 Rx |
25 Oct 1924 Noon UT | 16 ta 54 Rx |
26 Oct 1924 Noon UT | 16 ta 43 Rx |
27 Oct 1924 Noon UT | 16 ta 31 Rx |
28 Oct 1924 Noon UT | 16 ta 20 Rx |
29 Oct 1924 Noon UT | 16 ta  8 Rx |
30 Oct 1924 Noon UT | 15 ta 57 Rx |
31 Oct 1924 Noon UT | 15 ta 45 Rx |
01 Nov 1924 Noon UT | 15 ta 33 Rx |
02 Nov 1924 Noon UT | 15 ta 21 Rx |
03 Nov 1924 Noon UT | 15 ta  9 Rx |
04 Nov 1924 Noon UT | 14 ta 58 Rx |
05 Nov 1924 Noon UT | 14 ta 46 Rx |
06 Nov 1924 Noon UT | 14 ta 34 Rx |
07 Nov 1924 Noon UT | 14 ta 22 Rx |
08 Nov 1924 Noon UT | 14 ta 10 Rx |
09 Nov 1924 Noon UT | 13 ta 58 Rx |
10 Nov 1924 Noon UT | 13 ta 46 Rx |
11 Nov 1924 Noon UT | 13 ta 34 Rx |
12 Nov 1924 Noon UT | 13 ta 22 Rx |
13 Nov 1924 Noon UT | 13 ta 10 Rx |
14 Nov 1924 Noon UT | 12 ta 59 Rx |
15 Nov 1924 Noon UT | 12 ta 47 Rx |
16 Nov 1924 Noon UT | 12 ta 36 Rx |
17 Nov 1924 Noon UT | 12 ta 24 Rx |
18 Nov 1924 Noon UT | 12 ta 13 Rx |
19 Nov 1924 Noon UT | 12 ta  2 Rx |
20 Nov 1924 Noon UT | 11 ta 51 Rx |
21 Nov 1924 Noon UT | 11 ta 40 Rx |
22 Nov 1924 Noon UT | 11 ta 29 Rx |
23 Nov 1924 Noon UT | 11 ta 19 Rx |
24 Nov 1924 Noon UT | 11 ta  8 Rx |
25 Nov 1924 Noon UT | 10 ta 58 Rx |
26 Nov 1924 Noon UT | 10 ta 48 Rx |
27 Nov 1924 Noon UT | 10 ta 39 Rx |
28 Nov 1924 Noon UT | 10 ta 29 Rx |
29 Nov 1924 Noon UT | 10 ta 20 Rx |
30 Nov 1924 Noon UT | 10 ta 11 Rx |
01 Dec 1924 Noon UT | 10 ta  2 Rx |
02 Dec 1924 Noon UT |  9 ta 53 Rx |
03 Dec 1924 Noon UT |  9 ta 45 Rx |
04 Dec 1924 Noon UT |  9 ta 37 Rx |
05 Dec 1924 Noon UT |  9 ta 29 Rx |
06 Dec 1924 Noon UT |  9 ta 21 Rx |
07 Dec 1924 Noon UT |  9 ta 14 Rx |
08 Dec 1924 Noon UT |  9 ta  7 Rx |
09 Dec 1924 Noon UT |  9 ta  0 Rx |
10 Dec 1924 Noon UT |  8 ta 54 Rx |
11 Dec 1924 Noon UT |  8 ta 48 Rx |
12 Dec 1924 Noon UT |  8 ta 42 Rx |
13 Dec 1924 Noon UT |  8 ta 36 Rx |
14 Dec 1924 Noon UT |  8 ta 31 Rx |
15 Dec 1924 Noon UT |  8 ta 26 Rx |
16 Dec 1924 Noon UT |  8 ta 21 Rx |
17 Dec 1924 Noon UT |  8 ta 17 Rx |
18 Dec 1924 Noon UT |  8 ta 13 Rx |
19 Dec 1924 Noon UT |  8 ta  9 Rx |
20 Dec 1924 Noon UT |  8 ta  5 Rx |
21 Dec 1924 Noon UT |  8 ta  2 Rx |
22 Dec 1924 Noon UT |  7 ta 59 Rx |
23 Dec 1924 Noon UT |  7 ta 57 Rx |
24 Dec 1924 Noon UT |  7 ta 55 Rx |
25 Dec 1924 Noon UT |  7 ta 53 Rx |
26 Dec 1924 Noon UT |  7 ta 51 Rx |
27 Dec 1924 Noon UT |  7 ta 50 Rx |
28 Dec 1924 Noon UT |  7 ta 49 Rx |
29 Dec 1924 Noon UT |  7 ta 48 Rx |
30 Dec 1924 Noon UT |  7 ta 48 Rx |
31 Dec 1924 Noon UT |  7 ta 48    |
01 Jan 1925 Noon UT |  7 ta 48    |
02 Jan 1925 Noon UT |  7 ta 49    |
03 Jan 1925 Noon UT |  7 ta 50    |
04 Jan 1925 Noon UT |  7 ta 51    |
05 Jan 1925 Noon UT |  7 ta 52    |
06 Jan 1925 Noon UT |  7 ta 54    |
07 Jan 1925 Noon UT |  7 ta 56    |
08 Jan 1925 Noon UT |  7 ta 59    |
09 Jan 1925 Noon UT |  8 ta  1    |
10 Jan 1925 Noon UT |  8 ta  4    |
11 Jan 1925 Noon UT |  8 ta  8    |
12 Jan 1925 Noon UT |  8 ta 11    |
13 Jan 1925 Noon UT |  8 ta 15    |
14 Jan 1925 Noon UT |  8 ta 19    |
15 Jan 1925 Noon UT |  8 ta 24    |
16 Jan 1925 Noon UT |  8 ta 28    |
17 Jan 1925 Noon UT |  8 ta 33    |
18 Jan 1925 Noon UT |  8 ta 39    |
19 Jan 1925 Noon UT |  8 ta 44    |
20 Jan 1925 Noon UT |  8 ta 50    |
21 Jan 1925 Noon UT |  8 ta 56    |
22 Jan 1925 Noon UT |  9 ta  2    |
23 Jan 1925 Noon UT |  9 ta  9    |
24 Jan 1925 Noon UT |  9 ta 16    |
25 Jan 1925 Noon UT |  9 ta 23    |
26 Jan 1925 Noon UT |  9 ta 30    |
27 Jan 1925 Noon UT |  9 ta 37    |
28 Jan 1925 Noon UT |  9 ta 45    |
29 Jan 1925 Noon UT |  9 ta 53    |
30 Jan 1925 Noon UT | 10 ta  2    |
31 Jan 1925 Noon UT | 10 ta 10    |
01 Feb 1925 Noon UT | 10 ta 19    |
02 Feb 1925 Noon UT | 10 ta 28    |
03 Feb 1925 Noon UT | 10 ta 37    |
04 Feb 1925 Noon UT | 10 ta 46    |
05 Feb 1925 Noon UT | 10 ta 56    |
06 Feb 1925 Noon UT | 11 ta  6    |
07 Feb 1925 Noon UT | 11 ta 16    |
08 Feb 1925 Noon UT | 11 ta 26    |
09 Feb 1925 Noon UT | 11 ta 36    |
10 Feb 1925 Noon UT | 11 ta 47    |
11 Feb 1925 Noon UT | 11 ta 58    |
12 Feb 1925 Noon UT | 12 ta  9    |
13 Feb 1925 Noon UT | 12 ta 20    |
14 Feb 1925 Noon UT | 12 ta 31    |
15 Feb 1925 Noon UT | 12 ta 43    |
16 Feb 1925 Noon UT | 12 ta 55    |
17 Feb 1925 Noon UT | 13 ta  7    |
18 Feb 1925 Noon UT | 13 ta 19    |
19 Feb 1925 Noon UT | 13 ta 31    |
20 Feb 1925 Noon UT | 13 ta 44    |
21 Feb 1925 Noon UT | 13 ta 56    |
22 Feb 1925 Noon UT | 14 ta  9    |
23 Feb 1925 Noon UT | 14 ta 22    |
24 Feb 1925 Noon UT | 14 ta 35    |
25 Feb 1925 Noon UT | 14 ta 48    |
26 Feb 1925 Noon UT | 15 ta  2    |
27 Feb 1925 Noon UT | 15 ta 15    |
28 Feb 1925 Noon UT | 15 ta 29    |
01 Mar 1925 Noon UT | 15 ta 43    |
02 Mar 1925 Noon UT | 15 ta 57    |
03 Mar 1925 Noon UT | 16 ta 11    |
04 Mar 1925 Noon UT | 16 ta 26    |
05 Mar 1925 Noon UT | 16 ta 40    |
06 Mar 1925 Noon UT | 16 ta 55    |
07 Mar 1925 Noon UT | 17 ta  9    |
08 Mar 1925 Noon UT | 17 ta 24    |
09 Mar 1925 Noon UT | 17 ta 39    |
10 Mar 1925 Noon UT | 17 ta 54    |
11 Mar 1925 Noon UT | 18 ta  9    |
12 Mar 1925 Noon UT | 18 ta 25    |
13 Mar 1925 Noon UT | 18 ta 40    |
14 Mar 1925 Noon UT | 18 ta 56    |
15 Mar 1925 Noon UT | 19 ta 11    |
16 Mar 1925 Noon UT | 19 ta 27    |
17 Mar 1925 Noon UT | 19 ta 43    |
18 Mar 1925 Noon UT | 19 ta 59    |
19 Mar 1925 Noon UT | 20 ta 15    |
20 Mar 1925 Noon UT | 20 ta 31    |
21 Mar 1925 Noon UT | 20 ta 48    |
22 Mar 1925 Noon UT | 21 ta  4    |
23 Mar 1925 Noon UT | 21 ta 21    |
24 Mar 1925 Noon UT | 21 ta 37    |
25 Mar 1925 Noon UT | 21 ta 54    |
26 Mar 1925 Noon UT | 22 ta 11    |
27 Mar 1925 Noon UT | 22 ta 28    |
28 Mar 1925 Noon UT | 22 ta 45    |
29 Mar 1925 Noon UT | 23 ta  2    |
30 Mar 1925 Noon UT | 23 ta 19    |
31 Mar 1925 Noon UT | 23 ta 36    |
01 Apr 1925 Noon UT | 23 ta 53    |
02 Apr 1925 Noon UT | 24 ta 11    |
03 Apr 1925 Noon UT | 24 ta 28    |
04 Apr 1925 Noon UT | 24 ta 46    |
05 Apr 1925 Noon UT | 25 ta  3    |
06 Apr 1925 Noon UT | 25 ta 21    |
07 Apr 1925 Noon UT | 25 ta 39    |
08 Apr 1925 Noon UT | 25 ta 57    |
09 Apr 1925 Noon UT | 26 ta 14    |
10 Apr 1925 Noon UT | 26 ta 32    |
11 Apr 1925 Noon UT | 26 ta 50    |
12 Apr 1925 Noon UT | 27 ta  8    |
13 Apr 1925 Noon UT | 27 ta 27    |
14 Apr 1925 Noon UT | 27 ta 45    |
15 Apr 1925 Noon UT | 28 ta  3    |
16 Apr 1925 Noon UT | 28 ta 21    |
17 Apr 1925 Noon UT | 28 ta 40    |
18 Apr 1925 Noon UT | 28 ta 58    |
19 Apr 1925 Noon UT | 29 ta 17    |
20 Apr 1925 Noon UT | 29 ta 35    |
21 Apr 1925 Noon UT | 29 ta 54    |
22 Apr 1925 Noon UT |  0 ge 13    |
23 Apr 1925 Noon UT |  0 ge 31    |
24 Apr 1925 Noon UT |  0 ge 50    |
25 Apr 1925 Noon UT |  1 ge  9    |
26 Apr 1925 Noon UT |  1 ge 28    |
27 Apr 1925 Noon UT |  1 ge 46    |
28 Apr 1925 Noon UT |  2 ge  5    |
29 Apr 1925 Noon UT |  2 ge 24    |
30 Apr 1925 Noon UT |  2 ge 43    |
01 May 1925 Noon UT |  3 ge  2    |
02 May 1925 Noon UT |  3 ge 22    |
03 May 1925 Noon UT |  3 ge 41    |
04 May 1925 Noon UT |  4 ge  0    |
05 May 1925 Noon UT |  4 ge 19    |
06 May 1925 Noon UT |  4 ge 38    |
07 May 1925 Noon UT |  4 ge 57    |
08 May 1925 Noon UT |  5 ge 17    |
09 May 1925 Noon UT |  5 ge 36    |
10 May 1925 Noon UT |  5 ge 55    |
11 May 1925 Noon UT |  6 ge 15    |
12 May 1925 Noon UT |  6 ge 34    |
13 May 1925 Noon UT |  6 ge 54    |
14 May 1925 Noon UT |  7 ge 13    |
15 May 1925 Noon UT |  7 ge 32    |
16 May 1925 Noon UT |  7 ge 52    |
17 May 1925 Noon UT |  8 ge 11    |
18 May 1925 Noon UT |  8 ge 31    |
19 May 1925 Noon UT |  8 ge 51    |
20 May 1925 Noon UT |  9 ge 10    |
21 May 1925 Noon UT |  9 ge 30    |
22 May 1925 Noon UT |  9 ge 49    |
23 May 1925 Noon UT | 10 ge  9    |
24 May 1925 Noon UT | 10 ge 29    |
25 May 1925 Noon UT | 10 ge 48    |
26 May 1925 Noon UT | 11 ge  8    |
27 May 1925 Noon UT | 11 ge 28    |
28 May 1925 Noon UT | 11 ge 47    |
29 May 1925 Noon UT | 12 ge  7    |
30 May 1925 Noon UT | 12 ge 27    |
31 May 1925 Noon UT | 12 ge 46    |
01 Jun 1925 Noon UT | 13 ge  6    |
02 Jun 1925 Noon UT | 13 ge 26    |
03 Jun 1925 Noon UT | 13 ge 46    |
04 Jun 1925 Noon UT | 14 ge  5    |
05 Jun 1925 Noon UT | 14 ge 25    |
06 Jun 1925 Noon UT | 14 ge 45    |
07 Jun 1925 Noon UT | 15 ge  5    |
08 Jun 1925 Noon UT | 15 ge 24    |
09 Jun 1925 Noon UT | 15 ge 44    |
10 Jun 1925 Noon UT | 16 ge  4    |
11 Jun 1925 Noon UT | 16 ge 24    |
12 Jun 1925 Noon UT | 16 ge 43    |
13 Jun 1925 Noon UT | 17 ge  3    |
14 Jun 1925 Noon UT | 17 ge 23    |
15 Jun 1925 Noon UT | 17 ge 43    |
16 Jun 1925 Noon UT | 18 ge  2    |
17 Jun 1925 Noon UT | 18 ge 22    |
18 Jun 1925 Noon UT | 18 ge 42    |
19 Jun 1925 Noon UT | 19 ge  1    |
20 Jun 1925 Noon UT | 19 ge 21    |
21 Jun 1925 Noon UT | 19 ge 41    |
22 Jun 1925 Noon UT | 20 ge  1    |
23 Jun 1925 Noon UT | 20 ge 20    |
24 Jun 1925 Noon UT | 20 ge 40    |
25 Jun 1925 Noon UT | 20 ge 59    |
26 Jun 1925 Noon UT | 21 ge 19    |
27 Jun 1925 Noon UT | 21 ge 39    |
28 Jun 1925 Noon UT | 21 ge 58    |
29 Jun 1925 Noon UT | 22 ge 18    |
30 Jun 1925 Noon UT | 22 ge 37    |
01 Jul 1925 Noon UT | 22 ge 57    |
02 Jul 1925 Noon UT | 23 ge 16    |
03 Jul 1925 Noon UT | 23 ge 36    |
04 Jul 1925 Noon UT | 23 ge 55    |
05 Jul 1925 Noon UT | 24 ge 15    |
06 Jul 1925 Noon UT | 24 ge 34    |
07 Jul 1925 Noon UT | 24 ge 54    |
08 Jul 1925 Noon UT | 25 ge 13    |
09 Jul 1925 Noon UT | 25 ge 32    |
10 Jul 1925 Noon UT | 25 ge 52    |
11 Jul 1925 Noon UT | 26 ge 11    |
12 Jul 1925 Noon UT | 26 ge 30    |
13 Jul 1925 Noon UT | 26 ge 49    |
14 Jul 1925 Noon UT | 27 ge  8    |
15 Jul 1925 Noon UT | 27 ge 28    |
16 Jul 1925 Noon UT | 27 ge 47    |
17 Jul 1925 Noon UT | 28 ge  6    |
18 Jul 1925 Noon UT | 28 ge 25    |
19 Jul 1925 Noon UT | 28 ge 44    |
20 Jul 1925 Noon UT | 29 ge  3    |
21 Jul 1925 Noon UT | 29 ge 22    |
22 Jul 1925 Noon UT | 29 ge 41    |
23 Jul 1925 Noon UT | 29 ge 59    |
24 Jul 1925 Noon UT |  0 cn 18    |
25 Jul 1925 Noon UT |  0 cn 37    |
26 Jul 1925 Noon UT |  0 cn 56    |
27 Jul 1925 Noon UT |  1 cn 14    |
28 Jul 1925 Noon UT |  1 cn 33    |
29 Jul 1925 Noon UT |  1 cn 52    |
30 Jul 1925 Noon UT |  2 cn 10    |
31 Jul 1925 Noon UT |  2 cn 28    |
01 Aug 1925 Noon UT |  2 cn 47    |
02 Aug 1925 Noon UT |  3 cn  5    |
03 Aug 1925 Noon UT |  3 cn 23    |
04 Aug 1925 Noon UT |  3 cn 42    |
05 Aug 1925 Noon UT |  4 cn  0    |
06 Aug 1925 Noon UT |  4 cn 18    |
07 Aug 1925 Noon UT |  4 cn 36    |
08 Aug 1925 Noon UT |  4 cn 54    |
09 Aug 1925 Noon UT |  5 cn 12    |
10 Aug 1925 Noon UT |  5 cn 30    |
11 Aug 1925 Noon UT |  5 cn 48    |
12 Aug 1925 Noon UT |  6 cn  5    |
13 Aug 1925 Noon UT |  6 cn 23    |
14 Aug 1925 Noon UT |  6 cn 41    |
15 Aug 1925 Noon UT |  6 cn 58    |
16 Aug 1925 Noon UT |  7 cn 15    |
17 Aug 1925 Noon UT |  7 cn 33    |
18 Aug 1925 Noon UT |  7 cn 50    |
19 Aug 1925 Noon UT |  8 cn  7    |
20 Aug 1925 Noon UT |  8 cn 24    |
21 Aug 1925 Noon UT |  8 cn 41    |
22 Aug 1925 Noon UT |  8 cn 58    |
23 Aug 1925 Noon UT |  9 cn 15    |
24 Aug 1925 Noon UT |  9 cn 32    |
25 Aug 1925 Noon UT |  9 cn 49    |
26 Aug 1925 Noon UT | 10 cn  5    |
27 Aug 1925 Noon UT | 10 cn 22    |
28 Aug 1925 Noon UT | 10 cn 38    |
29 Aug 1925 Noon UT | 10 cn 54    |
30 Aug 1925 Noon UT | 11 cn 11    |
31 Aug 1925 Noon UT | 11 cn 27    |
01 Sep 1925 Noon UT | 11 cn 43    |
02 Sep 1925 Noon UT | 11 cn 59    |
03 Sep 1925 Noon UT | 12 cn 14    |
04 Sep 1925 Noon UT | 12 cn 30    |
05 Sep 1925 Noon UT | 12 cn 46    |
06 Sep 1925 Noon UT | 13 cn  1    |
07 Sep 1925 Noon UT | 13 cn 16    |
08 Sep 1925 Noon UT | 13 cn 32    |
09 Sep 1925 Noon UT | 13 cn 47    |
10 Sep 1925 Noon UT | 14 cn  2    |
11 Sep 1925 Noon UT | 14 cn 17    |
12 Sep 1925 Noon UT | 14 cn 31    |
13 Sep 1925 Noon UT | 14 cn 46    |
14 Sep 1925 Noon UT | 15 cn  0    |
15 Sep 1925 Noon UT | 15 cn 15    |
16 Sep 1925 Noon UT | 15 cn 29    |
17 Sep 1925 Noon UT | 15 cn 43    |
18 Sep 1925 Noon UT | 15 cn 57    |
19 Sep 1925 Noon UT | 16 cn 11    |
20 Sep 1925 Noon UT | 16 cn 24    |
21 Sep 1925 Noon UT | 16 cn 38    |
22 Sep 1925 Noon UT | 16 cn 51    |
23 Sep 1925 Noon UT | 17 cn  4    |
24 Sep 1925 Noon UT | 17 cn 17    |
25 Sep 1925 Noon UT | 17 cn 30    |
26 Sep 1925 Noon UT | 17 cn 43    |
27 Sep 1925 Noon UT | 17 cn 55    |
28 Sep 1925 Noon UT | 18 cn  8    |
29 Sep 1925 Noon UT | 18 cn 20    |
30 Sep 1925 Noon UT | 18 cn 32    |
01 Oct 1925 Noon UT | 18 cn 44    |
02 Oct 1925 Noon UT | 18 cn 55    |
03 Oct 1925 Noon UT | 19 cn  7    |
04 Oct 1925 Noon UT | 19 cn 18    |
05 Oct 1925 Noon UT | 19 cn 29    |
06 Oct 1925 Noon UT | 19 cn 40    |
07 Oct 1925 Noon UT | 19 cn 51    |
08 Oct 1925 Noon UT | 20 cn  1    |
09 Oct 1925 Noon UT | 20 cn 12    |
10 Oct 1925 Noon UT | 20 cn 22    |
11 Oct 1925 Noon UT | 20 cn 32    |
12 Oct 1925 Noon UT | 20 cn 41    |
13 Oct 1925 Noon UT | 20 cn 51    |
14 Oct 1925 Noon UT | 21 cn  0    |
15 Oct 1925 Noon UT | 21 cn  9    |
16 Oct 1925 Noon UT | 21 cn 18    |
17 Oct 1925 Noon UT | 21 cn 26    |
18 Oct 1925 Noon UT | 21 cn 35    |
19 Oct 1925 Noon UT | 21 cn 43    |
20 Oct 1925 Noon UT | 21 cn 51    |
21 Oct 1925 Noon UT | 21 cn 58    |
22 Oct 1925 Noon UT | 22 cn  6    |
23 Oct 1925 Noon UT | 22 cn 13    |
24 Oct 1925 Noon UT | 22 cn 20    |
25 Oct 1925 Noon UT | 22 cn 26    |
26 Oct 1925 Noon UT | 22 cn 33    |
27 Oct 1925 Noon UT | 22 cn 39    |
28 Oct 1925 Noon UT | 22 cn 45    |
29 Oct 1925 Noon UT | 22 cn 50    |
30 Oct 1925 Noon UT | 22 cn 56    |
31 Oct 1925 Noon UT | 23 cn  1    |
01 Nov 1925 Noon UT | 23 cn  5    |
02 Nov 1925 Noon UT | 23 cn 10    |
03 Nov 1925 Noon UT | 23 cn 14    |
04 Nov 1925 Noon UT | 23 cn 18    |
05 Nov 1925 Noon UT | 23 cn 22    |
06 Nov 1925 Noon UT | 23 cn 25    |
07 Nov 1925 Noon UT | 23 cn 28    |
08 Nov 1925 Noon UT | 23 cn 31    |
09 Nov 1925 Noon UT | 23 cn 33    |
10 Nov 1925 Noon UT | 23 cn 35    |
11 Nov 1925 Noon UT | 23 cn 37    |
12 Nov 1925 Noon UT | 23 cn 38    |
13 Nov 1925 Noon UT | 23 cn 40    |
14 Nov 1925 Noon UT | 23 cn 40    |
15 Nov 1925 Noon UT | 23 cn 41    |
16 Nov 1925 Noon UT | 23 cn 41    |
17 Nov 1925 Noon UT | 23 cn 41 Rx |
18 Nov 1925 Noon UT | 23 cn 41 Rx |
19 Nov 1925 Noon UT | 23 cn 40 Rx |
20 Nov 1925 Noon UT | 23 cn 39 Rx |
21 Nov 1925 Noon UT | 23 cn 38 Rx |
22 Nov 1925 Noon UT | 23 cn 36 Rx |
23 Nov 1925 Noon UT | 23 cn 34 Rx |
24 Nov 1925 Noon UT | 23 cn 32 Rx |
25 Nov 1925 Noon UT | 23 cn 29 Rx |
26 Nov 1925 Noon UT | 23 cn 26 Rx |
27 Nov 1925 Noon UT | 23 cn 22 Rx |
28 Nov 1925 Noon UT | 23 cn 19 Rx |
29 Nov 1925 Noon UT | 23 cn 15 Rx |
30 Nov 1925 Noon UT | 23 cn 11 Rx |
01 Dec 1925 Noon UT | 23 cn  6 Rx |
02 Dec 1925 Noon UT | 23 cn  1 Rx |
03 Dec 1925 Noon UT | 22 cn 56 Rx |
04 Dec 1925 Noon UT | 22 cn 50 Rx |
05 Dec 1925 Noon UT | 22 cn 44 Rx |
06 Dec 1925 Noon UT | 22 cn 38 Rx |
07 Dec 1925 Noon UT | 22 cn 32 Rx |
08 Dec 1925 Noon UT | 22 cn 25 Rx |
09 Dec 1925 Noon UT | 22 cn 18 Rx |
10 Dec 1925 Noon UT | 22 cn 10 Rx |
11 Dec 1925 Noon UT | 22 cn  3 Rx |
12 Dec 1925 Noon UT | 21 cn 55 Rx |
13 Dec 1925 Noon UT | 21 cn 47 Rx |
14 Dec 1925 Noon UT | 21 cn 38 Rx |
15 Dec 1925 Noon UT | 21 cn 29 Rx |
16 Dec 1925 Noon UT | 21 cn 20 Rx |
17 Dec 1925 Noon UT | 21 cn 11 Rx |
18 Dec 1925 Noon UT | 21 cn  1 Rx |
19 Dec 1925 Noon UT | 20 cn 52 Rx |
20 Dec 1925 Noon UT | 20 cn 42 Rx |
21 Dec 1925 Noon UT | 20 cn 32 Rx |
22 Dec 1925 Noon UT | 20 cn 21 Rx |
23 Dec 1925 Noon UT | 20 cn 10 Rx |
24 Dec 1925 Noon UT | 20 cn  0 Rx |
25 Dec 1925 Noon UT | 19 cn 49 Rx |
26 Dec 1925 Noon UT | 19 cn 38 Rx |
27 Dec 1925 Noon UT | 19 cn 26 Rx |
28 Dec 1925 Noon UT | 19 cn 15 Rx |
29 Dec 1925 Noon UT | 19 cn  3 Rx |
30 Dec 1925 Noon UT | 18 cn 51 Rx |
31 Dec 1925 Noon UT | 18 cn 40 Rx |
01 Jan 1926 Noon UT | 18 cn 28 Rx |
02 Jan 1926 Noon UT | 18 cn 16 Rx |
03 Jan 1926 Noon UT | 18 cn  3 Rx |
04 Jan 1926 Noon UT | 17 cn 51 Rx |
05 Jan 1926 Noon UT | 17 cn 39 Rx |
06 Jan 1926 Noon UT | 17 cn 27 Rx |
07 Jan 1926 Noon UT | 17 cn 14 Rx |
08 Jan 1926 Noon UT | 17 cn  2 Rx |
09 Jan 1926 Noon UT | 16 cn 50 Rx |
10 Jan 1926 Noon UT | 16 cn 37 Rx |
11 Jan 1926 Noon UT | 16 cn 25 Rx |
12 Jan 1926 Noon UT | 16 cn 13 Rx |
13 Jan 1926 Noon UT | 16 cn  0 Rx |
14 Jan 1926 Noon UT | 15 cn 48 Rx |
15 Jan 1926 Noon UT | 15 cn 36 Rx |
16 Jan 1926 Noon UT | 15 cn 24 Rx |
17 Jan 1926 Noon UT | 15 cn 12 Rx |
18 Jan 1926 Noon UT | 15 cn  0 Rx |
19 Jan 1926 Noon UT | 14 cn 49 Rx |
20 Jan 1926 Noon UT | 14 cn 37 Rx |
21 Jan 1926 Noon UT | 14 cn 25 Rx |
22 Jan 1926 Noon UT | 14 cn 14 Rx |
23 Jan 1926 Noon UT | 14 cn  3 Rx |
24 Jan 1926 Noon UT | 13 cn 52 Rx |
25 Jan 1926 Noon UT | 13 cn 41 Rx |
26 Jan 1926 Noon UT | 13 cn 31 Rx |
27 Jan 1926 Noon UT | 13 cn 20 Rx |
28 Jan 1926 Noon UT | 13 cn 10 Rx |
29 Jan 1926 Noon UT | 13 cn  0 Rx |
30 Jan 1926 Noon UT | 12 cn 51 Rx |
31 Jan 1926 Noon UT | 12 cn 41 Rx |
01 Feb 1926 Noon UT | 12 cn 32 Rx |
02 Feb 1926 Noon UT | 12 cn 23 Rx |
03 Feb 1926 Noon UT | 12 cn 14 Rx |
04 Feb 1926 Noon UT | 12 cn  6 Rx |
05 Feb 1926 Noon UT | 11 cn 58 Rx |
06 Feb 1926 Noon UT | 11 cn 50 Rx |
07 Feb 1926 Noon UT | 11 cn 42 Rx |
08 Feb 1926 Noon UT | 11 cn 35 Rx |
09 Feb 1926 Noon UT | 11 cn 28 Rx |
10 Feb 1926 Noon UT | 11 cn 21 Rx |
11 Feb 1926 Noon UT | 11 cn 15 Rx |
12 Feb 1926 Noon UT | 11 cn  9 Rx |
13 Feb 1926 Noon UT | 11 cn  3 Rx |
14 Feb 1926 Noon UT | 10 cn 57 Rx |
15 Feb 1926 Noon UT | 10 cn 52 Rx |
16 Feb 1926 Noon UT | 10 cn 48 Rx |
17 Feb 1926 Noon UT | 10 cn 43 Rx |
18 Feb 1926 Noon UT | 10 cn 39 Rx |
19 Feb 1926 Noon UT | 10 cn 35 Rx |
20 Feb 1926 Noon UT | 10 cn 32 Rx |
21 Feb 1926 Noon UT | 10 cn 29 Rx |
22 Feb 1926 Noon UT | 10 cn 26 Rx |
23 Feb 1926 Noon UT | 10 cn 23 Rx |
24 Feb 1926 Noon UT | 10 cn 21 Rx |
25 Feb 1926 Noon UT | 10 cn 19 Rx |
26 Feb 1926 Noon UT | 10 cn 18 Rx |
27 Feb 1926 Noon UT | 10 cn 17 Rx |
28 Feb 1926 Noon UT | 10 cn 16 Rx |
01 Mar 1926 Noon UT | 10 cn 16 Rx |
02 Mar 1926 Noon UT | 10 cn 15    |
03 Mar 1926 Noon UT | 10 cn 16    |
04 Mar 1926 Noon UT | 10 cn 16    |
05 Mar 1926 Noon UT | 10 cn 17    |
06 Mar 1926 Noon UT | 10 cn 18    |
07 Mar 1926 Noon UT | 10 cn 20    |
08 Mar 1926 Noon UT | 10 cn 21    |
09 Mar 1926 Noon UT | 10 cn 24    |
10 Mar 1926 Noon UT | 10 cn 26    |
11 Mar 1926 Noon UT | 10 cn 29    |
12 Mar 1926 Noon UT | 10 cn 32    |
13 Mar 1926 Noon UT | 10 cn 35    |
14 Mar 1926 Noon UT | 10 cn 39    |
15 Mar 1926 Noon UT | 10 cn 43    |
16 Mar 1926 Noon UT | 10 cn 47    |
17 Mar 1926 Noon UT | 10 cn 52    |
18 Mar 1926 Noon UT | 10 cn 57    |
19 Mar 1926 Noon UT | 11 cn  2    |
20 Mar 1926 Noon UT | 11 cn  7    |
21 Mar 1926 Noon UT | 11 cn 13    |
22 Mar 1926 Noon UT | 11 cn 19    |
23 Mar 1926 Noon UT | 11 cn 26    |
24 Mar 1926 Noon UT | 11 cn 32    |
25 Mar 1926 Noon UT | 11 cn 39    |
26 Mar 1926 Noon UT | 11 cn 46    |
27 Mar 1926 Noon UT | 11 cn 54    |
28 Mar 1926 Noon UT | 12 cn  2    |
29 Mar 1926 Noon UT | 12 cn  9    |
30 Mar 1926 Noon UT | 12 cn 18    |
31 Mar 1926 Noon UT | 12 cn 26    |
01 Apr 1926 Noon UT | 12 cn 35    |
02 Apr 1926 Noon UT | 12 cn 44    |
03 Apr 1926 Noon UT | 12 cn 53    |
04 Apr 1926 Noon UT | 13 cn  2    |
05 Apr 1926 Noon UT | 13 cn 12    |
06 Apr 1926 Noon UT | 13 cn 22    |
07 Apr 1926 Noon UT | 13 cn 32    |
08 Apr 1926 Noon UT | 13 cn 43    |
09 Apr 1926 Noon UT | 13 cn 53    |
10 Apr 1926 Noon UT | 14 cn  4    |
11 Apr 1926 Noon UT | 14 cn 15    |
12 Apr 1926 Noon UT | 14 cn 26    |
13 Apr 1926 Noon UT | 14 cn 38    |
14 Apr 1926 Noon UT | 14 cn 49    |
15 Apr 1926 Noon UT | 15 cn  1    |
16 Apr 1926 Noon UT | 15 cn 13    |
17 Apr 1926 Noon UT | 15 cn 26    |
18 Apr 1926 Noon UT | 15 cn 38    |
19 Apr 1926 Noon UT | 15 cn 51    |
20 Apr 1926 Noon UT | 16 cn  4    |
21 Apr 1926 Noon UT | 16 cn 17    |
22 Apr 1926 Noon UT | 16 cn 30    |
23 Apr 1926 Noon UT | 16 cn 44    |
24 Apr 1926 Noon UT | 16 cn 57    |
25 Apr 1926 Noon UT | 17 cn 11    |
26 Apr 1926 Noon UT | 17 cn 25    |
27 Apr 1926 Noon UT | 17 cn 39    |
28 Apr 1926 Noon UT | 17 cn 53    |
29 Apr 1926 Noon UT | 18 cn  8    |
30 Apr 1926 Noon UT | 18 cn 22    |
01 May 1926 Noon UT | 18 cn 37    |
02 May 1926 Noon UT | 18 cn 52    |
03 May 1926 Noon UT | 19 cn  7    |
04 May 1926 Noon UT | 19 cn 22    |
05 May 1926 Noon UT | 19 cn 38    |
06 May 1926 Noon UT | 19 cn 53    |
07 May 1926 Noon UT | 20 cn  9    |
08 May 1926 Noon UT | 20 cn 25    |
09 May 1926 Noon UT | 20 cn 41    |
10 May 1926 Noon UT | 20 cn 57    |
11 May 1926 Noon UT | 21 cn 13    |
12 May 1926 Noon UT | 21 cn 30    |
13 May 1926 Noon UT | 21 cn 46    |
14 May 1926 Noon UT | 22 cn  3    |
15 May 1926 Noon UT | 22 cn 20    |
16 May 1926 Noon UT | 22 cn 36    |
17 May 1926 Noon UT | 22 cn 54    |
18 May 1926 Noon UT | 23 cn 11    |
19 May 1926 Noon UT | 23 cn 28    |
20 May 1926 Noon UT | 23 cn 45    |
21 May 1926 Noon UT | 24 cn  3    |
22 May 1926 Noon UT | 24 cn 20    |
23 May 1926 Noon UT | 24 cn 38    |
24 May 1926 Noon UT | 24 cn 56    |
25 May 1926 Noon UT | 25 cn 14    |
26 May 1926 Noon UT | 25 cn 32    |
27 May 1926 Noon UT | 25 cn 50    |
28 May 1926 Noon UT | 26 cn  8    |
29 May 1926 Noon UT | 26 cn 27    |
30 May 1926 Noon UT | 26 cn 45    |
31 May 1926 Noon UT | 27 cn  4    |
01 Jun 1926 Noon UT | 27 cn 22    |
02 Jun 1926 Noon UT | 27 cn 41    |
03 Jun 1926 Noon UT | 28 cn  0    |
04 Jun 1926 Noon UT | 28 cn 19    |
05 Jun 1926 Noon UT | 28 cn 38    |
06 Jun 1926 Noon UT | 28 cn 57    |
07 Jun 1926 Noon UT | 29 cn 16    |
08 Jun 1926 Noon UT | 29 cn 36    |
09 Jun 1926 Noon UT | 29 cn 55    |
10 Jun 1926 Noon UT |  0 le 14    |
11 Jun 1926 Noon UT |  0 le 34    |
12 Jun 1926 Noon UT |  0 le 54    |
13 Jun 1926 Noon UT |  1 le 13    |
14 Jun 1926 Noon UT |  1 le 33    |
15 Jun 1926 Noon UT |  1 le 53    |
16 Jun 1926 Noon UT |  2 le 13    |
17 Jun 1926 Noon UT |  2 le 33    |
18 Jun 1926 Noon UT |  2 le 53    |
19 Jun 1926 Noon UT |  3 le 13    |
20 Jun 1926 Noon UT |  3 le 33    |
21 Jun 1926 Noon UT |  3 le 53    |
22 Jun 1926 Noon UT |  4 le 14    |
23 Jun 1926 Noon UT |  4 le 34    |
24 Jun 1926 Noon UT |  4 le 55    |
25 Jun 1926 Noon UT |  5 le 15    |
26 Jun 1926 Noon UT |  5 le 36    |
27 Jun 1926 Noon UT |  5 le 56    |
28 Jun 1926 Noon UT |  6 le 17    |
29 Jun 1926 Noon UT |  6 le 38    |
30 Jun 1926 Noon UT |  6 le 59    |
01 Jul 1926 Noon UT |  7 le 20    |
02 Jul 1926 Noon UT |  7 le 41    |
03 Jul 1926 Noon UT |  8 le  2    |
04 Jul 1926 Noon UT |  8 le 23    |
05 Jul 1926 Noon UT |  8 le 44    |
06 Jul 1926 Noon UT |  9 le  5    |
07 Jul 1926 Noon UT |  9 le 26    |
08 Jul 1926 Noon UT |  9 le 48    |
09 Jul 1926 Noon UT | 10 le  9    |
10 Jul 1926 Noon UT | 10 le 30    |
11 Jul 1926 Noon UT | 10 le 52    |
12 Jul 1926 Noon UT | 11 le 13    |
13 Jul 1926 Noon UT | 11 le 35    |
14 Jul 1926 Noon UT | 11 le 56    |
15 Jul 1926 Noon UT | 12 le 18    |
16 Jul 1926 Noon UT | 12 le 39    |
17 Jul 1926 Noon UT | 13 le  1    |
18 Jul 1926 Noon UT | 13 le 23    |
19 Jul 1926 Noon UT | 13 le 45    |
20 Jul 1926 Noon UT | 14 le  6    |
21 Jul 1926 Noon UT | 14 le 28    |
22 Jul 1926 Noon UT | 14 le 50    |
23 Jul 1926 Noon UT | 15 le 12    |
24 Jul 1926 Noon UT | 15 le 34    |
25 Jul 1926 Noon UT | 15 le 56    |
26 Jul 1926 Noon UT | 16 le 18    |
27 Jul 1926 Noon UT | 16 le 40    |
28 Jul 1926 Noon UT | 17 le  2    |
29 Jul 1926 Noon UT | 17 le 24    |
30 Jul 1926 Noon UT | 17 le 46    |
31 Jul 1926 Noon UT | 18 le  9    |
01 Aug 1926 Noon UT | 18 le 31    |
02 Aug 1926 Noon UT | 18 le 53    |
03 Aug 1926 Noon UT | 19 le 15    |
04 Aug 1926 Noon UT | 19 le 37    |
05 Aug 1926 Noon UT | 20 le  0    |
06 Aug 1926 Noon UT | 20 le 22    |
07 Aug 1926 Noon UT | 20 le 45    |
08 Aug 1926 Noon UT | 21 le  7    |
09 Aug 1926 Noon UT | 21 le 29    |
10 Aug 1926 Noon UT | 21 le 52    |
11 Aug 1926 Noon UT | 22 le 14    |
12 Aug 1926 Noon UT | 22 le 37    |
13 Aug 1926 Noon UT | 22 le 59    |
14 Aug 1926 Noon UT | 23 le 22    |
15 Aug 1926 Noon UT | 23 le 44    |
16 Aug 1926 Noon UT | 24 le  7    |
17 Aug 1926 Noon UT | 24 le 29    |
18 Aug 1926 Noon UT | 24 le 52    |
19 Aug 1926 Noon UT | 25 le 14    |
20 Aug 1926 Noon UT | 25 le 37    |
21 Aug 1926 Noon UT | 26 le  0    |
22 Aug 1926 Noon UT | 26 le 22    |
23 Aug 1926 Noon UT | 26 le 45    |
24 Aug 1926 Noon UT | 27 le  8    |
25 Aug 1926 Noon UT | 27 le 30    |
26 Aug 1926 Noon UT | 27 le 53    |
27 Aug 1926 Noon UT | 28 le 16    |
28 Aug 1926 Noon UT | 28 le 38    |
29 Aug 1926 Noon UT | 29 le  1    |
30 Aug 1926 Noon UT | 29 le 24    |
31 Aug 1926 Noon UT | 29 le 46    |
01 Sep 1926 Noon UT |  0 vi  9    |
02 Sep 1926 Noon UT |  0 vi 32    |
03 Sep 1926 Noon UT |  0 vi 55    |
04 Sep 1926 Noon UT |  1 vi 17    |
05 Sep 1926 Noon UT |  1 vi 40    |
06 Sep 1926 Noon UT |  2 vi  3    |
07 Sep 1926 Noon UT |  2 vi 25    |
08 Sep 1926 Noon UT |  2 vi 48    |
09 Sep 1926 Noon UT |  3 vi 11    |
10 Sep 1926 Noon UT |  3 vi 34    |
11 Sep 1926 Noon UT |  3 vi 56    |
12 Sep 1926 Noon UT |  4 vi 19    |
13 Sep 1926 Noon UT |  4 vi 42    |
14 Sep 1926 Noon UT |  5 vi  4    |
15 Sep 1926 Noon UT |  5 vi 27    |
16 Sep 1926 Noon UT |  5 vi 50    |
17 Sep 1926 Noon UT |  6 vi 12    |
18 Sep 1926 Noon UT |  6 vi 35    |
19 Sep 1926 Noon UT |  6 vi 58    |
20 Sep 1926 Noon UT |  7 vi 20    |
21 Sep 1926 Noon UT |  7 vi 43    |
22 Sep 1926 Noon UT |  8 vi  5    |
23 Sep 1926 Noon UT |  8 vi 28    |
24 Sep 1926 Noon UT |  8 vi 51    |
25 Sep 1926 Noon UT |  9 vi 13    |
26 Sep 1926 Noon UT |  9 vi 36    |
27 Sep 1926 Noon UT |  9 vi 58    |
28 Sep 1926 Noon UT | 10 vi 21    |
29 Sep 1926 Noon UT | 10 vi 43    |
30 Sep 1926 Noon UT | 11 vi  6    |
01 Oct 1926 Noon UT | 11 vi 28    |
02 Oct 1926 Noon UT | 11 vi 50    |
03 Oct 1926 Noon UT | 12 vi 13    |
04 Oct 1926 Noon UT | 12 vi 35    |
05 Oct 1926 Noon UT | 12 vi 58    |
06 Oct 1926 Noon UT | 13 vi 20    |
07 Oct 1926 Noon UT | 13 vi 42    |
08 Oct 1926 Noon UT | 14 vi  4    |
09 Oct 1926 Noon UT | 14 vi 26    |
10 Oct 1926 Noon UT | 14 vi 49    |
11 Oct 1926 Noon UT | 15 vi 11    |
12 Oct 1926 Noon UT | 15 vi 33    |
13 Oct 1926 Noon UT | 15 vi 55    |
14 Oct 1926 Noon UT | 16 vi 17    |
15 Oct 1926 Noon UT | 16 vi 39    |
16 Oct 1926 Noon UT | 17 vi  1    |
17 Oct 1926 Noon UT | 17 vi 23    |
18 Oct 1926 Noon UT | 17 vi 45    |
19 Oct 1926 Noon UT | 18 vi  6    |
20 Oct 1926 Noon UT | 18 vi 28    |
21 Oct 1926 Noon UT | 18 vi 50    |
22 Oct 1926 Noon UT | 19 vi 11    |
23 Oct 1926 Noon UT | 19 vi 33    |
24 Oct 1926 Noon UT | 19 vi 55    |
25 Oct 1926 Noon UT | 20 vi 16    |
26 Oct 1926 Noon UT | 20 vi 37    |
27 Oct 1926 Noon UT | 20 vi 59    |
28 Oct 1926 Noon UT | 21 vi 20    |
29 Oct 1926 Noon UT | 21 vi 41    |
30 Oct 1926 Noon UT | 22 vi  3    |
31 Oct 1926 Noon UT | 22 vi 24    |
01 Nov 1926 Noon UT | 22 vi 45    |
02 Nov 1926 Noon UT | 23 vi  6    |
03 Nov 1926 Noon UT | 23 vi 27    |
04 Nov 1926 Noon UT | 23 vi 48    |
05 Nov 1926 Noon UT | 24 vi  9    |
06 Nov 1926 Noon UT | 24 vi 29    |
07 Nov 1926 Noon UT | 24 vi 50    |
08 Nov 1926 Noon UT | 25 vi 11    |
09 Nov 1926 Noon UT | 25 vi 31    |
10 Nov 1926 Noon UT | 25 vi 51    |
11 Nov 1926 Noon UT | 26 vi 12    |
12 Nov 1926 Noon UT | 26 vi 32    |
13 Nov 1926 Noon UT | 26 vi 52    |
14 Nov 1926 Noon UT | 27 vi 12    |
15 Nov 1926 Noon UT | 27 vi 32    |
16 Nov 1926 Noon UT | 27 vi 52    |
17 Nov 1926 Noon UT | 28 vi 12    |
18 Nov 1926 Noon UT | 28 vi 32    |
19 Nov 1926 Noon UT | 28 vi 51    |
20 Nov 1926 Noon UT | 29 vi 11    |
21 Nov 1926 Noon UT | 29 vi 30    |
22 Nov 1926 Noon UT | 29 vi 49    |
23 Nov 1926 Noon UT |  0 li  8    |
24 Nov 1926 Noon UT |  0 li 28    |
25 Nov 1926 Noon UT |  0 li 47    |
26 Nov 1926 Noon UT |  1 li  5    |
27 Nov 1926 Noon UT |  1 li 24    |
28 Nov 1926 Noon UT |  1 li 43    |
29 Nov 1926 Noon UT |  2 li  1    |
30 Nov 1926 Noon UT |  2 li 20    |
01 Dec 1926 Noon UT |  2 li 38    |
02 Dec 1926 Noon UT |  2 li 56    |
03 Dec 1926 Noon UT |  3 li 14    |
04 Dec 1926 Noon UT |  3 li 32    |
05 Dec 1926 Noon UT |  3 li 50    |
06 Dec 1926 Noon UT |  4 li  7    |
07 Dec 1926 Noon UT |  4 li 24    |
08 Dec 1926 Noon UT |  4 li 42    |
09 Dec 1926 Noon UT |  4 li 59    |
10 Dec 1926 Noon UT |  5 li 16    |
11 Dec 1926 Noon UT |  5 li 33    |
12 Dec 1926 Noon UT |  5 li 49    |
13 Dec 1926 Noon UT |  6 li  6    |
14 Dec 1926 Noon UT |  6 li 22    |
15 Dec 1926 Noon UT |  6 li 38    |
16 Dec 1926 Noon UT |  6 li 54    |
17 Dec 1926 Noon UT |  7 li 10    |
18 Dec 1926 Noon UT |  7 li 26    |
19 Dec 1926 Noon UT |  7 li 41    |
20 Dec 1926 Noon UT |  7 li 57    |
21 Dec 1926 Noon UT |  8 li 12    |
22 Dec 1926 Noon UT |  8 li 27    |
23 Dec 1926 Noon UT |  8 li 41    |
24 Dec 1926 Noon UT |  8 li 56    |
25 Dec 1926 Noon UT |  9 li 10    |
26 Dec 1926 Noon UT |  9 li 24    |
27 Dec 1926 Noon UT |  9 li 38    |
28 Dec 1926 Noon UT |  9 li 52    |
29 Dec 1926 Noon UT | 10 li  6    |
30 Dec 1926 Noon UT | 10 li 19    |
31 Dec 1926 Noon UT | 10 li 32    |
01 Jan 1927 Noon UT | 10 li 45    |
02 Jan 1927 Noon UT | 10 li 57    |
03 Jan 1927 Noon UT | 11 li 10    |
04 Jan 1927 Noon UT | 11 li 22    |
05 Jan 1927 Noon UT | 11 li 34    |
06 Jan 1927 Noon UT | 11 li 45    |
07 Jan 1927 Noon UT | 11 li 57    |
08 Jan 1927 Noon UT | 12 li  8    |
09 Jan 1927 Noon UT | 12 li 19    |
10 Jan 1927 Noon UT | 12 li 30    |
11 Jan 1927 Noon UT | 12 li 40    |
12 Jan 1927 Noon UT | 12 li 50    |
13 Jan 1927 Noon UT | 13 li  0    |
14 Jan 1927 Noon UT | 13 li  9    |
15 Jan 1927 Noon UT | 13 li 19    |
16 Jan 1927 Noon UT | 13 li 28    |
17 Jan 1927 Noon UT | 13 li 36    |
18 Jan 1927 Noon UT | 13 li 45    |
19 Jan 1927 Noon UT | 13 li 53    |
20 Jan 1927 Noon UT | 14 li  1    |
21 Jan 1927 Noon UT | 14 li  8    |
22 Jan 1927 Noon UT | 14 li 16    |
23 Jan 1927 Noon UT | 14 li 23    |
24 Jan 1927 Noon UT | 14 li 29    |
25 Jan 1927 Noon UT | 14 li 35    |
26 Jan 1927 Noon UT | 14 li 41    |
27 Jan 1927 Noon UT | 14 li 47    |
28 Jan 1927 Noon UT | 14 li 52    |
29 Jan 1927 Noon UT | 14 li 57    |
30 Jan 1927 Noon UT | 15 li  2    |
31 Jan 1927 Noon UT | 15 li  6    |
01 Feb 1927 Noon UT | 15 li 10    |
02 Feb 1927 Noon UT | 15 li 14    |
03 Feb 1927 Noon UT | 15 li 17    |
04 Feb 1927 Noon UT | 15 li 20    |
05 Feb 1927 Noon UT | 15 li 23    |
06 Feb 1927 Noon UT | 15 li 25    |
07 Feb 1927 Noon UT | 15 li 27    |
08 Feb 1927 Noon UT | 15 li 28    |
09 Feb 1927 Noon UT | 15 li 29    |
10 Feb 1927 Noon UT | 15 li 30    |
11 Feb 1927 Noon UT | 15 li 30    |
12 Feb 1927 Noon UT | 15 li 30 Rx |
13 Feb 1927 Noon UT | 15 li 30 Rx |
14 Feb 1927 Noon UT | 15 li 29 Rx |
15 Feb 1927 Noon UT | 15 li 28 Rx |
16 Feb 1927 Noon UT | 15 li 27 Rx |
17 Feb 1927 Noon UT | 15 li 25 Rx |
18 Feb 1927 Noon UT | 15 li 23 Rx |
19 Feb 1927 Noon UT | 15 li 20 Rx |
20 Feb 1927 Noon UT | 15 li 17 Rx |
21 Feb 1927 Noon UT | 15 li 14 Rx |
22 Feb 1927 Noon UT | 15 li 11 Rx |
23 Feb 1927 Noon UT | 15 li  7 Rx |
24 Feb 1927 Noon UT | 15 li  2 Rx |
25 Feb 1927 Noon UT | 14 li 58 Rx |
26 Feb 1927 Noon UT | 14 li 52 Rx |
27 Feb 1927 Noon UT | 14 li 47 Rx |
28 Feb 1927 Noon UT | 14 li 41 Rx |
01 Mar 1927 Noon UT | 14 li 35 Rx |
02 Mar 1927 Noon UT | 14 li 29 Rx |
03 Mar 1927 Noon UT | 14 li 22 Rx |
04 Mar 1927 Noon UT | 14 li 15 Rx |
05 Mar 1927 Noon UT | 14 li  7 Rx |
06 Mar 1927 Noon UT | 14 li  0 Rx |
07 Mar 1927 Noon UT | 13 li 52 Rx |
08 Mar 1927 Noon UT | 13 li 43 Rx |
09 Mar 1927 Noon UT | 13 li 35 Rx |
10 Mar 1927 Noon UT | 13 li 26 Rx |
11 Mar 1927 Noon UT | 13 li 16 Rx |
12 Mar 1927 Noon UT | 13 li  7 Rx |
13 Mar 1927 Noon UT | 12 li 57 Rx |
14 Mar 1927 Noon UT | 12 li 47 Rx |
15 Mar 1927 Noon UT | 12 li 37 Rx |
16 Mar 1927 Noon UT | 12 li 27 Rx |
17 Mar 1927 Noon UT | 12 li 16 Rx |
18 Mar 1927 Noon UT | 12 li  5 Rx |
19 Mar 1927 Noon UT | 11 li 54 Rx |
20 Mar 1927 Noon UT | 11 li 43 Rx |
21 Mar 1927 Noon UT | 11 li 32 Rx |
22 Mar 1927 Noon UT | 11 li 20 Rx |
23 Mar 1927 Noon UT | 11 li  8 Rx |
24 Mar 1927 Noon UT | 10 li 57 Rx |
25 Mar 1927 Noon UT | 10 li 45 Rx |
26 Mar 1927 Noon UT | 10 li 33 Rx |
27 Mar 1927 Noon UT | 10 li 21 Rx |
28 Mar 1927 Noon UT | 10 li  9 Rx |
29 Mar 1927 Noon UT |  9 li 56 Rx |
30 Mar 1927 Noon UT |  9 li 44 Rx |
31 Mar 1927 Noon UT |  9 li 32 Rx |
01 Apr 1927 Noon UT |  9 li 19 Rx |
02 Apr 1927 Noon UT |  9 li  7 Rx |
03 Apr 1927 Noon UT |  8 li 55 Rx |
04 Apr 1927 Noon UT |  8 li 43 Rx |
05 Apr 1927 Noon UT |  8 li 30 Rx |
06 Apr 1927 Noon UT |  8 li 18 Rx |
07 Apr 1927 Noon UT |  8 li  6 Rx |
08 Apr 1927 Noon UT |  7 li 54 Rx |
09 Apr 1927 Noon UT |  7 li 43 Rx |
10 Apr 1927 Noon UT |  7 li 31 Rx |
11 Apr 1927 Noon UT |  7 li 19 Rx |
12 Apr 1927 Noon UT |  7 li  8 Rx |
13 Apr 1927 Noon UT |  6 li 56 Rx |
14 Apr 1927 Noon UT |  6 li 45 Rx |
15 Apr 1927 Noon UT |  6 li 34 Rx |
16 Apr 1927 Noon UT |  6 li 24 Rx |
17 Apr 1927 Noon UT |  6 li 13 Rx |
18 Apr 1927 Noon UT |  6 li  3 Rx |
19 Apr 1927 Noon UT |  5 li 53 Rx |
20 Apr 1927 Noon UT |  5 li 43 Rx |
21 Apr 1927 Noon UT |  5 li 33 Rx |
22 Apr 1927 Noon UT |  5 li 24 Rx |
23 Apr 1927 Noon UT |  5 li 15 Rx |
24 Apr 1927 Noon UT |  5 li  6 Rx |
25 Apr 1927 Noon UT |  4 li 58 Rx |
26 Apr 1927 Noon UT |  4 li 50 Rx |
27 Apr 1927 Noon UT |  4 li 42 Rx |
28 Apr 1927 Noon UT |  4 li 34 Rx |
29 Apr 1927 Noon UT |  4 li 27 Rx |
30 Apr 1927 Noon UT |  4 li 20 Rx |
01 May 1927 Noon UT |  4 li 13 Rx |
02 May 1927 Noon UT |  4 li  7 Rx |
03 May 1927 Noon UT |  4 li  1 Rx |
04 May 1927 Noon UT |  3 li 55 Rx |
05 May 1927 Noon UT |  3 li 50 Rx |
06 May 1927 Noon UT |  3 li 45 Rx |
07 May 1927 Noon UT |  3 li 41 Rx |
08 May 1927 Noon UT |  3 li 36 Rx |
09 May 1927 Noon UT |  3 li 33 Rx |
10 May 1927 Noon UT |  3 li 29 Rx |
11 May 1927 Noon UT |  3 li 26 Rx |
12 May 1927 Noon UT |  3 li 23 Rx |
13 May 1927 Noon UT |  3 li 21 Rx |
14 May 1927 Noon UT |  3 li 19 Rx |
15 May 1927 Noon UT |  3 li 17 Rx |
16 May 1927 Noon UT |  3 li 16 Rx |
17 May 1927 Noon UT |  3 li 15 Rx |
18 May 1927 Noon UT |  3 li 15 Rx |
19 May 1927 Noon UT |  3 li 14    |
20 May 1927 Noon UT |  3 li 15    |
21 May 1927 Noon UT |  3 li 15    |
22 May 1927 Noon UT |  3 li 16    |
23 May 1927 Noon UT |  3 li 17    |
24 May 1927 Noon UT |  3 li 19    |
25 May 1927 Noon UT |  3 li 21    |
26 May 1927 Noon UT |  3 li 23    |
27 May 1927 Noon UT |  3 li 26    |
28 May 1927 Noon UT |  3 li 29    |
29 May 1927 Noon UT |  3 li 32    |
30 May 1927 Noon UT |  3 li 36    |
31 May 1927 Noon UT |  3 li 40    |
01 Jun 1927 Noon UT |  3 li 45    |
02 Jun 1927 Noon UT |  3 li 49    |
03 Jun 1927 Noon UT |  3 li 54    |
04 Jun 1927 Noon UT |  4 li  0    |
05 Jun 1927 Noon UT |  4 li  6    |
06 Jun 1927 Noon UT |  4 li 12    |
07 Jun 1927 Noon UT |  4 li 18    |
08 Jun 1927 Noon UT |  4 li 25    |
09 Jun 1927 Noon UT |  4 li 32    |
10 Jun 1927 Noon UT |  4 li 39    |
11 Jun 1927 Noon UT |  4 li 47    |
12 Jun 1927 Noon UT |  4 li 55    |
13 Jun 1927 Noon UT |  5 li  3    |
14 Jun 1927 Noon UT |  5 li 12    |
15 Jun 1927 Noon UT |  5 li 21    |
16 Jun 1927 Noon UT |  5 li 30    |
17 Jun 1927 Noon UT |  5 li 39    |
18 Jun 1927 Noon UT |  5 li 49    |
19 Jun 1927 Noon UT |  5 li 59    |
20 Jun 1927 Noon UT |  6 li  9    |
21 Jun 1927 Noon UT |  6 li 20    |
22 Jun 1927 Noon UT |  6 li 30    |
23 Jun 1927 Noon UT |  6 li 41    |
24 Jun 1927 Noon UT |  6 li 53    |
25 Jun 1927 Noon UT |  7 li  4    |
26 Jun 1927 Noon UT |  7 li 16    |
27 Jun 1927 Noon UT |  7 li 28    |
28 Jun 1927 Noon UT |  7 li 40    |
29 Jun 1927 Noon UT |  7 li 53    |
30 Jun 1927 Noon UT |  8 li  6    |
01 Jul 1927 Noon UT |  8 li 19    |
02 Jul 1927 Noon UT |  8 li 32    |
03 Jul 1927 Noon UT |  8 li 46    |
04 Jul 1927 Noon UT |  8 li 59    |
05 Jul 1927 Noon UT |  9 li 13    |
06 Jul 1927 Noon UT |  9 li 27    |
07 Jul 1927 Noon UT |  9 li 42    |
08 Jul 1927 Noon UT |  9 li 56    |
09 Jul 1927 Noon UT | 10 li 11    |
10 Jul 1927 Noon UT | 10 li 26    |
11 Jul 1927 Noon UT | 10 li 41    |
12 Jul 1927 Noon UT | 10 li 57    |
13 Jul 1927 Noon UT | 11 li 12    |
14 Jul 1927 Noon UT | 11 li 28    |
15 Jul 1927 Noon UT | 11 li 44    |
16 Jul 1927 Noon UT | 12 li  0    |
17 Jul 1927 Noon UT | 12 li 17    |
18 Jul 1927 Noon UT | 12 li 33    |
19 Jul 1927 Noon UT | 12 li 50    |
20 Jul 1927 Noon UT | 13 li  7    |
21 Jul 1927 Noon UT | 13 li 24    |
22 Jul 1927 Noon UT | 13 li 41    |
23 Jul 1927 Noon UT | 13 li 58    |
24 Jul 1927 Noon UT | 14 li 16    |
25 Jul 1927 Noon UT | 14 li 34    |
26 Jul 1927 Noon UT | 14 li 52    |
27 Jul 1927 Noon UT | 15 li 10    |
28 Jul 1927 Noon UT | 15 li 28    |
29 Jul 1927 Noon UT | 15 li 46    |
30 Jul 1927 Noon UT | 16 li  5    |
31 Jul 1927 Noon UT | 16 li 23    |
01 Aug 1927 Noon UT | 16 li 42    |
02 Aug 1927 Noon UT | 17 li  1    |
03 Aug 1927 Noon UT | 17 li 20    |
04 Aug 1927 Noon UT | 17 li 39    |
05 Aug 1927 Noon UT | 17 li 59    |
06 Aug 1927 Noon UT | 18 li 18    |
07 Aug 1927 Noon UT | 18 li 38    |
08 Aug 1927 Noon UT | 18 li 57    |
09 Aug 1927 Noon UT | 19 li 17    |
10 Aug 1927 Noon UT | 19 li 37    |
11 Aug 1927 Noon UT | 19 li 57    |
12 Aug 1927 Noon UT | 20 li 18    |
13 Aug 1927 Noon UT | 20 li 38    |
14 Aug 1927 Noon UT | 20 li 59    |
15 Aug 1927 Noon UT | 21 li 19    |
16 Aug 1927 Noon UT | 21 li 40    |
17 Aug 1927 Noon UT | 22 li  1    |
18 Aug 1927 Noon UT | 22 li 22    |
19 Aug 1927 Noon UT | 22 li 43    |
20 Aug 1927 Noon UT | 23 li  4    |
21 Aug 1927 Noon UT | 23 li 25    |
22 Aug 1927 Noon UT | 23 li 46    |
23 Aug 1927 Noon UT | 24 li  8    |
24 Aug 1927 Noon UT | 24 li 29    |
25 Aug 1927 Noon UT | 24 li 51    |
26 Aug 1927 Noon UT | 25 li 13    |
27 Aug 1927 Noon UT | 25 li 35    |
28 Aug 1927 Noon UT | 25 li 57    |
29 Aug 1927 Noon UT | 26 li 19    |
30 Aug 1927 Noon UT | 26 li 41    |
31 Aug 1927 Noon UT | 27 li  3    |
01 Sep 1927 Noon UT | 27 li 25    |
02 Sep 1927 Noon UT | 27 li 48    |
03 Sep 1927 Noon UT | 28 li 10    |
04 Sep 1927 Noon UT | 28 li 33    |
05 Sep 1927 Noon UT | 28 li 56    |
06 Sep 1927 Noon UT | 29 li 18    |
07 Sep 1927 Noon UT | 29 li 41    |
08 Sep 1927 Noon UT |  0 sc  4    |
09 Sep 1927 Noon UT |  0 sc 27    |
10 Sep 1927 Noon UT |  0 sc 50    |
11 Sep 1927 Noon UT |  1 sc 13    |
12 Sep 1927 Noon UT |  1 sc 36    |
13 Sep 1927 Noon UT |  2 sc  0    |
14 Sep 1927 Noon UT |  2 sc 23    |
15 Sep 1927 Noon UT |  2 sc 46    |
16 Sep 1927 Noon UT |  3 sc 10    |
17 Sep 1927 Noon UT |  3 sc 33    |
18 Sep 1927 Noon UT |  3 sc 57    |
19 Sep 1927 Noon UT |  4 sc 21    |
20 Sep 1927 Noon UT |  4 sc 44    |
21 Sep 1927 Noon UT |  5 sc  8    |
22 Sep 1927 Noon UT |  5 sc 32    |
23 Sep 1927 Noon UT |  5 sc 56    |
24 Sep 1927 Noon UT |  6 sc 20    |
25 Sep 1927 Noon UT |  6 sc 44    |
26 Sep 1927 Noon UT |  7 sc  8    |
27 Sep 1927 Noon UT |  7 sc 32    |
28 Sep 1927 Noon UT |  7 sc 56    |
29 Sep 1927 Noon UT |  8 sc 21    |
30 Sep 1927 Noon UT |  8 sc 45    |
01 Oct 1927 Noon UT |  9 sc  9    |
02 Oct 1927 Noon UT |  9 sc 34    |
03 Oct 1927 Noon UT |  9 sc 58    |
04 Oct 1927 Noon UT | 10 sc 23    |
05 Oct 1927 Noon UT | 10 sc 47    |
06 Oct 1927 Noon UT | 11 sc 12    |
07 Oct 1927 Noon UT | 11 sc 37    |
08 Oct 1927 Noon UT | 12 sc  1    |
09 Oct 1927 Noon UT | 12 sc 26    |
10 Oct 1927 Noon UT | 12 sc 51    |
11 Oct 1927 Noon UT | 13 sc 16    |
12 Oct 1927 Noon UT | 13 sc 41    |
13 Oct 1927 Noon UT | 14 sc  5    |
14 Oct 1927 Noon UT | 14 sc 30    |
15 Oct 1927 Noon UT | 14 sc 55    |
16 Oct 1927 Noon UT | 15 sc 20    |
17 Oct 1927 Noon UT | 15 sc 45    |
18 Oct 1927 Noon UT | 16 sc 11    |
19 Oct 1927 Noon UT | 16 sc 36    |
20 Oct 1927 Noon UT | 17 sc  1    |
21 Oct 1927 Noon UT | 17 sc 26    |
22 Oct 1927 Noon UT | 17 sc 51    |
23 Oct 1927 Noon UT | 18 sc 16    |
24 Oct 1927 Noon UT | 18 sc 42    |
25 Oct 1927 Noon UT | 19 sc  7    |
26 Oct 1927 Noon UT | 19 sc 32    |
27 Oct 1927 Noon UT | 19 sc 58    |
28 Oct 1927 Noon UT | 20 sc 23    |
29 Oct 1927 Noon UT | 20 sc 49    |
30 Oct 1927 Noon UT | 21 sc 14    |
31 Oct 1927 Noon UT | 21 sc 39    |
01 Nov 1927 Noon UT | 22 sc  5    |
02 Nov 1927 Noon UT | 22 sc 30    |
03 Nov 1927 Noon UT | 22 sc 56    |
04 Nov 1927 Noon UT | 23 sc 21    |
05 Nov 1927 Noon UT | 23 sc 47    |
06 Nov 1927 Noon UT | 24 sc 13    |
07 Nov 1927 Noon UT | 24 sc 38    |
08 Nov 1927 Noon UT | 25 sc  4    |
09 Nov 1927 Noon UT | 25 sc 29    |
10 Nov 1927 Noon UT | 25 sc 55    |
11 Nov 1927 Noon UT | 26 sc 21    |
12 Nov 1927 Noon UT | 26 sc 46    |
13 Nov 1927 Noon UT | 27 sc 12    |
14 Nov 1927 Noon UT | 27 sc 38    |
15 Nov 1927 Noon UT | 28 sc  3    |
16 Nov 1927 Noon UT | 28 sc 29    |
17 Nov 1927 Noon UT | 28 sc 55    |
18 Nov 1927 Noon UT | 29 sc 20    |
19 Nov 1927 Noon UT | 29 sc 46    |
20 Nov 1927 Noon UT |  0 sa 12    |
21 Nov 1927 Noon UT |  0 sa 38    |
22 Nov 1927 Noon UT |  1 sa  3    |
23 Nov 1927 Noon UT |  1 sa 29    |
24 Nov 1927 Noon UT |  1 sa 55    |
25 Nov 1927 Noon UT |  2 sa 21    |
26 Nov 1927 Noon UT |  2 sa 46    |
27 Nov 1927 Noon UT |  3 sa 12    |
28 Nov 1927 Noon UT |  3 sa 38    |
29 Nov 1927 Noon UT |  4 sa  4    |
30 Nov 1927 Noon UT |  4 sa 29    |
01 Dec 1927 Noon UT |  4 sa 55    |
02 Dec 1927 Noon UT |  5 sa 21    |
03 Dec 1927 Noon UT |  5 sa 46    |
04 Dec 1927 Noon UT |  6 sa 12    |
05 Dec 1927 Noon UT |  6 sa 38    |
06 Dec 1927 Noon UT |  7 sa  3    |
07 Dec 1927 Noon UT |  7 sa 29    |
08 Dec 1927 Noon UT |  7 sa 55    |
09 Dec 1927 Noon UT |  8 sa 20    |
10 Dec 1927 Noon UT |  8 sa 46    |
11 Dec 1927 Noon UT |  9 sa 12    |
12 Dec 1927 Noon UT |  9 sa 37    |
13 Dec 1927 Noon UT | 10 sa  3    |
14 Dec 1927 Noon UT | 10 sa 28    |
15 Dec 1927 Noon UT | 10 sa 54    |
16 Dec 1927 Noon UT | 11 sa 19    |
17 Dec 1927 Noon UT | 11 sa 45    |
18 Dec 1927 Noon UT | 12 sa 10    |
19 Dec 1927 Noon UT | 12 sa 36    |
20 Dec 1927 Noon UT | 13 sa  1    |
21 Dec 1927 Noon UT | 13 sa 27    |
22 Dec 1927 Noon UT | 13 sa 52    |
23 Dec 1927 Noon UT | 14 sa 17    |
24 Dec 1927 Noon UT | 14 sa 43    |
25 Dec 1927 Noon UT | 15 sa  8    |
26 Dec 1927 Noon UT | 15 sa 33    |
27 Dec 1927 Noon UT | 15 sa 59    |
28 Dec 1927 Noon UT | 16 sa 24    |
29 Dec 1927 Noon UT | 16 sa 49    |
30 Dec 1927 Noon UT | 17 sa 14    |
31 Dec 1927 Noon UT | 17 sa 39    |
01 Jan 1928 Noon UT | 18 sa  4    |
02 Jan 1928 Noon UT | 18 sa 29    |
03 Jan 1928 Noon UT | 18 sa 54    |
04 Jan 1928 Noon UT | 19 sa 19    |
05 Jan 1928 Noon UT | 19 sa 44    |
06 Jan 1928 Noon UT | 20 sa  9    |
07 Jan 1928 Noon UT | 20 sa 34    |
08 Jan 1928 Noon UT | 20 sa 59    |
09 Jan 1928 Noon UT | 21 sa 23    |
10 Jan 1928 Noon UT | 21 sa 48    |
11 Jan 1928 Noon UT | 22 sa 13    |
12 Jan 1928 Noon UT | 22 sa 37    |
13 Jan 1928 Noon UT | 23 sa  2    |
14 Jan 1928 Noon UT | 23 sa 26    |
15 Jan 1928 Noon UT | 23 sa 51    |
16 Jan 1928 Noon UT | 24 sa 15    |
17 Jan 1928 Noon UT | 24 sa 40    |
18 Jan 1928 Noon UT | 25 sa  4    |
19 Jan 1928 Noon UT | 25 sa 28    |
20 Jan 1928 Noon UT | 25 sa 52    |
21 Jan 1928 Noon UT | 26 sa 16    |
22 Jan 1928 Noon UT | 26 sa 40    |
23 Jan 1928 Noon UT | 27 sa  4    |
24 Jan 1928 Noon UT | 27 sa 28    |
25 Jan 1928 Noon UT | 27 sa 52    |
26 Jan 1928 Noon UT | 28 sa 16    |
27 Jan 1928 Noon UT | 28 sa 40    |
28 Jan 1928 Noon UT | 29 sa  3    |
29 Jan 1928 Noon UT | 29 sa 27    |
30 Jan 1928 Noon UT | 29 sa 50    |
31 Jan 1928 Noon UT |  0 cp 14    |
01 Feb 1928 Noon UT |  0 cp 37    |
02 Feb 1928 Noon UT |  1 cp  0    |
03 Feb 1928 Noon UT |  1 cp 24    |
04 Feb 1928 Noon UT |  1 cp 47    |
05 Feb 1928 Noon UT |  2 cp 10    |
06 Feb 1928 Noon UT |  2 cp 33    |
07 Feb 1928 Noon UT |  2 cp 56    |
08 Feb 1928 Noon UT |  3 cp 18    |
09 Feb 1928 Noon UT |  3 cp 41    |
10 Feb 1928 Noon UT |  4 cp  4    |
11 Feb 1928 Noon UT |  4 cp 26    |
12 Feb 1928 Noon UT |  4 cp 49    |
13 Feb 1928 Noon UT |  5 cp 11    |
14 Feb 1928 Noon UT |  5 cp 33    |
15 Feb 1928 Noon UT |  5 cp 55    |
16 Feb 1928 Noon UT |  6 cp 17    |
17 Feb 1928 Noon UT |  6 cp 39    |
18 Feb 1928 Noon UT |  7 cp  1    |
19 Feb 1928 Noon UT |  7 cp 23    |
20 Feb 1928 Noon UT |  7 cp 45    |
21 Feb 1928 Noon UT |  8 cp  6    |
22 Feb 1928 Noon UT |  8 cp 28    |
23 Feb 1928 Noon UT |  8 cp 49    |
24 Feb 1928 Noon UT |  9 cp 10    |
25 Feb 1928 Noon UT |  9 cp 31    |
26 Feb 1928 Noon UT |  9 cp 52    |
27 Feb 1928 Noon UT | 10 cp 13    |
28 Feb 1928 Noon UT | 10 cp 34    |
29 Feb 1928 Noon UT | 10 cp 54    |
01 Mar 1928 Noon UT | 11 cp 15    |
02 Mar 1928 Noon UT | 11 cp 35    |
03 Mar 1928 Noon UT | 11 cp 55    |
04 Mar 1928 Noon UT | 12 cp 16    |
05 Mar 1928 Noon UT | 12 cp 36    |
06 Mar 1928 Noon UT | 12 cp 55    |
07 Mar 1928 Noon UT | 13 cp 15    |
08 Mar 1928 Noon UT | 13 cp 35    |
09 Mar 1928 Noon UT | 13 cp 54    |
10 Mar 1928 Noon UT | 14 cp 13    |
11 Mar 1928 Noon UT | 14 cp 32    |
12 Mar 1928 Noon UT | 14 cp 51    |
13 Mar 1928 Noon UT | 15 cp 10    |
14 Mar 1928 Noon UT | 15 cp 29    |
15 Mar 1928 Noon UT | 15 cp 48    |
16 Mar 1928 Noon UT | 16 cp  6    |
17 Mar 1928 Noon UT | 16 cp 24    |
18 Mar 1928 Noon UT | 16 cp 42    |
19 Mar 1928 Noon UT | 17 cp  0    |
20 Mar 1928 Noon UT | 17 cp 18    |
21 Mar 1928 Noon UT | 17 cp 35    |
22 Mar 1928 Noon UT | 17 cp 53    |
23 Mar 1928 Noon UT | 18 cp 10    |
24 Mar 1928 Noon UT | 18 cp 27    |
25 Mar 1928 Noon UT | 18 cp 44    |
26 Mar 1928 Noon UT | 19 cp  0    |
27 Mar 1928 Noon UT | 19 cp 17    |
28 Mar 1928 Noon UT | 19 cp 33    |
29 Mar 1928 Noon UT | 19 cp 49    |
30 Mar 1928 Noon UT | 20 cp  5    |
31 Mar 1928 Noon UT | 20 cp 21    |
01 Apr 1928 Noon UT | 20 cp 36    |
02 Apr 1928 Noon UT | 20 cp 52    |
03 Apr 1928 Noon UT | 21 cp  7    |
04 Apr 1928 Noon UT | 21 cp 22    |
05 Apr 1928 Noon UT | 21 cp 36    |
06 Apr 1928 Noon UT | 21 cp 51    |
07 Apr 1928 Noon UT | 22 cp  5    |
08 Apr 1928 Noon UT | 22 cp 19    |
09 Apr 1928 Noon UT | 22 cp 33    |
10 Apr 1928 Noon UT | 22 cp 47    |
11 Apr 1928 Noon UT | 23 cp  0    |
12 Apr 1928 Noon UT | 23 cp 13    |
13 Apr 1928 Noon UT | 23 cp 26    |
14 Apr 1928 Noon UT | 23 cp 39    |
15 Apr 1928 Noon UT | 23 cp 51    |
16 Apr 1928 Noon UT | 24 cp  3    |
17 Apr 1928 Noon UT | 24 cp 15    |
18 Apr 1928 Noon UT | 24 cp 27    |
19 Apr 1928 Noon UT | 24 cp 38    |
20 Apr 1928 Noon UT | 24 cp 49    |
21 Apr 1928 Noon UT | 25 cp  0    |
22 Apr 1928 Noon UT | 25 cp 11    |
23 Apr 1928 Noon UT | 25 cp 21    |
24 Apr 1928 Noon UT | 25 cp 31    |
25 Apr 1928 Noon UT | 25 cp 41    |
26 Apr 1928 Noon UT | 25 cp 50    |
27 Apr 1928 Noon UT | 26 cp  0    |
28 Apr 1928 Noon UT | 26 cp  9    |
29 Apr 1928 Noon UT | 26 cp 17    |
30 Apr 1928 Noon UT | 26 cp 26    |
01 May 1928 Noon UT | 26 cp 34    |
02 May 1928 Noon UT | 26 cp 41    |
03 May 1928 Noon UT | 26 cp 49    |
04 May 1928 Noon UT | 26 cp 56    |
05 May 1928 Noon UT | 27 cp  3    |
06 May 1928 Noon UT | 27 cp  9    |
07 May 1928 Noon UT | 27 cp 16    |
08 May 1928 Noon UT | 27 cp 22    |
09 May 1928 Noon UT | 27 cp 27    |
10 May 1928 Noon UT | 27 cp 32    |
11 May 1928 Noon UT | 27 cp 37    |
12 May 1928 Noon UT | 27 cp 42    |
13 May 1928 Noon UT | 27 cp 46    |
14 May 1928 Noon UT | 27 cp 50    |
15 May 1928 Noon UT | 27 cp 54    |
16 May 1928 Noon UT | 27 cp 57    |
17 May 1928 Noon UT | 28 cp  0    |
18 May 1928 Noon UT | 28 cp  3    |
19 May 1928 Noon UT | 28 cp  5    |
20 May 1928 Noon UT | 28 cp  7    |
21 May 1928 Noon UT | 28 cp  8    |
22 May 1928 Noon UT | 28 cp  9    |
23 May 1928 Noon UT | 28 cp 10    |
24 May 1928 Noon UT | 28 cp 11    |
25 May 1928 Noon UT | 28 cp 11 Rx |
26 May 1928 Noon UT | 28 cp 11 Rx |
27 May 1928 Noon UT | 28 cp 10 Rx |
28 May 1928 Noon UT | 28 cp  9 Rx |
29 May 1928 Noon UT | 28 cp  8 Rx |
30 May 1928 Noon UT | 28 cp  6 Rx |
31 May 1928 Noon UT | 28 cp  4 Rx |
01 Jun 1928 Noon UT | 28 cp  2 Rx |
02 Jun 1928 Noon UT | 27 cp 59 Rx |
03 Jun 1928 Noon UT | 27 cp 56 Rx |
04 Jun 1928 Noon UT | 27 cp 53 Rx |
05 Jun 1928 Noon UT | 27 cp 49 Rx |
06 Jun 1928 Noon UT | 27 cp 45 Rx |
07 Jun 1928 Noon UT | 27 cp 41 Rx |
08 Jun 1928 Noon UT | 27 cp 36 Rx |
09 Jun 1928 Noon UT | 27 cp 31 Rx |
10 Jun 1928 Noon UT | 27 cp 26 Rx |
11 Jun 1928 Noon UT | 27 cp 20 Rx |
12 Jun 1928 Noon UT | 27 cp 14 Rx |
13 Jun 1928 Noon UT | 27 cp  7 Rx |
14 Jun 1928 Noon UT | 27 cp  1 Rx |
15 Jun 1928 Noon UT | 26 cp 54 Rx |
16 Jun 1928 Noon UT | 26 cp 47 Rx |
17 Jun 1928 Noon UT | 26 cp 39 Rx |
18 Jun 1928 Noon UT | 26 cp 31 Rx |
19 Jun 1928 Noon UT | 26 cp 23 Rx |
20 Jun 1928 Noon UT | 26 cp 14 Rx |
21 Jun 1928 Noon UT | 26 cp  6 Rx |
22 Jun 1928 Noon UT | 25 cp 57 Rx |
23 Jun 1928 Noon UT | 25 cp 48 Rx |
24 Jun 1928 Noon UT | 25 cp 38 Rx |
25 Jun 1928 Noon UT | 25 cp 29 Rx |
26 Jun 1928 Noon UT | 25 cp 19 Rx |
27 Jun 1928 Noon UT | 25 cp  9 Rx |
28 Jun 1928 Noon UT | 24 cp 58 Rx |
29 Jun 1928 Noon UT | 24 cp 48 Rx |
30 Jun 1928 Noon UT | 24 cp 37 Rx |
01 Jul 1928 Noon UT | 24 cp 26 Rx |
02 Jul 1928 Noon UT | 24 cp 15 Rx |
03 Jul 1928 Noon UT | 24 cp  4 Rx |
04 Jul 1928 Noon UT | 23 cp 53 Rx |
05 Jul 1928 Noon UT | 23 cp 42 Rx |
06 Jul 1928 Noon UT | 23 cp 30 Rx |
07 Jul 1928 Noon UT | 23 cp 19 Rx |
08 Jul 1928 Noon UT | 23 cp  7 Rx |
09 Jul 1928 Noon UT | 22 cp 55 Rx |
10 Jul 1928 Noon UT | 22 cp 43 Rx |
11 Jul 1928 Noon UT | 22 cp 32 Rx |
12 Jul 1928 Noon UT | 22 cp 20 Rx |
13 Jul 1928 Noon UT | 22 cp  8 Rx |
14 Jul 1928 Noon UT | 21 cp 56 Rx |
15 Jul 1928 Noon UT | 21 cp 44 Rx |
16 Jul 1928 Noon UT | 21 cp 32 Rx |
17 Jul 1928 Noon UT | 21 cp 20 Rx |
18 Jul 1928 Noon UT | 21 cp  9 Rx |
19 Jul 1928 Noon UT | 20 cp 57 Rx |
20 Jul 1928 Noon UT | 20 cp 45 Rx |
21 Jul 1928 Noon UT | 20 cp 34 Rx |
22 Jul 1928 Noon UT | 20 cp 22 Rx |
23 Jul 1928 Noon UT | 20 cp 11 Rx |
24 Jul 1928 Noon UT | 20 cp  0 Rx |
25 Jul 1928 Noon UT | 19 cp 49 Rx |
26 Jul 1928 Noon UT | 19 cp 38 Rx |
27 Jul 1928 Noon UT | 19 cp 27 Rx |
28 Jul 1928 Noon UT | 19 cp 17 Rx |
29 Jul 1928 Noon UT | 19 cp  6 Rx |
30 Jul 1928 Noon UT | 18 cp 56 Rx |
31 Jul 1928 Noon UT | 18 cp 46 Rx |
01 Aug 1928 Noon UT | 18 cp 36 Rx |
02 Aug 1928 Noon UT | 18 cp 27 Rx |
03 Aug 1928 Noon UT | 18 cp 17 Rx |
04 Aug 1928 Noon UT | 18 cp  8 Rx |
05 Aug 1928 Noon UT | 18 cp  0 Rx |
06 Aug 1928 Noon UT | 17 cp 51 Rx |
07 Aug 1928 Noon UT | 17 cp 43 Rx |
08 Aug 1928 Noon UT | 17 cp 35 Rx |
09 Aug 1928 Noon UT | 17 cp 27 Rx |
10 Aug 1928 Noon UT | 17 cp 19 Rx |
11 Aug 1928 Noon UT | 17 cp 12 Rx |
12 Aug 1928 Noon UT | 17 cp  5 Rx |
13 Aug 1928 Noon UT | 16 cp 59 Rx |
14 Aug 1928 Noon UT | 16 cp 52 Rx |
15 Aug 1928 Noon UT | 16 cp 46 Rx |
16 Aug 1928 Noon UT | 16 cp 41 Rx |
17 Aug 1928 Noon UT | 16 cp 35 Rx |
18 Aug 1928 Noon UT | 16 cp 30 Rx |
19 Aug 1928 Noon UT | 16 cp 26 Rx |
20 Aug 1928 Noon UT | 16 cp 21 Rx |
21 Aug 1928 Noon UT | 16 cp 17 Rx |
22 Aug 1928 Noon UT | 16 cp 14 Rx |
23 Aug 1928 Noon UT | 16 cp 10 Rx |
24 Aug 1928 Noon UT | 16 cp  7 Rx |
25 Aug 1928 Noon UT | 16 cp  5 Rx |
26 Aug 1928 Noon UT | 16 cp  2 Rx |
27 Aug 1928 Noon UT | 16 cp  0 Rx |
28 Aug 1928 Noon UT | 15 cp 59 Rx |
29 Aug 1928 Noon UT | 15 cp 57 Rx |
30 Aug 1928 Noon UT | 15 cp 56 Rx |
31 Aug 1928 Noon UT | 15 cp 56 Rx |
01 Sep 1928 Noon UT | 15 cp 55 Rx |
02 Sep 1928 Noon UT | 15 cp 55    |
03 Sep 1928 Noon UT | 15 cp 56    |
04 Sep 1928 Noon UT | 15 cp 56    |
05 Sep 1928 Noon UT | 15 cp 57    |
06 Sep 1928 Noon UT | 15 cp 59    |
07 Sep 1928 Noon UT | 16 cp  1    |
08 Sep 1928 Noon UT | 16 cp  3    |
09 Sep 1928 Noon UT | 16 cp  5    |
10 Sep 1928 Noon UT | 16 cp  8    |
11 Sep 1928 Noon UT | 16 cp 11    |
12 Sep 1928 Noon UT | 16 cp 14    |
13 Sep 1928 Noon UT | 16 cp 18    |
14 Sep 1928 Noon UT | 16 cp 22    |
15 Sep 1928 Noon UT | 16 cp 26    |
16 Sep 1928 Noon UT | 16 cp 30    |
17 Sep 1928 Noon UT | 16 cp 35    |
18 Sep 1928 Noon UT | 16 cp 41    |
19 Sep 1928 Noon UT | 16 cp 46    |
20 Sep 1928 Noon UT | 16 cp 52    |
21 Sep 1928 Noon UT | 16 cp 58    |
22 Sep 1928 Noon UT | 17 cp  4    |
23 Sep 1928 Noon UT | 17 cp 11    |
24 Sep 1928 Noon UT | 17 cp 18    |
25 Sep 1928 Noon UT | 17 cp 25    |
26 Sep 1928 Noon UT | 17 cp 33    |
27 Sep 1928 Noon UT | 17 cp 41    |
28 Sep 1928 Noon UT | 17 cp 49    |
29 Sep 1928 Noon UT | 17 cp 57    |
30 Sep 1928 Noon UT | 18 cp  6    |
01 Oct 1928 Noon UT | 18 cp 15    |
02 Oct 1928 Noon UT | 18 cp 24    |
03 Oct 1928 Noon UT | 18 cp 33    |
04 Oct 1928 Noon UT | 18 cp 43    |
05 Oct 1928 Noon UT | 18 cp 53    |
06 Oct 1928 Noon UT | 19 cp  3    |
07 Oct 1928 Noon UT | 19 cp 14    |
08 Oct 1928 Noon UT | 19 cp 24    |
09 Oct 1928 Noon UT | 19 cp 35    |
10 Oct 1928 Noon UT | 19 cp 46    |
11 Oct 1928 Noon UT | 19 cp 58    |
12 Oct 1928 Noon UT | 20 cp  9    |
13 Oct 1928 Noon UT | 20 cp 21    |
14 Oct 1928 Noon UT | 20 cp 33    |
15 Oct 1928 Noon UT | 20 cp 45    |
16 Oct 1928 Noon UT | 20 cp 58    |
17 Oct 1928 Noon UT | 21 cp 10    |
18 Oct 1928 Noon UT | 21 cp 23    |
19 Oct 1928 Noon UT | 21 cp 36    |
20 Oct 1928 Noon UT | 21 cp 50    |
21 Oct 1928 Noon UT | 22 cp  3    |
22 Oct 1928 Noon UT | 22 cp 17    |
23 Oct 1928 Noon UT | 22 cp 31    |
24 Oct 1928 Noon UT | 22 cp 45    |
25 Oct 1928 Noon UT | 22 cp 59    |
26 Oct 1928 Noon UT | 23 cp 14    |
27 Oct 1928 Noon UT | 23 cp 28    |
28 Oct 1928 Noon UT | 23 cp 43    |
29 Oct 1928 Noon UT | 23 cp 58    |
30 Oct 1928 Noon UT | 24 cp 13    |
31 Oct 1928 Noon UT | 24 cp 28    |
01 Nov 1928 Noon UT | 24 cp 44    |
02 Nov 1928 Noon UT | 24 cp 59    |
03 Nov 1928 Noon UT | 25 cp 15    |
04 Nov 1928 Noon UT | 25 cp 31    |
05 Nov 1928 Noon UT | 25 cp 47    |
06 Nov 1928 Noon UT | 26 cp  3    |
07 Nov 1928 Noon UT | 26 cp 20    |
08 Nov 1928 Noon UT | 26 cp 36    |
09 Nov 1928 Noon UT | 26 cp 53    |
10 Nov 1928 Noon UT | 27 cp 10    |
11 Nov 1928 Noon UT | 27 cp 27    |
12 Nov 1928 Noon UT | 27 cp 44    |
13 Nov 1928 Noon UT | 28 cp  1    |
14 Nov 1928 Noon UT | 28 cp 19    |
15 Nov 1928 Noon UT | 28 cp 36    |
16 Nov 1928 Noon UT | 28 cp 54    |
17 Nov 1928 Noon UT | 29 cp 12    |
18 Nov 1928 Noon UT | 29 cp 30    |
19 Nov 1928 Noon UT | 29 cp 48    |
20 Nov 1928 Noon UT |  0 aq  6    |
21 Nov 1928 Noon UT |  0 aq 24    |
22 Nov 1928 Noon UT |  0 aq 42    |
23 Nov 1928 Noon UT |  1 aq  1    |
24 Nov 1928 Noon UT |  1 aq 19    |
25 Nov 1928 Noon UT |  1 aq 38    |
26 Nov 1928 Noon UT |  1 aq 57    |
27 Nov 1928 Noon UT |  2 aq 16    |
28 Nov 1928 Noon UT |  2 aq 35    |
29 Nov 1928 Noon UT |  2 aq 54    |
30 Nov 1928 Noon UT |  3 aq 13    |
01 Dec 1928 Noon UT |  3 aq 32    |
02 Dec 1928 Noon UT |  3 aq 52    |
03 Dec 1928 Noon UT |  4 aq 11    |
04 Dec 1928 Noon UT |  4 aq 31    |
05 Dec 1928 Noon UT |  4 aq 51    |
06 Dec 1928 Noon UT |  5 aq 10    |
07 Dec 1928 Noon UT |  5 aq 30    |
08 Dec 1928 Noon UT |  5 aq 50    |
09 Dec 1928 Noon UT |  6 aq 10    |
10 Dec 1928 Noon UT |  6 aq 30    |
11 Dec 1928 Noon UT |  6 aq 50    |
12 Dec 1928 Noon UT |  7 aq 11    |
13 Dec 1928 Noon UT |  7 aq 31    |
14 Dec 1928 Noon UT |  7 aq 51    |
15 Dec 1928 Noon UT |  8 aq 12    |
16 Dec 1928 Noon UT |  8 aq 32    |
17 Dec 1928 Noon UT |  8 aq 53    |
18 Dec 1928 Noon UT |  9 aq 14    |
19 Dec 1928 Noon UT |  9 aq 35    |
20 Dec 1928 Noon UT |  9 aq 55    |
21 Dec 1928 Noon UT | 10 aq 16    |
22 Dec 1928 Noon UT | 10 aq 37    |
23 Dec 1928 Noon UT | 10 aq 58    |
24 Dec 1928 Noon UT | 11 aq 19    |
25 Dec 1928 Noon UT | 11 aq 40    |
26 Dec 1928 Noon UT | 12 aq  1    |
27 Dec 1928 Noon UT | 12 aq 23    |
28 Dec 1928 Noon UT | 12 aq 44    |
29 Dec 1928 Noon UT | 13 aq  5    |
30 Dec 1928 Noon UT | 13 aq 27    |
31 Dec 1928 Noon UT | 13 aq 48    |
01 Jan 1929 Noon UT | 14 aq  9    |
02 Jan 1929 Noon UT | 14 aq 31    |
03 Jan 1929 Noon UT | 14 aq 52    |
04 Jan 1929 Noon UT | 15 aq 14    |
05 Jan 1929 Noon UT | 15 aq 36    |
06 Jan 1929 Noon UT | 15 aq 57    |
07 Jan 1929 Noon UT | 16 aq 19    |
08 Jan 1929 Noon UT | 16 aq 41    |
09 Jan 1929 Noon UT | 17 aq  3    |
10 Jan 1929 Noon UT | 17 aq 24    |
11 Jan 1929 Noon UT | 17 aq 46    |
12 Jan 1929 Noon UT | 18 aq  8    |
13 Jan 1929 Noon UT | 18 aq 30    |
14 Jan 1929 Noon UT | 18 aq 52    |
15 Jan 1929 Noon UT | 19 aq 14    |
16 Jan 1929 Noon UT | 19 aq 36    |
17 Jan 1929 Noon UT | 19 aq 58    |
18 Jan 1929 Noon UT | 20 aq 20    |
19 Jan 1929 Noon UT | 20 aq 42    |
20 Jan 1929 Noon UT | 21 aq  4    |
21 Jan 1929 Noon UT | 21 aq 26    |
22 Jan 1929 Noon UT | 21 aq 48    |
23 Jan 1929 Noon UT | 22 aq 11    |
24 Jan 1929 Noon UT | 22 aq 33    |
25 Jan 1929 Noon UT | 22 aq 55    |
26 Jan 1929 Noon UT | 23 aq 17    |
27 Jan 1929 Noon UT | 23 aq 39    |
28 Jan 1929 Noon UT | 24 aq  2    |
29 Jan 1929 Noon UT | 24 aq 24    |
30 Jan 1929 Noon UT | 24 aq 46    |
31 Jan 1929 Noon UT | 25 aq  8    |
01 Feb 1929 Noon UT | 25 aq 31    |
02 Feb 1929 Noon UT | 25 aq 53    |
03 Feb 1929 Noon UT | 26 aq 15    |
04 Feb 1929 Noon UT | 26 aq 38    |
05 Feb 1929 Noon UT | 27 aq  0    |
06 Feb 1929 Noon UT | 27 aq 22    |
07 Feb 1929 Noon UT | 27 aq 44    |
08 Feb 1929 Noon UT | 28 aq  7    |
09 Feb 1929 Noon UT | 28 aq 29    |
10 Feb 1929 Noon UT | 28 aq 51    |
11 Feb 1929 Noon UT | 29 aq 14    |
12 Feb 1929 Noon UT | 29 aq 36    |
13 Feb 1929 Noon UT | 29 aq 58    |
14 Feb 1929 Noon UT |  0 pi 21    |
15 Feb 1929 Noon UT |  0 pi 43    |
16 Feb 1929 Noon UT |  1 pi  5    |
17 Feb 1929 Noon UT |  1 pi 28    |
18 Feb 1929 Noon UT |  1 pi 50    |
19 Feb 1929 Noon UT |  2 pi 12    |
20 Feb 1929 Noon UT |  2 pi 34    |
21 Feb 1929 Noon UT |  2 pi 57    |
22 Feb 1929 Noon UT |  3 pi 19    |
23 Feb 1929 Noon UT |  3 pi 41    |
24 Feb 1929 Noon UT |  4 pi  3    |
25 Feb 1929 Noon UT |  4 pi 25    |
26 Feb 1929 Noon UT |  4 pi 47    |
27 Feb 1929 Noon UT |  5 pi 10    |
28 Feb 1929 Noon UT |  5 pi 32    |
01 Mar 1929 Noon UT |  5 pi 54    |
02 Mar 1929 Noon UT |  6 pi 16    |
03 Mar 1929 Noon UT |  6 pi 38    |
04 Mar 1929 Noon UT |  7 pi  0    |
05 Mar 1929 Noon UT |  7 pi 22    |
06 Mar 1929 Noon UT |  7 pi 44    |
07 Mar 1929 Noon UT |  8 pi  6    |
08 Mar 1929 Noon UT |  8 pi 28    |
09 Mar 1929 Noon UT |  8 pi 50    |
10 Mar 1929 Noon UT |  9 pi 12    |
11 Mar 1929 Noon UT |  9 pi 34    |
12 Mar 1929 Noon UT |  9 pi 55    |
13 Mar 1929 Noon UT | 10 pi 17    |
14 Mar 1929 Noon UT | 10 pi 39    |
15 Mar 1929 Noon UT | 11 pi  1    |
16 Mar 1929 Noon UT | 11 pi 22    |
17 Mar 1929 Noon UT | 11 pi 44    |
18 Mar 1929 Noon UT | 12 pi  6    |
19 Mar 1929 Noon UT | 12 pi 27    |
20 Mar 1929 Noon UT | 12 pi 49    |
21 Mar 1929 Noon UT | 13 pi 10    |
22 Mar 1929 Noon UT | 13 pi 32    |
23 Mar 1929 Noon UT | 13 pi 53    |
24 Mar 1929 Noon UT | 14 pi 15    |
25 Mar 1929 Noon UT | 14 pi 36    |
26 Mar 1929 Noon UT | 14 pi 57    |
27 Mar 1929 Noon UT | 15 pi 19    |
28 Mar 1929 Noon UT | 15 pi 40    |
29 Mar 1929 Noon UT | 16 pi  1    |
30 Mar 1929 Noon UT | 16 pi 22    |
31 Mar 1929 Noon UT | 16 pi 43    |
01 Apr 1929 Noon UT | 17 pi  4    |
02 Apr 1929 Noon UT | 17 pi 25    |
03 Apr 1929 Noon UT | 17 pi 46    |
04 Apr 1929 Noon UT | 18 pi  7    |
05 Apr 1929 Noon UT | 18 pi 28    |
06 Apr 1929 Noon UT | 18 pi 48    |
07 Apr 1929 Noon UT | 19 pi  9    |
08 Apr 1929 Noon UT | 19 pi 30    |
09 Apr 1929 Noon UT | 19 pi 50    |
10 Apr 1929 Noon UT | 20 pi 11    |
11 Apr 1929 Noon UT | 20 pi 31    |
12 Apr 1929 Noon UT | 20 pi 52    |
13 Apr 1929 Noon UT | 21 pi 12    |
14 Apr 1929 Noon UT | 21 pi 32    |
15 Apr 1929 Noon UT | 21 pi 52    |
16 Apr 1929 Noon UT | 22 pi 12    |
17 Apr 1929 Noon UT | 22 pi 32    |
18 Apr 1929 Noon UT | 22 pi 52    |
19 Apr 1929 Noon UT | 23 pi 12    |
20 Apr 1929 Noon UT | 23 pi 32    |
21 Apr 1929 Noon UT | 23 pi 52    |
22 Apr 1929 Noon UT | 24 pi 12    |
23 Apr 1929 Noon UT | 24 pi 31    |
24 Apr 1929 Noon UT | 24 pi 51    |
25 Apr 1929 Noon UT | 25 pi 10    |
26 Apr 1929 Noon UT | 25 pi 30    |
27 Apr 1929 Noon UT | 25 pi 49    |
28 Apr 1929 Noon UT | 26 pi  8    |
29 Apr 1929 Noon UT | 26 pi 27    |
30 Apr 1929 Noon UT | 26 pi 46    |
01 May 1929 Noon UT | 27 pi  5    |
02 May 1929 Noon UT | 27 pi 24    |
03 May 1929 Noon UT | 27 pi 43    |
04 May 1929 Noon UT | 28 pi  1    |
05 May 1929 Noon UT | 28 pi 20    |
06 May 1929 Noon UT | 28 pi 39    |
07 May 1929 Noon UT | 28 pi 57    |
08 May 1929 Noon UT | 29 pi 15    |
09 May 1929 Noon UT | 29 pi 34    |
10 May 1929 Noon UT | 29 pi 52    |
11 May 1929 Noon UT |  0 ar 10    |
12 May 1929 Noon UT |  0 ar 28    |
13 May 1929 Noon UT |  0 ar 45    |
14 May 1929 Noon UT |  1 ar  3    |
15 May 1929 Noon UT |  1 ar 21    |
16 May 1929 Noon UT |  1 ar 38    |
17 May 1929 Noon UT |  1 ar 55    |
18 May 1929 Noon UT |  2 ar 13    |
19 May 1929 Noon UT |  2 ar 30    |
20 May 1929 Noon UT |  2 ar 47    |
21 May 1929 Noon UT |  3 ar  4    |
22 May 1929 Noon UT |  3 ar 21    |
23 May 1929 Noon UT |  3 ar 37    |
24 May 1929 Noon UT |  3 ar 54    |
25 May 1929 Noon UT |  4 ar 10    |
26 May 1929 Noon UT |  4 ar 27    |
27 May 1929 Noon UT |  4 ar 43    |
28 May 1929 Noon UT |  4 ar 59    |
29 May 1929 Noon UT |  5 ar 15    |
30 May 1929 Noon UT |  5 ar 30    |
31 May 1929 Noon UT |  5 ar 46    |
01 Jun 1929 Noon UT |  6 ar  2    |
02 Jun 1929 Noon UT |  6 ar 17    |
03 Jun 1929 Noon UT |  6 ar 32    |
04 Jun 1929 Noon UT |  6 ar 47    |
05 Jun 1929 Noon UT |  7 ar  2    |
06 Jun 1929 Noon UT |  7 ar 17    |
07 Jun 1929 Noon UT |  7 ar 31    |
08 Jun 1929 Noon UT |  7 ar 46    |
09 Jun 1929 Noon UT |  8 ar  0    |
10 Jun 1929 Noon UT |  8 ar 14    |
11 Jun 1929 Noon UT |  8 ar 28    |
12 Jun 1929 Noon UT |  8 ar 42    |
13 Jun 1929 Noon UT |  8 ar 56    |
14 Jun 1929 Noon UT |  9 ar  9    |
15 Jun 1929 Noon UT |  9 ar 23    |
16 Jun 1929 Noon UT |  9 ar 36    |
17 Jun 1929 Noon UT |  9 ar 49    |
18 Jun 1929 Noon UT | 10 ar  2    |
19 Jun 1929 Noon UT | 10 ar 14    |
20 Jun 1929 Noon UT | 10 ar 27    |
21 Jun 1929 Noon UT | 10 ar 39    |
22 Jun 1929 Noon UT | 10 ar 51    |
23 Jun 1929 Noon UT | 11 ar  3    |
24 Jun 1929 Noon UT | 11 ar 15    |
25 Jun 1929 Noon UT | 11 ar 26    |
26 Jun 1929 Noon UT | 11 ar 37    |
27 Jun 1929 Noon UT | 11 ar 48    |
28 Jun 1929 Noon UT | 11 ar 59    |
29 Jun 1929 Noon UT | 12 ar 10    |
30 Jun 1929 Noon UT | 12 ar 20    |
01 Jul 1929 Noon UT | 12 ar 31    |
02 Jul 1929 Noon UT | 12 ar 41    |
03 Jul 1929 Noon UT | 12 ar 51    |
04 Jul 1929 Noon UT | 13 ar  0    |
05 Jul 1929 Noon UT | 13 ar 10    |
06 Jul 1929 Noon UT | 13 ar 19    |
07 Jul 1929 Noon UT | 13 ar 28    |
08 Jul 1929 Noon UT | 13 ar 36    |
09 Jul 1929 Noon UT | 13 ar 45    |
10 Jul 1929 Noon UT | 13 ar 53    |
11 Jul 1929 Noon UT | 14 ar  1    |
12 Jul 1929 Noon UT | 14 ar  9    |
13 Jul 1929 Noon UT | 14 ar 16    |
14 Jul 1929 Noon UT | 14 ar 24    |
15 Jul 1929 Noon UT | 14 ar 31    |
16 Jul 1929 Noon UT | 14 ar 37    |
17 Jul 1929 Noon UT | 14 ar 44    |
18 Jul 1929 Noon UT | 14 ar 50    |
19 Jul 1929 Noon UT | 14 ar 56    |
20 Jul 1929 Noon UT | 15 ar  2    |
21 Jul 1929 Noon UT | 15 ar  7    |
22 Jul 1929 Noon UT | 15 ar 12    |
23 Jul 1929 Noon UT | 15 ar 17    |
24 Jul 1929 Noon UT | 15 ar 22    |
25 Jul 1929 Noon UT | 15 ar 26    |
26