Dwarf Planet 2018 AG37
Also nicknamed "FarFarOut", distant dwarf planet 2018 AG37 was discovered on Jan.15, 2018 by the Scott Sheppard, David Tholen, and Chad Trujillo team, but announced on Feb.2021. It has an orbital period of 717.8 years, is estimated to be some 500km(310 miles) in diameter, and has an inclination of 18.68 degrees. At its closest it is within Neptune's orbit but is currently near its farthest distance which it reached in 2005.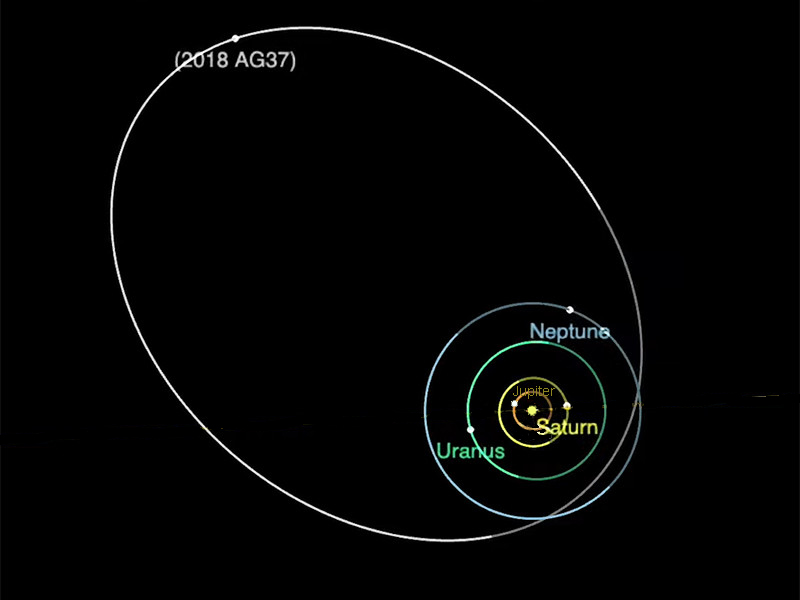 Here is a rough tropical ephemeris of 2018 AG37 for every 5 years
from 1900 to 2035 AD. Sign entry/exit dates follow.
1900 Jul.01 12Can03
1905 Jul.01 12Can53
1910 Jul.01 13Can43
1915 Jul.01 14Can32
1920 Jul.01 15Can22
1925 Jul.01 16Can10
1930 Jul.01 16Can58
1935 Jul.01 17Can46
1940 Jul.01 18Can34
1945 Jul.01 19Can21
1950 Jul.01 20Can08
1955 Jul.01 20Can55
1960 Jul.01 21Can42
1965 Jul.01 22Can28
1970 Jul.01 23Can15
1975 Jul.01 24Can01
1980 Jul.01 24Can47
1985 Jul.01 25Can33
1990 Jul.01 26Can20
1995 Jul.01 27Can05
2000 Jul.01 27Can51
2005 Jul.01 28Can38
2010 Jul.01 29Can24
Cancer/Leo
2015 Jul.01 00Leo10
2020 Jul.14 00Leo56
2025 Jul.01 01Leo43
2030 Jul.01 02Can30
2035 Jul.01 03Can16

Cancer/Leo transition
2010 Sep.28 00Leo
2010 Nov 25 29Can
2011 Aug 30 00Leo
2011 Dec 25 29Can
2012 Aug 08 00Leo
2013 Jan 16 29Can
2013 Jul 19 00Leo
2014 Feb 06 29Can
2014 Jun 29 00Leo
2015 Mar 02 29Can
2015 Jun 06 00Leo